If you find yourself in Milan, be sure to take a day trip to the stunning Cinque Terre region. Just a few hours from the city, this picturesque stretch of coastline features five enchanting villages, each with its own unique character.
Whether you want to enjoy fresh seafood by the waterfront, stroll through vineyards or simply relax on the beach, Cinque Terre has something for everyone. Taking a day trip to Cinque Terre from Milan is a must if you want to fall even more in love with Italy.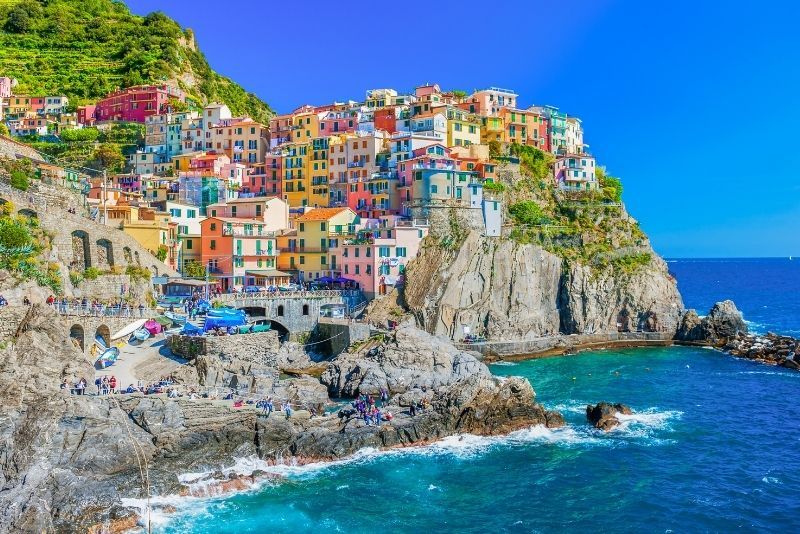 You will find below all you need to know about Cinque Terre, one of the best destinations for day trips from Milan.
How to get to Cinque Terre from Milan?
Cinque Terre is located in the Liguria region of Italy, along the west coast of the country. It is approximately 230 kilometers south of Milan.
From Milan to Cinque Terre by car
The journey to Cinque Terre from Milan by car takes around three hours. You'll travel south out of the city and follow the A7 as far as Genoa. You'll then merge onto the E80. Take the exit towards Levano and follow signs for Monterosso.
From Milan to Cinque Terre by train
You can make the jaunt to Cinque Terre from Milan by train. A direct train runs from Milano Centrale to Monterosso several times a day and takes three hours. From Monterosso, you can take another train to other villages within Cinque Terre, including Corniglia.
Guided tour to Cinque Terre from Milan
By taking a day trip to Cinque Terre, you won't have to worry about your transportation as it's taken care of for you. You'll meet at an easy-to-reach location in the center of Milan and tours last between 12, and 14 hours.
What is the typical itinerary of a day tour to Cinque Terre from Milan?
Each Cinque Terre day tour has its own unique itinerary. However, they all follow a similar route. After meeting in Milan, you'll travel through the verdant countryside of Italy to the coastline Cinque Terre sits on.
You'll visit several of the five villages that make up the UNESCO-listed site, including the largest — Monterosso al Mare. You may have a guided tour of the town, or you might enjoy free time to wander through its streets. Most day tours also stop at the town of Manarola, which is known for its sweet dessert wines.
You'll travel between the two towns via a scenic train ride or a boat cruise. Once you've explored the medieval villages, you'll head to La Spezia — a port city, which is known as the gateway to the villages of Cinque Terre. Finishing the day with a comfortable bus ride back to the city, your Cinque Terre excursion will draw to a close in Milan.
What kinds of tours are available to go to Cinque Terre?
There are several different options for Cinque Terre day tours, depending on your preferences.
Day trips to Cinque Terre from Milan
After speeding along the Italian coastline, you'll reach your first destination — Monterosso al Mare — which protects its unspoiled streets by prohibiting motorized vehicles. The fishing village oozes charm with candy-colored buildings, a lively vibe and surroundings of lemon trees.
From Monterosso al Mare, you'll board a boat to tour the Cinque Terre region from the water. You'll see the village of Portovenere from afar before heading back to Milan.
Private tour to Cinque Terre from Milan
This private day trip whips you away from the city in a luxury vehicle, toward the peaceful Cinque Terre region. You'll visit four of the five villages that form the UNESCO World Heritage site and enjoy a guided walk through each with your knowledgeable guide.
You'll travel to each of the villages by boat, enabling you to gain a unique view of Cinque Terre from the water. You'll also enjoy a local wine tasting session, where you'll try full-bodied reds and crisp whites.
6-Day tour to Cinque Terre plus Florence and Tuscany from Milan
This multi-day tour heads straight to Cinque Terre via the medieval town of Parma, where Parma ham originates. You'll have ample opportunity to explore Cinque Terre, before continuing to Pisa, Lucca and Florence the following day.
Other towns you'll see on this trip include Montepulciano, San Gimignano and Pienza. After exploring some of the finest jewels of Italy, you'll arrive in Rome — the Eternal City.
How much does a tour to Cinque Terre from Milan cost?
Cinque Terre day trips cost approximately €130 and last around 13 hours. You can choose to pay an extra €10 to €20 and participate in an excursion that includes hotel pickup.
If you wish to take a private day tour to Cinque Terre, you can expect to pay €1,060. You can participate in a group of up to eight individuals. If you're part of a group this size, you'll benefit from a reduced rate of €390 per person.
Multi-day Cinque Terre tours cost €1,650 and include accommodation, as well as breakfast.
What will you see and do on a Cinque Terre day trip from Milan?
Monterosso al Mare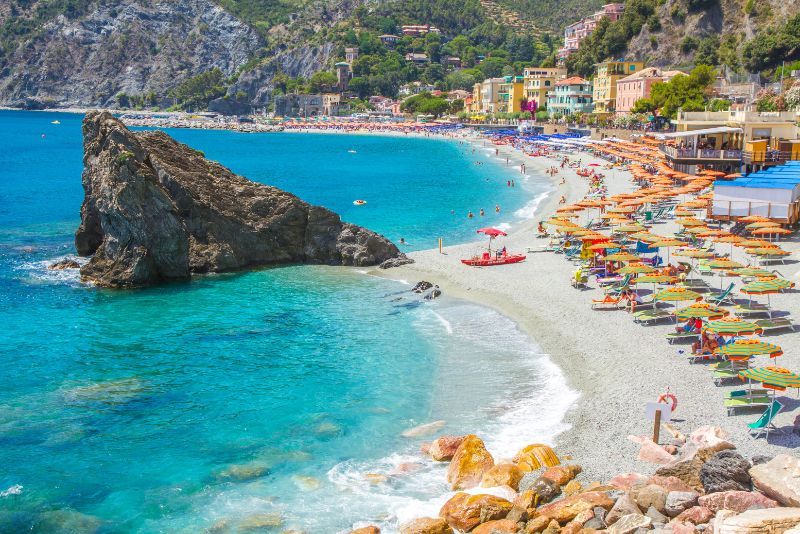 The largest village in Cinque Terre — Monterosso al Mare — was founded by a group of Genoese families in the 13th century. Throughout the Middle Ages, the town was used as a stopping point for those on pilgrimages to Rome. These days, it is a popular tourist attraction for those touring the Italian coast.
Monterosso al Mare is split into two parts — the old town and the new town. The crowning jewel of the village is its Monterosso Giant, which is a concrete and iron sculpture, located at the end of Fegina Beach. The artwork was created by Arrigo Minerbi in 1910 and has withstood both World Wars, despite suffering severe damage in WWII. The statue depicts the Roman god of the sea — Neptune.
Other sights to see in Monterosso al Mare include the ruins of the medieval castle, built by the powerful Obertenghi family.
Corniglia
Corniglia was founded in the 12th century, and its name is thought to derive from the Latin word for horn, due to its shape. However, local legend has it that a Roman farmer discovered the land and named it after his mother — Cornelia.
Although it was historically a fishing village, today Corniglia is known for its production of wine and olive oil. However, there is evidence of wine being cultivated here as far back as the fourth century BC, when the Ligure tribes settled in the area.
The region is known for its crisp and sweet, dry white wines that are made from Bosco, Albarola and Vermentino grapes. Corniglia is surrounded by picturesque vineyards and is the perfect place to enjoy a wine tasting in Cinque Terre.
Manarola
This tiny clifftop village is a real treat for the eyes and boasts wonderful viewpoints. It has many colorful buildings and sits above a sheer vertical cliffside of rugged rocks. The winding streets of the village slope down to the natural harbor which is a popular swimming spot through the summer months.
Riomaggiore
The most southern village, Rio Maggiore is worth a visit on your Cinque Terre day tour. The village boasts the same colorful buildings which are typical of the area, scenic viewpoints and a rugged natural harbor. If you plan on kayaking or swimming in the Cinque Terre, this is a great place to do it!
Vernazza
The beautiful seafront village of Vernazza is one of the most popular places in the Cinque Terre. It boasts a small beach in the town harbor and pretty streets lined with small shops and restaurants.
When is the best time to visit Cinque Terre?
The best time to plan a day trip to Cinque Terre is during September or October. During this time, the hoards of summer tourists will have left, but you can still expect warm temperatures that range from 20 to 25 degrees Celsius.
Are there any tours to Cinque Terre from other cities in Italy?
Yes, there are tours departing from other cities in Italy:
Travel tips
Choose a Cinque Terre day trip that enables you to explore several of the five villages.
It takes around three hours to drive from Milan to Cinque Terre. Bring a magazine and snacks with you for the bus ride.
The villages of Cinque Terre all have beaches. Take your swimwear and a towel with you on your day tour, in case you fancy a dip.
During the summer months, Cinque Terre experiences highs of around 30 degrees Celsius. Make sure you're prepared for this with sunscreen, water and a sun hat.