Known as the "floating city," Venice is a must-visit destination when in Italy. Hailed as one of the most romantic locations in the world, the city is filled with meandering waterways, artisanal crafts and historic monuments.
Despite the significant distance between the two cities, you can embark on a day trip to Venice from Milan, so long as you start your day early.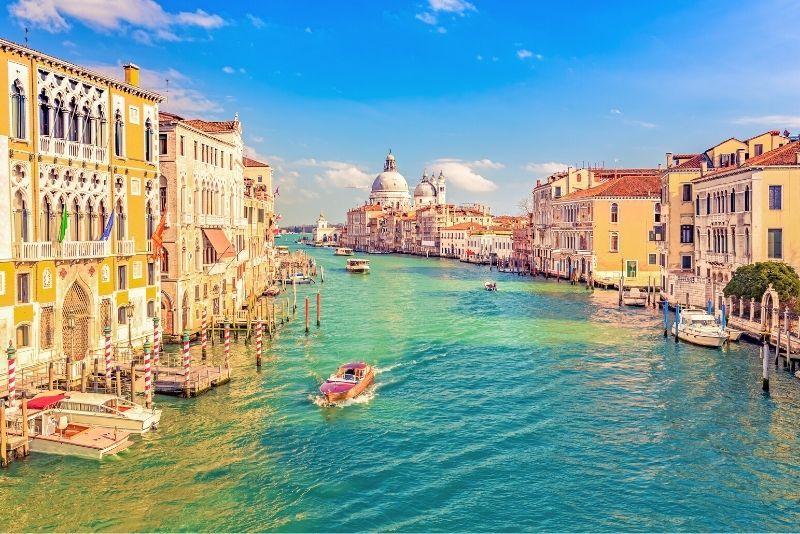 You will find below everything you need to know about visiting Venice, a marvelous location for day trips from Milan.
How to get to Venice from Milan?
Venice is located on the northeastern shores of Italy and is the capital of the Veneto province. It is approximately 270 kilometers from Milan.
From Milan to Venice by car
The journey to Venice takes just over 3 hours by car and is an easy drive. You'll head out of Milan in a northeasterly direction and then follow the E70 all the way. Venice is well sign-posted and following directions for the city is simple.
From Milan to Venice by public transport
If you're planning on taking public transport, you should use the train network to make the jaunt to Venice. You can take a direct train from Milano Centrale to the Venezia Santa Lucia station. The journey takes 2.5 hours and trains depart several times a day from Milan.
Guided tour to Venice from Milan
Alternatively, you can participate in a guided excursion to Venice. Some tours will collect you from your hotel, while others will meet you in the center of the city. You'll begin around 7 AM and return to Milan approximately 14 hours later.
What is the typical itinerary of a day tour to Venice from Milan?
Venice day tours all follow a similar itinerary. You'll speed past the Italian countryside toward Venice after being picked up from the center of Milan.
On arrival in the city, you may take a boat trip through the Venetian Lagoon. During your cruise, you'll be able to see the many islands that form modern-day Venice.
Once you hit dry land, you'll participate in a walking tour of Venice. With a guide leading you through the charming, cobbled streets, you'll see many architectural masterpieces. These include the iconic St. Mark's Basilica, Doge's Palace and the Rialto Bridge.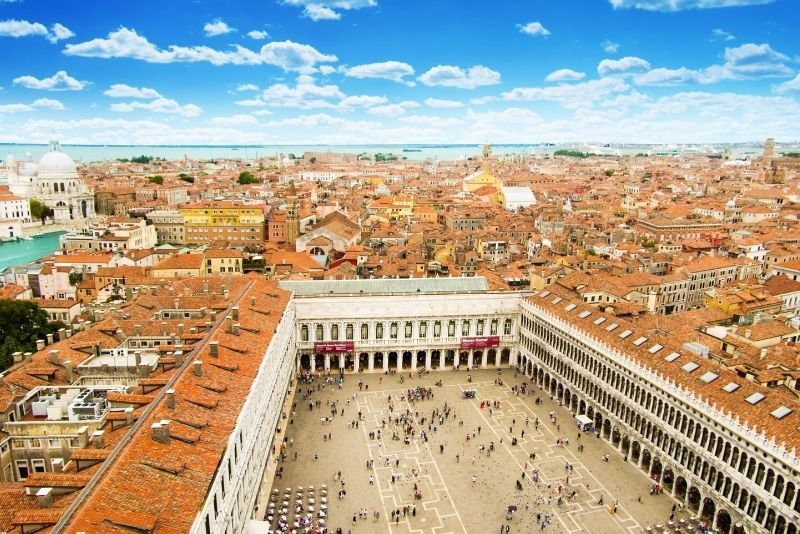 Once you've toured Venice on foot, you may have some free time to purchase souvenirs or gaze upon the lagoon with an espresso.
Some Venice day tours also travel to the city of Verona, which has been a famous destination since its feature in "Romeo and Juliet" in 1597. Upon arrival back in Milan, you'll be dropped at the same spot you departed from.
What kinds of tours are available to go to Venice?
There are a variety of Venice day trips to choose from, depending on your interests.
Guided tours to Venice from Milan
After traveling past the rolling Italian hills to Venice, you'll enjoy the fresh breeze whistling through your hair on a boat tour of the city's lagoon. As you sail through the bustling waters of Venice, filled with tourists and merchants, you'll pass by several quaint islands.
Back on land, you'll participate in a walking tour through the city, visiting notable landmarks, such as St. Mark's Square and the Doge's Palace. Finally, enjoy some free time to devour a scoop of gelato or wander around the numerous designer shops in Venice.
Private tour to Venice from Milan
Private Venice day tours enable you to have a more personal experience. You'll have a professional guide to walk you around the city and provide you with fascinating insights into Venice's landmarks.
Some of the sights you'll see include St. Mark's Square and the Rialto Bridge. You'll talk about the history of these monuments as you explore their architecture and have plenty of opportunities to ask questions.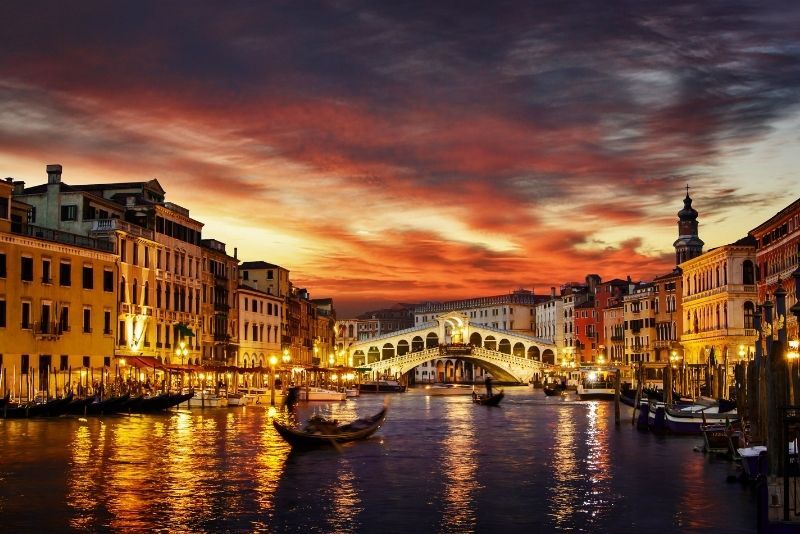 Day trip to Venice plus Verona from Milan
Leaving Milan in the early hours, you'll reach the lively and romantic city of Venice for a walking tour of its streets. As you amble along over bridges and past crowded squares, you'll learn about the history behind the city's most iconic landmarks.
After a little free time, you'll continue on to Verona, which gained its fame as the setting of Shakespeare's tragic love story — "Romeo and Juliet". You'll stroll along the Adige river and see a variety of architectural gems before heading back to Milan.
How much does a tour to Venice from Milan cost?
You'll pay between €130 and €140 per person for a Venice day trip, which includes round-trip transportation, and a boat ride around the city.
Alternatively, if you wish to combine your tour of Venice with a trip to Verona, you'll pay €140 per participant.
You can expect a private tour of Venice to cost approximately €160 per person.
What will you see and do on a Venice day trip from Milan?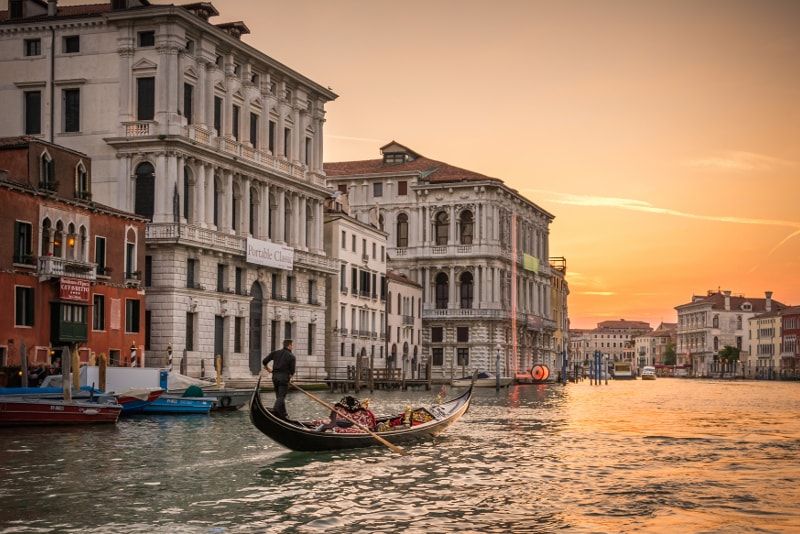 Venetian Lagoon
Venice sits inside the Venetian Lagoon, which is an enclosed bay on the northeast coast of Italy. The lagoon was formed over 6,000 years ago and encompasses over 100 islands, including the artisanal paradises of Murano, and Burano.
Venice itself was formed around the lake in the fifth century. Since then, its lagoon has been used for transportation and fishing. Today, you can travel across the Venetian Lagoon on a gondola ride and pay a visit to several of its islands.
St. Mark's Basilica
St. Mark's Basilica is one of the most recognizable landmarks in Venice. The church is situated in the Piazza San Marco, and its striking design is a blend of Byzantine, and Renaissance styles.
The basilica is named after Mark the Evangelist, who is said to have brought Christianity to Venice. Inside the church, visitors can see intricate mosaics, golden altars and marble columns.
The basilica is the third religious monument built on the land and dates back to the 11th century. It is also home to the famous "Pala d'Oro" — a gold altarpiece that contains over 1,000 precious stones.
Rialto Bridge
Spanning the Grand Canal, the Rialto Bridge has been a vital link between the city's two halves for centuries. The first bridge to cross the canal was built in 1181, which was replaced by a timber version around 70 years later. This bridge was damaged by a fire and collapsed several times.
In the 16th century, work began on the stone bridge you can see today. Designed by Antonio da Ponte, the bridge featured a central section that could be raised to allow taller ships to pass underneath.
Today, the Rialto Bridge is dotted with quaint shops and is one of Venice's most popular tourist attractions. Make a stop at the Rialto Market as well for an interesting and authentic food tasting experience!
When is the best time to visit Venice?
The best month to plan a Venice day trip is September. During this time, the weather is balmy and sunny, with average temperatures of 24 degrees Celsius.
While the summer months see Venice filled with tourists, September is much quieter, which is ideal for sightseeing.
Are there any tours to Venice from other cities in Italy?
Yes, there are tours departing from other cities in Italy:
Travel tips
Between October and January, parts of Venice become submerged in water. This flooding can happen up to 100 times throughout the winter season, so travel outside of this period.
Venice day trips require a lot of walking. For this reason, ensure you wear comfortable clothes and shoes.
If you'd like to visit a religious monument, such as St. Mark's Basilica, while in the city, make sure you adhere to the dress code. Avoid wearing sleeveless shirts, shorts or skirts above the knee.