Nestled at the base of the Alps, Como Lake is one of the largest and most visited stretches of water in Italy. Covering an area of almost 150 square kilometers, the lake is surrounded by many quaint and colorful towns, which all have their own unique charm.
With a landscape of sparkling waters, foggy mountains and opulent villas, a Como Lake day trip from Milan is a must for anyone traveling to the city.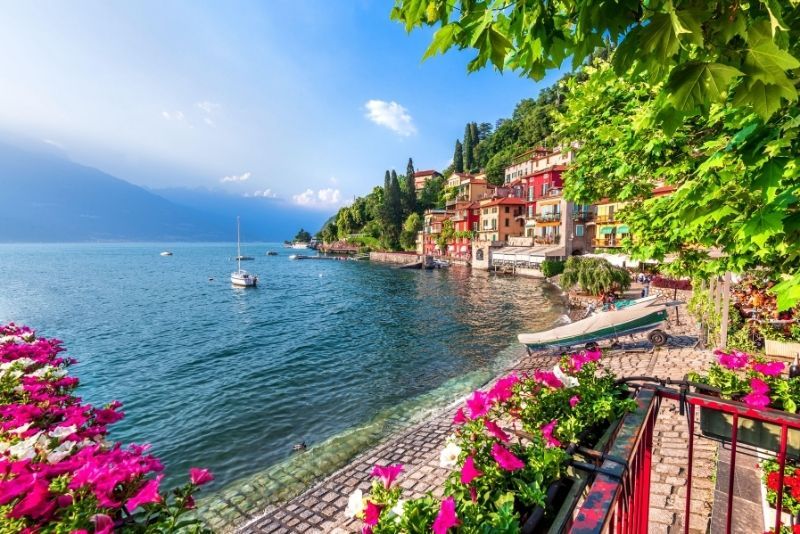 You will find below everything you need to know about Lake Como and its surrounding shore villages, a fantastic sightseeing experience for day trips from Milan.
How to get to Como Lake from Milan?
Como Lake is located in the Lombardy region of northern Italy. Its southern shores are approximately 50 kilometers from Milan.
From Milan to Como Lake by car
It takes just over an hour to make the journey to Como Lake by car. You'll leave Milan in a northeasterly direction and take the A9 as far as the southern shores of the lake. From there, you can continue along the SS340 to your destination of choice.
From Milan to Como Lake by train
You can also make the jaunt to Como Lake by train. There are many towns surrounding the lake, and you can reach Como, Varenna or Como Lago directly from Milan.
Trains depart regularly and the journey takes between 30 minutes, and 1.5 hours, depending on your destination.
Guided tour to Como Lake from Milan
Alternatively, you can take a guided excursion to Como Lake and leave the planning to someone else. Tours begin around 8 AM and usually last 9 to 10 hours.
You'll meet at an easy-to-reach landmark in the city, which you'll be informed of when booking.
What is the typical itinerary of a day tour to Como Lake from Milan?
After meeting your tour guide in central Milan, you'll make your way towards Como Lake by train or a comfortable coach. The journey to the serene lake takes around an hour through the scenic Italian countryside.
On some excursions, you'll explore the town of Varenna, where your tour guide will walk you through the streets and show you its most remarkable landmarks.
Another popular spot on your itinerary is Morbegno, which is located around 20 kilometers from the north of Como Lake, on the Adda river. The area is known for its wine production and you'll usually tour a winery and take part in a wine tasting.
The majority of Como Lake day tours pay a visit to Bellagio, which is one of the most famous spots on the lake, despite its small size. You'll have free time to wander the village as you like or stop for a local lunch of Risotto con Filetti di Pesce (fish risotto).
From there, the itinerary of tours differs. You may take a trip to Lugano, across the Swiss border. The drive through the Alps to the artistic town is breathtaking, and Lugano itself is a mixing pot of cultures.
Alternatively, you might see the Swiss Alps from the comfort of the Bernina Express, which crosses the mountain range and offers unforgettable views over Italy, and Switzerland.
What kinds of tours are available to go to Como Lake?
There are a plethora of day trips to Como Lake to choose from. They all have different itineraries and visit an array of destinations en route.
Private tour to Como Lake from Milan
You'll begin your day trip by traveling to the lakeside town of Varenna, where you'll weave your way through its colorful buildings on a walking tour. From there, you'll enjoy a scenic drive around Como Lake to Morbegno, which is snuggled in the Valtellina Valley near the Italian Alps.
After learning about the town's wine and cheese-making processes, you'll enjoy lunch with a view before visiting a traditional vineyard.
Day trip to Como Lake plus Bernina scenic train ride from Milan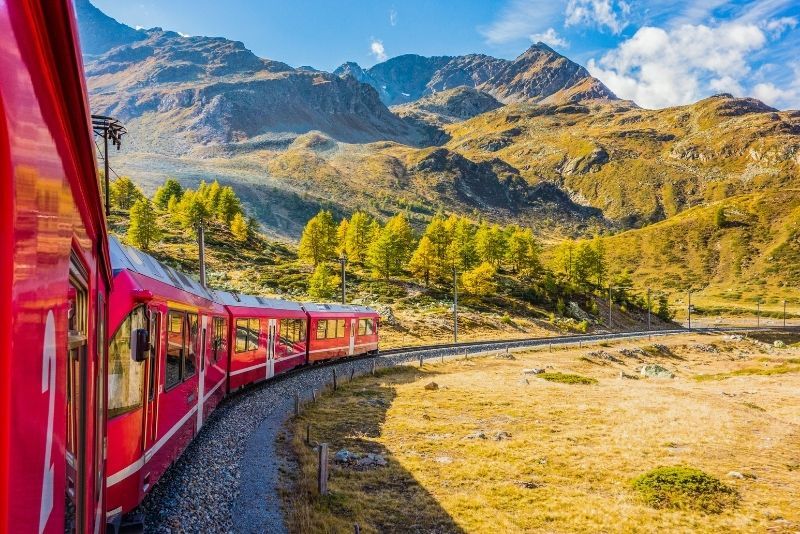 After a slow wander around the charming town of Varenna, you'll travel to Morbegno, which sits on the meandering Adda river. Here, you'll visit a winery to witness the production of Italy's world-famous beverage.
Continuing on to Tirano, you'll feast on a traditional lunch before hopping on the Bernina Express and journeying through the spectacular Swiss Alps. Finally, you'll head to St. Moritz, where you'll have free time to stroll around its lake or enjoy a warming mug of cocoa.
Day tour to Como Lake plus Bellagio and Lugano from Milan
On this Como Lake day tour, you'll cruise around the tranquil lake on a boat tour and view its landmarks, and dazzling waters. You'll then travel to the lakes' most notorious town — Bellagio — to saunter through its streets or try the local delicacies.
Continuing on, you'll cross the border into Switzerland to the artsy town of Lugano, which is known for its painted masterpieces and handmade chocolates.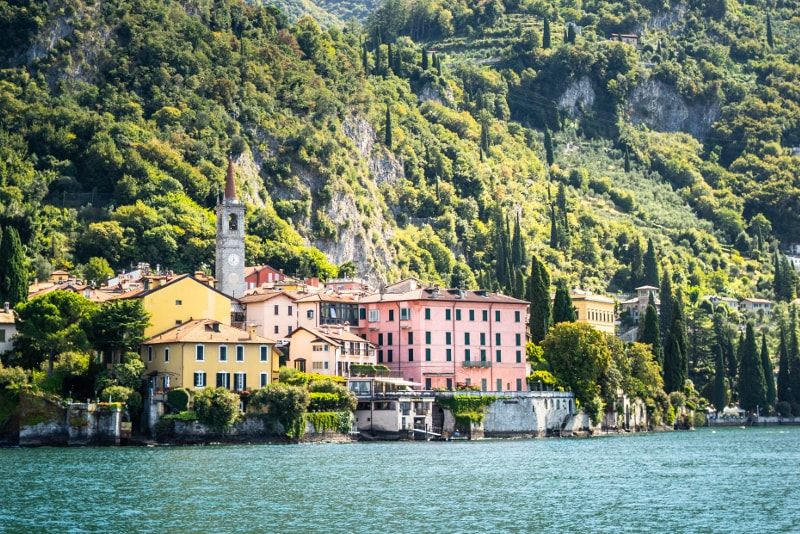 How much does a tour to Como Lake from Milan cost?
If you want to embark on a cross-country adventure, which travels to Bellagio and Lugano, you'll pay approximately €110 per person. This includes a cruise of Como Lake.
Private Como Lake day trips cost around €240 per participant and include round-trip transportation, as well as a professional guide.
Alternatively, day tours to Como Lake that include a train ride on the Bernina Express cost around €160 per person.
What will you see and do on a Como Lake day trip from Milan?
Varenna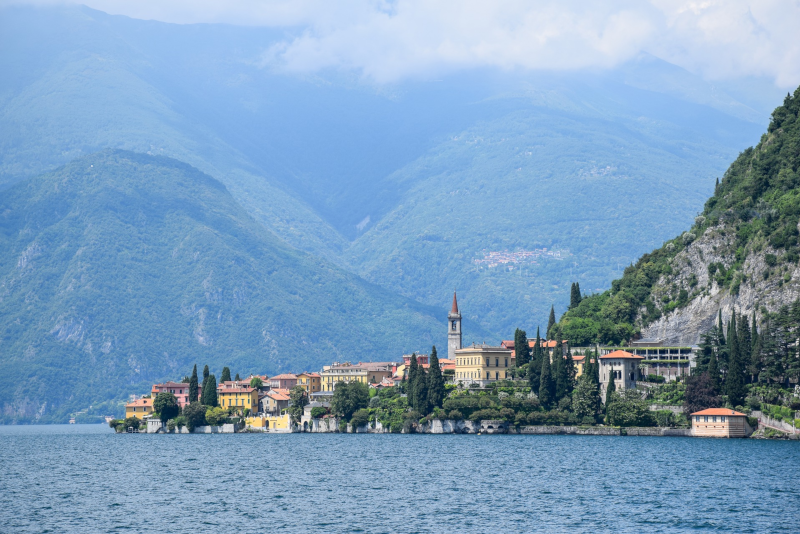 Varenna is a lakeside town with a long history, founded in the 7th century. In the Middle Ages, Varenna was a favored destination for noble families and aristocrats, who built grand villas, and gardens along the lakefront.
Today, Varenna is a popular tourist destination, known for its views across Como Lake and relaxed atmosphere. The town is also home to several important historical sites, including the Castello di Vezio — a 12th-century castle overlooking the town.
Another remarkable landmark in Varenna is Villa Monastero — a botanical gem and historical museum that was once home to a collection of nuns. From Varenna, you can also rent a boat and explore the vast stretch of water for yourself.
Bellagio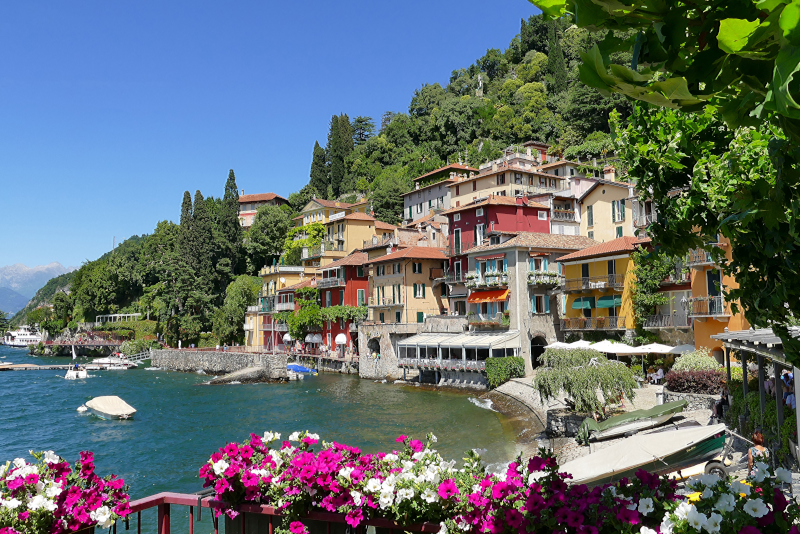 Bellagio is a small village that sits at the top of the triangle that divides the two southern shores of Como Lake.
Full of brightly-colored buildings and cobbled streets, the village is often referred to as the "pearl of Lake Como" because of its picturesque position and small-town charm. The destination attracts wealthy folk and superstars, and George Clooney and Sir Richard Branson both own villas in Bellagio.
The village was originally built between the seventh and fifth centuries BC, although there are signs of communities living in Bellagio since the Paleolithic period.
Those wanting to experience a panoramic view of the lake on their Como Lake day tour can walk up to the viewpoint on Via Giuseppe Garibaldi. From here, you can see the shimmering waters and towering mountains in the distance.
Alternatively, you can head to the Melzi Gardens, which are filled with perfectly-pruned conifers and native plants, set against a magnificent view of Como Lake.
When is the best time to visit Como Lake?
One of the best times to plan a Como Lake day trip is during the heat of the summer. At this time, there are plenty of water activities to participate in and temperatures reach a balmy 25 degrees Celsius.
The winter months are often overlooked as a prime time to visit Como Lake. However, between November and February, you can experience the lake in a new light, surrounded by snow-capped mountains, and with relatively few tourists.
Travel tips
If you have free time to spend around Como Lake, consider renting a boat and discovering the water for yourself.
Some day trips to Como Lake explore the wine region that surrounds the body of water. If you're a fan of the beverage, take a tour that visits a winery.
When in Bellagio, ensure you head to its viewpoint for one of the best sights in the whole of Como Lake.
Take an extra layer with you if your tour travels into the Swiss Alps.