Often overlooked in favor of Florence or Rome, Milan might just surprise you. Fashion, food, and architecture are what make this stylish northern city tick, while a healthy dusting of history satisfies curious minds.
Less touristy than other popular Italian destinations, Milan shows off urban life at its most authentic. If you want to see the city's showpieces, free walking tours in Milan are a fun way to explore.
How do free walking tours in Milan work?
With free tours in Milan, there is no fixed fee or upfront payment required. You don't even need to enter your credit card details to make a reservation either.
Just take some cash with you on the day and give the guide a tip after the tour. The amount is completely your choice. Think about what you feel the experience was worth and come up with an appropriate amount.
How much should you tip for a free walking tour in Milan?
The tip amount is decided freely and individually by each participant on the excursion. However, we can disclose that most people on free walking tours in Milan pay their guide between €10 and €15 per person. Some people offer €50 while others give just €5.
To help you come up with an amount, we suggest taking the length of the tour and the knowledge of the guide into consideration. Then just tip accordingly.
What are the best free walking tours in Milan?
There are a handful of free walking tours in Milan. Each has its own theme, leading you into different districts or focusing on specific topics during the excursion.
Essential Milan free walking tours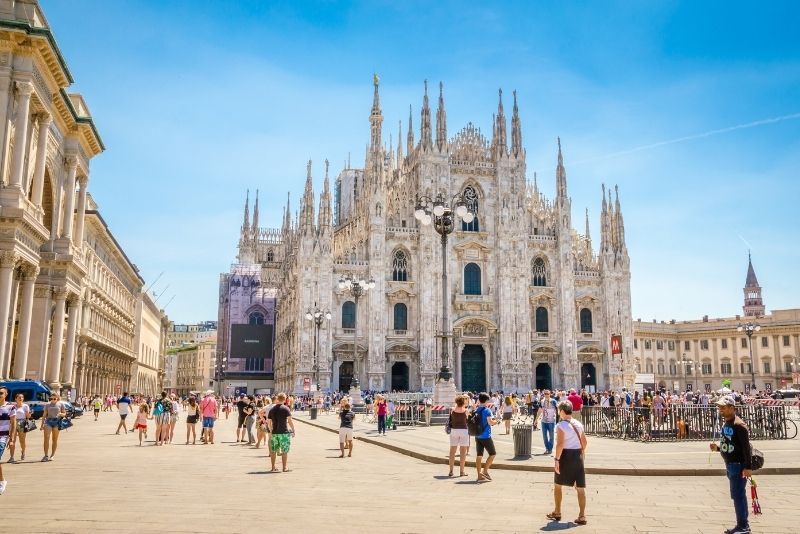 These traditional walking tours give a great introduction to Milan and are perfect for first-time visitors. You'll discover fashion, architecture, and culture as you wander through the charming streets of the historic quarter.
Milan Cathedral is the real showstopper, with imposing towers and ornate Gothic façades dominating the city skyline. The Basilica of San Nazaro in Brolo is stunning too and dates all the way back to the 4th century. Continue your walk to the Statale University of Milan and discover the famous characters who once studied here.
Fashionistas will enjoy stopping at the Galleria Vittoria Emanuele II. It's the oldest shopping mall in the country, with incredible architecture and plenty of big-name boutiques. Don't forget to look up at the vast glass dome overhead.
Next up is the famous La Scala Opera House, where internationally renowned artists have performed since the 18thcentury. Another highlight is Piazza degli Affari, which is the city's beating business heart. Here you'll find the Italian stock exchange headquarters and discover how Milan became the country's financial powerhouse.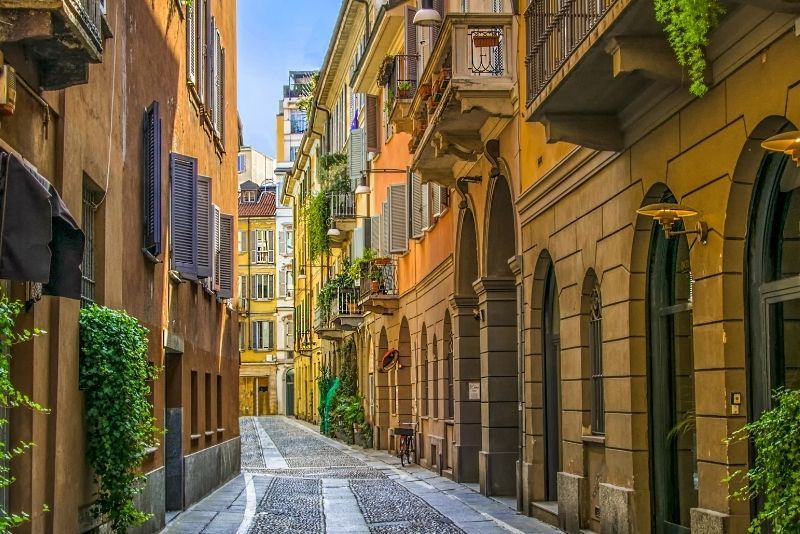 Search beyond the obvious as you embark on a fascinating tour of Milan's hidden treasures. You'll discover the legacies of local heroes like Leonardo da Vinci and Giuseppe Verdi, before exploring the city's more contemporary side.
Stroll around the Plaza Gae Aulenti and admire the award-winning buildings and sculptures that put Milan firmly on the modern map. Then head through fashionable Corso Como and enter Milan's historic center through the Ponte delle Gabelle. Here you'll see the canals and lock systems that were influenced by Leonardo's great hydraulic designs.
Continuing along the canals, you'll come to the bohemian district around the elegant Brera Academy of Fine Arts. Other highlights include the medieval Sforza Castle and La Scala Opera House.
Art Nouveau themed free walking tours
Architecture is one thing that Milan has well and truly nailed. For something different, look beyond the Gothic cathedrals and Middle Age castles, and discover a whole new world of Art Nouveau.
The Liberty style was Italy's answer to Art Nouveau, and many of the houses here in central Milan pay homage to this flamboyant design era. Your tour begins at Casa Guazzoni and Casa Galimberti, where the colorful ceramic façades will have you reaching for your cameras.
Continue to the magnificent Palazzo Castiglioni in Corso Venezia, which stands resplendent with its eye-catching Liberty flourishes. The Berri Meregalli Houses are perhaps the most eclectic of the Liberty showpieces, with gargoyles and gold mosaics that glint in the sun.
Your final stop is the Casa Campanini on Via Bellini, which boasts enormous feminine statues and flowers. It's one of the best examples of Art Nouveau in Milan.
In which languages are free walking tours in Milan operated?
Free tours in Milan are usually offered in English, Spanish, and of course Italian. Many guides are multi-lingual, and English is widely understood in the city, so finding a suitable tour should be easy.
Where do free walking tours in Milan start?
Milan walking tours usually start somewhere central in the historic part of town. These meeting places are easy to access both on foot and by public transport to help fit in with your sightseeing schedule.
The traditional Milan free walking tours tend to start from the Piazza del Duomo or the Novecento Museum by the Duomo metro station. Excursions sometimes begin at the Galleria Vittorio Emanuele or the Piazza San Nazaro. Sant'Ambrogio Square outside the Basilica gates is another popular jumping-off point.
For the hidden gems tours, you will need to make your way to either the Garibaldi metro station or the Galleria Vittoria Emanuele.
Meanwhile, the meeting point for the Art Nouveau houses tour is in Piazza Oberdan.
How long do free walking tours in Milan last?
Generally, most free walking tours in Milan last between 2 and 3 hours. This should give you enough time to take in the major sights without getting weary feet! If you're feeling spritely, you can always take more than one tour during your vacation.
When is the best time to join a free walking tour in Milan?
The most popular time for free walking tours in Milan is during the morning. This is when the historic center is quietest which makes it easier for your group to move through the streets.
There are also tours available during the afternoon. It can get hot in summer so take plenty of water if you opt for one of the later excursions.
Booking a Milan tour for your first day is advised, to give you a gentle introduction to the city.
Should Milan free walking tours be booked online?
Ideally, you should try to book free walking tours in Milan before you even arrive in Italy. Places fill up fast, so you don't want to risk missing out on your chosen date or time.
Having a prior reservation also means you can make the most of your days in Milan, rather than having to do lots of research while you are there.
It's totally free to book a place on these Milan walking tours. Cancellation is without charge too should your schedule change.