Surrounded by Tuscan hills featuring numerous picturesque vineyards, Milan is the place for wine lovers. The best way to see which of the region's concoctions you like best is through a wine tour in Milan. You can try local varieties, such as Cabernet Sauvignon and Pinot Noir, alongside samples of mouthwatering Italian cuisine. Taking a journey around Milan through your tastebuds is the perfect way to experience the city.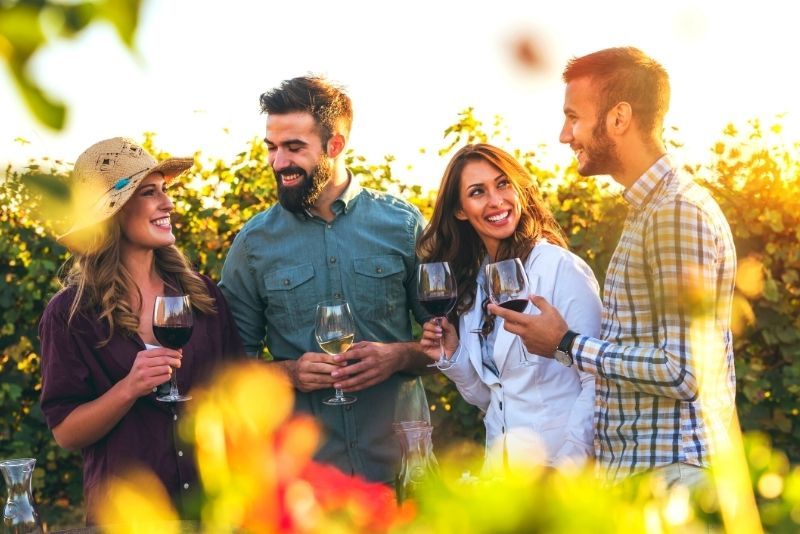 You will find below all you need to know about one of the most popular wine experiences in Milan.
What are the best wine tours in Milan?
Private Lake Como wine tour
If you wish to enjoy peacefully hopping between the towns surrounding Lake Como without other tourists around you, consider taking a private tour.
You'll travel to the town of Varenna by train, taking in the Italian countryside as you whizz past miles of verdant hills. When you reach the traditional village, you'll embark on a walking tour through its steep cobbled streets and candy-colored homes. Moving on, you'll make your way to the Valtellina valley by car, which borders Switzerland and is home to a cluster of alpine villages.
After exploring the small yet thriving community of Morbegno, you'll take a break for an authentic Italian lunch in a local restaurant. At this point in your tour, you'll have the opportunity to participate in a wine tasting session at a vineyard that grows Nebbiolo grapes. This variety of grape results in a fruity wine with notes of tobacco and truffle.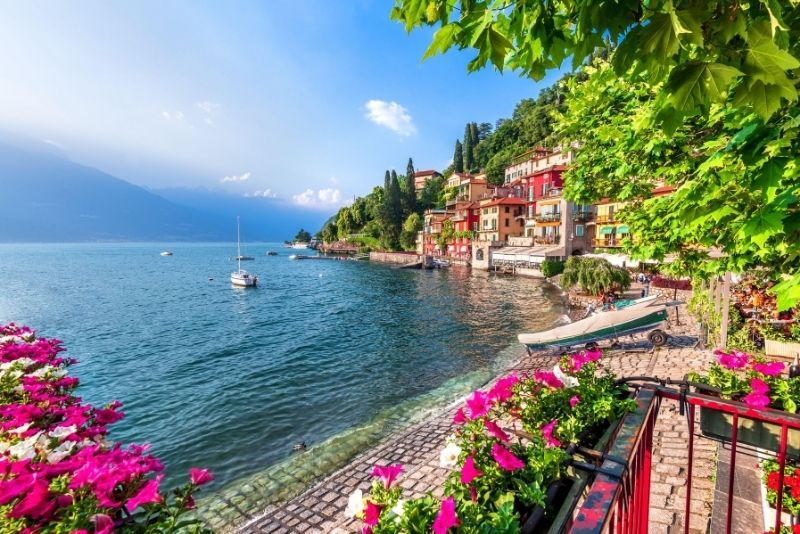 Milan wine tasting experience
You can also experience a variety of wines in the heart of Milan.
You'll make your way to an esteemed bar in the city, where you'll be met by a knowledgeable sommelier. While in the establishment, you'll enjoy sampling a range of wines produced in the Lombardy region of Italy.
These include Refosco del Penduncolo, Montepulciano d'Abruzzo and Pinot Nero. To accompany these tipples, you'll try several local dishes, such as beef carpaccio, as well as classic chocolate cake.
Food and wine tasting experience in a Milanese home
In order to understand a country better, you must meet its locals.
This wine-tasting tour in Milan sees you enter the home of a Milanese family for an evening of conversation, laughter and scrumptious Italian delicacies. You'll try wines that are local to the Lombardy region, produced by artisanal winemakers and small businesses.
The menu features fresh ingredients, with vegetables picked straight from the homeowners' garden, and fish purchased directly from a market. You'll be transported back in time to the Milan of old as you try historic seasonal dishes.
You can expect to enjoy soup, ravioli, pasta, risotto and gnocchi as you learn secrets about the city that only a local would know.
Piedmont and Barolo wine tasting day tour
If you wish to venture further afield to try different varieties of wine, take a tour of the Piedmont region.
This province is surrounded by the Alps, making it an unusual destination for growing grapes. Nevertheless, the Barolo and Barbaresco reds produced here are world-class, and you'll have the opportunity to sample them both.
You'll travel towards Piedmont past mountainscapes and deep valleys, enjoying the dramatic scenery as you pass by. Your first stop will be at a local winery that is renowned for its production of Barolo wine. Here, you'll sample different types of the fruity concoction, as well as traditional Italian produce.
Continuing on to a second winery, you'll try Barbaresco wine, which you'll be able to compare to your previous tipple.
How much do wine tours in Milan cost?
If you'd like to stay in the city for your Milan wine tasting tour, you'll pay between €40 and €70.
Another type of wine tour in Milan takes place in the home of a local. You'll be able to learn about the real Milan, try the best fare and possibly make a new friend for around €80.
Alternatively, you can be transported to Piedmont, in the foothills of the Alps in order to try local wines. You will pay around €190 for this type of tour.
You can expect to pay approximately €240 for a private wine tour that travels to Lake Como.
You may choose to participate in a combination tour that includes truffle hunting, for which you'll pay €650 per person.
What is included in a wine tour in Milan?
Wine tours in Milan tend to include one or two tasting sessions of fruity tipples from the regions of Lombardy and Langhe. On top of sampling wines, you'll also be able to try Milanese cuisine. On some tours, this is in the form of a three-course meal, while on others, you'll be provided with several snacks. You'll have a professional guide on hand to facilitate your trip, and in some cases, a sommelier.
Where do wine tours in Milan start?
If your Milan wine tasting tour takes place at a restaurant or bar in the city, you'll meet your tour guide there. However, if you'll be traveling to a different region, you may meet at a wide variety of locations across Milan. These starting points are usually located close to a metro station, making them easy to arrange transportation to.
How long do wine tours in Milan last?
Wine tours in Milan can last anywhere from an hour to 10 hours, depending on the type of excursion you choose. Generally, if your wine tasting experience takes place in the center of the city, it will last between one and three hours. Alternatively, if you travel to another location, such as Lake Como or the Piedmont region, your tour will last closer to eight hours.
When is the best time for a wine tour in Milan?
You can take part in a wine tasting experience in Milan at any time of day. However, as these excursions feature alcohol, you may find yourself wanting to hold off until the afternoon or evening.
Sampling the local tipple is a great way to get to know a city, so book your tour for day two or three of your trip.
Are there any combos available with wine tours in Milan?
Milan art walking tour with food and wine tasting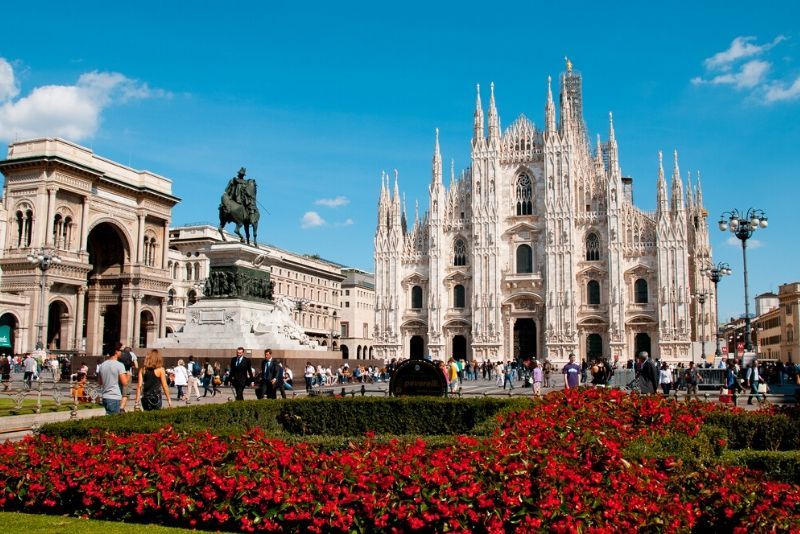 Strolling through the city streets, you'll happen upon many architectural gems of Milan. On this tour, you'll explore the Pinacoteca di Brera, Piazza della Scala and the Duomo di Milano.
As you reach each of these destinations, you'll see their iconic architectural styles, before learning about the history of Milan's cuisine. You'll have the opportunity to sample several wines from the region, as well as a selection of snacks.
Barbaresco wine tour with truffle hunting and lunch
The Langhe region is well-known for its outstanding selection of truffles, which you can hunt for yourself. You'll have an expert guide to help you locate black and white truffles, before sampling several truffle-based snacks. You'll be served a feast of delicious northern Italian cuisine overlooking the vineyards of Langhe.
After lunch, you'll stop by a local winery to taste the sumptuous Barbaresco variety of wine, before exploring the town of the same name.
Are children allowed on a wine tour in Milan?
Each tour has different age requirements. Some allow children of all ages to participate, while others prohibit those under 19 from joining in. As there is no one-size-fits-all approach to accommodating children on wine tours in Milan, you should check your individual excursion's conditions before booking.
Travel tips
If you don't have much time to spare in Italy, consider taking a combination tour that allows you to see more of the country.
Wine tours in Milan usually include a meal or a variety of snacks. If you have any dietary requirements, let your tour operator know upon booking.
Wineries tend to have a smart-casual dress code. Leave the sneakers at your hotel and opt for sandals or closed-toe shoes with a comfortable yet stylish outfit.
As wine tours normally include several dishes of the local fare, avoid eating a large meal before participating.