If you're looking for an alternative way to see Florence, look no further than a Segway. Fun to ride and easy for beginners to grasp, Segway can whip you around the city much faster than you could achieve on foot.
On a segway tour in Florence, you'll experience the main highlights of the city, including its legendary Dome and Cathedral. You'll also see how the artists of the Renaissance era have inspired the Florence you see today.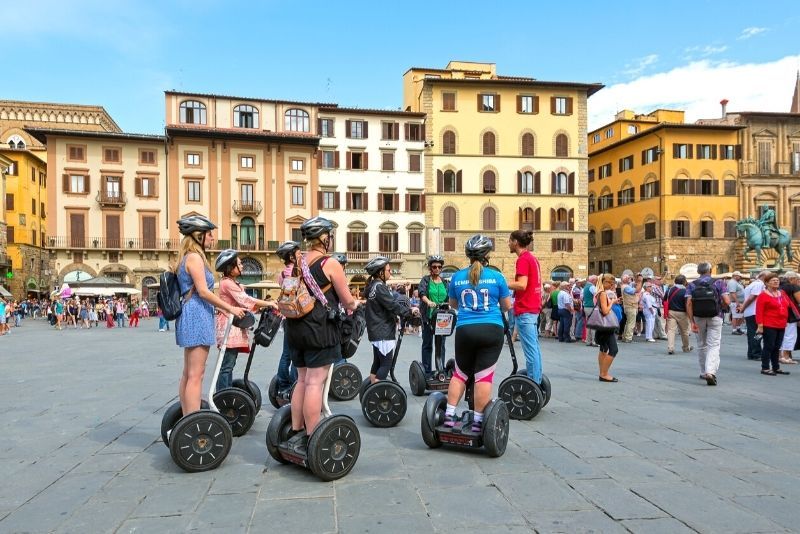 You will find below all you need to know about segway tours, one of the most fun option for sightseeing tours in Florence.
What are the best Segway tours in Florence?
Florence Segway tour
Take to the streets on an electric scooter and watch the Renaissance history of Florence unfold before you.
After a safety briefing, you'll don your helmet, pop your headphones on and zoom through the city, with a guide leading the way. You'll enjoy a fun running commentary, full of stories and anecdotes, about the plethora of sites you see. Without breaking a sweat, you'll journey to several of the most iconic attractions in Florence.
These include the Santa Maria Novella Cathedral, which is a Gothic structure that dates back to the 13th century. You can't miss Brunelleschi's Dome towering over the city as you admire the architecture of the church. You'll scoot through the bustling squares of the Piazza della Repubblica and Piazza della Signoria, and see the Uffizi Gallery in all its glory.
You'll be humbled by the lofty spires and magnificent facade of the Basilica of Santa Croce.
Forming a grand loop around the city, your tour will lead you past Florence's most striking landmarks before returning you to your meeting point.
Panoramic sunset Segway tour of Florence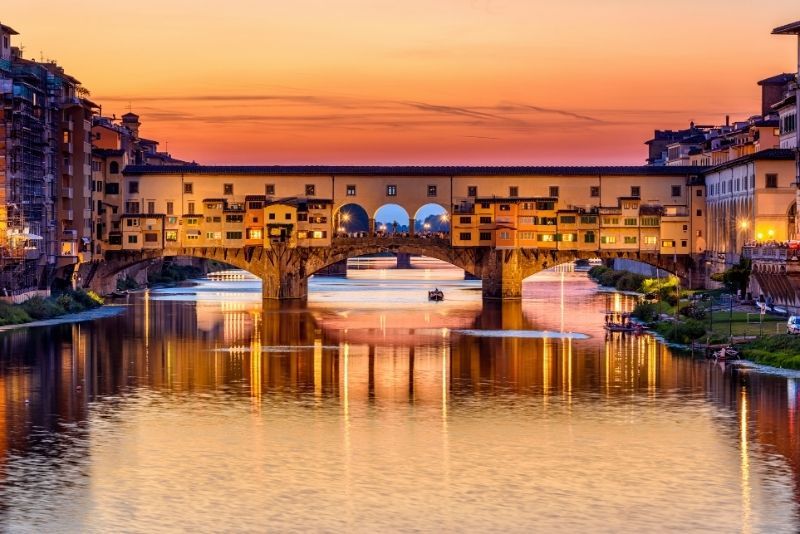 Be awed by the golden glow Florence develops as the sun sets over the cityscape, on this tour that operates at dusk.
You'll travel along the River Arno, watching the fiery sun bounce off the glistening waters, and discover the landmarks that line its banks. The most extraordinary sites you'll visit include the Ponte Vecchio bridge, the Basilica of Santa Croce and the Oltrarno district. Hop off your Segway for a glass of wine admiring the city from above at Piazzale Michelangelo.
Florence night Segway tour
This segway tour in Florence showcases the "jewel of the Renaissance" as it twinkles at night.
As part of a small group, you'll follow your guide through the city, stopping at significant landmarks to witness their grandeur and snap a great photo. You'll head to the Santa Maria Novella Cathedral and see the colossal Giotto Tower, which stands at a staggering 84 meters tall.
You'll also see the thriving hub of the city — the Piazza del Duomo — as well as the Baptistery and Church of San Lorenzo. You'll also have the opportunity to rub the lucky boar's snout at the fountain in Porcellino Market and admire the impressive Basilica of Santa Croce.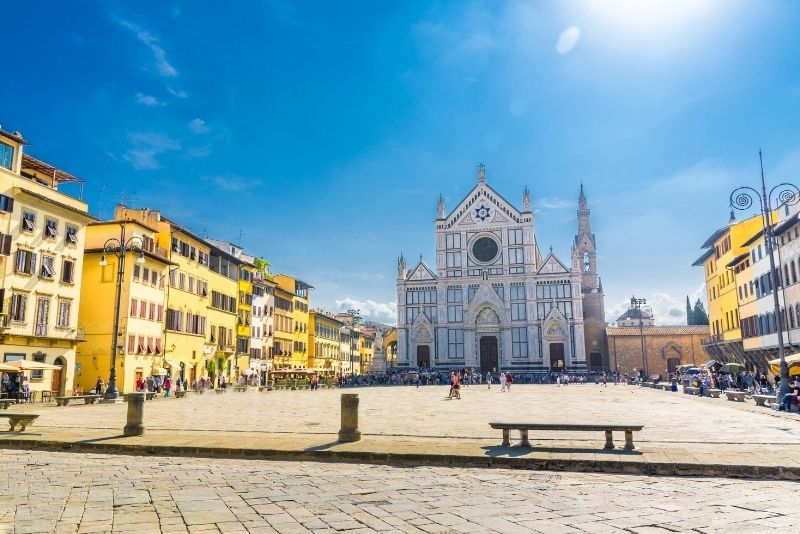 Private Segway tour in Florence
A private segway excursion enables you to have a more personal experience, with a knowledgeable guide to provide you with a detailed and enlightening commentary.
Your guide will cover the basics of controlling a segway before you're let loose on the city streets. You'll travel through Florence at a gentle pace, learning about the history behind each Renaissance landmark. Among the attractions and monuments you'll stop at, are the Piazza del Duomo, Porcellino Market and Palazzo Strozzi.
The palace was once home to one of the wealthiest families in Florence — the Strozzi family — all of whom were banished from the city after opposing the powerful Medici clan.
How much do Segway tours in Florence cost?
You can expect to pay between €30 and €50  per person, for a segway tour that explores the main highlights of the city.
Sunset segway tours in Florence cost between €50 and €70 per person , while nighttime excursions begin at just under €70 per person.
If you wish to have a professional guide all to yourself, you may consider a private tour. This costs around €90 per person.
What is included in a Segway tour in Florence?
All Segway tours in Florence include an orientation session to get acquainted with your vehicle. You'll be provided with any necessary safety gear, such as a helmet, and the segway you'll use for the duration of the trip. A professional guide will lead you around the city, and usually, you'll have a headset to enable you to hear their commentary clearly.
Occasionally, a celebratory glass of wine is included in your tour price.
Where do Segway tours in Florence start?
Some Segway tours in Florence offer a hotel pickup service. However, most excursions begin at the tour operator's office in the heart of the city. You'll be provided with the address ahead of time so that you can plan your route by public transportation or taxi.
How long do Segway tours in Florence last?
Typically, Florence Segway tours last between one and three hours. Those that last longer tend to visit more landmarks along the way. Shorter excursions that last just an hour include a select few of the most famous attractions in the city.
When is the best time for a Segway tour in Florence?
Florence is a spectacular destination for art and history alike at any time of day. However, seeing the twinkling lights illuminate the city as the sun sets is a remarkable sight and makes for an unforgettable memory of your vacation.
If you wish to avoid swarms of tourists, head to Florence in the shoulder months of May, June or September.
Is it safe to take a Segway tour in Florence?
Segway tours are a safe and fun way to see the city without a lot of strenuous walking. It doesn't matter whether you're a total novice as you'll participate in a safety briefing when you arrive. You'll also have a safety helmet on to protect yourself in case of an accident. Pregnant women are prohibited from participating in a Segway experience.
Are children allowed on a Segway tour in Florence?
Italian laws state that those under the age of 14 cannot ride a segway. However, those between 14 and 18 are permitted to ride their own Segway, as long as they are accompanied by a parent or guardian.
Travel tips
Segway tours are usually designed to hold up to 100 kilograms. Check your individual excursion to see whether weight limitations apply.
Segway tours in Florence operate in all conditions. Take a rain jacket or a sun hat with you on your jaunt through the city, depending on the time of year.
It is recommended that you wear flat shoes, such as sneakers, on your excursion.