If you're in Florence, you should consider getting out of the city to explore the picturesque region that surrounds it. There's no better way to do so than in an iconic Fiat 500, which you can drive like a local through some of Tuscany's most exquisite countryside.
Driving a vintage car adds an extra element of fun to the experience, and you'll get to explore places that are off the beaten path. Ditch the rental car and take a Fiat 500 tour from Florence for an adventure that you'll never forget.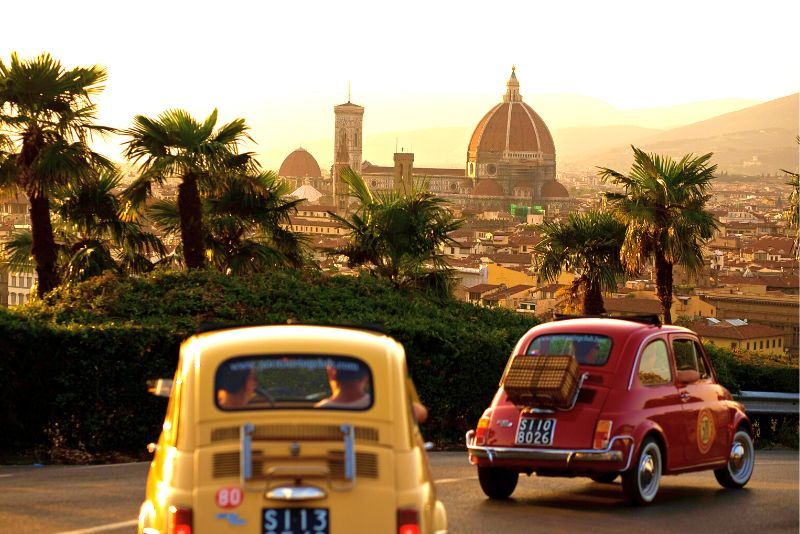 Read all the information you need below and get set for a Fiat 500 ride, one of the most classic Italian outdoor experiences in Florence.
What are the best Fiat 500 tours from Florence?
Fiat 500 wine tasting tour
You can choose to join a procession of vintage Fiat 500's traveling through the streets of Florence and out towards the Tuscan Hills. You'll feel like a celebrity as bypassers cheer you on while driving your classic car through the bustle of the romantic city.
Leaving Florence behind, you'll travel out into the panoramic region of the Tuscany, which is known for its production of flavorful red wines. You'll stop at a 15th-century villa to take a tour of its historic grounds. You'll also embark on a stroll through the estate's thriving vineyards and a wine tasting.
Alongside the fruity tipple, you'll enjoy tasting local olive oil before sitting down to a freshly-prepared lunch. Once your thirst is quenched and your stomach is full, you'll hop back into your Fiat 500, and return to Florence.
Self-drive vintage Fiat 500 sunset tour
This self-drive tour enables you to explore the region surrounding Florence under a fiery glow. After learning some little-known facts about the famous Fiat company, you'll wind your way through the streets of Florence and out to the Tuscan Hills.
You'll follow in the tracks of legends as you drive a portion of the Mille Miglia — a 1,000-mile motor race established in 1927. As the skies slowly turn into a pastel painting, you'll see the scenic landscapes of Tuscany in all their glory.
You'll reach a charming Renaissance villa in time to discover its luxurious features, including a swimming pool. You can relax as you enjoy a traditional cocktail in these tranquil surroundings before being served an array of Italian snacks.
There's no need to worry about overindulging in alcoholic beverages as you'll be transported back to the city by your tour operator.
Fiat 500 tour from Florence with a driver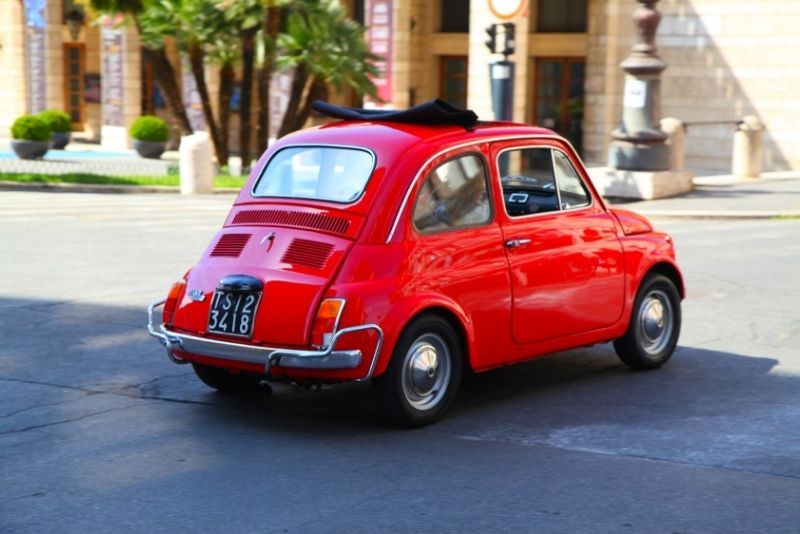 If you don't want to get behind the wheel, choose to be chauffeured around Italy on this private Fiat 500 tour from Florence. After meeting your professional driver, you'll climb into your vintage car and travel out of the city.
You'll drive up the hill of Basilica San Miniato al Monte to gain an aerial view of the historic city of Florence. You'll have the opportunity to wander around the cathedral of San Miniato, which features Romanesque architecture and dates back to the 11th century.
Back in your Fiat 500, you'll travel through the hilly Tuscan countryside and stop for breakfast or gelato, depending on the time of day.
On your Fiat 500 tour from Florence, you'll also learn about the production process of wine and olive oil in Tuscany — a region famous for its vineyards.
How much do Fiat 500 tours from Florence cost?
Wine tasting tours cost between €110 and €170 per person depending on the length of the tour, and the extras that are included.
You'll pay approximately €140 per person for a Florence Fiat 500 excursion that takes place around sunset.
If you wish to take a Fiat 500 tour from Florence that includes a private driver, you'll pay around €180 per person.
What is included in a Fiat 500 tour from Florence?
Fiat 500 tours from Florence include car hire, as well as the necessary insurance for you to drive through Tuscany. You'll often have a guide leading the convoy of cars and you'll be in possession of a radio to connect you to them while driving.
Many excursions include an olive oil and wine tasting session, as well as a small meal or snack. Depending on the time of day, this may range from cold cuts to gelato.
On most tours, there is an additional charge for fuel.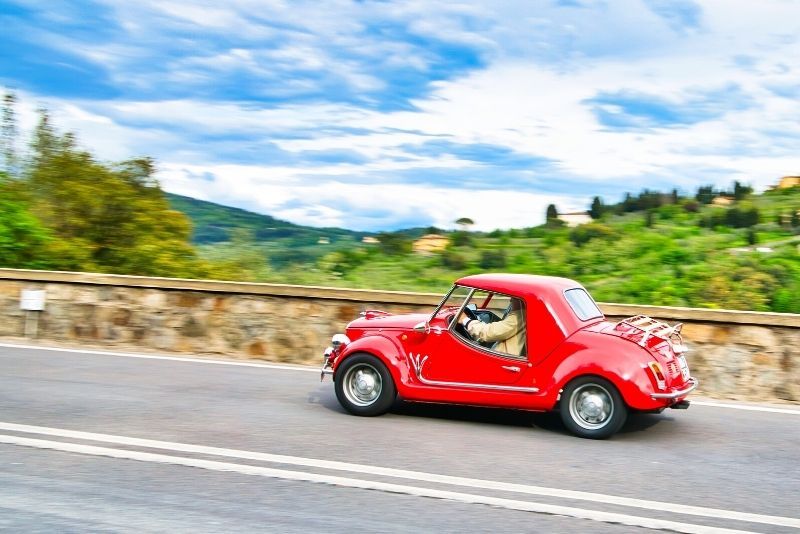 Where do Fiat 500 tours from Florence start?
Vintage car tours from Florence begin at a multitude of destinations across the city. You'll either meet at a renowned landmark in Florence, such as Piazza dei Cavalleggeri, or at the tour operator's office.
Wherever your trip departs from, you'll be informed of the location before booking so that you can plan your journey there in advance.
How long do Fiat 500 tours from Florence last?
You can expect most Fiat 500 tours from Florence to last approximately 4 hours. However, if you have limited time in the city, you can choose an excursion that lasts just 2 hours.
Alternatively, if you wish to explore the area surrounding Florence in more depth, you can spend up to 10 hours behind the wheel.
When is the best time for a Fiat 500 tour from Florence?
Self-drive Fiat 500 tours from Florence travel to the Tuscan Hills, which are spectacular at any time of day. However, if you want to experience the region at its best, take a sunset tour.
Spend a few days exploring the city of Florence before you venture further out on a Fiat 500 adventure.
Travel tips
Remember to bring your driver's license along on your Fiat 500 tour from Florence.
You must be at least 18 years of age to drive on a Fiat 500 tour in Italy.
You will need to be experienced in driving a manual car in order to participate in this type of excursion.
If your tour includes a wine tasting session, the driver is advised to spit the beverage out after sampling, which is a common practice.