As you weave your way out of Florence's busy streets and into the Tuscan countryside, you'll realize there is a whole different side to this region. One of the best ways to experience its olive groves and pristine vineyards is on horseback.
Horseback riding tours in Florence are an alternative way to view the scenery beyond the city and explore a number of landmarks. Don't worry if you've never ridden a horse before — a horse riding tour will turn you into a professional in no time.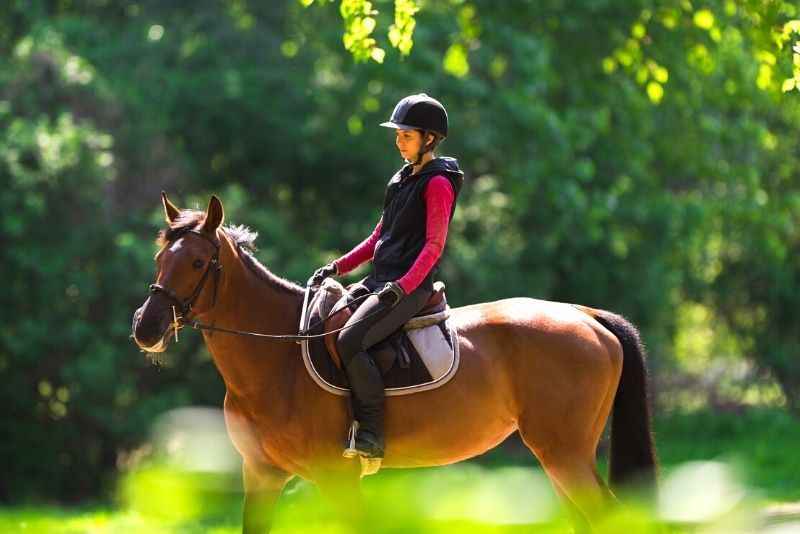 You will find below all about horseback riding experiences, one of the most amusing outdoor activities in Florence.
What are the best horseback riding tours in Florence?
Horseback riding and wine tour
Many horseback riding tours in Florence take advantage of the region's excellent wines. You'll be chauffeured to a riding school just outside of Florence in order to mount your house and begin your excursion.
Regardless of whether you're a beginner or an expert, you'll be able to participate in this activity, with the help of an experienced guide.
You'll trot leisurely through the olive groves and vineyards that form the Chianti region of Tuscany. Once you've enjoyed the remarkable landscape on a horseback, you'll be escorted to a local winery for a wine tasting session and lunch.
You'll tour the estate, including its wine cellars, where the beverage is aged to create a richer flavor. Your tasting session enables you to sample four wines from the region, including a sweet dessert wine.
Horseback riding tour with olive oil tasting and lunch
If you'd like to sample more of Tuscany's local produce, consider this tour.
You'll meet your gentle horse at a riding center outside of Florence, where you'll participate in a briefing on how to ride efficiently. After making friends with your four-legged companion, you'll ride through the Tuscan countryside, taking in the tranquility of the area.
You'll also travel to one of the most renowned estates for olive oil production in the region. The establishment has been growing olive trees since the middle ages and is well versed in how to create the most flavorful oil.
Here, you'll enjoy a charcuterie board to accompany local wine, honey and an olive oil tasting, before returning to Florence with a full stomach.
Sunset horse riding tour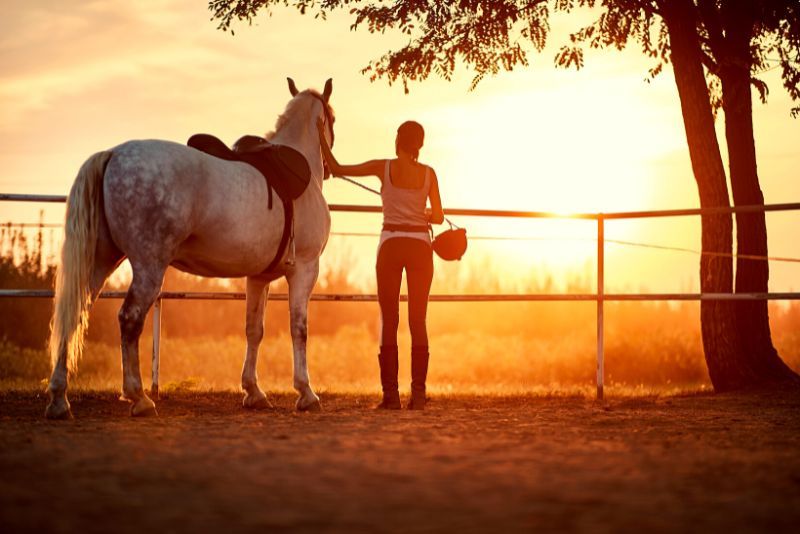 Those wanting to experience an authentic Italian vacation can enjoy dinner with the locals on this horseback riding tour in Florence.
You'll be picked up by a friendly guide and driven through the busy streets of Florence towards the peaceful village of Reggello. A training session will allow your confidence in horse riding to grow before the tour begins.
Once you and your horse have become acquainted, you'll ride to a picturesque spot in order to enjoy a colorful sunset. Continuing on your tour, you'll be invited to enjoy a traditional Italian dinner with a local family who will be waiting to welcome you with open arms.
Italian cuisine is some of the best in the world, and you'll experience it through a freshly-prepared menu of Tuscan staples.
Horse riding tour in the Mugello
This horse riding tour transports you to the Apennine Mountains, just outside of the city.
After leaving the winding streets of Florence behind, you'll arrive at your starting point in Mugello. From there, you'll enjoy a relaxing and easy ride through dense woods, and spectacular landscapes, passing by the towering Apennine Mountains.
This mountain range is home to endangered species of wolves and bears, and towers over the region at a height of approximately 2,900 meters. To celebrate your skills on horseback, you'll toast the end of your tour with a glass of local wine and a small selection of Italian cold cuts.
How much do horseback riding tours in Florence cost?
Horseback riding tours in Florence that include wine tasting cost between €180 and €350 per person. Those on the higher end of this range take place in a private group.
Tours that begin at the village of Mugello cost approximately €270 per person and include private transportation from your hotel.
You can expect Florence horseback riding excursions that include an olive oil tasting to cost around €280 per participant.
If you wish to participate in a sunset horse riding session, you'll pay €480 per person, which includes a freshly-prepared Italian feast with the locals.
What is included in a horseback riding tour in Florence?
Horseback riding tours in Florence always include safety equipment, as well as a professional guide to show you how to control your horse. Insurance is also taken care of on most excursions, in case an accident occurs.
Many horse riding tours include a meal, as well as a tasting session of local products, such as wine, honey and olive oil.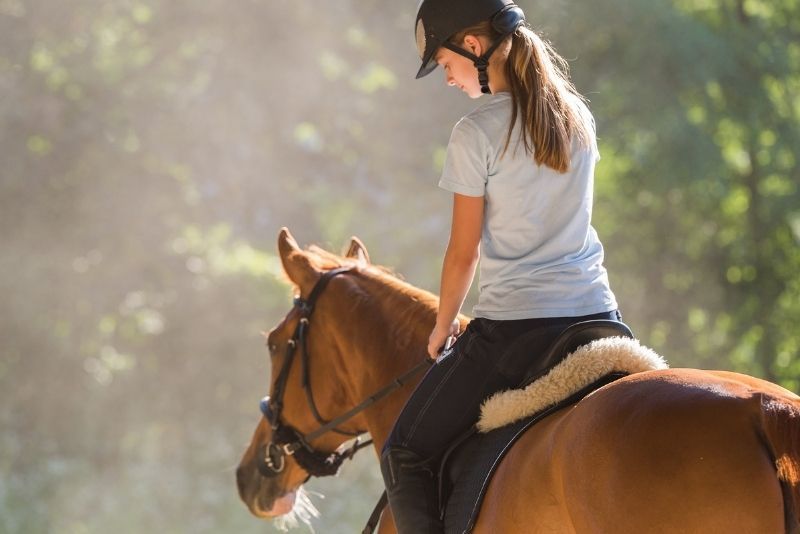 Where do horseback riding tours in Florence start?
All Florence horse riding excursions transport you from the city to your starting point in the countryside. You may benefit from a complimentary hotel pickup service.
Alternatively, your tour may begin at a central location in the city that is easy to reach on public transportation.
You'll be informed of the meeting point for every outing before booking so that you can organize your route there.
How long do horseback riding tours in Florence last?
Tours usually last between 5 and 7 hours. You'll participate in the activity itself for up to 1.5 hours and then continue on to another location to enjoy a meal or sample local produce.
When is the best time for a horseback riding tour in Florence?
On your horseback riding excursion in Florence, you'll trot slowly through the countryside without breaking a sweat. This means you can enjoy your tour at any time of day.
Arguably, the most magical time to participate in a horse ride is during sunset, when the Tuscan Hills are tinged with a soft orange glow.
Organize this trip towards the end of your vacation after spending a few days exploring the city center.
Is it safe to take a horseback riding tour in Florence?
Horseback riding tours in Florence are safe, even if you are a novice. You'll travel slowly on your horse and be paired with one that matches your ability. You'll also have a professional guide to provide you with instructions on how to ride and assist you throughout your tour.
Pregnant persons and those with mobility issues are advised against participating.
Are children allowed on a horseback riding tour in Florence?
Age restrictions vary from tour to tour. Some excursions only permit those over 12 to participate. However, others welcome children of all ages, with those over 6 or 1.2 meters being allowed to take the reins.
You should check your preferred tour's conditions before booking.
What happens in case of bad weather?
Horse riding tours in Florence only operate in good weather conditions. If you experience poor weather on your vacation, your trip will be rebooked for another day or you can request a full refund.
Which other outdoor activities can be done in Florence?
Travel tips
Many horseback riding tours in Florence provide a meal. Let your tour operator know of any dietary requirements before booking.
Wear long trousers and closed-toe shoes on your excursion.
There is no need to be nervous about horseback riding as all tours are aimed at beginners.