If you want to take part in an unusual and thrilling activity in Florence, consider hopping in a basket, and participating in a hot air balloon ride.
By taking to the skies, you can gain a panoramic view over the city's most iconic landmarks and out into the Tuscan countryside beyond.
Hot air balloon rides in Florence are the ideal way to create an everlasting memory of your vacation.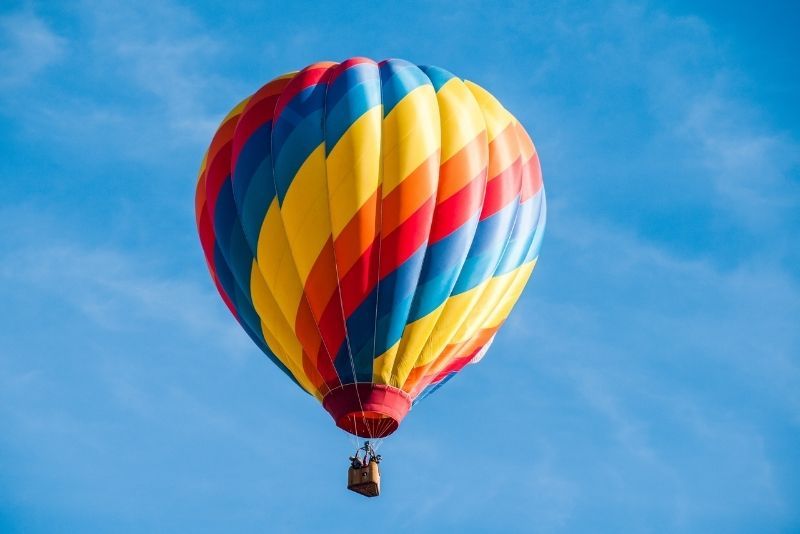 You will find below all you need to know about hot air balloon rides, one of the most fun outdoor activities in Florence.
What are the best hot air balloon rides in Florence?
Tuscany hot air balloon ride
Hot air balloon rides over Tuscany enable you to see the rolling hills and endless vineyards that the region is famous for, from a unique perspective.
Once you arrive on-site, you'll be able to watch the whole process of preparing the balloon for your flight. After a short safety briefing, you can jump into the basket and start your ascent.
Soaring over Tuscany at heights of over 600 meters, you'll gaze upon the town of San Casciano Val di Pesa. This small commune just outside of Florence dates back to the 13th century and is linked with the philosopher Niccolò Machiavelli.
Mesmerized by the views of fairytale castles and picture-perfect villages, you'll return to the ground where you'll enjoy breakfast, and a glass of champagne.
Hot air balloon ride in Florence
If you prefer the towering spires and Renaissance architecture of the city to the Tuscan countryside, take a hot air balloon ride in Florence.
The city has a deep and rich history that dates back to the first century BC. As such, it is brimming with cultural gems, architectural masterpieces and religious monuments. On your tour, you'll fly over Florence as the city is waking and see it come to life.
You'll catch a glimpse of the most notable landmarks, such as Ponte Vecchio, Brunelleschi's Dome and the Basilica of Santa Croce. High above the honking of car horns and rushing commuters, you'll experience Florence at its most peaceful.
Private hot air balloon tour
If you want to surprise your loved one with a romantic experience, book a private hot air balloon flight.
You'll embark on your journey across the skies and travel to heights of over 600 meters, with your partner by your side. As you drift lazily above the Tuscan countryside, you'll see an array of striking sights set upon a charming backdrop. You'll pass by villages, lakes, castles and vineyards pointing out each point of interest with glee.
Once you land, you'll have the opportunity to toast your special someone before being escorted back to Florence.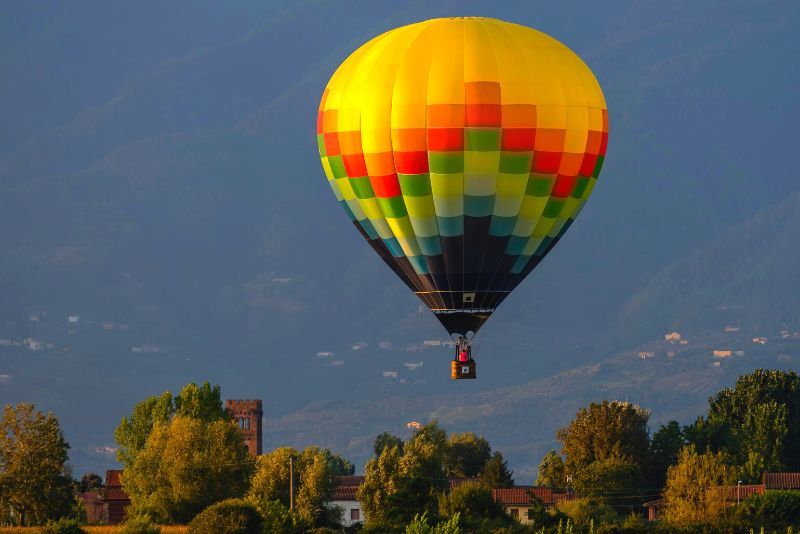 Hot air balloon ride over Chianti
This hot air balloon ride takes you on an aerial tour over the wine haven of Chianti.
As you float through the clear Tuscan skies, you'll gain an unbeatable view of the region. The Chianti area is located in the center of Tuscany between the two main cities of Florence and Siena. It is known for its abundance of steep verdant hills and craggy mountains. You'll understand how seriously its residents take winemaking as you see the plethora of vineyards scattered across the hills.
How much do hot air balloon rides in Florence cost?
Hot air balloon rides that fly over the Tuscan countryside cost between €250 and €280, while Chianti flights cost between €260, and €270.
You can expect to pay approximately €400 for Florence hot air balloon rides, which allow you to explore the city from above.
Alternatively, you can take one of a number of private balloon rides, which range from €1,500 to €2,300.
What is included in a hot air balloon ride in Florence?
Hot air balloon ride tours in Florence provide insurance that complies with the International Civil Aviation Organization's regulations. You'll also have a safety briefing before taking off. Many flights include a glass of champagne, as well as breakfast upon landing.
Where do hot air balloon rides in Florence start?
Hot air balloon rides in Florence begin at a variety of fields, outside of the city. These can vary from day to day, depending on the weather conditions.
While some excursions offer a hotel pickup service, the majority do not. Instead, you'll be informed of a rough starting destination upon booking, and the exact meeting point on the day.
It's up to you to arrange transportation, but most tours will escort you from the landing spot back to the take-off point via shuttle.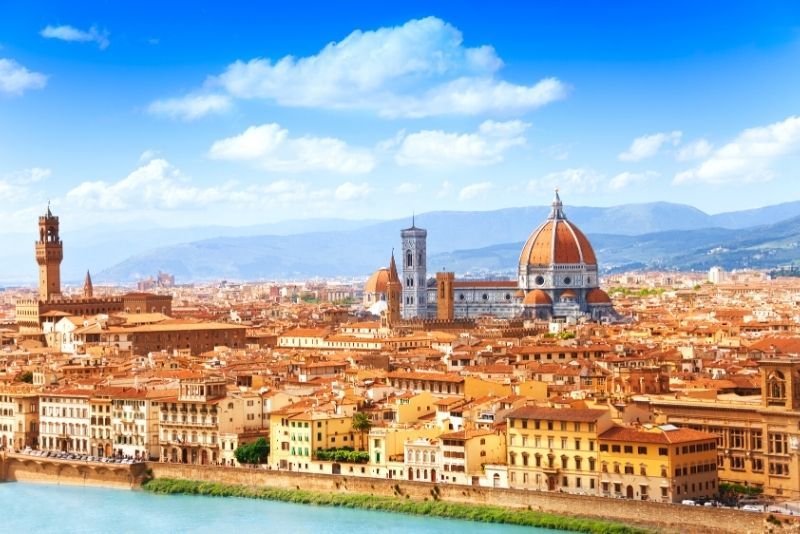 How long do hot air balloon rides in Florence last?
Most tours last around three hours. However, usually, the flight itself lasts approximately one hour. The rest of the time is spent setting up the balloon, engaging in a safety briefing and enjoying a glass of champagne when you touch down.
When is the best time for a hot air balloon ride in Florence?
Most hot air balloon excursions in Florence begin between 6:30 AM and 7:30 AM. This is the perfect time to fly over the landscape as the air is cool and the early morning is tranquil, and calm.
At this time, you'll also have a clear view of your surroundings, without the sun beaming down on you.
Is it safe to take a hot air balloon ride in Florence?
Hot air balloon rides in Florence are extremely safe and can be enjoyed by most people. However, those with serious medical conditions are advised against participating.
Are children allowed on a hot air balloon ride in Florence?
All tours have different age restrictions. However, most prohibit children younger than 6 years old from participating in a Florence hot air balloon flight. Some prefer children to be older still and only permit those over 7 or 8 years old to take part.
What happens in case of bad weather?
Hot air balloon rides in Florence require good weather conditions in order to operate. If you experience bad weather on the day of your tour, it will be canceled and rebooked for another day. If this doesn't fit in with your itinerary, you can request a full refund.
Travel tips
Hot air balloon rides in Florence are very gentle. However, if you suffer from motion sickness, ensure you take the appropriate medication before flying.
Some tours offer you the opportunity to choose between several time slots. Select the earliest one for the most enjoyable flight.
As hot air balloon excursions begin in the countryside, you may need to book a taxi to reach your starting location, instead of relying on public transportation.
Private hot air balloon flights are the perfect way to create a special moment with your significant other, celebrate an anniversary or even propose!