Just an hour outside of Florence lies the charming city of Lucca. Filled with medieval churches, renaissance palaces, and elegant piazzas, Lucca is a must-see for any visitor to Tuscany.
You can meander along the city walls, which date back to the 16th century or climb to the top of the bell tower, for outstanding views of the city.
If you want to experience a different side of Italy, take a day trip to Lucca from Florence, and leave the hustle, and bustle behind.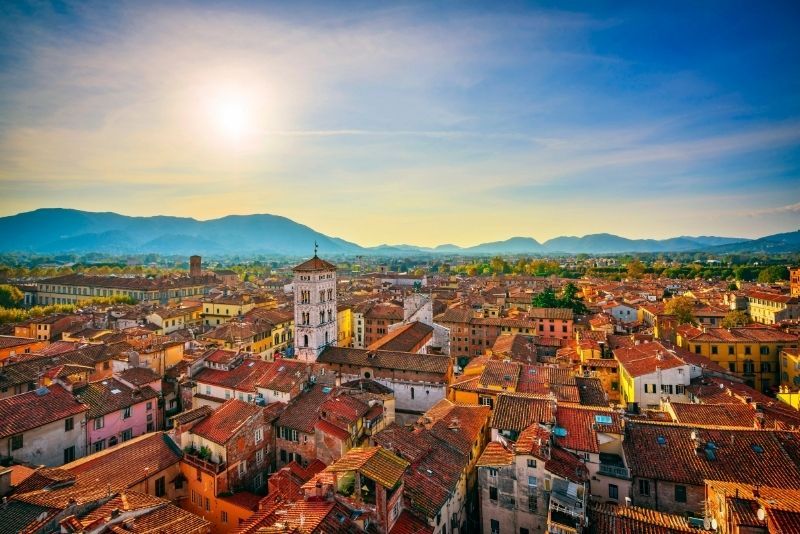 You will find below everything you need to know about Lucca, one of the best destinations for day trips from Florence.
How to get to Lucca from Florence?
Lucca is located on the Serchio River in Tuscany, Italy. It is approximately 90 kilometers from Florence.
From Florence to Lucca by car
It takes just over an hour to make the jaunt to Lucca from Florence by car. Leaving the city westbound, you'll join the A11, which leads all the way to the city.
From Florence to Lucca by public transport
You can make the journey to Lucca via a direct train from the Santa Maria Novella station in Florence. It takes between 1.5 to 2 hours to reach the city, and trains depart several times a day.
Guided tour to Lucca from Florence
Alternatively, you can participate in a guided day trip to Lucca. You'll meet your group at a central location in Florence around 9 AM, and tours last between 4 and 9 hours.
What is the typical itinerary of a day tour to Lucca from Florence?
Lucca is known for its preserved city walls from the Renaissance era. You'll have the opportunity to embark on a walking tour of the city to see its fascinating monuments.
These include the Guinigi Tower, which has over 230 steps up to its viewing platform, and the Duomo di San Martino. You may also have some free time to discover the lesser-known attractions of the city or sip a well-deserved espresso.
While in Lucca, you'll also have the opportunity to try its traditional cake — Buccellato — which is a circular sweet treat flavored with figs and nuts.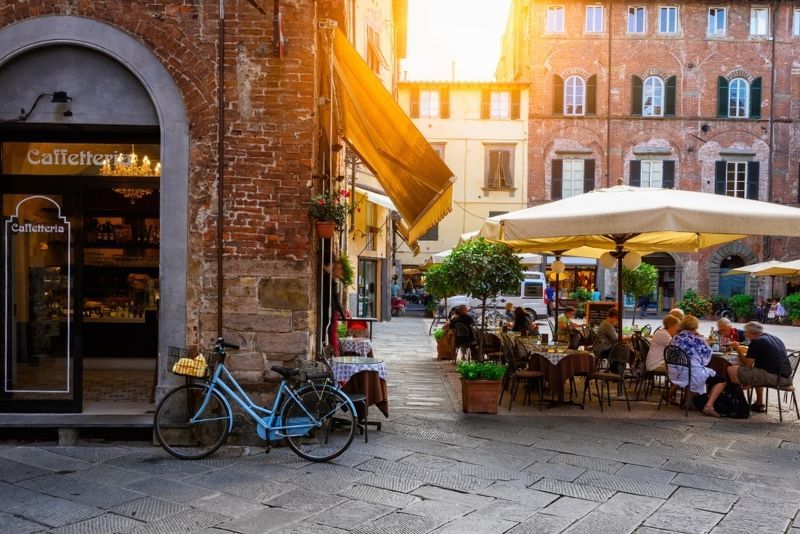 Most of day tours to Lucca also visit the city of Pisa just 20 kilometers away, where you'll enjoy free time or a guided walking tour through the city. You'll have time to see the famous Leaning Tower of Pisa, as well as the spectacular Pisa Cathedral, constructed from white marble.
Some Lucca day trips also travel to the region of Cinque Terre — a collection of five picturesque Tuscan villages. While in Cinque Terre, you'll enjoy a rustic meal and board a train that connects the string of townships.
What kinds of tours are available to go to Lucca?
Lucca day tours enable you to see a host of different landmarks, both in the city and in neighboring destinations.
Private half-day tour to Lucca from Florence
With only a few hours to spare, you can travel to the Renaissance city of Lucca. Once you arrive in the historical town, you'll have ample free time to wander its streets at your leisure.
You can use this time as an opportunity to see every landmark in the city, such as the Duomo di San Martino and the Guinigi Tower. Alternatively, you can slow down and enjoy the city from the seat of a cafe.
Day trip to Lucca plus Pisa from Florence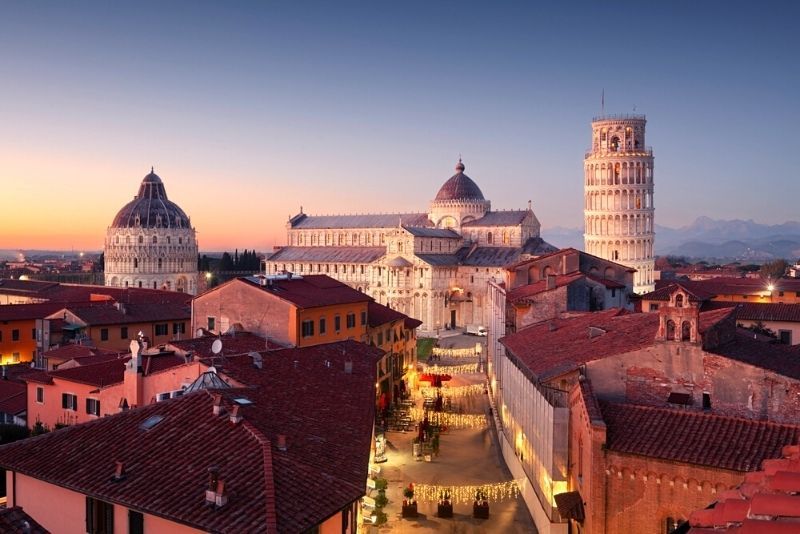 Arriving in Pisa after a short drive through the Italian countryside, you'll participate in a walking tour of the city's main square — Piazza dei Miracoli. This square is home to many of Pisa's most notable landmarks, including its iconic leaning tower.
After being awed by the history of the city, you'll continue on to Lucca, which is also home to an array of captivating monuments. Here, you'll enjoy a guided walk along the ancient streets and learn about the squares, churches, and towers that form Lucca, before sampling a local cake.
Day tour to Lucca plus Pisa and Cinque Terre from Florence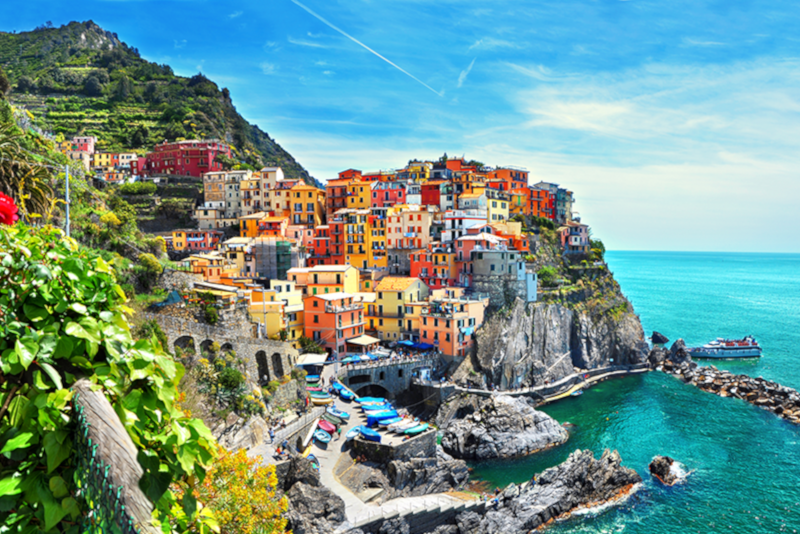 On this jam-packed Lucca day trip, you'll start by enjoying some free time in Pisa. You can take in the city at your own pace and snap the perfect shot against the backdrop of its leaning tower.
You'll then move on to the well-preserved city of Lucca, where you'll participate in a guided stroll through its most significant landmarks. Lastly, you'll head to the five villages that form Cinque Terre to experience traditional Italian cuisine and enjoy a relaxed panoramic train ride.
How much does a tour to Lucca from Florence cost?
If you have a tight budget in Italy, you should choose a day trip that travels to both Lucca and Pisa. You'll pay around €50 for a tour that lasts 9 hours, and includes a guide, cake tasting, and admission to the Pisa Cathedral.
You can expect to pay €120 for a Lucca day tour that includes Pisa and Cinque Terre in its itinerary.
Alternatively, if you have less time to spend in the city, consider a shorter tour. Half-day private Lucca excursions cost approximately €220 and last around 4 hours.
What will you see and do on a Lucca day trip from Florence?
Duomo di San Martino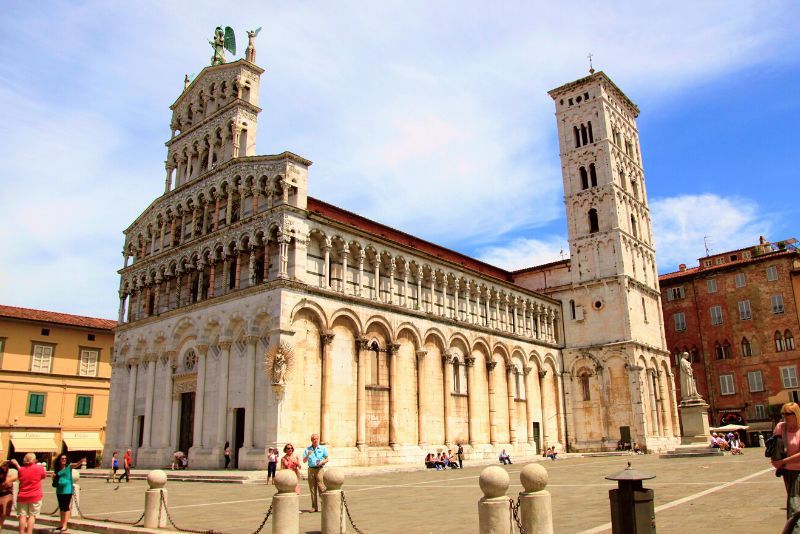 The Duomo di San Martino was built in the 11th century and was commissioned by Pope Alexander II. The church is dedicated to Saint Martin of Tours, who was often referred to as Martin the Merciful.
Saint Martin of Tours was a French Christian saint who served as a bishop in the fourth century. The church features a striking combination of Gothic and Romanesque architecture on its facade and has five naves.
Upon inspection, visitors will notice that all the columns of the Duomo di San Martino are different. The city held a competition to design the best column which would feature on the church and, after much deliberation, they were all used.
The most prized relic of the city is stored in the church — the Holy Face of Lucca. This is a crucifix and image of Jesus, carved from cedar wood, and thought to have been made by Nicodemus, known as a friend of Christ.
Guinigi Tower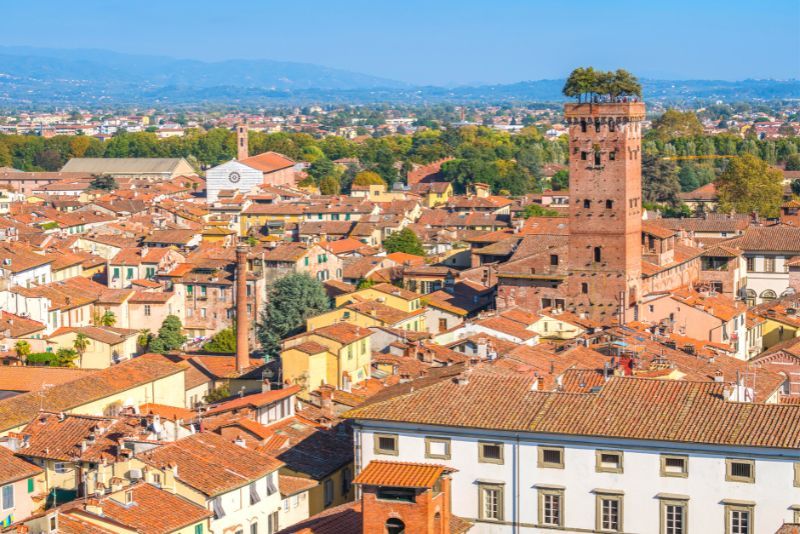 Guinigi Tower is the most obvious and impressive sight in Lucca, because of its towering height of over 40 meters. The tower was built in the 14th century by the Guinigi family as a status symbol to showcase their enormous wealth.
What sets Guinigi Tower apart from other bell towers in Italy is the collection of Holm oaks that grow on top of its brick form. This greenery was planted by the Guinigi family as a symbol of rebirth and renewal. An ancient legend tells that when Paolo Guinigi who planted the garden was executed, the tallest Holm oak shed all of its leaves.
When is the best time to visit Lucca?
Between April and June is the prime time to plan your Lucca day trip. During these spring months, you'll experience little rainfall and temperatures that range from a mild 18 degrees Celsius to a balmy 27 degrees Celsius. You'll also benefit from fewer tourists swarming the city streets outside of the height of summer.
Are there any tours to Lucca from other cities in Italy?
Yes, there are tours departing from other cities in Italy:
Travel tips
Day tours to Lucca usually include a guided walk of the city. For this reason, make sure you wear comfortable shoes.
If you are physically fit, climb the Guinigi Tower to gain a panoramic view of Lucca and the surrounding Tuscan Hills.
If you're an avid cosplayer, head to Lucca at the end of October to witness the Comics and Games Festival, which takes over the city.