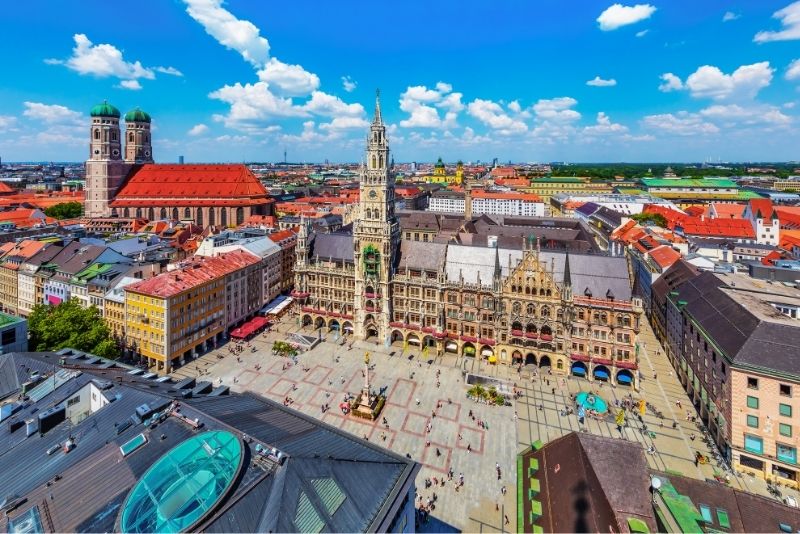 Where the beer flows and the forests of Bavaria lie within arm's reach, Munich is a city that oozes culture and history — yet remains underrated with a relatively low-key atmosphere for 11 months of the year.
It's known for its traditional Bavarian cuisine, its Oktoberfest celebrations, and its Biergartens, but there are many other exciting things to do in Munich too: the museums, galleries, and theaters dish up some of the best art and culture experiences in the continent.
Snap-happy tourists can explore the beautiful scenery by bike or on foot through some of Europe's largest green areas, the Englischer Garten or Westpark; party-goers can choose from beer halls, live music venues, or nightclubs like P1 or Ampere Club; and nature-lovers can make it to both the Alps and the Black Forest within a day.
It's a city that truly offers a bit of everything; after all, where else can you wander through some gorgeous palaces, then surf a wave… on a river… right in the middle of town?
As you'll soon discover, there's plenty of fantastic and unusual activities to choose from in the Bavarian capital!
1 – Explore the city with a bike tour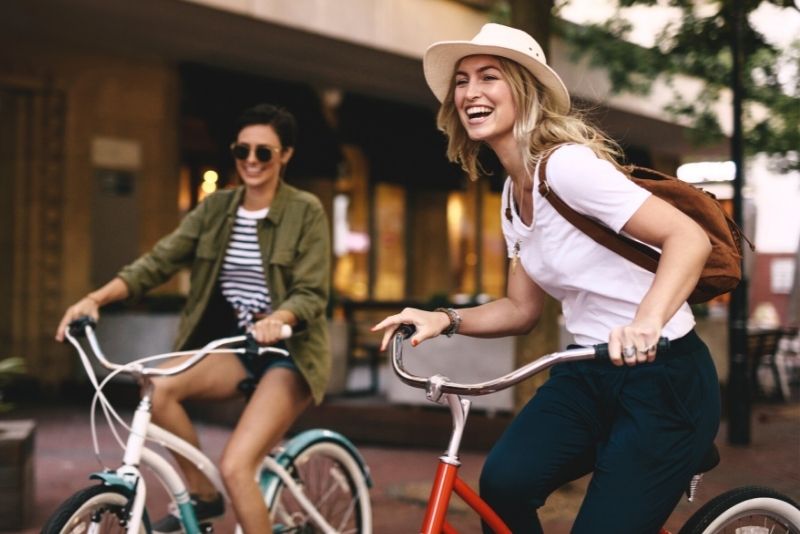 While walking tours have their time in the sun, arguably the prime way to explore Munich is on two wheels, giving you the chance to get off the beaten track, cover more ground, and burn a few calories along the way!
Led by friendly locals, riders are shown all of the city's major attractions like the Marienplatz, the Viktualienmarkt, and Karlsplatz as they pedal along the Isar River, with plenty of opportunities to stop for a cold drink or pretzel at some of Munich's fantastic beer gardens.
With both private and small group tours available, ranging from 90 minutes to 5-6 hours, there's an option for everyone.
2 – Wander around the English Garden (and check out the Eisbach Wave)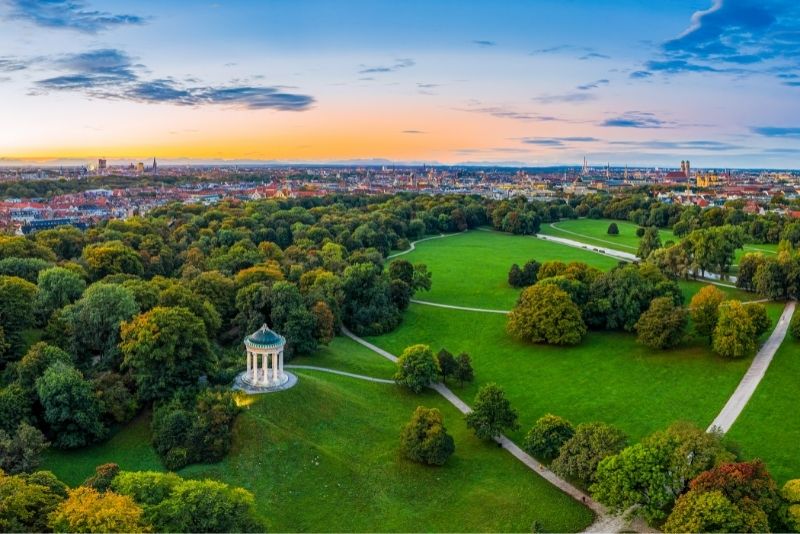 A nature-soaked oasis in the heart of Munich, this enormous garden larger than New York's Central Park is a wonderful antidote to bustling city life.
Explore the Englischer Garten many different features – from stunning fountains and sculptures to bronze castings of famous artists — by foot or on a bike (rentals available).
While you're there, don't miss the Eisbach Wave, a manmade surf spot on the river's intersection with Prinzregentenstraße on the park's southern end that attracts adventurers and onlookers from all over the world.
3 – Take a gourmet food tour of Viktualienmarkt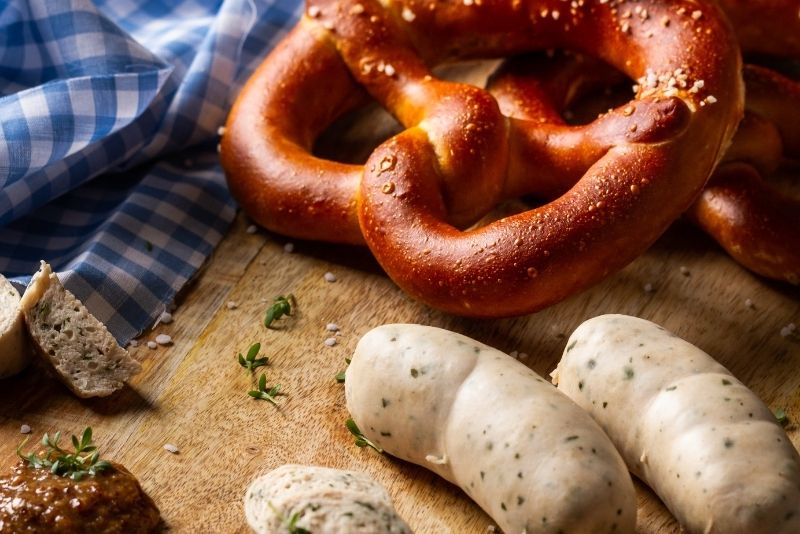 One of Munich's most picturesque and famous sights, the Viktualienmarkt is a busy daily market in Old Town selling fresh produce and flowers as well as cheese, meat, spices, and no shortage of souvenirs.
Most segway and walking tours will stop at this eclectic market; alternatively, treat your tastebuds with a dedicated food tour!
With several stops in and around the market, you'll have the chance to dig into weisswurst (white sausage), brezenknödel (pretzel dumpling), the delicious schmalznudel pastry, and, of course, a classic Bavarian beer.
4 – Take a day trip to Neuschwanstein Castle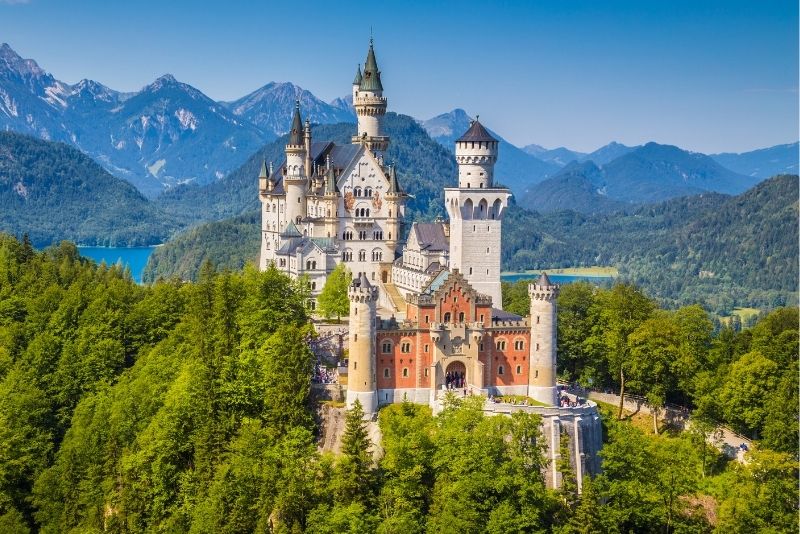 Looking like something straight out of a fairytale — especially when surrounded by the dazzling fall colors — the 19th-century Neuschwanstein Castle is one of the most sought-after photo backdrops in all of Bavaria.
The castle, which was constructed for King Ludwig II following his 1864 accession to the throne, has been a major tourist attraction since it opened – welcoming more than two million visitors each year to explore its lavish rooms and gardens.
Due to occasional long lines and tourist crowds, a pre-arranged tour that includes Munich pickup and dropoff and also stops at Linderhof is your best bet. Some day trips also include Oberammergau and Hohenschwangau Castle
Read more about Neuschwanstein Castle tickets and tours.
5 – Check off the Kunstareal District's art museums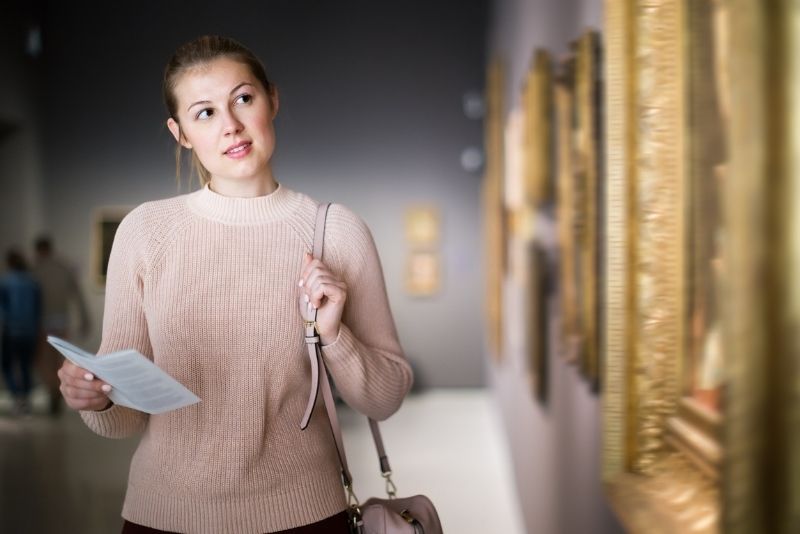 Art-lovers, if you're on the hunt for engaging, cultural things to do in Munich, may we suggest making a beeline for the Kunstareal District.
Here, no matter which street you take, you'll bump into a museum, gallery, or collection within seconds!
Here's a quick taste: Alte Pinakothek's showcases mostly 14th-18th century European art and hold its own as one of the oldest galleries in the world; Neue Pinakothek is famous for its impressionist collection; Pinakothek der Moderne is one of the largest modern art museums in Europe, and Museum Brandhorst is dedicated mostly to Andy Warhol and Cy Twombly masterpieces.
But wait… there's more. Glyptothek is your go-to for Greek and Roman sculptures, Lenbachhaus focuses on contemporary Munich painters, and the Staatliche Sammlung für Ägyptische Kunst presents the city's best Ancient Egypt collection.
6 – Check out The Neues Rathaus in Marienplatz (the town square)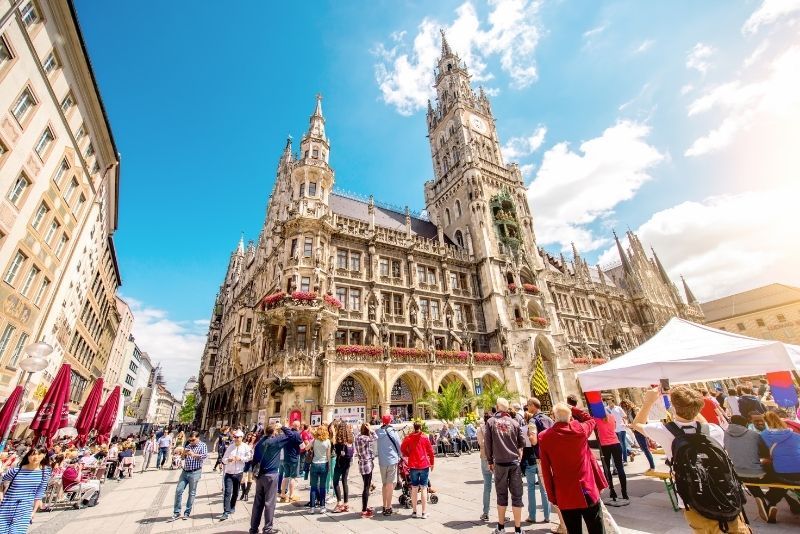 Located in the heart of Altstadt (Old Town), the Marienplatz has acted as Munich's main square for almost 900 long years, these days constantly buzzing with locals, visitors, walking tours, and entertainment.
A frequently photographed icon at its center, the Neues Rathaus (New City Hall) was built in the late 19th century and remains Munich's signature building, with its distinctive neo-renaissance facade featuring Italianate spires at each corner of the roof; it also houses a famous Glockenspiel that depicts three Nibelungen stories when the clock dramatically strikes the hour at 11 am and noon.
One of the essential things to do in Munich for history fanatics is taking a WW2-themed guided walking tour of the area.
7 – Feel like royalty at the Nymphenburg Palace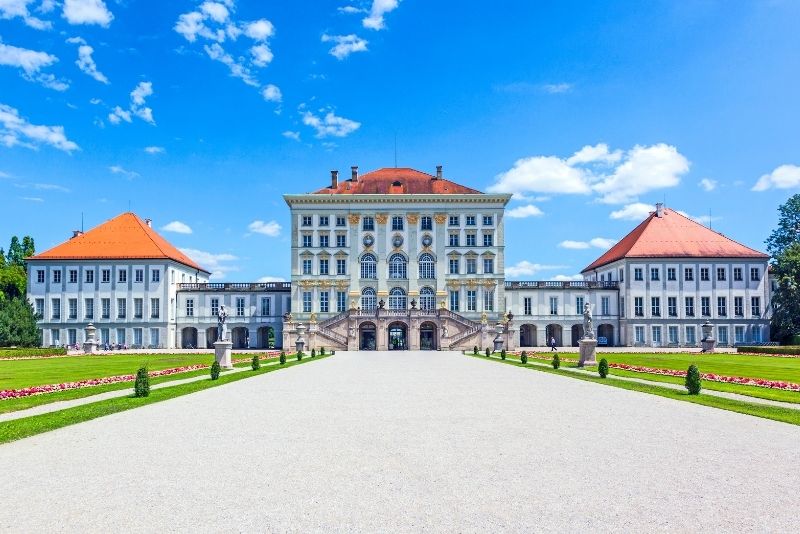 A popular stop on many a Munich itinerary, Nymphenburg Palace is the largest (and arguably most spectacular) of the Bavarian Royal Palaces and Gardens.
Originally finished in 1675, the Baroque-style palace is now home to some of Bavaria's finest artwork and is famous for its outstanding Rococo frescoes and extravagant furnishings, with some of Europe's most beautiful gardens to explore outside (almost in the ballpark of France's Palace of Versailles).
While a little far from the main haunts, it's easily accessible by tram and is seldom too crowded.
8 – Ride the Hop-on-hop-off bus!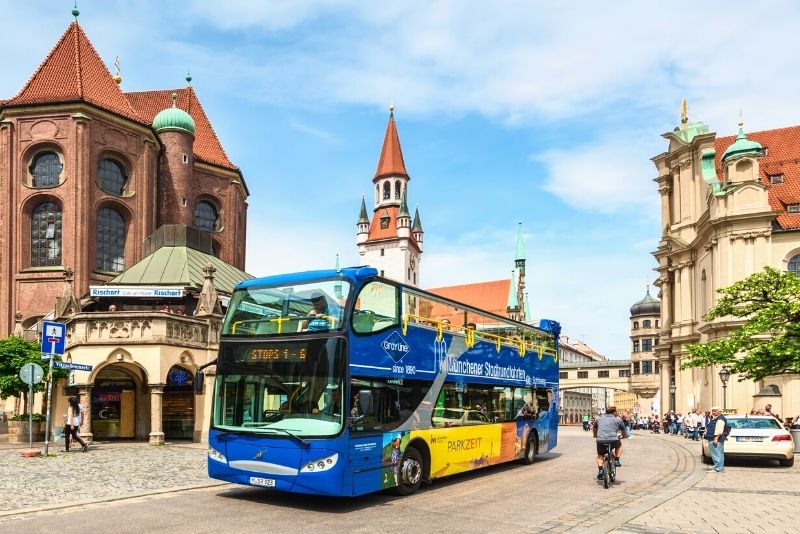 For anyone on a tight schedule or simply anyone who wants to see as much as possible without too much walking, the double-decker Munich city tours are the perfect way to explore the enchanting metropolis.
Serving up an entertaining commentary on each stop, this hop-on-hop-off bus tour takes in all of Munich's main attractions and landmarks, also making a connection between Marienplatz and the Munich Hauptbahnhof (Main Train Station), which is handy for travelers who have just arrived in town.
It's the perfect city tour at your own pace!
9 – Head to Salzburg where the hills are alive!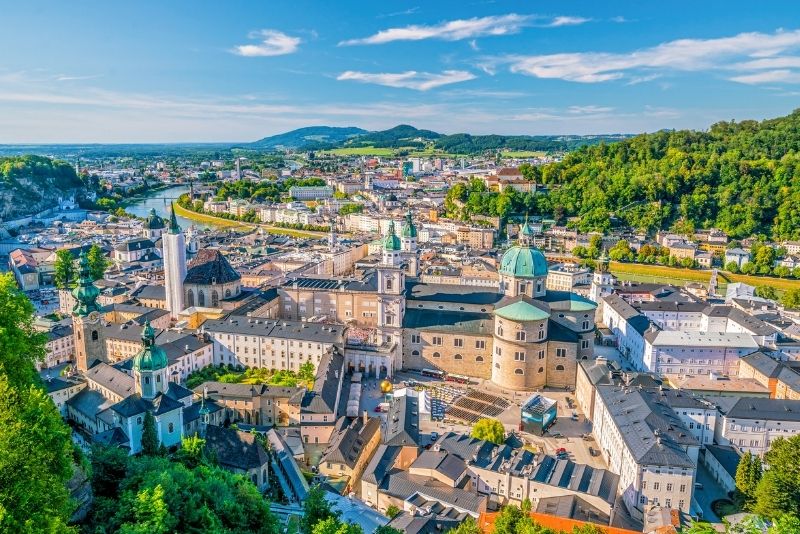 Over in Salzburg, the beautiful and charming Austrian city just passed the German border, you'll find a rich history of culture, art, and architecture (and plenty of tourists frolicking in the fields, von Trapp style).
The town is dotted with churches from all different periods (Romanesque to Gothic), as well as palaces like Schloss Hellbrunn that were built for the archbishops who ruled during Salzburg's peak in power and influence.
It also boasts festivals year-round, so there's always something to do and see.
Hot tip: check out our list of fun and unusual things to do in Salzburg.
Sponsored placement
Travel back in time with VR and discover Bavaria's history
Have you ever wondered what the world looked like centuries ago?
With TimeRide Munich, you can now travel through 7,000 years of Bavaria's history!
Don your virtual reality goggles and be transported back in time and space. You'll even get to board a peacock chariot and fly over the region, gaining a view unlike any other!
10 – Explore the Residenz Palace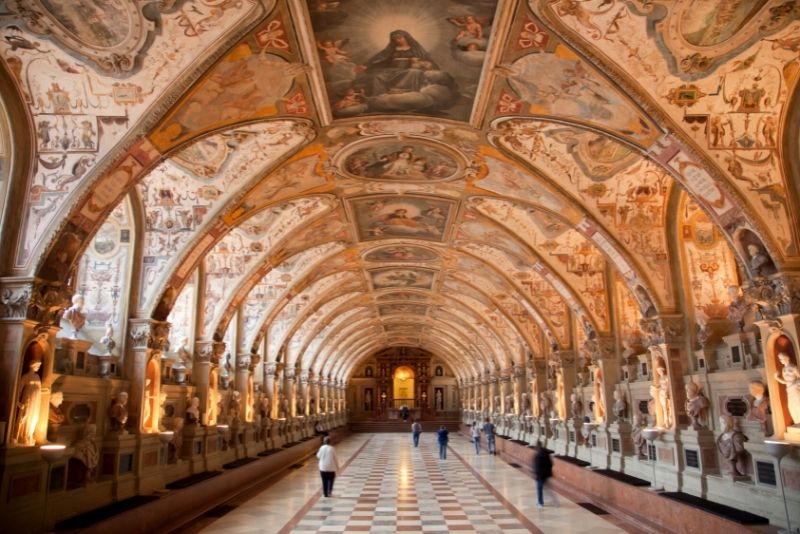 One of the most lavish Baroque palaces in all Europe, Bavaria's stunning Residenz Palace is a must-see for anyone visiting Munich.
With a decorated history that dates back all the way to 1385, the now-museum has been continually modified over the centuries, today boasting 130 rooms and one of Europe's most extensive art collections.
While you're there, don't miss the Residence Theater (AKA the Cuvilliés-Theater), an eclectic space that is well-known for its wonderfully diverse productions.
11 – Step inside St Peter's Church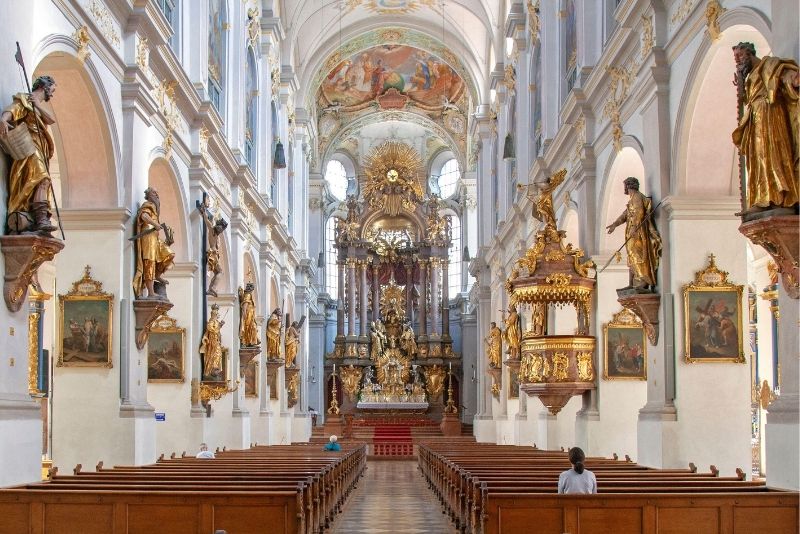 A typical stop on Old Town walking tours, St. Peter's Church is the oldest church in Munich, not to mention one of its most beautiful!
With a topsy-turvy history of destruction and reconstruction that dates back even before the city's founding in 1158, the iconic structure is teeming with fascinating stories to tell.
The interior of the church is equally as captivating, with its high-vaulted ceiling and towering alter.
12 – Wander around the former Olympic home, Olympiapark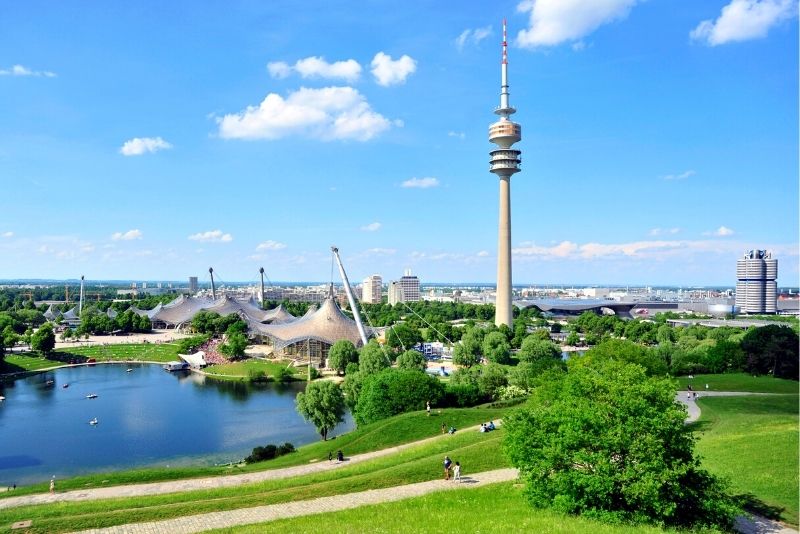 Built for the 1972 Olympic Games, this beautiful sports complex is a must-visit attraction in Munich.
Adjoining plenty of green space, an Olympic swimming pool, ice rink, and minigolf course, the park also encompassed popular tourist attractions such as BMW World (a museum dedicated to Bavarian Motor Works), the Olympiaalm beer garden, the 291-meter-tall sightseeing Olympic Tower with an observation deck, and a zipline course!
Seriously, the list goes on — just check it out.
13 – Glide through Munich on a segway tour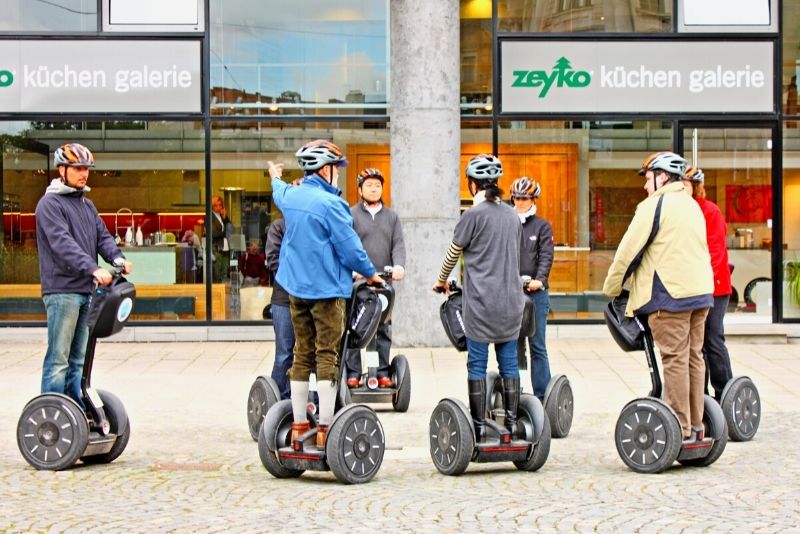 The ultimate solution to crowded streets, the Segway tours are a great way for visitors and tourists to explore Munich.
Typically meeting near Marienplatz (Munich's historic main square) or Hauptbanhof (central train station), these guided segway adventures take you through some of Bavaria's most captivating sights including the Englischer Garten, Hofbrauhaus (Munich's famous beer hall), Viktualienmarkt and the Ludwig Maximilian University, with a friendly, English-speaking guide sharing fascinating facts and stories the whole way through.
14 – Take a day trip to the Linderhof Palace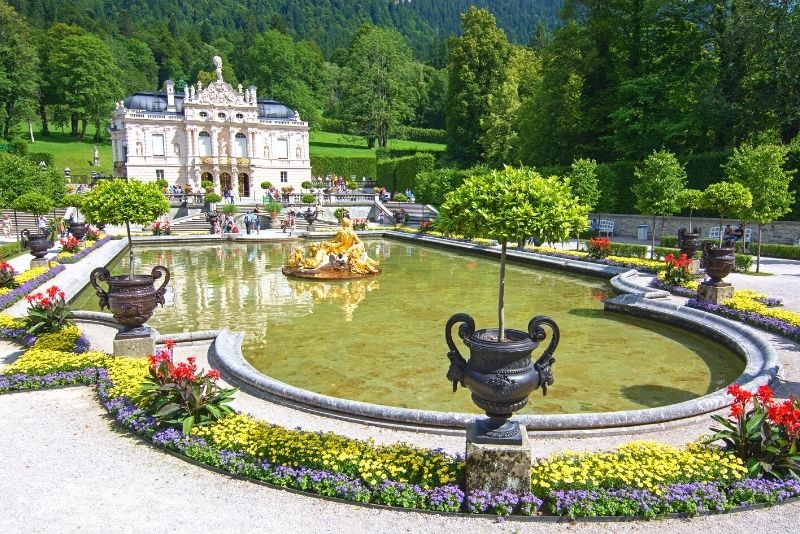 Often (but not exclusively) combined with a visit to Neuschwanstein, the postcard-worthy Linderhof Palace on the border of Austria is a must-see for any tourist in the area.
The smallest, most intimate Ludwig castle in the region is both an homage to Versailles and a showcase of the king's eccentricities, while its grounds, which were once used as an informal meeting place by King Ludwig II and his family, is known for its beautiful fountain and enchanting greenery.
Keep in mind: at the moment, visits are only possible as part of a guided tour.
Read more about the best day trips from Munich.
Sponsored placement
Experience a live concert by candlelight in Munich
Catch live performances on piano, violin and cello of classical music and tributes to your favorite modern bands and musicians, like Britney Spears, Bon Jovi and Rihanna. Candlelight concerts take place in scenic venues across the city that don't typically host concerts and events for an unforgettable backdrop to live renditions of your favorite tunes.
15 – Visit the BMW Museum & then next door's BMW Welt
One of the unmissable things to do in Munich for auto enthusiasts, Situated out near Olympic Park, the family-friendly BMW World showcases the fascinating development of cars and motorbikes over the decades, with plenty of classic cars on display as well as its fair share of BMW-specific history.
Next door, underneath the 4-cylinder-shaped BMW tower, you'll find the BMW Welt — besides being essentially a giant showroom of BMW, Rolls Royce, and Mini cars, it's also a masterpiece of modern architecture that houses a wide range of exhibitions and events.
16 – Take a somber walking tour focused on WWII and the Third Reich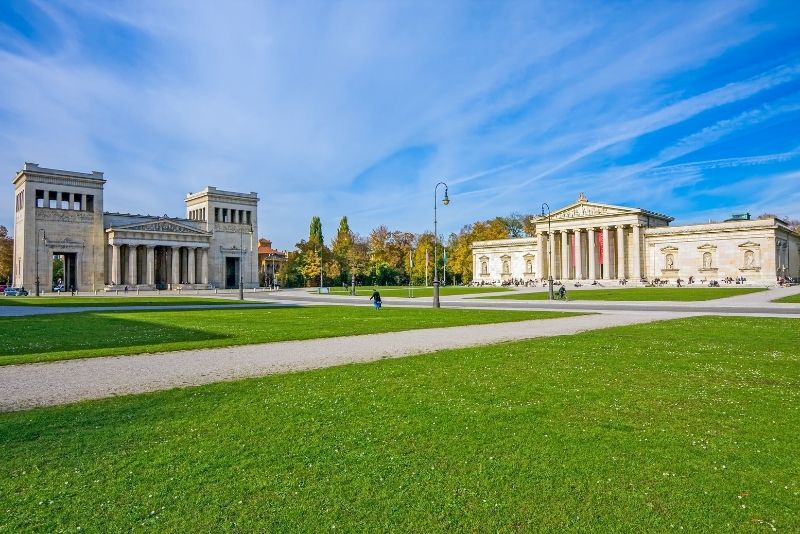 As the former capital of the Nazi movement and birthplace of the Nazi Party, Munich's past is littered with darkness. And while confronting for many, an experience dedicated to learning about the past, and coming to terms with the tragic history, makes for essential learning for everyone, young and old.
On WWII-themed walking tours led by local historians, visitors are shown the key sites of the Nazi era and WWII, including Odeonsplatz, Konigsplatz, the former headquarters of the Gestapo, the Staatliches Hofbrauhaus beer hall where members met, discussed and drank, and plenty more.
17 – Snap a selfie in front of Frauenkirche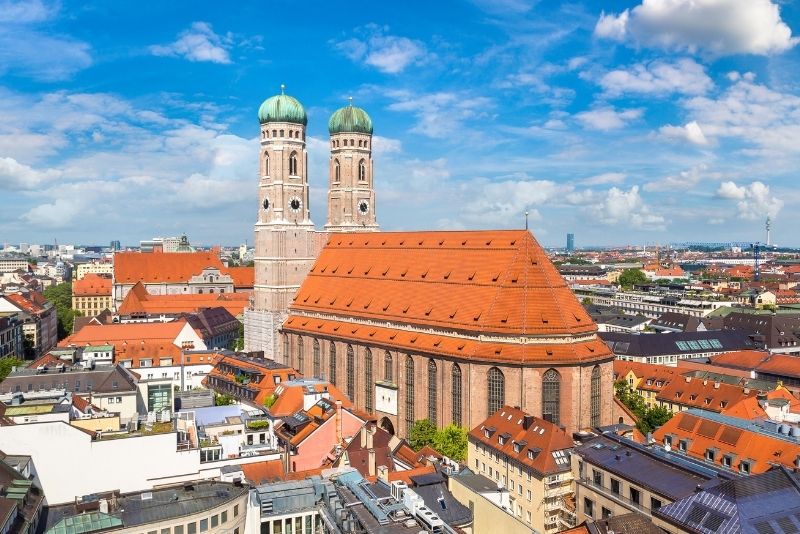 One of the most iconic symbols in Munich (you'll see it on postcards EVERYWHERE), this sprawling Gothic cathedral, known in English as the Cathedral of Our Lady, is a sight to behold.
The 109-meter-long, 15th-century church was severely damaged during WWII but restored and finally fully reopened by 1994 – etching another chapter into Munich's decorated history.
Most Old Town walking tours will stroll past the church.
18 – Race against the clock in an escape room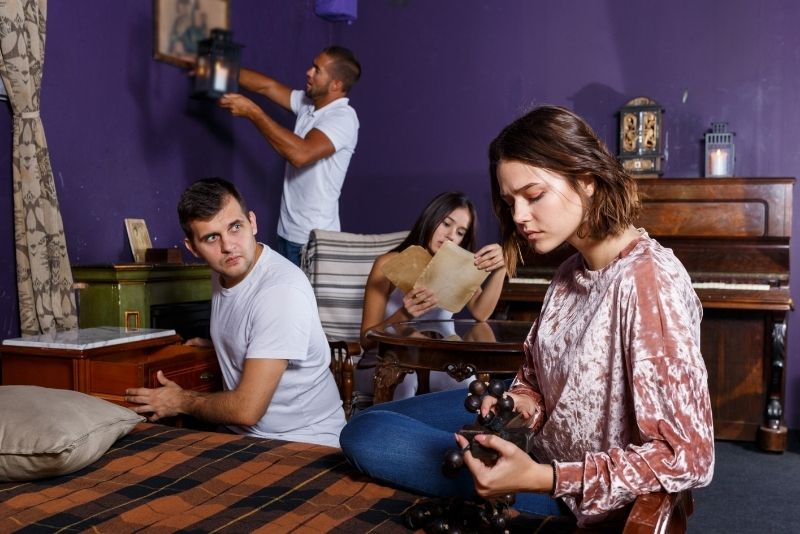 Consider yourself a budding detective? Keen to prove once and for all who the smartest in the group really is? Then add one of Munich's intricately designed escape rooms to the itinerary!
Testing your mental prowess and out-of-the-box thinking, themes like art heists and treasure hunts will force you to work together and crack the code before time runs out — the perfect activity for a rainy day.
19 – Cheer on Bayern Munich at Allianz Arena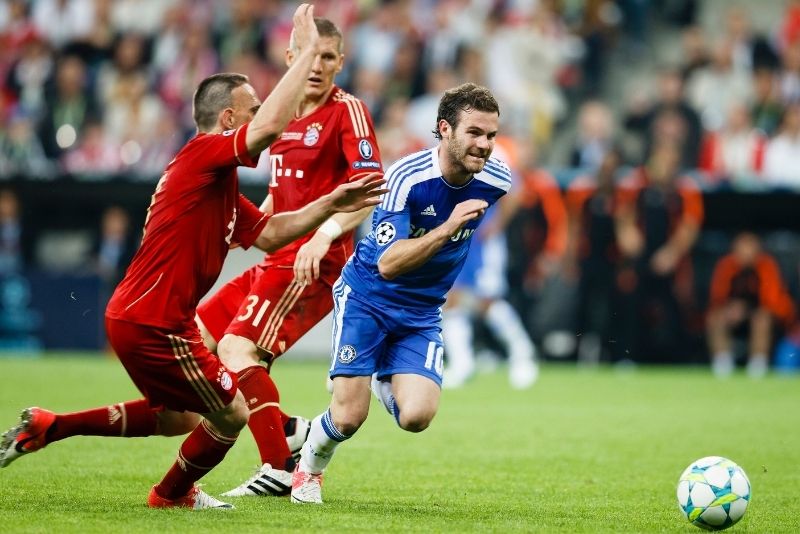 Home to the European powerhouse club that is F.C. Bayern Munich, this soccer stadium is one of the most iconic structures in Munich.
The arena offers something for every fan, from a museum detailing Bayern's history and achievements to an interactive club shop where fans can purchase all their team gear (and more)! Of course, if you can snag a ticket to a match when the crowds are roaring like no tomorrow, that's the true holy grail.
Fun fact: the modern stadium is also the first of its kind to boast a full color-changing exterior!
20 – Relax with a cup at the best coffee shops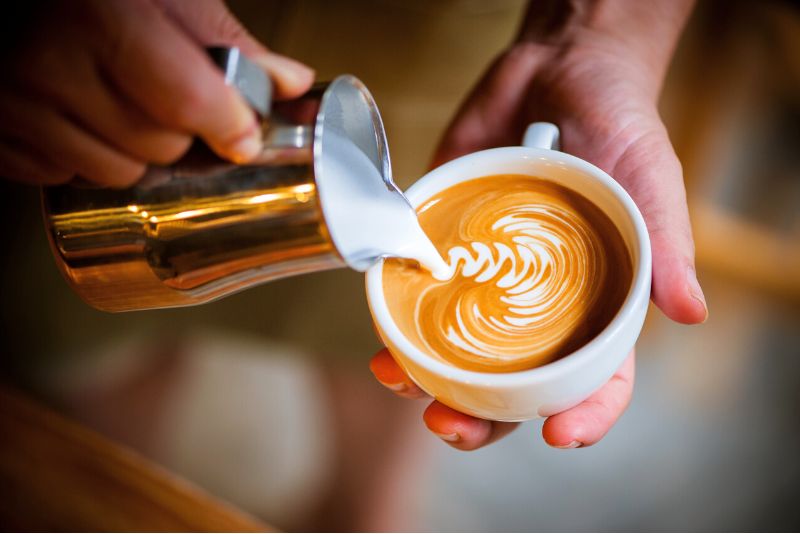 With all of the amazing things to do in Munich, you'll need to keep your energy up. Luckily, the city's coffee shops are experiences in and of themselves… and they have plenty of great drinks, too!
Enjoy the warm green interiors of Vits, or the cozy streetside atmosphere of Cafe Bla. Soak up the chill contemporary vibes of Man vs. Machine, or the sunny, plant-filled world of Sois Blessed. Or try the unique blends at Roca Junior, which specializes in vegan options.
Wherever you are in town, a memorable caffeine fix is likely close by!
21 – Jog around Westpark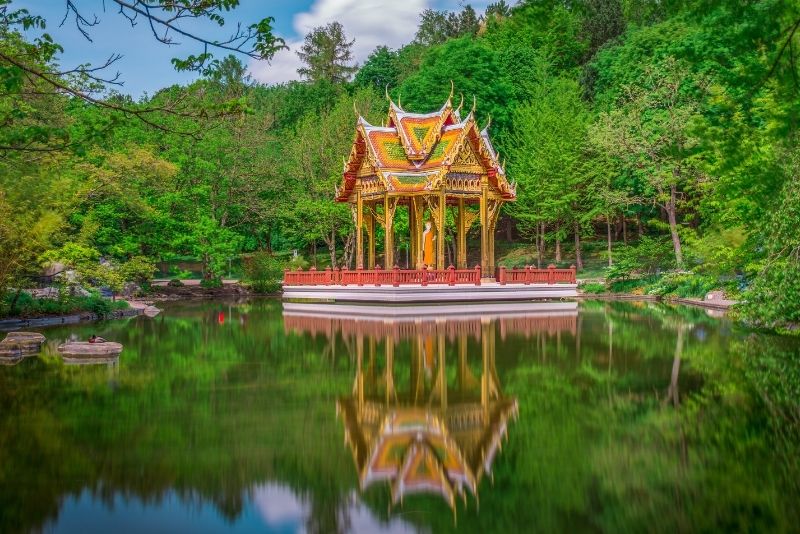 Sitting outside of the main hustle and bustle, the enormous Westpark is home to a peaceful array of attractions: everything from biking trails to lakeside eateries, jogging tracks, and endless picnic areas.
If you're feeling really ambitious and want to burn off last night's beers, the Schloss Nymphenburg can be reached on foot in about an hour.
22 – Odeonsplatz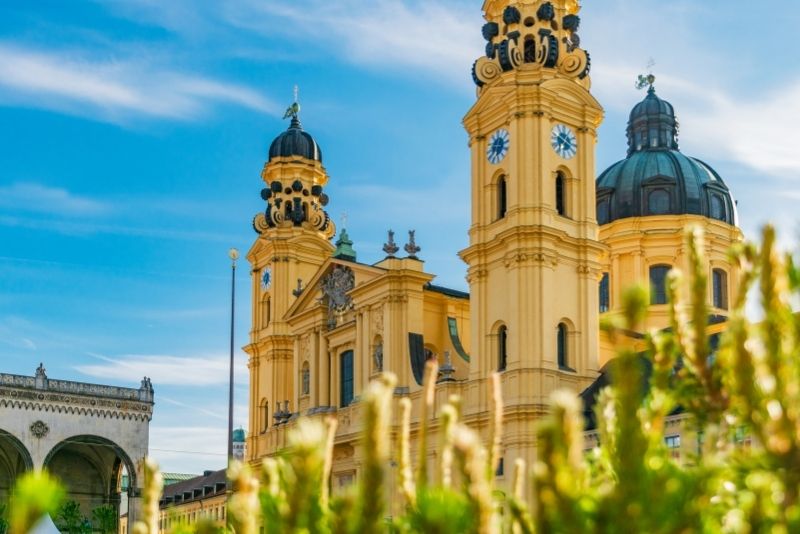 Constructed in the 19th century, Odeonsplatz is considered a major square and one of the most important traffic junctions in Munich, acting as a focal point for landmarks like the Theatine Church, the Residenz, and the Feldherrnhalle.
With an array of cafes, restaurants, and hotels, it's a nice place to take a break, people-watch, and just enjoy the vibe.
23 – Learn about the Holocaust at the Dachau Concentration Camp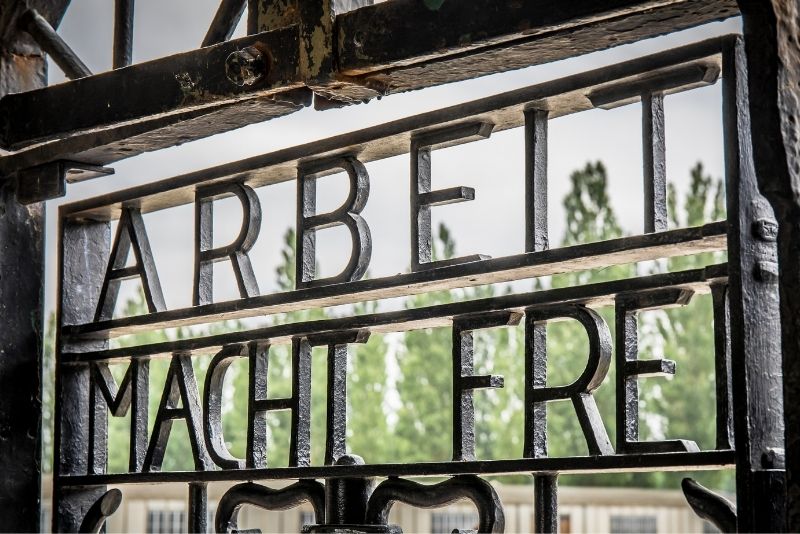 The dark history of Munich, and Germany as a whole, is no secret — and while Munich is full of fun things to do, it's important to acknowledge the past and understand the tragedy that occurred throughout Europe in WWII.
On tours that explore the Dachau Concentration Camp, which took over 188,000 inmates (estimated) in total, visitors are taught about the harsh realities of Nazi Germany, told tear-jerking stories of those who survived and those who didn't, and given a chance to reflect on what was one of humanity's darkest moments.
24 – Meet some new friends on a pub crawl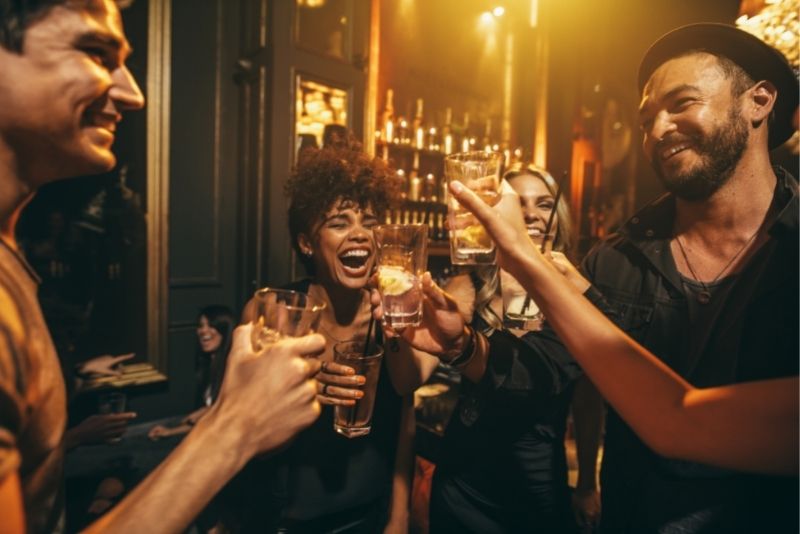 If you're not yet up to your eyeballs in beer and booze, a pub crawl is a perfect way to cap off (or start, for that matter) any Munich adventure.
Led by locals who know all the rowdiest beer halls, hidden speakeasies, and low-key dive bars, crawls typically stop at 3 of Munich's hippest bars and include welcome shots and icebreaker games.
25 – Stop to smell the flowers at the München-Nymphenburg Botanical Garden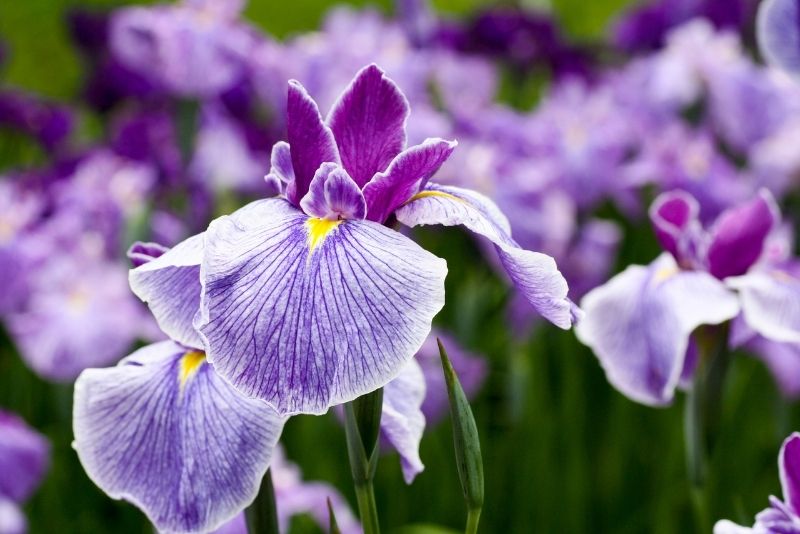 A much brighter activity, no doubt, the beautiful and blossoming Botanical Garden in the Nymphenburg Palace Park is a perfect place to spend an afternoon.
Covering some 21 hectares of land, the garden boasts nearly 20,000 varieties of unique plants and trees from all across the world, the colorful attraction makes for stunning scenery with plenty of photo ops!
26 – Get dazzled by the Endless Staircase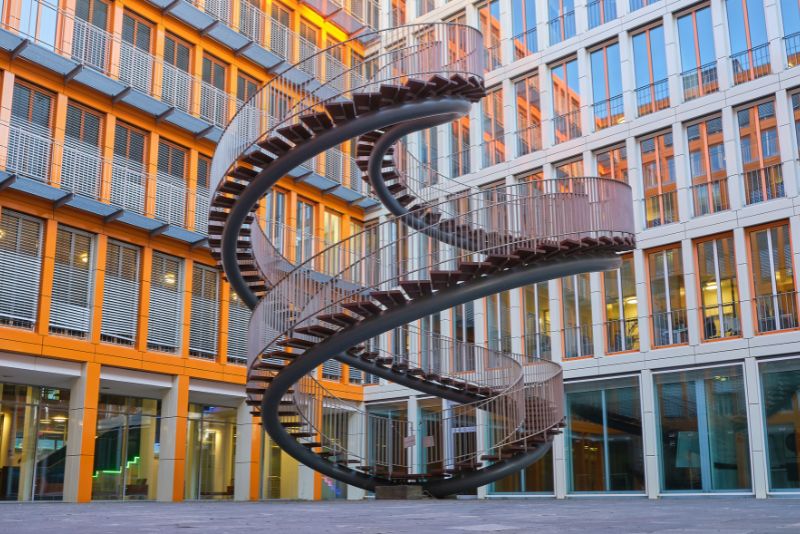 Stretching overhead like a winding piar of serpents, the Endless Staricase is a marvelous (and dizzying) work of art.
Part of the fun lies in the understated nature of this work; rather than sitting on a prominent street or in the midst of an art museum, it's tucked in between two office buildings.
While the structure is open continually, it's recommended that you visit during the afternoon, when the light filters through in a dazzling fashion.
Regardless of when you visit, it's a striking visual experience.
27 – Wander the ground of Herrenchiemsee Palace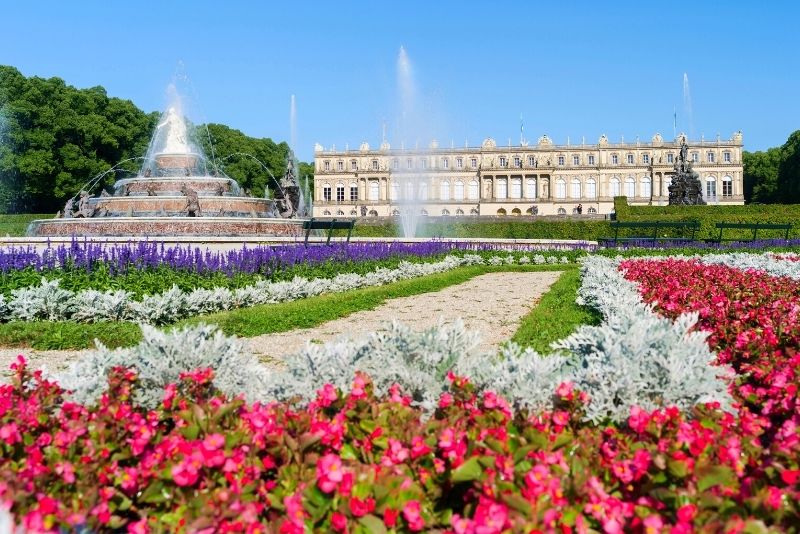 Yet another sprawling, decadent palace built by none other than the "fairytale king", King Ludwig II of Bavaria, the Herrenchiemsee Palace showcases ornate gardens, stunning rooms and corridors, and that iconic fairytale-style architecture.
It's become a popular day out for tourists from around the world – especially those who love history!
For the penny-pinchers, a group tour is your best bet; for those focused on luxury and VIP service, consider a private tour that also includes a river cruise!
28 – Admire the stunning Asam Church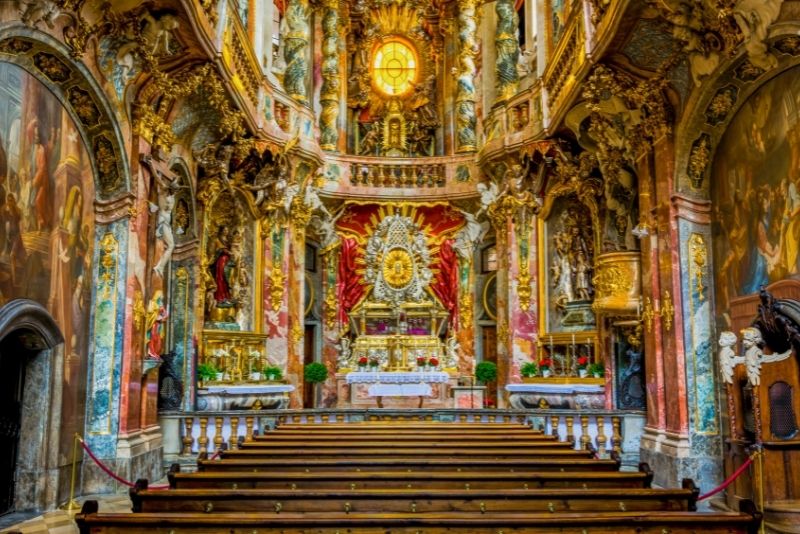 Tucked away on Sendlinger Straße, the Asam Church delivers one of the most spectacularly painted interiors of any building in the city!
With dozens of intricately carved altars and ceilings, this is one church that shouldn't be missed.
Fun fact: This gem of a building was also designed by the most famous brother design duo in Munich's history, Cosmos and Egid Asam!
29 – Run around town with an Amazing Race-style scavenger game!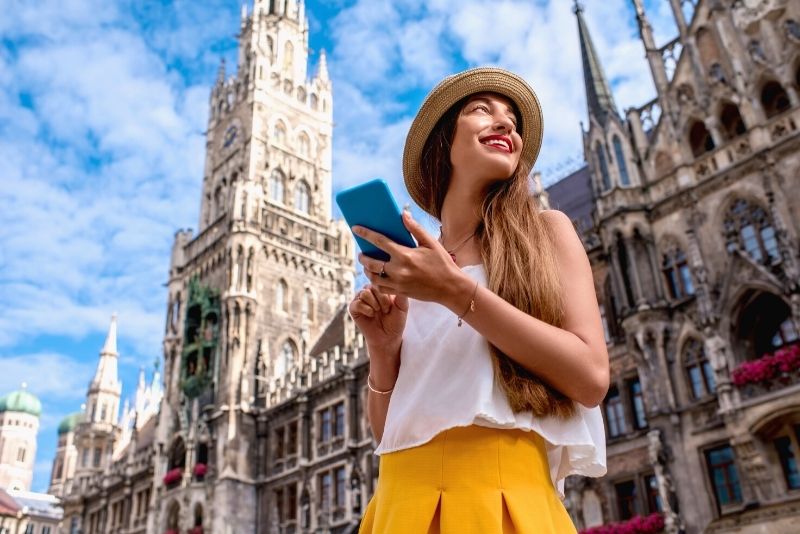 A new way to explore any city (and ditch those cheesy walking tours), smartphone-operated scavenger games unleash the inner Sherlock Holmes in all of us, sending curious (not to mention competitive) tourists all over town solving riddles, cracking clues, and ticking off the main Munich haunts along the way.
While most adventures are based around Old Town, for something different, haunted hunts are available too!
30 – Stop by the famous St. Michael's Church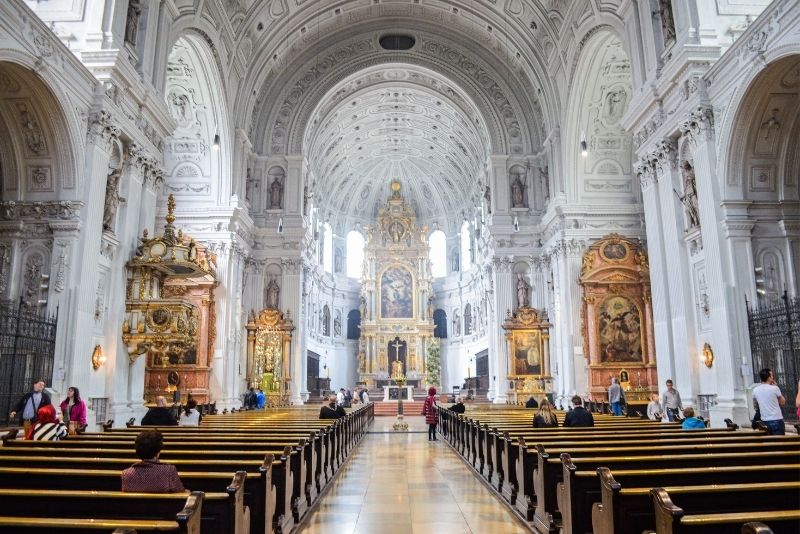 Built in the 16th century, this Old Town landmark is one of Munich's most famous churches, famous near and far for being the largest of all renaissance churches north of the Alps.
Plenty of walking, biking, and segway tours will skirt past the St. Michael's Church, so be sure to take a couple of minutes to peek inside.
31 – Head to Nuremberg for the day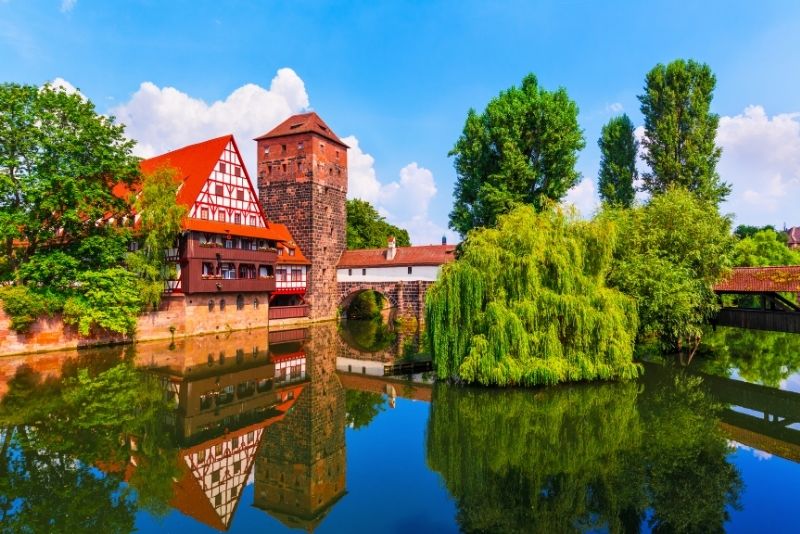 While it's not part of Munich itself, this ancient Bavarian town is an easy day trip and worth the detour.
Besides being a great stop for lovers of architecture (Nuremberg has dozens of centuries-old buildings still intact today), there's also plenty to do with museums like visiting The Toy Museum Nurnberg, the Museum of Industrial Culture, and the eerie Nazi Party Rally Grounds.
Hot tip: take the hassle out of organizing and simply opt for a pre-arranged day tour that includes pickup and drop-off from Munich.
32 – Snap a photo with the Bavaria Statue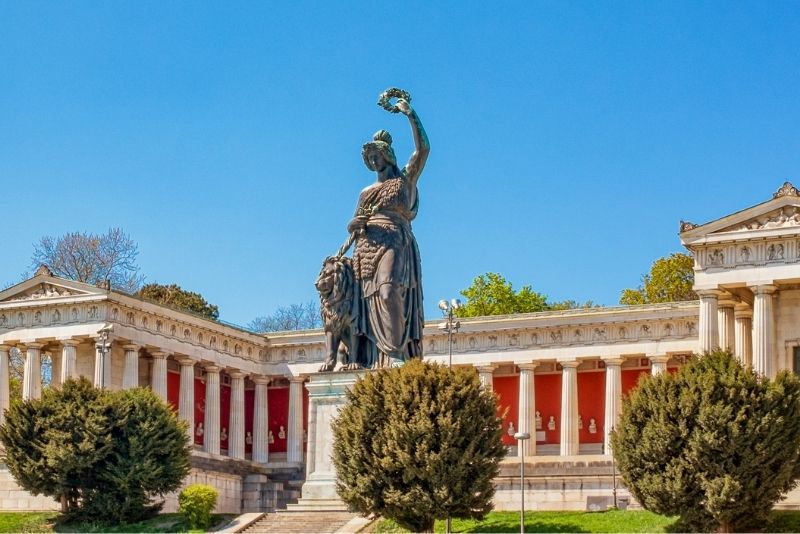 Overlooking Theresienwiese and therefore the annual controlled chaos that is Oktoberfest, the historic 18-meter-tall Bavaria statue has been the symbol of Munich for over 150 years.
Regardless of whether you're a German history buff or not, it makes for an interesting photo op!
33 – Visit the NS-Dokumentationszentrum Muenchen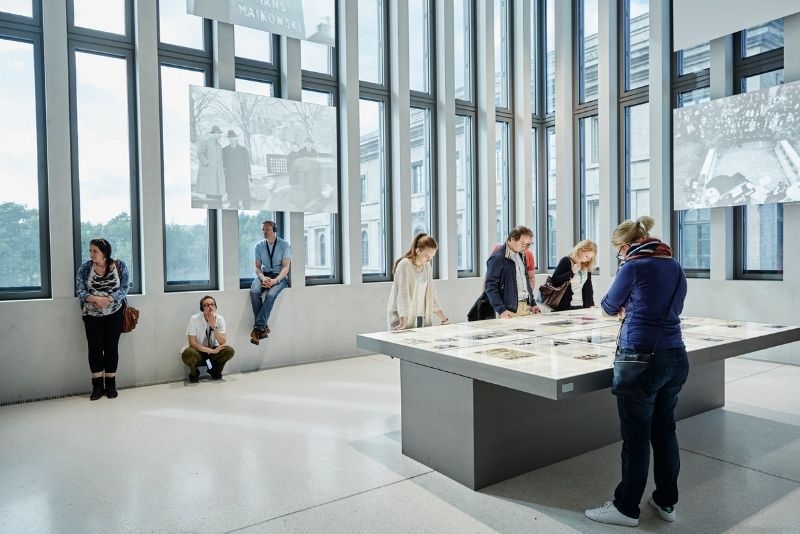 Housing both permanent and temporary exhibits, the NS-Dokumentationszentrum Muenchen, located in the heart of Munich's historic city center, is one of Germany's most important museums for understanding National Socialism.
Covering a wide range of topics from Hitler to the Gestapo and concentration camps to everyday life during those dark times (in both WWI and WWII), this museum really does stand out as a must-see.
It's also totally bilingual, so there'll be no issues understanding the displays.
34 – Hang ten at Eisbachwelle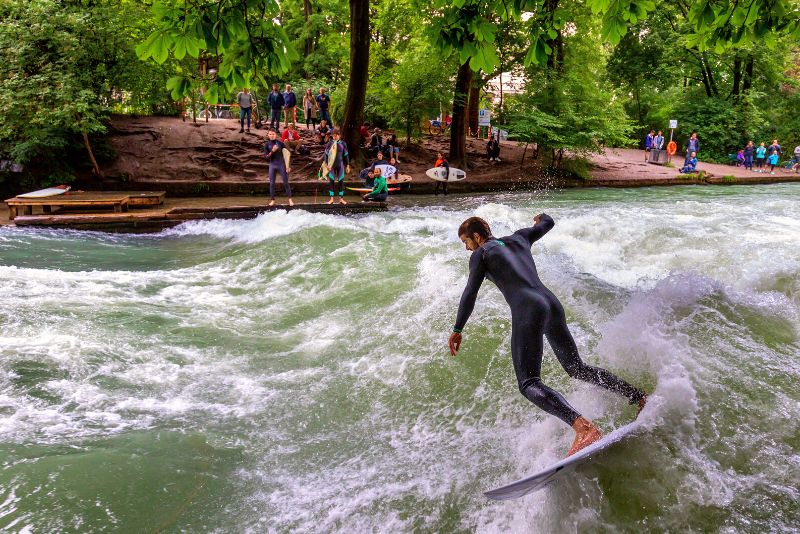 When you picture ideal spots to catch a wave, you probably don't think of rivers – and certainly not ones coursing through the middle of major cities.
But as you're passing by Englischer Garten, head down to the water, and you'll find Eisbachwelle, an unlikely surfer's paradise.
Unlike the ocean, the steady current means that the perfect swell is always on hand – and always in the right spot!
Be advised that due to its unique challenges, this spot is only recommended for experienced athletes.
But even if you're just observing, it's a thrilling experience!
35 – Grab lunch at Spatenhaus an der Oper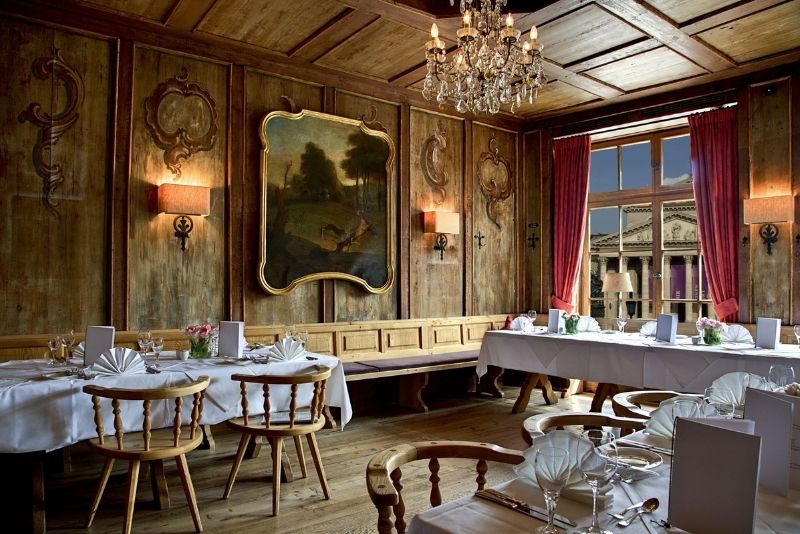 A favorite among locals, Spatenhaus an der Oper (or "Spat" for short) is a traditional Bavarian restaurant in the heart of Max-Joseph-Platz opposite the opera and beside Residenz that dishes up enormous portions, traditional meals, and home-brewed beers.
Housed inside a 14th-century building, the restaurant's interior has all the traditional trappings, including wall-to-wall benches.
36 – Go paragliding near the Alps!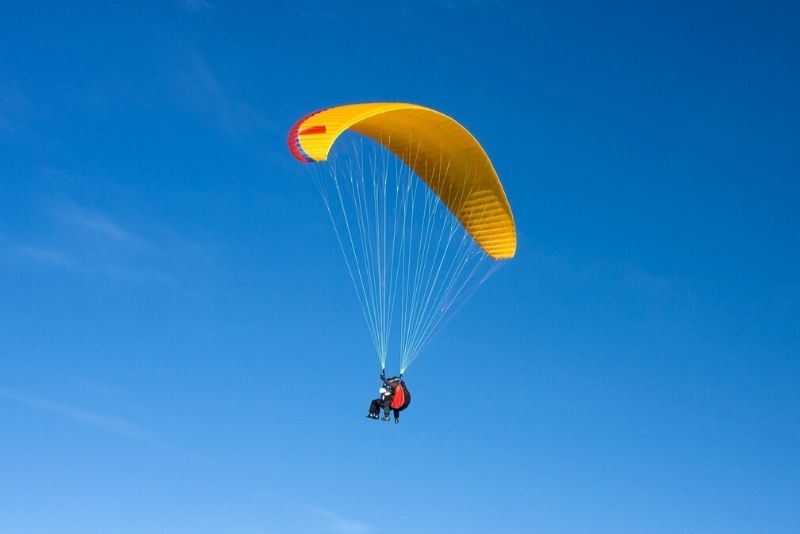 If you're looking for a thrill, look no further. Paragliding in Munich not only offers an adrenaline-pumping experience but also provides gorgeous views of the German countryside below and the Alps off in the distance!
Choose from flight zones in Brauneck, Bad Tölz, or Rottach-Egern, and simply enjoy the view as the seasoned instructor worries about the rest.
37 – Go behind the scenes at Bavaria Filmstadt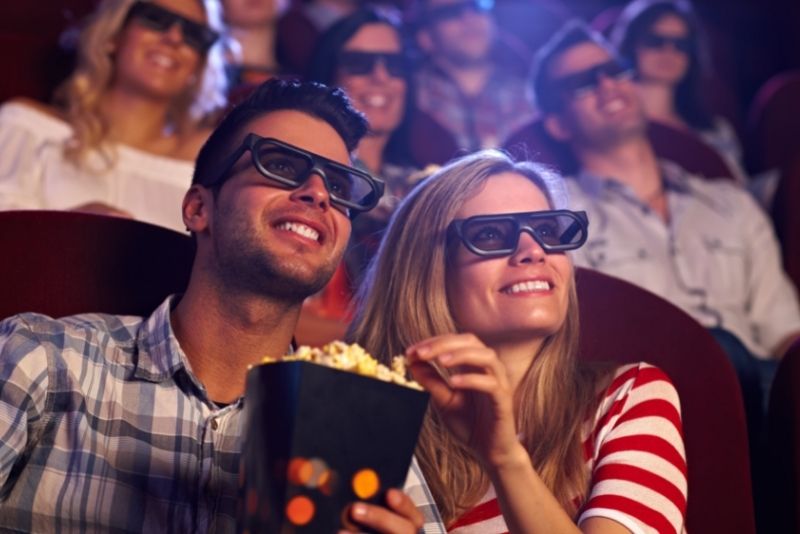 If you're a cinephile, the Bavaria Filmstadt — a famous German film production house — is where it's at.
Besides being one of the largest film studios in Europe, Bavaria Filmstadt also offers guided set tours that explore the actual studios (there are 12 in total), post-production facilities, costume rooms, and prop collections.
Throw in a 4D cinema experience and what's not to love?
38 – Take the kids to LEGOLAND Germany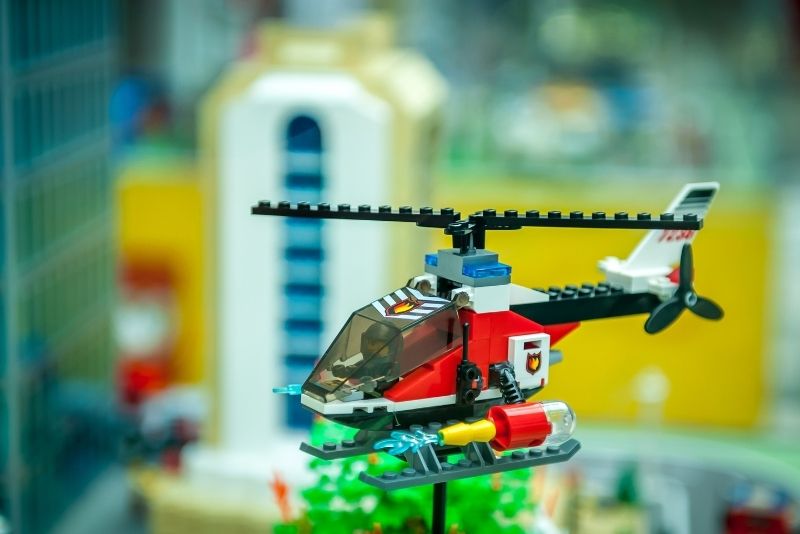 Designed for youngsters between two and 12 (but still fun for any avid LEGO fan), LEGOLAND Germany — about halfway between Munich and Stuttgart — is chock-full of hands-on rides, interactive shows, and creative attractions.
One of the crowd favorites is the park's collection of models and miniatures, made from a whopping 55 million LEGO bricks!
39 – Ride the coasters at Allgäu Skyline Park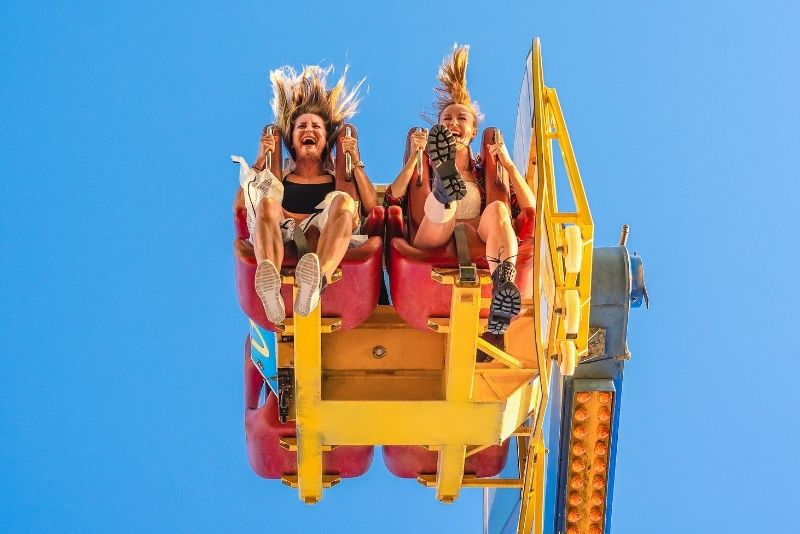 Sitting out in Bad Wörishofen, about an hour west of Munich, Skyline Park dishes up a great day of thrills and adventure for all ages, hosting an array of high-speed thrill rides, and family-friendly attractions across its grounds.
Youngsters are sure to love the Kids Farm, a cutely designed play island, while thrill-seekers will froth over the Sky Dragster, the world's highest-velocity motorcycle coaster.
40 – See a show at the Bayerische Staatsoper Opera House
Despite the occasional hefty ticket prices, the Bayerische Staatsoper Opera House, which dates back to the 1650s, is worth a visit for anyone with an appreciation for authentic, live music.
In addition to hosting operas and ballets, the stunning theater also welcomes an array of traveling concert performers — check the website to see who's playing during your visit.
41 – Do as the locals do… go beer tasting!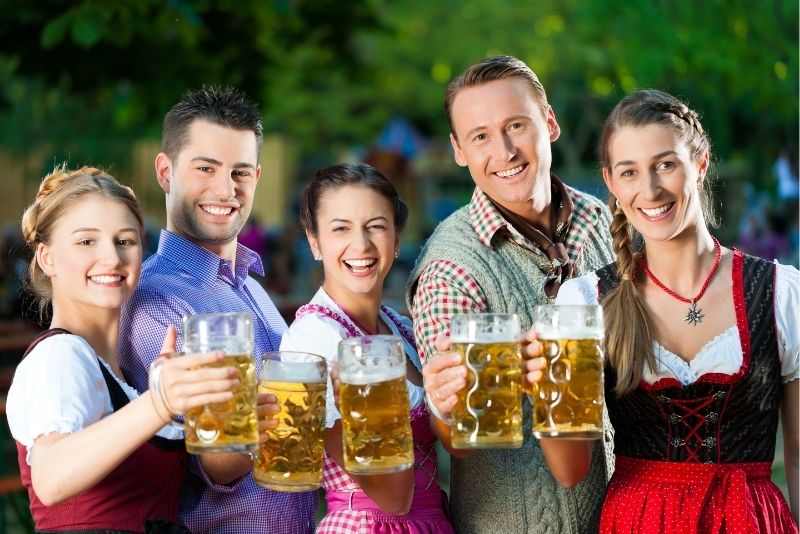 Finally! It's not Munich without at least a few overflowing steins of local beer, and there's no better way to sample all of the city's most iconic, historic, and beloved brews than with an official tasting tour.
As you walk (read: stumble) around town, expect to taste everything from the lemonade-spiked Radler to dark, rich Doppelbock.
The 3-4 hour tours also include stops at some of Munich's historic beer halls where you'll enjoy free samples and learn more about Bavarian brewing culture.
42 – Unwind in the spa at Müller'sches Volksbad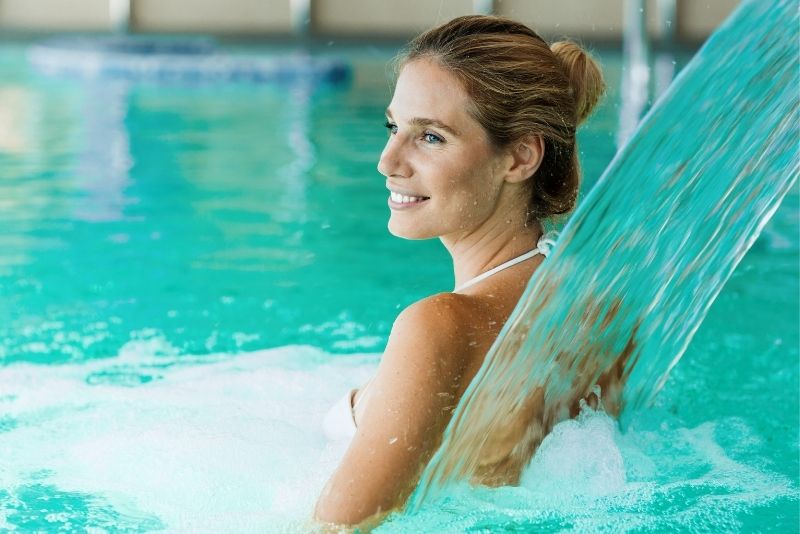 A hidden gem that's slowly but surely becoming known among tourist circles, the historic bathhouse and spa has been a popular Munich hangout since the early 1900s.
Not only does it boast two large indoor swimming pools, but the Art Nouveau-style facility also houses a Finnish sauna (heated to around 95° C) and a relaxing Roman steam bath (45° C).
43 – Berchtesgaden and Eagle's Nest day trip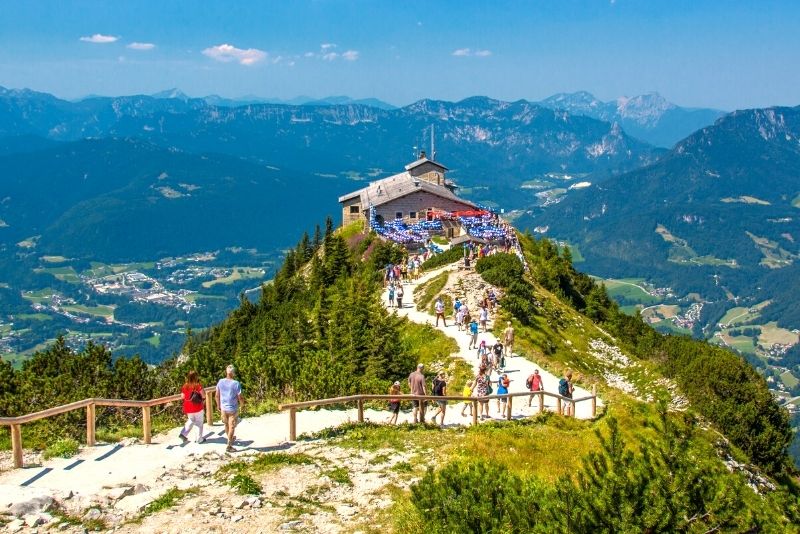 If you've started to tick off all the things to do in Munich and are looking to venture outside the city limits, Berchtesgaden near the border with Austria is a wonderful option.
On pre-arranged day trips, travelers can take in the scenic town, stop at Eagle's Nest (a former mountain-top retreat that offers both a dark history and an incredible vantage point), and explore the Schloss Berchtesgaden palace.
44 – Kickoff the day at the FC Bayern Museum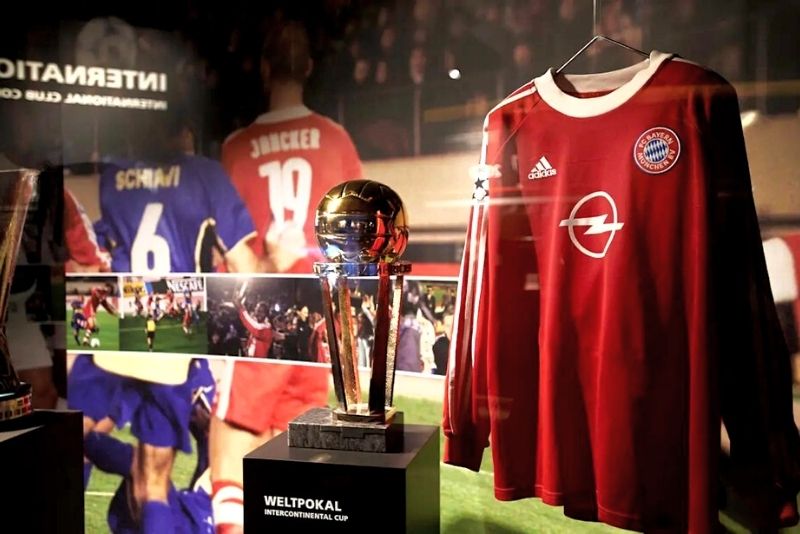 A quintessential stop for any sports nut, the FC Bayern Museum is an interactive, state-of-the-art museum dedicated to the most successful team in German football (soccer) history.
Visitors will get a first-hand look at how Munich's professional football club operates behind the scenes, discover more about the players' lives off of the field by checking out their personal locker room, and see the successes of past players by taking a tour through the club's hall of fame.
Hot tip: for the best bang for your buck, consider a combo ticket that grants access to both the museum and an arena tour.
45 – Eat, drink, and play at Augustiner-Keller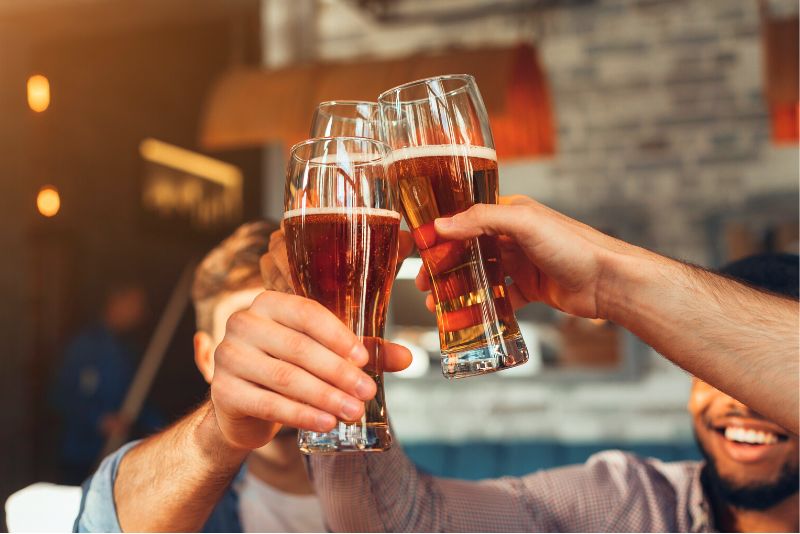 For a boisterous Bavarian meal with plenty of fun on the side, head over to Augustiner-Keller!
This beloved local fixture features a spacious beer garden and an amazing menu, but it has plenty of other diversions as well!
Challenge your friends on the curling rink, relax in an authentic shepherd's hut, or kick back at the many spectacular live events throughout the year.
It's one of the coolest things to do in Munich!
46 – You knew it was coming… Tick Oktoberfest off the bucket list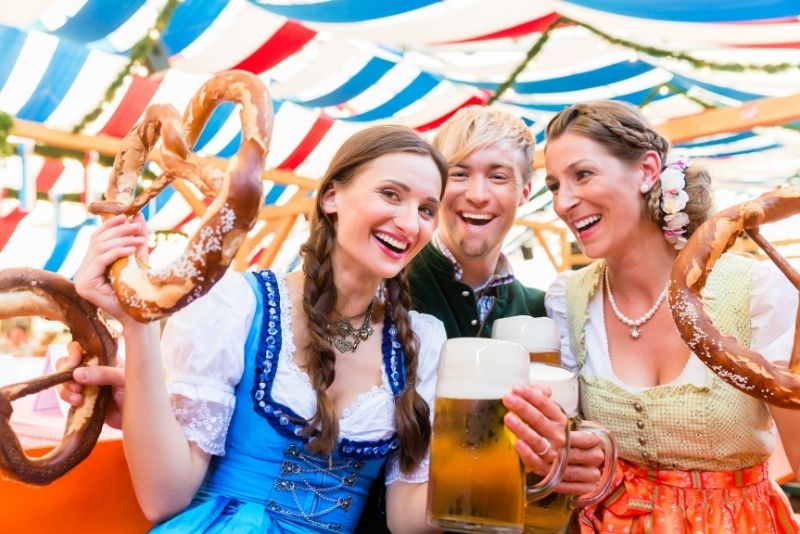 It was only a matter of time before we mentioned the most famous party on the planet — and while we could write about this beer-guzzling, pretzel-slinging, authentic Bavarian tradition till the cows come home, like many events, words don't do justice.
Held annually for two and a half weeks from late September to early October at the Theresienwiese, the festival presents an array of giant beer tents (all sponsored by different beer companies), as well as festival rides, roller coasters, bratwurst vendors, and so much more.
Each beer tent comes with a slightly different vibe — some suitable for families, some favored by international party-goers, and everything in between.
If you're travelling solo or in a small crew, consider joining a group experience — there's no better way to meet people!
47 – Stuff your belly at Schiller Braeu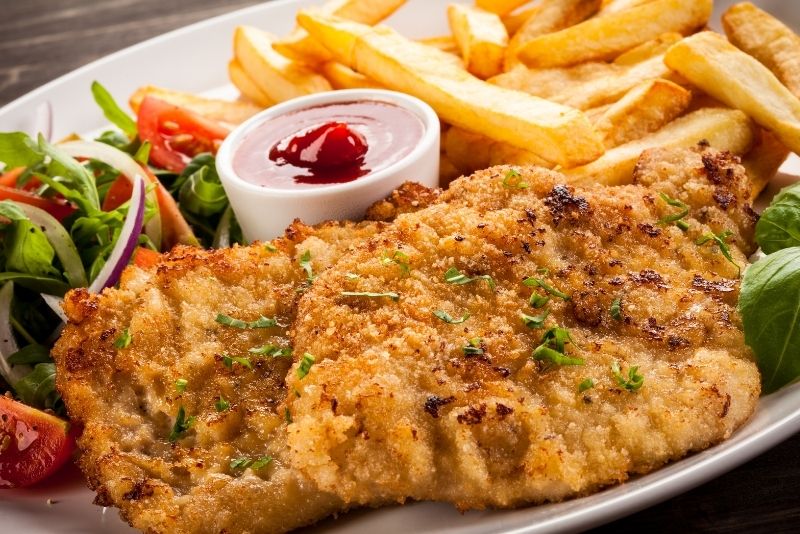 A local favorite known for its authentic homecooked grub, Schiller Braeu has been a Munich institution since 2003.
In addition to its legendary Bavarian meals, the restaurant also offers an extensive beer garden with everything from craft brews and classic lagers to refreshing Radlers with live music to boot.
Be sure to try the Obatzda (a sort of cheese spread), and beware of the enormity of schnitzel!
48 – Drive along the Romantic Road, stopping at iconic villages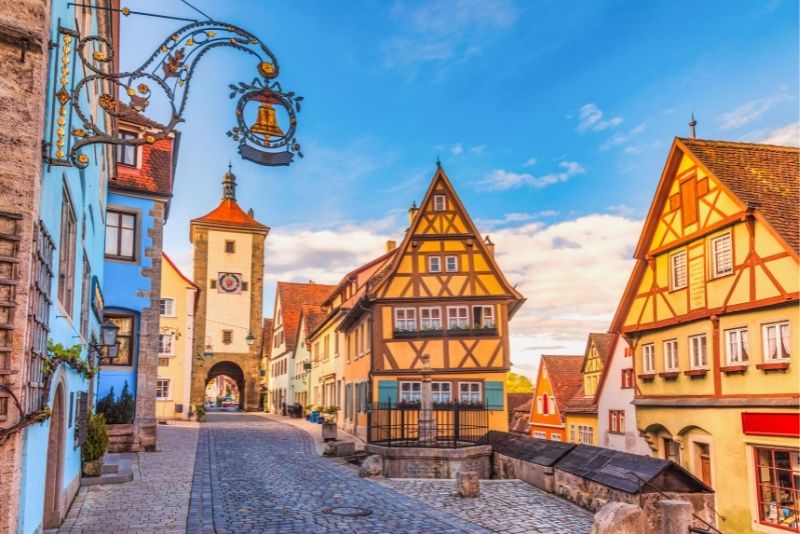 Easily one of the most popular holiday routes (for locals, but still little-known to internationals), the Romantic Road is a circa 350-kilometer stretch from Munich to the Swiss border that loops through some of Germany's most scenic towns and villages.
Along the way, travelers can stop in quaint medieval hamlets like Rothenburg ob der Tauber (home of the iconic Half-timbered houses) and Harburg, or take a quick detour to the iconic Neuschwanstein Castle.
The trip is easily done in a day from Munich, however, it can also be broken up into smaller segments for those with more time.
Due to occasional long lines and tourist crowds, a pre-arranged tour that includes Munich pickup and dropoff and also stops at Linderhof is your best bet.
Read more about Neuschwanstein Castle tickets and tours.
49 – Bounce around at the MAXX Arena trampoline park
Whether you're training for the next Olympics or just want to learn to somersault, Maxx Arena is the perfect place to hone your bouncing skills.
Besides the traditional trampolines, the indoor center also houses a dodgeball zone, foam pit, balance beam, and giant airbag.
Whether you're fourteen or forty, it's a surefire way to burn some calories!
50 – Hop around the Munich beer gardens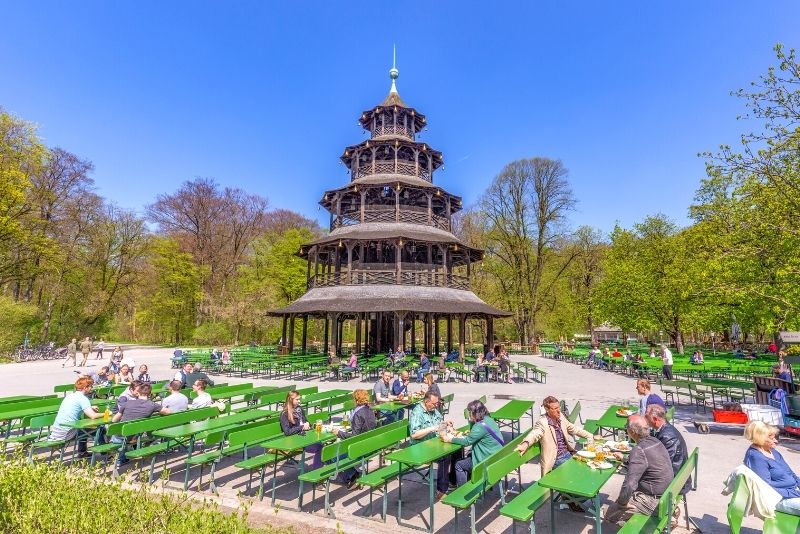 For the thirsty travelers who've already ticked off Hofbräuhaus, the city's list of beer halls doesn't end there – in fact, it's only just begun.
Just to name a few… Augustiner-Bräustuben is known for its jovial atmosphere and lack of tourists due to being a little off the beaten track; Chinesischer Turm sits in the middle of sprawling English Gardens; Hirschgarten, in the park of the same name, boasts 8,000 seats and is officially the largest Bavarian beer garden(!), and Biergarten Viktualienmark is conveniently located within walking distance of Marienplatz.
51 – Listen to the Munich Philharmonic Orchestra at the Gasteig Culture Center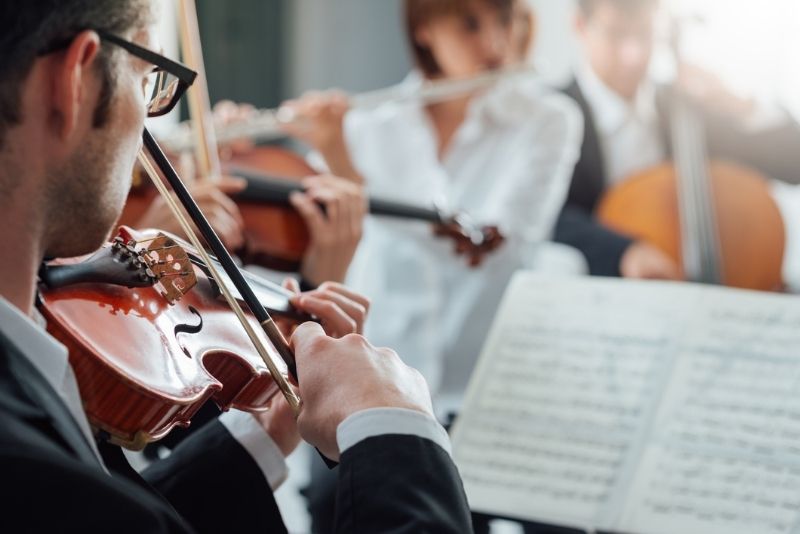 Since opening its doors in 1985, the Gasteig Culture Center on the eastern side of the Isar has become the largest cultural center in Europe, welcoming some two million visitors per annum!
Within its decorated walls you'll find the MUNICH CITY LIBRARY, the Optimistic Elephant coworking space, the Richard Strauss Conservatory, and, its pride and joy, the incredibly talented Munich Philharmonic Orchestra.
52 – Get a little classy at the best rooftop bar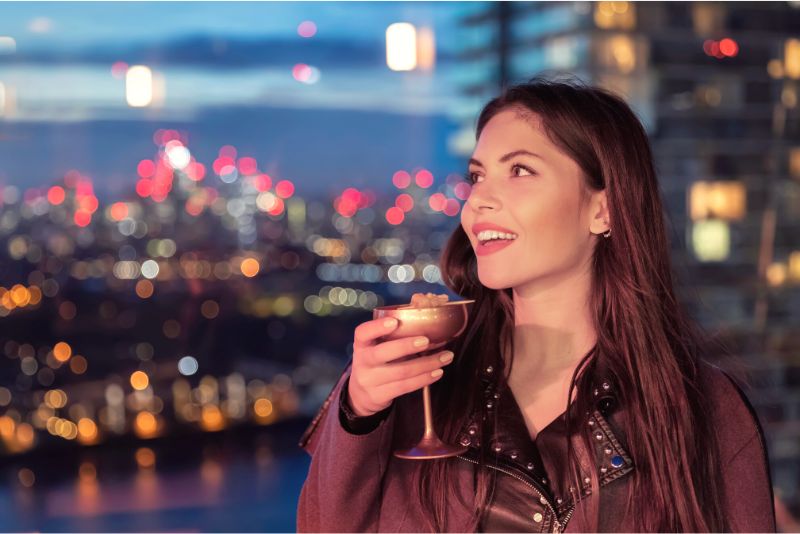 Want to pair a nice beverage with an incredible view of the city?
At Munich's rooftop bars, the possibilities are endless.
Try the gorgeous Mahjong Roof Garden, with its distinctive blend of Asian and Mediterranean aesthetics. Or knock back a few at Blue Spa Terrace, which boasts a magnificent sun deck with panoramic scenery.
Enjoy a bit of everything at M'Uniqo Rooftop Bar, with great drinks, delicious food, and equally stunning views of the city and the Alps. Or enjoy the lavish decor and meticulously crafted cocktails of Cloud One Bar.
53 – Embrace the Munich Christmas Market spirit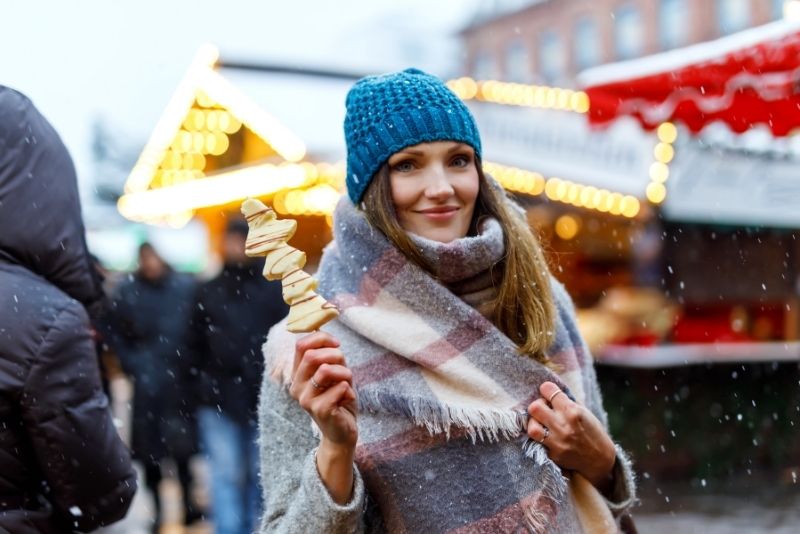 As any former traveler who's been lucky enough to visit Munich during Christmas time will attest, the city comes alive during Yuletide as its charming markets turn even the coldest winter night into a warm, festive treat.
The largest of the festive markets is located in Marienplatz. While it boasts a long list of highlights (mulled wine and concerts to boot), the Krampus vor Rathaus (AKA Krampus Run) tradition is a creepy yet must-see event!
54 – Go skydiving… indoors!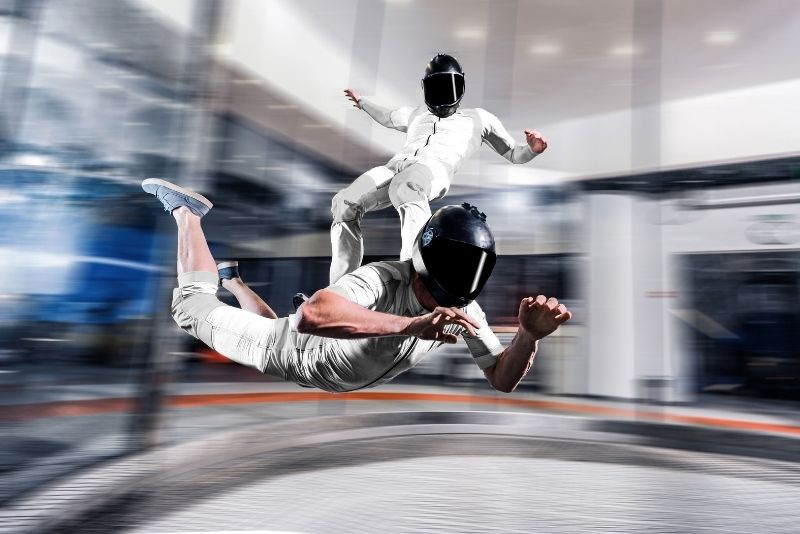 An absolutely must-try for the thrill-seekers, the indoor skydiving centers in Munich offer a safe, exhilarating experience for even the most inexperienced jumpers.
It's about as close to free-falling out of an airplane as you can get without actually having to leave ground level!
55 – Feed the fishies at SEA LIFE Munich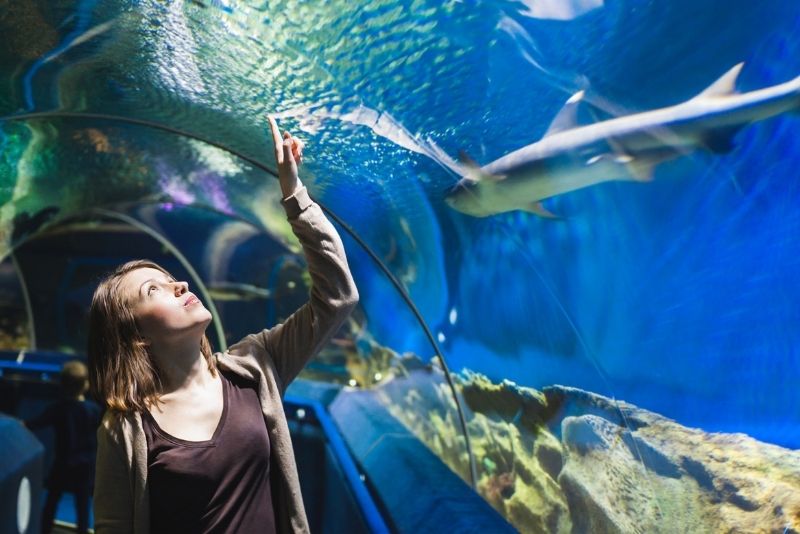 Sitting out in the Olympic Park area (just another reason to spend the day north of the city), this beloved aquarium houses more than 4,500 sea creatures from all walks of life, local and from afar.
With staff providing live feeding displays and a new Tropical Island exhibit finally open, adults and children alike will be mesmerized by SEA LIFE's fascinating underwater spectacle.
56 – Admire the endless exhibits at the Deutsches Museum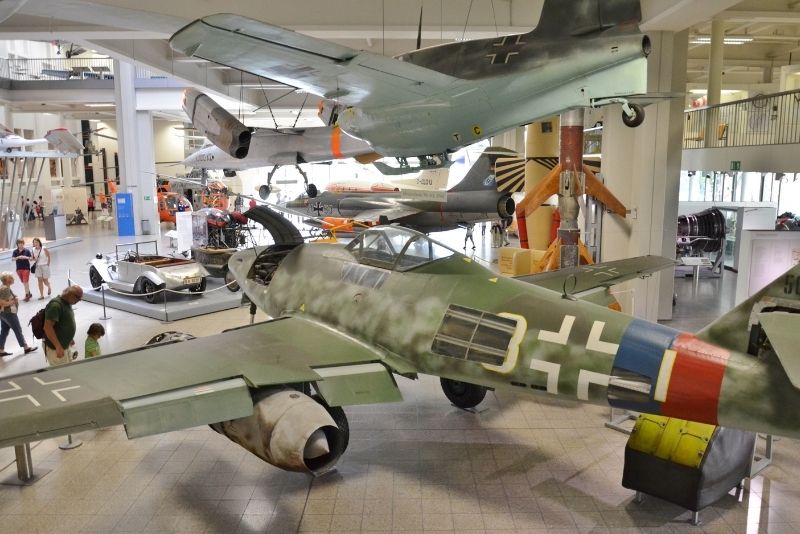 Officially the world's largest museum of science and technology, with more than 28,000 items of all shapes, sizes, and origins in its collection, Munich's very own 100+-year-old Deutsches Museum is a dream come true for inquisitive minds.
The interactive exhibitions and countless hands-on displays will keep aspiring scientists entertained for hours on end, while youngsters can occupy themselves in the museum's mining exhibit, admire the old-fashioned planes, or get their skills in the Kinderreich (a make-believe career section).
57 – Spend the day at the Galaxy Erding water park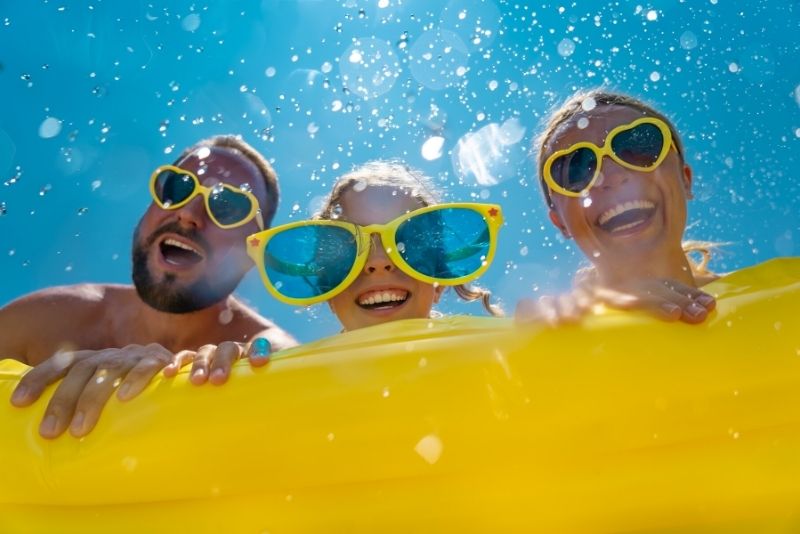 Located 40 minutes from Munich by car, Galaxy Erding is a huge outdoor amusement park dishing up 27 different slides and attractions.
As what's officially the largest slide world on the continent, there's no better place to be on a sizzling summer day.
Besides the array of thrilling (or slow-moving) slides, the park also boasts a handful of calming saunas and healing medicinal baths.
58 – Play with red pandas at the Tierpark Hellabrunn Zoo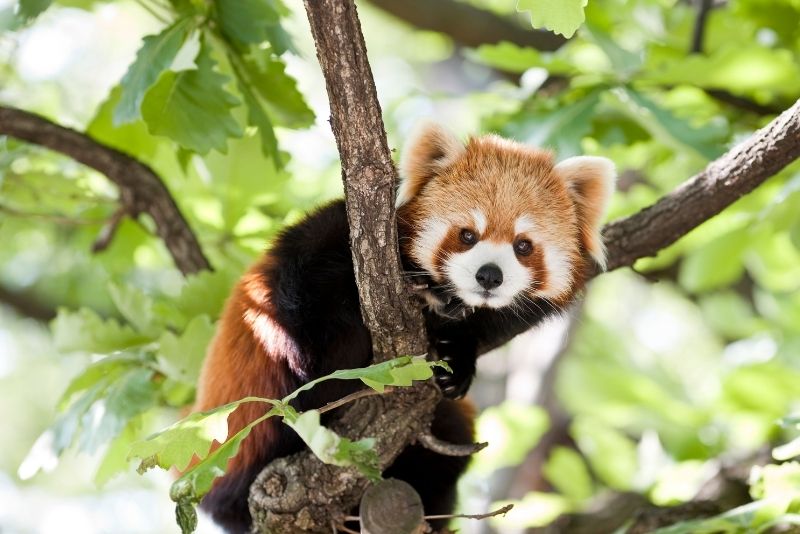 A visit to the Tierpark Hellabrunn is a must for animal lovers of all ages, with more than 750 exotic species (red pandas, lions, tigers, elephants, reptiles — pretty much anything) gracing its sprawling green spaces and a range of exciting animal shows.
Unlike most zoos, Tierpark Hellabrunn typically doesn't rely on cages for enclosures, opting instead for moats! The aquarium is worthy of a wander, likewise the tropical house.
59 – Ride intense roller coasters at Bayern-Park!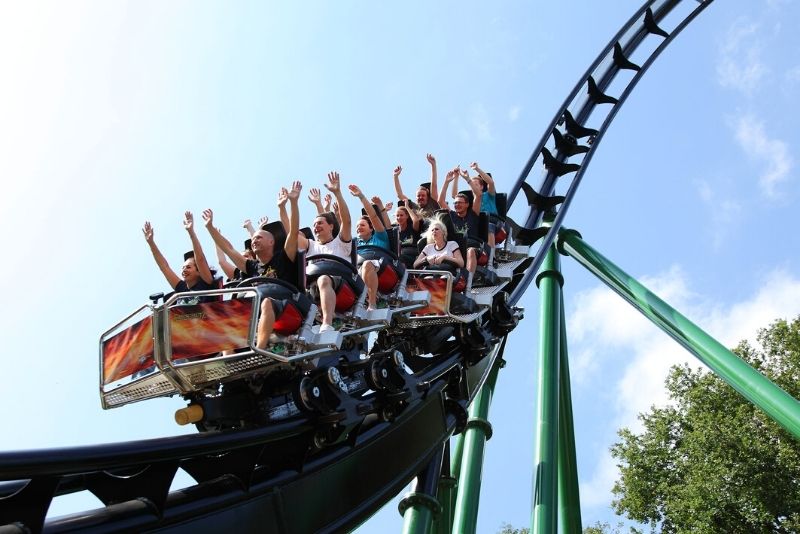 About 90 minutes out of town, over in Reisbach, Bayern-Park is one of the more enjoyable and family-friendly summertime activities.
Guests can choose from more than 40 rides and attractions including adrenaline-surging roller coasters and whitewater slides, as well as enjoying the animal enclosures, live shows, and regular events.
60 – Cheers your 'Maß' at Hofbräuhaus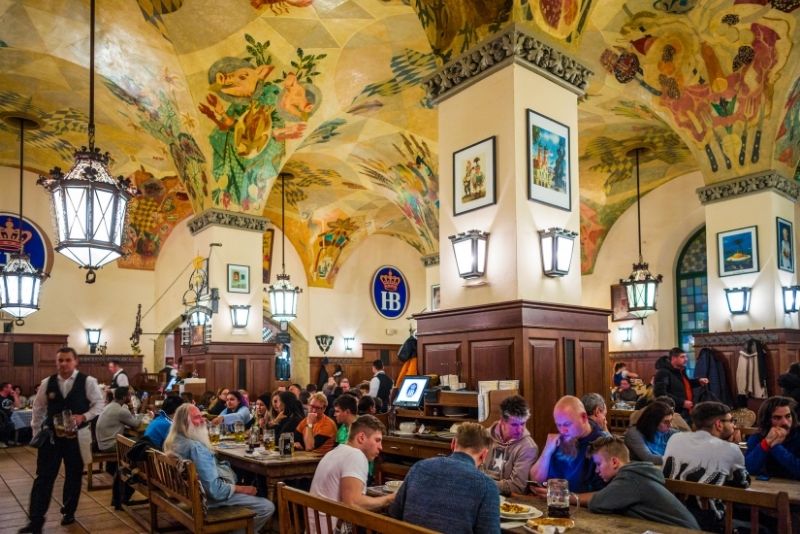 Serving up traditional Bavarian cuisine alongside dozens of different beers, and located directly next to the brewery, Hofbräuhaus remains one of Munich's most iconic destinations for locals and travelers alike.
The restaurant and beer hall's original home was destroyed in WWII, but reopened to the public in 1958. With regular live music, it's a must for the bucket list.
How to get to Munich?
Book a transfer to and from Munich Airport to save yourself some time and hassle – although once you're settled in town, transit is generally a breeze!
You can also book shuttle transfers between the airport and Munich Central Station, which puts you in the perfect position to start exploring by train.
Where to stay in Munich?
Spoil yourself rotten at Vier Jahreszeiten Kempinski München, where the spa, swimming pool, and classy bar will keep you occupied – when you're not out at the nearby shops and restaurants, that is!
And at the Westin Grand Munich, you can hop straight off the train and amble in to use the sauna, or chow down at the Paulaner Wirtshaus, before relaxing in the beer garden.
Boutique Hotel Atrium Munchen is a short walk away from shopping centers and renowned public areas, and also offers some lovely contemporary accents, such as a sprawling courtyard.
And at Eden Hotel Wolff, you'll be able to enjoy all the amenities of the surrounding city (it's right next to Munich Central Station) as well as the delights on-site, from traditional Bavarian food to a relaxing steam room.
H2 Hotel München Olympiapark is another excellent choice if you want to be in the middle of the action, with museums, parks, and other amenities a short distance away.
Visiting Munich on a budget?
From the winding streets of Old Town to the lush fields of the city's urban farms, you'll find no shortage of wonders on free walking tours!
These are ideal for tourists looking to save some money, with awesome information, unique vantage points on the city, and enthusiastic guides who work out of love and passion.
Be sure to bring cash for tips!
Where to go next?
Germany's cities are among the liveliest and most fascinating in Europe, and there are plenty to see even after you depart Munich.
With remarkable architecture, a history stretching back millennia, and even some amazing amusement parks, Frankfurt is perfect for travelers of all stripes.
For another German gem, head to Stuttgart. As the cradle of the automobile with brands like Mercedes-Benz and Porsche, it seamlessly blends innovation with tradition.
And if you want an unforgettable metropolitan experience, Berlin has plenty to offer, from raucous clubs and cutting-edge art to sporting venues, lively public markets, and utterly unique neighborhoods.
Beyond Germany, consider taking a short trip to Innsbruck, Austria. Nestled in the Alps, it's a picturesque city known for its imperial and modern architecture, ski jumps, and hosting two Winter Olympics.
Want to venture even further? Pop over to Salzburg to enjoy diverse designs, fascinating cultural institutions, and a musical history stretching from Mozart to Maria Von Trapp. Or head to Switzerland to see the gorgeous scenery, old-school buildings, and rich history of Zurich.
Final thoughts
Artsy and adrenaline-filled, contemplative and wild, historical and utterly cutting-edge… this charming German city has a little bit of everything!
And as you try some of the amazing things to do in Munich, you'll quickly fall in love with the place and its people.
You'll soon see that there's so much to this city than beers in October!