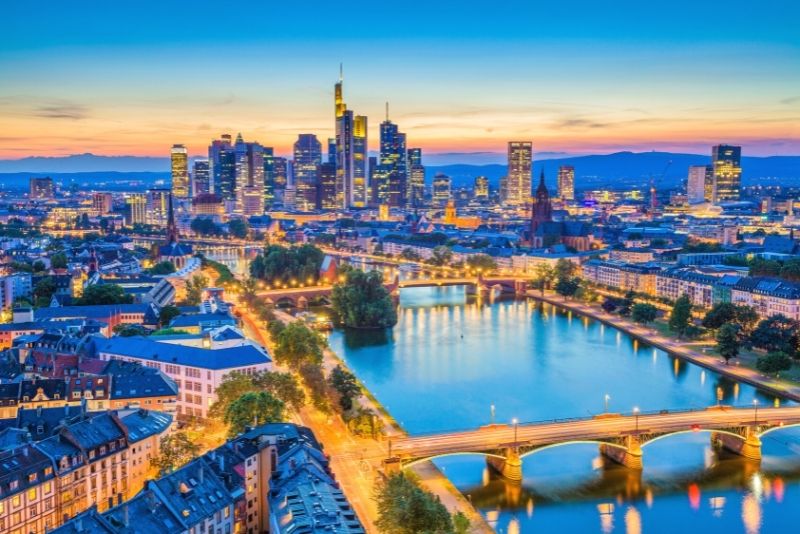 Frankfurt is one of the central cities of Europe and the fifth most populated city in Germany. With a history that dates back to the Roman Empire, the city has a long and diverse timeline. With a large amount of the area rebuilt after the Second World War, Frankfurt is a perfect blend of ancient culture and very modern architecture.
There are many things to do in Frankfurt that you cannot do anywhere else, such as visit Anne Frank's first home, wander through Johann Wolfgang Goethe's childhood home and stop by the headquarters of the European Union. Whether you like exploring castles, being led around town on a scary theatre piece, or simply sampling some local apple wine, Frankfurt has got something for you.
1 – Head to the bustling Römerberg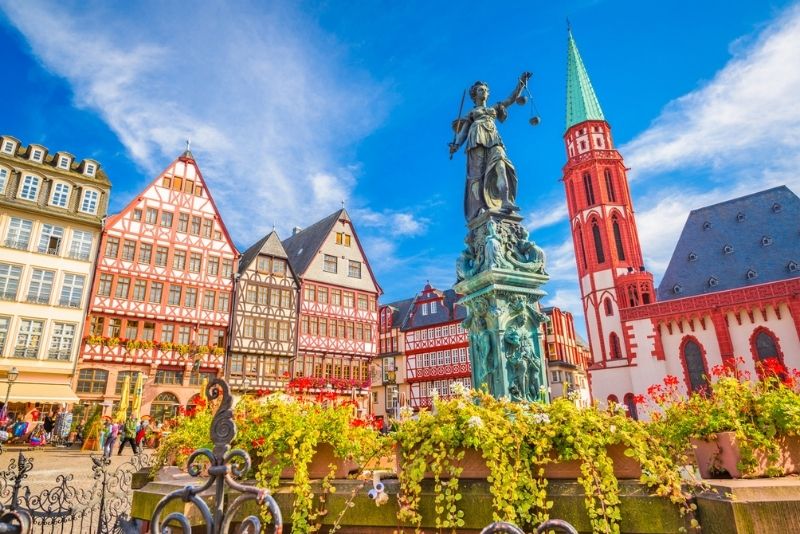 Römerberg is a busy square in the heart of Frankfurt. Here you'll find Römer — the city hall — and the 15th-century Old Saint Nicholas Lutheran Church.
If you happen to be in Frankfurt during the winter months, the local Christmas Market takes over the space at Römerberg. The market starts in late November and runs until December 22.
2 – Go animal spotting at the local zoo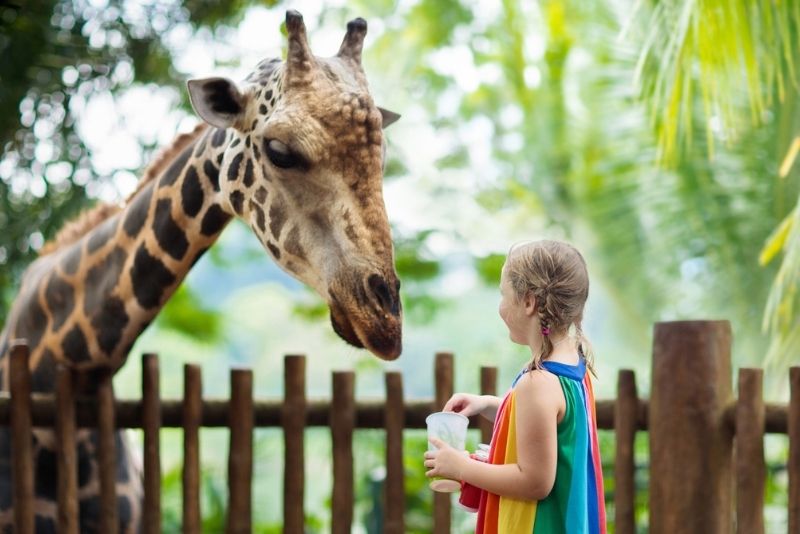 There are two main zoos in Frankfurt, Opel Zoo and Frankfurt Zoo, both offering a great way to see some wildlife so you won't be disappointed.
Frankfurt Zoo has an aquarium open late (until 8 p.m.) and open feeding times so you can make sure you see your favorite animals in action.
Opel Zoo is slightly more open-air with a lot of animals roaming together and public barbecues and picnic spots.
3 – Climb the Main Tower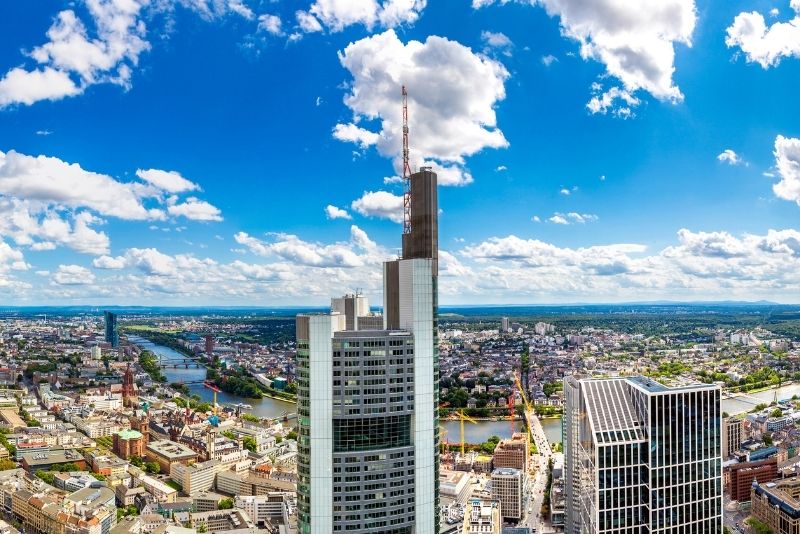 Main Tower in Frankfurt is the highest vantage point in the city. The viewing platform provides a panoramic view of the city, perfect for landscape photographers.
There's also a restaurant and lounge on the 53rd floor for the foodies and a modern art gallery, so you can get a unique sky-high gallery experience.
4 – Hop on a bike tour past Paulsplatz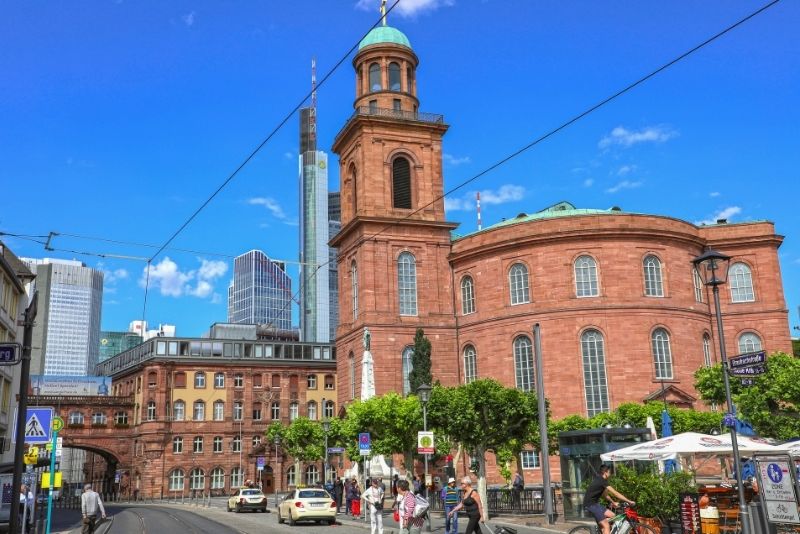 Paulsplatz (St. Paul's Square) is the largest square in Old Town Frankfurt and a hotspot of historic landmarks.
Stopping by the bronze Unity Memorial, gothic monastery or The Old Exchange stock market building are all quintessential things to do in Frankfurt.
In order to pack these sites in, a bike tour can take you through Old Town, as well as all the surrounding sites.
5 – See the city on a hop-on hop-off bus tour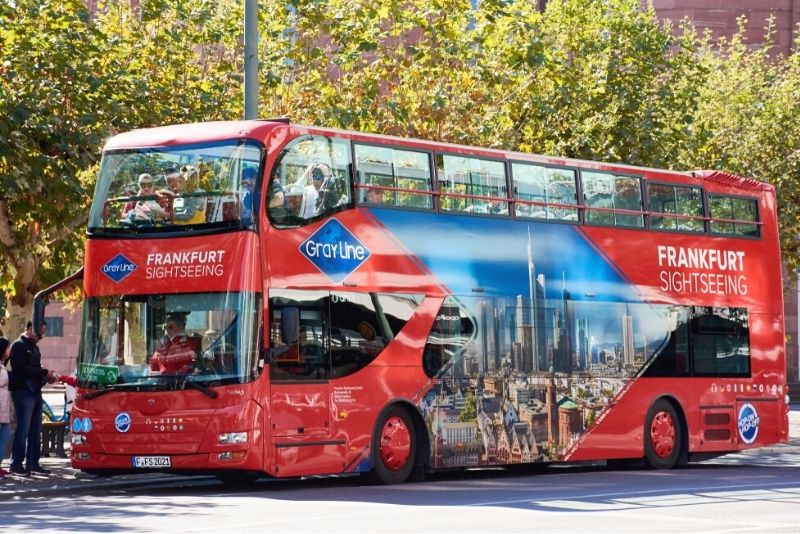 A hop on hop off bus ticket is a budget-friendly way to see as much of Frankfurt as possible.
With 14 stops around the city, you are able to get on at any stop, explore and then board the next bus that comes by.
Tickets are valid for a whole day so you can really see the city at your own pace.
6 – Unwind at Palmengarten Botanical Garden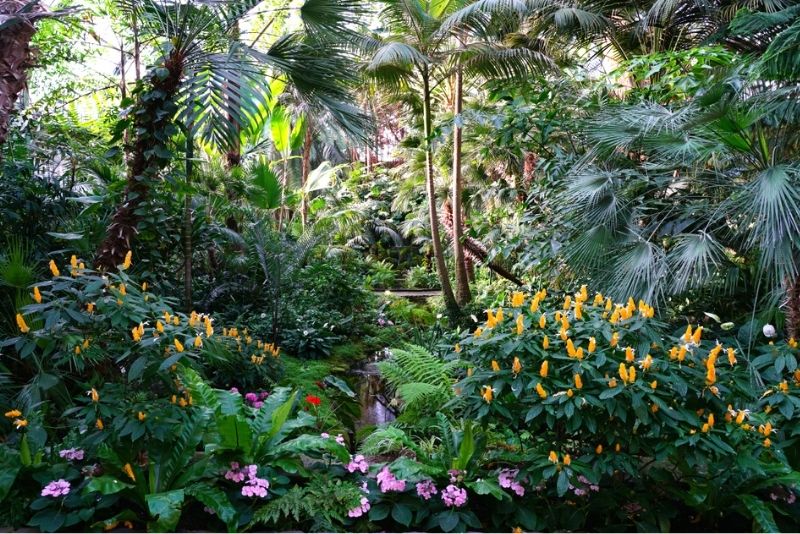 Palmengarten is a botanical garden that is home to more than 13,000 species of plant. Over its 150-year history, the garden has hosted many cultural events such as sound installations and sculpture displays.
At Palmengarten, you can also come across a huge greenhouse that has famously held concerts and balls for Emperor Wilhelm I.
7 – Cruise down Main River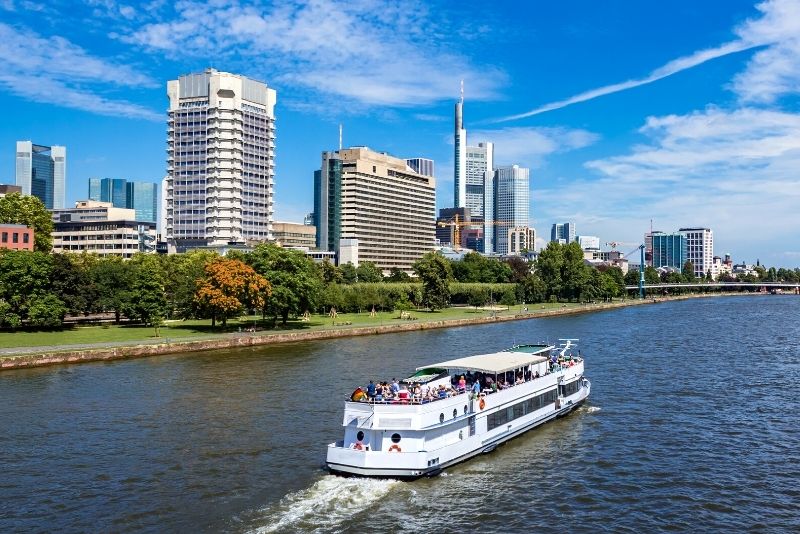 The Main River in Frankfurt runs alongside historic waterfront homes and the buildings of the city skyline.
Taking a cruise is a fitting way to make the most of the vantage point you get from this river.
You can choose from one- or two-hour cruises, so you can move as slow or as fast as you like before getting off at the landmark Gerbermühle to learn about a local poet.
8 – Cross the Eiserner Steg bridge
Eiserner Steg is an iron bridge that connects the city center and Sachsenhausen. The bridge is crossed by over 10,000 pedestrians a day and is where one of the most famous city skyline views can be obtained.
If landscape photography is your thing, taking your camera to Eiserner Steg is one of the essential things to do in Frankfurt for you.
9 – Explore Goethe House and Museum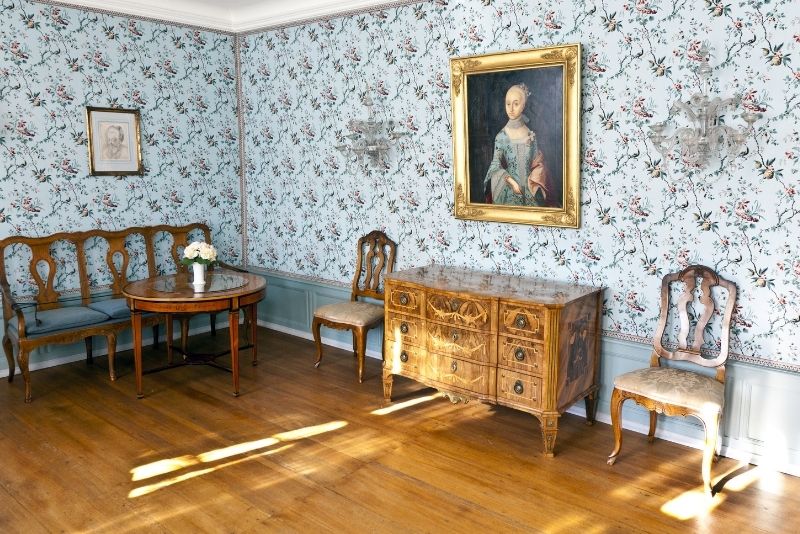 Johann Wolfgang Goethe is one of Frankfurt's most famous poets, growing up and working in the city in the 18th century.
Goethe House and Museum is the very house the poet was born in and created some of his most famous works.
The museum displays several artifacts from his life and career, all in the most authentic setting of all: his own home.
10 – Glide around on a Segway tour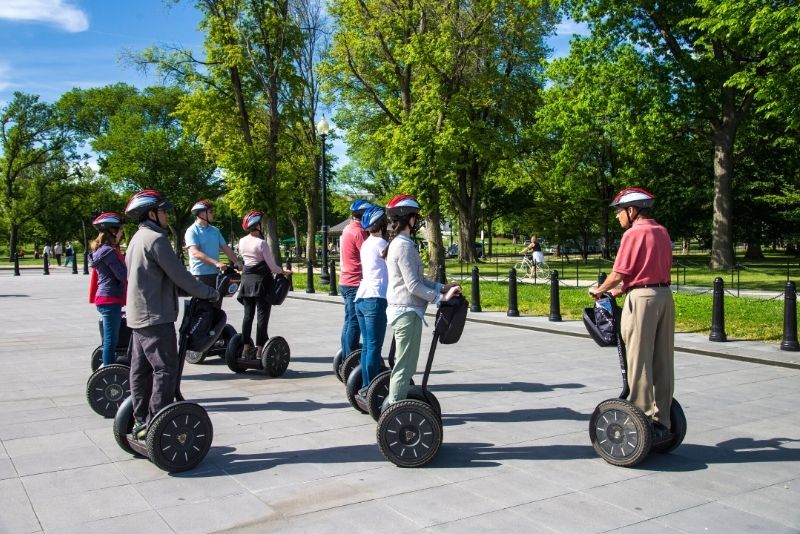 A Segway tour is an ideal option for those looking for an effortless and comfortable way to move around Frankfurt and see the sights.
The Segway tour runs along Frankfurts Greenbelt — a scenic road that runs through the city. You'll glide past rolling hills, meadows and old architecture all in one trip!
11 – Step back in time at the Senckenberg Natural History Museum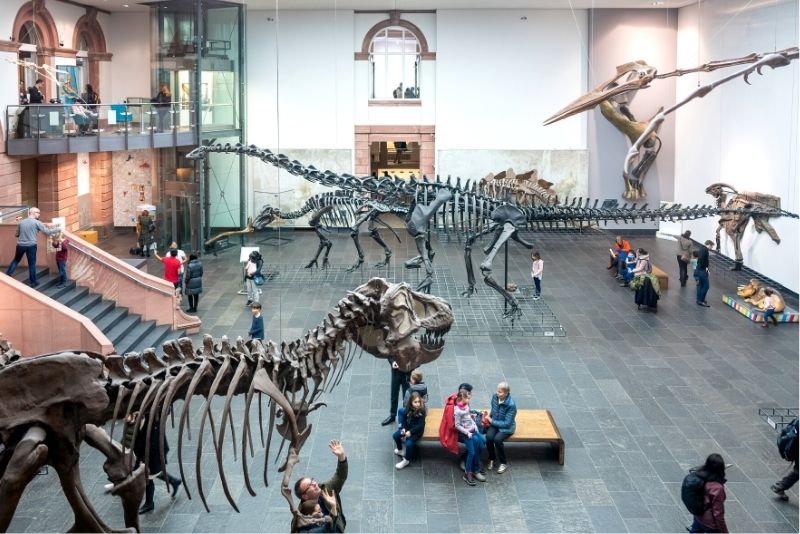 The Senckenberg Natural History Museum is Frankfurt's premier collection of all things old, ancient and unique.
At the museum, you'll find dinosaur bones, human evolution exhibits, as well as deep-sea and marine research.
The museum gets very busy so make sure to book admission ahead of time on its website to make sure you'll get in!
12 – See the view from the Frankfurt Cathedral observation tower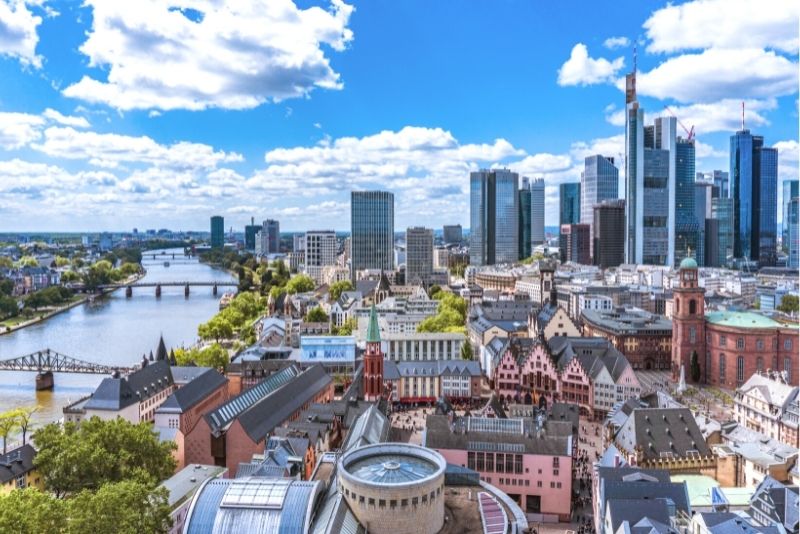 Frankfurt Cathedral is a gothic church built between 1315 and 1358 in the name of St. Bartholomew.
The cathedral is impressive from the outside but you can also climb the main tower up to a 66-meter high observation deck.
Looking out the window here gives you an intimate bird's-eye view of the Frankfurt metropolis.
13 – Check out New Old Town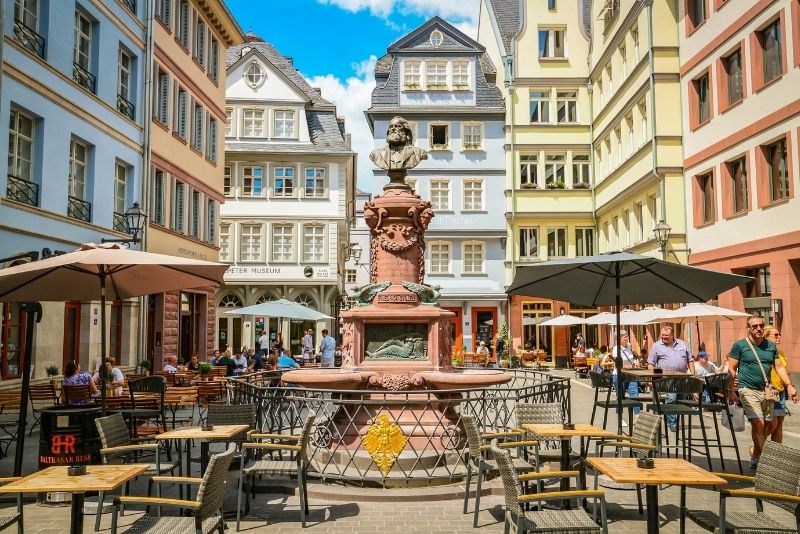 In 1944, there were air raids that destroyed a key part of Frankfurt. Since then, New Old Town has been constructed to recreate the area that was destroyed.
The designers and builders used original blueprints, materials and construction techniques to build a space that was faithful to the original area.
At New Old Town, you'll find everything from old shop fronts to the Goldene Waage — a renaissance-style timber frame house.
14 – Stop by Staedel Museum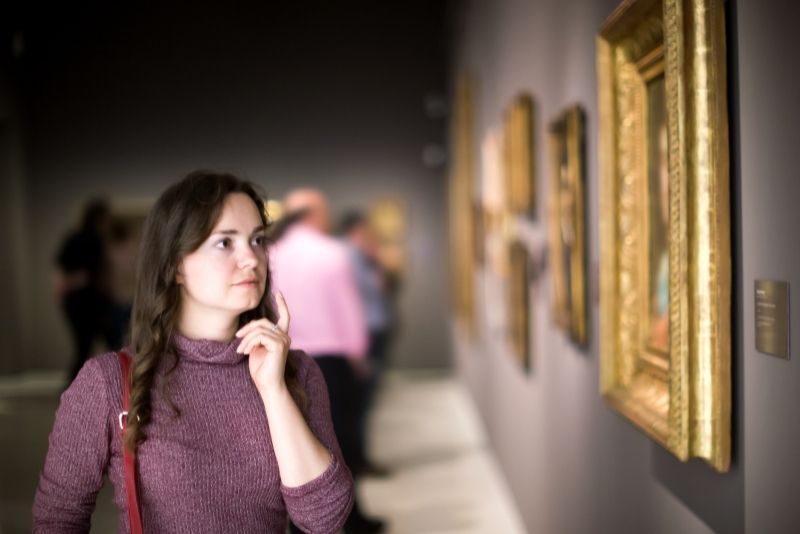 Staedel Museum has one of the biggest collections of art in Germany.
The museum holds 3,100 paintings, 660 sculptures, over 4,600 photographs and more than 100,000 drawings. Inside, you'll find Monet, Rembrandt, Botticelli and many others.
15 – Set out on a Rhine Valley river cruise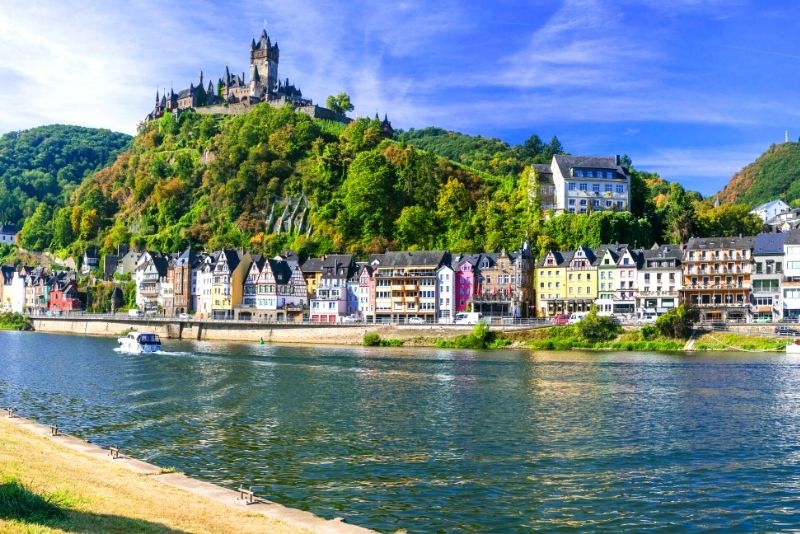 The Rhine Valley is where you'll find a lot of UNESCO-listed sites. If you hop on a vintage steamboat and head down the Rhine River, you can pass vineyards, medieval towns and mountaintop castles.
On this cruise, you can also sample some of the famous Rhine Valley wine and have a meal by the riverside before heading back into town.
16 – Head to Heidelberg on a day trip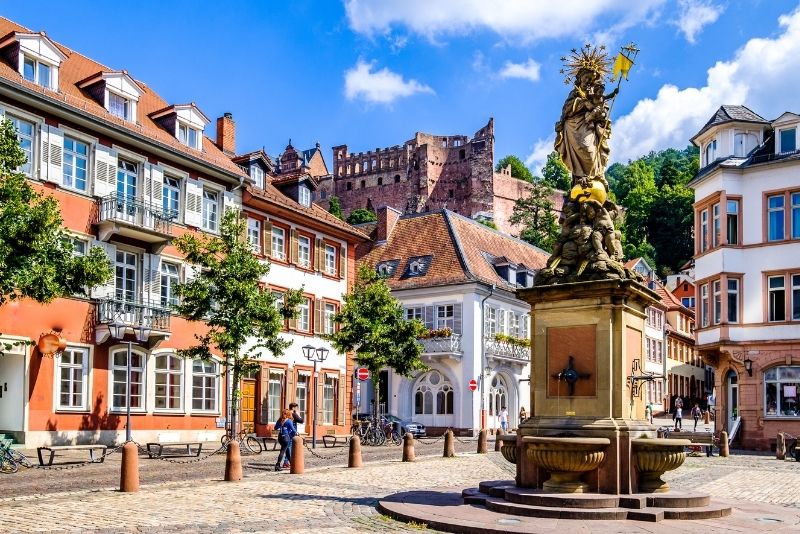 If you hop on a bus tour out from Frankfurt, you can make it to the medieval town of Heidelberg.
The town is where you'll find the world's largest wine barrel, Heidelberg Castle and renaissance architecture.
You can choose from morning or afternoon departure times, and the tour lasts for about five and a half hours.
17 – Spend the day at Rothenburg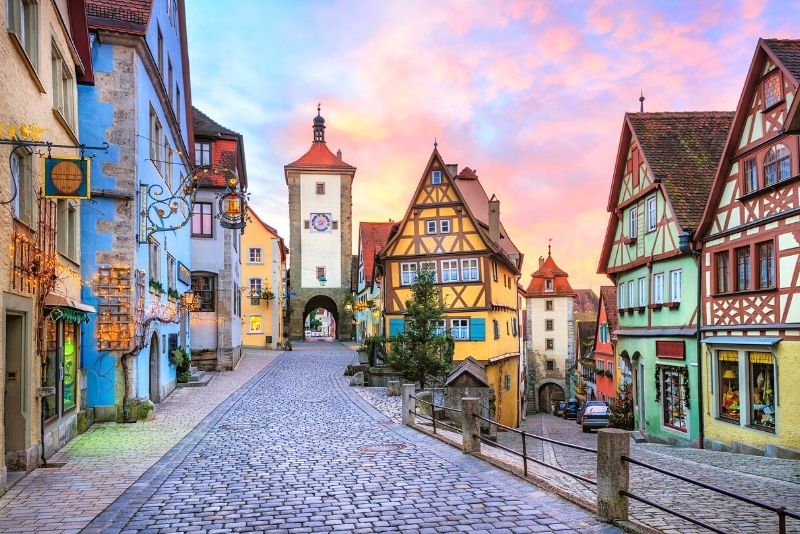 If you have a full day to spare, heading out to the perfectly preserved town of Rothenburg is one of the best things to do during your stay in Frankfurt.
A day trip to this ancient town includes access to Rothenburg's Medieval Crime Museum and a complimentary walking tour of the cobblestoned streets.
18 – Let your hair down on a trip to Baden-Baden in the Black Forest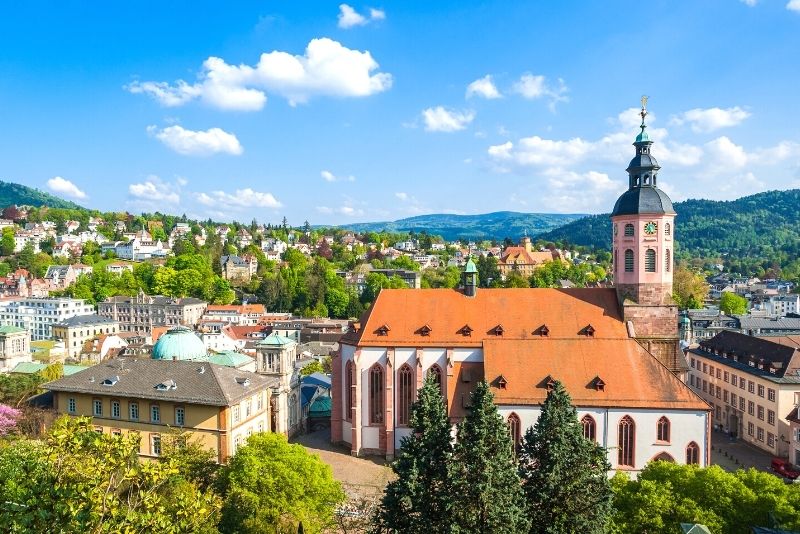 Baden-Baden is located in Germany's Black Forest and is well known as a spa town where travelers go to unwind.
There are thermal bathhouses, luxury boutiques and peaceful botanical gardens which all contribute to the town's tranquility.
A day trip from Frankfurt aboard a coach will take you to and from Baden-Baden, as well as to the photogenic lake Mummelsee.
19 – Hop on a rollercoaster at Holiday Park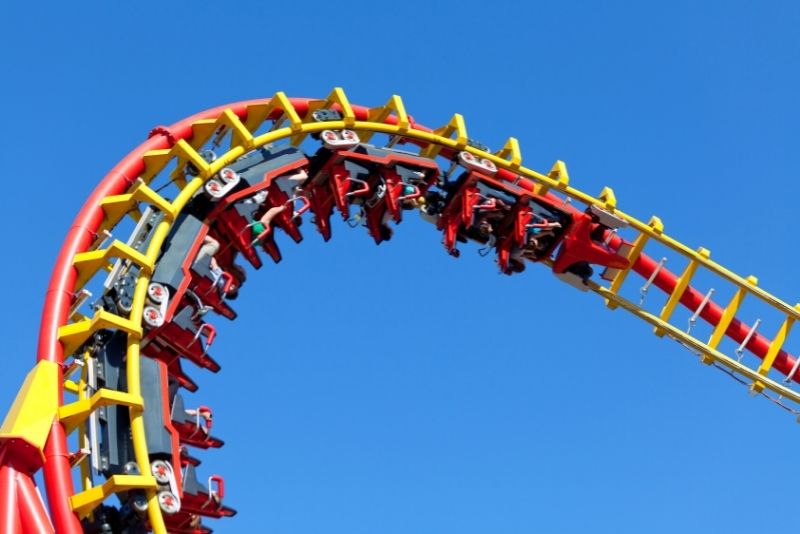 Holiday Park is an amusement park that has everything from an Antique merry-go-round to water slides.
It has all the usual rides such as rollercoasters and ghost trains, but it also has attractions for any age such as balloon rides or ball pits for the younger visitors.
20 – Escape to Cologne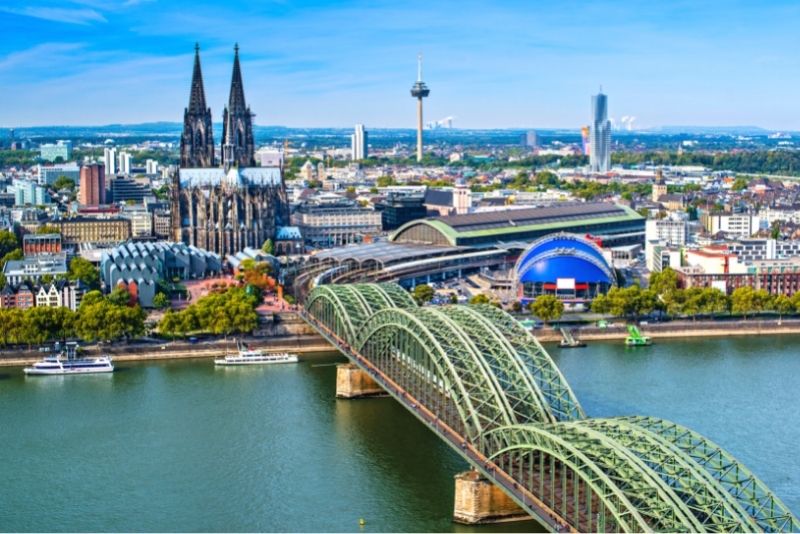 Cologne is a 2,000-year-old city that's a short scenic drive north of Frankfurt.
A day trip to Cologne includes a ride to the city and a double-decker bus around town to see the local attractions, including Cologne Cathedral, Germany's most visited site.
The trip back to Frankfurt stops by the medieval town of Limburg, making this tour full of exciting discoveries!
21 – Catch the bus to Würzburg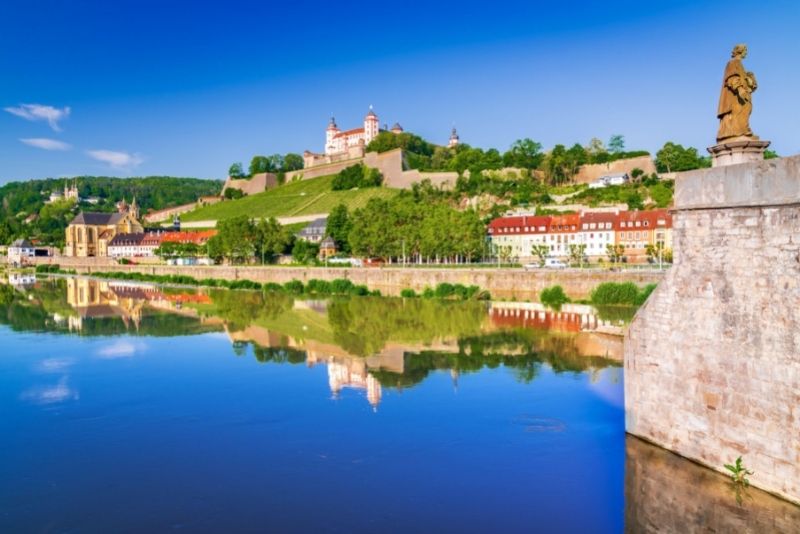 Würzburg is a historic town in the north of the German state of Bavaria. This is where you'll find the UNESCO-listed site Residenz Würzburg, a huge Baroque-style palace.
There's a one-and-a-half-hour bus ticket that will take you from Frankfurt Main Train Station (Hauptbahnhof) to Würzburg Main Railway Station, without having to change, making this a very easy — and budget-friendly — day trip.
22 – Make your way to Neuschwanstein Castle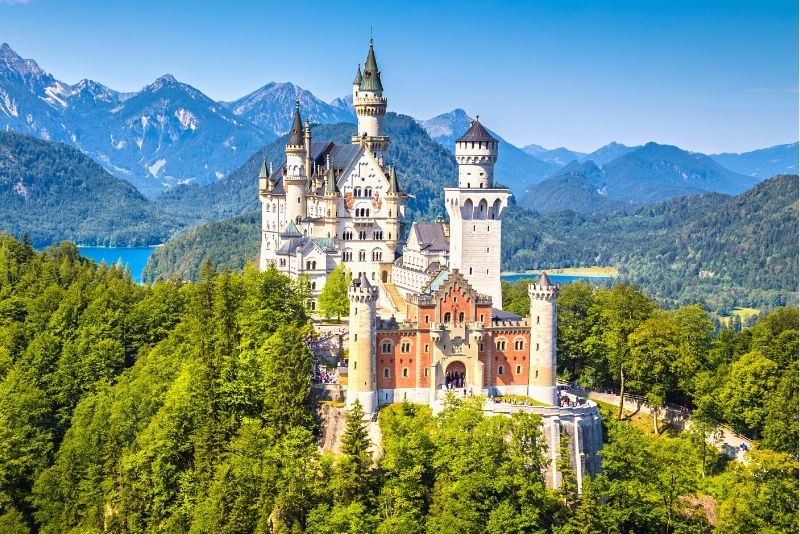 Neuschwanstein Castle is a palace atop a rugged hill that overlooks the town of Hohenschwangau in southwest Bavaria, a short day trip from Frankfurt.
It is an example of what is known as a historicist castle, a castle that imitates the style of an older architectural movement.
Neuschwanstein Castle is a reconstruction of a castle from the romanticism period, built in the 1870s on the grounds of a previously destroyed palace.
23 – Delve into the Museum District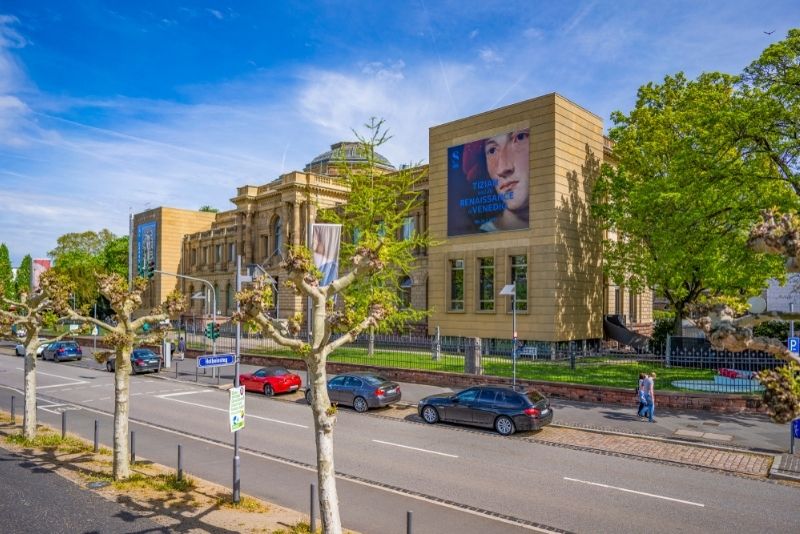 Museumsufer is a collection of museums placed along the banks of the River Main in Frankfurt. In the 1980s, politician Hilmar Hoffman began work to turn old villas and build new museums in the area to create a high concentration of museums in one area.
The museums that you can't miss are the Frankfurt Museum of Modern Art, The Jewish Museum, Deutsches Filmmuseum, Liebieghaus and Museum Angewandte Kunst. The list goes on, but they're all close together so it'll be hard to put a foot wrong!
24 – Race around on a hotrod tour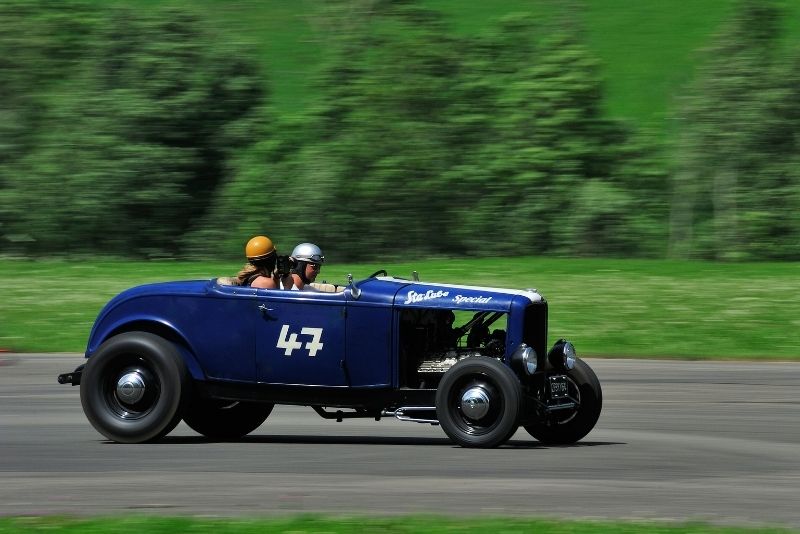 With so many great sights around town, racing around in a hot rod to all the landmarks is one of the best things to do in Frankfurt.
You begin the tour at Hanauer Landstrasse and then make your way past Frankfurt's Mainhattan and the Mainhufer River.
25 – Stroll through Hauptwache
Hauptwache is one of the most famous plazas in Frankfurt. It lies in the heart of the shopping district of the city, so once you've picked up a few trinkets, you can check out the many landmarks in this plaza.
This square is where you'll find the baroque style Hauptwache building as well as St. Catherine's Church.
26 – Relax at Grüneburgpark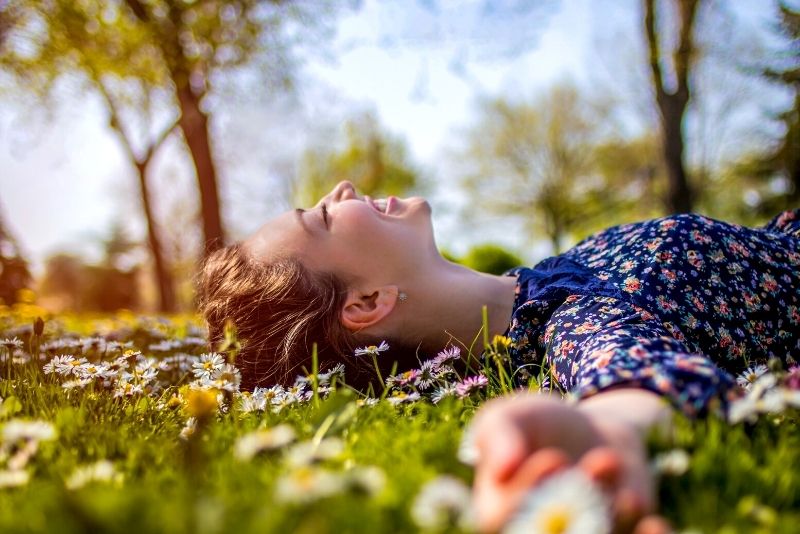 Grüneburgpark is a public park in the Westend Quarter of Frankfurt. Originally constructed in 1789, the park has contained a French-style palace, English gardens and a German castle known as Grüne Burg over the years.
After an air raid in 1944, parts of the park were reconstructed and then opened to the public, with Grüneburgpark becoming a popular recreation spot for locals. There's even a cafe within the park open in the summer, making it a perfect picnic spot.
27 – Explore Eltz Castle on a day trip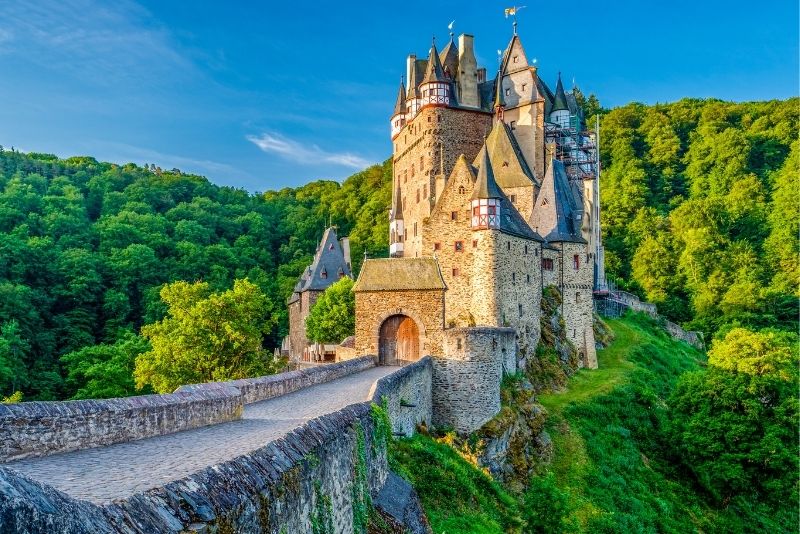 Eltz Castle is a well-preserved, centuries-old fortress in the picturesque German countryside. It's known to be less crowded than other castles in the country, so you'll have plenty of space to walk in the footsteps of royalty and aristocrats as you explore the castle.
On a day trip from Frankfurt, you'll get to see the armory room, gold and silver 12th-century artwork before exploring the surrounding Eltz Forest — full of rare flora and fauna. The tour ends with a dinner on the banks of the Rhine River before being taken back to Frankfurt.
28 – Plummet past Odenwald Mountain on a skydiving trip
Sometimes a bird's-eye view is the best vantage point for a city as expansive as Frankfurt and skydiving is a great way to achieve this.
You can jump from a height of 3,000 to 4,000 meters, giving you about a minute of free-falling thrills, followed by about four minutes of cruising over the Frankfurt skyline.
The jump takes place just by Odenwald Mountain, so you're guaranteed a great view.
29 – Stroll through the Frankfurt Financial District (aka Mainhattan)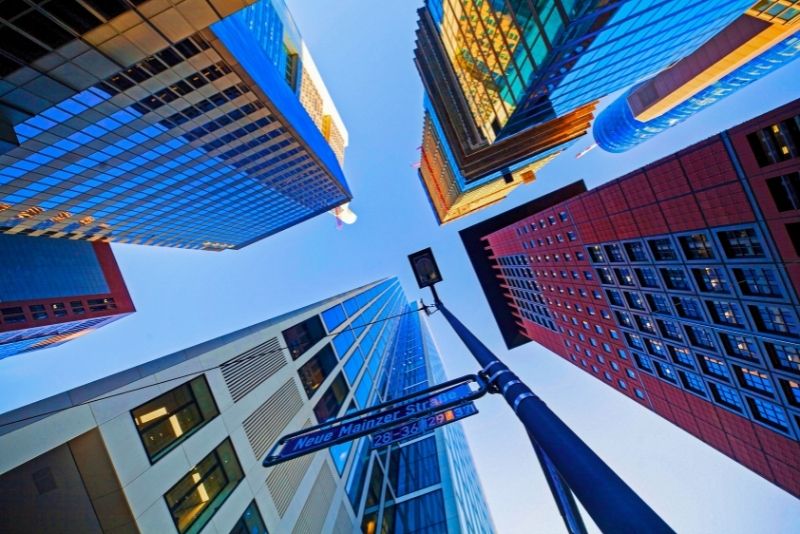 The Frankfurt Financial District got the nickname 'Mainhattan' from its high concentration of skyscraper buildings.
After the historic center of Frankfurt was destroyed in the Second World War, the city needed to be rebuilt, thus, a lot of modern and tall skyscrapers were built.
This collection of huge offices and banks then turned Frankfurt into one of the business capitals of Germany.
30 – Test your driving skills with indoor go-karts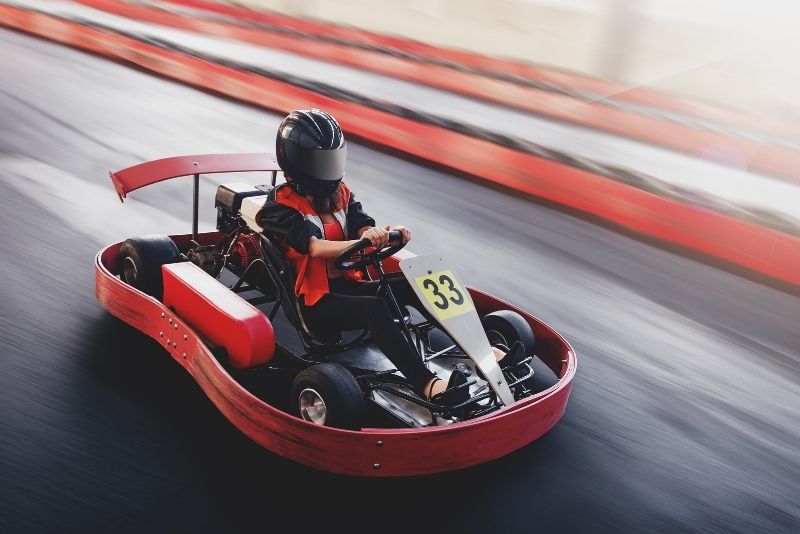 Go-karts can be a great way to blow off some steam and also get the adrenaline pumping along the way.
Eco Kart in Frankfurt is an electric go-kart track that gives you the pace and thrill of go-karts, without the noise and exhaust of typical engines.
There are three levels to choose from, so no matter your driving experience, there'll be a track for you to enjoy.
31 – Get a taste of ancient Roman culture at Saalburg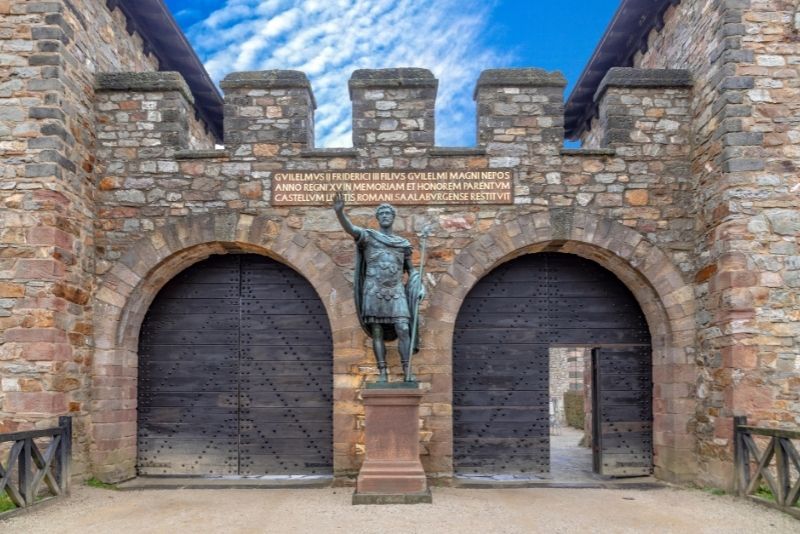 Saalburg is an ancient Roman fort that would have previously been very heavily defended and open only to returning Roman soldiers.
Nowadays, it is open to all, allowing travelers to step back in time and get a glimpse of the life of an ancient Roman.
The fort itself has been well maintained and there is also a packed program of marches and culinary activities to give you a true sense of the historic culture at Saalburg.
32 – Visit the home of the euro at the European Central Bank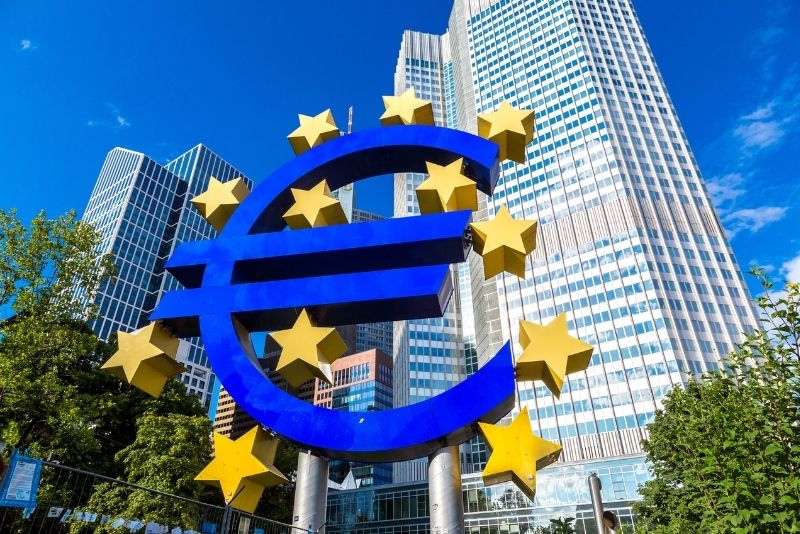 The inception of the euro is considered a huge moment in European history, and the head office is right in the middle of Frankfurt.
The 185-meter high tower was built in 2014 and is a delight for architecture enthusiasts, with an eco-friendly design and both modern and historic aesthetic elements.
33 – Explore the city with an escape game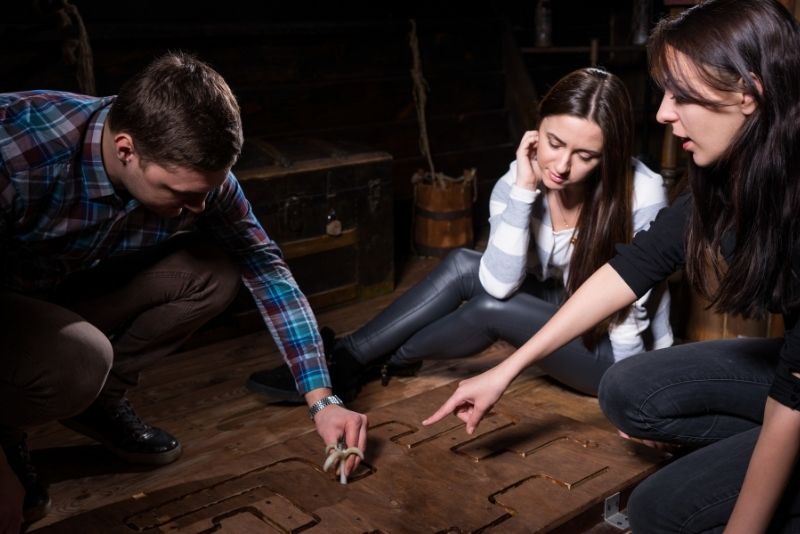 ParaPoly is an urban adventure that combines a scavenger hunt, an escape room and a city tour.
You begin the game in a main square of Frankfurt then are taken around town with landmarks and monuments — forming part of the game where you will need to solve clues in order to make it to the next stop.
Not only will you test your lateral thinking, but you'll also see most of the cities sites with about 2-3 kilometers walking!
34 – Head to Eschenheim Tower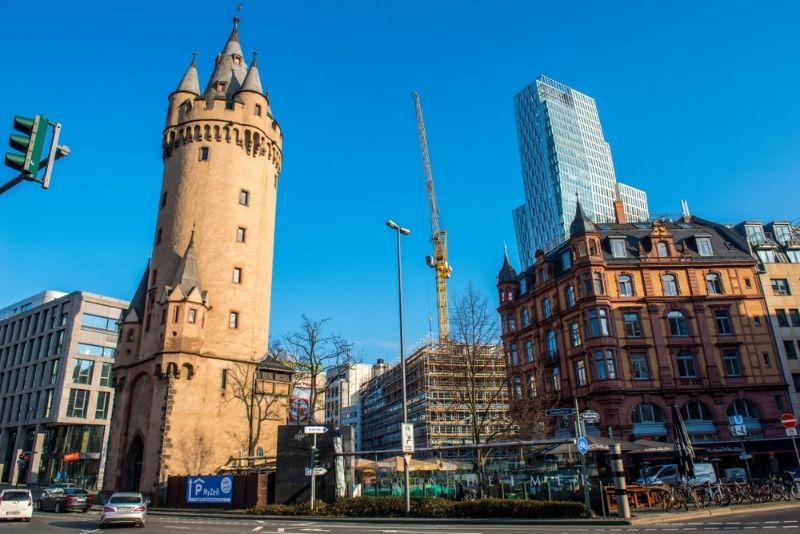 Eschenheim Tower is the oldest and most unmodified building in Frankfurt's city center.
With many surrounding buildings destroyed in the Second World War, the tower stands out as a 15th-century medieval monument among modern skyscrapers.
35 – Head out to Wildpark Alte Fasanerie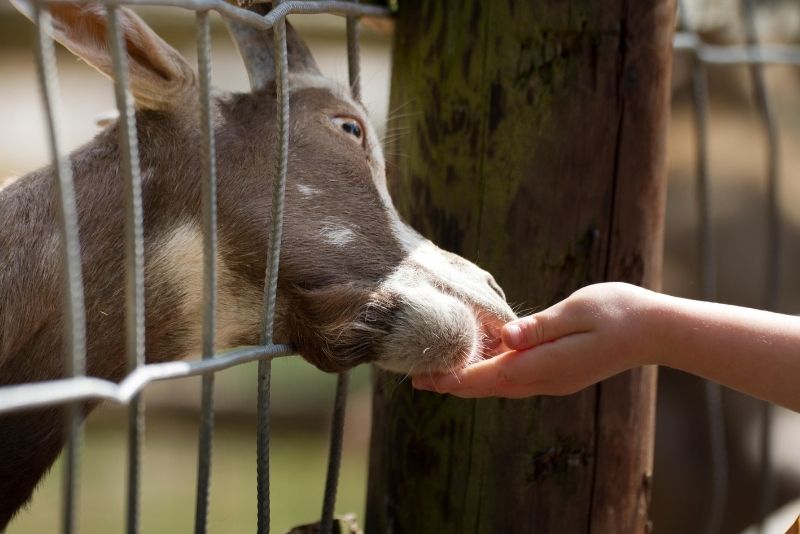 A half-hour drive from Frankfurt will take you to the nature reserve Wildpark Alte Fasanerie. The park contains wolves and wild boar — kept in large enclosures to keep visitors safe — as well as many scenic hiking trails and even ropes courses.
Escaping the bustle of Frankfurt and stopping by this reserve is one of the best things to do in Frankfurt for nature lovers.
36 – Look back in time with a Time Travel VR Experience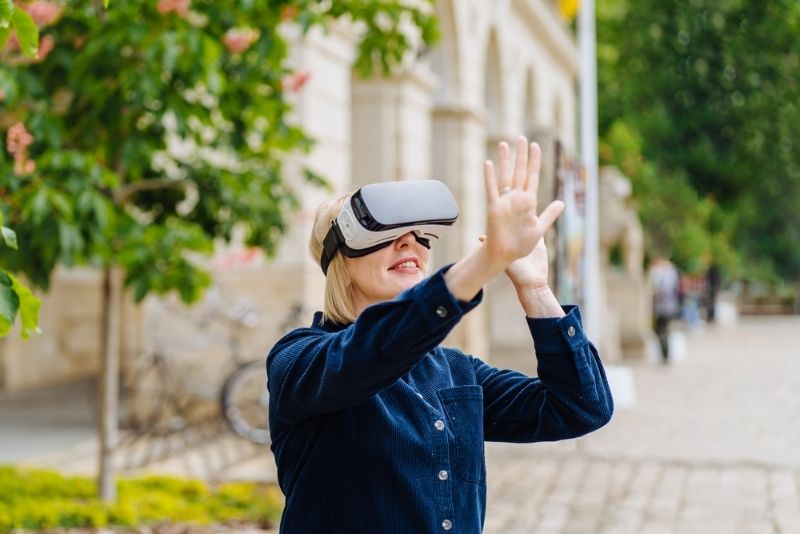 A time-traveling VR experience is the best way to make the most of modern technology to enter an ancient time.
This activity puts you in the shoes of a 19th-century merchant where you can see Frankfurt the way it was hundreds of years ago, and even go on a virtual carriage ride around the city!
37 – Play golf in the dark with black light mini golf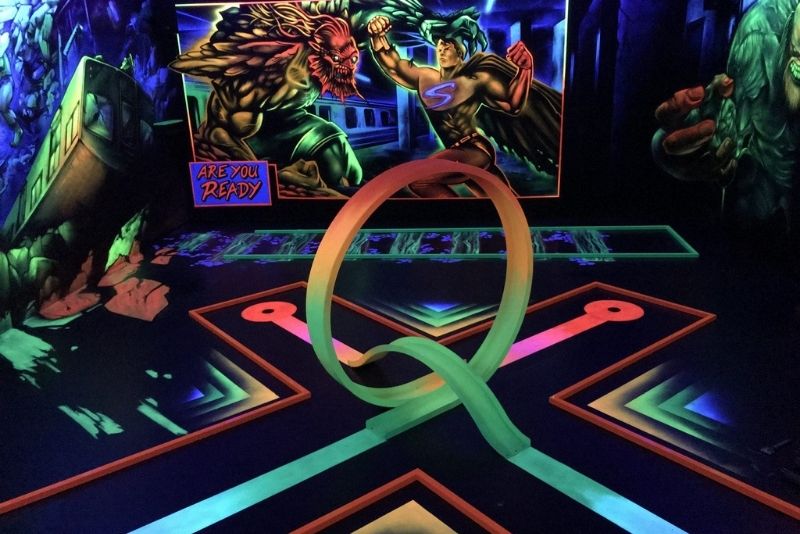 Right in the heart of the Römer area is one of the most unique things to do in Frankfurt: mini-golf under black light. You can play any of the 18 holes without any ordinary light, as the courses light up and animate themselves.
You can even pop on 3D glasses and have a truly immersive experience, as some of the graphics will jump out at you as you play your next shot!
38 – Catch a game of football at Deutsche Bank Park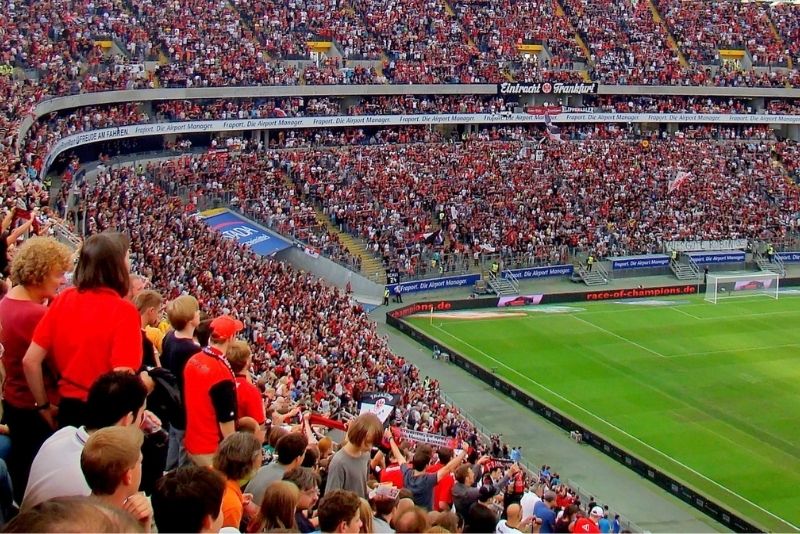 Deutsche Bank Park is the home of local football team Eintracht Frankfurt. It was built in 1925 and has hosted world-class games, including the FIFA women's world final.
There are concerts and football all throughout the year, so whatever your entertainment, the Deutsche Bank Park has something to offer.
39 – Meet the animals at Freizeitpark Lochmühle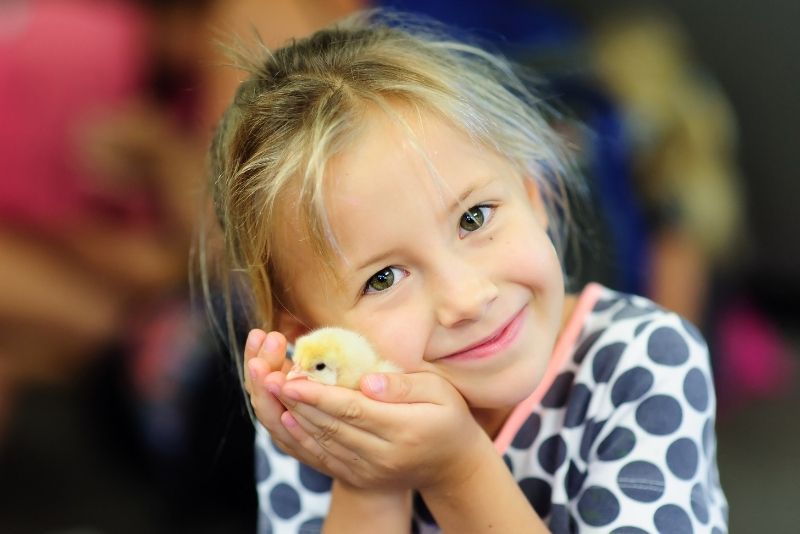 Freizeitpark Luchmühle is an amusement park with an agricultural twist that's been going for over 50 years.
The site used to be a flour mill, now it's a park with rides, animals and great picnic and barbecue spots.
Getting there is easy, just a half-hour drive north out of central Frankfurt!
40 – Pick up some tasty treats at Kleinmarkthalle & Metzgerei Schreiber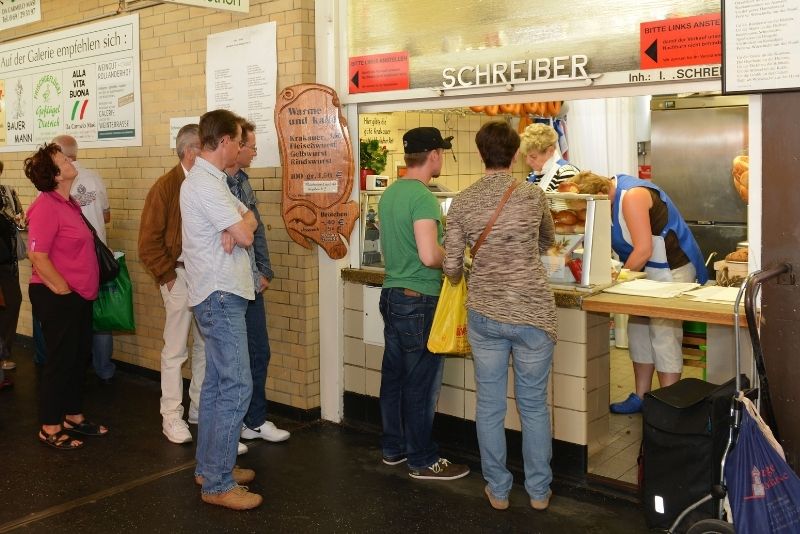 Kleinmarkethalle is a market hall with over 60 vendors selling produce, flowers, wine and ready-to-eat meals.
One of the highlights of the market is Metzgerei Schreiber, who has been serving traditional German sausages for over 60 years. His place is loved by locals and tourists, so don't get scared of the big line because the wait is surely worth it!
41 – See a concert at Alte Oper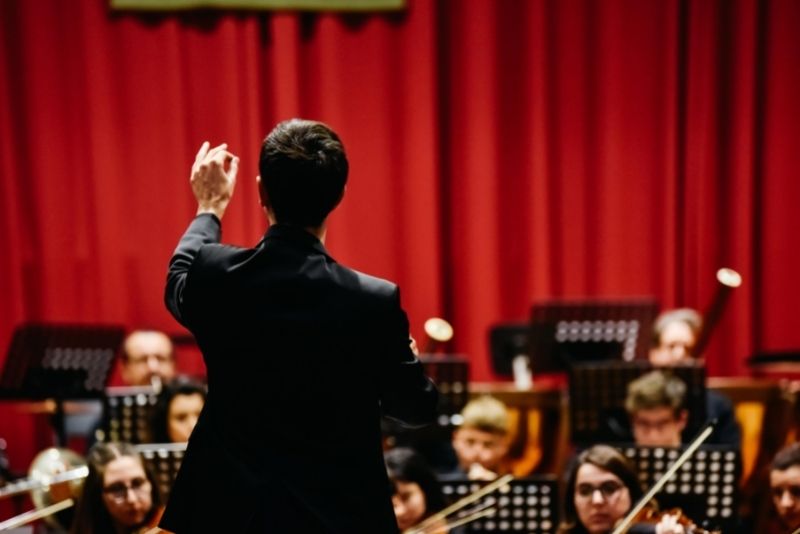 Alte Oper is known as Frankfurt's Opera House, the place where many concerts and operas are performed in the city. It was originally built in 1880, before significant damage in the 1944 air raids of Frankfurt.
Some of the structures survived so the current building is a blend of the old architecture and a rebuild in the 1970s. There are three different halls, all hosting shows of different sizes, so make sure to check out the program when you're in town!
42 – Eat your way through a food tour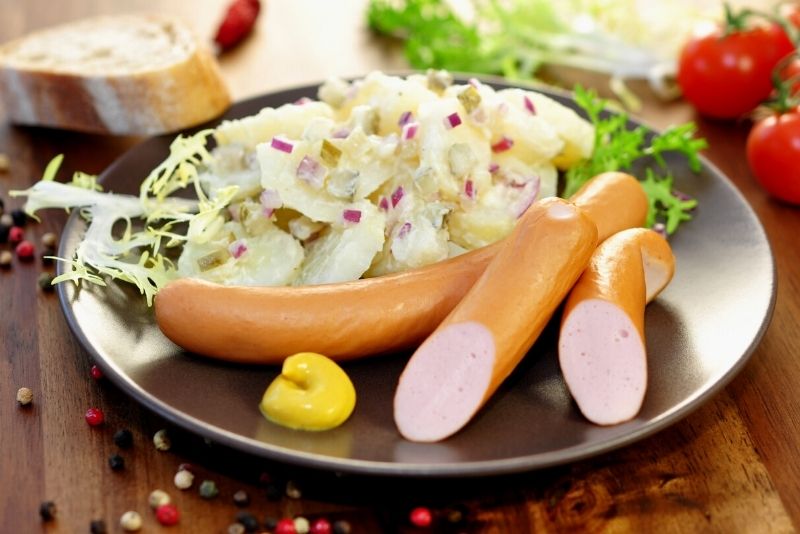 Every city has a unique food culture and for those wanting to discover an authentic taste of Frankfurt, there's a food tour.
The tour takes you to five hidden gems that serve up authentic cuisine from Germany and afar.
43 – Visit Anne Frank's 1st Home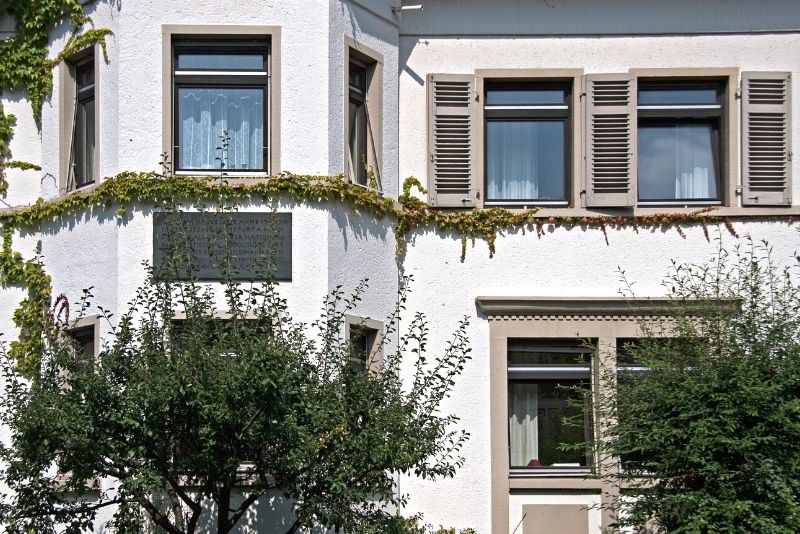 Anne Frank, widely known for her diary entries during the holocaust, hid out in Frankfurt. Her first home can be visited on a walk through the city.
Although at the time she was well hidden, travelers can now visit this special part of history located at Marbachweg 307.
44 – Soak up the sun at Taunus Wunderland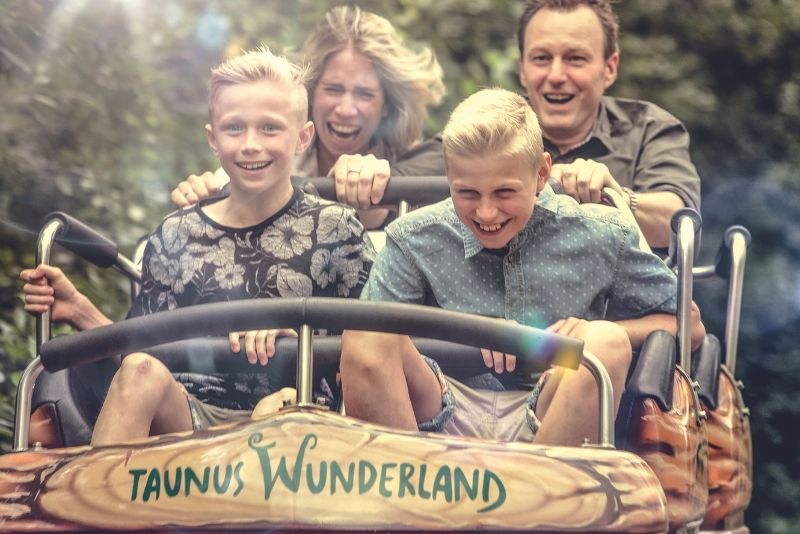 Taunus Wunderland is an amusement park that is nestled in the natural surrounds of the Taunus Hills.
Although the park has all the usual attractions such as rollercoasters and the like — instead of crowds and busy rides, there are fields and parklands to create a relaxing atmosphere.
There are also six themed restaurants to taste some local cuisine after a hard day running around from ride to ride.
45 – Get spooked on a scary walking tour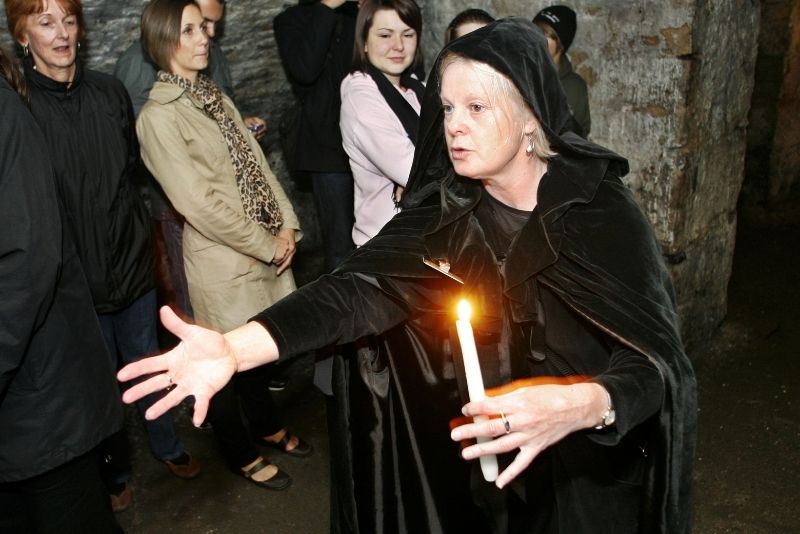 A scary walking tour is a trip around town led by professional actors that act out a scary play known as the 'Bride of Satan' that takes you around the main sites of the city.
Their tour combines theatre and education, as you will be thoroughly entertained while also learning about all the important spots around Frankfurt.
46 – Go shopping on MyZeil & Zeil Street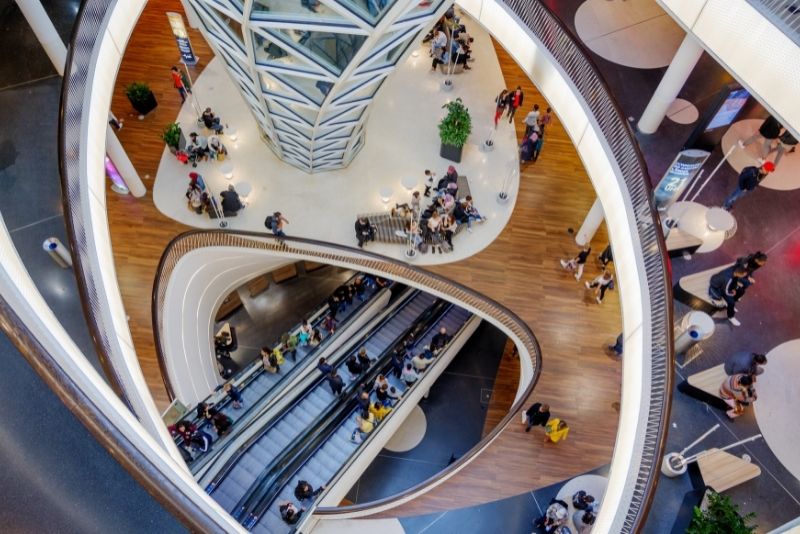 Zeil Street has been one of the busiest shopping areas of Germany since the 19th century. Zeil means row, originally referring to the row of decadent houses that used to line the street before being destroyed in the Second World War.
Nowadays, it is a mostly pedestrian-only street with countless stores and also the shopping arcade MyZeil.
47 – Take a dip at Brentanobad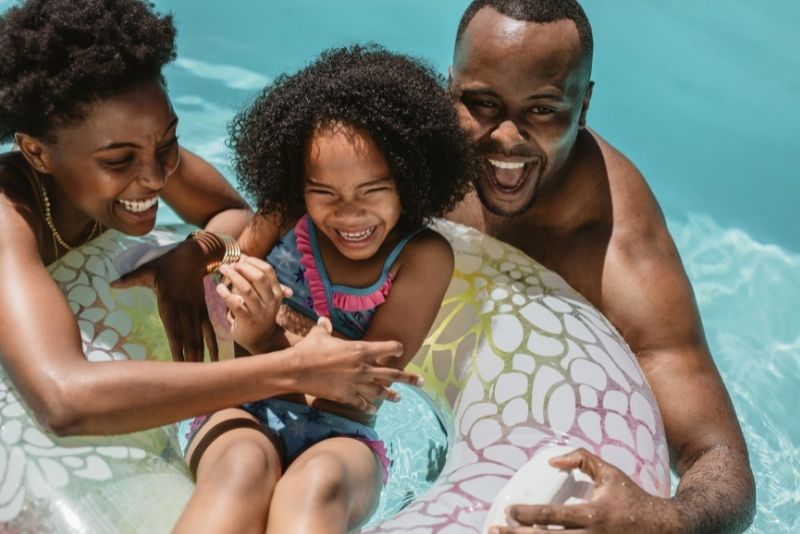 Brentanobad is the largest outdoor swimming pool in Frankfurt nestled near the scenic Brentanopark.
The large pool is surrounded by ample lawn for sunbathing, a children's paddling pool and a beach volleyball court.
There is also an open-air cinema on site that operates during the warmer months.
48 – Take a stroll down Mainkai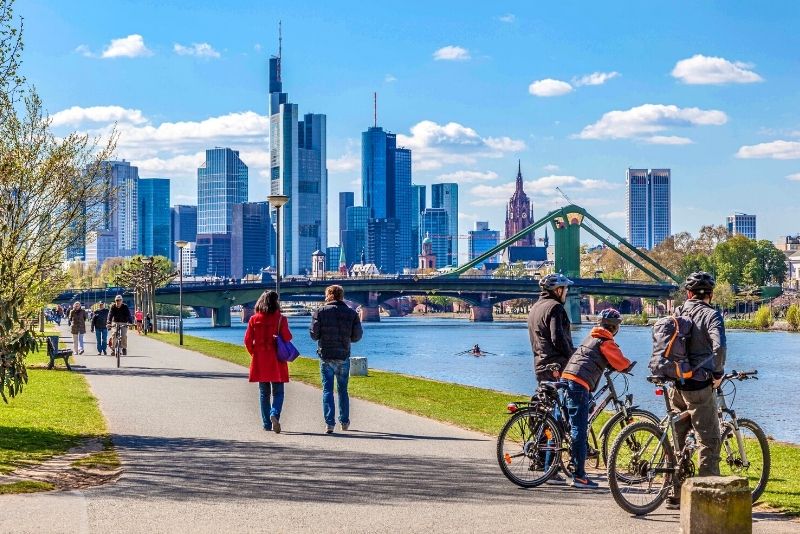 Mainkai is a scenic walk by the Main River in Frankfurt. You can simply walk along its length or rent a chair and sit by the water with a book or a beer.
There are also bikes available to hire for those who want to see a little bit extra.
49 – Try the apple wine at Alt-Sachsenhausen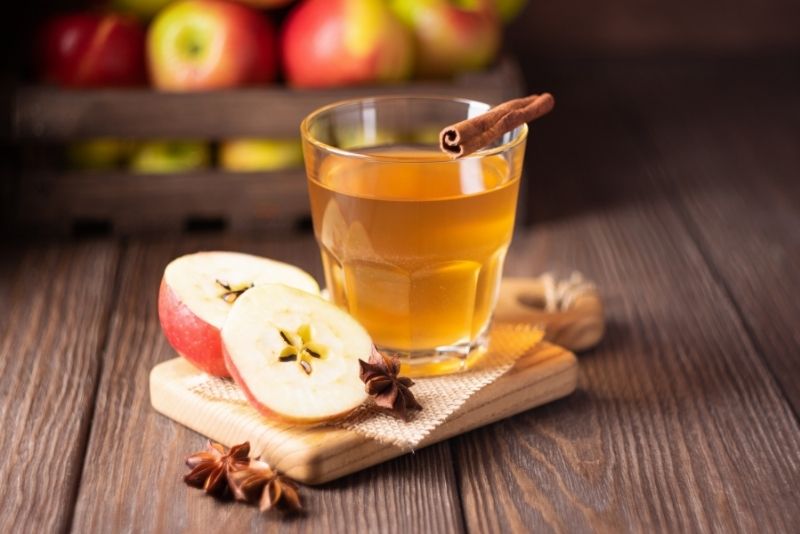 Alt-Sachsenhausen is an area that contains several traditional German bars and restaurants.
The most notable spots in the area are the old apple wine pubs which are a quintessential slice of local culture. The best ones to try are Adolf Wagner, Apfelwein Dax and Zum Gemalten Haus.
50 – Have a drink up at a rooftop bar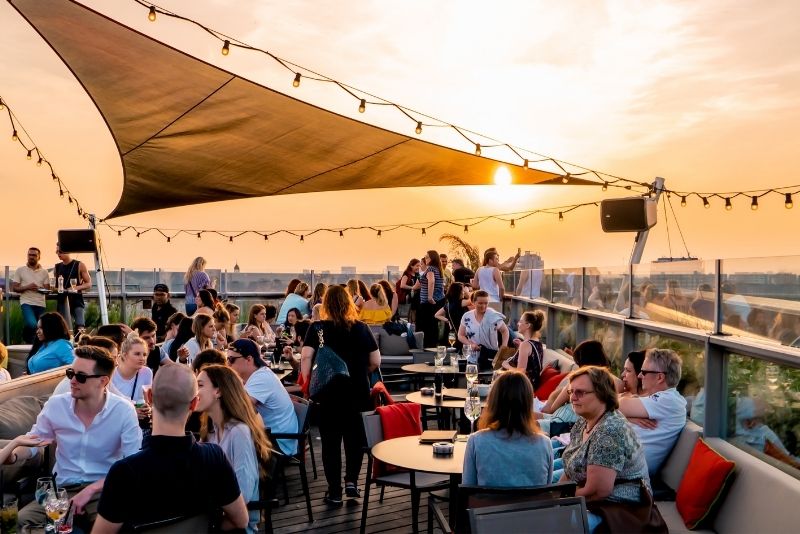 Frankfurt has an impressive skyline and there are several rooftop bars where you're able to admire the sights, as well as taste some of the cities best beer and cocktails.
Long Island Summer Lounge is one of the best which is an office rooftop that is transformed into a summer deck with fold-out chairs when summer rolls around.
LugInsLand Skyline restaurant and Bar is also a great option for those looking for a gourmet meal while several stories up.
Hopefully, this list provides a useful starting point for planning your trip to Frankfurt. If there are any other fun things to do in Frankfurt that have been left out, feel free to leave them in the comments!
To ensure you have plenty of time to visit all items on your list, grab a Frankfurt Card and take advantage of free public transportation around the city. As a bonus, you even get a reduced-price admission to multiple attractions and monuments.
There's a huge selection of hotels to base your stay from, so make sure you check out the latest deals to ensure you're staying in the best spot. Also, airport transfers take the stress out of coming and going so be sure to have a look at them too!
As always, happy travels!