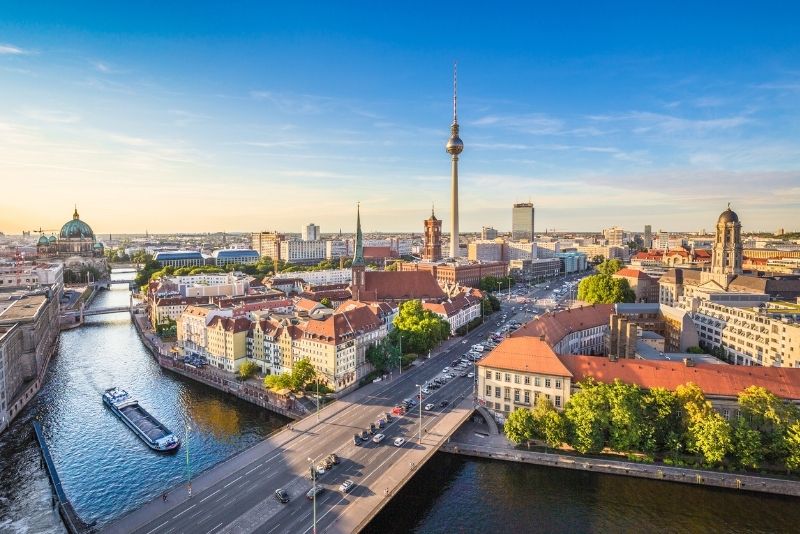 Berlin is a bustling international city filled with history, art and culture from iconic museums to casual Biergartens and world-famous underground clubs.
There's no shortage of eye-opening historical monuments that document both World War II and the Cold War split between East Germany and West Germany. The now-bohemian and alternative capital has something for everybody.
And whether you want to drift through the skies in a massive hot-air balloon, wander through the mysterious tunnels beneath the city, or pedal and sip at a mobile pub, the methods of sightseeing here are almost as cool as the attractions themselves!
Whether you're in town for a day or a week, if you're looking for ways to experience the best of what the eclectic capital has to offer, here are a host of fun, interactive and fascinating things to do in Berlin (some of which are still little-known among tourist circles).
So, what are you waiting for? Get started planning your trip now and you'll have a döner in your hand before you know it!
1 – Let your hair down on a pub crawl or beer tour!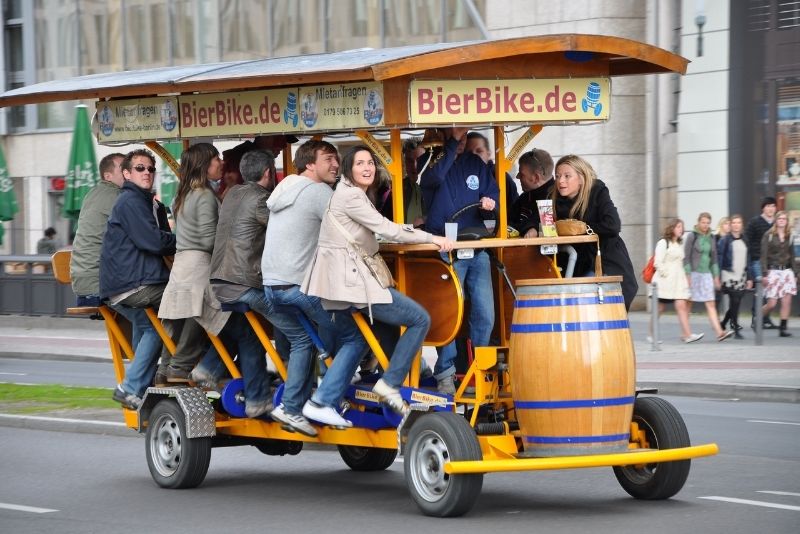 The perfect way to start any trip to Berlin and meet a few friendly faces is with a beer tour — with both low-key tastings, pub crawls and wild club-hopping parties, making up either end of the spectrum.
Ranging from authentic German pubs and Biergartens that are hundreds of years old to newer craft breweries, no two tours will be alike — but they'll all cover an impressive number of establishments throughout this lively metropolis.
Don't feel like walking? Then hop on a beer bike!
2 – Gaze over the city at the TV Tower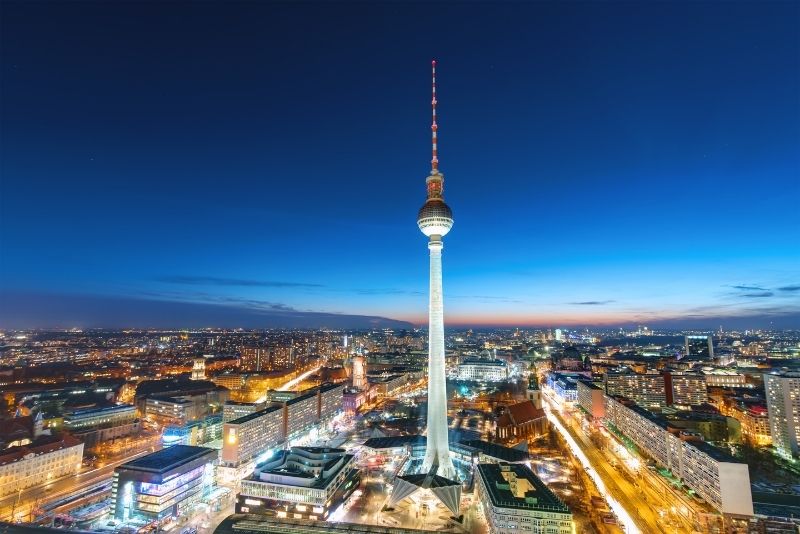 For the perfect introduction to the hip German capital, if you want a magnificent landscape view of the city, make a beeline for the iconic TV tower — known locally as Berliner Fernsehturm.
Standing tall at a whopping 368 meters (with the observation deck at about 200 meters), this German landmark wields the title of the tallest building in Germany. It allows you to scope out the city from the sky, spotting landmarks like Alexanderplatz and Museum Island from above.
For a romantic VIP experience, book a table and enjoy the 360 degrees panoramic views of the sparkling city below on an amazing dinner experience!
Read more about Berlin TV Tower tickets price.
3 – Go inside the dome of the Reichstag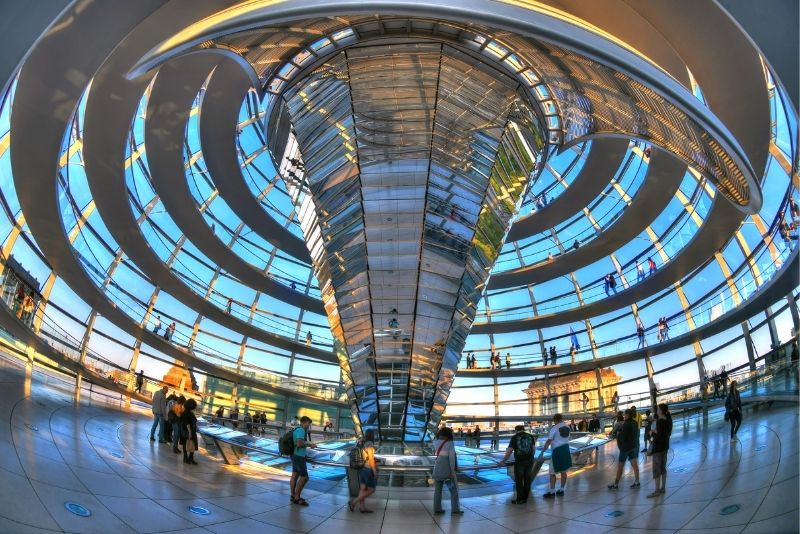 The German Parliament Building, known to the locals simply as Reichstag, is the owner of Berlin's postcard-favorite glass dome.
The original building was burned down in a fire in 1933, however, the rebuilt building is just as elegant, offering exciting and history-centric tours for both German and English-speaking guests.
Inside, you can climb to the top of the dome to view the city.
Hot tip: Tours are free, but they sell out fast, so book your tickets in advance!
Read more about Reichstag Dome tickets & tours.
4 – Learn about the history of the Berlin Wall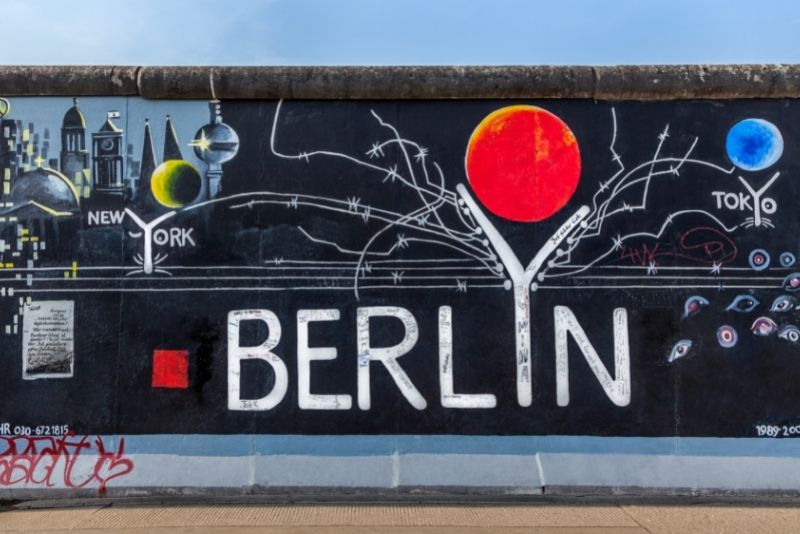 There is little remaining of the Berlin Wall, but its impact is still felt throughout the city and beyond.
As a popular activity for history buffs, a walking tour to check the Berlin Wall includes visiting former border patrol stations at Bornholmer Straße and Checkpoint Charlie. You will also learn all about where the first East German citizens crossed the border.
Throw in stops at the original watchtower and the death strip, and you get a few hours of fascinating stories.
5 – Explore the bustling Hackescher Markt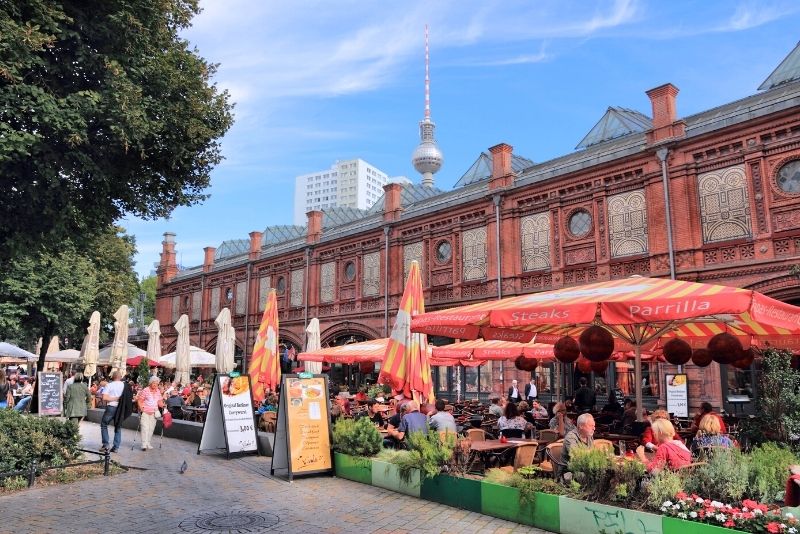 A historic square in the city center of Berlin made up of an intricate labyrinth of eight courtyards, Hackescher Markt is a must-visit for visitors looking to get their fill on some great food and drink.
Check out the street art in the Courtyard of Haus Schwarzenberg. Take a culinary journey through Viet Village and pick from the handful of restaurants, cafés and wine bars in the area.
6 – Take a pre-arranged tour of Berlin!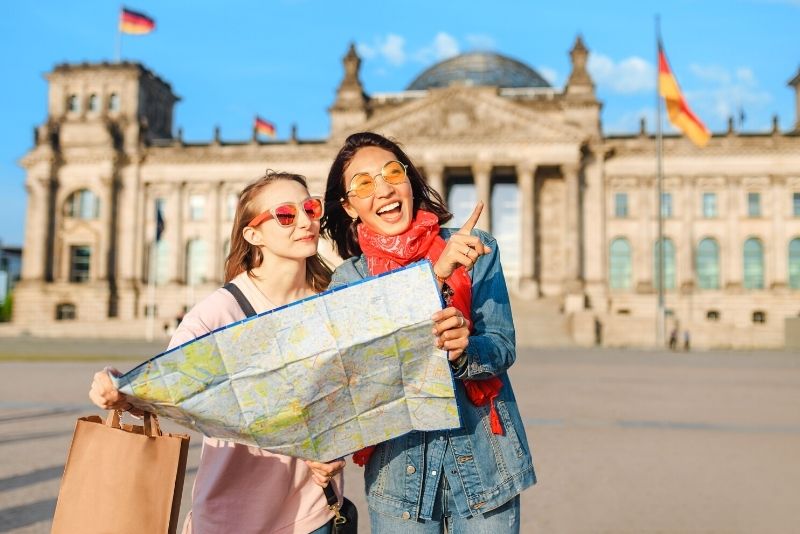 Don't want to waste any time on your trip? Can't be bothered doing any of the planning? Then take a tour of the city led by locals, to learn about the best things Berlin has to offer!
Whether you opt to scour the city by foot, bike, boat or Segway, expect to explore some of Berlins' most historic and iconic monuments, museums and architecture.
Every tour is different, so just plan accordingly to your needs and you're guaranteed a great time!
7 – Zip inside Europe's fastest lift — Panoramapunkt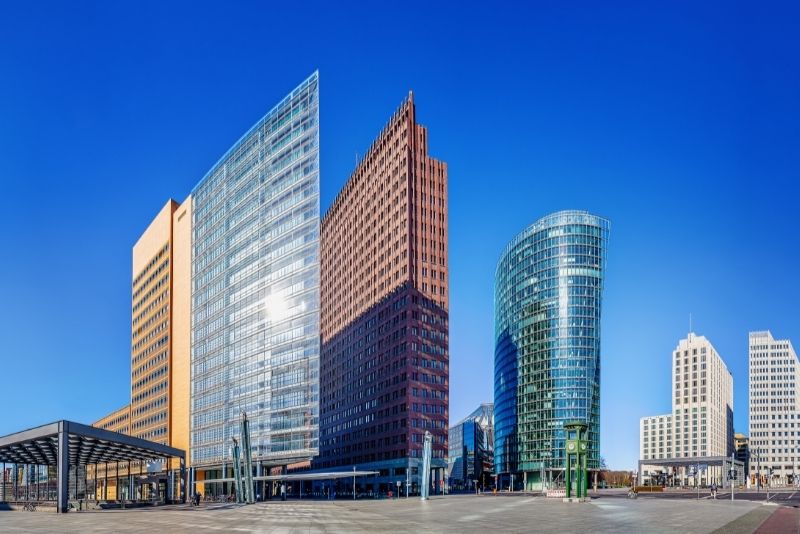 Looking for a thrill? Try zooming up inside Panoramapunkt located in the Kollhoff Tower.
By the time you realize you're moving, you'll already be 100 meters up above the streets below, overlooking Berlin and the pint-sized pedestrians. All that in only 20 seconds — blink and you'll miss it.
For a lifetime memory you won't soon forget, visit the terrace before sunset for a picture-perfect view.
8 – Learn about the city's dark past at the Berlin Dungeon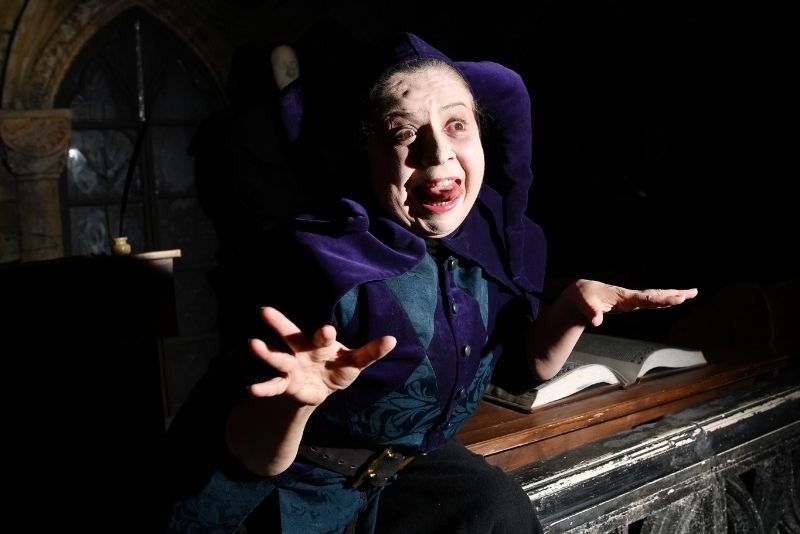 People who enjoy more macabre thrills will love the Berlin Dungeon, which takes visitors on a guided tour of Berlin's dark past.
Led by knowledgeable locals, visitors will have the chance to explore over 800 years of history in the walk-through attraction that features immersive performances, sets, costumes, special effects, and plenty of impressive illusions.
With stories spanning the Black Plague to World War II and the fall of the Berlin Wall, this is one history lesson you don't want to miss.
9 – Walk around Central Berlin with a Brandenburg Gate tour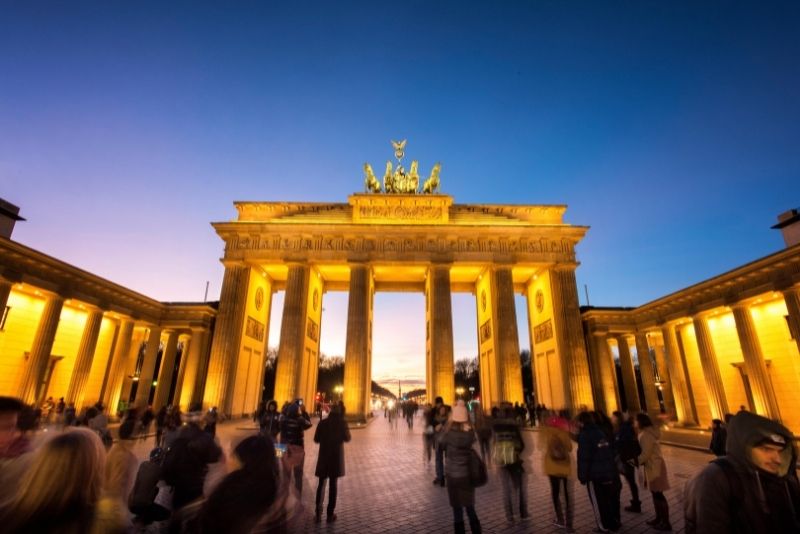 For a mix of sightseeing and mild cardio, try a walking tour of central Berlin, an easy way to check off some of the hipster city's main haunts!
As you stroll around the popular areas, you'll walk past all the major sights, like Brandenburg Gate and Museum Island, and hear rich stories about Berlin's topsy-turvy history.
If walking isn't your speed, you can always zip through the city at your own pace on a scooter tour!
10 – Shop 'til you drop at Alexanderplatz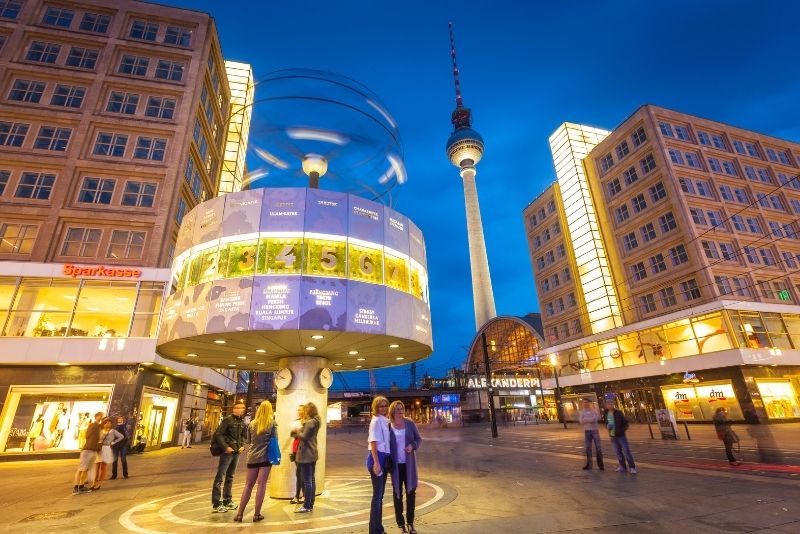 Named after Tsar Alexander I, who visited the Prussian capital in 1805, Alexanderplatz has evolved over the centuries into the largest public square in Germany and a haven for shopaholics
With plenty of shops, restaurants and cafés, you can always find something to do! While cliche, you've got to take your photo in front of the iconic TV Tower to truly complete your trip.
Keep in mind that most locals just call it Alex.
11 – Try out some Wine Tours and Tastings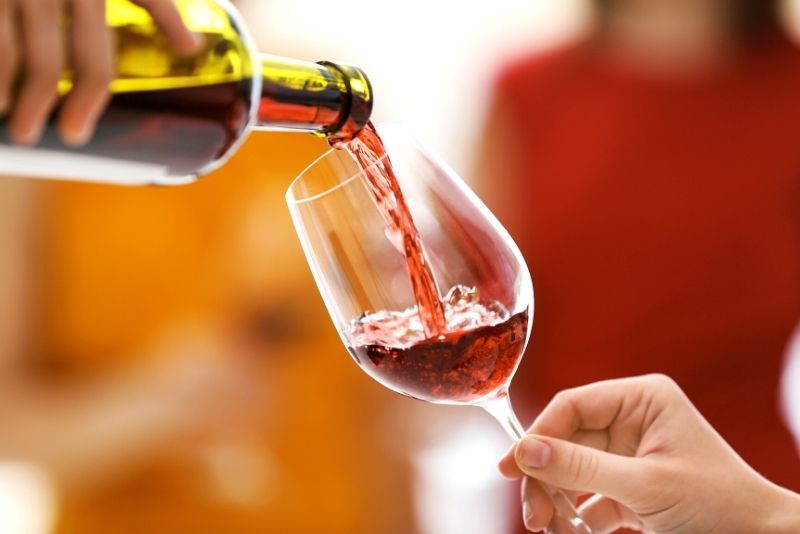 Beer often gets the top billing in this town, but the wine tours are well worth a try!
Whether you're sipping mulled wine while sailing along a lake, strolling through some picturesque vineyards, or living it up with a limo ride and some sparkling varieties, you'll be able to see a whole new side of the city – and get a little buzzed along the way!
If you're visiting during the holiday season, be sure to book a combo tour that includes Christmas light viewings – it makes for a truly festive experience!
12 – Spend some time in Kreuzberg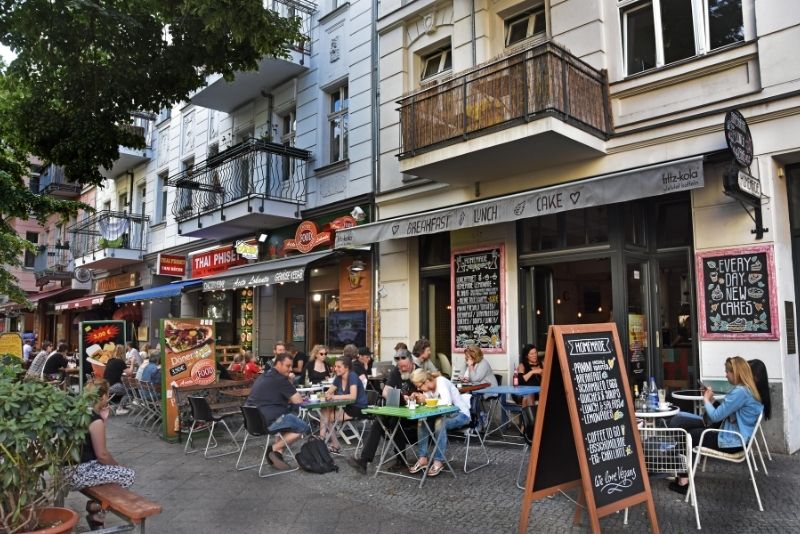 Eastern Berlin holds a diverse, eccentric, multicultural neighborhood waiting to be explored. Kreuzberg is a well-known community of immigrants, minorities and progressive-minded people.
The neighborhood is filled with hole-in-the-wall cafés, art galleries, second-hand stores and snazzy bars and nightclubs.
A budget-friendly area too, Kreuzberg is the perfect place to eat, drink and dance the night away without breaking the bank.
13 – Listen to some candlelight concerts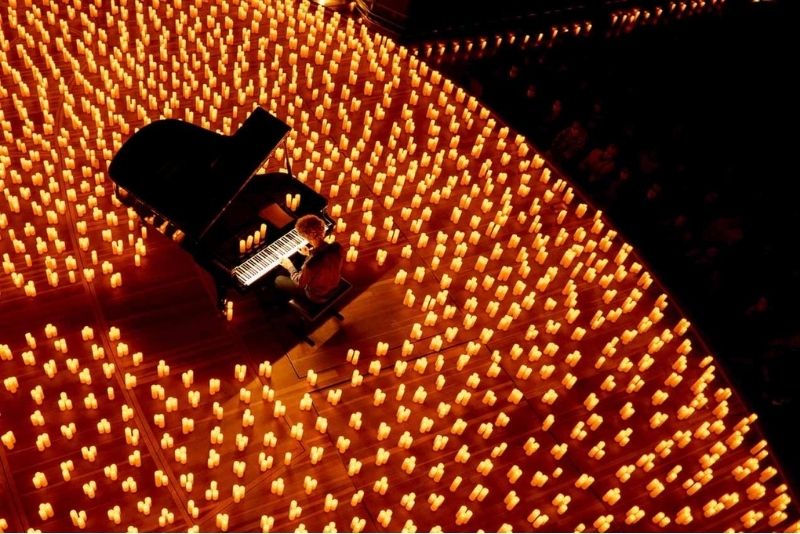 If you need a somewhat quieter alternative to the famous techno scene in town, you can always head to one of the Candlelight Concerts!
These lovely performances feature the sounds of the orchestra, and a backdrop of candles that make you feel more like you're in your living room listening to records than out on the town.
But the music isn't just classical compositions (though there are plenty of those); you can also hear symphonic reinterpretations of everything from Coldplay to AC/DC.
14 – Get to know the Alternative Berlin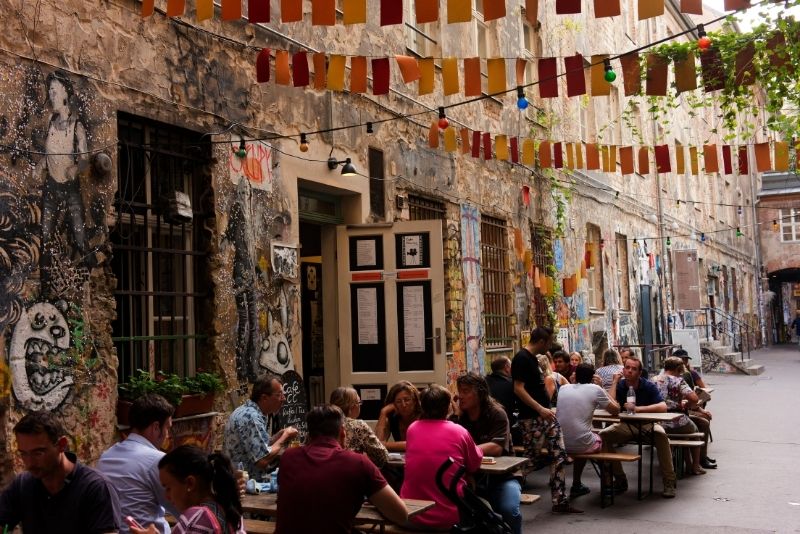 On the surface, Berlin is all about history — dive a little deeper and you'll uncover that the German capital is far more than what it seems.
Get to know Alternative Berlin on a walking tour of the city's multicultural quarters, such as Friedrichshain, Kreuzberg and Neukölln. Visit trendy shopping areas and cafés, underground art galleries and urban farms.
Walking tours are inexpensive, with some even free (but you can also leave a tip).
Check out the best free walking tours in Berlin.
15 – Eat your way through Markthalle Neun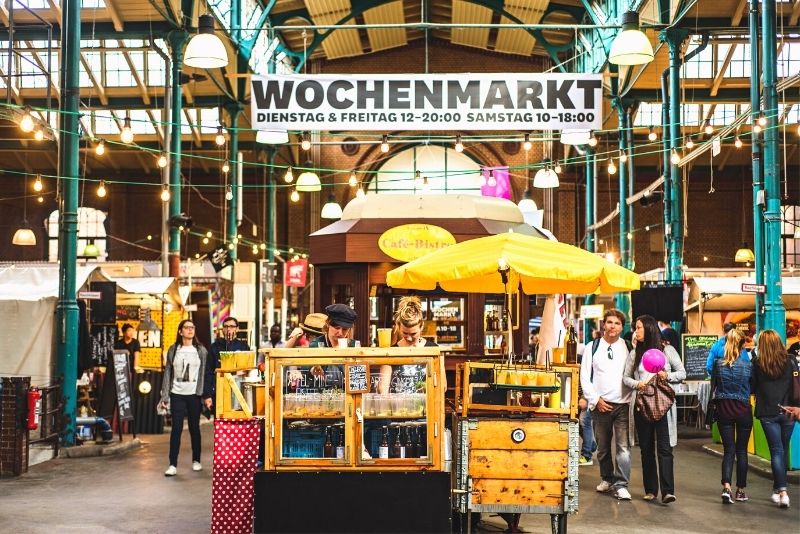 When you're craving a bite (or five), Markthalle Neun is the place to go!
This lively local market is the perfect spot to pick up fresh produce, delicious dairy, and a wide array of mouth-watering cured meats and cheeses.
If you're not trying to round out your grocery list, you can always grab a coffee or a pastry, and wander around to people-watch.
You can also stop by Canteen Nine to try the perpetually rotating menu.
16 – Float over Berlin in the World Balloon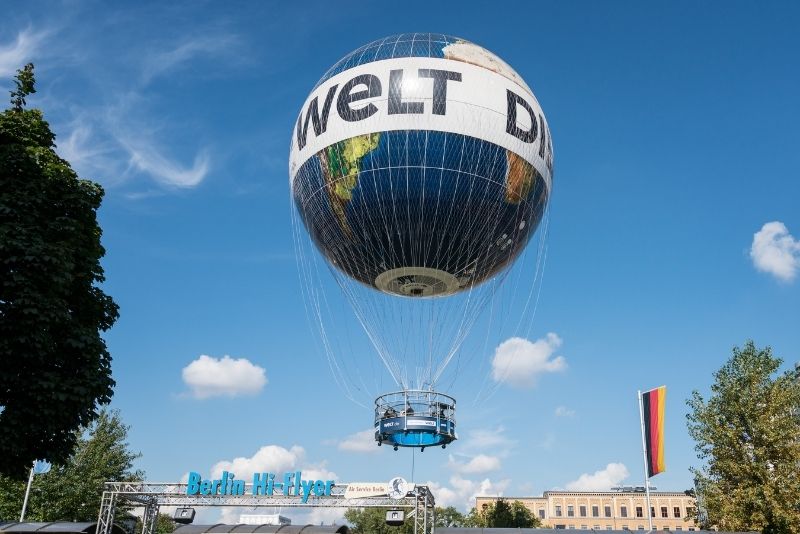 So long as dizzying heights don't give you jelly legs, for a unique view of the city at 150 meters, visit the Berlin World Balloon!
High above Berlin in a gondola secured to a steel cable, you can enjoy panoramic views of the sprawling city, learning a thing or two along the way.
Don't have time to see everything on the ground? The World Balloon floats above Brandenburg Gate, Checkpoint Charlie and the Sony Center.
17 – Travel back in time at the DDR Museum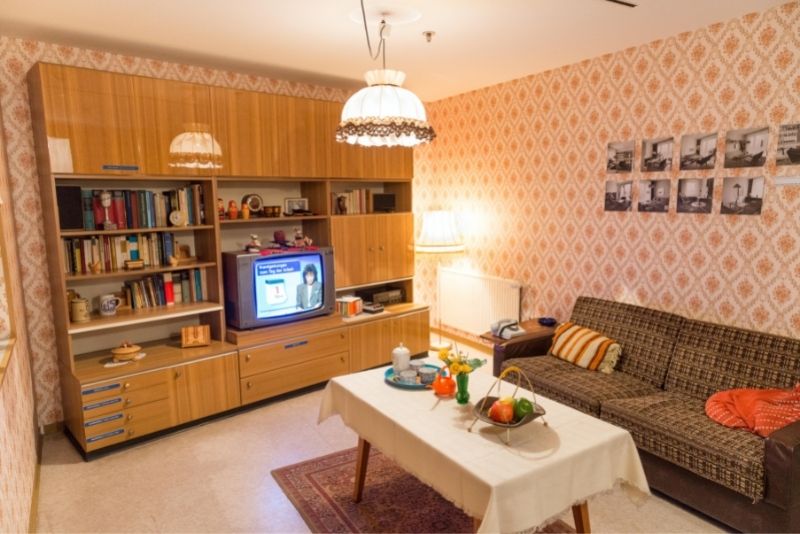 One for the history buffs, don't miss the chance to step back into authentic homes of East German DDR — Deutsche Demokratische Republik.
In these reconstructed DDR apartments, you will learn about what life was like under the communist regime.
These apartments are meant to be explored, almost acting as an interactive museum. Visitors can rummage through Karat-wall cupboards, watch the TV and even smell the spices on the spice rack.
18 – Get your adrenaline pumping on a hotrod tour of Berlin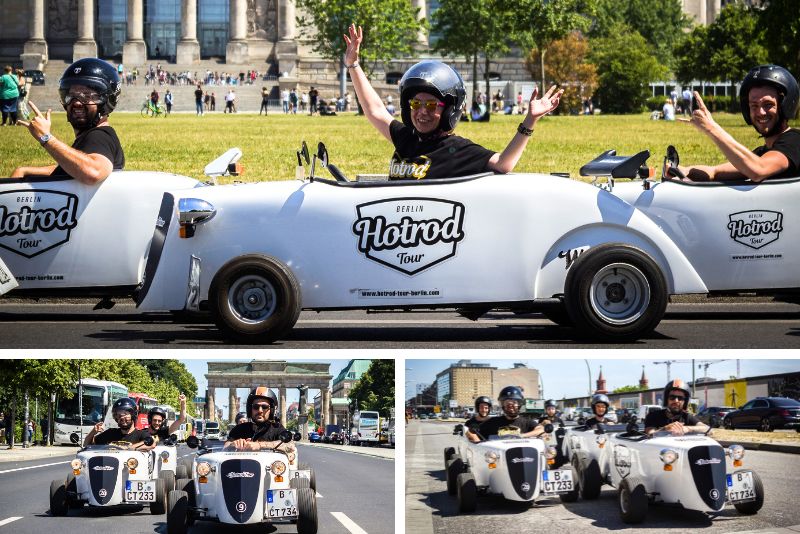 Buckle up, it's time for a wild ride through the streets of Berlin! Experience Germany capital like never before with the Hotrod Tour.
Hop in a convertible mini hotrod and zoom past the city's hottest spots, including the East Side Gallery, the Reichstag, the Brandenburg Gate and Alexanderplatz.
With a top speed of 50 km/h, you'll feel the rush of go-karting through the city streets.
Ready take a break from everyday life and rev up your engine for an unforgettable adventure? So, let's Hotrod!
19 – Head underground at the Berlin Story Bunker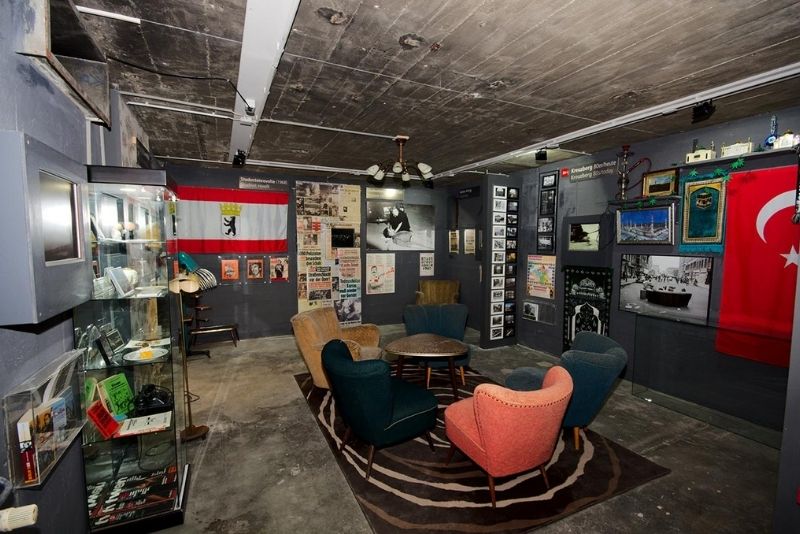 Initially built as a civilian air raid shelter during the peak of WWII, today the bunker has been transformed into a multimedia exhibition space, telling the story of Berlin.
Showcasing information-packed displays about the ride of Socialism, the Nazi party, and the lead-up and aftermath of the war, it's a museum experience not to be missed.
20 – Take a guided tour of Mitte: The beating heart of Berlin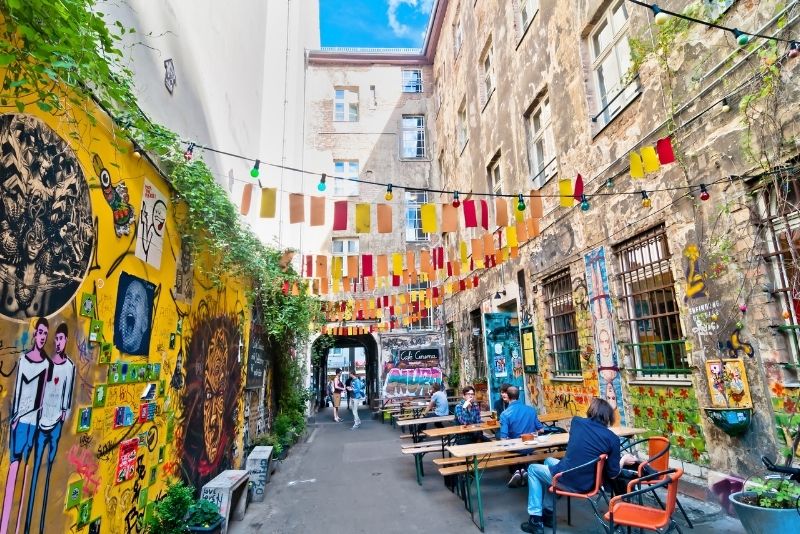 Mitte is the city's cultural center, home to a number of unique museums and galleries, as well as more traditional attractions like the Brandenburg Gate and Tiergarten park.
With so much to see in the area — from busy boulevards like Unter den Linden to the Hackescher Markt square — a walking tour led by a friendly local is the best option to cram as much of the area in within a few hours.
For something a little different, consider a comedy tour, food-themed tour, or haunted ghost tour under the moonlight!
21 – Feel like royalty for a day at Potsdam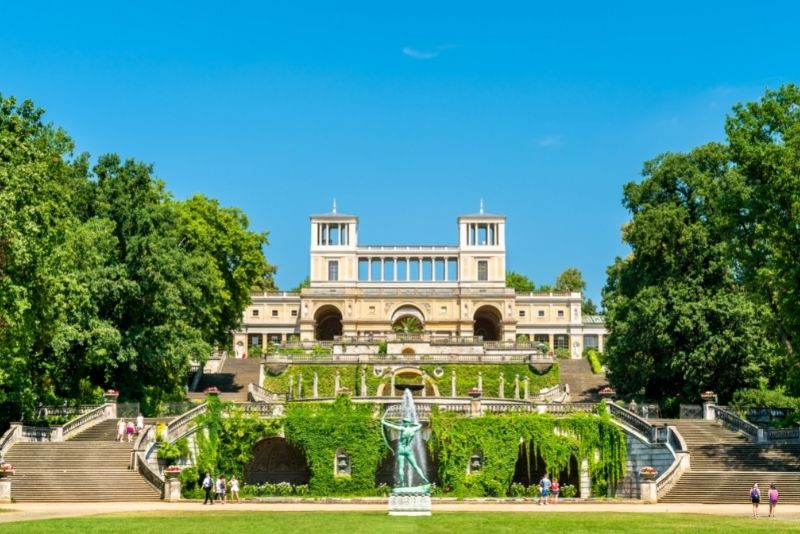 Once home to Prussian Kings and the German Kaiser, Potsdam is a city full to the brim of history.
Whether you join a guided tour (which includes pick up and drop off from Berlin) or explore solo, don't miss the palaces. These include the Cecilienhof Palace, King Frederick William II's Marble Palace, the Dutch quarter and the UNESCO-listed Sanssouci Palace and Gardens.
Potsdam is filled with exquisite architecture, so keep your camera out when you can.
22 – See more of Berlin's iconic places by bus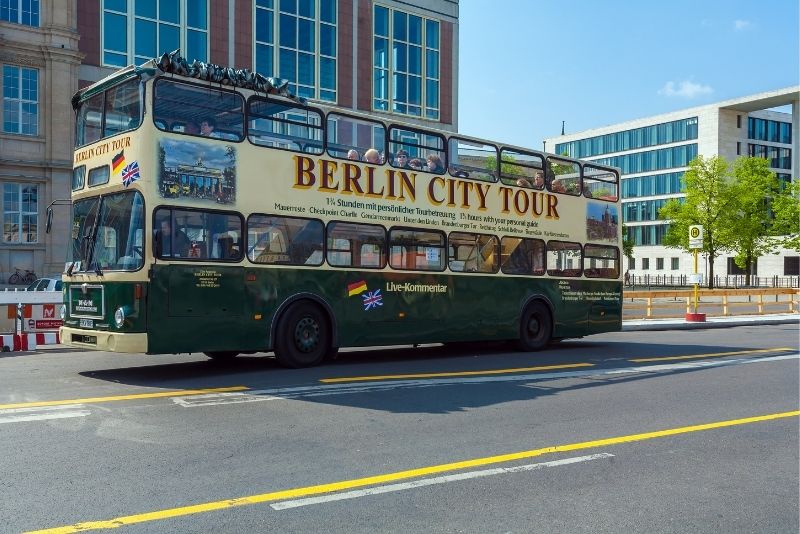 Berlin has a lot to see, and if you don't have a lot of time, a bus tour might just be your best option!
Bus tours travel by the most iconic tourist attractions in Berlin, such as Kurfürstendamm, KaDeWe, Lützowplatz and Checkpoint Charlie. Keep your eyes peeled and camera at the ready as you sit back, relax and cruise through the city's best offerings.
23 – Remember those who were lost at the Sachsenhausen Concentration Camp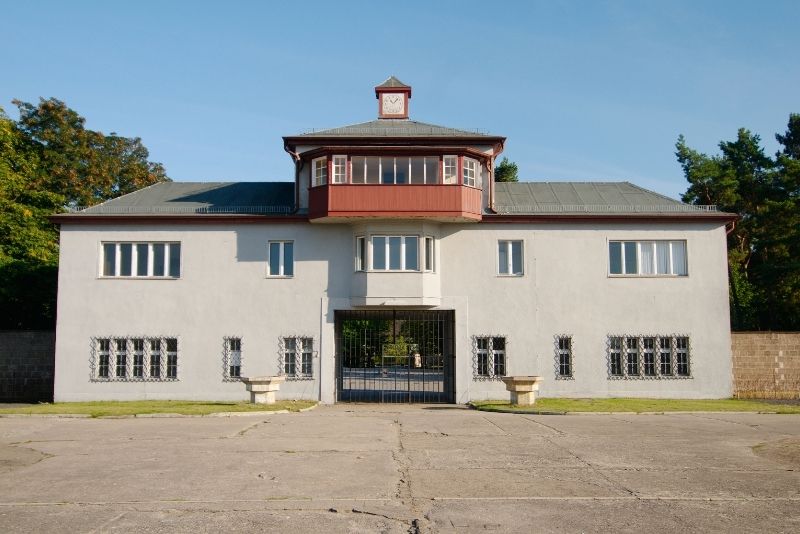 While confronting, it's important that we don't forget about the tragic events of Europe in WWII.
On eye-opening tours to Sachsenhausen Concentration Camp, visitors travel by train to the site and will learn about some 200,000 people imprisoned within its fences between 1936 and 1945.
During the experience, you'll be introduced to the barracks, cells, infirmary and laboratory while learning about the brave prisoners' stories and their harrowing fates.
An important stop, the memorial honors those who needlessly lost their lives.
24 – Take a day trip to Sanssouci Palace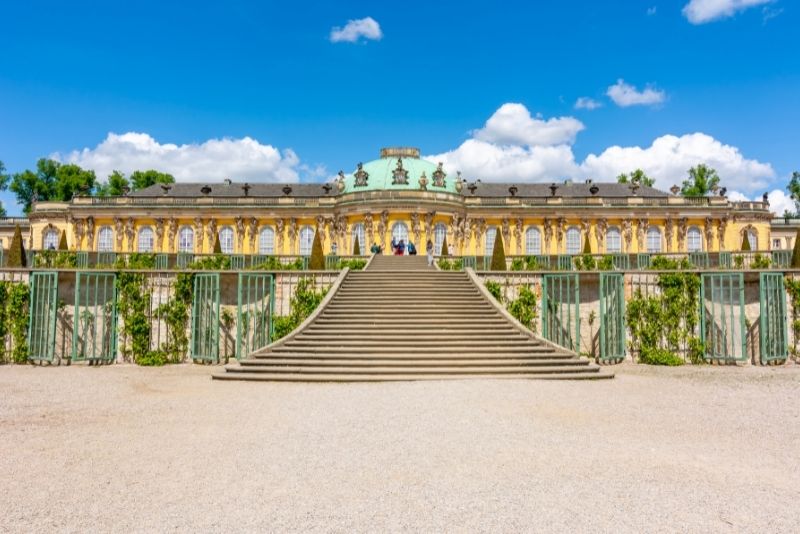 For a popular change of scenery from the German capital, travelers regularly rave about the Sanssouci palace in Potsdam.
This grandiose and enormous palace is the old summer home of the former King of Prussia, Frederick the Great, and sits just 40 minutes from Berlin by car.
The magnificent architecture and interior are spellbinding, but don't dismiss the serenity of the luscious gardens outside either.
25 – Get contemporary at Urban Nation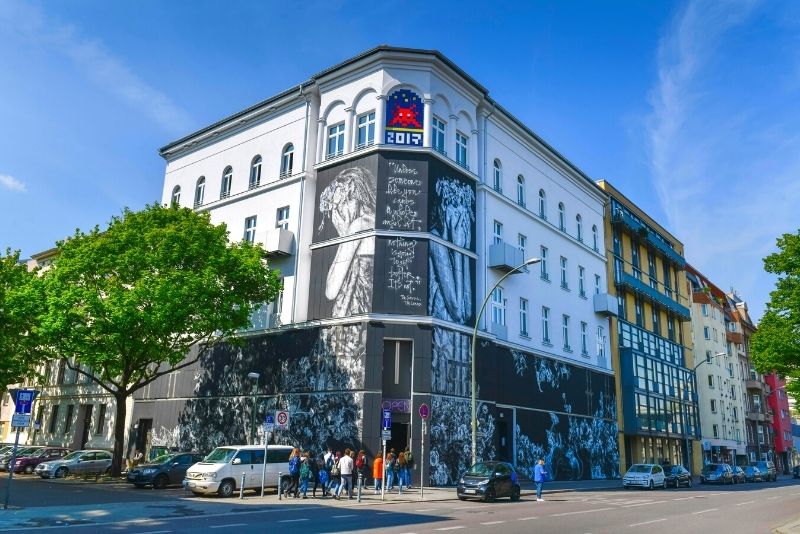 Urban Nation is a contemporary museum for exhibitions of street art, sculptures, murals and photography.
Art-loving guests can explore over 500 square meters of the museum, filled with eccentric and unique art — yes, it's compact, but it's still worth a visit!
The museum also incorporates its art into neighborhoods, with plenty of outdoor murals to see after your visit to the museum.
26 – Wander around the main buildings on Museum Island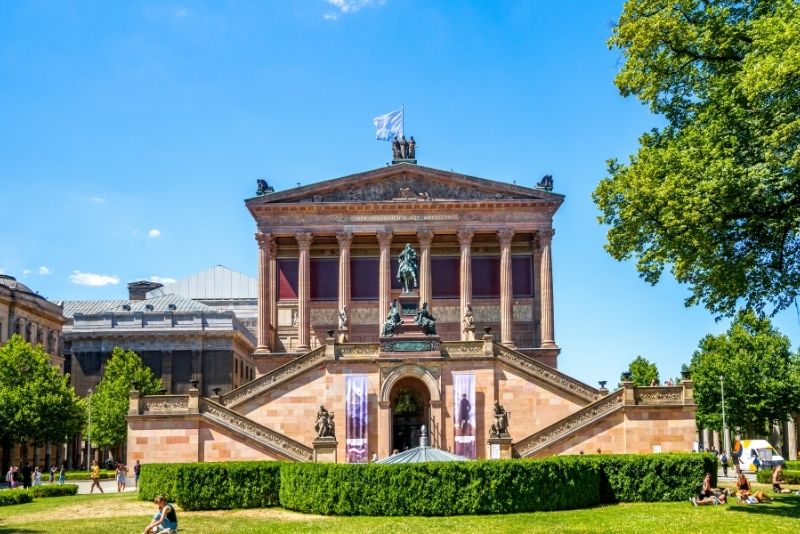 A museum lover's paradise, Museum Island is a UNESCO World Heritage site located in the middle of the Spree River.
The tourist-favorite zone is packed with plenty of historic and cultural museums to choose from. The Alte National Galerie features art from all over the globe, including Romantic and Impressionist-era art. If you're a history buff, make a beeline for the historical artifacts at the Pergamon Museum.
27 – Marvel at the jewels at Charlottenburg Palace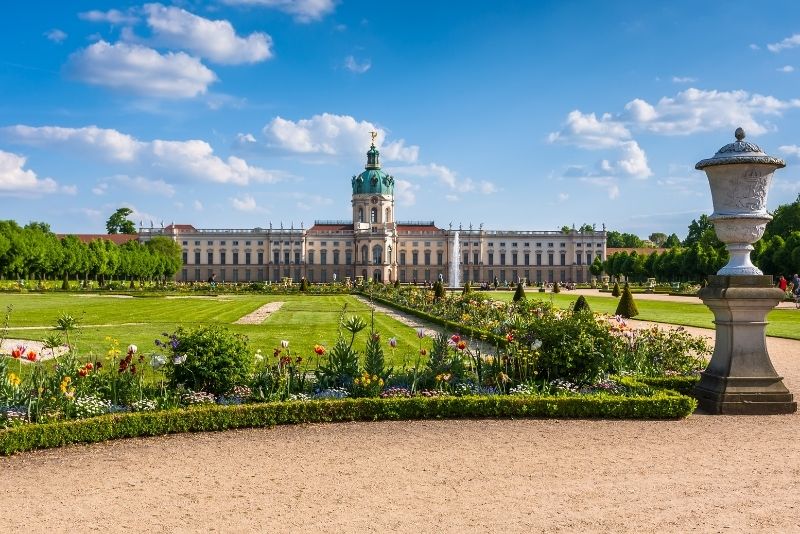 Visiting the Charlottenburg Palace is one of the more underrated things to do in Berlin. It's located just 25 minutes outside of the hustle and bustle of the city.
The palace is home to Prussian crown jewels and other royal treasures. Guests can walk through the giant ballroom and feel like they've just been invited to a royal ball!
If you're on a budget, access to the gardens is free, so soak up the sun all you want.
If you want to linger a little longer in this enchanted world, you can stay for dinner… with a classic concert thrown in!
Enjoy a marvelous three-course meal, with a world-class performance by the Berlin Residence Orchestra as your soundtrack.
With Bach and Mozart filling the room, and delicious food filling your belly, you'll feel a bit like royalty yourself!
28 – Cruise down the River Spree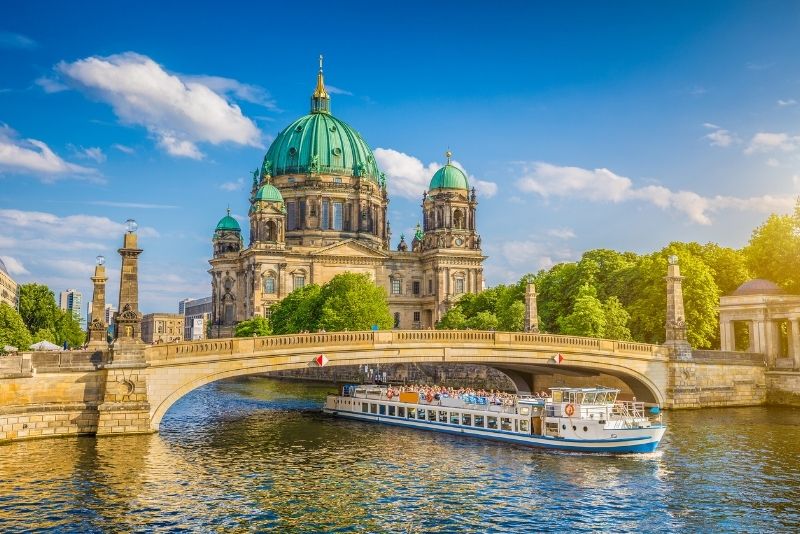 We already mentioned dinner cruises, however, Berlin's River Spree also plays host to an array of private and public sightseeing tours as well as luxury catamaran adventures that often explore the nearby Müggelsee or Wannsee lakes!
Regardless of your boat tour of choice, expect a friendly, informative guide to dish out plenty of fascinating tidbits along the way.
29 – Admire the art at the East Side Gallery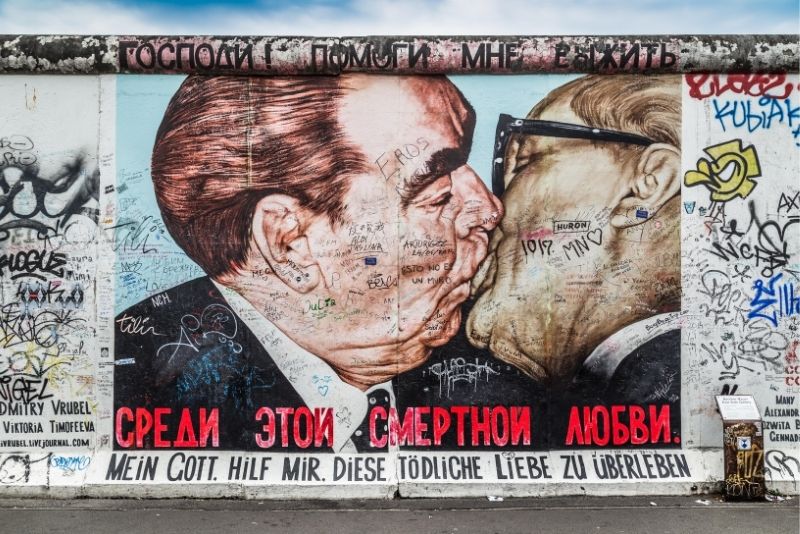 The East Side Gallery on the Berlin Wall is well-preserved and has over 100 paintings from artists around the world. Each painting has different colors, styles and messages that will keep you inspired for hours.
Hot tip: Be sure to check out the most famous painting on the wall by Russian painter Dmitri Vrubel.
30 – Stroll around the Botanical Garden and Botanical Museum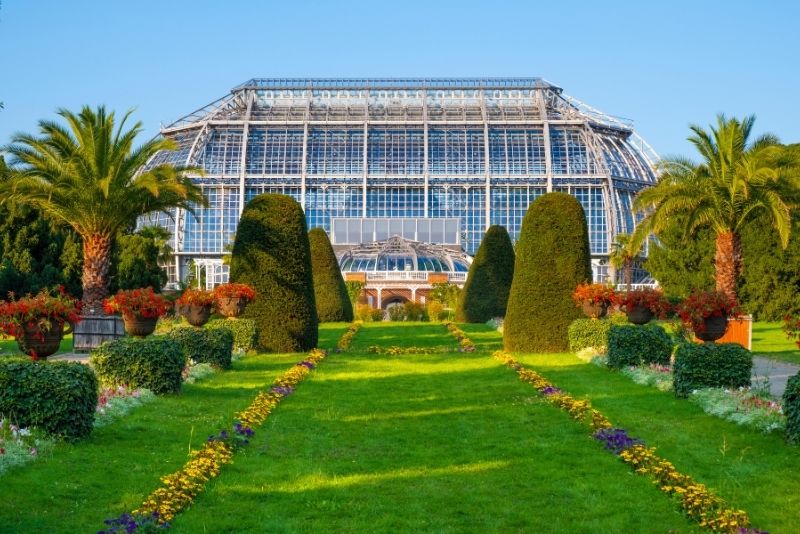 Sitting in the heart of Berlin, this is one of Europe's largest and most famous botanical gardens, spread over a whopping 106 acres (43 hectares) and constructed at the turn of the 20th century.
With shimmering lakes and calm ponds on site, as well as plenty of exotic plants and trees from all around the world — making up 22,000 different species in total — it's no wonder that locals and tourists flock through its doors.
31 – Solve riddles on a scavenger hunt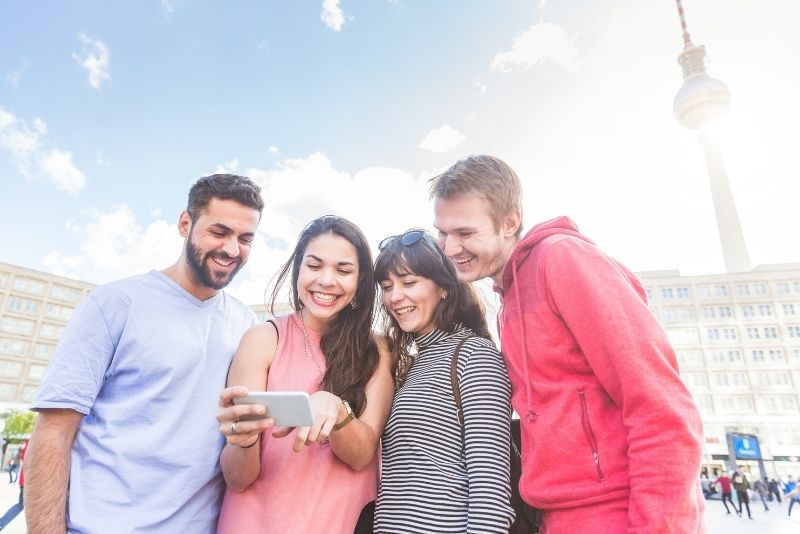 Do you love mysteries and puzzles? Then an engaging, totally interactive scavenger hunt may be the perfect way for you to explore Berlin!
With numbered envelopes or via the convenience of an app, you'll have to solve tasks and crack codes to make your way through Berlin.
In Amazing Race-style, once you solve a riddle, you'll move on to the next location. The tour takes you through iconic locations, such as Alexanderplatz, Museum Island and Checkpoint Charlie.
32 – Take a moment to reflect at the Kaiser Wilhelm Memorial Church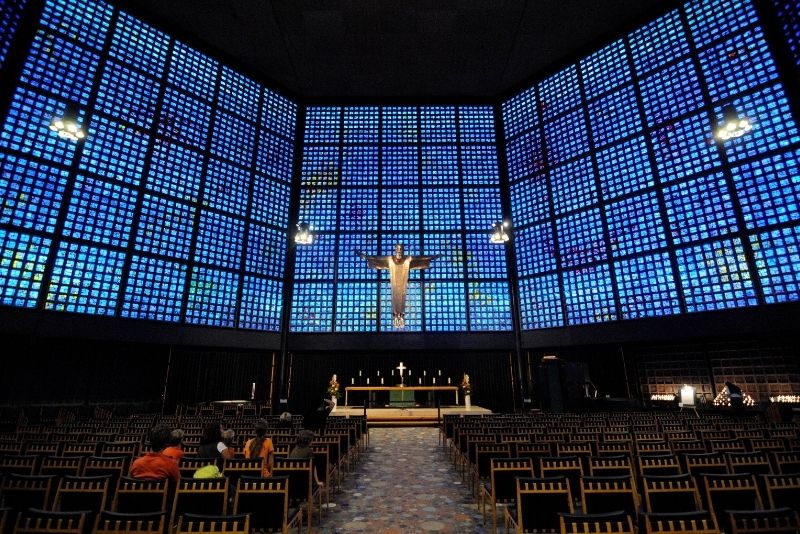 The Kaiser Wilhelm Memorial Church was built in 1891 and, like much of the city, was largely destroyed in air-raids in 1945 during WWII.
The church started rebuilding in May 1959 and completed the foyer and chapel in December 1963 — and to this day has been popular with history-savvy tourists.
The scored spire on the church serves as a reminder of both Berlin's dark past and a beacon of hope for the future.
33 – Go under the sea at Aquadom & SEA LIFE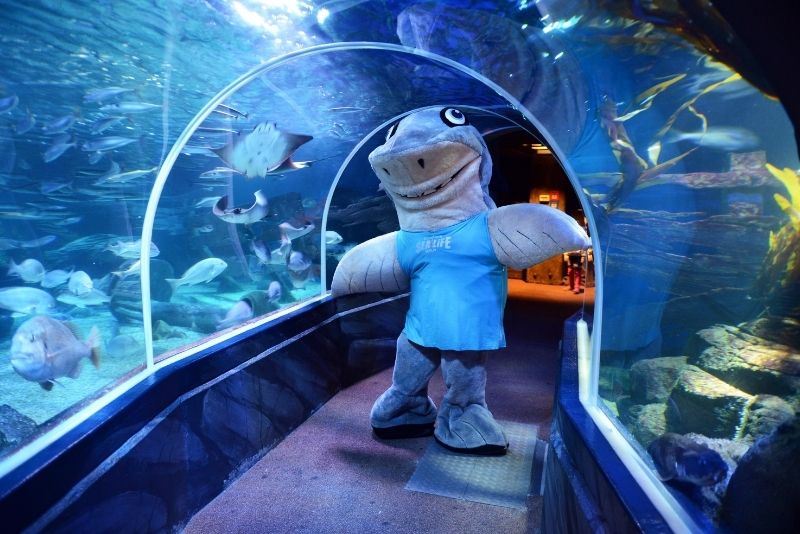 You may not think of the ocean when pondering your Berlin adventure, but SEA LIFE is about to change that.
Offering visitors a chance to explore the big blue world, this family-friendly attraction houses over 35 basins and 5,000 creatures … so there's plenty to sea.
Learn about creatures who live locally, in the Spree River, and far away across the globe. Let the kids enjoy the touch tanks!
34 – Set sail on a dinner cruise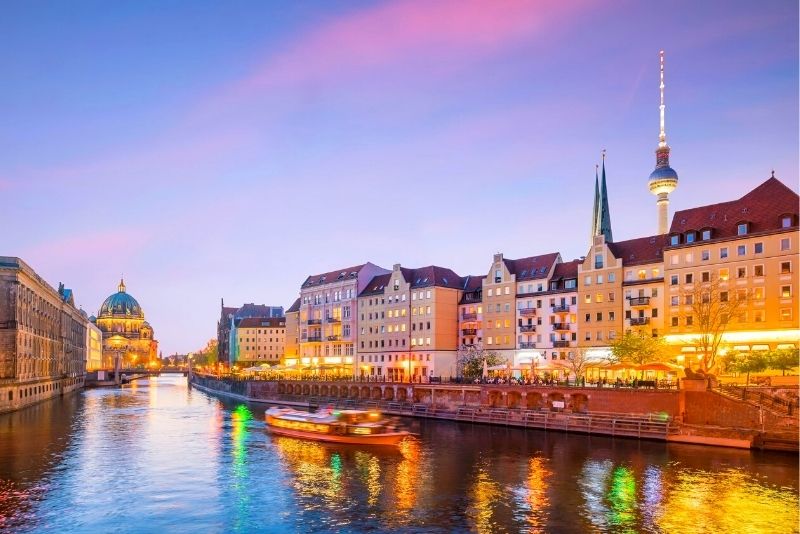 If you're looking for a more intimate way to explore Berlin by night, then why not take in the sights from aboard an evening dinner cruise?
The showstopping boat ride will transport you around the canals of historic Berlin, as your eyes feast on all this iconic city has to offer — including views of Alexanderplatz, the Reichstag Building.
After sailing by the Bundeskanzleramt, Berlin's answer to the White House, you'll have the chance to grab a glass of wine from the bar — before being whisked off to your table and served an exquisite three-course (or sometimes four-course!) dinner.
35 – Learn about Germany's past at the Deutsches Historisches Museum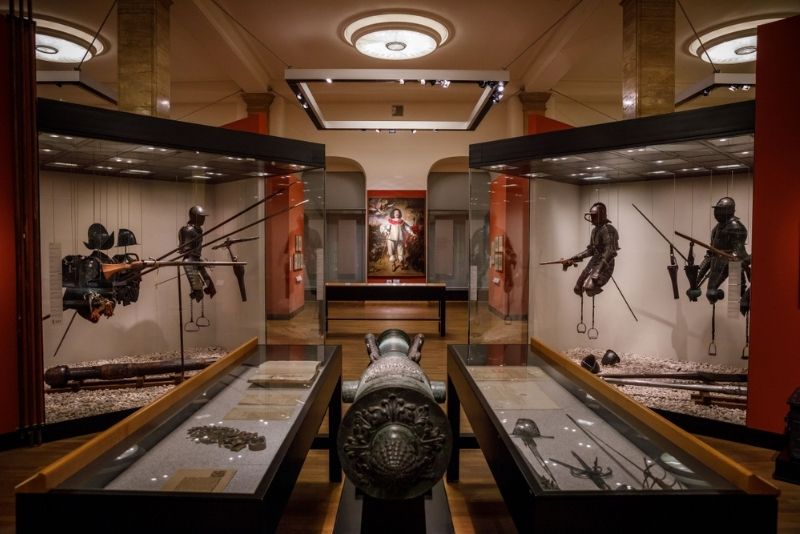 Visiting Germany's national history museum, the Deutsches Historisches Museum, is a quintessential activity for self-proclaimed history experts.
Located in the Mitte district, the intriguing museum aims to be a place of active
communication and discussion of history. Since the exhibits in the museum are always changing, you'll have something different to talk about every time you pop in.
36 – Get artsy at the Dali Museum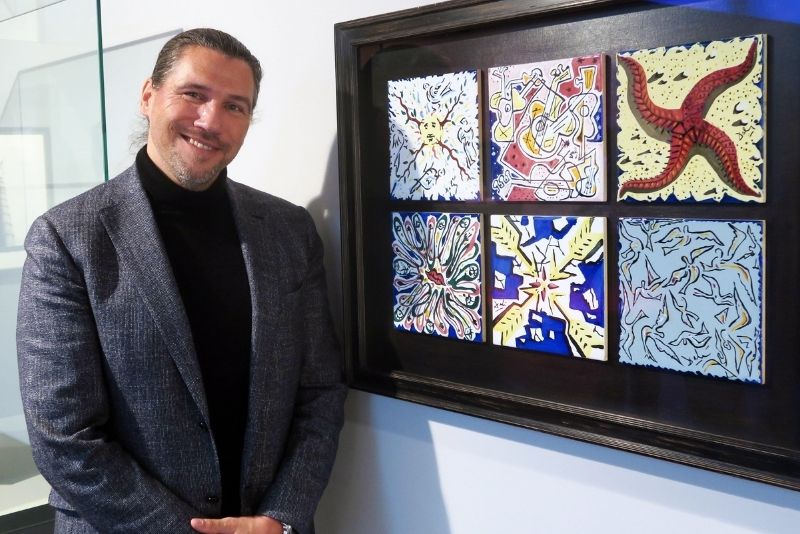 A true surrealist, Salvador Dali infused his work with elements of the macabre and grotesque in order to convey a sense of beautiful disorder.
This museum is dedicated to showcasing this renowned artist's life's work, with more than 450 exhibits on display, including several small-scale sculptures.
While you're welcome to stroll around at your own pace, you can also join a guided tour to go more in-depth into this must-see landmark of the Berlin art scene.
37 – Roll around town on a bike tour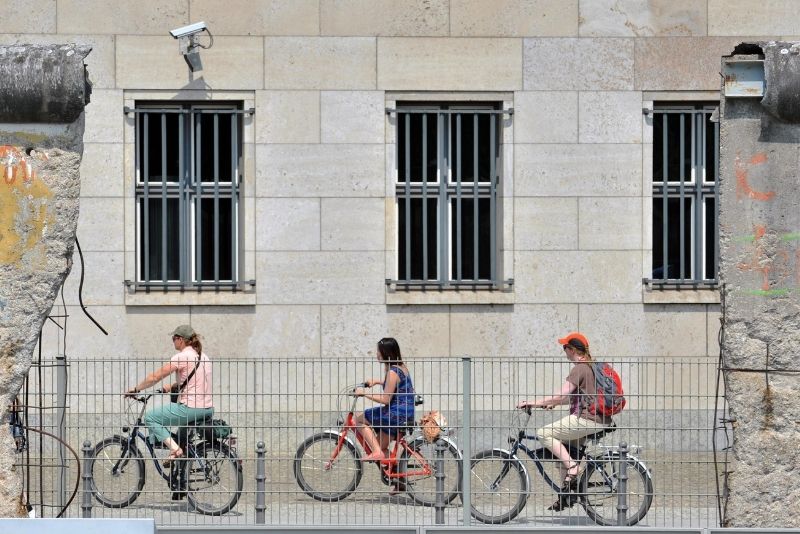 For when those weary legs just don't want to walk anymore, and you want to explore the city from a different perspective (away from the hoards of tourists), book yourself on one of Berlin's popular bicycle tours.
These fun and easy-going bike trips, led by locals, will take you through some offbeat locations in the German capital — like Friedrichshain or Kreuzberg — before finishing up back at the starting point.
With themed experiences like the Cold War, "Vibes of Berlin," street art, and "top secret" spots, there's a two-wheeled adventure for everyone.
38 – Step back in time at the Pergamon Museum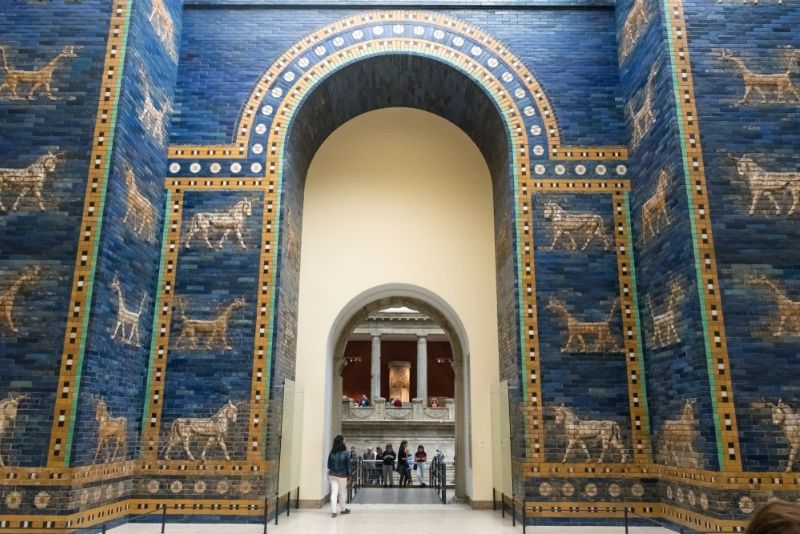 Housed in the former Prussian Cultural Heritage Foundation palace on Museum Island, the Pergamon Museum is an international landmark and undisputed visitor magnet — arguably the most popular of the city's museums.
Found here are monumental exhibits diving into ancient Babylonian, Greek and Roman culture — the world-famous Pergamon Altar from the Roman Period and plenty more.
Hot tip: During those busier tourist months (summer), grabbing a skip-the-line ticket online is a great option.
39 – Admire the flowers at the Gärten der Welt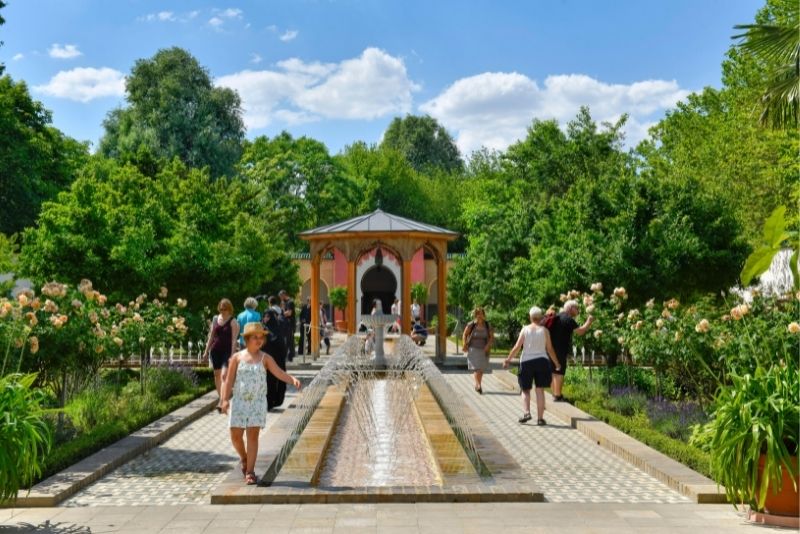 For an unforgettable Berlin day out in nature, head to the 100-hectare Gärten der Welt in the eastern district of Marzahn.
This locally adored attraction will take you on a journey through the diverse flora of eight different countries from near and far. Whether you're craving some tulips or are more in the mood for bamboo trees, this is one outdoor spot not to be missed.
40 – Explore the outdoorsy delights of Tempelhofer Feld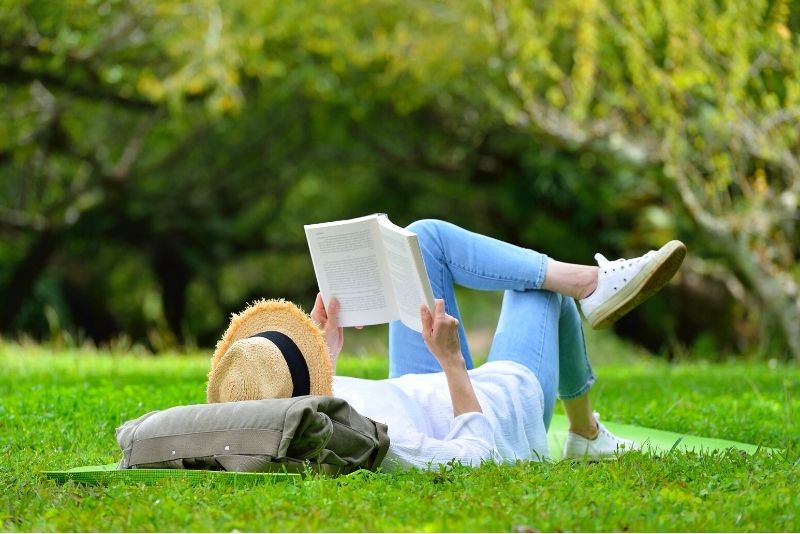 In a brilliant bit of repurposing, the city has transformed a former airfield into a splendid green space for everyone to enjoy.
Head to Tempelhofer Feld to search the trees for birds, admire some beautiful gardens, or catch the breeze and fly some kites in the wide-open spaces.
You can see plenty of fascinating civic projects in action, from public art pieces to flocks of endangered sheep grazing in the meadows.
It's a wonderful way to relax in pure Berliner fashion!
41 – Learn about Berlin's Jewish Heritage on a guided walking tour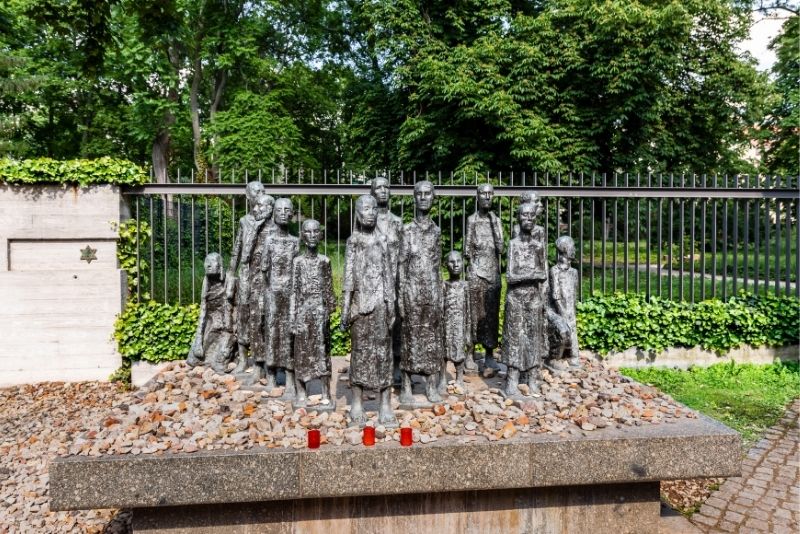 If you're interested in exploring Berlin's rich Jewish history, then the Jewish Heritage Walk, which dives into the chapters from the 17th century to today, is an excellent opportunity to do so.
This tour takes up to four hours, taking visitors around and across key sites of interest from both pre and post-war times. These include the New Synagogue, Old Jewish Cemetery, the Rosenstrasse Memorial and the powerful "Block of Women" memorial that commemorates the 1943 women's uprising.
The stories told are moving and the sites visited are eye-opening — a must for anyone interested in history.
42 – Hit terminal velocity with a skydive!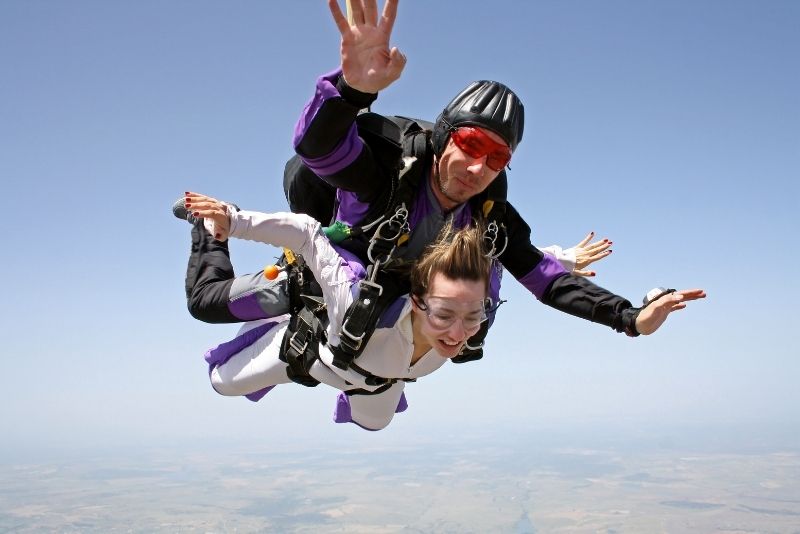 If you're looking for a thrilling experience to take your travel diary up a notch, then book yourself into one of Berlin's most exhilarating (and adrenaline-pumping) activities!
Jump from 13,000 feet over the beautiful forests, lakes and farmland of Brandenburg county, about 30 minutes outside of Berlin. Go solo or with friends and family — either way, skydiving is sure to make that list of "must do's" before you go home.
43 – Celebrate the summer at Freiluftkino Friedrichshain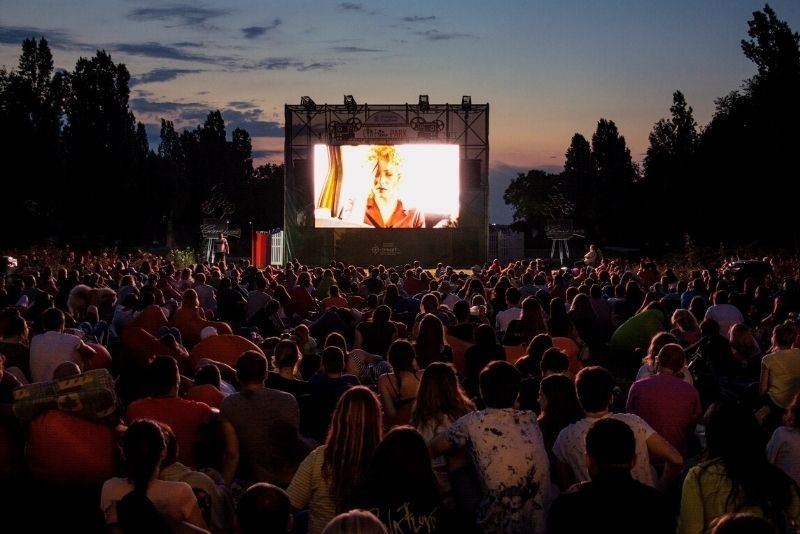 The only thing better than catching a movie is getting to enjoy a little bit of sunshine, and Freiluftkino Friedrichshain offers both in spades!
This beloved open-air cinema runs all summer long, and screens a wide variety of movies for filmgoers of all ages.
Note that the screenings are generally dubbed in German – a perfect way to start learning the language!
Post up on one of the comfortable benches, or bring a blanket and relax in the grass; then you can just sit back and enjoy the show!
44 – Snap a selfie with Brad Pitt at Madame Tussauds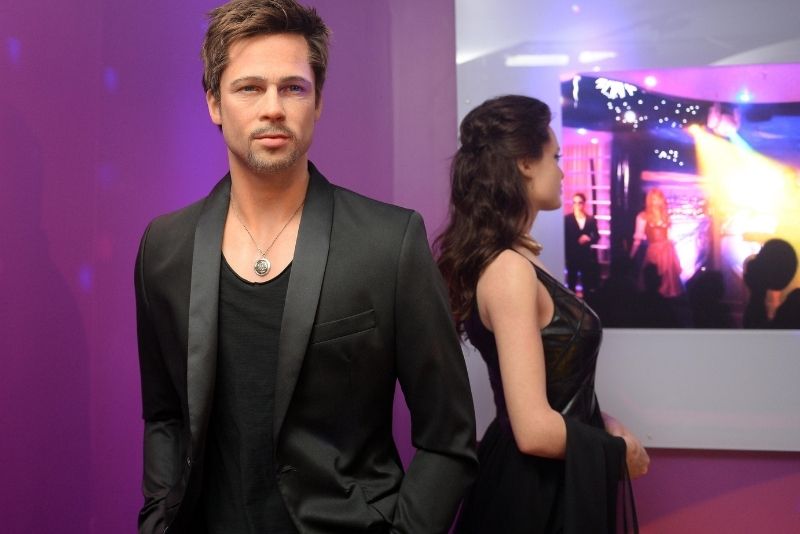 Forget about Hollywood — Berlin offers celeb-obsessed visitors the chance to meet all their favorite A-listers at Madame Tussauds. It's just down the road from the Brandenburg Gate.
Get up close with life-size replicas of international stars like Barack Obama, Justin Bieber, Leonardo DiCaprio, Marilyn Monroe and Queen Elizabeth II — just a sliver of the dozens of names on offer.
It's a sweet way to attract some social media attention, that's for sure.
45 – Check out the Natural History Museum (Museum für Naturkunde)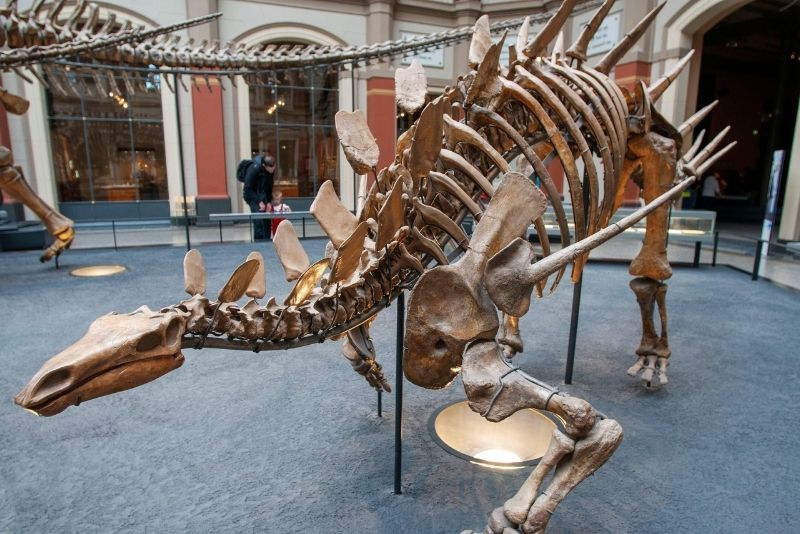 This sprawling 19th-century building houses a plethora of well-curated exhibits for all ages — including fossils and preserved animals.
One of the essential things to do in Berlin for fans of zoology and evolution, the museum's collections include everything — from ancient Egyptian artifacts to dinosaur skeletons that have been reconstructed into lifelike poses.
The undisputed highlight? The world's largest dinosaur skeleton, a Brachiosaurus standing a colossal 13.27 meters tall!
46 – Soar over the city with a helicopter tour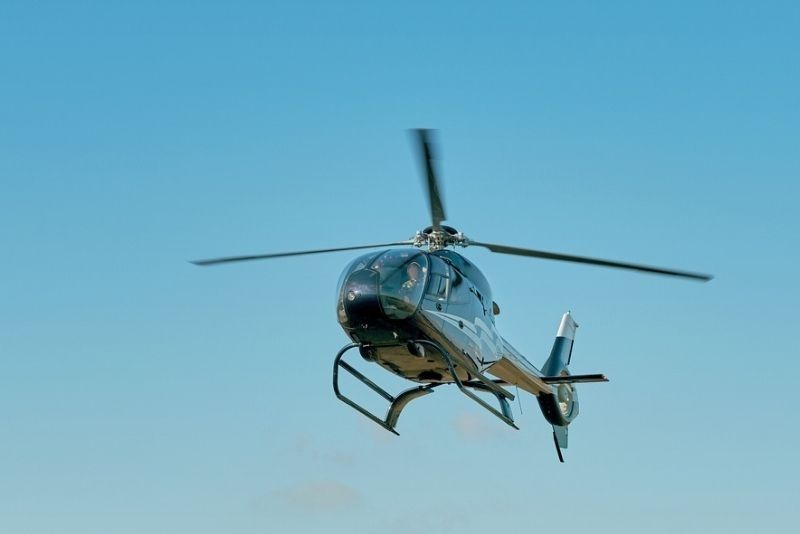 If you're looking for a unique way to see the capital — and are up for an adrenaline-fuelled adventure at the same time — then getting out into Berlin's blue skies is just what the doctor ordered!
With an expert pilot manning the controls (who'll be delighted to teach you about both the vehicle and the city), simply sit back. Enjoy the overhead views of the Victory Column, Brandenburg Gate, TV tower and so much more.
47 – Catch a football (soccer) match at Olympiastadion Berlin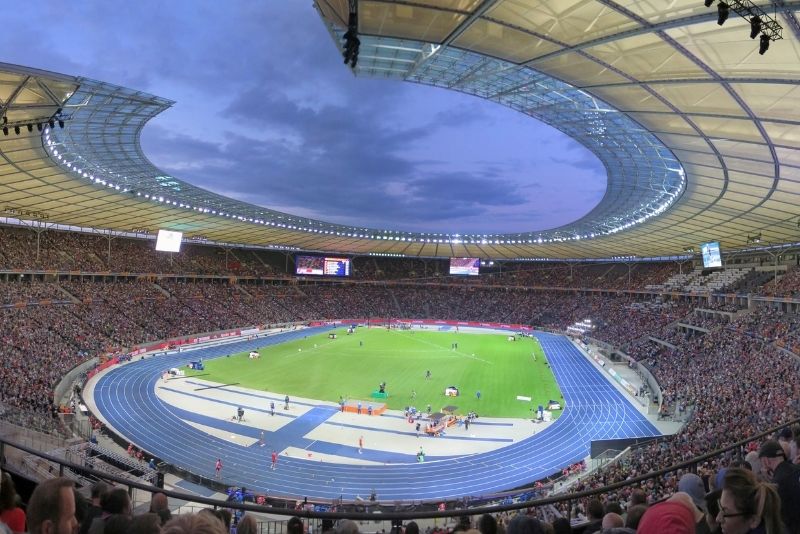 The Olympiastadion Berlin is situated in the northern part of the city, originally constructed as a venue for the 1936 Olympics, and today it still hosts major sporting events including football matches (it's home turf to Hertha BSC Berlin).
Besides being one of Germany's most important venues for athletics, the stadium has a fascinating history — and it's worth a visit for the eye-catching architecture alone.
48 – Scoot around town on a Segway tour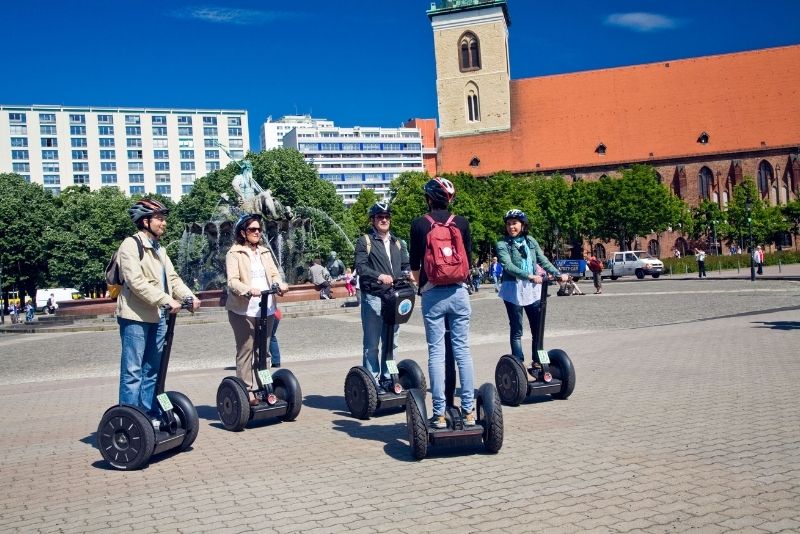 Zip by a handful of the city's historic sites in a fun-for-all-ages battery-powered Segway!
Whether you're new to two wheels or a seasoned expert, all levels are catered for with this unforgettable experience!
Guided tours cover a variety of areas from Mitte to Potsdamer Platz, passing by iconic spots like the Berlin Wall, Berlin Cathedral and Museum Island along the way.
If a tour isn't your jam, standalone rentals are also available.
49 – Explore the Berlin Underworld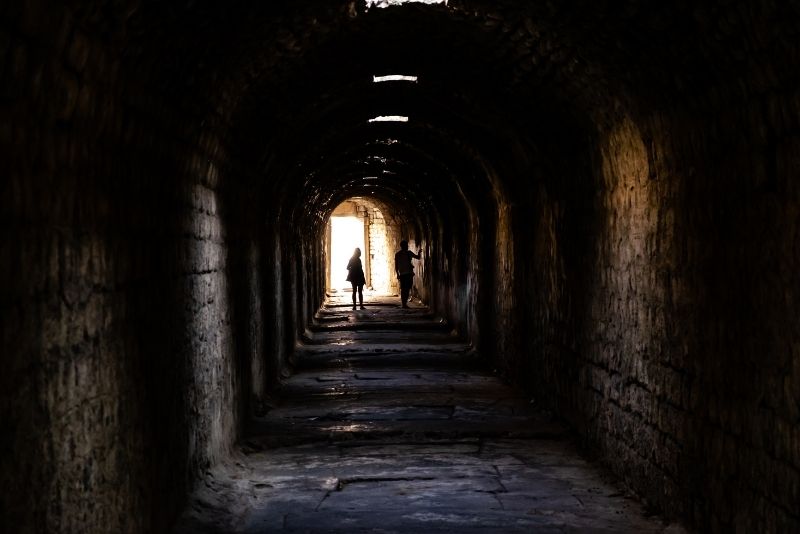 This is a perfect example of the "dark tourism" trend sweeping the globe. The Berlin Underworld is viewable through a collection of walking tours that take guests through some of the city's most infamously dark and twisted locations.
Delve into Berlin's turbulent past and explore its WWII-era history. Step inside former war bunkers, the abandoned Gesundbrunnen underground railway station and much more.
The tours are led by an expert guide, who'll offer you a comprehensive account of Berlin's history — and the lesser-known stories behind some of its famous sites.
50 – See a movie in style at the Astor Film Lounge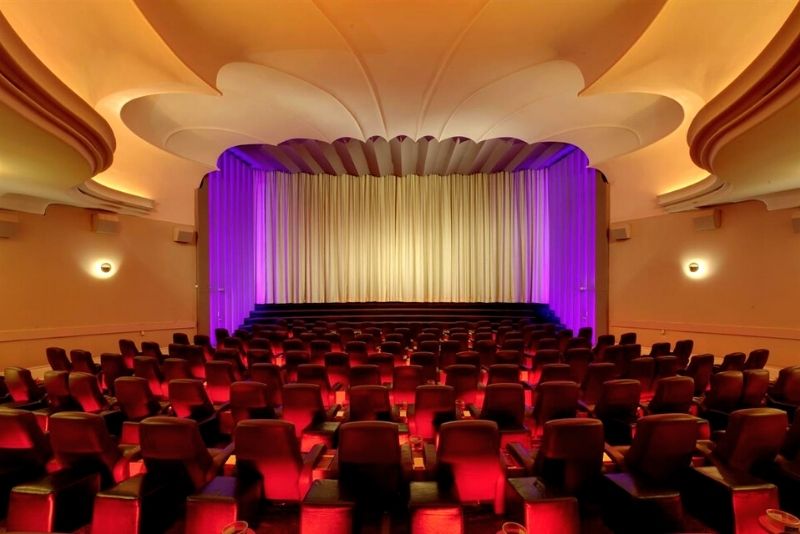 For a totally different kind of cinematic experience, head over to Astor Film Lounge!
This gorgeous space is a great place to see the newest releases, with its massive screens and elegant interior designs.
But it also screens plenty of special programs, including performances by the Metropolitan Opera and the Royal Opera House.
Whether you're looking for a unique screening or hoping to catch the next blockbuster, this is the place to go – check all the events and activities here.
51 – Try indoor skydiving!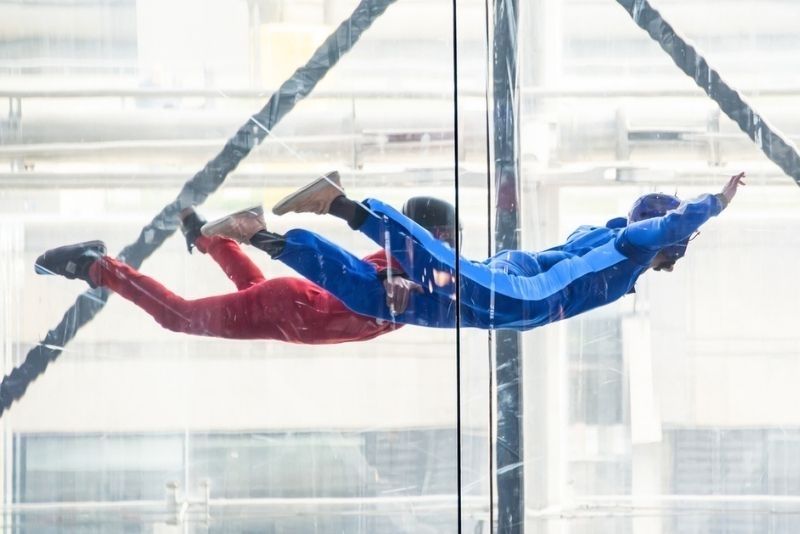 For all the blood-pumping thrills of a skydive without the need to actually jump out of a plane, Berlin's indoor skydiving center is the perfect alternative.
With a specially designed wind tunnel, you'll experience all the excitement of flight with none of the fear — simply put on your gear and step inside for an exhilarating time in complete safety!
The experience lasts just a couple of minutes, but promises to be one that's truly memorable!
52 – Admire ancient art at the Altes Museum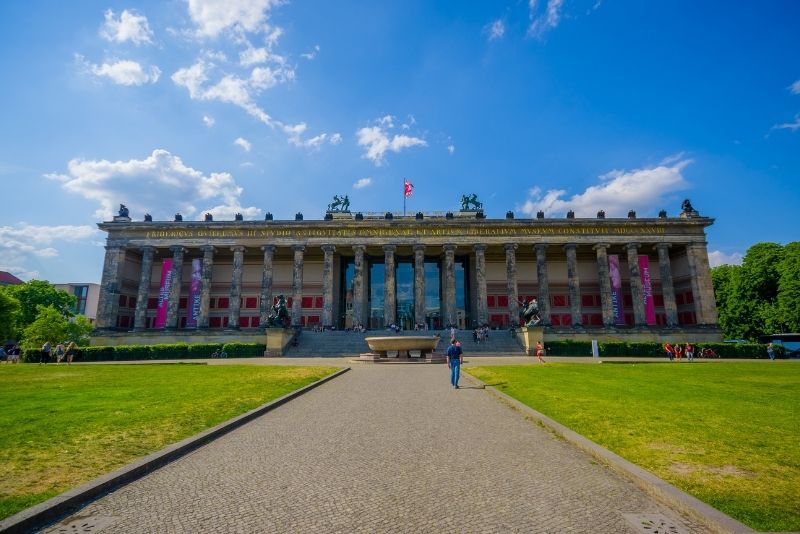 Located on Museum Island, the Neoclassical Altes Museum building is one of Berlin's most popular attractions for ancient art lovers.
The museum is home to a large and varied collection that includes everything from Egyptian artifacts to Greek, Etruscan and Roman antiquities. It offers visitors an immersive glimpse into cultures long past, while also providing food for thought about how they've shaped our world today.
Hot tip: Grab a ticket online to skip the line during the busier months.
53 – Stuff your face on a food tour!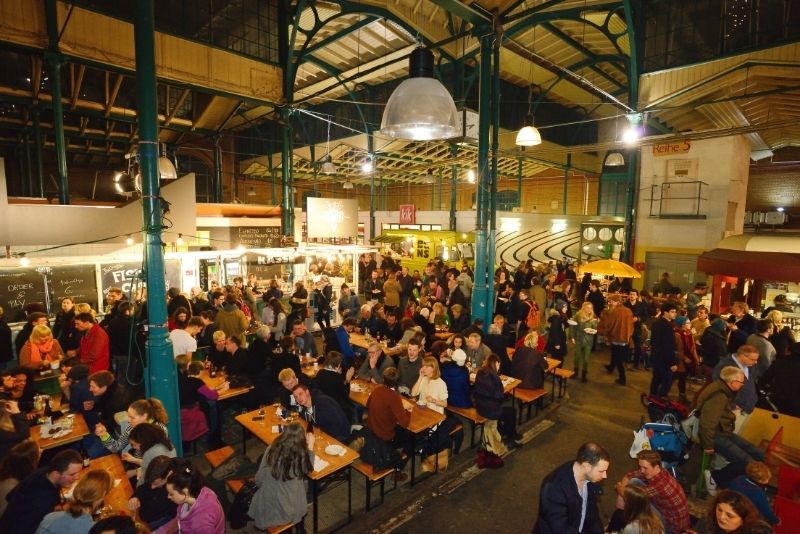 Who's hungry?
There's no better way to get a taste (literally) of Berlin than by exploring its diverse culinary offerings on one of the city's many food tours that stroll through Mitte and/or Kreuzberg.
Whether you're in search of traditional German fare such as meatballs or sausages (not to mention cakes!) or looking to dive into the city's diverse international foodie scene (don't miss the doner kebabs!) — these tours will satisfy your appetite for adventure.
54 – Enjoy the art at the Alte Nationalgalerie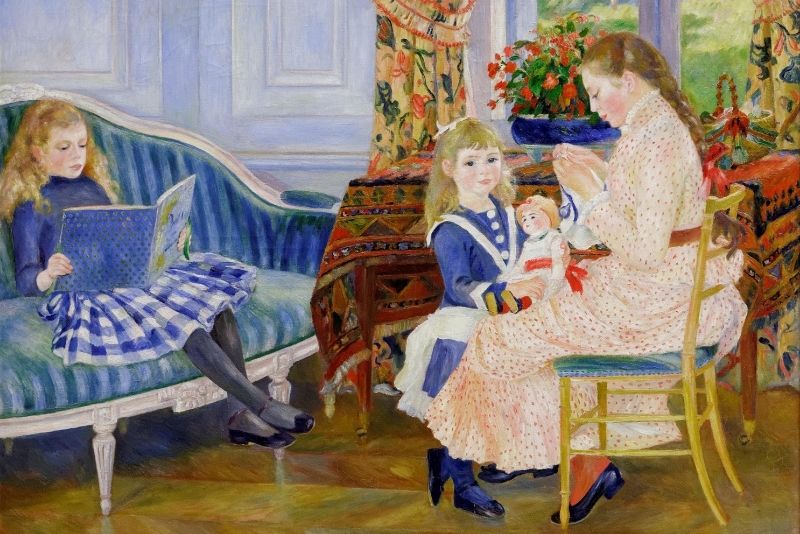 One of the five main attractions on Museum Island, this grand art gallery is home to over 2,000 pieces of intricate paintings, sculptures and drawings.
Exhibits include masterpieces of French Impressionism, early Modernism (including works by Adolph von Menzel and Max Liebermann), and a truckload of pieces depicting the Neoclassical and Romantic movements.
55 – Class up your dinner at some Michelin-star restaurants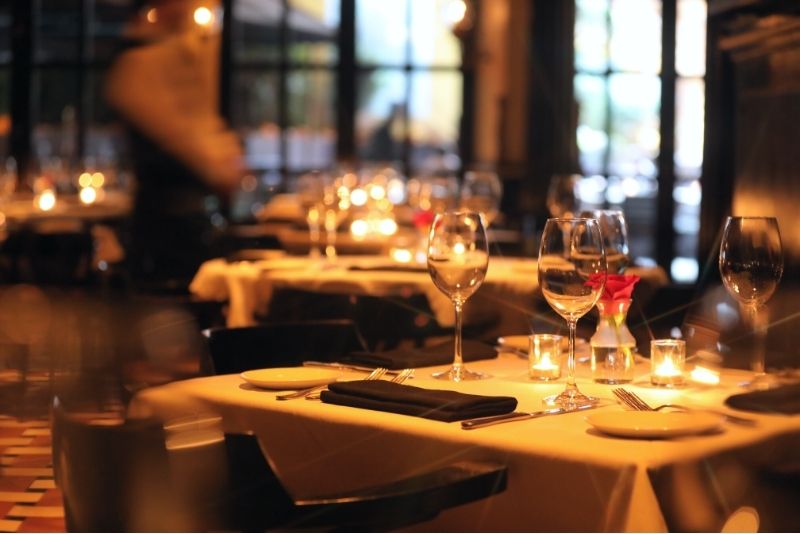 From the food to the decor, Berlin doesn't skimp on its culinary scene; and while it can be hard to pick the ideal restaurants, there are some standouts that are well worth a visit!
Nibble on the tasting menu at Julius, or the simple but elegant dishes (paired with wine) at ernst.
Try some creative approaches to Israeli and European cuisine at prism, or some delicious French meals at Brasserie Lamazere.
Or go all out and enjoy a multi-course meal at Kochu Karu, where the palates range from Korean to Spanish to cheese-based.
It's all part of the joy of eating!
56 – Visit the museum in the old train station: Hamburger Bahnhof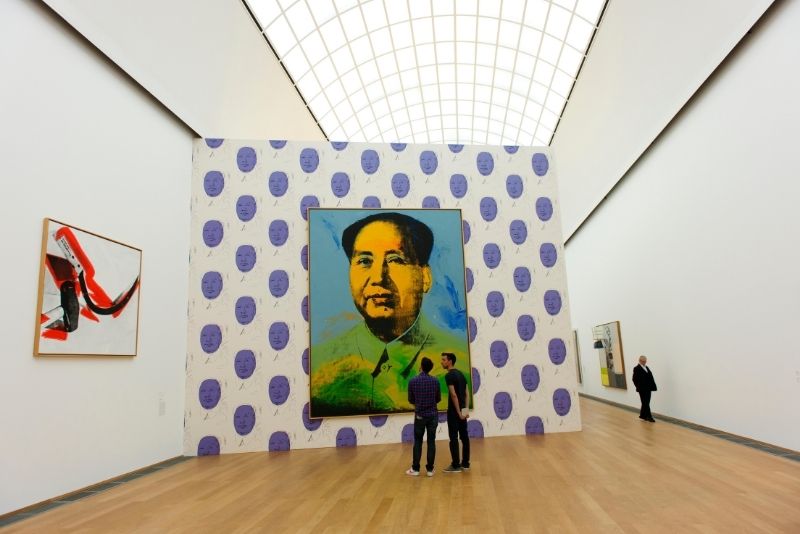 Dive into the country's fascinating past at this contemporary art institution (the Museum für Gegenwart) that was once the main train station that connected Hamburg and Berlin!
This mid-19th century building is now an internationally renowned site. It houses an extensive permanent collection of modern paintings, sculptures and drawings, including well-known works by the likes of Andy Warhol and Marcel Duchamp.
57 – Meet your favorite animal at Berlin Zoo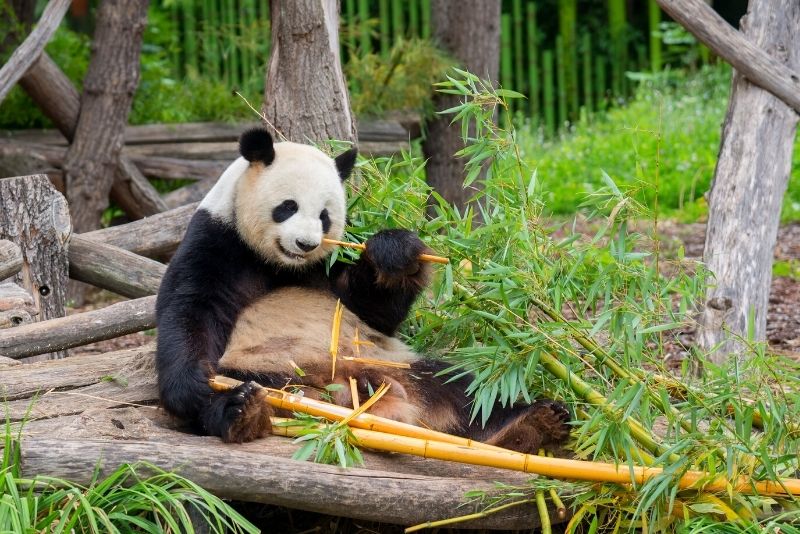 The Berlin Zoo is an animal lover's dream come true!
This sprawling 86-acre site houses more than 20,000 animals from nearly 1,400 species — including giant pandas, polar bears, gorillas, adorable penguins and the snowy owl (a Hedwig lookalike, for all you HP fans).
Visitors can explore the grounds at their own pace or take a guided tour to find out all about the zoo's history (including its current conservation efforts). Get up close and personal with some of its friendly and furry inhabitants.
58 – Marvel at the works of the Bode Museum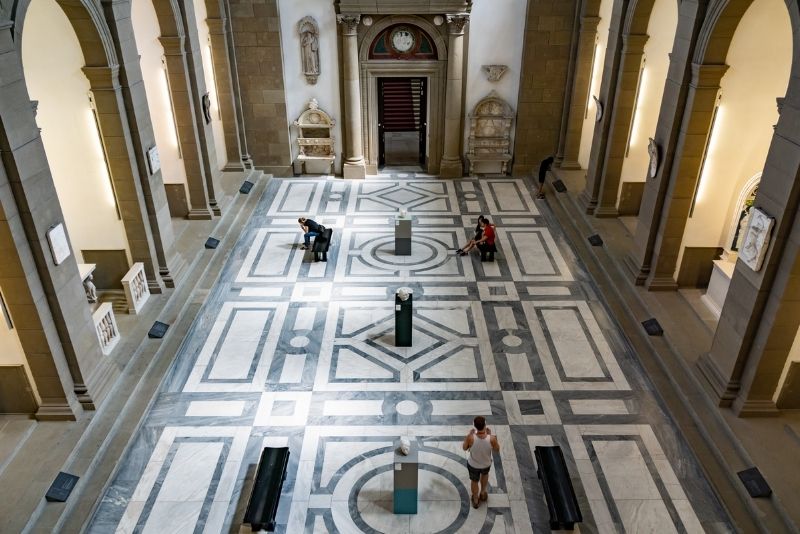 Sitting on the northern tip of Museum Island (dishing up great views), the popular Bode Museum is home to two enormous collections, the Sculpture Collection and the Museum of Byzantine Art — complemented by smaller displays of coins and medals.
Like most of the city's wonderful museums, skip-the-line tickets are available online and recommended.
59 – Enjoy a show at the Friedrichstadt-Palast theater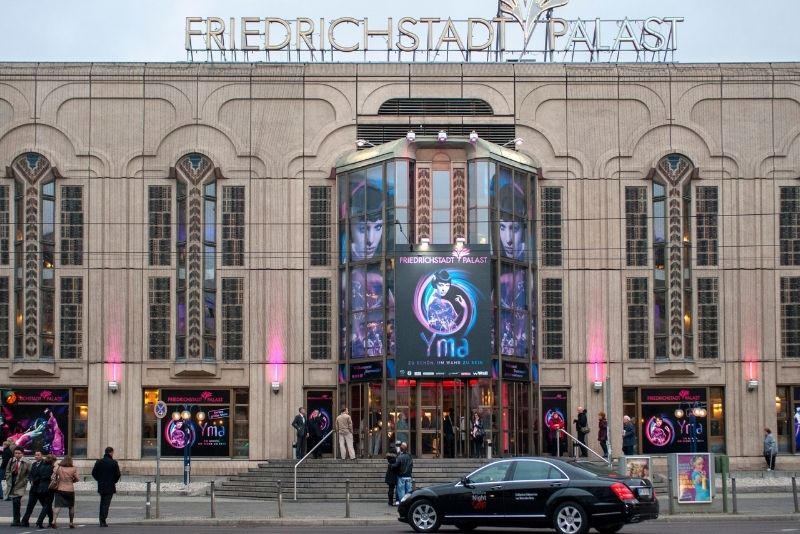 Experience Berlin's history through a kaleidoscope of colors, shapes and light at this popular show space!
The theater in Mitte is famous for its stunningly opulent interior and the countless performances that have taken place on its stage over the years, including opera and dance presentations.
The theater's program is as versatile as it gets, with over 100 local and international artists gracing its stage every year — check the calendar to see who's performing during your trip.
60 – Party the night away at the best nightclubs in town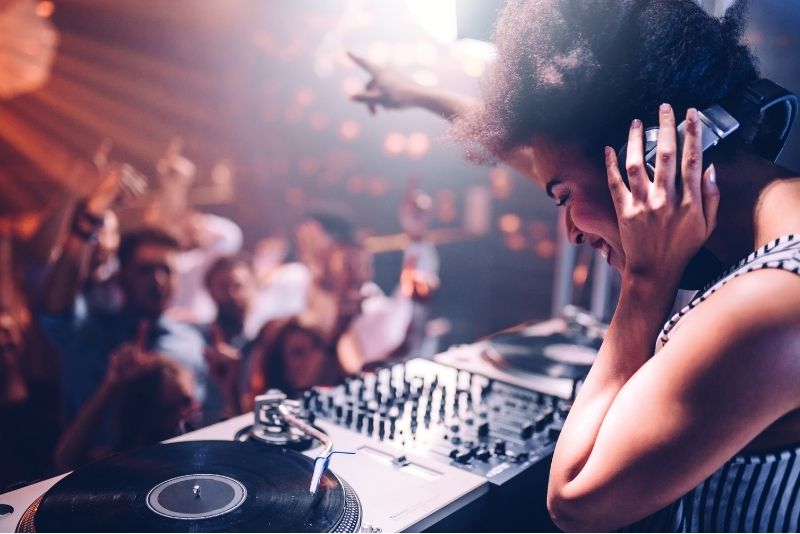 As you head out for the evening, be sure to check out some of the top clubs in the city – never an easy task to choose!
Matrix Club offers a consistent lineup of themed events and vibrant dance floors all week long, creating a perpetual party atmosphere.
Berghain is a must for techno fans and adventurers; housed in an old heating plant, it offers top-notch music, great parties, and a famously anything-goes atmosphere.
Meanwhile, Maxxim boasts everything from disco and burlesque to nostalgic dance parties and wild holiday events.
In this town, you may well be out until sunrise!
61 – Admire over 200 artworks at the Berggruen Museum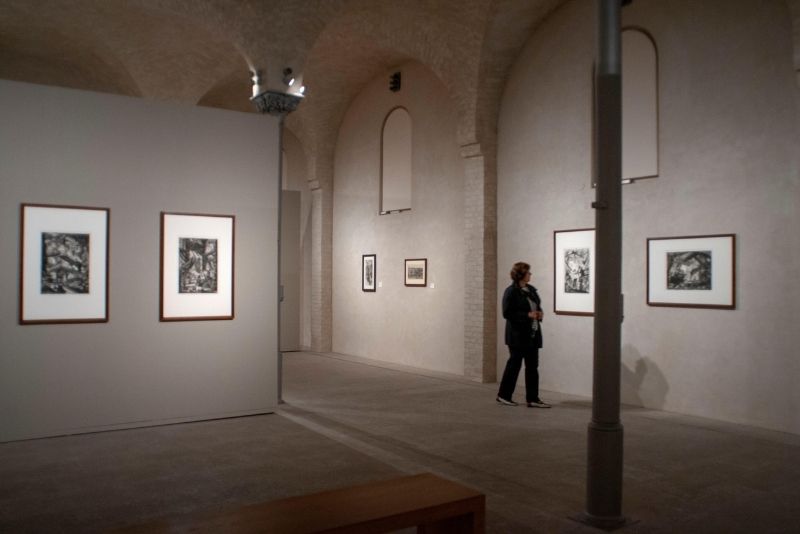 This contemporary art museum houses an extensive collection of modern and post-war paintings, sculptures and drawings. It displays an array of thought-provoking pieces by infamous artists such as Pablo Picasso, Henri Matisse, Georges Braque, Paul Klee and more!
Unlike most of the city's museums, this one isn't on Museum Island. Berggruen sits in the Charlottenburg district, a convenient short walk from the stunning Charlottenburg Palace.
62 – Learn about the history of our ancestors at the Neues Museum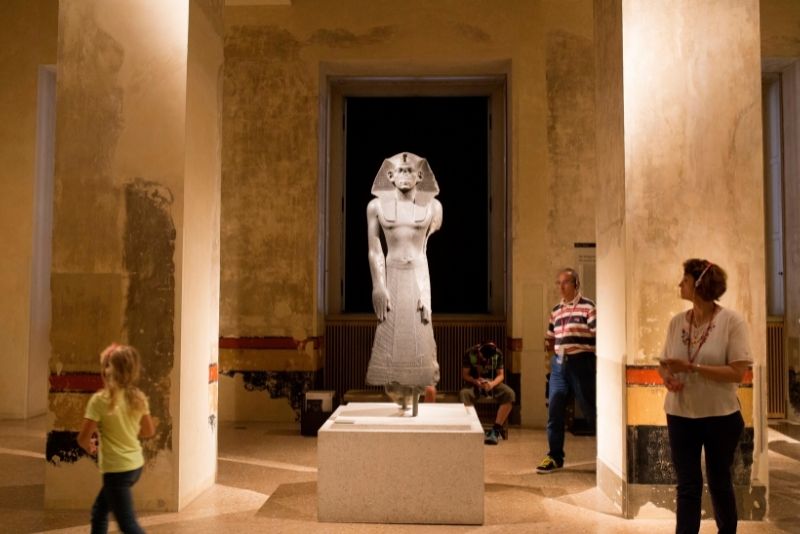 In Berlin's UNESCO World Heritage Museum Island district, the Neues Museum is home to an impressive and extensive collection of antiquities from ancient Egyptian, Greek, Roman, and Etruscan civilizations.
Inside this beautifully designed building on Schlossplatz, you'll find 9,000 fascinating and unique objects, none more appreciated than the 700,000-year-old ax head that dates back to the earliest Stone Age.
63 – Grab a coffee (or beer) and people-watch at Gendarmenmarkt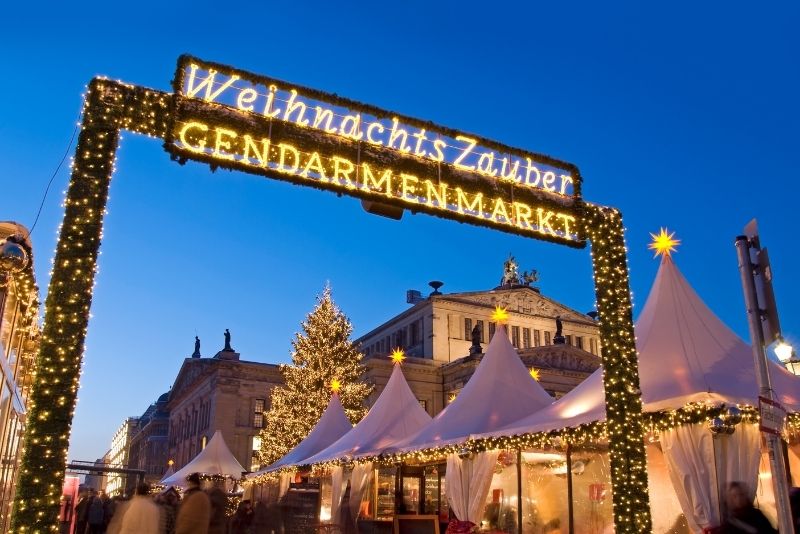 Nestled in the Friedrichstadt District, this grand square is the site of many a Berlin Christmas market but is also home to some of the city's most iconic buildings: the French and German Cathedrals and the Konzerthaus.
The famous square boasts no shortage of restaurants and cafes either, making it a wonderful spot to recharge the batteries and people watch.
64 – Learn about design at Kunstgewerbemuseum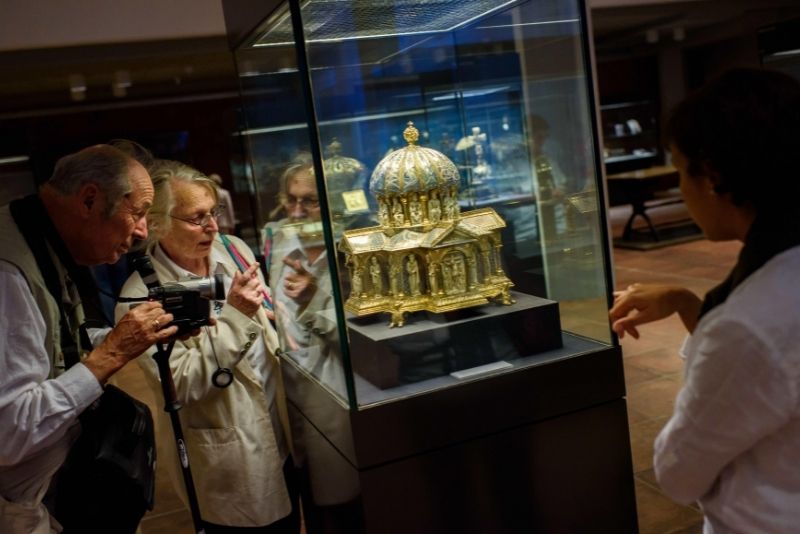 Known in English as the Museum of Decorative Arts, the high underrated Kunstgewerbemuseum is the perfect place to explore the world of European fashion and design, with exhibits spanning centuries of history until today.
As the oldest decorative arts house in the country, it's a worthy visit for the artistically inclined.
After checking out the two floors of exhibits, spend an hour or two exploring the nearby Tiergarten park.
65 – Pay tribute at the Memorial to the Murdered Jews of Europe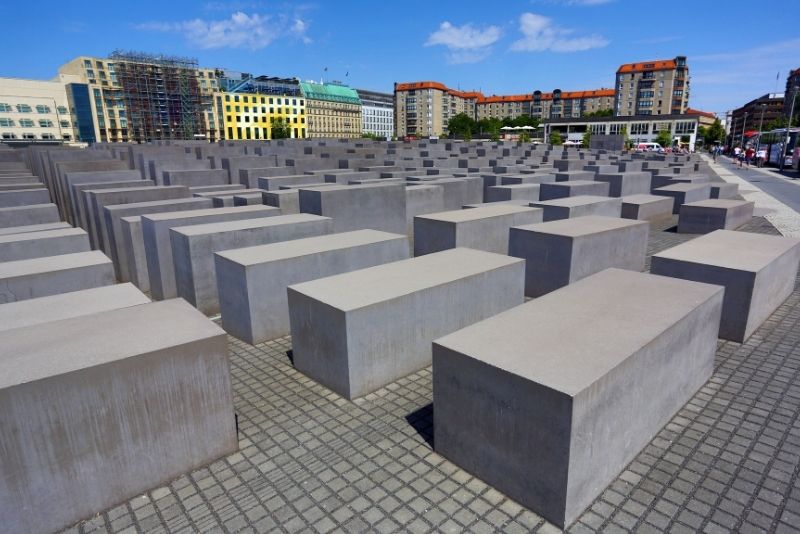 A powerful, postmodern symbol of one of humanity's greatest tragedies, the Memorial to the Murdered Jews of Europe is best approached with compassion and an open mind.
Carved into a field in central Berlin near the Brandenburg Gate, visitors are invited to wander through a contemplative maze made up of 2711 concrete slabs of different heights.
Deliberately abstract and complex, the monument has no goal for its visitors, no end, and no clear entry or exit — it's deliberately lacking understanding, portraying the messaging that understanding the horrors of the Holocaust is truly impossible.
66 – Step inside the Berlin Cathedral (Berliner Dom)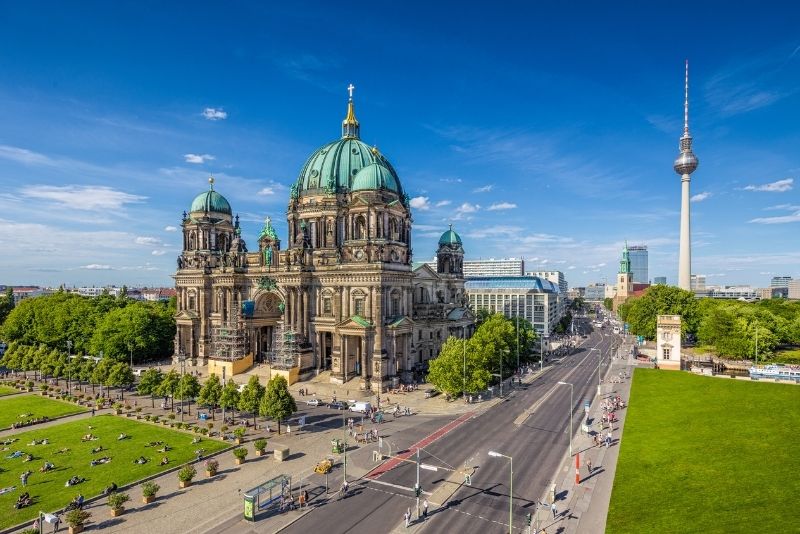 An icon of Berlin's cityscape, this grandiose cathedral has a history book full of interesting stories and anecdotes, including being severely damaged during WWII.
Be sure to check out the 7,000-pipe organ, and take some time to admire the cathedral's impressive stained glass windows.
Hot tip: Despite the old stairs, it's certainly worth climbing all the way up to the Dom for the excellent city views.
67 – Learn about the Cold War at Checkpoint Charlie
A Berlin landmark and one of the most iconic symbols of the Cold War, the Haus am Checkpoint Charlie Museum recounts a different side to history.
Centered on Checkpoint Charlie — once part of the escape route between West and East Germany during the Cold War — a visit will give you an insight into life behind what was then known as 'the Iron Curtain', diving into one of the tightest and complex border security systems of the era.
68 – Have a picnic in Tiergarten Park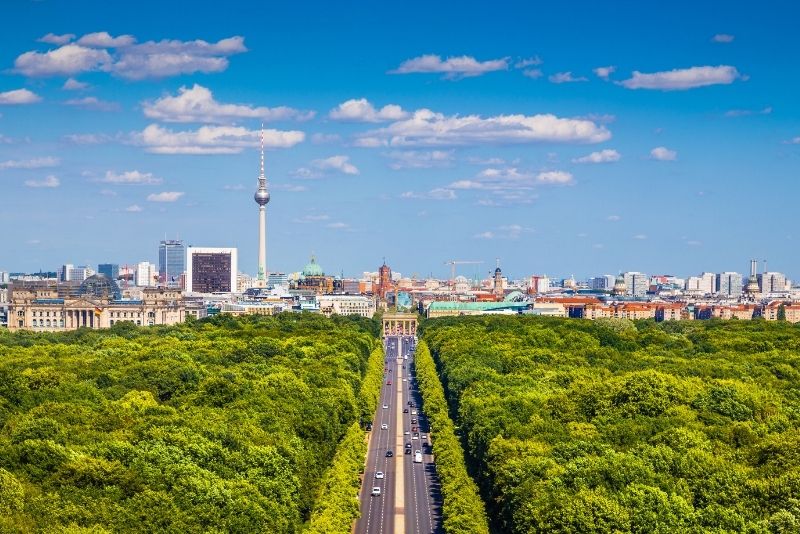 After ticking off all the museums and filling your brain with history lessons, a breath of fresh air is well-deserved, and Berlin's Tiergarten is the perfect place to soak up some sunshine and explore Berlin's love affair with parks!
Sprawling across more than 200 hectares, it features a large lake, pedal-taxi rentals, plenty of green space for picnics, the Berlin Zoo, and the Soviet War Memorial.
A range of guided tours walks through the park for anyone keen to learn a little more about the area.
69 – Learn about the country's former secret police at the Stasi Museum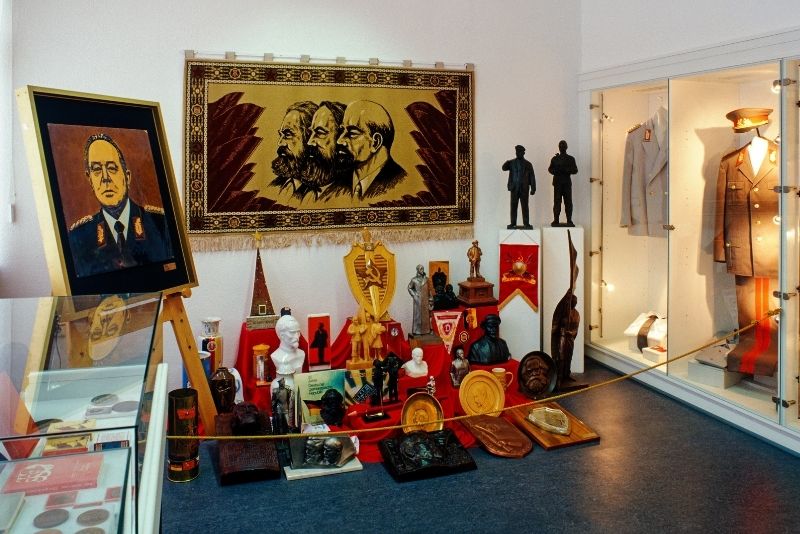 This eye-opening museum is located just minutes from the Berlin Central Station and tells the story of what life was like in East Germany, diving into the stories of the Stasi, the frightening former East German secret police force.
The building, near the Magdalenenstraße train station, has been left largely untouched to show how it looked during its time as a Stasi headquarters – this includes artifacts and photos on the walls documenting their work over three decades.
70 – Spend the day in Treptower Park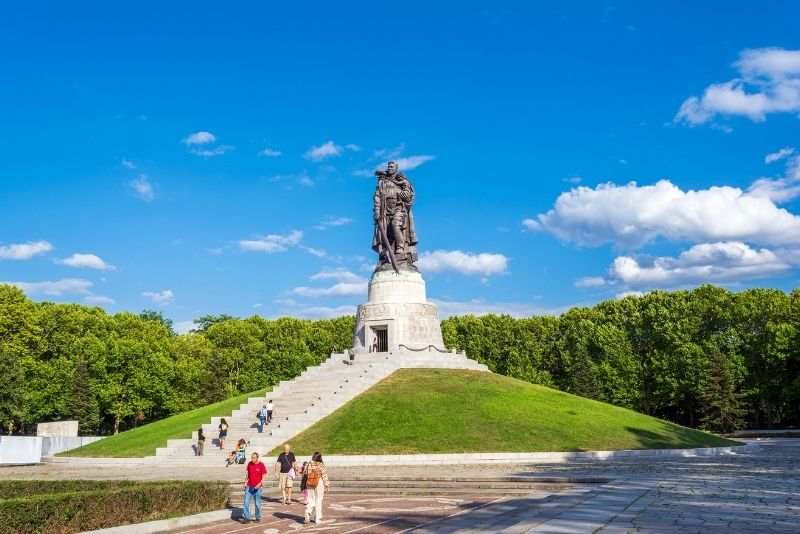 Berlin's Treptower Park is a vast, beautiful and well-maintained green space, covering more than 207 acres (84 hectares) of land.
For nature lovers, consider renting a pedal boat, rowboat or barbecue boat on Insel der Jugend; history buffs, don't miss the enormous Soviet War Memorial in the park's center.
Finally, for all of you astronomy nerds, check out the Archenhold Sternwarte Observatory, home of the world's longest refracting telescope (perfect for nighttime stargazing).
71 – Get off the beaten track with a street art tour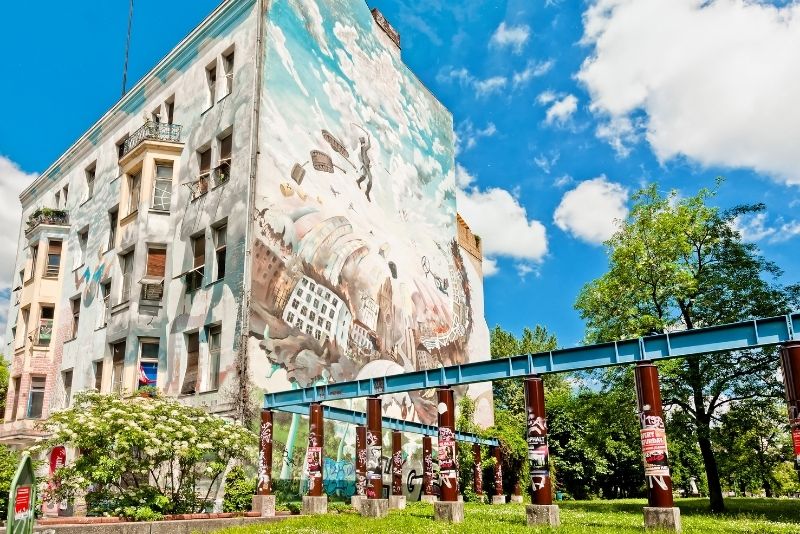 A stark juxtaposition to its historic side, Berlin also boasts a wacky and wonderful side, and its street art is a perfect example of that.
In super hipster areas like Kreuzberg and Friedrichshain, you'll find some of the most famous street murals in the country, depicting everything from pop culture icons to political statements.
Not to be missed is the iconic slice of Berlin Wall art that is the kiss between Leonid Brezhnev and Erich Honecker.
72 – Climb the steps of the Victory Column (Siegessaule)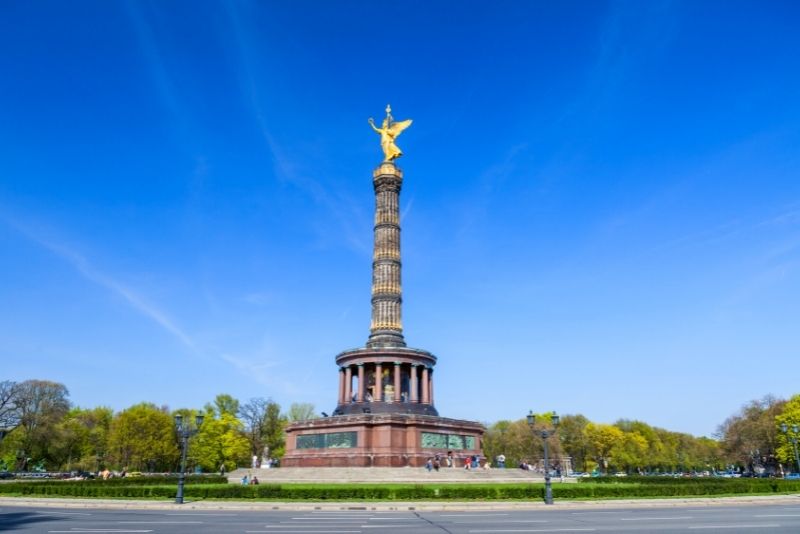 A Berlin landmark, this impressive monument is one of the few things that survived WWII intact. Located in Tiergarten park, it was built to commemorate Prussia's victory over France and Napoleon III in 1871.
The column itself is an impressive 67 meters high, and visitors can climb the 285 steps to get a breathtaking view of Berlin from its 360-degree viewing platform.
73 – Experience a dazzling journey with the ARISE Grand Show
Immerse yourself in the vibrant spectacle of the ARISE Grand Show at the legendary Friedrichstadt-Palast. Be mesmerized as hundreds of performers take to the world's largest stage to tell stories of love and loss through the lens of photographer and artist Cameron.
Filled with hope and happiness, each scene paints an enthralling picture. ARISE is more than just a show, it's an experience that will leave you inspired and uplifted.
74 – Walk through Tränenpalast, the 'Palace of Tears'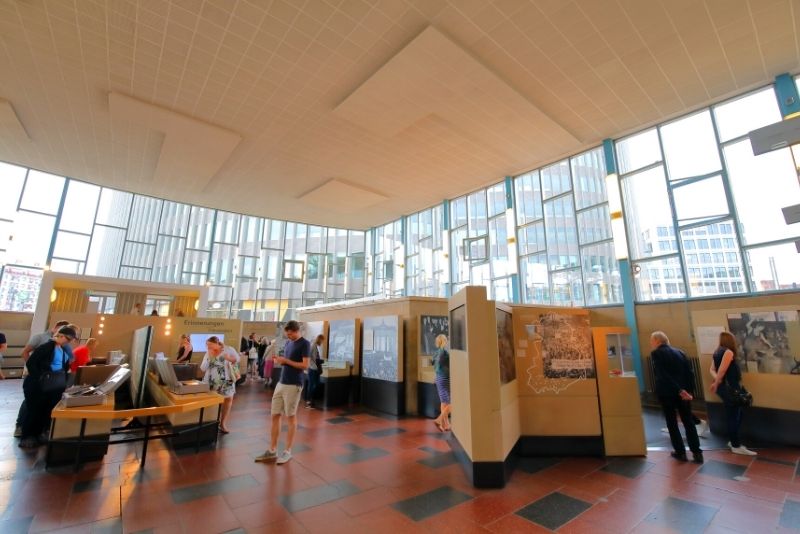 Offering an emotional peek into daily life during the Cold War era, Tränenpalast used to be a border crossing point between East and West Berlin. It is now a museum that documents the stories of those who once crossed.
The building is located at the Friedrichstraße train station and, while small, is a powerful reminder of the division and reunification of the city.
It's free to visit, so why not add it to the list of things to do in Berlin?
75 – Play detective at the Spy Museum!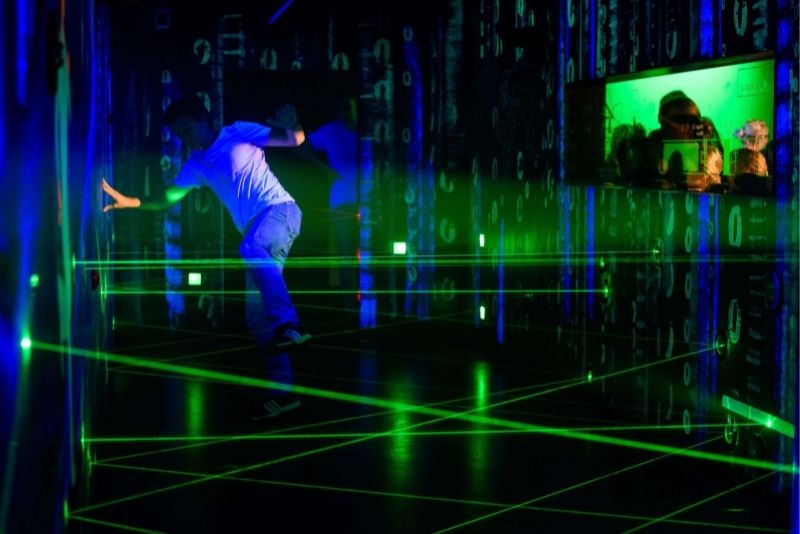 The Spy Museum is located near Potsdamer Platz and, as Germany's only museum dedicated to espionage history, it offers visitors an interactive experience of the ever-intriguing world of spies.
Exhibits range from a lie detector simulation to a laser-beam obstacle course (exactly like in the movies) and interactive displays about the history of spying during the wartime (and beyond).
76 – See vintage cars at Classic Remise Berlin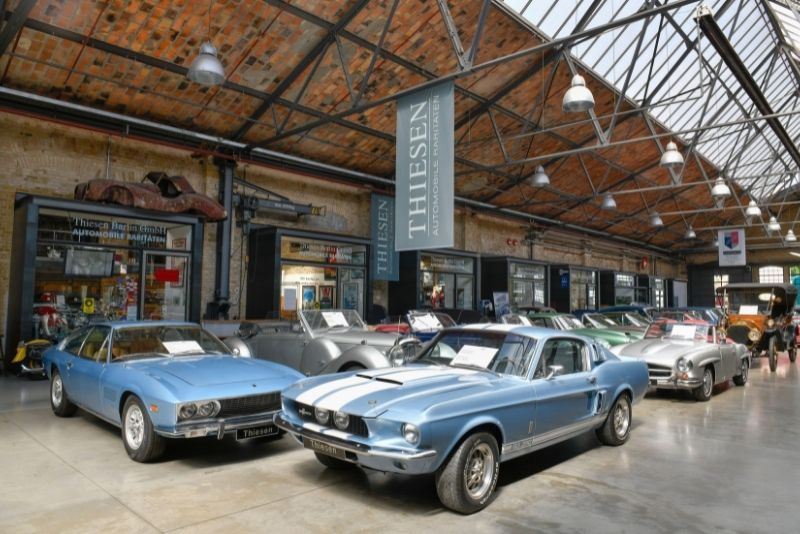 Heaven on earth of car lovers, this sprawling museum-meets-garage Classic Remise houses in a historic tram depot is a true gem — and free for everyone to visit.
Besides the dozens of impressive cars on display, the most noteworthy attraction is arguably the fascinating workshop area, where these vintage beauties are lovingly restored and maintained.
77 – Race against the clock in an escape room!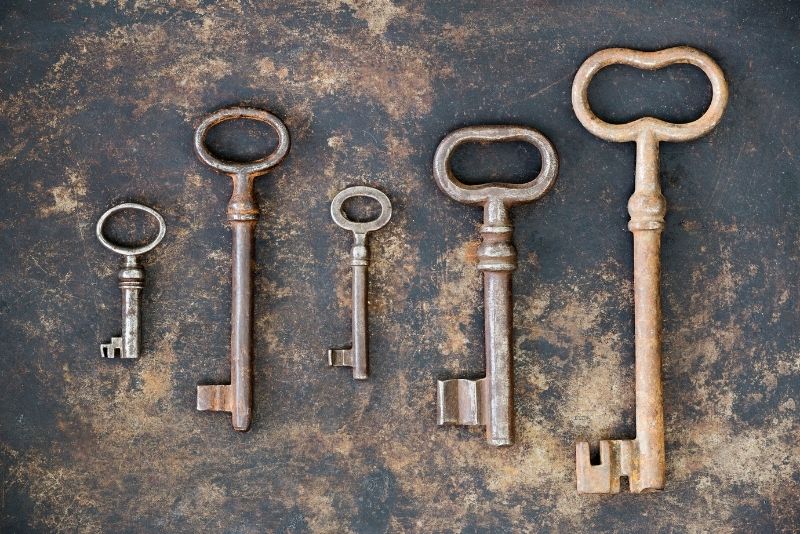 With both escape rooms of different themes and city-wide scavenger hunts on offer, there's plenty to choose from for any budding detective visiting Berlin.
EXIT Berlin in Mitte offers spooky escape room themes like a prison, an old sanatorium or an underground city. Smartroom Berlin features family-friendly rooms like Alice in Wonderland or adventures in space. Escape Game Notlandung Berlin in Langwitz showcases what a real-life emergency plane landing would be like.
78 – Take the kids to Legoland Discovery Center!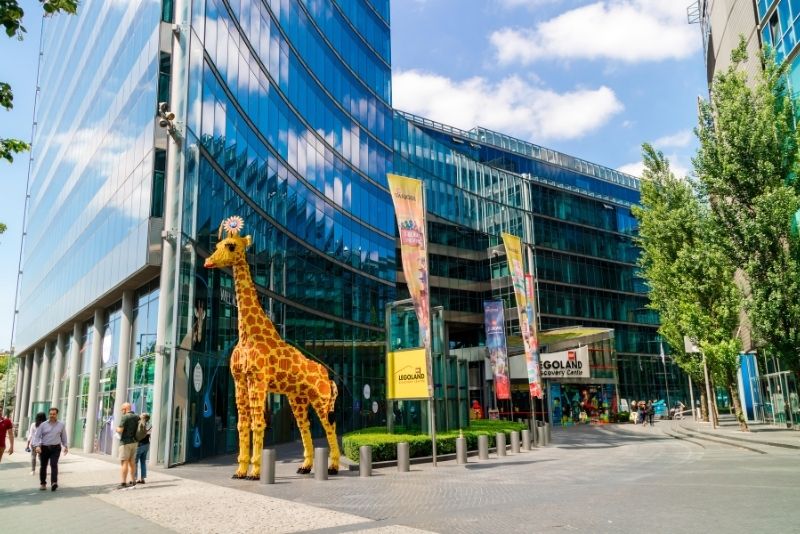 A stone's throw from  Potsdamer Platz, Legoland Discovery Center offers plenty of fun for youngsters and LEGO-loving adults alike. The giant lego-built giraffe at the entrance is a regular hit, likewise the exhibition of miniature buildings.
Hot tip: For the most affordable tourist package, combine your LEGOLAND Discovery Centre ticket with a visit to SEA LIFE, Madame Tussauds to save up to 30% (cha-ching!).
79 – Browse the Rembrandt collection at the Gemäldegalerie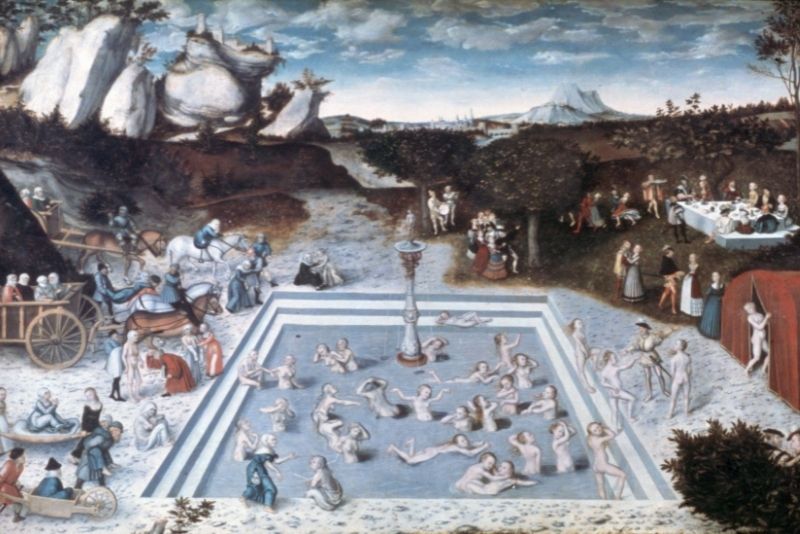 Housing an exquisite array of paintings by Rembrandt, plus those of Johannes Vermeer, Antonio Viviani, and Raphael — to name but a few — the Gemäldegalerie is a must-see for any art lover visiting Berlin.
The museum is situated a couple of minutes from Tiergarten, and while it can't compete with blockbuster collections like those in London or Paris, for many visitors this only adds to its charm.
Be sure to opt for the audio guide and don't forget to visit the gift shop!
80 – Explore the oddities of Illuseum Berlin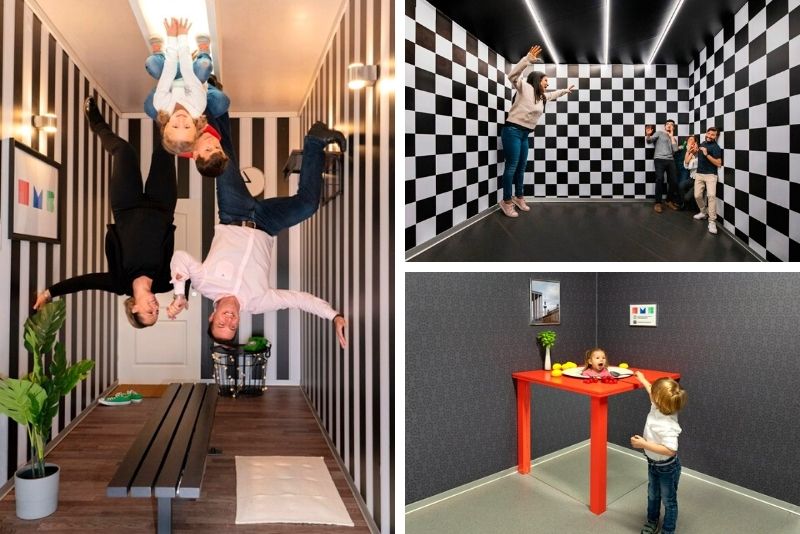 We all try new things while on vacation, but if you find yourself shrinking in size or walking on the ceiling, you just might be at Illuseum Berlin!
This fascinating space celebrates the world of illusions and human perception, with each room bursting with puzzles, optical illusions, and fun games.
Whether you're spiraling through the Vortex Tunnel or gazing at the world through a kaleidoscope, you'll have plenty of opportunities to explore the stranger side of life.
Get started on the fun even quicker with a skip the line pass!
81 – Peer into prison cells at the Berlin-Hohenschönhausen Memorial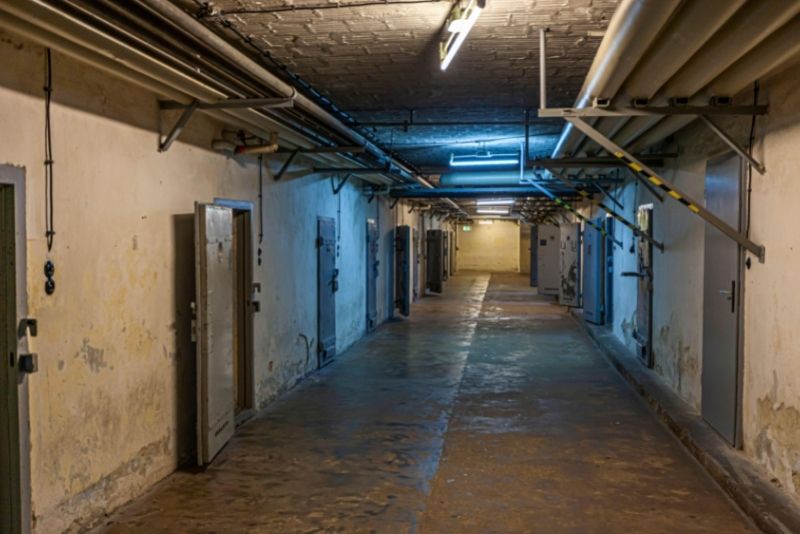 A former Stasi prison, this confronting memorial is a must-see for anyone interested in learning more about the country's complicated history.
The exhibitions are fascinating, and offer an eye-opening insight into what life was like during this dark period of German history. Meanwhile, the prison cells, interrogation rooms and exercise yards are all explorable.
82 – Explore the hip district of Prenzlauer Berg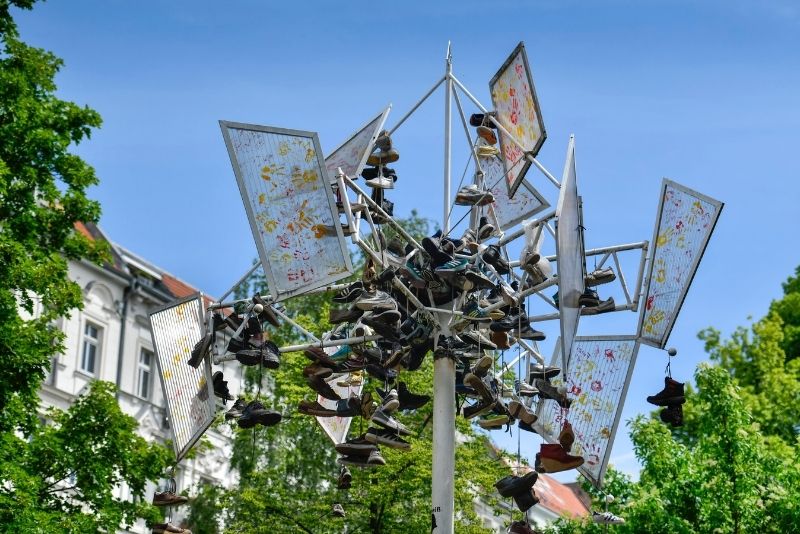 A thoroughly gentrified area that's become a hotspot for families and youth, the Prenzlauer Berg district is a great place to explore.
From the Berlin Wall remnants to decorated streets lined with boutiques, cafes, and bars – not forgetting plenty of green spaces for recreation – this neighborhood has something for everyone.
Insider tip: On Sundays, the biggest summer flea market in the city is found here, at Mauerpark.
83 – Learn about anatomy at Body Worlds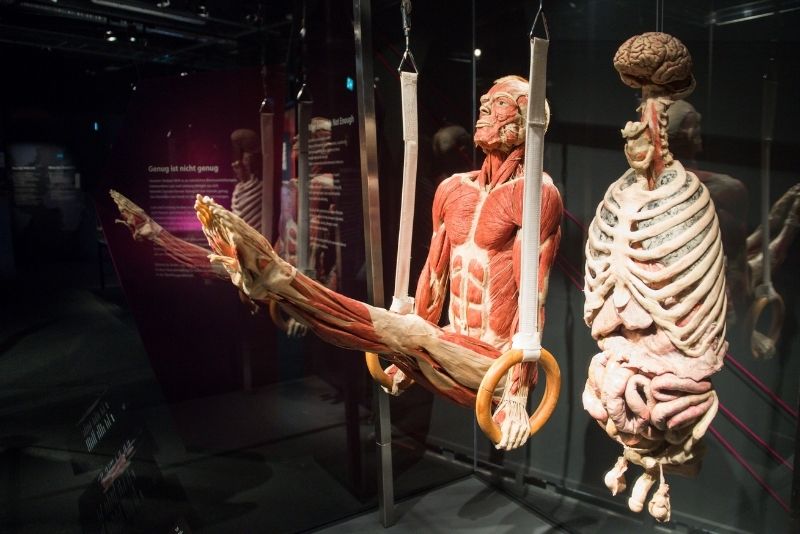 It's like playing doctor … but in a museum!
This unique exhibition reveals the secrets of what's happening inside your body. It's the only place in Berlin where visitors can gain such a detailed understanding of what happens both when you're alive … and when you're not.
Showcasing anatomical models and actual human bodies — including brains, hearts, muscles and bones — alongside interactive displays and multimedia presentations about common diseases. It's a learning experience unlike any other.
Warning: In case you missed it, there are real human bodies here, so don't visit if you're squeamish.
84 – Check out the Sony Store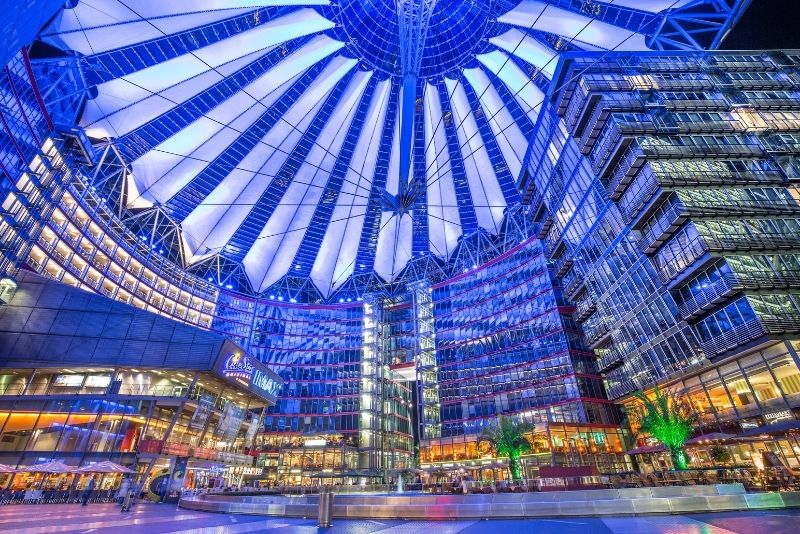 Found at Potsdamer Platz, the ultra-modern Sony Center is home to a Sony Store Berlin where you can browse the latest in digital technology. The PlayStation® Game Zone, in particular, is a hit for gadget-loving gamers.
Besides all the latest whiz-bang tech at the Sony Store itself, the Center also houses a cinema, restaurants, and plenty of shops.
85 – Shop till you drop on the Kurfürstendamm Street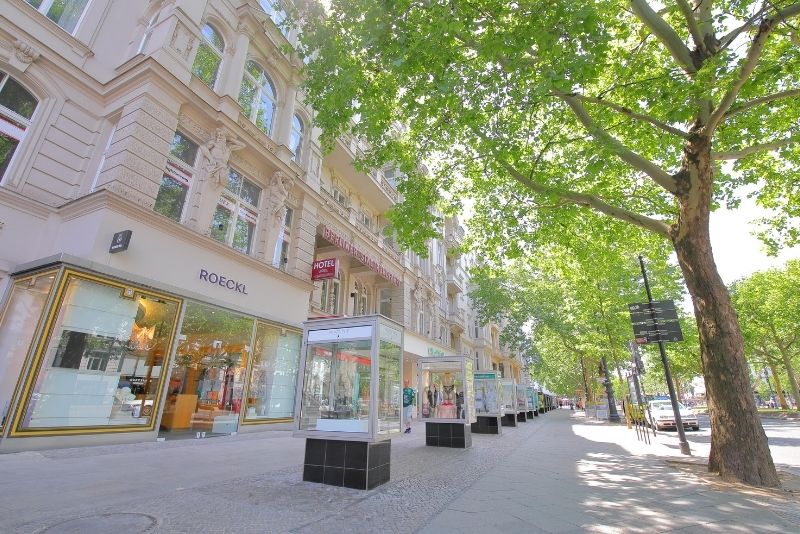 Germany's answer to the Champs-Élysées or New York's Fifth Avenue, Kurfürstendamm is known as one of the most famous streets in Berlin, home to some of the city's finest fashion boutiques and international brands.
Stretching from Uhlandstraße all the way down to Breitscheidplatz — passing through Charlottenburg and Wilmersdorf on its way — it's a shopping mecca for those not afraid of high-end labels.
86 – Pay respects at the Platform 17 Memorial
Located at the Grunewald station, this memorial serves to commemorate the Jews who were deported on trains to concentration camps during the Holocaust.
A subtle yet powerful memorial, the large floor tiles are chronologically laid and display the date, the number of Jews deported and the final destination.
87 – Watch street artists perform at Mauerpark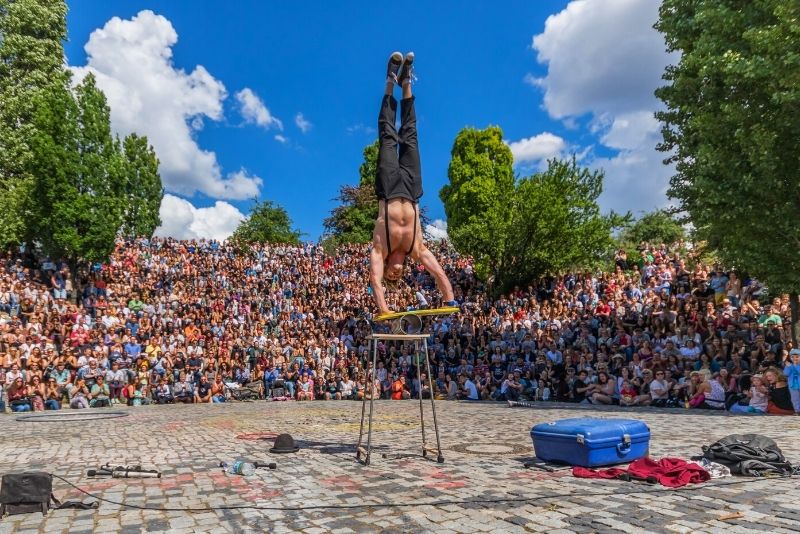 While a former part of the Berlin Wall, Mauerpark is now a vibrant always-happening focal point for markets, concerts, and casual lazy days on the grass.
Kids flock to the swings at the Rainbow Playground, couples love to throw down a picnic rug in the Birch Grove, and tourists are often drawn to the musicians and performers in the amphitheater.
If visiting in the summer, be sure to stop at the Sunday flea market!
88 – Find the hidden gems around Potsdamer Platz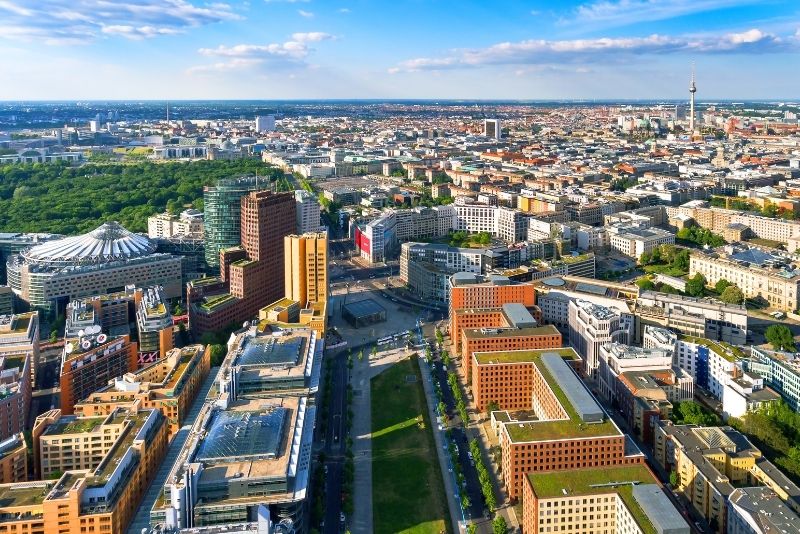 After being destroyed during the allied bombings, Potsdamer Platz has been rebuilt and revitalized. Now one of the busiest sections of Berlin, it's home to several international flagship stores and an eclectic array of shops and restaurants.
You can see and do so much in the area with a pre-arranged tour, led by a charismatic local who'll help you get off the beaten track and uncover all the hidden gems.
89 – Listen to the symphony at Berliner Philharmonie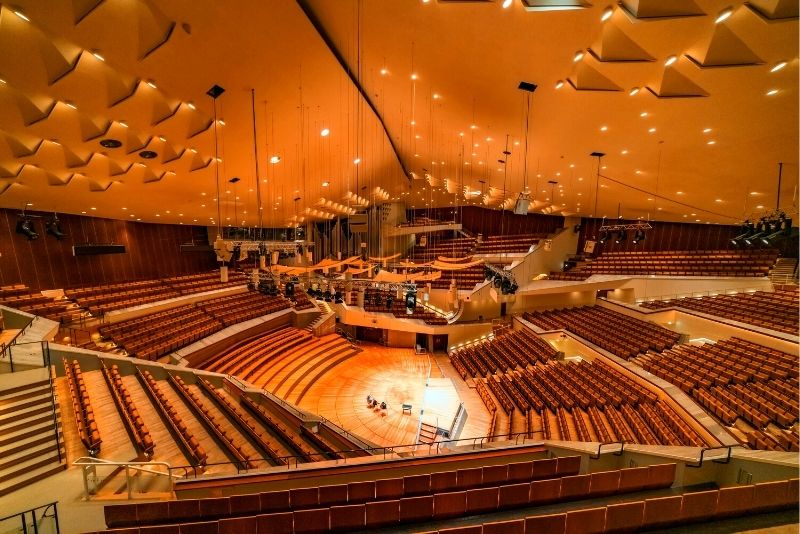 Since 1882, the Berlin Philharmonic Orchestra has been one of the most revered orchestras in the world. It's best known for its compelling and elegant sound within its magnificent home, the Berliner Philharmonie theater.
Guests from all over the world flock to hear classical German music, making it difficult to snag a ticket — so, if this is on your bucket list (especially for music aficionados), be sure to plan in advance.
90 – Max out the credit card at the Mall of Berlin!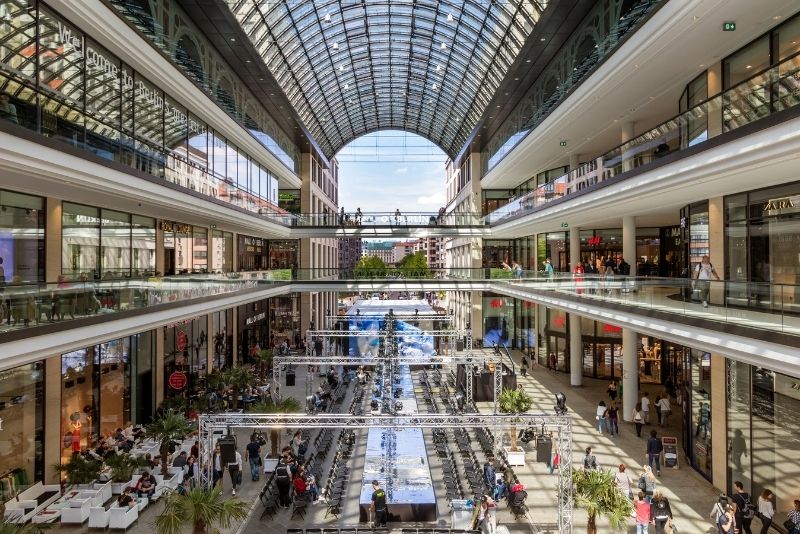 Berlin's most trafficked shopping center, the Mall of Berlin is home to over 300 stores — with a vibrant blend of international high-end brands alongside fast-fashion retailers like Mango and H&M.
After all that shopping works up an appetite, the Mall also boasts one of the largest food courts in Germany!
91 – Get lost in the KaDeWe department store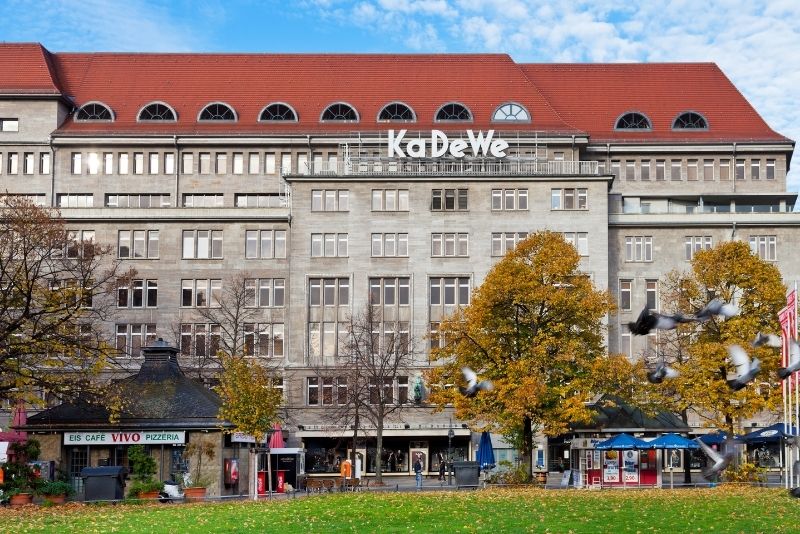 Officially named Kaufhaus des Westens, this department store in the heart of Berlin has been a city icon for over 100 years, with the claim to fame of being Europe's largest department store behind Harrods in London.
The flagship KaDeWe is home to several floors with designer fashion, gourmet delights and cutting-edge electronics — and even if you're not a big spender, it's worth a visit for its sheer size alone.
92 – Visit the Topography of Terror museum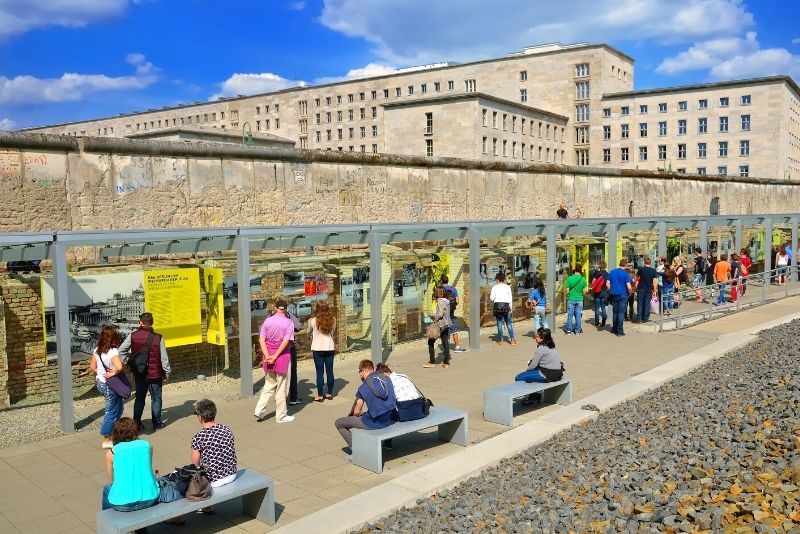 Of all the WWII-related things to do in Berlin, a lot of visitors will suggest that this powerful, confronting museum is one of the most moving and fascinating.
Sitting indoors and outdoors on the former site of the Gestapo and SS headquarters, the museum offers a chilling account of the infamous WWII government regime and their excesses.
It takes visitors through individual moments in history, from Hitler's rise to power to his eventual death, and includes artifacts, documents, photographs, and films that bring this period in Germany's past to the forefront of mind for anyone who visits.
93 – Kayak down the Spree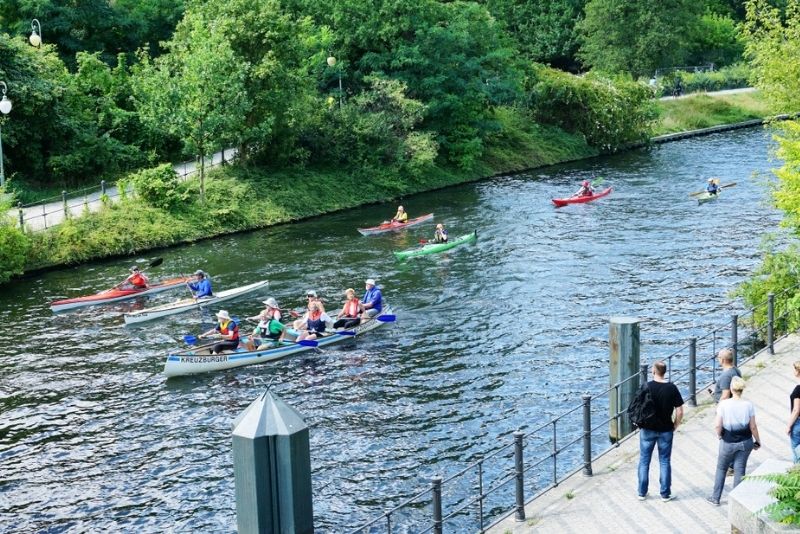 A popular way to see Berlin from a new angle is kayaking in the city's famous river. The Spree or down the parallel Landwehr Canal is an exhilarating experience for those looking for something slow-paced in the fresh air.
There are plenty of informative and enjoyable tours available where you can get out on the water. You can also simply rent your own kayak and paddle around at your own pace.
94 – Cycle on the runways at Tempelhofer Park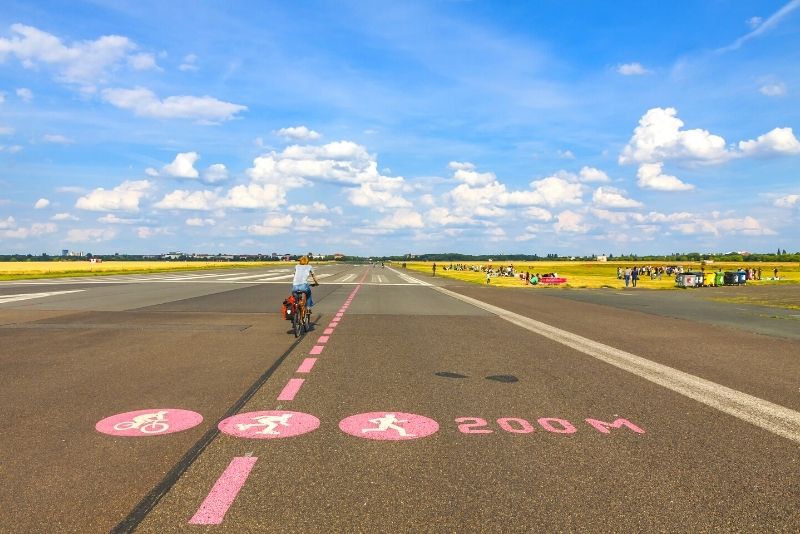 On the site of the now-closed Berlin Tempelhof Airport (of which you can still walk or cycle along the runways), the 877-acre Tempelhofer Park is the largest-inner city open space not just citywide but worldwide.
This former airfield turned park might sound like an unusual day out, but it offers a myriad of exciting activities like easy mountain biking tracks, picnic spots, historic cemeteries, a calendar of music festivals, and bicycle hire stations — a great spot to simply chill out.
95 – Wander around Hackesche Höfe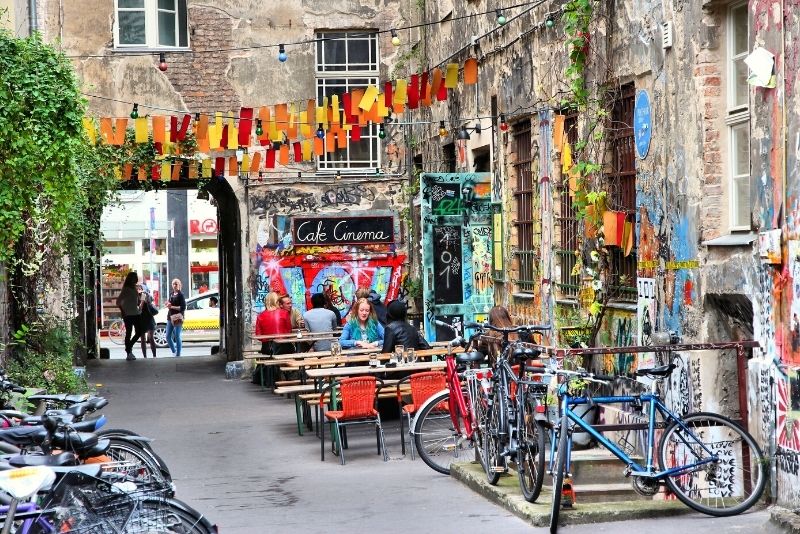 A network of eight courtyards in the Mitte district, Hackesche Höfe has become a cosmopolitan mixture of old and new, and east and west. It's coming alive during the sunny days with local Berliners going about their daily business.
The historic buildings are home to a range of cafes and restaurants, as well as boutiques selling everything from jewelry to souvenirs. Plus there's a cinema in one courtyard if you're looking for a day of entertainment and a handful of nightclubs for you party animals too.
How to get to Berlin?
While there are tons of ways to get to Berlin (train, bus, etc.), it's also a great place to fly into and out of.
Whether you're using Tegel Airport, Brandenburg Airport, or Schoenefeld Airport, you can arrange a shuttle transfer to get to the city quickly and happily.
For added convenience, you can also book the service to get back at the end of your trip.
Where to stay in Berlin?
There are plenty of world-class hotels to choose from in Berlin, like The Ritz-Carlton, and Regent Berlin. On the flip side, there's no shortage of quirky and typical Berlinesque hostels and AirBNBs too.
Whether you're enjoying the hip, artsy Schulz Hotel Berlin Wall or the elegant amenities and nearby shopping at Hotel Adlon Kempinski, your stay will be almost as good as the trip itself.
No matter your budget or appetite for luxury, the best prices are almost always found on Booking.com, a meta-search engine that compares all of the internet's hotel deals. Even if you don't book through that site, it's a wonderful way to explore the possibilities on offer and learn about the most popular suburbs and districts to stay in.
Visiting Berlin on a budget?
Embark on some free walking tours to explore the city with local guides, seeing great sites and unusual haunts in equal measure. Not sure where to start? Check out our list of the best free walking tours in Berlin!
You can also purchase a Berlin WelcomeCard to see the best of the city on a budget; save money on major attractions, public transit, and more!
Where to go next?
With its lively cities and gorgeous countryside, Germany has something for everyone!
Head to Hamburg for unique neighborhoods, jaw-dropping architecture, and a lively culture ranging from street art to nightclubs. From its remarkable canals to its soaring concert halls, the city is a feast for the senses!
Or pop over to Frankfurt for historic homes, Ancient Roman forts, and fun, funky diversions ranging from hot rod tours to live music. Plus, it offers plenty of great activities for kids, from mini-golf and zoos to action-packed amusement parks.
Consider Dresden with its stunning baroque architecture and the iconic Frauenkirche, and Leipzig, once home to Johann Sebastian Bach, now boasts a lively arts scene and rich history.
And don't miss out on Munich, where you can roam through museums, sample remarkable food and drink, and even go surfing… right in the middle of a rushing river!
Whether you want to dive into traditional German culture or explore its most contemporary forms, this dynamic Bavarian city has plenty to offer!
Lastly, just a short trip away is Wroclaw, Poland, known as the "City of a Hundred Bridges." Its vibrant market square and whimsical gnome statues are sure to charm.
Final thoughts
Plenty of things to do in Berlin are already world-famous: the partying, the sightseeing, the eating.
But you'd be remiss if you didn't check out its other unique features: the restaurants, the quirky neighborhoods, the public parks, and the powerful museums.
So don't miss another moment… this fun-filled city is ready to greet you!