Berlin is a history lover's paradise, but the city's complex past has had a distinct influence on its culinary culture. The city's restaurant scene is thriving, with traditional German food taking center stage. It is elevated by interesting fusions and influences from all across the globe, culminating in a one-of-a-kind food experience.
Embark on a food tour of Berlin to feast your mouth and eyes on some of the most attractive attributes of the city. You will explore historical sights, embrace diverse neighborhoods and indulge in tantalizing dishes during this unforgettable experience.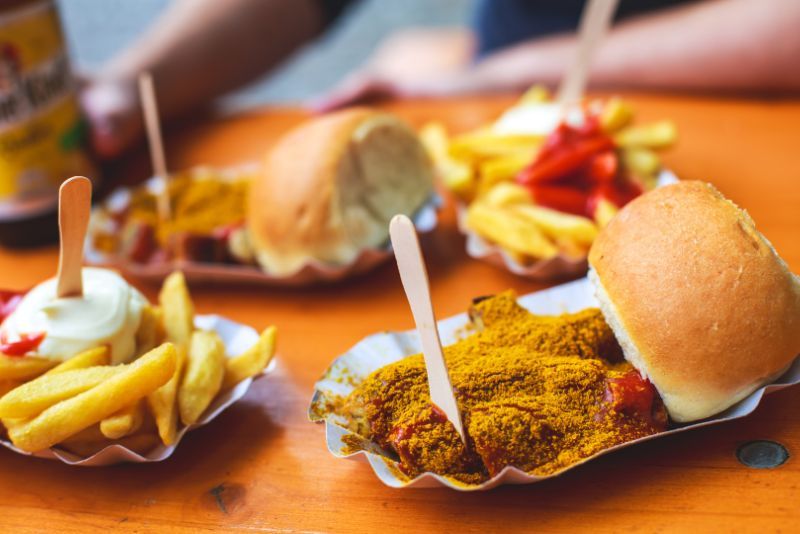 You will find bellow all you need to know about food experiences in Berlin.
What are the best food tours in Berlin?
Secret food tour of East Berlin
Explore the art of German cuisine and the art of East Berlin with a walking food tour of one of the city's trendiest neighborhoods.
Start the tour with a visit to Berlin's famous Raw Market to understand how the city has undergone unprecedented transformations in 100 years. Make your way past Soviet-era buildings and art galleries before stopping for your first treat, Flammenkuchen, Germany's popular flatbread. Next, you will try boutique baked goods, Currywurst and a Turkish sweet before marveling at the captivating East Side Gallery.
Berlin evening food tour by bike
Explore the city in true Berliner fashion on a bicycle! This is a four-and-a-half-hour bike tour of Berlin accompanied by a delectable three-course meal that takes you on a journey through the city's famous cuisine.
Wind through Berlin's bike paths and parks and visit landmarks like Am Wasserturm, the Berlin TV tower and Oberbaum Bridge for a show-stopping sunset view. Along the way, you will stop at 3 local restaurants for a progressive three-course meal introducing you to the best German, Mediterranean and Turkish flavors.
Kreuzberg food tour in Berlin
Kreuzberg is Berlin's trendiest neighborhood, with thousands of charming eateries and bars lining the atmospheric streets. But how do you get a taste of it all?
Venture into the melting pot that is the Kreuzberg area to learn about the complex characters that have formed the backbone of the community for decades. You will explore the diverse cuisine that has blossomed from its tumultuous past and see how immigrants have left their mark on local cuisine. Sample a range of local delicacies, Turkish fusion treats and international offerings as you wander through the streets and learn about the captivating history of Kreuzberg.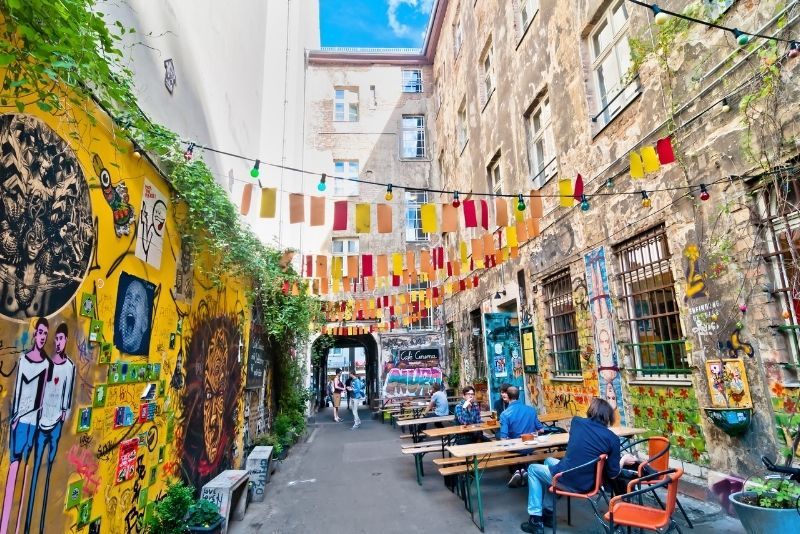 Berlin Mitte Food Tour
Explore the heart of Berlin, Mitte, on a food tour like no other. Mitte is the historic center of the city with monuments like the Brandenburg Gate and the Berlin Cathedral, but it is also home to trendy restaurants and cafes that explore the hearty nature of German cuisine.
A food tour in Berlin's Mitte borough is a sensation for the senses. You will be introduced to several German staples and fusion dishes to show off the multi-cultural essence of Berlin.
How much do food tours in Berlin cost?
The Kreuzberg food tour starts from as little as €40 per person with a selection of tastings, but for €125 per person, you could enjoy more samplers and a few beverages and beers along the way. For €370 per person, you can enjoy a private tour of Kreuzberg with a variety of specialty tastings.
The mouth-watering food tour of East Berlin costs around €90 per person with a private tour option of €190 per person. You will be accompanied by an expert guide to introduce you to the assortment of treats and give you insight into the area's history.
To explore Berlin by bike in the evening along with some delicious food tastings, you will pay €80 per person, but this price includes all your food and the use of comfortable bicycles.
Food Tours in Berlin focusing on Mitte start from €40 per person for a basic group tour, and a private tour is around €330 per person.
What is included in a food tour in Berlin?
Food tours in Berlin are all led by a knowledgeable guide that will give you valuable insight into the city's history and how its people have shaped its culinary landscape.
The tours include at least five food tastings along the way, many tours with several stops to explore the diverse cuisine of Berlin. You will sample iconic dishes like SpritzKugel, Currywurst and Flammenkuchen, as well as a sampling of international staples like Turkish kebabs and tea.
All tours offer at least bottled water, while some include beverages along the way. Some tours include a traditional German beer too.
Where do food tours in Berlin start?
Food tours in Berlin start from several points, depending on the tour you book. You will gather at central points of interest like the Berlin TV Tower or popular metro stations and move into the desired neighborhood. You will recognize your guide by a specific item like a bright jacket or umbrella, but you will find out what to look for upon completing your booking.
How long do food tours in Berlin last?
You can expect to be on a food tour in Berlin for two and three hours. Longer tours are usually in-depth and cover more than one neighborhood. Food tours by bike take around four hours as your cover more ground.
When is the best time for a food tour in Berlin?
It is a great idea to take a food tour of Berlin at the beginning of your stay. These tours take you past many historic areas and include valuable information that will make the rest of your stay unforgettable. You will also learn about the food that you should be looking out for during the rest of your visit.
Food tours happen at all hours of the day, with some generous offering lunches and others taking advantage of the beautiful sunset as a backdrop to an evening tour.
Are children allowed on a food tour in Berlin?
Children are allowed on most food tours of Berlin but must be accompanied by an adult.
Travel tips
Not all tours are vegetarian-friendly, so inform your tour operator of any dietary restrictions or allergies beforehand.
Speak to the tour operator to see if the tour is wheelchair-friendly and mobility impaired accessible.
Don't eat before the tour as you will be enjoying several generous samplers on your tour.
These tours involve a fair amount of walking, so wear comfortable shoes to make it a pleasant journey.