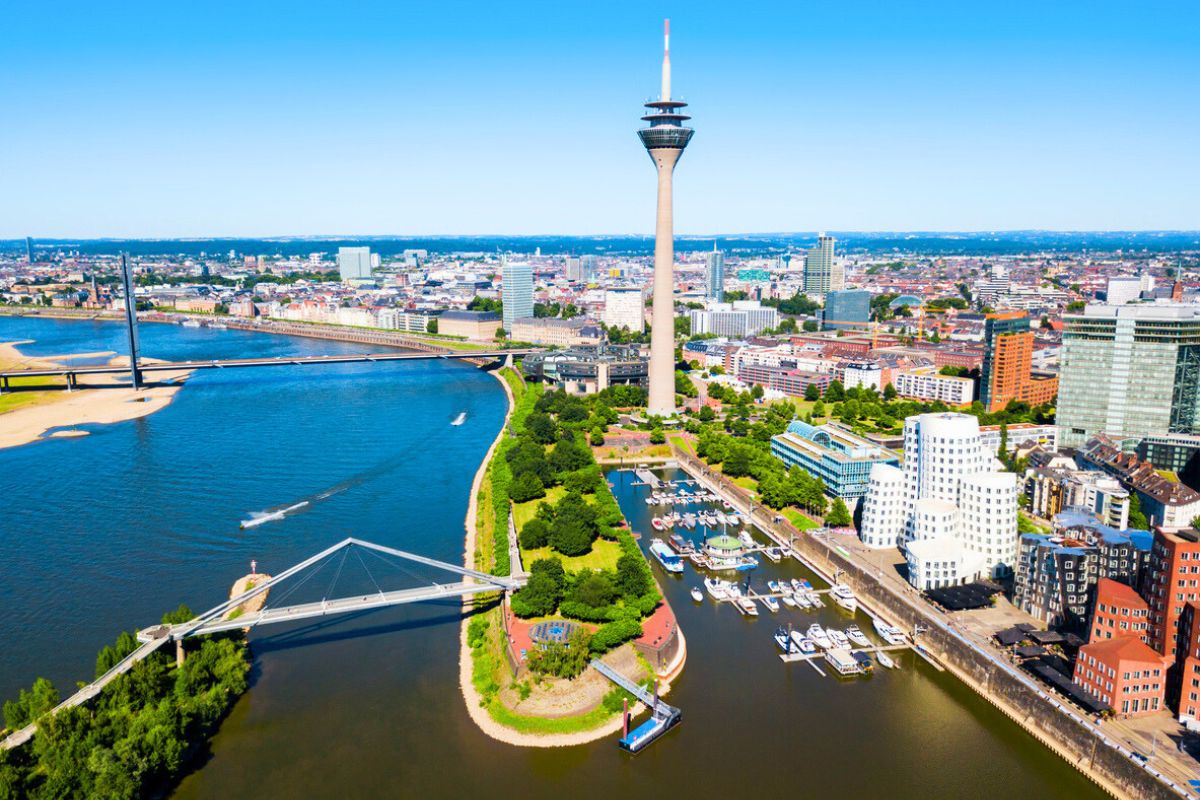 Artworks and architecture, beer and big meals… any day in this city is guaranteed to be a multisensory delight!
It's a place where you'll get a hearty dose of Rhine culture and plenty of traditions from Germany at large; but it's also a city where cultures from around the globe mix and mingle in the various neighborhoods.
And with a distinguished background reflected in its castles and historic collections, and filled with intriguing quirks (after all, how often do you get to stroll around town with an old-fashioned night watchman?), it's also a place whose past is just as exciting as its contemporary food, shopping, and nightlife scenes.
So grab your best pair of walking shoes, and check out all the awesome things to do in Düsseldorf!
1 – Pop up to the top of the Rhine Tower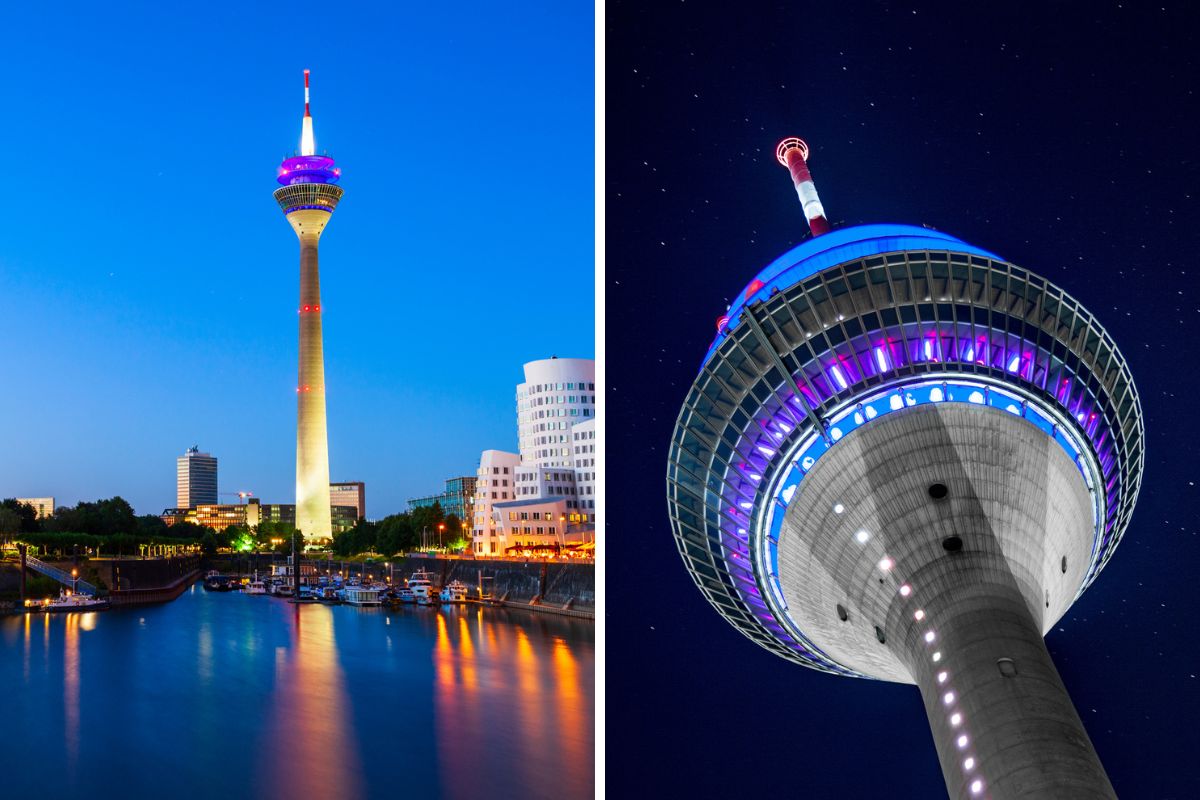 Up at the top of the world, you'll get to watch the city unfold around you… so be sure to look down!
172.5 meters (566 feet) above the ground, Rhine Tower has been a regional treasure since it opened in 1982; and while the scenery is great, you can also make a full evening out of it!
Grab a seat at the restaurant and keep your gaze fixed on the horizon – except when you're looking at the beautiful treats on your plate, that is!
2 – Check out the delights of Old Town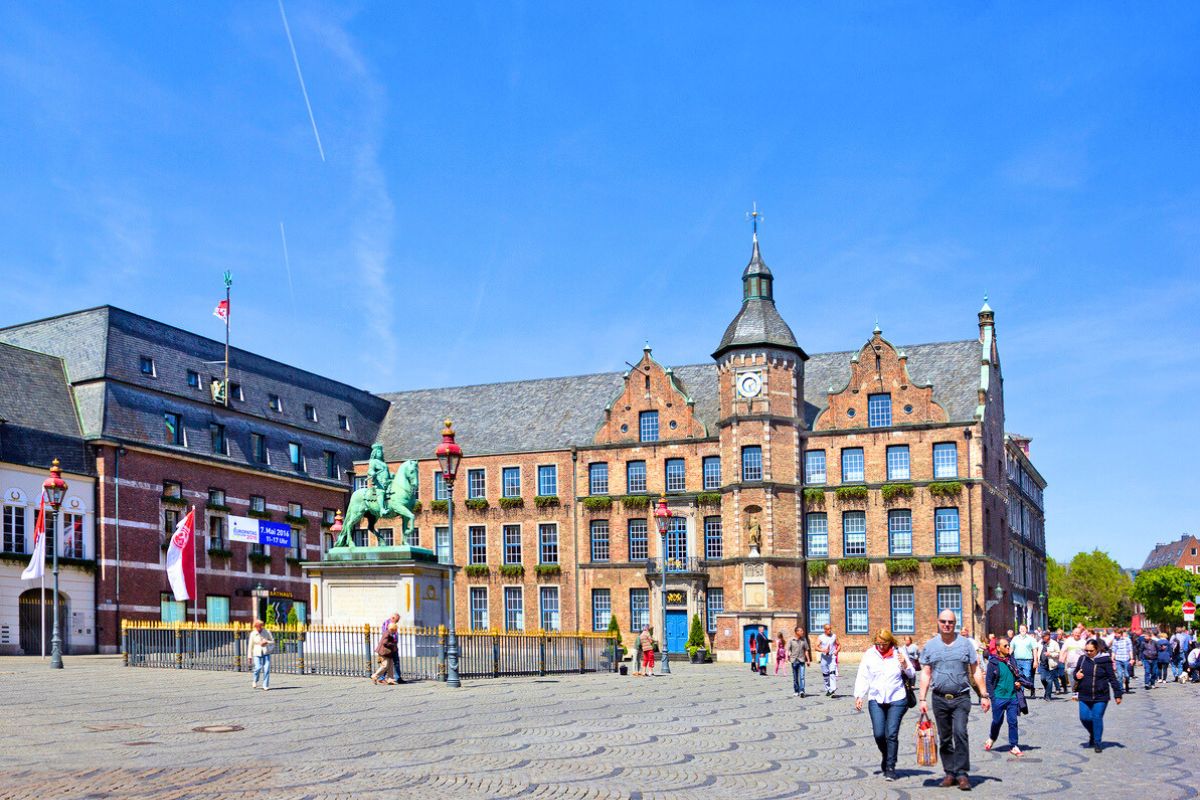 Looking as elegant and charming as a painting come to life, Old Town captures your attention right away – and you'll fall deeper in love the more you explore it!
While the city has seen its fair share of changes, many of its most cherished traditions are still going strong, in both physical and cultural form.
You may hear strains of Düsseldorf Platt, a local dialect, as you stroll around, and you'll certainly see eye-catching relics, from the stunning Renaissance design of Old Town Hall to the somber, moving Stadterhebungsmonument, a powerful piece of public art that celebrates the moment when the city was granted full rights.
Add in tales of French influence, city rivalries, and an endless array of hip clubs and watering holes – including the longest bar on the planet, and you have a neighborhood tour that brings new life to the old streets!
3 – Set sail on a sightseeing cruise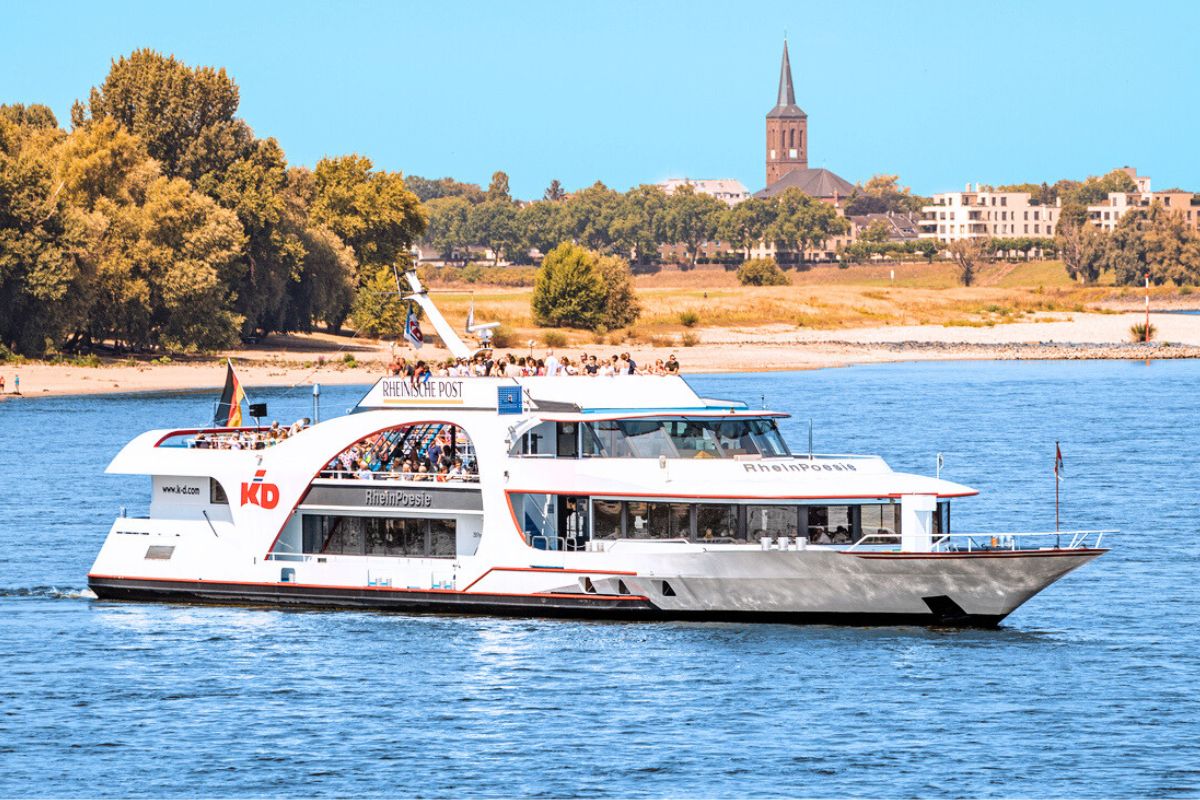 It won't be long before you get to know the Rhine; this iconic river flows straight through the heart of town, a force of nature in more ways than one.
And what better way to appreciate it than with some boat tours?
Relax on your pristine vessel and enjoy a floating timeline of the city, while your guide points out the marvelous landmarks bobbing by.
You'll get to learn all about the river – one of Europe's longest – and the city itself, and the ways they grew in conjunction with each other.
And for an extra bit of visual flair, try a sunset cruise, and watch the city and water slip into the magic of twilight!
4 – Take a trip to Little Tokyo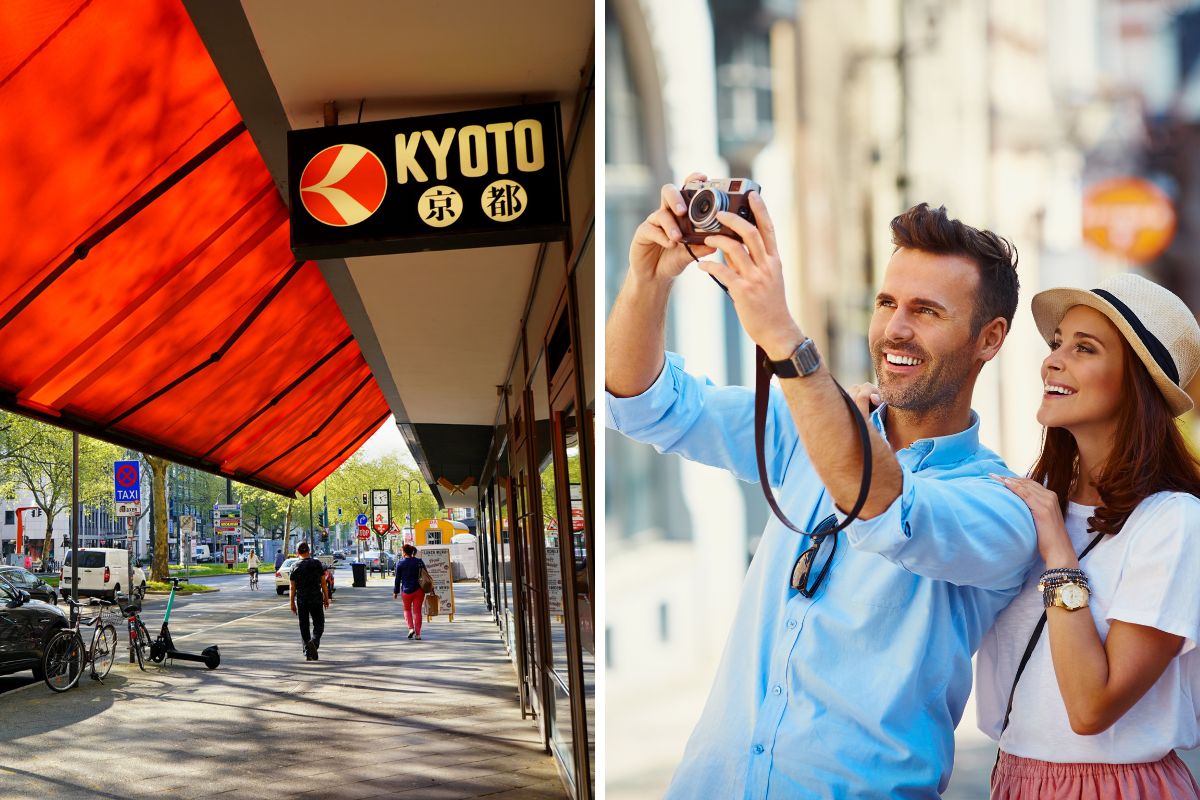 Your feet will certainly get in on the fun with all of the walking tours in Düsseldorf, and while you're out and about, you may be surprised to find yourself surrounded by some spots that look more Japanese than German.
But don't worry, you haven't wandered off the beaten path… you're just in one of the city's coolest neighborhoods!
In fact, this is one of the most vibrant Japanese communities in the whole country CHECK, and with its vibrant restaurants, shops, bookstores, and souvenir stands, you'll get a great taste of what the nation has to offer.
And of course, there are great design elements all over the area, celebrating the color and vivacity of the Land of the Rising Sun… German style!
5 – Enjoy the beauty of Benrath Palace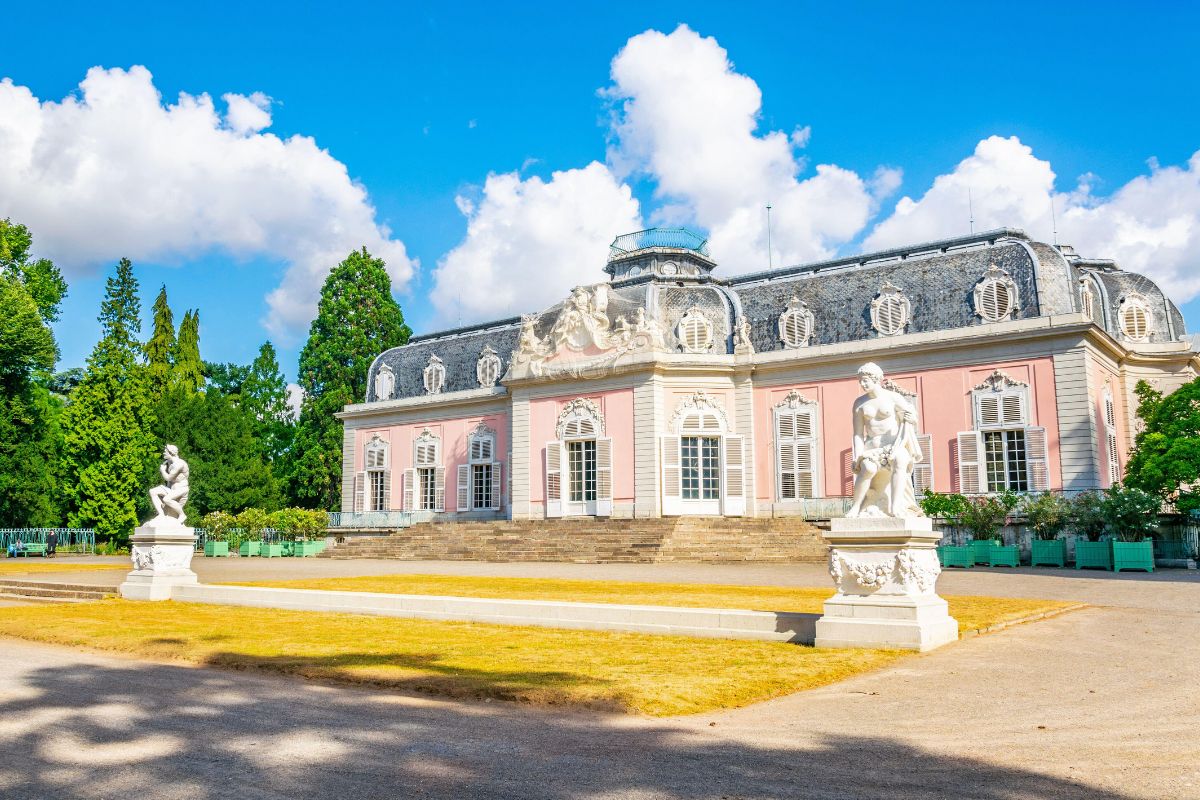 It's pink and perky, but trust us, there's more to Benrath Palace than just its pizzazz!
Ever since it opened in 1770 – originally as a luxury home for a local elector -, this looker of a building has been known for its decadence and joyful hedonism; and these days, it's also something of a cultural hub!
Along with three fabulous museums covering art, natural history, and the elaborate architecture of the building itself, the surrounding grounds make up one of the loveliest parks in town, where you can take a leisurely stroll through perfectly groomed gardens and peaceful reflecting ponds – with 80 species of birds adding an extra bit of color to the scene!
6 – Embark on a guided tour with a night watchman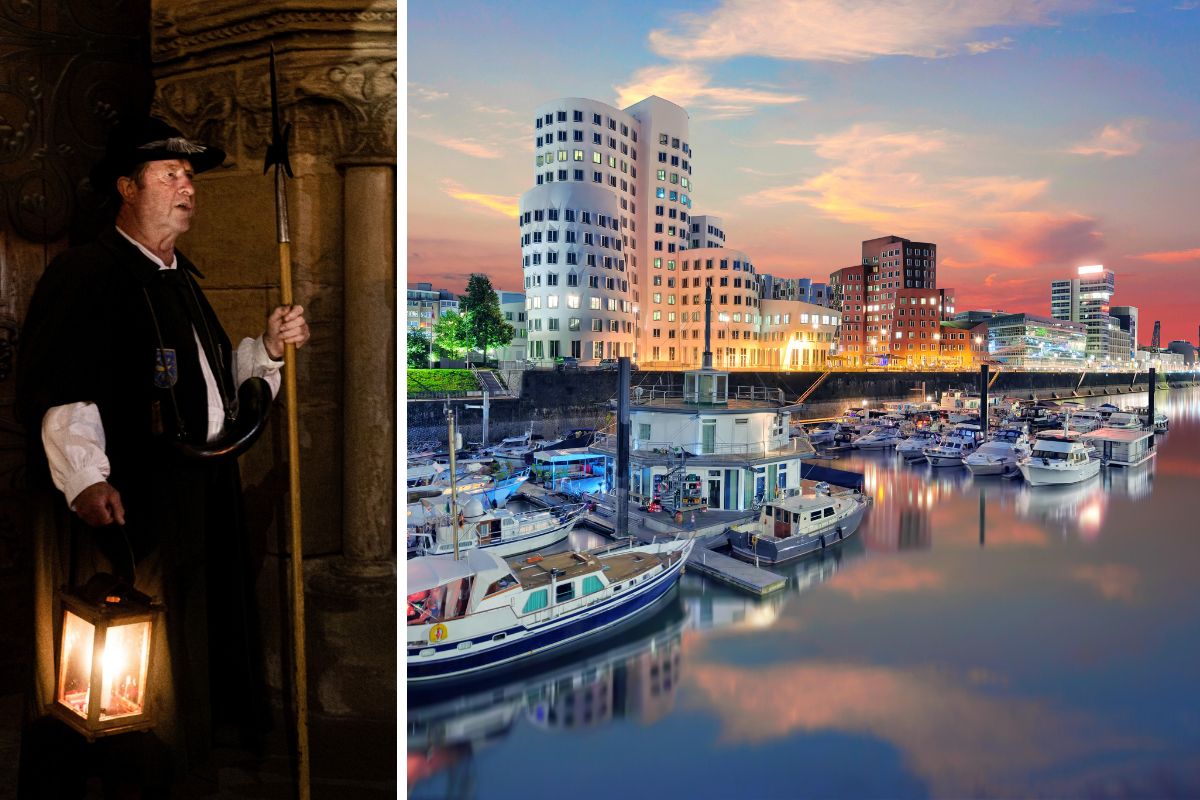 In days gone by, the city had a pretty interesting evening tradition: a designated town guardian would patrol the darkened streets, keeping an eye on things and ensuring that order was in place.
And you can get in on the fun by embarking on some tours with a night watchman!
While the original patrollers have been replaced by costumed guides/actors, you'll still get the same fascinating experience of walking the beat after dark, on the very same streets – and with your leader wearing the very same traditional outfit, including a horn and lantern!
As you roam through the streets, you'll get to hear plenty of amazing tales from the town's past and find out just how this unique position played a role in the larger day-to-day life of the city – or rather, night-to-night.
There are a few more exciting things to do in Düsseldorf, especially if you want to experience the nocturnal side of town with a traditional twist!
7 – Get a taste of the sea and the prehistoric at Aquazoo Löbbecke Museum
This is a real paradise for science fans, with the land, the sea, and even the deep past on display!
This marvelous space combines a natural history museum, aquarium, and zoo into one exciting world, where you can enjoy nature in all of its forms.
There are more than 500 species living here, a wonderful who's who of cool creatures from nearly every biome: octopuses, penguins, sharks, tortoises, and more.
You'll also get to see some of their amazing conservation programs up close, including a thriving amphibian breeding program.
And don't forget about the fossils!
There are some amazing exhibits covering the breadth and depth of the natural world, letting you slip back in time to the days of dinosaurs and stunning geological wonders.
8 – Hang around Hofgarten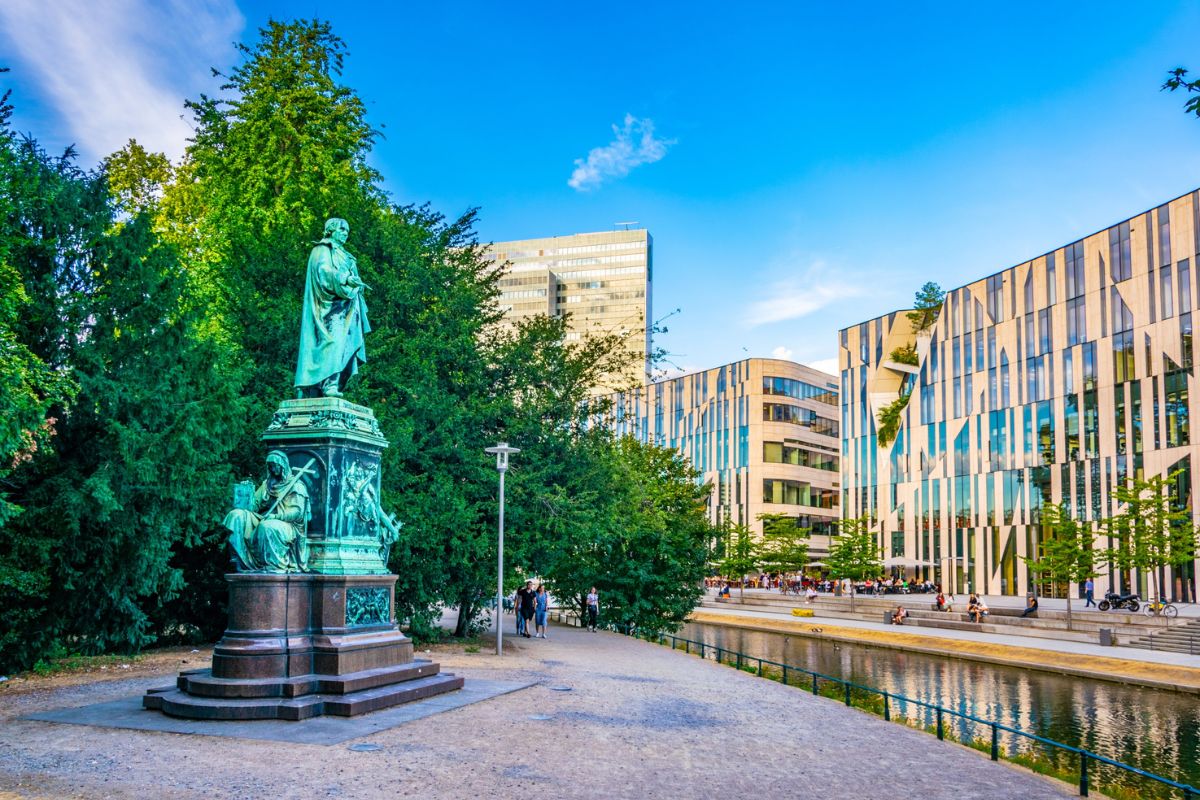 In 1769, this lovely garden opened its gates to the public – and set a wonderful new standard!
As the first public green space of its kind in the country, it quickly became a place of tranquility and joy in the heart of the city, and while some of the styles have shifted, it has remained a lovely refuge.
Take some time to enjoy the lush meadows that surround the space, then check out some of the elegant landscaping elements, including statues and sparkling ponds that are perfect viewing material for a leisurely walk.
9 – Get out and about on your own time with a hop on hop off bus tour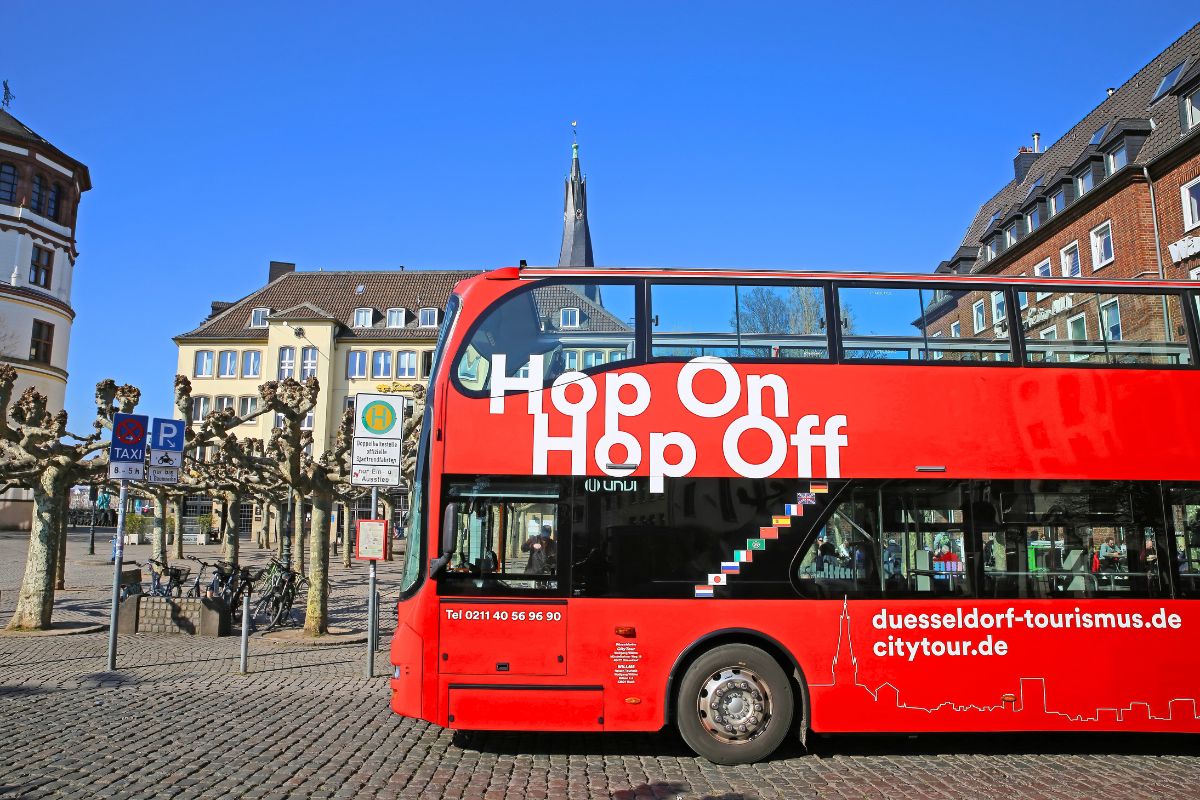 This city teems with history and culture, and you can always enjoy it from the cozy seat of a bus… or better yet, a hop on hop off bus!
These tours have become popular worldwide for good reason; they give you tons of flexibility to explore the spots that interest you, while still providing convenient transportation and great commentary all along the route.
Just "hop off" at the stops that interest you, then "hop on" when you're ready to go to the next place!
10 – Visit the works at Kunstsammlung NRW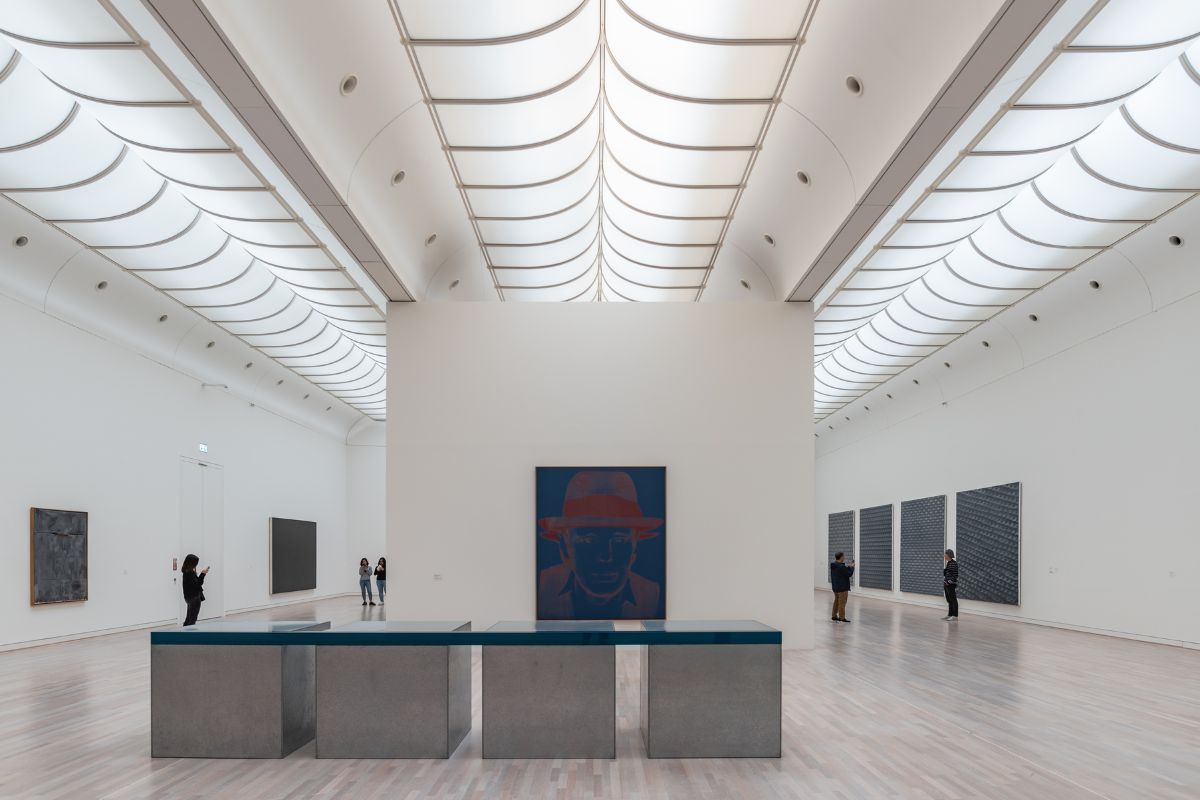 Among the many exciting bits of culture around here, the city boasts its fair share of art; and Kunstsammlung NRW is one of the best places to absorb this rich legacy!
For more than 60 years, this impressive complex has been home to a treasure trove of the great works of the 1900s and into today, including Henri Matisse, Paul Klee, Sabrina Fristch, and Lutz Bacher.
And with three massive galleries to choose from – including K20, which focuses on classical modernist pieces, and K21, which showcases contemporary works from all over the globe – you'll never be far from a masterpiece!
11 – Enjoy a segway tour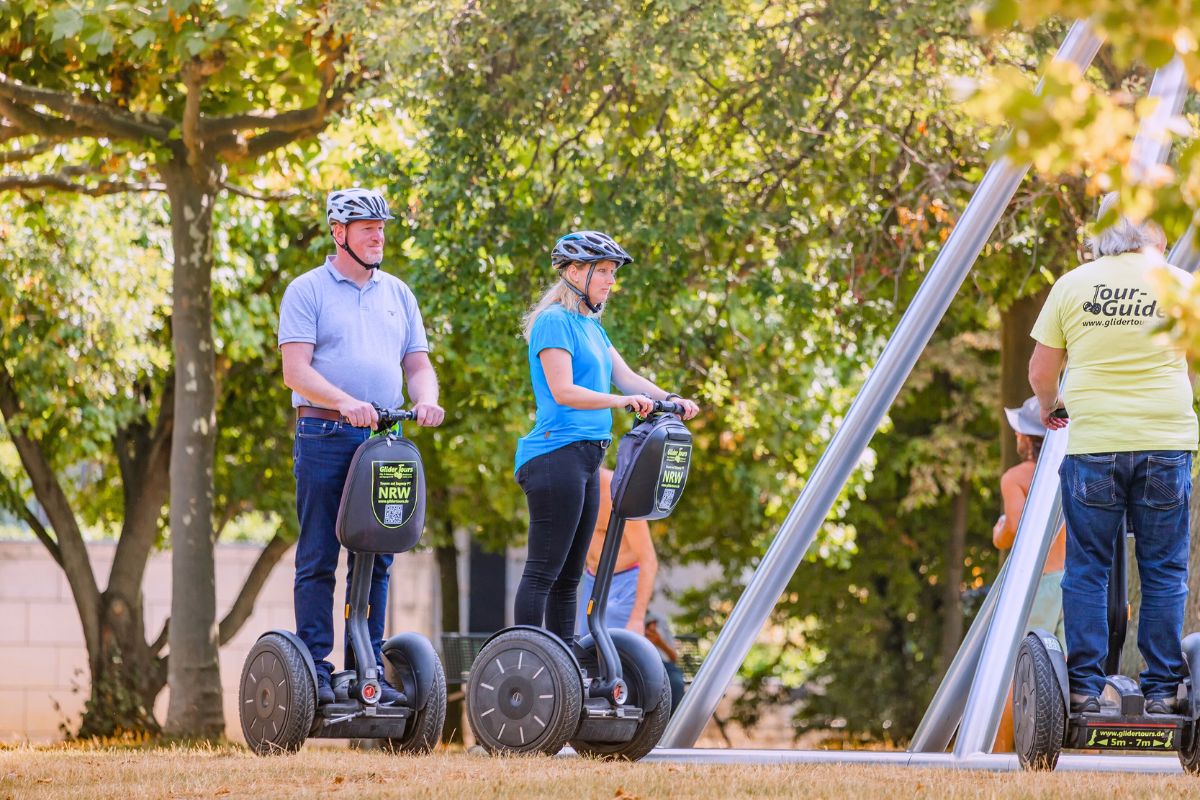 You'll feel like a real rock star when you're trying the segway tours in Düsseldorf – and you'll be amazed at how much you can see along the way!
These are the perfect vehicles for exploring a new town, offering just the right amount of stamina and maneuverability to explore all of the unique attributes.
Take a look at the distinguished parts of town, rolling past beautiful buildings and following the gentle curve of the Rhine.
Then head even deeper, to see museums and various neighborhoods, learning all about the fashion and fun that this city has to offer… with the perfect vehicle to squire you around!
12 – Admire Kö-Bogen inside and out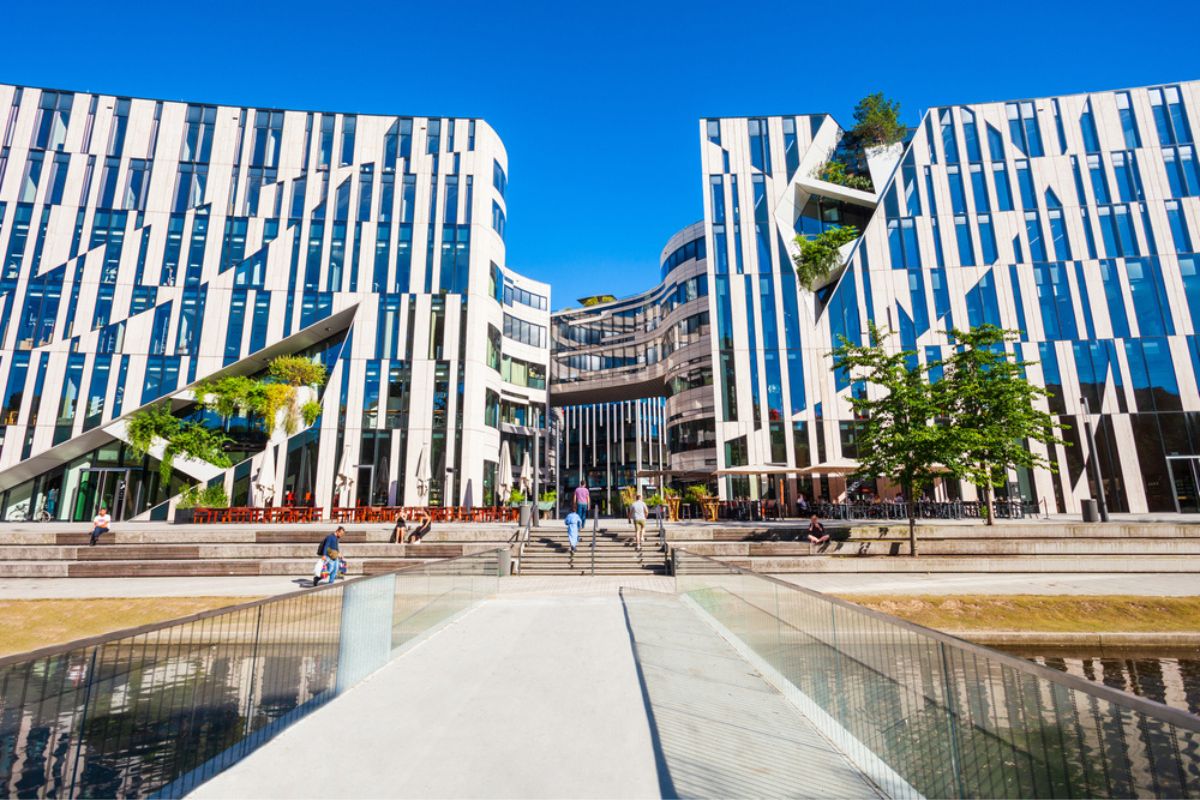 A triumph of modern architecture and unique design all rolled into one, Kö-Bogen certainly makes an impression on the skyline… and its story is as compelling as its structure!
Stone and glass patterns form a gorgeous, undulating structure, topped off with hanging gardens to bring a bit of plant-based beauty to the urban setting.
And inside, you'll find, well, just about everything your heart desires!
After all, this trendy spot is also one of the best malls in the region, with nearly 50 different stores and brands awaiting your careful browsing.
There are also plenty of cafes and restaurants around when you're ready to refresh yourself – don't miss the Sundowner Lounge for cocktails and delicious bites!
13 – Saunter along Rheinuferpromenade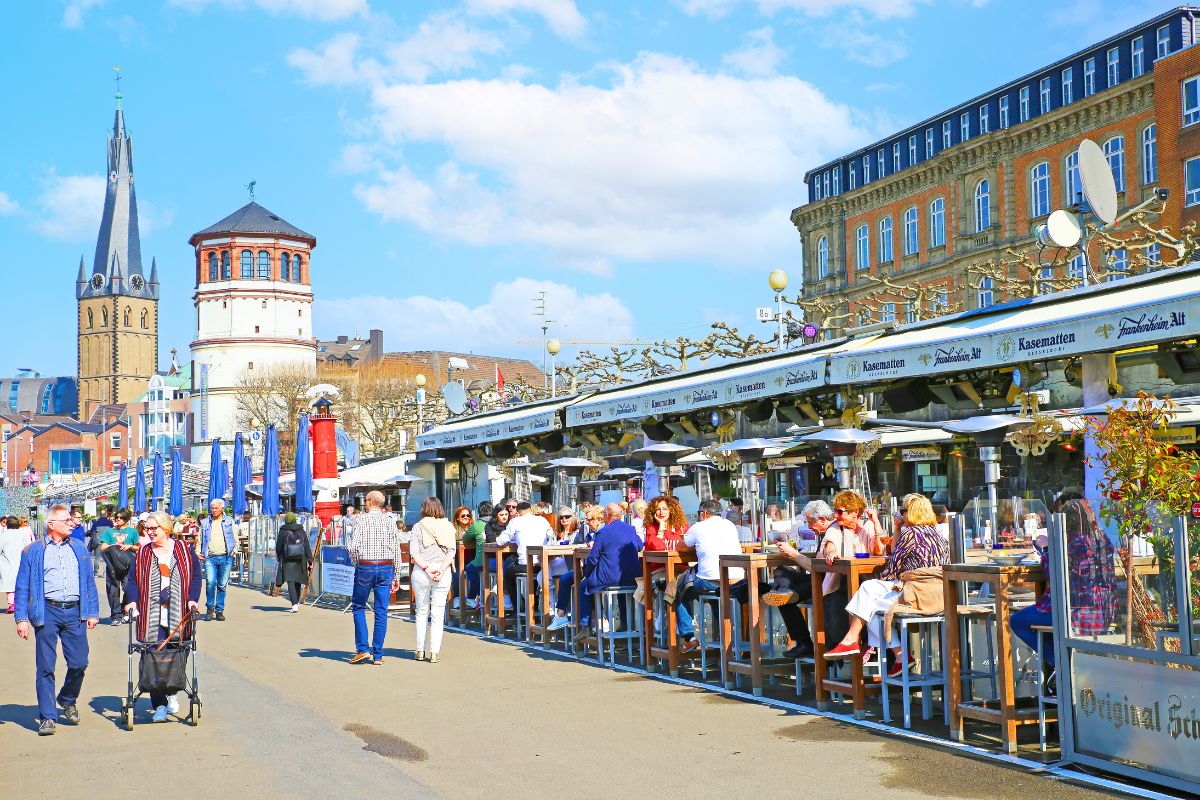 When a nice walk turns into a bona fide commercial and cultural experience, you know that you're someplace special!
This is one of the most popular pedestrian areas in town, a bustling thoroughfare of walkers and rollerbladers, with an endless array of bars and eateries lining every curb.
When you're not strolling or snacking, you can try out a bit of sailing; this marvelous waterfront is also a common area for boats to set off along the river!
14 – See the latest pieces at NRW-Forum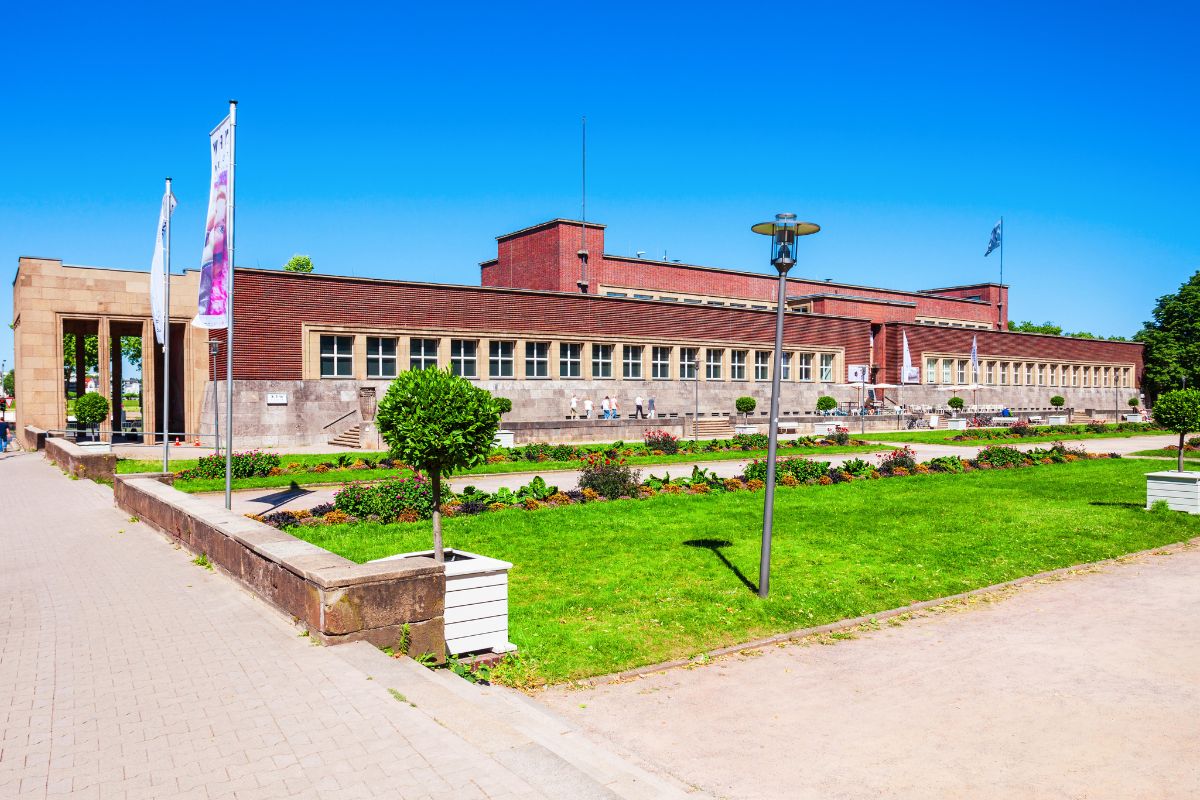 Another great place to explore new ideas and daring works, NRW-Forum brings a unique flair to the city with its visual wonders and boisterous festivals.
You never know exactly what you'll get to experience here; there might be VR shows, daring photography exhibits, or even a skateboarding demo!
The focus here is on providing a space for all sorts of creative expression to flourish… and better yet, a welcoming world for audience members to take it all in!
15 – Hang out with some furry locals at Wildpark Grafenberger Wald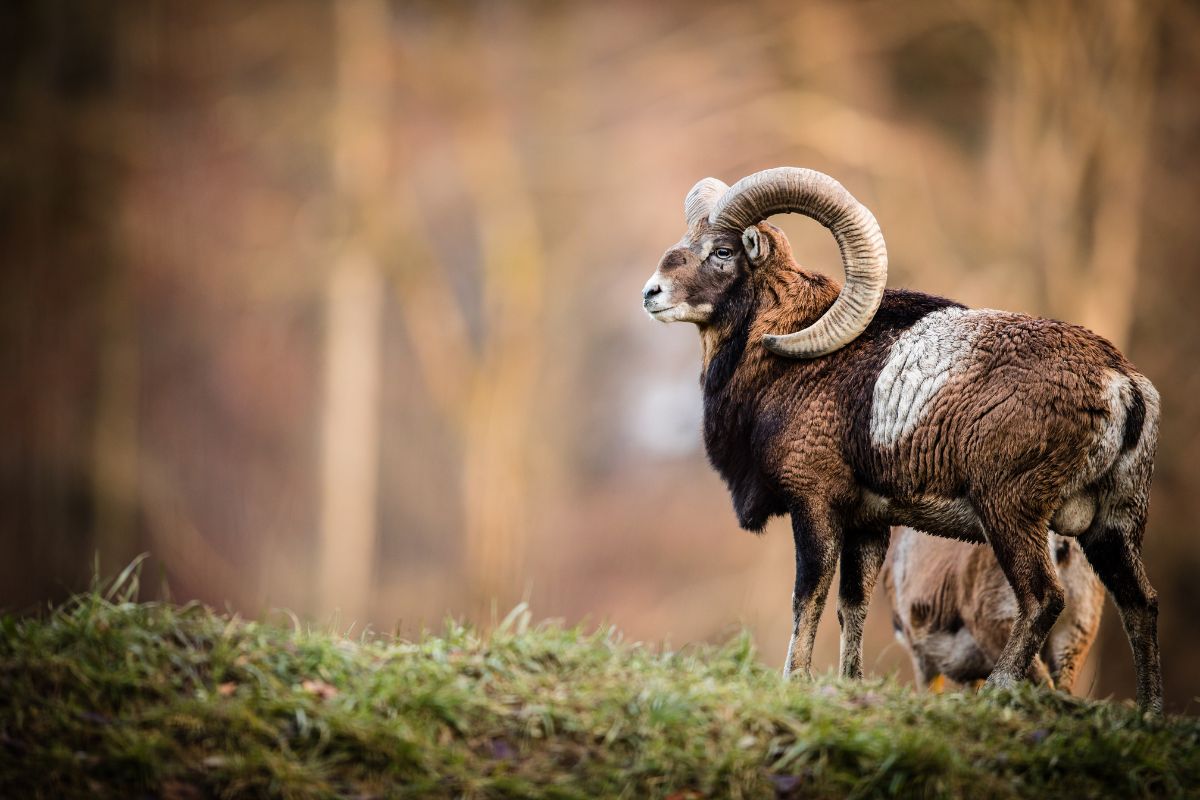 As it turns out, you don't need to go on an extended trek to see some natural environments in town… just pop over to Wildpark Grafenberger Wald!
It's one of the oldest game parks in the country, and a paradise for many of the marvelous species that call the region home.
You may come face to face with deer, raccoons, and even a wild boar or two, all contentedly roaming through beautiful forested areas that offer a glimpse into what life might have been like here hundreds of years ago.
It's a fantastic way to get to know Germany's wild side!
16 – Savor the cinema at Filmmuseum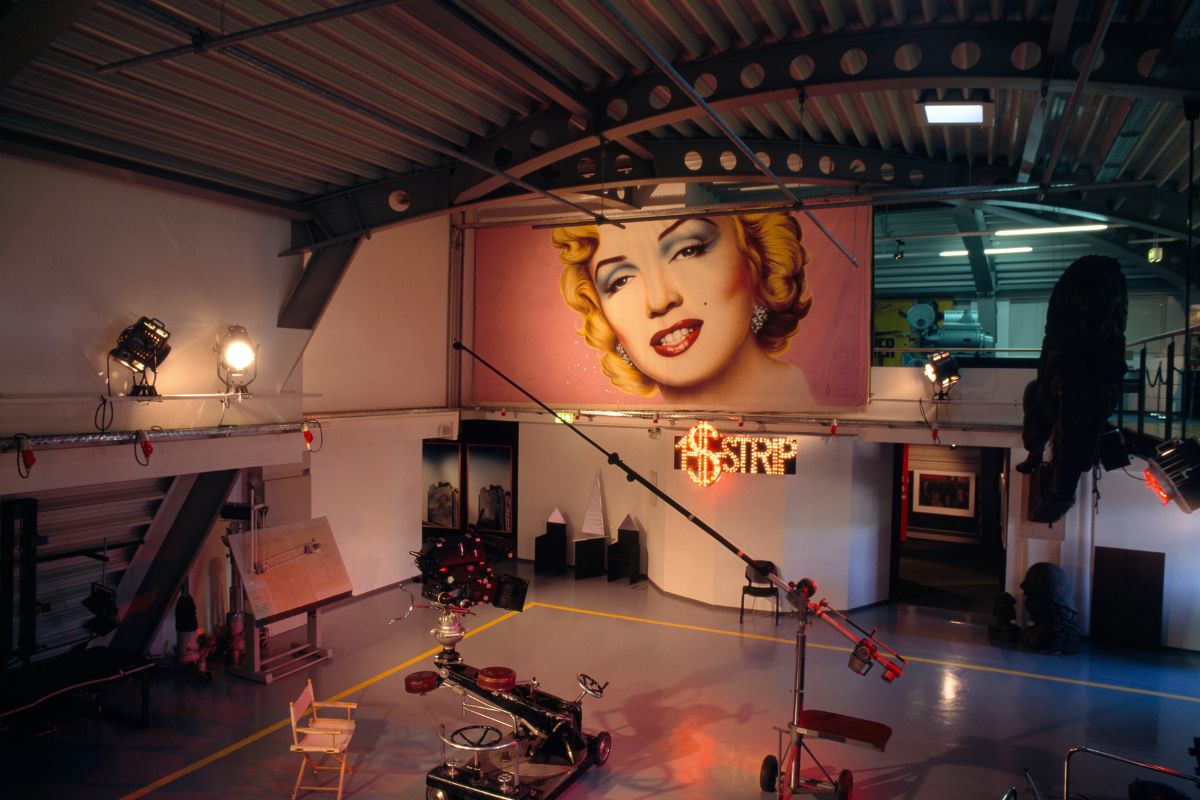 Time for a trip to the movies… starting from the very beginning!
This remarkable space will thrill cinephiles and casual flick fans alike, tracing the amazing story of film from the earliest days of moving pictures to the blockbusters of the present.
Learn about every unique aspect of the industry, and the hard work that brought your favorites to life; then step into a recreated studio, and see how the whole thing comes together!
17 – Purchase something tasty at Carlsplatz Markt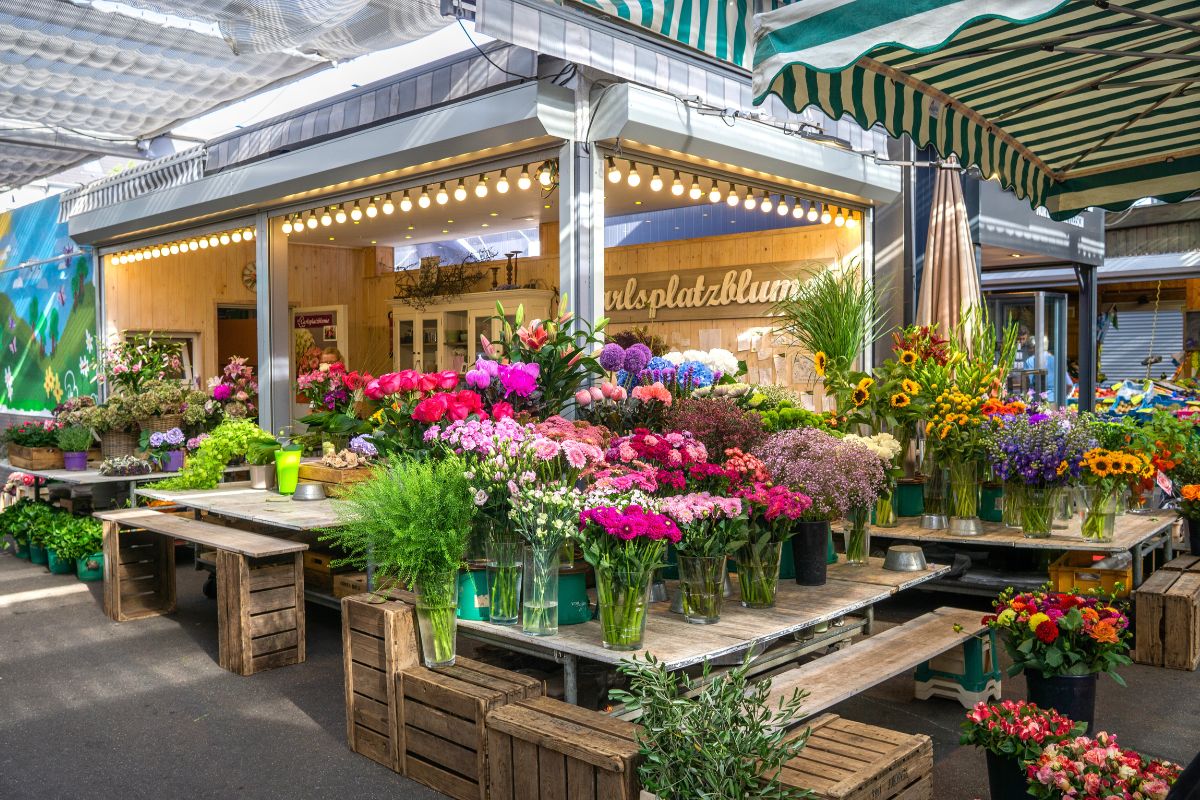 Shop for the freshest snacks, some beautiful flowers, or a sweet treat, and you'll get great local atmosphere as a bonus with every purchase!
As both an everyday grocery option and a social experience, Carlsplatz Markt is a beloved fixture of the city; and while shopping may not be what you'd picture when you're thinking of things to do in Düsseldorf, it's one of the best ways to enjoy the city as its residents do.
Browse through fruits and veggies, coffees, desserts, and more, and enjoy the lively social scene around the area!
18 – Take in the shifting galleries of Kunsthalle Düsseldorf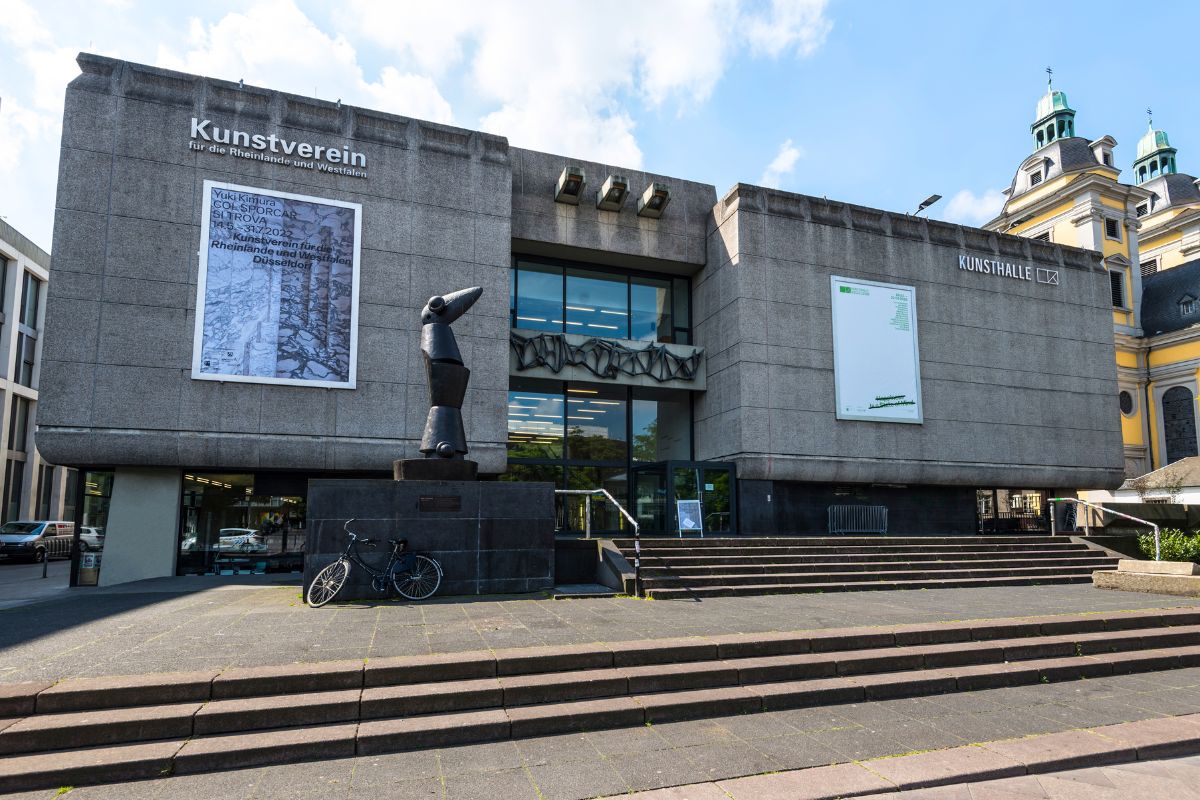 In 1967, Kunsthalle Düsseldorf was developed as an efficient concrete structure, less about function than form; but the treasures enclosed there today are much more lively!
After all, this is one of the most beloved galleries in town, with a unique format that focuses more on rotating projects than any specific collection.
And with plenty of programs and exhibits that promote the deeper discussion of modern art and its role in our world, it's a place that reaps new rewards with every visit!
19 – Enter the wonderful world of plants at the Botanical Garden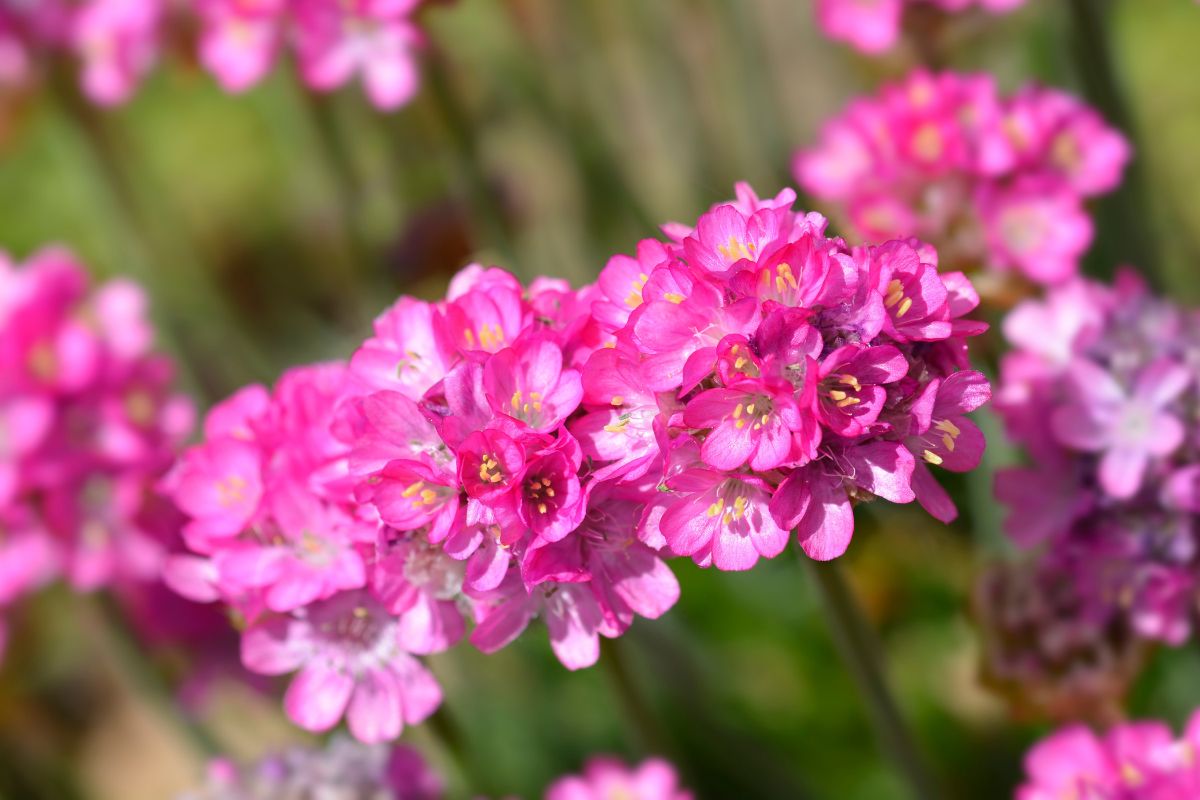 A lush wonderland of glass domes, beautiful flowers, and fascinating, sometimes surreal plants from all over the world, the city's Botanical Garden is a place where you can indulge your scientific curiosity and love of beauty in equal measure.
Since 1974, this massive complex has hosted the hearty, the delicate, and everything in between, a collection of specimens from nearly every environment on Earth.
There are woodland plants, medicinal cuttings, and vivid blooms from South Africa and the Canary Islands.
And of course, you can't miss the soaring slope of the geodesic dome that towers over the grounds like a futuristic home for the tropical gems growing inside.
20 – Take in the phenomenal stories (and style) of St. Lambertus Church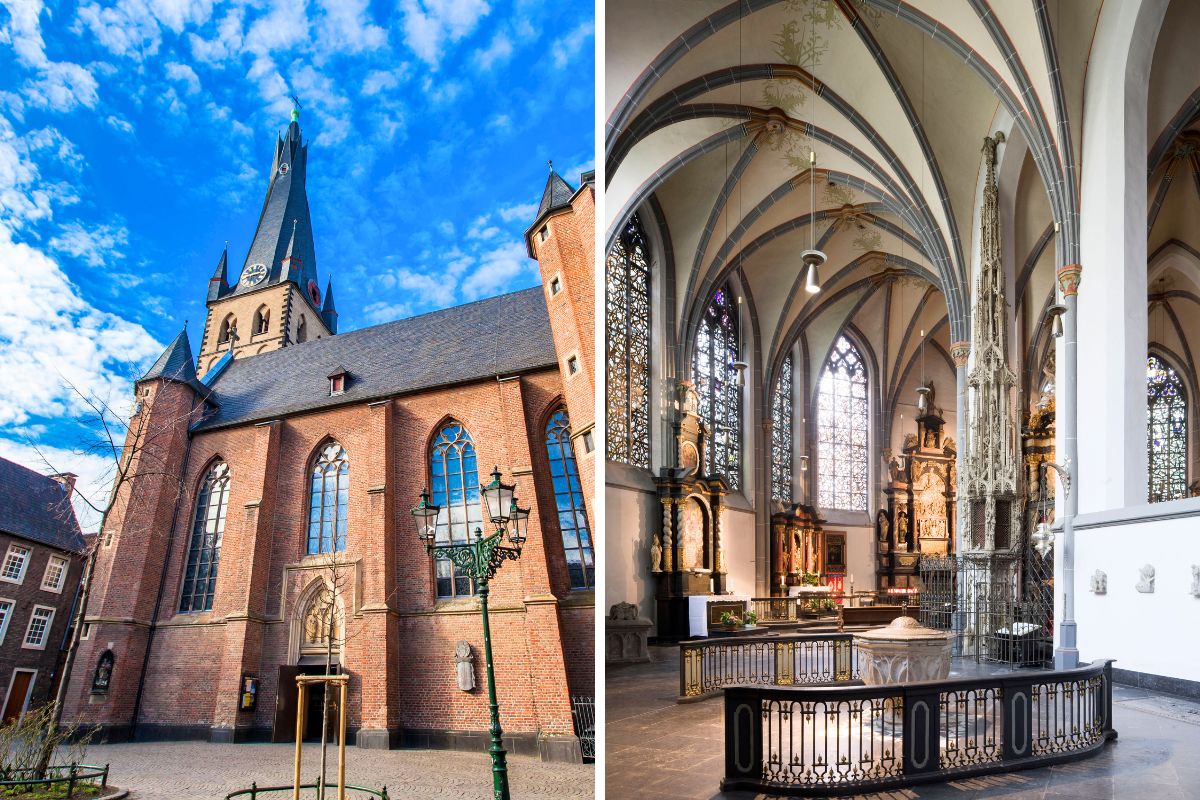 Music, art, the power of centuries… within the framework of St. Lambertus Church, you'll find all of this and more!
As one of several historic religious spots in town, this place is certainly entrenched in the city's history… back before there was even an official town!
While the exact origins are unknown, it's definitely been around since the late 1200s, when it became one of the first churches in the newly founded city.
And as the years have gone on, its status has only grown, with works of art and stunning musical performances providing an extra level of atmosphere to this already powerful space.
But you can see one of its most famous attributes without even going inside; the main tower that tops the church has long been famous for its distinctive, twisting shape!
21 – Get some splash time in at Unterbacher See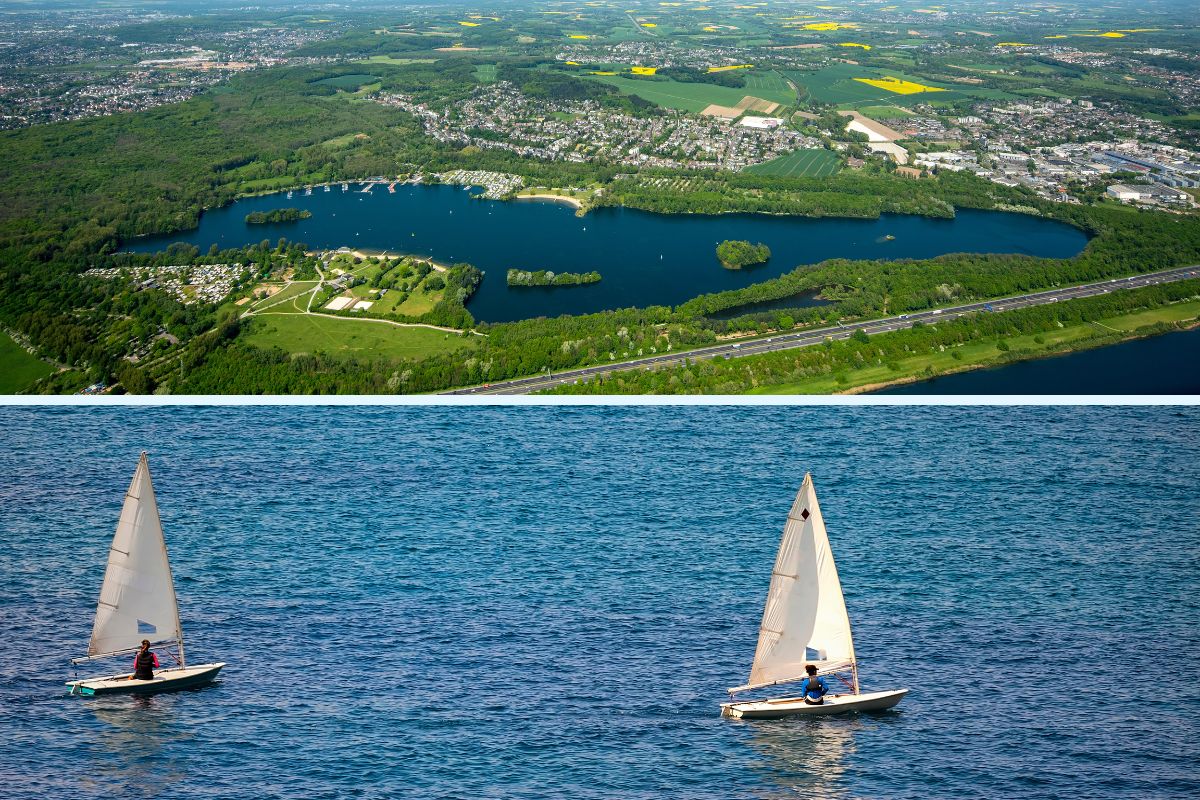 The land around town has plenty to offer, but don't forget about the endless delights out on the water!
Surrounded by trails perfect for biking and walking, Unterbacher See would be pretty impressive as merely a visual backdrop; but this massive lake is also the perfect place for any aquatic activity your heart desires!
Sailing is one of the most popular options, with plenty of boats for rent – and even some classes if you're new to the sport.
And you can also do plenty of swimming and sunbathing, with fabulous beaches all around the perimeter each offering their own treasures.
You can even try a bit of windsurfing!
22 – Take in the scenery at the best parks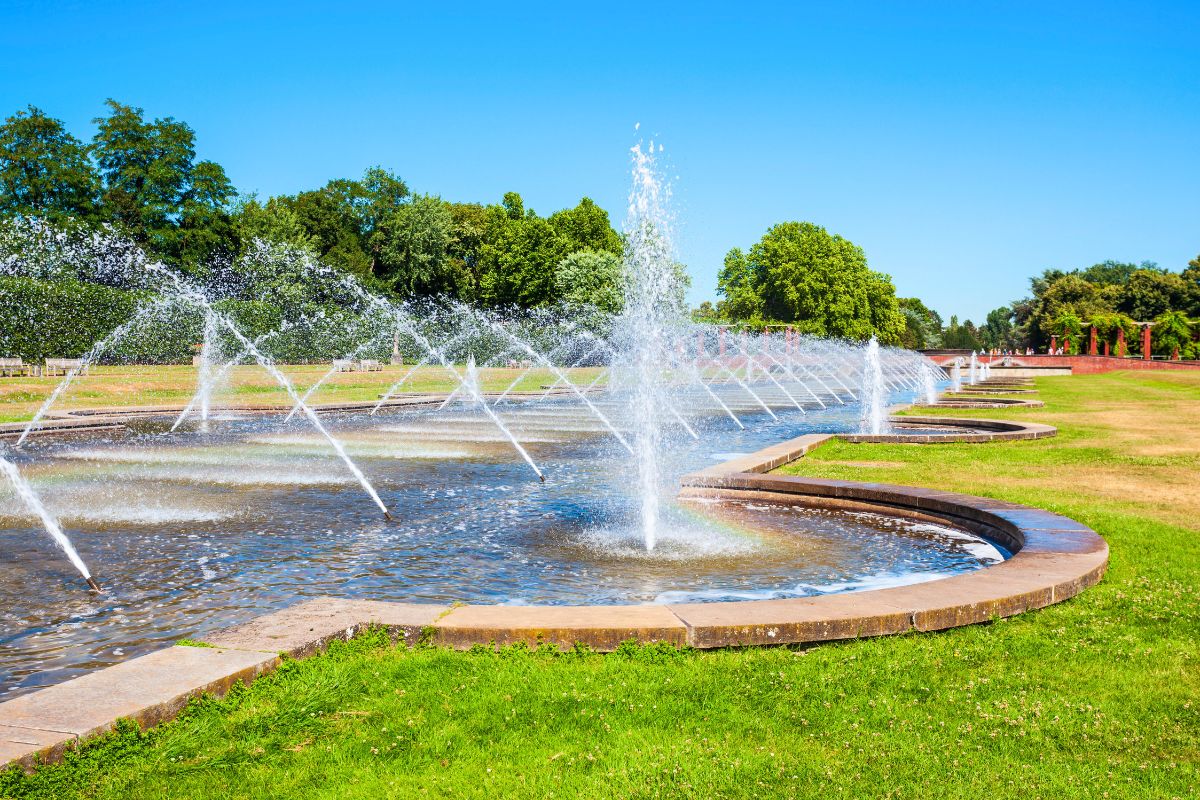 Hofgarten isn't the only place where you can enjoy the great outdoors; in fact, the public parks here are some of the city's most beloved spots!
Marvel at the lovely statues, ponds, and Japanese garden at Nord Park, one of the biggest and most beautiful green spaces in town.
Or enjoy an unforgettable trip through the urban forest of Rheinpark Golzheim, where maples and poplars form welcoming groves alongside the fields and the river.
And don't forget about Südpark, which flawlessly blends natural woods and water features with more carefully cultivated areas, making it an endlessly rewarding place to roam around!
23 – Admire the fine works (and performances) at Museum Kunstpalast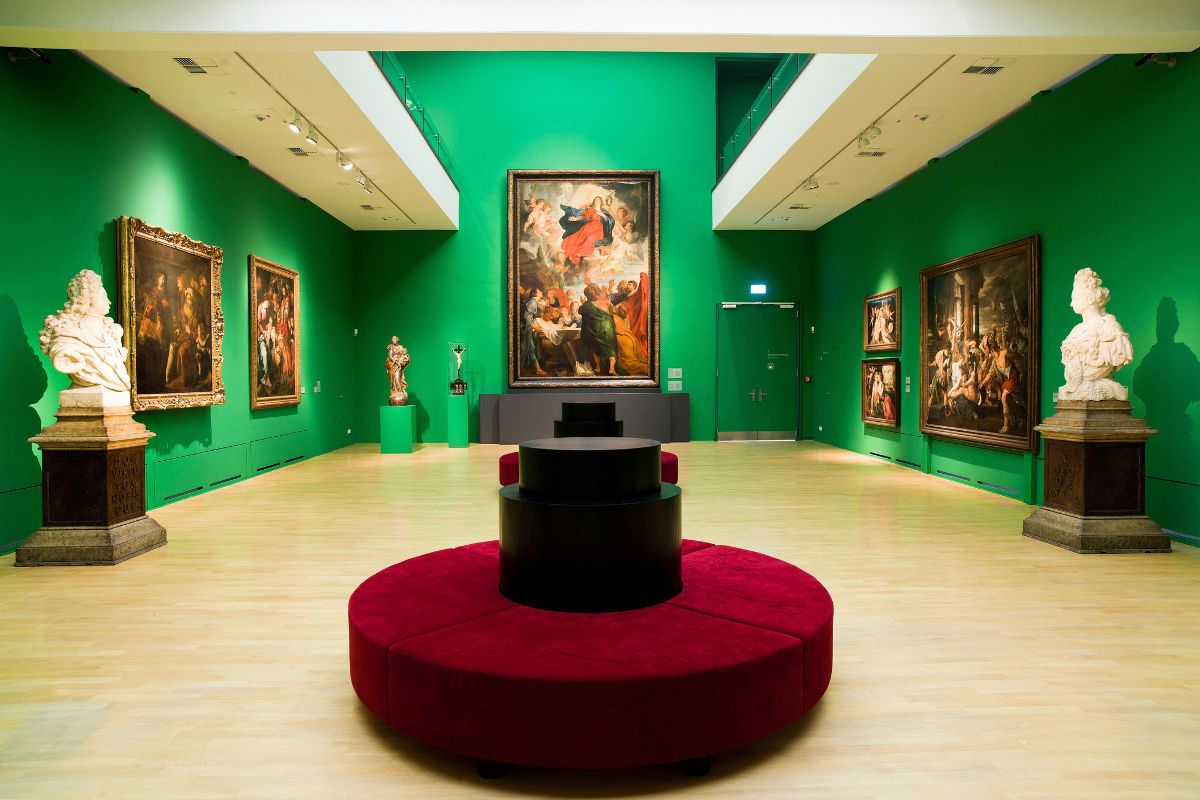 Proving that art can flourish in many forms, Museum Kunstpalast is forever bringing new works to the public – in just about every medium you could imagine!
Hundreds of paintings, drawings, etchings, and graphics make up this amazing collection, which starts in the third century B.C. and stretches all the way to the modern era.
You can even enjoy some auditory masterpieces, courtesy of the regular concert series!
24 – Take a quiet stroll around the Japanese Garden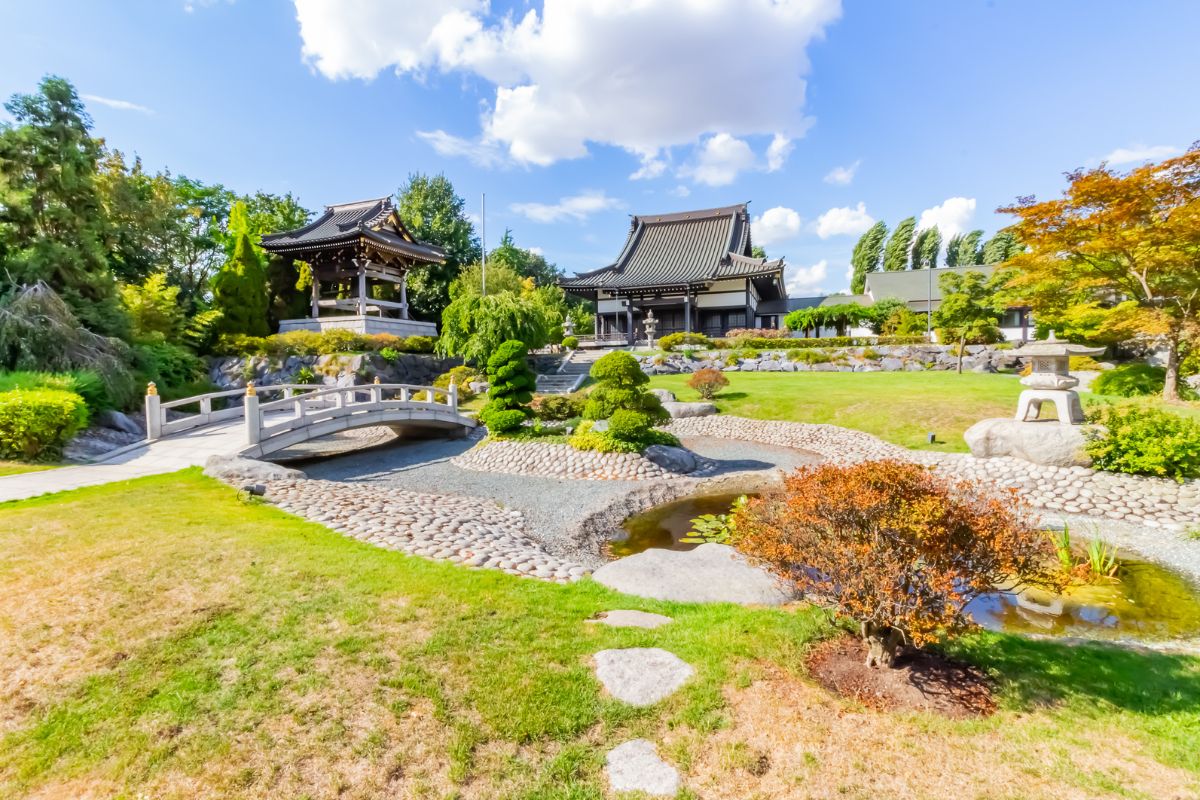 Another aspect of Japanese influence in the city can be found in this scenic park, which incorporates some of the classic elements of botanical design.
Admire the carefully manicured trees and shrubs, accompanied by stone lanterns and beautiful ponds that all create an air of tranquility.
Spend an hour or an afternoon soaking up the serenity!
25 – Visit the remarkable remains of Kaiserpfalz Kaiserswerth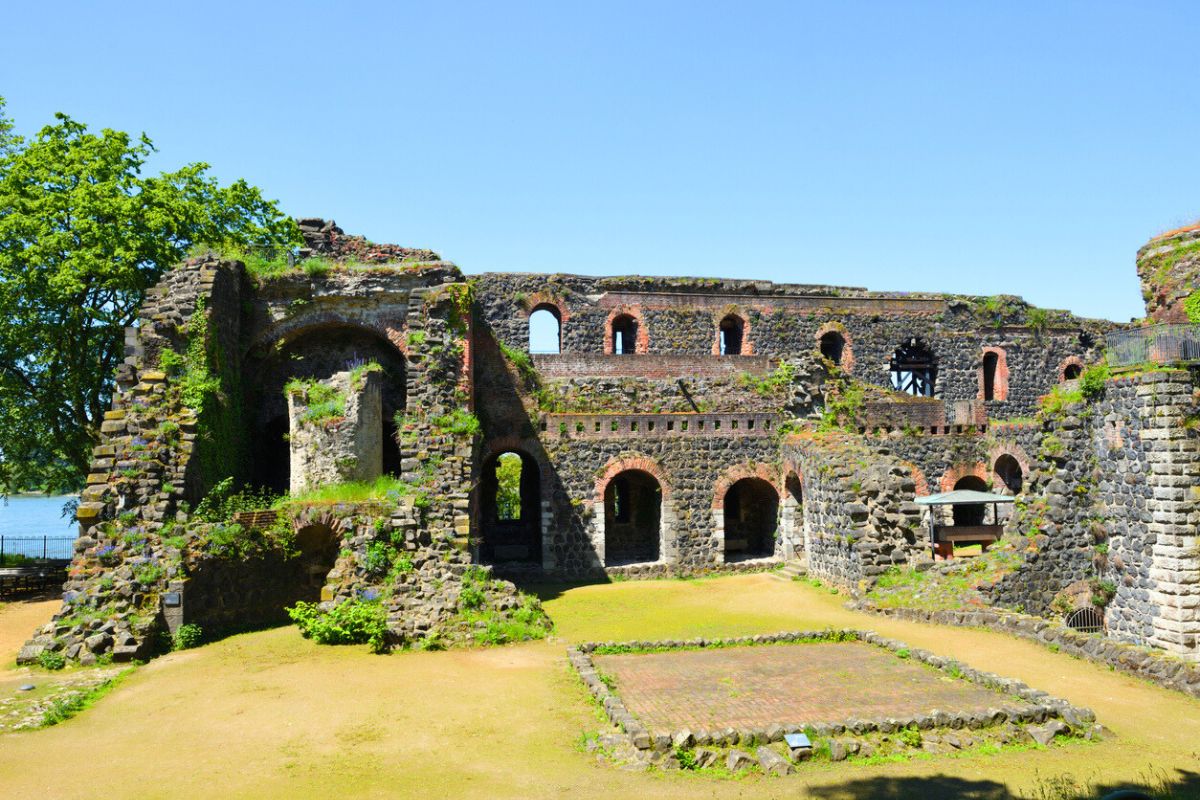 It may not be as busy as it used to be, but Kaiserpfalz Kaiserswerth is certainly a place that's retained its glamour!
Back in 1184, the magnificent palace that anchors this space was built for Emperor Friedrich Barbarossa I, and it became one of the main ports of power during centuries of conquests and battles.
And in 1702, it had a bit of an explosive encounter… literally!
While the palace was destroyed during the War of the Spanish Succession, the complex was eventually rebuilt, and the ruins that remain serve as a wonderful, tangible reminder of the shifting fortunes in the city.
26 – Enjoy history and art at Museum Burg Linn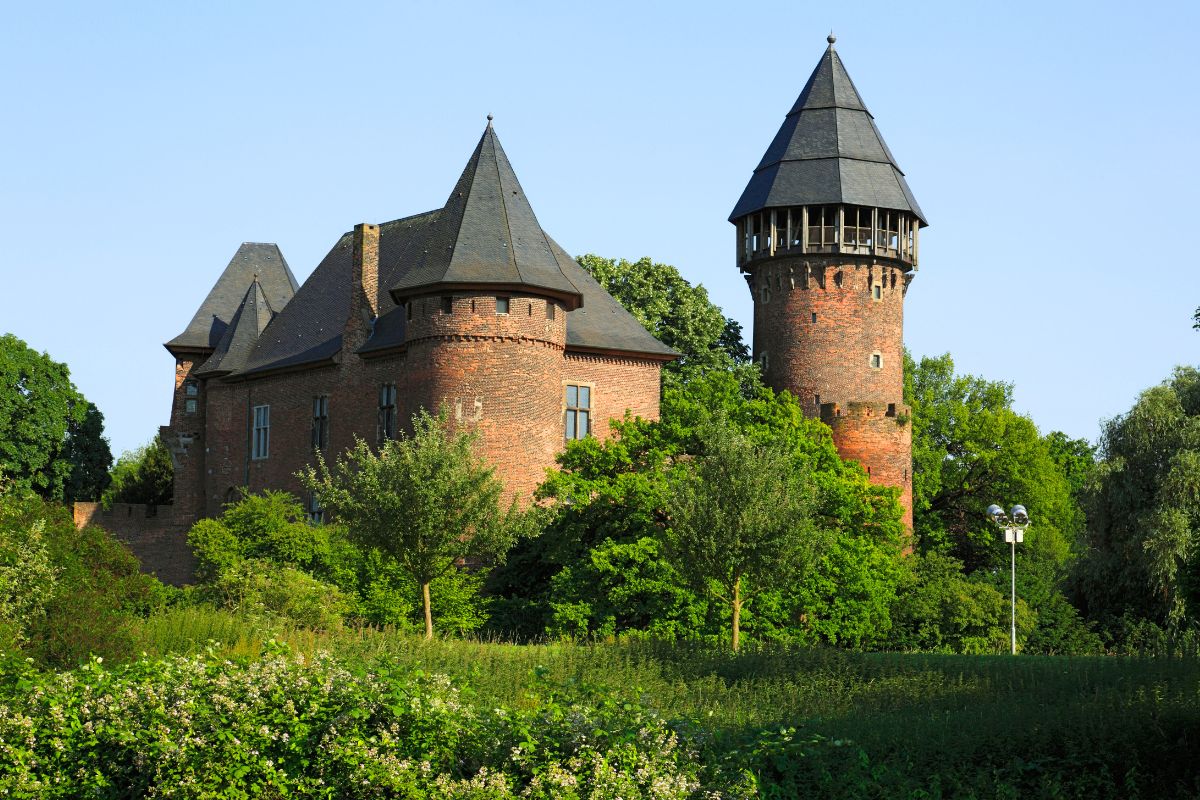 Venture just a little bit outside of the city, and you'll find yourself face to face with another regal residence – one that has a little bit of fantasy thrown in!
As you explore Museum Burg Linn, you'll find yourself entrenched in a remarkable family history stretching back almost 1,000 years, as the Linn family ruled over the castle through various wild moments.
It's also the story of the other families that reigned over the space, which grew to include a beautiful hunting lodge and eventually, the museum itself.
And today, there's even more to see, thanks to the whole range of fantastical events that take place on the grounds, from Renaissance fairs and music recitals to literary readings and educational programs.
Take it all in, and join some of the fun!
27 – Eat your heart out on a food tour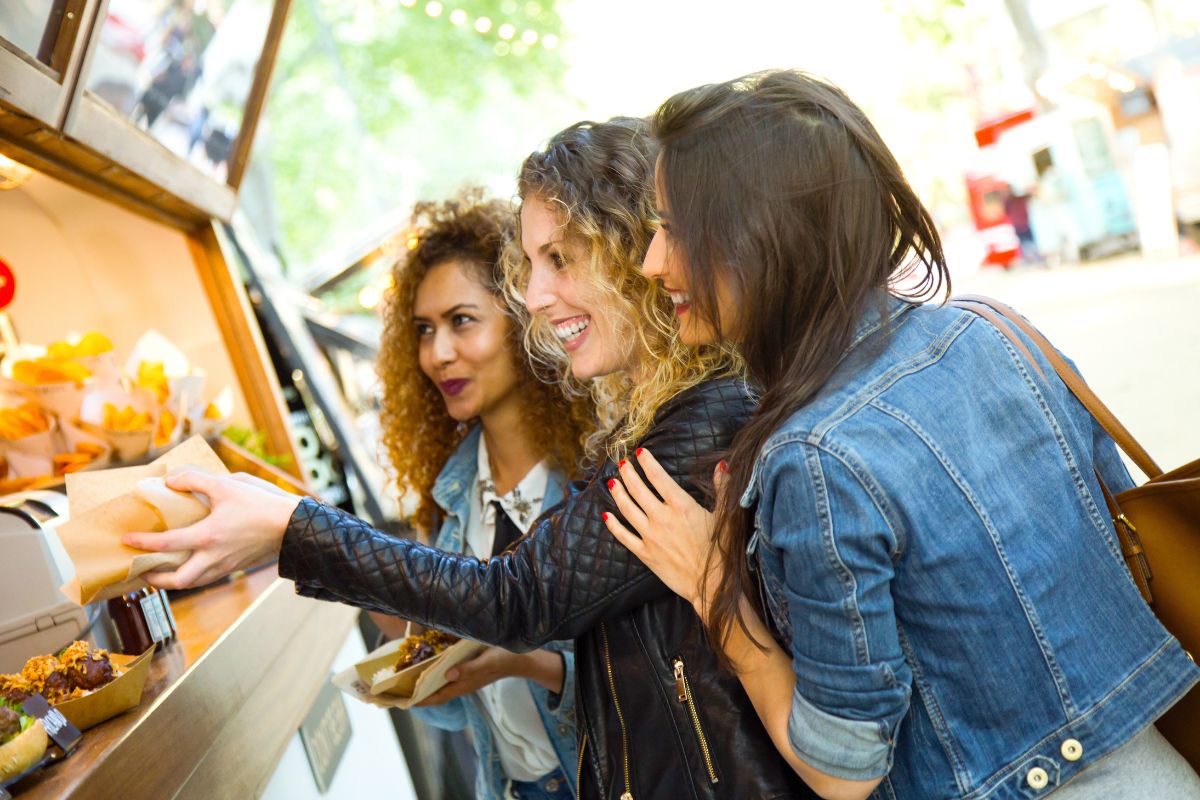 Germany has certainly earned its reputation for amazing cuisine, and this Rhine charmer is no exception!
Fresh ingredients, irresistible flavors, and intriguing stories behind every dish make the local food tours as fulfilling as the meals themselves!
Head into the hippest parts of town for a mobile feast of German and international food, all the while enjoying the vibrant energy of the surrounding streets.
Try old favorites and discover new ones, all flavored with a bit of cultural education!
28 – Brush up on boats at the SchifffahrtMuseum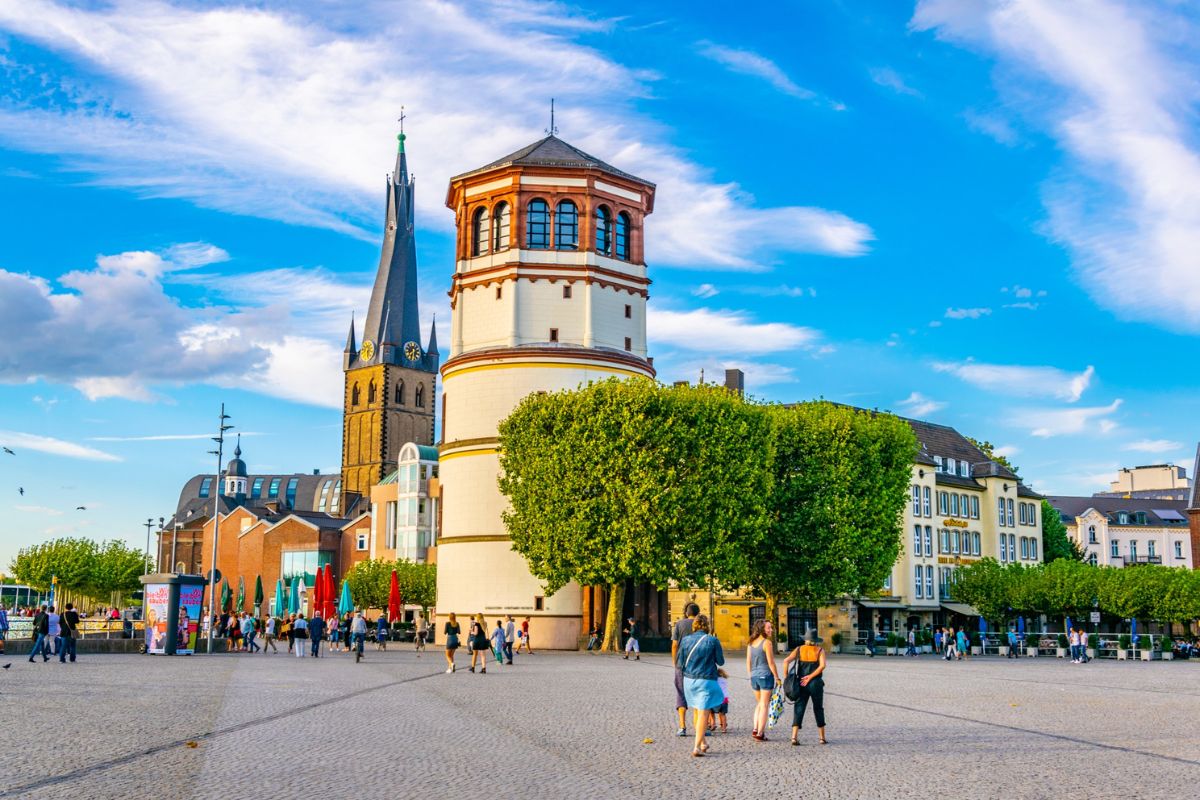 Set sail for intrigue, because a trip to the SchifffahrtMuseum is one of the coolest things to do in Düsseldorf… and as an added bonus, one of the most informative!
Housed in a former castle, the space is jam-packed with artifacts from a long history of shipping and commerce on the river, with the city often a center point.
Of course, you'll get to learn all about the boats themselves, along with the evolving tools and navigational methods.
But you'll also get to know all about the Rhine itself: its unique ecosystem, its currents, and the ways in which this force of nature has also become a major social influence.
29 – Turn the city into your playground with some scavenger games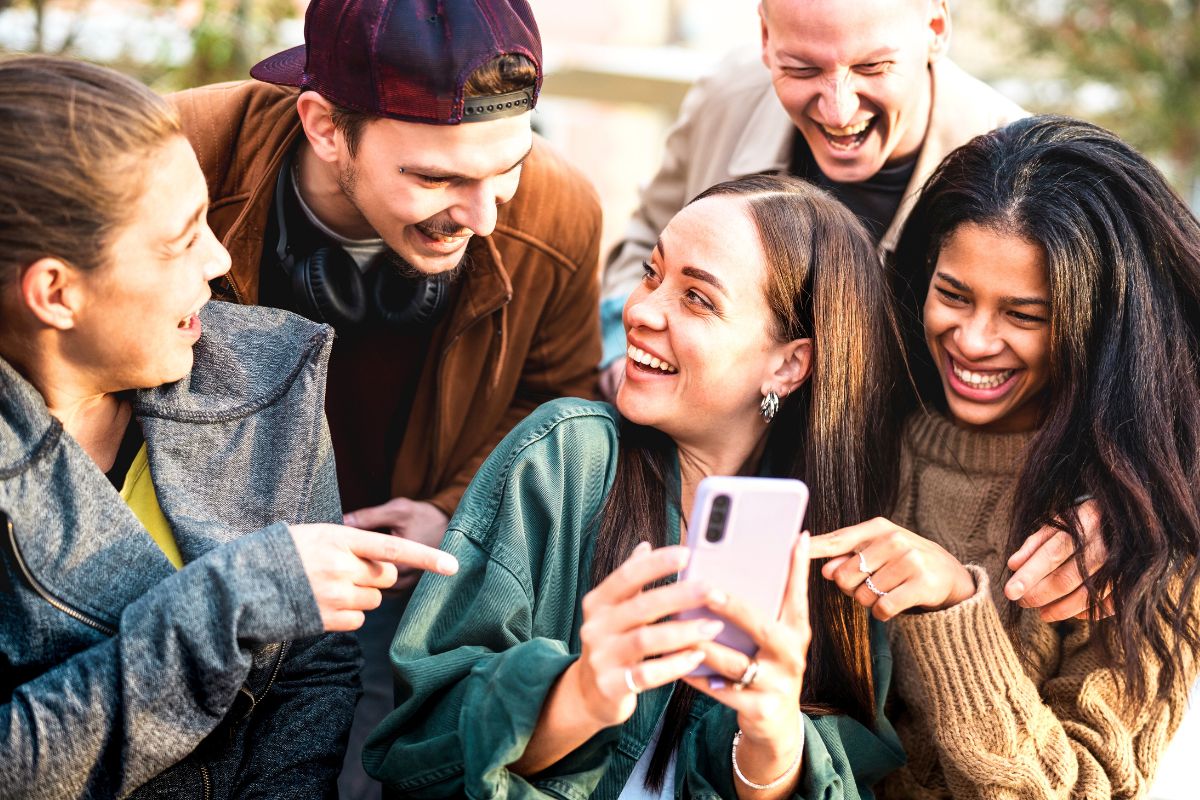 Let's face it: sometimes, you might want to spice up the traditional tour format.
And when that urge creeps in, you can indulge in some mystery, puzzle-solving, and all-ages fun with a few scavenger games!
All you have to do is download the app, then start exploring landmarks, public parks, and historic homes, learning something new with each mystery unlocked.
Try your hand at the life of a spy, and learn some awesome stories throughout your expedition!
30 – Take in the views of Eller Castle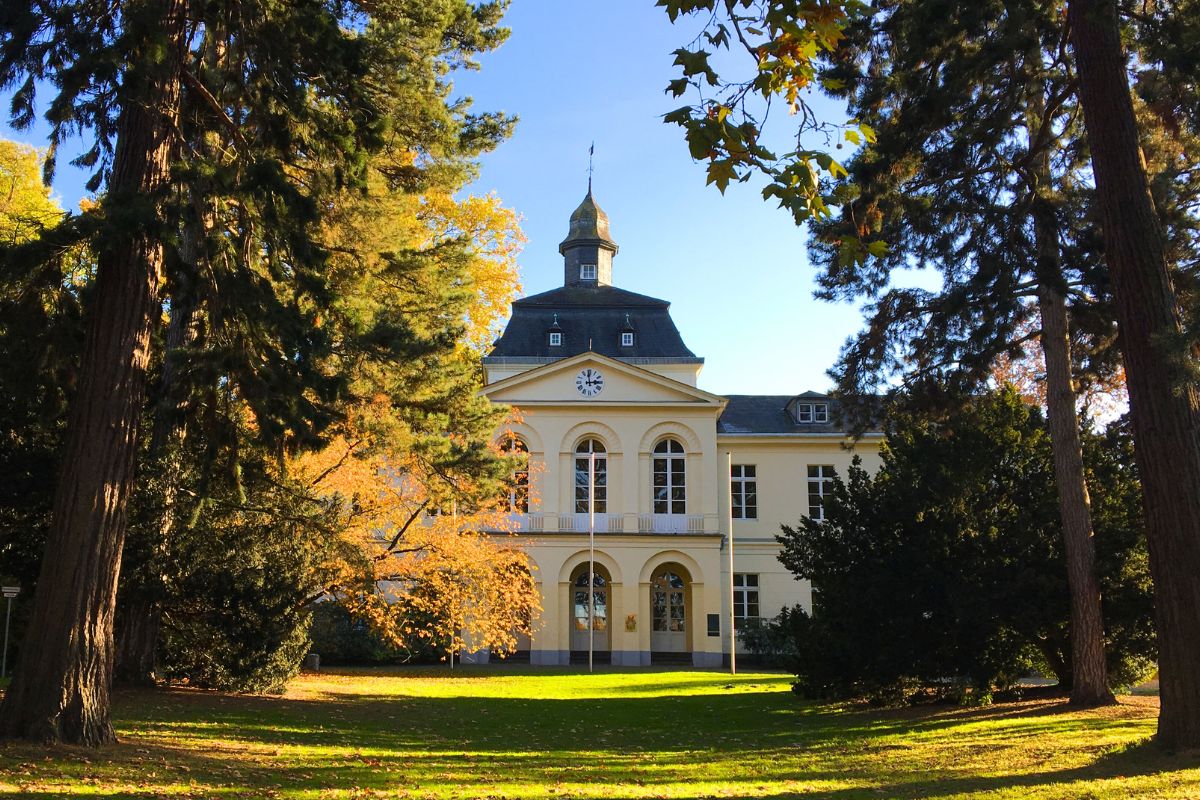 From the minute you lay eyes on Eller Castle, you'll be enchanted by its mystique and beauty… a real medieval model!
True, it's only the grounds that are open to the public, but even the outside of the building is intriguing: built in classic style and surrounded by the all-important moat, it's a stunning space that has seen its fair share of glamor.
And it's still a compelling part of city life, just as it has been for centuries!
31 – Hit the slopes in every season at Jever Fun Ski Hall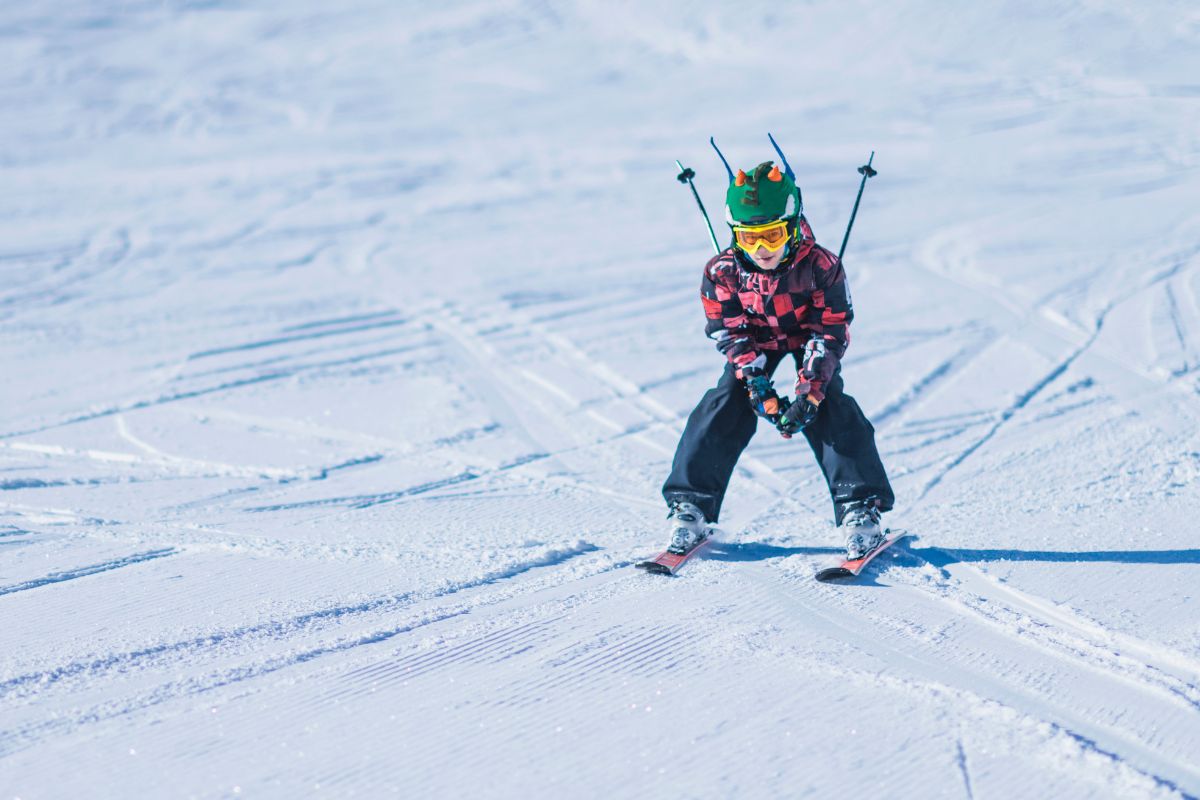 The famous winter wonderland of the Alps might be quite a ways away; but luckily, there's another kind of snowy paradise right near Düsseldorf… and you can enjoy it all year round!
In fact, Jever Fun Ski Hall is an ideal spot to practice your winter-sports skills; as the first indoor complex of its kind in the country, it features perfectly manufactured hills and fresh (manufactured) powder, and options for every level of athlete.
Work on your skiing and snowboarding, catch a ride or two on the lift or indulge in all of the other activities around the property, from alpine golf to rock climbing.
Around here, every day can be a snow day!
32 – Sip the best suds on a beer tasting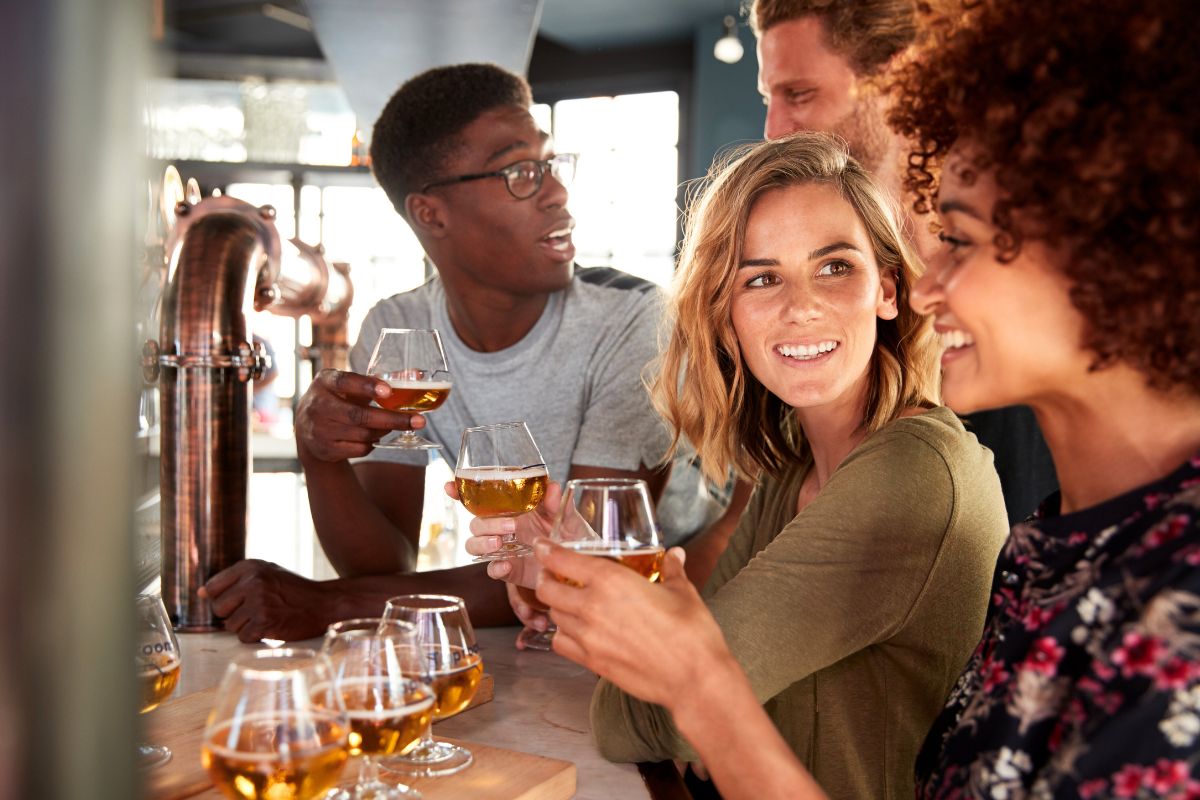 Drinks are just as iconic as food around here, and of course, you can't leave out the most famous beverage of all!
There are plenty of wonderful beer tastings to indulge in, and with an active scene stretching back generations, you can really taste the distinct quality of each glass!
The brewery tours will show you every bit of the production process, including the delicious end results!
33 – Explore Zoo Park Düsseldorf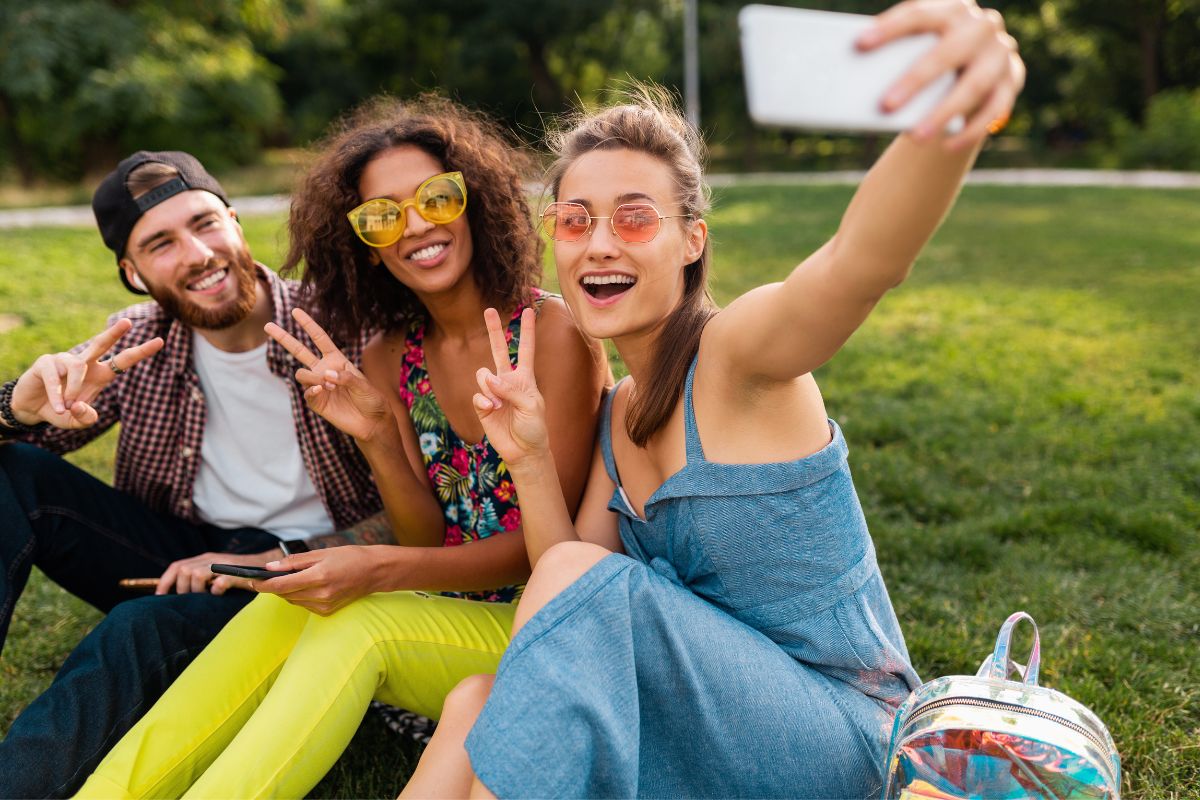 All the way back in 1876, this charming zoo was opened as a place for locals to get to know animals from around the world; and while it no longer has any animals, the space is still very much a part of public history.
Unfortunately, this was one of many spots in town that suffered during World War II; heavy bombing leveled the space, and it was never rebuilt in the decades that followed.
But the park itself is still very much in use, with beautiful walking paths and remnants of some of the old habitats scattered around.
34 – Fill up on knowledge at the city's other amazing museums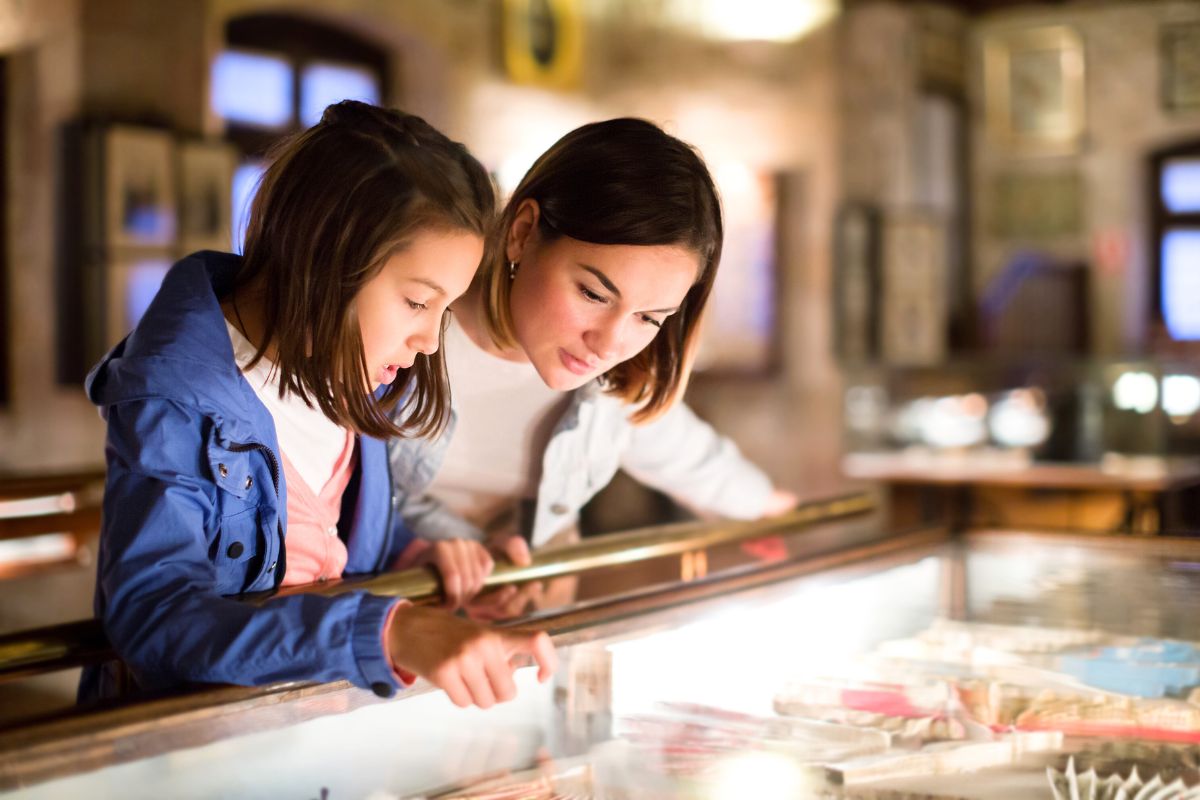 There really is something for everyone in this town… and more to the point, there's an amazing museum for nearly every topic you could hope to explore!
You can dive deeper into the contemporary art scene at Kunst im Tunnel, or step back into time at the Stadtmuseum, a massive medieval complex that recreates an old village.
At the Goethe-Museum, you can celebrate the legacy of the renowned poet Johann Wolfgang von Goethe as you tour his former residence; and at Hetjens-Museum, you can marvel at thousands of ceramic pieces, ancient stoneware, and other artifacts.
And at The Cali Dreams Museum, you'll get your fill of social media-worthy photos, with several galleries full of colorful, creative backdrops perfect for your next funky photoshoot!
35 – Navigate your way through a thrilling escape room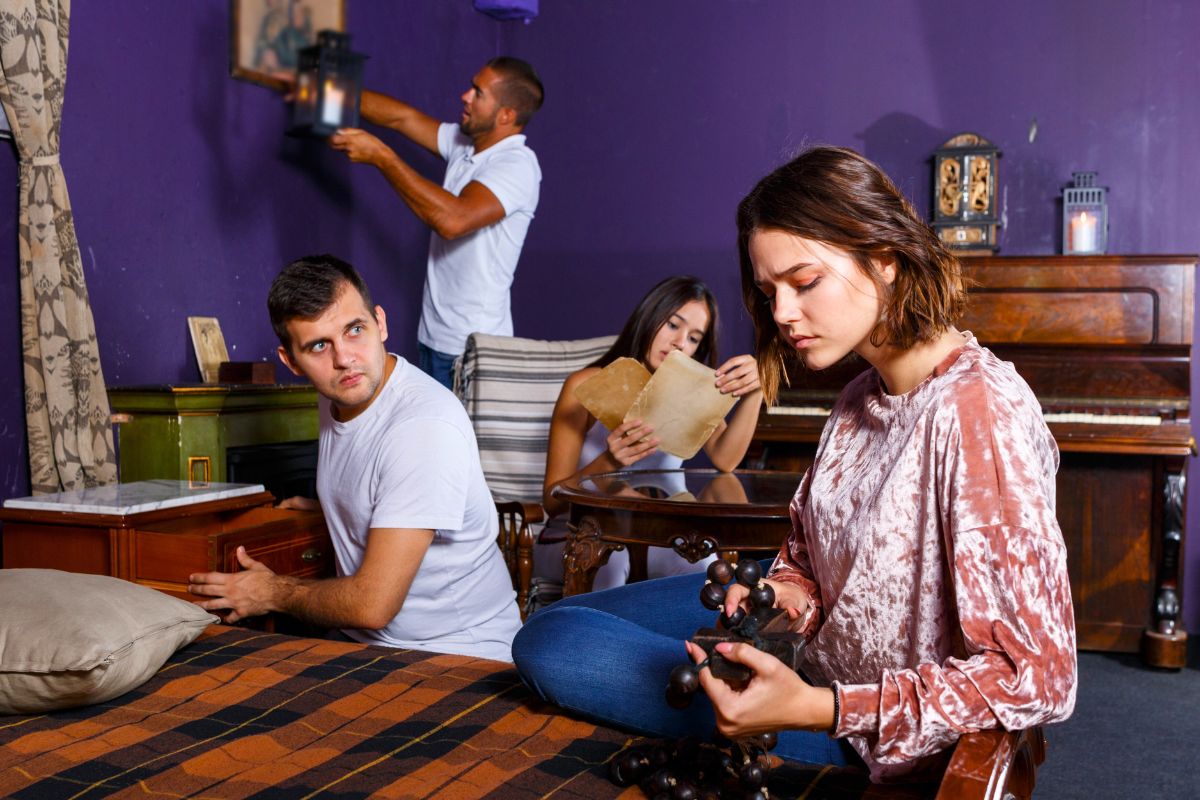 If you want to keep putting your brain to the test and add some creative scenarios, then grab your travel buddies and make your way out of some wild escape rooms!
Proving that games of make-believe aren't limited to kids, these immersive environments put your logic and reasoning to the test, as you take on new identities and work to solve clues.
You might be an art thief or a scientist's assistant, or you might be running around the entire city to see what secrets it hides; just remember, you have one hour to solve it all!
36 – Immerse yourself in Buddhism at EKŌ-Haus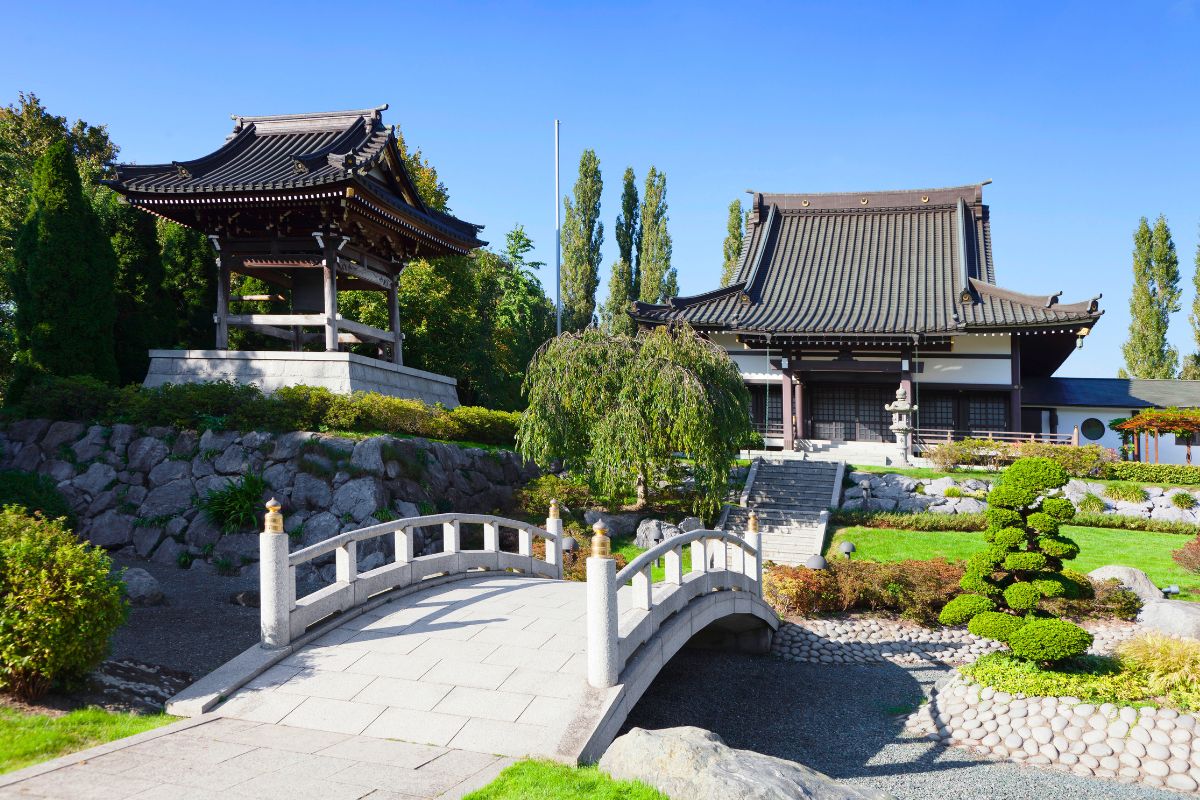 Back to Japan we go – this time, for some in-depth religious experiences!
Celebrating the rich spiritual and social history of the country, EKŌ-Haus is primarily focused on bringing people into contact with Buddhism, with a gorgeous temple serving as the centerpiece.
And you'll also get the chance to engage with other elements of this rich culture from film screenings and language classes to traditional tea ceremonies and calligraphy workshops.
37 – Window-shop all the way along Königsallee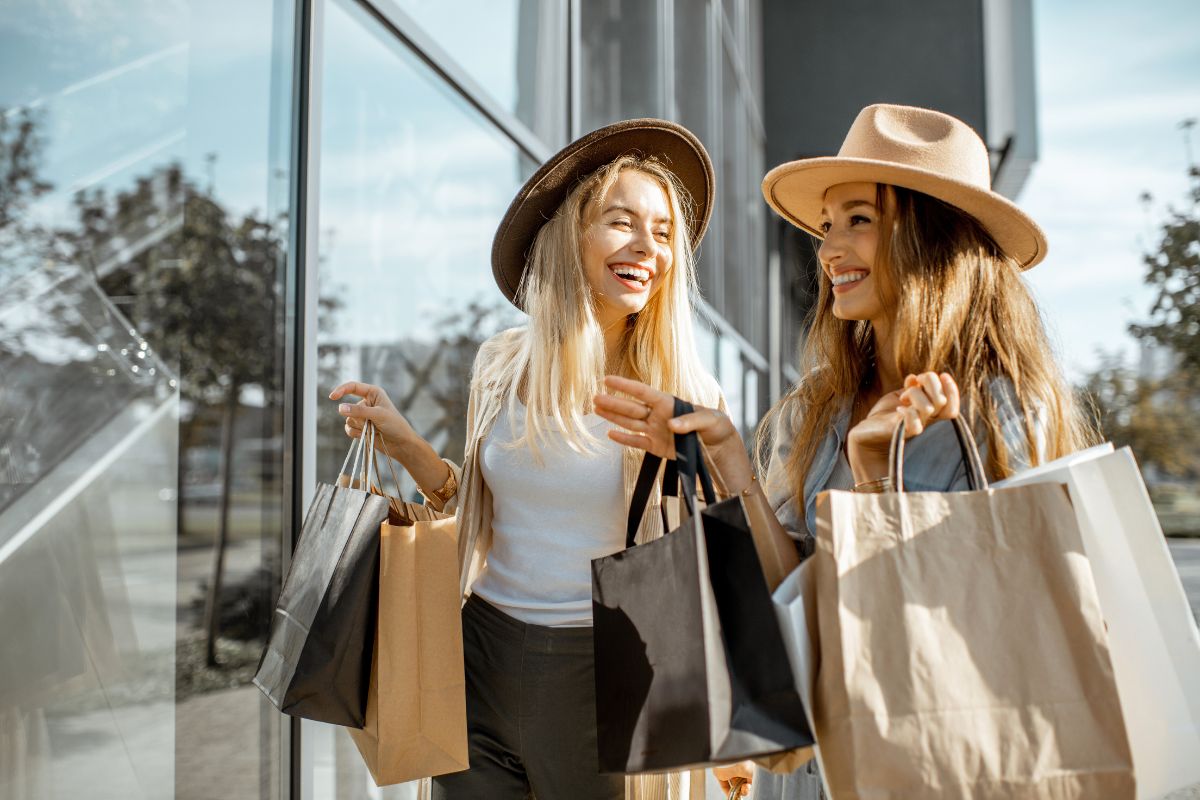 Time to shop 'til you drop – in style!
As one of the ritziest streets in town, this is more than just a place to browse; it's a temple to the upper-class and luxurious, renowned for its high-end retail stores and stunning fashion showrooms.
Take a lingering walk up and down the boulevard… and maybe splurge a little!
38 – Enjoy the many charms of Neuer Zollhof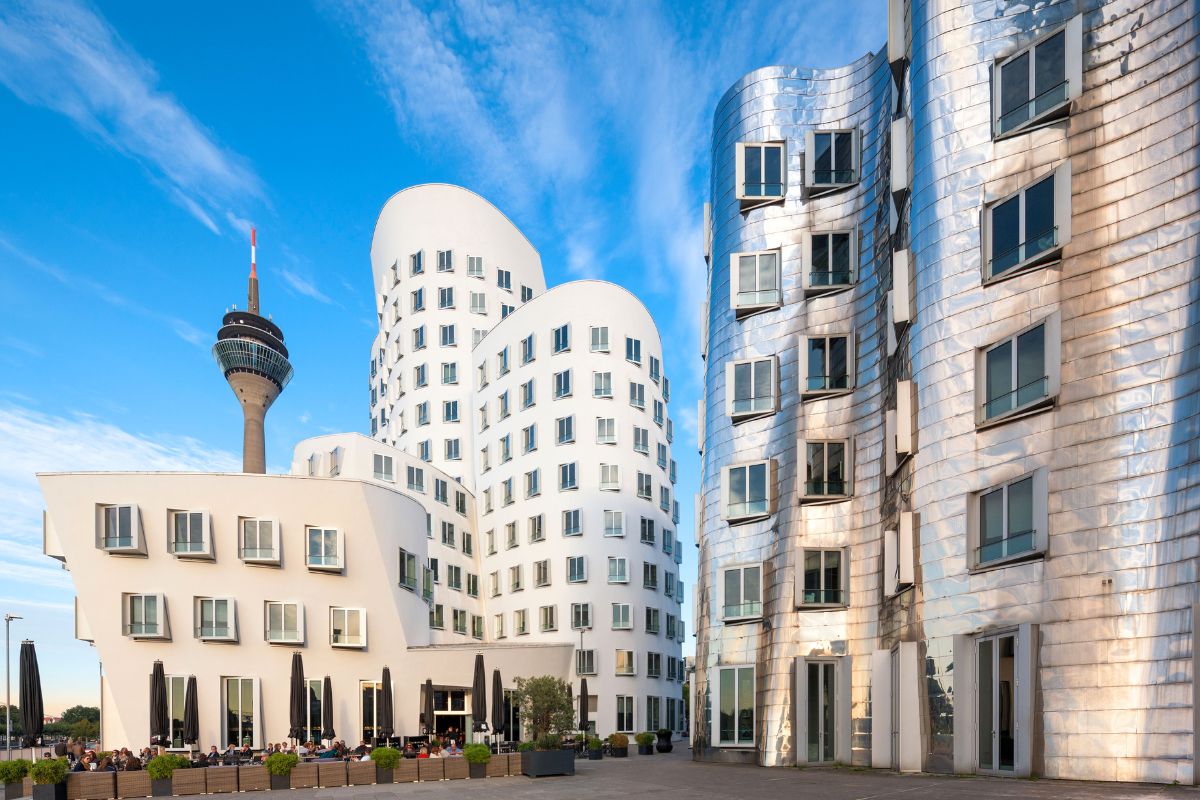 Sure, you've heard of the one in Pisa… but what about the leaning tower (or rather, towers) of Dusseldorf?
A cutting-edge masterpiece by the renowned architect Frank Gehry, this swooping steel structure doesn't technically tilt – it's just an optical illusion created by the angles of the three towers.
And while the appearance is certainly impressive, it's also a functional space, hosting all sorts of artsy events in its beautiful halls.
But even if you're just strolling by, the wonderfully angled building is well worth a look!
39 – Look for your dream car at Classic Remise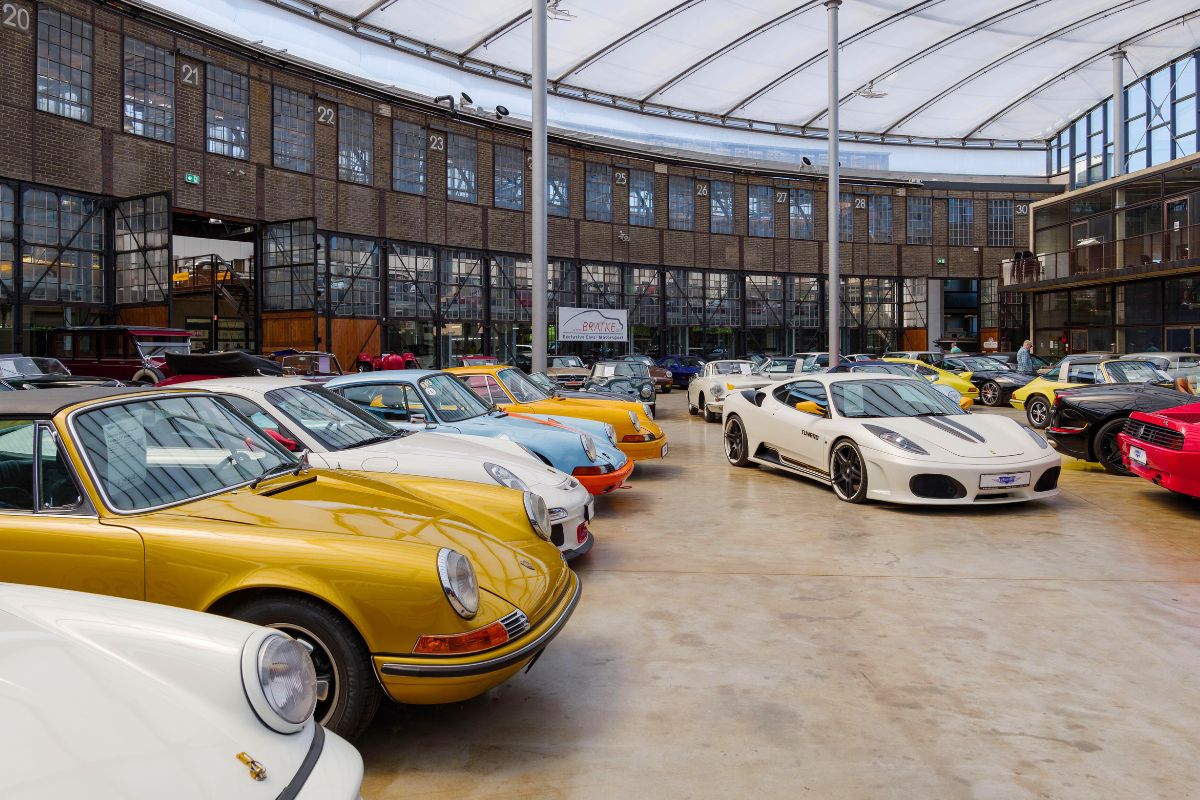 This is one spot that will certainly get you "revved up"!
Filled with vintage treasures from nearly every era, Classic Remise is an auto fan's dream; and while it certainly offers some top-notch specimens to admire, it's more than just a museum!
In fact, it's an active showroom and storage space, and while there are several amazing autos housed there full-time, you can also enjoy new treasures depending on what's in stock and what classic collectors bring in.
Take a walk around and admire these rulers of the road in all their glory!
40 – Turn your train trip into a full-blown creative experience along the Wehrhahn Line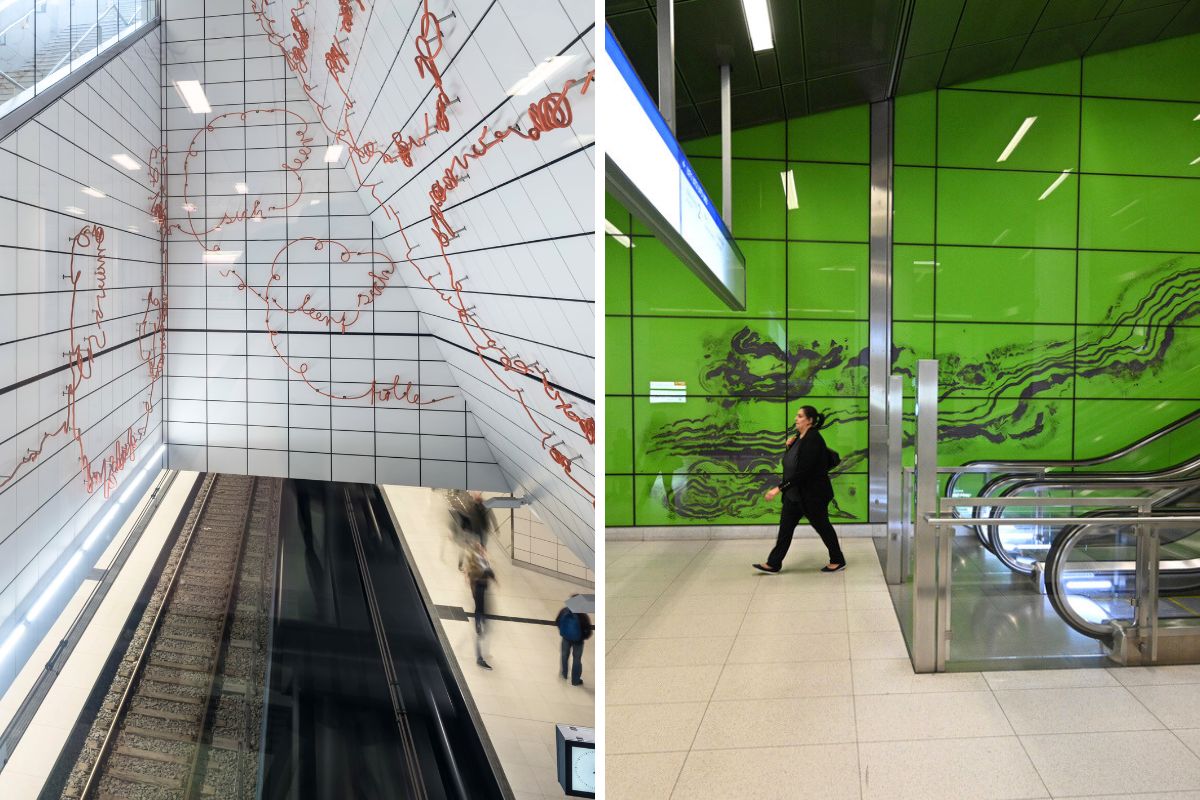 This city is so artistic that even taking the metro is an adventure!
Composed of six different stops, this particular branch of the train system is certainly a busy one; but there's more going on here than just transportation!
Take a Wehrhahn Line tour, and you'll find worlds of innovation and whimsy at each station, all of which were developed through a partnership of cutting-edge artists and designers.
The result is a series of spaces that bring fantastic creativity to an often mundane activity – and you'll be lucky enough to enjoy these unusual galleries up close!
41 – Bring your appetite for the best restaurants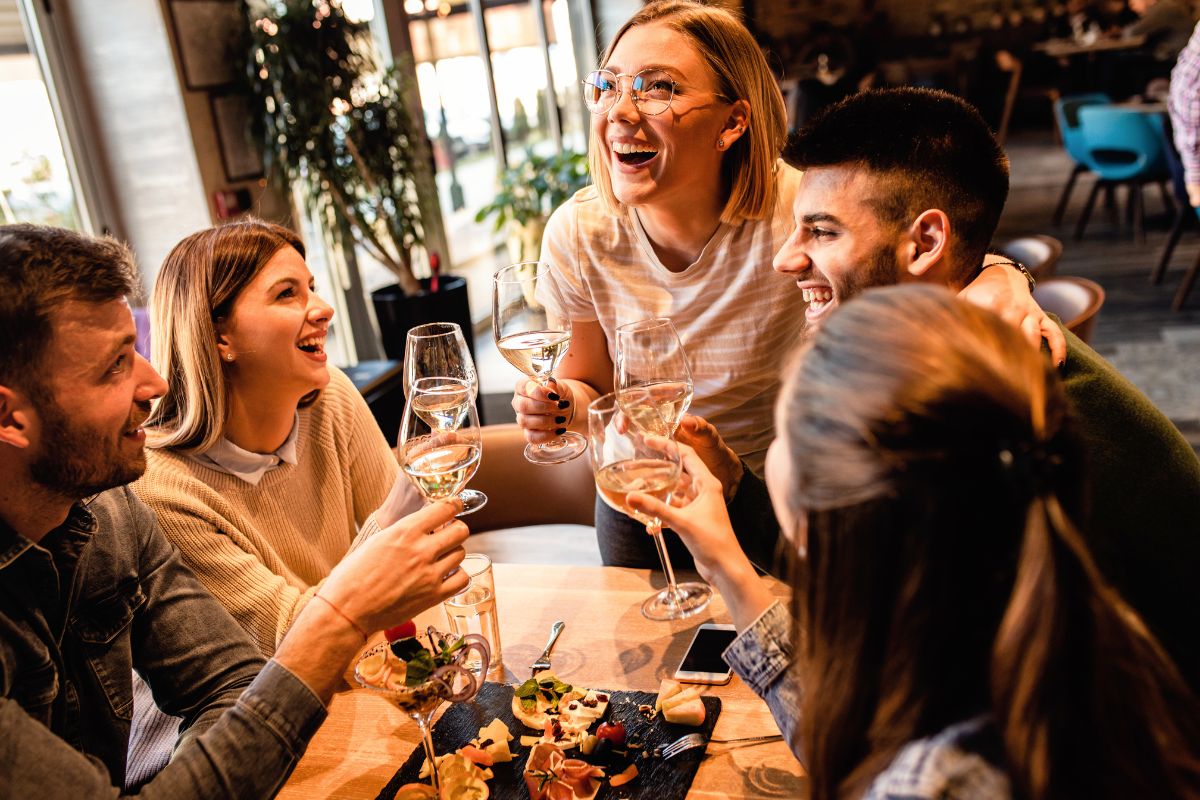 You've got to keep your plate full when you're doing all of this adventuring, and the best restaurants in Düsseldorf are the ones that keep you full and fulfilled on every level!
Start things off right with a hearty breakfast at Buur Deli, or head to Sternschnuppe to enjoy a lively pub atmosphere with plenty of traditional German foods with some funky aesthetics thrown in.
Venture into some different culinary territory with the Italian food at Rossini, or some Austrian delicacies at Rubens.
Or settle in at The Duchy, which specializes in raw foods like caviar and oysters… the perfect bit of flavorful luxury for your night out!
42 – Dance, drink, and party as you sample the best nightlife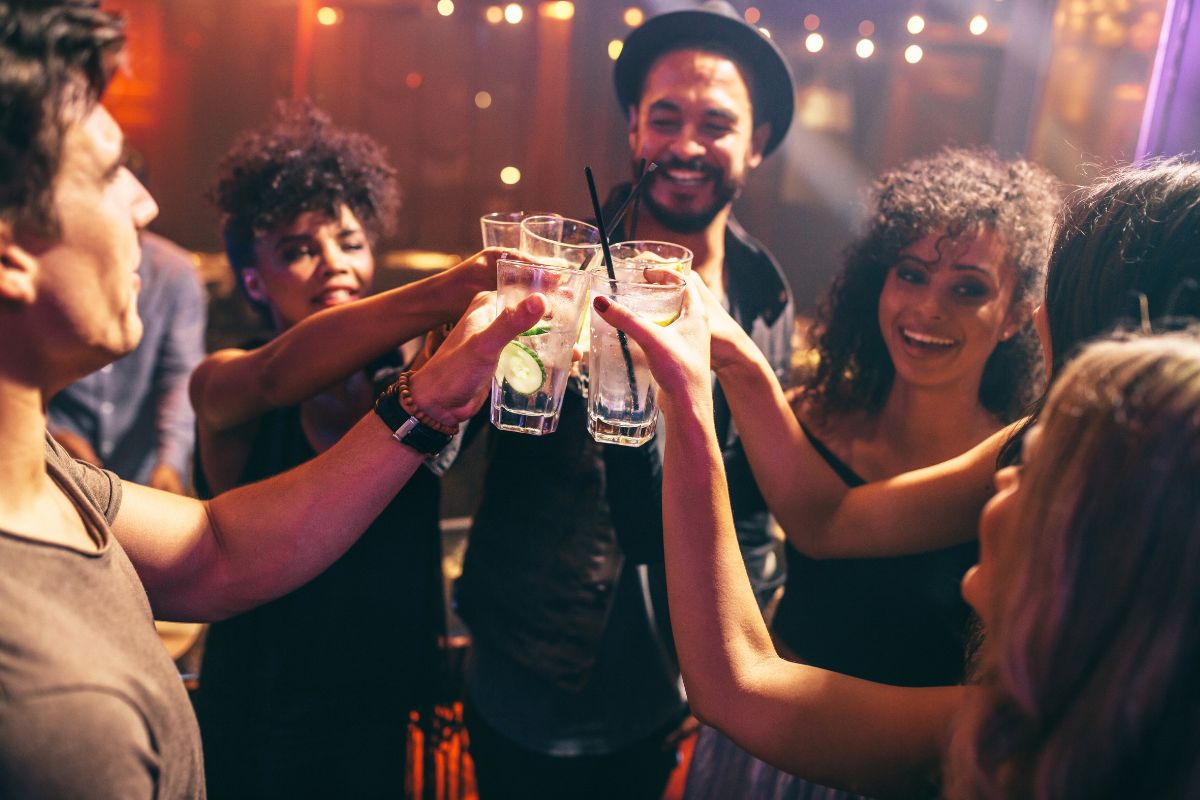 Once your stomach's full, it's time to put on those dancing shoes, because the best bars and clubs in Düsseldorf are waiting to welcome you for some all-night revelry!
You'll find every sort of vibe here, and amazing drinks to match; and make sure to pack your best hangover cures, because there's no shortage of awesome options!
Grab a pint or two at Fatty's Irish Pub, or stop in at Et Kabüffke Killepitschstube to enjoy some libations by the famous windows that show you the whole evening scene of the city.
Enjoy a never-ending supply of live jazz as you sip your beer at Em Pöötzke, or try something different at Unikat, a laidback shisha bar that also serves up plenty of cocktails.
Or rock up to Cubanitos Bar, where the only thing more colorful than the cocktails are the lights on the ever-active dance floor!
How to get to Düsseldorf?
There's a great airport right near the city to take care of all of your flying needs, and you can make the process even easier with the help of airport transfers!
These fast, professional services will pick you up right from your terminal and whisk you to town, and back again at the end of your journey.
With plenty of vehicles and options to choose from, you can make sure that your experience is hassle-free!
Where to stay in Düsseldorf?
Hilton Düsseldorf offers up a gym and a trendy bar to keep you entertained, as well as some top-notch accommodations to pamper yourself the whole time.
At Leonardo Royal Hotel Düsseldorf Königsallee, you'll be right in the thick of all of the best shopping, dining, and drinking options in town, making the perfect home base while you're getting to know the city.
Carathotel Düsseldorf City will keep you occupied at the bar, and its centralized location makes it easy to go out and see what the best of urban life has to offer.
And at Holiday Inn Express Düsseldorf – Hauptbahnhof, you're right next door to the Capitol Theater and have the added bonus of helpful staff on hand to help you plan your next jaunt.
Meanwhile, Hampton by Hilton Düsseldorf City Centre provides all the best aspects of a hotel stay – like great meals and a gym for squeezing in a quick workout -, as well as lots of neighboring theaters and churches to make every day a tourist's delight.
Visiting Düsseldorf on a budget?
Whether you want a low-price or no-price excursion, there are some excellent ways to get to know the city while keeping your wallet intact.
You can get a great sense of the city with some free walking tours, which will take you through the old, the new, the mainstream, and the unusual, as your guide tells you all about the city's broader history and the local experience.
Just be sure to bring cash for tips!
And when you're ready to explore some of the big attractions you've passed by on your walk – and countless others as part of the bargain -, pick up a Düsseldorf Card and enjoy it all!
You can choose between single-day or multi-day options, all of which offer discounted entry to museums and cultural venues, plus free transit; it's like a magic key to the city!
Where to go next?
You can try all of the things to do in Cologne, one of the oldest and most distinguished cities in the country, filled with churches and castles that pair perfectly with its sporting arenas and lively arts scene.
Or try some of the fascinating things to do in Frankfurt, which run the gamut from Roman settlements to roller coasters… plus some amazing food!
And that's the tip of the iceberg; you could easily spend a lifetime's worth of holidays sampling the best places to visit in Germany, from trendy metropolises to traditional little villages, mighty rivers, and dense forests.
Then it's time to head out and explore some nearby countries!
If you love picturesque canals, great art, and quirky, unforgettable neighborhoods with a famous liberal streak, try out the things to do in Amsterdam.
Or dive into history, craft brewing, and some world-class public art (even a peeing statue or two) as you sample the unique things to do in Brussels!
Final thoughts
It's time to see what this bold, beautiful city is all about – from its oldest monuments to its newest innovations!
And one thing's for sure when you're trying all of the awesome things to do in Düsseldorf… one trip will never be enough!