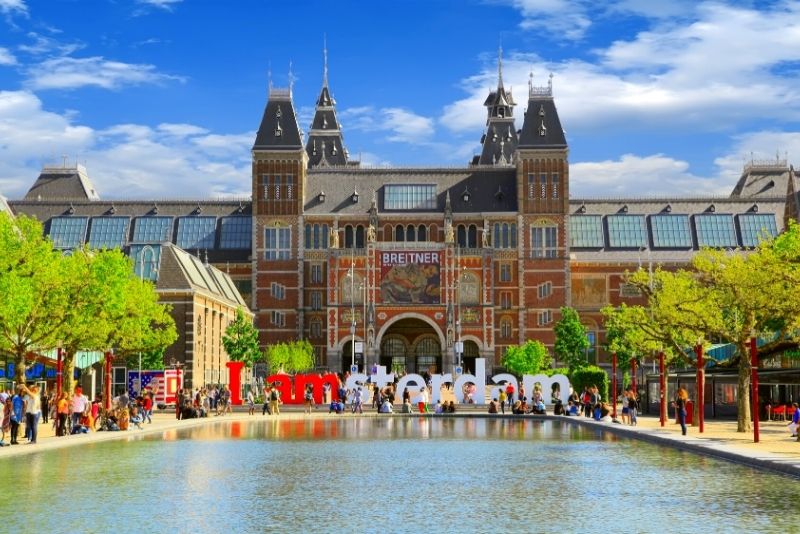 As far as cities with bold personalities, it's hard to go past Amsterdam as Europe's most enthralling destination.
With such a unique geographical layout — one flush with bridges, canals, houseboats, and more — and an incredibly exciting culture featuring everything from world-class art to a sleepless Red Light District (not to mention the legal shenanigans), there's no shortage of things to do in Amsterdam.
And with a wonderful mix of cultural attributes and hedonistic adventures, it's an equally classy and lively destination for visitors of all types. When you're not filling your brain with knowledge at the various museums and art galleries, you can relax in beautiful public parks, or sample some delicious treats.
Or if you want to get a little rowdier, hit up the trendy bars, or dive into some unique interactive exhibits. And you can even complement the experience with visits to nearby towns, all showcasing different sides of the Dutch experience.
Walk and bike, sit and sip, learn and laugh, as you explore every nook and cranny of this captivating city. You'll soon see why it's become an international destination… it's not just the risque stuff!
1 – Cruise through the canals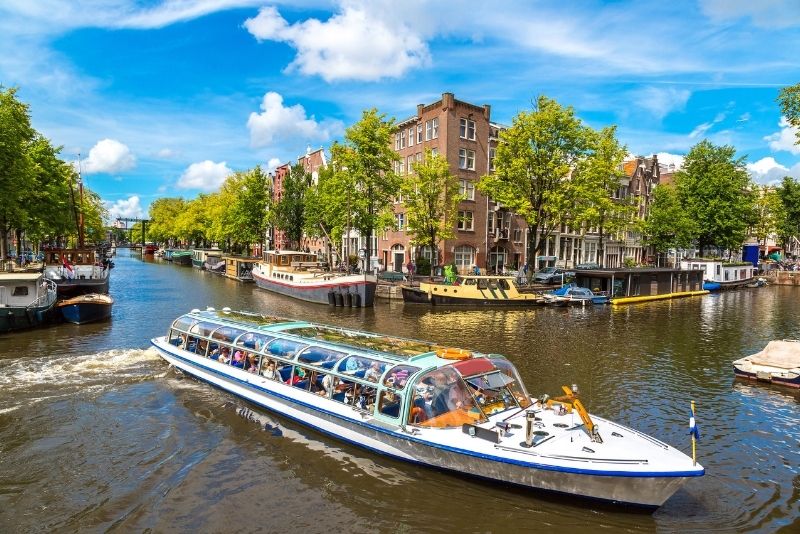 No trip to Amsterdam is complete without seeing it from its iconic canals!
It's a great chance to check out the city's different neighborhoods and how they sprung up: the 13th-century medieval core built on swampland, the 1600s golden age-era, and the hip new neighborhoods!
Or take an evening cruise to see the beautiful city under lights.
Want to try your hand at captaining? Then rent a pedal boat and start exploring!
Navigate the many lovely routes of the canals, seeing classic Amsterdam tourist attractions and out-of-the-way spots, getting a  comprehensive view of the city.
It offers all of the fun of a traditional tour, with the added flexibility of self-guided excursions.
Read more about the best Amsterdam canal cruises.
2 – Browse the Rijksmuseum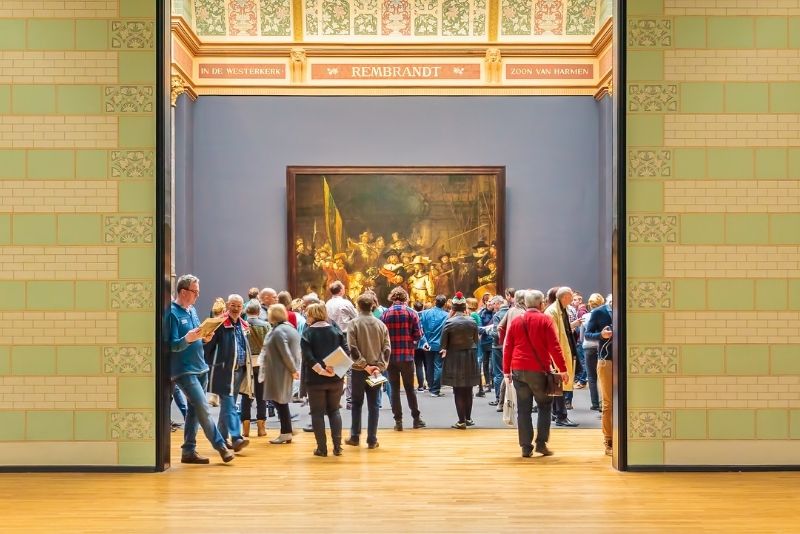 This museum is simply one of the world's best.
Where else can travelers explore 800 years of Dutch art and history from the country that birthed some of the world's greatest artists including Rembrandt and Vermeer, then settle in for a Michelin star meal at the onsite restaurant Rijks?
Visitors love Rembrandt's The Night Watch.
Read more about Rijksmuseum tickets price.
3 – Take a cheeky tour of the Red Light District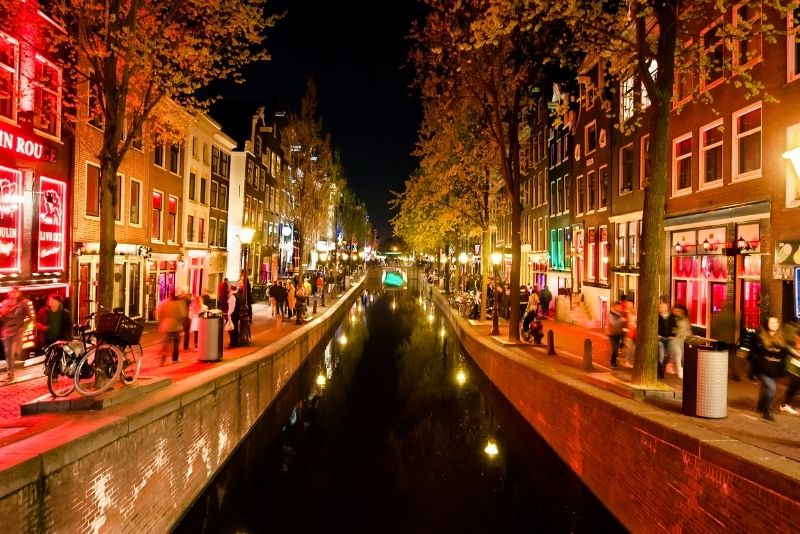 Any list of things to do in Amsterdam has to include this risque segment.
Travelers are fascinated by the Prostitution Information Center which dispels myths and prejudices about the industry, and the Oude Kerk – Amsterdam's oldest church which became wealthy when the nearby sinners would cleanse their spirits by donating a 'sin tax'.
Squeeze your way through the narrowest street in the city, and check out the ambience at some historic pubs.
And of course, if you're feeling more adventurous,  you can even explore more of the sex industry in the city, including the famous window shows.
These fascinating tours are a great way to see one of the city's most infamous areas in a new light!
4 – Visit Anne Frank's House in the Jewish Quarter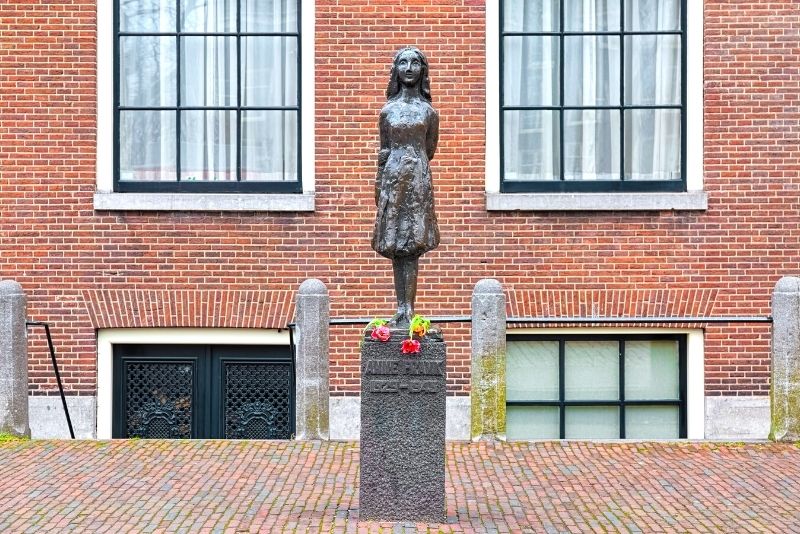 One of Amsterdam's most historic and enigmatic neighborhoods, learn about the city's troubled past and how World War II affected the lives of all those in the city – but also how the Dutch resisted occupation by offering secret hiding places for Jews!
At its center is the famous Anne Frank house and her moving diaries.
You'll learn all about the Frank family and their lives in this humble home, and how one teen girl's diary changed the world forever.
Note that admission to the house costs extra, though it's well worth stopping in at the end of the tour!
5 – Try some local crops with a coffee shop walking tour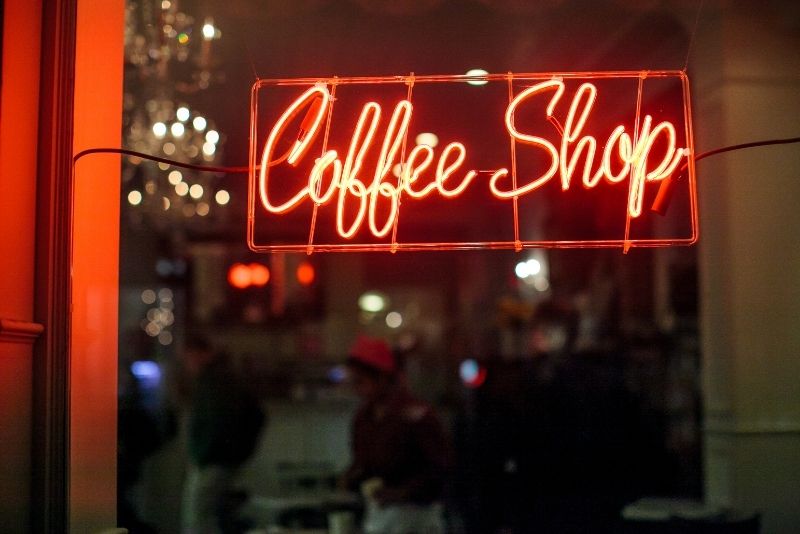 Plenty of travelers choose Amsterdam for its cannabis culture, taking place largely within its 'coffee shops'.
Let your guide show you the best shops and snacks, with samples of course!
You'll even visit a coffee shop and order some goodies after your guide goes over Amsterdam's best ganja finds, and shows you how to roll a joint (all legal in this city, of course).
Check out the iconic Grey Area, where celebrities like Snoop Dogg have paid a visit; or enjoy the wood accents and communal atmosphere of Original Dampkring, or swing by Green House United, where you can light up while watching a beautiful display of fish swimming through the aquarium built right into the floor!
Creative, classy, and communal, these spots are well worth lingering at.
6 – Become a connoisseur at the Heineken Experience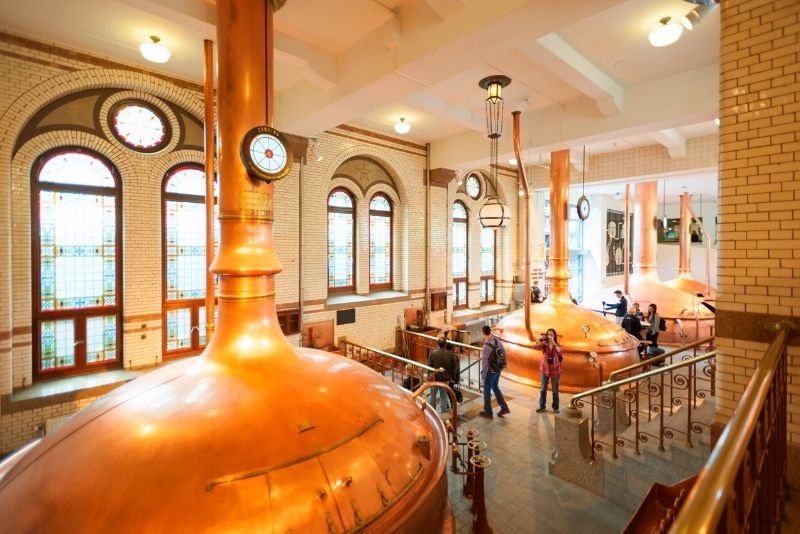 Get the scoop behind one of the world's favorite drinks!
See how Gerard Adriaan Heineken's beloved beer has been enjoyed for over 150 years with a glimpse into his vision, innovations, and the ingredients that go into the beer!
If the visit worked up a thirst, make sure to get yourself a glass before you leave.
7 – Absorb the mellow vibes of Candlelight Concerts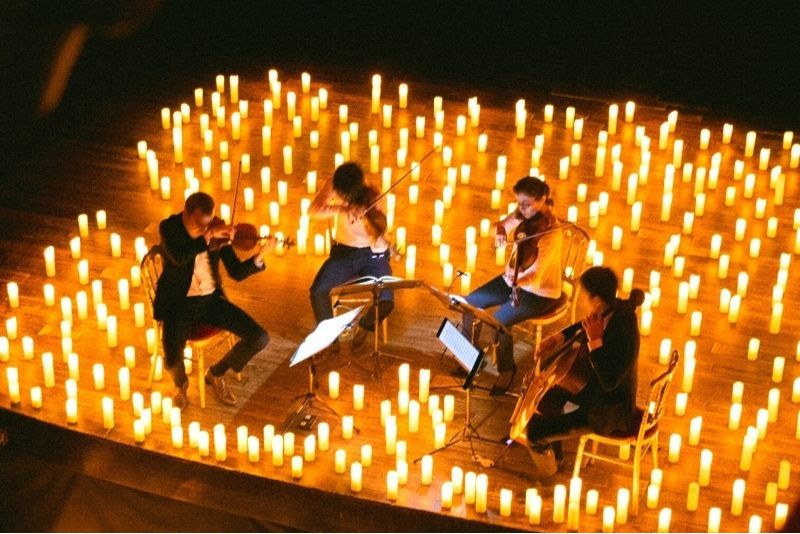 The stage is set. The musicians prepare their instruments. The concert begins, with the gentle flickering of flames in the background.
You're at the Candlelight Concert series, and life will never be the same. With a soothing ambiance and world-class talent, it's an intimate and stylish occasion for any music fan.
Relax to the sounds of Vivaldi, rock out to the music of Queen, or immerse yourself in the movies with a medley of film soundtracks.
8 – Go behind the scenes at the Johan Cruijff Arena Stadium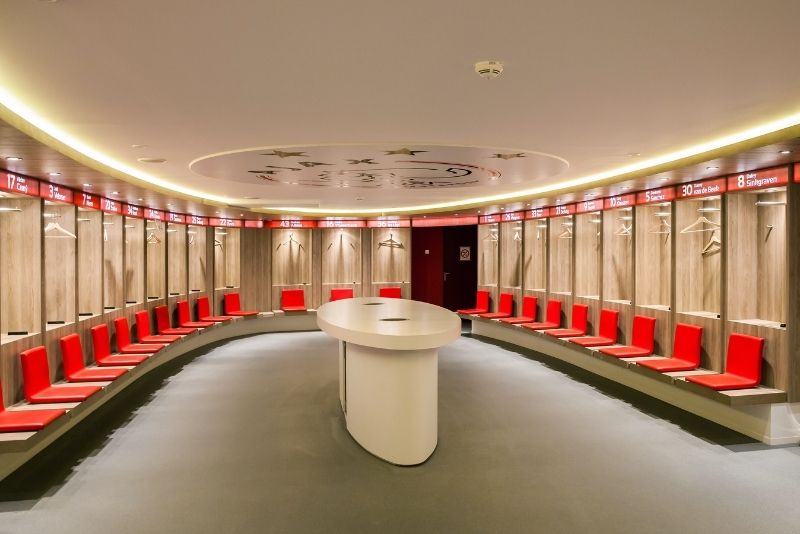 Football fans won't miss the opportunity to step out onto sacred ground at Ajax's home stadium!
Stand in the dugout and dressing room, and see the glimmering trophy cabinet that would make a goldsmith blush!
Finally, if you can, watch Ajax play and delight their home crowd for an intoxicating experience!
9 – Explore Amsterdam on a hop-on hop-off bus and boat tour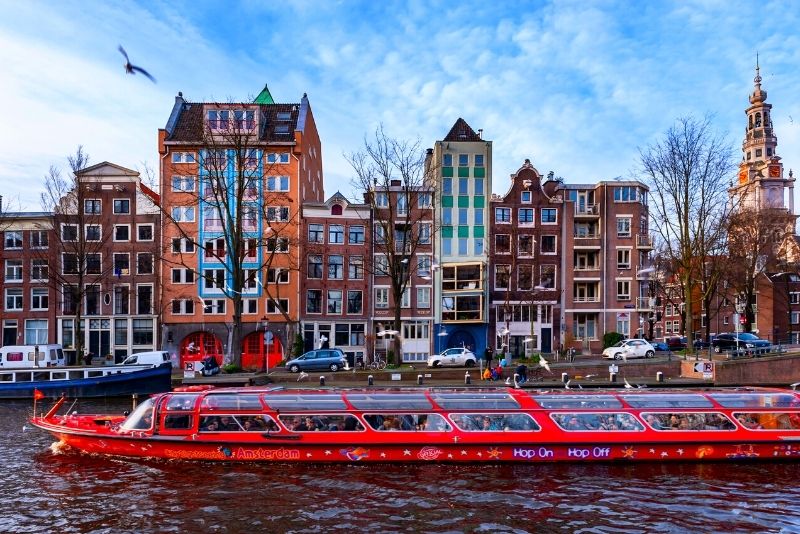 With all the great things to do in Amsterdam, the bus and boat tour is a great way to get your itinerary in order!
Explore the city at your own pace and don't worry about transport – hop on whenever you like, hop off wherever you like, and there's always another one just around the corner, complete with an audio guide!
Sponsored placement
Uncover Jewish heritage at the Jewish Museum
Visit the only museum dedicated to Jewish history in the Netherlands and uncover Jewish life and culture. At the Jewish Museum, you can tour the Portuguese Synagogue and pay your respects at the National Holocaust Memorial.
You'll also be able to explore Jewish heritage through numerous artifacts and 3D presentations as part of this informative experience.
10 – Make your way to the Hague, Rotterdam, and Delft
Holland's second city, Rotterdam, has a buzzing nightlife, as well as stunning architecture, so stay the night if you can!
Charming Delft is the resting-place of choice for most Dutch princes, but has plenty of incredible monuments and the world-famous porcelain factory!
Finally, The Hague's Peace Palace is a symbol of international cooperation and peace.
Hot tip; Check out our full list of fun things to do in The Hague.
11 – Embrace the passion of a F1 race in Zandvoort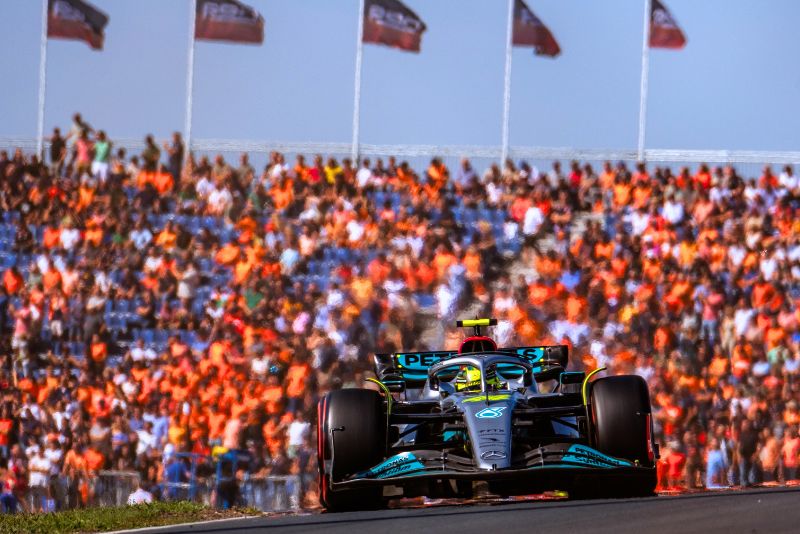 Happening at the end of August every year, the Dutch Grand Prix is a highly anticipated event on the F1 calendar. Zandvoort, the circuit which sits about 30 kilometers west of Amsterdam, is one of the most challenging tracks on the roster, making the F1 weekend all the more thrilling.
Along with the racing action, there are always several high-energy concerts and parties happening around the city. With a 3-day pass in hand, you can enjoy all the festivities, including practice, qualifying, and the race itself.
Hot tip: try to secure seats in the Eastside Grandstand for spectacular views of turns 11 and 12.
12 – See Sunflowers at the Van Gogh Museum
200 paintings, 500 drawings, and 700 letters from one of history's greatest artists take you not only through his artwork, but into his exceptional (although tormented) mind.
See just how his art has reached and influenced so many people, but only after a struggling Van Gogh had already given up on his aspirations.
As you explore the various galleries, you can learn all about the different movements that influenced him, and how he, in turn, impacted other artistic mediums.
And if you want even more context for the works you're seeing, you can even book a guided tour!
Sold out? Learn how to book Van Gogh Museum last-minute tickets.
13 – Do a city-wide scavenger hunt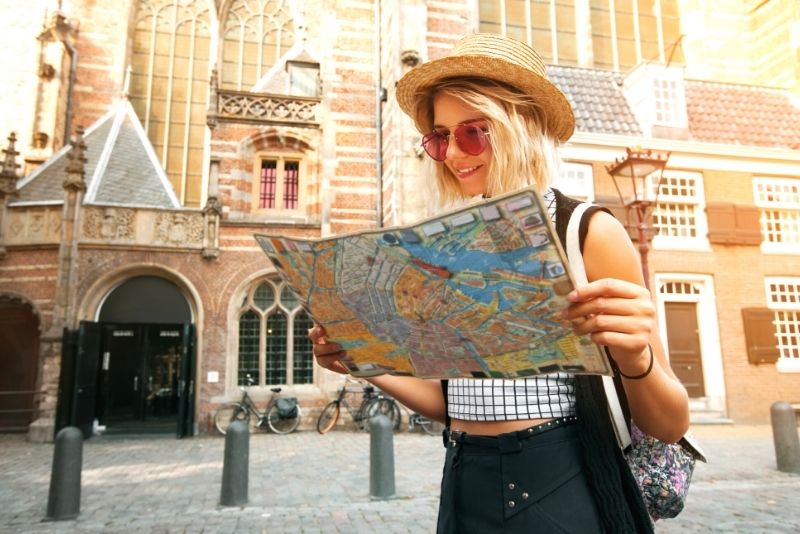 There's more to Amsterdam than meets the eye!
With your smartphone as your treasure map, you'll get a thrilling tour of the city full of fun facts, hidden history, and recommendations of great activities off the beaten path.
Best of all, you can pause the hunt if you want to stay somewhere a little longer.
14 – Check out the beautiful Jordaan district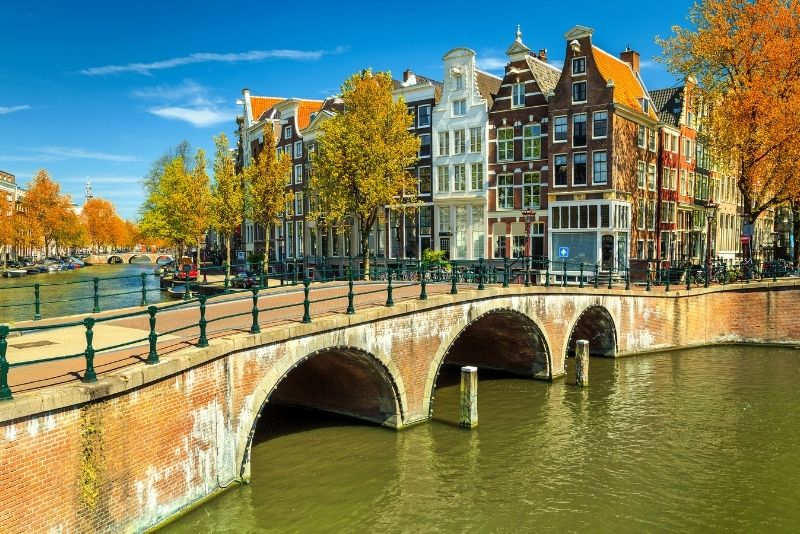 This is the part of Amsterdam you see on postcards!
The former working-class neighborhood is now hot property, keeping its rustic 17th-century charm intact.
Canals, courtyards, bridges, and backstreets are abundant – look out for young artists and entrepreneurs making their mark on the area while you listen to the tales of the magical Jordaan district.
Sponsored placement
Step into the world's most renowned artworks
See some of the most famous paintings come alive at Fabrique des Lumières!
At this incredible exhibition, watch as renowned artworks are projected onto walls up to 17 meters high, aided with light, video and sound. Walk among the brushstrokes of masters and become a part of the creation.
15 – Take the high road at the Hash Marihuana & Hemp Museum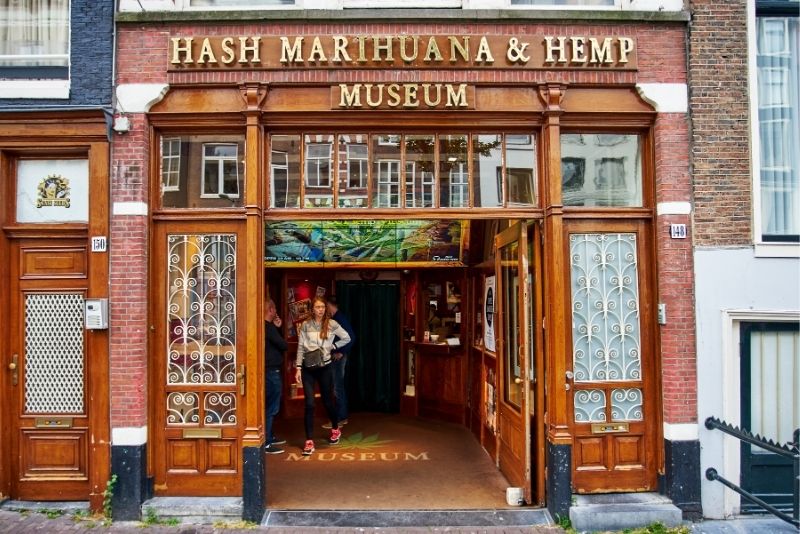 You'll find this marijuana museum smack-bang in the heart of the Red Light District!
There are real plants growing along with pipes and paraphernalia from across the world, but visitors will be surprised at the many uses for hemp!
Fabric, food, fuel – there's a reason why Holland became the hemp capital of the world!
16 – Discover good fashion in Fashion for Good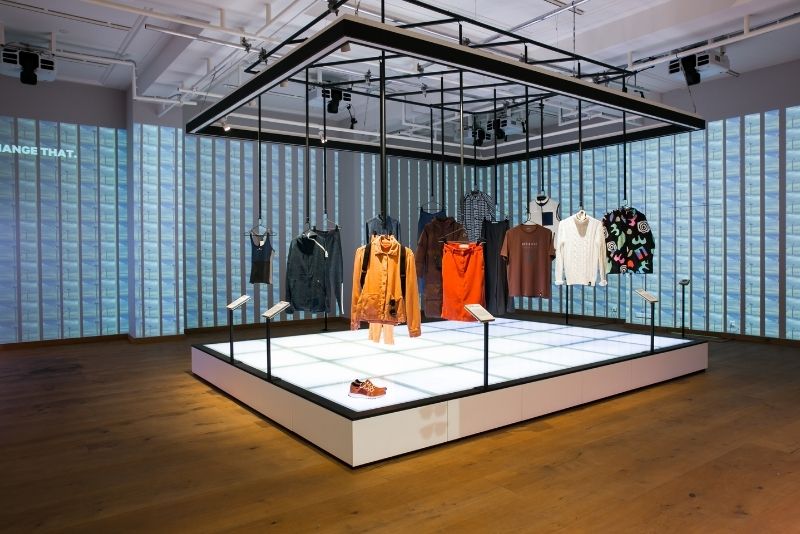 Did you know we buy 60% more clothing now than in the early 2000s, but only keep each garment for half the time?
This causes severe environmental impact which doesn't need to be!
Visit Fashion for Good and get the lowdown on finding clothes that are as stylish as they are sustainable, as big brands like Adidas and Lafayette jump on board!
17 – Discover how the city got so cool at the Amsterdam Museum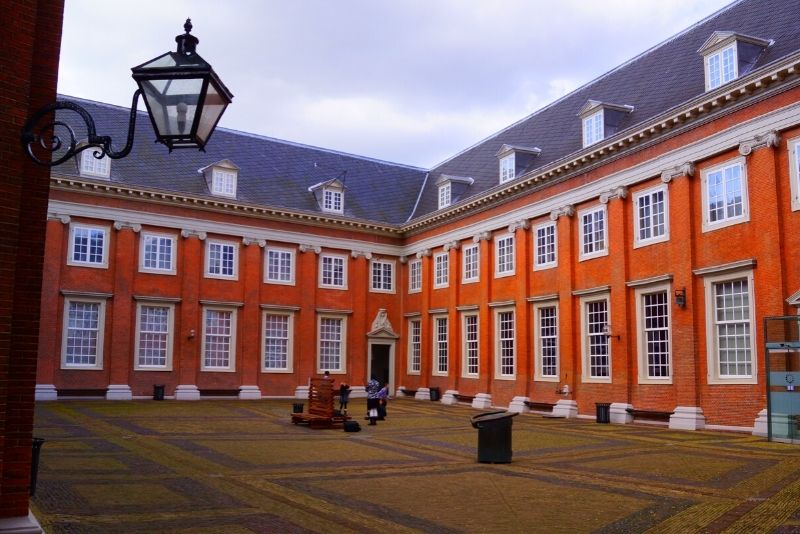 How did this awesome city produce artists, sportspeople, red lightworkers, and manage to colonize every corner of the world?
At the Amsterdam Museum, you can find out all about these amazing stories – and tons of obscure facts you may never have thought of!
Housed in an equally historic building from the 1500s, the collection features a nice mix of authentic artifacts and modern presentation techniques.
Get the lowdown on how the spice trade gave birth to the Amsterdam we know and love today in a totally interactive museum that will leave you appreciating the city on a deeper level.
18 – Read the Confession Wall at the Museum of Prostitution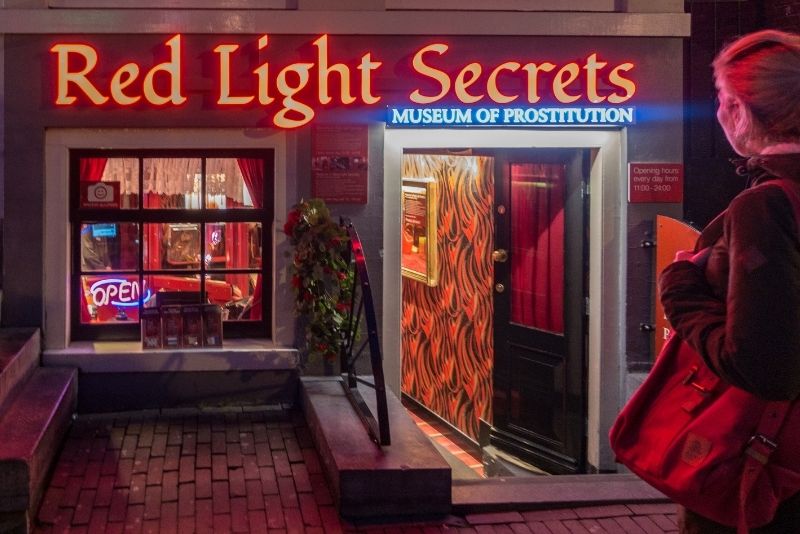 The world's only sex work museum!
It's in a former brothel where visitors can see what it's like on the other side of the Red Light District windows!
Learn how Amsterdam embraced sex work and the taboos, anecdotes, and dangers facing prostitutes.
Visitors love browsing the Confession Wall for juicy, eye-opening content.
19 – See a very out-of-place Church at the Oude Kerk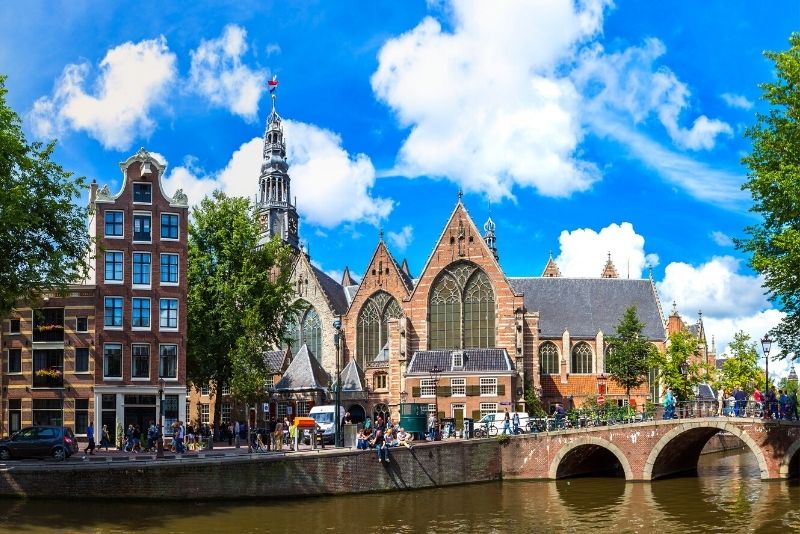 At the center of the Red Light District is … a Church?
Contrast doesn't begin to describe it – Amsterdam's oldest and most significant Church is surrounded by cannabis shops and brothels.
The Oude Church is decked out with art, yet more famous than its decorations is its reputation: they say people after a night of excess in the Red Light District would donate money to the Church!
20 – Make your meal an adventure with Amsterdam Surprise Night Dinner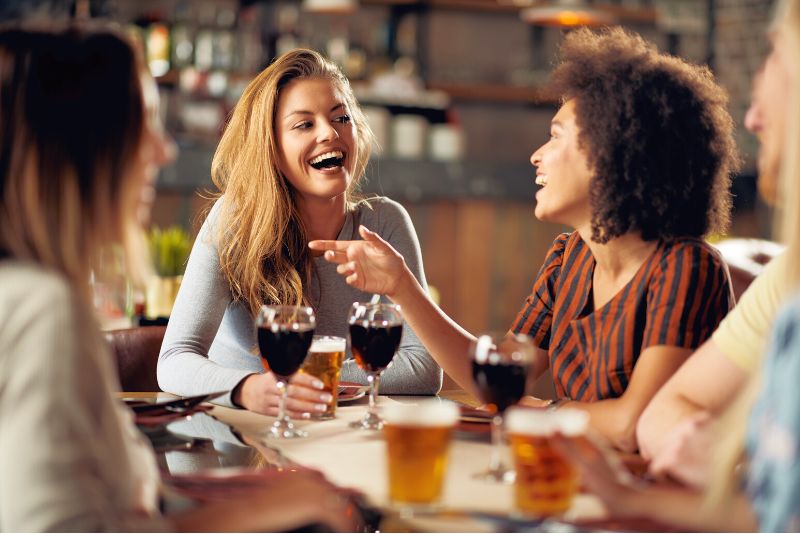 There's nothing like a unique meal while traveling; and with Amsterdam Surprise Night Dinner, every part of the meal will be an adventure – including where you eat!
Simply sign up for the evening of your choice, then wait for the text telling you your destination for the evening.
With an expertly curated list of the city's best restaurants, you can be sure of a wonderful dining experience – and a cool trip out of your comfort zone!
21 – Sip a few at the best rooftop bars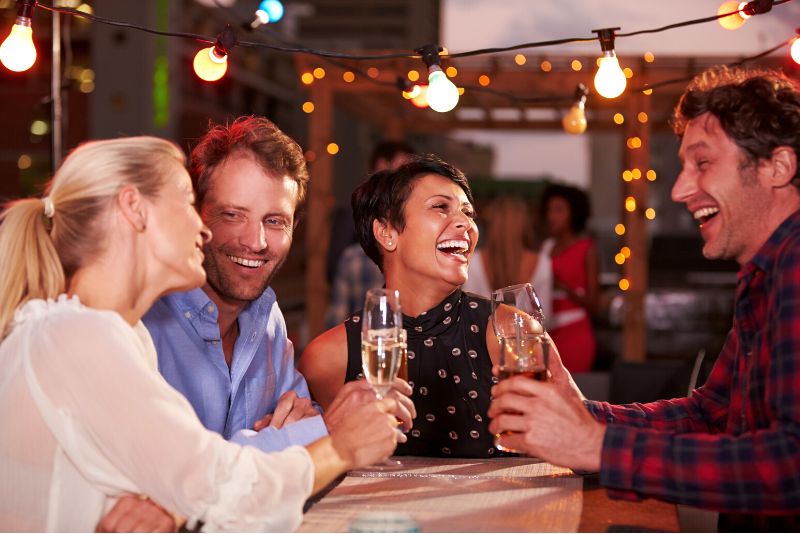 Blending style with delicious drinks, the rooftop bars of Amsterdam are some must-see spots!
Start things off right at SkyBar 747, where you can admire the airport with a celebratory arrival drink in hand.
Or get your winter sports fix at Floor 17, with great views of curling and hockey matches.
And if you're visiting during the summer, don't miss Level Eleven, a seasonal pop-up bar with expertly curated gin selections.
Settle in and enjoy the scenery!
22 – Put on your detective hat and do an Escape Room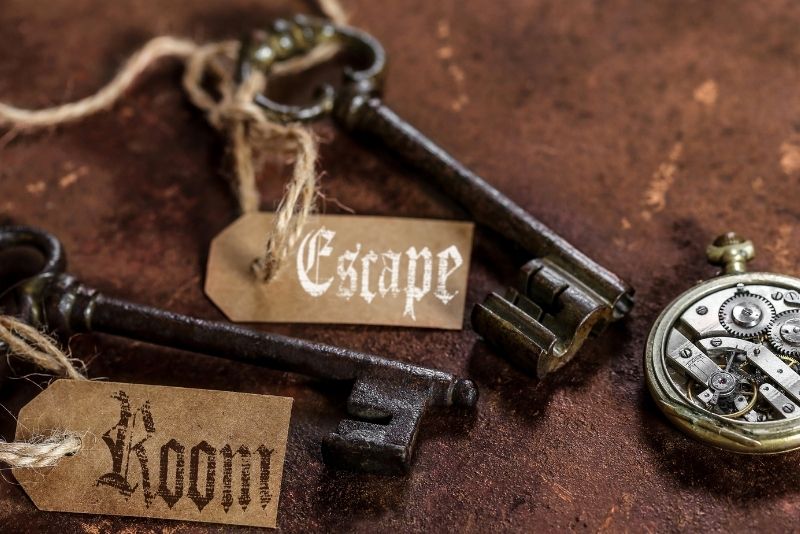 The world-famous Escape Room has been delighting people all over the world!
Enter a themed room like The Gallery or The Orient Express where all at once, the door behind you shuts.
All you have are 60 minutes, whatever is in the room, and your talented brain to solve the room! Are you ready?
23 – Go tilting at the Zaanse Schans Windmills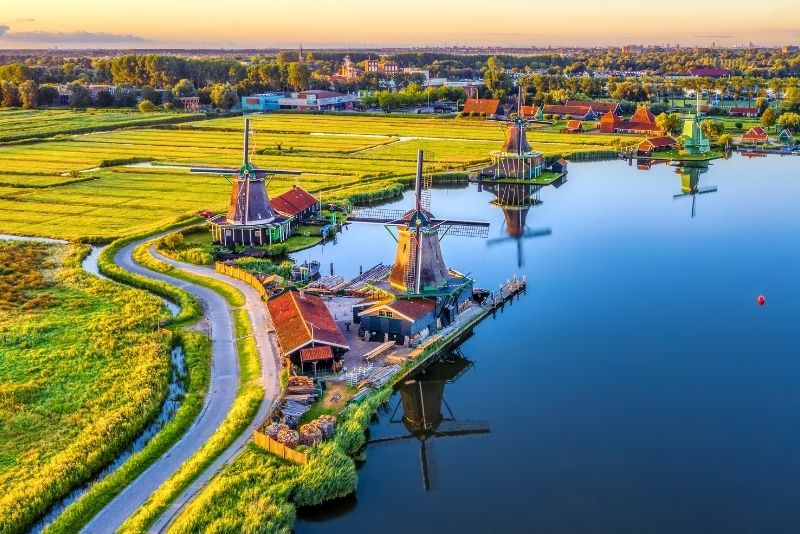 The most iconic Netherlands pics have to be the canals and the windmills!
Take a day trip from Amsterdam out to the stunning sea of different-colored tulips in the Dutch countryside, then the charming windmill village appears in front of you – a testament to the country's aim to be more eco-friendly and cool all at once.
24 – Have a drink at the Mirror Bar at House of Bols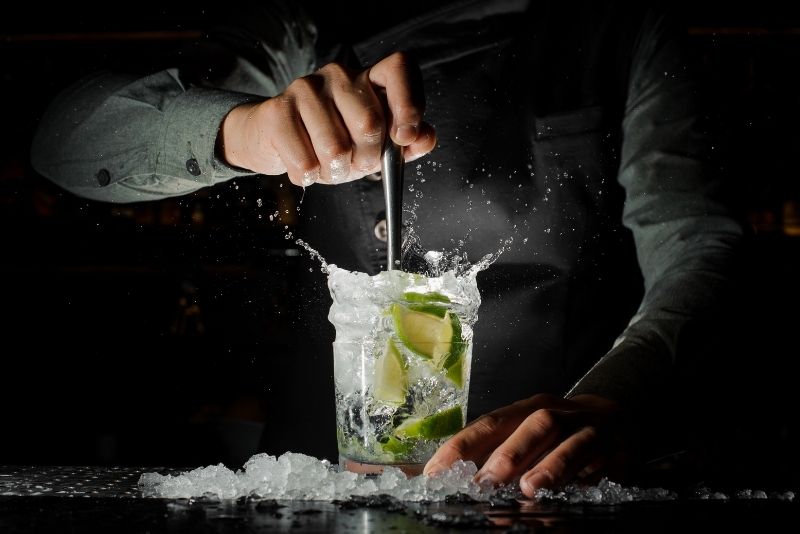 Step into the world of Lucas Bols, the brand providing Amsterdam with top-class liqueurs since 1575!
Experience the history through aromas, film, sound, and the Hall of Taste with all 38 liqueurs on show – before a bartender at the Mirror Bar will concoct one in front of your eyes to try!
25 – Get the best views of the city at the A'DAM Toren Lookout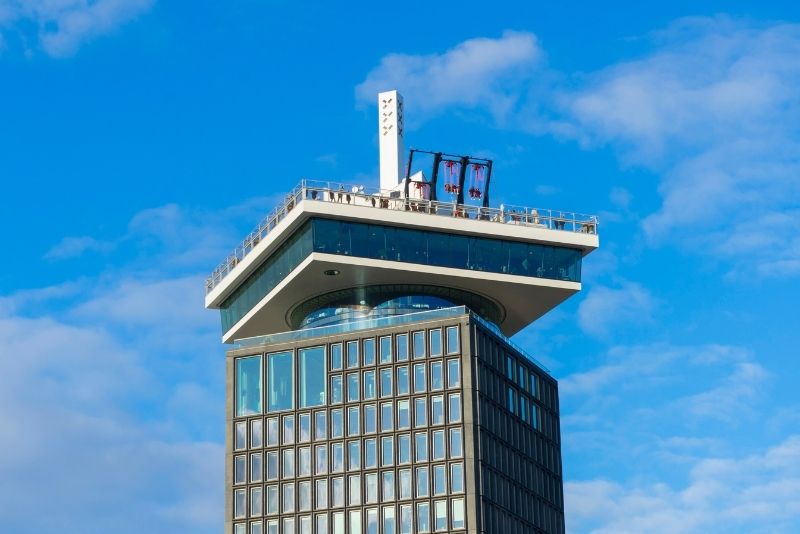 With free telescopes and 360-degree views of Amsterdam from the observation deck, this is a great place to begin exploring the city!
For those who dare, the Over the Edge swing will stop you just short of launching into the city – meanwhile, party-goers prefer the Madam bar and nightclub to dance on top of the world.
26 – See the world's largest flower garden at Keukenhof Gardens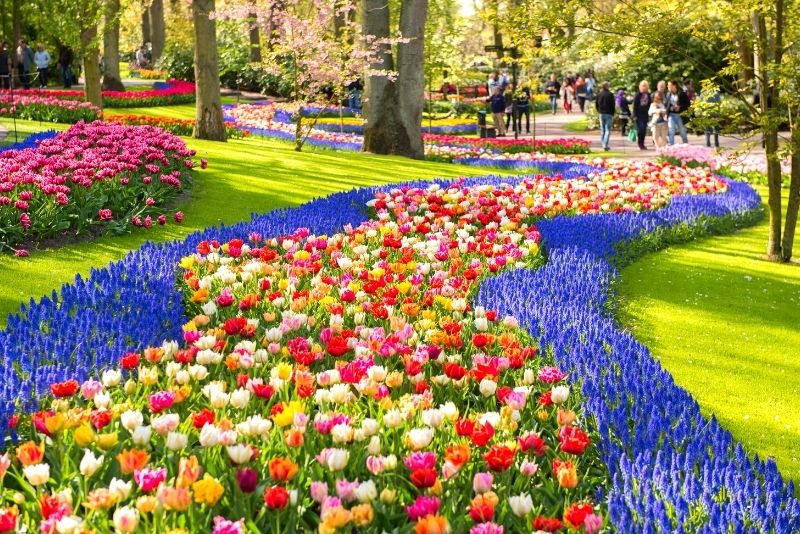 15 kilometers of paths through 32 hectares of tulips, hyacinths, and daffodils feels like you're walking through a giant painting!
The floral fragrances and flowers in any color you can dream of are literally at your feet. Travelers love the themed gardens, particularly the English garden, Japanese garden, and historical garden!
Read more about Keukenhof Gardens tickets price.
27 – Let your imagination come to life at Ripley's Believe It or Not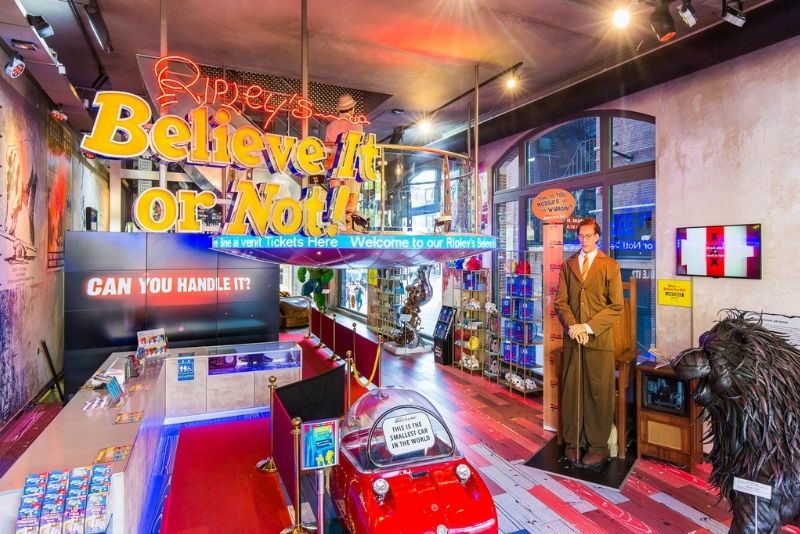 This isn't your ordinary museum!
This bizarre, eclectic place will freak you out, yet you'll be unable to look away.
Whether it's the shrunken heads, a robot made from car parts, underwater Amsterdam, or the world's longest fingernails which when laid out are the length of a three-story building… you'll never guess what's next!
28 – Look inside yourself at Body Worlds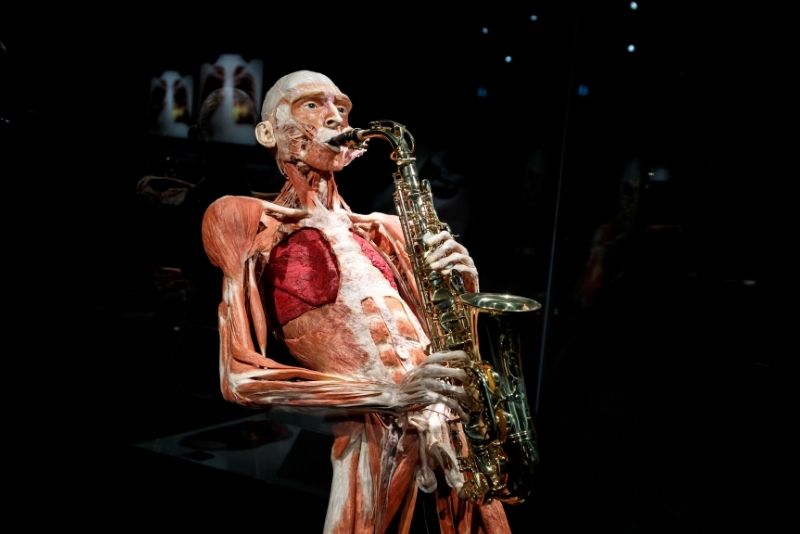 200 real people on display at an exhibition like no other!
The models seem like they can jump back into life at any moment, all showcasing the intricacies and vulnerabilities of the incredible human body!
The Happiness Project exhibition shows how happiness lifts our health, meanwhile, the adults-only basement exhibition may make your jaw drop!
29 – Be the king or queen at Castle Muiderslot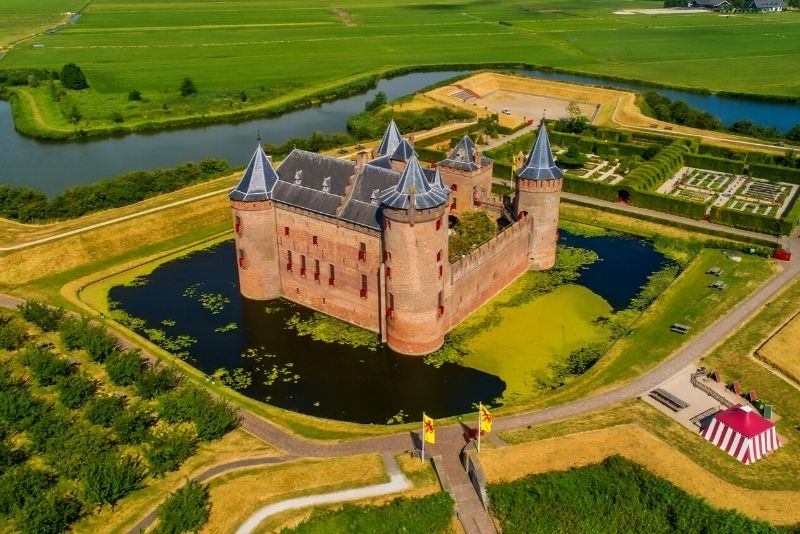 If these walls could talk, they would tell a great story or two!
Luckily, a tour guide can take over the moat into this castle that's over 700 years old, and tell you all the tales of this turbulent place!
It's amazingly well preserved, down to the historical herbs growing in the garden!
30 – Stroll through the Vondelpark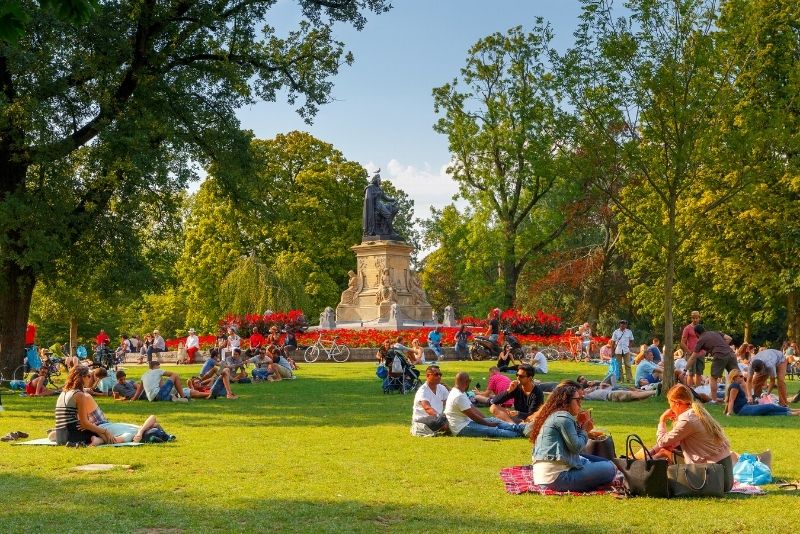 Amsterdam's largest park is not just easy on the eyes, it's full of activity and life!
Aside from the usual dog-walking and people-watching, the open-air concert hall hosts free dance, comedy, and music performances!
There are plenty of cafes and restaurants nearby, as well as a stunning statue of the poet Vondel surrounded by flowers.
31 – Spot wildlife and Van Gogh at Hoge Veluwe National Park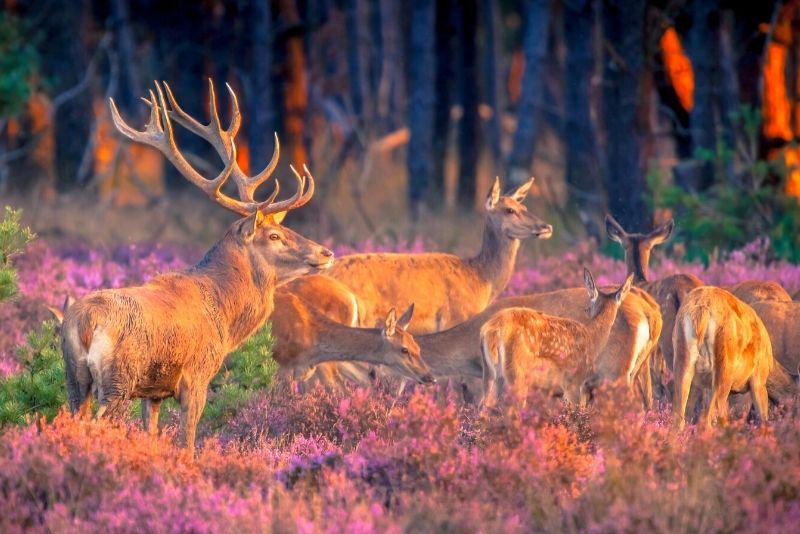 A little out of Amsterdam, the national park is a great place to hike or cycle while looking out for the deer, mouflon, and wild boar!
Although the park is just an hour from the city, you'll feel like you've stepped into a piece of Europe's rural past as you explore!
Wander through thick forests and admire the expansive plains, as you learn all about this valuable ecosystem and its remarkable residents.
Most travelers will then head to the nearby Kroller-Muller Museum, the second-largest collection of Van Gogh's art anywhere in the world, and a 160-sculpture garden among the nearby nature!
32 – Ride a bike through Amsterdam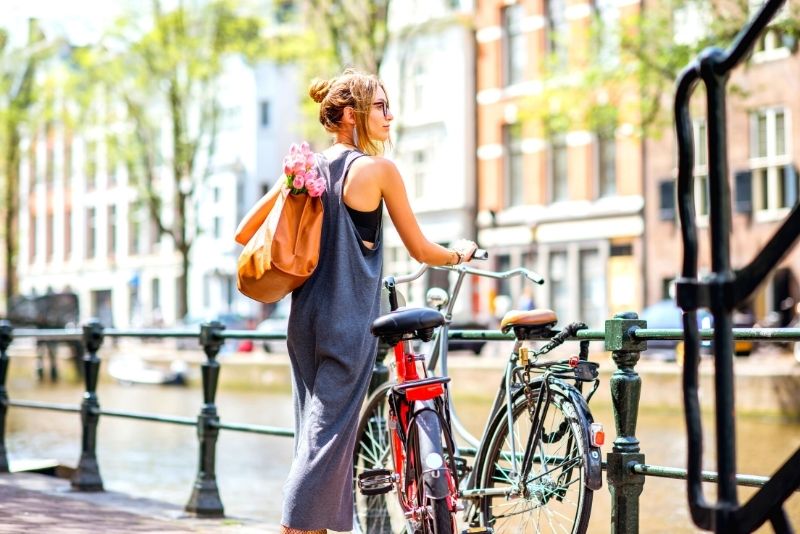 This is how the locals get around!
Local guides love leading bicycle tours where travelers can cover a lot of ground and get into those narrow streets for the city's secret spots that only a local knows, in between stopping at the major landmarks and getting the lowdown on Amsterdam culture!
33 – Go canoeing in the Wetlands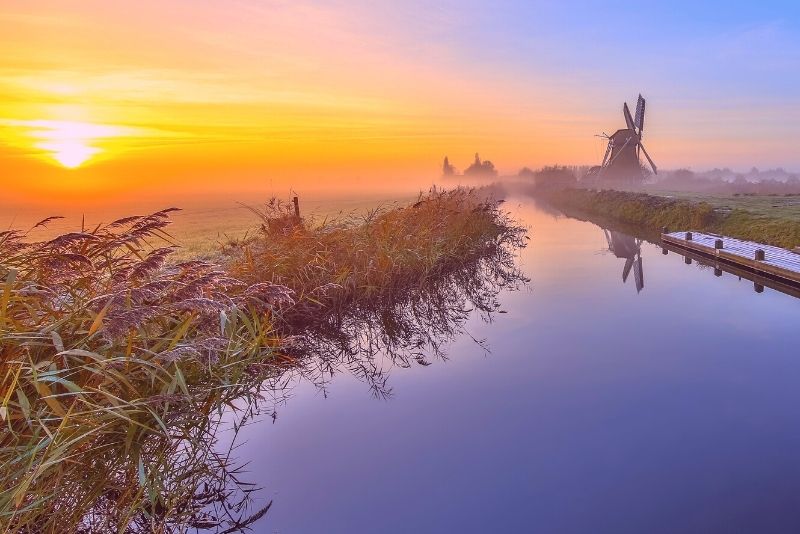 For adventure-loving travelers, or anyone who just needs a few hours away from the busy city, the Wetlands are a great escape!
The rural Netherlands by the Wetlands is literally picturesque – Rembrandt painted it!
With birds tweeting and the aroma of wildflowers, this is a perfect setting for a sunset over the flat countryside.
34 – Hit up the beaches of Zandvoort and Scheveningen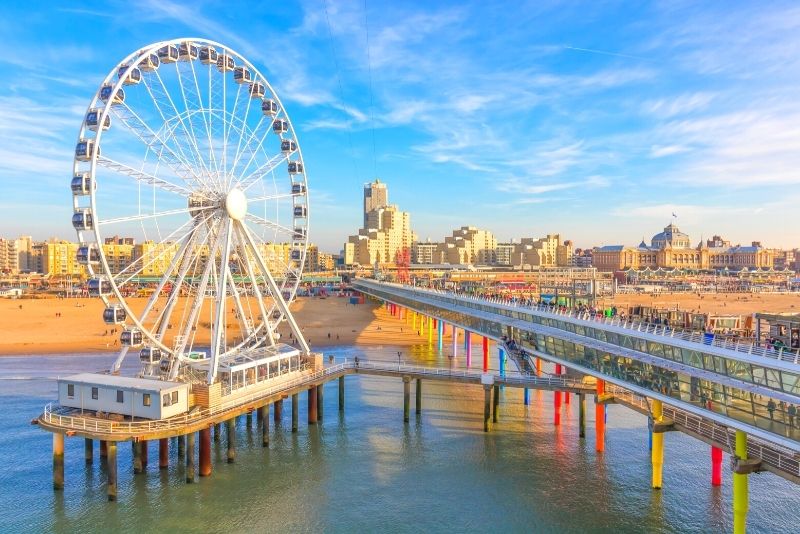 Craving a swim at the sunny beaches?
Zandvoort, known for being the home of the Dutch Grand Prix, and Scheveningen are two great seaside cities a stone's throw from Amsterdam!
Travelers spend hours rolling down Zandvoort's sand dunes and hitting the casino, or surfing and playing volleyball on Scheveningen's beaches.
35 – Get on a Segway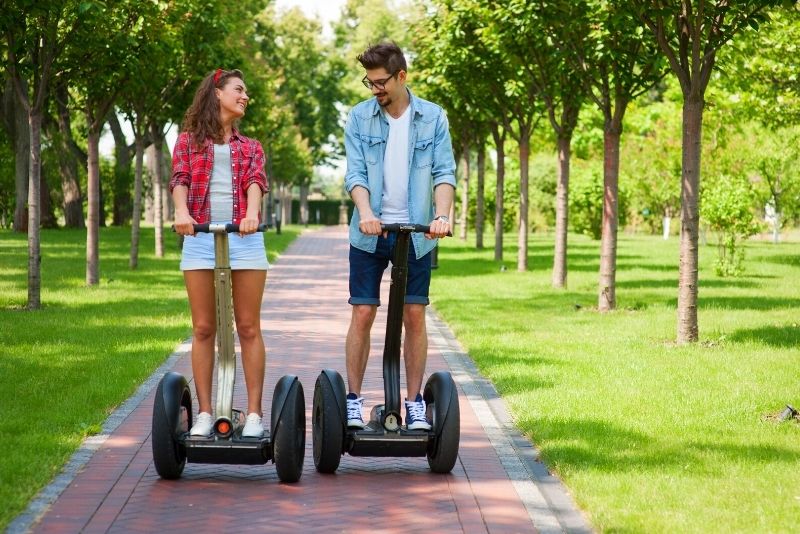 A guided tour on a self-balancing segway lets you do things you can't do on a tour bus.
Zip by the canals, down Skinny Bridge, and through the Botanical Gardens while your guide captivates you with great finds, anecdotes, and local recommendations for things to do in Amsterdam!
And don't worry, Segways are easier than they look!
36 – Fly over Amsterdam in the 5D THIS IS HOLLAND experience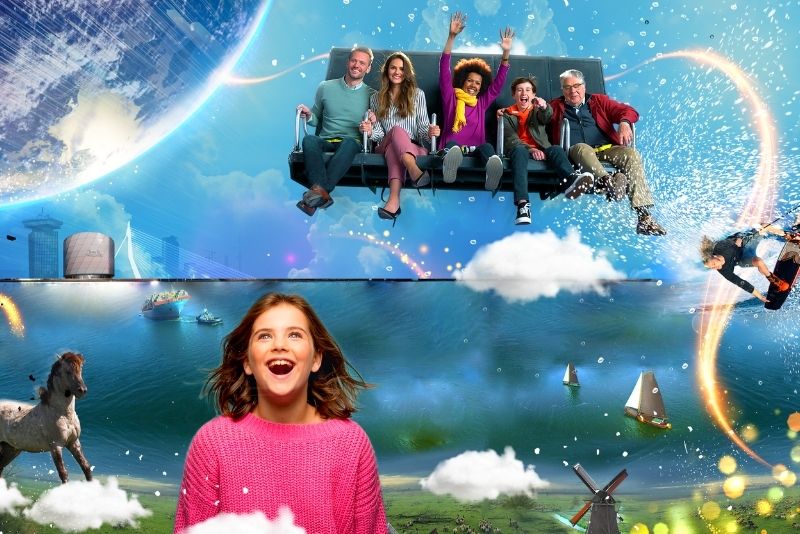 This brings a whole new meaning to Flying Dutchman!
Get the best of the Netherlands in this fully immersive sensory experience! Soar through the sights, sounds, and smells of Amsterdam and the Dutch countryside – all while putting your feet up in the flight simulator.
Fly over heritage sites, canals, windmills, and all! Or, if you prefer the real deal, you can opt to book a true flight experience!
37 – Meet Shrek, Van Gogh, and Nelson Mandela at Madame Tussauds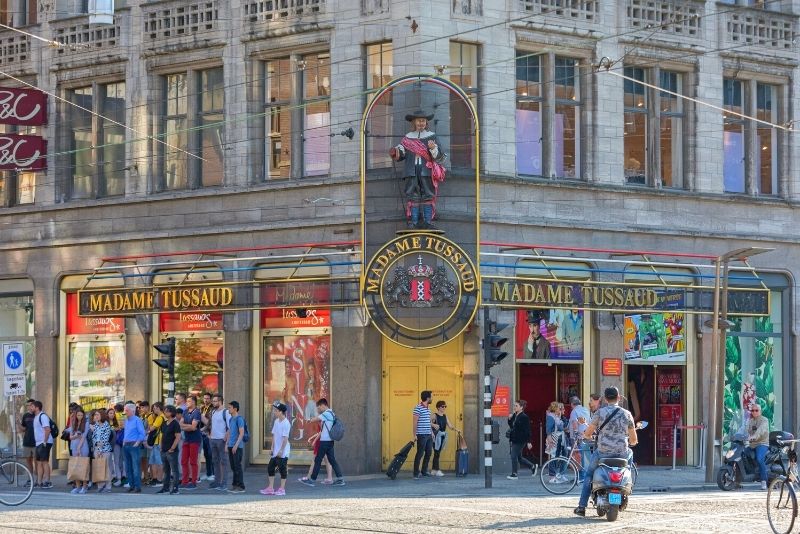 Madame Tussauds has lifelike versions of plenty of celebrities, who stand remarkably still for photos and are happy to listen to your thoughts on them!
Artists, singers, royals, superheroes, Nobel Peace Prize winners, and more on display – then swing by the recording studio to belt out a tune and get the footage sent to you!
38 – See Studio Irma at Moco Museum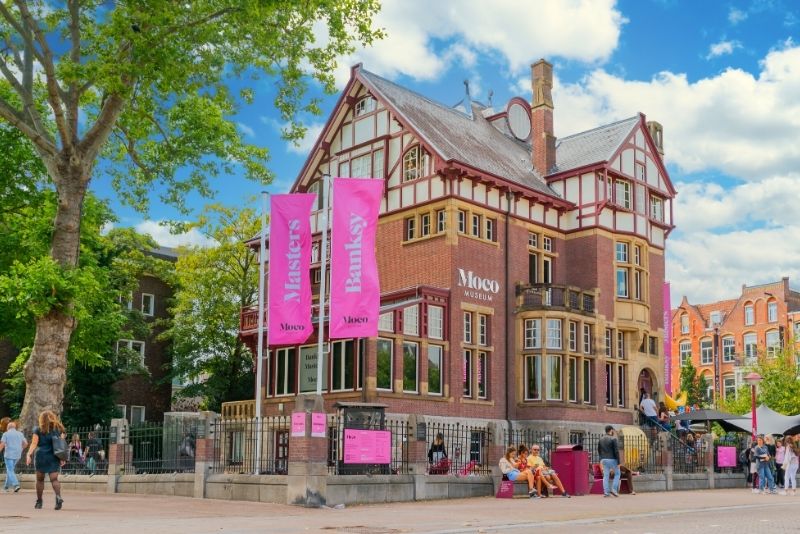 Amsterdam's contemporary art scene is as cutting edge as the grandmasters that came before it.
Banksy's Laugh Now is a popular highlight for visitors, as is Dutch-born Studio Irma's celebration of female artistry in her piece Reflecting Forward.
Studio Irma's powerful art ensures all visitors to Moco return with a shared, empathetic understanding!
39 – Be stimulated at the Sexmuseum Amsterdam Venustempel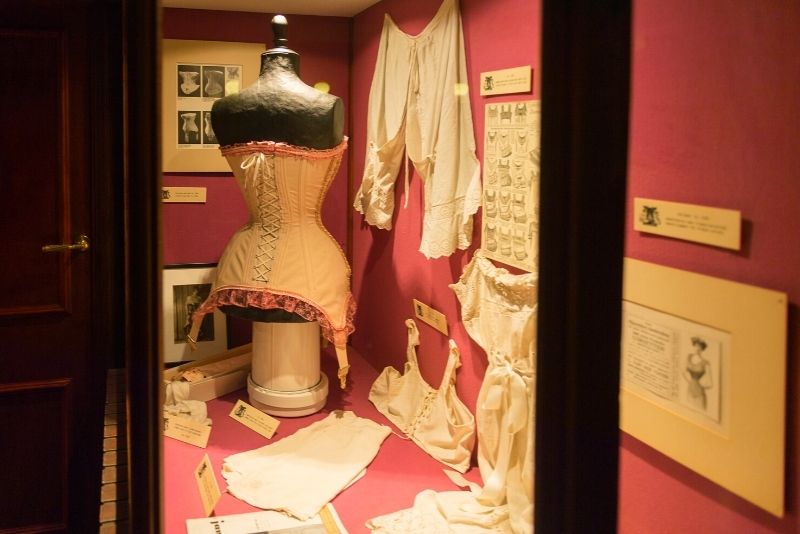 This titillating museum touches on a taboo topic in a remarkably insightful way!
With a mixture of art, sculpture, humor, and eroticism, it looks at the role of sex in human life from the ancient Greeks, the steam machines used to cure 'female hysteria', and the increased sexual liberation of today.
Who says museums can't be fun?
40 – Get a taste for Amsterdam on a food tour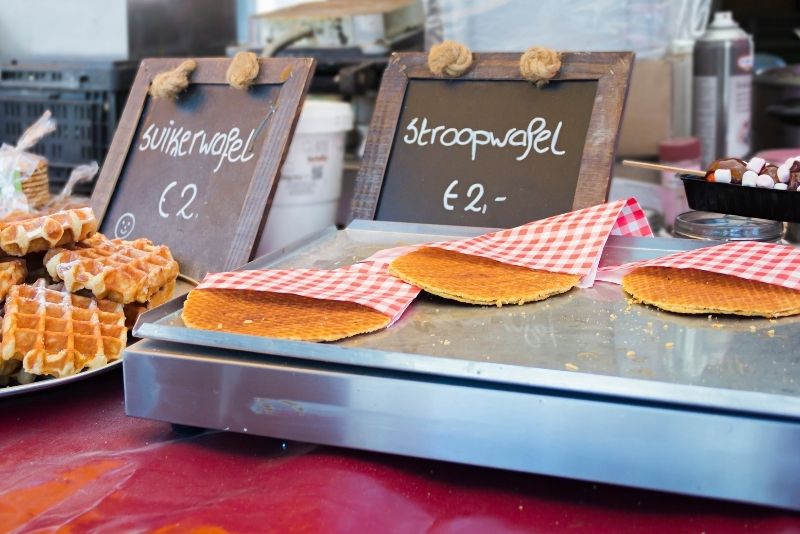 Explore Amsterdam through your taste buds on private food tours to all of the local hidden gems.
Feast your way through the Jordaan district, where diverse and lively restaurants mingle with the vibrant energy of the city.
As you learn firsthand culinary secrets from your guides, you'll also gain some new perspectives on Dutch society and history – with some pretty delicious results!
It is definitely the most delicious way of experiencing the culture and traditions of the city as you learn about all the rich history of authentic dishes including the signature stroopwafel – a delight for any sweet-tooth!
41 – Be scared out of your pants at the Amsterdam Dungeon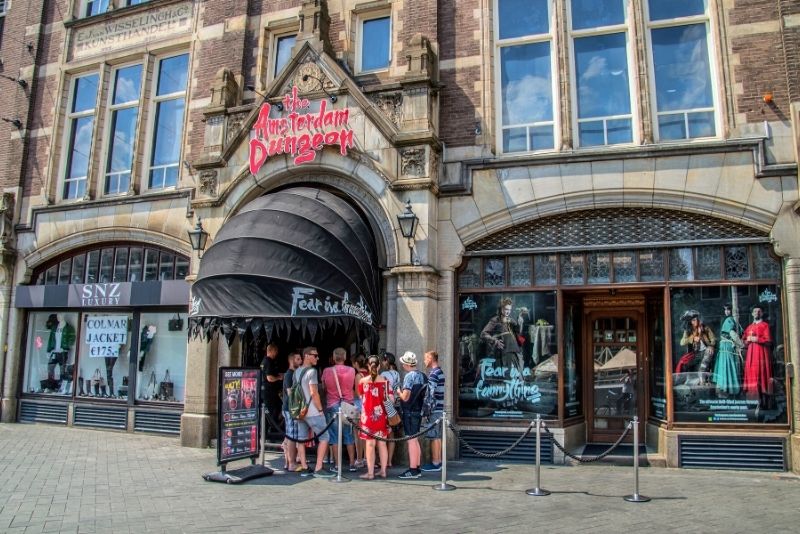 BOO! Scared? Okay, maybe not.
But the dungeon show will make your hair stand up on end!
Experience Amsterdam's dark side with shows full of live actors, creepy history, jump-scares, gruesome sets, torture chambers, and a good dose of dark comedy!
Travelers are intrigued by the gallowfield, where all those sentenced to Death Row once congregated.
42 – Take a sketch class at the Rembrandt House Museum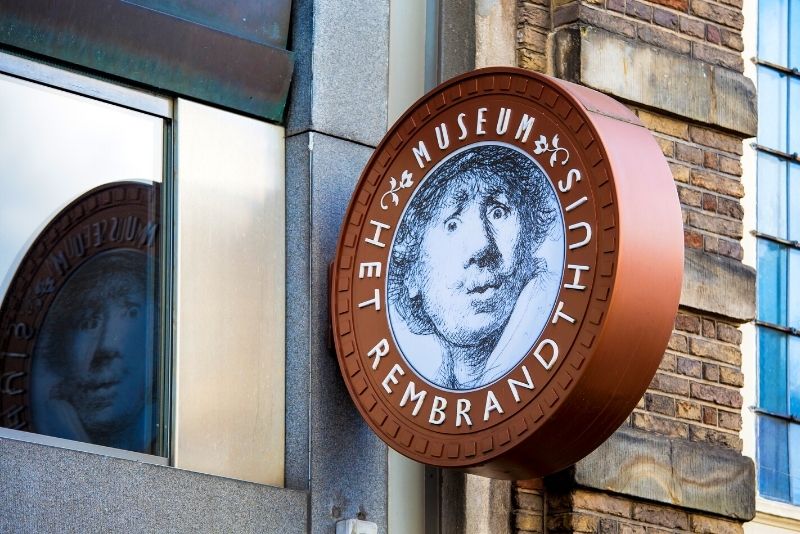 Visitors can take paint and sketch classes where the great artist lived and worked until his bankruptcy.
The house and its decor scream 17th-century brilliance and exhibit Rembrandt's rare pieces and personal collection.
To dive deeper into his art, there's a display that uses modern technology to reveal details of his paintings that the naked eye can't spot!
43 – Cross the border into Belgium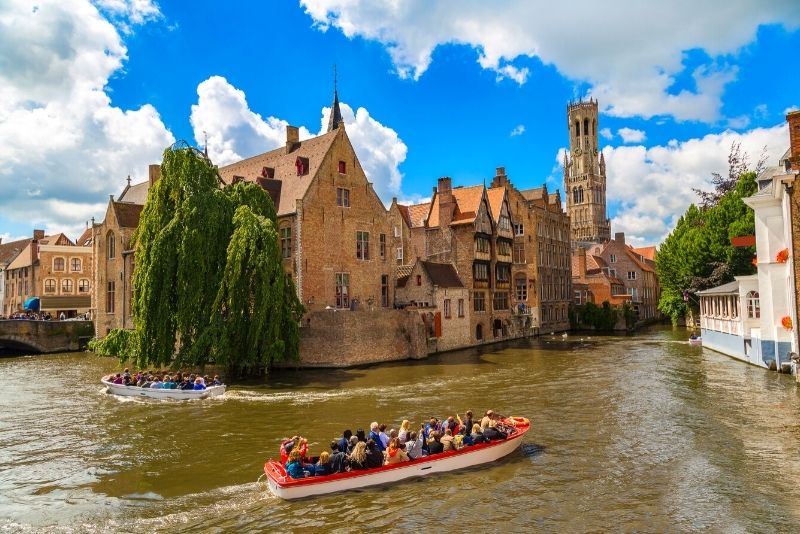 Since Amsterdam is at the heart of Europe, travelers can take the chance to explore great places!
Bruges in Belgium – known as 'the Venice of the North' – is close enough for a half-day or full-day trip complete with beautiful water, famous chocolate, historic district, and bustling marketplace – with free time to spare!
Stop into some charming little shops for souvenirs, enjoy the unique city views, or relax and people watch in the public squares.
You can even stop by the Basilica of the Holy Blood and see a vial that supposedly holds the blood of Jesus himself – not bad for a day trip!
Hot tip; Don't miss our selection of fun things to do in Bruges.
44 – Just try the herring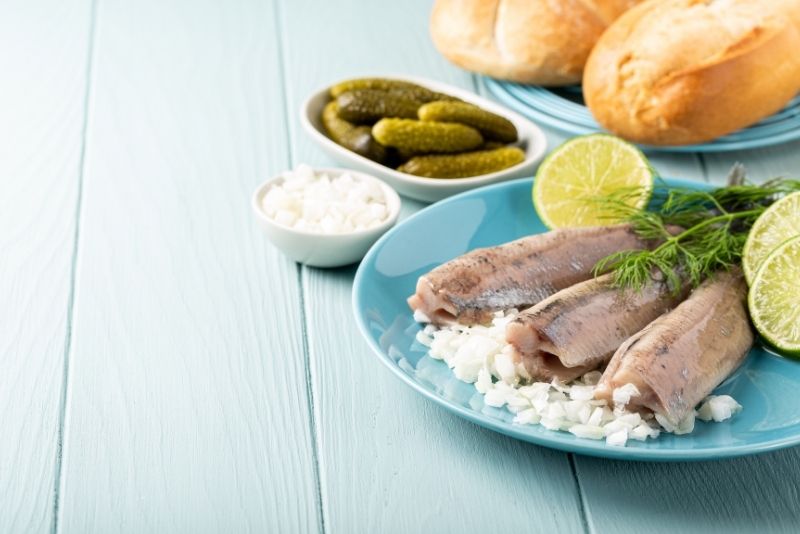 Travelers might detect a strong fishy scent as they walk past food carts.
That's the herring, and trying a plate is one of the most essential things to do in Amsterdam!
It's not raw, and tastes like a salty sashimi.
It's a perfect hangover cure, lowers cholesterol, and boosts the immune system. So go on, try one!
45 – Hit up a music festival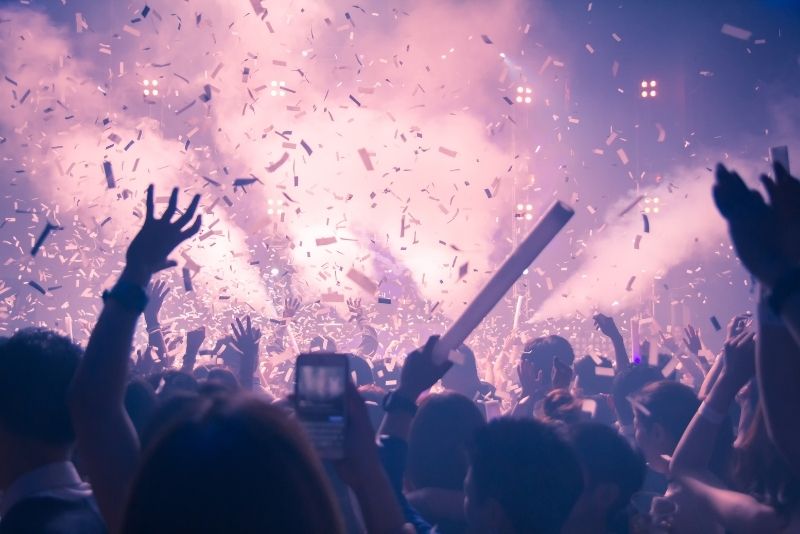 Every Easter, DGTL's eco-friendly festival unearths the top of underground electronica for a long weekend of hectic light shows, sick beats, and dancing like no one's watching!
Loveland is another incredible electronica and techno festival, with a giant pool party!
Or for something completely different, Klassifest is all about classical music touching the souls of its listeners.
46 – Board a vintage ship at the National Maritime Museum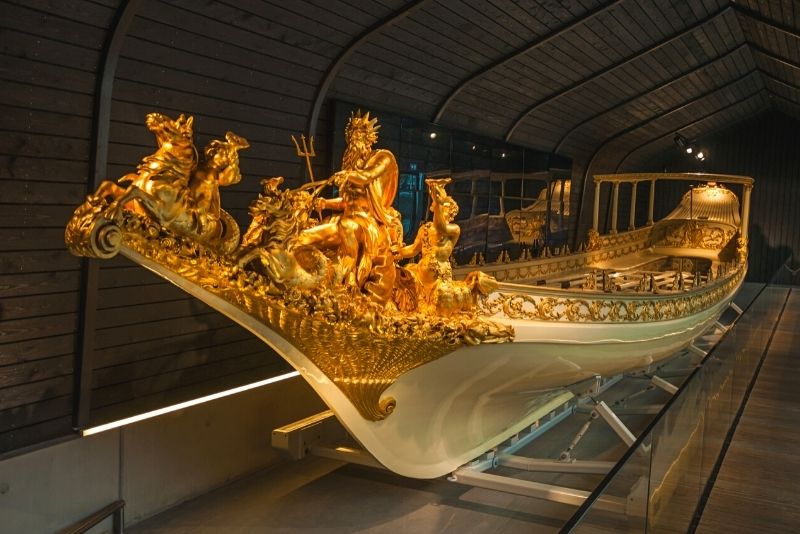 How did the Netherlands conquer the seas to have colonies from New York, to South Africa, and across to Indonesia?
They discovered new land – see the old atlases where they sketch it down for the first time!
Then follow the adventure of an 18th-century sailor as you board a replica period ship!
47 – Walk Giethoorn's Old Town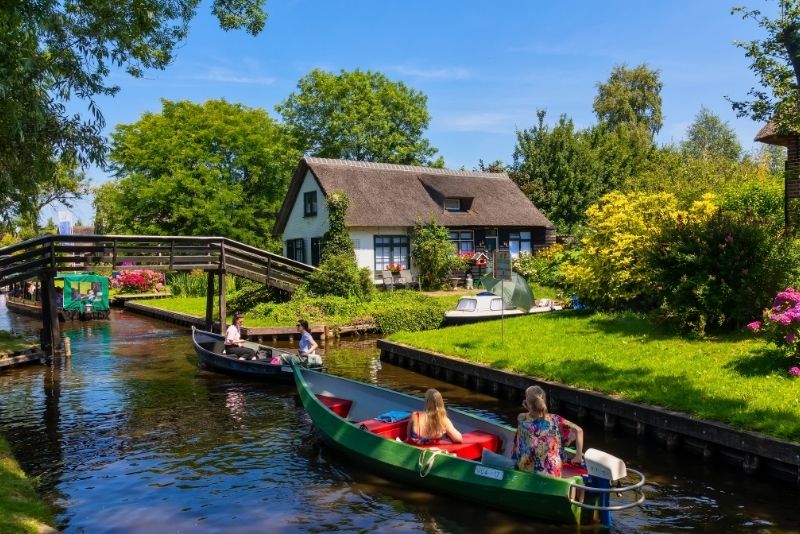 Drive out of Amsterdam on polder landscape – land which was taken from the sea – and head to one of Holland's most scenic villages!
Cars are banned from the old city to preserve Giethoorn's character, so you can only explore on foot or on a boat through its canals!
Visitors love the curious thatched-roof houses.
48 – Take the ferry to Marken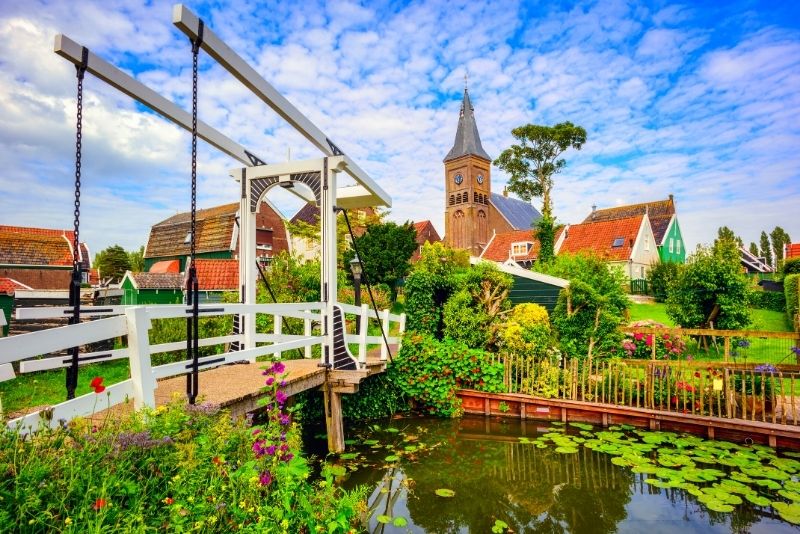 Up until the 1950s, Marken was stowed away from the mainland where it built up a really unique character which it still has!
It was originally built in the middle of the Zuiderzee, an oceanic bay with incredible scenery.
The village's distinctive traditional culture made it a magnet for anthropologists, and ever since the water was dammed, it has remained as a relic of yet another bygone era.
Check out the colorful wooden houses on stilts, the wooden shoe factory, the old-school fishermen on Lake Markermeer, and the lighthouse that brought them to safety.
49 – Haggle at IJ-Hallen flea market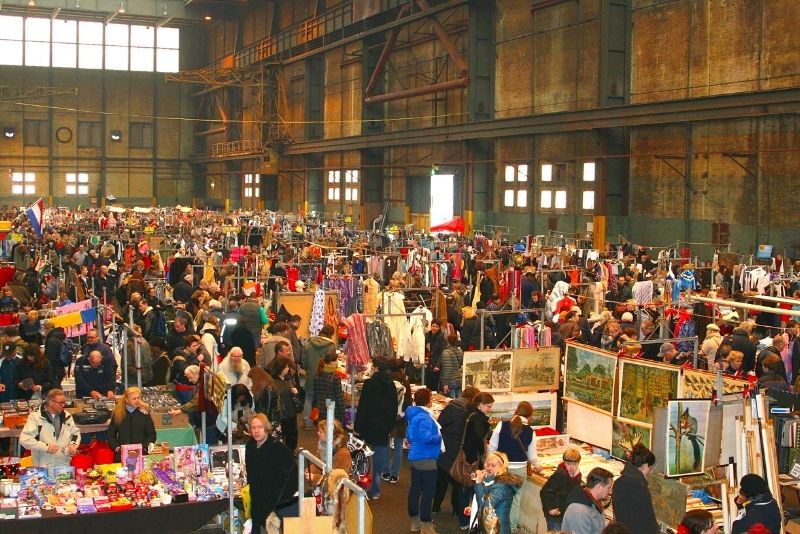 Europe's biggest flea market with 750 stands pedaling clothes, antiques, jewelry, books, furniture, and everything in between!
To get the most out of your visit, get in early before the good stuff goes, or come in Sunday afternoon when vendors will slash prices on stock they don't want to take home.
And don't forget to haggle!
50 – Find the Our Lord in the Attic Museum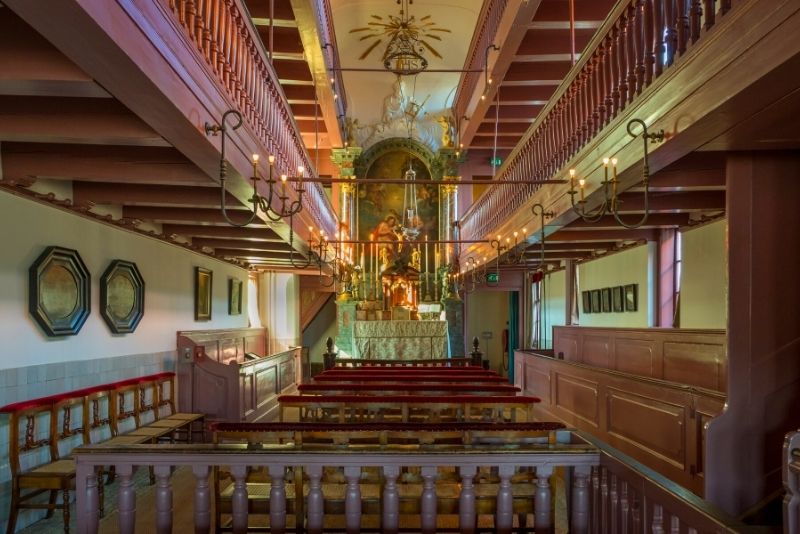 Anyone walking past the 17th-century houses would miss it.
At a time where Catholics couldn't pray openly, a Catholic Church hid in plain sight.
Visitors love walking through the corridors and staircases of an ordinary house, to find a church hidden in the attic that has escaped the public eye for centuries!
51 – Be dazzled at the Diamond Museum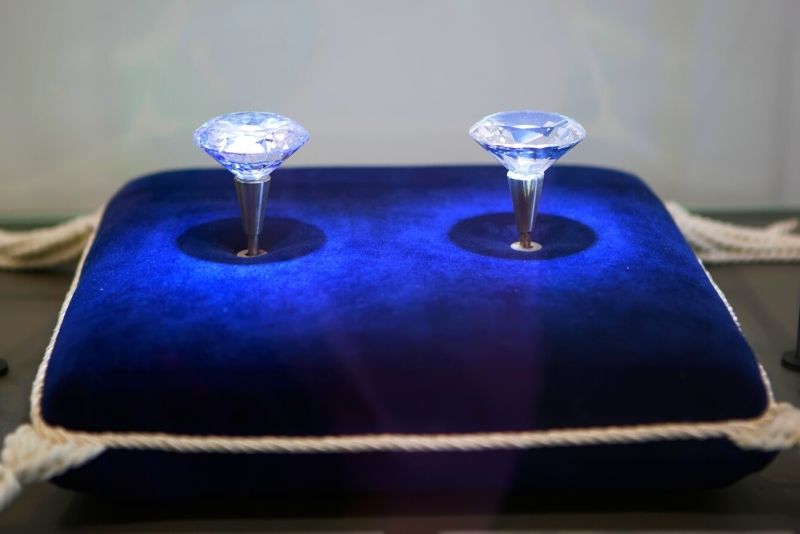 Diamonds are forever – and so are the memories you'll take from this museum!
This museum is definitely easy on the eye, and plain fascinating!
Learn how billions of years and a 200-kilometer journey from the center of the Earth goes into every diamond.
Visitors love the diamond ape skull and the diamond-encrusted Starry Starry Night.
52 – Experience 19th-century life at the Willet-Holthuysen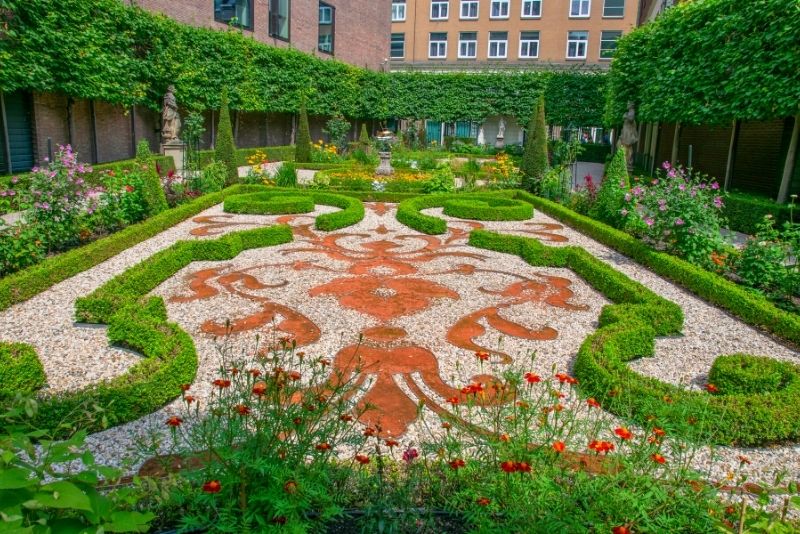 The glamorous house and its collection were left by the wealthy Mrs. Willet to the city of Amsterdam for all to enjoy!
Sitting proudly in the middle of town,  this opulent home was once home to one of the 19th century's most prominent couples.
They were known for their impressive art collection and decorating skills, all of which paid tribute to the even more lavish Romantic era.
Stroll through the French-esque ballroom, the lush garden, and the museum with a collection of art and antiques – to get a taste of the life of the wealthy and their servants!
53 – See real resilience at the Dutch Resistance Museum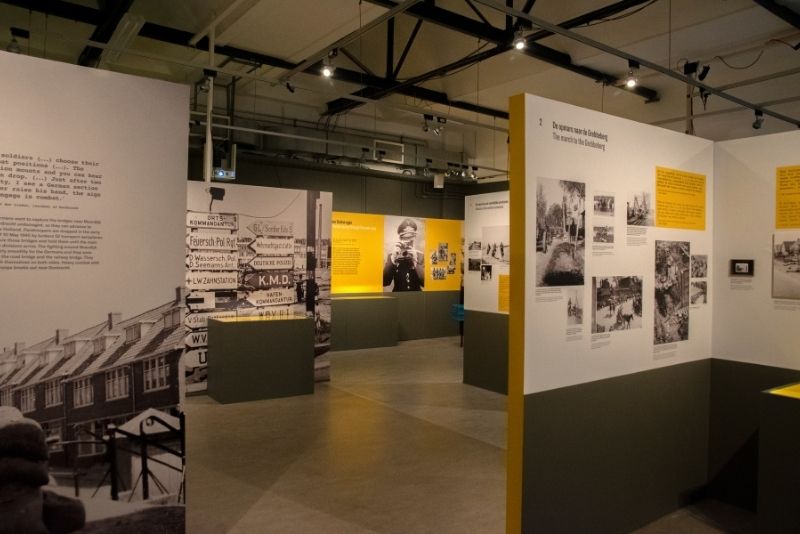 It's 1940 and the Germans have taken Holland. What do you do the next day?
Learn how the shocked locals were forced to drastically change their lives under the new regime; while finding ways to resist by smuggling weapons, hiding Jews, and cooking with flower bulbs!
It's a tale of resilience and standing up under pressure.
54 – Dine at a Michelin-star restaurant
We get that you can't have salted herring and pot brownies every meal.
Treat yourself to the sweet and sour contrasts in De Kas, the creative use of vegetables at Choux, the incredible Asian food and cocktails at Geisha, or the relaxed ambiance and simplicity of Elkaar – to name a few!
55 – Stay cool at the XtraCold Icebar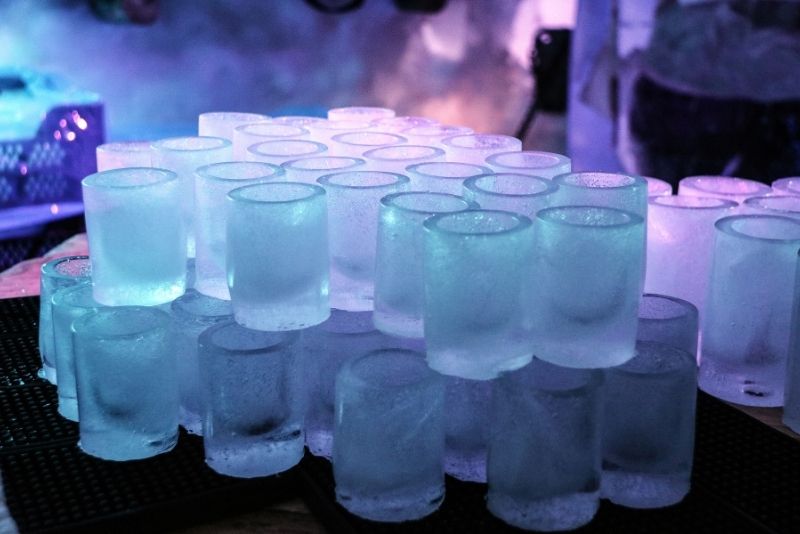 Literally the coolest bar in Amsterdam.
Swap your tees for thermals and gloves and chill out in the -10 degree polar pub where everything – even your chair and your glass – is made from ice!
The funky colorful lighting adds an incredible ambiance which is the perfect way to begin or end any night on the town!
56 – Travel the world at Tropenmuseum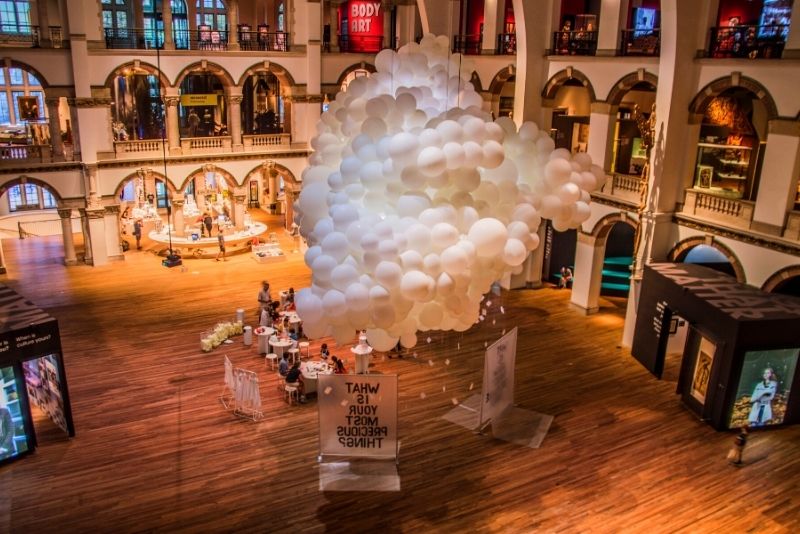 This is a museum about the world with a slight twist.
Instead of trying to emphasize the differences between peoples and cultures worldwide, the museum invites visitors to find similarities and universal themes that connect everyone!
Get up close and personal with fascinating items from around the world, and see the unusual ways in which they relate to each other.
Along the way, you can delve into the themes that drive our personal lives, from worship and conflict to parties and grief rituals.
There's even a junior wing of the museum to keep the kids entertained, making it a must-visit.
57 – Go cheese-tasting with Henri Willig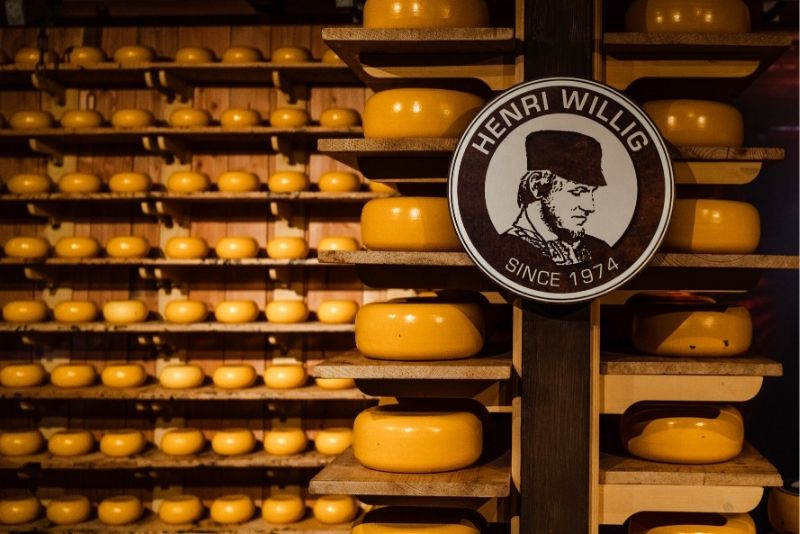 Go behind the scenes at an authentic cheese factory as you sample the finest local cheeses with a matching beer or wine in hand!
Henri knows the As to Zs of all things cheese, visitors will learn a thing or two about how cheese is made, and how to tell your gouda from your goat's milk.
58 – Find Woodcutter at the Stedelijk Museum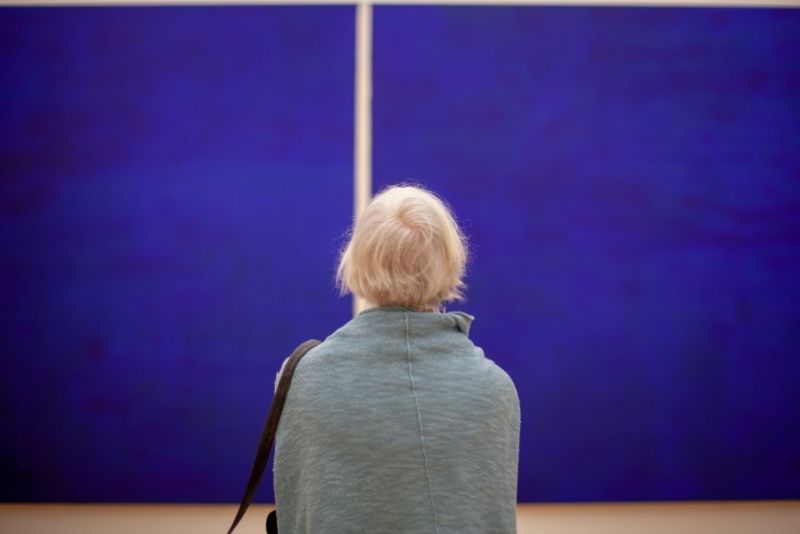 Packed to the brim with dynamic modern-art masterpieces, this is heaven for art-lovers!
With the likes of Picasso, Cezanne, and De Stijl gracing its halls; visitors cannot stop browsing the 90,000-strong permanent collection including moving images, graphic design, industrial design, and installation!
Visitors also love hearing about the stolen masterpieces!
59 – Get the star treatment at the Hard Rock Cafe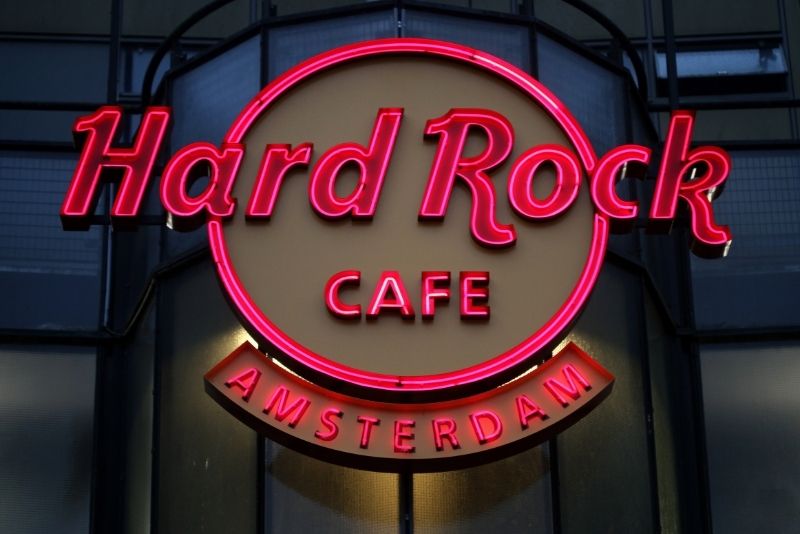 You can't have stroopwafel and cheese every night, so grab a hearty dinner at the Hard Rock! Munch on burgers, mac-and-cheese, ribs, or vegan options – they're just some of the tasty food options on the menu.
After you order, be sure to check out all the rock memorabilia!
The cafe has Eddie Van Halen's guitar and Marilyn Manson's silver bodysuit on display.
60 – Be mystified on an evening canal cruise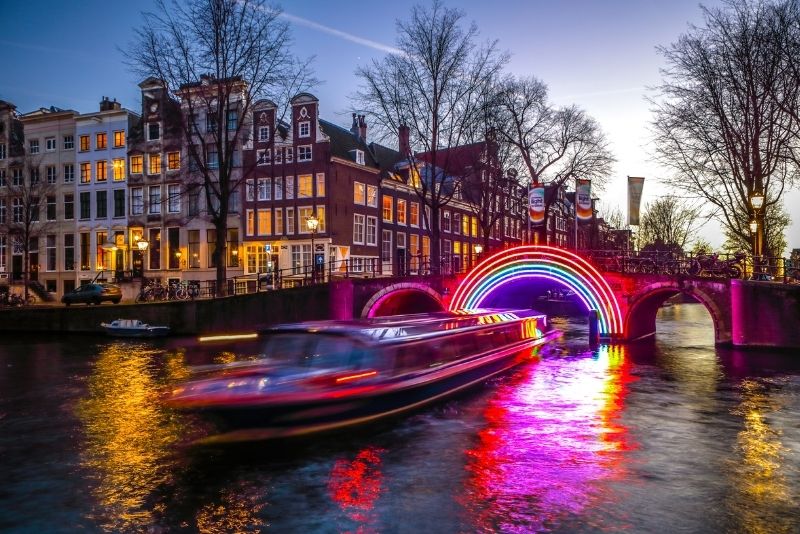 Cruise your way through the evening as you are taken through the canals of the city, lit by thousands of lights along the bridges and buildings.
Amsterdam will feel like a fairytale as you sail through the city center and illuminated merchant houses.
If you are after a little evening romance, this is the experience for you!
61 – Learn that size doesn't matter at the Micropia Museum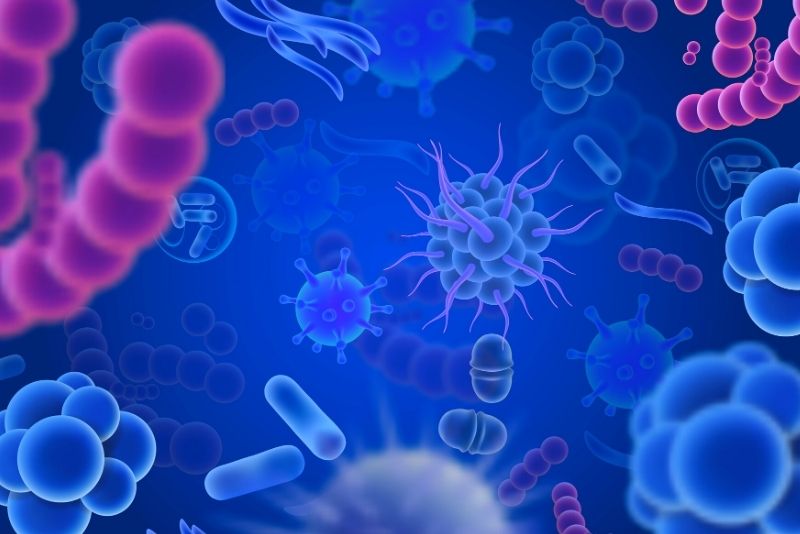 Most travelers haven't thought about microbes since high-school science, but they're fascinating things!
We can't even see them – yet they clean our water, cure diseases, and create energy!
Delve into the planet's most important and successful critters and how much we need them at this award-winning museum which you don't need a science degree to enjoy.
62 – Go on a brewery tour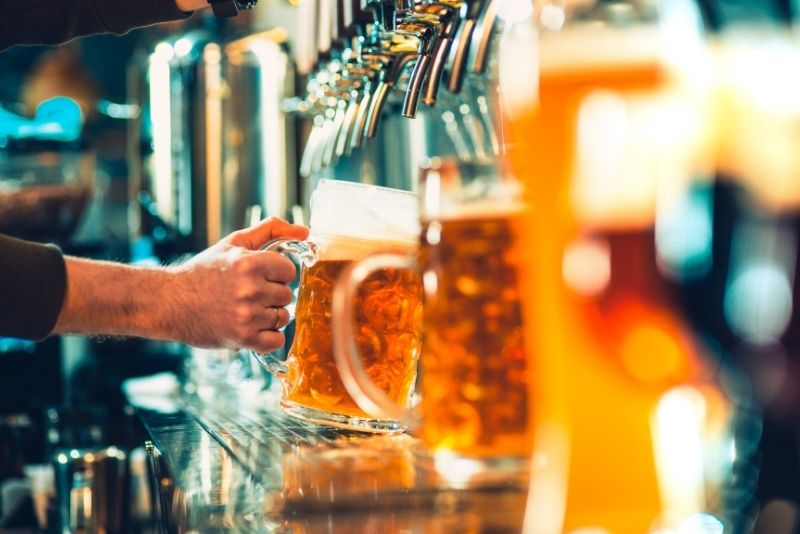 Holland's breweries are some of the best in the world!
As well as global names like Heineken, the more hipster craft brewery scene is serving up some incredible beers to delight your taste buds.
Going with a guide ensures travelers find their way to the best brewhouses, and get a sense of the history in every glass.
63 – Indulge yourself in a chocolate tour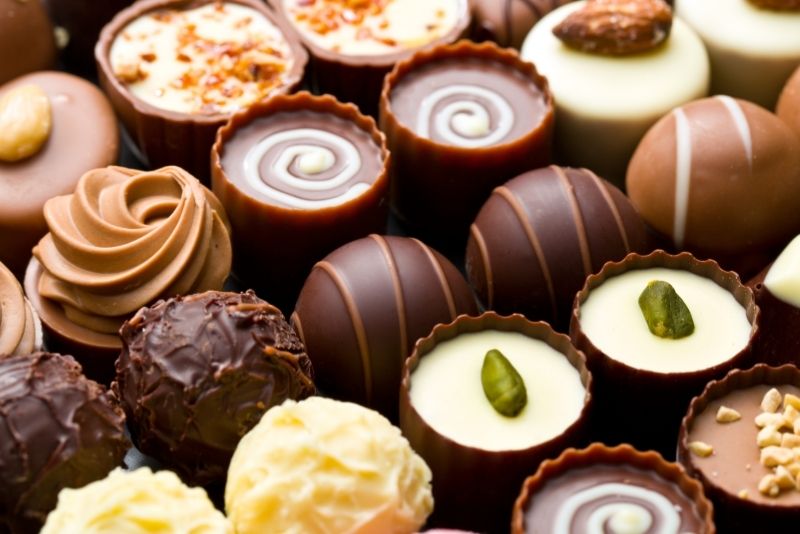 Chocoholics and sweet-tooths will love checking this off their list of things to do in Amsterdam!
The city's been slinging chocolate for hundreds of years and it's absolutely perfect.
See how it's made, try the samples, and learn a little about how it transformed from a rare delicacy to a common favorite.
64 – Make some feline friends at the Cat Cabinet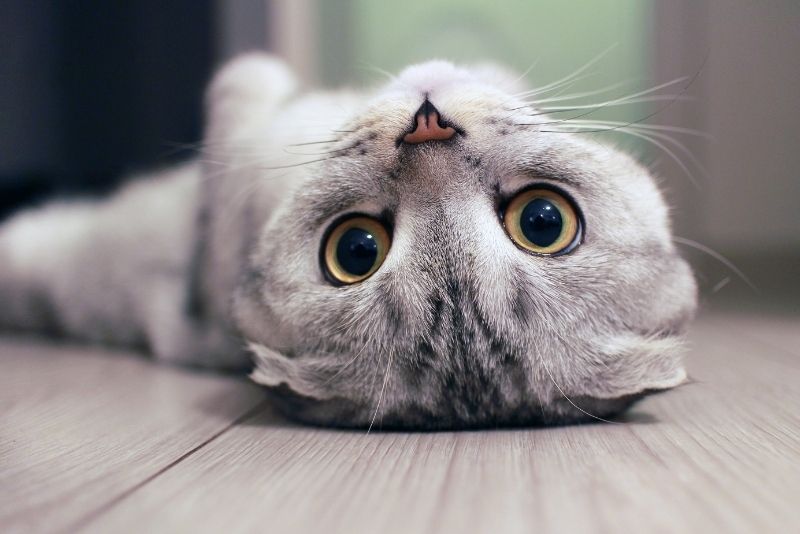 The Cat Cabinet is the cutest and most cuddly canal house in town!
The cats basically run the house, you'll see them on the vintage sofas, antique woodwork, and possibly scratching at the plush curtains.
They're so adorable and friendly that you'll pat them for hours and not notice the cat-themed art and paraphernalia!
65 – Take a class at FOAM Photography Museum
Still hunting that perfect Instagram pic?
One of Europe's best photography museums with a mix of established artists and young talents is at your fingertips to inspire you with its eclectic display!
If that's not enough, the museum also hosts tours, talks, and workshops to get the creative juices flowing for any aspiring artists!
66 – Laugh your head off at the Boom Chicago Comedy Show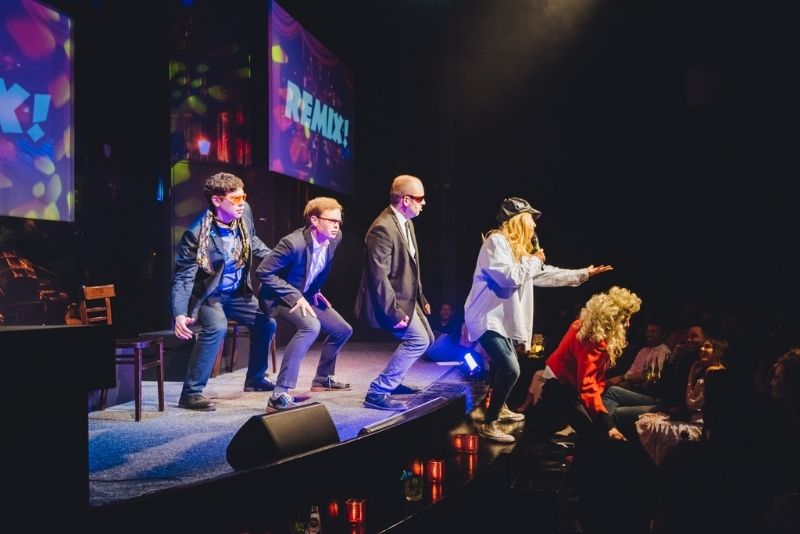 For over 25 years this hilarious show has launched the careers of comedians like Jordan Peele and Seth Meyers!
The show mixes improv, music, video, and witty writing to leave audiences in hysterics!
Audience members also love the full bar, along with exciting pinball machines and classic arcade games.
67 – See the magical Light Festival from the river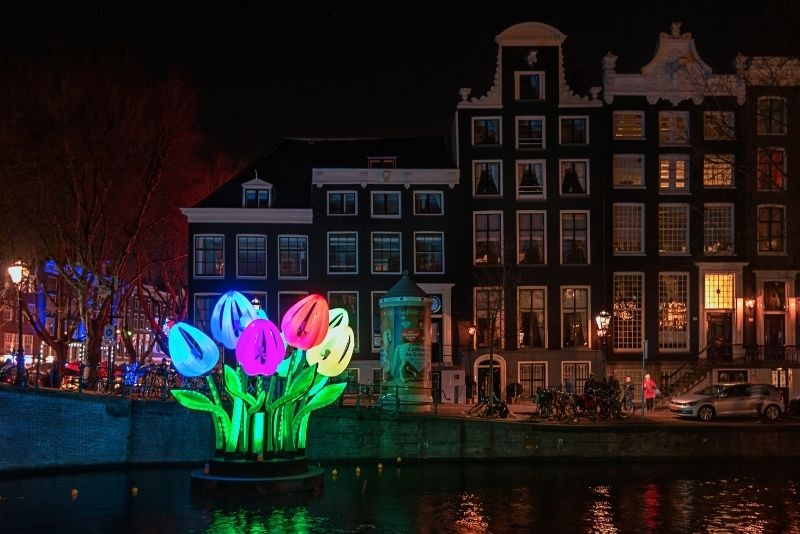 If winter nights seem gloomy and cold, this is for you!
Amsterdam waits for winter to illuminate its historic city with colorful light projections and cheerful sculptures, best seen from the water.
Sail past more than 20 intricate works, showcasing the city's creativity in fine fashion.
You'll soon find yourself in a world of wonder and excitement, as you cruise under brilliant arches, admire fantastical sculptures, and evoke your childlike sense of joy.
A guide will show you its highlights as you sip on a hot drink under a warm blanket to escape the cold!
68 – Let the butterflies land on you at Artis Royal Zoo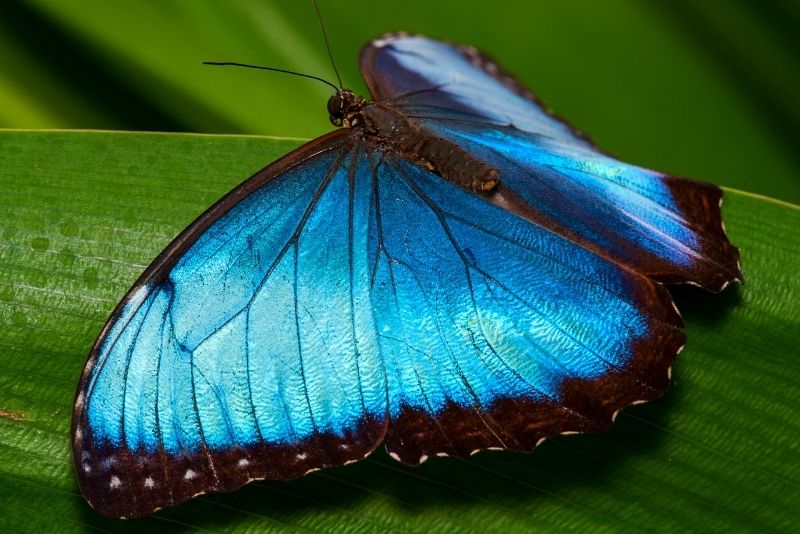 From elephants to penguins, wolves to fish, and even a planetarium with daily shows – this zoo has it all within its charming 19th-century historical buildings!
Opened in 1838, this magnificent park is the perfect stop for science enthusiasts, with great opportunities to commune with hundreds of dynamic species from the air, land, and sea.
As you see amazing animals from all over the globe, you'll also be able to enjoy some of the local nature, including some of the oldest trees in the city!
Travelers love the onsite restaurant by the aviary to sip coffee and watch the birds, as well as the thousands of colorful butterflies in the Butterfly Garden!
69 – Show off your Dance Dance Revolution skills at TonTon Club West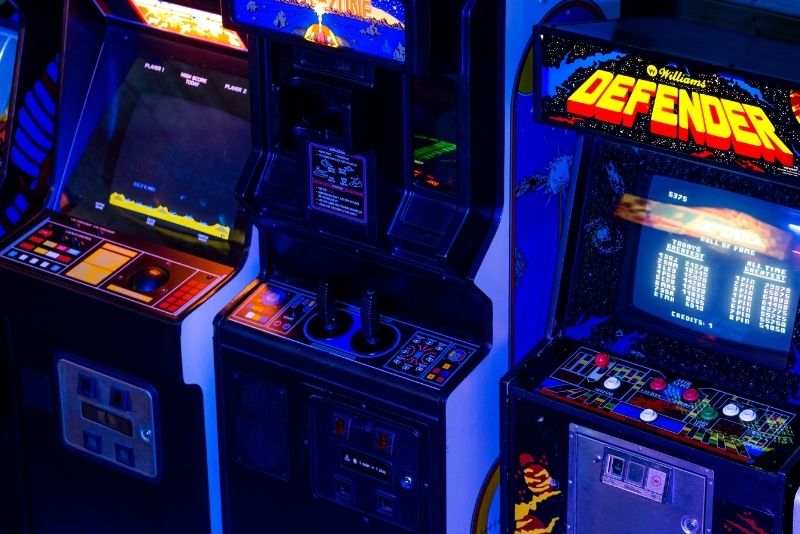 Neon lights, retro arcade games, Japanese-American fusion food, and a place to dance the night away!
This cool and casual club is a unique night out in every way – chomp down a ramenburger, play some arcade shooters, and sip on an alcoholic milkshake to loosen you up for the dancefloor (or Dance Dance Revolution)!
70 – Ride the Baron 1898 roller coaster at Efteling Theme Park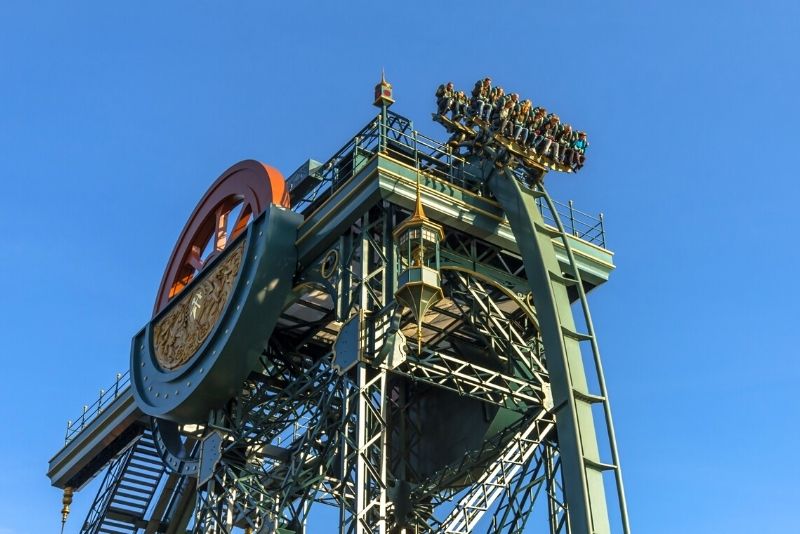 This massive park is based on fairy tales and myths.
From the moment visitors enter through the House of the Five Senses, they are transformed into a place of wonder and fantasy!
There are water slides and roller-coasters for thrill-seekers, but the Aquanura is stunning: a fountain with four frogs doing a water ballet!
71 – Get some new threads at the Batavia Stad Fashion Outlet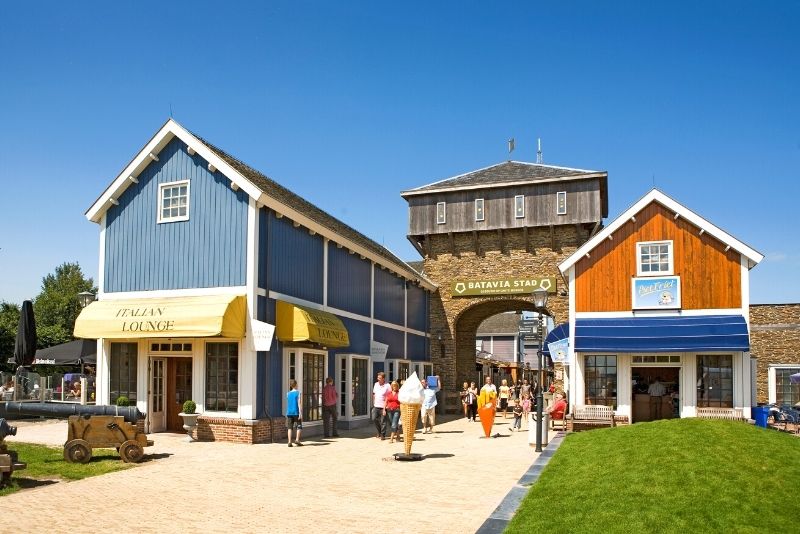 Time for a new wardrobe?
250 of the top fashion and lifestyle brands like Hugo Boss and Armani with almost half offering 30% to 70% off ought to do it!
Outside of the trendy fashions, this outlet offers perfumes, chocolate, jewelry, and home items – so everything can be as cool as your new clothes.
72 – Be a kid again at the WONDR Experience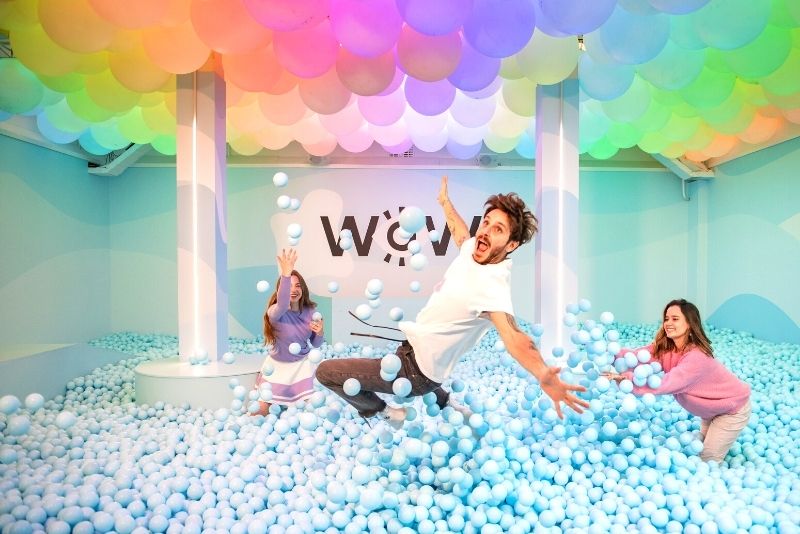 This takes all the fun of being a kid to a whole new level.
A giant ball pit, marshmallow pool, walk-through jungle, and karaoke booths are the perfect playground for adults – they are part of 15 play-areas created by some of Amsterdam's most fun and artistic minds for grown-ups to embrace their inner children!
73 – Get your clogs, cod, and cheese at Volendam and Edam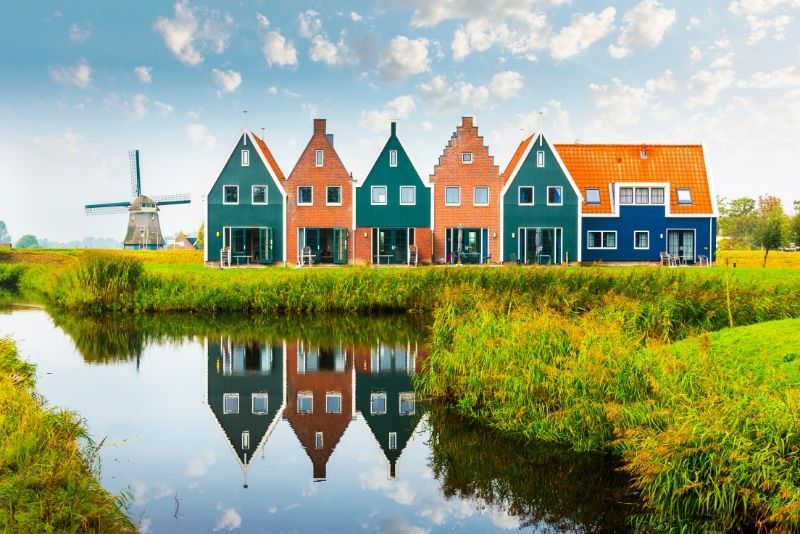 A retro fishing village, getting lost in Volendam's seafood restaurants and its labyrinth of narrow streets is bound to end in you trying the local seafood (cod and herring are must-haves) and buying some fashionable clogs!
Then head to beautiful Edam to see how they make the famous cheese, before trying some yourself!
After stocking up on some delectable dairy, take some time to wander through the town's historic streets, and admire some stunning architecture from the 1600s.
These lovely towns showcase the charms of the Dutch countryside, and offer some amazing chances to learn, relax, and shop – a perfect day trip!
74 – See a show at Ziggo Dome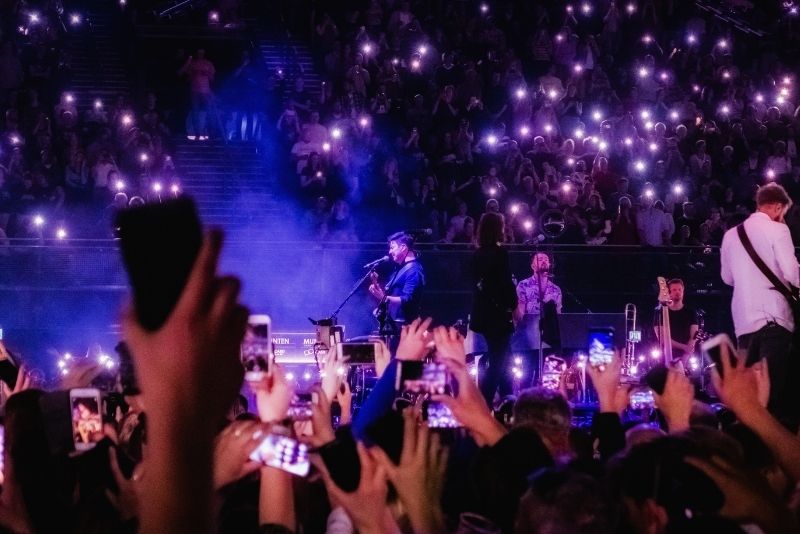 With the likes of Trevor Noah, The Weeknd, and Snoop Dogg set to sell out the arena; the atmospheric Ziggo Dome is one of the world's best concert halls!
Built in 2008, this renowned concert space was designed specifically for good acoustics, with a world-class audience experience as part of the bargain.
And its architecture reflects this democratic approach to live music; it's designed to offer an equally good view and listening experience to all of its 17,000 audience members.
For travelers willing to splurge a little, try a pre-show 3-course meal in the Restaurant Member Lounge, which lets visitors get into Ziggo Dome through an exclusive entrance!
75 – Go Turvy-topsy at the Upside Down Amsterdam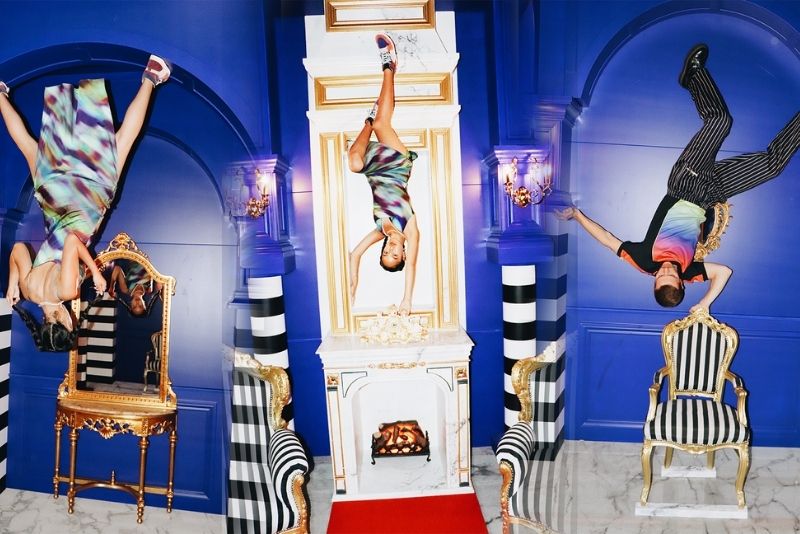 Strike a pose and post this on your reel of things to do in Amsterdam!
As the biggest Instagram-focused museum in the city, it's the perfect place to snap some memorable vacation photos – and get a little wacky in the process!
Explore 25 different creatively themed rooms, each exploring the concept of "New Dutch" style – a world of art and culture that transcends the standard imagery of flowers and windmills.
It will push your creativity and expand your mind as you make your way through this equal part museum, amusement park, and illusion hall – full of opportunities for that perfect mind-bending picture that will make you49 look twice.
76 – See a residence fit for a queen or a king at the Royal Palace Amsterdam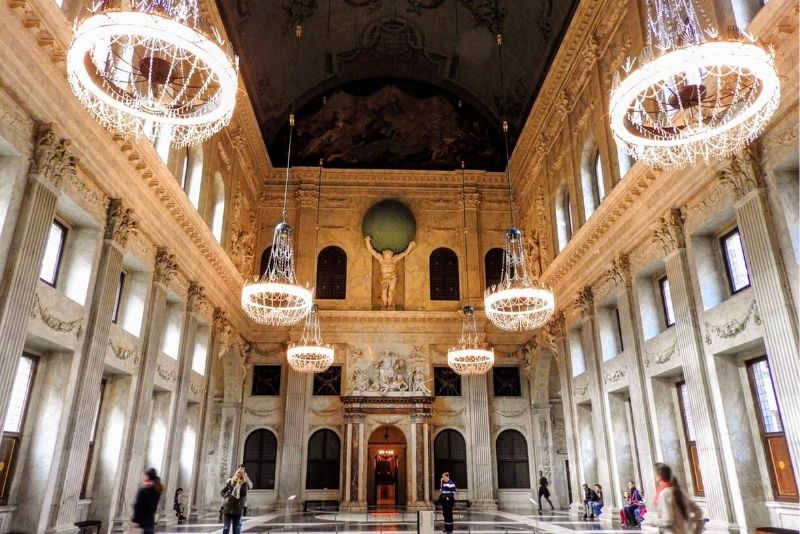 The (not-so) humble abode of the Dutch Royal Family is sure to make your jaw drop.
Visitors love the Citizen's Hall – a 30-meter high room saturated with natural light, complete with glimmering marble floors inlaid with world maps, a throwback to Holland's exploration days, and a 6-meter statue of Atlas holding the world on his shoulders.
You can opt to purchase your own ticket or visit the palace on a fun and interesting walking tour!
77 – Make science come alive at NEMO Science Museum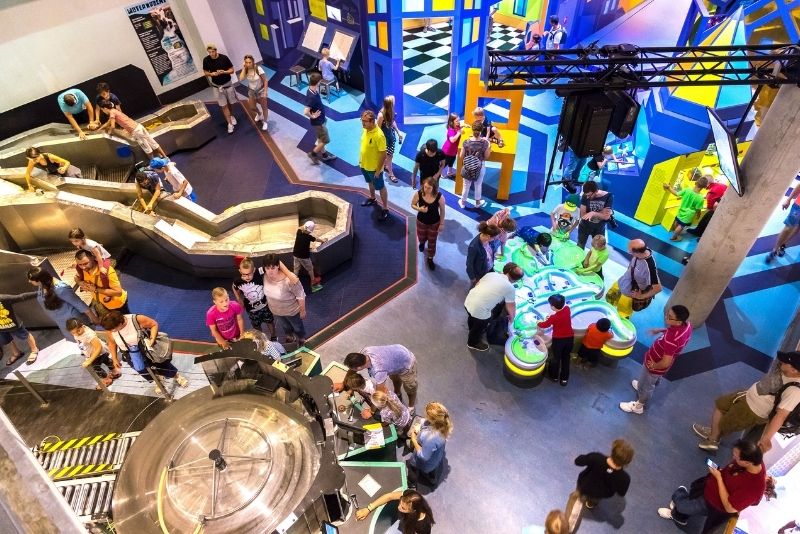 While you're in the city, indulge your curiosity at NEMO Science Museum!
Although it's geared toward younger travelers, people of all ages will love the hands-on scientific experience!
Hundreds of games and self-guided tours covering engineering to chemistry, and chemistry to the human body.
Explore five floors' worth of adventurous experiments; dive into the human mind, surround yourself with giant bubbles, or walk in the footsteps of great innovators of the past.
When you're done, check out the rooftop terrace for some underrated city views and decide where to go next.
78 – Pick your next houseplant at Hortus Botanicus
One of the world's oldest and most beautiful botanical gardens started as a place to grow medicinal herbs and plants and just grew from there!
Since 1638, this gorgeous set of gardens has been home to domestic and international plants, and its creative landscaping is half the beauty.
And during those frosty winters, you can head inside the sprawling hothouse and immerse yourself in a world of tropical plants and ecological design.
A couple of interesting nuggets for visitors are the 2,000-year-old agave cactus, and that a single coffee plant here is the ancestor of all coffee in Central and South America!
79 – Visit the Grave in the Gutter at the Begijnhof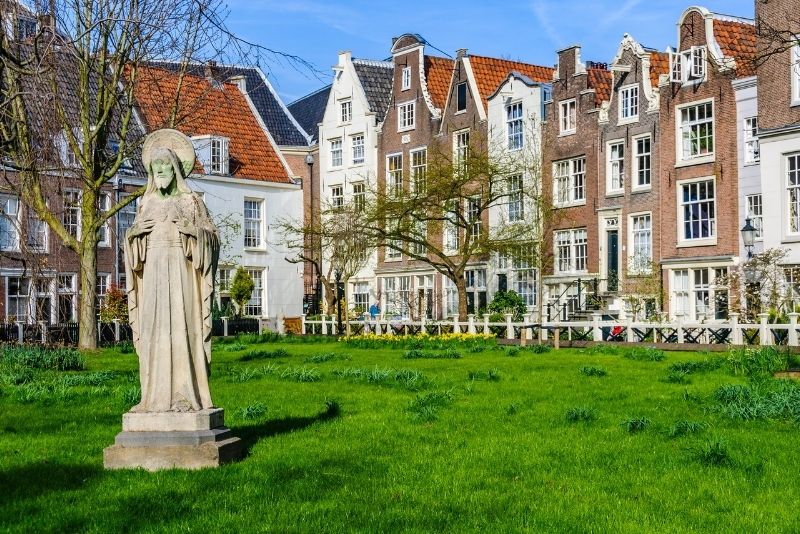 This beautiful group of houses around a secluded courtyard was home to the Beguines – unmarried religious women who chose chastity.
According to legend, Cornelia Arents, a 17th-century resident of the convent, asked to be buried in the courtyard rather than the Presbyterian-run church.
After being entombed in the church, her coffin mysteriously turned up in a nearby section of land, and after multiple incidents, she was buried there, in keeping with her wishes.
Learn about the Miracle of Amsterdam where the holy bread was pulled from the fire intact, and see the flowers in the gutter where sister Cornelia Arens is believed to have been laid to rest.
80 – See a concert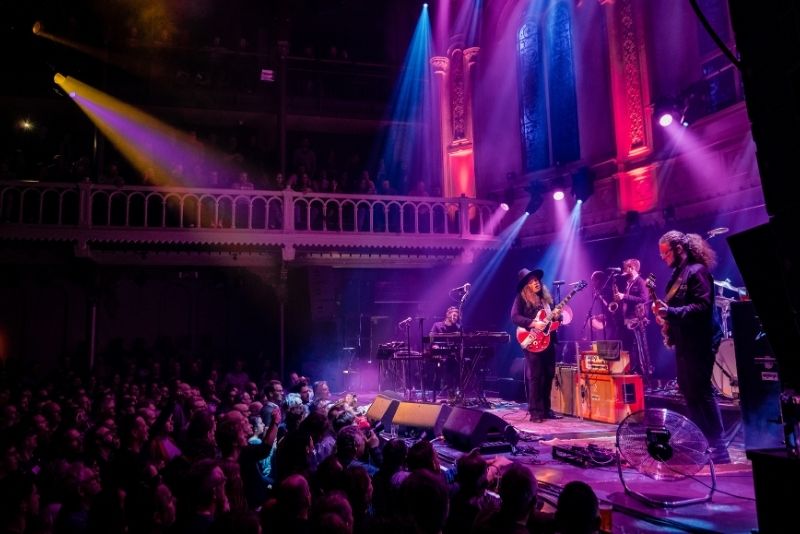 Amsterdam has one of the best and broadest music scenes in the world!
Dauphine is an intimate venue with soul, funk, and R&B; Paradiso is a former church that puts on a pop music show; Bourbon Street is jazz heaven; and the beautiful Muziekgebuow aan't IJ has the best backdrop to classical music going around!
81 – Watch a film at EYE Film Institute Netherlands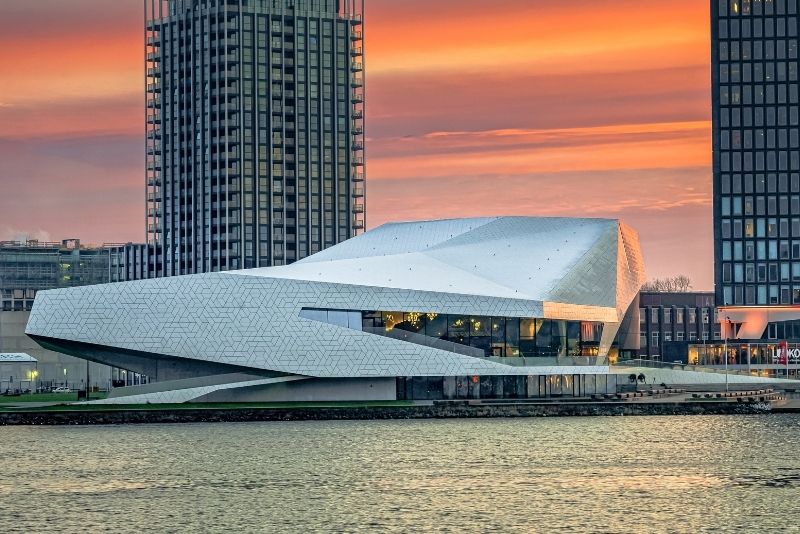 For over 70 years, this museum has preserved Dutch film and spread the word on the truly unique and awe-inspiring Dutch film culture!
With a staggering 54,000 films in its collection, this museum is the perfect place to explore the art of Dutch cinema in all of its forms.
And with an incredible catalog that stretches from the beginning of the medium to the present day, you'll be able to get a unique insight into the wide world of the movies.
Whether you want to learn a little more about film as an art-form, or just watch a classic or modern film in their state-of-the-art cinema; there is something for any film lover to enjoy!
82 – Meet your new best friends on a pub crawl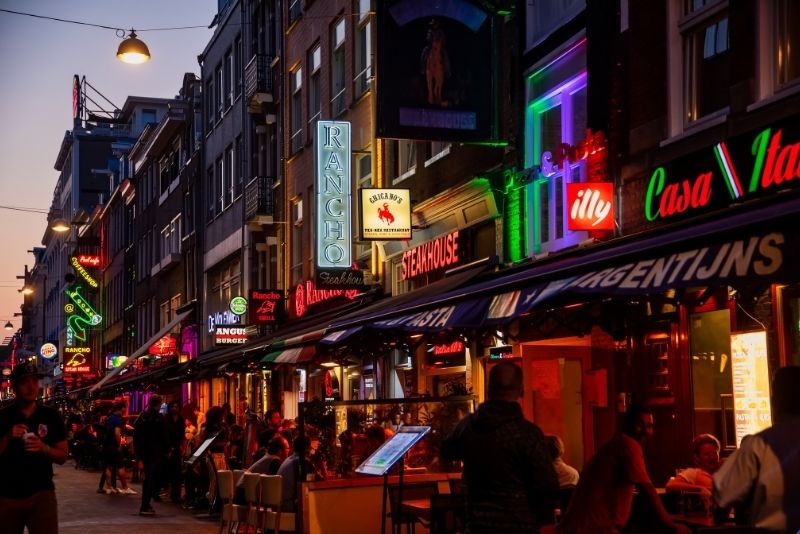 Experience Amsterdam's famous nightlife!
Get ready to dance (and drink) the night away as a local guide takes you to the hip and energetic bars and clubs – while meeting the other travelers on the crawl.
With free drinks at every venue and bottomless spirits at the start, however, we can't promise you'll remember their names the next day!
How to get to Amsterdam?
Whether you're arriving from the sky or the sea, there are some great transfers available.
Schipol Airport is a major hub for Europe and other international destinations, with lots of shuttles and private vehicles to choose from.
And if you're embarking on a cruise, you can get taken directly to the port.
Where to stay in Amsterdam?
Surround yourself with history at NH Collection Amsterdam Doelen, which offers contemporary trappings in a gorgeous 17th century structure.
Or get a taste for the city life at Eden Hotel Amsterdam, a palatial building with great canal views and Rembrandt Square just around the corner.
CitizenM Amstel Amsterdam is the place to be for easy access to attractions like the Dutch National Opera & Ballet and the Artis Zoo, as well as a relaxed, upscale atmosphere.
Health and happy travel go hand in hand at Movenpick Hotel Amsterdam City Center, where you can come back from a day of exploring to enjoy delicious meals and a top-notch fitness center.
And as you enjoy the charming modern trappings of Joy Hotel, you can also enjoy the luxuries of the surrounding area, from restaurants and shops to a walkable metro station.
Visiting Amsterdam on a budget?
Hit the streets and see the sights the local way, with some amazing free walking tours. Or buy an Amsterdam City Card to access some of the most beloved attractions with one convenient ticket.
Even better, you'll be able to visit these sites at a discounted price, leaving even more money for further fun!
Where to go next?
From its striking architecture and historic neighborhoods to its gorgeous artwork and renowned green spaces, Rotterdam is a perfect example of post-World War II regrowth – and a great place for travelers!
And when you're ready to explore some other countries, Brussels, the vibrant capital of Belgium, is just a short trip away. Looking to extend your trip? Make sure to check out Ghent and Antwerp, both fantastic destinations. If you wish to explore Germany, Hamburg is perfect for a romantic weekend gateway.
With its rich cultural and culinary scenes, Belgium is perfect for long-term exploring; but you can also soak up some of its delights on a day trip from Amsterdam.
Looking for more adventures?
Book a multi-day trip to absorb some of the area's highlights, from parties to markets to windmills; or combine it with trips to other nearby showstoppers such as Paris.
Then keep exploring some of the other best places to visit in Europe – it's a beloved continent for a reason!
With a stellar combination of easy travel and diverse cultures, you'll be amazed at how quickly you can hop from cityscape to mountaintop, weaving through little towns and gazing at world-famous monuments.
It'll be a holiday like no other!
Final thoughts
There are plenty of adventurous things to do in Amsterdam, from the red light district to the marijuana cafes. But if you just focus on the risque aspects, you're missing out!
With thrilling immersive experiences, world-class music and art, and centuries of rich culture, it's the sort of destination that captures the imagination.
Long after you return home, your memories of Dutch adventures will linger… so get started with your planning!