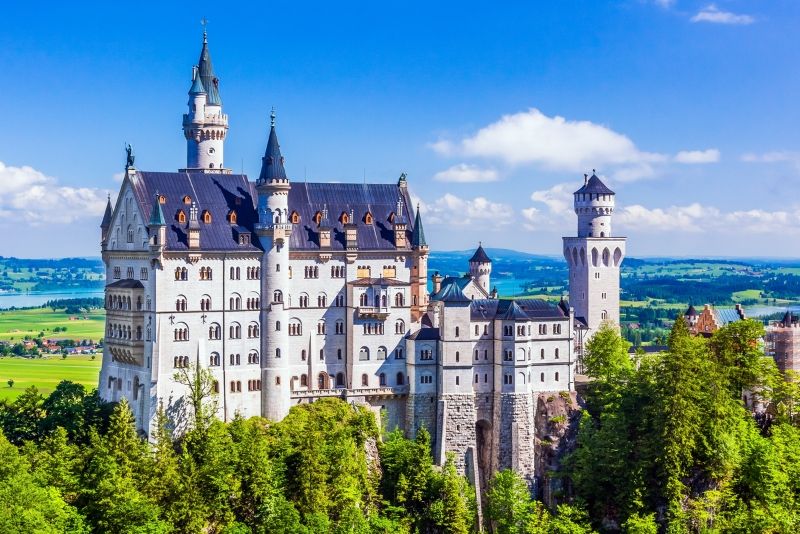 Looking for the best Neuschwanstein Castle tours from Munich? You've come to the right place. We've put this article together to tell you everything you need to know about visiting the Neuschwanstein Castle from Munich including, what are the most popular tours, how to book tours online, what is the best time to visit the castle, how to get there, how long it takes, and some other useful travel tips.
Don't feel like reading ahead? Search, compare and book a Neuschwanstein Castle tour from Munich right now.
What will I see?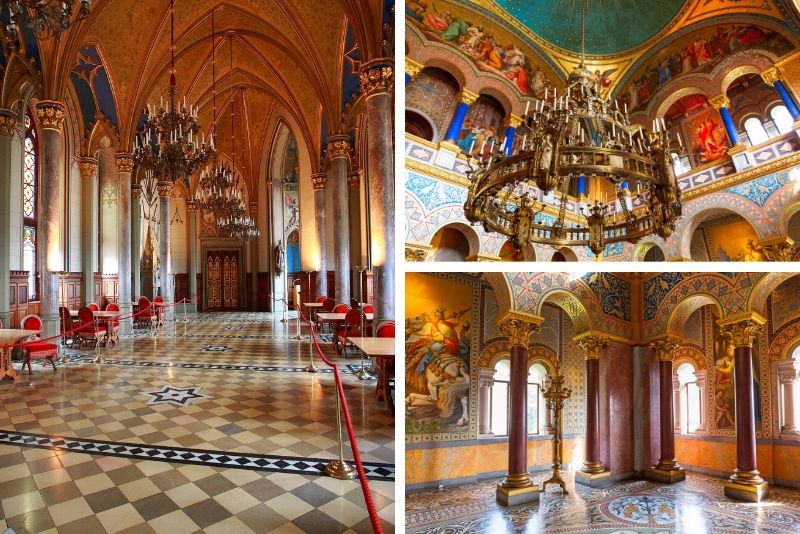 Despite its grand settings, Neuschwanstein Castle is relatively new when compared to other castles in Europe. It was designed in the 19th century by a stage painter after then-King, Ludwig II, ordered its construction.
Since then it has become a major tourist destination, with more than 1.5 million people visiting Neuschwanstein Castle each year. During a trip, you can expect to see enchanting architecture set in idyllic settings that have inspired Disney movies such as Sleeping Beauty.
The castle is the primary attraction, though the surrounding village of Hohenschwangau is also popular with tourists. Neuschwanstein Castle is about a 30-minute walk (uphill) from Hohenschwangau, and you will be allocated a time for your visit.
Neuschwanstein Castle
Tours last for about 35 minutes at Neuschwanstein Castle, with a guide taking you around the building and detailing a history that includes how – and why – it was built, as well as a background on King Ludwig II. During the tour, you will see the grand interiors of 14 rooms that include the King's bedroom and the Singer's Hall. Other highlights include Ludwig's Dressing Room with its magnificent ceiling paintings, and The Throne Room, which features a 13-foot-tall chandelier.
Mary's Bridge
Just outside the castle is where you will find Mary's Bridge. This is the best location to capture pictures of Neuschwanstein Castle, which will more than earn their spot on your Instagram page. The bridge overlooks the castle, meaning it has the best views in the area. It's also popular with tourists, so you might have to wait before you can take a snap.
Hohenschwangau Castle
Neuschwanstein Castle isn't the only castle in town. Hohenschwangau was the childhood residence of King Ludwig II and is a 20-minute walk from Neuschwanstein. It's possible to combine Neuschwanstein Castle Tours from Munich with Hohenschwangau Castle tickets.
Linderhof Palace
The royal villa of Ludwig II, Linderhof Palace is another attraction that you can combine with your tour of Neuschwanstein Castle. Of all the buildings Ludwig II commissioned, Linderhof Palace is the only one he actually managed to finish. For that reason, it's unique in its own right.
What are the most popular Neuschwanstein Castle tours from Munich?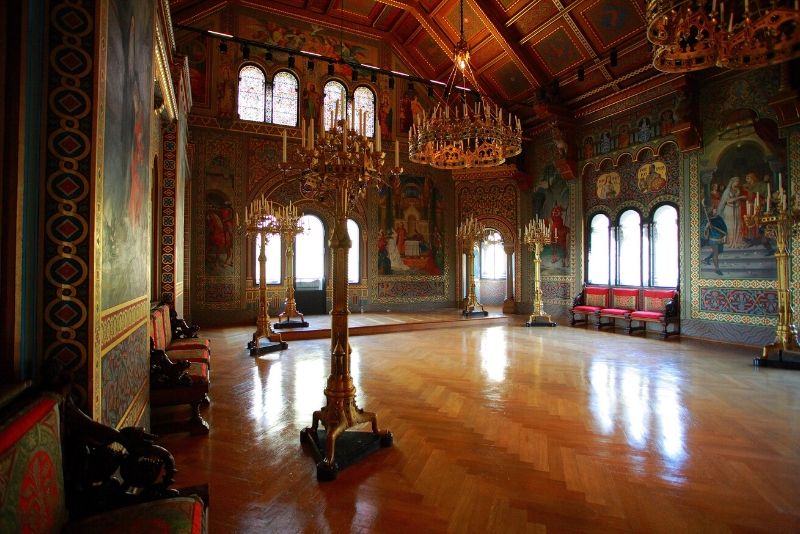 There are a variety of tours available to Neuschwanstein Castle from Munich, each one providing visitors with plenty of options to discover the castle. Tours generally include a visit to the castle, as well as transportation to and from Neuschwanstein. The most popular type of tours include:
Small group tours – these are the most common type of tours and include a guide who walks a small group around the castle while detailing its history.
Private tours – if you want a more personalized experience, it's possible to book a private tour and enjoy the sole attention of a guide as you explore the castle.
Bus tours – many of the tours to Neuschwanstein Castle involve a coach ride, with pick up from your hotel or a well-known location in Munich. Coaches are air-conditioned and provide an opportunity to see the scenic route on your way to the castle.
Combined tours – Linderhof Palace and Hohenschwangau Castle are two other popular tourist attractions nearby Neuschwanstein Castle and can be combined with a Neuschwanstein tour with many operators.
How can you book a Neuschwanstein Castle tour from Munich online?
Are you wondering what website you should use to book your tour? There are many online travel agencies selling Neuschwanstein Castle tours from Munich online, such as GetYourGuide, Viator, Tiqets, and Headout to name a few.
Use our search engine so you can compare easily all the different offers available for your preferred date, and pick the tour that fits best your itinerary and budget.
What are the advantages of booking a tour?
Booking Neuschwanstein Castle tours from Munich means you don't need to worry about the smaller details and can relax knowing that all aspects are looked after. You will learn more with a guide than if you went by yourself, thanks to having access to knowledgeable tour guides. You can also ask them questions about the castle and its history.
You will secure your tickets by booking in advance and won't need to worry about tickets being sold out. Most tour operators provide transport from your hotel to the destination and back and provide tickets that let you skip the lines. This is especially handy with so many people visiting Neuschwanstein Castle each year.
How to get to Neuschwanstein Castle from Munich? How long does it take to get there?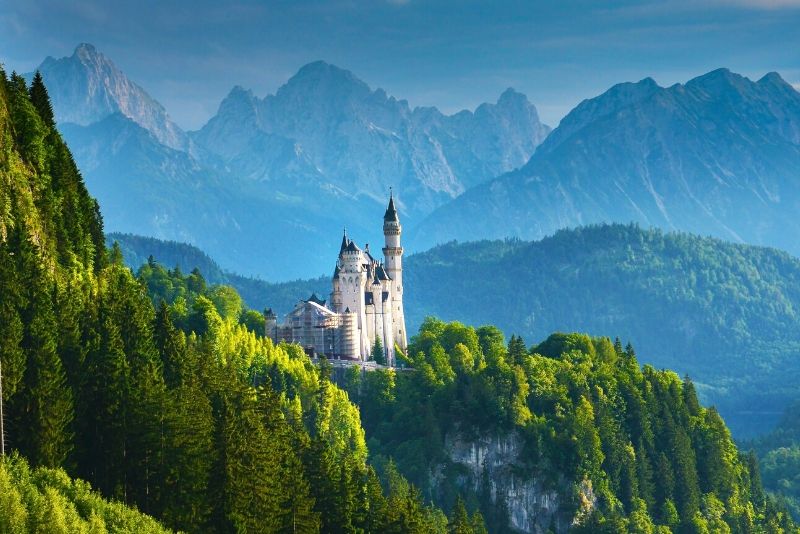 The only way to access Neuschwanstein Castle is through Hohenschwangau, which is a small village located between Ludwig II's Neuschwanstein Castle and Hohenschwangau Castle. Hohenschwangau is just over 100km from Munich, and there are several ways to get there.
By car – if you've booked a tour, you can expect transport to Neuschwanstein Castle from Munich. Journey times take around 1hr and 35 minutes, which is the length for any form of transport by car or bus.
By train and bus – Train journeys last for around 2hrs and 45 minutes and require some travel via bus. Take the train to Fussen from Munich Central Station, which takes just over 2 hours, and then take a bus from Fussen to Hohenschwangau.
What is the best time to visit Neuschwanstein Castle? How can you avoid the crowd?
Neuschwanstein Castle is a year-round destination and looks impressive throughout the year. However, during the colder month (when it's snowing), the castle can look particularly enchanting. The caveat, however, is that sometimes Queen Mary's bridge is closed during the winter, meaning it's harder to take pictures of the exterior.
The busiest time of year to visit is during the summer months (between June and September), which is when the majority of the 1-million-plus head to the castle. Expect longer queues than usual at this time of year, along with busy areas around the castle and congested hiking trails. Autumn and spring see fewer crowds, but the weather is still pleasant during these periods.
No matter which season you visit, the earlier you go, the quieter it will be. For this reason, it's worth looking at overnight tour options which often include visits to other attractions like Hohenschwangau Castle.
Travel tips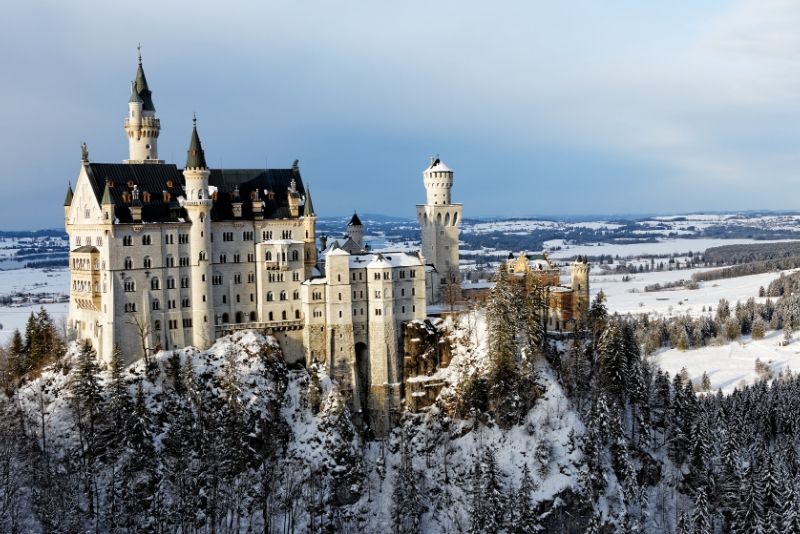 Don't visit during the summer months of June, July, August and September if you want to avoid the busy crowds.
Combine your tour with visits to Linderhof Palace and Hohenschwangau Castle if you want to see more of Ludwig II's buildings
Most trips to Neuschwanstein Castle from Munich are full-day tours
There are shuttle buses that take you from Hohenschwangau to Neuschwanstein Castle
Photography is not allowed inside the castle
Restaurants get very busy, so think about packing your own snacks to avoid long wait times