As the inspiration for two of Walt Disney's classic fairy tale towers — Cinderella and Sleeping Beauty — Neuschwanstein Castle is a popular Füssen attraction. The castle is one of the three spectacular palaces King Ludwig II built during his lifetime and was intended to be his own private residence.
Nowadays, it attracts over 1.6 million visitors a year and is one of the most enchanting castles in the world. If you're a Disney lover, history buff or photography enthusiast, you should consider purchasing Neuschwanstein Castle tickets.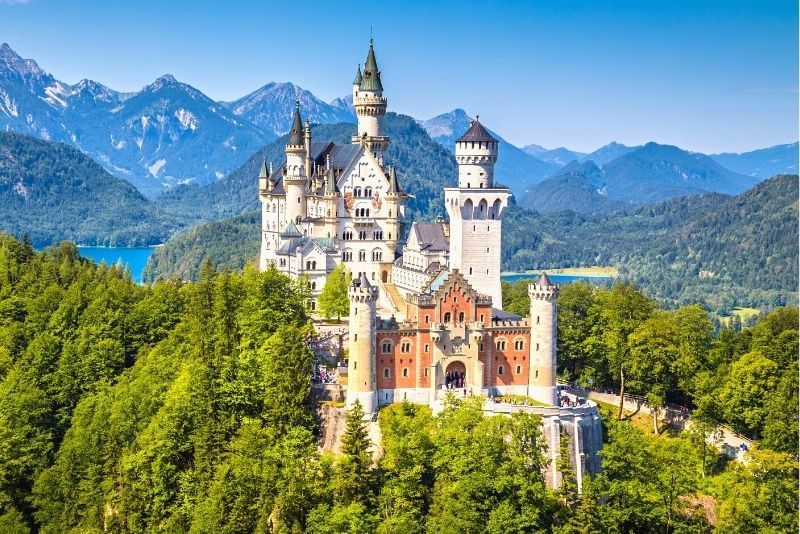 You will find below all you need to know about the Neuschwanstein Castle, one of the most famous attractions in Füssen.
How much do Neuschwanstein Castle tickets cost?
Adult: €15
Reduced: €14
Children under 18: Free
All Neuschwanstein Castle tickets that are purchased online have a booking fee of €2.50. This includes free child tickets.
Combination ticket
You can also purchase combination Neuschwanstein Castle tickets, which enable you to visit all three of King Ludwig II's castles — Neuschwanstein, Linderhof and Herrenchiemsee.
This ticket is valid for six months after purchase.
Who is eligible for discounts?
While persons with disabilities need to purchase a regular ticket, a helper can accompany them for free. Persons over 65 are entitled to the reduced Neuschwanstein Castle entry fee of €14.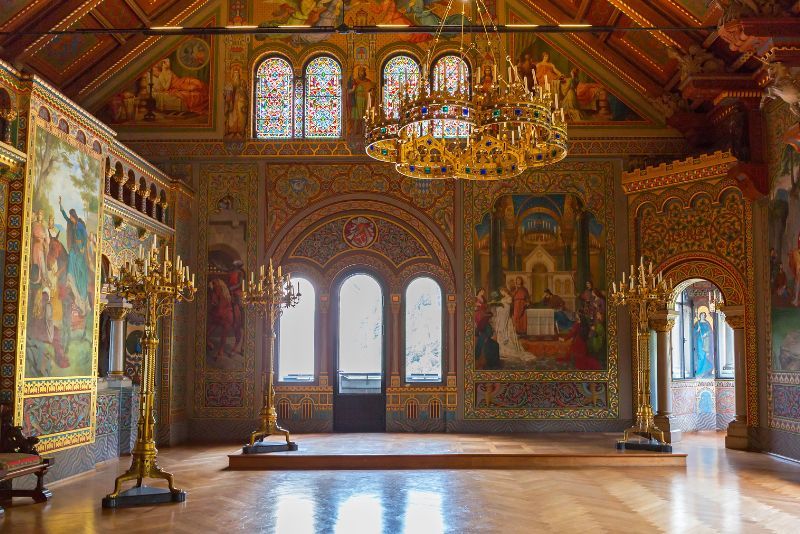 What are the best Neuschwanstein Castle tours?
Neuschwanstein Castle guided tour
On a guided tour of Neuschwanstein Castle, you'll benefit from skip-the-line entry so you can spend longer enjoying the site. You'll be shown around the opulent rooms and grand halls by an official castle representative.
You'll also take a trip out to Marienbrücke to see the castle in its full glory before ending your tour in the village of Hohenschwangau.
There are plenty of tours to Neuschwanstein Castle from Munich as well, in case you are staying in or visiting the city.
Neuschwanstein Castle photo session
There's no background more romantic for a photo shoot than a Disney-esque castle. You and your loved one will be shown to the most photogenic spots around Neuschwanstein Castle grounds in order to capture the perfect shot.
Once your session is over, you'll receive 20 retouched images to encapsulate your time spent roaming this corner of Bavaria.
Private Neuschwanstein Castle tour
Private tours are ideal for those who wish to explore Neuschwanstein Castle in more detail. After a hotel pickup, you'll drive through the German countryside to Marienbrücke in order to take an Instagram-worthy shot of the castle.
You'll then tour the castle to find out the history of King Ludwig II and his grand palace. You'll end the tour with a magical horse and carriage ride to the neighboring village of Hohenschwangau.
Are there any combined tickets or tours including Neuschwanstein Castle and other attractions?
If you have little time to spare in Bavaria, consider combining your Neuschwanstein Castle tour with other attractions. You'll find that these combination tours are often better value for money and they enable you to see more sites in less time.
●    Neuschwanstein Castle, Oberammergau and Linderhof Castle tour: Experience the charm of Bavaria with this tour that takes you to two exquisite castles and the world-renowned town of Oberammergau.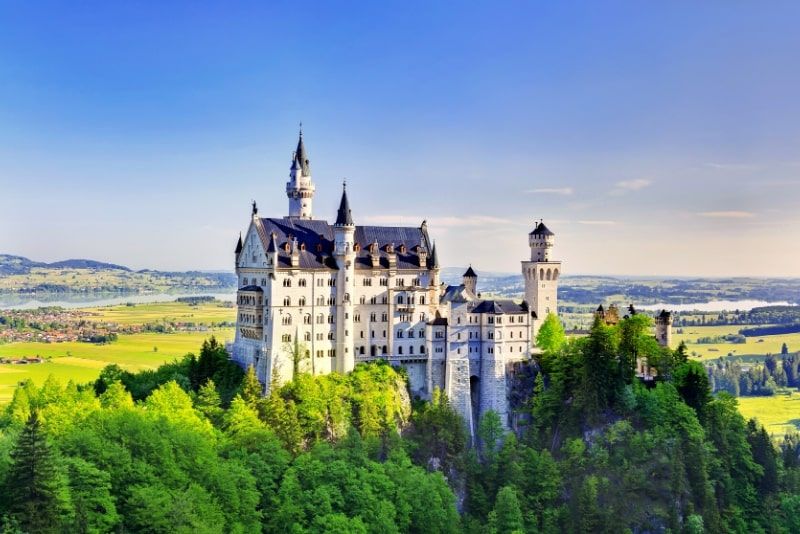 Should you book Neuschwanstein Castle tickets in advance?
You can purchase Neuschwanstein Castle tickets at the site. However, it's advisable to purchase them online beforehand to secure the date and time you want to visit.
There is limited availability for tickets and the castle is a popular tourist attraction. You'll save yourself from being turned away by purchasing your tickets in advance.
What will you see inside the Neuschwanstein Castle?
Neuschwanstein Castle was built by King Ludwig II in the 19th century and dedicated to the composer Richard Wagner. The construction of the castle began in 1869, but was never finished, as the king paid for it out of his own dwindling funds.
After King Ludwig II's untimely death in 1886, the castle was opened to the public and is now one of the most visited sites in Germany.
You can tour the 14 finished rooms of Neuschwanstein Castle, which include the king's bedroom, dressing room and throne hall. The castle features Romanesque and Gothic architecture on the exterior.
As you move onto the interior, you'll see how the king was inspired by Wagner's operas and has worked them into his decor. Of the completed rooms, many bear borders that depict Wagner's operas, which include The Flying Dutchman and Tannhäuser. The legends of Lohengrin — the Swan Knight — are also worked into the intricate designs of the opulent castle.
Marienbrücke is another feature of Neuschwanstein Castle, which allows visitors to see the magnificence of the grand palace from afar. The bridge is 35 meters long and is situated 90 meters above the Pöllat River. It was designed by Heinrich Gottfried Gerber and constructed in 1866. The bridge is named after King Ludwig II's mother — Marie of Prussia.
How to get to Neuschwanstein Castle?
Neuschwanstein Castle is situated close to the village of Hohenschwangau, which can be found along the A17 by car. From the village, you can follow the marked path up to the castle.
Alternatively, you can catch a direct bus from the neighboring town of Füssen and depart at the stop for Neuschwanstein Castle.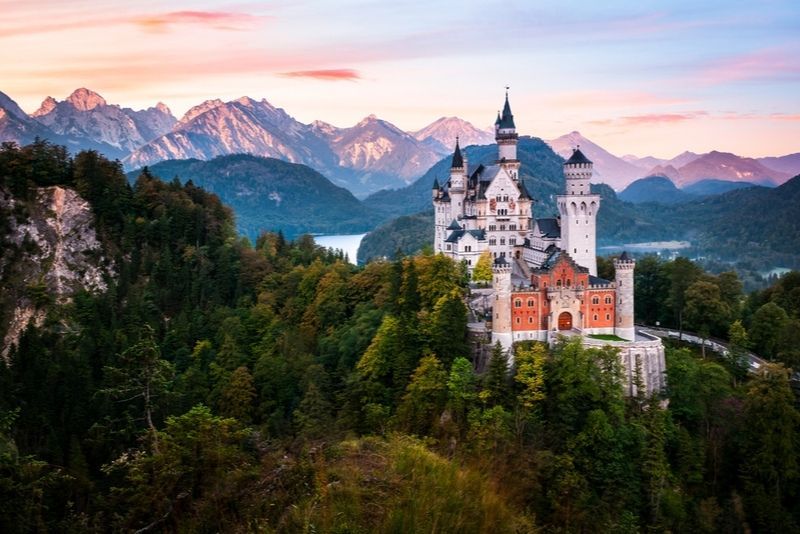 When is the best time to visit Neuschwanstein Castle?
If you wish to visit Neuschwanstein Castle without the crowds, consider traveling to the site in the shoulder months of May or June. During this time, you can expect the grounds to be quiet and the climate to be mild.
Alternatively take a Neuschwanstein Castle tour during the winter months, to see the grand palace covered in a blanket of snow.
Travel tips
Photography is not permitted within the castle itself. However, the grounds are extremely picturesque, so remember to bring your camera along.
You'll have the greatest chance of seeing Neuschwanstein Castle covered in snow if you travel to the area between January and March.
Purchasing Neuschwanstein Castle tickets online in advance enables you to skip the line once you reach the site.
Make sure you visit Marienbrücke while you're at the castle, as this is where you'll capture the best shot of its exterior.