Nuremberg is a picturesque medieval city in Bavaria, Germany, that is brimming with culture and history. Along with museums dedicated to World War II, you can explore phenomenal Christmas markets and fascinating architecture on a Nuremberg day trip from Munich.
Founded in the 11th century, it was once the unofficial capital of the Holy Roman Empire. The city is known for its role in the uprising of the Nazi party, but there is more to discover there than just war relics.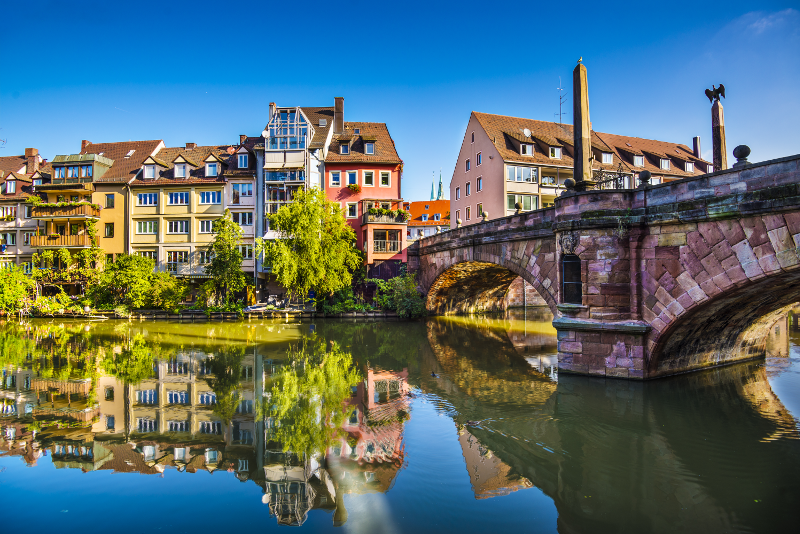 How to get to Nuremberg from Munich?
Nuremberg is located in the center of Germany, around 170 kilometers away from the city of Munich, and over 400 kilometers away from the capital — Berlin.
From Munich to Nuremberg by car
It is a simple journey to Nuremberg if you have rented a car and takes around two hours. The A9 motorway connects the two cities after leaving Munich in a northerly direction. Towards the end of the route, you'll take the A73 exit towards Nuremberg and follow the road into the city.
From Munich to Nuremberg by train
There is a direct train from Munich that makes the jaunt to Nuremberg in just over an hour. It departs from the main station — München Hauptbahnhof and costs between €30 and €50 for a ticket.
Alternatively, you can catch a bus from the Munich Central bus station which is provided by the operator Flixbus, several times a day. The Nuremberg excursion takes approximately two hours and costs between €10 and €20.
Guided tour to Nuremberg from Munich
Nuremberg excursions travel by road or rail, and typically last approximately 10 hours. Tours that involves road trips usually provide hotel pickup, while those that use the train meet around 8:30 AM at a central location near Hauptbahnhof Nord.
What is the typical itinerary of a day tour to Nuremberg from Munich?
Many day tours to Nuremberg begin in the morning and travel to the city by train. Alternatively, you may be transported by minivan where you'll take a guided walking tour of the hotspots in the city.
These tend to include the infamous Congress Hall which houses the Documentation Center — home of the Nazi party rallies in WWII.
You'll often have free time after your Nuremberg walking tour to enjoy a traditional lunch or roam the city's museums and historic monuments. Arriving back in Munich in the early evening, you'll be just in time for dinner in the city.
What kinds of tours are available to go to Nuremberg?
There are several different types of Nuremberg day tours to choose from, depending on your interests.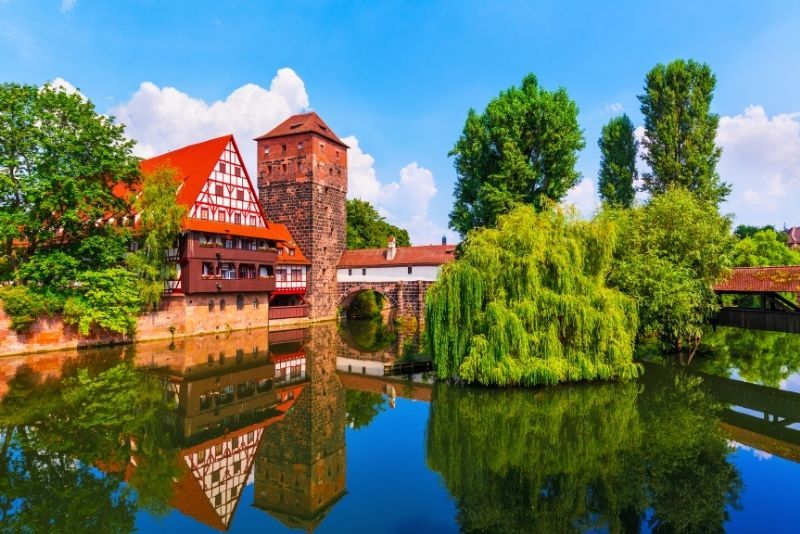 Guided tours to Nuremberg from Munich
This Nuremberg day trip uses the train to take a quick jaunt to the city. When you get there, you'll take a walking tour of Nuremberg's main historical attractions. These include the Congress Hall, as well as the Old Town with its medieval atmosphere and quaint buildings.
You'll have free time to visit the Documentation Center which was the Nazi party rally grounds. You'll learn about WWII and the activities of the Third Reich before heading back to Munich.
Private tour to Nuremberg from Munich
Private day tours to Nuremberg also travel to the city by train. You'll have more control over the sites you visit and are able to customize your day trip with the help of a professional guide. Attractions you may wish to see include the Albrecht Dürer House, which was the home of the famous renaissance painter.
Christmas day trip to Nuremberg plus Regensburg from Munich
Your group will be privately escorted to Regensburg by luxury vehicle where you'll have three hours to discover the delights of its four Christmas fairs. You'll be able to buy one-of-a-kind pieces of art, traditional crafts or a warming glass of mulled wine.
You'll then travel to Nuremberg which hosts one of the oldest Christmas markets in Germany, dating back to 1530. There are almost 200 stalls selling everything from tree decorations to gingerbread, and you'll have the opportunity to purchase gifts for your loved ones.
You'll also take part in a guided walking tour through the old part of town and see other smaller Christmas markets from different cultures, such as China and the United States. Lastly, you'll stop at the Palace of Justice before enjoying a scenic ride back to Munich.
River tour to Nuremberg from Munich
This tour starts with a relaxing boat ride down the River Danube, ending at the 1,400-year-old Weltenburg Monastery. Alongside its 18th-century rococo-style church, you'll discover the oldest beer-brewing monastery in the world.
You'll then head into the main town of Nuremberg to explore its connections with the Nazi party during the Second World War.
You'll have an hour of free time to wander the city streets at your own pace before you visit the Palace of Justice. It was here that war criminals were tried and prosecuted between 1945 and 1949.
How much does a tour to Nuremberg from Munich cost?
Nuremberg day tours by rail cost between €50 and €60, and typically include a guided walking tour of the city and round-trip transportation by train.
Private day trips include hotel pickup and drop-off, a private guide, and rail fares. Prices start at €240, and if you wish to visit the Documentation Center, this will be at your own expense.
Festive day trips to Nuremberg and Regensburg cost approximately €370, and include round-trip transportation in a luxury vehicle, a licensed guide and a hotel pickup service. The excursion is private, so only your group participates.
Tours that include a ride down the river cost around €410. This is for a private excursion with transfers by minivan. You'll have a professional guide to show you around the city sites and entrance fees are at your own expense.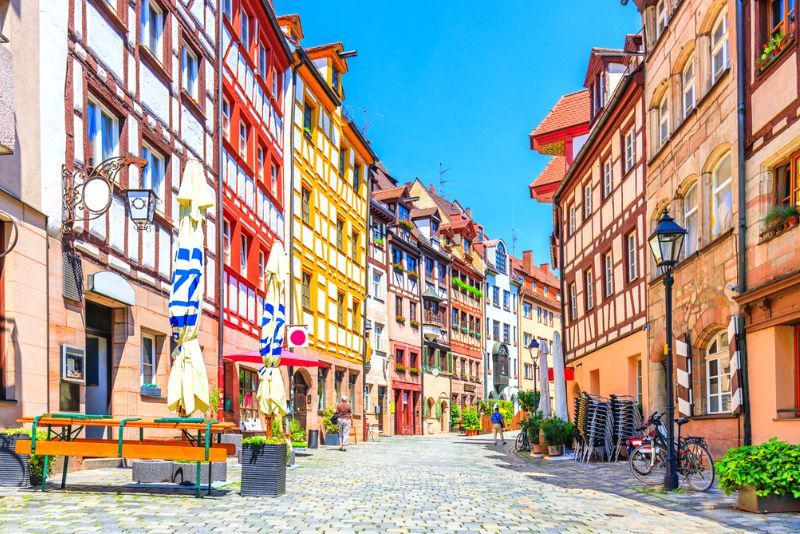 What will you see and do on a Nuremberg day trip?
Congress Hall
The Congress Hall in Nuremberg was designed by Adolf Hitler's architect Albert Speer and was intended to be a showcase for the might of the Nazi regime. It was used as a rally ground, hosting six events throughout WWII. Today, it is a sobering reminder of the atrocities of the extremist party.
The hall is home to a museum that chronicles the history of the Nazi party and the Third Reich (the Documentation Center.) You can learn about the rise of Adolf Hitler, the Impact of World War II and the Holocaust.
Albrecht Dürer's House
Art lovers will love the chance to step inside the house of the great Albrecht Dürer, one of the most important artists of the Renaissance. He lived and worked in this building for the last two decades of his life. Today, it houses an extensive collection of his works, as well as a museum devoted to his life and work.
Visitors can take a glimpse into the life of Dürer and learn about his innovative techniques. There are ever-changing exhibitions on display at the house to show different aspects of Dürer's creative genius. You can also take a guided tour through the rooms with an actress depicting Albrecht's wife, Agnes.
Imperial Castle
Situated on a hill in the center of the city, the Imperial Castle stands tall and imposing to visitors of Nuremberg. The buildings are thought to have been constructed in the early 11th century and were used by royalty for centuries. From its height, you can see for miles across the city and out to the German countryside.
Visitors can also explore the castle grounds, which include several museums and historical buildings. The castle is also home to a large collection of armor and weapons, making it a popular destination for history buffs.
When is the best time to visit Nuremberg?
It is best to visit Nuremberg between May and September if you prefer a warm weather. Consider booking your Nuremberg trip in December if you want to see how Christmas takes over the city and transforms it into a magical wonderland.
Are there any tours to Nuremberg from other cities in Germany?
Yes, there are tours departing from other cities in Germany:
Travel tips
Be prepared that a trip to the Documentation Center can be an emotional experience.
Day trips to Nuremberg should be booked in advance if you wish to secure your excursion on a particular day.
The most rain falls during the summer months in Nuremberg. Make sure to carry an umbrella with you, just in case.