The famous birthplace of Mozart and the setting of the movie "The Sound of Music," Salzburg is an Alpine destination that's not to be missed. Its history spans from Roman times, and the city itself is a UNESCO World Heritage site.
Marvel at the Lower Bavarian Alps surrounding this ancient city while soaking in all this unique locale has to offer on a day trip to Salzburg from Munich.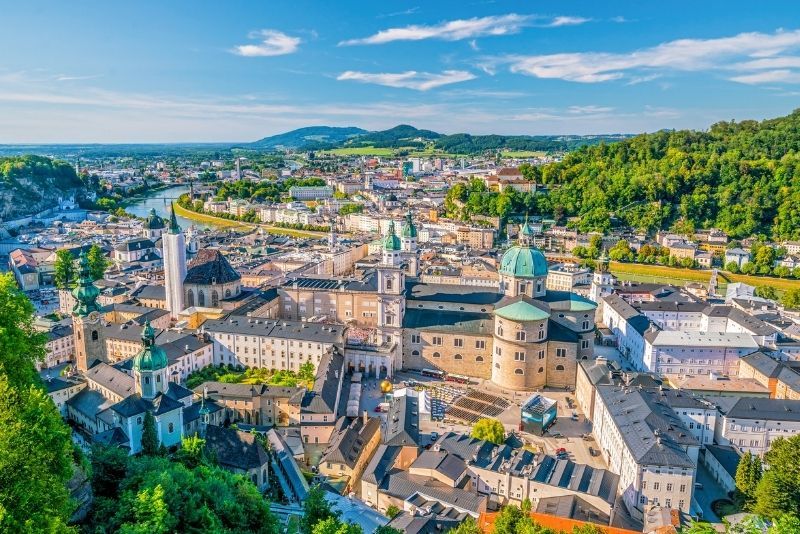 You will find below everything you need to know about Salzburg, one of the most famous destinations for a day trips from Munich.
How to get to Salzburg from Munich?
Salzburg lies over 140 kilometers to the east of Munich, and there are several ways to arrive there in under two hours. Driving routes include possibilities of stopping for mountain views, visits to Alpine lakes and other unique attractions in Salzburg.
From Munich to Salzburg by car
The A3 is a convenient and scenic route for views of the Alps, and it passes by the Chiemsee, Bavaria's largest lake. Expect the trip to take 1 hour and 45 minutes. Similar in distance is the A45 to the north.
This route takes about two hours and offers the possibility of stopping at the Lake District, just 25 minutes north of Salzburg.
From Munich to Salzburg by train/public transport
Frequent trains provide a carefree journey of 1.5 to 2 hours with spectacular mountain scenery. Trains to Salzburg run frequently from Munich's main station, Munchen Hauptbahnhof.
Departures begin at around 5:40 AM, with a final departure at about 1 PM. Standard train rides take about two hours with one-way tickets around €15. The newer Railjet makes the journey in 1 hour and 30 minutes, and tickets cost around €60 one-way.
Guided tour to Salzburg from Munich
Eliminate stress and avoid crowds with a guided tour from Munich to Salzburg. Many private and small-group tours provide anything from historical to culinary tours. Rail tours include the cost of a round-trip train ticket and some include lunches, transportation around the city and entrance to attractions.
What is the typical itinerary of a day tour to Salzburg from Munich?
Even the most economical day trips to Salzburg provide glimpses of noteworthy places during travel from Munich to Salzburg. Most tours begin in the morning at a set meeting place or hotel pickup and last from 7 to 11 hours.
Travel east by car or train, passing by famous attractions such as Chiemgau Lake and Hallstatt Skywalk.
Most Salzburg day trips provide a general orientation of the town before allowing free time to explore. Some private tours offer a more structured guided visit. Travelers can wander the streets of the Altstadt (Old Town), take in the beauty of public gardens and hike to a mountain castle.
Some tours include visits to notable sites outside of Salzburg. After a full day of sightseeing, you will return to Munich via train or private car.
What kinds of tours are available to go to Salzburg?
Variety abounds with your choice of day tour to Salzburg from a range of private or small group tours. Small group day tours offer more budget-friendly Salzburg excursions, and many provide opportunities to explore areas outside of Salzburg.
For a personalized experience at your own pace, you can choose a private tour or transfer. Many of these tours offer amenities that the small group tours do not, such as some meals and private transportation.
Guided tours to Salzburg from Munich
Guided tours to Salzburg include round-trip transportation via train or car, with a two-hour scenic ride from Munich.  
Once in Salzburg, a knowledgeable guide introduces you to the town. Tours range from a general orientation to a fully guided experience. Enjoy free time to wander medieval streets, marvel at history spanning from Roman times and steep yourself in Mozart's life.
Many tours do not include entrance fees to sites, but some tours boast visits to attractions outside Salzburg.
Private tour to Salzburg from Munich
Private day trips to Salzburg include train rides or transport in a private car, and last from 6 to 11 hours. These tours allow flexibility and choice in duration and sightseeing stops.
Most Salzburg tours include hotel pickup and drop-off, and a knowledgeable guide to help you make the most of your visit. Many include entrance fees to certain sites, while some include food and drink.
Day trip to Salzburg plus Hallstatt from Munich
This day trip to Salzburg includes a pleasant pause during the two-hour train ride at Hallstatt, known for its World Heritage Skywalk. Tour the village's charming streets, then head to the Skywalk for some of the best views around.
Step onto the viewing platform perched 360 meters above the town and take in the panorama. Continue to Salzburg to enjoy all the history and culture that the town has to share.
Day tour to Salzburg plus St. Wolfgang from Munich
Savor the character of Salzburg, then head north to Austria's Lake District. Visit St. Wolfgang in the Salzkammergut resort area, which sits 25 minutes outside of Salzburg.
Here you may indulge in a boat ride on Lake Wolfgang, explore the village and take in views of the Mondsee made famous in the film "The Sound of Music."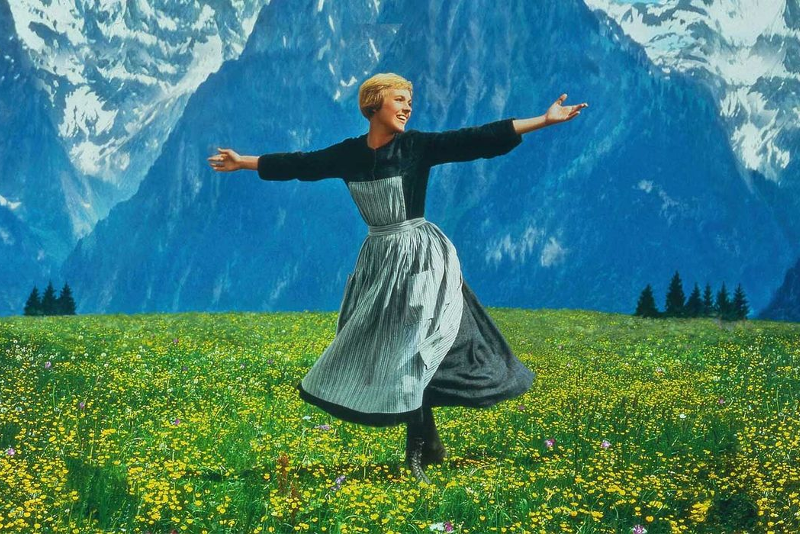 How much does a tour to Salzburg from Munich cost?
Many small group tours to Salzburg cost around €60 per person and feature skip-the-line tickets to attractions. The lower-end tours often do not include entrance fees to attractions such as Mozart's birthplace and Hohensalzburg Fortress, and very few tours provide meals and drinks.
Private tours cost around €300 per person or €1,700 per group of up to three persons, and the prices vary depending on the mode of transportation and the number of places to visit.
Private day trips to Salzburg also include a tour guide for a personalized excursion and are likely to include meals, drinks and entrance fees to ticketed historical sites.
What will you see and do on a Salzburg day trip from Munich?
Whether you travel by train or car, the journey from Munich to Salzburg takes you through classic Alpine scenery. Some day tours boast stops along the way at Hallstatt or lakeside resort towns of Salzkammergut.
Pass by Bavaria's largest lake, the Chiemsee or tower over a mountain valley on the Hallstatt Skywalk. Even glimpse the Red Bull headquarters, home of one of the world's most popular energy drinks.
Upon arrival, wander the UNESCO-protected medieval streets, sample Bavarian fare and discover historical structures such as the 900-year-old Hohensalzburg Fortress and Mozart's birthplace.
Venture into Salzburg's catacombs, stroll through St. Peter's Abbey and Cemetery and hike up 640 meters to visit the 400-year-old Kapuzinerberg castle.
Situated in the nearby Lake District, fans of the movie "The Sound of Music" can see locations featured in the film, such as Lake Wolfgang, Mirabell Gardens and Mondsee Cathedral.
Some day tour packages also include meals featuring local specialties and drinks. Finish your day with the return trip to Munich through the mountainous countryside.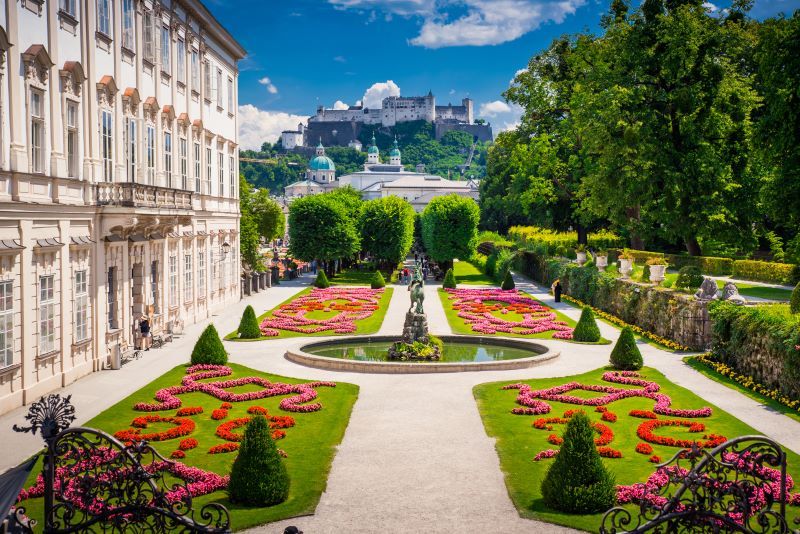 When is the best time to visit Salzburg?
Travelers to Salzburg will enjoy a wider variety of experiences during the summer from April to November, as some attractions are only accessible during the warmer months. However, its cold winters offer snowy vistas of the Alps and unique holiday shopping at the Kristkindl Market.
Are there any tours to Salzburg from other cities?
Yes, there are tours departing from other cities in Austria:
Travel tips
Plan ahead! Day tours to Salzburg often sell out.
Bring comfortable walking shoes and light layers depending on the season. Summers are warm, and winters are cold and can be snowy.
Have cash on hand for gratuities that are not included in tour prices.