Munich's Isar River might not be big enough for cruises, but the city's prime location gives you easy access to marvelous bodies of water that are ideal for all kinds of water-bound activities.
Boat tours in Munich take you to unspoiled lakes and rivers and deliver the best that Bavaria has to offer. Majestic lakes like Königssee and Tegernsee offer unbeatable tranquility, with a side of mountain views as the cherry on top.
These boat tours can also include multiple stops at historic and cultural landmarks, combining the effortless enjoyment of a boat ride with the adventurous nature of sightseeing not far from the Bavarian capital.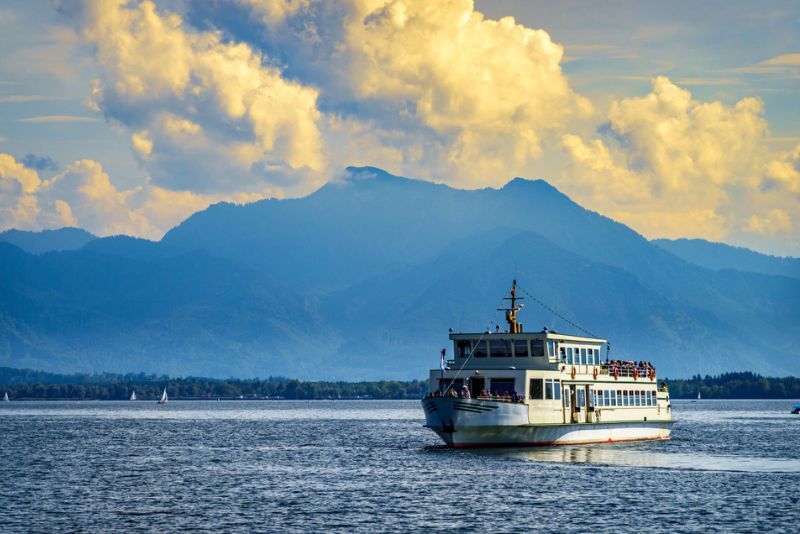 Here's all you need to know about boat tours, one of the most invigorating outdoor activities in Munich.
What are the most popular boat tours in Munich?
You can take a boat tour on any of the three famed lakes around Munich, each offering a plethora of attractions along the way.
Herrenchiemsee Palace and boat trip
Chiemsee is the largest freshwater lake around Munich and this tour takes you to its charming islands, Herreninsel and the Fraueninsel.
The adventure begins with an old-fashioned train ride to the lake, where you will have the option to visit the Herrenchiemsee Palace on Herren Island. You will also have time to visit the Benedictine convent on Frauen Island before taking a boat ride to soak up the splendor of Chiemsee.
For extra comfort, book this tour as a private experience to include private transport to and from your hotel, a private tour of Herrenchiemsee and a delectable lunch.
Private Lake Tegernsee boat cruise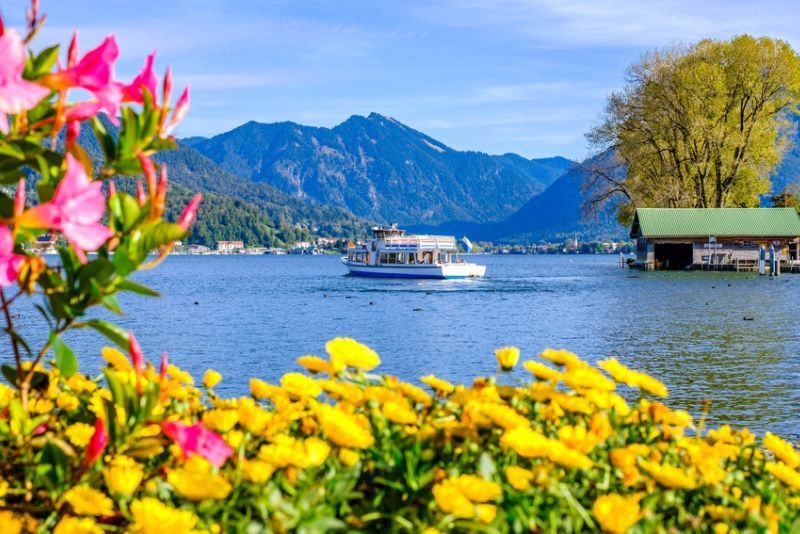 This sumptuous tour to Tegernsee spares no expense and lets you explore the charming alpine town of Tegernsee in style. From private transportation and hotel pickup, to a hearty Bavarian lunch and walking tour of Munich are all included.
You will also enjoy a 1.5-hour boat ride on the lake to get the best views of the town and the mountains. Top it all off with a desert stop at Fischbachau before being dropped off back at your hotel.
Private tour of Lake Königssee and Berchtesgaden Salt Mine
Take in the Alpine beauty around Lake Königssee with this extensive private tour. You will take a boat cruise on the lake, enjoy lunch at a local restaurant and cruise on an underground lake at Berchtesgaden's salt mine.
You will also have a chance to visit the infamous Eagle's Nest at the Kehlstein Peak to explore the compound's dark past.
How much do boat tours in Munich cost?
Group tours to Chiemsee and Herrenchiemsee Palace cost €60 per person, but does not include entry fees or food. All-inclusive private tours cost €1,500 for a group of up to 3 people, while a minivan with up to 6 people costs €2,000 and a sports car experience for 2 people is priced at €2,500.
Tegernsee private tours cost €1400 for a group of 3 or €1900 for a tour with a minivan that can take up to 6 people. The sports car tour option is also available for 2 people at €2400. These include everything from your entry tickets to food.
Private tours to Königssee and Berchtesgaden Salt Mine are priced at around costs €1,200 for a group of 3 people, but do not include entry fees or lunch.
Which places are seen?
There are three pristine lakes to explore just outside of Munich, each boasting unique scenery and landmarks:
Chiemsee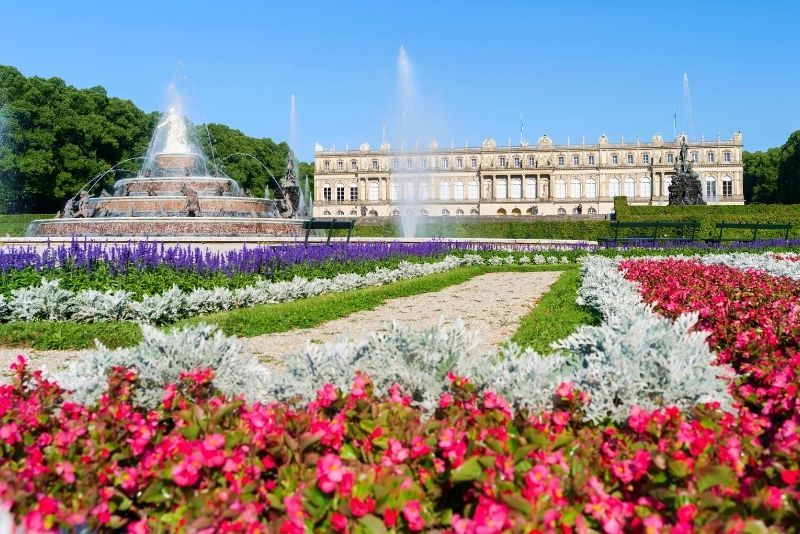 Chiemsee, often referred to as the "Bavarian Sea," is Germany's largest freshwater lake, nestled amidst the stunning Bavarian Alps. Notable landmarks around Chiemsee include Herrenchiemsee Palace, built by King Ludwig II, and the idyllic Frauenchiemsee island with its serene monastery. A boat trip on Chiemsee offers breathtaking views of the Alps, charming lakeside villages, and the chance to explore the palace's opulent rooms, which are reminiscent of Versailles.
Königssee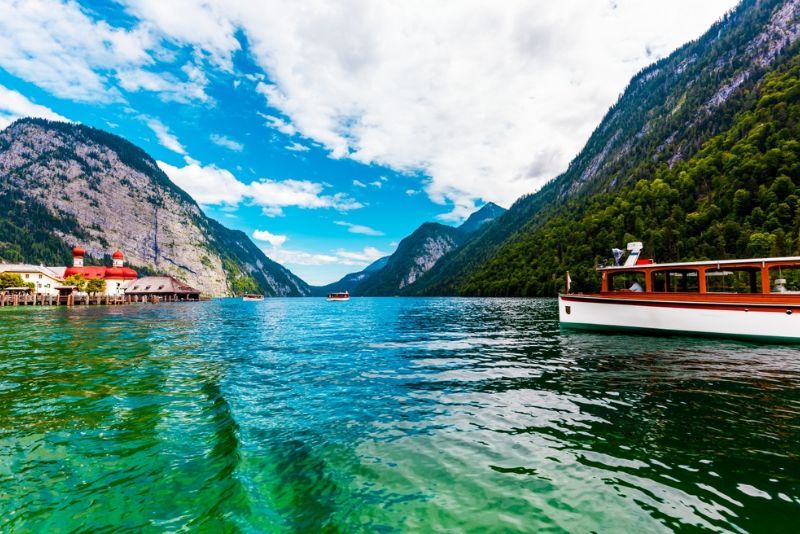 Königssee, located in the Berchtesgaden National Park of Germany, is renowned for its crystal-clear waters surrounded by towering peaks. The iconic landmark here is the St. Bartholomew's Church with its red onion-domed roof, set against the dramatic backdrop of the Watzmann mountain. A boat journey to Königssee takes you through emerald waters, passing by the famous Echo Wall, where the echoes of your voice bounce off the cliffs, creating a mesmerizing natural spectacle.
Tegernsee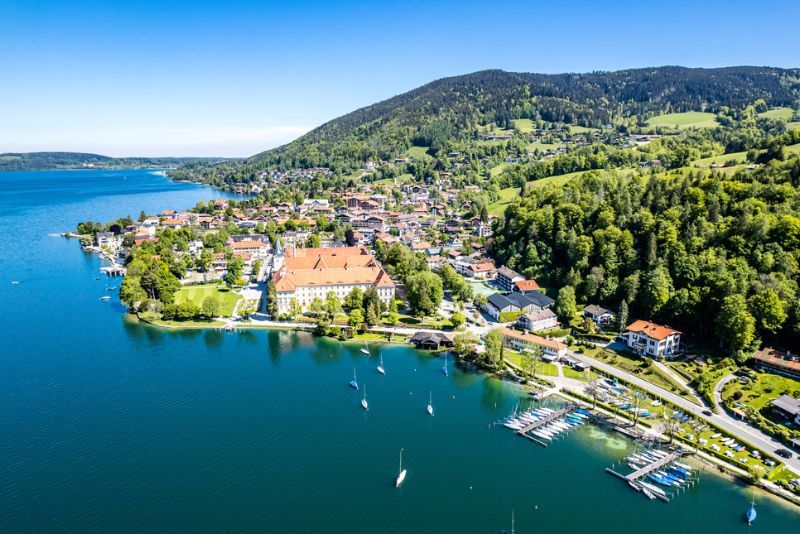 Tegernsee, nestled in the heart of the Bavarian Alps, is known for its tranquil beauty and the historic Tegernsee Abbey. While exploring this lake on a boat, you'll witness picturesque lakeside villages like Bad Wiessee and Gmund, as well as lush forests and charming cottages. A highlight of the trip is a visit to the abbey, where you can admire its centuries-old architecture and learn about the region's rich history.
How long does a boat trip last?
Boat tours from Munich are all-day tours and last between 7 and 9 hours.
Where do boat tours leave from?
Most boat tours from Munich are private and include pickup and drop-off at your hotel. The group tour to Konigssee departs from the operator's office in Munich.
Is it wheelchair friendly?
Yes, day tours that include boat trips from Munich are all wheelchair accessible, including those with private transportation.
When is the best time for a boat trip in Munich?
The best time for a boat trip in Munich is between late spring and early autumn months, from May to September. During these months, Munich experiences warm and pleasant weather, making it ideal for cruising on the city's rivers and nearby lakes.
Which other outdoor activities can be done in Munich?
Travel tips
Dress in warm layers, as it can get a bit chilly on the water, especially in the evenings.
Bring along a bottle of water to stay hydrated, particularly during the hotter months.
Boat tours in Munich can get booked up quickly, especially during the peak tourist season, so if you've set your heart on a specific trip, it's wise to book in advance.
Not all boat tours offer food or drink, so carry some light snacks with you.