Perched atop a hill in the Bavarian Alps, Neuschwanstein Castle is a fairy-tale masterpiece and one of the most popular tourist destinations in Germany. Built by King Ludwig II in the 19th century, the castle was intended as a private retreat from the pressures of public life.
However, following the king's untimely death, Neuschwanstein was opened to the public and has since inspired many of Walt Disney's iconic castles. Today, you can take a day trip to Neuschwanstein Castle from Munich to peek at its opulent rooms and captivating turrets.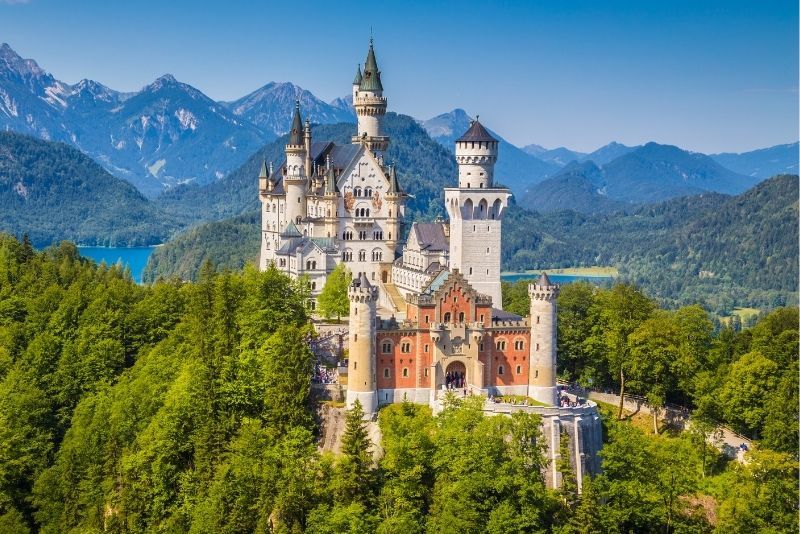 You will find below everything you need to know about Neuschwanstein Castle, one of the most fascinating destinations for day trips from Munich.
How to get to Neuschwanstein Castle from Munich?
Neuschwanstein Castle is located close to the village of Hohenschwangau, in the Bavarian Alps. It is approximately 130 kilometers away from the city of Munich.
From Munich to Neuschwanstein Castle by car
The journey to Neuschwanstein Castle takes just under two hours by car. You'll drive out of the city in a westerly direction and follow the A96 until exit 24. You'll take the turning for the B17 towards Landsberg am Lech and continue along the road all the way to the castle.
From Munich to Neuschwanstein Castle by public transport
While the jaunt to Neuschwanstein Castle is possible by public transport, it can be lengthy.  You'll need to take a train from München Hauptbahnhof to Weilheim, which takes approximately 45 minutes. From there, you'll take the Line 9651 bus towards Füssen, which stops at the castle and takes just over 1.5 hours. In total, the journey takes roughly three hours, including transfer time.
Guided tour to Neuschwanstein Castle from Munich
If you want to enjoy a day trip to Neuschwanstein Castle without worrying about how to get there, consider taking a guided tour. You'll meet in the city between 8 AM and 9 AM, and board a comfortable vehicle that will transport you to the palace. Excursions last roughly nine to 11 hours, and you'll return to Munich in the evening.
How much does the entrance ticket to Neuschwanstein Castle cost?
Regular: €15
Reduced: €14
Children under 18: Free
Students, persons over 65 and those with disabilities all qualify for the reduced rate. Carers of persons with disabilities are admitted to the site free of charge.
It's also possible to purchase a combination pass that allows you to see all three palaces associated with King Ludwig II. This ticket costs €31 and is valid for six months after purchase.
If you buy your tickets online in advance, you'll pay a €2.50 booking fee.
What is the typical itinerary of a day tour to Neuschwanstein Castle from Munich?
After meeting your tour guide at a central location in Munich, you'll board a coach or minibus, depending on which tour you take, and head towards Linderhof Castle. Many excursions include this landmark because of its close proximity to Neuschwanstein Castle and its association with King Ludwig II.
On some tours, you'll participate in a guided walk of the grounds, while on others you'll have free time to discover its halls and rooms. It is the smallest of the king's commissions, but its grand decor makes it equally as impressive as his other castles.
Moving on, you'll often make a quick stop in Oberammergau to see the traditional wood carvings that the town is so famous for. Oberammergau also hosts the "Passion Play" performance once a decade, which depicts the final stage of the life of Jesus Christ, as well as his crucifixion. Christians from across the world travel to the town to see the play, which has been heralded a masterpiece and has been running since 1634.
You'll make your way to Neuschwanstein Castle via Marienbrücke — otherwise known as Queen Mary's Bridge — which was originally built in 1866. The bridge stands 90 meters above the ground and was named after Marie of Prussia, who was the mother of King Ludwig II. It was designed by Heinrich Gottfried Gerber and is the perfect place for a photo of the castle in all its glory.
You'll then continue on to Neuschwanstein Castle, where you'll join a guided tour, to learn about the fascinating history of the lavish home of King Ludwig II. You'll also discover why the king was referred to as "mad," and his fixation with Richard Wagner.
Finally, you'll travel back to Munich where your Neuschwanstein Castle day tour ends.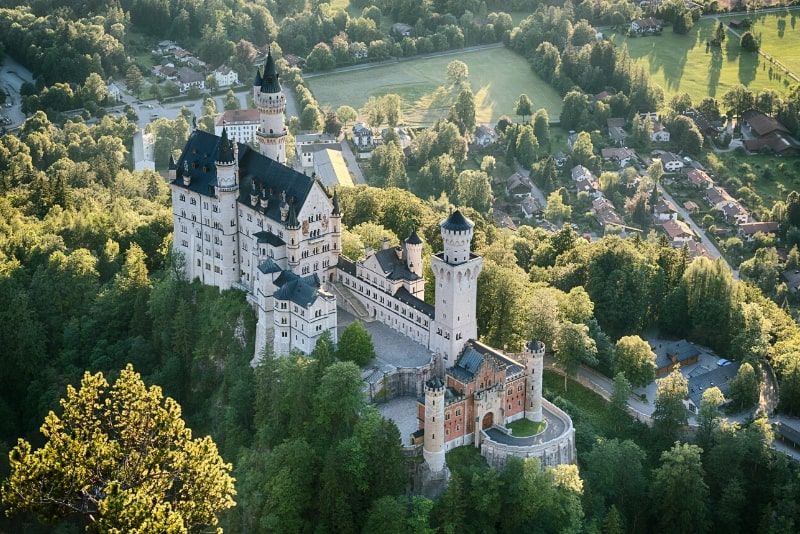 What kinds of tours are available to go to Neuschwanstein Castle?
If you wish to take a day trip to Neuschwanstein Castle, you'll be spoiled for choice. There are many tours to choose from that vary in group size and itinerary.
Small-group guided tours to Neuschwanstein Castle from Munich
Small group day tours of Neuschwanstein Castle allow you to discover the site in a personal way. You'll learn how the castle inspired Disney's "Sleeping Beauty", as well as the tales of King Ludwig II. You'll be part of a group of 15 or fewer participants, which enables you to form relationships with like-minded individuals, and you'll have skip-the-line access.
Day trip to Neuschwanstein Castle plus Linderhof Castle from Munich
This Neuschwanstein Castle day trip takes you on a discovery tour of all of the castles of King Ludwig II. You'll first travel to Linderhof Palace, which is the smallest of the three palaces that Ludwig had commissioned during his lifetime.
You'll make a fleeting visit to Oberammergau, which is one of the most picturesque towns in the Bavarian Alps, on your way to Neuschwanstein Castle. You'll roam the many rooms and pristine gardens that provided a refuge for the king, during his final days.
Once you've toured the story-book castle, you'll make your way to the final landmark associated with King Ludwig II — Hohenschwangau Castle.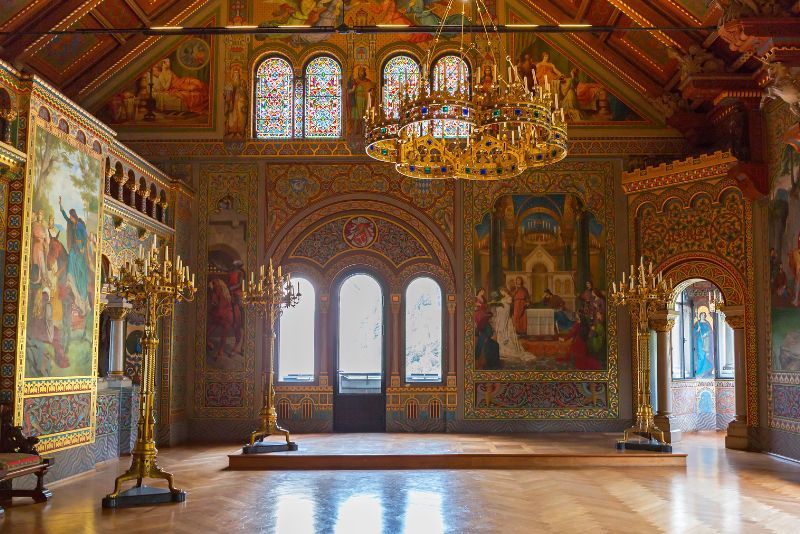 Day tour to Neuschwanstein Castle plus Ettal Abbey and Oberammergau from Munich
This private day tour of  Neuschwanstein Castle includes the stunning Ettal Abbey, which is known for its baroque architecture and phenomenal frescoes. You'll have the opportunity to take a ride on a horse-drawn carriage through the scenic Bavarian countryside, and you'll stop at the town of Oberammergau.
You'll also pass by Queen Mary's Bridge, where you'll stop for a panoramic view of the 19th-century Neuschwanstein Castle.
Private day tour to Neuschwanstein Castle plus Linderhof Castle from Munich
You can choose to take a private day trip to Neuschwanstein Castle that focuses on capturing picture-perfect shots to plaster over your social media. You'll make your friends jealous with selfies against the backdrop of an enchanting castle, on Queen Mary's Bridge and wandering through the gardens of Linderhof Palace. You'll end the tour with an entire camera reel of fantastic memoirs of your castle day trip.
How much does a tour to Neuschwanstein Castle from Munich cost?
If you wish to take an excursion to Neuschwanstein Castle as part of a small group, you'll pay approximately €60.
A day trip to all of the haunts of King Ludwig II, including the castles of Neuschwanstein, Linderhof and Hohenschwangau, also costs €60.
Private Neuschwanstein Castle day tours that travel to Ettal Abbey start at €490. Your group can consist of up to seven participants and the greater number of people in your party, the lower the cost per head.
Private tours to Neuschwanstein Castle and Linderhof Castle cost €1,200 for a group of up to three, and include lunch.
The entrance fees to all castles are usually at your own expense.
What will you see and do on a Neuschwanstein Castle day trip from Munich?
Neuschwanstein Castle was commissioned by King Ludwig II of Bavaria in homage to the German composer Richard Wagner and was intended to be a private residence. The castle began construction in 1869 but was incomplete upon the king's death in 1886. Instead, it opened to the public after his death and is now one of the most visited sites in Germany, attracting more than 1 million tourists every year.
The king himself is often referred to as "mad King Ludwig" because of his abnormal grasp of reality. He often admitted to hearing voices and became obsessed with Wagner. He built the composer a grand (and expensive) home in Switzerland, and wrote him several affectionate letters.
Today, many historians have surmised that Ludwig was likely homosexual, although this was considered improper at the time. King Ludwig II poured extensive amounts of money from his personal fortune into his architectural projects and was ejected from his throne in 1866 after being declared insane. He spent his final few weeks at his beloved Neuschwanstein Castle before his death, which was declared a suicide.
However, there was no investigation into the king's death, and the circumstances surrounding his supposed drowning in Lake Starnberg are often questioned. This is because Ludwig was a strong swimmer and was found in shallow water.
The king was highly involved with the design of Neuschwanstein Castle and the medieval building features borders of Wagner's operas. Ludwig's fascination with German legends is also apparent, with designs that depict the Swan Night and Lohengrin among other mythical tales.
As you wander through the castle, you'll recognize that there are only 14 rooms completed, which are now on display for visitors.
The throne room is one of these and features decor that is similar in design to Byzantine churches, complete with a 4-meter chandelier in its center.
Other parts of the castle that are open to the public include the dressing room, salon, bedroom and dining room.
The landmark is often referred to as the "Cinderella Castle", however, it was also the inspiration behind another of Walt Disney's classics — Sleeping Beauty.
The visionary himself visited the castle in 1955 and modeled the make-believe castles in Disneyland after the real-life building in Neuschwanstein. The completed designs featured fairy-tale turrets and winding staircases, just like the original.

What are the opening times?
April 1- Oct. 15: 9 AM- 6 PM
Oct. 16- March 31: 10 AM- 4 PM
When is the best time to visit Neuschwanstein Castle?
Neuschwanstein Castle is charming at any time of year, but if you want to see it at its best, visit between September and November. During these months, the weather is mild, there are fewer tourists than in the summertime and the trees display a magnificent array of red, and orange leaves.
Alternatively, if you enjoy the cold, consider visiting the castle in the depths of winter. During January and February, you may see the castle covered in a fresh blanket of soft snow.
Are there any tours to Neuschwanstein Castle from other cities in Germany?
Yes, there are tours departing from other cities in Germany:
Travel tips

Many day trips to Neuschwanstein Castle include skip-the-line tickets. Choose one of these tours in order to spend more time exploring and less time queueing.
Large bags are not allowed inside the castle, so pack light for your day tour.
Bear in mind that the castle is constantly undergoing maintenance. Because of this, you may see scaffolding around parts of the building.
While photography is permitted on the grounds of the castle, it is prohibited inside the building itself. If you want to take extraordinary photos, head to Queen Mary's Bridge.