Munich is a city with a rich history and culture, making it the perfect place to sample some of the best German food.
Food tours allow you to try traditional Bavarian fare and are the ideal way to dip your toe into German cuisine. There are many food tours in Munich to choose from, and you'll be able to make other foodie friends as you eat your way through the city.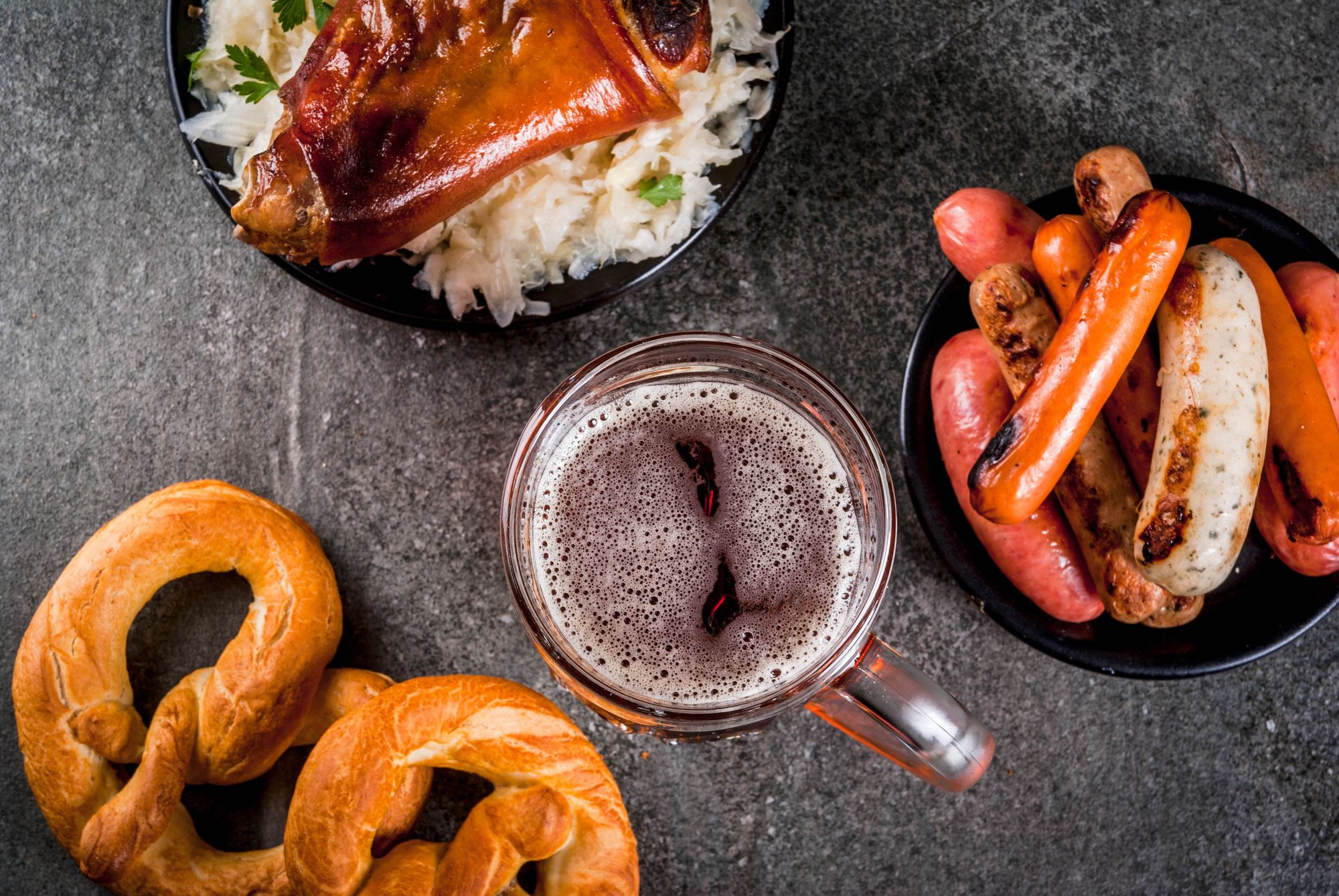 You will find below everything you need know about food tours, one of the most unique options for food and wine experiences in Munich.
What are the best food tours in Munich?
Viktualienmarkt gourmet food tour
Viktualienmarkt is an iconic site in the city, which has been held almost daily since 1807. You'll begin your tour at Marienplatz. From there, you'll saunter to the historic marketplace, which has 140 stalls selling everything from fragrant flowers to smoked Bavarian sausage.
Inside Viktualienmarkt, you'll try several famous German dishes that originate from Bavaria. These include succulent Weißwurst sausages, soft and doughy pretzels, and smokey cheeses. You'll have the opportunity to wash these delicacies down with traditional Bavarian beer.
As you wander through its endless stalls, you'll hear tales about the history of Viktualienmarkt.
Bavarian beer and food evening tour
This food tour takes you out onto the streets of Munich, in search of the best dishes the city has to offer.
You'll start with a tour of Munich's Beer and Oktoberfest Museum. The famous beer festival has been running annually since 1810, although beer brewing began in the region as far back as the 11th century.
Once you've sparked your taste buds, you'll travel to a traditional Bavarian beer tasting garden where you'll enjoy a local brew. While you're soaking up the atmosphere in this local tavern, you'll enjoy some local German snacks, such as pretzels, spaetzle and roast pork.
Lastly, you'll make your way to the world-renowned Hofbräuhaus, which dates back to the 16th century and was originally a brewery.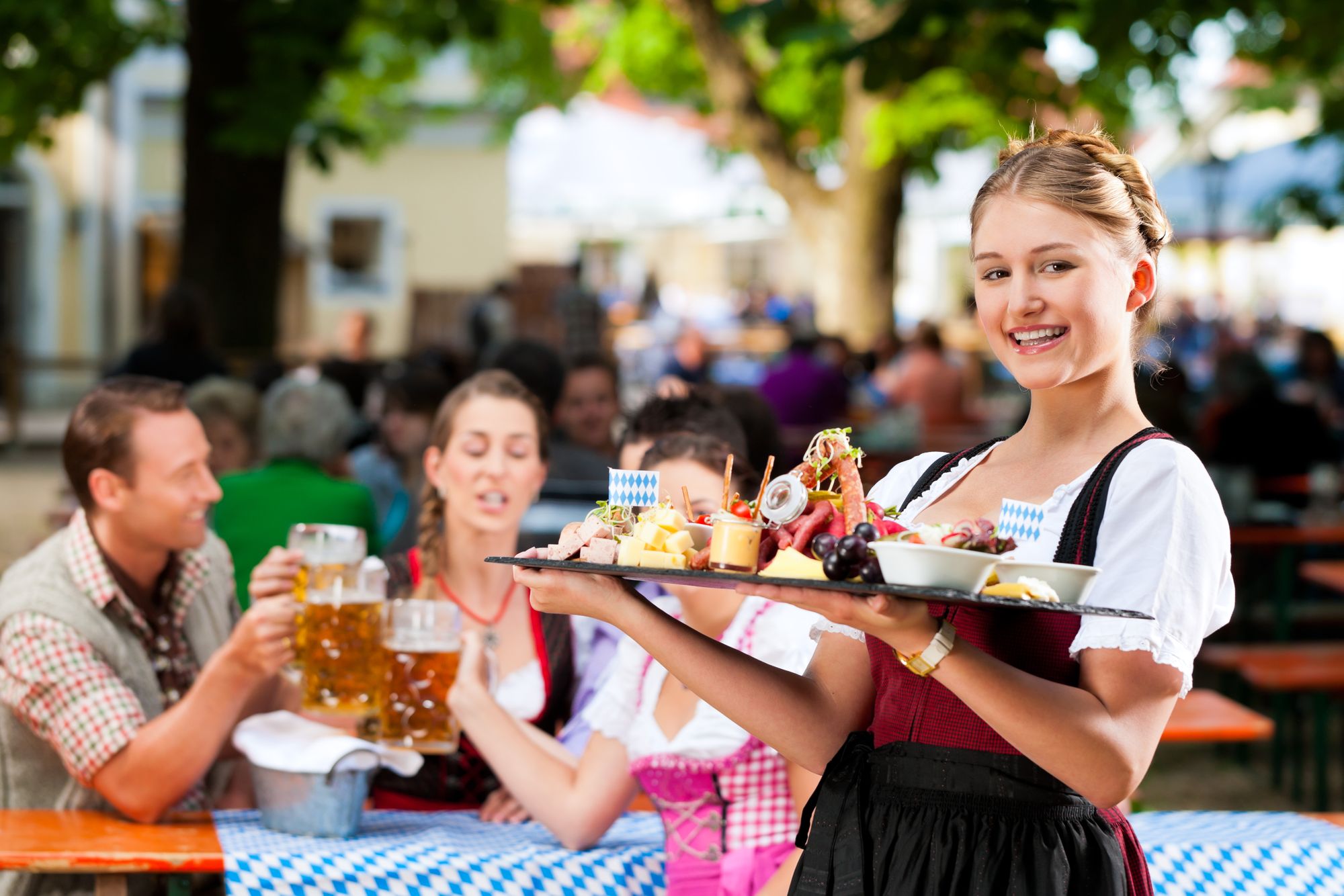 Oktoberfest tour
If you're heading to the world's biggest beer festival, you should consider taking the Oktoberfest with a tour food included to make the most of your experience.
You'll have a guide to show you around the festival and tell you stories about the history of Oktoberfest. The festival originally began over 200 years ago as a celebration of the marriage of the crown prince of Bavaria. The tradition has continued for centuries and now attracts beer-lovers from across the world.
You'll benefit from reserved seating inside a tent so that you can take a break from the hustle and bustle of the festival. You'll also have beer and food included on your tour so that you can gain a well-rounded view of Bavarian cuisine.
Munich Christmas market food tour
This Christmas food tour in Munich allows you to taste festive treats and see the city illuminated by thousands of twinkling lights.
You'll stroll through the most famous Christmas market — held at the historic Marienplatz — where you'll have the opportunity to try local food and shop for gifts. You can toast the holidays with a warming alcoholic drink at a secret spot before continuing on to see some of Munich's most memorable sights. These include Frauenkirche Cathedral, Odeonsplatz and the Michael Jackson Memorial.
Moving on, you'll visit the Residenz Christmas market, as well as the Wittelsbacherplatz market, which is a unique medieval-inspired festive shopping experience. At these Christmas markets, you'll try several local snacks, including a Bavarian sausage that is only available during the festive season and a sweet dessert.
As you make your way to the Christmas market at Viktualienmarkt, you'll learn about the history behind the Bavarian State Opera house. You'll end your tour with a warming cup of mulled wine and a traditional pastry.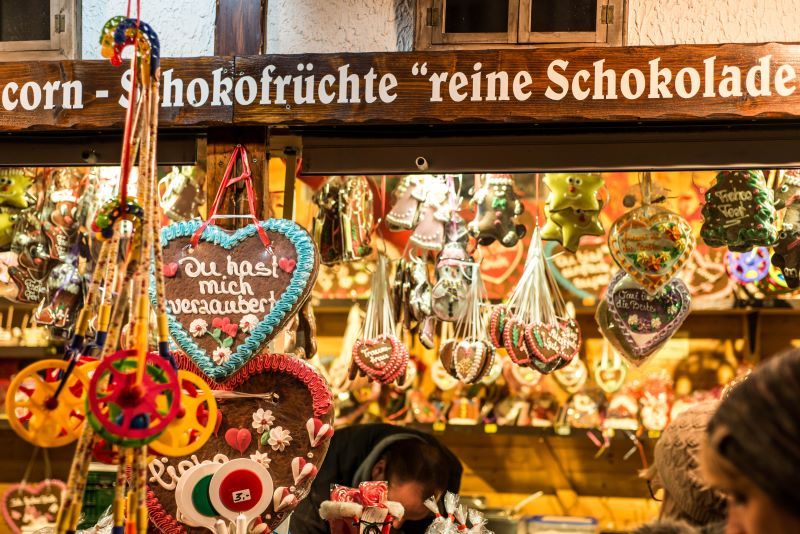 How much do food tours in Munich cost?
Tours of Viktualienmarkt cost between €30 and €40.
Bavarian food and beer tours that travel through the streets of Munich cost approximately €50.
Combination sightseeing and food tours in Munich that take place on a bike cost around €80.
Alternatively, if you're visiting Munich at Christmas time, you can participate in a tour of the city's festive markets for €130.
If you wish to take a tour of the annual Oktoberfest beer festival, you'll pay €150.
What is included in a food tour in Munich?
Generally, food tours in Munich include a local guide and several tastings of Bavarian cuisine. You'll also have the opportunity to sample German beers. Some tours include admission to the Beer and Oktoberfest Museum.
Where do food tours in Munich start?
Food tours in Munich begin in a variety of destinations across the city. These are central meeting points that are easy to reach by public transportation.
You'll be informed of the location of your meeting point before booking so that you can arrange transportation ahead of time.
How long do food tours in Munich last?
Munich food excursions typically last between two and 3.5 hours. If you take a combination tour that includes a sightseeing trip around the city by bicycle, you can expect it to last around six hours.
When is the best time for a food tour in Munich?
It's best to arrange your Munich food tour for a few hours after your last meal so that you're hungry and can enjoy the tastings of local food properly. As food tours always include beer, you may wish to arrange your tour for the afternoon rather than the morning.
Eating your way around a city is the perfect way to get acquainted, so book your tour for the first or second day of your trip.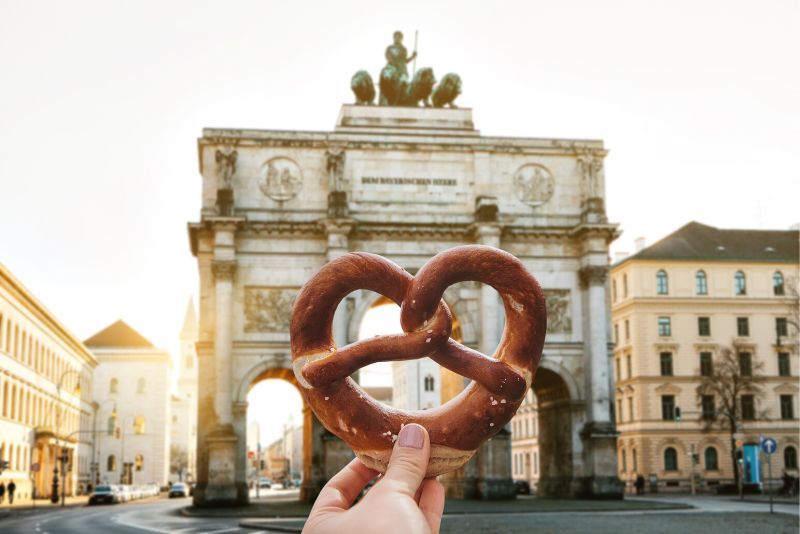 Are there any combos available with food tours in Munich?
Munich small-group bike tour plus Bavarian food and beer evening
This tour allows you to experience all of the best parts of Munich through its impressive landmarks, delicious cuisine and celebrated beer. You'll visit the main highlights of the city by bike, including Marienplatz, Königsplatz and Englischer Garten. You'll also stop at a beer garden, as well as Hofbräuhaus, where you'll indulge in several local brews alongside German snacks.
Travel tips
Make sure you're hungry before participating in a Munich food tour.
Inform your tour provider if you have any allergies or dietary requirements, to see if they are able to cater to you.
Food tours in Munich always take place on foot. They include a fair amount of walking, so wear comfortable shoes.
The weather in Munich is unpredictable, and often rainy. Bring an umbrella with you on your guided walk, just in case.