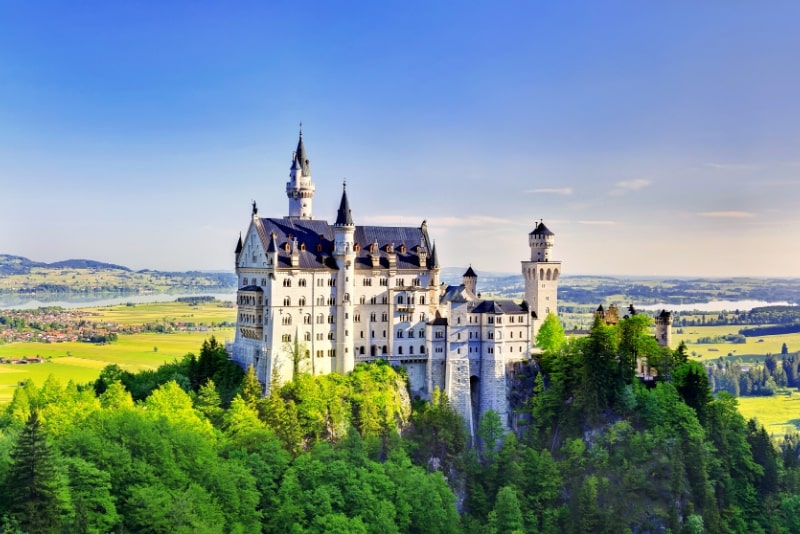 Are you looking for the best way to get your Neuschwanstein Castle tickets? Find out all about how much entrance tickets cost and who is eligible for discounts, how to book last-minute tickets, special combined tickets including other attractions nearby, guided tours from Munich and more!
In this article, you will find a complete guide to getting tickets for the Neuschwanstein Castle, including:
Don't feel like reading ahead? Click the following button to book Neuschwanstein Castle tickets right now.
How much do Neuschwanstein Castle tickets cost?
Neuschwanstein Castle Standard Tickets

Regular price:

€

13
Reduced Price:

€

12
Children 18 and under are free
Combined tickets including  tickets and other castles nearby

You do have the option to see other attractions nearby.
King's ticket. Visit both Neuschwanstein Castle and Hohenschwangau Castle on the same day:
Regular price:

€

25
Reduced Price:

€

23
Swan ticket. Visit Neuschwanstein Castle, Hohenschwangau Castle, and the Museum of the Bavarian Kings)
Regular price:

€

31.50
Reduced Price:

€

30
Prince ticket. Visit Neuschwanstein Castle and the Museum of the Bavarian Kings.
Regular price:

€

22
Reduced Price:

€

20
King Ludwig II's Palaces combo ticket. Visit each of the palaces Neuschwanstein, Linderhof, and Herrenchiemsee once. The combination ticket is valid for six months.
Please note that the only way to see the Castle is by guided tours which are conducted in both German and English by Castle staff.
If you don't speak either language audio tour guides are also available in Japanese, French, Spanish Italian, Czech Slovenian, Russian Polish, Chinese (Mandarin), Portuguese, Hungarian, Greek, Dutch, Korean, Thai, Arabic, Hebrew
All tours are approximately 30 minutes long.
Who are eligible for discounts?
Neuschwanstein Castle offers reduced admissions to several groups. To take advantage of reduced prices you must be one of the following:
Tour groups with a minimum of 15 ticket holders (tickets must be all be purchased at the same time and on the invoice by the tour guide)
Groups on company outings (authorization by the company or office required. Tickets must be all be purchased at the same time and invoice by the tour guide)
Members of the Verband Deutscher Kunsthistoriker e.V.
(Association of German art historians)
Members of the (German) Berufsverband Bildender Künstler
(Professional association of visual artists)
Members of the (German) Schutzverband Bildender Künstler
(Association for the protection of the rights of visual artists)
Students and "Goethe Institut" course participants (verification or international student card required)
Persons completing a voluntary social or ecological year (verification required)
Persons completing national or community service (verification required)
The disabled (verification required); their helpers are admitted free of charge if the necessity of an escort is registered in the verification.
Groups of under 15 participants if they are being paid for entirely or in part by charitable organizations, or for other exceptional reasons
Seniors over 65 (ID card).
How do you book Neuschwanstein Castle tickets in advance?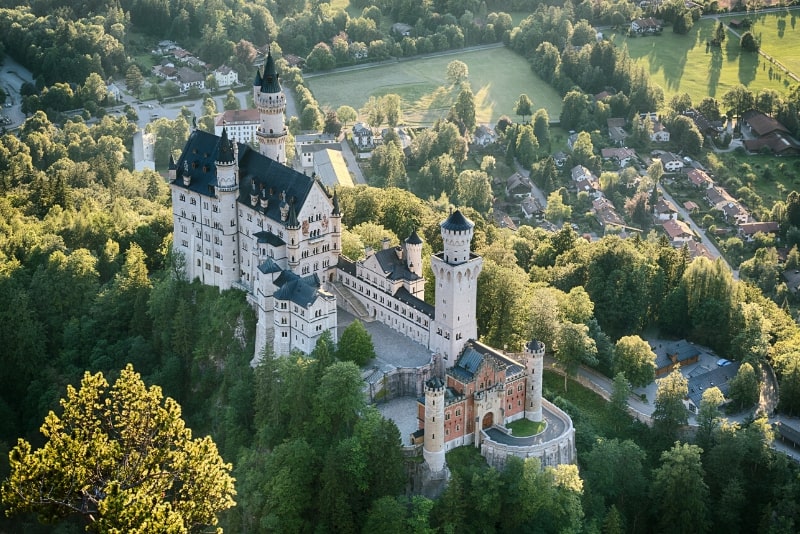 On-site:
The only place to purchase tickets is at Ticketcenter Hohenschwangau which is located in the village of Hohenschwangau below the castle.
Online:
Having said that, it is recommended that you reserve your tickets in advance via Neuschwanstein Castle's website. Be sure to do this at least 72 hours in advance.
Note this is simply a reservation. You still need to pick up and pay for your tickets.
If you want to reserve tickets for a specific time this can be done for an additional prepaid charge two days before the desired castle visit (3 pm local time) at the latest. Tickets can be changed or cancelled up to 2 hours before the start of the tour.
There are also travel websites such as Viator or Getyourguide selling Neuschwanstein Castle tickets. Check all the deals available and make sure to compare prices before booking.
Are there any Neuschwanstein Castle excursions from Munich or Frankfurt?
There are also several day trip options to the Castle from cities such as Munich, Frankfurt or Fuessen.
You can book these through online travel websites. Since prices vary and discounts are regularly offered, it's recommended you research and compare on TourScanner to find the best deal.
Click on the following links to check Neuschwanstein Castle guided tours from Munich or Neuschwanstein Castle guided tours from Frankfurt.
Is it possible to visit the Neuschwanstein Castle for free?
To see the interior of the Castle a paid tour is necessary. However, you can view the grounds and exterior at no charge.
What is included in the Neuschwanstein Castle ticket? What will you see?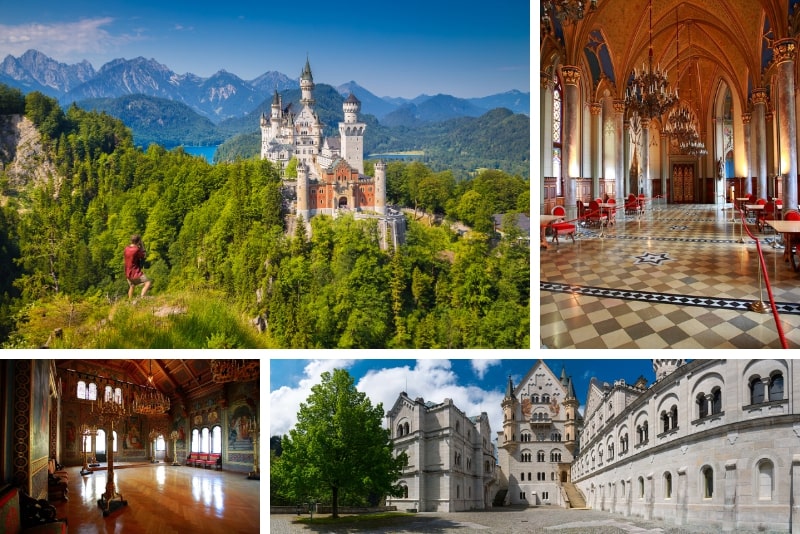 Neuschwanstein Castle is one of the most popular castles in all of Europe.
King Ludwig II built the castle as a getaway of sorts. His plan was to withdraw from the public eye. However, he died before the castle was completed. Not long after, it was open to the public.
The tour begins with these rooms:
The Lower Hall. The marble portals of the lower hall lead you into the Throne Room.
The Throne Room: This room is a cross between a church and a throne room. It has a 4-metre high chandelier that takes up the third and fourth floors and the entire west section of the Palas.
The Dining Room. This is an oak-panelled anteroom that led to the King's apartments. Its bell system made it possible for servents in this room be summoned from any other room.
The Bedroom. This sumptuous room displays a state bed in the neogothic style, covered in blue silk and appliquéd and embroidered with the Bavarian coat of arms, lions, swans, crowns, lilies.
Other rooms to visit:
Oratory
Dressing room
Salon
Grotto and conservatory
Study
Anteroom
Passage
Upper Hall
Singers' Hall
What are the Neuschwanstein Castle opening hours?
The castle is open the following dates:
During the summer guided tours are held daily, from 7:30 am to 5:00 pm.
Winter 2019, 2020 and 2021:
From October 16, 2019, to December 31, 2019
From January 1, 2020, until March 31, 2020
From October 16, 2020, to December 31, 2020
From January 1, 2021, until March 26, 2021
From October 16, 2021, to December 31, 2021
During the winter tours are held from 8.30 am to 3.30 pm. (Note they are closed on Christmas and New Year's Day)
Summer 2020 and 2021:
April 1, 2020, until October 15, 2020
March 27, 2021, until October 15, 2021
Avoid the crowd – What is the best time to visit Neuschwanstein Castle?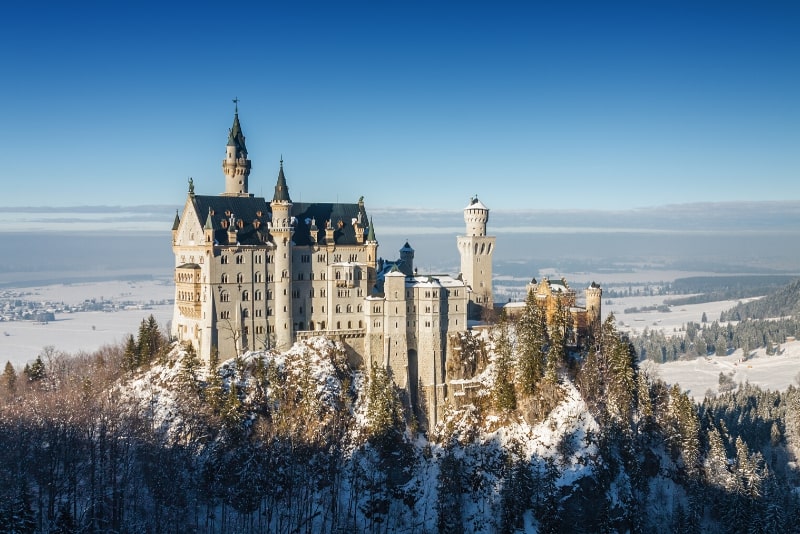 Neuschwanstein Castle has nearly 1.5 million visitors every year, and summer is the busiest time to visit. Naturally.
Approximately 6,000 visit this attraction every day during the summer and while tours do move fast and efficiently, that's a lot of people.
So if you plan to visit in the summer it is highly recommended you reserve your ticket in advance—but remember, you do need to pick them up the morning of your tour.
Lastly, weekdays tend to be less busy compared to weekends.
Travel tips
Guided tours start on time; make sure to arrive on time to the castle and plan additional extra time for possible security checks at the entrance.
Please also be aware that you cannot take backpacks/rucksacks, strollers/prams, child seats, or any other bulky items into the Castle. You will need to leave them on your bus or in your car.
The earliest you book your tickets, the best. The Neuschwanstein Castle is often fully booked, especially during high season.