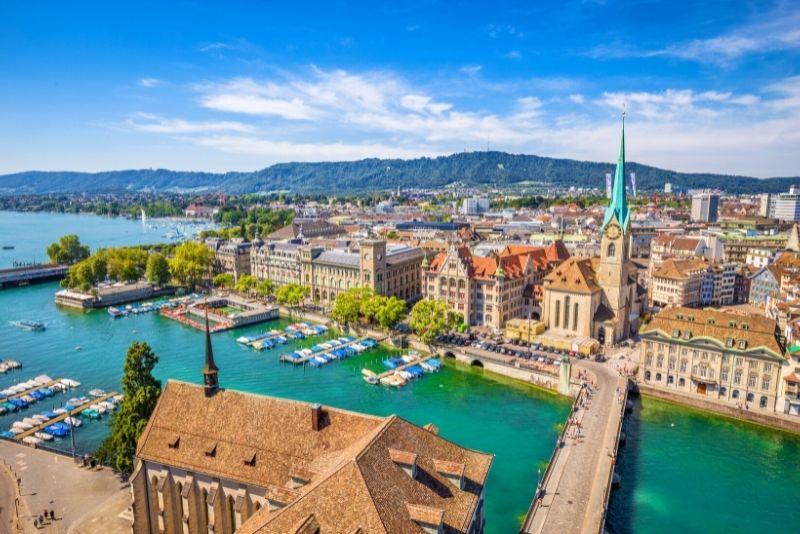 What springs to mind when you think of Zürich? Switzerland's largest city is a financial powerhouse, with banking and commerce at its beating heart. Yet delve a little deeper and you'll discover there are plenty of fun things to do in Zürich that have nothing to do with economics!
Known as the largest city in Switzerland, the list of activities and experiences to have in Zurich is truly endless and caters to every type of traveler, no matter their interests.
Interested in music and culture? Get tickets to the next show at the exceptionally beautiful Zurich Opera House for an evening of ballet, and song recitals.
Is outdoor adventure more your speed? Book a seat on the next boat ride traversing the waters of one of Europe's biggest waterfalls, or tour the historic monastery Engelberg, and be rewarded with stunning views of the valley below.
Amble through the historic Old Town, take a boat trip on the lake, or head into the mountains for some fresh alpine air. Then indulge in upmarket shopping and world-class dining, you are on vacation after all.
Want to dive straight in? Browse our catalog now!
1 – Take a boat trip on Lake Zürich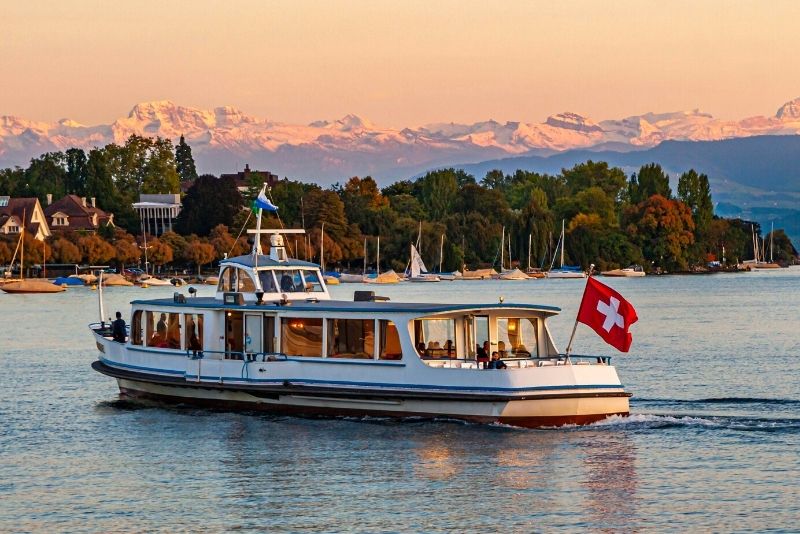 This moon-shaped lake wraps itself around the Albis and Pfannenstiel hills, with traditional Swiss towns dotted along the sun-kissed shoreline. Strolling along the scenic promenade beside Lake Zürich is a must when you're in town.
Hop on a boat to make the most of those quintessential Swiss mountain views, and for a slice of relaxation on the gently bobbing waves. These Lake Zurich boat tours offer great views of the old town and a unique chance to reflect on the historic beauty of the city. Don't miss this!
2 – Unearth history in the old town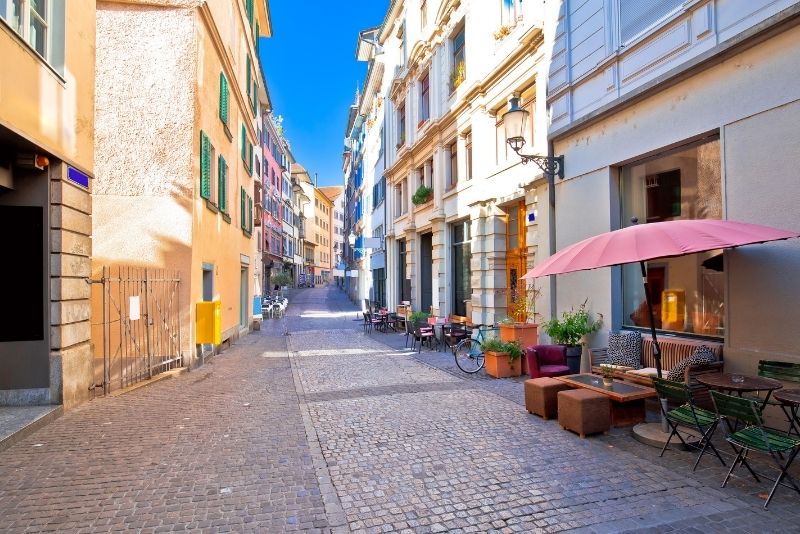 Straddling the Limmat River, Zürich's old town takes you on a journey to pre-medieval times. Feel the colorful passage of time as you wander down cobblestone alleyways in the shadows of historic buildings.
Sip mugs of hot chocolate in cafes overlooking sleepy squares, and swing by the guild houses along the promenade. Don't miss the 17th-century town hall or the ancient churches and discover which famous personalities have called the city home over the centuries.
With foundations dating back to Roman times, Zurich's winding alleys will enchant and inspire wonder in all visitors.
3 – Shop till you drop on Bahnhofstrasse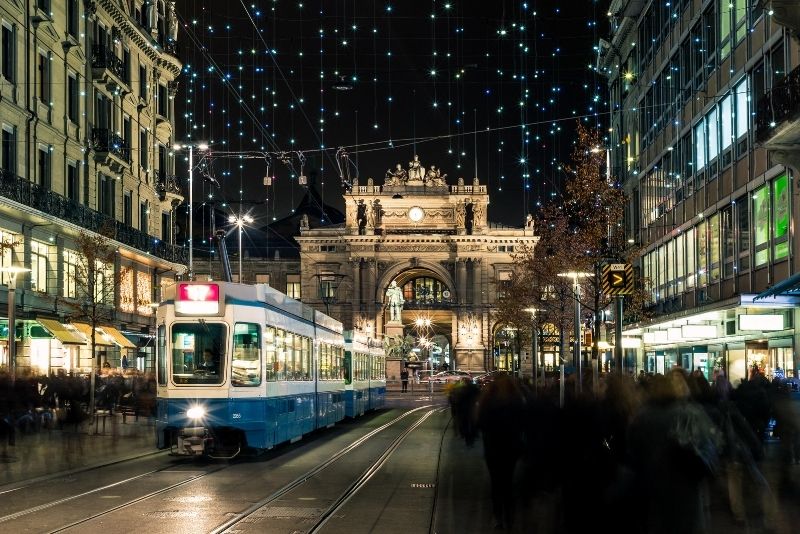 Bahnhofstrasse is Zürich's premier shopping destination. The home of luxurious international brands, this dazzling street is all about the bling. Come here to add a little Gucci or Prada magic to your closet.
Once you've stocked up on designer clothes, gold watches, and artisan chocolates, it's time for coffee and pastries. Head to Paradeplatz – the central square – for a treat at Café Sprüngli.
With Lake Zurich on one end and the city's main station at the other, Bahnhoffstrasse is the lively heart of the city – popular with tourists and locals alike.
4 – Roll around town on a segway tour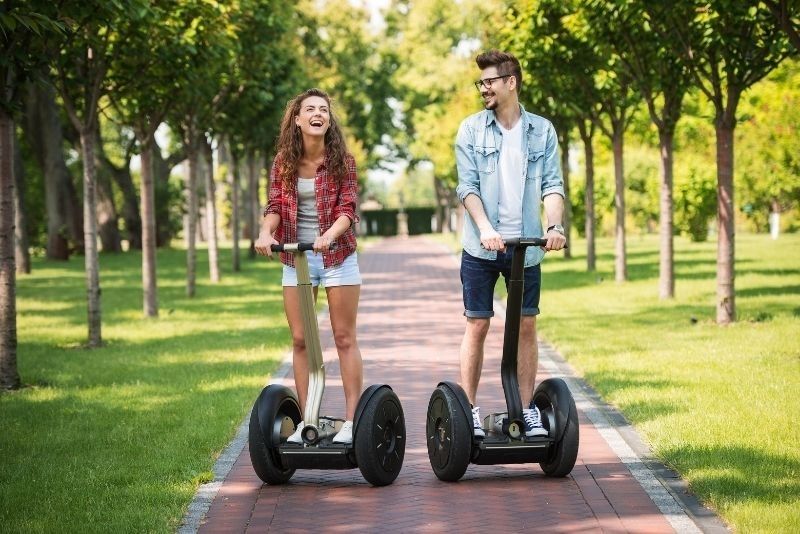 Trundle through the streets of Zürich in style as you explore on a unique Segway tour. You'll be gliding across parks, flying past the stunning Tonhalle, and cruising along the glitzy Bahnhofstrasse.
This is a fun way to see the historical city landmarks, with plenty of photo stops to commemorate the experience. First time on a Segway? You'll soon get your balance!
Though they may look tricky to ride, you'll be cruising like a pro in no time. Don't miss out on a fun and interactive Segway tour during your time in Zurich.
5 – Take in a show at Zürich Opera House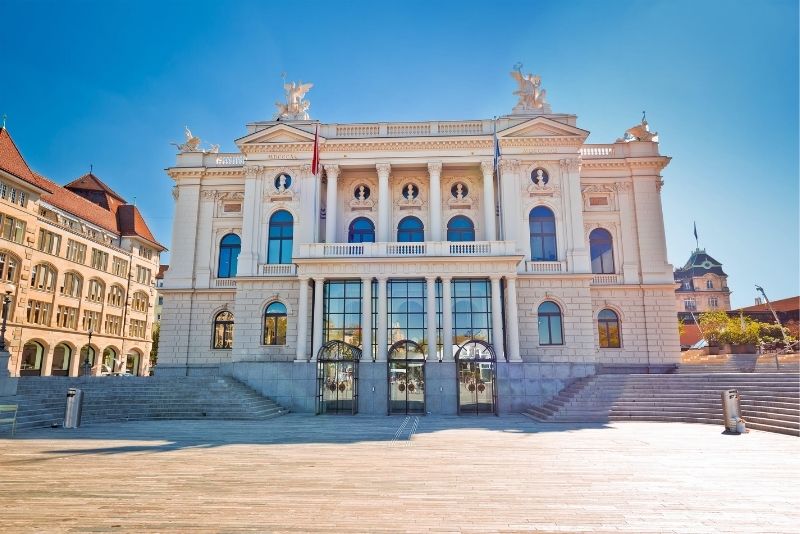 The grandiose Opernhaus Zürich is renowned for its showstopping international performances. Whether you're into Mozart or Shakespeare, spending an evening here is one of the top cultural things to do in Zürich.
The Neoclassical building is stunning inside and out – the Rococo Revival Hall is a must-see. Tours of the interior are available if you don't have time for a concert but it's well worth stopping in to catch a performance.
Getting dressed up for a night at the opera is sure to be one of the most memorable things to do in Zurich!
6 – Go wild at Zoo Zürich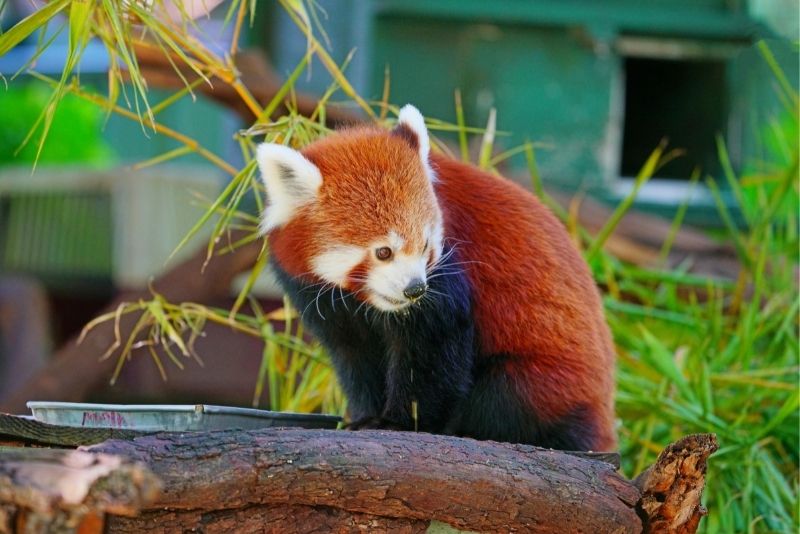 There are over 4,000 animals that call Zoo Zürich home, with everything from giant anteaters to emperor penguins vying for your attention. Wander through different ecosystems, from tropical rainforests to Antarctic glaciers, and discover how these curious creatures live in the wild.
See baby orangutans swinging through the trees and head to the underwater viewing area to watch Asian elephants swimming. Budding naturalists will love meeting the petting zoo residents too and discovering the conservation work that Zoo Zurich is doing to protect endangered species and environments.
7 – Enjoy the fresh air in Park Platzspitz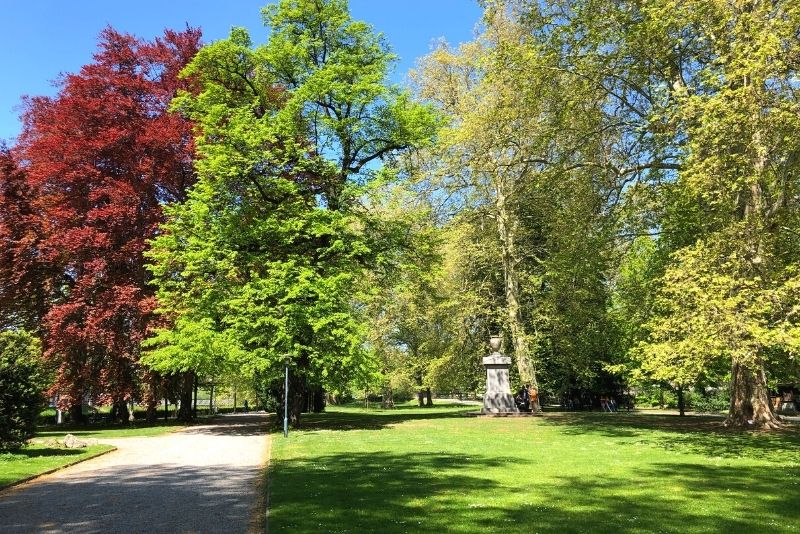 The centrally located Park Platzspitz is one of Zürich's oldest green spaces. Flanked by two rivers and the National Museum, this historical park is an oasis of calm in the heart of the city.
It's a great place for a picnic or a stroll in the sun. If you're lucky there might be a local band playing in the outdoor pavilion.
Just a short walk from Hauptbahnhof station and all the sites of the Old Town, Park Platzspitz is blessed with river views on two sides. You can even catch an open-air movie in the courtyard of the National Museum during the summer months.
8 – Hike up Uetliberg Mountain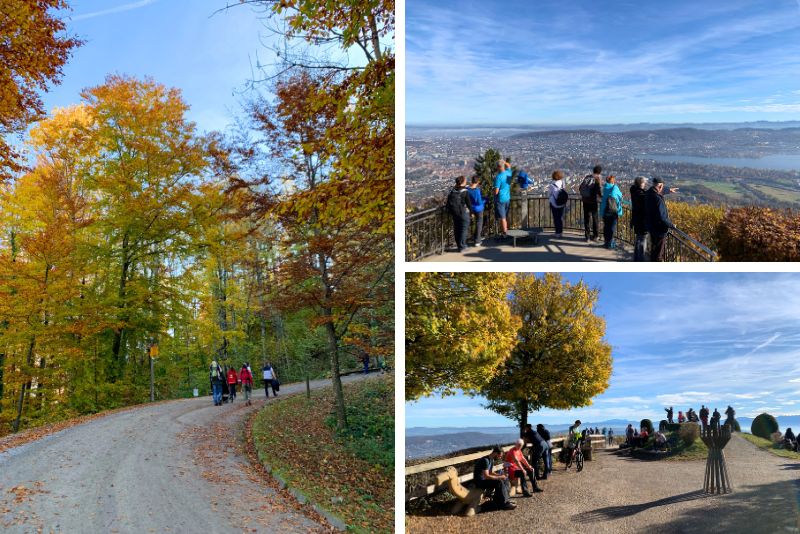 Look up from the city and you'll see the mighty Uetliberg Mountain, keeping watch over Zürich down below. Several easy hiking trails wind their way up to the summit, where walkers are rewarded with panoramic views of red rooftops and the city's stunning lake and, on a clear day, you can even see as far as the Alps.
It's a great place for mountain biking, and during winter many of the pathways are transformed into sledding runs. If you would like to see more of the Zurich countryside, you can follow the Planet Trail hike from Uetliberg Mountain to the Felsenegg lookout.
9 – Attend a memorable Candlelight Concert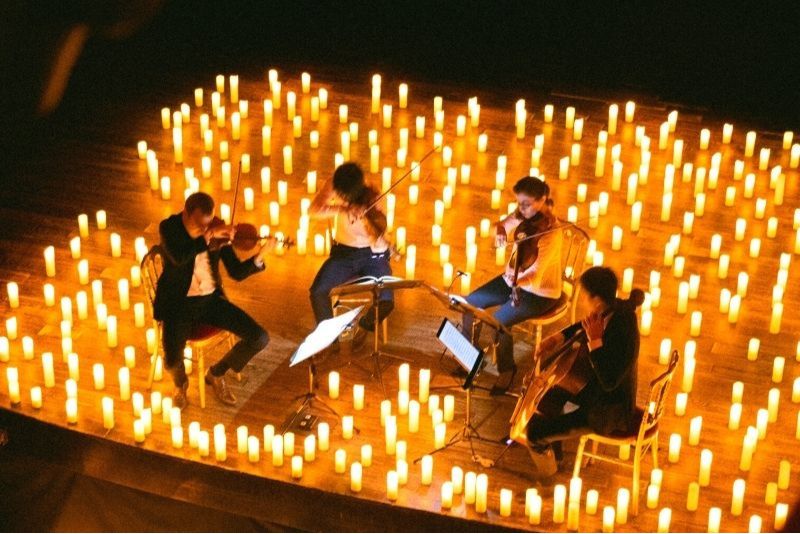 Enjoy an evening to remember attending a Candlelit Concert, where you will get a musical experience unlike anything else, in a venue filled with the light of thousands of glowing candles.
Sounds like a dream come true? You can get exactly this in Zurich at some of the city's most beautiful venues, including the historic Wasserkirche and the medieval Zunfthaus zur Zimmerleuten.
Choose between attending a classical symphony concert, a lovely orchestra and opera performance, or something more contemporary like the musical stylings of Coldplay fused with Imagine Dragons.
10 – Admire modern art at Kunsthaus Zürich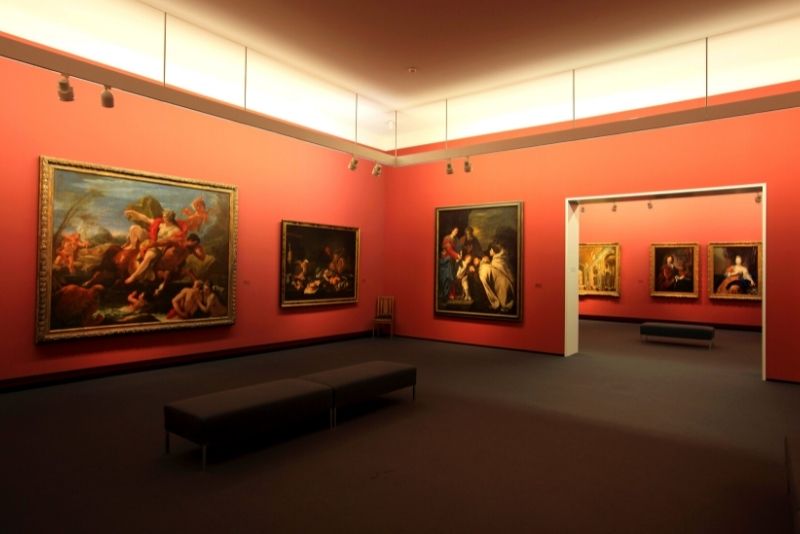 The Kunsthaus Zürich is home to a staggering collection of contemporary Western artwork, as well as classic works, with some pieces dating back to the 13th century. There are over 4,000 paintings and sculptures here, including pieces by Edvard Munch and Pablo Picasso.
See if you can spot Monet's waterlilies and get your head around Warhol's pop art exhibition. From watercolor to concrete, all the major styles are represented here. If you're looking for an art fix during your time in the city Kunsthaus Zurich is the place to go!
11 – Take in the city views from Lindenhofplatz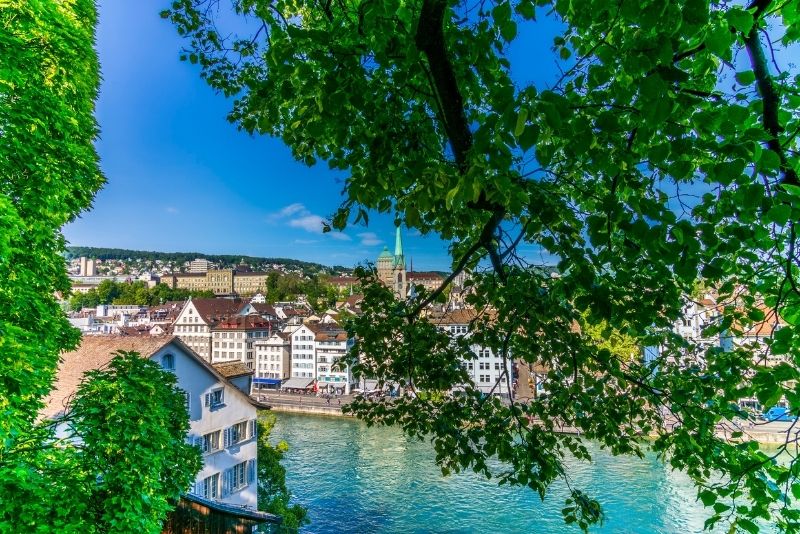 This serene urban park in the heart of the old city has some of the best panoramas in town. With views on all sides, it's a great place to get your bearings.
Though it's quite a steep walk upto Lindenhofplatz, it is a must-see on a trip to Zurich. The park has numerous historic monuments and was the site of neolithic and Roman settlements.
Spend time in the historical Lindenhofplatz, taking photos of the city rooftops down below. Can you identify the Grossmünster Church, City Hall, and the Limmat River from your lofty perch?
12 – Climb the tower at Grossmünster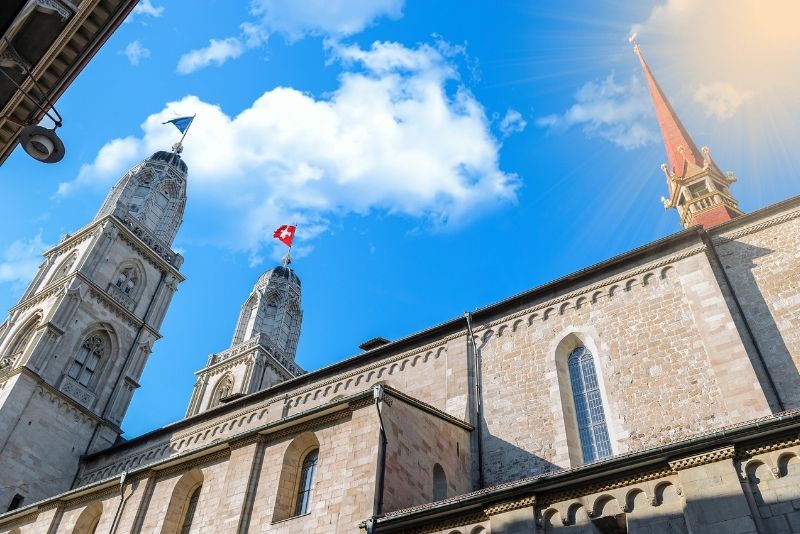 Paying your respects at the Grossmünster is one of the iconic things to do in Zürich. This Romanesque-style Protestant church is a top city landmark, built on the graves of Zürich's patron saints.
The Grossmünster also is a great place to catch a concert and has a program of live organ, vocal and instrumental music to enjoy throughout the year.
Join a guided tour to learn about the trials and tribulations of this ancient church through the ages. Then climb the tower for a bird's-eye view of the city and lake.
13 – Check out the stained-glass windows in Fraumünster Church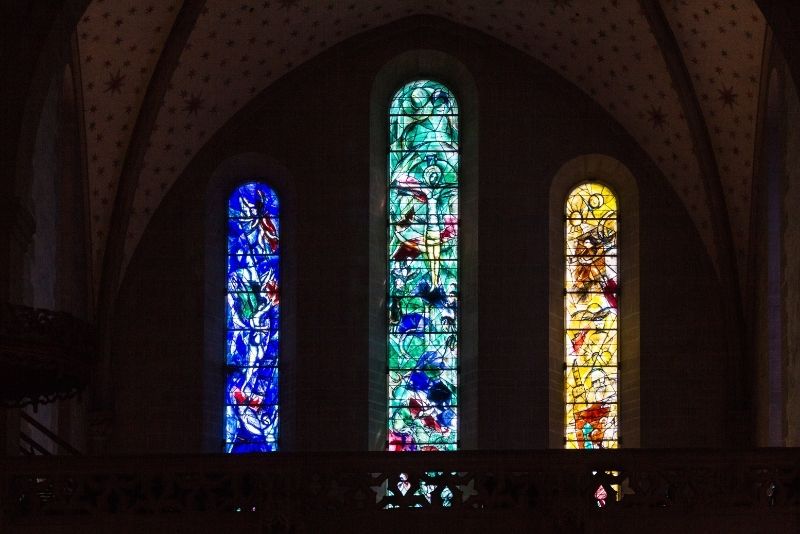 If there's one thing that Zürich does well, it's ancient churches. Tucked away in the Old Town, Fraumünster is a 13th-century Gothic cathedral that will whisk you off into the days of yore.
History lovers will want to check out the church's Crypt Museum, which houses historic artifacts from the city's past, as well as the ruins of an earlier structure.
Tiptoe around this revered sanctuary and gaze at the vivid stained-glass windows by Giacometti and Chagall. Don't forget to explore the cloisters and nave before you go.
14 – Ascend Felsenegg by cable car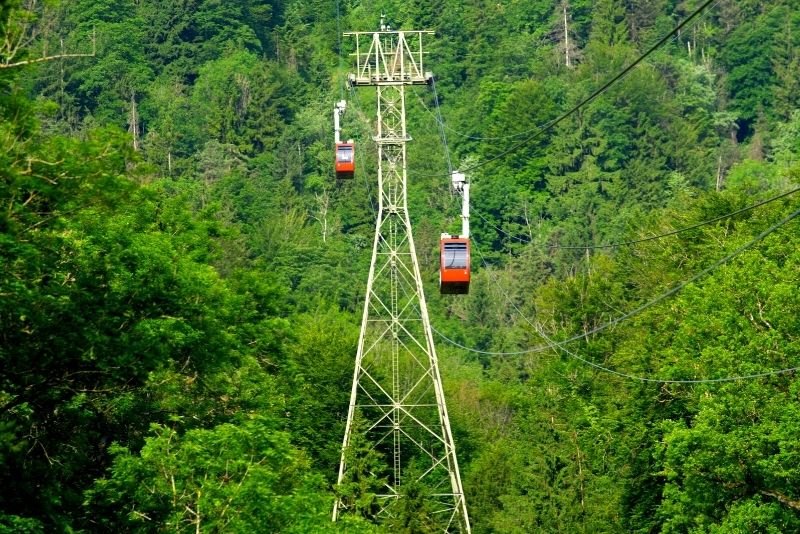 Want a fantastic city panorama without breaking into a sweat? Then hop on the Adliswil-Felsenegg cable car and you'll be standing on the mountaintop in minutes.
The cable car reaches heights of over 800 meters above sea level, and the ride up is as thrilling as the views from the top.
This is one of the best overlooks in the Albis hill chain, and the only one with an aerial tram attached! There are hiking trails and a restaurant to enjoy at the summit if you want to linger.
15 – Smell the roses in Zürich Botanical Garden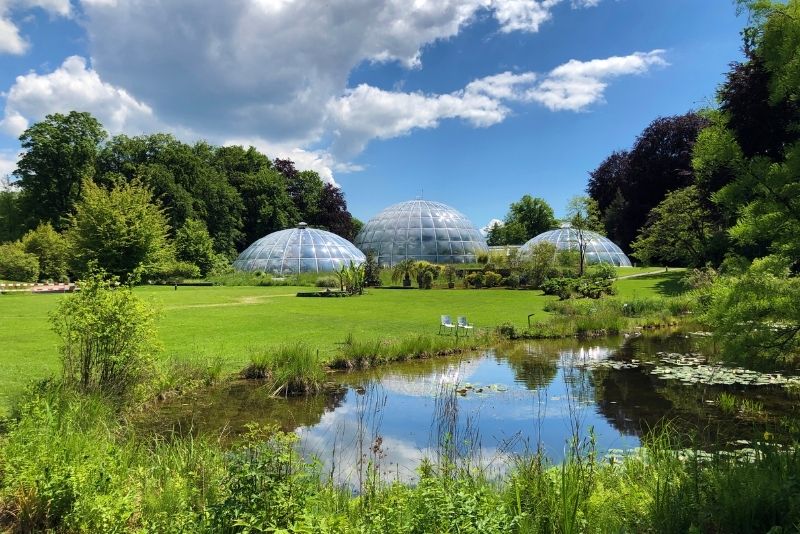 Travel to all corners of the globe as you wander through Zürich Botanical Garden. You'll come across plants from far-flung exotic shores, as well as species native to Switzerland.
This green oasis is home to over 9000 plant varieties, as well as an arboretum and covers 53,000 square meters. Breathe in the sweet scent of alpine roses and marvel at tropical climbers in the futuristic greenhouse domes.
There is no charge to visit the Botanical Gardens which makes it a great destination for those traveling on a budget.
16 – Visit Zurich on a bike tour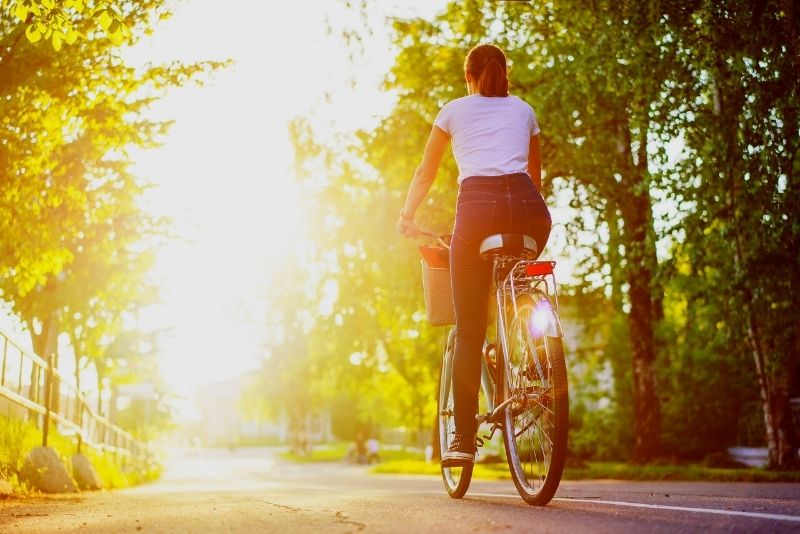 Get on your bike and explore the sights of Zürich like a local. A stop at the Landesmuseum beside the Limmat River will be a real highlight of your tour.
Ride along the city's yellow cycle paths and discover the city at your own pace, or join a group bike tour to tour the town with a local guide.
This National Museum tells the cultural story of Switzerland through the ages with exhibitions and workshops. The building is a sight to behold too – it looks like a fairytale castle!
17 – Pump up the fun on Lake Zurich with wakeboarding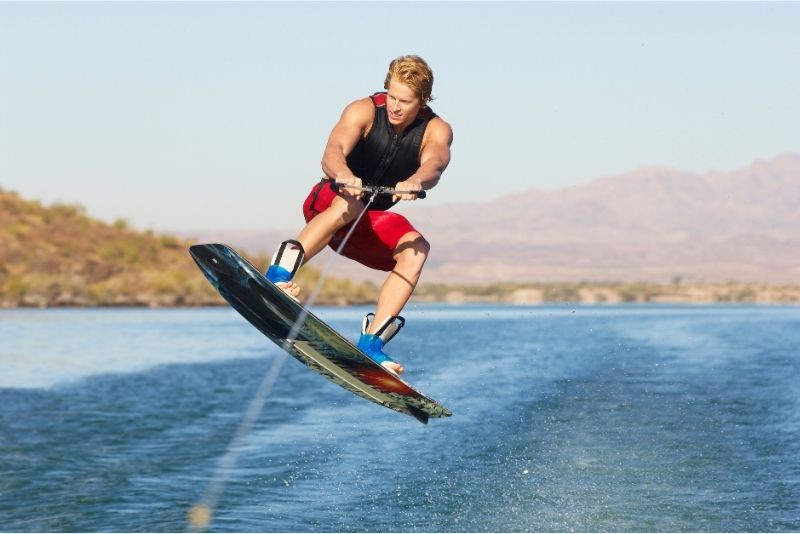 Prepare yourself for an exhilarating and unforgettable Zurich experience. Muster your strength, maintain a firm grip, and find your balance as you get towed by a motorboat.
If all that sounds like hard work! Wakeboarding may require effort, but the adrenaline rush and sheer enjoyment make it all worth it. Master the basics of balance before you try out a few tricks, you'll be hooked before you know it!
Get ready to push your limits and embark on an epic water sports journey with wakeboarding on Lake Zurich.
18 – Solve puzzles on a scavenger hunt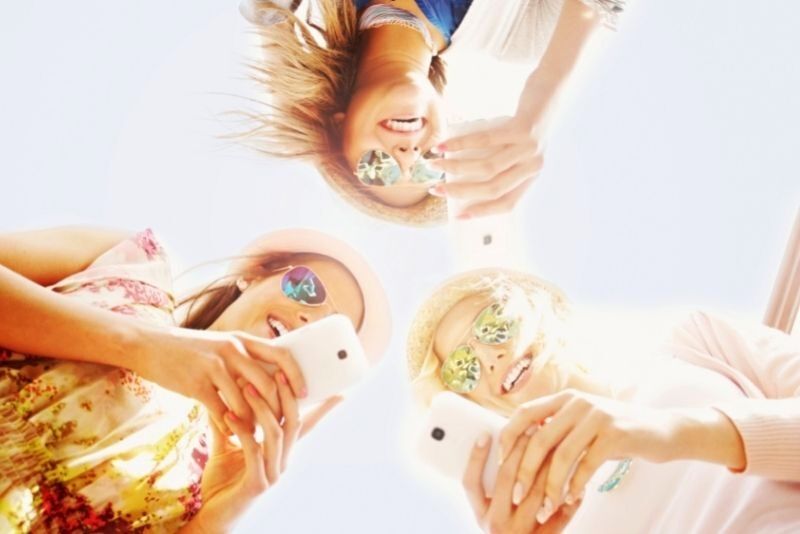 Fancy yourself a bit of a super sleuth? Then put your detective skills to the test on a scavenger hunt quest around the streets of Zürich. Follow in the footsteps of Einstein, one of Zurich's most well-known residents and one of the smartest minds to live in the city.
Test the puzzle-solving skills of your team, have lots of fun and really get to know the city, inside and out. You'll be solving riddles and unlocking clues at key landmarks to reveal secret histories along the way. Do you have what it takes?
19 – Try tasty Swiss delicacies with Zurich food tours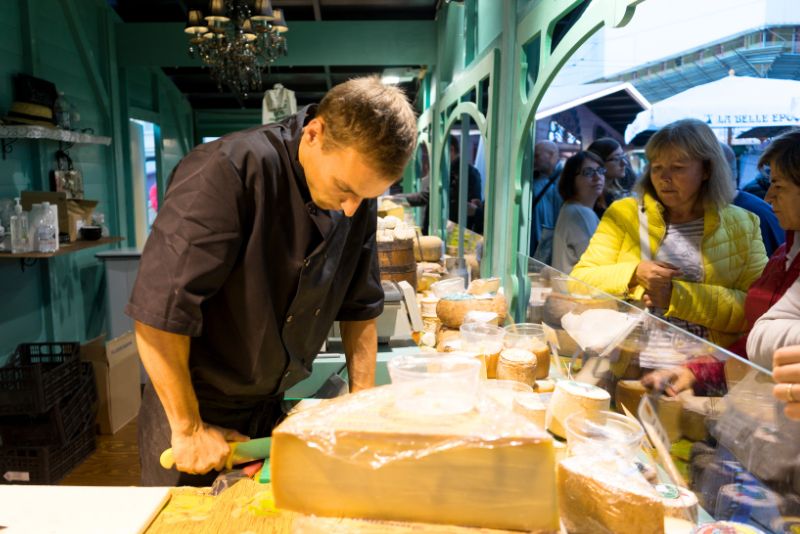 If you would like to try something a little different during your time in Zurich a food tour could be the perfect thing. These tours give participants the chance to tour the city with a knowledgeable local guide and enjoy a selection of gourmet dishes and local specialties.
Begin your evening with a trip through the city as dusk descends and the mood gets more relaxed. Learn a little history as you pass through the different streets of the Old Town before settling down to a delicious meal.
Whichever tour you choose, a cheese fondue is bound to be the star attraction!
20 – Enjoy the old-world charm in Niederdorf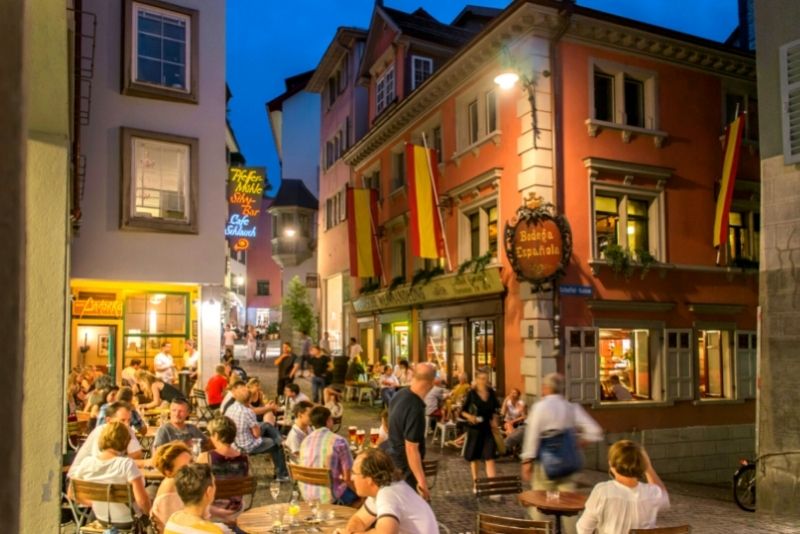 Crammed with medieval squares and cobbled streets, the Niederdorf neighborhood is the beating heart of Zürich's Old Town. Lovingly referred to as "Dorfli" (little village) by the locals, this is where you'll find the Grossmünster and the riverside promenade – perfect for a sunny afternoon stroll.
Wander along the pedestrianized streets and discover small alleys and boutique stores that invite you to enter.
Pop into the Musée Visionnaire to see some of the finest graffiti in Europe. Then browse the luxury boutiques and dine on Swiss delicacies in the traditional restaurants.
21 – Take a day trip to Lucerne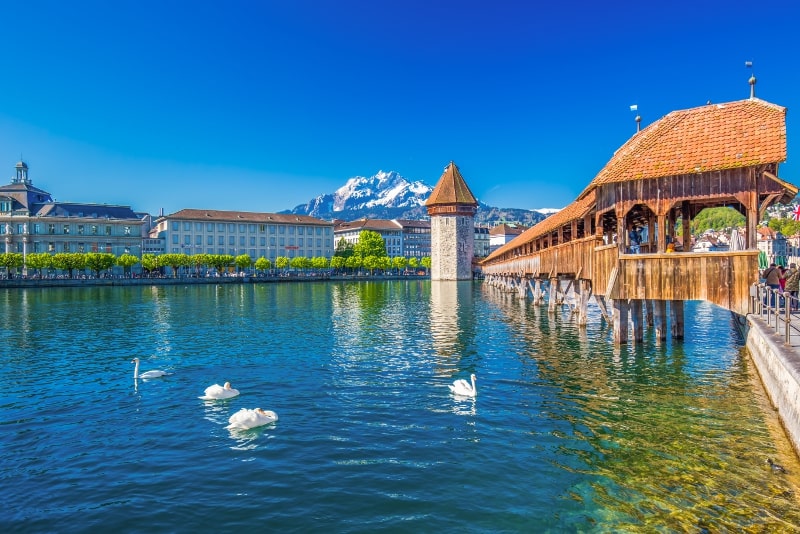 Sitting in the shadows of snow-capped mountains on the shores of one of Switzerland's largest lakes, Lucerne makes one of the best day trips from Zürich. The surrounding landscape boasts Mount Pilatus, Mount Rigi and the impressive peaks of Mount Titlis which are all popular tourist destinations surrounding the town.
Alternatively, you can head straight for the old town for your fill of medieval architecture and walk across the ancient Chapel Bridge. Then enjoy a relaxing boat ride on Lake Lucerne for some of the best mountain panoramas in the country.
Read more about fun things to do in Lucerne.
22 – Fly high on a paragliding adventure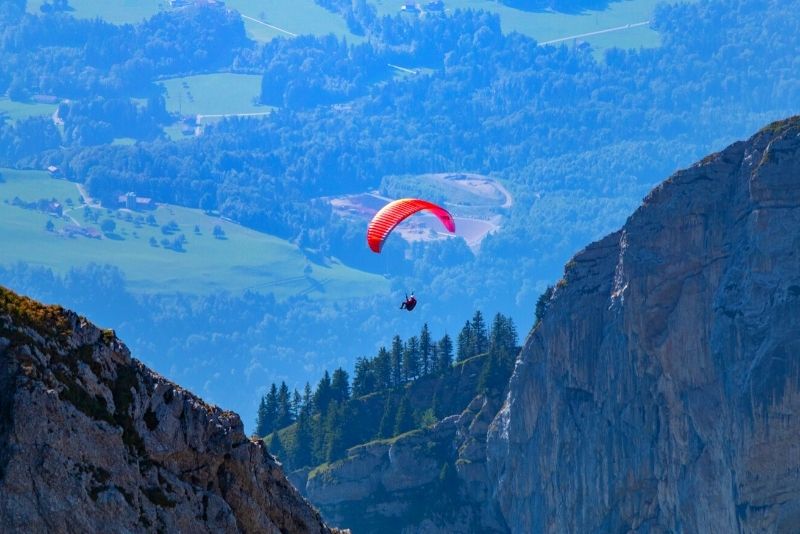 One of the most exhilarating things to do in Zürich is to go paragliding. Don't worry if it's your first time, you'll be flying tandem with your expert instructor. Glide high over meadows carpeted with flowers, using the mountain thermals to keep you aloft.
Feeling brave? Then take the controls and have a go at steering along the lush green valleys far below. Learn the basics of paragliding with a qualified instructor and discover the most serene and peaceful way to fly. These high-flying experiences are sure to be a highlight of your trip to Zurich.
23 – Take one of Zurich's totally terrific tuk tuk tours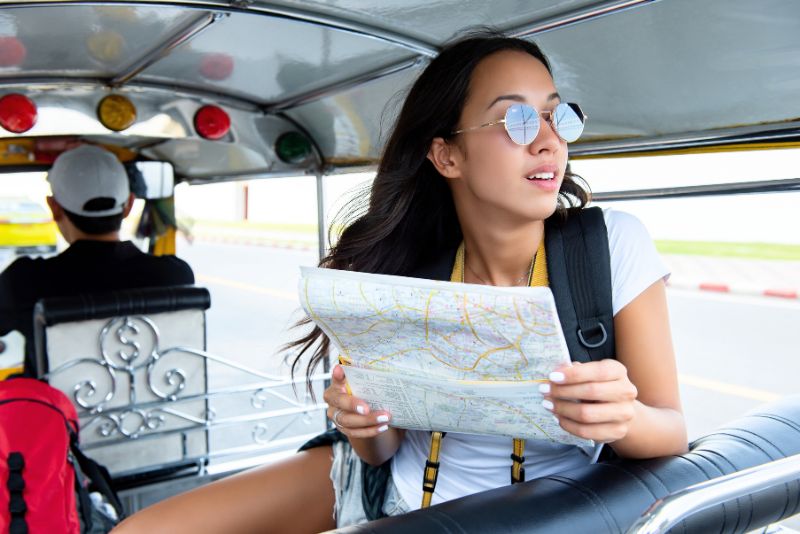 You can see Tuk tuks in most major cities these days. Not only are they compact and easily maneouvered through the city streets, they are also fun and an environmentally friendly way to see the sights — especially Zurich's electrically-powered versions!
Hop on board and zoom through the city's streets and alleyways. Pass by major landmarks like the churches of Grossmünster and Fraumünster, the picturesque district of Niederdorf and down bustling Bahnhofstrasse.
Many of these tours also end with a traditional Swiss meal and a bottle of local wine. Tuk tuk tours are the best!
24 – Stand on the summit of Mount Titlis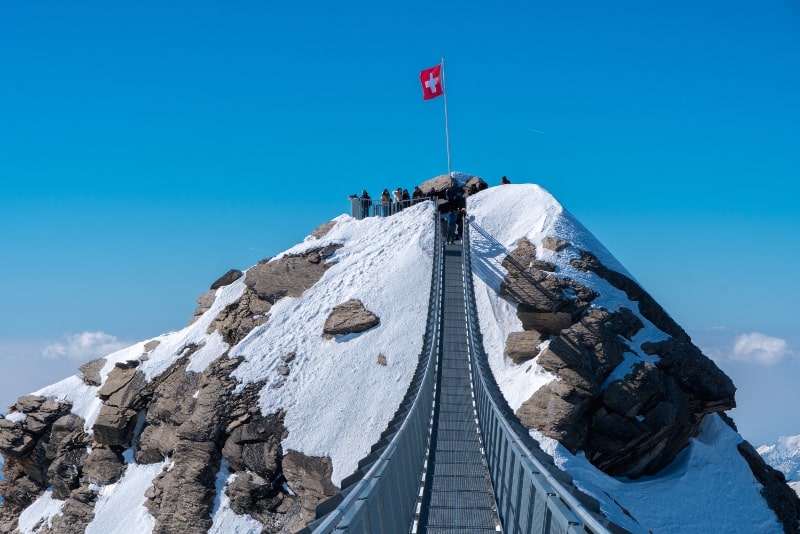 Searching for that quintessential alpine experience? Then head to Engelberg and climb aboard the revolving cable car to conquer Mount Titlis in just a few minutes.
You'll reach dizzying heights of over 3,000 meters above sea level as you ride the Titlis Rotair, the world's first rotating cable car! From here you can walk on the Titlis Cliff Walk, said to be the highest suspension bridge in Europe.
Hit the hiking trails and go mountain biking in summer, or explore ice caves and try cross-country skiing in winter. Intrepid visitors can ride the Ice Flyer and get close up to frozen crevasses.
25 – Visit the Church of St. Peter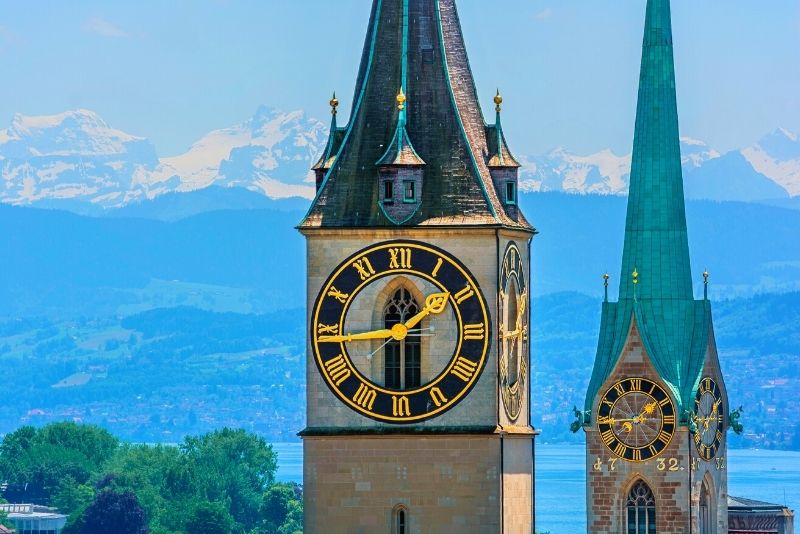 This national monument is one of Zürich's oldest churches, famed for having the biggest clock face in Europe. Measuring 8.7 meters across, the clock can be seen right across the city!
Until the early 20th century the churches clock tower was used as a fire lookout post and it houses 6 bells, the largest of which weighs over 6 tons. You'll stumble upon St. Peter's Church as you explore the Old Town, so do take a moment to look inside. The 9th-century foundation walls can still be seen beneath the chancel.
26 – See trophies at the FIFA World Football Museum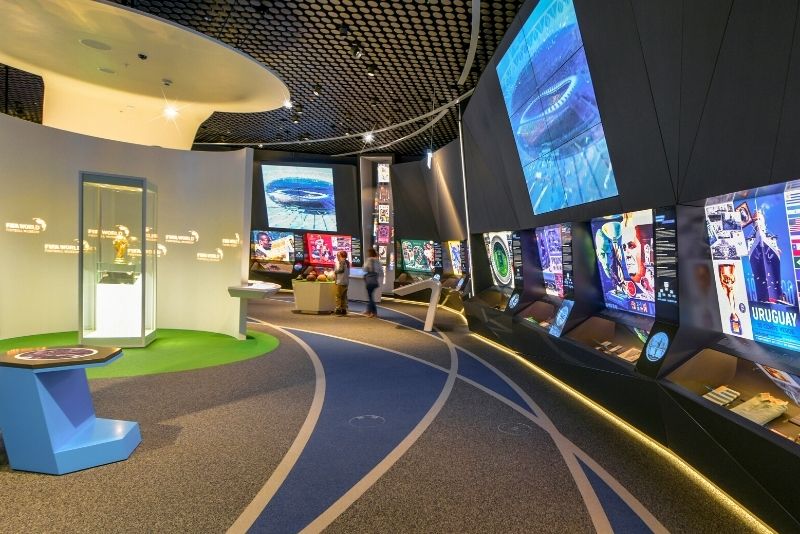 This one's for the football fans who want to find out more about the history of their favorite game. The FIFA World Football Museum takes you on a journey through time, revealing how revealing how, from humble beginnings, the sport became a global phenomenon.
The museum houses over 1,000 exhibits and covers the history of both men's and women's FIFA World Cup tournaments. Visitors can see key artifacts that changed the game forever and re-live some of the most memorable moments in sport history.
Exhibitions and audio-visual experiences all lead up to the most magical moment of all – clapping eyes on the World Cup trophy!
27 – Venture up to Jungfraujoch by cog train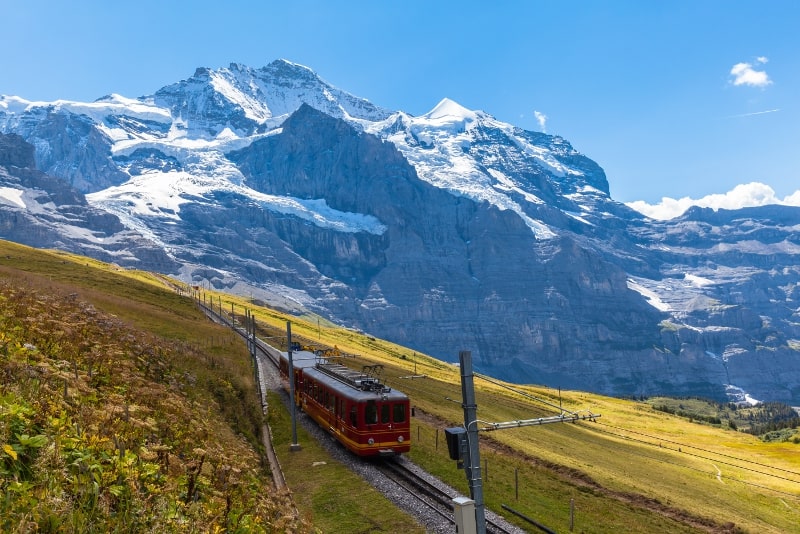 Connecting two of Switzerland's most famous peaks – the Jungfrau and the Mönch – Jungfraujoch is one of the best viewpoints in the Bernese Alps. The region is a year-round popular destination, with winter adventure seekers hunting that ultimate ski experience.
Travel on the iconic red train up to Europe's highest railway station, journeying through a tunnel on the Eiger North Face to a height of 3,500 meters.
For something extra special, take a helicopter tour and hover over the glaciers that surround this UNESCO World Heritage Site.
28 – Go on a hot air balloon ride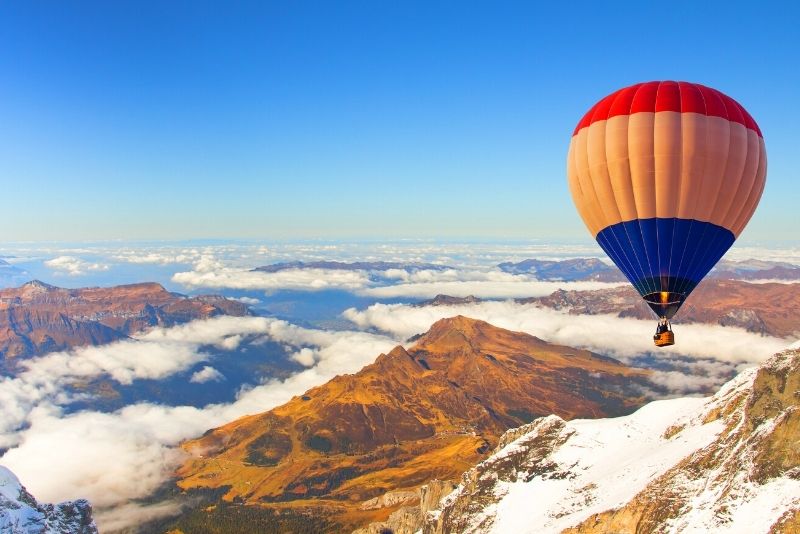 There's something special about gliding silently through the sky, with just the roar of the burner up above. One of the most relaxing things to do in Zürich, taking a hot air balloon ride will be the highlight of your vacation. Literally!
Dawn and sunset are typically the best times to take a hot air balloon ride over the city as the colorful skies allow you to snap great photos.
You'll float above the countryside, with dramatic views of Zürich, the lake, and even the Alps. Don't drop your camera!
29 – Embrace the peace at the Chinese Garden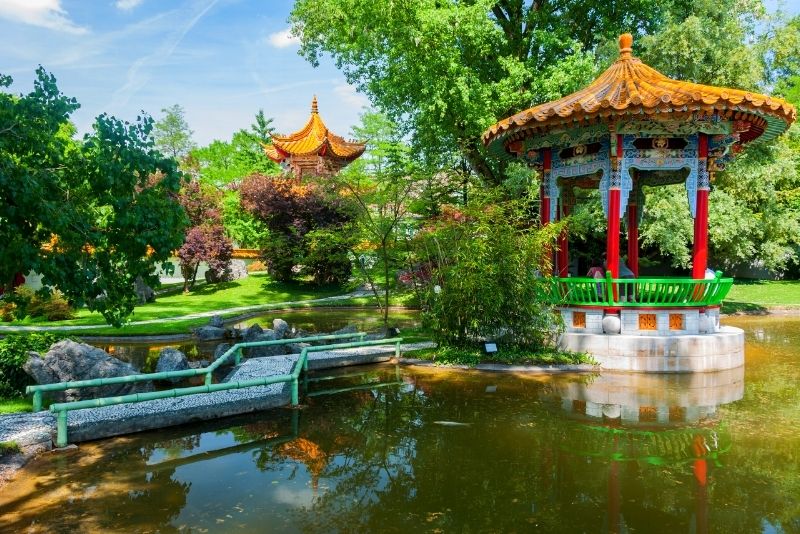 Enjoy a few moments of tranquility away from the city bustle as you wander through the Chinese Garden. Situated right beside Lake Zürich, this haven of calm will delight with its ponds, pavilions, and miniature palace.
The gardens colorful pavilions blend elegantly with the landscaped rock, all of which are reflected in the ponds creating a peaceful environment.
The garden was given as a gift by the town of Kunming, the Chinese partner town of Zurich. Officially classified as a temple garden, the grounds here are one of the best examples of Eastern landscape design outside China.
30 – Browse unusual art at Museum Rietberg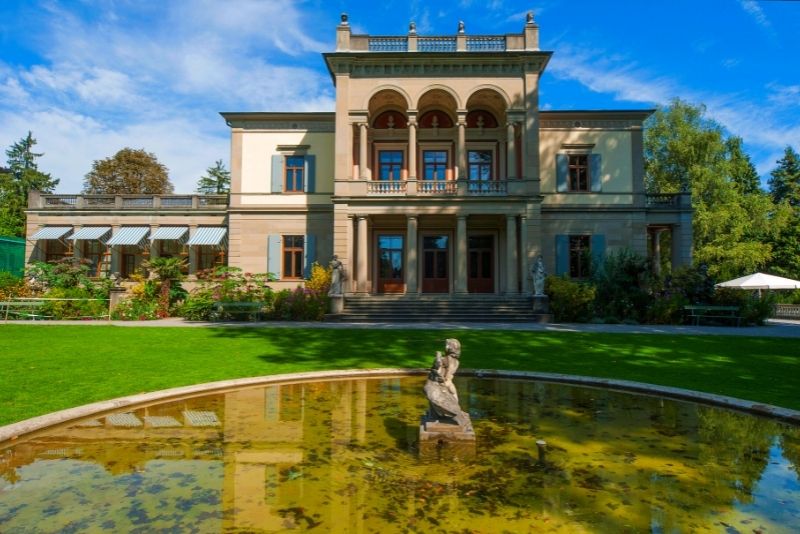 Visit Museum Rietberg and discover a rich tapestry of artworks hailing from Asia, Africa and Oceania. This is the third-largest museum in Zürich with over 23,000 exhibits, so make sure you allow plenty of time.
There is something here for everyone to enjoy, with a wide range of visual arts on display. With exhibitions covering high-fashion and non-European artworks the collection is very diverse.
From Japanese Manga to prehistoric rock paintings, the eclectic exhibitions will put your mind into overdrive. Don't miss the Himalayan Buddhist art or the Cameroon helmet masks.
There is something here for everyone to enjoy, with a wide range of visual arts on display. With exhibitions covering high-fashion and non-European artworks the collection is very diverse.
31 – Feel the spray on your face at Rhine Falls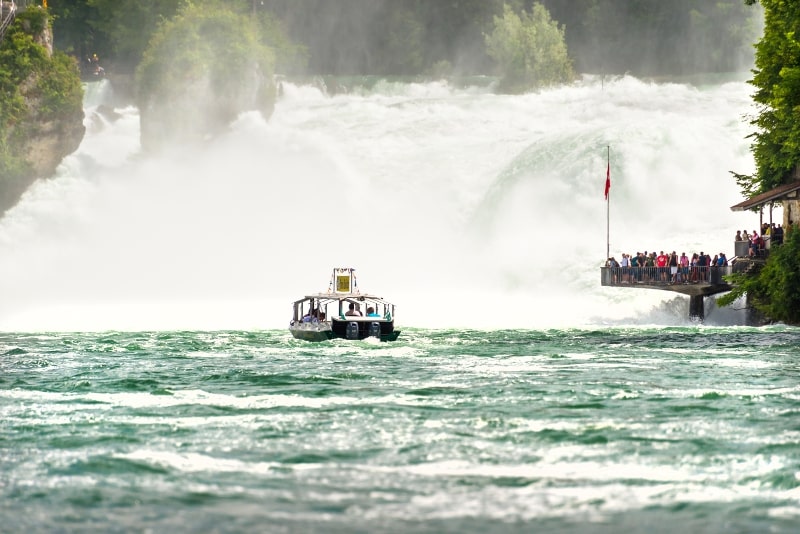 On your trip to Zurich, travel north through vineyard-cloaked hills to the mighty Rhine Falls – one of Europe's biggest waterfalls. Visitors can ride a glass elevator that takes you right to the top where a viewing platform puts you in the heart of the action.
In the summer you can take a boat ride up close to the thundering cascade and feel the power of nature first-hand. These invigorating Rhine Falls boat cruises allow you to climb the giant rock in the center of the falls and stand amid the spray.
32 – Tour the monastery at Engelberg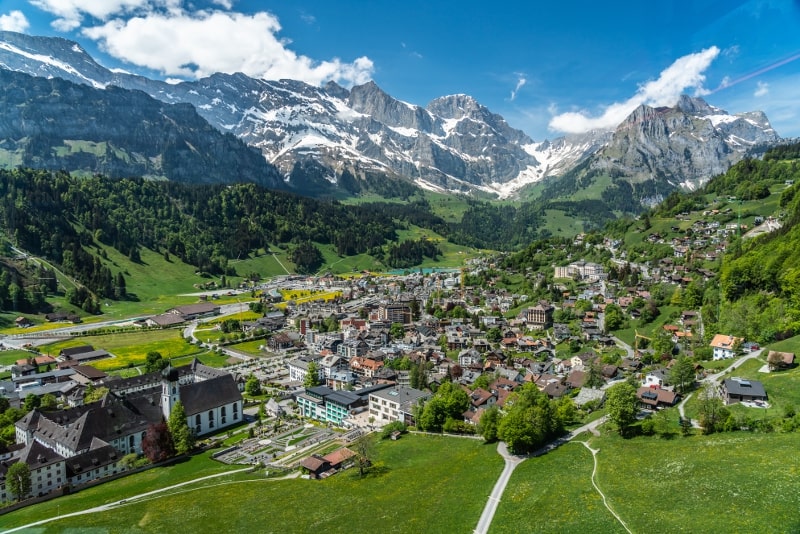 The remote mountain village of Engelberg grew up around a medieval monastery, and there are still monks living here today. Many visitors come to explore the nearby mountains but are also enthralled by the charm of this picturesque Swiss resort town.
It is especially popular in winter when the ski crowd descend to make the most of the fresh snow. Take a tour of the abbey for an insight into monastery life and listen to recitals on summer evenings. Then ride the gondola up Mount Titlis for breathtaking views of Engelberg — it's one of the most exhilarating things to do in Zürich.
33 – Enjoy a day trip to Liechtenstein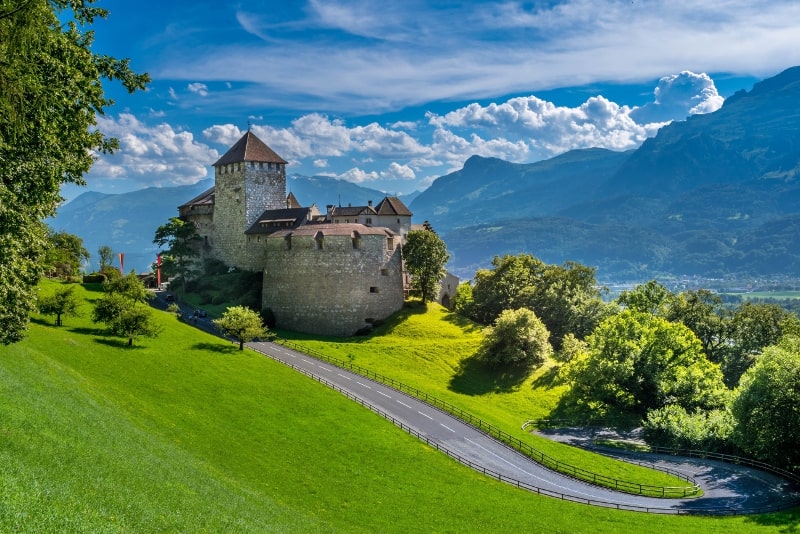 The tiny principality of Leichtenstein, nestled between Switzerland and Austria, makes for a fascinating day trip from Zürich. Famous for its medieval castles, quaint villages and mountain vistas, Liechtenstein is one of the smallest countries in Europe.
You'll travel through tranquil valleys beside alpine lakes on your hunt for waterfalls and wildlife. Stop in the capital, Vaduz, to explore the charming streets and Gothic architecture, before visiting the alpine villages made famous in the classic story, "Heidi."
For those with limited time to explore, you can visit Austria, Germany, Switzerland, and Leichtenstein all in one day on these alpine bus trips.
34 – Sample Switzerland's best cheese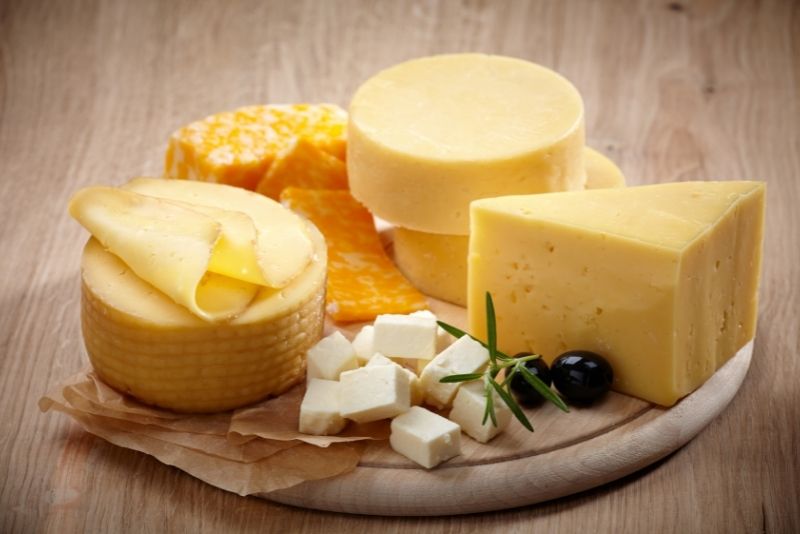 Sink your teeth into mellow tranches of yellow cheese and taste the very essence of Switzerland in the creamy deliciousness. When it comes to cheese making, this country knows its stuff!
Discover the types of tasty cheese that hail from here, including world-famous varieties such as Emmental, Appenzeller and Gruyère, and sample the much-loved local delicacy, fondue.
You'll learn how to make cheese wheels at the local factory – can you guess the secret ingredients? Then head down to the ancient cheese cellar and savor the smell, before tucking into some samples.
35 – Meet dinosaurs at the Zoological Museum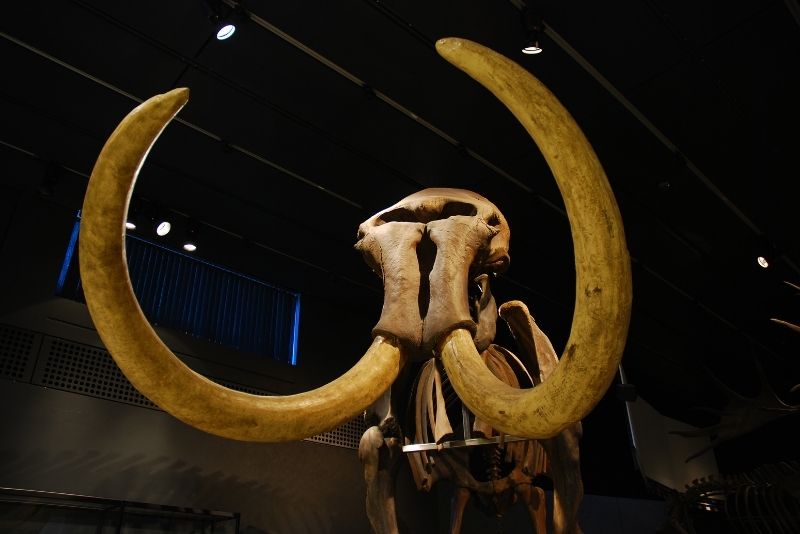 Have you ever heard a whale sing? The Zürich Zoological Museum is home to a vast menagerie of species, many of which you can listen to, and even stroke!
Exploring this unusual museum is a treat for all budding naturalists and is a real multi-sensory experience. Listen to insects buzzing in your headphones, gawp at giant woolly mammoths, and get hands-on with the fur of a wild boar.
See the museum's Treasure Vault of Masterpieces – a selection of beautiful fossils created by nature and arranged, not by age but for sheer aesthetic pleasure!
36 – Take photos of charming Stein am Rhein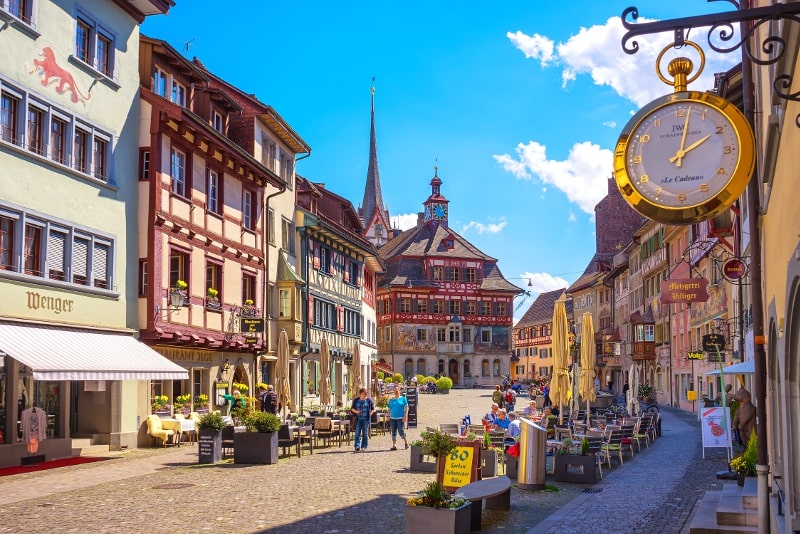 Want to see some of those quintessential half-timber medieval houses? Then head to the quaint town of Stein am Rhein and explore to your hearts content.
Walking the streets of this very traditional Swiss mountain town is a little like stumbling into a fairy tale. The architecture here is out of this world, with colorfully painted facades lining sleepy squares.
Pop into St. George's Abbey and museum, or walk up to the 13th-century Hohenklingen Castle built high above the tiny town. Don't miss the historic and decorative Rathaus (townhall) and the bustling square it sits in.
37 – Conquer the mighty Mount Rigi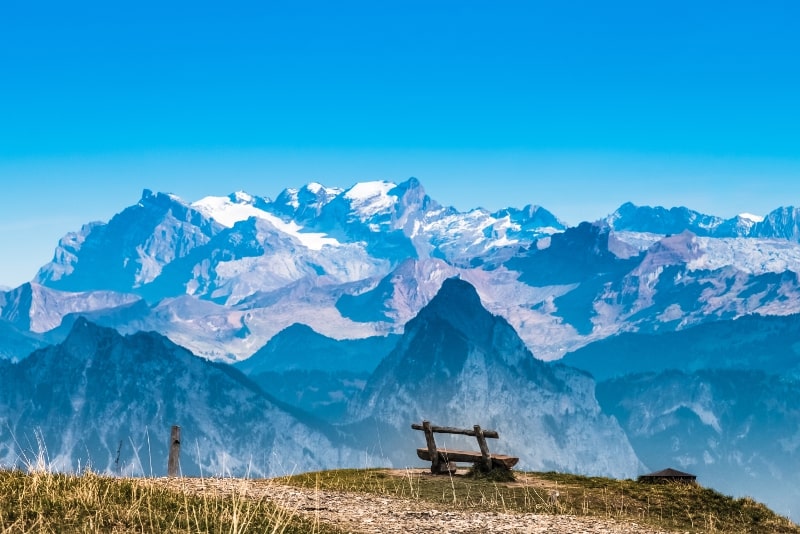 Another Swiss mountain of note, Mount Rigi is unusual as it's almost completely surrounded by water. Located just 35 kilometers south of Zurich, the journey to Mount Rigi takes you through picturesque scenery along the banks of Lake Lucerne.
Stroll through the valleys and forests, listening to the rustic chimes of cowbells jingling across the meadows. Be sure to bring your camera to snap those awe-inspiring mountain views.
Step on board the cogwheel train or cable car, and soar into the clouds for views of Lake Lucerne and the Alps. You can even see Germany on a fine day!
38 – Sample the finest local varietals on Zurich Wine tours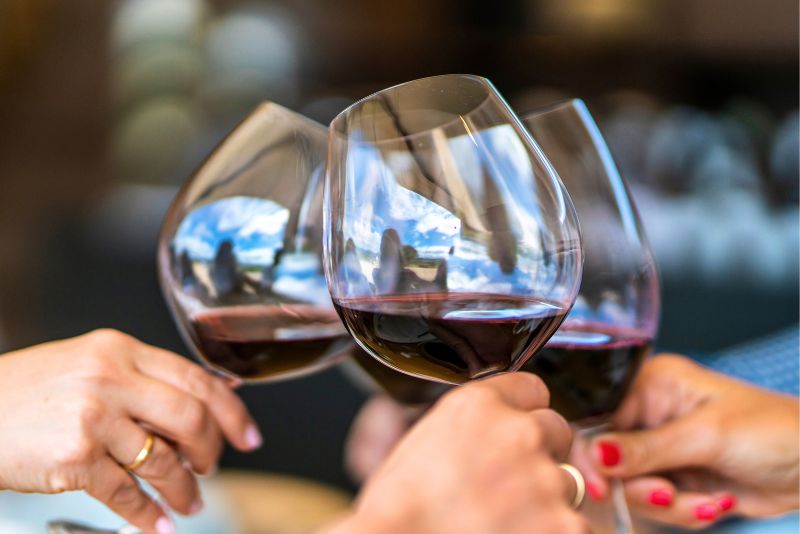 The wines of Switzerland may not be so well known in the rest of the world but the country produces some great red and white varieties. The reason they are unknown outside of the country is that the Swiss prefer to drink their wines rather than export them.
So, while in Zurich, a wine tour is definitely recommended. Visit some of the city's popular cellars or take a Tuk Tuk wine tour to discover some excellent local varieties.
These fun tours offer a unique opportunity to develop your wine tasting and appreciating skills or simply enjoy an evening out in the city with great food and wine. Proscht!
39 – View the cosmos from Urania Observatory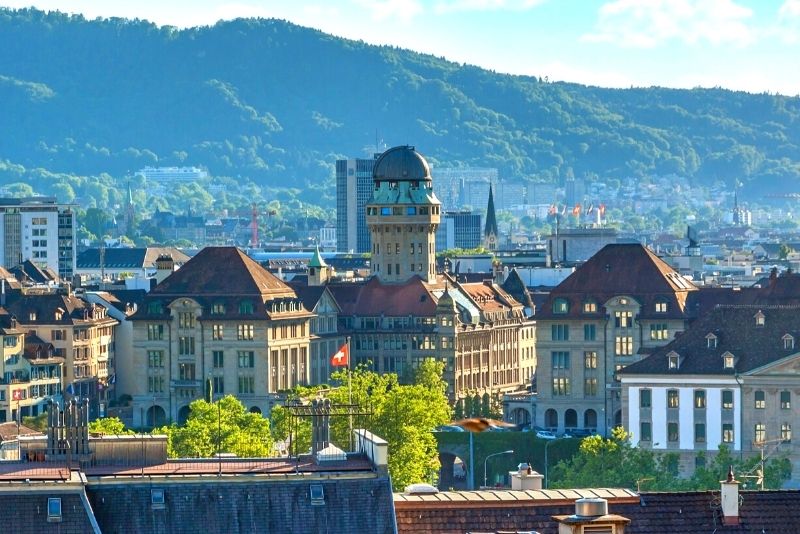 Searching for unique things to do in Zürich? The historic Urania Observatory ticks all the boxes when it comes to seeing a different side of the city. The observatory is home to a 12-ton Zeiss telescope capable of producing 600 times magnification. For a closer look at the night sky you need look no further!
Reach for the stars as you gaze skywards through a giant telescope at the top of the round tower. You'll see moon craters up close and feel like you can almost touch the rings of Jupiter.
40 – Ride the Dolderbahn cog train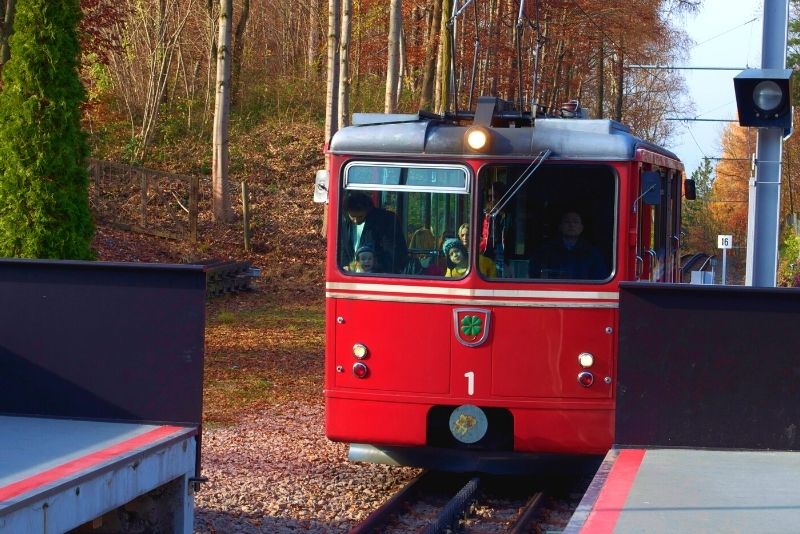 This 1.3-kilometer railway track runs right through the center of Zürich. Hop on board the Dolderbahn cogwheel train for a short ride up the Adlisberg mountain, and superb panoramic views across the city and lake.
The iconic red cogtrains are one of the most fun things to do in Zurich, as much about the journey as the destination.
Take photos of the magnificent houses as you journey through the Hottingen district before you ascend the forested hillside. It takes just six minutes to reach the top!
41 – Go hiking in Grindelwald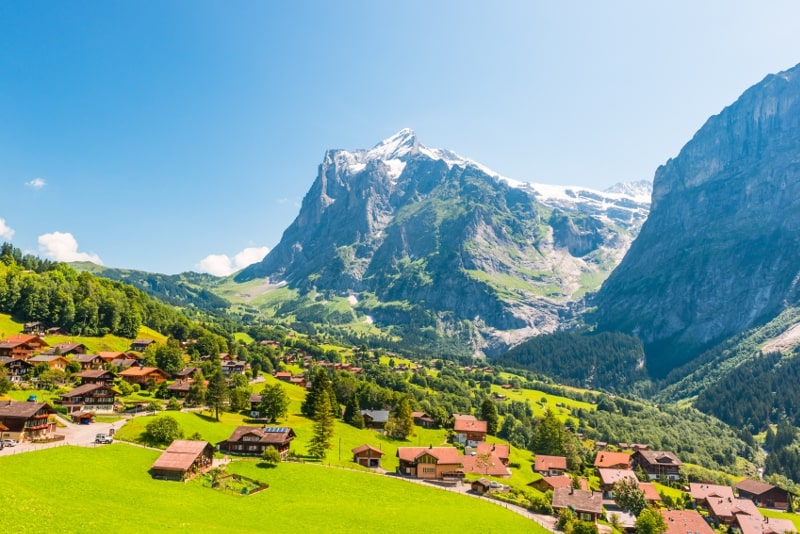 Tucked away in the heart of the Bernese Oberland, the pretty little village of Grindelwald is surrounded by lofty peaks and secret lakes. Famed for its stunning scenery and mountaineering heritage, today this alpine settlement is home to one of the most staggering trail networks in the country.
You can see the famous mountain peaks of the Eiger, Jungfrau and Mönch before enjoying the views from the lookout platform on Mount First.
Harness your inner Heidi and explore the slopes beneath the watchful eye of the Eiger. Braids and ribbons are optional.
42 – Cruise on the River Limmat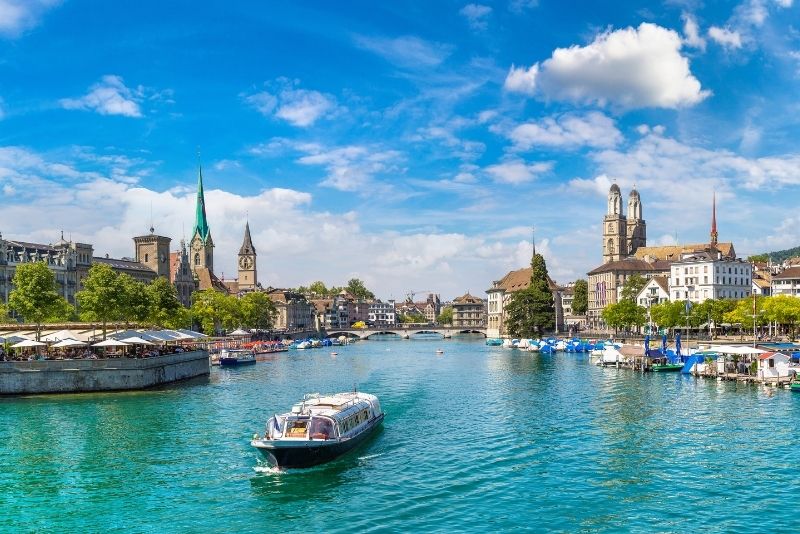 The Limmat River flows from Lake Zürich through the center of the historical Old Town. See the city in a new light from the water, as you enjoy a leisurely boat trip past some of the most beautiful waterfront landmarks.
See Zurich's Town Hall as well as Grossmünster Church, Lindenhof and The National Museum from the river. Listen to the tour commentary and learn about the locations you pass on the tour.
Prefer to keep your feet on dry land? Then stroll along Limmatquai – a picturesque street following the eastern riverbank through the ancient quarter.
43 – Get active in Interlaken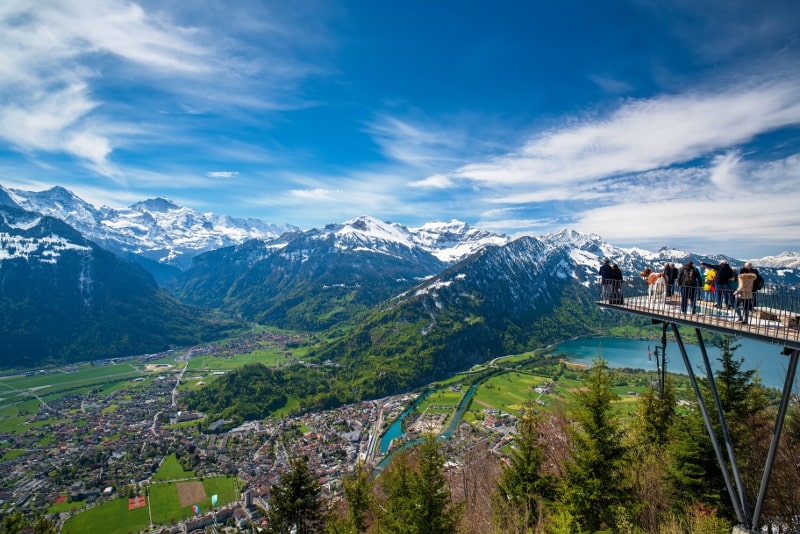 Known as the unofficial outdoor capital of Switzerland and famed for its adventurous activities besides the emerald waters of Lake Thun, take a day trip and experience the many fun things to do in Interlaken.
After meandering through the cobbled streets admiring old wooden houses, grab a slice of the action in the surrounding valleys. Here you'll find plenty of opportunity to indulge in adventure-packed outdoor activities.
Get the heart pumping on a rafting adventure or plunge down ravines on a canyoning tour. Hiking, sailing and paragliding are also on the cards.
44 – Explore historic Bern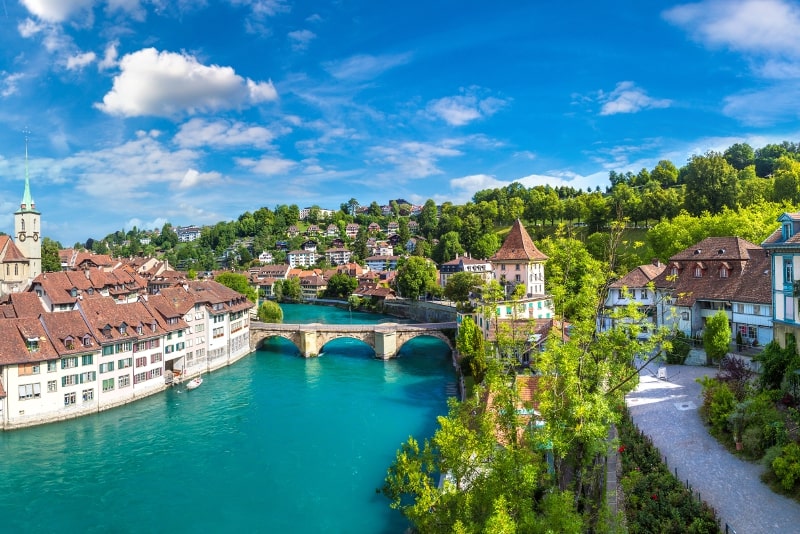 Delve deep into the past as you explore Switzerland's 12th-century capital. Bern is packed with narrow streets, historic towers and charming squares, with fabulous shopping to be had in the famous arcades.
Art lovers will enjoy visiting Zentum Paul Klee and the Kunstmuseum Bern. Those who like to get out in the fresh air can swim at Marzili Lido or visit Bern Bear Park.
For epic aerial views, head up the cathedral tower, and, to rub shoulders with politicians, have a nosy around the Houses of Parliament. If museums are your thing, you'll love the Albert Einstein House.
45 – Go on a shopping spree at Glattzentrum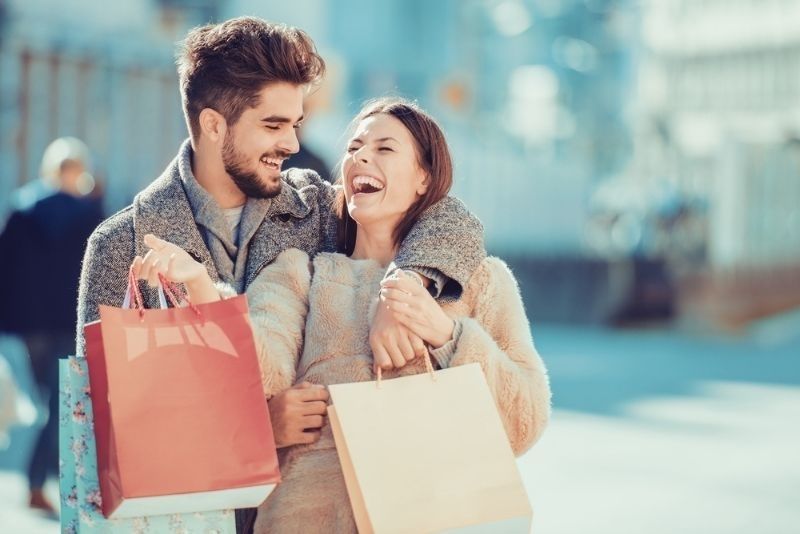 Indulge in some retail therapy at the most popular shopping center in the country. There are over 90 shops to browse at the Einkaufszentrum Glatt, with enough department stores and independent boutiques to keep you busy for hours.
This is the place to go for all your favorite highstreet brands, including popular clothing retailers H&M, Zara and Bershka. There are also stores by leading tech-brands such as Apple and Mi.
Come here to discover traditional Swiss retailers, as well as international brands. Then rest your weary legs over lunch at one of the specialty restaurants.
46 – Lick your lips at Lindt Chocolate Factory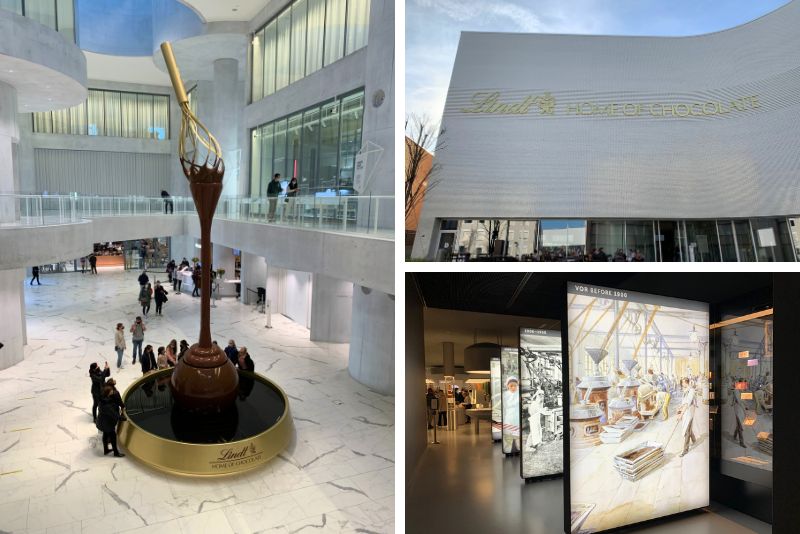 One of the yummiest things to do in Zürich is to tour the Lindt Chocolate Factory and Museum in Kilchberg, which has been creating iconic, and delicious, treats since 1845. You've eaten the bunnies at Easter and the reindeer at Christmas, so now it's time to see where they come from.
Head behind the scenes on an interactive journey, as you discover the bean-to-bar story. Then meet the master chocolatiers for some serious tasting.
You can book Lindt Chocolate Factory tickets and tours in advance to ensure availability during your trip to Zurich .
47 – Ascend the fabled Mount Pilatus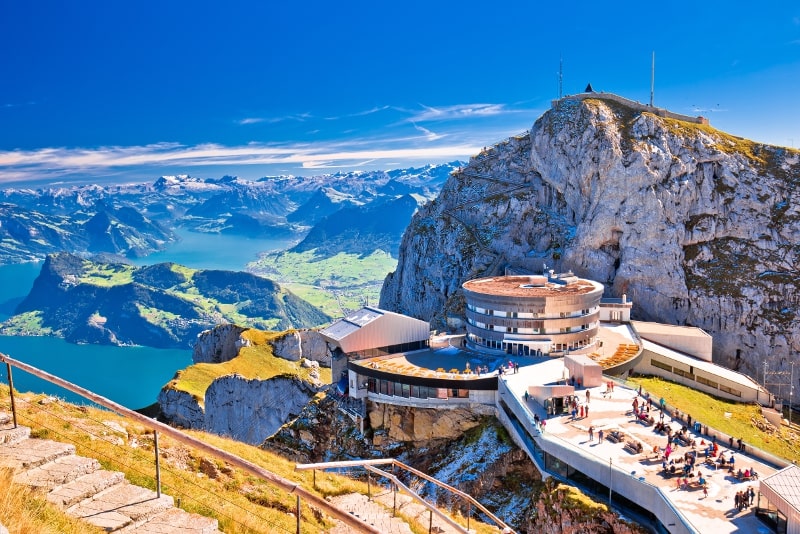 Surround yourself with legends of giants and dragons, as you enter the mystical world of Mount Pilatus. This mountain massif in central Switzerland towers above the clouds, keeping watch over the valleys below.
The mountain's highest peak, known as Tomlishorn, stands at over 2,100 meters above sea level but there are at least four more epic peaks on Pilatus.
Ride the cable car up to the top – on a clear day – you can see 73 peaks from the summit. Go hiking or mountaineering in summer, and tobogganing in winter.
48 – Journey back in time at Appenzell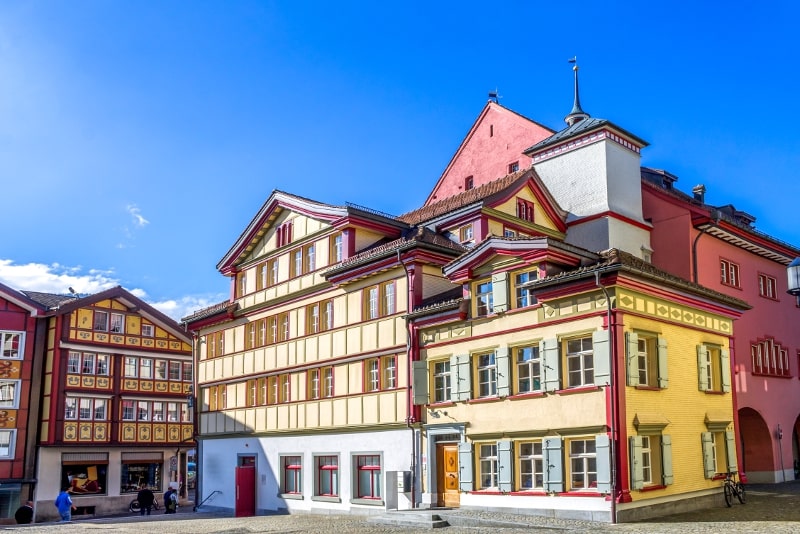 The pedestrianized center of Appenzell makes this idyllic mountain village the perfect place for whiling away an afternoon. Here you'll find all the timber houses you could wish for, as well as tempting bakeries, cultural museums and independent boutiques.
Surrounded by rolling hills, this pretty settlement makes a great base for hiking, with cable cars to viewpoints being the icing on the cake.
There are over 200 kilometers of hiking – and crosscountry ski, trails to enjoy in the region so strap on your boots and explore the picture-perfect pre-alpine landscape.
49 – Spend time at the Beyer Clock and Watch Museum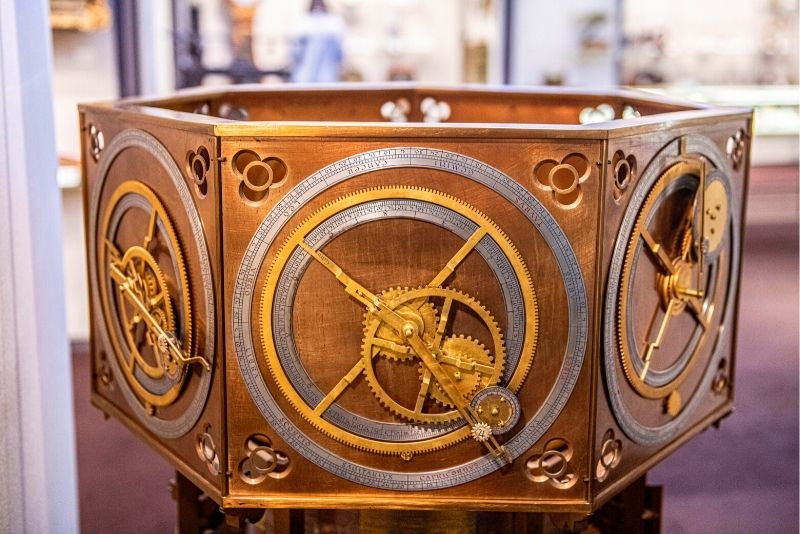 Fancy doing something different? Then get yourself down to the Beyer Clock and Watch Museum and go on a journey through time – quite literally!
This unique museum on Bahnhofstrasse is packed with old timepieces which were used throughout history on long voyages. There are also more modern watches in the varied and ever changing exhibits.
Tour the hidden basement and experience time like never before. See if you can figure out how to use ancient shadow sticks and water clocks, and admire the hourglasses and sundials that pre-date our modern-day watches.
50 – Travel on the historic Funicular Rigiblick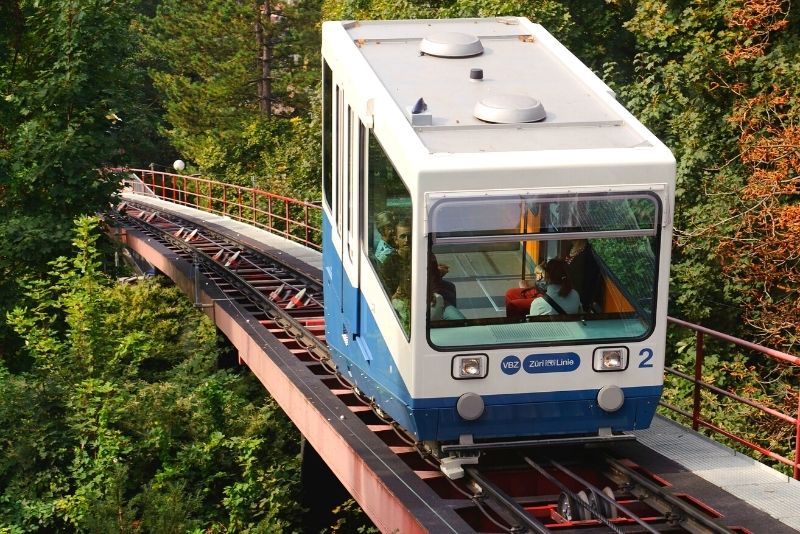 Enjoy a bit of old-world travel on board a funicular cable car in the northeast of Zürich. One of the first automated cable car routes in Switzerland, the Funicular Rigiblick is a must for all train enthusiasts.
Along with the city's trams and cogwheel trains, getting around in Zurich is lots of fun. The classic design of the funicular cars dates back to the 1970s and they carry thousands of passengers each day.
The carriage glides up the mountainside from Seilbahn Rigiblick to the upper station on Freudenbergstrasse. Alight to enjoy a picnic while soaking up the city views.
51 – Enjoy a wander through Bellevue Square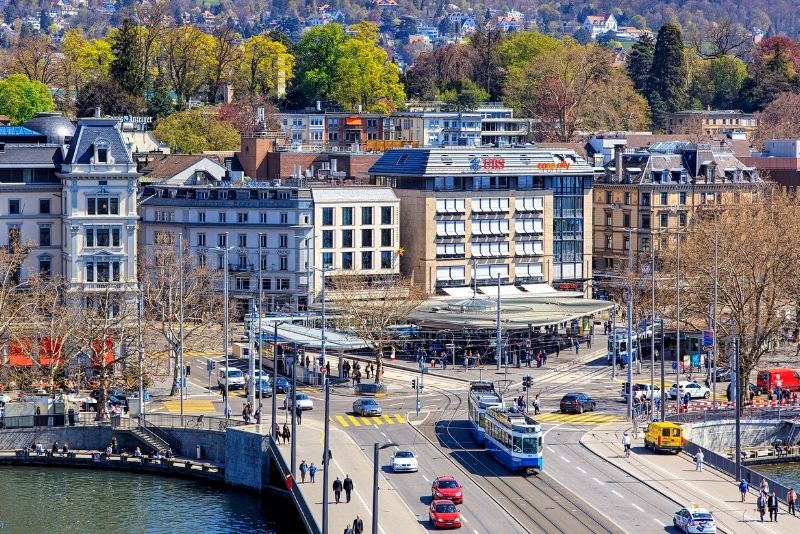 This resplendent town square in the heart of Zürich is hard to miss as you explore the historic center. Situated right in front of the Opera House, Bellevueplatz lives up to its name with majestic buildings on three sides.
The historic Café Bar Odeon is located here which was a famous meeting point for the city's bohemians. It welcomed artists and thinkers, including James Joyce, Einstein and the Dadaists inside its opulent Art Nouveau walls.
Stop for coffee and cake in one of the delightful terrace cafes, and enjoy views out over the Limmat River.
52 – Discover the hidden city on a Foxtrail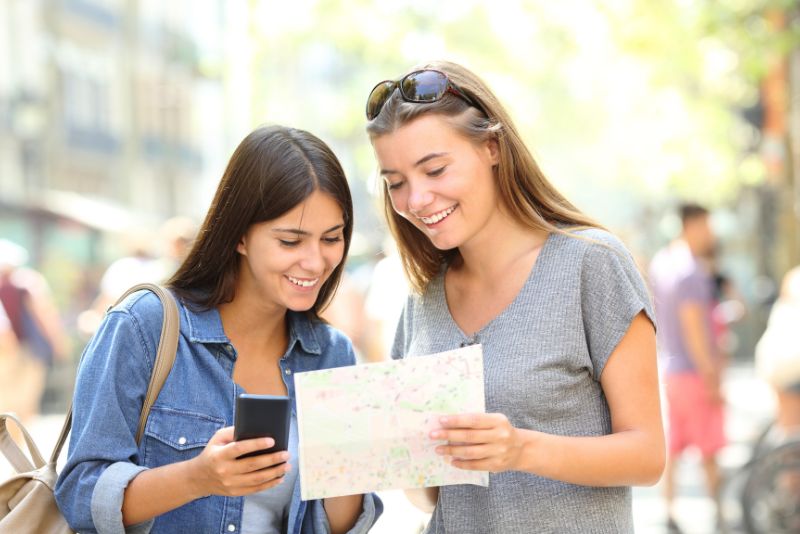 If this is your first time, a foxtrail is a combination of sightseeing, escape game and a scavenger hunt. These adventure-packed experiences highlight the best of Zurich and offer a unique way to discover the city.
Follow the trail of the cunning fox throughout the city while you discover hidden clues, solve puzzles and overcome physical obstacles. You'll need to work together as a team and keep your wits about you if you want to succeed.
These tours are especially fun for families and are a great way to tour the city while keeping younger group members entertained and engaged.
53 – Check out Heureka sculpture at Zürichhorn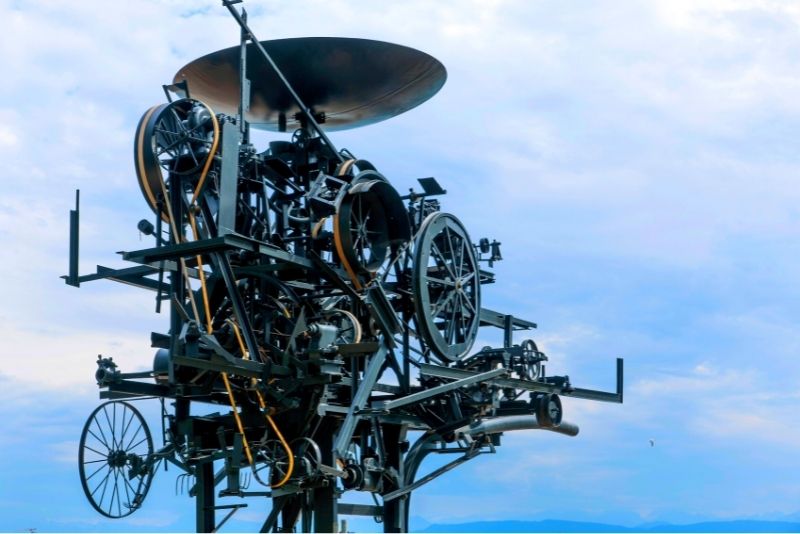 Want a break from sightseeing? Head down to Zürichhorn and discover a hidden green oasis. Once home to a monastery and silk factory, today this quayside is a tranquil landscaped park with enviable vistas of the lake.
The "Heureka" scultpture is one of the park's most beguiling sights. This animated sculpture by the Swiss artist Jean Tinguely is assembled from a variety of tubes, cogs and motors. The joke is that although it seems to be doing a lot, it actually does nothing.
Feeling adventurous? Then jump into the calm waters for a wild swim before drying off in the sun with an alfresco lunch on the shore.
54 – Beat the clock in Zurich escape rooms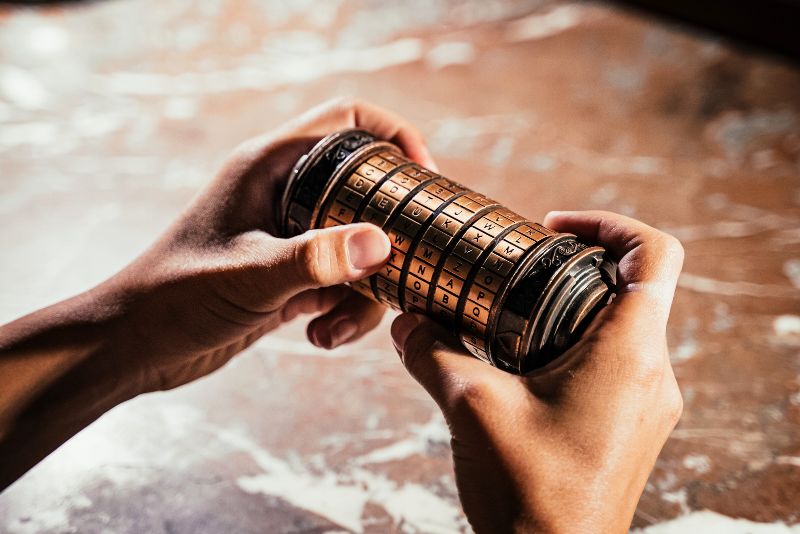 If you're looking for a fun group experience to try while in Zurich, the city's escape room challenges have it all. Action, adventure and the chance to flex some serious mental muscle, escape rooms are a blast.
Escape rooms in Zurich are a little different and take you across the city with the help of augmented reality. Work together as a team to follow clues and solve all the puzzles before the time runs out.
Choose from a bunch of fun themed games, including A walk in time with Einstein and the "Tomb Raider-style" Sato Code.
55 – Splash out at Zurich's best badis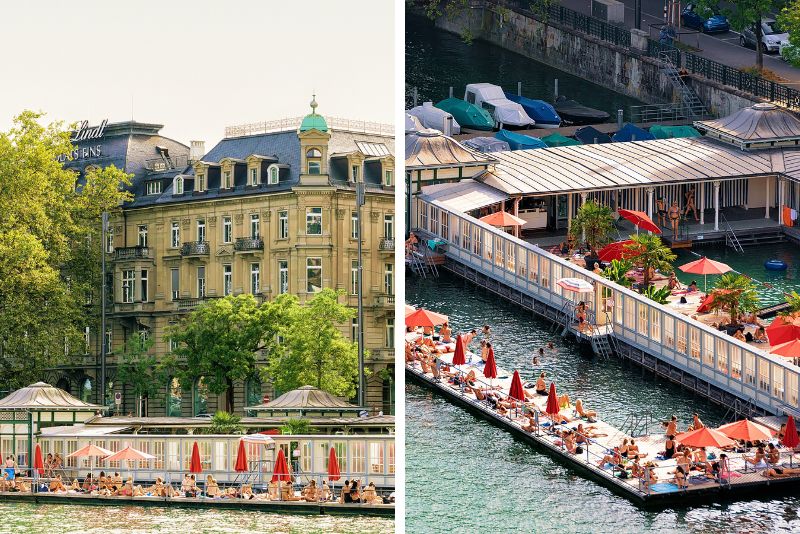 You would be well within your rights to ask, what is a badi? Well, its an outdoor swimming pool and the Swiss love them! In fact, Zurich has more than a dozen outdoor swimming locations – from sectioned off lengths of the River Limmat in the city center to purposefully constructed pools on the banks of Lake Zurich.
A visit to a badi is an important cultural activity to the locals and you'll find everyone doing this in the hot summer months. Pack your swimming stuff and join the locals for fun in the summer sun!
56 – See traditional crafts in action at Zurich's Watch workshop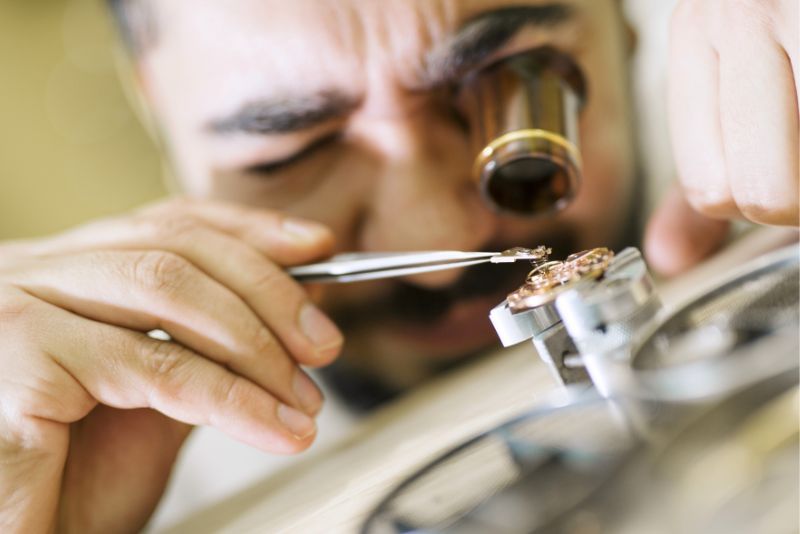 Swiss-made watches are some of the finest in the world. The city of Zurich has a long history of producing excellent timepieces and is home to a number of boutique workshops and family-owned watchmakers.
Visitors who are interested in the artisan craft of watchmaking can stop by the Maurice de Mauriac atelier in the heart of the city to learn the history of Swiss watchmaking. You will be shown exactly how a watch works and get the chance to assemble one yourself.
These tours are not cheap but will be a trip highlight for anyone interested in the fine art of watchmaking.
57 – Discover historical toys at Zürcher Spielzeugmuseum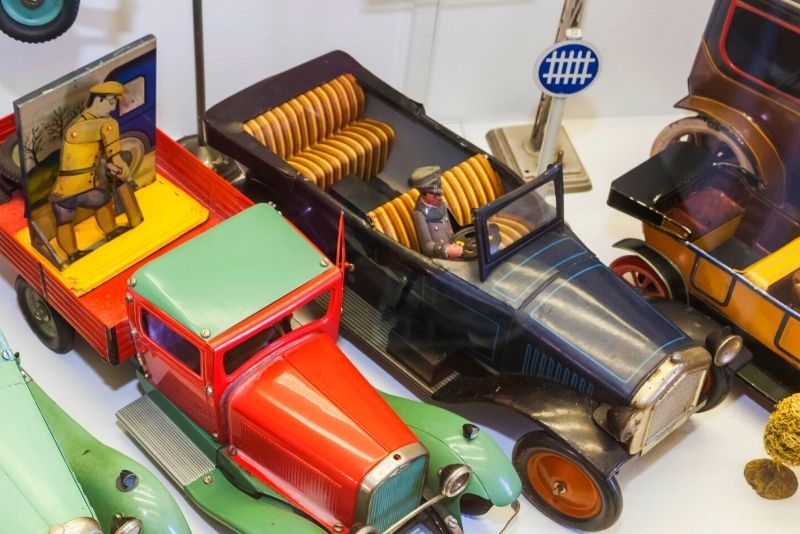 Release your inner child as you explore the treasures on display at the Zürcher Spielzeugmuseum. This quirky collection of European toys dates back to the 18th century, giving a glimpse of life in bygone eras.
There are so many unique toys here from the cute to the quite bizarre. Discover teddy bears through time and kitsch Barbie and Ken dolls from the 1950s.
Check out the miniature model trains and antique games, and try not to be creeped out by the lifelike porcelain dolls watching your every move!
58 – See Mt. Gonergrat on a day trip to Zermatt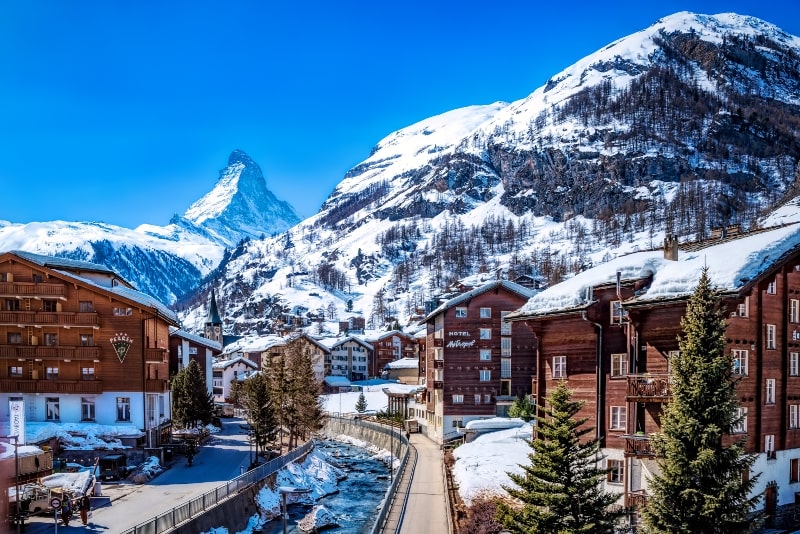 The village of Zermatt in the Swiss Alps has some of the most impressive mountain scenery in Europe. The idyllic village is a popular basecamp for winter sports enthusiasts as well as hikers and climbers in the summer.
The most dramatic point on the town's skyline is the imposing Matterhorn. This pyramid-like mountain is one of the most iconic in the whole world but the region has dozens of impressive peaks which reach similar heights above 4,000 meters.
Visitors to Zermatt should make the train journey to Mount Gornergrat. The mountain has an observation platform at around 3,000 meters which offers outstanding views of the Matterhorn and surrounding mountains.
59 – Pilot an F/A-18 fighter jet with a Flight simulator experience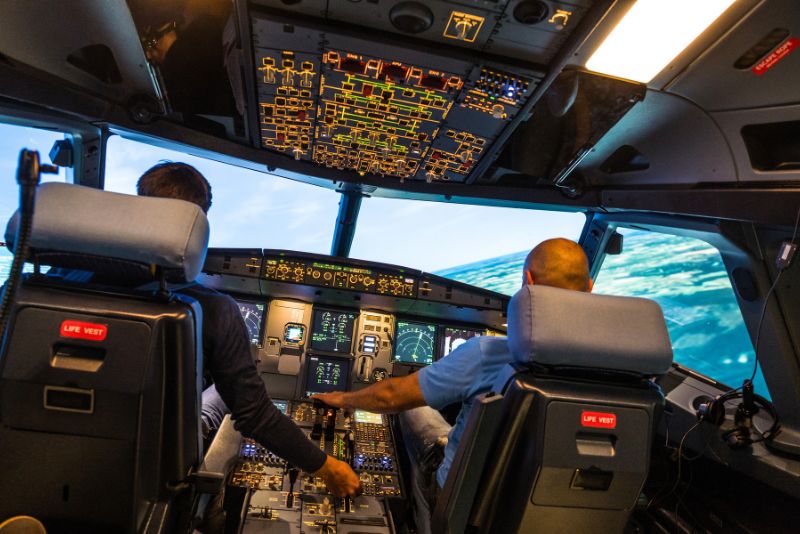 It must be an exhilarating feeling to pilot a F/A-18 fighter jet! Why not try it for yourself on a flight simulator experience in Zurich?
Hop in the cockpit and strap yourself in while you learn the skills needed to pilot these classic fighter attack planes. These immersive experiences utilize VR imaging and a lifesize cockpit, so the flights are as close as you'll get to the real thing.
You'll receive on the ground training from experienced pilots and flight instructors throughout and enjoy all the fun of flying these iconic aircraft for yourself.
60 – Hang ten at Urbansurf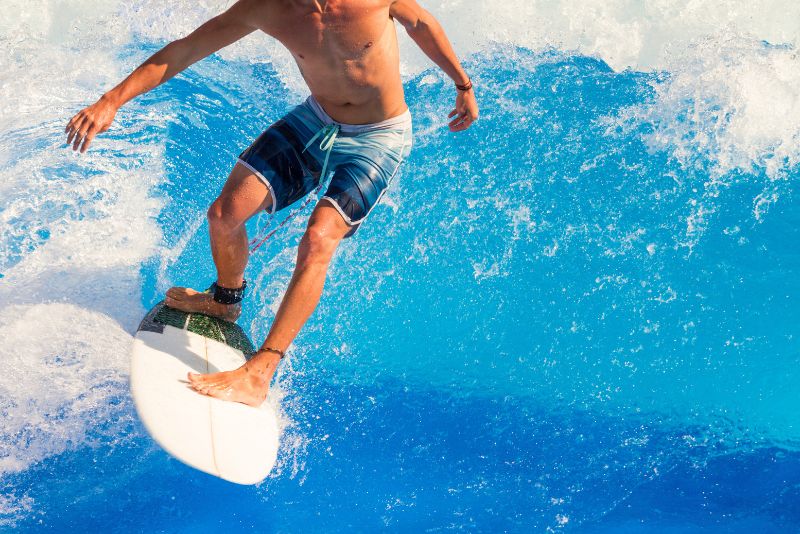 As a landlocked country it is nearly impossible to find anywhere in Switzerland to surf. That is unless your in Zurich, where you can go to Urbansurf and ride the wave that never stops.
This outdoor wave pool in the city center is the perfect place to learn the basics or brush up on your surf skills. Unlike the ocean, the waves here are constant so your surf session will never be interrupted.
Even if you don't plan to get wet, Urbansurf is a cool place to hang out, watch the surfing and enjoy food and drinks from the cafe and bar.
61 – Experience the wellness benefits of a Roman-Irish Spa Ritual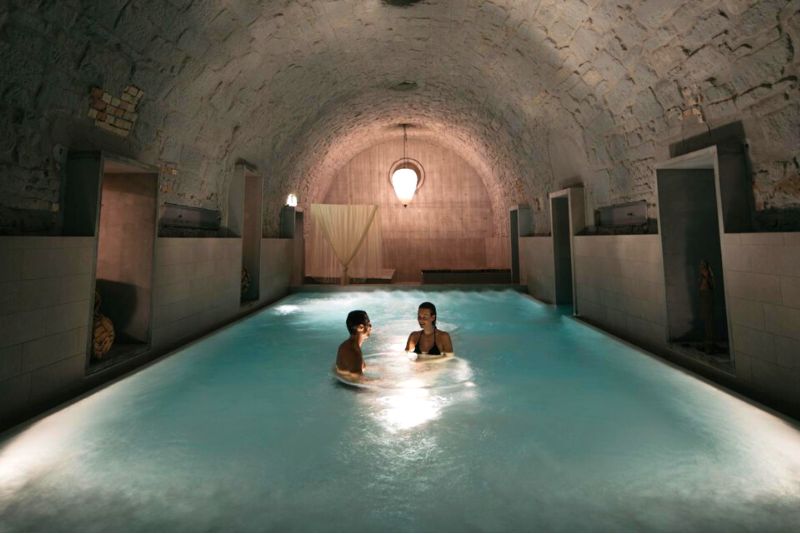 Feel the revitalizing sensation of a Roman-Irish spa ritual, which combines 2 traditional European bathing ceremonies used for cleansing and purifying for health and beauty benefits.
Available in Zurich, enjoy this all-encompassing wellness experience in a brewery turned spa, with expansive views from the rooftop, warm thermal waters, a warm beverage, and a 4-stage spa process.
What could be more unique than a plunge in the healing waters of this brewery turned spa? Enjoy gentle underwater music followed by a steambath and rain shower. Don't forget to pack your own sandals and swimwear!
62 – Attend a gig at Hallenstadion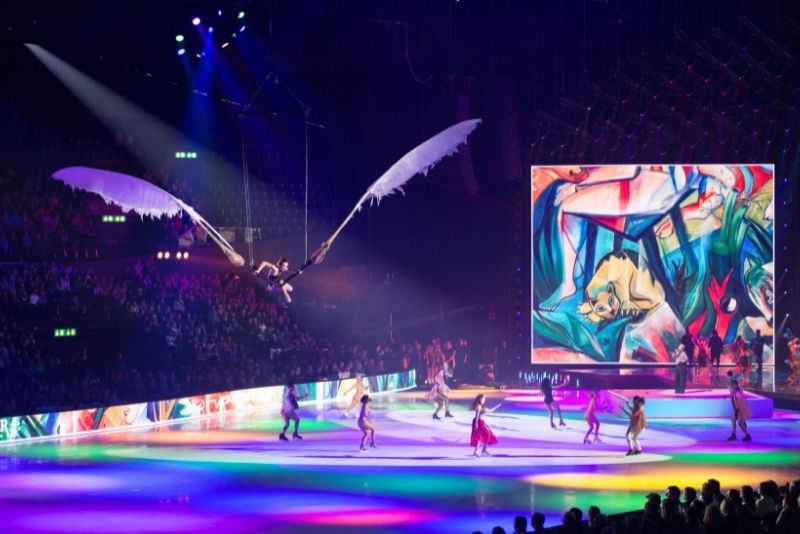 Enjoying a night out at the Hallenstadion is one of the most epic things to do in Zürich. Switzerland's largest stadium has sports fixtures, shows and musical performances throughout the year.
See some of the best touring theater performances as well as comedy shows and live spectaculars by Cirque du Soleil. Catch orchestral and choral performances by some of the biggest artists in the world.
Feel the rush of air as hockey players slice through the ice, or boogie along to iconic tunes at A-list pop concerts. Did you know Tina Turner and the Rolling Stones have played here?
63 – Shop for handicrafts or grab a beer at Frau Gerolds Garten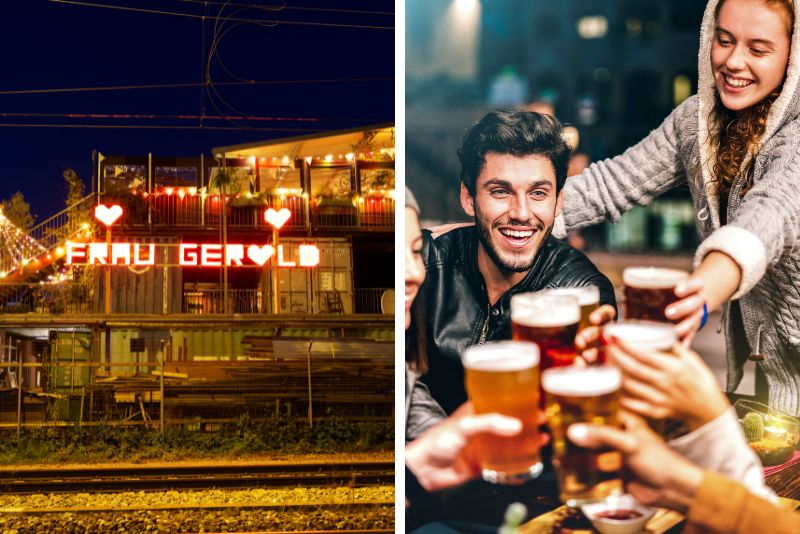 When you visit a new city do you seek out under-the-radar things to see and do? Frau Gerolds Garden could be the place for you!
The garden opened in 2012 as a place for the Hardbrücke district to get together. As well as housing a "modular city garden" it also has a dedicated arts space. If you want to see the best local designers, check out the daily market which hosts over 60 stalls of jewellery and crafts.
There are also stores selling clothing and ice cream as well as a terrace with eateries and bars.
64 – Get in the festive spirit at the ILLUMINARIUM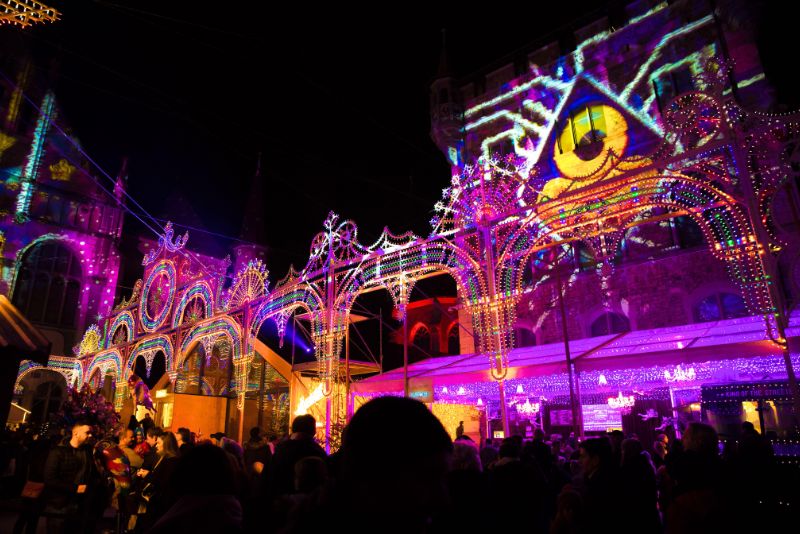 Should you be lucky enough to visit Zurich around Christmas, there are lots of festive places to visit – which both kids and adults will love.
The Illuminarium is particularly special and is held yearly in the courtyard of the National Museum Zurich. Expect a feast for the senses with plenty of lights, otpical illusions, storytelling and concerts. Throw in some tasty snacks and mulled wine and its a real carnival atmosphere.
From November 23rd to December 23rd, visitors can also explore Zurich's many Christmas Markets. These traditional holiday fairs are packed with cozy stalls selling warm drinks, decadent foods and Christmas trinkets.
65 – Watch a football game at Stadion Letzigrund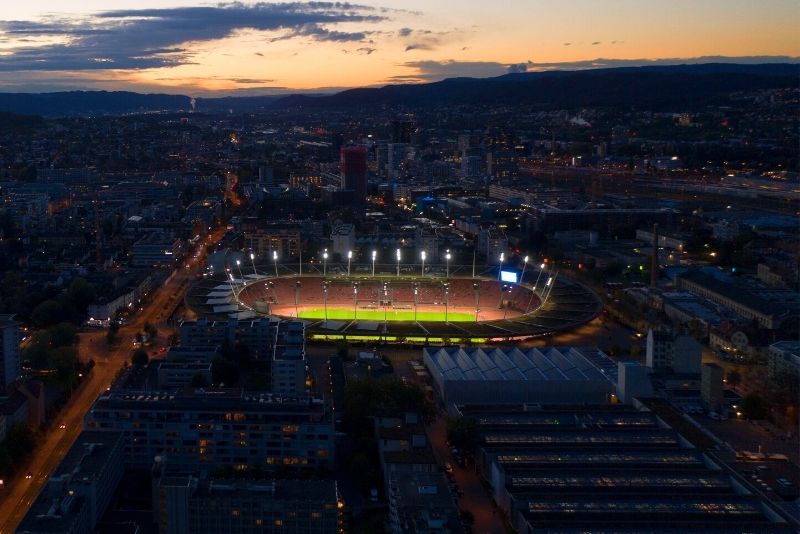 Calling all sports fans. This multi-purpose stadium is home to two Swiss League football teams, FC Zürich and Grasshopper Club Zürich, and there are matches held throughout the year.
Cheer on the players as they work their magic on the pitch and celebrate afterward with a meal in the Oval Restaurant. As evening falls, the Stadion Letzigrund transforms into a concert venue, hosting international stars and national bands.
Some of the world's most popular artists have appered here including Metallica, Depeche Mode and Taylor Swift. Talk about a night to remember!
66 – Indulge in some retail therapy at ShopVille-Zürich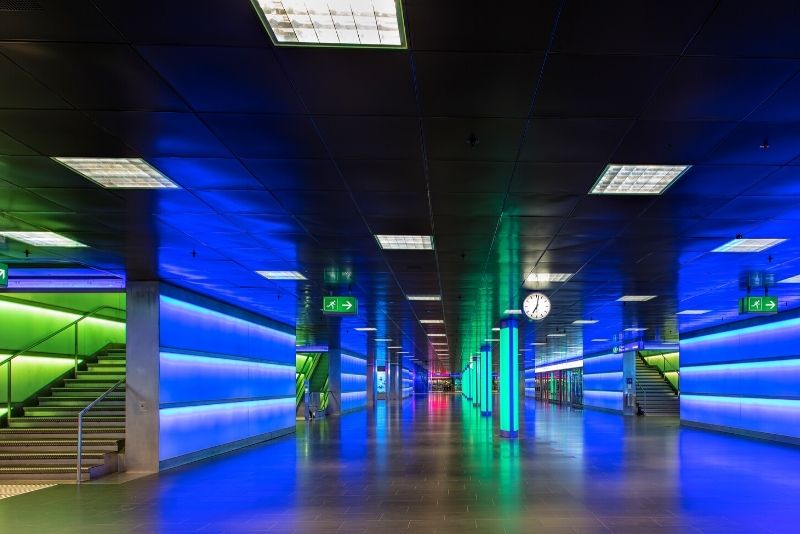 Beneath the city's main train station, a hidden underground world of shopping awaits. ShopVille-Zürich boasts over 180 stores, with everything from fashion to jewelry tempting out your purse.
You'll find popular stores such as Flying Tiger Copenhagen, Sephora and Lush sitting alongside a variety of cafes and eateries offering flavors from around the world. If you're looking for space to unwind and enjoy some retail therapy ShopVille-Zürich is it.
Keep your energy levels topped up at one of Hauptbahnhof's restaurants or takeaways, then treat yourself to a new look at the hair salon.
67 – Build a snow sculpture or try ice skating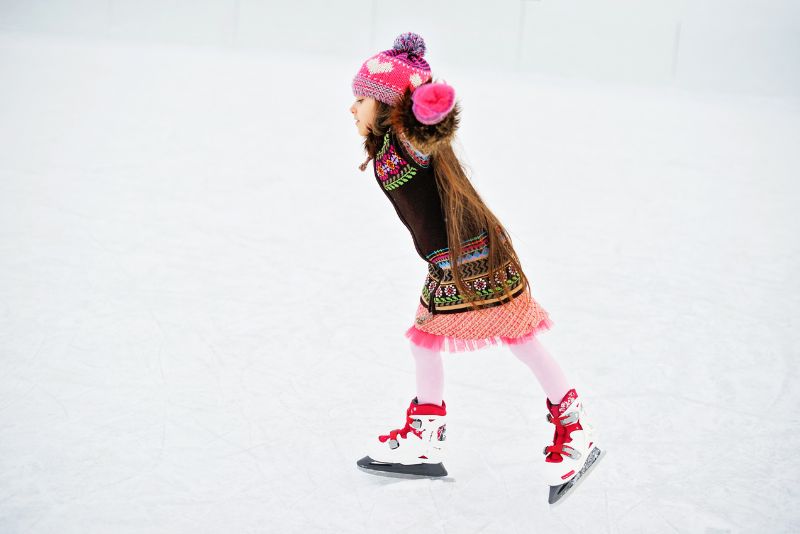 If you visit Zurich in winter, a visit to Dolder Sports Ice Rink is lots of fun. Here you can can ice skate on the open-air rink but you can also play a game of hockey, try Bavarian curling or build an epic snow sculpture.
The 6,000 square meter rink hosts ice discos throughout the winter months and you can even see a festive show or watch figure skating. It's a great spot for spectators too with a cozy Alpine chalet-style restaurant to watch from.
In the summer months the rink becomes an open-air swimming pool with expansive lawns, mini-golf and an outdoor cinema too.
68 – Eat at the best restaurants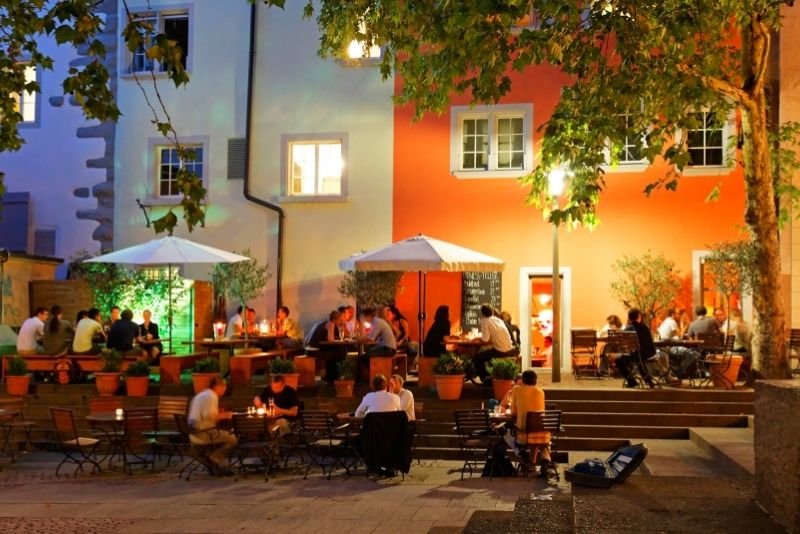 Zürich isn't short of top-notch restaurants and bars, so you'll be spoiled for choice when it comes to dining out. For fine food in sophisticated surroundings, you can't go wrong with the George Bar & Grill, or the award-winning Roof Garden.
Soak up the grand café vibe at Kronenhalle, and feast on bowls of goulash and apple pie. For a dash of elegance, try Maison Manesse where beef fillet tartare and creative desserts grace the menu.
Zurich isn't lacking in Michelin 2-star eateries either with The Pavillion, Igniv Zurich and Widder all in the city's lively old town. This city is a foodie's paradise!
69 – Enjoy a special cocktail with incredible views from the best rooftops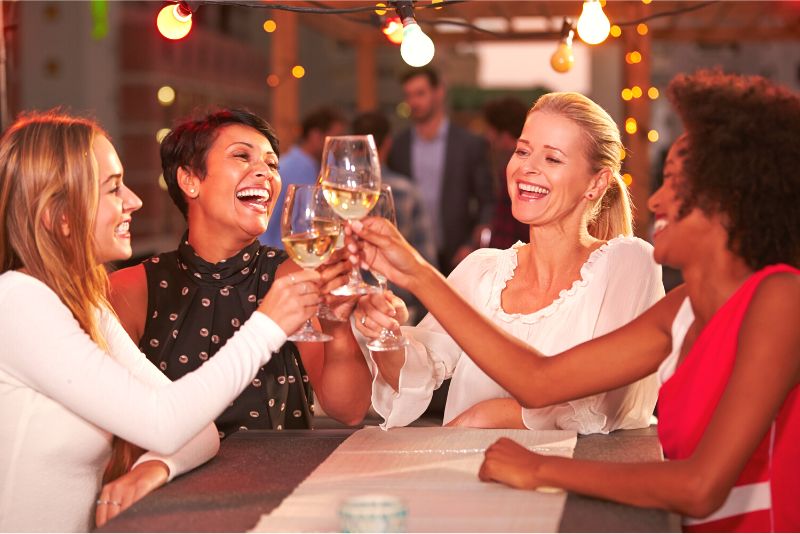 Feel like a VIP at Haute, offering over-the-top views of Zurich, while serving the best of European cuisine with a fabulous drinks menu. The … Rooftop Restaurant and Bar offers indoor and outdoor lounges, with comfortable surroundings in which to enjoy its Asian-influenced food and cocktails.
Get a drink at the not-so-average airport bar, Sablier Rooftop Restaurant & Bar, offering fliers a great send-off with an extensive list of wine, cocktails, and other beverages to enjoy on the largest rooftop in Zurich.
Experience Peruvian cuisine and drinks with Japanese influence at La Muña as you take in the outstanding views of Old Town, sparkling Lake Zurich, and the Swiss Alps.
Order a cool drink to match the cool vibes at Venice Bar. Enjoy 360-degree views of the nature-filled sights from inside the glass building, as you bite into your Italian-style tapas.
70 – Enjoy the nightlife in the city's best bars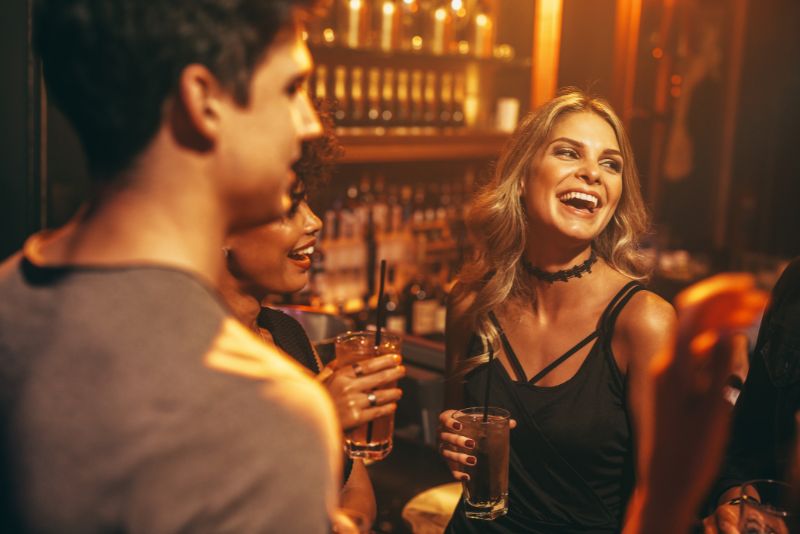 One of the coolest things about Zurich is the city's vibrant nightlife. There are plenty of great bars to visit which offer something for everyone, from chic cocktail bars to cozy pubs.
If you want to get dressed up and are looking for a place with great ambiance and classy decor, both Clouds and the Jules Verne Panoramabar are a good choice. They offer classic cocktails and great nightime views over the city.
If you're a whisky or spirit lover, Old Crow is the place to be. The choice of drinks here is staggering with around 800 whiskies and 1,600 spirits on offer.
In the warmer months Rimini Bar is a fun place to hang out as it is right next to the water on Schanzengraben. Expect laid back and fun vibes.
If you prefer a more classic pub, you can check out the beers on offer at Nelson Pub or at Oliver Twist.
If you're not sure where to go why not try a guided pub crawl in Zurich and discover where the locals like to hang out?
71 – Turn your nights into days at the best nightclubs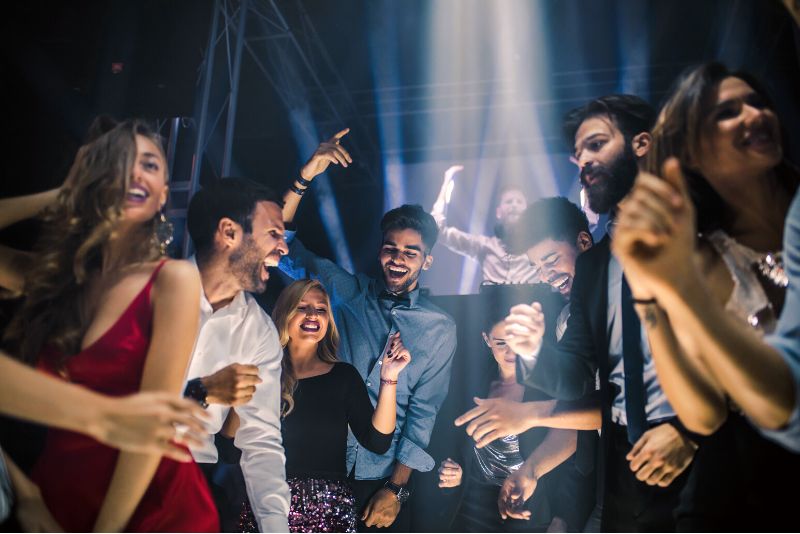 Check out Aura, where before you hit the dancefloor, you can enjoy a musical or dance performance by the talent at Aura. The club shortly opens after 11 pm.
Nearby Aura is the club Mascotte, offerings cool and chill lounge experience unless it's a themed night of Latin music, a burlesque show, or a world-renown DJ making an appearance.
The Penthouse may be a little outside the city center, but it's well worth the visit as it's considered Zurich's #1 nightclub and bar with incredible food, refreshing drinks, fantastic views of the skyline, and a rooftop.
HIVE Club is the place to listen to electronic, house music, tech house, and deep house, from the talented DJs, inside this eclectic-style club.
How to get to Zurich?
The main airport that you'll fly into when traveling to Zurich is Zurich Airport (ZRH), also known as Kloten.
If you're traveling with heavy luggage, in a large group, or with small children, consider pre-booking your airport transfers in Zurich. This will take you from the airport to the city center, in less than 15 minutes. No need for waiting, or hailing taxis!
Where to stay in Zurich?
Live within the swanky vibes for a couple of nights at Motel One Zurich, located in the city center of Zurich, and only a few feet away from the Zurich Opera House, Bahnhofstrasse, and Grossmünster. Feel confident communicating with the lovely and helpful staff, bilingual in German and English.
Feel total comfort when staying at Ruby Mimi Hotel Zurich, featuring fully-stocked rooms with the latest entertainment technology, extremely clean rooms, and a delectable breakfast available for guests to enjoy every morning. Enjoy the closeness to important sights from your hotel like Grossmünster, Paradeplatz, and Bahnhofstrasse only a few minute's walk away.
As a budget option, stay at the family-owned Hotel Arlette Beim Hauptbahnhof, offering a fresh and complimentary breakfast spread every morning for its guests. Located centrally, you'll never be too far away from exploring the sights on foot from your hotel or coming back from a late-night activity.
Visiting Zurich on a budget?
Why not explore the city's major sites with a free walking tours in Zurich? Enjoy the company of a knowledgeable local guide and get to know the city a little better. These tours are great for travelers on a budget.
Consider buying a Zurich Card, where for a period of either 24 or 72 hours, you'll have access to free transportation, free/ reduced entry to Zurich museums, food discounts, and so much more!
Where to go next?
Enjoy exploring the rest of the best places to visit in Europe, especially the cities near Zurich, worth a trip. There are tons of other great cities to explore in Switzerland and across Europe. Multi-day trips from Zurich can be a convenient way to see all the best locations for travelers who have limited time.
Stunning lakes, views of magnificent snow-capped mountains, and invigorating outdoor activities, are some of the best things to do in Interlaken, a region that entices everyone to breathe the fresh air of the Swiss Alps.
Culture lovers and history buffs will also enjoy finding secret castle ruins and other historical sites tucked into the nature of the region.
With a captivating blend of history and modernity there's so many things to do in Basel for city lovers. Stroll along the serene Rhine River, and enjoy picturesque views of the stunning architecture and vibrant waterfront life.
Nestled between the border of France and Switzerland visitors will find plenty of unique things to do in Geneva. There are incredible natural sites like Europe's tallest mountain peak, Mont Blanc, and luscious treats like Swiss chocolate, cheese, and wine to try.
From taking a boat tour of idyllic Lake Geneva to seeing unique sights like the Broken Chair sculpture – Geneva will surely not disappoint.
For history lovers, exploring the medieval buildings, idyllic squares and fantastic mountain panoramas are just some of the things to do in Lucerne – the picturesque gateway to central Switzerland.
Final thoughts
From the incredible views after climbing Uetliberg Mountain, to the fragrant aromas and quaint walks awaiting you at the Botanical Garden, and attending a magnificent show at Hallenstadion, the list of things to do in Zurich truly keeps getting better and better.
We hope that you enjoyed our suggestions to explore Zurich, and don't forget to have some cheese for us!
Happy travels!