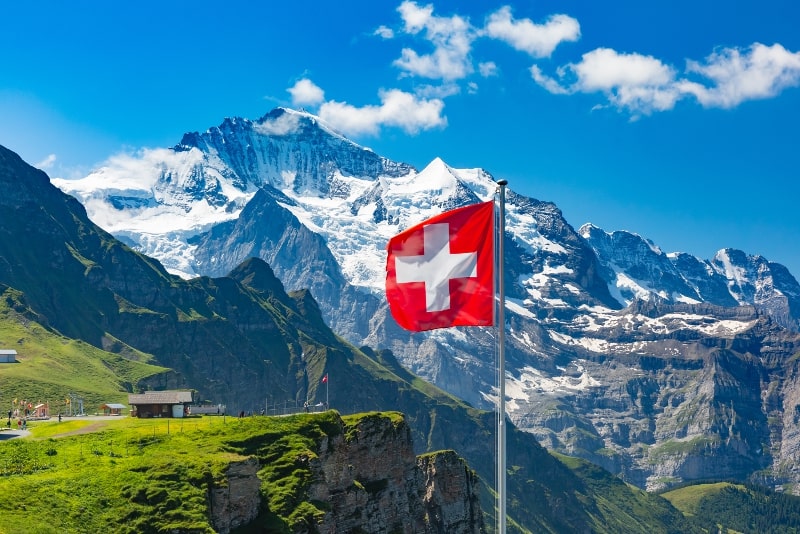 There are many cool places to visit that are within easy reach of Zurich. Whether you are looking for history, nature or delicious food to sample, at least one of these day trips from Zurich will enhance your holiday.
These easy outings are fun alternatives to a day in Zurich. They show off the best that Switzerland has to offer. Check out our compilation of ideas about where to spend a day out of Zurich. Pick your favorite one and have fun.
1 – Lucerne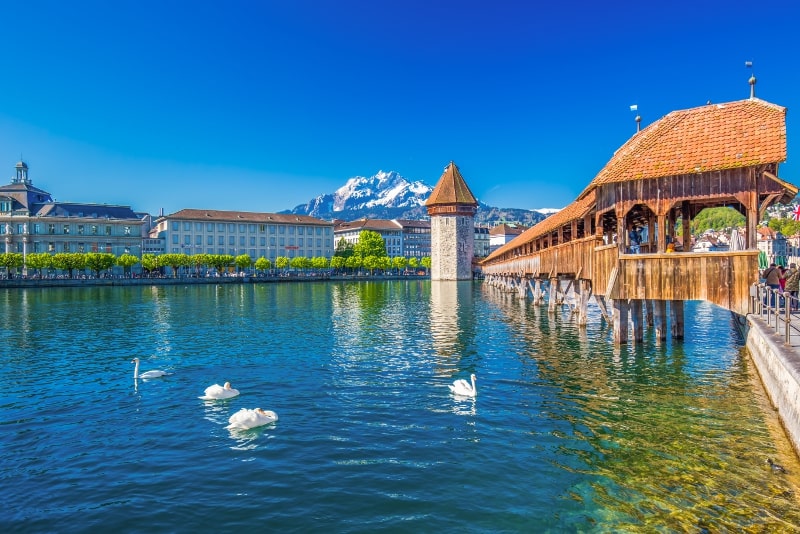 Nestled between the backdrop of towering mountains and a beautiful lake, Lucerne is known as the pocket-sized version of Switzerland.
Amazing history, a fantastic culture and an impressive mountainous panorama come together to form one of the best day trips from Zurich.
Only an hour from Zurich, Lucerne is ideal if you only have limited time for exploring.
2 – Mount Titlis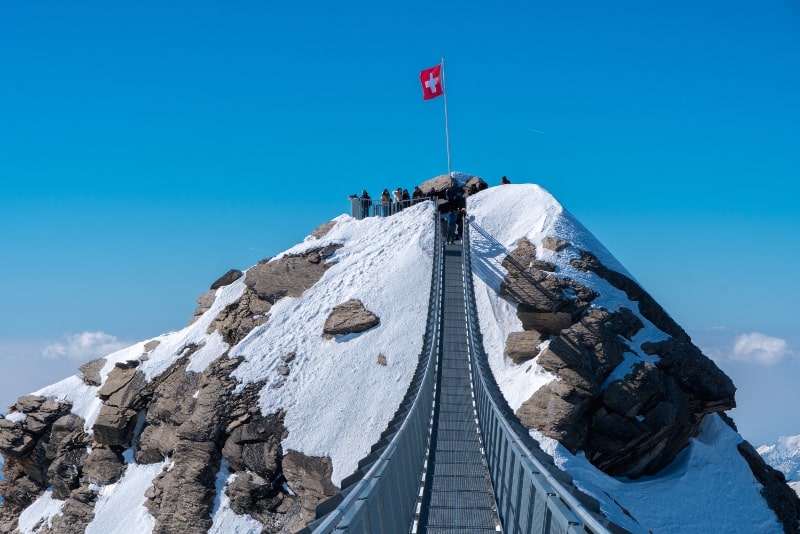 Mount Titlis is an ideal outing to beat the summer heat, thanks to its snowy tips.
Over 3,000 meters above sea level, Mount Titlis is Central Switzerland's highest peak and the only accessible glacier. Board the Rotair revolving cable car and enjoy the breathtaking views of the Swiss Alps.
Once you've reached the top of the mountain, you will find a cliff walk, glacier cave, and even some fun snow activities.
Mount Titlis is a magnificent day tour from Zurich not to be missed.
3 – Jungfraujoch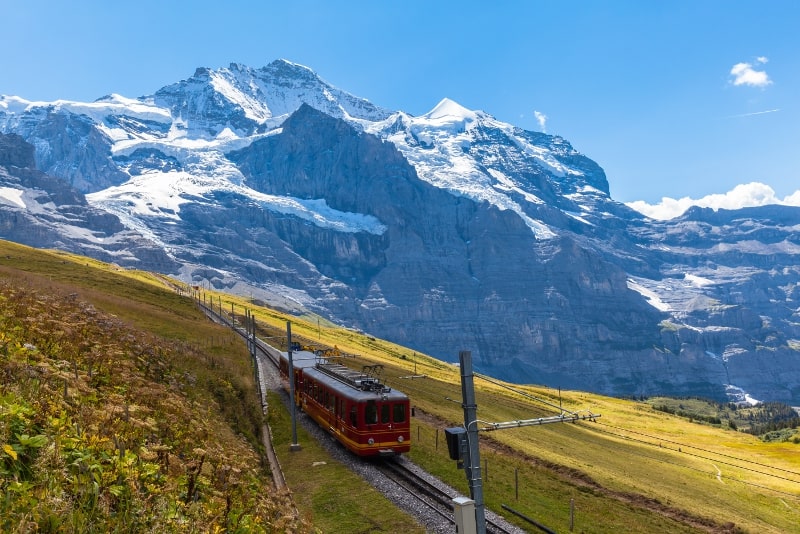 Travel from Zurich to Jungfraujoch, which is also known as the "Top of Europe".
Located 3,454 meters above sea level, Jungfraujoch is the highest railway station in all of Europe.
Open all year round, a visit to Jungfraujoch is an unforgettable experience in a high-Alpine wonderland of eternal ice and snow.
Make Jungfraujoch one of the highlights of your Swiss holiday.
4 – Rhine Falls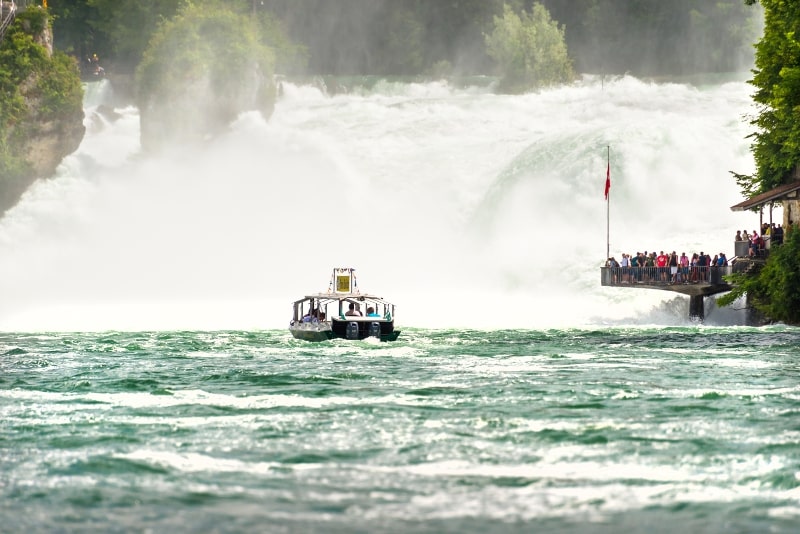 Located next to the town of Schaffhausen in northern Switzerland, the Rhine Falls is one the largest waterfalls in Europe.
Just an hour from Zurich, the Rhine Falls is a must-see for visitors and locals alike.
There are viewing platforms built on both sides of the Rhine to admire the spectacular view of the falls. In addition, a boat tour offers a unique experience that's not to be missed.
Enjoy blustering water masses at this magnificent water-rich spectacle.
5 – Mount Pilatus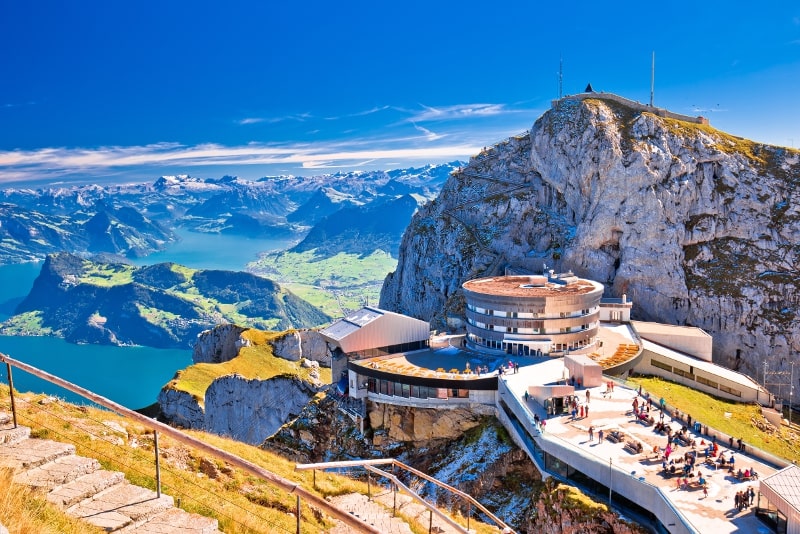 Overlooking the city of Lucerne, Mount Pilatus offers plenty of opportunities for outdoor activities.
It is easily accessible all year round, making it an ideal day trip destination for families.
Mount Pilatus is a mountain shrouded in mystery and folklore – according to medieval legends, dragons and ghosts once inhabited the mountain.
6 – Interlaken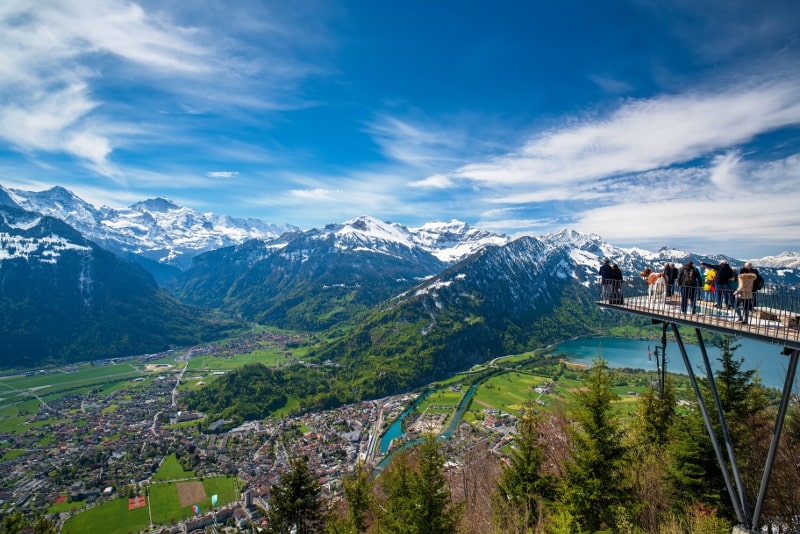 Sitting snugly between the sparkling waters of Lake Thun and Lake Brienz is the fabled resort of Interlaken.
The town is a perfect base for experiencing outdoor activities while enjoying the comforts of a chic lakeside resort.
With a network of trains, boats, and cable cars, use Interlaken as your springboard for day trips from Zurich into the formidable Bernese Alps.
Experience paragliding, enjoy a boat tour on the lakes or hike over breathtaking mountains. Interlaken is the adventurer's playground of Switzerland.
7 – Mount Rigi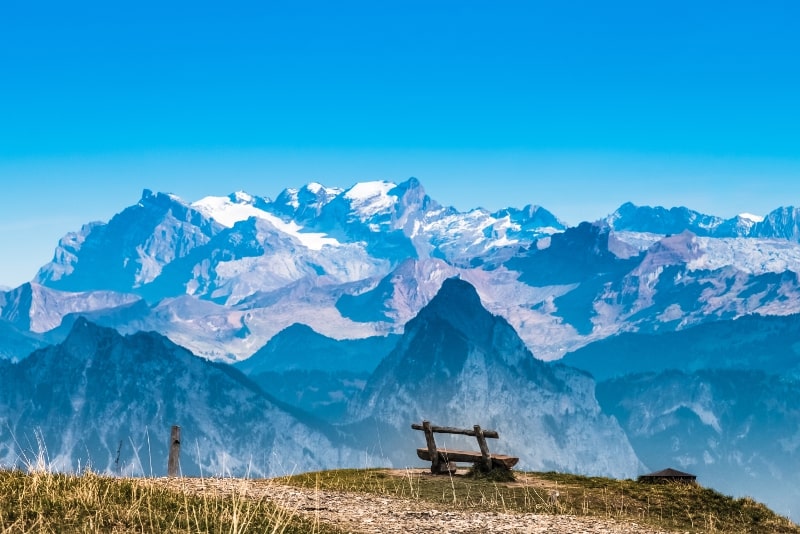 Be like the locals and visit the Swiss people's favorite mountain destination – the beautiful Mount Rigi.
Also known as the "Queen of the Mountains", Mount Rigi offers its visitors stunning 360 panorama views and awesome hiking opportunities.
Open 365 days a year, Mount Rigi can be easily reached from Zurich and is an ideal day trip for holidaymakers.
8 – Grindelwald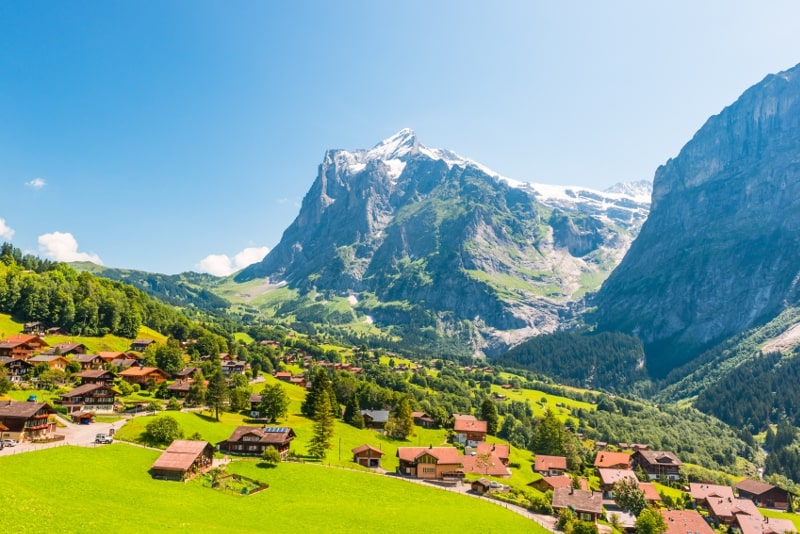 The famous mountain village of Grindelwald is the oldest resort in the Jungfrau region and one of the most popular destinations in Switzerland.
It's within easy reach of Zurich and lies in a unique Alpine landscape at the foot of the Eiger north face. Visitors can expect awesome hiking and skiing activities.
9 – Stein am Rhein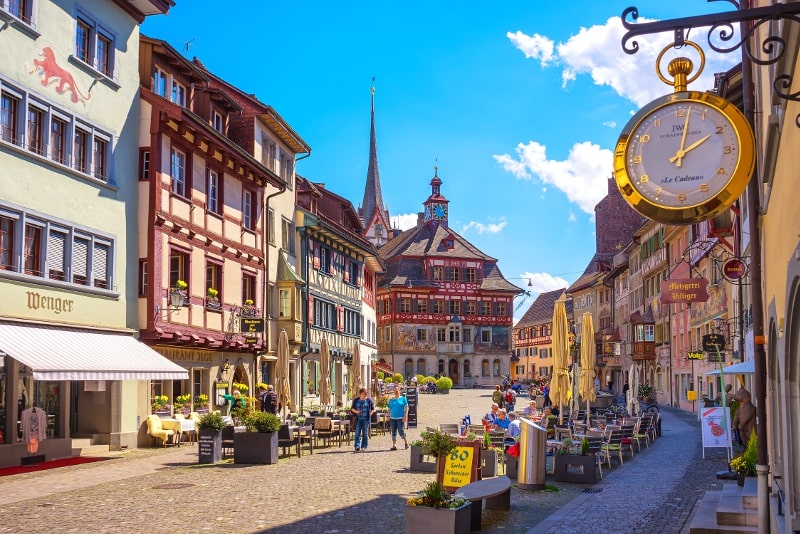 Stein am Rhein is a charming medieval town located about 60 kilometers from Zurich in the region of Schaffhausen, where Lake Constance spills into the Rhine.
Famous for its well-preserved timbered and painted houses, Stein am Rhein is one of the most picturesque towns to visit in Switzerland.
10 – Liechtenstein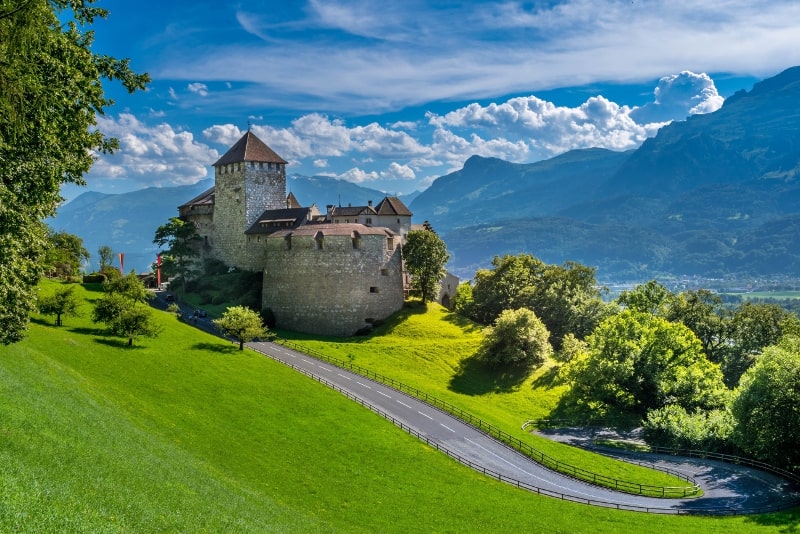 Looking for an unusual place to visit from Zurich?
Liechtenstein may be one of Europe's tiniest countries, but there are plenty of things to do and see. From ancient castles to world-class museums, and from stunning mountain hikes to awesome cycle trails, Liechtenstein offers a broad range of activities that can be enjoyed all year round.
11 – Bern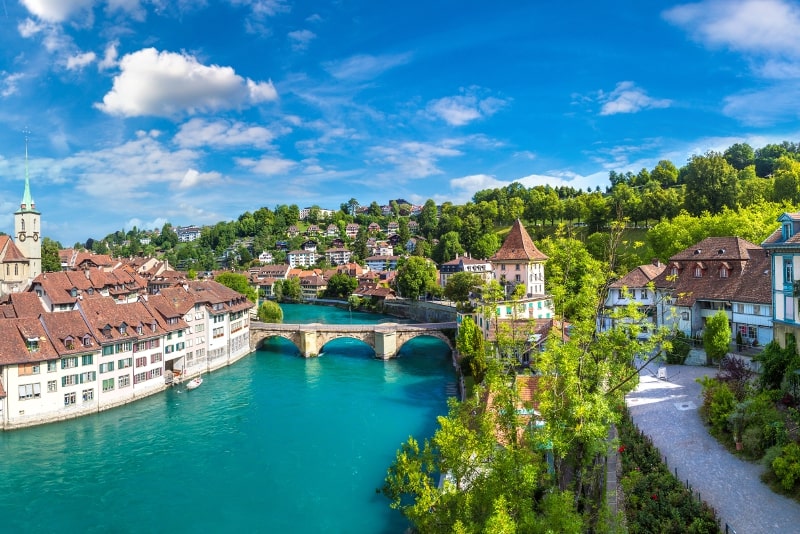 Lying along a narrow loop of the Aare River, Bern is the administrative capital of Switzerland.
The city is famous for its high quality of life, amazing cultural offerings and great tourist attractions.
Teaming with grand parliament buildings, Bern retains the atmosphere of a lovely provincial town.
Travel to Bern and enjoy its picturesque views, stunning architecture and delicious food.
12 – Appenzell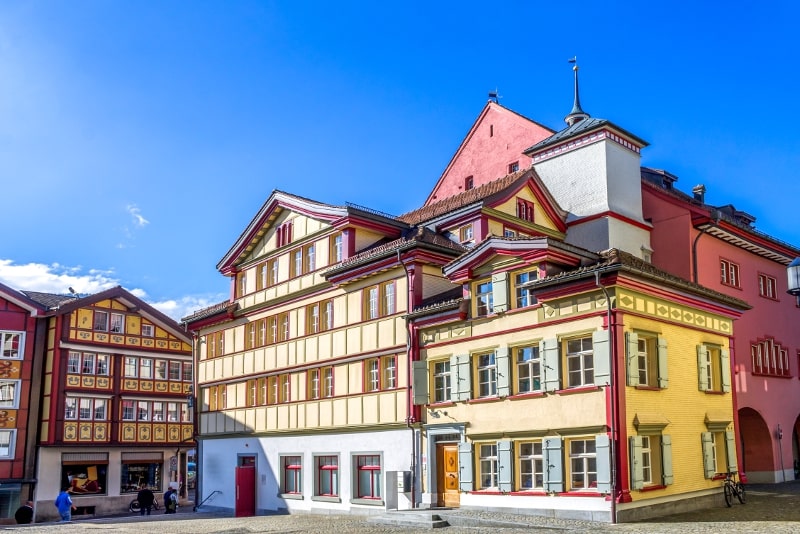 Appenzell is a beautiful village situated in Northeastern Switzerland. It's at the foot of the Alpstein mountains and is a 90-minute drive from Zurich.
With its quaint streets and decoratively painted wooden houses, Appenzell is a must-visit for Switzerland first time visitors.
Explore this enchanting village, learn more about cheese production, taste delicious Lindt chocolate, and enjoy the stunning views. Who could resist such a visit?
13 – Schaffhausen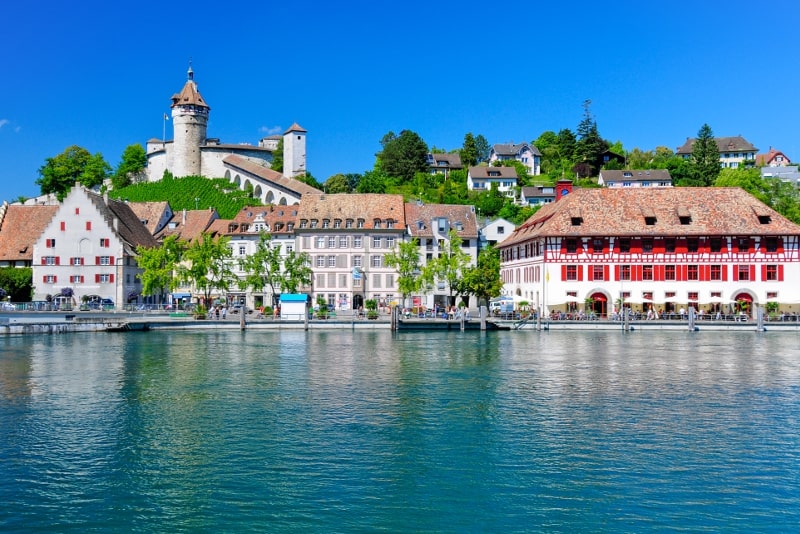 Schaffhausen is a popular choice if you're thinking of day trips from Zurich.
Situated on the upper Rhine River and surrounded by vineyards, Schaffhausen is a beautiful medieval Old Town.
Visit the 16th-century Munot Fortress, take a leisurely stroll around the town and admire the decorated facades.
14 – Winterthur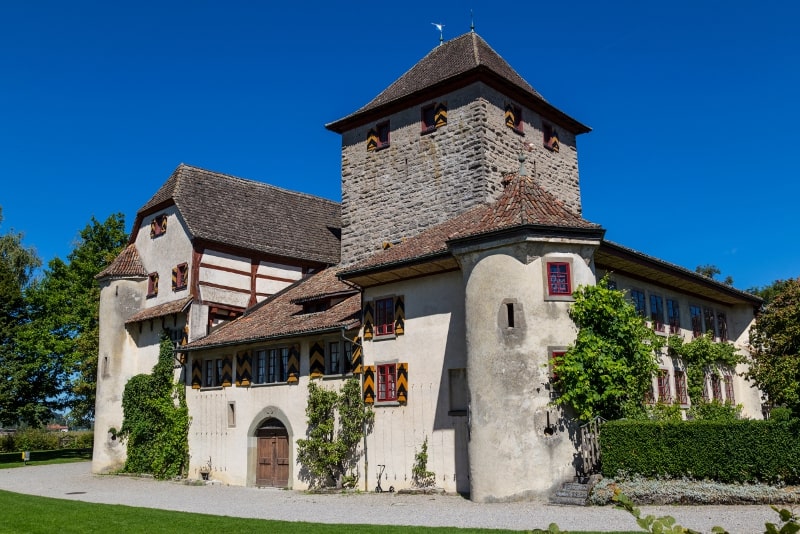 Located Northeast of Zurich, which is less than a 30-minutes drive, Winterthur is the ideal excursion for the history and art lovers.
Explore the lovely alleys of Winterthur's old town, visit top-class museums, and enjoy theatre shows and numerous concert events all year long.
Don't miss the Hegi Castle and the Rosengarten, which is a beautiful hilltop roses garden.
15 – Glarus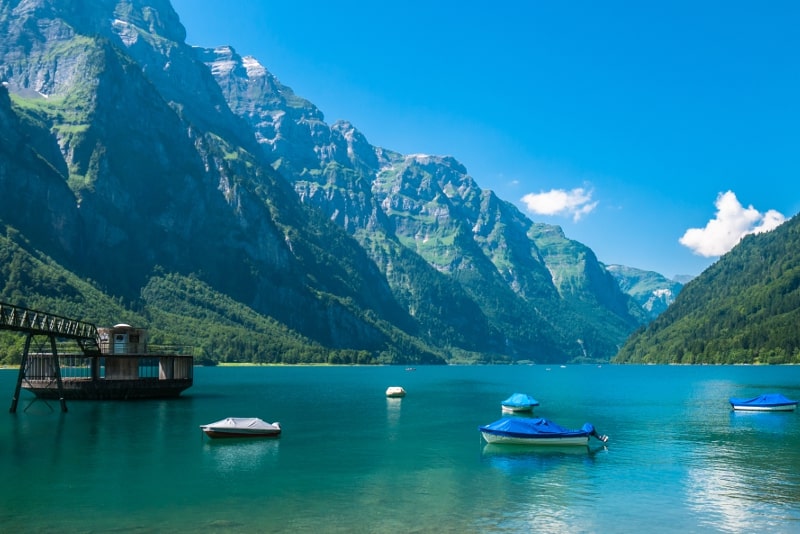 Nestled between mountains at the foot of the Glärnisch ridge, Glarus is an easy drive from Zurich.
From hiking to rock climbing, travelers will enjoy a wide variety of outdoor activities in this stunning region.
Head to the Klöntalersee lake and experience watersports or fishing during the summer. Try a spot of ice-skating in the winter months.
The scenic splendor and its opportunities for outdoor adventures make Glarus an ideal day trip from Zurich.
16 – Engelberg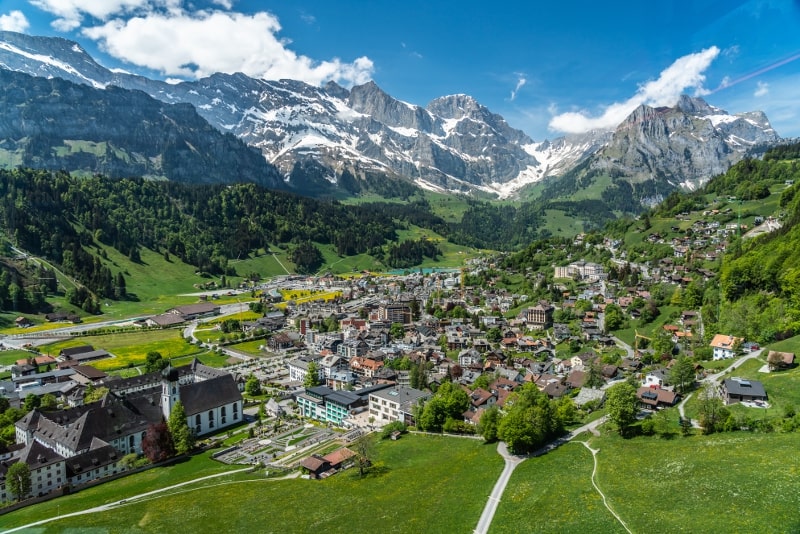 Located in the canton of Obwalden, Engelberg is a popular holiday destination easily reached thanks to excellent road and rail connections.
Engelberg attracts skiers during the winter, who are looking for top powder & freeride opportunities. In the summer months, hikers and climbers visit for awe-inspiring mountain views.
17 – Basel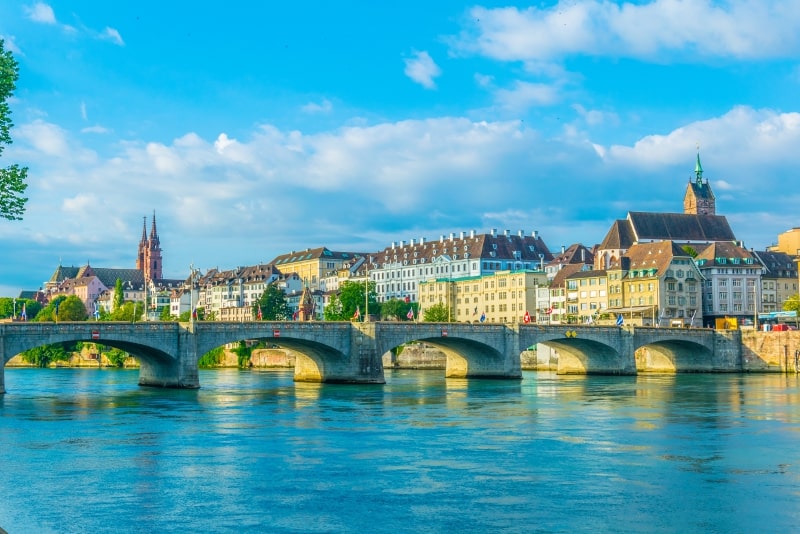 Basel is Switzerland's third-largest town and has a strong sense of its own identity, despite being in such close proximity to France and Germany.
Experience art and culture in abundance with attractions like the yearly Fasnacht festival. Stop off at the many local food markets, and visit the 40-plus museums with their long-established collections.
18 – Fribourg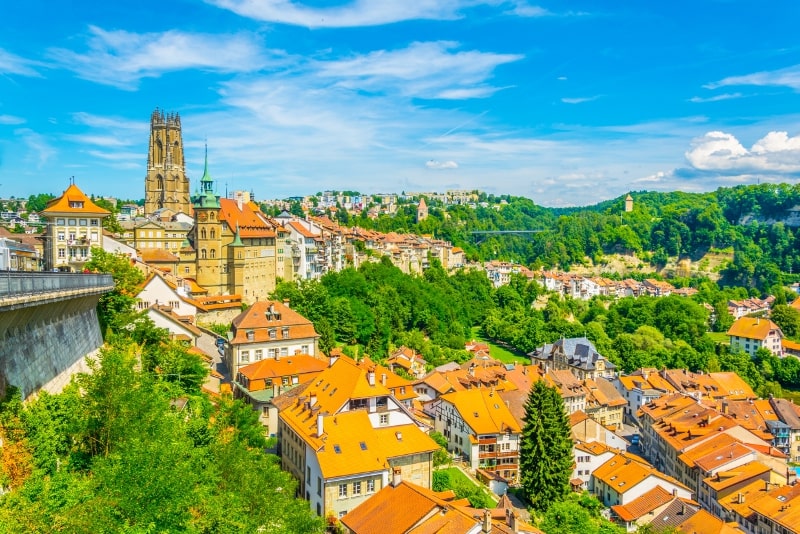 The medieval city of Fribourg sits above the Sarine River and features a gothic cathedral with art nouveau stained glass and views of the town.
It's a must-see for culture vultures on one of their day trips from Zurich.
There is a range of museums: visit the Museum of Art and History, the Natural History Museum, and Espace Jean Tinguely – Niki de Saint Phalle.
A train from Zurich to Fribourg takes around 1 hr 30 mins.
19 – Gruyeres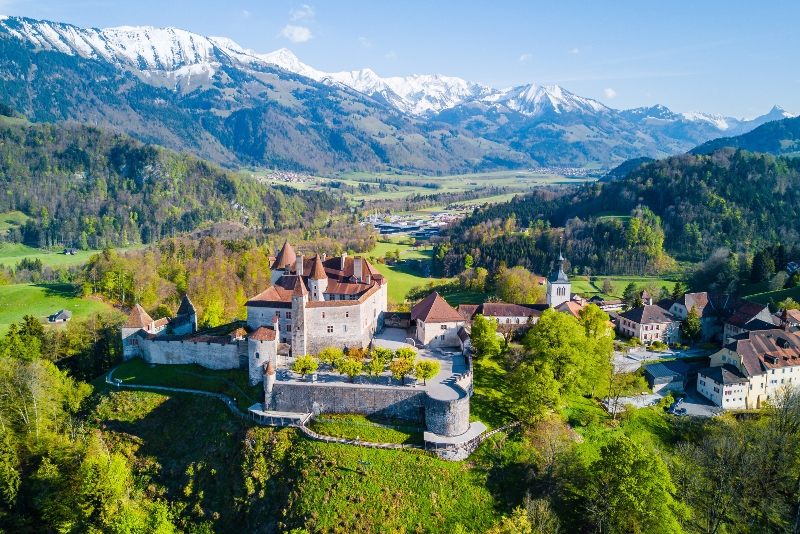 With over 800 years of history, Gruyeres is one of the best day trips from Zurich that is perfect for history buffs.
The architecture has retained its original character, which makes for particularly scenic sights. Gruyeres is the cheese capital of Switzerland, meaning it's a must-see for cheese conisiours.
Other attractions include the 13th century Gruyeres Castle and the Tibet Museum.
20 – Mount Stanserhorn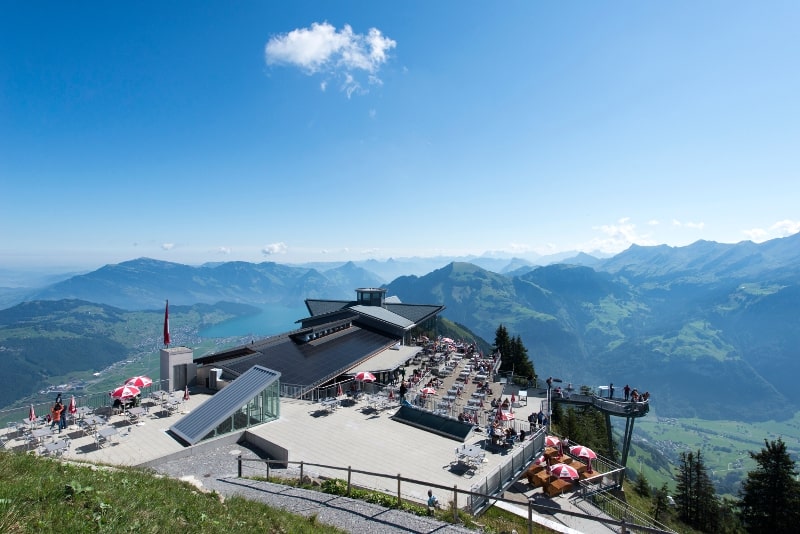 Hikers will delight at Mount Stanserhorn, which peaks at 1,898 meters above sea level. Located near Lucerne, it offers sweeping views over Central Switzerland.
There's even a restaurant on the mountain, which is accessed via an open-air cable car. Enjoy culinary delights while admiring the fantastic sights on offer.
21 – St. Gallen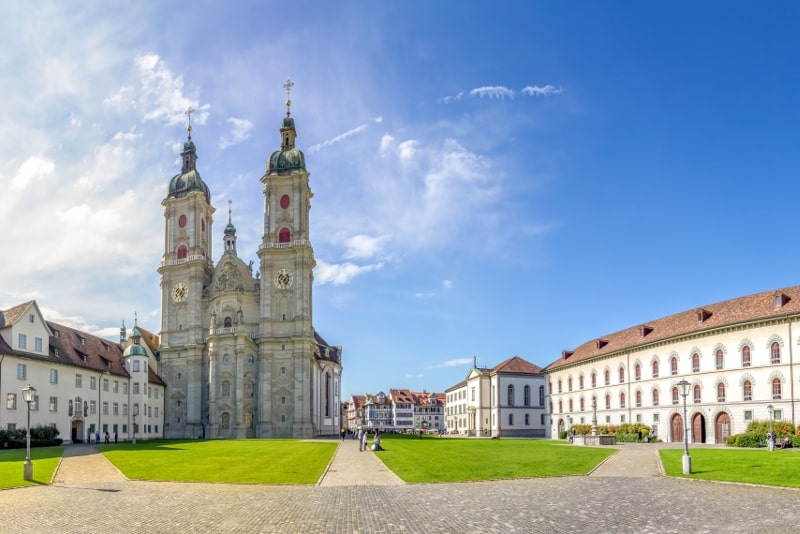 The city of St. Gallen is south of Lake Constance, in northeastern Switzerland. This compact metropolis offers a traffic-free old town, which is ideal for scenic strolls.
St. Gallen is home to the Abbey of St. Gall, a monastery that is well known for its various architectural styles. Other fun attractions include wildlife park Peter and Paul with its deer, boar & lynx.
22 – Atzmännig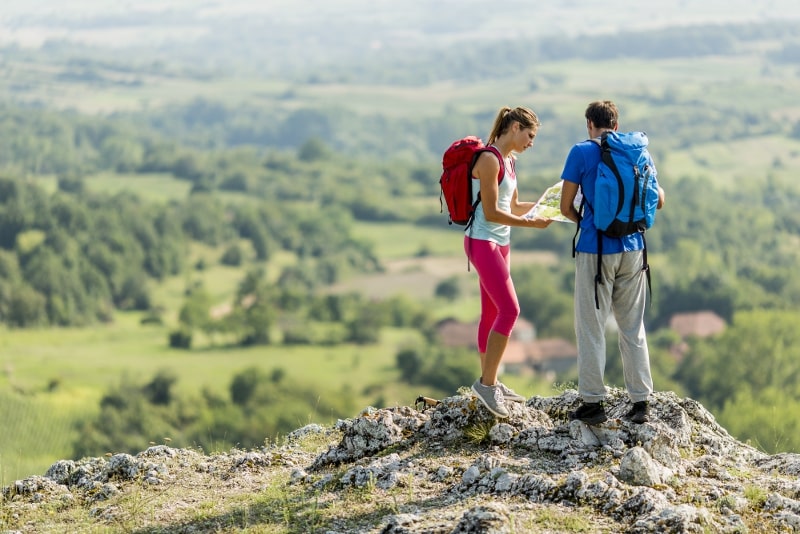 Not far from Zurich is where you will find the sports and leisure area of Atzmannig. Perfect for short and long hikes, the area is popular with family explorers thanks to its leisure parks.
The summer serves up scenic views of Churfirsten, Säntis, Glarner and Schwyzer Alps, while the winter offers 8 km of pistes for snowboarders of all levels.
23 – Chur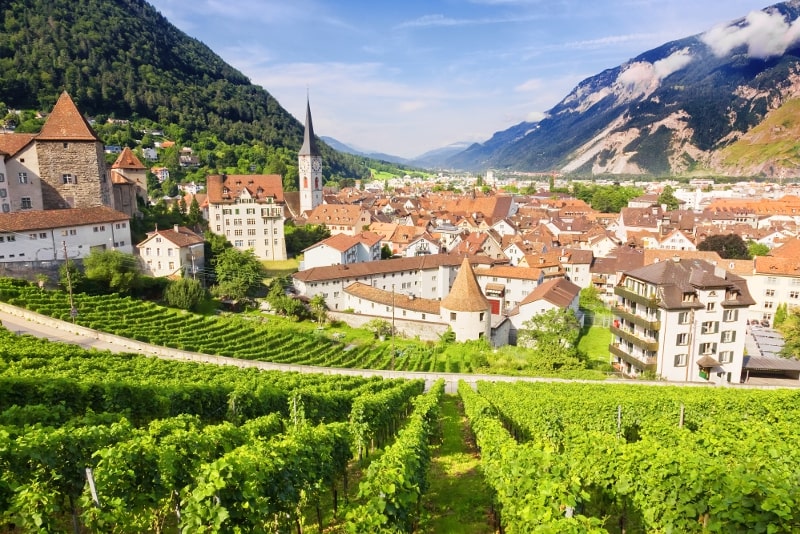 The oldest town in Switzerland, Chur is the capital of Graubünden and is known as the gateway to the alpine passes.
It acts as the perfect starting point for some of Switzerland's best spa resorts and excursions.
Trains take around 1 hr 30 mins from Zurich to Chur over the distance of 128km.
Local markets, shopping amenities and restaurants add a modern touch to the oldest city in Switzerland.
24 – Arth Goldau and Einsiedeln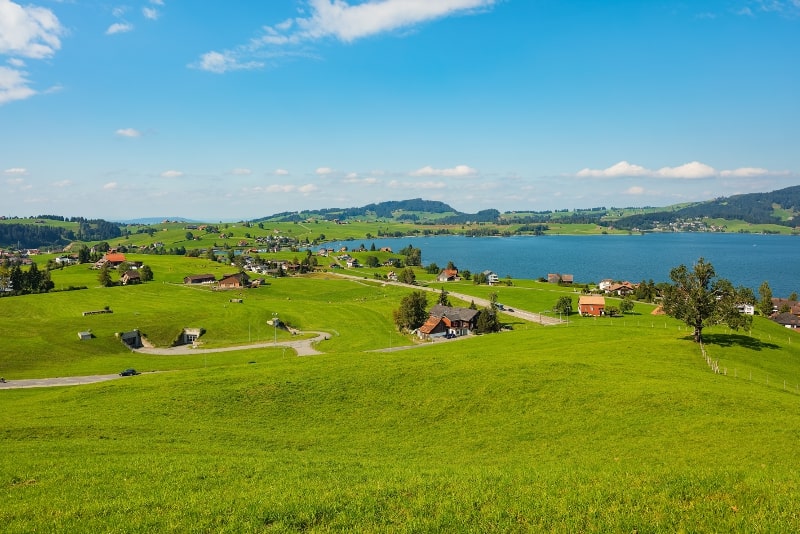 Arth Goldau and Einsiedeln are in the canton of Schwyz in Switzerland, 48.5km from Zurich. Einsiedeln features the Einsiedeln Abbey, which was first established in 934.
Expect to find many scenic moors, lakes and the largest reservoir in Switzerland in terms of area.
Tour the village of Einsiedeln and visit the dairy plant, gingerbread museum, and the many fine-dining restaurants.
25 – Zug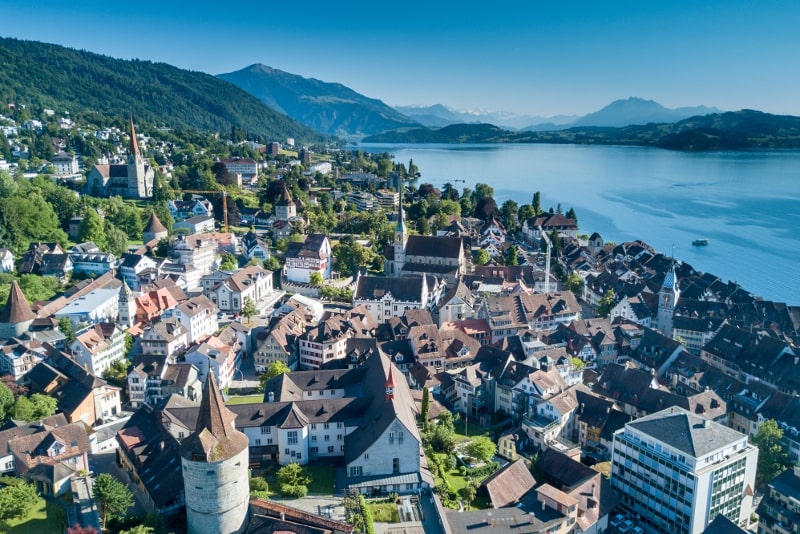 Voted as one of the best places to live in Switzerland, Zug should certainly be on your list for day trips from Zurich.
Everything in Zug is within walking distance, including the picturesque lakes and quaint buildings. Zug offers a small-town community with international flair.
It's just 34 km from Zurich, making it easy to access the town.
26 – Alpstein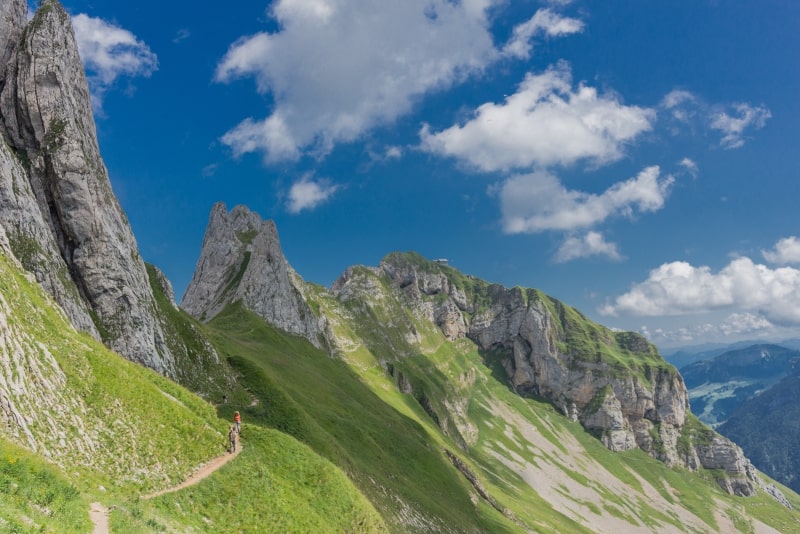 If you desire picturesque trails and outstanding natural beauty, a jaunt through Alpstein should be at the top of your list. It's an 84 km trail with sweeping alpine panoramas.
Experience the world-famous Wildkirchli caves and stop off at one of the 27 mountain inns. Each one features its own regional specialties and dishes catered for hikers.
27 – Lake Constance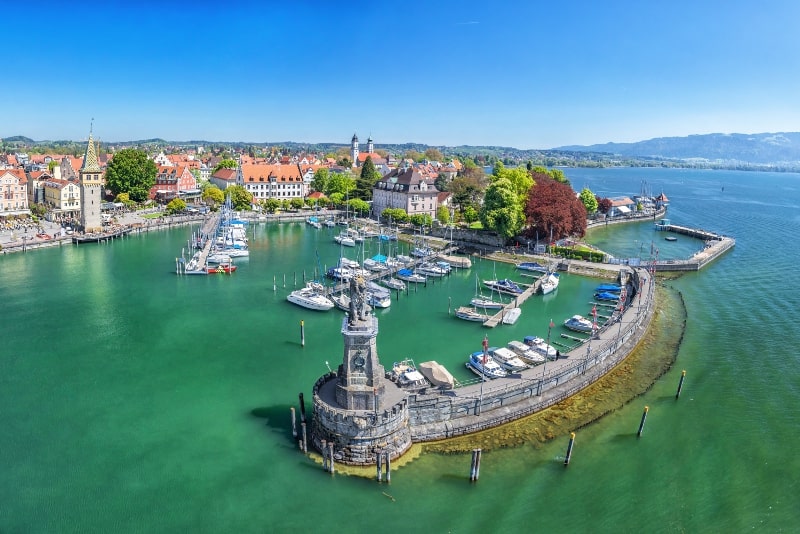 Lake Constance is a 63 km-long lake that borders Switzerland, Austria and Germany. Fed by the River Rhine River, it's made up of 2 connected parts: the Untersee (lower lake) and the larger Obersee (upper lake).
Visitors will enjoy striking scenery in the form of light blue expanses of water and 270 km of shoreline. Lake Constance is particularly popular for watersports activities.
Don't miss visiting the city of Constance, located at the western end of Lake Constance in South Germany. Check out Imperia, a 9-meter tall sculpture that commemorates the Council of Constance. Other attractions include Constance Cathedral and Jan Hus Museum, which stands at the end of Old Town Square.
28 – Solothurn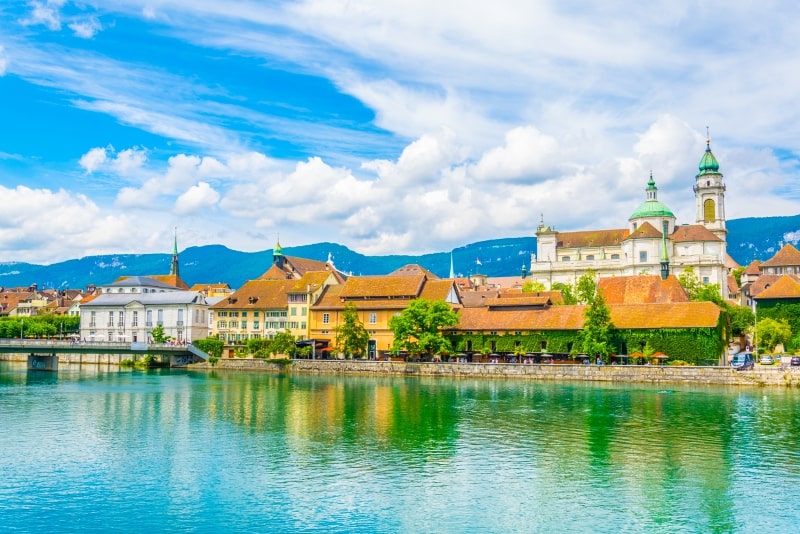 Regarded as one of the finest Baroque towns in Switzerland, Solothurn combines the best of Italian, Swiss and German cultures.
Immerse yourself in the culture at the History Museum and the Museum of Stones. Just outside the town is where you will find Verena, a romantic gorge with a chapel and hermitage.
Hikers and cyclists will delight at extensive footpaths by the gorge, which covers 600 km of cycle tracks.
29 – Aarau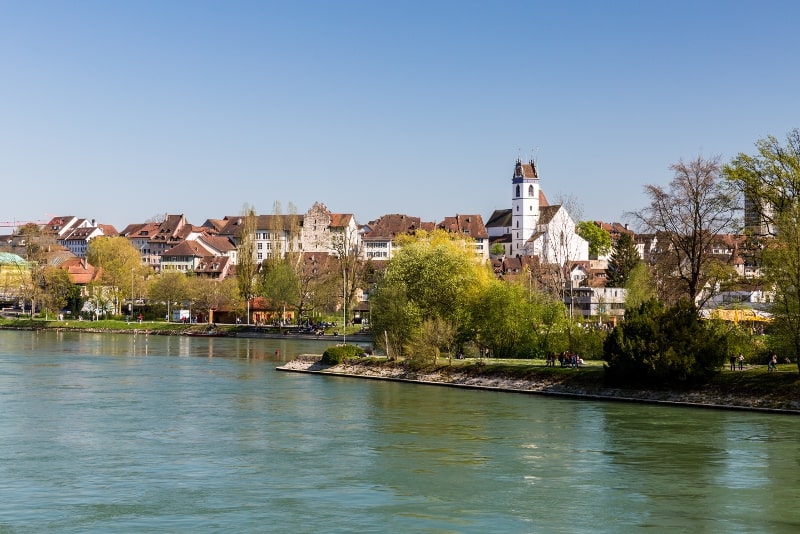 Located in Swiss Mittelland, Aarau is the capital of the Canton of Aargau. It's known for its "Dachhimmel", which are many painted eaves that date back to the 16th century.
Attractions come in many forms, including cultural and adventurous.
The Aargau Art Museum features an extension designed by the famous architects Herzog & de Meuron, while nearby Roggenhausen Wildlife Park is home to wild animals in their natural habitat and a scenic Nature Trail.
30 – The Castles of Aargau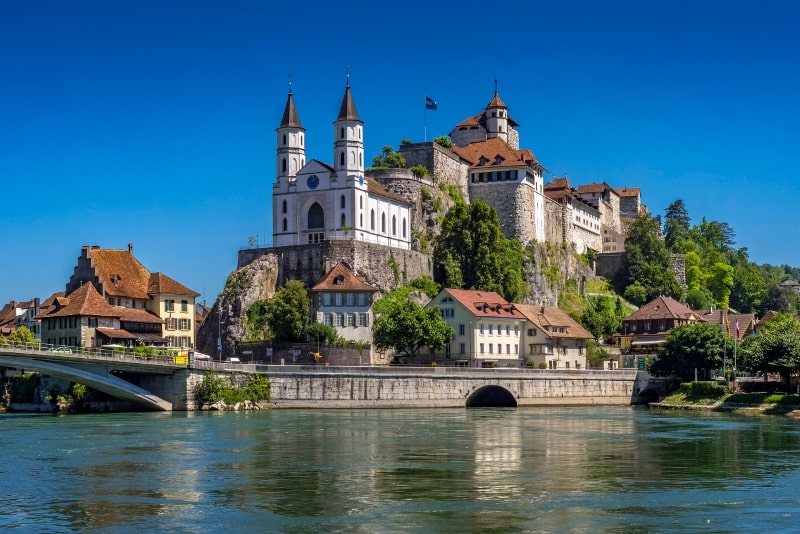 Get medieval with a day trip to the Castles of Aargau and enjoy a slice of Switzerland's history. Hallwyl Castle includes a moat and is viewed as one of the most romantic castles in the country.
Muri Abbey features soaring spires and turreted roofs, set to the backdrop of snowy Alps. Wildegg Castle towers above majestic landscapes that include vineyards and forests.
Lastly, don't miss the Fort Aarburg, a must visit attraction in Switzerland.
31 – Colmar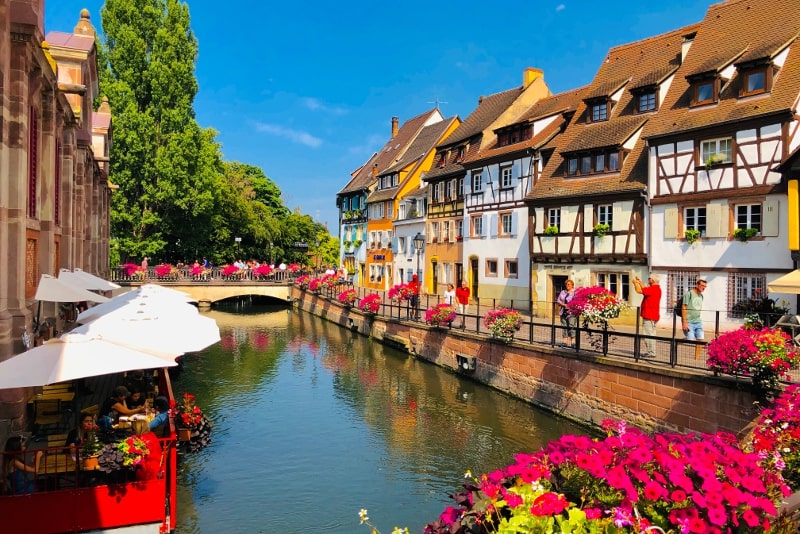 Explore the colorful, pretty town of Colmar, which is located in the Grand Est region of northeastern France, near the border with Germany.
Visit Little Venice (not to be confused with the Italian iteration) with its quaint canals, then stop at gothic Saint Martin's – which was built between 1235 and 1365.
Colmar is 150 km from Zurich.
32 – Rapperswil-Jona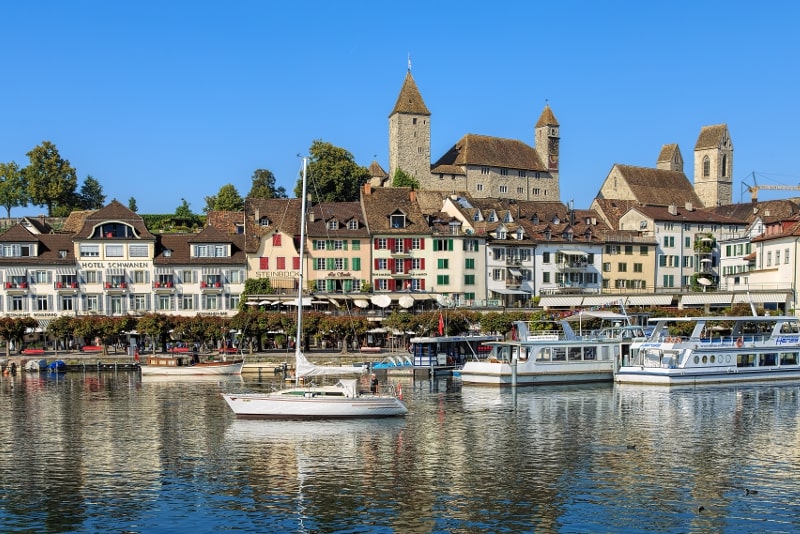 Located on the upper end of Lake Zurich, Rapperswil-Jona features three rose gardens and is booming with colors. The local castle is a centerpiece of the town and affords panoramic views from the Glarus Alps to Zurich Oberland.
The medieval old town is a protected historic monument and the perfect spot to explore thanks to there being hardly any traffic. Make sure you visit the Lake promenade and the longest wooden bridge in Switzerland.
33 – Alpamare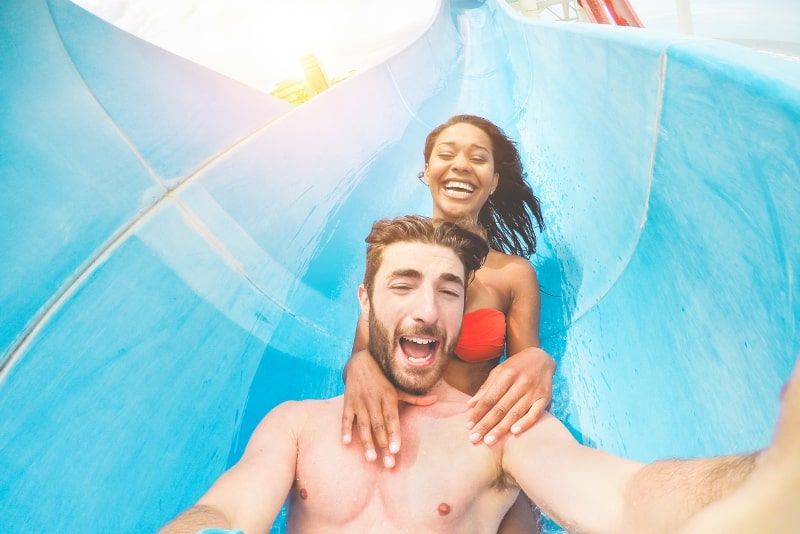 Day trips from Zurich tend to encompass plenty of culture and scenic sights. But every now and then it's good to let loose with lively attractions. Alpamare is a popular waterpark complex 36 km from Zurich.
There is plenty of pools where you can take a dip, such as the Wave Pool, Apla Therme, and Rio Mare. Each one offers a different experience, from wave machines to water jets and underwater music.
34 – Weggis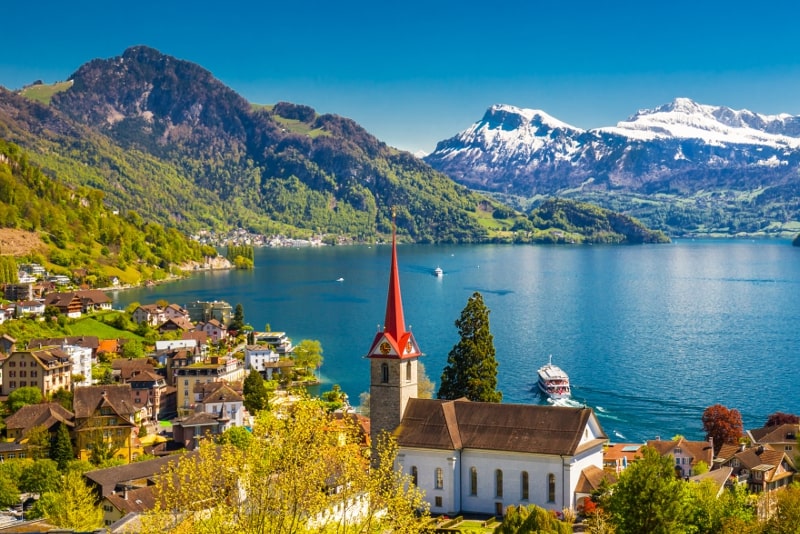 Weggis is a small, idyllic holiday resort 435 meters off the shore of Lake Lucerne. Take time to relax and enjoy the local surroundings that include great views of the mountains and lakes.
Try one of the thermal baths at Mineralbad & Spa Rigi Kaltbad or take the Hammetschwand Elevator, which is the highest exterior lift in Europe.
35 – Zermatt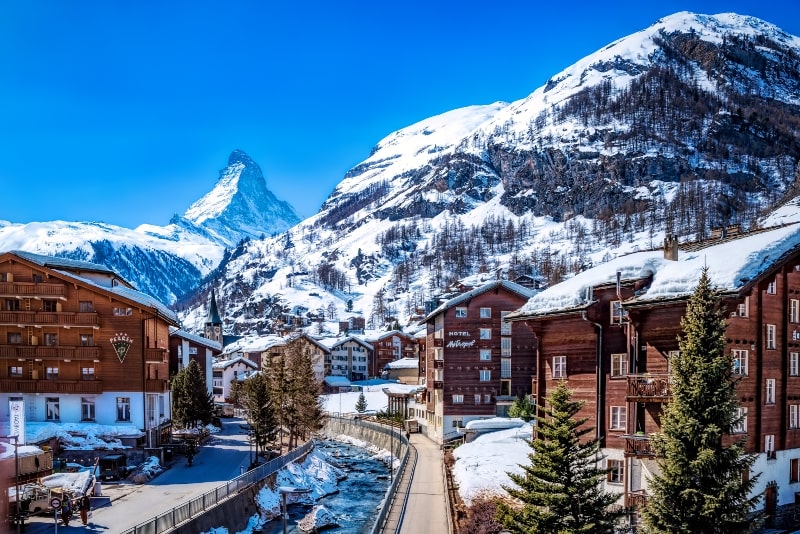 The car-free village of Zermatt is on the upper Valais and is a mountain resort known for its skiing, climbing and hiking. The town lies below the Matterhorn peak, which is iconic thanks to its pyramid shape.
Zermatt's main street is Bahnhofstrasse, where you can indulge in a spot of retail therapy at the boutique shops.
Finish your day trip with a meal at one of the many local restaurants.
36 – Kleine Scheidegg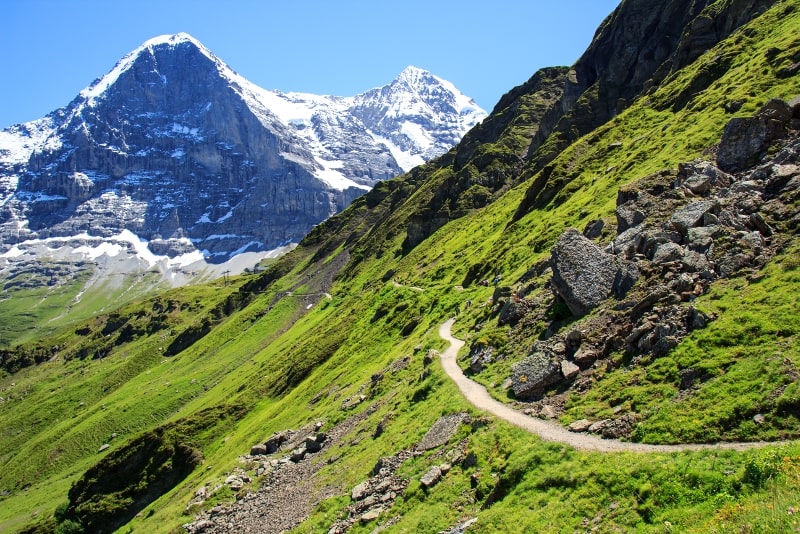 Kleine Scheidegg means "minor watershed" and is a mountain pass at an elevation of 2,061 meters. It's located in the Jungfrau Region, and is popular for summer hikes and winter toboggan runs.
The railway station is your starting point. From here, you can experience the panoramic views of the surrounding areas – including glaciers and famous peaks.
We hope you enjoyed our selection of day trips from Zurich. Don't hesitate to comment below if you need any recommendations. Enjoy Switzerland 🙂