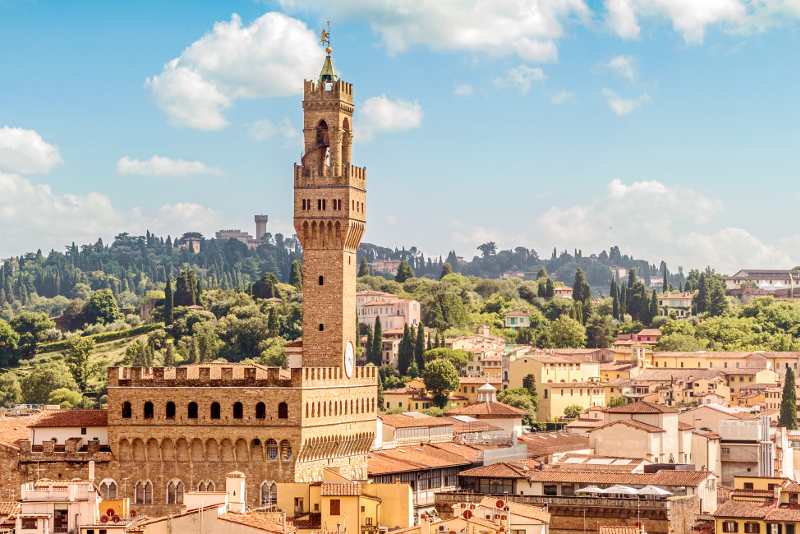 Do you want to know the best way to book your Palazzo Vecchio skip the line tickets and to avoid having to spend hours waiting in line? On this page, you will find a comprehensive guide to getting tickets for the Palazzo Vecchio including:
Visit the Gothic masterpiece of the main city hall, where you can get an intriguing insight into the inner workings of Florentine civic life, and gaze at many of Florence's finest frescoes and sculptures. Explore the lustrous apartments of Florence's ruling elite, and climb the clock tower for a breath-taking view across the city.
Click on the following link if you wish to book Palazzo Vecchio tickets now.
How much do Palazzo Vecchio tickets cost?
The prices reported below include the online booking fees as well.
You can buy a combination ticket to see all the main features at the Palazzo Vecchio for 20.50 €. This provides access to:
the main museum
archaeological sites
the tower
battlements
You can also buy tickets for individual sites, or only some of them, including the following:
Museum, tower and battlements for 18.50 €
Museum and archaeological site for 17 €
Museum only for 13.50 €
Tower and battlements for 13.50 €
Archaeological site for 5 €
Who is eligible for a discount?
Discounts are available for visitors aged 18-25 and university students for all sites. Discounted tickets are priced as follows:
Museum, archaeological site, tower and battlements: 18.50 €
Museum, tower and battlements: 16 €
Museum and archaeological site: 14.50 €
Museum only: 11 €
Tower and battlements: 11 €
Free entrance is available for visitors under the age of 18, disabled visitors and companions, student groups and teaching staff with proof of status, and tour guides and interpreters. Please note that access is restricted for children under the age of 6 across the Tower, battlements and children under the age of 8 across the archaeological site.
How do you book Palazzo Vecchio tickets in advance? How do you skip the line?
Tickets to visit Palazzo Vecchio are available online in advance of your visit. It's worth booking ahead to skip the line and avoid queuing times. You can buy the tickets on the official website, but also on several other websites, such as Tiqets, Musement and Getyourguide, which offer great deals for skip the line tickets, combo tickets and guided tours. To get the best deals, make sure you compare prices on TourScanner beforehand.
Are there any combined tickets including Palazzo Vecchio tickets and other attractions?
A combined ticket is a fantastic way to explore Palazzo Vecchio and other surrounding attractions, and will often give you the best value experience. Why not try one of the following great options:
Palazzo Vecchio tickets + Uffizi Gallery: with skip the line access to both sites, this fantastic value combination ticket lets you experience the fascinating art collection of Italy's most renowned art museum, without having to wait, as well as enjoying a look at the beautiful former home of the Medici family.
Palazzo Vecchio tickets + Pitti Palace: A private guided tour of two of Florence's most exceptional sites is the best way to plan ahead for your visit, with guaranteed skip the line access to avoid waiting, and a professional guide to take you around the beautiful Palazzo Vecchio, before cross the river to take the magnificent art collection and gardens of the Pitti Palace.
Are there any Palazzo Vecchio guided tours? Are they worth it?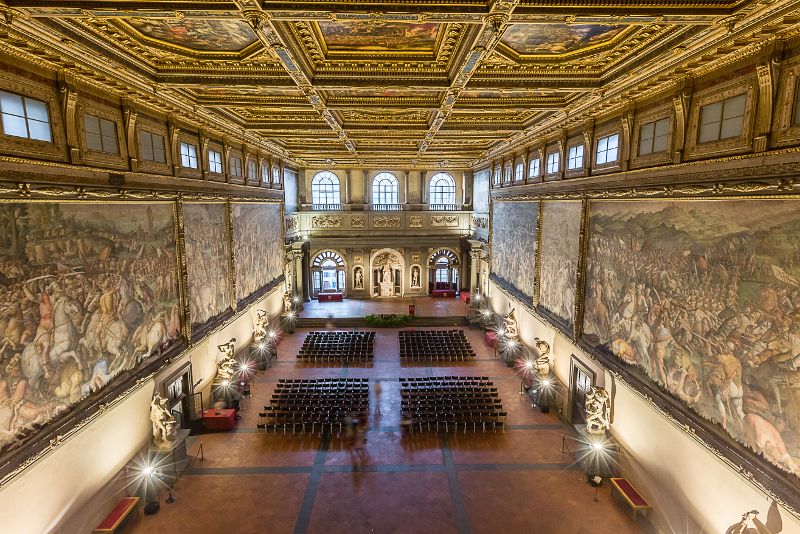 Getting tickets for a guided tour of the Palazzio Vecchio can be a great way to plan your trip, and ensure you have a fascinating experience. There are some great advantages to having a guided tour when you visit:
Avoid the lines: with skip the line access available, a guided tour ticket for Palazzo Vecchio can help you go straight through and avoid having to spend an hour or more waiting in line outside.
Make sure you don't miss anything important: having your own guide means that you'll be directed to the most fascinating and interesting parts of the Palazzo Vecchio, and won't have to worry about getting lost inside, or missing anything special.
Learn all about the history: As a former royal home, the Palazzo Vecchio is filled with so many fascinating historical nuggets, and having a guide at hand means you'll have a specialist to tell you all about the hidden stories behind the treasures within. It's a great way to learn about Italian history and immerse yourself in this incredible experience.
Some great guided tours to help you make the most of your experience at the Palazzo Vecchio include:
Audioguide tours: these are handy when you want to learn more, but prefer to take it at your own pace, as you can pause, or skip through anything you want to move on from.
Morning tours: avoid the busy crowds later in the day and enjoy a relaxed, guided tour, with a small and friendly group.
Private tours: Immerse yourself in the fascinating history and culture of the Palazzo Vecchio, in comfort and away from the busy crowds, as your guide leads your small, private group through an intriguing tour.
Is it possible to visit the Palazzo Vecchio for free?
Palazzo Vecchio offers free admission on selected days throughout the year. You cannot book tickets in advance on these dates however, and tickets can only be obtained at the main box office. Dates can vary according to the calendar. Free admission is available on the following dates:
First Sunday of every month between October to March
February 18 – Commemoration of Anna Maria Luisa de'Medici's anniversary
March 8 – Women's Day – free admission for women only
Mid-weekend of May – Notte Blu – entry is free in the evenings
What will you see?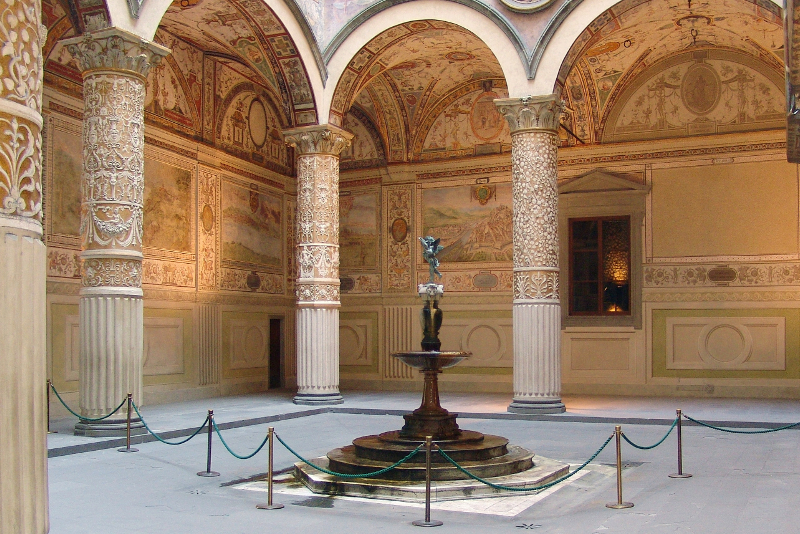 The Palazzo Vecchio is one of the most stunning and imposing sights in the city of Florence, hearkening back to the 13th century, as an important fortress that later served as home to the Duke Cosimo I de' Medici, and has continued to serve as a city hall to the modern day.
The building showcases its Renaissance history, with its elegant and lavish interior, with rich paintings and stunning wall frescoes throughout the interior. You'll also see a number of renowned statues, including Michaelangelo's The Genius of Victory. You'll also see a replica of his iconic statue, The David, however the original was removed to keep it safe from damage from the environment in the open air.
To get an insight into how Renaissance Florentines lived, explore the Ducal Apartments upstairs, which are filled with artworks and the Duchess' own private chapel. And for stunning views over the city, it's worth climbing the steps to the top of the 95 metre bell tower – keep your eyes peeled for hidden surprises along the way, such as traditional weathervanes, and hidden prisons!
Are Palazzo Vecchio tickets included in any attraction city passes?
You can get entry to Palazzo Vecchio with a Firenze Card or Firenze+ Card. The pass provides priority access to many of the city's main museums and destinations, and can help you skip the line and save time. It's possible to get a digital version of the card through the Firenze Card app, which can be purchased ahead of your visit, and activated at your first attraction.
What is the best time to visit the Palazzo Vecchio? How can you avoid the crowd?
It's worth either going first thing in the morning or at the end of the day to avoid excessive crowds at the Palazzo Vecchio. If possible, it's worth going towards sunset, for some exceptional views across Florence. To avoid the crowd, try booking a skip the line advance ticket to make sure you avoid lengthy queues – compare the options on TourScanner to find the best deal for you.
What are the Palazzo Vecchio opening hours?
Palazzo Vecchio is open between 9 am to 7 pm from October to March, and 9 am to 11 pm from April to September. Throughout the year, on Thursdays, entry closes at 2 pm. In the tower and battlements areas, admission is restricted an hour before closing time.
The ticket office also closes an hour before closing time. There are no days during the year that it is closed all day.
Travel tips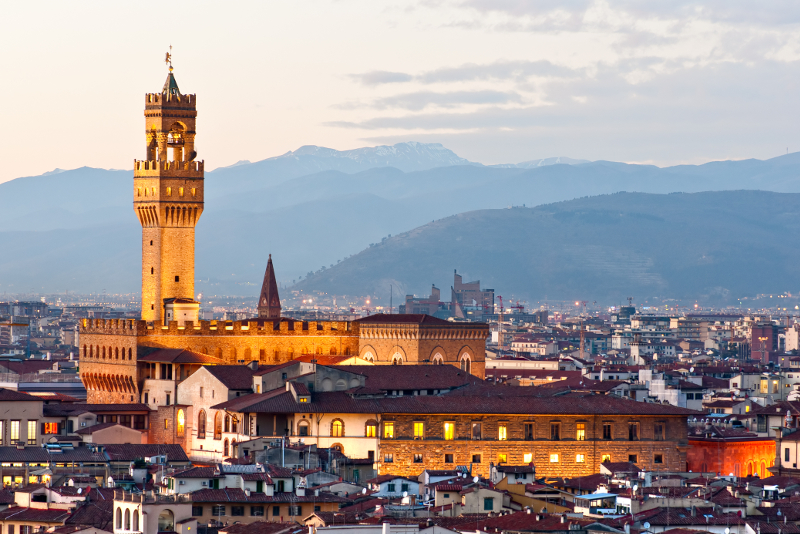 As a former home of the Medici family, the Palazzo Vecchio has a wealth of treasures to see and discover, so it's worth allowing at least an hour, or more if possible, so that you can really take in everything there is to see. Be sure to explore the many different rooms and chambers within, which contain a diverse range of artefacts from the Medici family and other nobility.
The bell tower is well worth a visit to the top, but be wary that there is no disabled access. As the tower is over 82 metres high, there are 414 steps to climb to get to the very top in total, with three distinct levels. There are plenty of resting spots along the climb, so you can take it at your own pace, before enjoy the incredible panoramic views from the top.
The Roman excavation site is also well worth a visit, but if you are travelling with children, be aware that children under 8 are not allowed to visit due to safety reasons.