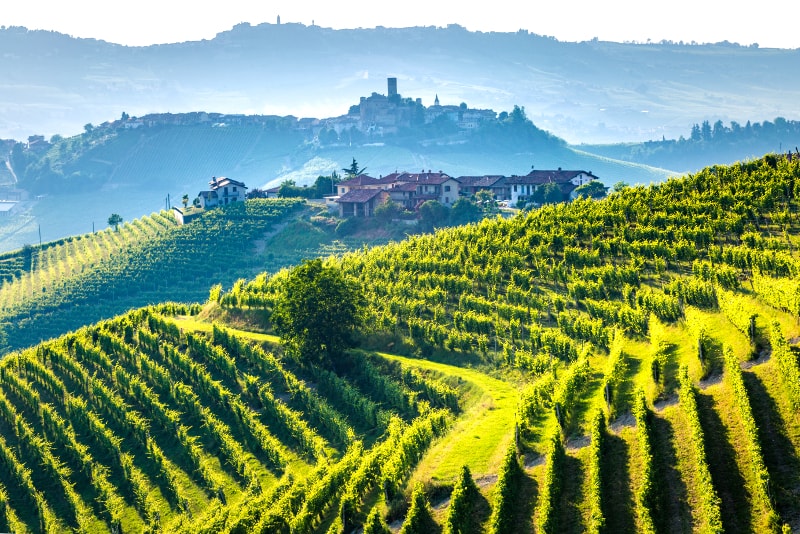 Looking for the best day trips from Florence? Don't miss the chance to explore the rest of Tuscany. We have curated a list of 17 amazing places to visit from Florence. Get plenty of ideas, from the medieval city of Siena to charming hill-top towns.
Read below to find out more about what to see, what to do and how long it takes to get there.
1- Pisa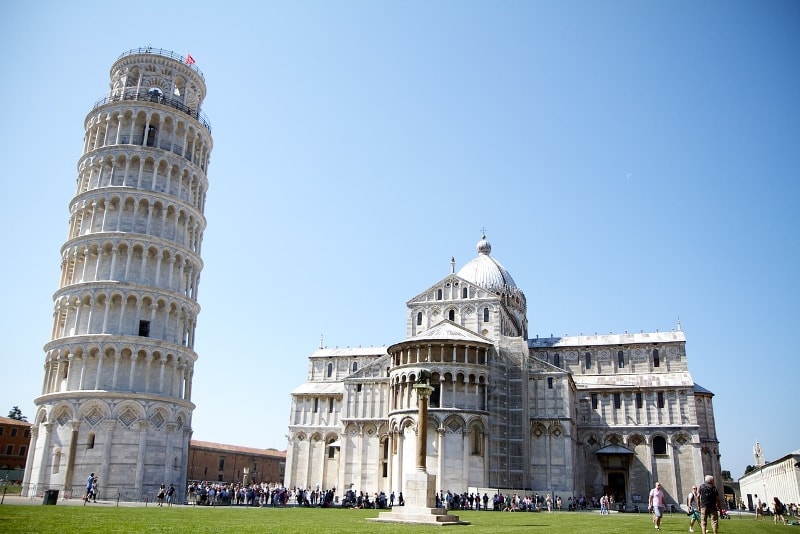 Pisa is just less than one hour away by car and slightly less time by train from Florence. Famous for its leaning tower and much more, you can book a day trip from Florence to Pisa which typically lasts for 5-6 hours, while full-day options are usually 8-9 hours.
Be prepared to walk quite a bit on your day trip. If you're afraid of heights or can get claustrophobic, climbing the leaning tower might not be the right option for you.
There are many day trips from Florence to Pisa so check on TourScanner which are the best tours and prices for your day trip to Pisa.
2 – Siena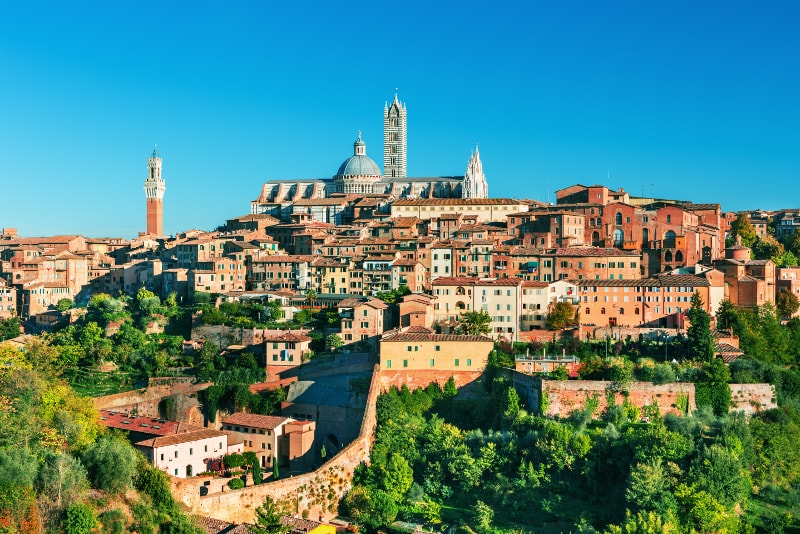 Siena is one of the most popular day trip from Florence. This ancient city boasts of UNESCO world heritage sites. Also famous for its Palio, a horse race which runs in Piazza del Campo two days a year; for its medieval architecture, the Palazzo Civico with its stunning frescoes, and Torre del Mangia, a 400-steps tower for amazing vistas of the city and surroundings hills.
Compare the day trips and tours they do from Florence on TourScanner, where you can check which ones are best suited for you or if they combine the day trip with another city.
3 – Livorno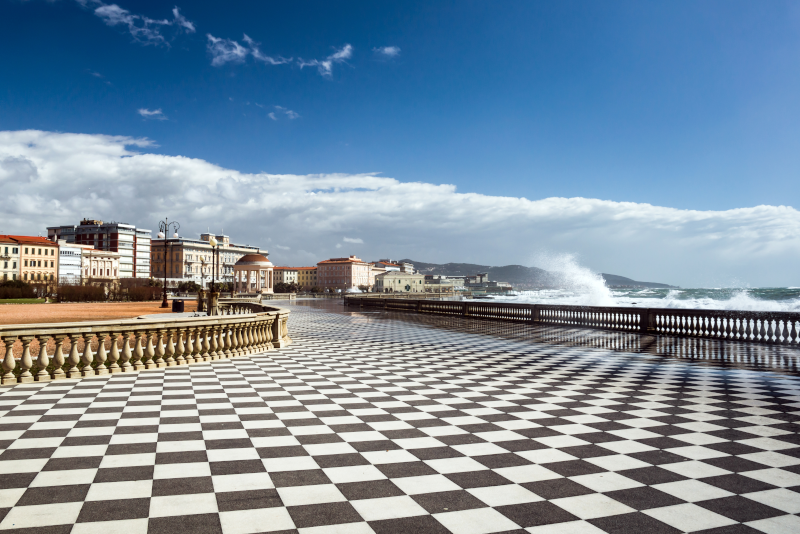 For those who want to combine city and sea, Livorno is your perfect day trip from Florence.  Livorno is one of Italy's traditional seaside resort towns. Not so much of a historical art and cultural city like the other Tuscan cities, Livorno is the place to simply lay back and relax.
You can find a day trip from Florence to Livorno and it can include a trip to Pisa as well. Check on TourScanner for the many day trips on offer.
4 – San Gimignano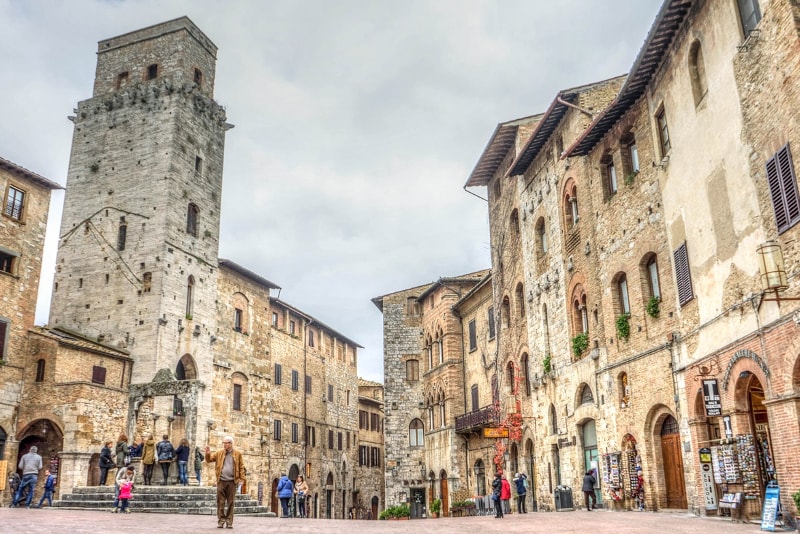 Situated between Florence and Siena, San Gimignano is one of the most picturesque villages in Tuscany. It boasts 14 medieval towers, cobblestone streets to wander around in and admire the old medieval architecture of the buildings. It is just an hour away from Florence.
5 – Chianti Region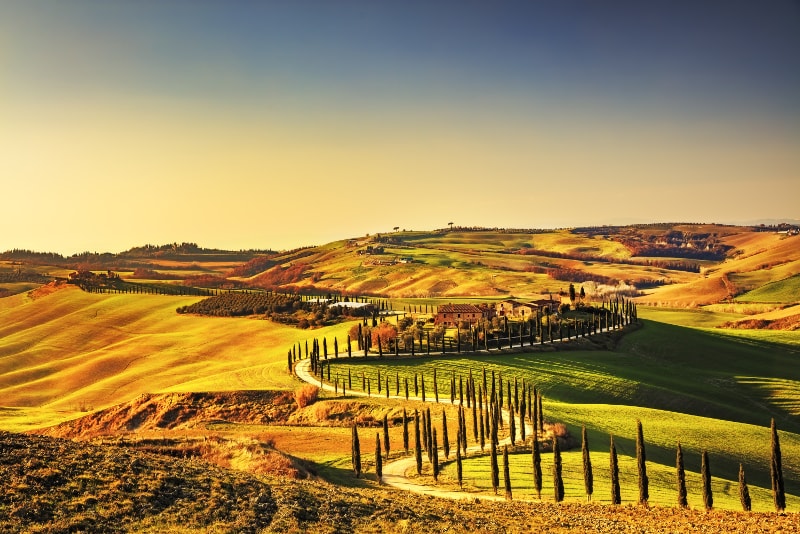 Famous inspiration spot for many artists and photographers, the Chianti Region is formed by Florence, Siena and all the regions between these towns. Its soothing landscapes, savoury food, small towns and its renowned selection of wines. People normally come here on day trips for wine tasting and visiting vineyards.
6 – Greve
A small town in the Chianti region, Greve is a hidden gem with a lot of history, traditions and plenty of wine culture. Greve is a perfect day trip from Florence to explore and stroll around its artisan shops, cafes and coffee shops. If you're looking for a relaxed day, Greve may be your perfect choice.
7 – Saturnia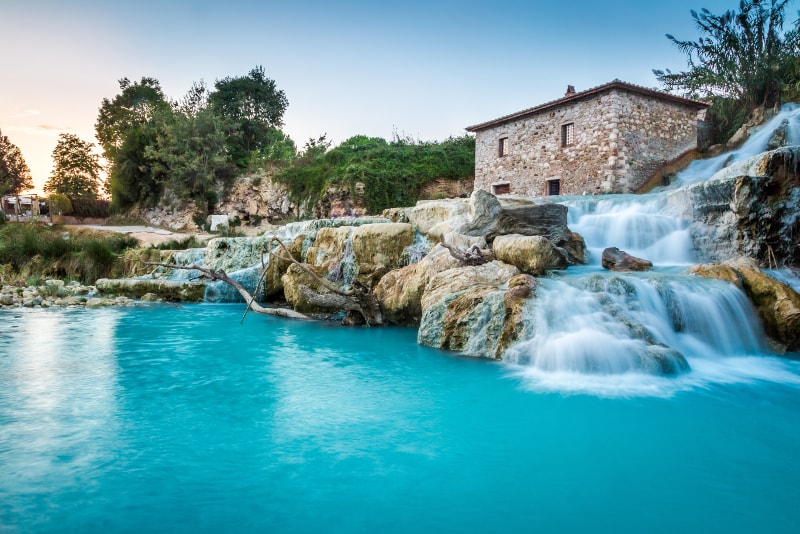 Saturnia is a spa town in Tuscany in North-Central Italy. The perfect destination to relax and unwind. The thermal waterfalls in Saturnia are sulfurous springs in the middle of a valley and they are well known for their therapeutic properties, offering relaxation and well being through immersion in all days.
8 – Orvieto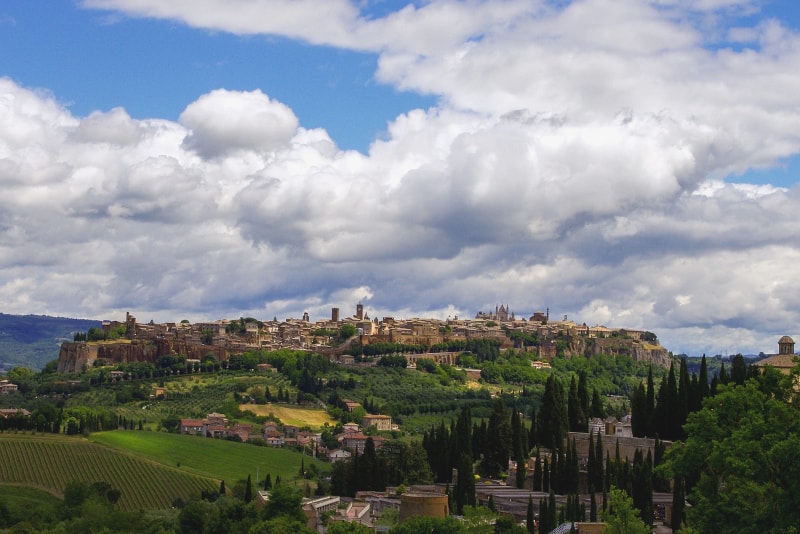 Once founded by the Etruscans on the top of a steep hill made of tufa (volcanic ash stone). The city of Orvieto rises dramatically above the tuff cliffs that are completed by defensive walls built of the same stone called Tufa. The main attractions that can't go unseen are the Duomo and the Papal residence. This quaint town is perfect for wandering around and admiring its architecture.
9 – Arezzo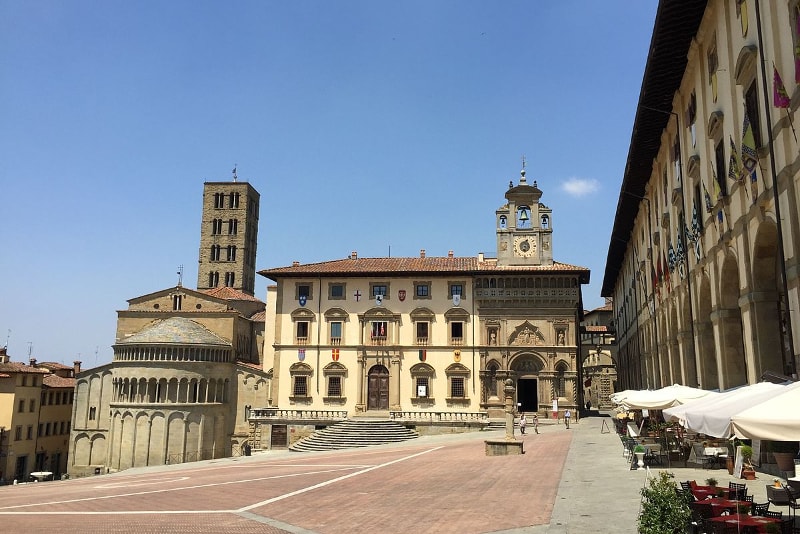 Arezzo, birthplace of the famous Giorgio Vasari and Piero della Francesca so you will undoubtedly find the town full of their art. A town which holds many traditions, from its main square piazza Grande packed with stalls, to cathedrals, its fortress with a 360-degree view of the whole town and more. Arezzo is quite small so you may want to combine your day trip with Cortona.
10 – Cortona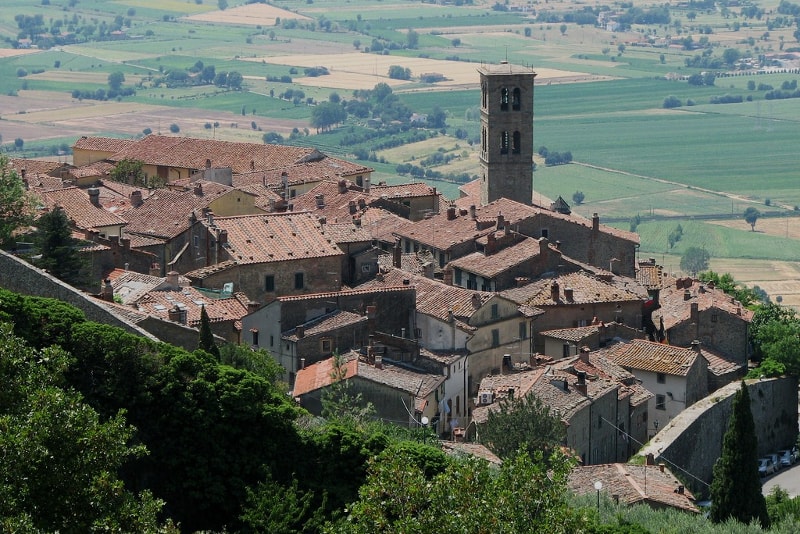 Cortona, an old town with Etruscan origin easy to enjoy on foot and its beautiful surroundings. It holds the Etruscan Academy Museum which displays a wide collection of bronze, ceramic and funerary items reflecting the town's Etruscan past.
Due to Cortona's proximity to Arezzo, there are day trips that combine these two little quaint towns.
11 – Montepulciano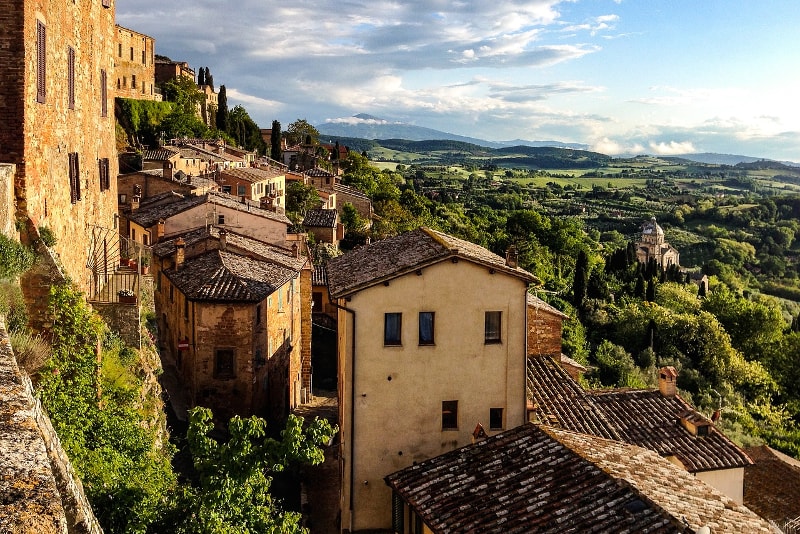 Typical medieval town set atop a hill which holds Renaissance palaces, cobbled streets, dozens of churches and much more. Montepulciano is also surrounded by vineyards that attract a lot of visitors. If you are short on time, you can escape for a half day trip to Montepulciano if you're stopping at Cortona.
12 – Lucca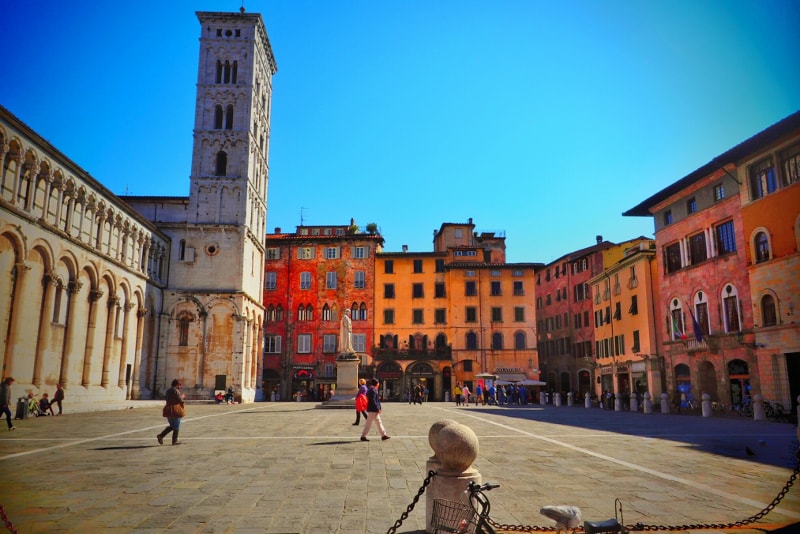 It's Etruscan and Ancient Roman origin has left much Ancient architecture influence. The main attraction in Lucca is its Renaissance defence walls and birthplace of an Italian worldwide known opera composer, Giacomo Puccini.
13 – Cinque Terre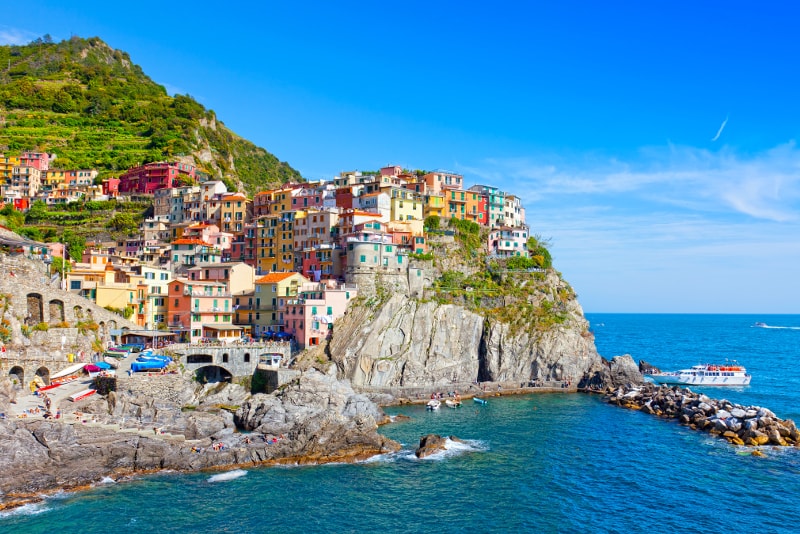 Cinque Terre (translates to "Five Lands" in English) is formed by five small fairytale-like towns which characteristically perch on cliff edges down to the sea front. The towns that form Cinque Terre are Monterosso, Maranola, Corniglia, Vernazza and Riomaggiore and they are very well-recognized in Italy.
Getting to all the different towns by public transport may be very time-wasting. Consider taking a tour where you will have all public transport taken care of or taking a boat trip through which you'll see the towns from the sea. Many providers offer full day trips from Florence to Cinque Terre, such as Viator, Headout or Musement. Have a look on TourScanner so you can compare prices and tours.
14 – Portovenere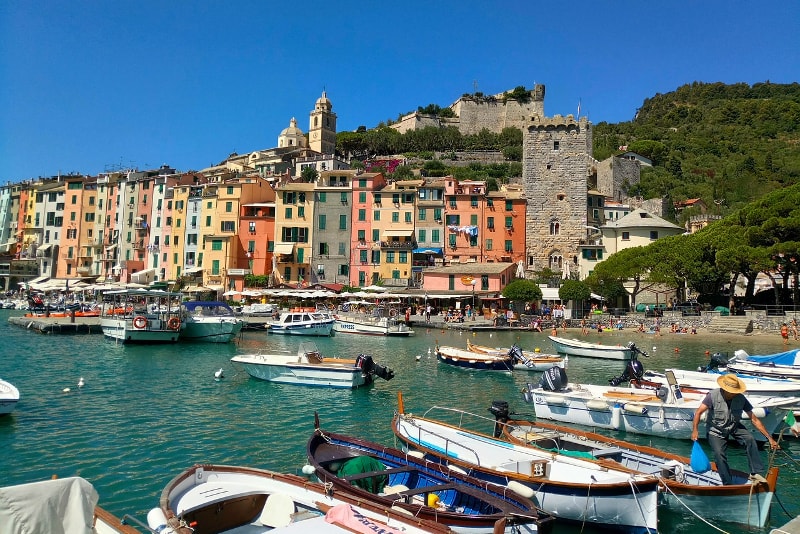 One of the most popular tourist destinations on the Ligurian Coast, Portovenere is best known for its sea caves and fascinating dive sites. Also the town is enjoyable to stroll around and exploring. You can also combine your day trip to Cinque Terre with a Portovenere, due to its proximity.
15 – Montalcino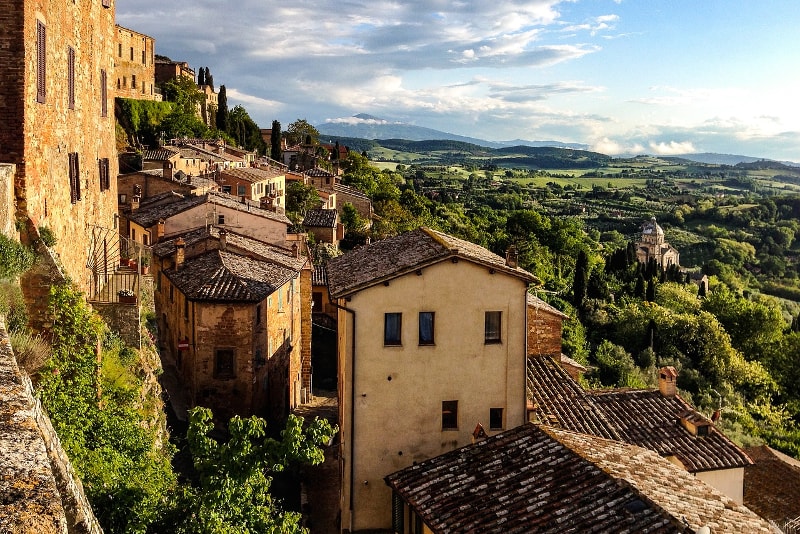 Famous for its wine production, the medieval village of Montalcino is one of the most beautiful destinations of Tuscany. There are thousands of wineries and vineyards to visit and try out their local wine. Perfect for a day trip with wine tasting included.
16 – Pienza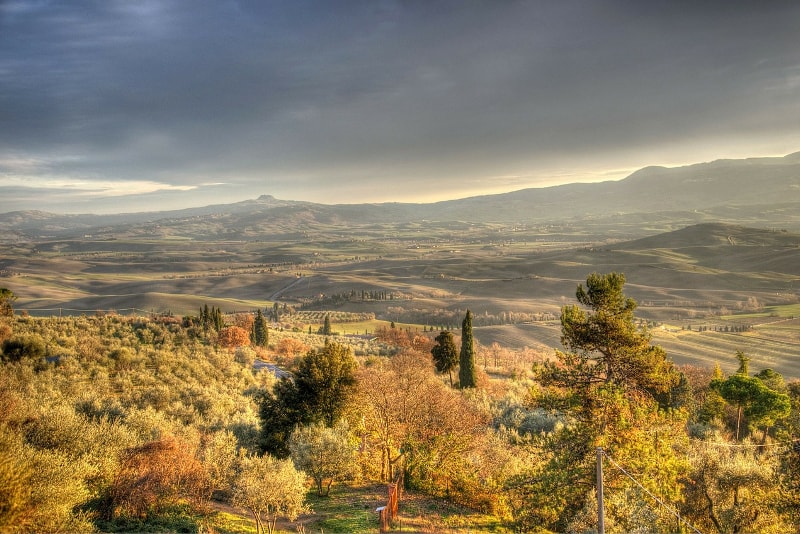 You can find Pienza in the Montalcino region and from here you can have breathtaking views of Val d'Orcia. You will be mesmerized by its cultural heritage, Pienza was once home to the Pope Pius II. Declared UNESCO World Heritage Site due to its well-preserved monuments.
You can combine your day trip from Florence to Pienza with Montalcino and Montepulciano, and if you're a wine lover you should definitely try out the full-day wine tour.
17 – Venice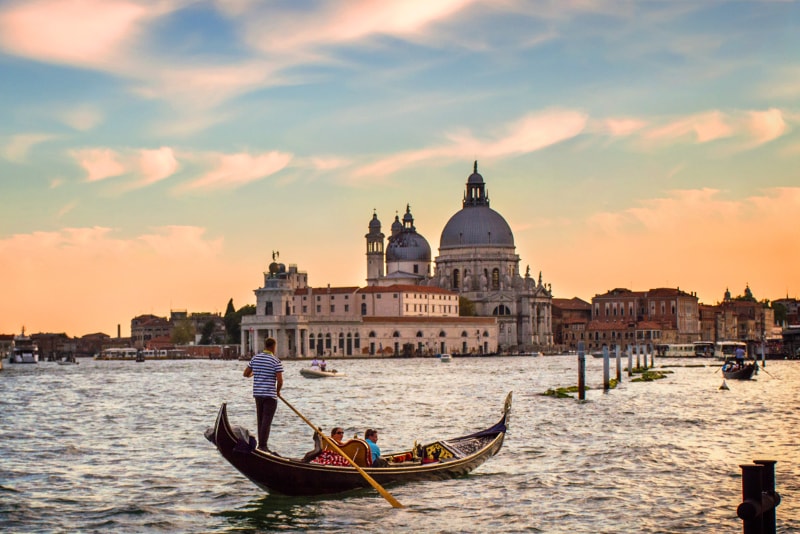 Highly recognized, Venice is one of the most romantic and popular destinations in Italy. Featuring thousands of canals, palaces and gothic style buildings, Venice is for sure one of the most beautiful cities you'll ever see. Though being one of the most expensive, a day trip from Florence to Venice can be one of the best options if you are on a tight budget.
18 – Volterra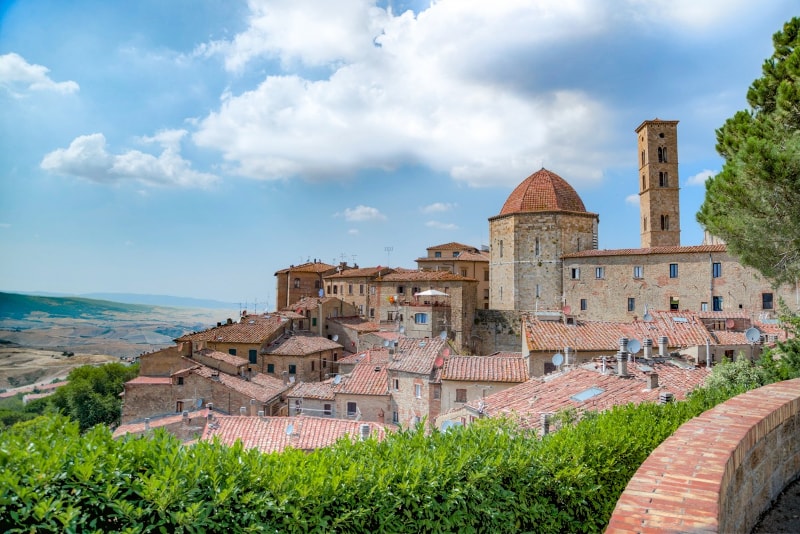 Although a little bit off track from Florence, Volterra is another typical Tuscan town worth visiting. A traditional town atop a mountain surrounded by city walls, where vampire stories originated, the Alabaster Museum and where you can try traditional Tuscan cheese.
Due to being off the track, Volterra is recommended to visit with a day trip from Florence. You have all transport included, wine and cheese tasting, Tuscan lunch and many other good options.
19 – Rome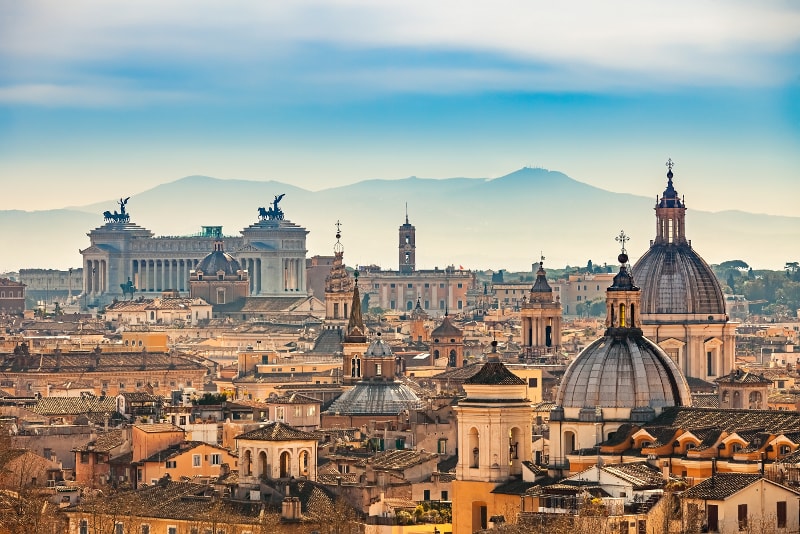 Italy's capital city, just 3 hours away from Florence, is traveller's favourite option. Of course, Rome is home to some of the most impressive architecture in the entire world. From the Colosseum, to the Vatican city, Trevi Fountain and many other monuments, museums and galleries. You will definitely be inspired by Rome's art, architecture and culture. Take your time to visit Rome spending more than one day. You can easily find tickets for museums and attractions on TourScanner. If, on the other hand, you are spending several days in Rome and you would like to take day trips from there, check out our list of 35 best day trips from Rome.
We hope this comprehensive guide helped you find out more about all the different day trips from Florence. Wishing you an excellent time in Italy 🙂