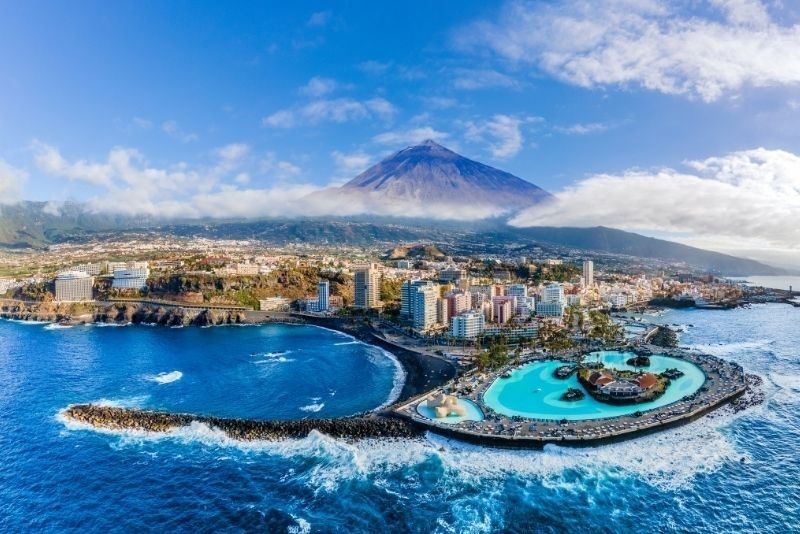 Home to Spain's highest peak and some of the most unique landscapes in the world, Tenerife has long been welcoming visitors to its sun-drenched shores.
The island really packs a punch when it comes to contrasting experiences. Whether you want to climb a volcano, snorkel with turtles, or relax on sandy beaches, there is something here for everyone.
This former ancient capital city has a bout of historical attractions to track down, from natural sites to man-made structures like cathedrals and castles. Spend the day outdoors and compare the island's juxtaposed landscapes — and activities.
Enjoy wine tours of vineyards and cheese tastings in the northern countryside, and explore national parks and local villages. On the south end, sit back and revel in the endless beach days, an incredible restaurant scene and all the resort-y island feels.
Snap photographs of unique architecture dating way back in time as you wander the old towns' cobbled pathways.
Most travelers choose to stay in Costa Adeje on the south end, or Puerto de la Cruz in the north.
Here is the ultimate list of the best things to do in Tenerife.
1 – Harness the breeze on a sailing tour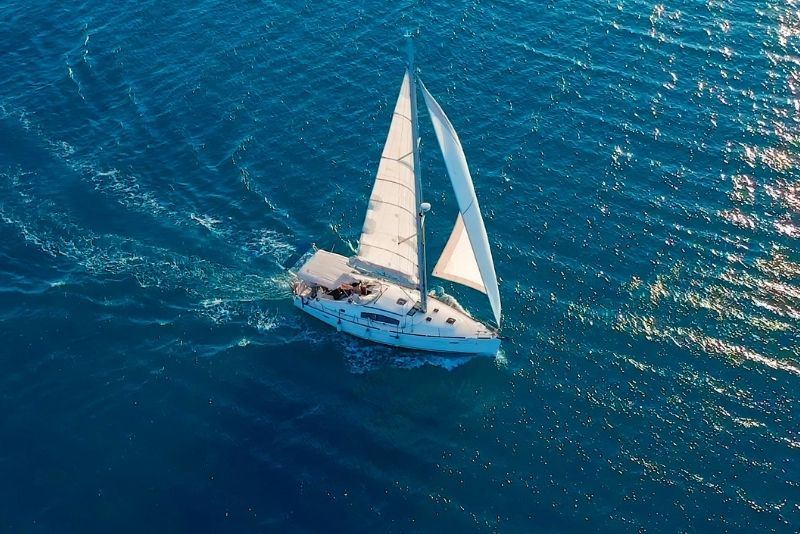 Feel the spray on your face as you glide past towering cliffs, watching whales frolic in the warm Atlantic waters on these fun Tenerife sailing tours. Adventurers can snorkel with turtles and rays, before relaxing on deck with lunch and a glass of bubbly.
As you cruise along you might see dolphins practicing their backflips, which is especially magical as the sun dips below the horizon.
A second option for cruising the coastline is jet boat tours onboard a luxurious speed boat. Suitable for small, intimate groups, spend two to four hours whizzing around southern Tenerife, for example, stopping off to swim in secluded bays and exploring underwater.
From out at sea, pass by natural sites and attractions, like Montaña Grande volcano, El Palmar village and Malpaís de Rasca (a protected nature reserve).
2 – Learn about and show the animals some love at Loro Park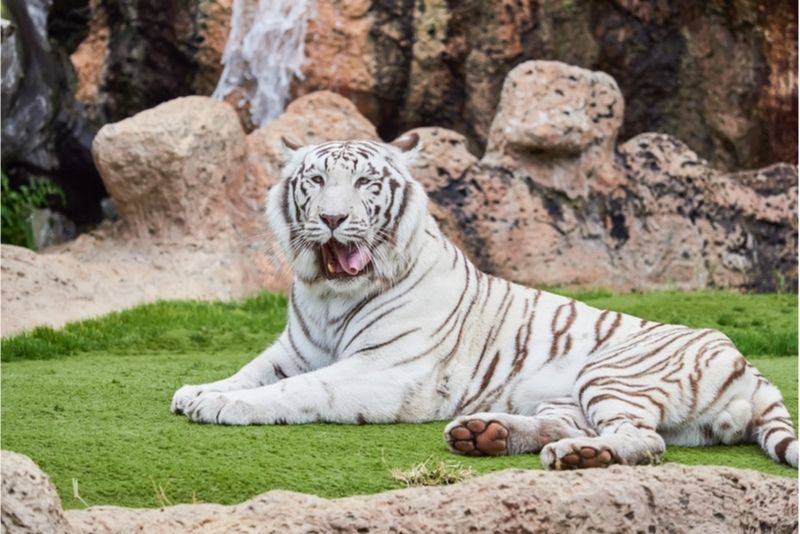 Calling themselves a 'modern zoo', Loro Park is home to over 400 different animal species and continuously helps to rescue, rehabilitate and then release the creatures back into their natural environments.
Red pandas, parrots, western lowland gorillas, seal lions, lemurs, turtles, sloths and flamingos are only a touch of the different mammals, bird species and aquatic animals to see.
Hop on board the Loro Parque Free Express Train and travel around the park, or opt for the 90-minute Discovery Tour and be shown private areas of the park. There are plenty of spaces for children, including the Kinderlandia play area.
3 – Feel the thrills on a whale watching cruise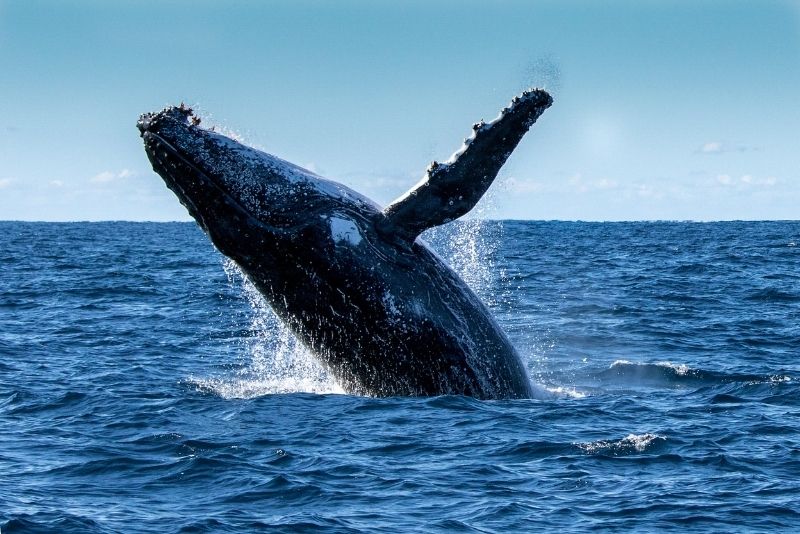 Whale watching in Tenerife will be one of your vacation highlights, with sightings of humpback and pilot whales occurring all year round. You might also encounter dolphins leaping through the waves, and turtles bobbing on the surface.
Tuck into lunch, take a dip in the ocean, and relax on the deck of your catamaran or yacht with a spot of sunbathing.
4 – Climb to the top of Mount Teide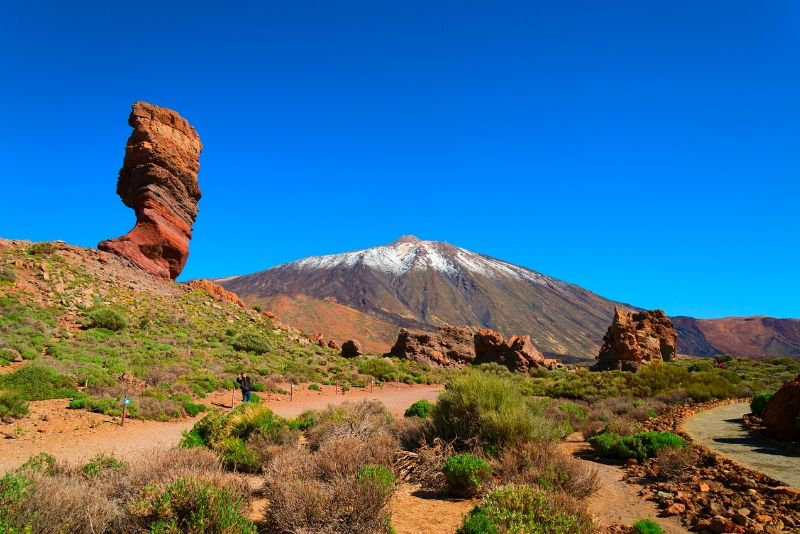 Lace-up your boots and traverse dramatic lava fields as you hike up Pico del Teide, or board the cable car and soak up panoramic views of the caldera as you climb skywards.
Taking a tour of Mount Teide is one of the most unique things to do in Tenerife, after all, it is not every day that you get to stand on top of a volcano.
If you're looking for a little bit of adrenaline, enjoy the fact that you're standing at one of the best places in Europe to venture on a breathtaking paragliding flight, all the way from Pico del Teide to Puerto de la Cruz, glimpsing the marvelous landscape of the island.
Cycling enthusiasts; one of the most well-loved biking trails is on the way to the volcano, and around the actual mountain. Bike tours for this area are not for the faint-hearted, and some sort of fitness level is required.
5 – Take a tour of Santa Cruz de Tenerife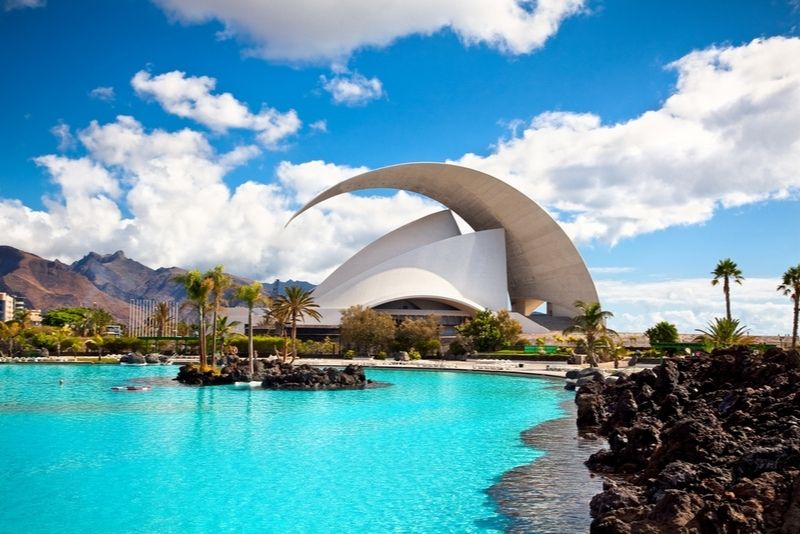 Free walking tours in Santa Cruz de Tenerife are the best ay to discover this buzzing city. Find hidden backstreets and seafront rock paintings, before stopping at the African market for souvenirs crafted from lava.
Stroll through sunny plazas while your expert guide lets you in on insider secrets, including where to find the best local sweets.
6 – Take a fun tuk tuk tour around Costa Adeje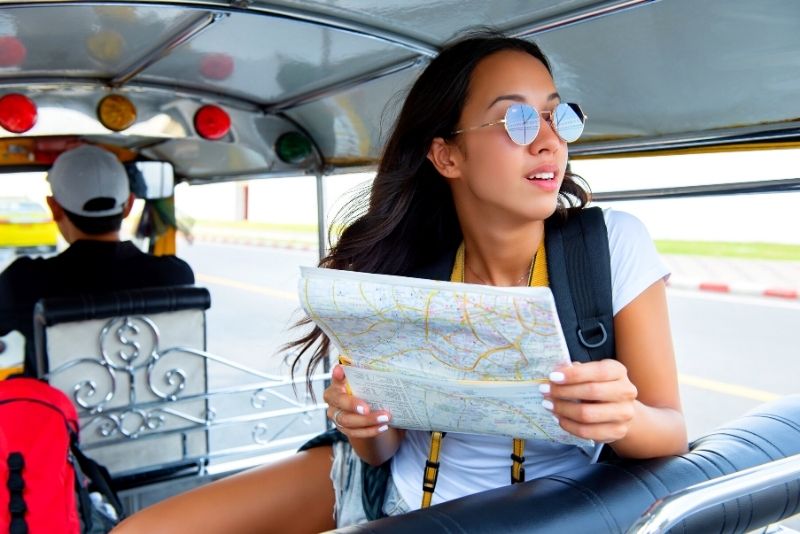 Home to a plethora of fancy resorts, idyllic beaches and incredible restaurants, Costa Adeje is a haven for a couple's retreat on the south side of the island. However, it's not just limited to a certain type of traveler and the tourist hot spot is also favored by families with younger kids …
Siam Park (a Thai-inspired waterpark) and Aquapark are here, and there are plenty of activities to keep children enthralled, like whale-watching outings.
If you've never ridden a tuk-tuk before, hop into the three-wheeler and zoot around the city for an hour. Be shown not-to-miss monuments, sites, the best beaches and the harbor waterfront during tuk tuk tours.
7 – Explore the coastline by kayak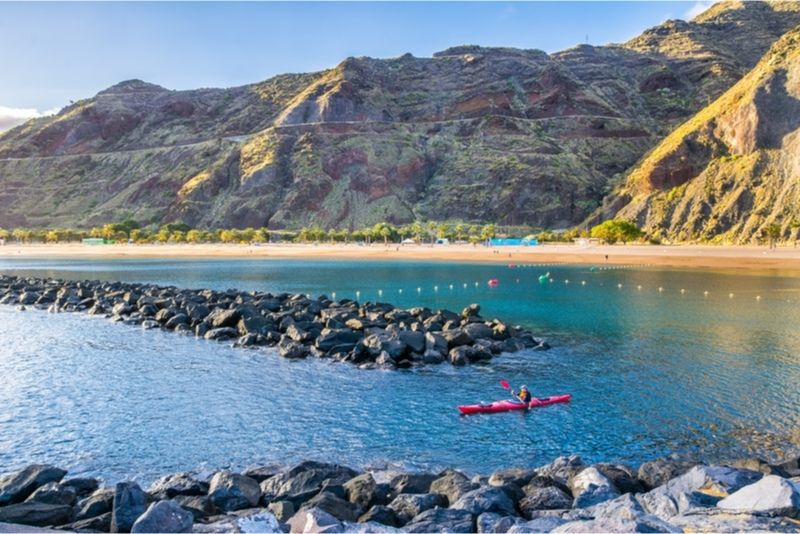 Paddle through marine reserves in search of dolphins and turtles on some of the best kayak tours in Tenerife. Float beneath cliffs, venture into hidden bays, and discover secret caves tucked away on the coast.
Some tours include swimming and snorkeling in sheltered spots, while sunset kayaking trips add a splash of romance to the day.
8 – Go hiking in Anaga Rural Park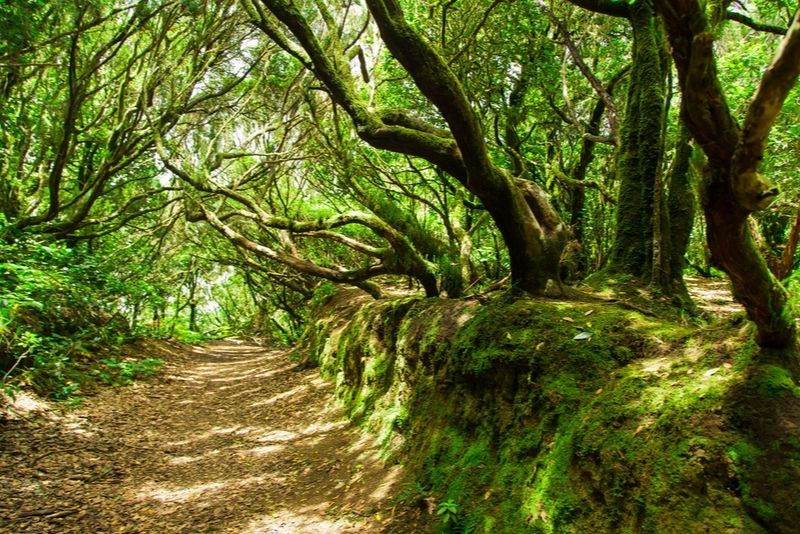 Hiking tours in Anaga Forest are a great way to explore one of the island's oldest areas. Breathe in the scent of ancient laurel trees and discover unique flora and fauna around every corner.
Guided walks in Anaga Rural Park vary in length and are perfect for beginners and seasoned walkers alike. On longer hikes you can explore the unusual cave houses of Chinamada.
9 – Snorkel with sea turtles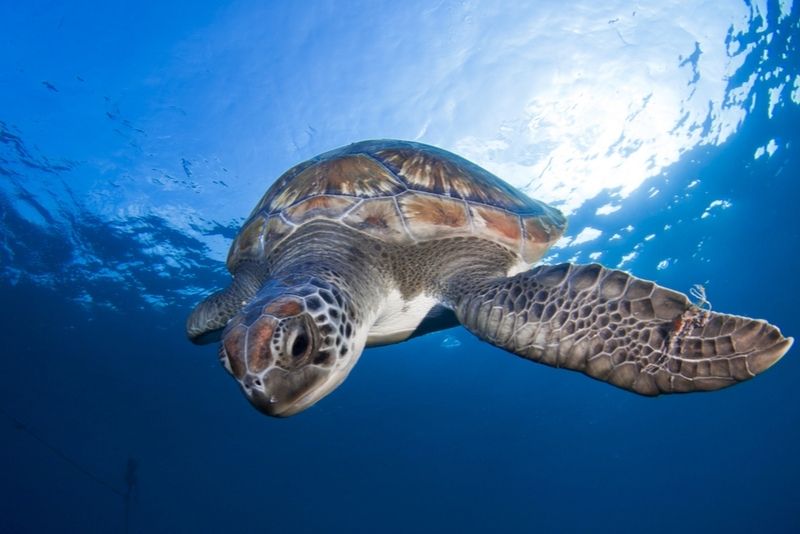 There is something magical about swimming beside these graceful turtles as they propel themselves through the blue ocean. You will see other colorful marine life during your Tenerife snorkeling tour, which can be enjoyed by yacht or catamaran.
Adventurous explorers can paddle along the coast by kayak for the ultimate aquatic experience, getting up close to stunning scenery as well as making friends with the turtles.
10 – Stroll the cobbled streets of Garachico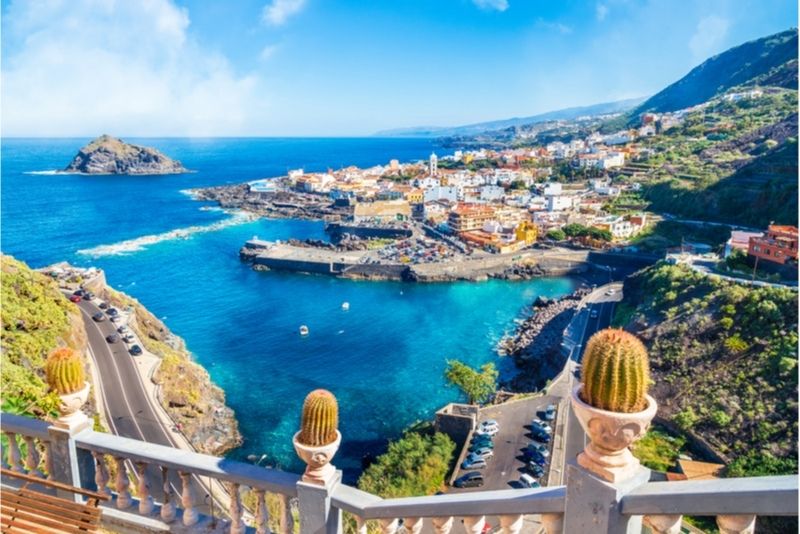 Garachico is one of those places where time stands still, and you can too. This colorful colonial town is all about wandering slowly through historic streets where buildings with wooden shutters are draped in bougainvillea.
Visit Castillo de San Miguel before enjoying some local ice cream beneath a shady palm tree in the plaza. To cool off, take a dip in the natural pools at El Caletón.
11 – Brave waterslides at Siam Park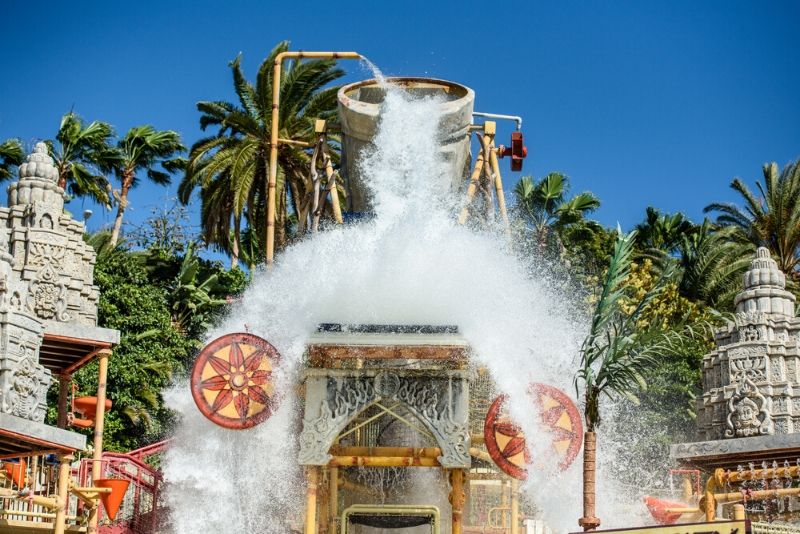 The perfect antidote to the heat is a trip to Siam Park where waterslides and wave pools will cool you down in no time. Will you be brave enough to take the plunge down a vertical chute, or navigate the raging rapids by inflatable boat?
For something more serene, float down the tropical Mai Thai River or chill out on Siam Beach.
12 – Unleash the adrenaline on a jet ski ride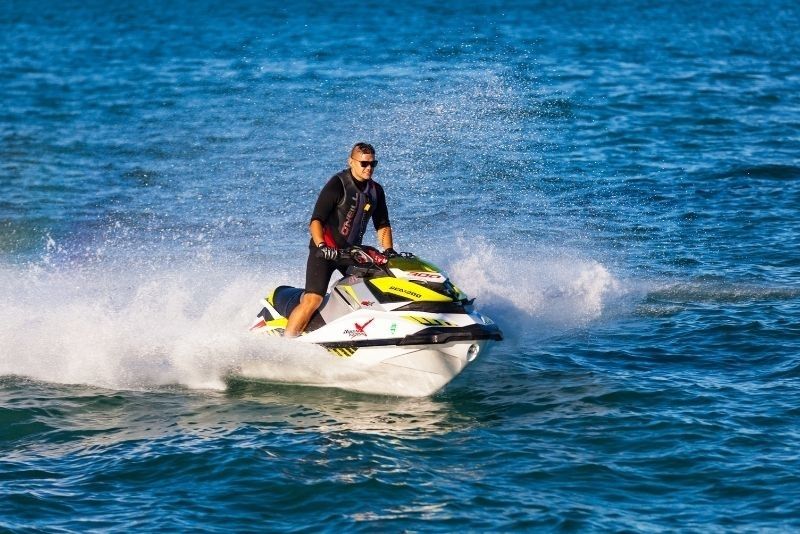 Bounce along the waves of Tenerife's southern coast on a thrilling jet ski ride. The marine reserve is home to dolphins and turtles, so you might have company as you power through the ocean.
Explore secluded bays and mysterious caves with your guide, then marvel at the colossal cliffs looming high above. Keep an eye out for Red Mountain and the iconic Punta Rasca lighthouse.
13 – Take a day trip to La Gomera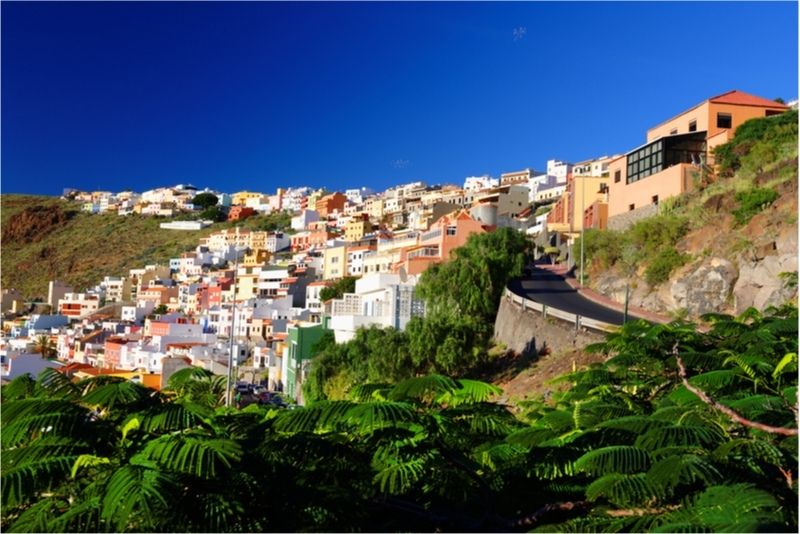 Retreat to the sleepy island of La Gomera and explore one of the best natural reserves in the Canaries on a day trip from Tenerife. After a short ferry ride delve into the lush interior where strange volcanic formations, green forests, and hillside villages await.
Most La Gomera day trips include a traditional lunch and a stop at the stunning Vallehermoso viewpoint for photos.
14 – Chill out at El Medano beach and surf town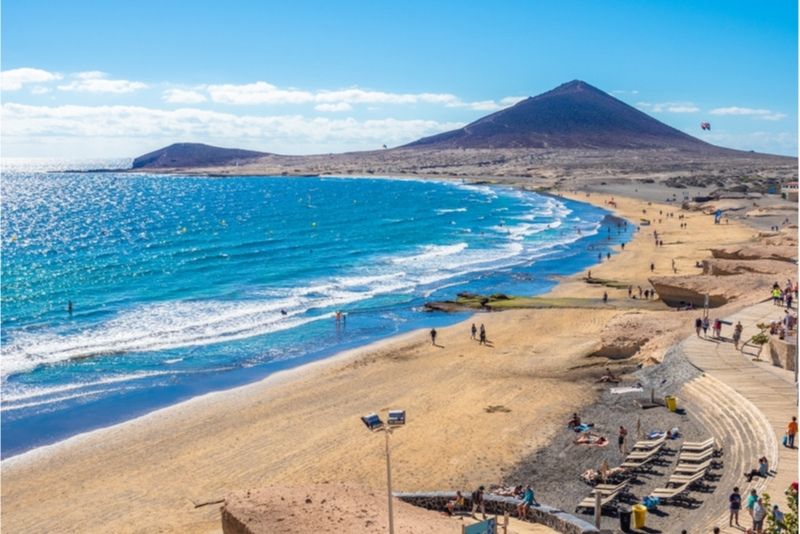 Kick back and relax in this laid-back surf town on the south-east coast of Tenerife. Take to the waves and try windsurfing or kitesurfing wander through the cobbled backstreets and soak up the bohemian vibe.
After some well-deserved beach time treat yourself to freshly caught seafood at a promenade restaurant before popping to an ice-cream parlor or crêperie for dessert.
15 – See a real dragon tree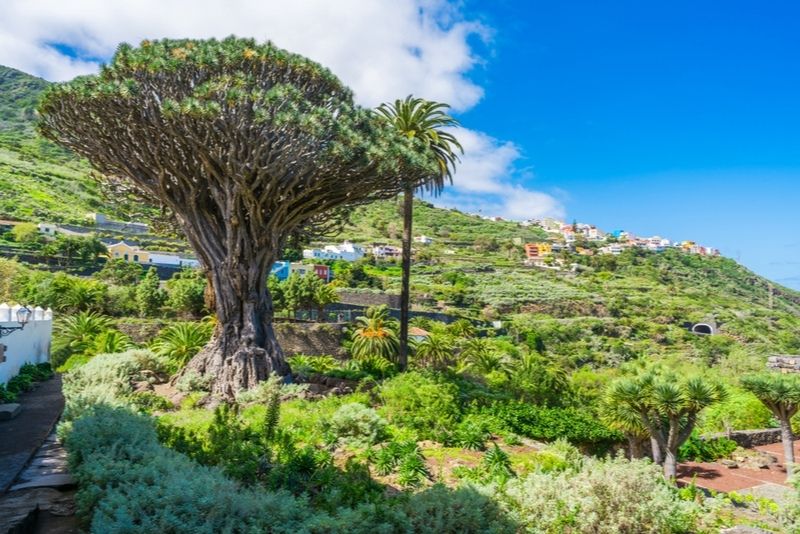 Have you ever seen a tree that bleeds dragon's blood? There were once lots of dragon trees here on Tenerife but few remain today – their red sap boasts healing properties so most have been harvested over the years.
At around 1000 years old this unusually shaped specimen in Icod de los Vinos is thought to be the oldest dragon tree in the world, so seeing it with your own eyes is a real treat.
16 – Watch dolphins in the wild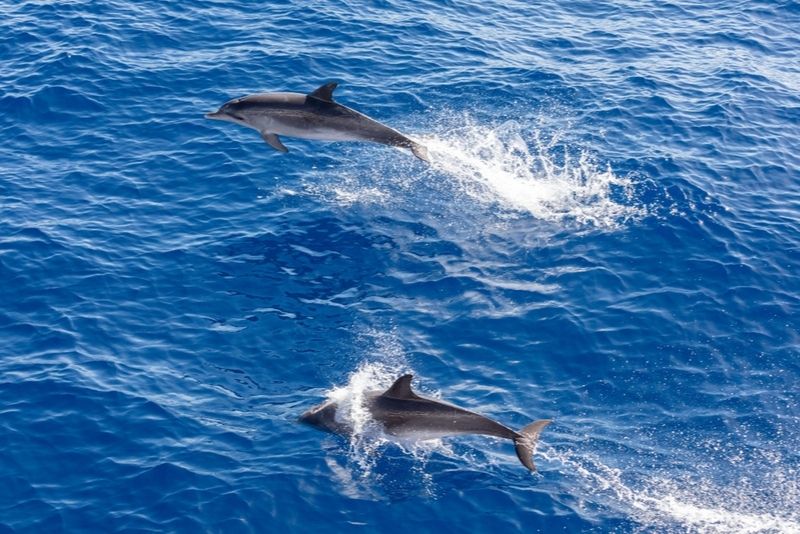 Is there anything quite so magical as encountering dolphins up close? The best way to see these playful creatures in their natural habitat is on a Tenerife dolphin watching cruise.
Keep an eye out as you sail past magnificent cliffs and secret bays – make sure your camera is handy. Jump overboard for swimming and snorkeling or stay on deck and listen to the enchanting dolphin chatter using sonar equipment.
17 – Ascend Mount Teide by cable car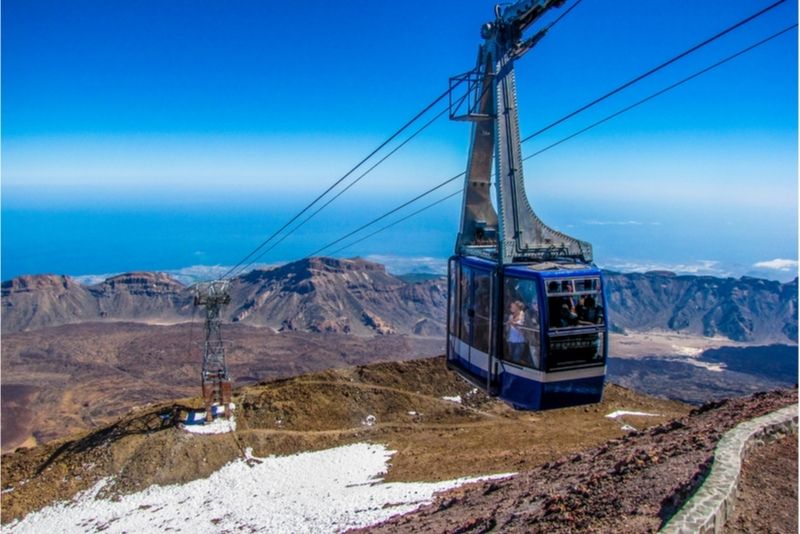 Conquer the highest point in Spain without breaking into a sweat and be rewarded with sweeping island views. The dramatic cable car ascent will take your breath away so make sure you keep your camera handy.
Wrap up warm and explore the rocky volcanic hiking trails that skirt the summit. Choose an evening Teide tour to catch the sunset, which is one of the top things to see in Tenerife.
18 – Admire the dramatic cliffs of Los Gigantes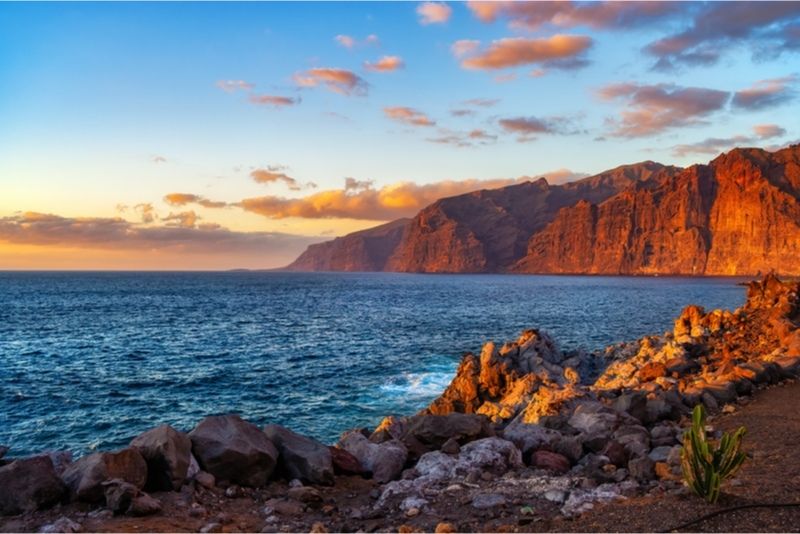 The best way to appreciate these imposing sea cliffs is from the water. Jump aboard a Los Gigantes boat tour and take in some of the most dramatic scenery in Tenerife, along with whale watching and swimming opportunities.
Alternatively, take a kayaking tour and admire Los Gigantes at your own pace as you paddle through the area. Unwind by the crystal clear water (don't forget the snorkeling gear!) and enjoy a more in-depth overview of the stunning volcanic landscape that wouldn't be possible by boat.
For those who prefer sticking to dry land, Los Gigantes can be visited on a Tenerife day trip and combined with stops at Masca and Teide National Park.
19 – Stroll around San Cristobal de La Laguna
Travel back in time as you wander the historic streets of this charming UNESCO World Heritage Site. Pay your respects at La Laguna Cathedral and head to the Plaza del Cristo market to buy hand-crafted souvenirs.
Keep your camera handy for Casa Salazar, an ancient palace with an intriguing history, and take enviable snaps of sunny plazas and colonial architecture.
Dating to the 15th century, pass by colorful buildings along the cobbled roads, or stop for tapas and sangria in the former capital city of ancient Tenerife.
Surrounding the outskirts of the old town are countryside landscapes and fairy forests, like the Esperanza Forest (officially Bosque de Esperanza). Venture to nearby towns such as Taganana and Las Teresitas beach — a further 30 minutes drive from this local village.
20 – Discover the Pyramids of Güímar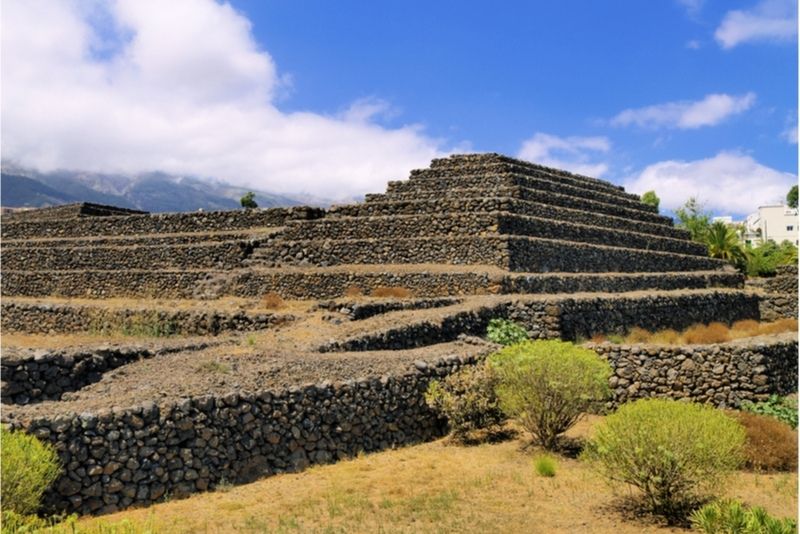 Egypt is not the only destination with pyramids, and the 19th-century lava stone monuments here on Tenerife are just as mysterious. These six pyramids look similar to the Aztec temples in Mexico, and archaeologists continue to argue about their origins.
Visit the Güímar Ethnographic Park to discover the truth and walk through the themed gardens to mull it all over.
21 – Hold tight on an exhilarating ATV adventure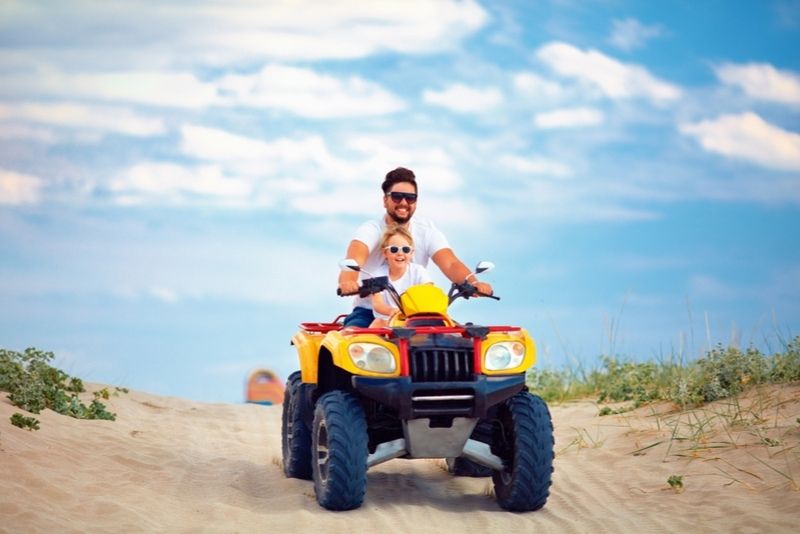 Venture well off the beaten track on an ATV tour in Tenerife, one of the most exciting ways to see the island. Explore lush forests, charming villages, and the lunar landscapes of Teide National Park as you power through the lava fields.
Breathe in fresh mountain air as you discover places few tourists get to see and stop at all the best viewpoints.
22 – Scuba dive with marine marvels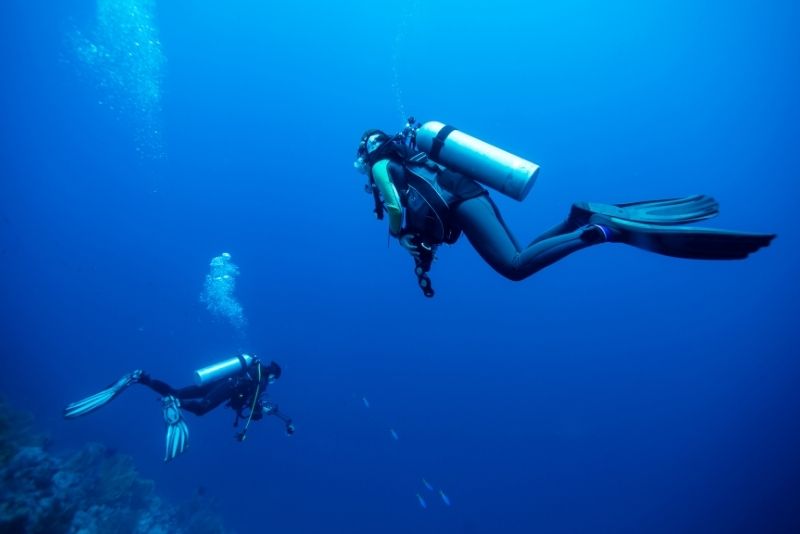 One of the most thrilling things to do in Tenerife is to go scuba diving, and there are numerous tours for beginners and experts alike.
Come face to face with turtles and maybe even dolphins as you glide through this pristine underwater world. If you are lucky you might be joined by rays and perhaps an octopus or two.
23 – Head into the hills at Masca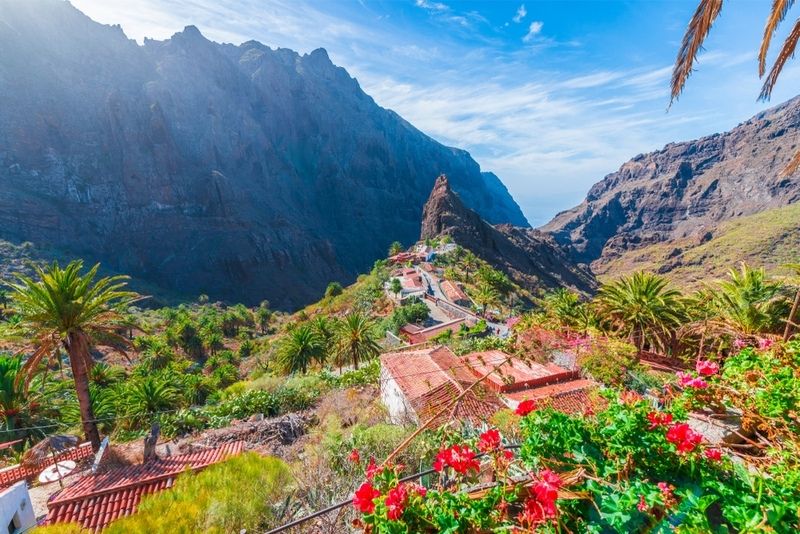 Try not to let your jaw drop as you head over dramatic mountain passes and negotiate hairpin roads on your way to the tiny hillside village of Masca. The journey is as beautiful as the settlement itself, which is hidden away in a remote gorge in Teno National Park.
Walk down into this historic village and visit the church, learn about pirates, and enjoy lunch at a restaurant with a view.
24 – Go on an island jeep safari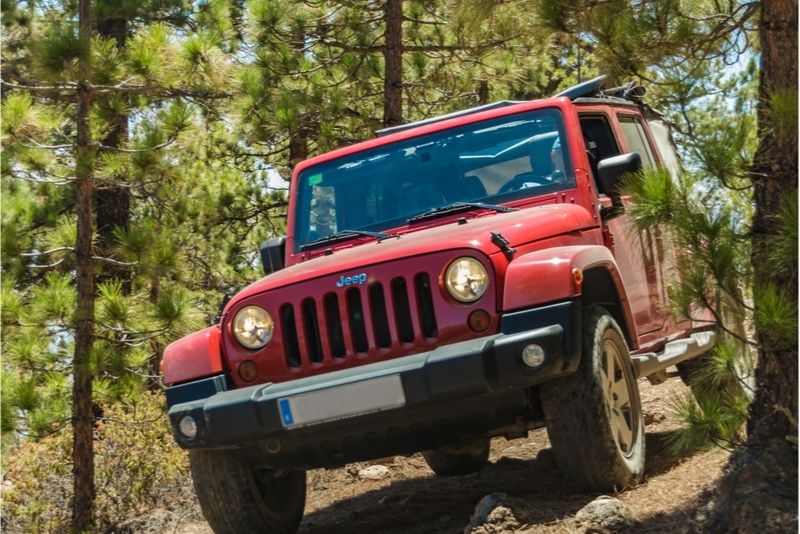 See the best of Tenerife on a full-day 4×4 jeep tour around the island. Stopping at major highlights such as Teide National Park and the pretty mountain village of Masca, these excursions are a must for curious explorers.
Learn about island culture from your experienced local guide and capture otherworldly landscapes on camera at some of the best viewpoints on the island.
25 – Meet the marine life in Tenerife by mermaiding or freediving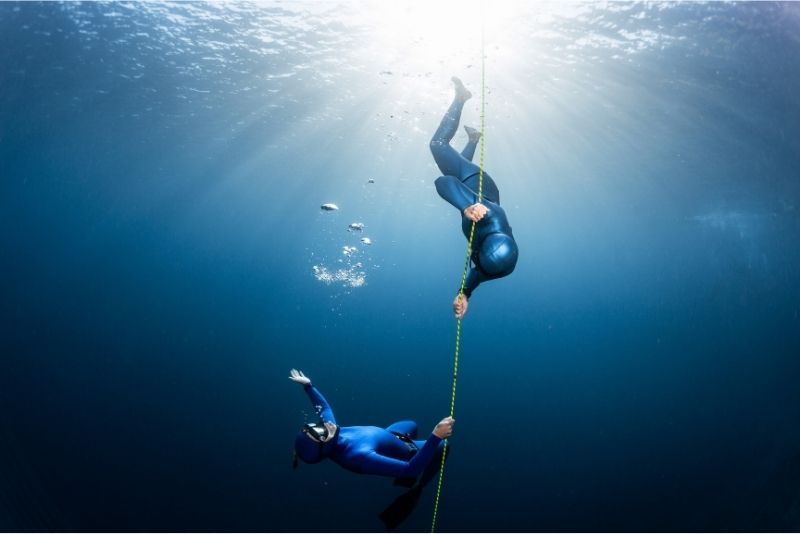 Revel in the vibrant underwater creatures of Tenerife in their freest form – freediving – or swimming with monofins like mermaids do. Be one with the colorful fish, sea turtles, dolphins, and even whales if it's your lucky day, as you interact with them in their natural habitat.
Tenerife offers various dive sites suitable for freediving – from shallow coastal areas to deeper offshore locations, with interesting rock formations, volcanic reefs, and even shipwrecks.
26 – Walk barefoot along sandy beaches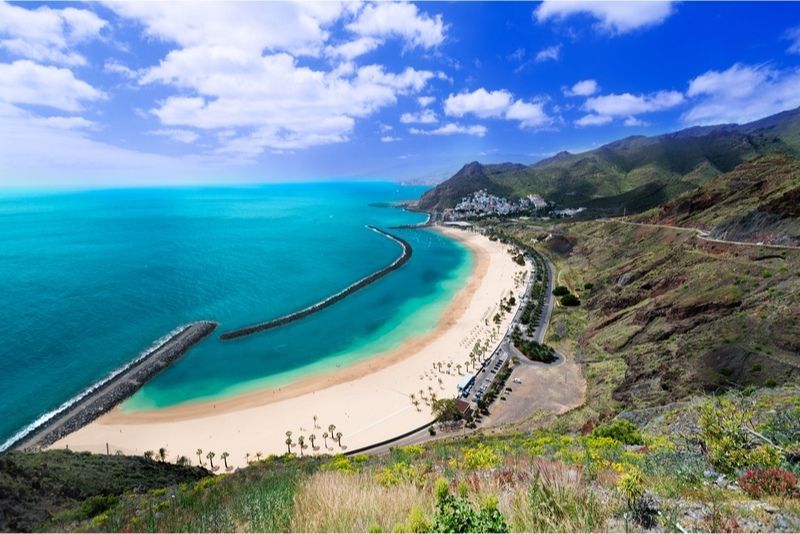 Some of the best beaches in Tenerife include Playa de las Teresitas, famous for its mile of powdery white sand, and Playa Jardín, home to warm black sand and magnificent views of Mount Teide.
For something a little wilder kick off your shoes and stroll along the more isolated sands of Playa de la Tejita. Meanwhile, sunset chasers and photographers should visit Playa de Benijo to see rocky silhouettes outlined against fiery red skies.
Boasting fine, soft sand and a calm ocean, Playa de Los Cristianos is loved by families, as well as yogis. Speaking of, the beach is often the setting for yoga classes in Tenerife. With the ocean as your backdrop, you can't help but feel zenned out during the one hour and 15 minutes.
A second spot for beach yoga is down at the beach in El Medano. The intimate group classes are limited to five people, and the one-hour sessions are suitable for all levels, including beginners.
27 – Soar above Tenerife while tandem paragliding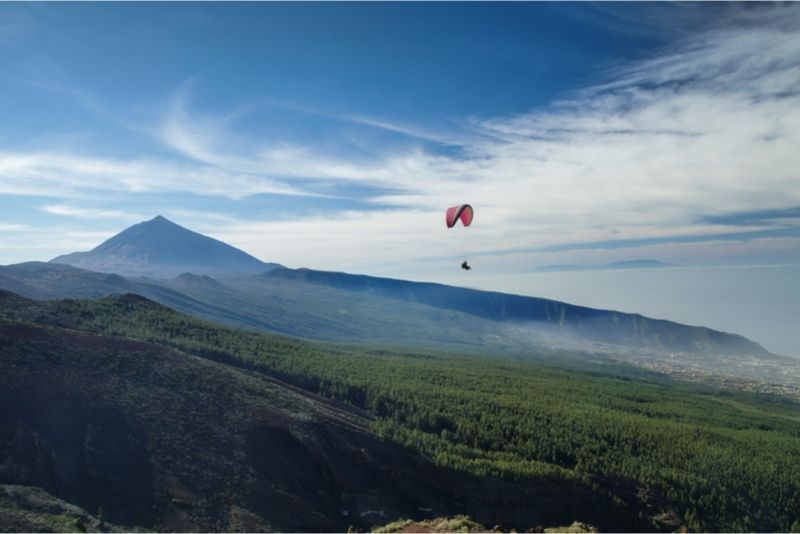 Take to the skies on a Tenerife paragliding tour and see the island from a different perspective. Discover what it feels like to be a bird, floating on the thermals high above dramatic volcanic formations and the rugged coastline far below.
The skilled pilots know what they are doing so just relax and enjoy the spectacular views.
28 – Venture deep into the Jungle Park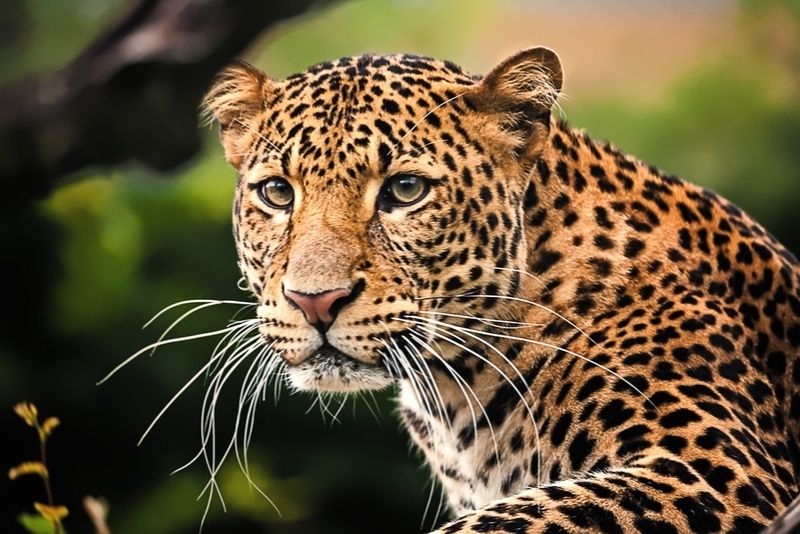 Go wild in Tenerife's Jungle Park, where over 500 animals will keep you entertained for hours. Watch out for cheeky monkeys and ravenous crocodiles as you explore this vast rainforest kingdom, which is one of the best places to visit in Tenerife for families.
See live shows starring playful sealions and acrobatic macaws, then head to the penguin enclosure for feeding time.
29 – Venture off to La Orotava Valley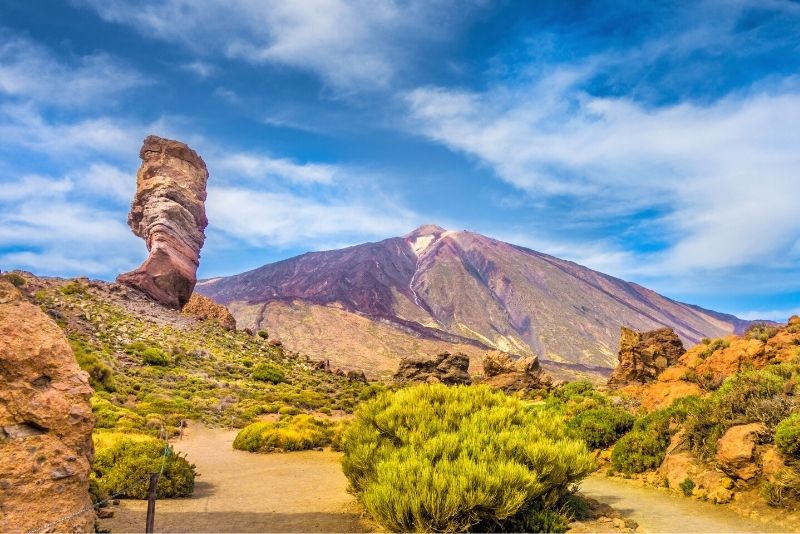 Situated on the north side of the island, visitors to La Orotava Valley are greeted by a hilly countryside where wine production prevails. Walking trails around the hillsides are popular too, followed by a few glasses of vino at a local bar down in La Orotava town.
Apart from the grapes that flourish in this part of Tenerife, there are other farms in the area that grow fresh produce. Enjoy a La Orotava Banana Plantation tour overlooking Mount Teide.
The valley is a short 20-minute drive from touristy Puerto de La Cruz.
30 – Relax at the Aqua Club Thermal Spa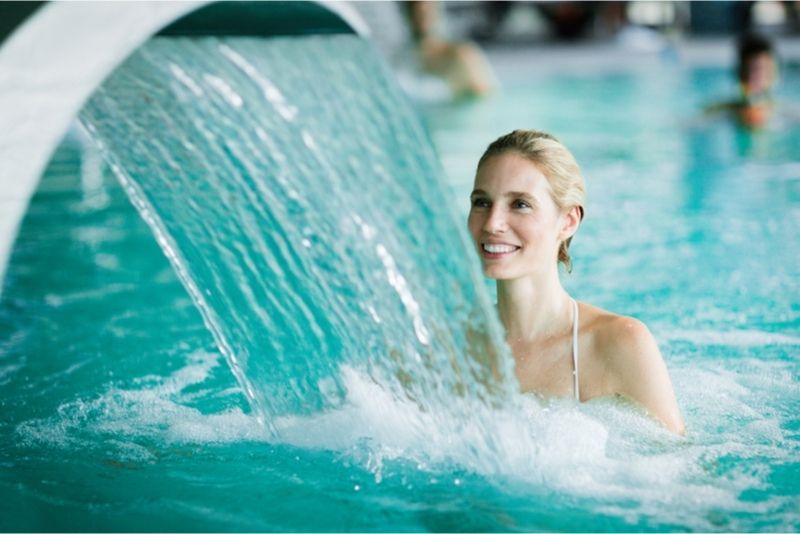 Unwind after your adventures at the Aqua Club Thermal Spa retreat, a temple of health, beauty, and wellness. Get your senses invigorated in the whirlpool bath and sea salt pool, before reclining in the sauna after a massage.
Make sure you try the toning pool and footbath so you leave feeling fully rejuvenated.
31 – Visit Puerto de la Cruz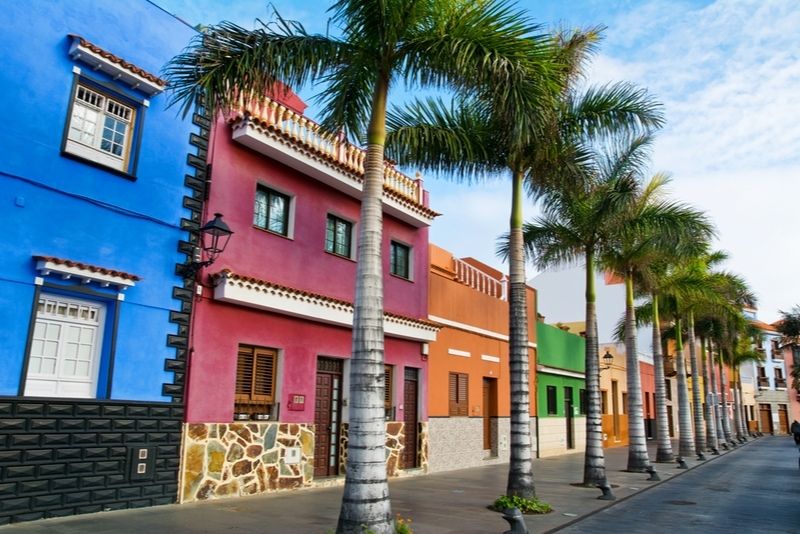 Enjoy a more tranquil afternoon by exploring historic streets in the old town and taking photos of the quaint harbor. Then quench your thirst in one of the colonial-style cafes that line the leafy plazas.
Located one hour away from the center of Tenerife, city tours include private transport to and from Puerto de la Cruz and travelers have eight hours to freely roam the thriving tourist hub.
Sightsee iconic attractions around town like the Plaza del Charco and Paseo de San Telmo (a historic promenade dating to the 18th century).
Alternatively, consider dedicated segway expeditions for exploring. Driving a standing two-wheeler, get to see more of the city in a shorter space of time.
Take one hour to investigate the historical district, or choose to venture the local neighborhoods. There are special segway tours for just children and ones that are for adults only.
32 – Try surfing at Playa de las Americas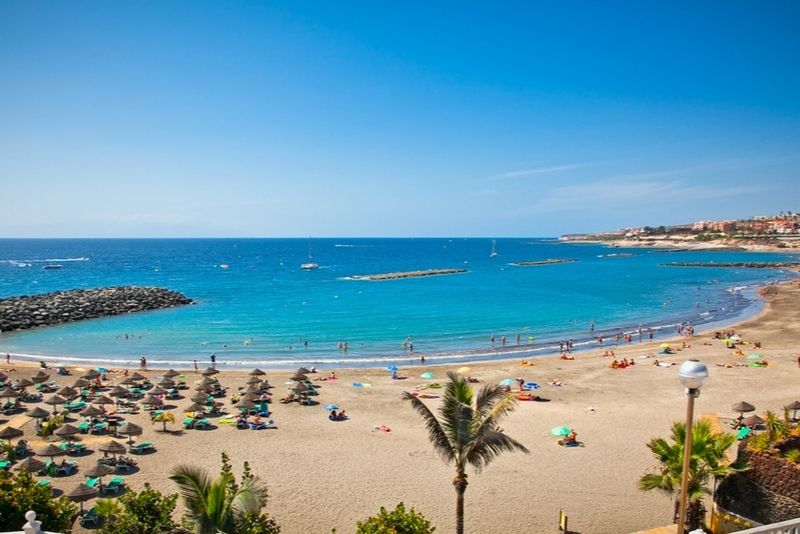 Learn how to ride the waves at Playa de las Americas with a family-friendly Tenerife surfing lesson. The sandy beach is a great place to hone those skills so you can confidently take on the ocean.
Group and private lessons are available, and enthusiasts can book multiple sessions to make the most of their time in the water.
Windsurfing, jet skiing and diving are also activities to do at Las Américas beach, or feel like Aquaman walking on water with an epic flyboard session!
33 – Enjoy the rush of flying through the air on paramotoring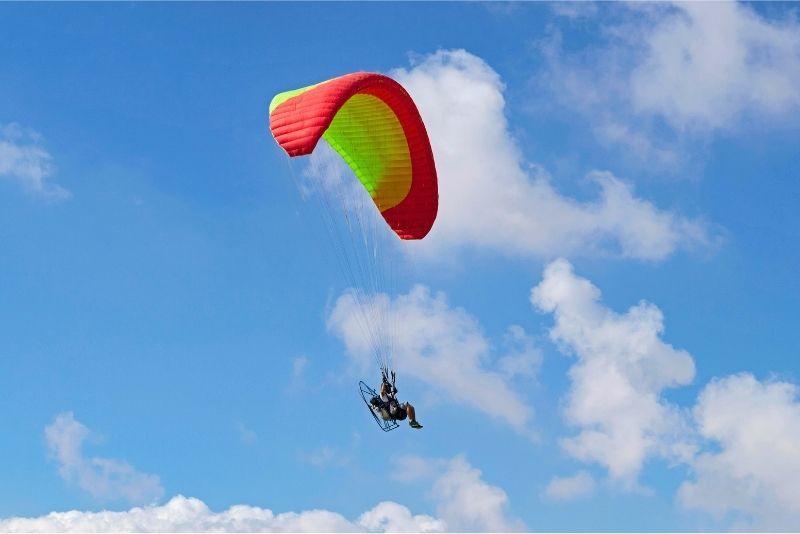 Feel the wind on your face, as you experience the thrill of paramotoring in Costa Adeje on Tenerife's southwestern coast. With knowledgeable instructors prioritizing your comfort and confidence during the flight, this adrenaline-pumping adventure still provides a sense of safety and control.
Paramotoring in Costa Adeje combines flying, breathtaking landscapes and the overall excitement of the activity creates lasting memories, making it a highlight of your trip in Tenerife.
34 – Get wet and go wild at Aqualand
Enjoy a fun-packed day with the family at Aqualand, where water slides and wave pools are all part of the excitement. Let the kids discover their inner sea rover at Pirate Island, and take a spin on rides like Tornado and Kamikaze if you dare.
Beat the heat by floating down the lazy river, or head to the Jacuzzis and treat yourself to a hydro-massage.
35 – Fly through the trees at Forestal Park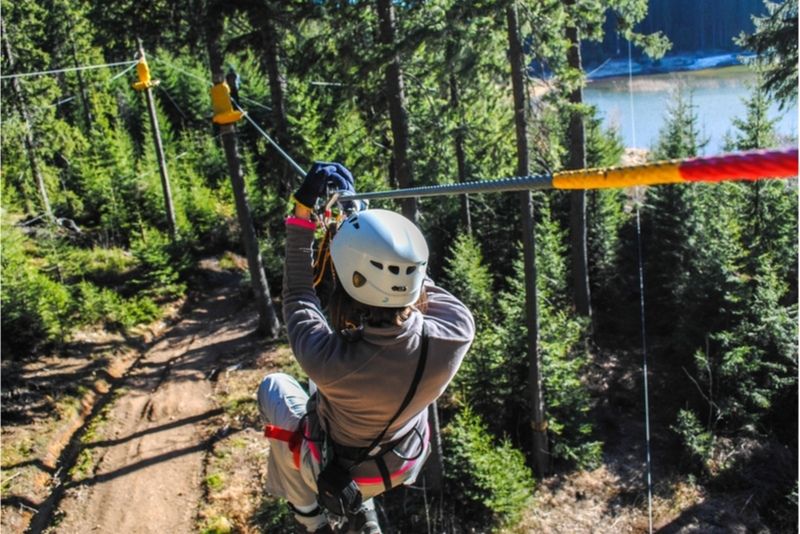 Swing through the pine trees and discover what it feels like to fly at this family-friendly treetop adventure park. Get the adrenaline going as you negotiate the high ropes course and leap off Tarzan swings in the beautiful Forestal Park.
Soaring along on the end of a giant zipline is one of the most exhilarating things to do in Tenerife. Will you be brave enough to give it a go?
36 – Go on offbeat camel riding tours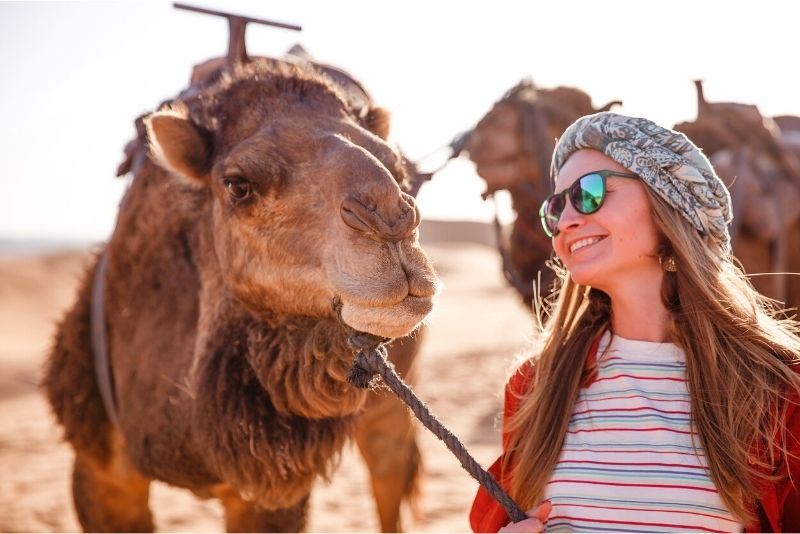 Out of the many unique things to do in Tenerife, camel riding tours top the list for travelers, as there are few places in the world to try such an activity! Take advantage during your vacation here.
Camel Park Tenerife has been in operation for more than 30 years and takes the title of the first camel park in Tenerife.
Heading to El Tanque town, stop by the Camel Center where you can choose between a 20-minute and 30-minute ride through surrounding highlands and plantations. Some camel tours also start from various beaches like Playa de las Americas.
37 – Explore underground at Cueva del Viento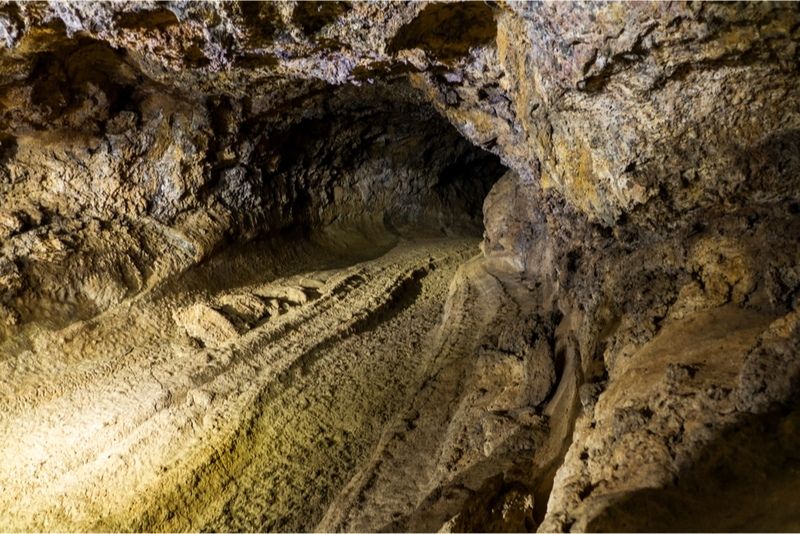 Fasten your helmet and switch on your flashlight as you venture into one of the largest volcanic tubes in the world, the Cueva del Viento. Hold your nerve as you discover a labyrinth of twisting passages snaking towards the center of the earth.
Stunning geomorphological formations like chasms and terraces were left behind by a lava flow, which makes this the best place to go potholing in Tenerife.
38 – Visit vineyards on winery tours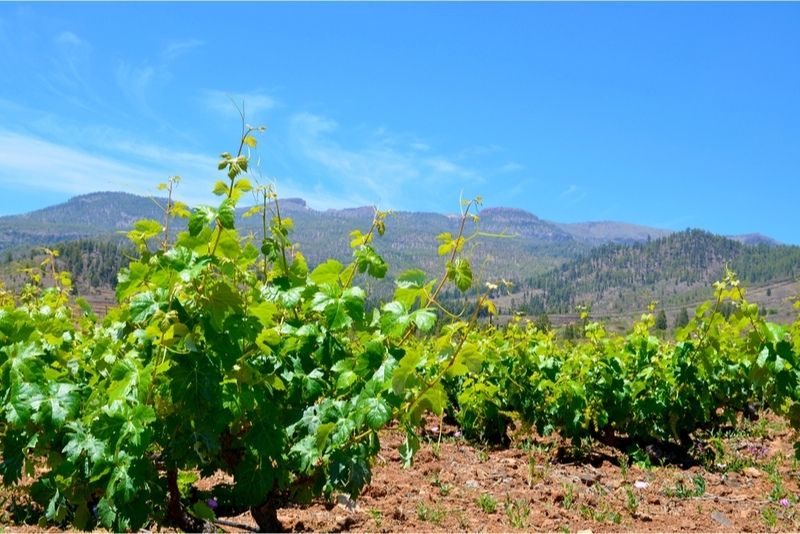 Wine enthusiasts love sampling the local nectar produced here on the rich volcanic slopes of the island. Canarians have been producing wine since Medieval times and know a thing or two about grapes. Luckily they are happy to share their secrets with you.
There are several Tenerife wine tours available with cheese tastings, cellar visits at traditional bodegas, and delicious lunches all up for grabs.
39 – Go back in time at La Casa de los Balcones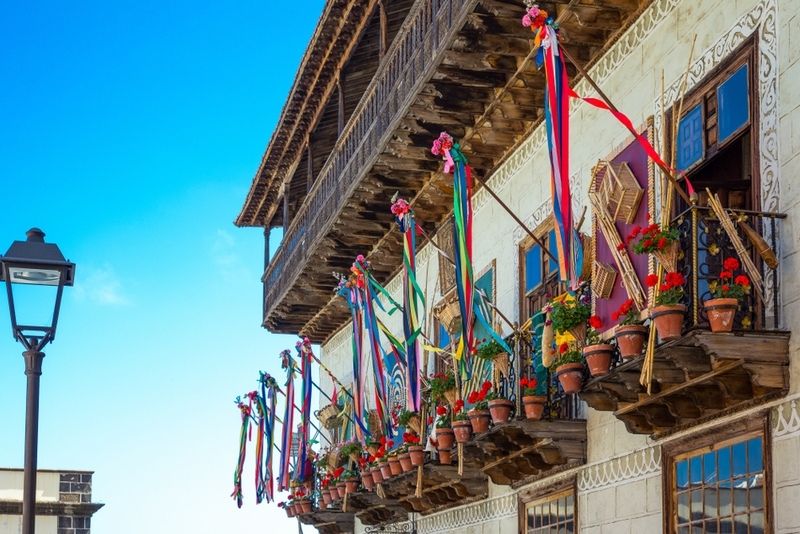 Standing proud in the historic center of La Orotava in the north of the island, La Casa de los Balcones is a must-see for architecture buffs. The highlights of this 17th-century house are the intricately carved wooden balconies which are often festooned with flowers.
Inside the museum you will find a gorgeous Canarian style patio and local handicrafts that give insights into life here over the centuries.
40 – Attempt canyoning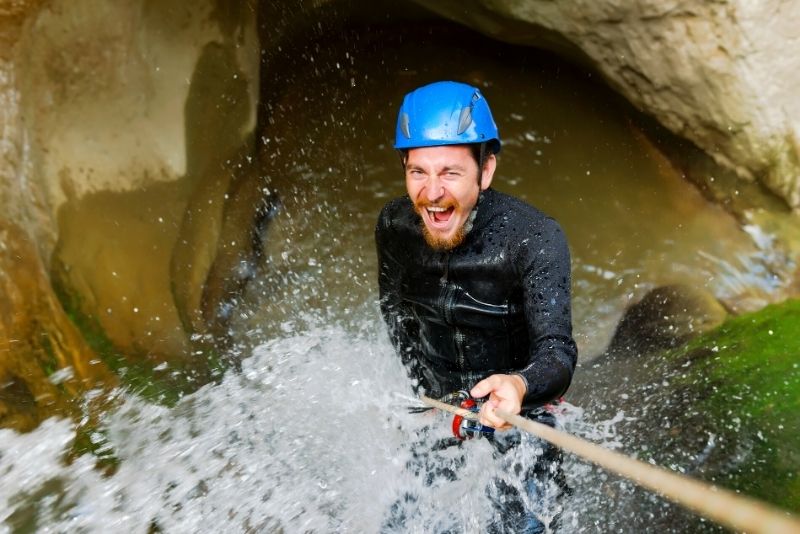 If you're seeking a thrill-inducing adventure, canyoning is a super fun activity to try for outdoor lovers, and there's a special feeling you get — as well as a sense of accomplishment — as you descend rocks using your primitive skills like climbing and jumping.
After receiving a short demonstration lesson and safety instructions, it's time to hit the ravines.
With eight rappels, the canyons at La Orotava are a favored spot, particularly Los Arcos canyon. Maneuvering the orange mountain walls created by volcanic ash, the highest canyon is 22 meters.
There are canyoning experiences at Lomo Morin waterfall (suitable for advanced mountaineers) and Tejina de Isora too.
41 – Stargaze under celestial skies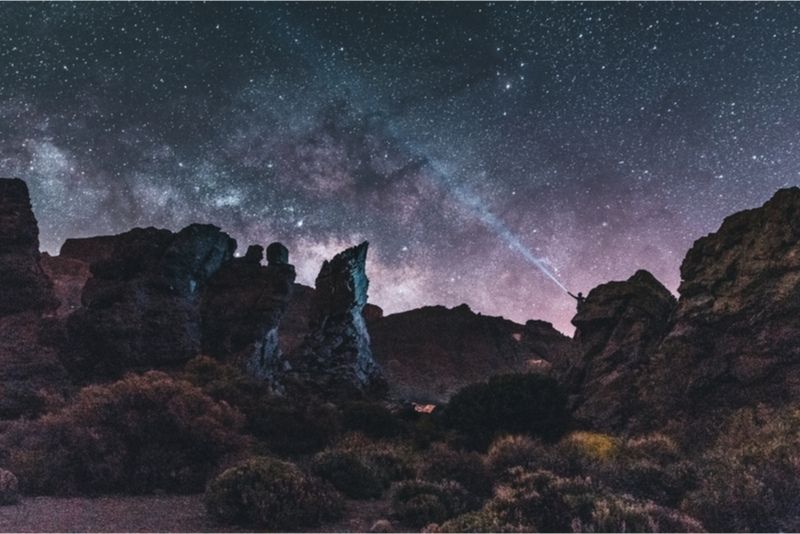 Gazing at the starry sky against the majestic backdrop of Teide National Park is one of the most romantic things to do in Tenerife. Your astronomer guide will welcome you to the observatory at the volcano summit for an evening of celestial discovery.
See if you can spot the Milky Way and maybe even some planets through the telescope.
Make your evening extra special by adding a three-course meal to the end of your night. Some stargazing tours start with a glass of bubbly and also include dinner once the constellation sighting is done at a local Canarian-style restaurant.
The national park offers some of the best chances for stargazing because the air out here is super crisp, clear and free from pollution, and dinners are appreciated by couples, as well as families.
42 – Feast at the best restaurants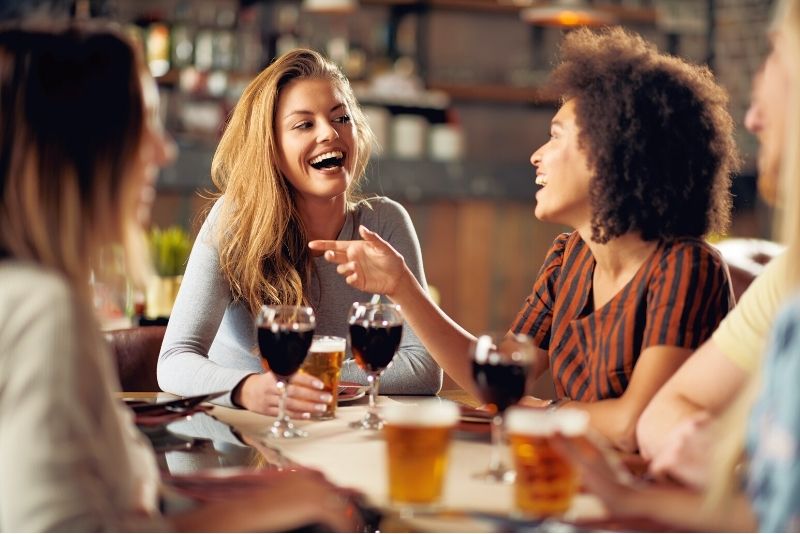 Are you ready for scrumptious plates of food, bursting with flavor and restaurants oozing ambiance? Here are some of the best restaurants around Tenerife.
With spectacular sea views and even better food to make your eyes pop, Restaurante Donaire is a romantic, fine-dining option.
In the mood for mouth-watering steak? CHAR Modern Cocina & Grill is hard to beat! On the flip side, for the freshest seafood in town, book a spot at El Horno De Neptuno overlooking the ocean.
Fuss-free but for true Canarian flavors, you can't go wrong at Mesón Asador Casa Rodrigo.
Step things up a notch and reserve a table at some restaurants that have been recognized by the Michelin Guide… Noi Restaurante has won the Bib Gourmand award for its inventive menu, and San Sebastián 57, Kiki, Etéreo by Pedro Nel and Jaxana are a few other acclaimed options.
43 – Bounce around Tenerife by buggy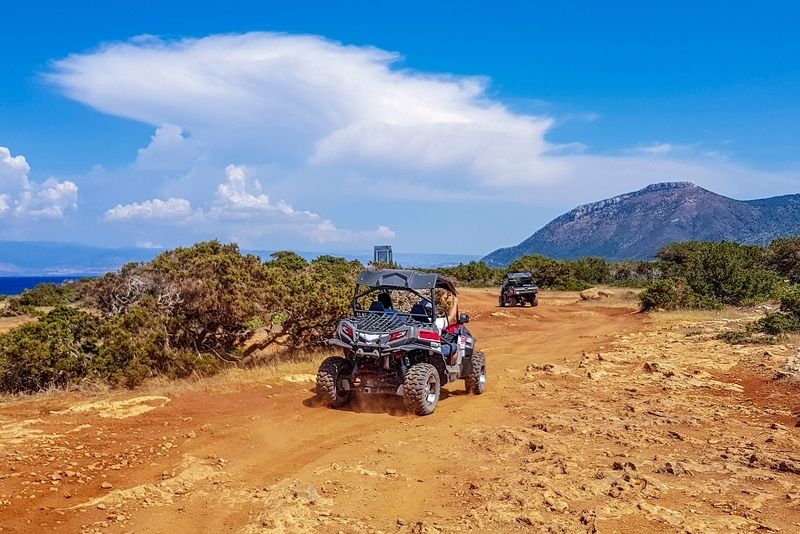 Strap in and zoom across the rugged volcanic terrain on an adventurous Tenerife buggy tour. Experience the thrill of driving off-road and explore hidden corners of the island far from the beaten tourist trail.
Stop at scenic viewpoints for perfect photos of Mount Teide, and visit the coast for sandy beaches, gigantic cliffs, and fresh sea air.
44 – Visit Mount Teide Observatory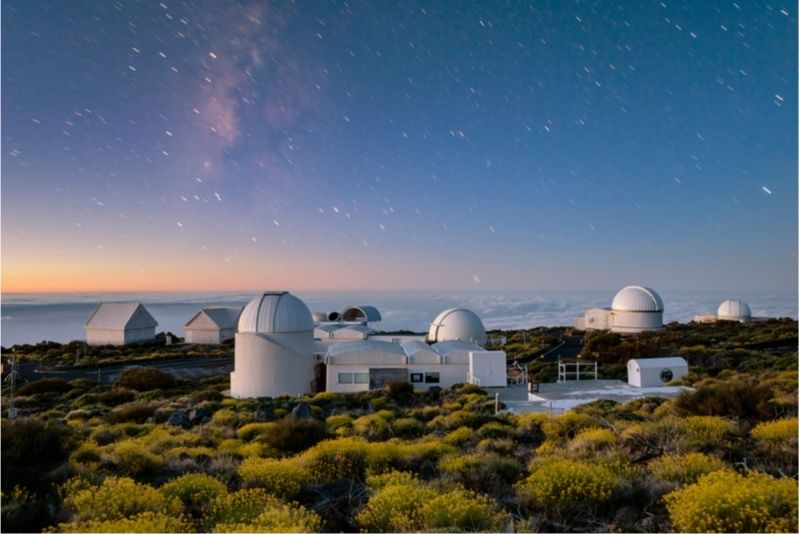 Take a trip to the Teide Astrophysical Observatory, which is one of the most highly regarded research centers in the world. Find out what goes on behind the scenes and see the day and night telescopes used to distinguish individual stars.
Your specialist guide will reveal the ground-breaking discoveries made here and will have you feeling like expert astronomers by the time you leave.
45 – Enjoy horseback riding tours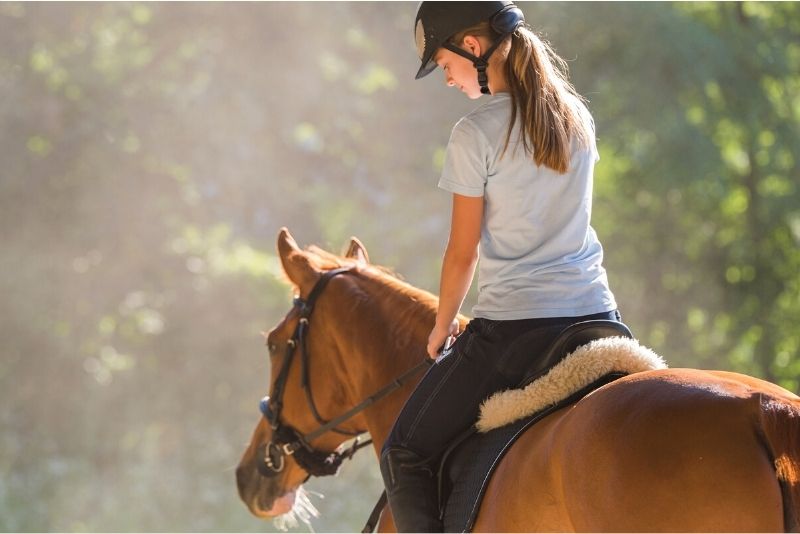 Out of the many unique things to do in Tenerife, camel riding tours top the list for travelers, as there are few places in the world to try such an activity! Take advantage during your vacation here.
Camel Park Tenerife has been in operation for more than 30 years and takes the title of the first camel park in Tenerife.
Heading to El Tanque town, stop by the Camel Center where you can choose between a 20-minute and 30-minute ride through surrounding highlands and plantations. Some camel tours also start from various beaches like Playa de las Americas.
46 – Take incredible photographs during helicopter tours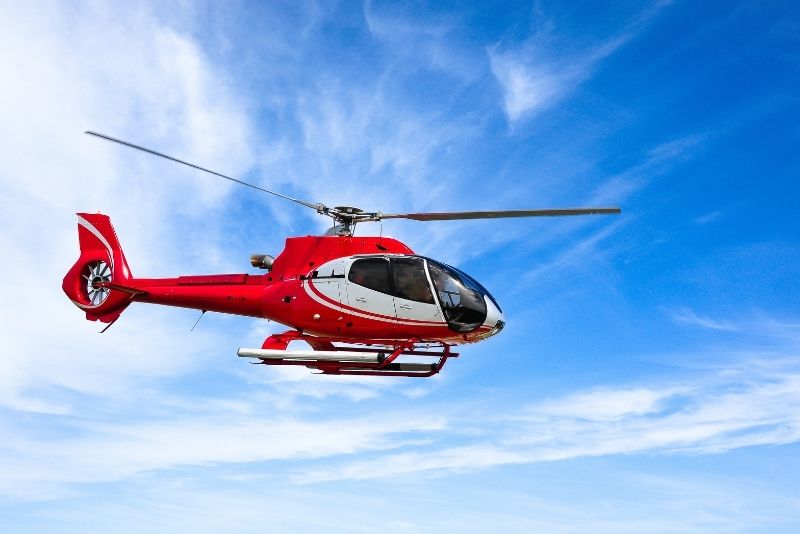 For a bird's eye view of the island and its coastline, helicopter tours are a fantastic opportunity to catch unique angles from way up high.
Start by deciding on your flight time. There are short rides that are just under 10 minutes, spend 20 minutes in the air instead, or extend the excursion and tour the island over the next 45 minutes (the longest flight option).
Different helicopter tours take passengers to varying parts of Tenerife and the surrounding archipelago. Fly over towns like La Orotava and La Caleta, pass by beaches and take magnificent photographs of iconic scenery mid-air.
47 – Try the water sports by Costa Adeje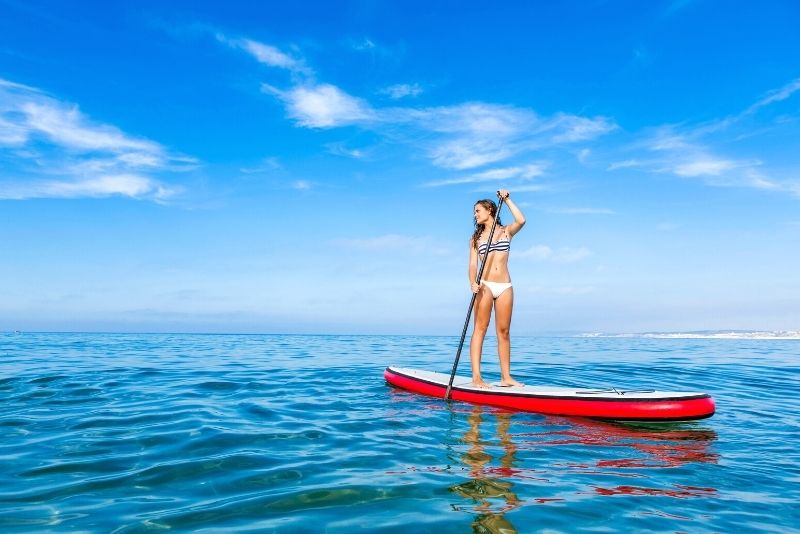 Enjoy time off land and instead become better acquainted with the ocean thanks to the throng of water sports to try out — some more heart-pumping than others.
The three main beaches around Costa Adeje are each home to outdoor activities suited to its makeup. Try banana boating, jet skiing or parasailing from Playa Fañabé, and Playa del Duque is great for swimming and tanning.
Playa la Pinta boasts a small inflatable water obstacle course, and because its bay is protected, it's also great for stand-up paddleboarding. There are tons more beaches around the island where you can go SUPing as well if it's your preferred sport.
48 – Hike the Black Mountains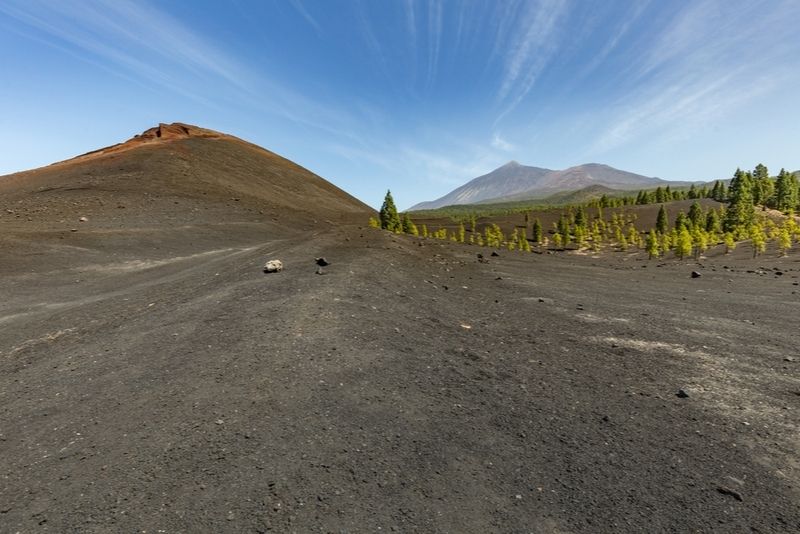 If you want to stretch the legs amidst dramatic scenery without the crowds, head to the hiking trails of Montañas Negras, the Black Mountains in the west of the island. Walking here will get the heart pumping as you discover solidified lava flows and majestic volcano vistas.
This striking volcanic landscape is one of the most memorable things to see in Tenerife, so make sure you pack the camera.
49 – Take a dip in the natural pools at Bajamar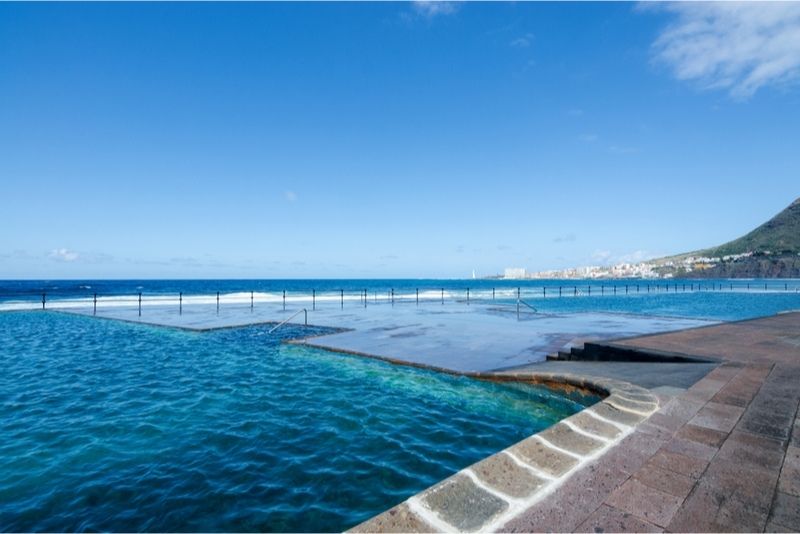 Cool off in the heat by jumping into the natural sea pools at Bajamar in the north-east of Tenerife. Take a picnic and spend the afternoon at the sandy beach, the perfect place to relax after an invigorating swim.
Lifeguards are on watch during the day and one of the pools is child-friendly so visiting Bajamar is an ideal family activity in Tenerife.
50 – Enjoy the glitz, glam and dinner at Music Hall Tavern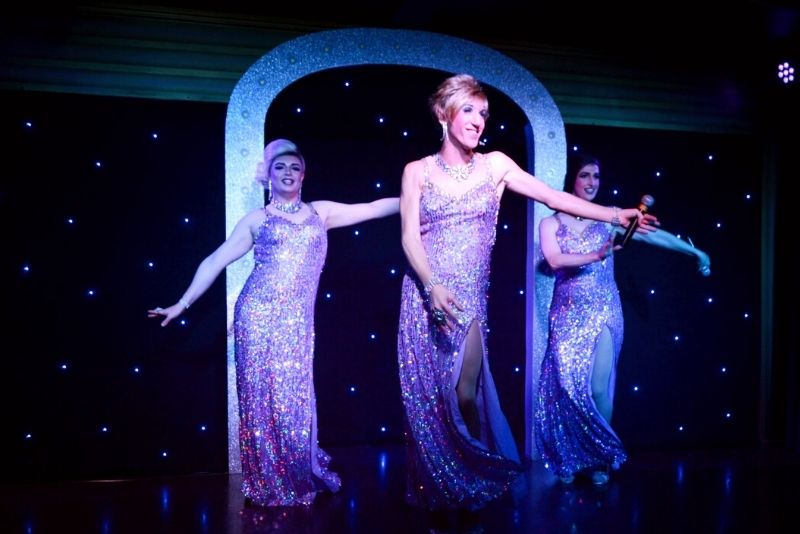 Sit back, relax and prepare to be entertained by the fabulous queens down at the Music Hall Tavern — dinner included. The award-winning drag show extravaganza promises guests a night of song, dance and fun, accompanied by a three-course meal to add the cherry.
The cast loves to interact with the audience as they follow comedic storylines and lip syncs during the four-hour dinner show. Not only will the glitzy costumes dazzle you, but so will the entertainment.
51 – Have a night to remember at a medieval show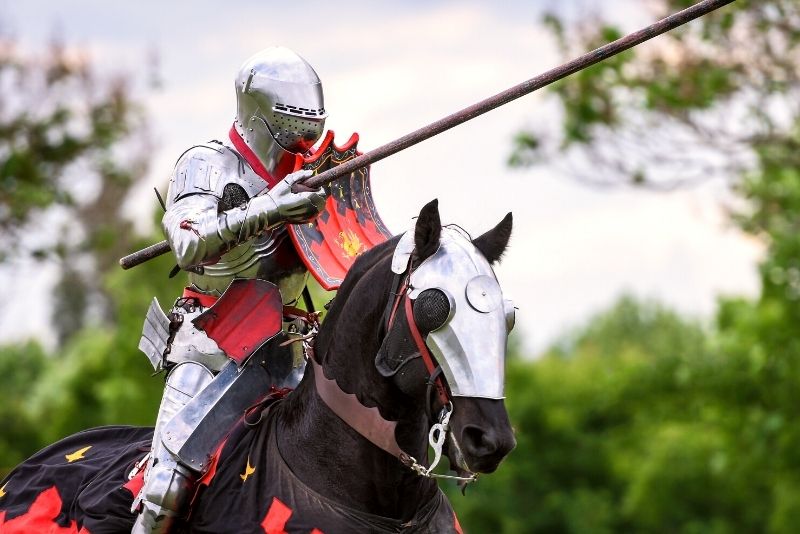 Imagine what it was like to be alive in the Middle Ages in Spain during a traditional medieval show! The reign of medieval Spain lasted from the 5th Century through to the end of the 15th Century and during the performance, be transported back in time.
Entering an ancient castle, get ready for an evening of theatrics as scenes from this era are recreated on stage like knights jousting. Whilst this is happening, feast on an authentic "banquet style" dinner with free-flowing wine.
52 – Feel like a detective attempting the escape rooms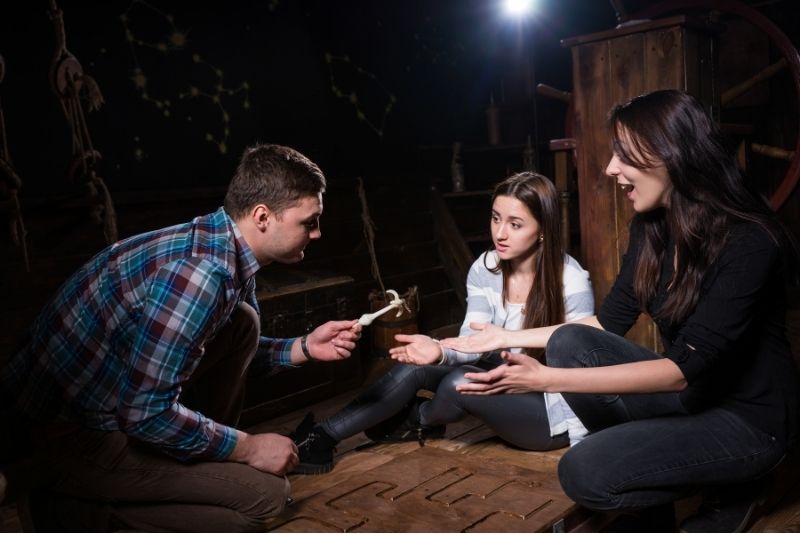 When it comes to putting your mind to the test, you've got a multitude of options to choose from among Tenerife's escape rooms.
Escape Rooms Island Phobia has six fantastical-themed puzzles; Jumanji, Dragon's Ring, Sherlock, Magic School, Nightmare and Bank Robbery, and each escape room varies in difficulty.
Whilst time is ticking, crack one clue to move on to the next until eventually, you make your escape.
Not only limited to the indoors, a unique escape room experience is one that takes place outdoors. Visit iconic tourist attractions en route to solving your mystery. Players are given a map and need to solve clues and challenges until the end game.
53 – Wiggle your hips at Santa Cruz Carnival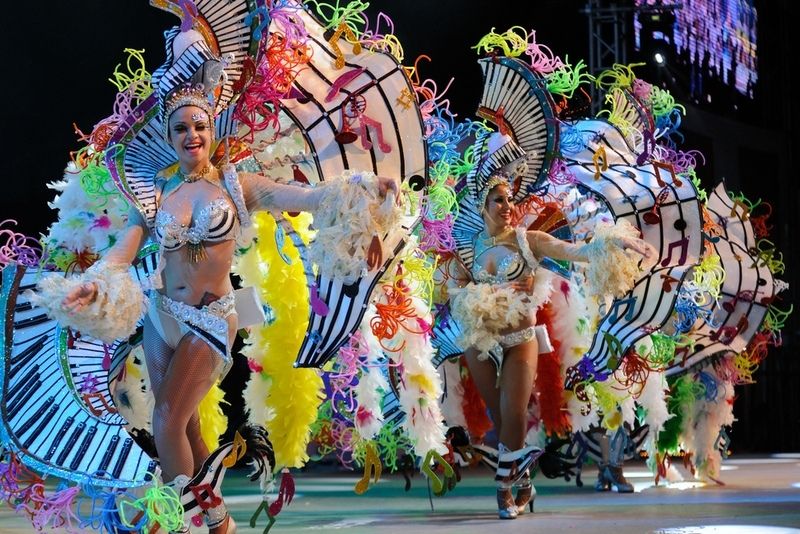 The spirited festivities in Santa Cruz are a great reason to visit Tenerife in February. Allow yourself to get caught up in the rhythms and exuberance of this laid-back fiesta.
Gasp at glamorous costumes and enjoy live music and dancing in the streets. The icing on the cake is the Burial of the Sardine ceremony, which culminates in a weekend of lively parades and shows.
54 – Delight in the nightlife in Tenerife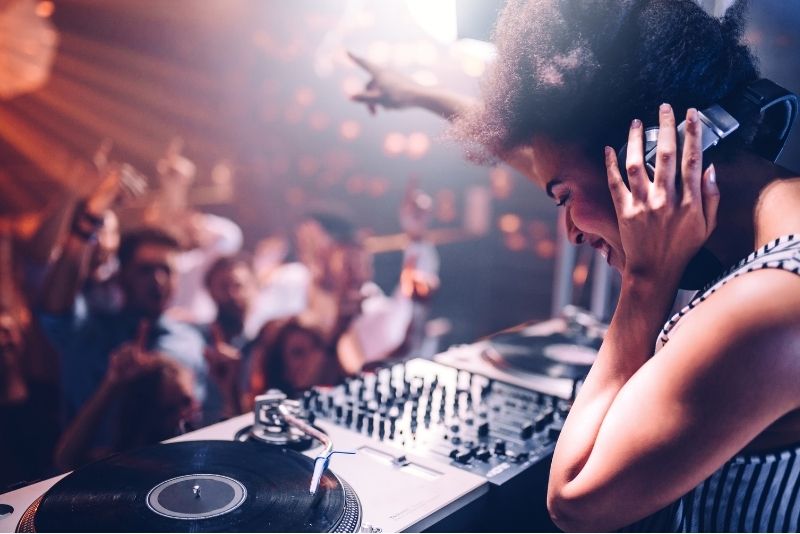 Let your hair down for the evening and enjoy the buzzing and lively nightlife in Tenerife.
To truly experience that Mediterranean feeling, grab drinks with your feet in the sand at a beach club like Papagayo Beach Club (on Playa de la Américas) or Kaluna Beach Club in the Costa Adeje region.
Both have live DJs, but if you're after more of a rave, check out the island's clubbing scene. Tramps Tenerife's tagline is "King of Clubs" and for good reason. Different rooms inside the nightclub blast varying music genres, catering to all crowds.
Lit up in neons and with live DJs and unique specialty cocktails, Magic Lounge Club stays open til as late as 4 AM.
If clubs are too much for you, Blanco Bar is a great option, or sip on a cold one at a local pub, like Dubliner Irish pub or The Bulls Head.
How to get to Tenerife?
There are two airports in Tenerife, but for travelers planning on staying on this island, the one you will fly into is Tenerife South International Airport (also called Tenerife South–Reina Sofía Airport).
Located on the south end of the island, pre-organize airport transfers for when you arrive in Tenerife. As you touch down, look out for your private driver who will transport you directly to your stay.
Santa Cruz de Tenerife is a 40-minute drive from the airport, and Costa Adeje is less than 15 minutes away.
Where to stay in Tenerife?
To complete your vacation, make sure your stay in Tenerife is a comfortable one. Here are some of the best hotels around the island to choose from.
Starting with couples; there are actually a few adults-only stays around Tenerife if you're seeking a romantic getaway.
Royal River Luxury Hotel in Costa Adeje is a literal five-star option, as well as Hacienda del Conde Meliá Collection with two swimming pools and an on-site golf course. Bright, clean and modern; Iberostar Selection Sábila joins the list and is another five-star hotel in Tenerife.
Travel back in time to when the Moors ruled Spain at The Ritz-Carlton, Abama, or enjoy the mix of contemporary and colonial design features of RedLevel at Gran Melia Palacio de Isora (one more adults-only, five-star stay to add to the list).
The GF Victoria is fantastic for families, or stay in the heart of the city at Palacio de Daoiz lofts — an affordable option where you have an entire loft studio to yourself.
Feel like you're living in a greenhouse at the Jardines de Nivaria with a special indoor garden vibe, and Hotel Emblemático Casa Casilda is uniquely charming.
Visiting Tenerife on a budget?
There are plenty parts of Tenerife to explore. For travelers planning on spending a lot of time in this part of the Canaries, save where you can.
Free walking tours are a prime way to save a few extra bucks instead of paying for a guided city tour, and there are multiple options to choose from that each explores different parts of Tenerife.
For example, be guided around Santa Cruz de Tenerife, La Orotava or Garachico, and there are even free hiking tours around Teide National Park.
Where to go next?
While Tenerife is the biggest of the Canary Islands, don't miss the chance to trip to some of the other isles that comprise the archipelago.
Dotted with picturesque beaches, cute local villages and fascinating architecture, there are many other things to do in Gran Canaria — a one to 2.5 public ferry ride from Tenerife. Snorkeling and scuba diving are popular around here too.
Laid back and not as busy as some of the other Canarian islands, Lanzarote is another great choice, especially for couples. Retaining an untouched feeling, there are plenty of things to do in Lanzarote to appease those wild at heart.
To reach this island, the most convenient way is to fly from Tenerife here. By boat, it takes a minimum of eight hours to reach.
If you're a nature enthusiast, you'll be thrilled to explore the diverse things to do in Fuerteventura, from hiking the sacred Tindaya Mountain to spotting extraordinary wildlife in the Corralejo Natural Park.
Final thoughts
From exciting outdoor activities to historical towns, there are plenty of things to do in Tenerife to leave (and keep) a smile on everyone's face, no matter if you're young or old.
Have you got a favorite viewpoint or place of interest to see on the island? Share with us your thoughts in the comments below.
As always, happy and safe travels.