The mountainous hamlet of Masca is one of the most picturesque settlements in Tenerife. Situated at the head of a tropical gorge where pirates once roamed, the tiny village has changed little over the centuries.
The sweeping volcanic hillsides are dotted with whitewashed houses and palm trees that bask in the sun. Taking a day trip to Masca Valley from Tenerife is a must if you love dramatic landscapes and a dash of adventure.
How to get to Masca Valley from Tenerife?
Accessible only by road, Masca lies in the remote Teno National Park in western Tenerife.
From Tenerife to Masca Valley by car
You can journey to Masca Valley by car from anywhere in Tenerife if you are a confident driver. The easiest route is from the southern resorts, using the TF-1 ring-road.
Bear in mind that Masca is mountainous, and you will have to negotiate steep switchbacks. Travel outside of peak times to avoid meeting too much traffic head-on.
There is a free parking area at the top, although you may have to wait a few minutes for a space.
Guided tour to Masca Valley from Tenerife
By far the best way to visit Masca is on a guided tour. Both shared excursions and private trips are available, with half- and full-day options on offer. Round-trip transportation makes for a relaxing experience.
Masca Valley day trips from Tenerife often combine visits to other sites for those who want to make the most of their time.
What is the typical itinerary of a day tour to Masca Valley from Tenerife?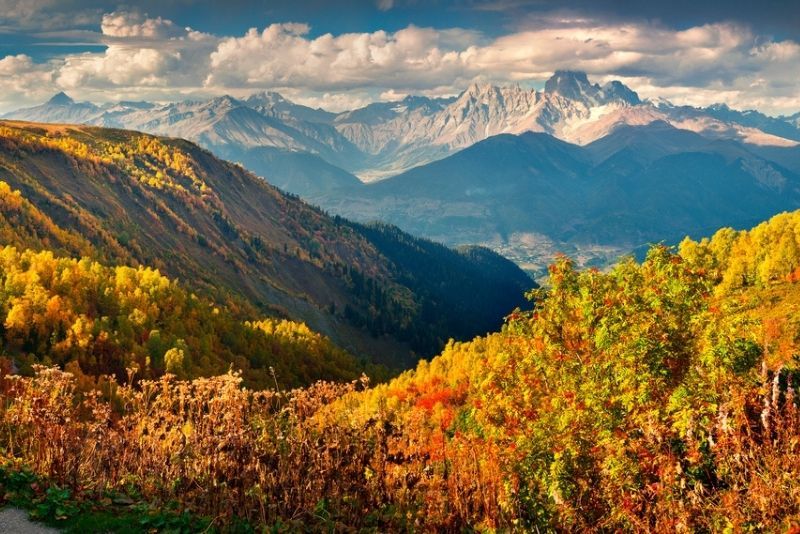 The easiest way to explore this hidden mountain village is on a day trip to Masca Valley from Tenerife. Your adventure starts with a hotel pick-up and a scenic drive – choose a seat on the left of the coach if you're coming from the south!
In Masca you will have free time to discover the village and buy lunch at one of the local cafés. If you are on a full-day excursion you may visit other local attractions like Los Gigantes, Teide National Park, and Garachico.
At the end of the day, you will be returned to your resort before dinner.
What kind of tours are available to go to Masca Valley?
There are lots of day tours to Masca Valley from Tenerife to choose from:
Guided tours to Masca plus Mount Teide and Garachico in Tenerife
Combine Tenerife's greatest gems without breaking the bank on this small-group tour. Hotel transfers make the day run smoothly.
This exhilarating full-day trip to Masca includes a visit to Teide National Park, as well as leisure time in the colorful town of Garachico. Some tours also stop in Icod to see the famous dragon tree.
Jeep safari to Masca plus Mount Teide and Garachico from Tenerife
Visit the hidden corners of Teide National Park, before exploring Masca and Garachico on this adventurous day tour.
You will travel in a comfortable 4x4 vehicle with food and door-to-door transfers provided.
Day trip to Masca plus whale watching cruise in Los Gigantes
Discover the best of the west on this action-packed combination tour. You will sail along the volcanic coastline by catamaran, enjoying the scenery and watching for whales and dolphins. Swim stops and lunch on board are the icing on the cake.
Then it's back to dry land for a trip to Masca Valley. Both half- and full-day tours are available.
3-wheel motorcycle day tour to Masca in Tenerife
This quirky Masca jaunt shows you the village from a different perspective. Get behind the wheel of a state-of-the-art motorcycle and power up those hairpins for a pure adrenaline buzz.
Drivers must be 21 years old with a full license. You can ride tandem with a friend if you wish.
Hiking day tour to Masca from Tenerife
See Masca on foot as you hike along national park trails in this stunning mountain region. You will take in the village as well as the ravine as you explore this wild landscape.
Hikes are around 7.5 miles long and take 4-5 hours.
How much does a tour to Masca Valley from Tenerife cost?
The guided excursion to Masca Valley, Teide, and Garachico costs $41 per person including hotel pick-ups, a guide, and an air-conditioned vehicle.
Jeep safaris start at $62 with 4x4 transport, door-to-door transfers, and food.
For a Masca day trip from Tenerife and a whale watching cruise in Los Gigantes, expect to pay $51 for eight hours. Lunch is provided, but hotel pick-ups are not.
The 3-wheel motorcycle day tour to Masca is $102 per person for four hours. Helmets, jackets, and gloves are provided.
Masca hiking adventures are $62 including a trekking guide and hotel transfers.
What will you see and do in Masca Valley?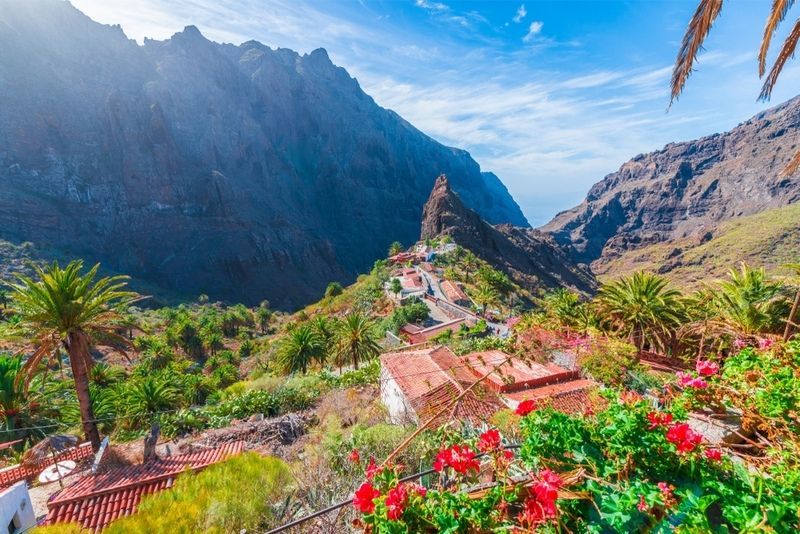 Masca is one of the most beautiful places on the entire island, and you could spend hours here just soaking up those views.
Breathtaking panoramas
The hamlet itself perches precariously on a narrow peninsula jutting out into the ravine, with plunging drops on each side. Before descending into the village, admire the panorama from the road – this is one of the best viewpoints. On a clear day, you can see La Gomera island sitting out at sea.
The vegetation here is lush with a hint of the exotic. Seeing the palms, cacti, and cypress trees clinging to the mountainsides will be a highlight of your day trip to Masca Valley from Tenerife.
Masca village
On entering the village, the first thing you'll see is the tiny church. It's so small that only eight people can fit inside at once, but the cool stone walls make for a pleasant respite from the heat.
Continue through the small square into the village, which is linear as it sprawls out along the ridgeline. There are a handful of restaurants with superb views, and a few souvenir shops selling local handicrafts.
Hike down the gorge
Energetic travelers will enjoy hiking down to the sea through the ravine. The scenery is stunning and there are some unusual rock formations to spot along the way.
The walk takes six hours for a round-trip, but if you don't fancy puffing back up the mountain, you can take a boat back to Los Gigantes from Masca Bay instead.
When is the best time to visit Masca Valley?
Tenerife is a year-round destination and is particularly famed for its winter sun. So, you can enjoy a day tour to Masca in any season. Whenever you visit, pack the sunscreen as you can get burned even in January!
Top tip - Masca is quieter before 10 AM and after 4 PM.
Travel tips
There are two paths to the village from the car park. For a gentler descent, take the left-hand one as the other is very steep.
Book your Masca Valley day trip from Tenerife in advance so you don't miss out – places do fill up fast.
Wear sturdy shoes to make walking down the trails a little easier, and light clothing to combat the heat.
There are shops and cafés so carry some money for refreshments and souvenirs.
If your tour includes a catamaran cruise, don't forget your swimming gear and towel if you want to take a dip.