With its jet black skies and clear weather, Tenerife is one of the most spectacular spots for stargazing. If you're lucky, you'll see thousands of stars beaming overhead.
The Milky Way is especially visible, stretching across the sky like a streak of white light. With no light pollution to interfere, you can even see some of the faintest stars with the naked eye.
The island is home to several astronomical observatories, making it a mecca for amateur and professional stargazers alike. There are plenty of stargazing tours in Tenerife to choose from, whether it's your first time or not.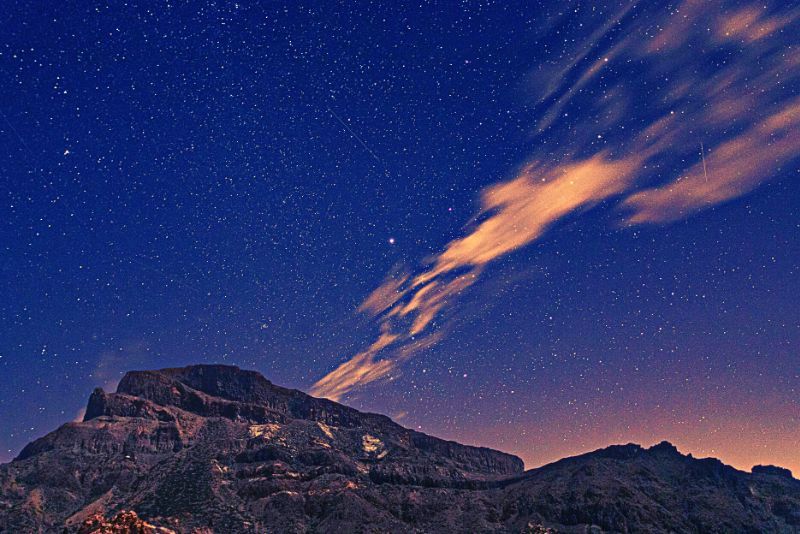 What are the best stargazing tours in Tenerife?
Teide National Park stargazing experience
After the fiery sun sets in the sky, you'll begin your stargazing tour. The Mount Teide National Park is free from light pollution and provides an inky black environment to see hundreds of stars.
With a telescope and the help of your professional guide, you'll learn to spot different constellations and learn about their origins.
Romantic sunset and stargazing tour with dinner
If you want to up the romance stakes, choose a tour that includes a sumptuous dinner before exploring the sky at night. You'll travel to a local restaurant for dinner before continuing to the observatory which sits atop one of the tallest volcanoes in the world.
You'll spend the sunset on top of the mountain with unlimited cava before witnessing the magic that unfolds, as the sky fills with glistening stars.
Self driving sunset tour with dinner and stargazing in Tenerife
If you'd like stargazing tours in Tenerife with more freedom and flexibility, you may enjoy this unique self-drive excursion. You'll stop at several points, including Chiguergue, where you can enjoy a traditional Canarian meal, and Mirador de las Narices del Teide.
You'll stargaze from the base of Pico Vieco after watching the sunset over the island from a different perspective — on top of the clouds.
How much do stargazing tours in Tenerife cost?
Stargazing tours in Tenerife's Teide National Park start from around €30. This includes insurance, an astronomical guide and the use of a telescope.
Stargazing tours with dinner include a meal, hotel pickup and drop-off, alcohol at sunset, and a stargazing experience. You can expect to pay approximately €80 for a nine-hour tour.
Self driving tours include dinner in a local restaurant, guided use of a telescope and warm layers to wear on top of the mountain. There will be a maximum of six participants in total and you'll pay upwards of €60.
What is included in a stargazing tour in Tenerife?
Stargazing adventures in Tenerife usually include the use of telescopes to spot constellations throughout the night sky. Your tour will be guided by a professional astronomer who will help you to gain the most from your experience.
Some trips provide you with warm coats to wear at the top of the volcano where it can get chilly after dark. Depending on the tour you take, you may also have dinner included, and, if so, this will be at a local Canarian restaurant. You'll often be offered a glass of fizzy wine while watching the sunset.
Where do stargazing tours in Tenerife start?
Most stargazing tours in Tenerife include a pickup from your hotel. There are often location restrictions on this, and some will only pick you up from a certain part of the island. Commonly, pickups happen between the regions of Los Gigantes and Golf del Sur.
In some cases, you'll be required to meet at a starting location that is predetermined before you book. This means you'll have ample opportunity to arrange your transportation there.
How long do stargazing tours in Tenerife last?
Tenerife stargazing tours can last as little as an hour or as long as nine hours. Those that last one to two hours will start and end at the Teide Observatory and only include stargazing.
If you'd like to stretch out your trip, opt for a longer tour that lasts between seven and nine hours, and includes dinner and the opportunity to watch the sunset from above.
When is the best time for a stargazing tour in Tenerife?
The only time to take a stargazing tour is once the sun has set and the skies turn dark. This is a special experience that isn't forgotten in a hurry, so consider stargazing on your last night to end your vacation in a dazzling way.
Are there any combo available with stargazing tours in Tenerife?
Private Teide National Park hiking and stargazing tour
The Teide National Park is magnificent by day, as well as at night. On this private tour, you'll hike through a pine forest in order to ascend the vast volcano that sits proudly at the center of the island.
Once you've reached the summit, you'll celebrate your efforts with a glass of local wine before embarking on your night sky tour by telescope. For the duration of this tour, you'll have a professional guide on hand to show you fascinating spots within the park and help you discover many constellations.
Private hiking tours with a stargazing experience in Tenerife include round-trip transportation from your hotel, a private guide, alcohol and snacks. You'll also be provided with hiking poles and blankets. You'll pay around €130 for a seven-hour tour.
What happens in case of bad weather?
As Tenerife stargazing excursions take place outside, the tour requires good weather. In cases of rain or storms, you'll be offered a different date. If this isn't appropriate for you, you'll be provided with a full refund.
Travel tips
Stargazing excursions often include some walking. Wear hiking shoes for the most enjoyable trip.
The temperature on the summit of the volcano drops drastically overnight. While some stargazing tours in Tenerife provide thick coats, others do not. Check whether yours does, and if not, wrap up warm.
Book your tour in advance as stargazing is a popular activity on the island.