Together with Gran Canaria, the island of Tenerife is the capital of the Canary Islands, and it's by far the most populous in the archipelago. Quaint villages, lively resort towns and bustling cities dot its coastline — making the island perfect to explore during a free walking tour in Tenerife.
Explore Santa Cruz, as well as some of the island's other destinations like La Orotava Valley, Garachico and Puerto del Cruz — all under the guidance of a passionate tour leader and without breaking the bank.
Here's all you need to know about free walking tours, one of the most engaging options for sightseeing tours in Tenerife.
How do free walking tours work?
Free walking tours in Tenerife have become increasingly popular in recent years as they provide tourists with an affordable and authentic way of experiencing this incredible city.
These tours are completely free to book and participate in, but it is encouraged that you tip your tour guide at the end of the tour. The amount you decide to tip is completely up to you.
How much should you tip?
When deciding how much to tip, think about the effort that your guide put into the tour and how much you enjoyed the tour overall.
Most tour participants tend to tip between US$10 and US$15 per person, but some people tip as much as US$50 for outstanding tours.
What are the best free walking tours in Tenerife?
There are a number of free walking tours in Tenerife, so finding the best one depends on which of the destinations you want to explore — with a host of Tenerife's most popular towns featuring in these excursions.
Free Walking tour in Santa Cruz de Tenerife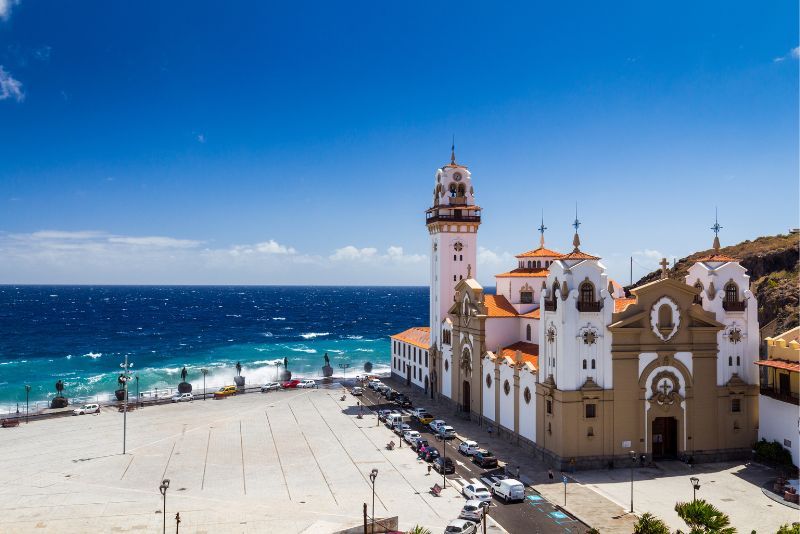 While Santa Cruz de Tenerife may have become synonymous with beaches and parties, the island's capital has much more to offer than sand and shots — and a free walking tour in the city will help you discover this for yourself.
Learn about the city's fascinating history, the indigenous Canarians and their quest for recognition as well as the many stunning buildings and monuments.
Itinerary
You'll start off from the Plaza España in central Santa Cruz, where you'll meet your tour guide and fellow travelers. After a short introduction, you'll head out toward the Palacio Insular, the Royal Casino and the obelisk honoring the Virgin of Candelaria — the islands' patron saint.
Following this, you'll head towards the Castle of San Cristóbal and the church of San Francisco de Asís. The next stop is the Museum of Fine Arts before making your way to the Mercado de Nuestra Señora de África — the final stop of your tour.
Free Walking tour in La Orotava
La Orotava is a beautiful inland town and a must-visit destination when exploring Tenerife's northern coast. A free walking tour is just the ticket to discover all of La Orotava's historical buildings and picture-perfect cobblestone streets.
The town offers a welcome refuge from the tourist-laden beaches of the capital and visitors are rewarded with an authentic Canarian experience.
Itinerary
A morning and afternoon departure makes this free walking tour super convenient, as you set out from La Orotava's Old Town. Ambling down the cobblestone streets, you'll learn about La Orotava's history, going all the way back to the 15th-century Spanish conquest.
Following a leisurely pace, you'll make your way to the Church of Saint Augustine and the paradisiacal Victoria Gardens. If you're lucky you might even see Mount Teide looming in the background. The final stop is Casa de los Balcones — perfect for a stunning photo to remember the day.
Free Walking tour in Garachico
Many people consider Garachico the most beautiful of Tenerife's towns and once you lay eyes upon the Canarian heritage architecture you'll have to agree. A kaleidoscope of colors is on display in this port town, making it perfect to explore during a free walking tour in Garachico.
But looks aren't the only thing on offer, with the stunning streets hiding a secret or two — something your expert guide will tell you more about.
Itinerary
This free walking tour leaves at noon, venturing into the colorful streets of Garachico. You'll start off in the historic town center and learn more about a bygone age, during which Garachico served as the capital of Tenerife.
As you travel to the Castle of San Miguel, you'll hear tales about the town's ups and downs, as well as the famous poets it has inspired throughout the years.
Free Walking tour in Puerto de la Cruz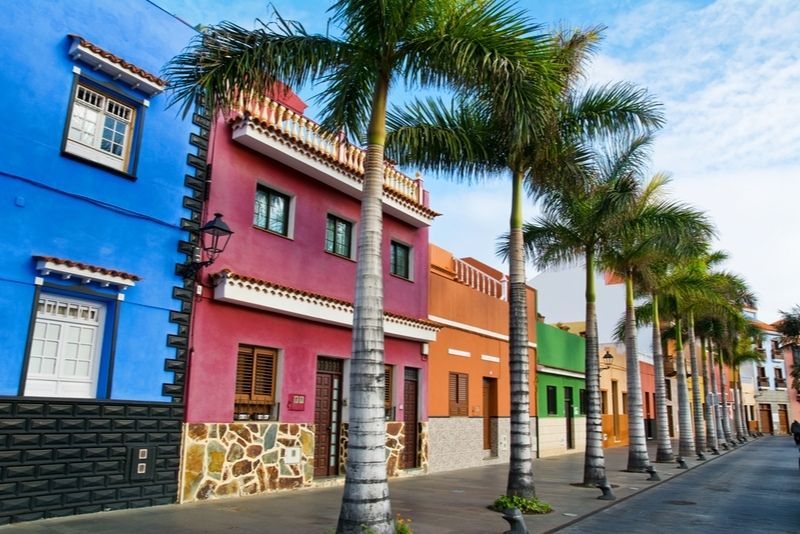 Located halfway between Santa Cruz and Garachico, the enchanting town of Puerto de la Cruz forms the backbone of tours exploring the island's northern coast. It's known for its black sand beaches, immaculate saltwater pools and the gigantic Loro Parque Zoo.
A free walking tour will visit most of the port town's monuments and historic buildings — while allowing you the time and money to explore Puerto de la Cruz on your own later on.
Itinerary
The tour starts from Muelle del Puerto de la Cruz, the historical harbor around which the town grew. During your expedition, you'll visit prime examples of Canarian architecture and the wonderful gardens and parks that dot the town — and learn more about the feasts and festivals the island is famous for.
As you make your way toward Lago de Martiánez you'll visit attractions like Casa de la Real Aduana, Casa Ventoso and Paseo de San Telmo.
Free Walking tour in Icod de los Vinos
A free walking tour in Icod los Vinos is perfect if you want to get the lay of the land while visiting this verdant wonderland. The town took full advantage of the fertile volcanic soil on which it is built — a feature that's best exemplified by the alienlike Drago Park.
Itinerary
Icod de los Vinos punches way above its weight, with the small town featuring magnificent gardens, stately homes and idyllic streets.
Setting out from Andrés de Cáceres Square, you'll meander your way to the Matriz de San Marcos church and the infamous Casa del Inquisidor. During your journey, you'll discover the important role that the town played during the Spanish conquest and the effect it had on the indigenous people.
In which languages is it operated?
The languages in which free walking tours are conducted largely depend on the number of foreign nationals that visit the island.
As such, free Tenerife walking tours in English are the most common type of excursion, with free Spanish tours coming in at a close second. Unfortunately, there are no free Tenerife walking tours in German or Italian available.
Where does it start?
The point of departure for free walking tours in Tenerife differs from town to town. Santa Cruz's free walking tours usually start from Plaza España and the surrounding area.
Free walking tours in La Orotava normally start from Plaza de la Constitución, while Garachico's free walking tours typically depart from the town's tourist office.
When it comes to free walking tours in Puerto de la Cruz, you should head to the small harbor just north of Plaza del Charco. Free walking tours in Icod de los Vinos will start from Andrés de Cáceres Square, from where you'll explore this delightful town.
How long does last?
Free walking tours in Tenerife usually last between 1.5 and 2 hours, making it the perfect activity to combine with another outing. Plus, the fact that it's free may allow you to splurge on some of the island's more expensive trips like a boat tour or stargazing. Who said being thrifty can't also be fun?
When is the best time to join a free walking tour in Tenerife?
The best time for a free walking tour in Tenerife is as soon as you arrive on the island. A free walking tour will enable you to become comfortable with your surroundings, exploring the island in depth during your later travels.
When visiting some of Tenerife's towns, you should consider taking a free walking tour in the morning — allowing yourself more time to visit the attractions that tickled your fancy later on in the day. If you are unsure about the best time for the tour, simply ask your guide — they'll be more than willing to help you out. (99)
Should you book tickets online?
Booking your free walking tour online offers a number of advantages, one of which is knowing that your spot is reserved. This peace of mind comes in handy during Tenerife's peak tourist season and when booking a free walking tour with a limited number of participants.
Booking ahead also saves you time because you won't have to do the legwork of looking for the best tour — simply compare your options online. Finally, the reservation is free of charge even if you have to cancel — providing an extra layer of convenience in case you have to change your plans.