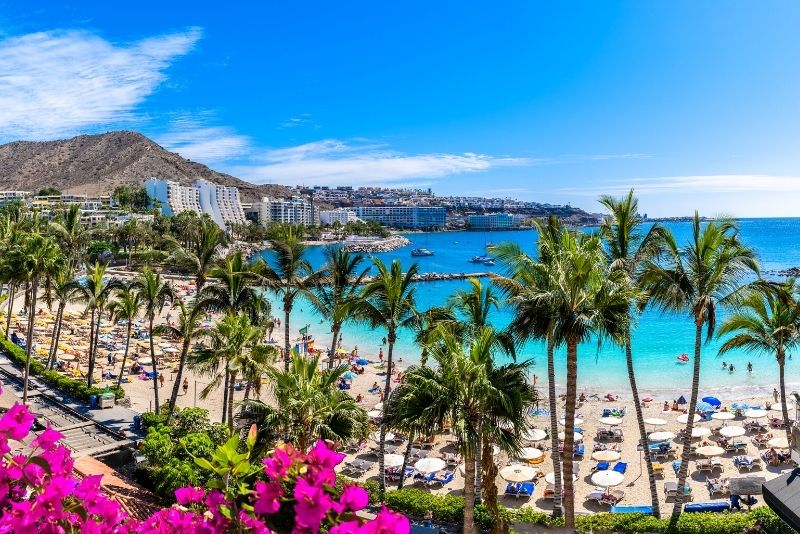 Boasting sandy beaches, charming villages, and dozens of adventure activities, there is no shortage of fun things to do in Gran Canaria. A true jewel in the crown of this Atlantic archipelago, the island offers up dramatic volcanic landscapes and palm-clad valleys to explore.
These sunny shores are perfect for adventure-fuelled family holidays and romantic breaks alike. Whether you want to ride camels through dunes, scuba dive shipwrecks, or hike down giant craters, with this guide we have you covered.
Officially forming part of one of Spain's 'autonomous communities,' the Canary Islands are off the coast of Morocco. Travelers delight in the fusion of Spanish and African influences which you can see in parts of Gran Canaria.
Take a camel ride over sand dunes, for example, or spend the day sampling fine wines and cheese, and visiting vineyards. The architecture to uncover is unique and interesting to photograph, and the hours simply slip by whilst exploring the local towns and their cobbled streets.
Offering exciting endeavors for all ages, add Gran Canaria to your travel bucket list of epic vacations.
1 – Explore old town Vegueta in Las Palmas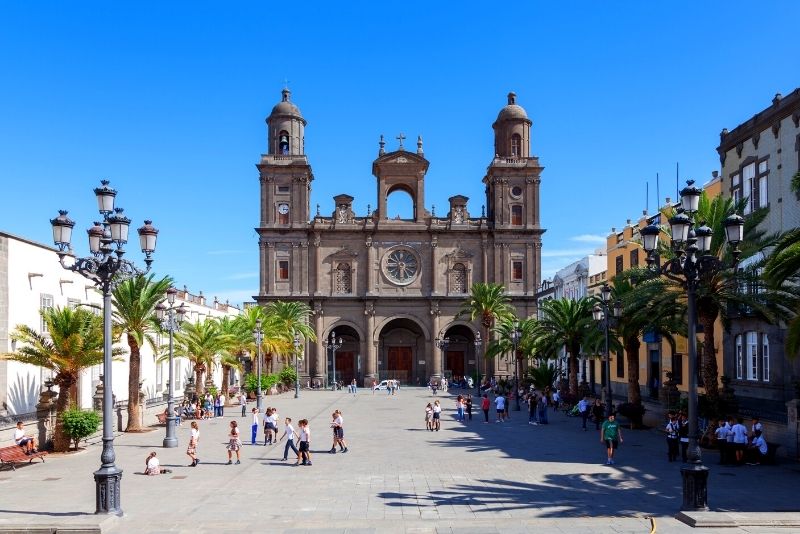 Stroll around Vegueta's old town and visit the Casa de Colón, a beautiful building that is now home to the Christopher Columbus Museum. Then head to Santa Ana Cathedral and climb the tower for superb views of Vegueta. Make sure you take your camera.
To fully appreciate what you are seeing, take a free walking tour with a local Canarian guide and discover insider secrets about this colorful historical center.
Try hunting down all of the different town squares allocated around this part, like Pilar Nuevo square, Espíritu Santo square and the Santo Domingo square — in Spanish they're referred to as a 'plaza.'
Exploring the cobbled streets on foot, stop for a bite to eat at a tapas bar, or a fancier dining locale inside one of the historic buildings.
Visit the Vegueta Market (open for more than 150 years) or embark on shopping tours around the area and be shown the best boutiques and local stores.
2 – Ride a camel through the Maspalomas dunes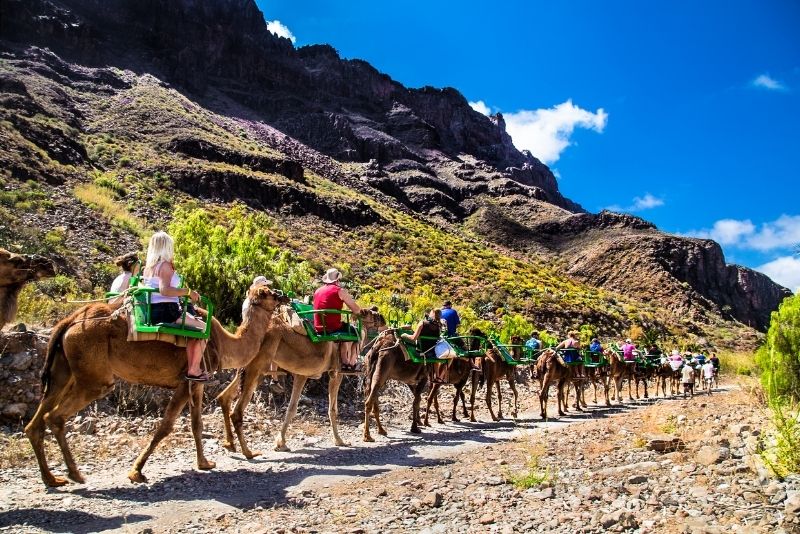 Get your Lawrence of Arabia fix by heading into the dunes on your very own ship of the desert. Riding a camel is quite comfortable, and feeling the gentle rhythm of plodding feet is a wonderfully relaxing experience.
Camel riding tours are a great way to explore the unique landscapes of Gran Canaria, with the endless sea of sand and the lush Oasis of a Thousand Palms making for fantastic holiday photos.
3 – Set sail on a catamaran cruise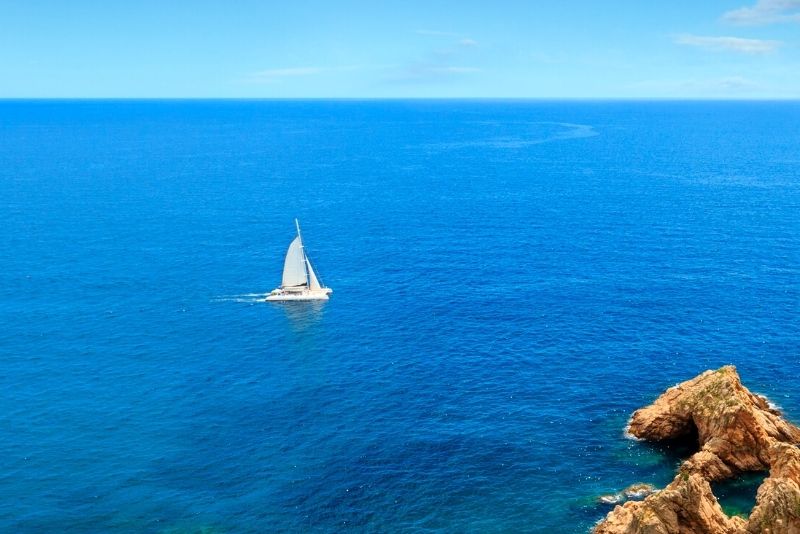 Feel the wind in your hair as you sail around the dramatic coastline on a Gran Canaria sailing tour. Venture out to sea and keep your eyes peeled for dolphins leaping through the waves, and see how many different shades of blue you can see in the sparkling water.
Go beach hopping, snorkel with colorful fish, and savor the sun on your back as you relax on the deck of your luxury catamaran.
4 – Visit Poema del Mar Aquarium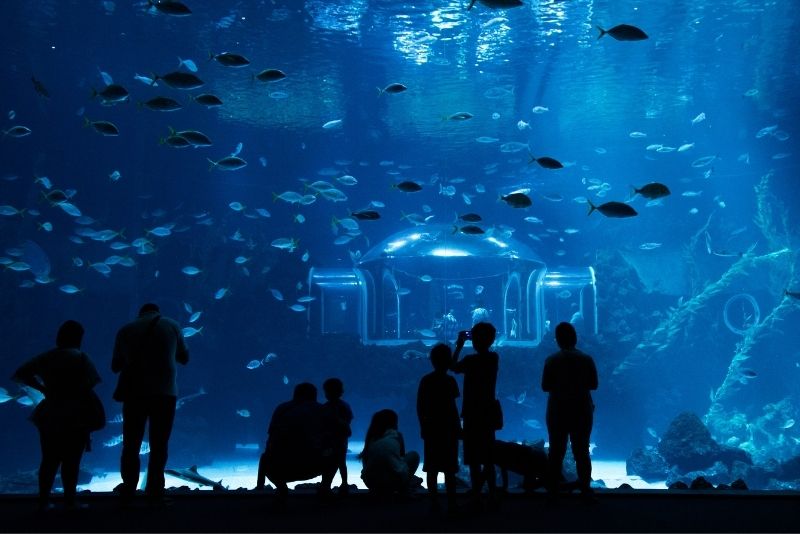 Come face to face with around 350 unusual inhabitants of the Atlantic Ocean at this modern aquarium. Watch as shoals of fish dart around colorful reefs, and become jungle explorers as you discover flora and fauna from continents near and far.
Meanwhile down at the Deep Sea exhibit you can admire big predators like sharks and stingrays through the largest curved glass window in the world. A great family day out in Gran Canaria.
5 – Hike to the ancient Roque Nublo crag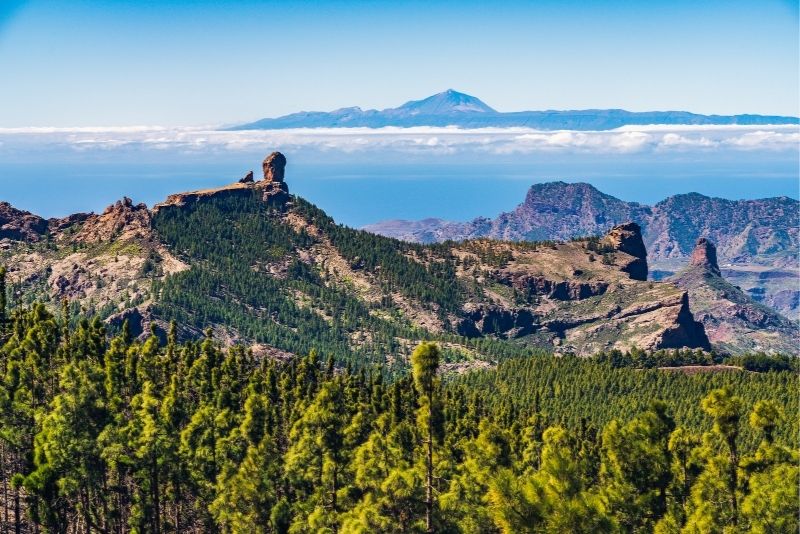 Lace up your boots and hit the trail that leads up to one of the most impressive rocky formations in the center of the island. Roque Nublo ranks among the biggest natural crags in the world and this ancient place of worship is of spiritual importance to local Canarians.
The views from the hiking route are simply magical, and there are plenty of other natural monuments to keep your camera working overtime.
6 – Snorkel off Las Canteras Beach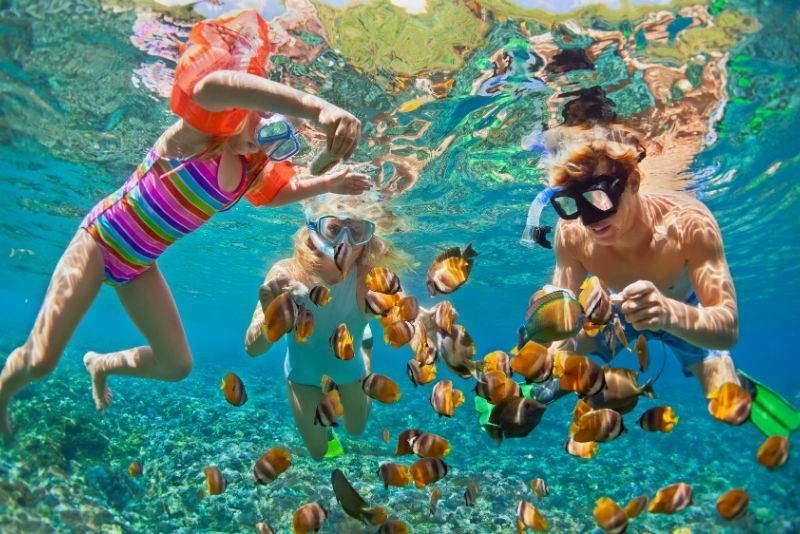 One of the most fun things to do in Gran Canaria is to go snorkeling at Las Canteras. Beneath the crystal-clear waters that lap against the beach an incredible marine haven beckons, home to an astonishing array of creatures.
Watch out for parrotfish and rays as you glide over aquatic rocky gardens, and is that a sea cucumber you spy on the sand? Your guide will help with species identification for more unusual inhabitants.
7 – Sightsee on a hop-on hop-off city tour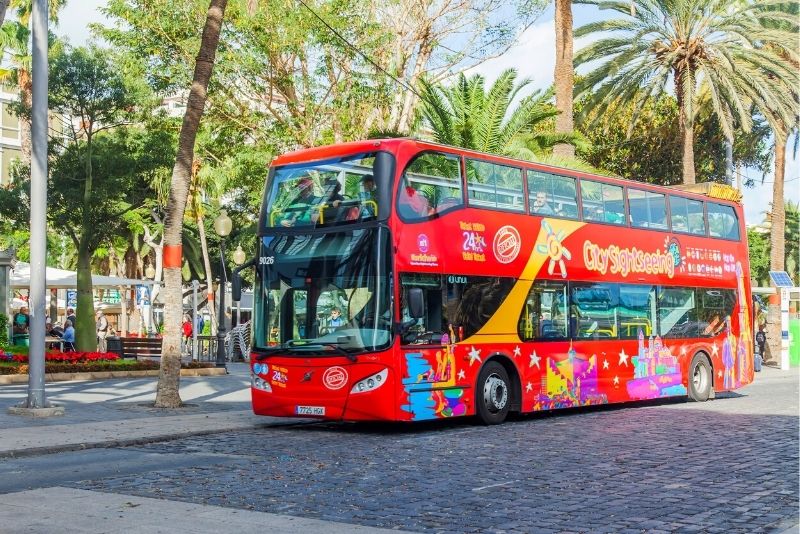 See the best of Las Palmas on this fun bus tour and explore the city at your own pace. Chose to sit up top to make the most of the views, and the sun.
You might want to stop in the old town to visit the cathedral and climb the tower for photos of the historic rooftops. Or perhaps you fancy strolling through Parque de Santa Catalina for seafront entertainment and museums.
8 – Enjoy a beach day at Puerto de Mogan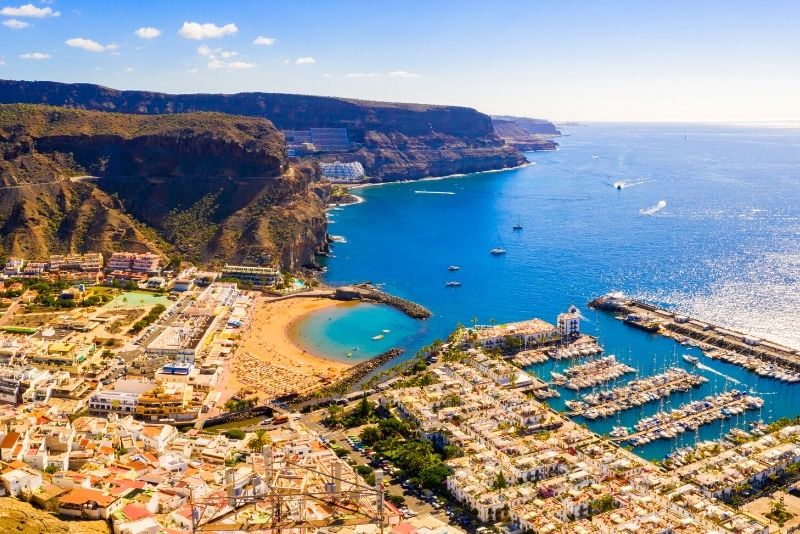 This picturesque beach resort sits attractively at the end of a deep valley in the south-west of the island. A great place for a day trip on Gran Canaria, Puerto de Mogan has swathes of golden sand with calm waters making it ideal for families.
Take a walk around the pretty port and explore the charming fishing village, or pull on your mask and go snorkeling in the clear ocean.
9 – Watch dolphins at play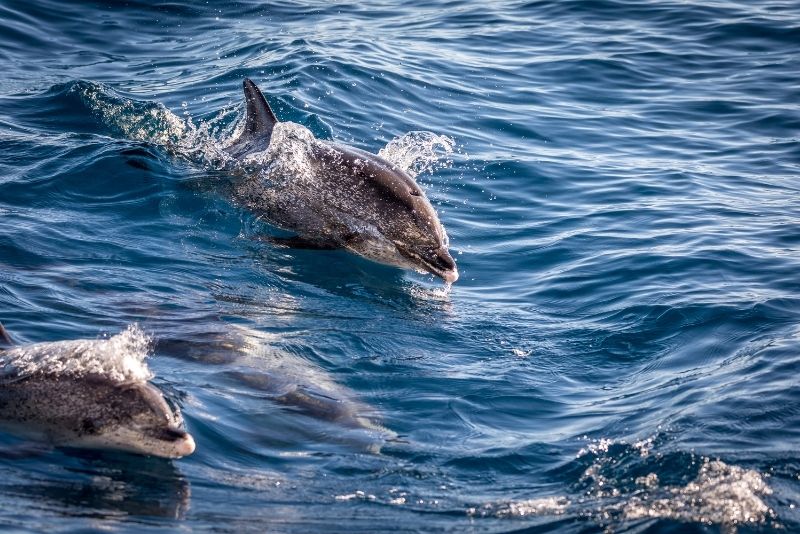 For one of the most rewarding things to do in Gran Canaria, join a dolphin watching tour and let these friendly creatures show you their marine domain. Maybe a pod will swim alongside your boat, posing for photos up close. Or perhaps you will spy them leaping skywards, showing off some real moves.
Some tours stop at a sandy beach for swimming and snacks, where you can toast your sightings with a celebratory drink.
Details vary slightly per tour, for example, enjoy a dolphin safari onboard a catamaran, or for something extra special, opt for a glass-bottom boat instead. Watch beneath you as schools of bottlenose dolphins swim by, and even green sea turtles!
Is whale spotting on your bucket list? Finally, tick off the magnificent activity when you join a whale-watching excursion from Gran Canaria. Oftentimes, these are combined with dolphin-watching tours.
10 – Discover the water town of Firgas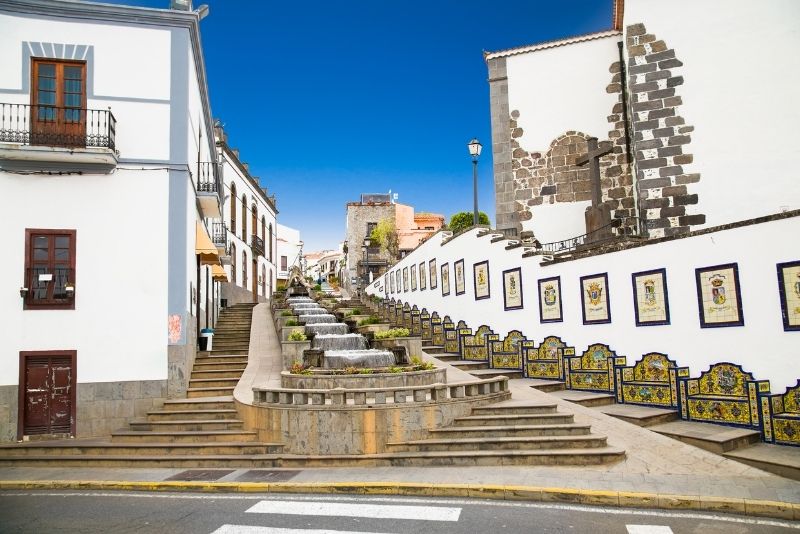 For an injection of culture head inland to the mountain town of Firgas with its hilly streets and religious pulse. There are churches to visit, a neo-Canarian style town hall to admire, and even a fountain that plays music.
The best part is ambling along the high street on pedestrian walkways alongside a stepped cascade that flows downhill towards a stunning monument. This famous road waterfall is lined with mosaics for added charm.
11 – Meet dragons at Palmitos Park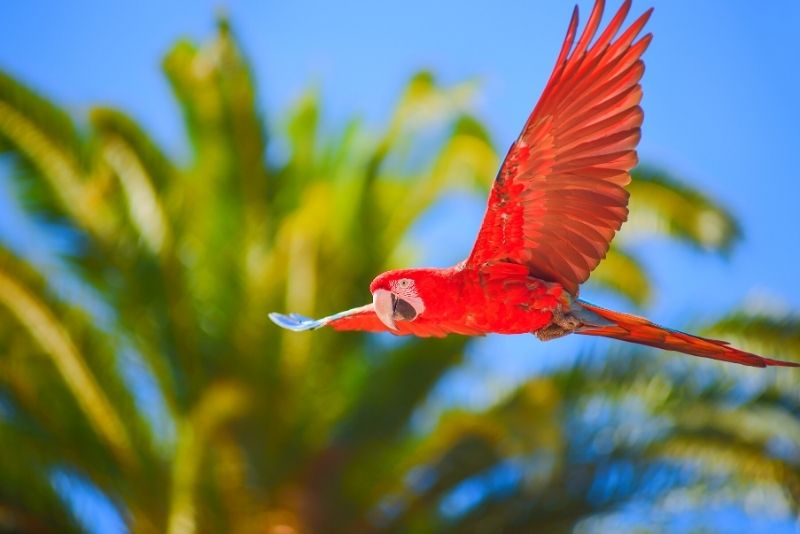 Spend a fun-packed family day at this world-class zoological botanical park and aquarium. Wander through the natural setting and discover animals and plants from across five continents.
Gasp in admiration as birds of prey and parrots demonstrate their skills and say hello to the meerkats who are always ready to entertain. Swing by the Islands of Primates to see monkeys in action, and say hello to the resident Komodo dragon if you dare.
12 – Take a day trip to Tenerife and Loro Park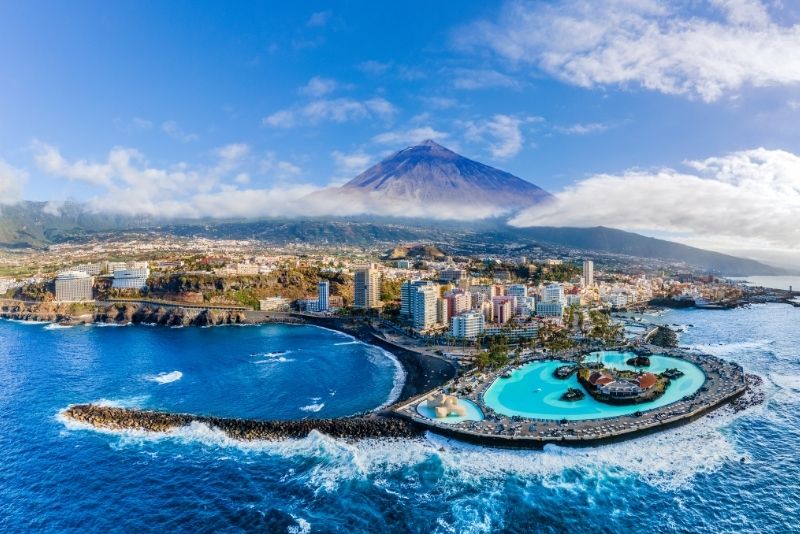 One of the most rewarding day trips from Gran Canaria is to the neighboring island of Tenerife to visit Loro Park. Discover animals and plants in their natural environment and enjoy live shows throughout the day.
Watch as dolphins and sea lions perform their best moves and laugh at waddling penguins as they congregate for lunch. Finish up with Natura Vision, a domed cinema showing a magical documentary film.
13 – Enjoy a scenic jeep safari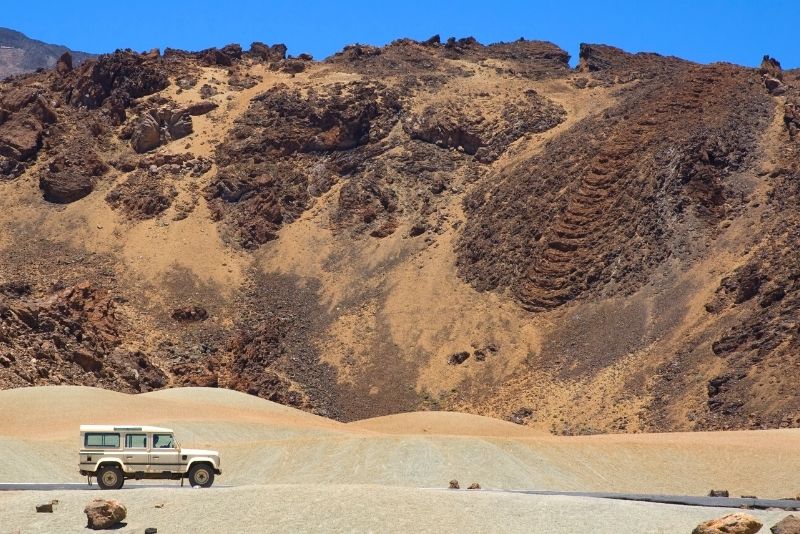 Buckle up for a thrilling jeep tour, journeying through some of Gran Canaria's most beautiful landscapes. Meander along winding roads surrounded by deep canyons and precipitous peaks, stopping at all the best viewpoints along the way.
Choose the road less traveled to explore remote reservoirs and fragrant pine forests. Then visit the Valley of the Thousand Palms where you will explore narrow cobbled streets and admire the whitewashed houses of charming mountain villages.
14 – Visit the biggest leisure park on this island, Holiday World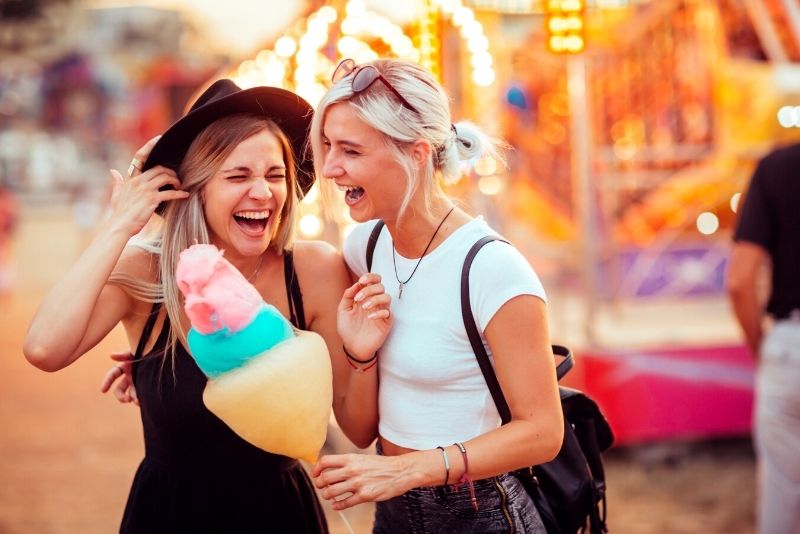 Both kids and adults can enjoy hours of endless fun at Holiday World, and the leisure park is filled with exciting attractions and activities. Divided into a theme park, bowling alley, karaoke bar, escape rooms and arcade, it might be hard to drag the family away from this one.
Sporting over 30 indoor and outdoor rides, head to the theme park to ride the classic carousel and the ferris wheel or hold your stomach in for the Spin Loop. Sing the night away in one of four themed karaoke booths, or if you're feeling lucky, stop by Palm Kasino.
Grab drinks at The Harrow sports bar or the outdoor garden terrace, Botánico. On the dining front, there are plenty of options including a street food market with bites from around the world.
15 – Discover plants at the Viera y Clavijo Botanical Garden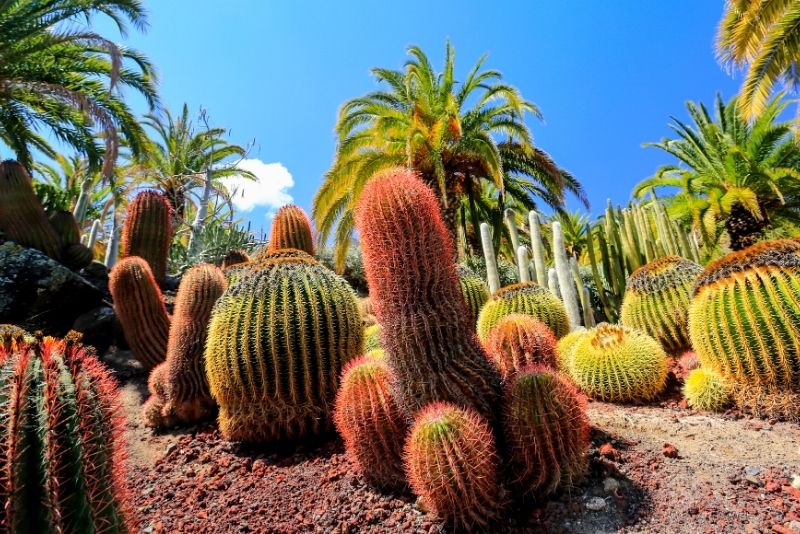 Escape into a world of exotic plant life at Spain's biggest botanical garden, which is hidden away in the beautiful Guiniguada ravine. Walk along pathways through the 27 hectares and breathe in the scents and sights of this rich botanical collection.
Find out which species are in danger of extinction and learn about indigenous plant uses as you wander slowly through different habitats. Make sure you pack your camera.
16 – Ride the surf at Playa del Inglés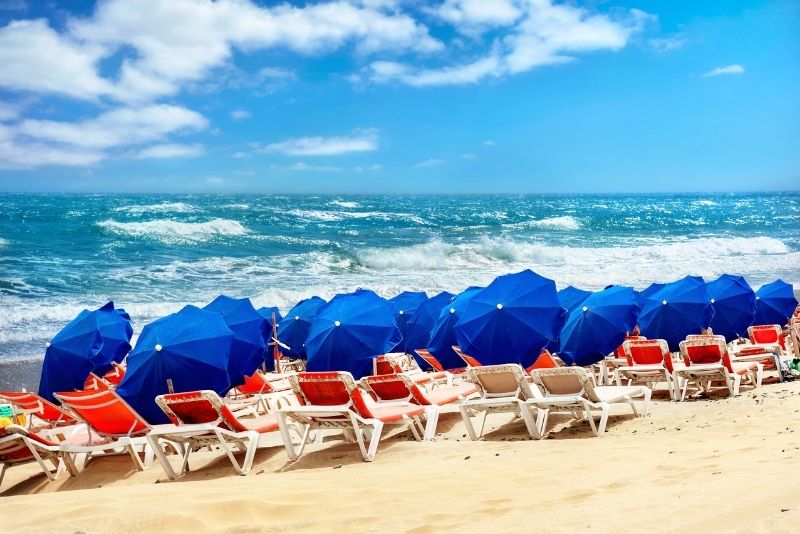 Dive into the heart of the action at Playa del Inglés and spend the day relaxing on the beach and riding the waves. This buzzing resort town is a popular place for beginner surfing lessons in Gran Canaria, and the expert instructors will have you carving through the water in no time.
The water sporting action doesn't end there, and you can also do SUPing or windsurfing down at this beach thanks to its conditions. If you're a newbie, consider a two-hour crash course, or choose a full-day windsurfing adventure.
If you think you've tried it all, learn something new and take up a two-hour kitesurfing lesson. Or, if this sport is your thing, there are two to five-day packages.
Once you have expended your energy at the beach, head up to the promenade for shopping and dining.
17 – Tour northern Gran Canaria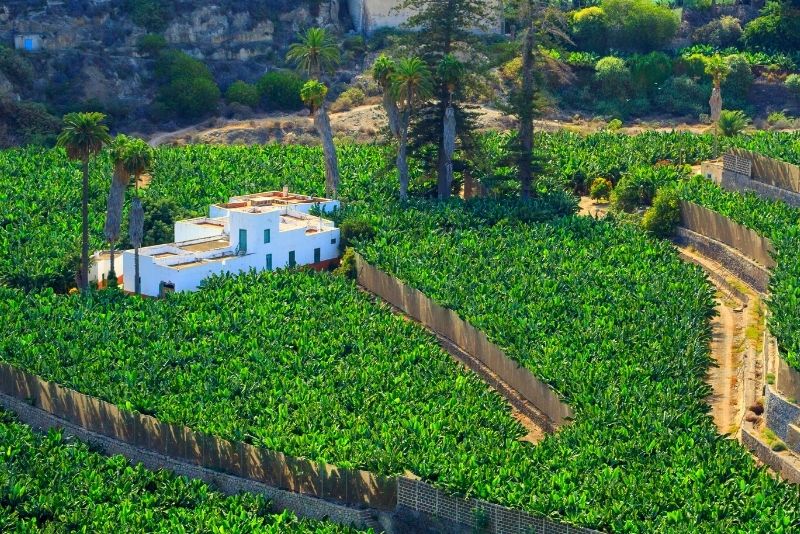 Enjoy the highlights of North Gran Canaria on a day trip that takes in rum distilleries, banana plantations, and lush countryside. See a magnificent church inspired by Gaudi and tick off archaeological sites and fishing villages, as well as a rather unusual street waterfall.
Soak up the sun in the Valle de Agaete, where coffee, tropical fruits, and vineyards go hand in hand. Then get your camera ready to capture views from the western mountains.
18 – Get on your bike in Maspalomas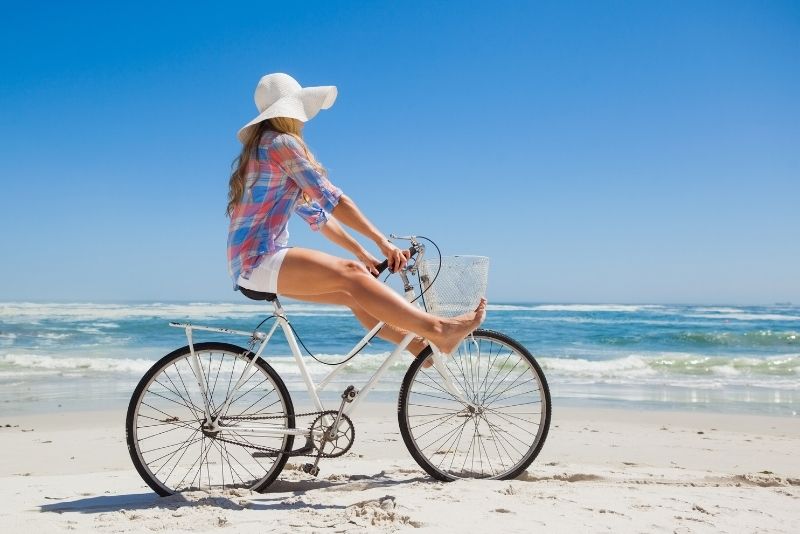 Gather the family and set out on a gentle bike ride along the pedestrian lanes of Maspalomas. Stop at the Botanical Park and try to identify some of the 500 plants that thrive here. Visit an ancient archaeological site and the famous Meloneras promenade, before rewarding your efforts with a refreshing drink at a panoramic bar.
Cycling tours can be combined with camel rides through the golden dunes, essential for all budding explorers.
19 – Scuba dive reefs and shipwrecks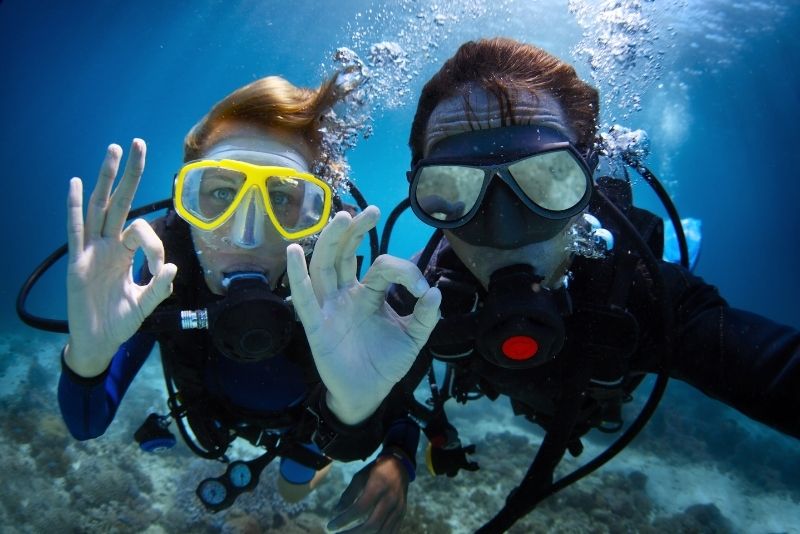 Slip on your fins and make final adjustments to your mask before you plunge into the ocean for some of the best scuba diving in the Canaries. Glide along with schools of exotic reef fish and see if you can spot an octopus or two peeping out of a rocky crevice.
Experienced divers can explore submerged shipwrecks and sea walls teaming with life, getting up close to this mesmerizing underwater volcanic world.
20 – Follow in the footsteps of explorers at Casa de Colón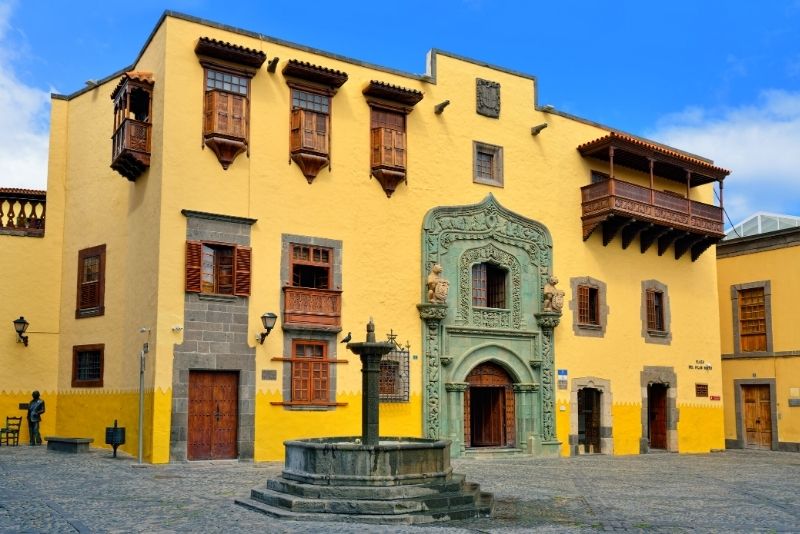 Did you know that Christopher Columbus stayed at Casa de Colón during his voyages to the Americas?
This colonial-style mansion stands proudly in the historic center of Las Palmas and features exhibits detailing the pre-European history of the islands. Visiting the house is one of the best cultural things to do in Gran Canaria, with romantic courtyards, latticed balconies, and ornate doorways making it the prettiest building in town.
21 – Kayak along the coast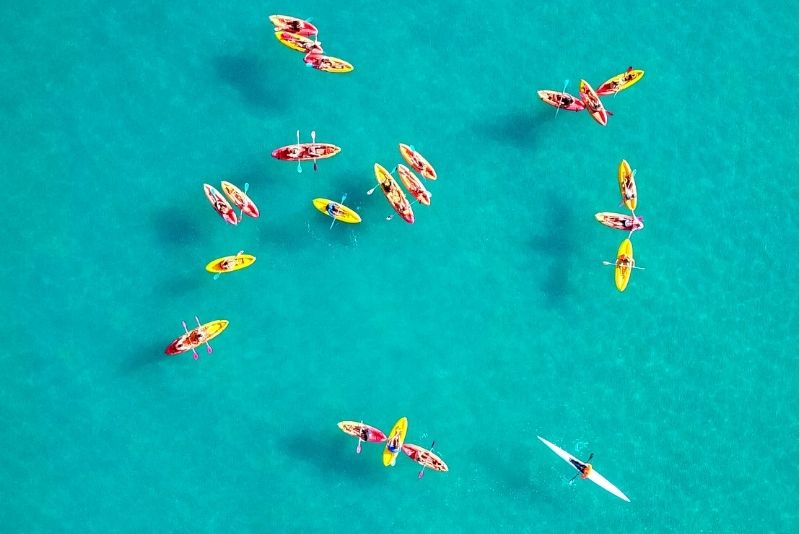 See the island from a different angle on a kayaking adventure. Of all the things to do in Gran Canaria, this is one of the most thrilling, with wildlife encounters and dramatic cliffs in abundance.
Paddle into secluded coves for sunbathing and beach games, and enjoy picnics on the sand surrounded by nature. Then take a dip in the ocean and see how many colorful fish you can count as you snorkel in marine reserves.
22 – Sightsee the city during segway tours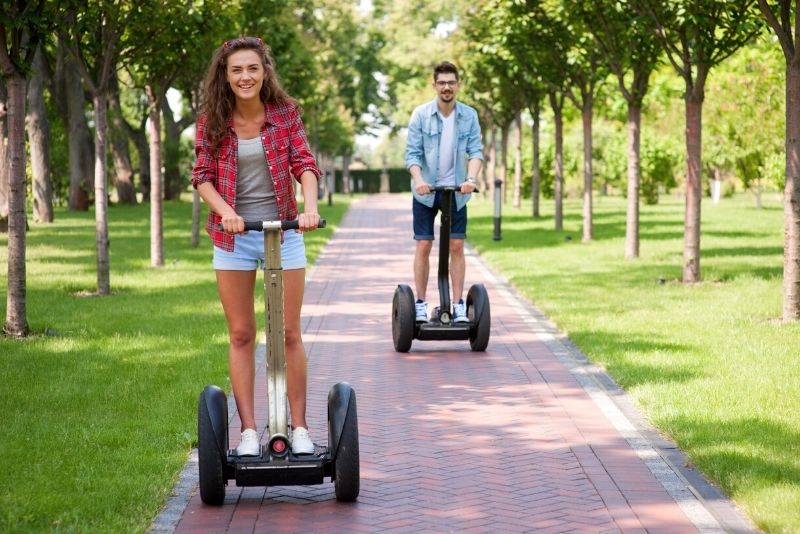 Forget about the mundane, a riveting way to get to know the city is during a segway tour where you cover more ground and sights to see in a short space of time.
Riding your own two-wheeler, enjoy one, two or three hours zooting along the southern coast where you'll discover Maspalomas (a trendy resort town) and traditional Meloneras town. Visit city parks, explore famed town squares and drive along coastal promenades.
An alternative way to venture from coast to coast is via e-scooter tours, or you can travel on an electric scooter through the mountainsides.
23 – Go off-road on a rugged buggy tour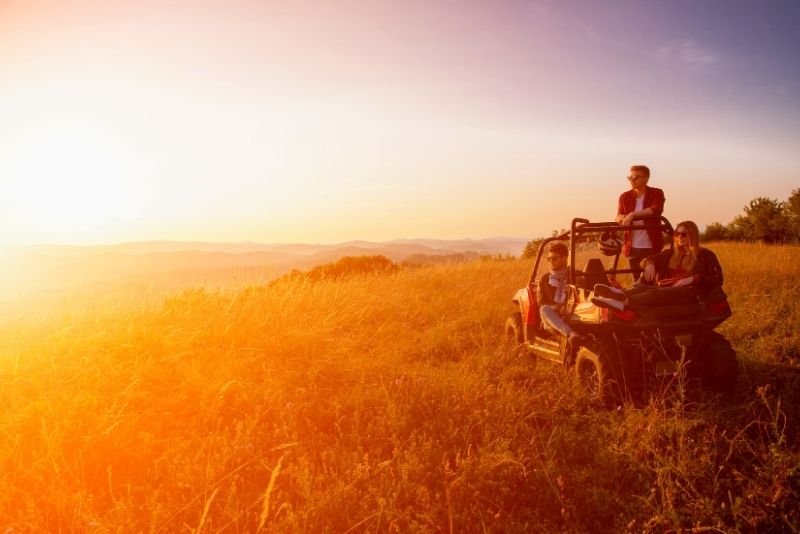 Power along bumpy tracks and hidden trails as you discover the less-visited parts of Gran Canaria. Drive through traditional villages and natural parks, all the while surrounded by dramatic mountains and verdant tropical canyons.
Be enchanted by glimmering reservoirs and the vast Valley of the Thousand Palms, and stop for a breather at spectacular viewpoints along the route. Make sure you pack your camera and your sense of adventure.
Buggy tours are great fun for the entire family as you're strapped inside an open-caged off-road vehicle. Just as epic, but perhaps for travelers seeking more of a thrill-inducing ride, quad tours promise hours of exciting trails to traverse.
Jump onto a four-wheeler and hit the tracks — there is the option of letting one of the professional tour drivers take the wheel, and you play passenger. Venture to Maspalomas or Fuerteventura, for example, and each ATV differs in route.
24 – Trot around the island horseback riding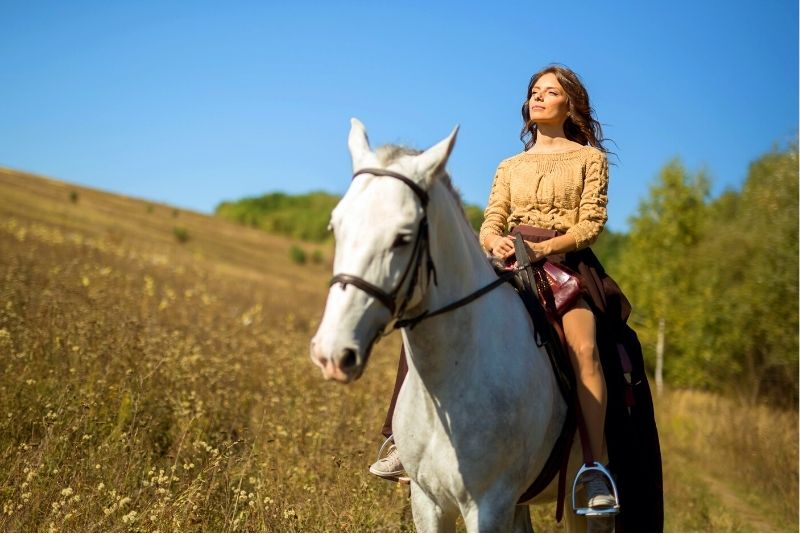 From the coast to the countryside, enjoy a relaxing horseback riding experience and connect with these intelligent animals along the journey.
Saddle up and begin your trail, where you'll be guided through wild terrains in the towns of Telde (on the east coast) or Arucas in the northern part of the island, for example.
Private lessons and horseback rides around riding fields are suited for young children, with the option of a 30-minute or one-hour session.
25 – Take in the views at Pico de las Nieves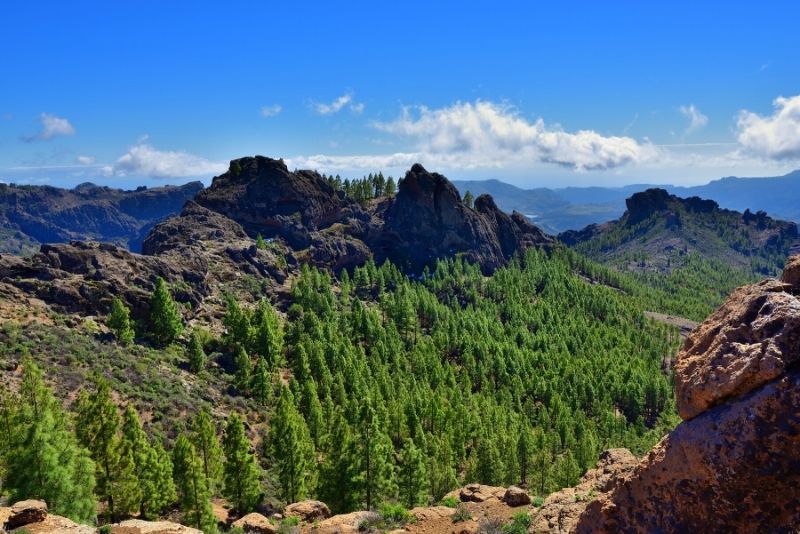 For picture-postcard holiday photos, drive up to the Pico de las Nieves lookout point and soak up the atmosphere around the highest point on the island. Drink in the uninterrupted views out over the plunging valleys and rocky ridges of this UNESCO Biosphere Reserve.
Add a splash of magic by visiting at sunset, so you can see floods of red and orange illuminating the sky above shimmering ocean waters.
Outdoor enthusiasts might prefer trekking to this view spot instead, and there are some great guided hiking tours summiting to the top of the peak.
Perched 1,949 meters above sea level, the trail takes roughly four hours and is suitable for beginners too. There are also parts of the mountain where you can go climbing if you're after more adventure.
26 – Dive down deep on the Mogan Yellow Submarine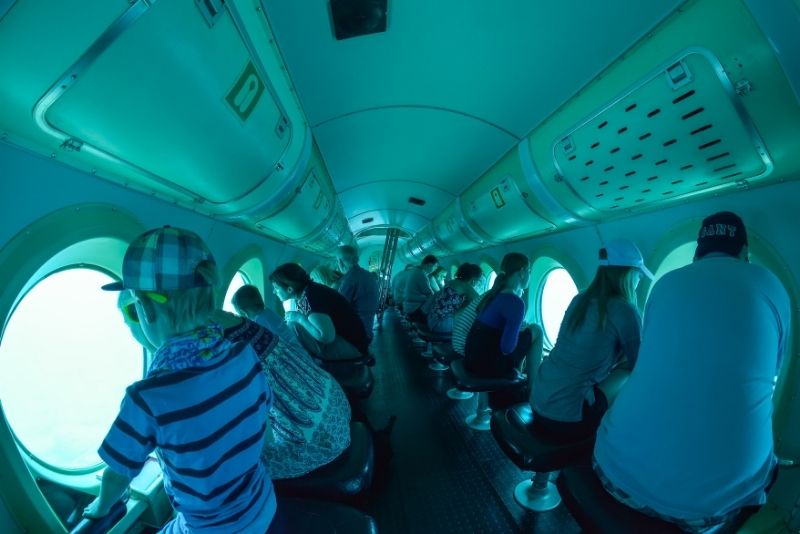 Become a deep-sea diver as you adventure beneath the waves on board the Mogan Yellow Submarine. If you are looking for unusual things to do in Gran Canaria, this is one of the best. Seated comfortably inside the sub, watch as exotic marine life and shipwrecks appear at your giant porthole window.
Keep an eye out for shimmering shoals of sardines performing their dazzling aquatic displays right in front of you.
27 – Get festive with wine tours and tastings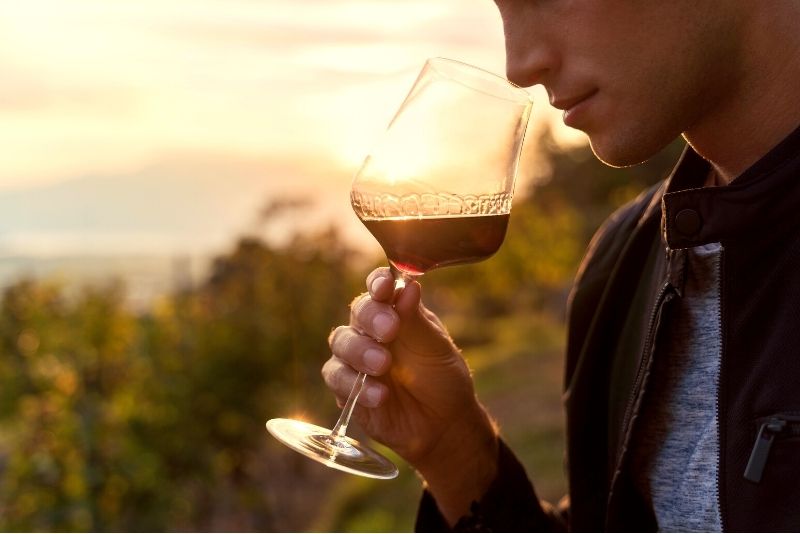 Couples; set off on a romantic afternoon visiting fabulous vineyards during wine tours and tastings. As Gran Canaria boasts an excellent landscape for grape growing, there are a few wineries to explore around the island.
Arriving at Bodega Los Lirios, small group tours are available where guests are guided around the winery with explanations of the production process included. Sample their red wine blends accompanied by cheese and bread-boards.
In business for over 100 years, family-operated Bodega San Juan is an organic winery that also offers tours of its vineyards. Visitors can also check out the wine cellars or the wine museum, and tastings are available too.
28 – Experience the adrenaline of a jet ski ride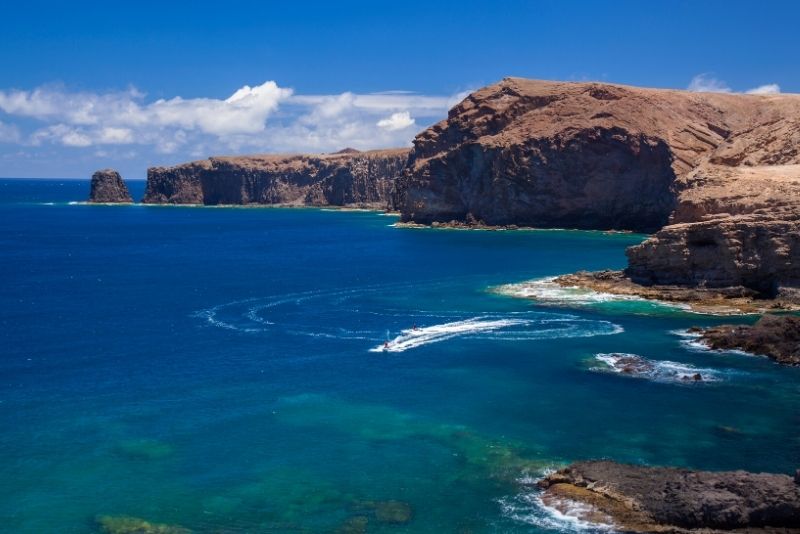 Bounce through the waves by jet ski on a thrilling ocean excursion where getting wet is all part of the adventure. Zoom along beneath imposing cliffs and enjoy a different perspective of Gran Canaria from the water.
Do not be surprised if you are joined by some of the local marine inhabitants, as this is the domain of dolphins, turtles, and even whales. Hang on tight and enjoy the ride.
29 – Navigate canyons and waterfalls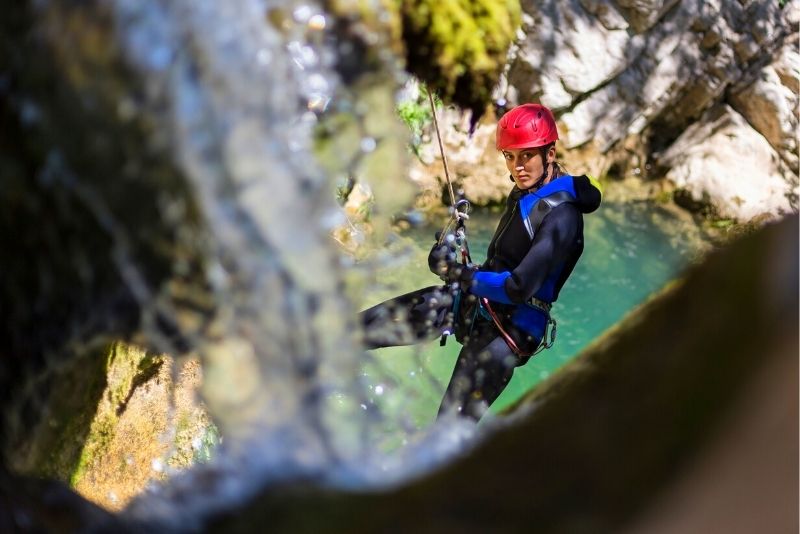 Prepare to get wet as you climb up rocky ravines and rappel down waterfalls on this active Gran Canaria canyoning tour. Feel the rush of adrenaline as you slide down rocks and scramble along riverbeds in search of adventure.
Reconnect with nature in these remote mountain valleys, always under the watchful eye of your expert instructor. Soak up the impressive volcanic landscapes around you and learn how the island was created all those years ago.
30 – Explore Cueva Pintada Museum and Archaeological Park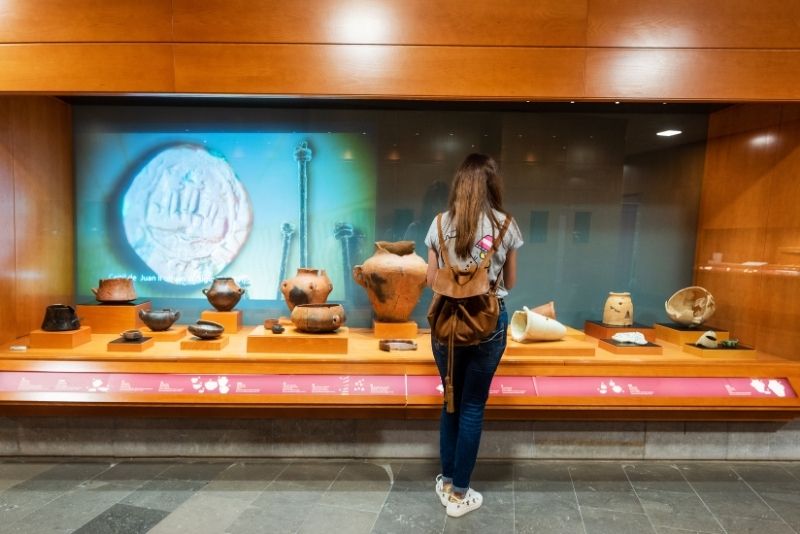 Travel back in time with a visit to this meticulously excavated pre-Hispanic village, a relic of life before the Europeans arrived in the islands. Learn how these people lived and admire the houses and caves they left behind.
The main event is the Painted Cave, where dazzling rock art illustrates a story of culture and settlement. This pictorial legacy and the surrounding live excavation site are both must-sees for history buffs.
31 – Feel charmed at Sioux City Park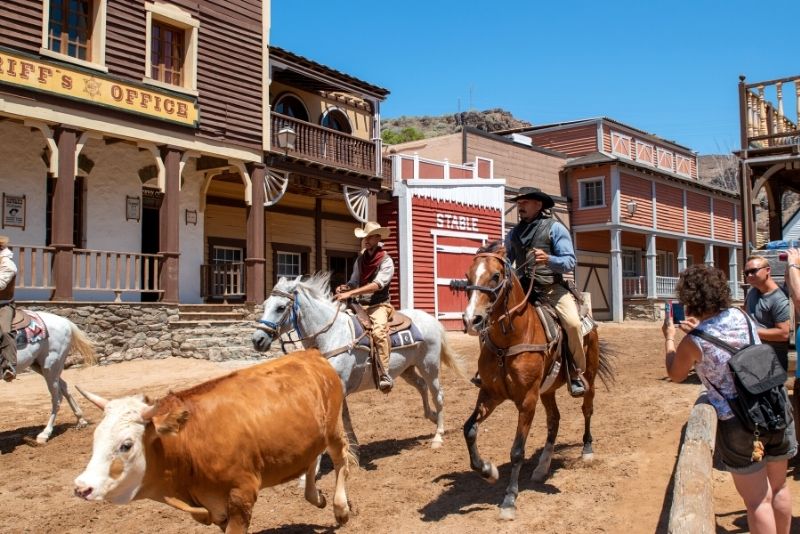 Transporting you from Europe to America, feel like you're part of a scene from an old-school western movie, or in the "Wild, Wild West" during a trip to Sioux City Park.
Designed to replicate an actual Wild West town in the U.S.A., this unique theme park is where you can live out your cowboy fantasies. It's set up like a classic town — saloon included — and one of the highlights is its captivating shows performed by talented actors.
Catch the "horse whisperer" show, or the "bank robbery" show, and there are gun duels as well as western dancing.
32 – See the world from above while paragliding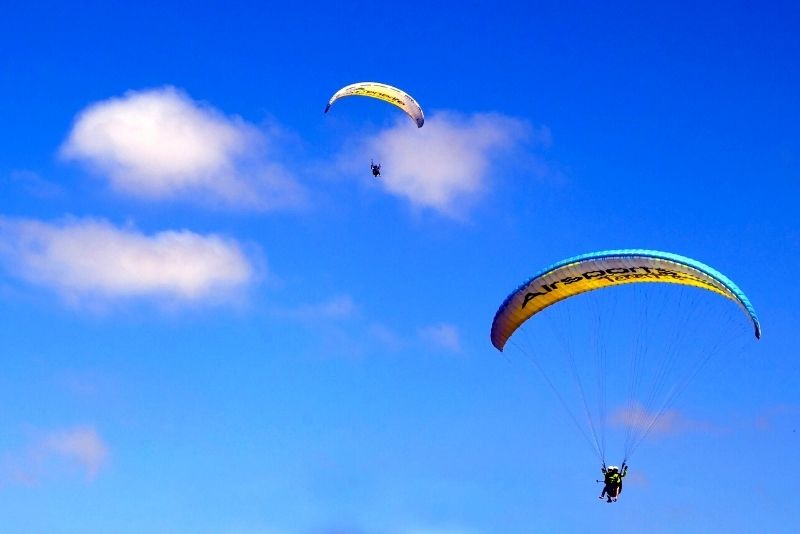 Paragliding is one of the most thrilling things to do in Gran Canaria since nothing beats soaring through the skies above dramatic volcanic landscapes. Get a bird's eye view of the island as you float gently with the thermals – your expert pilot will make sure you see it from every angle.
Enjoy incredible panoramic vistas of cliffs and beaches and see if you can spot other islands far out to sea.
33 – Dare to go bungee jumping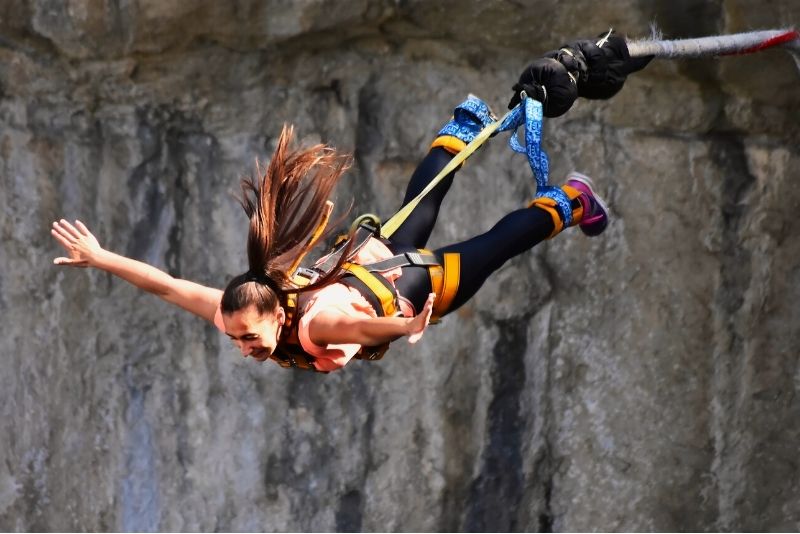 Feel a total adrenaline rush as your free fall to the ground (suspended by a rope) for those brave enough to go bungee jumping!
Standing on the edge, prepare for lift-off, jumping into the air to feel the forces of gravity and what it must be like to fly — even for just a second.
In fact, the highest bungee jump in the Canary Islands is right here on Gran Canaria at La Calzada Bridge. Experience all the thrills as you're catapulted to the ground 25 meters below. Or, feel your heart racing when bungee jumping from the cliff sides of El Puertillo beach!
34 – Take incredible photographs on helicopter tours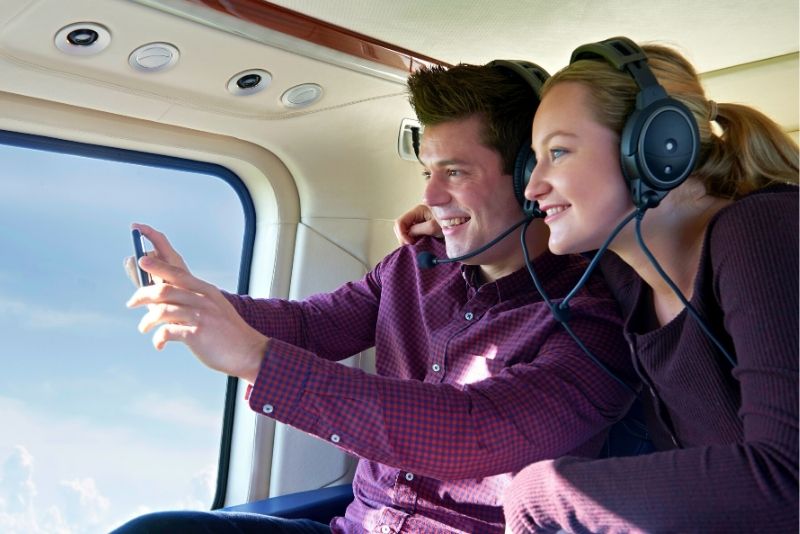 Are you planning a special occasion or are you here on your honeymoon? Helicopter tours offer travelers something truly unique as you get to take in the natural scenery above the clouds.
Soaring over valleys, ravines, dams or oceans, there are a few varying flight options to choose from and each one travels a different route. Make sure to enquire about this prior so you're guaranteed to see your preferred landscape during the flight.
The duration of the helicopter tour also ranges, from eight minutes of air time to a 20-minute course – it's dependent on the tour you choose.
35 – Immerse yourself in nature at Playa de Güigüí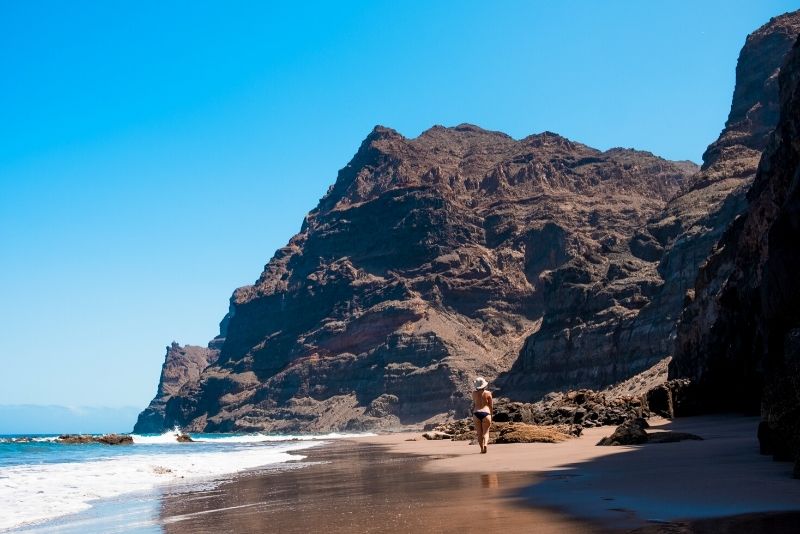 Playa de Güigüí is one of the top beaches to visit in Gran Canaria thanks to its seclusion and striking scenery. Splash through the waves and run along the golden sands, or hike through challenging ravines far off the beaten tourist trails – the choice is yours.
Feel close to nature at this remote slice of shore which can be reached on foot or by boat, depending on how intrepid you feel.
36 – Explore Mundo Aborigen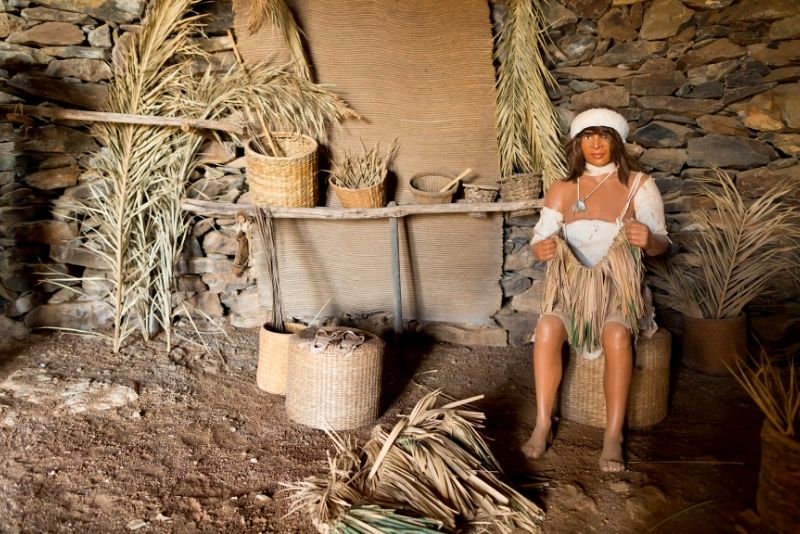 Culturally enriching, become a bit more clued up on local history, culture and traditions at the outdoor Mundo Aborigen park.
Set up outdoors, this novel theme park aims to educate visitors on the history of the Canary Islands' first inhabitants through its open-air museum. Walking around, investigate what daily life was like more than 2,000 years ago and over 100 life-sized statues accompany each reimagined display.
The views are pretty magnificent from here, and there is interesting native flora to see too.
37 – Give outdoor (or indoor) skydiving a go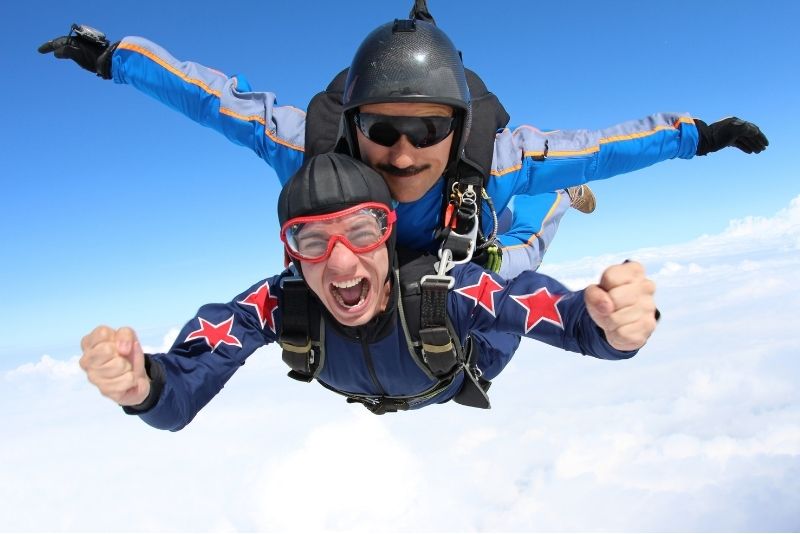 Adrenaline junkies will truly find themselves in paradise on this island, and skydiving is another one to tick off the list. Prepare yourself — and your heart rate — as you step out of a plane flying 3,500 meters above the ground and then, tandem jumping into mid-air.
Twirl, squeal and dive down at speeds up to 200 kilometers per hour in under one minute — which feels much longer when you're literally freefalling through the sky …
If your nerves have gotten the better of you, but you're still set on the experience, there are indoor skydiving ventures too inside a wind tunnel at FLY Gran Canaria.
38 – Master your backswing at the golf courses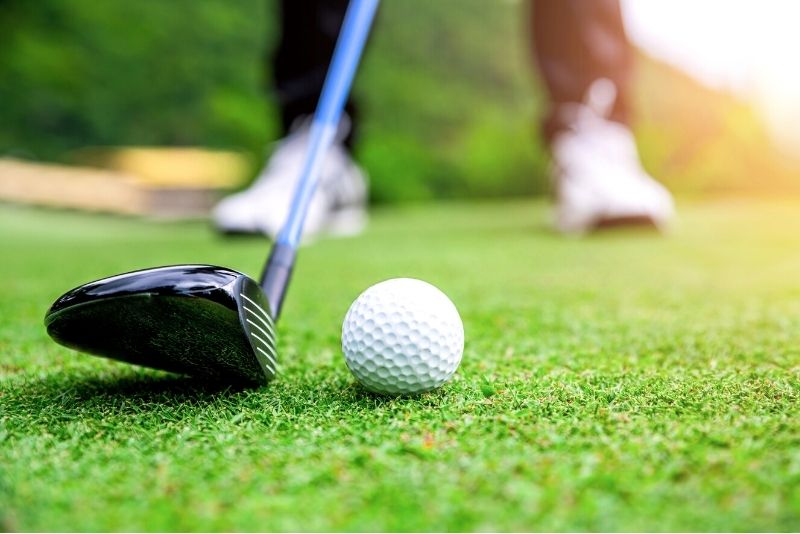 Show off your skills at some of Gran Canaria's golf courses.
Under swaying palm trees and a salty ocean breeze, the 18-hole Maspalomas Golf course is situated on the south side and was designed by Mackenzie Ross (who architectured many courses in Europe in the 20th century).
Surrounded by rolling hills and with the sea in sight, Anfi Tauro Golf is a championship course and also offers players 18 holes to tackle.
Play and stay at the Salobre Hotel with its own Salobre Golf course that boasts three different loops to complete over 18 holes.
Always loved by young children, bring the little ones to Minigolf Gran Canaria with three locations around the island.
39 – Take in the natural scenery while zip lining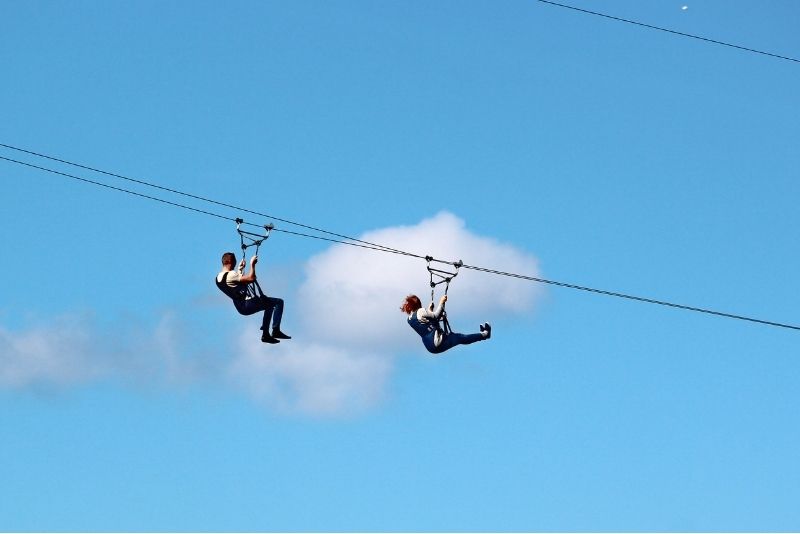 Forget about gliding through treetops; the zip-lining adventures in Gran Canaria are truly special as you get to zoot across an indigenous landscape by the Santa Lucía de Tirajana village.
After receiving your safety briefing, zip across a 50 or 30-meter line with the open, mountainous terrain as your background.
This area is famed for its outdoor activities and most zip lining expeditions are combined with some sort of other adventurous sport like rock climbing and abseiling.
40 – Stand on a crater edge at Caldera de Bandama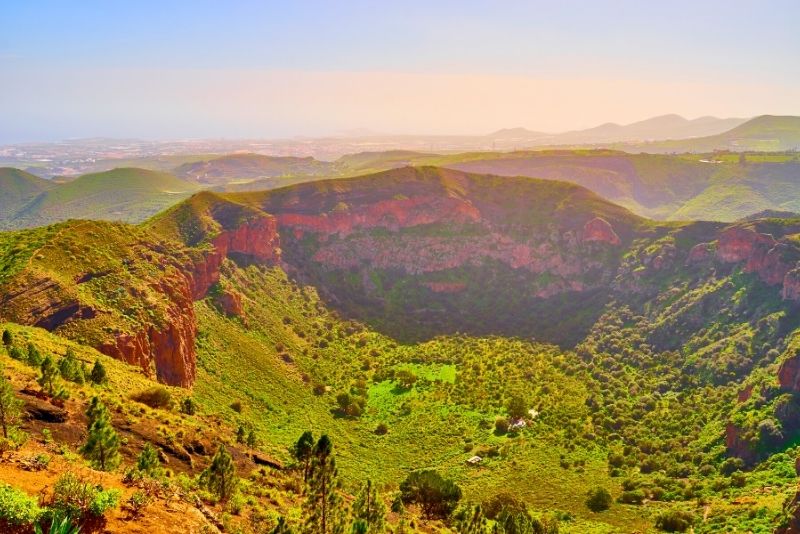 For some of the best views in Gran Canaria, head to the viewing platform on the edge of Caldera de Bandama. At 1000 meters wide and 200 meters deep, this vast volcanic crater has a peak – Pico de Bandama – that you can drive up.
Adventurous visitors can scramble down and explore the crater floor where there is an abandoned farmhouse, once owned by a Dutch farmer who grew vines here.
41 – Soar above water when parasailing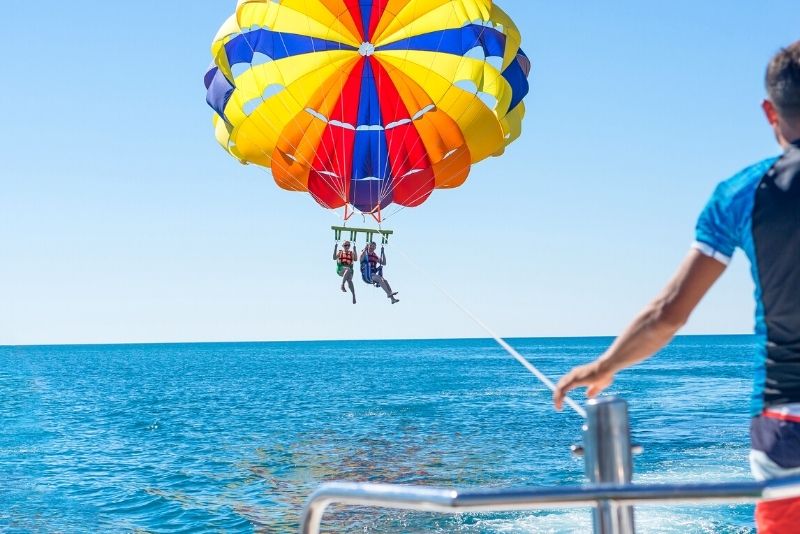 Drink in the oceanic views from up above when parasailing over the Atlantic as you fly up to 150 meters above the sea.
Starting at either Anfi beach or Taurito beach, first board a speedboat that transports you out onto the water and this is where your parasailing flight begins.
Securely locked into glider chairs (and attached to the boat), feel like a bird in the sky as the parachute pulls you through the air. Enjoy the views of the coastline during your flight, and you have the option of an eight or 15-minute ride.
42 – Try Yoga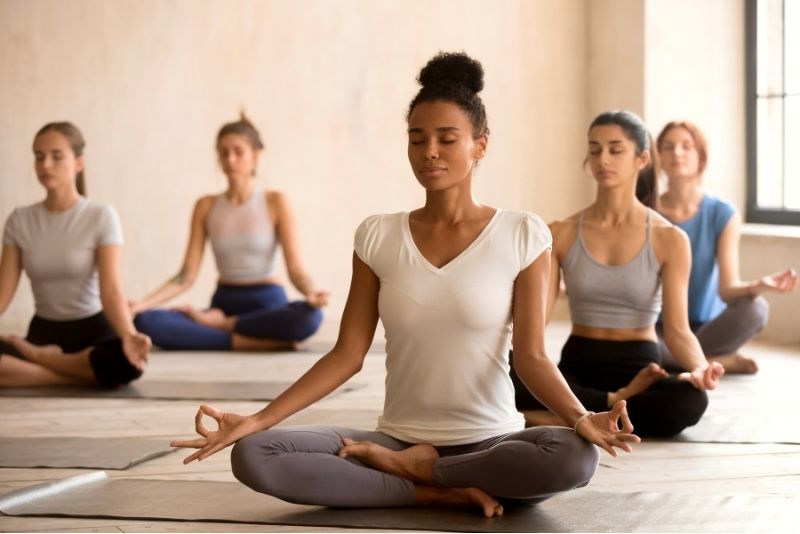 Calling all yogis; catch up on your practice with a magic yoga class during your vacation.
At a private studio on its outdoor terrace, prepare for a deep stretch of the muscles, body and mind during a 1.5-hour Yin yoga session. The class is suitable for all levels, including beginners, but take note … Yin is a gentle form of yoga, but it works on strengthening the body through its long-held poses.
If you're a newbie or looking to shake up your regular routine, try out a private aerial yoga experience. With all equipment provided, hop into your hammock and learn how to bend, spin and work your body in mid-air. Lessons are also 1.5 hours.
43 – Swim, work on your tan or enjoy the activities at Anfi Beach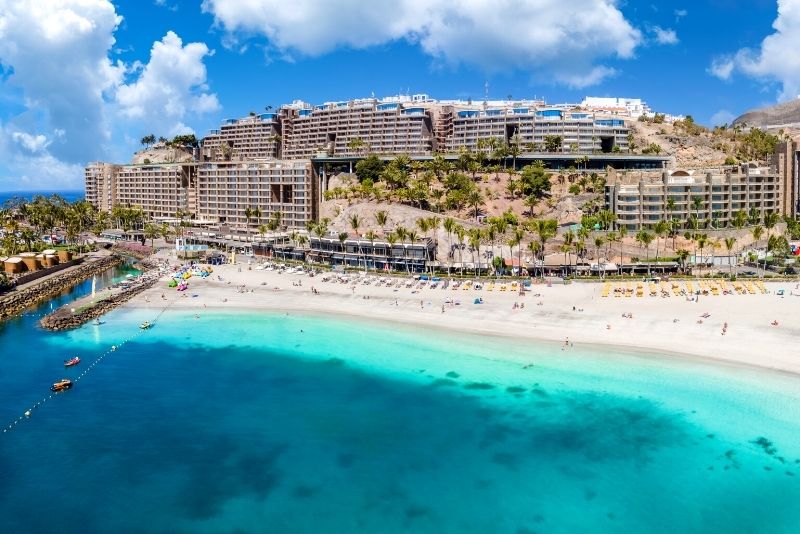 Loved for its powdery white sands, tropical palm trees and Mediterranean-blue ocean, Anfi Beach is a total vibe. Favored by all sorts of travelers, whether a family troupe, couples or a bunch of mates, it's also home to the Anfi Beach Club resort.
Not just favored for its setting, tourists hunting down a plethora of water sports and beach activities usually end up at this man-made bay.
Jet skiing and stand-up paddleboarding (SUPing) are extremely popular aqua adventures to try because the ocean is usually calm. Add a little more excitement to your beach day and attempt to flyboard above water!
44 – Scream in delight on a jet boat tour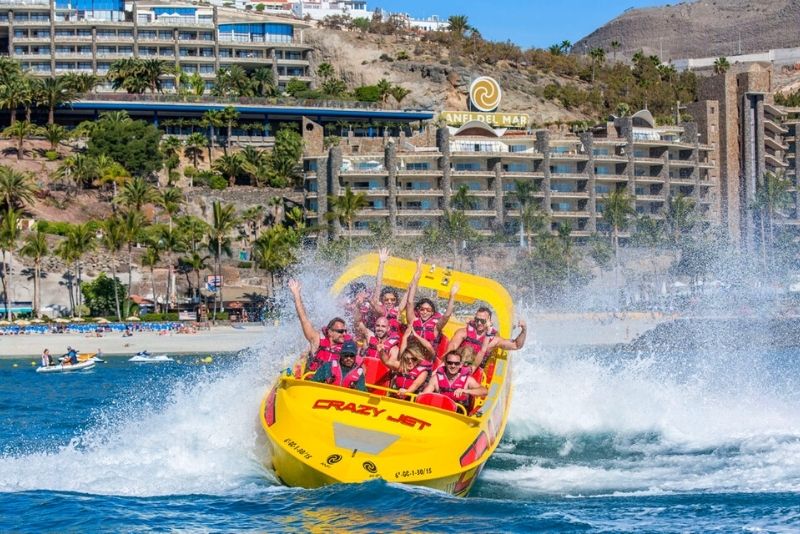 Let the adrenaline take over as you skim across the water on an action-packed jet boat ride. This is the ultimate high-speed adventure, with all the twists and turns you would expect from these specially designed boats.
Relish the sensation of spray hitting your cheeks as you shriek with pleasure at the powerful experience. Remember to take in the dramatic scenery, even if it might be a bit of a blur.
45 – Eat at the best restaurants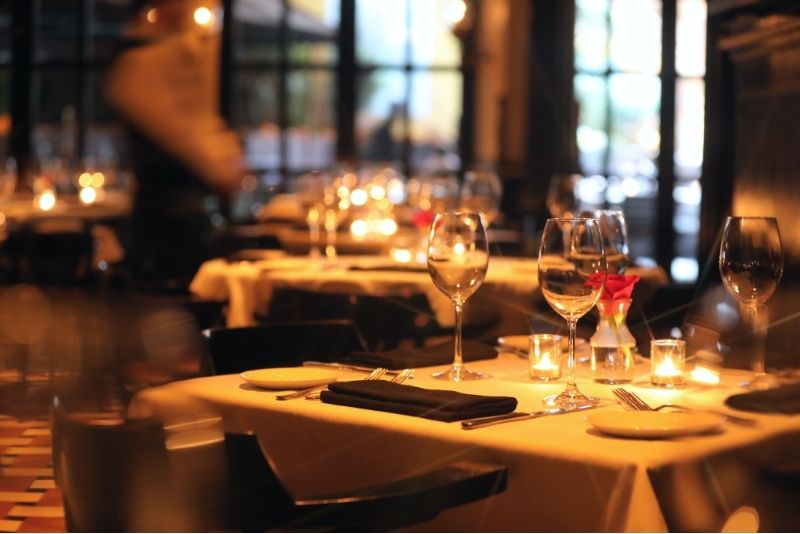 Planning a romantic date night, or simply hunting for the best restaurants in town? Here are some fabulous dining spots to take your pick from.
Starting off with a bang; one Michelin-starred Los Guayres promises an elevated evening of haute gastronomy, but still presents its diners with classic flavors of the Canary Islands.
Another one-star winner is Poemas by Hermanos Padrón and its plush interiors suit its luxurious menu.
For a fusion of flavors and some excellent vegan options, Qué Leche takes the prize of the Michelin bib gourmand award.
Apart from the Michelin heroes, there are other fantastic restaurants. A hidden gem in the middle of Telde, the menu at La Tunera has tapas with unusual flavors, or for bold and punchy local dishes, book a table at El Arrosar.
Enjoy fine cuts, sushi and bao buns at Asador Las Lilas Carrizal BBQ and grill restaurant, or book in advance for an evening at Deliciosa Marta, loved for its ambient setting and fine dining experience.
How to get to Gran Canaria?
Arriving at Gran Canaria International Airport (also called Las Palmas Gran Canaria Airport), forget about having to organize transport to your accommodation. Instead, have pre-booked airport transfers sorted prior to landing.
The airport is a 20-minute drive from the city center, and your private driver will take you directly from the airport to your stay. Transfers are also available for when you're departing the island.
Where to stay in Gran Canaria?
Wondering what the accommodation scene is like in Gran Canaria?
Spanish dreams are made of these at the Salobre Hotel Resort & Serenity. Surrounded by desert-like fauna and warm interiors, this five-star stay is aesthetically-pleasing in every way.
Contemporary and cool, the adults-only Lopesan Costa Meloneras Resort & Spa is 800 meters from the beach and favored by couples.
Under the same ownership but with a completely different look and feel, the luxurious Lopesan Baobab Resort takes inspiration from Africa.
Away from the crowds is the Resort Cordial Santa Águeda, with the ocean on its doorstep. Choose between two or three-bedroom apartments that include its own private pool.
Traveling with young children? The Radisson Blu Resort & Spa is a great family-friendly choice.
Visiting Gran Canaria on a budget?
Traveling on a budget doesn't necessarily mean you can't enjoy a new town or city, and a great money saver for your expedition to Gran Canaria is joining one of the free walking tours — or all of them!
Be shown the old town, explore the city center and the most iconic sites, attractions and monuments, or trek small coastal towns with a knowledgeable guide.
Where to go next?
While Gran Canaria is one of the main islands, Tenerife is the largest of the Canary Islands and to get here, catch a public ferry (one to two hours) or a speedboat ride across from Gran Canaria.
There are other things to do in Tenerife to complete your time in this part of the Atlantic Ocean. Enjoy a day out at sea on a stylish yacht, summit a volcano, go stargazing and whale watching.
Lanzarote is much further away from Gran Canaria, and you can fly directly here or take a five-hour ferry ride to the wild isle. Explore the island's underground, beach-hop, see pirate caves or one of the many other things to do in Lanzarote.
History buffs will find intriguing things to do in Fuerteventura as well, such as visiting the Betancuria Museum of Archaeology and Ethnography, or exploring the island's traditional windmills that bear witness to its agrarian past.
Final thoughts
From adventurous activities to lazy beach days, Gran Canaria is an idyllic location for traveling during your Canary Islands holiday.
What are your favorite things to do on the island, or in other parts of the Canaries? Share with us in the comments below.
As always, happy and safe travels.