If you're looking for an adrenaline rush with added scenery, buggy tours in Tenerife will do the trick! These Canary Island adventures take you far off the beaten track to discover hidden corners of Tenerife that few tourists get to see.
Whether you want to take the wheel or feel the thrills as a passenger, these rides are sure to get your heart pumping.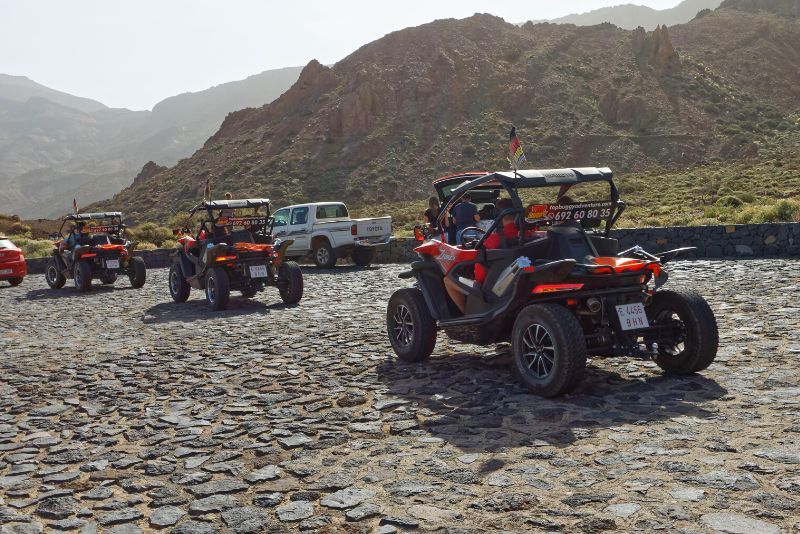 Here's everything you need to know about buggy tours, one of the most exhilarating outdoor activities in Tenerife.
What are the best buggy tours in Tenerife?
Small group guided buggy tours in Teide National Park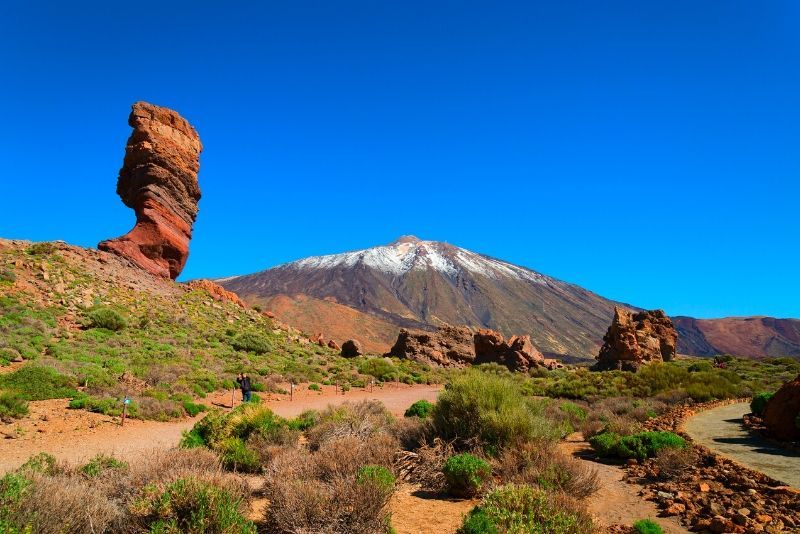 Buggy tours in Tenerife tend to take place on a small-group basis. This means you'll be exploring alongside like-minded travelers with a guide to show you the ropes. Don't worry if you haven't driven a buggy before, you'll soon get the hang of it.
You'll either be collected from your resort hotel or a designated central meeting place in town. After a short road transfer, you will arrive at the operator base. Here, you'll be shown your buggy and there will be a briefing to ensure you're comfortable operating the vehicle.
Then it's time to head off into the wilderness on your adventure through the volcanic landscapes of Teide National Park, home to Mount Teide. As your confidence soars, so will your speed – make sure you hang on tight! The tracks take you across dry lava flows and through fragrant forests, before arriving at the famous Las Cañadas del Teide viewpoint.
There will be several stops during the ride for photos, snacks and a breather. Some excursions also take in a local winery for tastings and tapas on the return journey. After the trip, you'll be driven back to where you were collected earlier.
How much do buggy tours in Tenerife cost?
Buggy trips in Tenerife cost between €170 and €200, depending on the operator and the trip length. This price is for a couple of people sharing a 2-person buggy. If there are more of you in your party, you can hire a 4-person buggy for around €230.
For the Tenerife buggy rides with tapas and wine tasting at a local bodega, expect to pay €230 per person. This covers everything required for the buggy trip as well as the bonus Tenerife food tour at the winery. You will have the option to purchase photos and a video of your excursion at the end of the tour.
The price is the same, whether you are a driver or a passenger. Those with licenses are welcome to switch places with their buggy mates during the trip to share the driving if they wish. Most tours will have a maximum of eight participants to ensure the experience remains personal.
What is included in a buggy tour in Tenerife?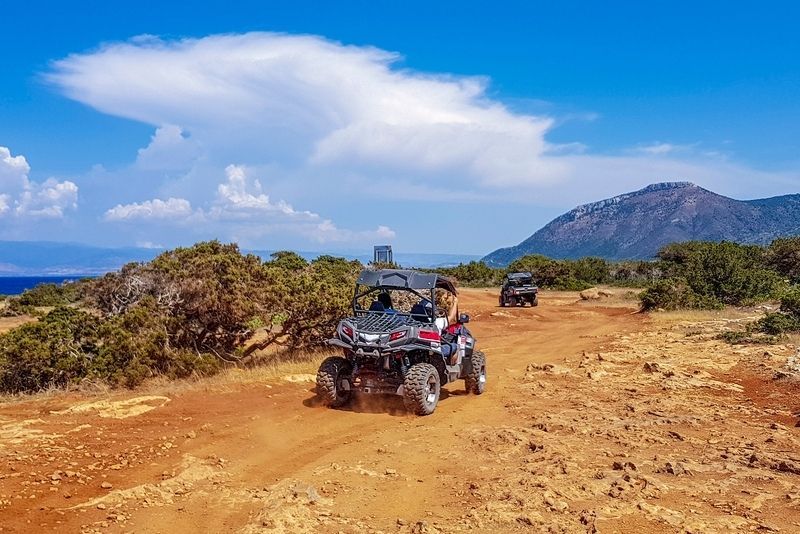 Everything you need for your adventure is included in the package price. Buggy tours in Tenerife usually come with round-trip transfers to the base, a professional guide and of course the use of a buggy.
Many providers offer a jacket and glasses for the ride, as well as water, soda, snacks and travel insurance. Some excursions also include a wine and tapas tasting at a local bodega during your trip. Check the tour details beforehand so you know what to expect.
Where do buggy tours in Tenerife start?
The operators of most buggy tours in Tenerife provide hotel pickups from some of the island's main resort areas. Locations covered include Playa De Las Americas, Costa Adeje, Los Cristianos, Golfo del Sur, Fañabé and Torvisca.
If you prefer, you can head directly to the buggy base. This might work better if you're already out and about exploring with a rental car. The most common starting point is on Calle Plasencia in Las Chafiras.
How long do buggy tours in Tenerife last?
Tenerife buggy rides are usually around 3 hours long. There are a few tours that last 4 hours if you fancy having longer out on the road.
These timings mean that you can easily fit in another half-day adventure around the island if you wish. Tenerife boat tours and hiking trips are the perfect complements to buggy rides.
When is the best time for a buggy tour in Tenerife?
Tenerife buggy excursions run throughout the day, with both morning and afternoon departures to choose from. Popular start times are 9 AM and 2 PM. Temperatures rise as the day progresses, so opt for an earlier trip if you're not a fan of the heat.
It's a good idea to book this tour toward the start of your visit, just in case bad weather means the excursion is postponed.
Is it safe to take a buggy tour in Tenerife?
Buggy tours in Tenerife are a fun and safe way to explore the wild interiors of the island. You will have a briefing before setting off to ensure you are comfortable driving the vehicle.
You will be traveling over bumpy terrain, so these trips are not suitable for pregnant women or anyone with back problems.
Are children allowed on a buggy tour in Tenerife?
Yes, children are permitted to ride as passengers in the buggies. If they are traveling in a 2-person buggy, children must be at least 120 centimeters tall. Meanwhile, the minimum age for passengers in a 4-person buggy is 3 years.
Do I need a driving license to take a buggy tour in Tenerife?
If you are going to be in the driving seat during your buggy tour in Tenerife, you will need to take your license. An original copy of the license is required.
You will also be asked to sign a driving contract accepting responsibility for following the Spanish rules of the road.
What happens in case of bad weather?
Tenerife buggy tours do require good weather to be able to run. Luckily, the island has one of the best climates in the world, so cancelations are rarely an issue.
However, if your excursion can't go ahead due to bad weather, you will be offered a full refund or an alternative date.
What other outdoor activities can you do in Tenerife?
Travel tips
Wear comfortable clothes and closed shoes. Sunscreen, sunglasses, and hats can also help protect you from the sun.
Make sure to wear safety gear, listen to instructions from your guides, and adhere to any given safety protocols.
Keep bottled water with you and some snacks for the journey. Especially when you're active, it's important to stay hydrated and energized.
Tenerife is home to unique flora and fauna. Stick to designated paths and trails when doing your buggy tours, to minimize the impact on the local environment.