Take to the sunny skies above Tenerife on a thrilling tandem paragliding flight. You'll soar over volcanic landscapes where lofty peaks and hidden valleys stretch for miles. Meanwhile, the Atlantic Ocean and sandy beaches sparkle down below.
Paragliding tours in Tenerife give you a bird's-eye view of the island – one that few visitors ever experience. Suitable for beginners and experts alike, this will be an experience to remember.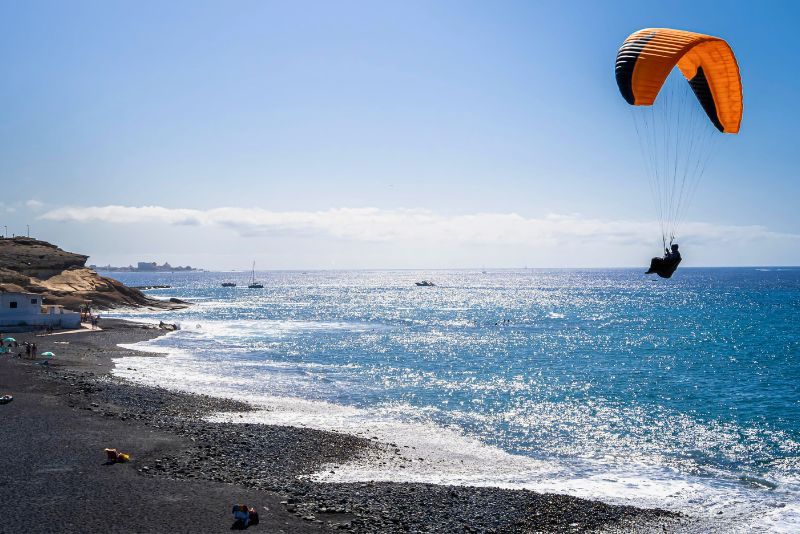 Here's everything you need to know about paragliding tours, one of the most exhilarating outdoor activities in Tenerife.
What are the best paragliding tours in Tenerife?
Tandem paragliding in southern Tenerife
Most Tenerife paragliding tours take place in the Costa Adeje area in the south of the island. This is where you'll find some of the best scenery, from endless beaches to dramatic mountain landscapes. You'll be collected from your hotel if you're staying in one of the popular southern resorts.
After a short drive to the launch site, it's time for a safety briefing from your professional instructor. They will get you kitted up with a harness and a helmet and explain the process, so you know what to expect. Once you've learned about the take-off and landing procedures, you're ready to fly like a bird!
The launch area is usually at a height of 700 meters, but this can change depending on weather conditions. You'll run off the hillside with your instructor, and before you know it, you'll be drifting through the sky. Your pilot will be in communication with you throughout the flight, to ensure safety at all times.
Now all you have to do is relax and enjoy the views. Marvel at the scenery unfolding down below – the volcanic landscapes and dreamy coastal panoramas will take your breath away. Keep your eyes peeled for Barranco del Infierno, Roque del Conde and the Tejina mountain.
If you're feeling brave, you can have a go at flying the glider before you land down on the beach. This is where the tour ends, so after you've recovered from the adrenaline, you can enjoy some relaxation time on the sand.
Acrobatic tandem paragliding flight in Tenerife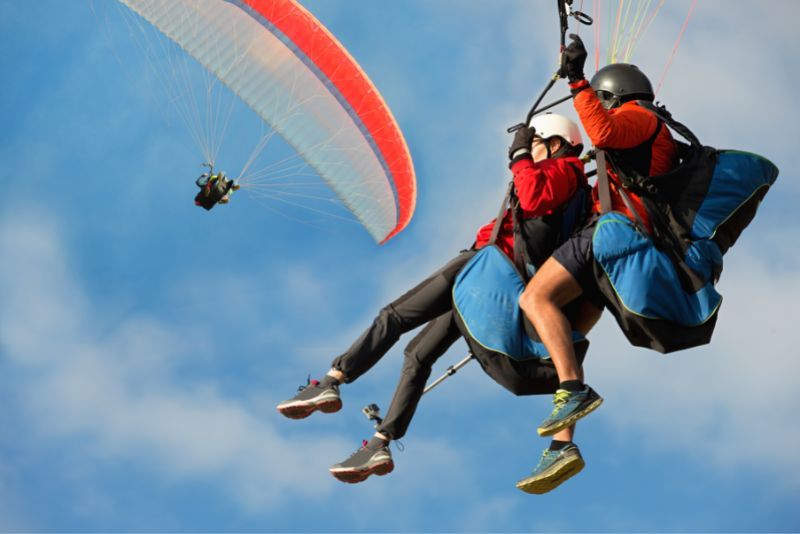 For travelers who want to unleash their inner daredevil, these acrobatic flights are the business. You'll feel all the thrills as your instructor performs their best tricks while you glide through the sky. No experience is needed, just a head for heights!
These Tenerife paragliding flights take place in the Costa Adeje area. You'll meet the team at Playa de la Enramada before being driven up to the launching site.
There will be a short safety briefing before the adventure begins. You'll pick up speed as you run along the slope, with the action kicking in as soon as you take to the skies. Hang on tight as your professional companion shows off their freestyle moves, with all the twists and turns you can handle.
Feel your heart pumping as the landscapes rush by before you, with the airborne stunts coming thick and fast. At the end, you'll spiral spectacularly to the ground, where a soft beach landing awaits. Your onward travel is in your own hands, but there are plenty of public transport options nearby.
Tandem paragliding in northern Tenerife
If you're staying in the north of the island, then these flights in the Anaga region are perfect. You'll be collected from your hotel and transferred to the departure point, which is just an hour from Santa Cruz.
This tandem flight launches from an altitude of 500 meters up in the hamlet of Taganana in Anaga Rural Park. The beautiful nature reserve is a UNESCO World Heritage site and makes for a splendid backdrop to your adventure. Don't worry about taking photos – your instructor will do that for you.
Once you've taken off, sit back and enjoy a privileged aerial view of Tenerife's northern landscapes. The coast up here is particularly dramatic and lesser known than the beaches of the south. You'll soar past mountain peaks and over valleys as you make your gradual descent.
Finish the flight in style with a landing at Playa de Almaciga. You'll then need to make your own way back to your hotel.
How much does paragliding in Tenerife cost?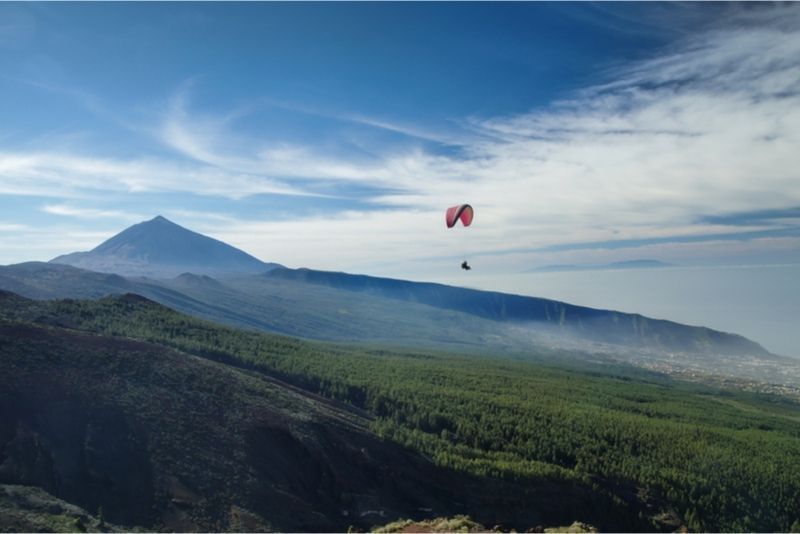 Tenerife paragliding trips around Costa Adeje cost around €120 per person for a tandem flight. Both beginners and experts are welcome, and the tour will be tailored accordingly. This experience is limited to two participants, each of whom will be accompanied by an instructor.
Acrobatic paragliding in Tenerife is priced at €140 per participant. You'll be with your own personal instructor at all times. There is a maximum of four people on these tours, so you can expect undivided attention from your tutor.
The paragliding tour in northern Tenerife costs €180 per flyer. This is more expensive than the southern trips as it includes a longer land transfer into the beautiful Anaga Rural Park. The flight is also one of the longest – you'll have between 30 and 35 minutes in the air.
What is included in a paragliding experience in Tenerife?
Your tour operator will provide everything you need to go paragliding in Tenerife. The price includes a professional instructor, licensed safety equipment such as a harness and a helmet, plus liability insurance.
Some companies also offer hotel transfers to make your trip as hassle-free as possible. Note that drop-offs after the flight are often not included as part of the package.
You are not permitted to carry a camera or phone when you are in the air. However, many providers will take professional photos and videos during the flight – these will be available to purchase afterward. On the northern Tenerife paragliding trip, 10 photos are offered free of charge.
Where do paragliding tours in Tenerife start?
Hotel pickups are often included in Tenerife paragliding sessions if you are staying in the Costa Adeje and Santa Cruz areas. Check with the operator to see if your accommodation is covered. You may have to make your own way back after the flight – this isn't a problem as you'll usually land on a convenient local beach.
Other paragliding providers have specific meeting points in Costa Adeje. The parking lot above the Playa de la Enramada is a popular choice.
How long do paragliding flights in Tenerife last?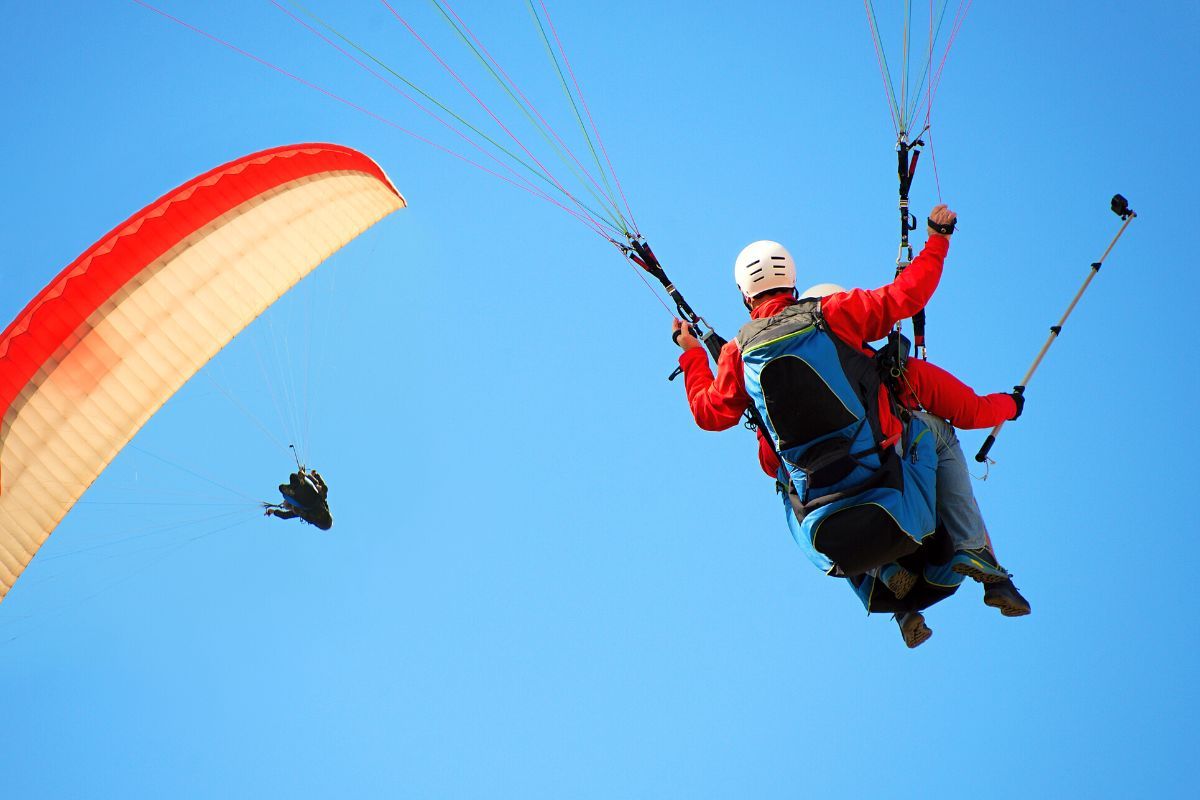 Paragliding tours in Tenerife usually last between 2 and 3 hours. This includes the time taken to reach the launch site, as well as the safety briefing.
You'll usually spend between 15 and 30 minutes in the air, depending on the prevailing wind conditions and launch height. The northern Tenerife paragliding flights are slightly longer, with up to 35 minutes of flying time.
When is the best time to go paragliding in Tenerife?
Paragliding sessions are held throughout the day, with both morning and afternoon options to choose from. The light is often at its best first thing in the morning and in the late afternoon, so bear this in mind for the views. Whenever you fly, remember it can get chilly up at this altitude so make sure you dress warmly.
It's recommended that you book Tenerife paragliding flights during your first days on the island. That way, if the trip gets postponed due to bad weather, you'll still have time to reschedule.
Is it safe to go paragliding in Tenerife?
Paragliding flights all operate on a tandem basis – you'll be in the safe hands of your expert instructor at all times. So, you can just sit back and enjoy the ride.
For safety reasons, there is usually a weight limit of 100 kilograms for anyone wanting to go paragliding over Tenerife. Travelers who suffer from vertigo and pregnant women should not take part in this activity.
The acrobatic flights are very physical, with lots of twists and turns to contend with. For this reason, they are not a good idea for anyone who is prone to motion sickness.
Are children allowed on a paragliding tour in Tenerife?
Yes! Children can enjoy Tenerife paragliding experiences – they just need to be at least 6 years old. Anyone under 18 years must be accompanied on the tour by an adult to provide consent for the flight.
What happens in case of bad weather?
If weather conditions are poor, it won't be possible to go paragliding in Tenerife. The excursion will be either postponed or canceled – if it's the latter, you'll receive a full refund.
Note that the weather conditions can change in the blink of an eye, so trips can be canceled at short notice. It's advisable to call the operator the evening before your flight, to make sure the tour is still going ahead.
What other popular outdoor activities can you do in Tenerife?
Travel tips
Make sure you wear closed shoes and pack a windbreaker or sweater if it's cool. Wear sunscreen and sunglasses for protection from the sun.
If you're prone to motion sickness, take some anti-sickness medication to ensure a pleasant flight.
Should you want photos of your experience, make sure to check beforehand whether photography is included as part of your tour as you won't be able to take your own phone or camera.