Tenerife is the largest of Spain's Canary Islands located off the coast of Western Sahara and Morocco.
Spain's highest peak, Mount Teide, sits at the center of the island and is a major influence on the geology and climate of Tenerife. Its volcanic past created the arid rocky terrain in the southern part of the island, and its high altitude shelters a more lush environment in the north.
The variety of the land here extends into the ocean, and the rugged volcanic formations under the waters are important habitats for fish, dolphins, whales, rays and sea turtles.
Seeing these natural treasures up close on a snorkeling tour in Tenerife is an experience you'll never forget.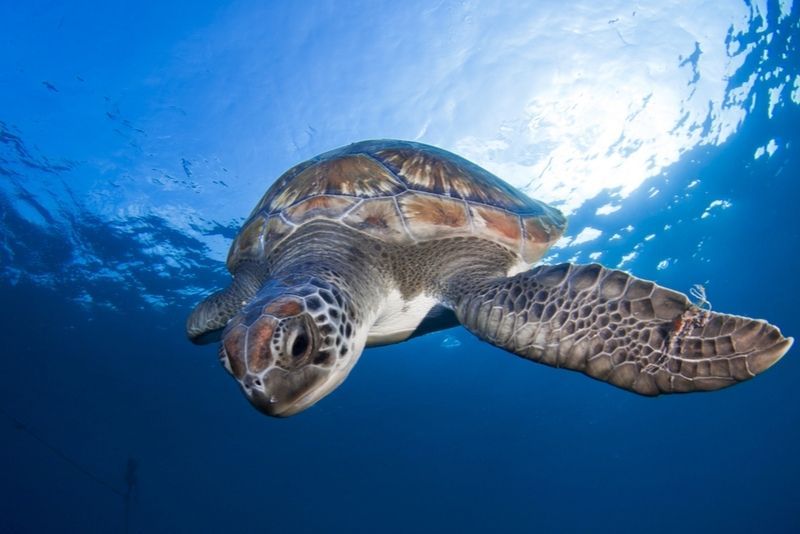 You will find below all the information you need before embarking on a snorkeling experience, one of the most mesmerizing outdoor activities in Tenerife.
What are the best snorkeling tours in Tenerife?
Any option from equipment rental to private excursions on a yacht can be a great start to your snorkeling adventure from various points around the island. Tours accommodate nearly every budget, ability level and time frame.
Boating and snorkeling tours
Taking a catamaran, yacht, or speedboat gives you access to the off-coast dive spots, and there are even options for wheelchair users. The largest groups for snorkeling boat tours are 20 people, but most tours range between six and ten people.
Snorkeling equipment rental
If you have experience snorkeling and want the independence to venture on your own, renting snorkeling gear is a convenient and affordable option.
Kayak and snorkeling tours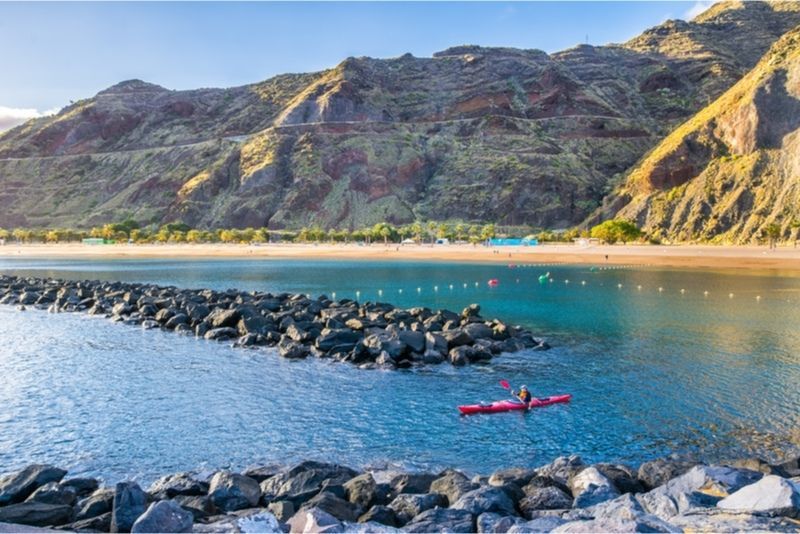 Some of the best dive sites lie off the coast. A peaceful kayaking trip is a great way to reach these remote sites to see marine life in a way that is not disruptive to them. These tours are usually in a group of fewer than 16 people.
Private snorkeling tour
The main advantages of a private boating and snorkeling tour are personal attention, flexibility and extra amenities. You can choose your own destination or join a tour with a pre-set route.
Many tours include food and drinks as well as pickup and drop-off at your hotel. Some tours even feature a marine biologist to help you spot wildlife.
How much do snorkeling tours in Tenerife cost?
The price range for snorkeling tours in Tenerife varies between €15 and €80 per person, depending on the additional activities. On the less expensive end are equipment rentals and hiking and snorkeling combos at around €15 per person.
Snorkeling tours with kayaking directly from the beach up to boat access to remote areas start from €35 per person.
For a private snorkeling tour, expect to pay from around €1,250 per group up to a maximum of 24 people, which amounts to about €55 per person. The cost of a private charter depends on the number of people in your group, amenities and time included.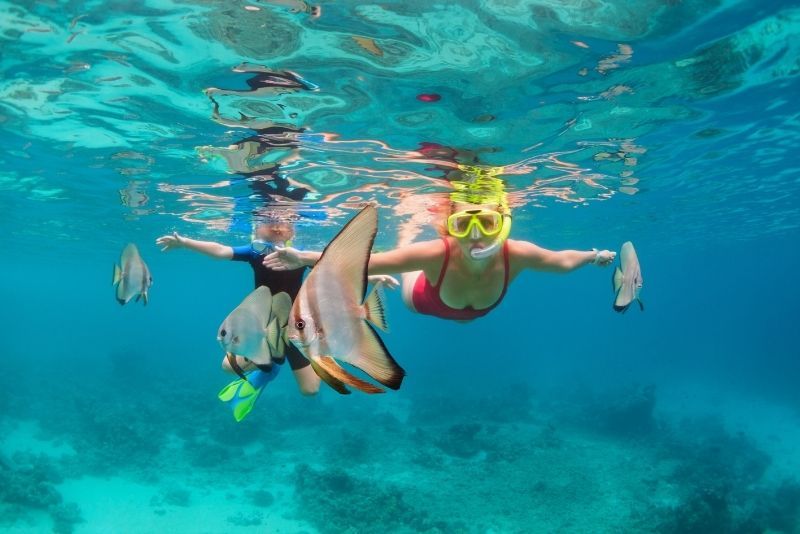 What is included in a snorkeling tour in Tenerife?
Your tour company equips you with a mask, snorkel, fins and life vests. Tours also provide wetsuits if the water is too cold. Most tours include insurance as well.
Other occasional amenities include water shoes and dry buckets, and access to changing rooms and lockers. Many tours include photos of your adventure.
Higher-end boat tours often include hotel pickup and drop-off and food and drinks.
People with physical limitations can opt for a boat with a diving platform.
Some high-end private tours give access to the boat's sonar system to help you hear whale and dolphin communications.
Where do snorkeling tours in Tenerife start?
Kayak and snorkeling tours depart from different locations around the island, but the most common ones leave from the south coast, either from Los Cristianos or Las Galletas.
Meeting points for Los Cristianos tours are usually at Puerto Colón or near Cristianos Beach. Las Galletas tours meet near Playa de Las Galletas.
The east coast has several starting points, mostly out of Abades and the capital, Santa Cruz de Tenerife. There are north coast tours that meet up in Puerto de la Cruz or Martiánez Beach.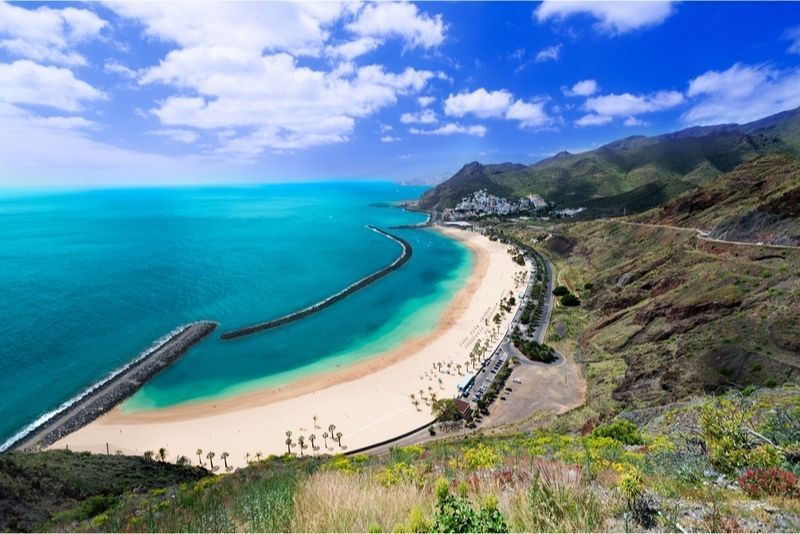 How long do snorkeling tours in Tenerife last?
Your snorkeling tour will range from 2 to 4 hours. Keep in mind that no tour will have you snorkeling for the entire time. Necessary equipment fitting and instruction plus boat transportation takes from 30 to 60 minutes.
When is the best time for a snorkeling tour in Tenerife?
Tenerife is a year-round destination, but there are advantages to traveling at different times of the year.
The winter months are the busiest, and the weather at the north end of the island can be too chilly to enjoy water sports. However, the southern areas of Tenerife stay pleasant year-round.
Are there any combo tours with snorkeling available in Tenerife?
Nearly all snorkeling tours include kayaking or boat travel, but there are some exciting possibilities if you want to try something different.
Snorkeling and stand-up paddleboard tours
Stand-up paddle boarding is a peaceful way to search for wildlife without the danger of a motor injuring the animals or the noise frightening them away.
Similarly to kayak tours, you have more autonomy to explore coves and rocky cliffs than you would on a boat tour.
Snorkeling and jet ski tours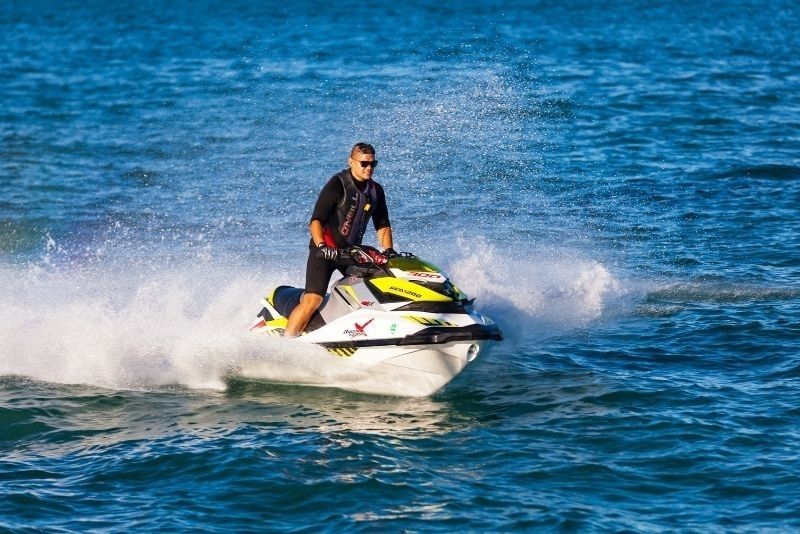 A jet ski tour is a thrilling way to reach the best dive spots that are found farther from the shore. A guide will show you where to stop and explore.
Snorkeling and hiking tours
This option is economical and unique. A hike of 40 minutes each way leads you to your snorkeling destination, following hiking trails with spectacular views of the mountains and sea.
Is it safe to take a snorkeling tour in Tenerife?
Snorkeling in Tenerife is safe as long as you are a strong swimmer and take the recommended precautions. If you are not confident in the water, most tours advise you not to participate.
There is risk in any water activity, but wearing life vests and a wetsuit in cooler waters makes the activity much safer. Most importantly, the tour guides supervise you and can come to your aid if necessary.
Are children allowed on a snorkeling tour in Tenerife?
In general, children as young as 7 can participate. However, a few tours allow children as young as 5, and others require them to be at least 8. Check with your tour provider to ensure the tour will work for your group.
What happens in case of bad weather?
In the case that your tour needs to be canceled due to weather concerns, companies offer the option of rescheduling your tour or a full refund.
Which other water activities can be done in Tenerife?
Travel tips
Wear a swimsuit and sunscreen.
Hats and sunglasses are recommended considering you will spend plenty of time in the sun.
Bring a towel.
Some tours provide bottled water, but bringing your own is wise.