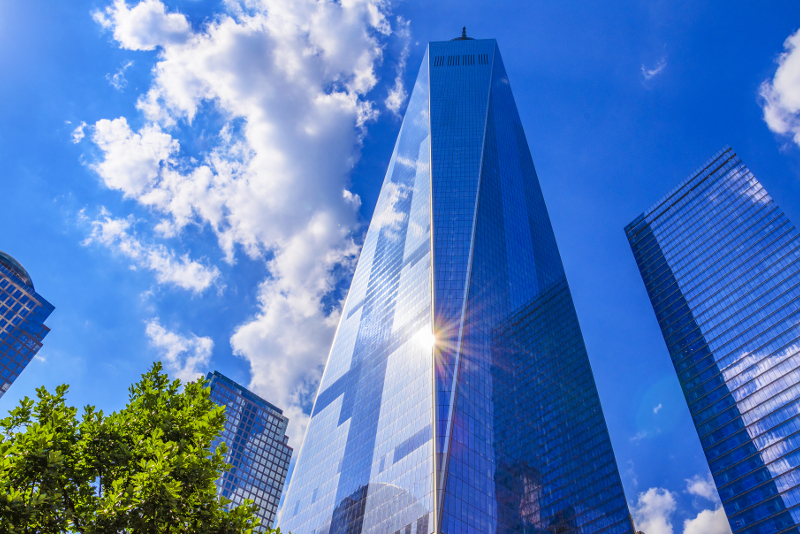 Are you searching for the best way to purchase One World Observatory tickets? Get all the answers to your questions about ticket prices, how to skip the line, combo tickets, discounts, and more.
If you don't feel like reading ahead and just want to book your skip the line tickets now, click on the link below:
How much do One World Observatory tickets cost?
Tickets for One World Observatory are offered starting with General Admission to Upgraded, and All Inclusive tickets. Lets take a look at what each offers.
1. Standard ticket – $35
Purchase tickets online, and you will get timed arrival tickets.
With General Admission you will wait in the general admission line for the elevators. If it's busy the line can get long with resulting long wait time.
2. Combination ticket – $45
Purchase tickets online and you get to access that priority "head of the line" to elevators.
With upgraded combination tickets, you go directly to head of the line to a "priority Lane" to access the elevators.  This can be very helpful during very busy hours and long waiting lines.
3. All Inclusive ticket – $55
Purchase your All Inclusive tickets online, and not only get to use the "Priority Lane" access to elevators, but also can arrive anytime during open hours.
All Inclusive tickets give you the freedom to enter anytime of day during normal hours, and walk directly past those in General Admission lines.
You will also receive a Digital Skyline Guide and one free beverage of your choice.
With these tickets the advantage is ability to show up when you know the weather is best, and there are clear skies for best viewing at the top.
How do you book "One World Observatory" tickets in advance? How do you skip the line?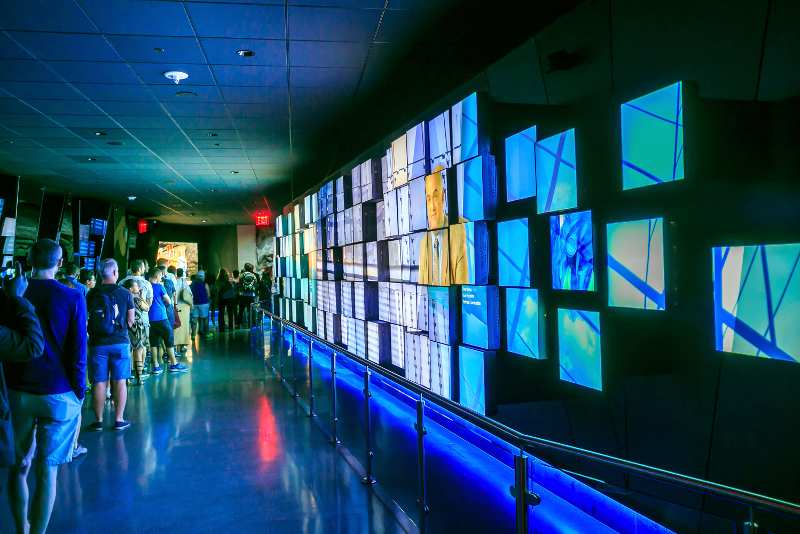 Booking tickets online ahead of your visit is highly suggested. As with any attraction you can book on the official website. You can also compare prices with online travel agencies, like Getyourguide, Tiqets, Musement, Viator and others. Keep in mind that prices are very competitive, and you can find new discounts frequently.
If you wish to skip the line, most of those online travel agencies offer skip the line tickets. You will need to book them online. Make sure to compare prices between providers before booking.
Are there any combined tickets including "One World Observatory" tickets and other attractions?
You might want to take advantage of the combined tours. These will allow you to visit multiple popular attractions, as well as save you money.
Is it possible to visit the "One World Observatory" for free?
Unfortunately not. Everyone over five years old must purchase a One World Observatory ticket to experience this attraction. If you have a small child under five years old, they can enter for "free" but still need a ticket to enter.
What will you see?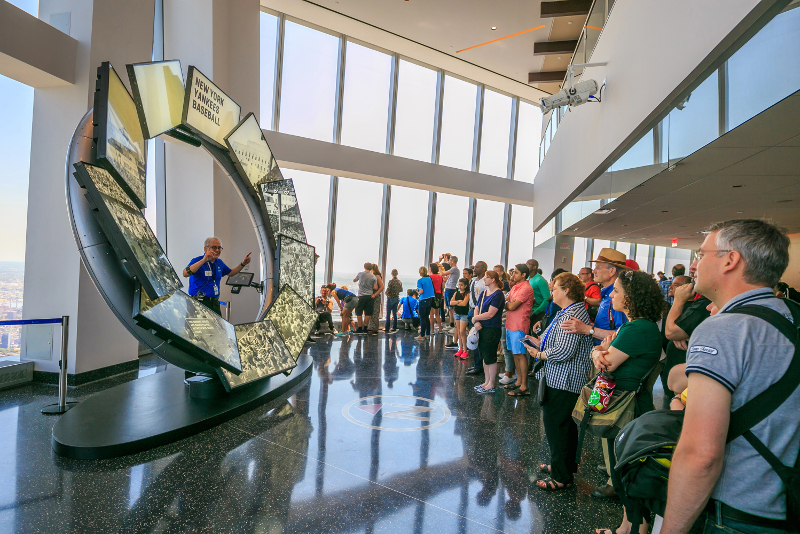 Entering the elevator, you are entertained with time-lapse video with virtual video on the walls, taking you on tour of 500 years in Manhattan's history. Be ready for a "mind-blowing" experience.
Upon arrival to the Observatory floor, you will enter the "See Forever Theater". Here you enjoy a multimedia presentation of famous city landmarks, with sounds of the city that will grip your heartstrings.  As anticipation climbs, the walls open and you get your first breathtaking view of the city below.
Climbing one floor up you have an opportunity to rent an iPad, which gives you a tour of complex and city below, in your choice of ten languages. If you choose to step onto the glass "Sky Portal" you will be looking straight down over 1000 feet to the city below. The view appears so real, but in fact, is the view from a camera pointed straight down.
In addition there is a museum onsite as well as two restaurants.
Are "One World Observatory" tickets included in any attractions city pass?
You have 4 New York City Passes to choose from and all of them include a ticket for the One World Observatory.
The New York City "Turbopass" includes the One World Observatory admission, Statue of Liberty, and world-famous Museums, as well as more than 100 free or discounted attractions.
The New York "Sightseeing Pass" which is like a credit card, also offers admission to One World Observatory and many other popular destinations. They include Top of Rock, Madison Square Garden Tour, Statue of Liberty & Ellis Island, Bronx Zoo, Grey Line City Double Decker Tour and much more.
The "Freestyle Pass" includes a 72-hour hop-on hop-off bus (or cruise) ticket and the visit of 3, 5 or 7 iconic attractions with over 60 possibilities.
The "Explorer Pass" is a multi-attraction pass that includes admission to your choice of 3, 4, 5, 7, or 10 attractions in New York City.
Compare the attractions included in all New York City passes.
What is the best time to visit the "One World Observatory"? How to avoid the crowd?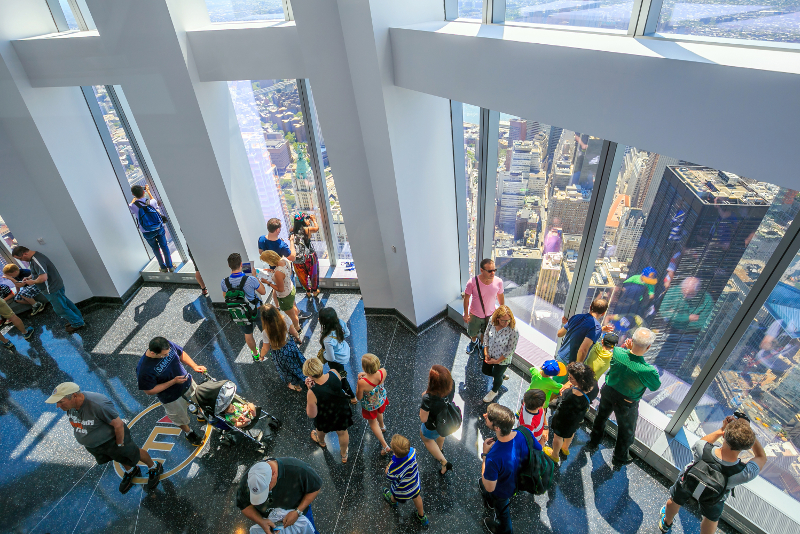 If you wish to avoid the crowd, try to visit the One World Observatory early in the morning, between 8am and 10am or late in the afternoon, after 5pm.
Purchasing the "All Inclusive" tickets allows you to arrive anytime during opening hours and head straight to the elevator by skipping the line.
What are the "One World Observatory" opening hours?
Please find below the opening hours of the One World Observatory.
From September 5th to December 20th: 9:00am – 9:00pm
From December 21th to January 3rd: 9:00am – 8:00pm
From January 4th to April 30th: 9:00am – 9:00pm
From May 1st to September 4th: 8:00am – 9:00pm
From September 5th to December 20th: 9:00am – 9:00pm
Travel tips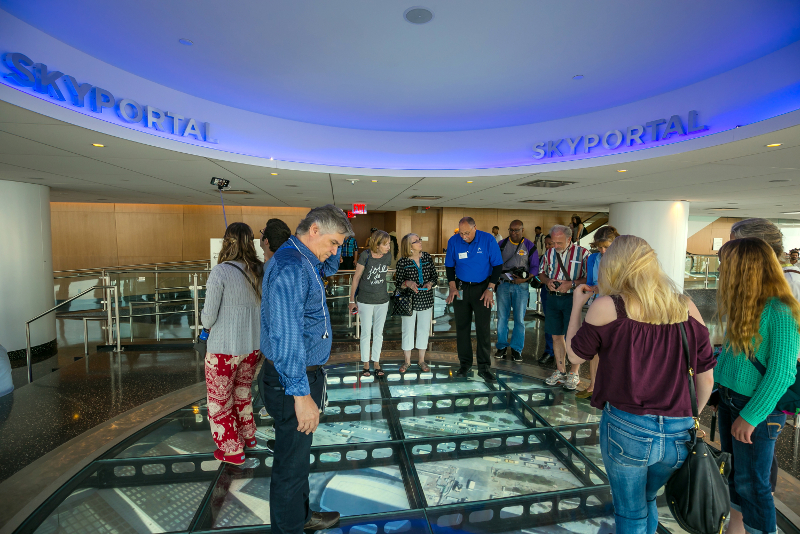 Make sure you book in advance to get your "skip the line" tickets.
Compare prices on TourScanner to get your best deals.
Watch the weather. If you are unsure about the weather forecast, buy the upgraded tickets so you can visit anytime, and make sure the sky is clear because the stunning views are everything.
Stand near the elevator wall for best viewing, especially with small children.
You might want to plan on visiting an hour before dusk, so you experience the NYC skyline during the day, sunset and with city lights at night.
Remember, you will pass through security scanners, so no weapons, sharp objects, food or beverages allowed.