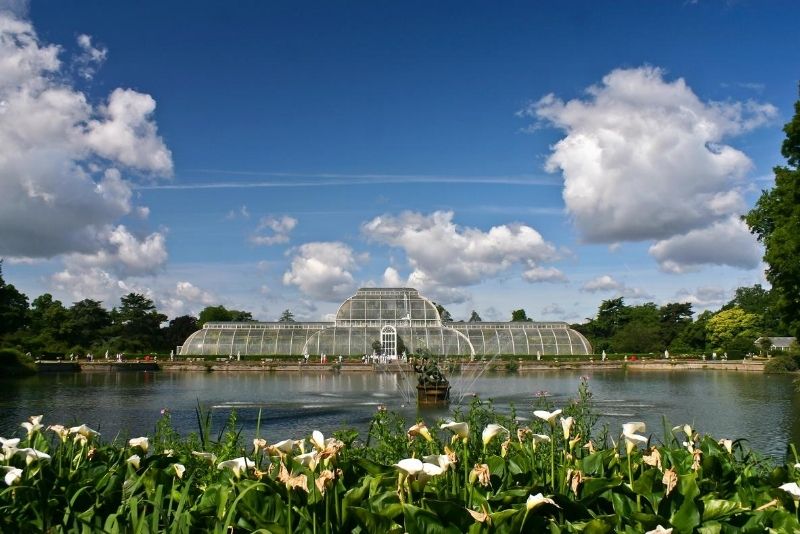 Throughout this piece, we'll outline everything you need to know about London's Kew Gardens tickets, including ticket price, how to find discounted tickets online, and some other useful travel tips, allowing you to plan your upcoming visit while saving time and money in the process!
Planning a trip to London can be tough – there's just so much to do! Admire the artwork at one of the many world-class museums, stroll through the vibrant markets, and sample the award-winning culinary culture, all while soaking in a busting atmosphere unmatched by any other major European city.
Not to be swept under the rug, however, is one of the city's most underrated attractions: the serene, UNESCO World Heritage-listed Kew Gardens. This stunning, perfectly-curated slice of nature offers what is officially considered the largest and most diverse botanical collection on the planet, jam-packed with 50,000+ living plants.
Don't feel like reading ahead? Click below to compare all the cheapest Kew Gardens tickets and package deals right now – you could easily save over 25%!
How much do Kew Gardens tickets cost?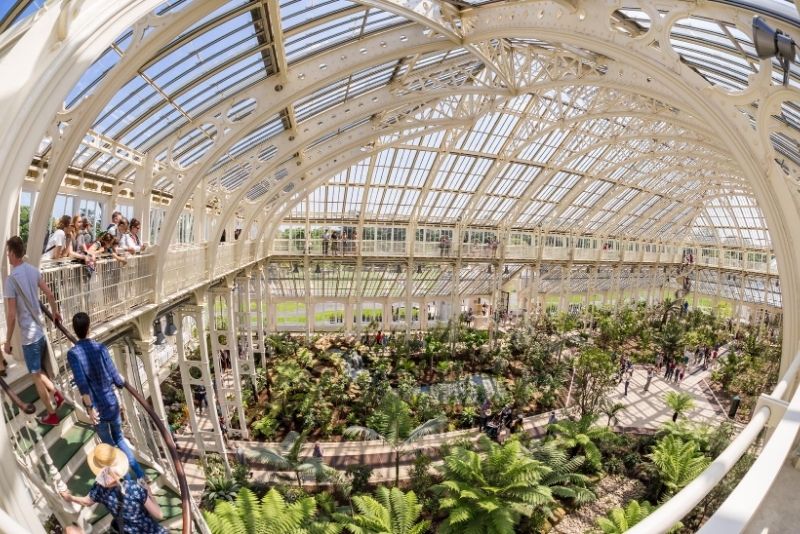 Regardless of ticket type, once you're inside the beautiful Kew Gardens, you can meander around for as long as you like – so long as you arrive within 45 minutes of your preferred pre-booked entry time.
Each ticket comes with the option to add a small donation. The donation serves to conserve and maintain the site – even though this is a world-renown tourist attraction, it is also a charity that relies on the kindheartedness of donors and sponsors.
Adult (24+ years)
With donation: £19.25
Without donation: £17.50
Youth (16-24 years)
With donation: £9.90
Without donation: £9.00
Children*
4-15 years: £5.50
Under 4 years: Free
*All children aged 16 and under must be accompanied by an adult.
Families
Family ticket for 3 (with donation): £27.50
Family ticket for 3 (without donation): £25.00
Family ticket for 4 (with donation): £44.00
Family ticket for 4 (without donation): £40.00
Concessions: senior or disabled (may require ID)
With donation: £17.05
Without donation: £15.50
Concessions: UK Jobseeker or student
With donation): £9.90
Without donation): £9.00
Emergency service workers, military personnel, essential carers, and partially-sighted or registered blind visitors are granted free entry.
All of the above prices are taken directly from the Kew Gardens website. Cheaper options and discounted London package deals can be regularly viewed on TourScanner.
Compared to some of London's other must-see attractions, the Kew Gardens are a bargain! For perspective, entry to the Tower of London will set you back £28.90, the London Eye can cost £40.00, and the London Dungeon will drain £30.00 from your wallet at the door.
How can I find cheap Kew Gardens tickets online?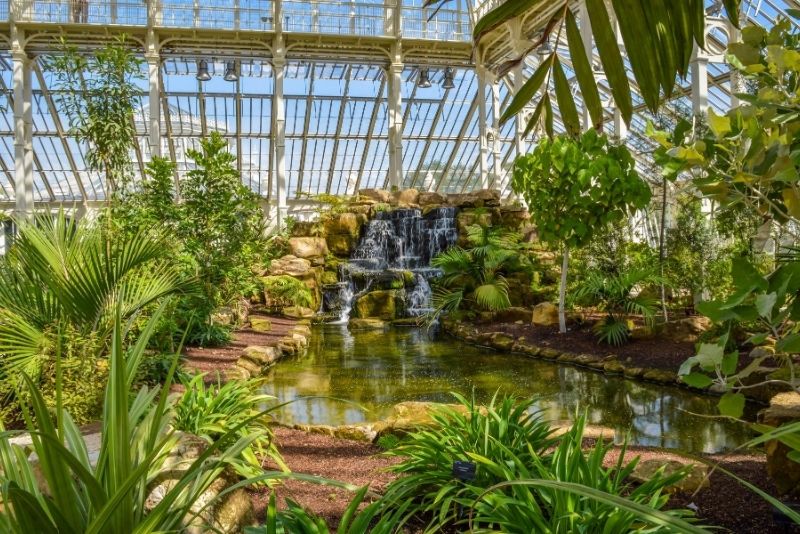 Buying Kew Gardens tickets at the entry gate is often 20% or more expensive than other options. The key to securing the cheapest entry is to compare all of the London-based tourist and travel companies. Doing this yourself can be time-consuming, which is why TourScanner does it for you. TourScanner compares all of the online, exclusive deals and allows you to choose the option that suits you best – sometimes allowing you to save upwards of 30%.
Take a look by clicking on the button below!
Are the Kew Gardens tickets included in any London attraction passes?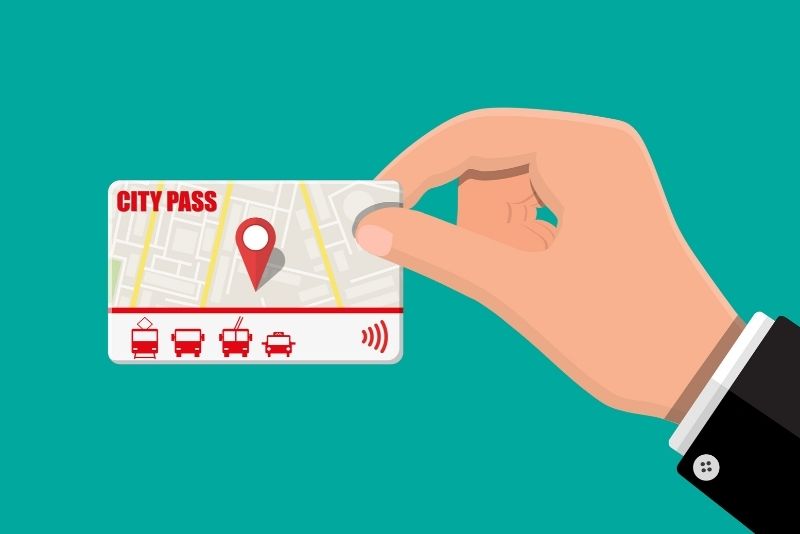 You bet! If you're heading to London for at least a few days (which, let's be honest, is the only way to see this world-class metropolis), then the most budget-friendly way to catch all of the noteworthy attractions is with the London Pass.
The London Pass is available for 1, 2, 3, 6, or 10 days, and grants you access to more than 80 of the city's most desirable landmarks – as many as you can squeeze in! That list includes Windsor Castle, Legoland, the London Zoo, a Wembley Stadium Tour, Westminster Abbey, a river cruise on the Thames, the Tower of London, and so much more. Tourists also have the chance to select the 'London Pass + Travel' option, which grants access to the citywide underground system (affectionately dubbed 'The Tube') and those iconic red double-deckers!
What will I see at Kew Gardens?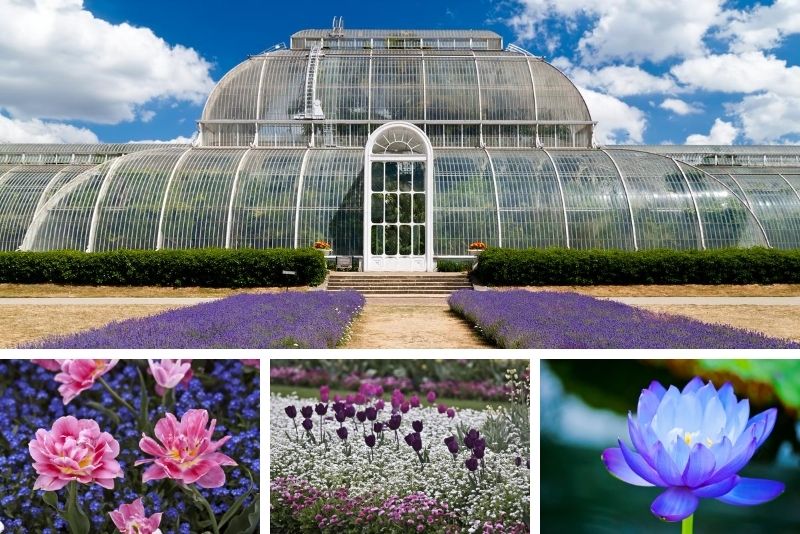 Showcasing in excess of 50,000 living plant species of every size, shape, and color, spread across over 300 acres of land, Kew Gardens is the world's premier botanical destination. No collection of plants in the UK, Europe, or anywhere else on the planet can compare.
As you waltz through the vibrant gardens, you'll witness carnivorous species, extensive woodlands, greenhouses, a bamboo garden, edible plant areas, the warm and tropical Prince of Wales conservatory, the indoor rainforest that is Palm House, a stunningly romantic rose garden, and a treetop walk. The arboretum houses a vast collection of 14,000 trees, while the heights of the Great Pagoda provide spectacular views of the London skyline.
Kew Gardens is also home to the 17th-century Kew Palace, the smallest Grade I Palace in the country – but size isn't everything, and this royal abode on the banks of the River Thames certainly has its selling points.
The list of attractions is extensive, so make sure to bring a good pair of walking shoes and a bottle of water!
How do I get to Kew Gardens?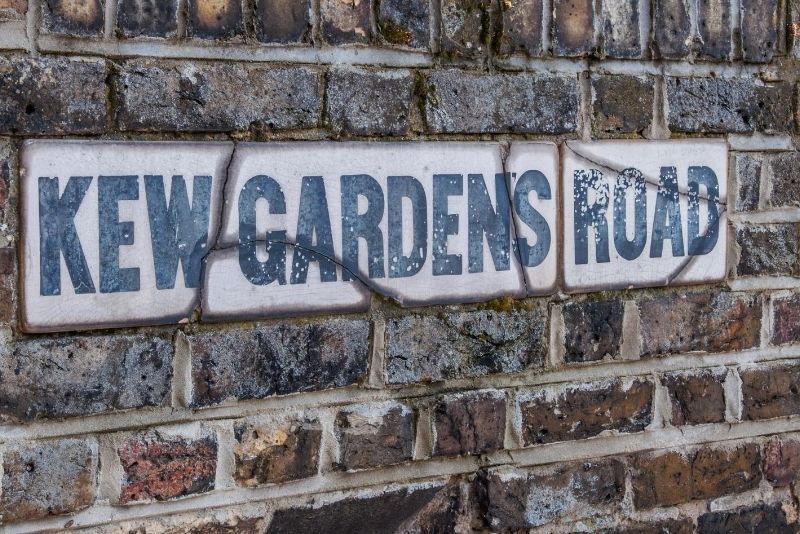 The majority of London's main attractions, like Westend and the London Eye, are found within the inner city. Kew Gardens, on the other hand, is a little further out, about 30 minutes from Central London, although it remains easily accessible.
You can get to the Gardens via Tube (metro system), overland train, bus, bike, or car, depending on your preference.
The closest Tube station is Kew Gardens Station – a 500-meter or roughly 10-minute walk from the Victoria Gate entrance. The station is in Zone 3 and can be reached on the District Line (Richmond branch), which transits throughout the main London city area.
The overland train stops at Kew Bridge station, which is about 800 meters from Elizabeth Gate and includes an idyllic walk over the River Thames. The most direct route from inner-city London via overland train is on the Southwestern Railway from Waterloo Station.
By bus, any of the following routes place you within walking distance of Kew Gardens: 65, 391, 237, and 267. The latter two stop at Kew Bridge railway station so will require a little extra walking.
If the sun's come out to play, one of the most enjoyable ways to access the Gardens is with a bike ride down the banks of the River Thames. There are bicycle racks at all four entrance gates.
The Gardens are accessible by car, however, due to London's notorious traffic and limited parking available in the car park (not to mention the £7 per day parking fee), Kew Gardens recommends one of the other options, when possible. From central London, the drive is about 15 kilometers.
What are Kew Gardens' opening hours?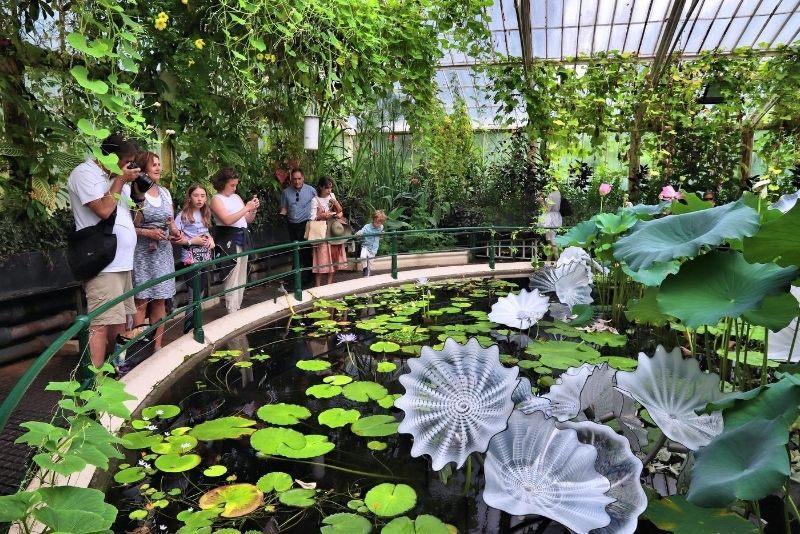 From Monday to Friday, Kew Gardens are open from 10 am until 7 pm. The last entry is 6 pm. On the weekend, the opening hours are extended from 8 am until 8 pm, with the last entry at 7 pm.
All of the glasshouses within the grounds open independently at 10 am and close one hour earlier than the rest of the Gardens, so make sure not to leave them till last.
Note that COVID-19 may affect the Gardens' opening hours. Make sure to double-check the company website before visiting.
What happens in case of bad weather?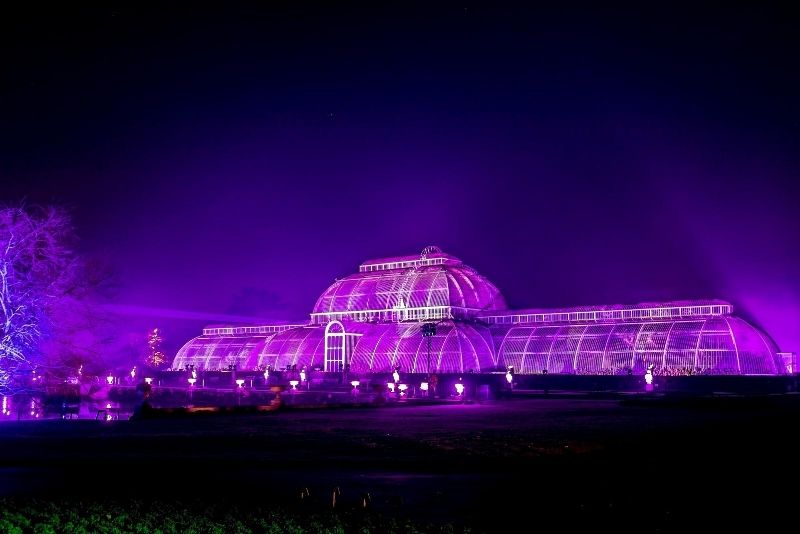 Ticketholders have the option to cancel or reschedule their tickets and receive a full refund up to 48 hours before their pre-booked visit, allowing you to check the weather forecast a few days in advance and reschedule if heavy rain looms.
In the event that unsurprising bad weather rocks up on your doorstep while you're already in the Gardens, use it as a perfect excuse to take a break and grab a bite from one of the cafes of dining establishments on the grounds. There are also a number of indoor areas to explore (such as the glasshouses).
It is London, after all, so bring an umbrella with you, just in case (this piece of advice can be said for any trip in the UK).
Travel tips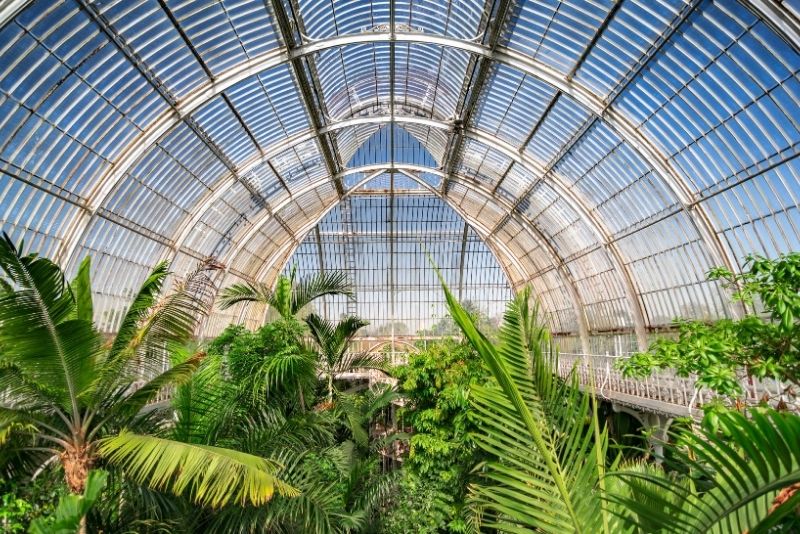 Pack a bag of essentials. Since you'll be spending a lot of time outdoors and on your feet, coming prepared can be the difference between a memorable day in curated nature and an exhaustive one. In your backpack, bring a water bottle, some sunscreen, a handful of snacks (although food is also available for purchase), and an umbrella.
Book an early timeslot.  No time limits apply to entrance tickets, meaning that the earlier you arrive, the longer you have to explore. Rushing through a world-class attraction is never fun – secure a morning entrance and allow for a stress-free day.
Don't leave the glasshouses till last! In Palm House you'll find tropical rainforest treasures like the oldest pot plant in the world; in the Princess of Wales Conservatory you'll stroll through a glassy labyrinth of unique ecosystems; in the Temperate House you'll admire over 1,500 species of rare plants in what is the world's largest Victorian glasshouse. Each spot makes for essential viewing – since

they close one hour before the rest of the Gardens

, ensure that you prioritize them.
Check out The Hive! Ever wondered what the inside of a beehive looked like? With 1,000 LED lights and over 17,000 parts, this 17-meter-tall piece of art is one of the most photographed sections of the entire Gardens. We won't ruin the illusion… you'll have to see it for yourself.
So, what are you waiting for? Lock in your Kew Gardens tickets right now.