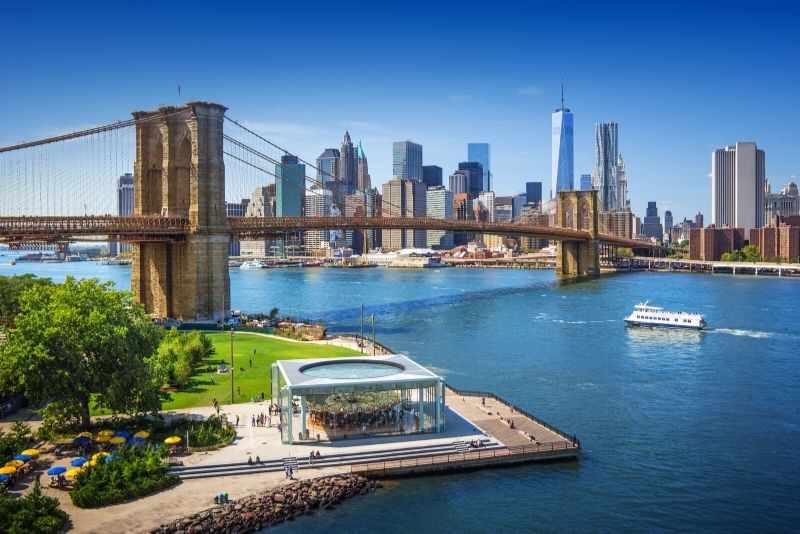 The poster child of America and the beating heart of the East Coast's culture, art, and foodie scenes, vibrant and skyscraper-laden New York City needs no introduction.
Home to over eight million people across its five diverse boroughs, and welcoming over 60 million more every year in search of selfies with Lady Liberty, the Empire State Building, and the buzzing billboards of Times Square, the Big Apple is a melting pot where you'll find a never-ending list of tourist attractions and fascinating insights into cultures and traditions from all around the world.
Whether you're in the Big Apple to catch a Broadway show, explore Central Park's movie-famous greenery, or check out the nation's finest collection of museums, the concrete jungle that is New York has something for everyone.
So, what are you waiting for? Check out the best places to visit in New York City and start planning your next adventure!
1 – Central Park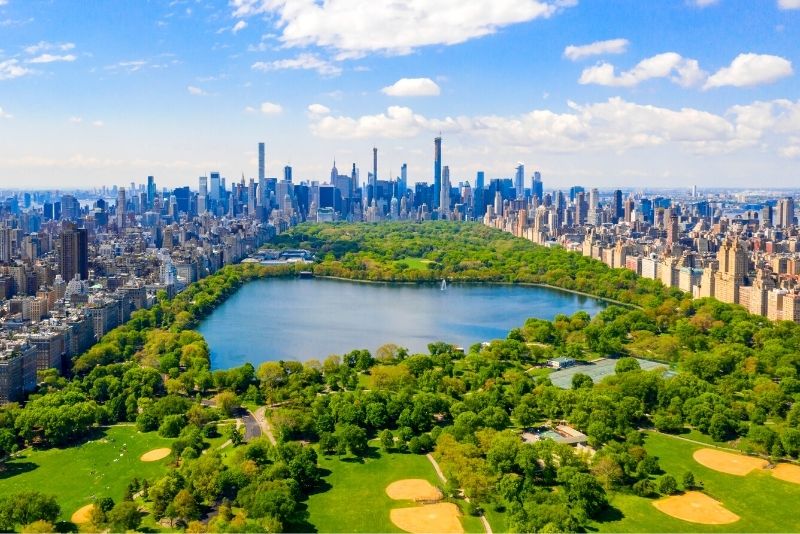 Easily the world's most famous park, New York City's Central Park spans over 800 acres, is skirted by skyscrapers on all sides, and is a top spot to spend an afternoon no matter the season (yep, even in winter, this natural oasis is stunning).
While there are countless activities on offer in Central Park (just to name a few: Turtle Lake, Central Park Zoo, check out Shakespeare in the Park, snap some selfies at the architecturally brilliant Bethesda Terrace and Fountains, or grab a cheeky souvenir or hot dog) a simple stroll or bike ride around one of the pathways — whether solo or as part of a guided tour — takes in non-stop beautiful sights of the city skyline.
Deserving of its own mention, Belvedere Castle (which houses Central Park's official weather station) sits atop Vista Rock and offers not only a rich slice of history but some seriously breathtaking views too.
Traveling with youngsters? Bring them along to one of Central Park's 21 playgrounds — full of oversized chess sets, boat ponds, and Alice in Wonderland statues — for hours of fun!
2 – Grand Central Terminal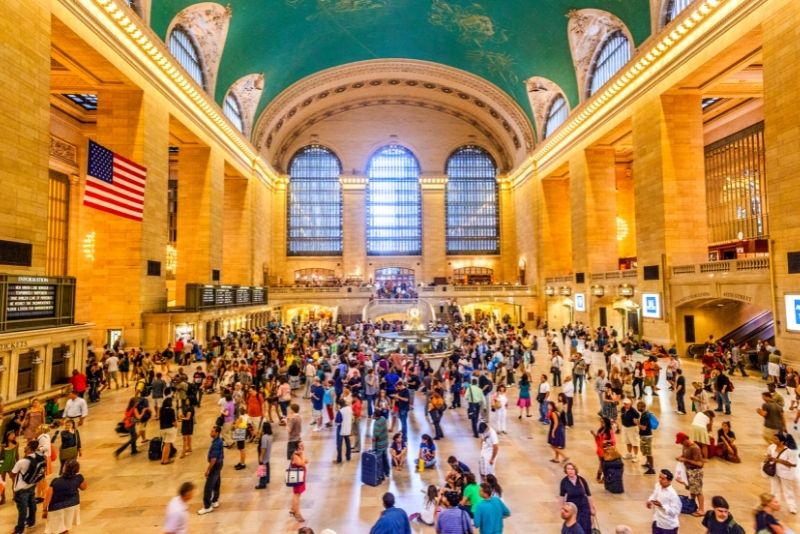 The intersection of 42nd Street and Park Avenue is one of the most famous landmarks in New York City, a bustling hub of activity where commuters, travelers and locals alike come together to travel across the city.
Built at the turn of the 20th century by railroad tycoon Cornelius Vanderbilt II, this Beaux-Arts structure has an impressive history, playing a pivotal role in the city's development, and being used as the backdrop for countless popular films and TV shows over the years (did someone say film tour?).
Aside from its status as an architectural masterpiece, Grand Central also dishes up shopping and dining opportunities aplenty, with over 60 stores and restaurants to explore (plus the lovely Whispering Gallery).
Tip: make sure to take a moment to look up and admire the constellation-ridden ceiling — it's out of this world.
3 – Bryant Park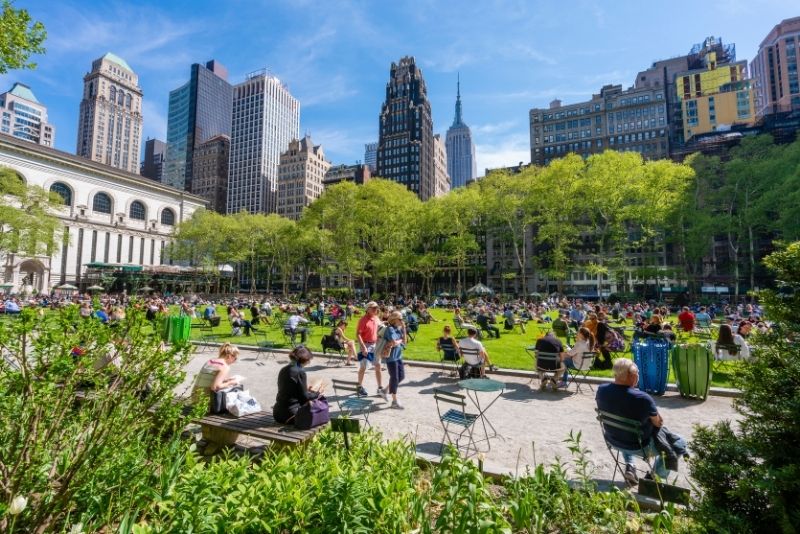 A vibrant green oasis in the heart of Midtown Manhattan, Bryant Park is a popular spot for locals and tourists alike to relax, take a break from sightseeing or shopping, and simply unwind and people-watch.
What was once an unsightly parking lot has been beautifully redesigned and landscaped; these days you'll find a sleuth of shady picnic spots, comfortable benches (plus Wi-Fi!), ping pong tables, art installations, food kiosks, and a whole lot more.
In the winter months, the park transforms into a festive wonderland with an ice skating rink, Christmas market, and a towering tree, while in the summer you'll find a calendar of open-air movie screenings, free concerts, and friendly street performers aplenty.
4 – Brooklyn Bridge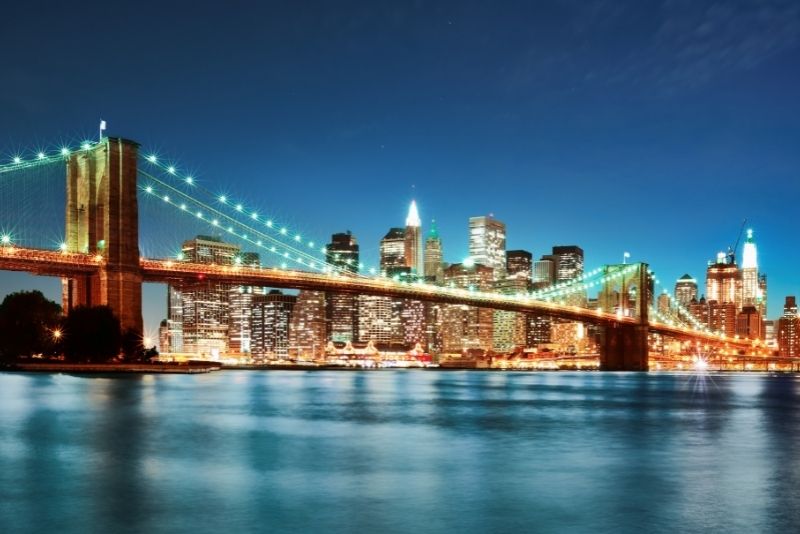 Synonymous with the city, the Brooklyn Bridge has long been one of the best places to visit in New York City — especially when it comes to snapping a jealousy-evoking photo or two.
The first suspension bridge built across the East River connects Lower Manhattan with Brooklyn over a span of nearly 1600 feet; it was constructed in 1883 and has been a popular tourist attraction and means of transportation ever since.
In addition to being one of the best spots for soaking in the beauty of Lower Manhattan's skyline, walking or cycling along this structure also gives you access to the DUMBO neighborhood in Brooklyn, which not only offers magnificent views but a sleuth of delicious food options too.
5 – Brooklyn Botanic Garden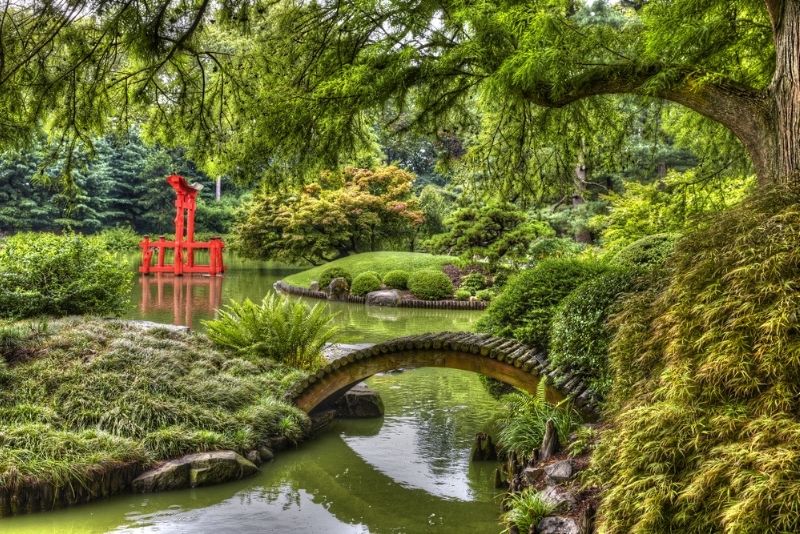 Tucked away in the charming neighborhood of Brooklyn Heights, the Brooklyn Botanic Garden is a 52-acre oasis that's home to over 12,000 different types of plants of all shapes, sizes, and colors, from pockets and climates all over the world.
The garden has something for everyone, whether you're an avid gardener or just looking for a pretty place to take a peaceful walk; highlights include the Japanese garden, herb garden, Shakespeare garden (featuring more than 80 herbs and plants mentioned in his plays), ever-colorful Cranford Rose Garden, and the interactive children's garden with interactive exhibits,
With regular events to boot (that teach you things like how to keep that pesky houseplant alive), a postcard-worthy Cherry Esplanade, and pay-what-you-wish winter Tuesdays, it's a notable addition to any NYC bucket list.
See also: Best Things do Do in Brooklyn
6 – Statue of Liberty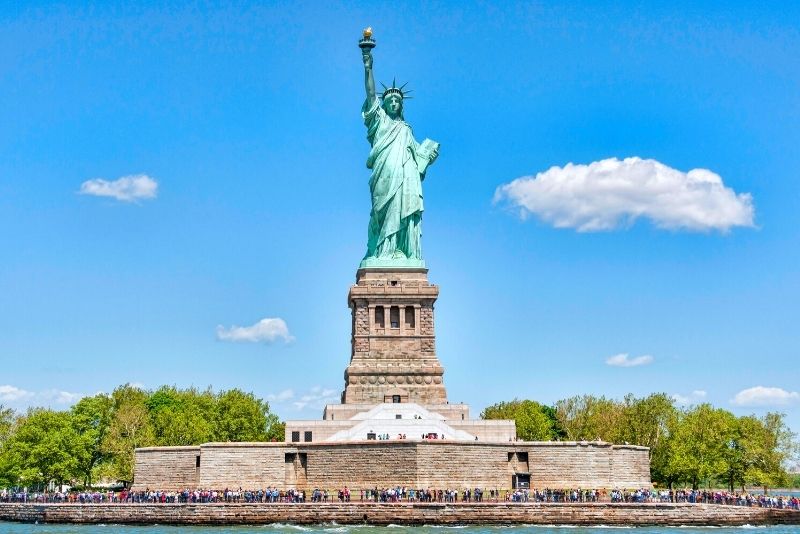 Emblematic not only of America but of the journey millions of immigrants made to the United States in search of a better life, the Statue of Liberty is one of New York's most recognizable landmarks.
Gifted to America by France in 1886, this colossal copper statue stands at over 300 feet tall and has long been associated with freedom and democracy, and stands as a welcoming, educational, and beautiful sight to newcomers to the city.
Ferries from Battery Park to Liberty and Ellis Islands depart regularly (both islands are open for tours), the latter of which houses a fascinating museum that chronicles all eras of American immigration and the 12+ million people who arrived via this small post.
However, if you're just after a quick glimpse of this UNESCO World Heritage Site, consider hopping on the free Staten Island Ferry for a round-trip of killer Harbor and Lady Liberty views.
Hot tip: Tickets are sold out? Learn how to book Statue of Liberty last-minute tickets.
7 – New York Hall Of Science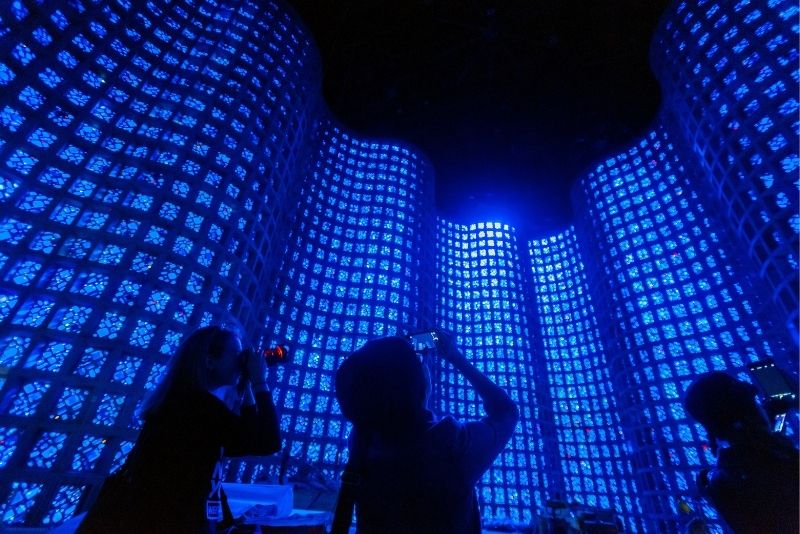 A family-friendly, highly interactive, and enormous science museum located in Queens, the New York Hall of Science acts as a magnet for anyone with an inquisitive mind (or anyone with kids in tow).
Boasting more than 450 exhibits on topics ranging from human biology to outer space, the environment, evolution, and amazing technology, this museum is sure to spark intrigue no matter your age and interests.
Hands-on and immersive, the interactive exhibits allow you to control robotic arms, step into virtual reality worlds, dig for fossils, and burn off some energy at the nation's largest outdoor science playground, whose features are curated around the scientific principles of motion, balance, sound, and sight.
In addition to its permanent exhibitions (not to mention add-ons like mini-golf and a 3D theater), the NYSC also regularly hosts temporary shows as well as classes and workshops; and, thanks to its location in Flushing Meadows Corona Park, the Queens Zoo and New York Mets stadium are both just a short walk away!
8 – Greenwich Village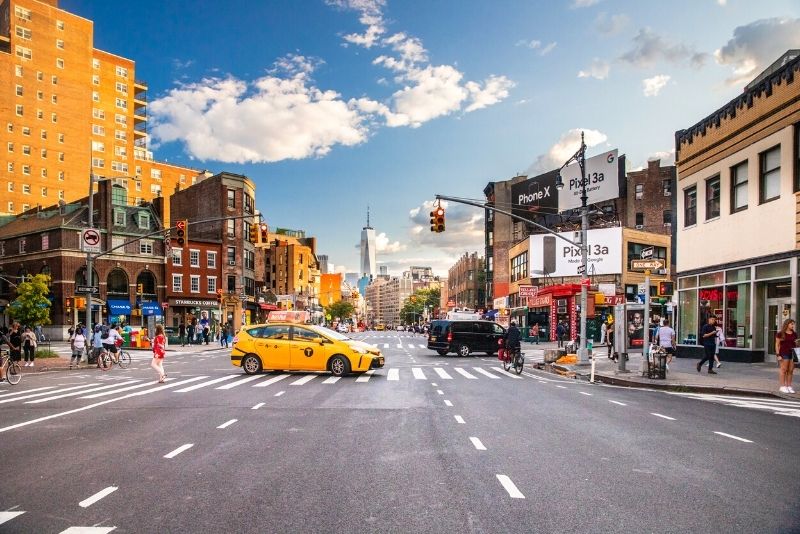 Constantly buzzing with energy and creativity, Greenwich Village is a beloved, charming, and certainly eccentric New York City neighborhood that is packed to the brim with historic architecture, art galleries, trendy restaurants and bars, beautiful parks, and a lively music scene — there's something for everyone to love in this hipster 'hood.
Whether solo or as part of a guided tour (which is full of curious tidbits and hidden gems), wandering its streets is an experience in itself; you never quite know what you'll stumble upon next.
A local focal point, Washington Square Park (next to NYU) is abuzz with street performers and musicians; the picturesque cobblestone lanes and Brownstone buildings make for a wonderful insight into the area's rich history, while the Off-Broadway Theaters are always putting on exciting and affordable evenings of entertainment.
9 – Rockefeller Center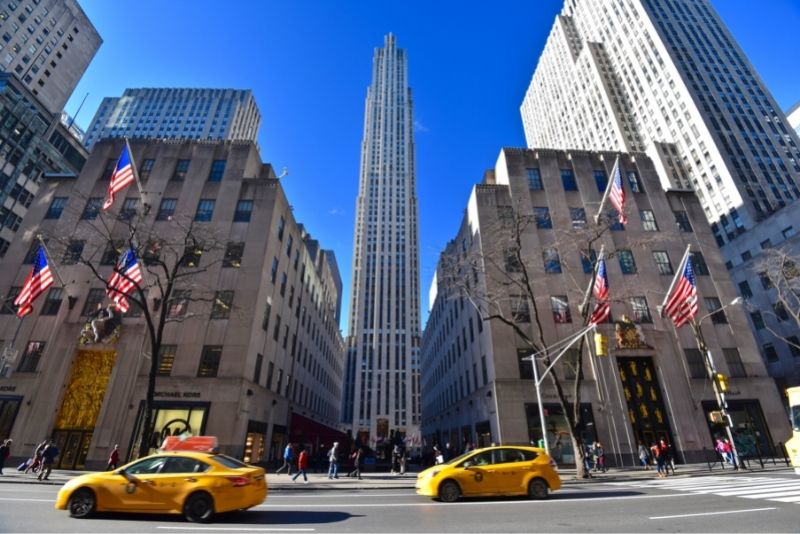 Never mind the hordes of tourists, Rockefeller Center is an awe-inspiring New York City landmark that should not be missed.
Home to Radio City Music Hall, the GE Building (where you'll find sublime observation deck views from Top of the Rock), art galleries, high-end shopping in the underground Concourse, and some of the most delicious restaurants in town (don't miss the cheesecake at Magnolia Bakery), this Midtown complex is a feast for the eyes as well as the stomach.
For entertainment buffs, NBC Studios offers fascinating studio tours, while free audience tickets are available for live tapings of TV shows like Saturday Night Live!
And, as the snow falls in the colder months, the Center morphs into a winter wonderland complete with its famous ice skating rink and annual bedazzled Christmas tree!
10 – Top of the Rock Observation Deck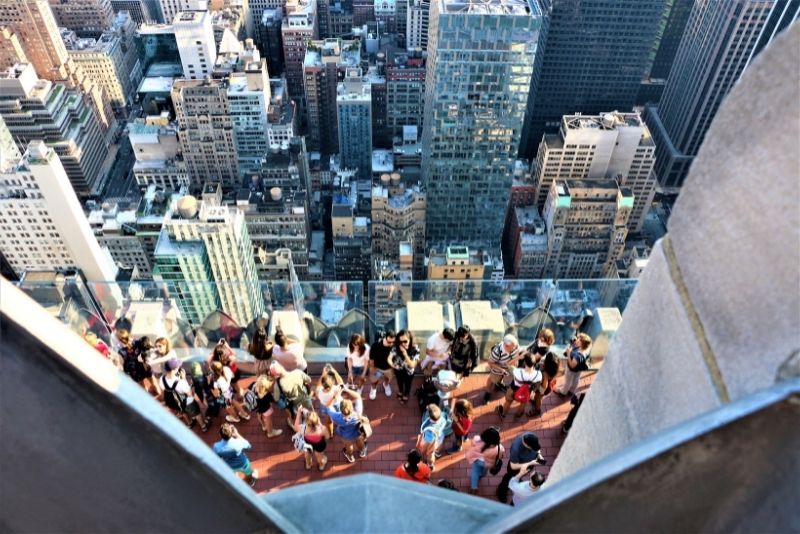 If you're looking for a great place to take in New York City's spectacular skyline, check out the Top of the Rock Observation Deck at 30 Rockefeller Plaza.
From 70 floors up in the GE Building, you can see Manhattan's postcard-worthy landmarks from every angle — all the way across Central Park to the north and into Harlem, down to Times Square, Broadway, and the Hudson River to the west, and past the Empire State and Chrysler Buildings to the south toward Lower Manhattan!
And if you time it right, arriving about an hour before sundown, you can catch the glowing sunset as the orange hues rebound off the cityscape. It's an unforgettable experience (made all the more enjoyable by a fresh cocktail at Bar SixtyFive!).
See also: Top of the Rock Tickets Price – Everything you Need to Know
11 – Snug Harbor Cultural Center & Botanical Garden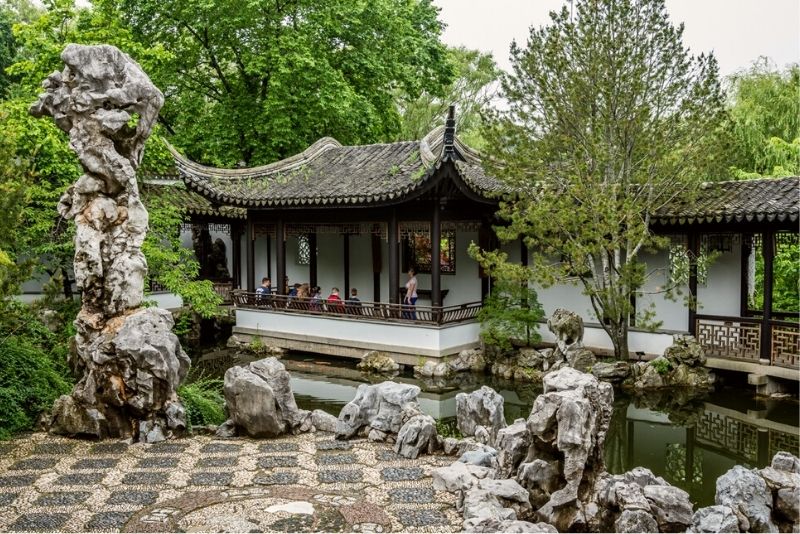 Underrated and off the beaten track, located on Staten Island, Snug Harbor Cultural Center and Botanical Garden is an impressive former 19th-century retirement home for sailors that has been transformed into a museum, performance space, botanic garden, and arts complex.
The magnificent campus consists of dozens of historic buildings as well as 83 acres of lawns, woodlands — lined with sculptures — and lush gardens with an endless variety of stunning plants to discover.
A true hidden gem, this New York City attraction offers everything from award-winning plays by the resident theater company to art exhibitions at the Chinese Scholar's Garden; you can even stroll through its beautifully manicured grounds totally FREE.
And, for all you history buffs, don't miss the museums: check out the Staten Island Museum (Building A), the Noble Maritime Collection (Building D), the Newhouse Center for Contemporary Art (Buildings C & G), the Staten Island Children's Museum (Building M), and the Green Gallery (Building P).
12 – Union Square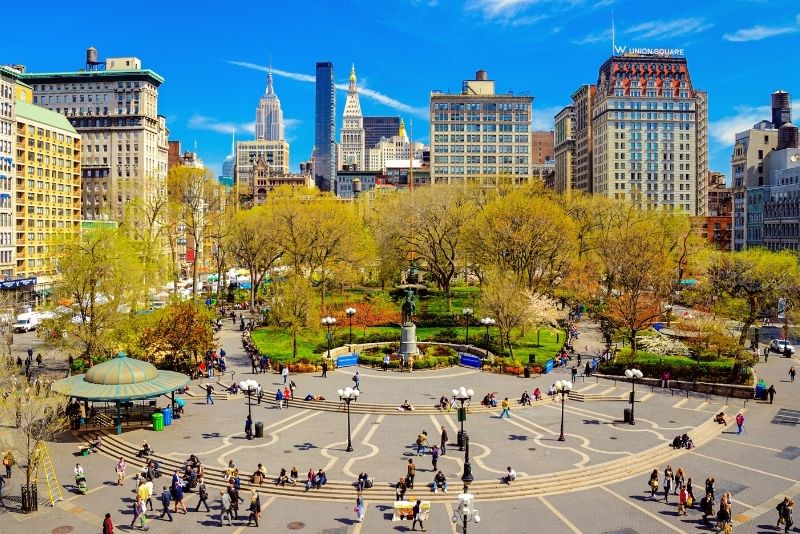 Constantly buzzing with energy, Union Square is one of New York City's most popular public squares.
Home to a gorgeous park, upscale shopping, some of the best restaurants in town on its neighboring streets, and an ever-changing line-up of street performers, this downtown meeting spot is always alive with activity.
Take a break from the crowds by lounging on a bench in the park, people-watch as you enjoy a delicious picnic lunch, check out the George Washington Statue, or browse through the shops which flank the Square on every side.
And don't forget to visit the locally adored Union Square Greenmarket! Held Mondays, Wednesdays, Fridays & Saturdays year-round; and showcasing over 140 regional farmers, fishers, and bakers selling farm-fresh produce, artisanal cheeses, homemade jams, and just-baked bread, it's a chance to stock up on delicious, seasonal eats!
13 – Museum of Modern Art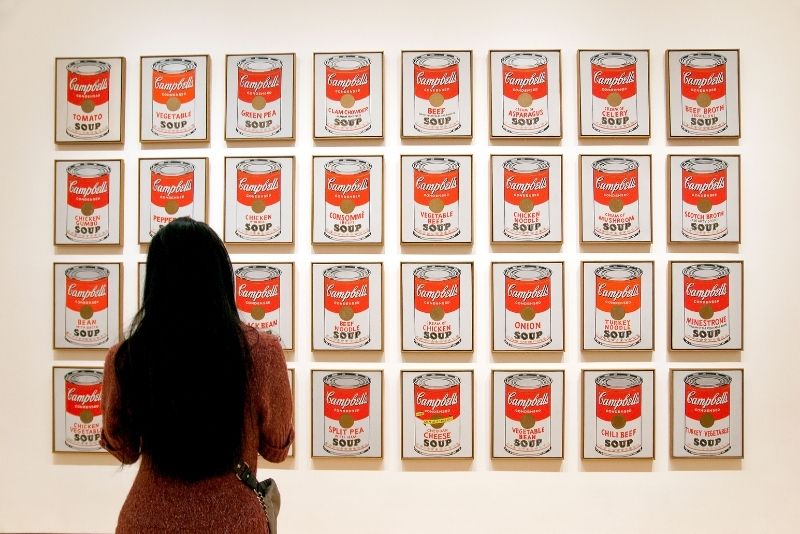 Guaranteed to inspire and delight art lovers of all ages (and leave you scratching your head at some of the more out-there pieces), the Museum of Modern Art houses a world-renowned collection that includes masterpieces by Vincent van Gogh, Pablo Picasso, Frida Kahlo, and Andy Warhol, to name just a few.
Regarding as one of the best places to visit in New York City, with over 200,000 pieces from all around the world on display, the MoMA is simply a non-negotiable pit stop for anyone interested in 20th century and contemporary art.
In addition to its permanent collection, MoMA also presents rotating exhibitions on a wide variety of topics throughout the year (from fashion to architecture, photography, and avant-garde film screenings), so there's always something new to see.
Plus, with free admission every Friday night from 5.30 pm till 9 pm, it's an affordable option too if you plan your schedule ahead of time!
14 – Metropolitan Opera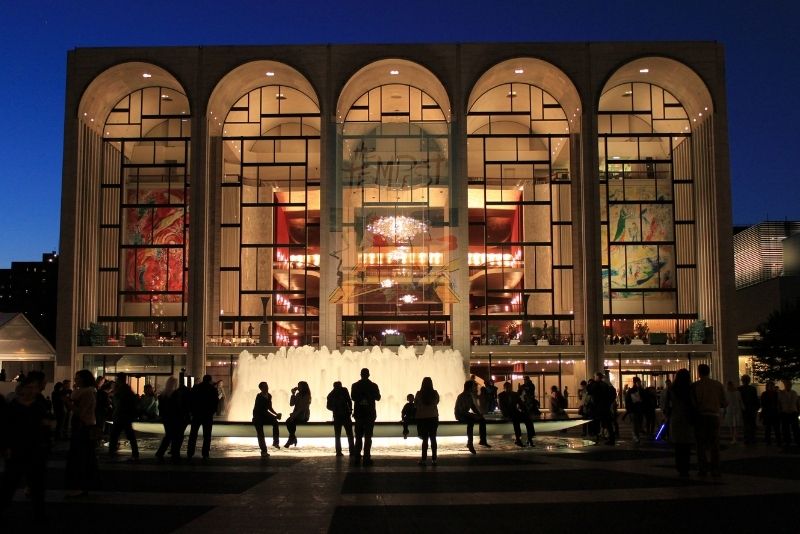 Located in the iconic Lincoln Center on Manhattan's Upper West Side, The Metropolitan Opera House is (quite literally) blissful music to the ears of any classical music lover.
As the world's largest repertory opera company, with over 3,800 seats in its theater, the Met Opera offers an extensive repertoire from September to May each year, with over 200 performances featuring some of opera's most renowned singers (do any of Luciano Pavarotti, Andrea Bocelli, Anna Netrebko or Renée Fleming ring a bell?) as well as ballets and concerts to boot.
Simply check the website to see who's gracing the center stage during your visit — and even if you don't fancy a night dressed to the nines at the opera, the grandiose balcony and lobby, complete with grand staircases and glistening chandeliers, is still open to guests searching for a magical Manhattan souvenir photo.
See also: Fun Things to Do in New York City at Night
15 – New York Aquarium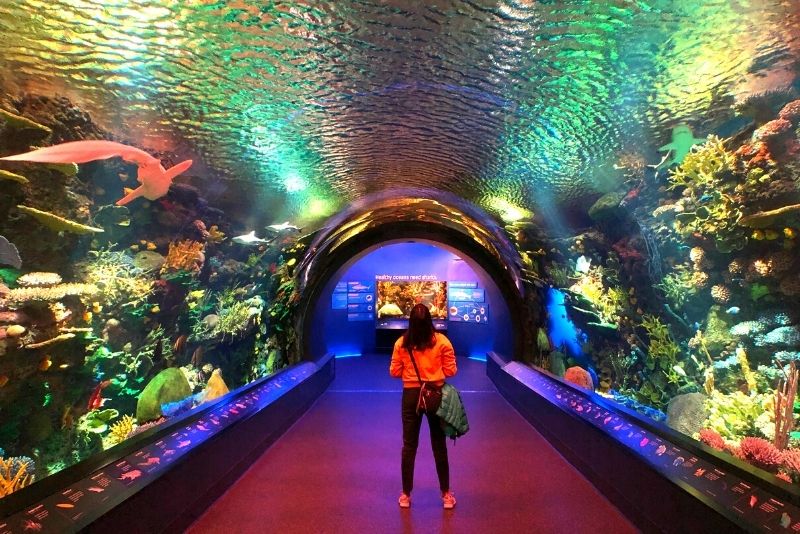 A surefire delight for voyaging families, the New York Aquarium on Coney Island's celebrated boardwalk has been entertaining guests of all ages since it opened its doors in 1896.
Featuring a wide array of marine mammals, fish, plants, and sea-themed exhibits, there's plenty to see as you stroll along its many pathways, experience the thrill of touch tanks, walk-through ocean tunnels, and live feedings along the way!
Admire the aquarium's impressive collection of sharks, take a trip through Ocean Wonders: Sharks! — where you'll find over 18 different kinds of sharks and rays — or catch one of the penguin demonstrations, or learn about oceanic conservation and the environment at Conservation Hall.
And for little ones who want an even more hands-on experience with these majestic creatures, check out the VIP Animal Encounters where kids (and adults) can meet some furry and scaly residents face to face.
16 – Carnegie Hall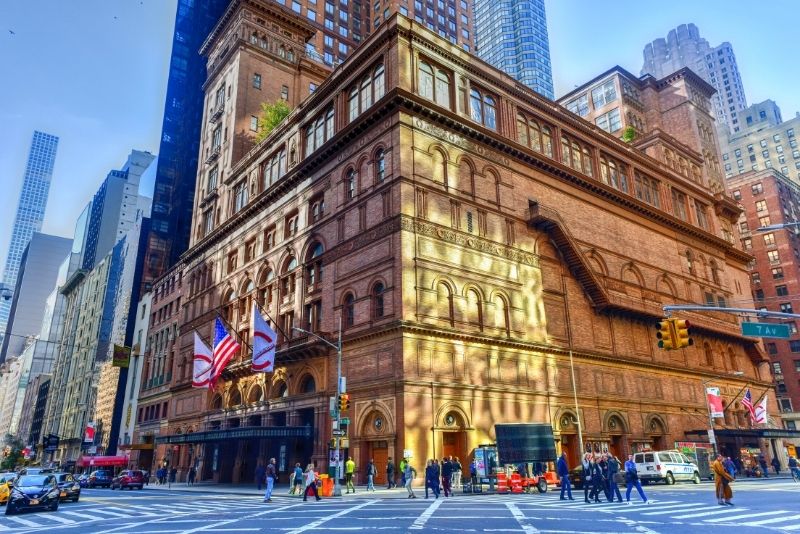 Iconic being an understatement, Carnegie Hall is one of the world's most famous concert venues.
Opened in 1891 and located in Midtown Manhattan on 7th Ave, a couple of blocks away from Central Park, this historic music hall has hosted some of the biggest names (from Tchaikovsky to Frank Zappa and Judy Garland) and best performances from across a variety of different music genres — classical symphonies, jazz ensembles, pop concerts, you name it!
Even today, thousands flock each year for its eclectic program featuring over 200 shows per season (jazz and classical for the most part), so be sure to check out what's on during your visit.
If Carnegie Hall tickles your fancy and you want to level up your experience (or avoid buying a concert ticket) then book yourself onto a guided tour to learn all about its history and explore behind the scenes, and don't forget to pop into the free Rose Museum.
17 – Children's Museum Of Manhattan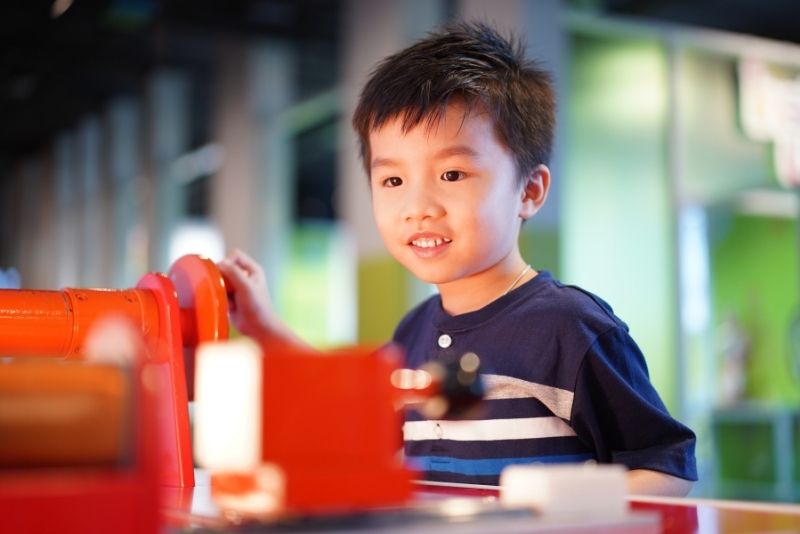 Built to ignite curiosity, inspire creativity, and burn off some energy along the way, the Children's Museum of Manhattan has long been a beloved cultural institution for kids and families from all over NYC.
Boasting interactive exhibits on science, history, art, culture, and more (plus no shortage of play areas), and a host of small-group classes (like Gross Biology!), there's something to keep everyone entertained during a visit — even the adults!
Located on the Upper West Side, this museum makes for a perfect rainy day activity or afternoon out with the little ones.
Hot tip: if it's not raining, stroll over to Central Park for a post-visit picnic!
18 – Luna Park in Coney Island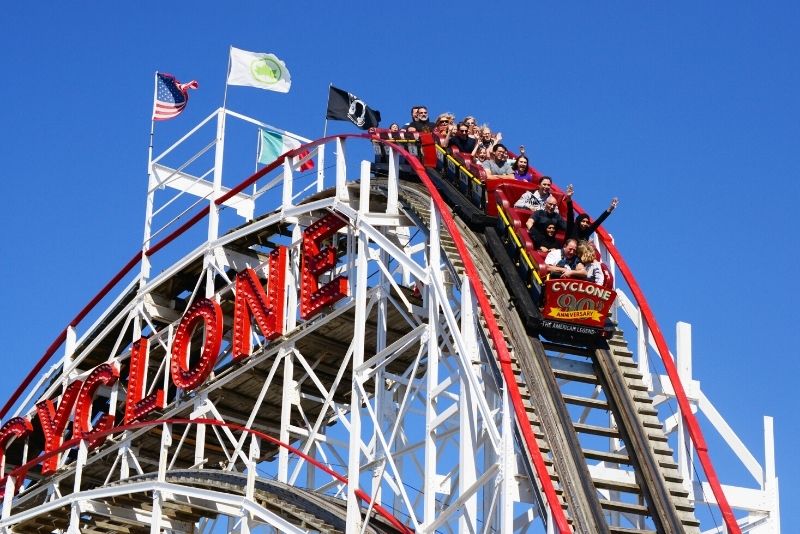 A longstanding summer vacation destination for New Yorkers, Coney Island has been a revolving door of amusements, attractions, and rides since the late 1800s.
And, today, at its center, lies Luna Park — the most well-known amusement park in the city and one of the best family-friendly attractions in New York City!
Open each year for three of the four seasons (excluding winter for obvious reasons), this park is home to more than 30 rides, including a few heart-stopping roller coasters, as well as old-school arcades and classic carnie food options.
Thrillseekers, hop on one of the park's adrenaline-pumping coasters like the Cyclone, Zenobio, or Soarin' Eagle; for a more relaxing day out, take things slow on the carousel before trying your luck at a few midway games.
Best of all, the park is free to enter — just chip in for whatever rides or treats you fancy.
19 – Metropolitan Museum of Art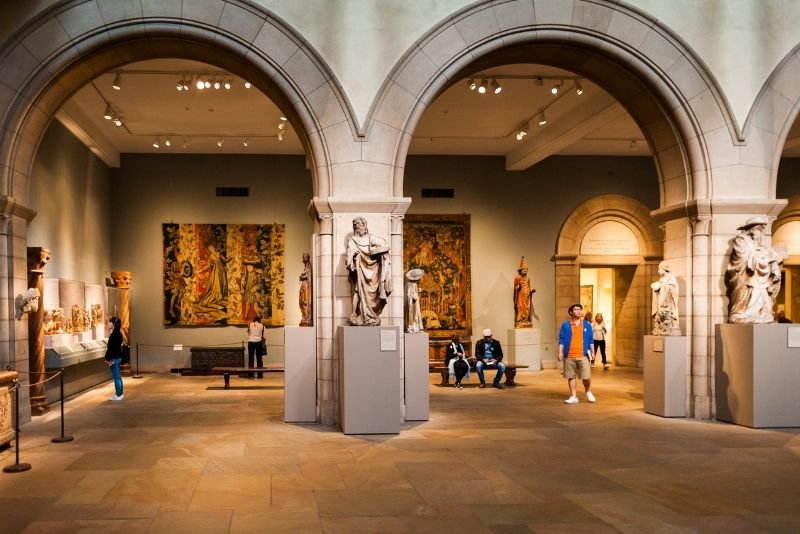 Arguably New York's premier museum (sorry, MoMa, not this time), the Metropolitan Museum of Art is one of the world's largest and most renowned art institutions.
Featuring collections from continents near and far, from ancient Egyptian to contemporary American artwork, as well as a huge library and extensive research facilities, there's something for everyone at this institution — no matter your age or artistic taste!
What's more, general admission is suggested (although some exhibitions may require an entrance fee), so a visit is always possible even when you're pinching pennies.
Plus, with its central location on the Upper East Side, skirting the eastern side of Central Park, and easy access by subway, there's really no excuse not to pay it a visit!
Pro tip: with literally millions of artifacts to see (close to 2 million), a guided tour can really help you get the most out of your visit and is well worth the extra few bucks to avoid getting lost in this colossal attraction.
See also: Metropolitan Museum of Art Tickets Price – All you Need to Know
20 – Apollo Theater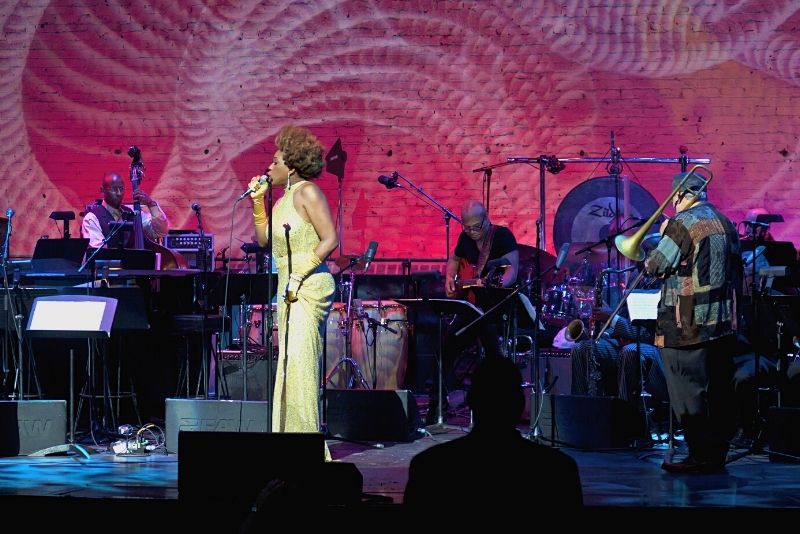 A Harlem entertainment staple, having kickstarted the careers of countless African-American performers over the years, the Apollo Theater is a historic landmark and one of the East Coast's most infamous music venues.
Hosting everything from gospel to R&B concerts, dance performances, comedy nights, and more, from both renowned artists as well as up-and-comers at their famous Amateur Night contests (how do you think Jimi Hendrix and Ella Fitzgerald got their big breaks?), this richly-historic, 1500-seat theater is definitely worth a visit — if not for a show, then for a history-themed tour of the area.
Located in the heart of Harlem on 125th Street, it's surrounded by authentic eateries and quirky shops, making for a perfect day (or night) out in this vibrant and oft-misunderstood neighborhood.
21 – Chinatown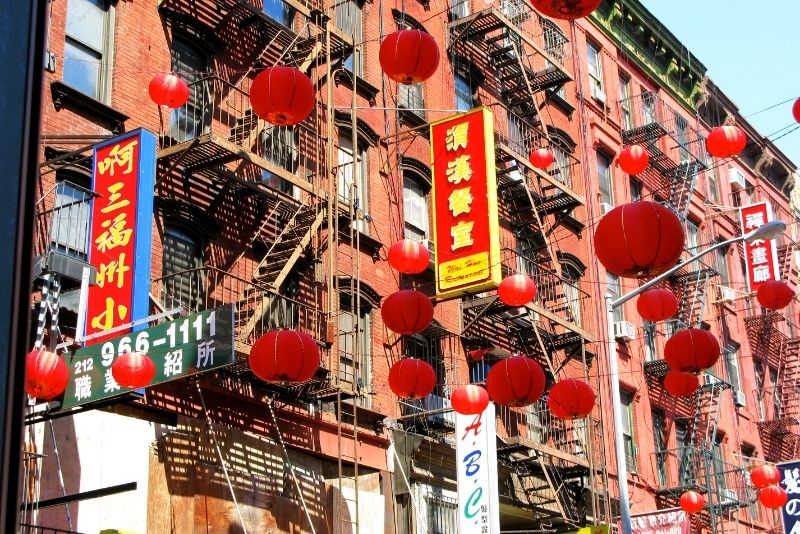 Where drool-worthy restaurants, eastern museums, and specialty shops all converge, Chinatown is a vibrant neighborhood that attracts locals looking for a hearty meal, and visitors looking for a unique slice of international culture.
Filled with colorful street art, bustling markets, and a host of cheap eats (dumplings anyone?), it's a must-visit for any first-time visitor to New York City — especially if you're on a budget!
With such a storied history of immigration and development, the area's historic buildings are interspersed with signs and billboards in Mandarin, making it feel more like you're walking through China than New York City — all best appreciated with a locally-led walking (or biking) tour.
Plus, thanks to its central location on Manhattan's Lower East Side, you can walk 10 minutes and find yourself transported to Little Italy in a heartbeat.
22 – The Met Cloisters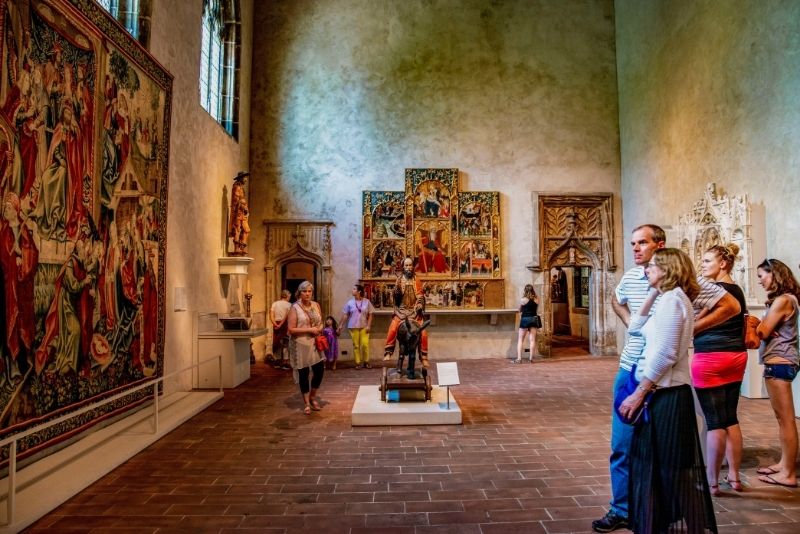 Often swept under the rug in favor of its big sister, The Met itself, The Cloisters is a separate museum located in Fort Tryon Park, dedicated exclusively to the art and architecture of the European Middle Ages — and, in fact, it's the only spot in the country that does so!
Featuring everything from stained glass windows to tapestries, as well as an extensive collection of medieval sculpture and painting, it makes for quintessential viewing for anyone interested in history or art (or both!).
Beyond its captivating collection of artifacts, what makes this attraction so unique is its location: the museum is housed in four distinct monasteries and abbeys — Cuxa, Saint-Guilhem, Bonnefont, and Trie – that were transported from Europe in the early 1900s. Talk about historical preservation!
Bonus: since it's located way up in Washington Heights, overlooking the Hudson River, on a clear day you can see all the way to New Jersey. Score!
23 – Edge Observation Deck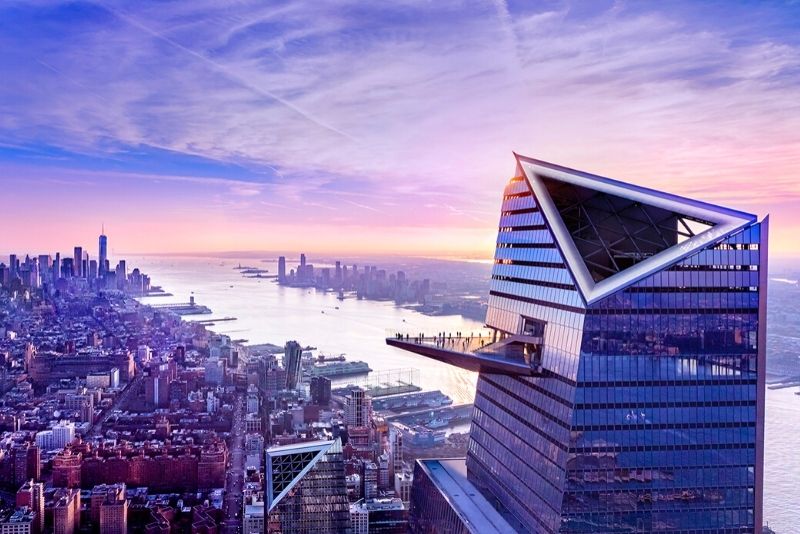 Move over, Empire State Building! There's a new sky-high kid on the block.
In March 2020, the brand new Edge Observation Deck opened its doors to visitors looking for an otherworldly view of New York City and beyond. Located at 30 Hudson Yards on Manhattan's West Side, this exciting observation deck sits a whopping 100 stories high (just one floor below the very top of the building) and offers stunning 360-degree views, making it the highest open-air observation deck in the entire Western Hemisphere.
Along with jaw-dropping vistas of Central Park, Times Square, the Hudson River, the Midtown Skyline and more, Edge also boasts several interactive features that allow you to learn more about the cityscape — made all the more exciting by the fact you're about 1,100 feet off the ground.
See also: Edge Tickets Price – Everything You Need to Know
24 – Times Square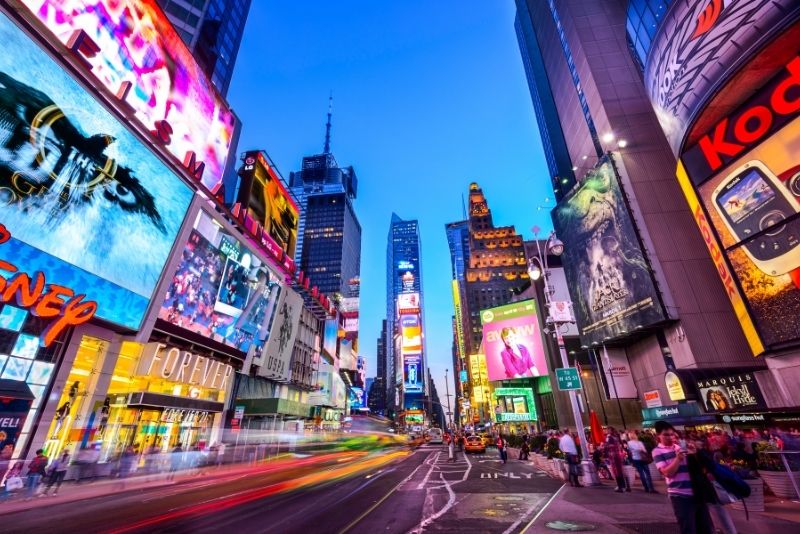 Dubbed the Intersection of the Universe (and, as anyone who's ever visited will tell you, it's a pretty accurate moniker), Times Square is one of the most famous and frenetic places on earth. From the giant billboards to the costumed characters, there's no mistaking you're in the heart of NYC.
And while it can be overwhelming for first-timers, there's also something undeniably electric about the place. If you're looking to catch a show or just take in all the sights and sounds, this is definitely where you want to be.
For an evening of entertainment, head to the TKTS booth for some last-minute discounted Broadway tickets. Or, if it's family entertainment you're after, a sleuth of notable attractions await (Madame Tussauds, M&Ms World, and Ripley's Believe it or Not, to name but a few).
For a spot of toe-tapping music, head to one of the jazz clubs (The Rum House is iconic) or grab a seat for some improv comedy at one of the underground theaters.
Of course, if you happen to be visiting on New Year's Eve, the ball-drop, however chaotic, is a once-in-a-lifetime event.
Make sure to check out our complete list of fun things to do in Times Square.
25 – The Cathedral Church of St. John the Divine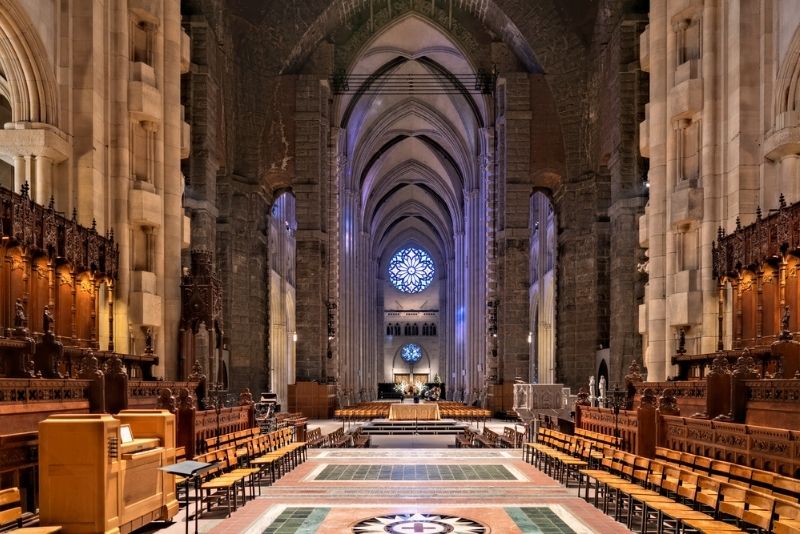 Despite receiving far less attention than the city's plethora of skyscrapers, the Cathedral Church of St. John the Divine is one of the five largest in the world. In fact, it's so big that even after being under construction for over a century (it began building in 1892) it still has yet to be completed!
But what's been done so far makes for one of New York City's most incredible architectural marvels — and its interior is truly magnificent. With stained glass as well as statues, your inner art connoisseur will come out to play.
And if you're lucky enough to catch musical performances during your visit (which range from traditional organists to classical orchestras or the annual New Year's Eve Concert for Peace), or readings of classics like Dante's Inferno in The American Poets Corner, all the better!
26 – Riverside Park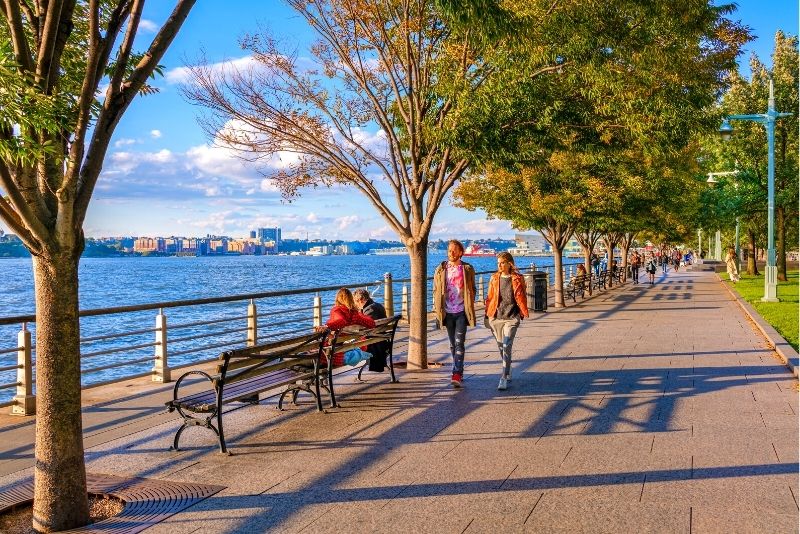 Quiet and suburban compared to most of Manhattan's green spaces, and forever sitting in the shadow of Central Park, unheralded Riverside Park is one of the city's best-kept secrets. Flanked by the Hudson River to its west, it stretches all the way from 59th (expanded from 72nd) to 158th Street, spanning more than 330 acres of parkland along the way.
Not only a wonderful place for nature-lovers, but history buffs too, the elongated park features more than 25 monuments, plaques, and statues, and commemorates significant spots; like where Edgar Allen Poe composed "The Raven", or the 60-year-old No. 25 locomotive engine.
Along the blissful paths, you'll find dog parks, the Hamilton Fountain, the Hippo Playground (which includes a Hippopotamus Fountain), tennis courts, and plenty of riverfront promenades where you can soak in the fresh air (and maybe snag some Instagram-worthy shots).
27 – Empire State Building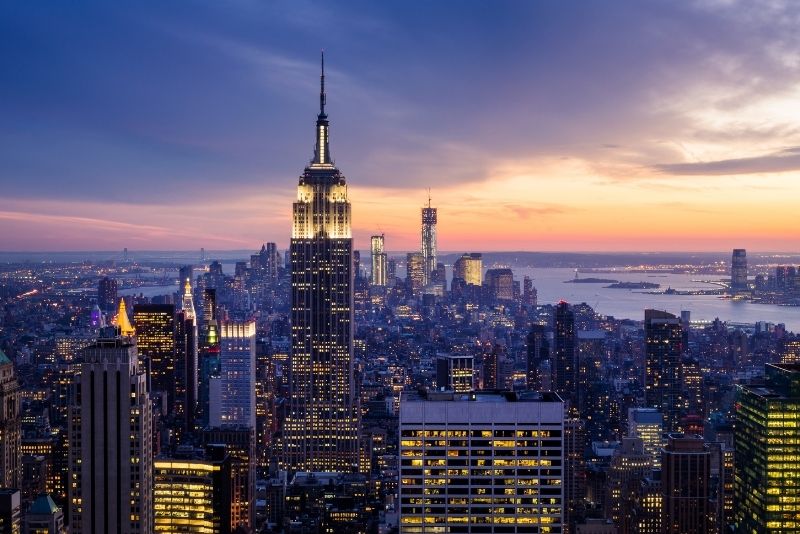 At the time of its construction, the Empire State Building was the tallest in the world. (It held that title for nearly 40 years!) And even today, at a mere 102 stories and 1,454 feet high, it's still up there with America's most iconic structures and remains one of the best places to visit in New York City for romantics, architecture buffs, and history aficionados alike.
Not only is it an architectural marvel but it offers some pretty great views too. Whether you're up top on the 86th-floor main observation deck or the prestigious 102nd-floor Top Deck, there are plenty of angles to take in all five boroughs of NYC laid out before you (can't forget Jersey too).
Located on 34th Street between Fifth and Sixth Avenues, amidst the hustle and bustle of Midtown Manhattan, it's quintessential New York — even if only for a stroll underneath its base.
If you're visiting during the summertime, skip-the-line tickets come highly recommended.
See also: Empire State Building Tickets Price – Everything you Should Know
28 – Wave Hill Public Garden & Cultural Center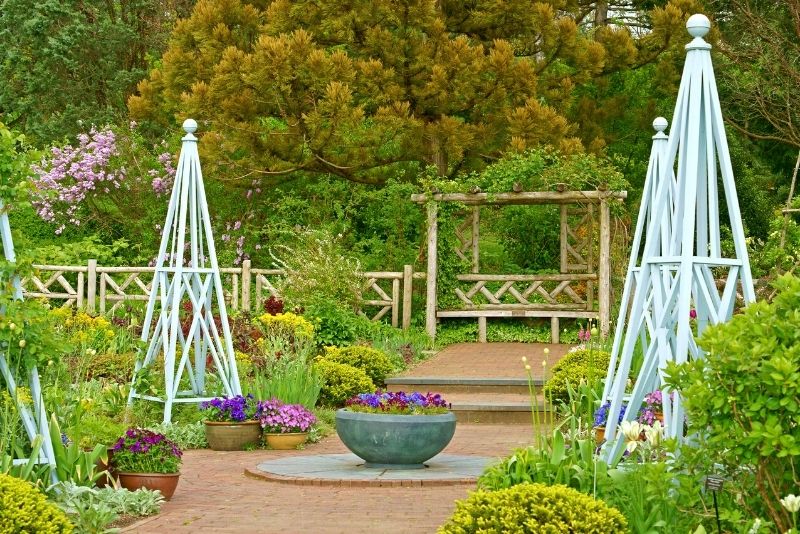 A 28-acre public garden and cultural center in the Bronx, Wave Hill is a lesser-known local favorite; with stunning gardens that change with the seasons (from tulips and daffodils in the springtime to chrysanthemums in the fall), it's a photographers dream.
But even if you're not into snapping pictures, there are plenty of other things to do here too. From taking art classes or touring the neo-Georgian stone mansion, to wandering the heritage greenhouse complex or enjoying the view of the New Jersey Palisades over a spot of lunch.
Located atop a hill overlooking the Hudson River, it makes for an idyllic day off the beaten track!
29 – Federal Hall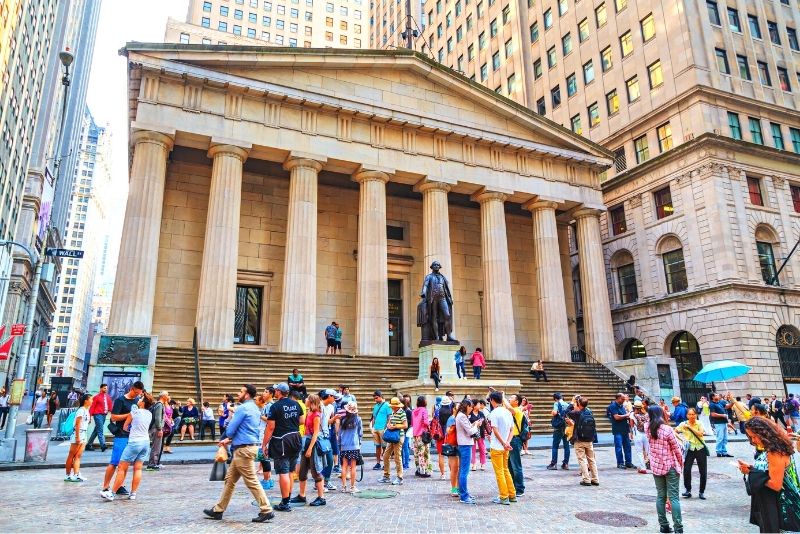 Found smack-bang in the middle of Wall Street on the original site of George Washington's inauguration as America's first president in 1789, Federal Hall is now a National Memorial operated by the National Park Services that takes visitors on a journey back through time.
It's also one of New York City's most historic landmarks — complete with an iconic Greek Revival facade emblematic of Europe's most postcarded buildings — and features museum exhibitions on the American Revolution, U.S. Constitution, financial system (and more) inside its cool marble walls.
If you're interested in learning about American history or want to see rare artifacts like the Bill of Rights in the place where the Continental Congress met way back in 1787, it makes for a great place to visit!
30 – Intrepid Sea, Air & Space Museum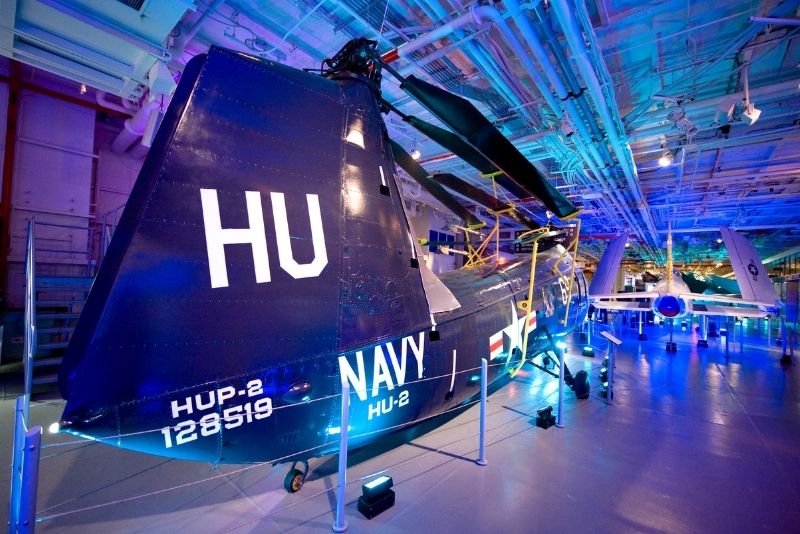 Considered to be up there with the best places to visit in New York City for anyone intrigued by science and transport — we're talkin' planes, jets, spacecraft, helicopters, submarines, and a whole lot more — the Intrepid Sea, Air & Space Museum creates an experience that manages to be educational as well as immersive, giving visitors a close look at rare vehicles often kept away from the public eye.
Formerly an aircraft carrier that saw action during WWII and Vietnam, the USS Intrepid now houses over two dozen restored vintage planes on its flight deck — including the record-breaking British Airways Concorde! — as well as the retired Enterprise space shuttle.
Inside you'll also find exhibits dedicated to maritime history and U.S Navy SEALs, plus NASA and the Marine Corps; with regular guided tours and outdoor movie screenings worth checking out!
31 – The Brooklyn Heights Promenade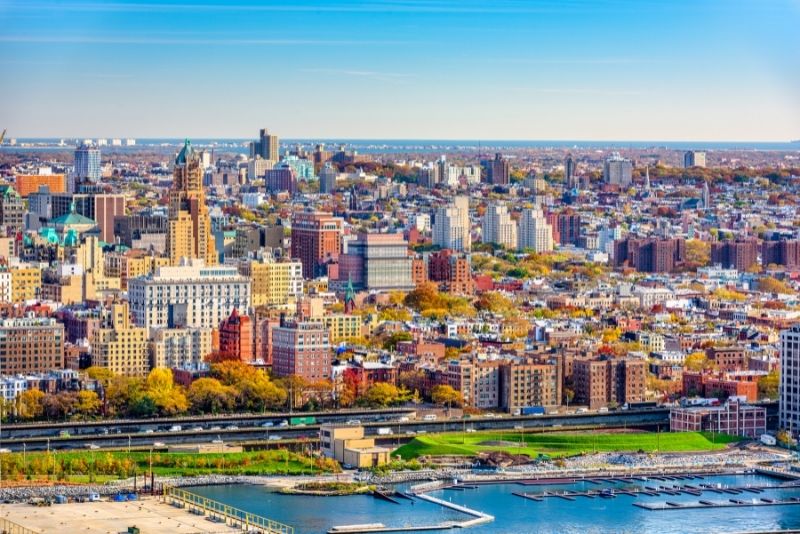 Fancy a stroll with a view? The Brooklyn Heights Promenade is one of the best places to visit in New York City to do just that.
A half-mile walkway built right on top of Brooklyn Bridge Park, it offers sweeping panoramas over the East River, Brooklyn Bridge, and Lower Manhattan skyline too!
Even if you're not into photography or architecture (though it's an absolute Instagrammer's delight), this popular spot for tourists and lovey-dubby couples makes for a great place to simply sit back and watch New York go by.
While you're in the area, the Pier 2 Roller Rink, Pier 4 Beach, and DUMBO neighborhood each plead their case for a little detour.
32 – Guggenheim Museum
A UNESCO World Heritage Site and Frank Lloyd Wright masterpiece that dates back to 1959, this immediately-recognizable cylindrical building on the Upper East Side is a must-visit for any art lovers.
The Guggenheim Museum boasts an exclusive permanent collection of Impressionist, Post-Impressionist, and contemporary art from America and beyond, regularly impressing guests with its diverse collection of Monet, Van Gogh, Kandinsky, Pollock and Magritte pieces (and that's just the tip of the iceberg).
Complementing its unique shape, as you step inside you'll find a spiraling ramp that's become emblematic of the Guggenheim museum itself, designed by Wright as a way to encourage visitors to take their time and explore every nook and cranny of the exhibition.
33 – Flushing Meadows Corona Park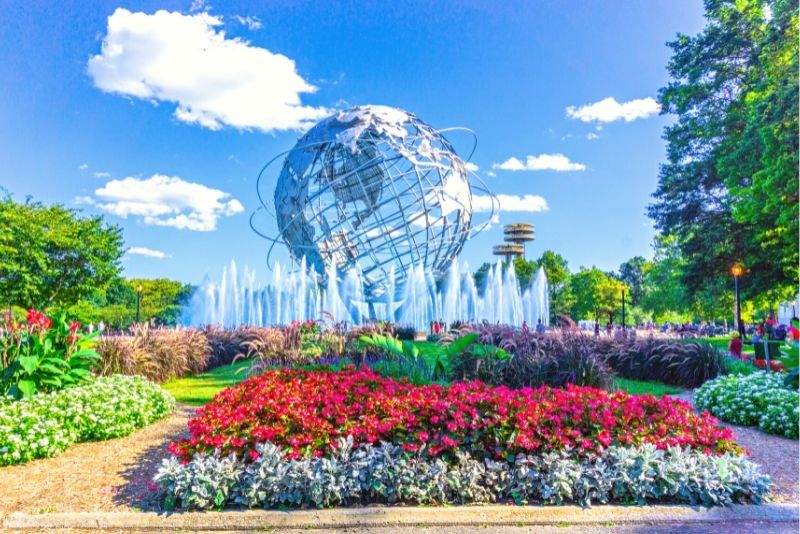 Edging out Manhattan's Central Park by about 50 acres in size, this Queens gem is one of the most underrated places to visit in New York City.
Besides boasting a huge variety of sports facilities (including Citi Field around the corner, home of the Mets), playgrounds, and ponds; as well as being the location of both the US Open tennis tournaments and both the 1939 and 1964 World Fair, Corona Park is also where you'll find some seriously impressive architectural feats.
The Unisphere, for example, is an iconic 140 feet steel globe that once served as the centerpiece of the 1964-65 World's Fair (and still looks pretty darn cool today). The New York State Pavilion meanwhile — designed by Philip Johnson for the '64 fair too — features a circle of sixteen 100-foot columns, making for a spectacular sight.
Throw in regular events, mini-golf, an ice rink in the wintertime, kayak launch sites, walking trails, indoor pools, paddleboat rentals, barbecue areas, and you've got yourself a day full of outdoor fun!
34 – Queens Museum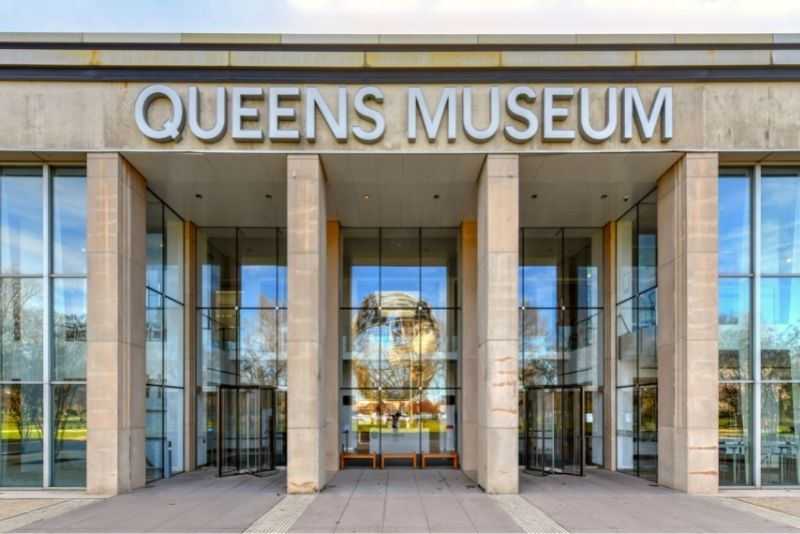 While you're galavanting about New York's biggest borough, why not take an hour or two to check out the Queens Museum?
Formerly known as the New York City Building, this art deco gem was originally constructed for the 1939 World's Fair and has been restored to its former glory, with exhibitions on everything from the history of Queens itself to a collection of contemporary art, and insights into the stories and history of the Big Apple.
The undeniable highlight, however, is the Panorama of the City of New York, an enormous replica of all five boroughs (complete with parks, skyscrapers, riverways, highways, and more) that covers nearly 10 thousand feet of exhibition space!
Hint: if you're a first-time NYC visitor, this scale model will help you get your bearings.
35 – United Nations Headquarters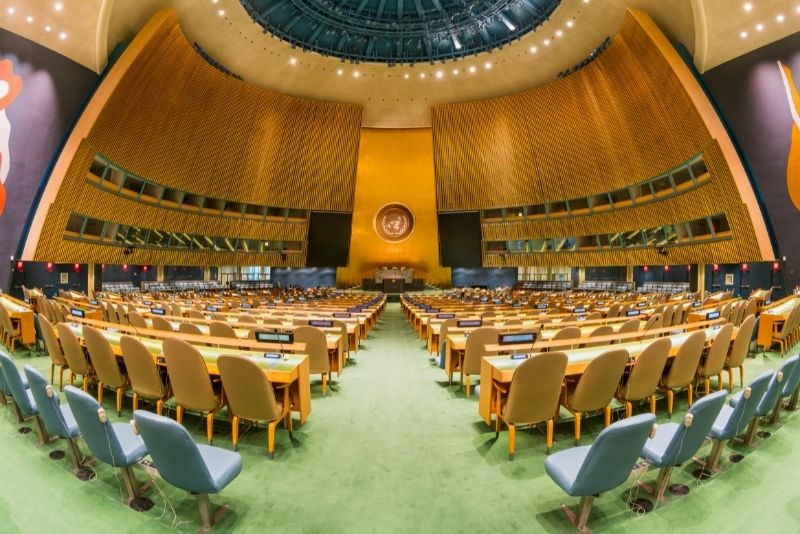 A meeting place for world leaders, a center for diplomatic activity, and an understated Manhattan must-see; the UN Headquarters overlooks the East River in Manhattan's Turtle Bay area, not only providing excellent views over into Queens, but also highlighting the importance of international diplomacy and cooperation.
While you're here, visitors can explore the General Assembly Hall (which is where most official meetings take place), visit educational exhibits that explore peace, human rights, and activism, browse the Dag Hammarskjöld Library, or even go on a guided tour to learn more about addressing global challenges!
36 – Madison Square Garden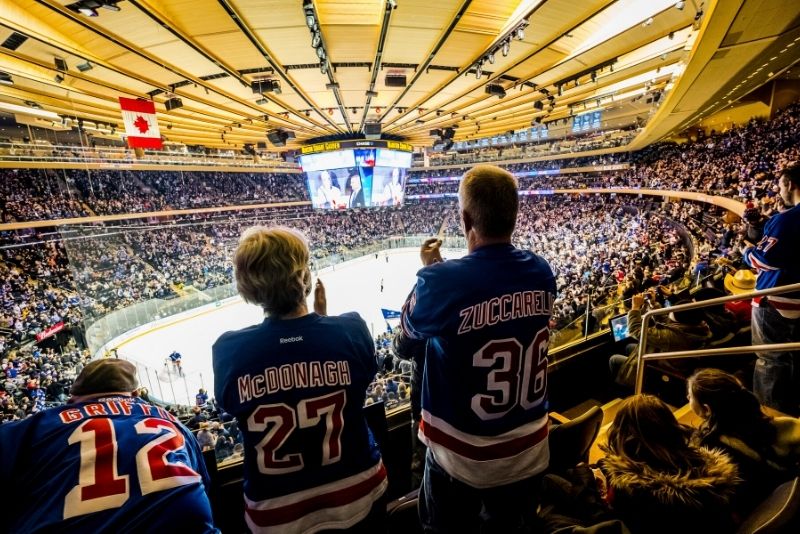 Where the sports crowds are roaring and the music fans are diehard, Madison Square Garden — otherwise known as The World's Most Famous Arena — has long been the Big Apple's premier sports and entertainment venue.
Located conveniently atop Pennsylvania Station and home to both the NBA's Knicks and the NHL's Rangers, as well as hosting some of the biggest names in music (read: we're talkin' everyone from The Beatles to Elton John!), this arena is a must-see for any fan of live entertainment, with a range of events (including UFC, wrestling, boxing, and more) and ticket options to suit all budgets.
Even if you're not here to see a game or concert, there's still plenty to do and explore at MSG; from grabbing a bite at one of the many restaurants on offer, to joining a guided tour that explores the locker rooms and press areas, taking a walk around its iconic statues, or simply soaking up the atmosphere and energy of this legendary venue.
37 – The Vessel

A modern and certainly eyecatching addition to the Hudson Yards area, Vessel is a 150-foot tall structure that has been designed to look like a honeycomb — with over two thousand steps and 80 landings! It's an incredible sight when you see it in person, especially when standing in its center with your neck tilted skyward.
A public landmark project meant to "provide multiple perspectives on the city", the structure officially opened in late 2019 and has quickly become one of New York City's most iconic attractions; drawing visitors from all over the world who are eager to climb its many stairs for sweeping views over Manhattan.
The up-and-coming area is also home to shopping at The Shops & Restaurants at Hudson Yards, as well as several art galleries, a connection to the High Line, and the stomach-churning observation deck at 30 Hudson Yards.
38 – Yankee Stadium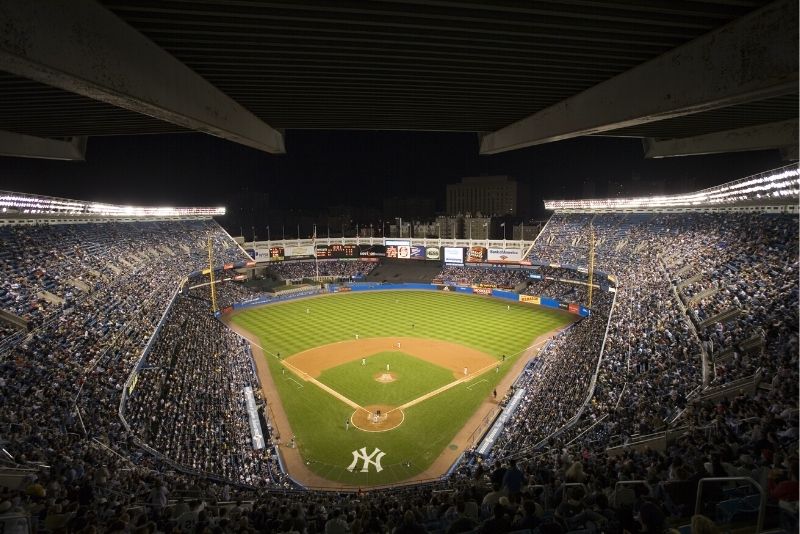 Baseball is a beloved American pastime. And Yankee Stadium is a national treasure. Home to the legendary New York Yankees, this iconic stadium is located in The Bronx, and not only delivers an exhilarating gameday experience when its 50,000+ seats are full, but also provides a walk down memory lane with its crowd-favorite museum and in-depth behind-the-scenes tours.
Featuring some of the most impressive baseball memorabilia in the world (including Babe Ruth's jersey, Lou Gehrig's jersey, Mickey Mantle and Joe DiMaggio's bats, and Babe Ruth's 1927 World Series Ring), the museum — as well as the statue-lined Monument Park — is a must for any fan of America's favorite pastime, while guided tours offer an up-close look at this historic stadium, from its locker rooms to the dugout.
39 – Museum of Natural History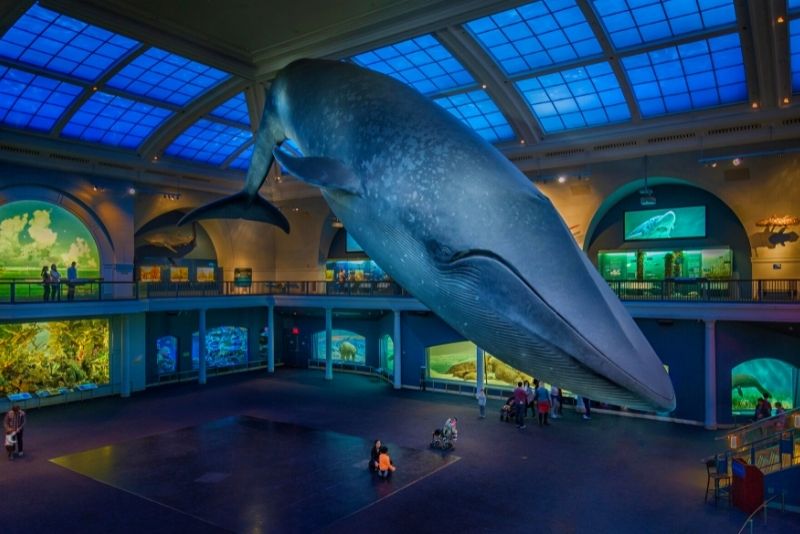 Like stepping into a time machine, the Museum of Natural History on Central Park's western edge promises to be a wonderful way to spend several hours; from exploring its world-class collections and exhibitions on biology, geology, anthropology, history, and evolution, to taking a break in its lovely Rose Center for Earth and Space.
Boasting everything from dinosaur fossils to plant specimens and an impressive collection of meteorites, as well as ancient animals like wooly mammoths and saber-toothed cats across its 45 permanent exhibition halls, this museum is perfect for visitors of all ages who want to learn more about our planet and the creatures that have called it home.
And if you're looking for an even more immersive experience beyond the 34 million specimens on display, the Rose Center features a high-tech Hayden Planetarium with state-of-the-art digital projection systems and star theaters that will take you on a journey through the universe; from the Milky Way to distant galaxies.
40 – The Battery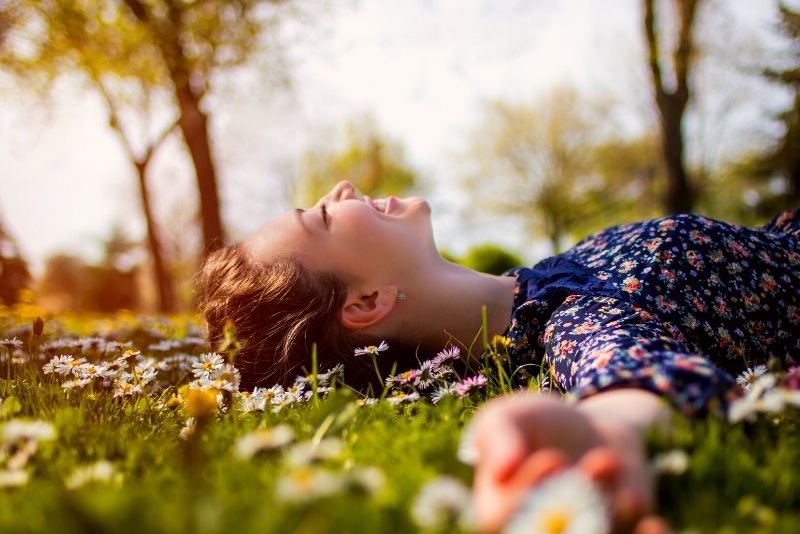 Regularly delivering one mighty pleasant surprise, located at the southern tip of Manhattan, The Battery is a historic 25-acre park that merges killer views with rich history and a sleuth of events.
Overlooking New York Harbor, Ellis Island, and the Statue of Liberty, the waterfront oasis that it The Battery was named for its former use as an artillery fort that protected the city in days gone by; but today it's one of NYC's most popular places to visit with its gorgeous gardens, multiple memorials, meandering pathways, and lovely views — not to mention it's home to Castle Clinton National Monument which once served as America's first immigration station.
If you're looking for other things to do here beyond simply enjoying the tranquility of your surroundings, however pretty they may be; you can also take advantage of kayaking opportunities on The Battery Boathouse, take the youngsters to Playscape or the ShowBox amphitheater (where you'll find regular improv performances), or admire the ever-changing art installations!
41 – Chelsea Market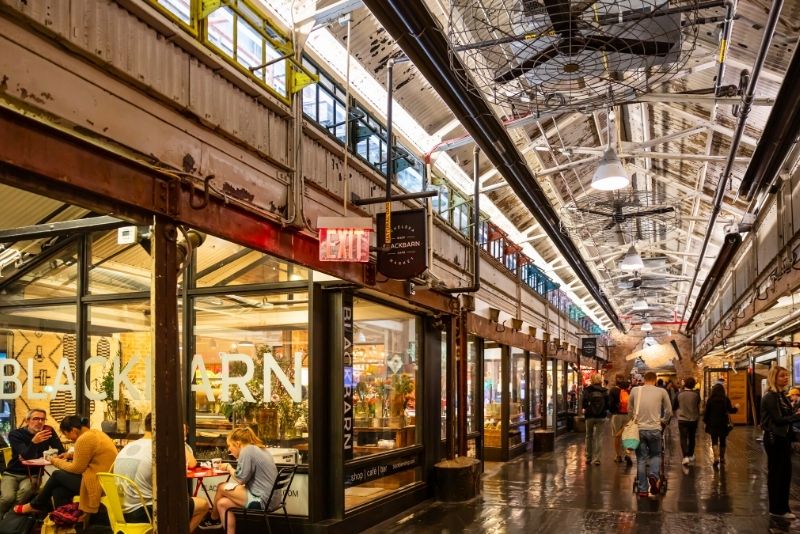 A melting pot of flavors and knick-knacks in the Meatpacking District (just next to the High Line), Chelsea Market is a quirky food hall that promises to satiate your stomach and sweet tooth.
Located inside an iron building that was once home to the National Biscuit Company, this market features everything from artisanal bread and cheeses, to seasonal produce and much more — all of which you'll find at its host of boutique eateries including Amy's Bread, Los Tacos No.1 – as well as some fantastic coffee shops.
As soon as you step through those doors on Ninth Avenue between 15th and 16th Streets, prepare yourself for a sensory overload; because in peak times, things get busy pretty quickly!
Be sure to venture upstairs to Chelsea Local where you'll discover even more treats at places like the Manhattan Fruit Exchange, Dickson's Farmstand Meats, and Buon'Italia — all in all, a foodie's paradise awaits.
42 – World Trade Center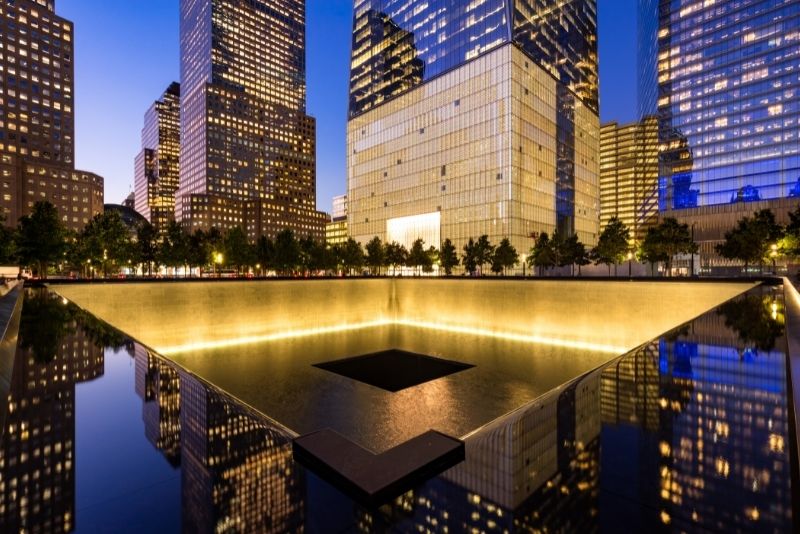 Infamous for being the site of the worst terrorist attack on American soil, the World Trade Center has been rebuilt and revolutionized over the decades since, now home to a stunning complex of buildings that commemorate those who lost their lives on September 11th, 2001.
Despite being most known for One World Observatory atop the Freedom Tower, and the powerful and moving memorial, the World Trade Center offers far more to see and do than initially meets the eye.
Make your way to the architecturally marvelous Oculus (Transportation Hub), a magnet for photographers; find a new wardrobe as you browse the 1.5 million square feet of the Center's shopping space, dine at an award-winning restaurant, or wander down the Battery Park Esplanade. If you're not sure where to start, a locally-led guided tour is hard to pass up, fusing local education with rich historic stories and hidden gems along the way.
43 – New York Transit Museum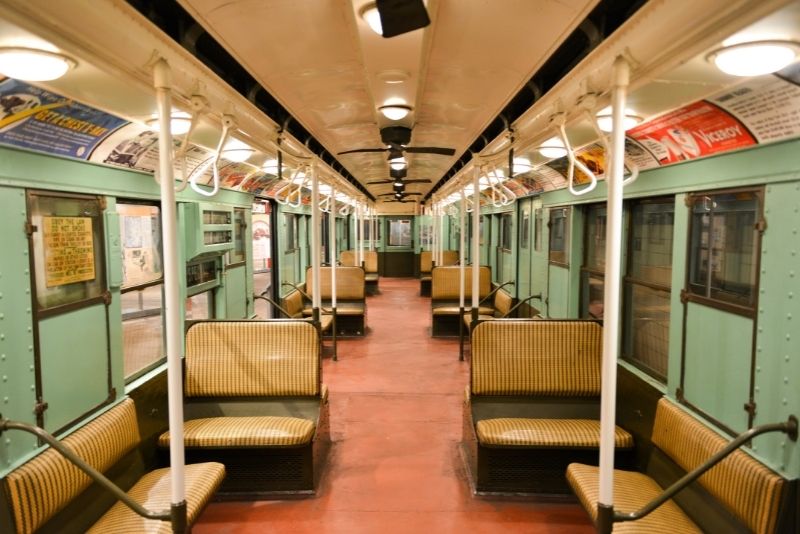 As the world's most famous subway system (move over, London, not this time), New York City's MTA is the largest mass transit railway in the world and a proud representation of American innovation. For this reason, it makes perfect sense that there should be an entire museum dedicated to its history!
Found in a former Brooklyn subway station (decommissioned in 1936) and housings all kinds of artifacts from as far back 100 years ago, at New York Transit Museum you'll learn about how one of America's most important public transportation networks came into being; how it has evolved over the decades; and what plans are on track for future growth.
Aside from getting up close with subway cars, busses, signal lights, historic maps, and old fare boxes — not forgetting plenty of cool old photographs — you can also pick up a handful of unique MTA-themed gifts.
Hot tip: if it's more convenient, check out the Museum Annex in Grand Central Terminal for a taste of what's on offer before committing to the trip out to Brooklyn.
44 – Wall Street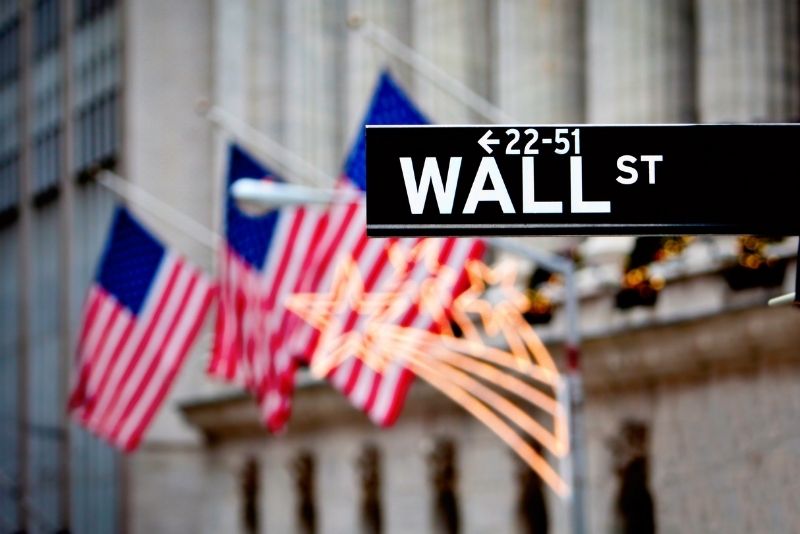 Full of suits and chaos and the beating heart of America's stock market (home to the New York Stock Exchange), Lower Manhattan's Wall Street is flanked by towering skyscrapers, churches, and other historic buildings such as the 1842 Greek Revival–style Federal Hall.
If you're a business or finance buff, hop on a guided Wall Street tour to learn all about the history of its most famous institutions (hello: JPMorgan Chase, Wells Fargo, and BoA), the New York Stock Exchange, and how exactly everything works in this little corner of NYC.
While it can be pretty daunting (and crowded) during business hours, there's something undeniably awe-inspiring about standing in the footsteps of American capitalism's most famous street.
Or if you're keen for more than just trading stocks, make sure you pay Trinity Church — built way back in 1846 — and the iconic charging bull statue a visit too.
45 – Tenement Museum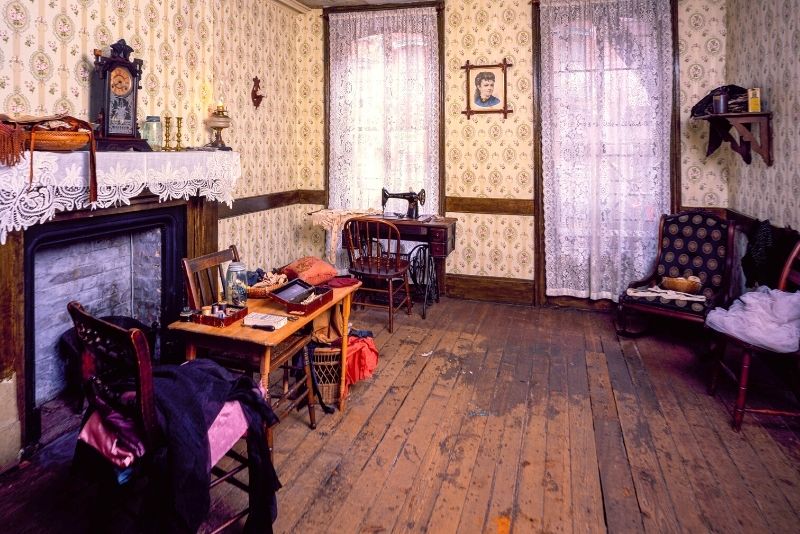 Brilliantly documenting the immigrant experience in America, the Tenement Museum is one of the best places to visit in New York City to understand the country's history and multicultural heritage.
Located in a pair of old tenement buildings (from the 1800s) on the Lower East Side of Manhattan — an area that became a vibrant and iconic immigrant neighborhood — this small museum has been painstakingly restored and now tells the stories of those who lived there and helped form New York's diverse identity during the 19th and 20th centuries.
What makes it so special is that you can actually walk through the apartments and see where families from all over the world — including Ireland, Italy, Germany, Poland, and Hungary — made their homes in one of the most difficult periods in American history.
With interactive exhibits and guided tours available (plus neighborhood walking tours), it's an incredibly powerful way to connect with the city's heritage or simply learn more about what makes the Big Apple so unique.
46 – Brooklyn Flea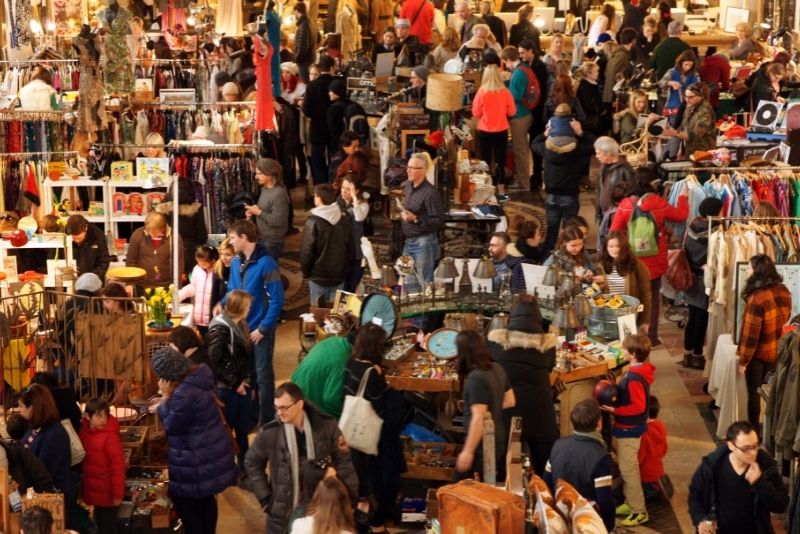 Thrift-shoppers, listen up! The Brooklyn Flea is a vibrant mishmash of vintage collectibles, quirky art, yummy treats, one-of-a-kind hand-me-downs, and vibrant people that deserve a spot high upon your weekend to-do list.
Taking place on weekends throughout the year at 80 Pearl St in DUMBO, this cool flea market has more than 100 vendors selling everything from old furniture, antiques, and jewelry to artwork, clothing, crafts, and musical instruments.
With well-curated displays varying by season — often with a focus on local designers or crafters — you never know what treasure you might find here!
47 – Whitney Museum of American Art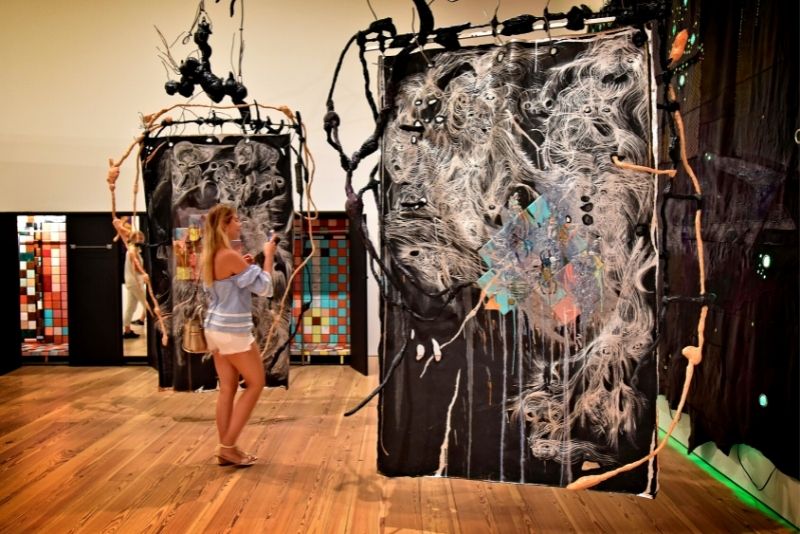 Showcasing a fine collection of 19th and 20th-century works, the Whitney Museum honors, above all else, homegrown American artists, with an impressive permanent collection featuring more than 23,000 paintings, sculptures, drawings, prints, and other pieces by over 3000 artists — including Louise Bourgeois, Jackson Pollock, and Georgia O'Keefe.
Sitting on the shores of the Hudson River in the Meatpacking District, the Whitney dives deep into the contemporary world, starting with pre-eminent figures like George Luks all the up to pop icons like Andy Warhol, putting it up there as one of the city's premier attractions for art lovers!
After admiring the collection, make your way to the top-floor bar where spellbinding views of the West Village await.
Keep in mind: A notable (and unique) feature of the museum is its Youth Insights program — a week of FREE classes, workshops, and performances aimed at teenagers to help them learn new skills.
48 – Citi Field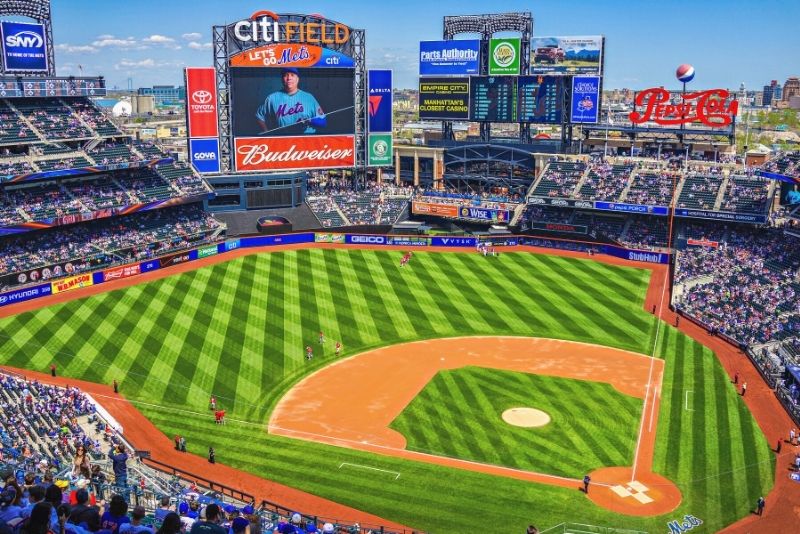 While often overlooking in favor of the historic Yankee Stadium, 42,000-seat Citi Field remains a sports nut's haven; home to the Mets, this modern stadium at the top of the enormous Flushing Meadows–Corona Park opened its doors in 2009.
Boasting an impressive array of high-tech features, including dozens of luxury suites, food options from some of NYC's most finger-lickin' restaurants, the Mets Hall of Fame & Museum and a top-of-the-line scoreboard.
Better yet, with tickets often easier to come by than those for the Yankees, the open-air ballpark remains one of the best places to visit in New York City when you want to see some good ol' fashioned baseball!
A favorite among diehard fans, Outside of game days, hour-long tours operate through the stadium, exploring usually off-limits spots like the Scoreboard Control Room, Piazza 31 Club, Press Conference Room, and the Bullpens.
49 – Time Out Market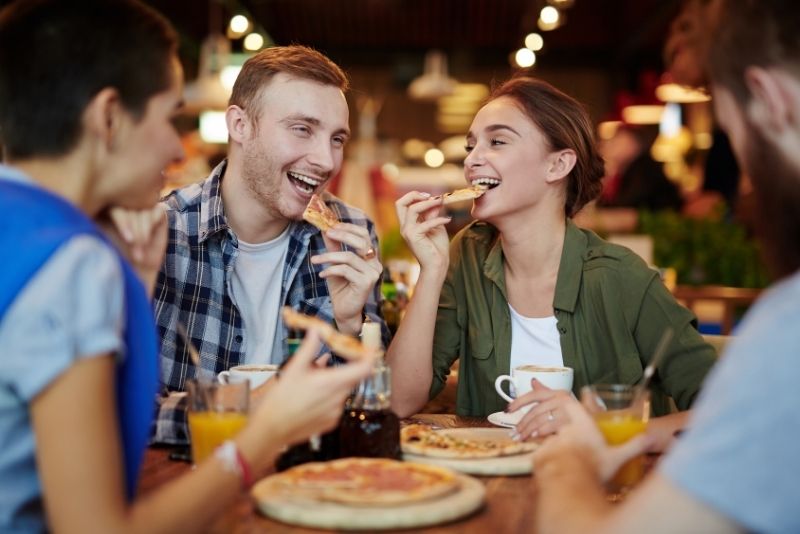 Foodies, rejoice! Serving up a smorgasbord of delicious eats and quintessential New York dishes, Time Out Market is the latest culinary sensation to hit Brooklyn.
Housing waterfront restaurants and cheeky sweet treats at a purpose-built facility in between the Brooklyn and Manhattan bridges (where killer views await), Time Out Market is an eclectic mix of everything that makes NYC cuisine so famous — from authentic bagels and wood-fired pizza to juicy burgers, crispy fried chicken and moreish ice cream.
There's plenty for vegetarians and vegans to devour, and it makes for a wonderful date night spot thanks to occasional cultural events and its proximity to the waterfront!
50 – Central Park Zoo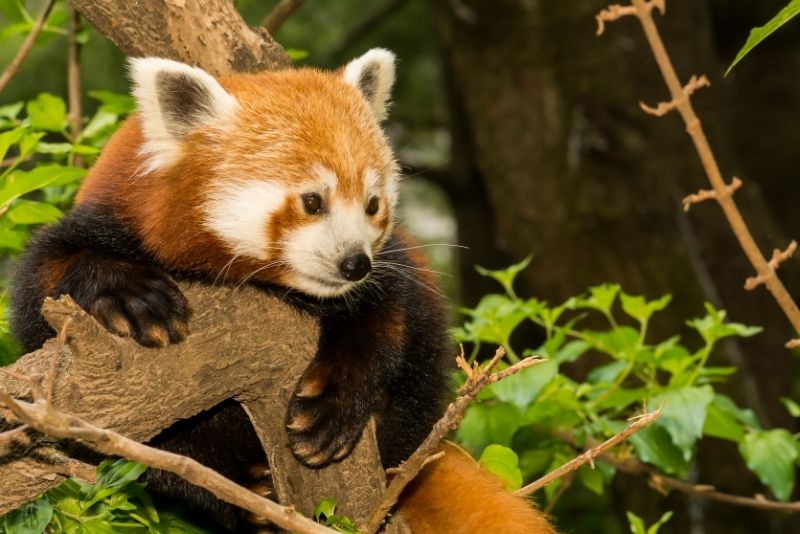 Conveniently located, and beloved by families, the Central Park Zoo is a compact but exuberant escape into the natural world.
Housing more than 130 species of animals — including snow leopards, penguins, and seals — this old-school zoo is entertaining as well as educational, with regularly-run programs from the Wildlife Conservation Society.
Take your time exploring its well-manicured sections: the tropical rainforest zone is home to colorful birds, cheeky monkeys, sloths, and lemurs; the Temperate Territory has adorable red pandas and snow monkeys, while the Polar Circle area introduces guests to friendly and playful penguins and puffins!
51 – Lincoln Center for the Performing Arts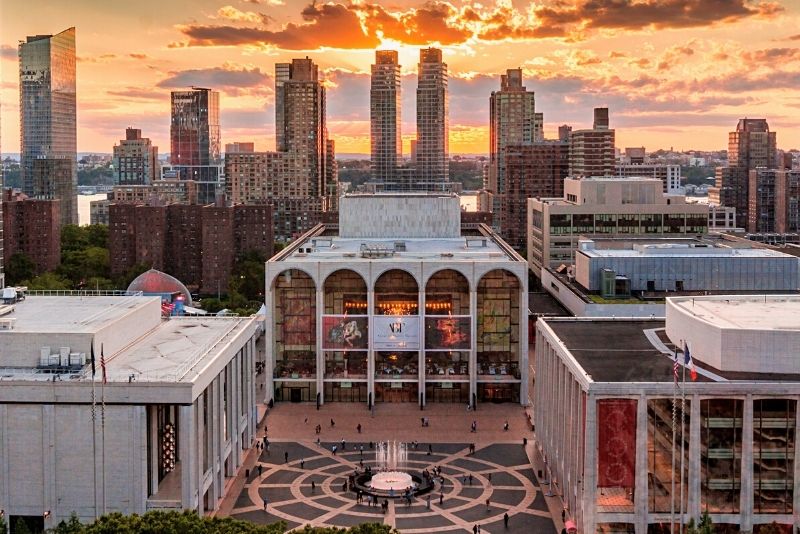 One of the world's leading cultural institutions dating back to the 1950s, Lincoln Center for the Performing Arts is a 16-acre Manhattan campus of a dozen buildings that features some of New York City's most iconic venues and institutions.
From the Metropolitan Opera House and David Geffen Hall to Alice Tully Hall and The Juilliard School, there's something for everyone at this performing arts landmark — whether you're a fan of opera, ballet, jazz, or classical music!
Take in a show by the likes of The Metropolitan Opera or The New York Philharmonic Orchestra, attend a masterclass or just marvel at the architecture: whatever your poison, make sure to add Lincoln Center for the Performing Arts to your list of places to visit in NYC!
52 – Roosevelt Island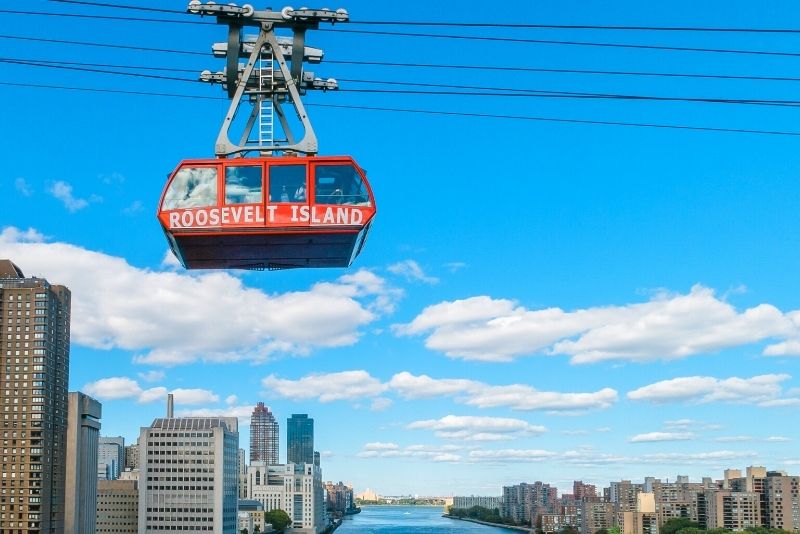 Steeped in controversial history, Roosevelt Island is a narrow strip of land in the East River that's connected to Manhattan by way of two bridges.
Formerly known as Blackwell's Island, this was where New York City's first psychiatric hospital (now abandoned) and prison were located; it also served as a quarantine station for immigrants.
Today, Roosevelt Island is a peaceful oasis away from the hustle and bustle of Manhattan with lovely river views, plenty of green space and some interesting architecture (including an abandoned smallpox hospital).
Take the tramway over from Lexington Avenue/59th Street or wander along the riverside esplanade on a sunny day — either way, wonderful views and a breath of fresh air await.
53 – The High Line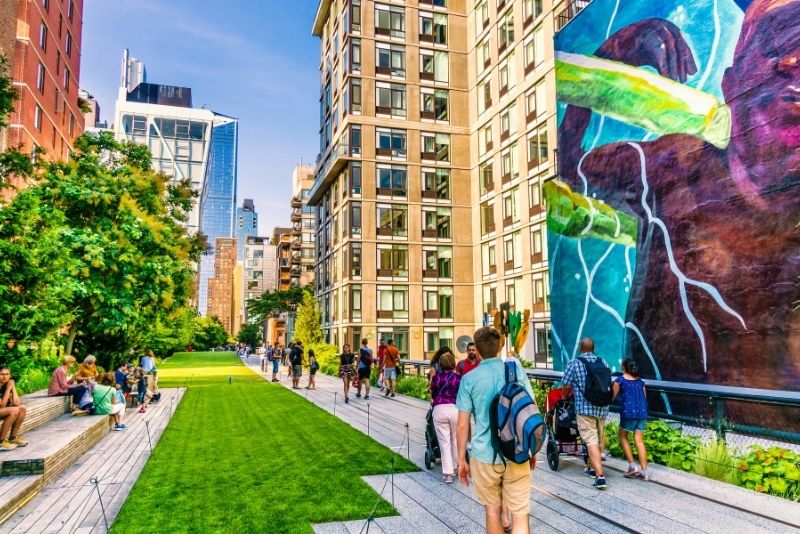 Built atop a disused section of elevated railway (the West Side Line), the High Line is a unique public park that winds its way through the Meatpacking District and Chelsea neighborhoods in Manhattan.
Since opening in 2009, this linear green space has become one of NYC's most popular attractions, thanks to its combination of art installations, gardens, viewpoints, and trendy restaurants and bars.
Full of excellent viewpoints along its 30 block stretch (including cocktails with a view from The Standard High Line's rooftop bar), this quintessential walkway makes for a great afternoon stroll with friends (or a date, perhaps?), so take your time meandering along its length and enjoying the fantastic vistas over the Hudson River!
54 – Little Italy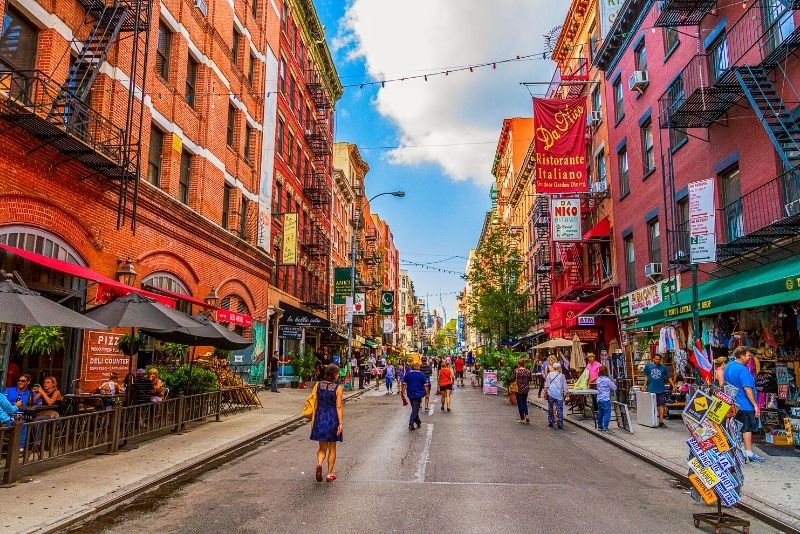 Where the smell of open-baked pizza, the sound of Italian chatter, and the sight of colorful street art come together in perfect harmony, Little Italy is a charming area that should be on everyone's list of places to visit in New York City.
Home to some excellent restaurants and bakeries (plus Di Palo's, one of the area's most esteemed gourmet shops), this former bustling hub for Italian immigrants has shrunk over time as Chinatown expanded its borders but remains a worthwhile place to explore — if only for an authentic cannoli or espresso!
Start your visit at the corner of Mulberry Street and Grand Street where you'll find the historic Ferrara Bakery & Café; from there, walk south down Mulberry Street past all the cute bakery stands and consider stopping for lunch at Il Piccolo Buffalo or a quick slice at Manero's Pizza.
That said, with so many drool-worthy establishments in the area, each of them with a fascinating story to tell, a food-centric walking tour comes highly recommended.
55 – Prospect Park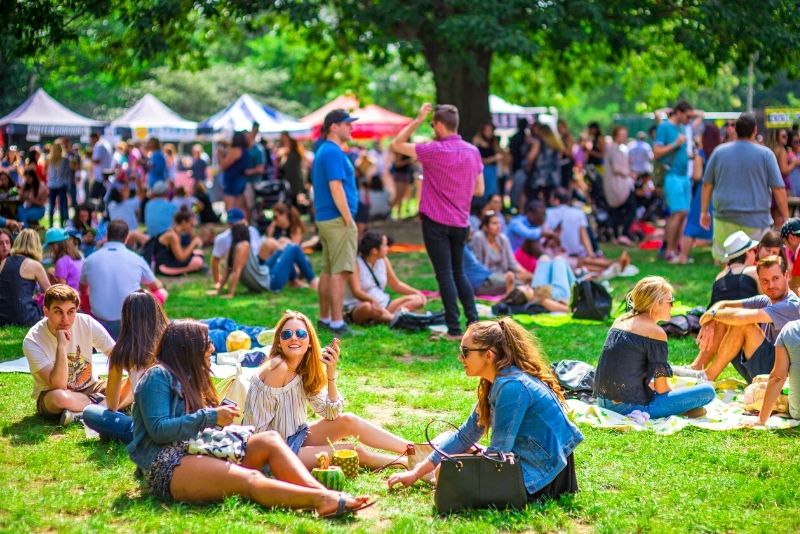 Brooklyn's response to Central Park, Prospect Park is a bustling green space that's every bit as exciting and enjoyable to visit.
In fact, many consider it even prettier than its Manhattan counterpart thanks to the surrounding architecture (especially the Litchfield Villa) and more intimate feel — no wonder Brooklynites are so protective of it!
Aside from being home to Brooklyn's last remaining forest, this well-kept park has plenty of activities on offer including boating on Lake Prospect, visiting the 18th-century Lefferts Historic House, or the Prospect Park Zoo, popping into the Brooklyn Museum of Art, or just strolling along its picturesque paths.
56 – Fifth Avenue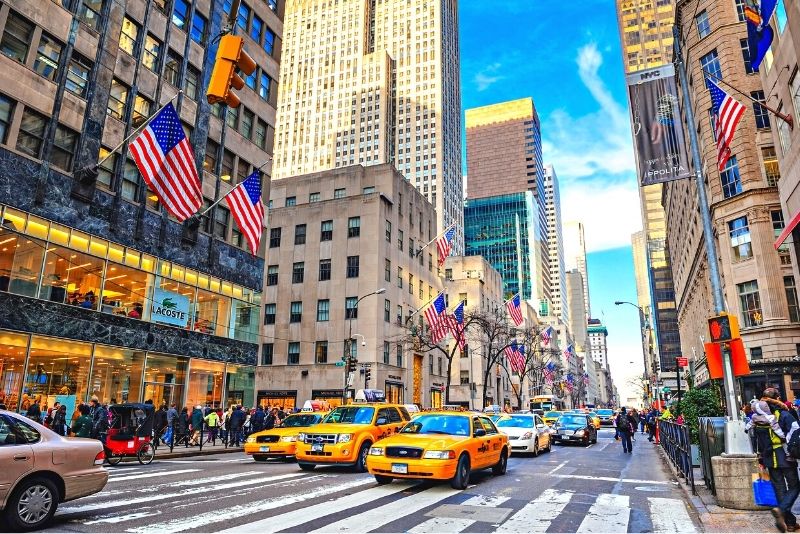 Credit card at the ready! A high-end shopper's paradise, full of flagship stores and luxury brands, Fifth Avenue is the place to go if you're looking to splash out on some serious retail therapy.
Home to Saks Fifth Avenue, Tiffany & Co., Cartier, Hermes, Prada, Gucci, and more, this prestigious avenue in Midtown Manhattan is a must for any fashion-savvy traveler.
Even if you're not planning on buying anything, it's still great fun to window shop and admire the lavish shoppers who aren't afraid to drop serious cash on new wardrobes and accessories on this world-famous street.
Shopping aside, Fifth Avenue also plays host to postcard-worthy landmarks like the 19th-century Neo-gothic St. Patrick's Cathedral and the ATLAS statue at the Rockefeller Center, not to mention the Stephen A. Schwarzman Building (New York Public Library's flagship location) at 5th and 42nd.
57 – New York Botanical Garden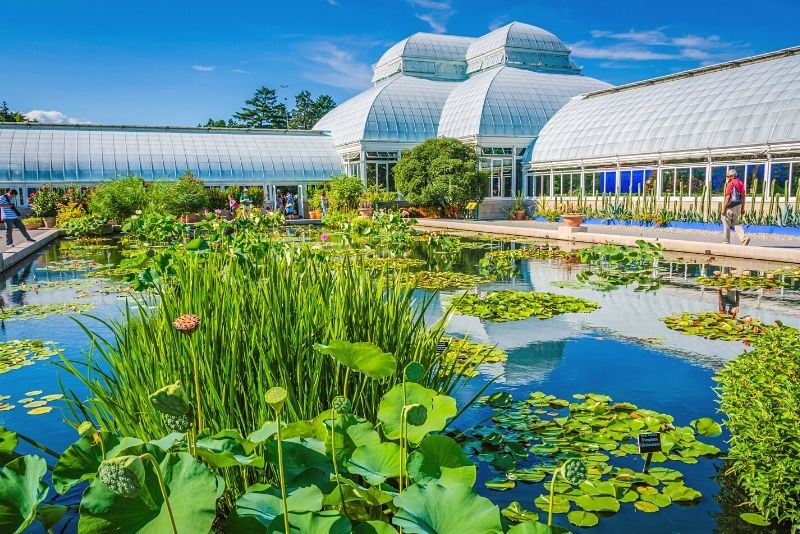 Crazing an hour or two of zen? The New York Botanical Garden is a lush oasis that's perfect for an afternoon of escape.
Home to over a million plants and 12,000 different species, as well as the Enid A. Haupt Conservatory (an Italian Renaissance glasshouse), this 250-acre botanical garden on Bronx River Parkway has something for everyone; whether you're into native plants, orchids, colorful roses or more exotic varieties like carnivorous plants!
Don't forget to check the calendar to see which hands-on workshops and special events line up with your visit.
58 – Manhattan Bridge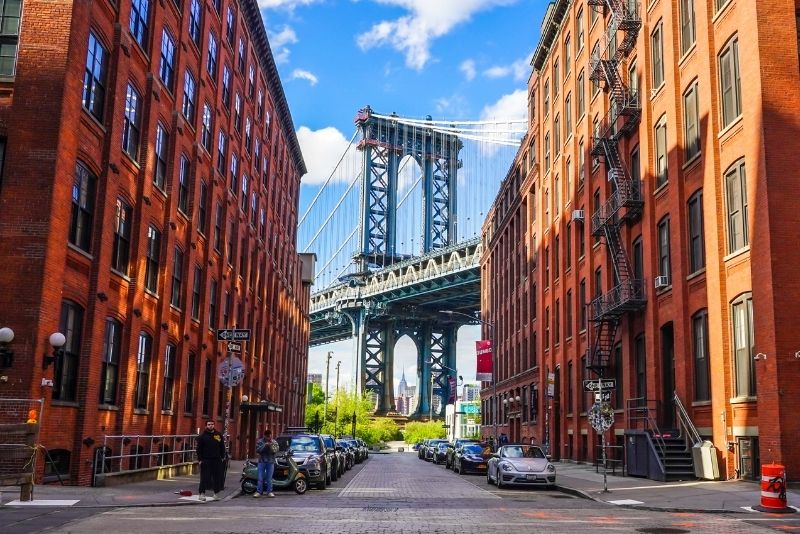 Despite sitting in the shadow of its more famous neighbor, the Brooklyn Bridge, the Manhattan Bridge remains a noteworthy attraction — if, of nothing else, for the view it provides of the Brooklyn Bridge!
Originally opened in 1909, this steel suspension bridge connects Lower Manhattan with DUMBO in Brooklyn, stretching nearly 7000 feet all up!
Take a walk on the pedestrian path (or better yet, bike it!) for some amazing views of downtown NYC and the East River, and be sure to snap a few pics while you're at it (hint: for the iconic Manhattan Bridge photo, head to the intersection of Water Street and Washington Street in Dumbo).
59 – Governors Island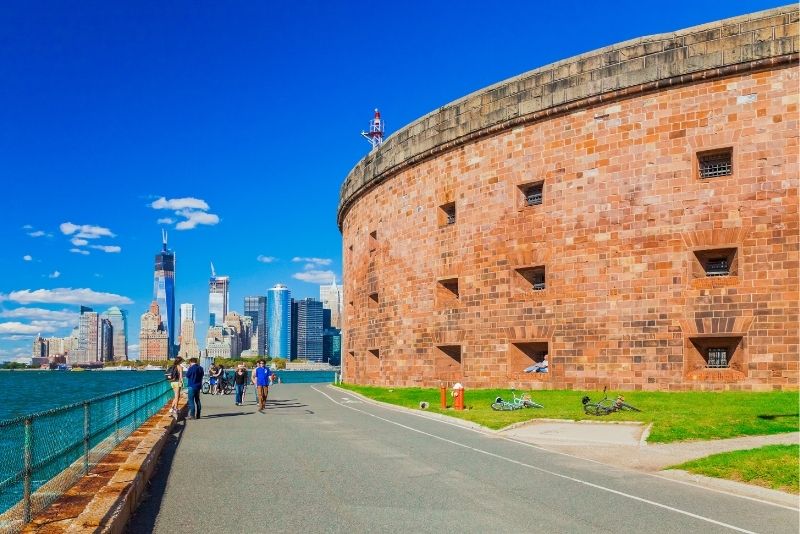 Covering a whopping 172 acres of understated and underestimated greenery, Governors Island is a tranquil getaway (read: no cars!) that's just a short boat ride from Lower Manhattan and Brooklyn Bridge Park.
Formerly an important military base, this now revitalized island has been open to the public since 2004 and makes for a great day (or weekend) trip during the summer months.
Pack your sunscreen for a picnic lunch at Hammock Grove, and spend the day wandering around the pretty gardens, art galleries, museums, and lavender farms, taking in the views of Lady Liberty and downtown Manhattan in between each stop from atop one of the hills. Or, if you're up for it, rent a bike or kayak to explore more of the island!
If you're feeling festive, check out the Winter Village in Colonels Row; meanwhile, during the summer, a sleuth of lawn parties and DJ nights await!
60 – 9-11 Memorial & Museum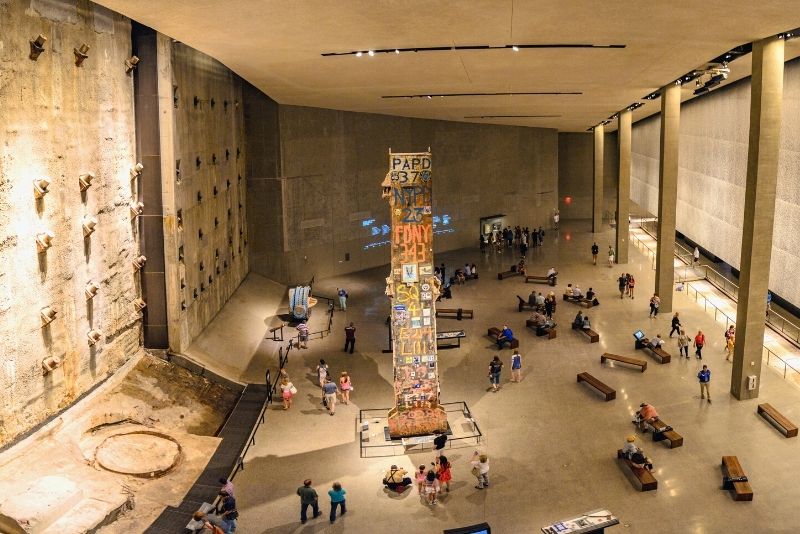 Eye-opening, heart-breaking, yet incredible in its power, layout, and architecture, the September 11 Memorial & Museum, while evocative for many, stands as one of New York's unmissable sights from an educational, historical, and architectural standpoint.
Located at the foundations of the former Twin Tower, the memorial consists of two infinite waterfalls that honor those who lost their lives on September 11th, 2001.
Beyond the memorial lies the indoor museum — a miraculously detailed and moving collection that the story of that fateful day through exhibits and artifacts from both before, during, and after the attacks. It's an emotional visit full of heartbreak and heroism, but one that everyone should make at least once in their lifetime.
See also: 9/11 Memorial & Museum Tickets Price – All you Should Know
61 – Hudson River Park Trust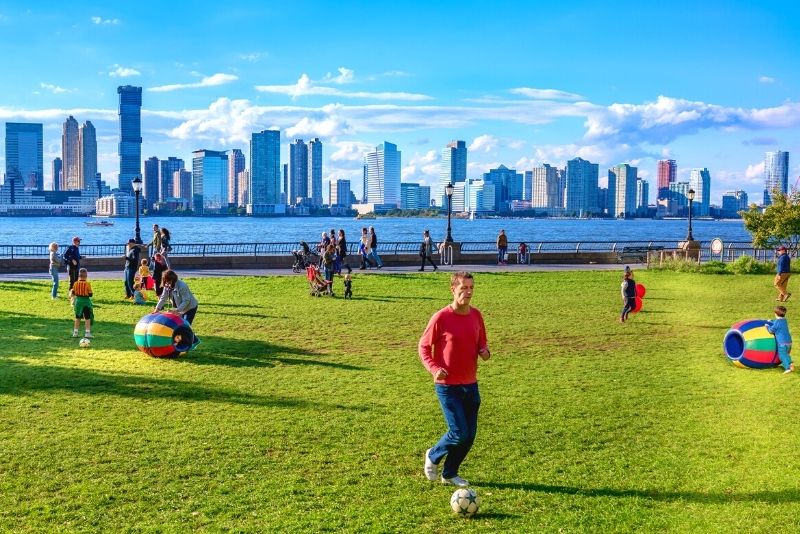 For a more serene way to pass the time, make your way down to Hudson River Park.
Extending from 59th Street all the way down to Battery Park, this lovely stretch of open-air greenery runs along Manhattan's west side and provides plenty of opportunity for relaxation and recreation — with over 550 acres of open space and dozens of different piers!
Spend an afternoon enjoying one of the many events that take place here (think music festivals, yoga classes, film screenings, dance lessons, and the like), or simply walk around and enjoy the views of New Jersey across the river.
62 – St. Patrick's Cathedral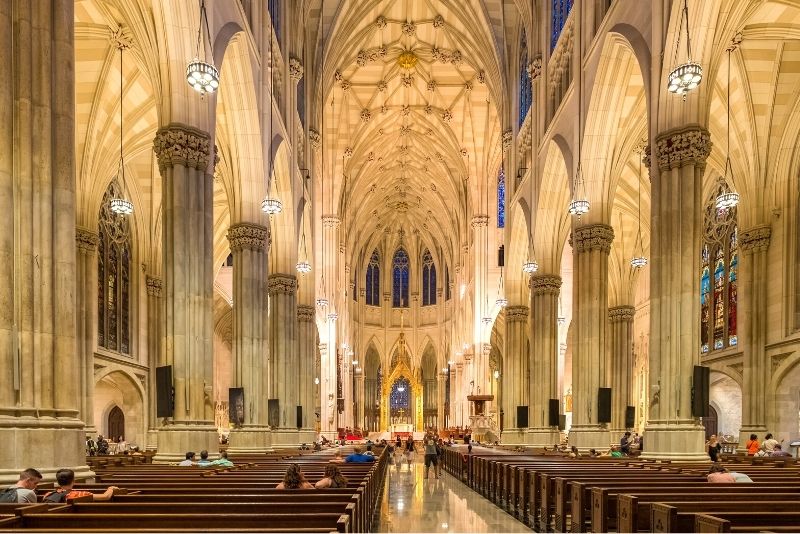 Arguably the most famous Neo-Gothic Catholic cathedral in the United States, St. Patrick's Cathedral is a superb example of traditional religious architecture amidst an otherwise concrete mega-jungle!
Located at Fifth Avenue between 50th and 51st Streets, facing the Rockefeller Center, this historic church dates back to 1878 and is home to daily masses as well as special services during holidays like Christmas.
Even if you're not interested in visiting for spiritual reasons, it's worth popping by for a look — even if it's only for 10 minutes — simply to admire the incredible stained glass windows that adorn both sides of the interior hallways as well as the city's largest organ.
63 – Brookfield Place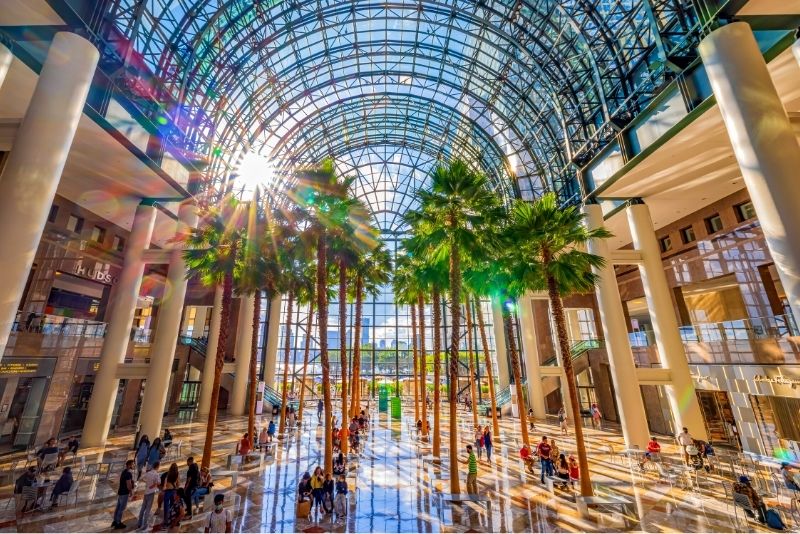 Craving a little retail therapy? Then make your way over to Brookfield Place — an upscale shopping and dining destination tucked away in Battery Park overlooking the Hudson River and New Jersey's skyline beyond.
Here you'll find all sorts of luxury shops (think Gucci, Burberry, Salvatore Ferragamo), art galleries as well as restaurants such as Le District (a French-inspired food hall) or Blue Ribbon Sushi Bar & Grill for those looking for a bite after a long day.
Sitting a stone's throw from the World Trade Center Memorial and Museum and Wall Street, it's an easy addition to any day of Lower Manhattan exploring.
64 – One World Observatory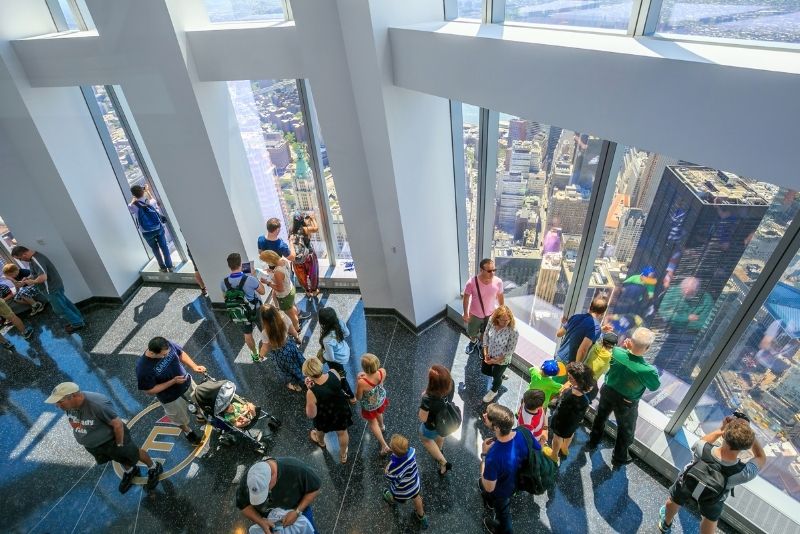 Perched on the top floors of the Freedom Tower (aka One World Trade Center), this modern observatory offers guests spectacular panoramic views from a whopping 1266 (286 meters) above street level.
The tourist-favorite observation deck — which is located on floors 100, 101, and 102 — has several different viewing areas to soak in the Statue of Liberty in one direction, Midtown in the other, or Brooklyn and its namesake iconic Bridge.
With a state-of-the-art elevator (called Sky Pods) that used augmented reality to show how the city's skyline has developed over the decades, even the trip to the top is an attraction.
Feeling fancy? Book a table at One Dine, where the upscale food is just as good as the view!
See also: One World Observatory Tickets Price – All you Need to Know
65 – Radio City Music Hall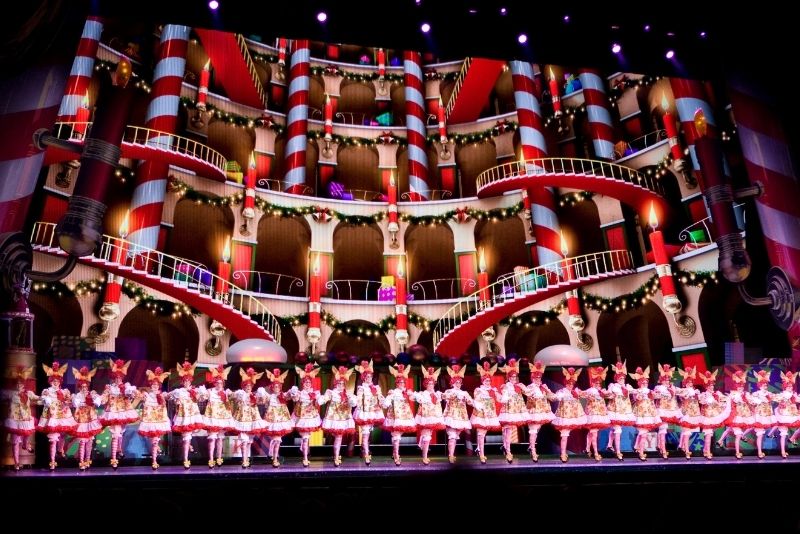 Home to the beloved Rockettes, Radio City Music Hall is an Art Deco masterpiece that's been wowing audiences since it first opened its doors in 1932.
Located on Sixth Avenue between 50th and 51st Streets, this iconic theater has seen just about everything over the years, from the premieres of Hollywood movies to live performances by some of the world's biggest stars (Elvis Presley, The Beatles, Madonna).
The so-called Showplace of the Nation still hosts events to this day — most notably the annual Christmas Spectacular — so if you're in town during December (or any time, really) be sure to check out what's on! Or, better yet, sign up for a daily guided tour!
66 – Flatiron Building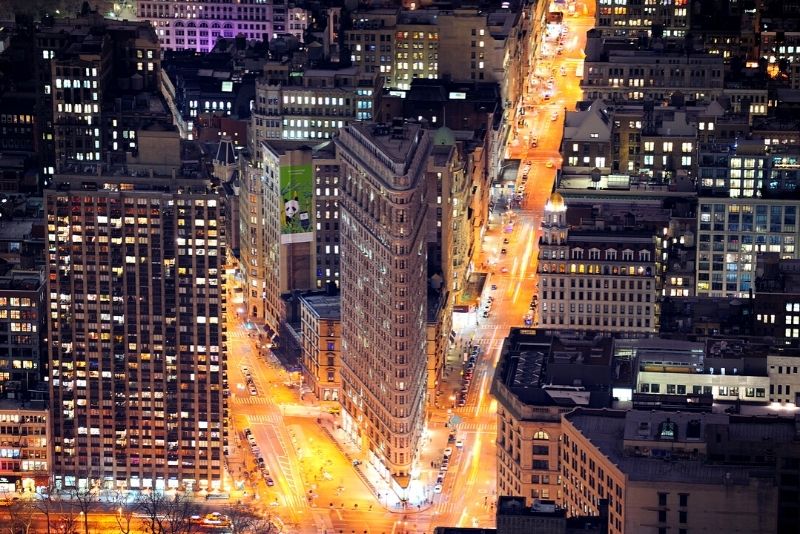 Finding itself of many a postcard for more than 120 years, the 285-foot-tall Flatiron Building is Gilded Age NYC in a nutshell — the triangular, 22-story masterpiece was one of Manhattan's earlier skyscrapers and still draws millions of gobsmacked onlookers to this day.
Designed by Daniel Burnham and taking its name from its unusual shape, which looks like — you guessed it — an old-fashioned flatiron, the longstanding building is a testament to NYC architectural ingenuity (fun fact: despite this, it was originally called the Fuller Building).
After admiring the Beaux-Arts facade, wander around the lobby to soak in the exhibits about the building's history and construction.
67 – Ellis Island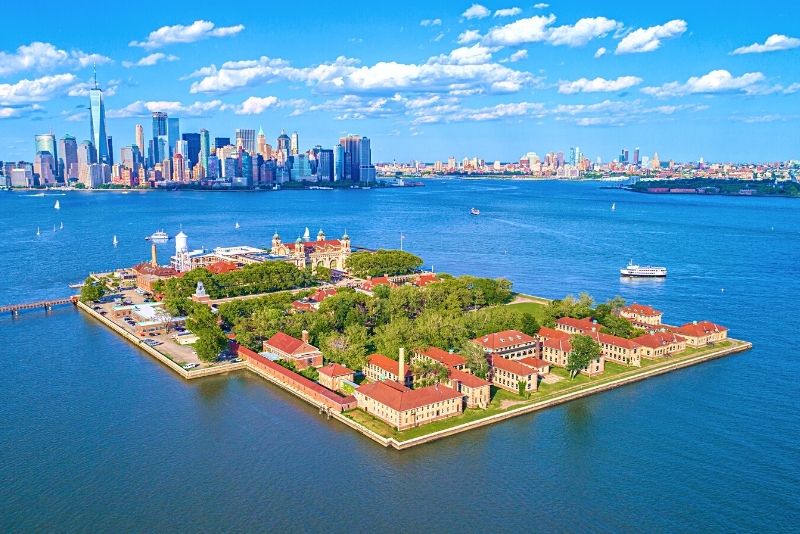 Famous for being the point of entry for more than 12 million immigrants to North America between 1892 and 1954, Ellis Island still has plenty of stories to tell.
Now a national monument under the protection of the National Park Service, this piece of land — which is about 22 acres in size — is also home to a museum that chronicles its history as both an immigration station and military fortification during WWI.
Hot tip: combine a visit with Lady Liberty next door for the best bang for your buck.
68 – Liberty State Park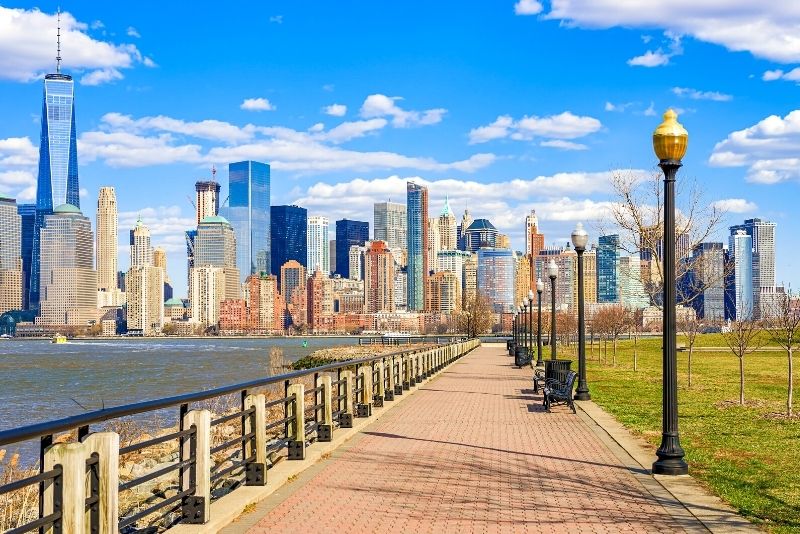 One of the most underrated parks in the NYC area (because technically it's outside the city limits in Jersey City), Liberty State Park offers stunning views and a typically unseen perspective of the Statue of Liberty, Ellis Island, and the downtown skyline.
Located across the Hudson River from Lower Manhattan, this 1,212-acre green space — that's about 1.5 times that of Central Park! — is perfect for a picnic lunch, a jog, or a simple stroll on a sunny day, camera in hand.
Make sure to visit the powerful and symbolic "Empty Sky" 9/11 Memorial, and feel free to pop into the Liberty Science Center for an exciting hour or two of interactive science exhibits.
69 – Brooklyn Bridge Park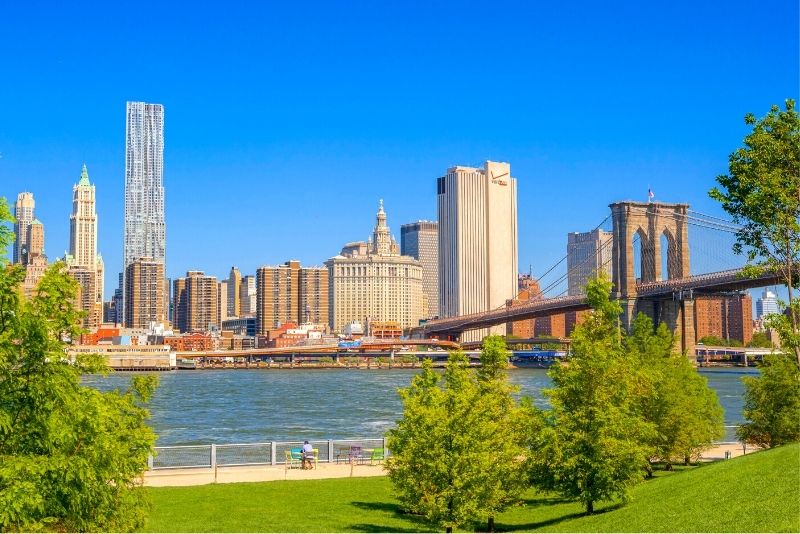 Created in the early 2010s on 85 acres of then-neglected waterfront, Brooklyn Bridge Park is a modern treasure, welcoming thousands of locals and tourists alike daily in search of peace, quiet, and spectacular riverside views.
And it's easy to see why: stretching through Brooklyn Heights, DUMBO, and Cobble Hill, this lush pier-lined oasis features something for everyone, including a carousel, playgrounds, basketball courts, kayaking, and more.
Foodies, don't miss the famous lobster rolls from Luke's Lobster; shopaholics, make a beeline for Empire Stores (next to which you'll also find the Time Out Market if you're still hungry); and exercise junkies, take your pick from the array of walking, jogging and biking routes.
70 – Bronx Zoo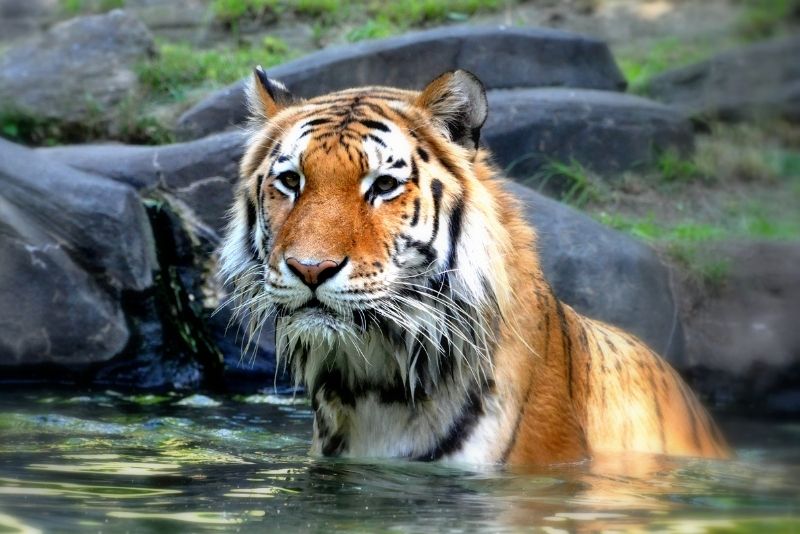 Enormous and utterly awesome, the Bronx Zoo is up there with America's oldest zoos. Opened for business way back in 1899 (when admission was a quarter!), it's home to over 6000 species spread across 265 acres. You could easily spend an entire day here without running out of entertainment.
Amongst top highlights are world-famous attractions like Tiger Mountain and Congo Gorilla Forest as well as lesser-known but no less impressive spots like the Butterfly Garden and World of Reptiles!
Want to take your experience to the next level and meet these friendly critters face to face? For an extra few bucks, you can sign up for a Wild Encounters and hang out with penguins, cheetahs, sloths, and more!
71 – Socrates Sculpture Park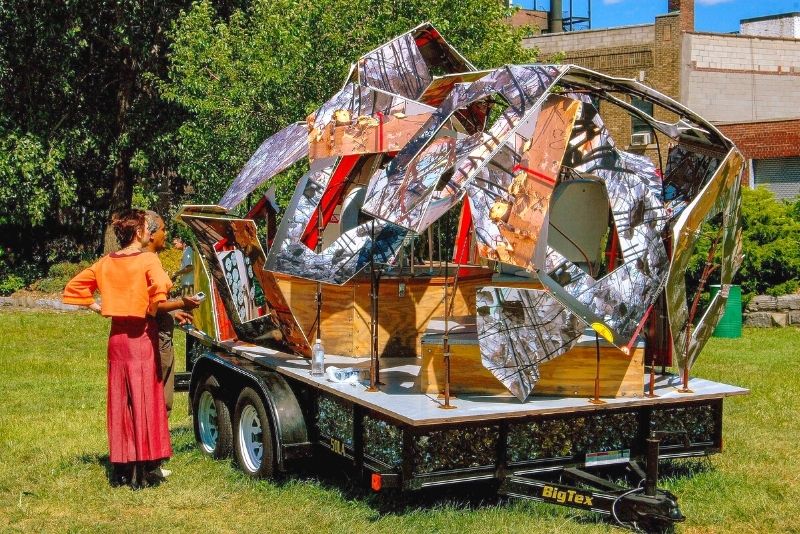 As you might expect, this Long Island City park is dedicated to the art of sculpture.
But it's also so much more than that: Socrates Sculpture Park is a community space overlooking the water, a place where people come to hang out and relax, take in some culture, and enjoy the outdoors away from the hustle and bustle.
Itinerary tip: since it's off the beaten path, consider pairing the park with a visit to the Noguchi Museum or MOMA PS1 and a relaxing water taxi ride!
72 – Blue Note NYC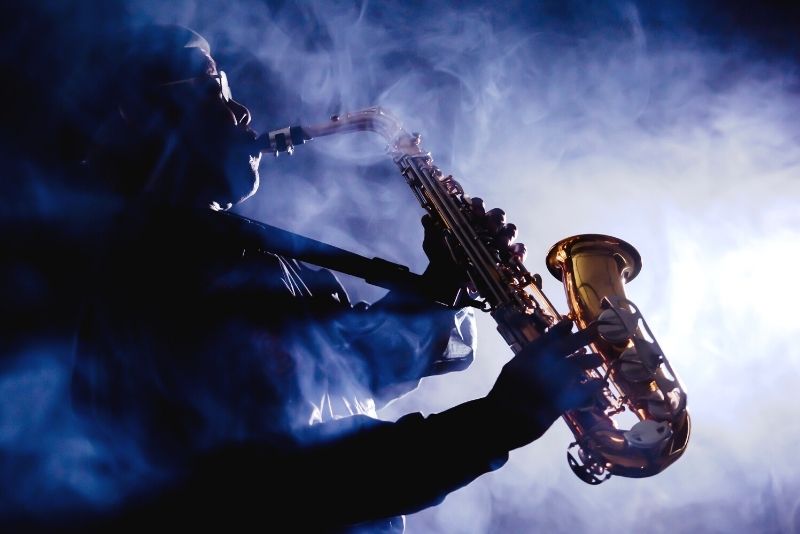 Sure to have you tapping your toes, bobbing your head to the beats, and even humming along, Blue Note and NYC jazz are two peas in a pod.
It's hard not to get carried away by the sheer energy that exudes from this Greenwich Village staple: since the early '80s, Blue Note has been welcoming legendary jazz names (think Dave Brubeck, Wynton Marsalis, and Keith Jarrett) as well as up-and-coming hip-hop, R&B, and funk artists.
Typically, shows run nightly at 8 and 10, however, the Sunday brunch is certainly worth booking for ahead of time.
73 – Washington Square Park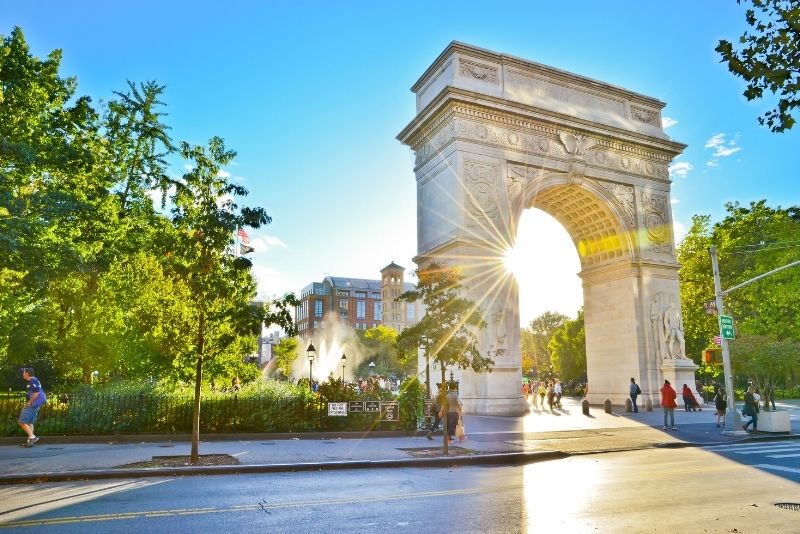 Ever buzzing with NYU students, street performers, first daters, and tourists snapping photos of the famed Arc-de-Triomphe lookalike, Washington Square Park is the place to be for people-watching, casual picnics, and a good old game of chess.
While the main attraction is undoubtedly the arch built to honor honoring George Washington, the park also hosts regular events like Tai Chi in the Park, and is a frequent stop on history-themed walking tours of Greenwich, Noho, and Soho.
74 – Broadway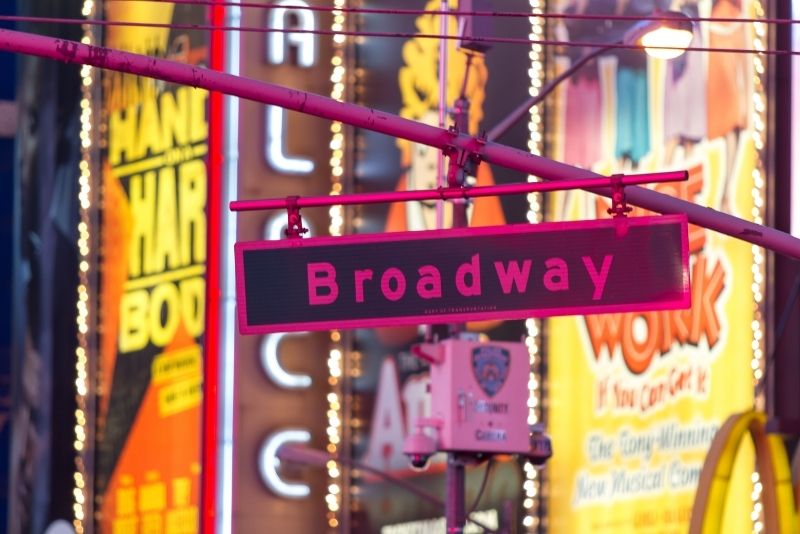 Whether you're staying a day or a year, no trip to the Big Apple is complete without a Broadway show. From the dazzling Lion King to groundbreaking Hamilton, side-splitting Book of Mormon, or longstanding staples like Chicago, Phantom of the Opera, or Wicked, all of New York's best musicals are nestled around this famous diagonal street in Midtown Manhattan.
Throw in Jersey Boys, Aladdin, Kinky Boots, Avenue Q, the ever-relevant and satirical Newsical the Music, just to name but a small sliver, and you've got yourself quite the selection to choose from!
Looking for a hotel in New York?
With hundreds and hundreds of options all over the boroughs — the bulk of which are scattered around Manhattan — it can feel a little daunting to pick the right one.
That's where we can help! If you're after all-out luxury, look no further than the Ritz-Carlton, Lotte New York Palace, or the iconic Plaza.
If you're after a trendy boutique stay that's more affordable but packed with amenities and conveniently located, consider the W in Times Square, Embassy Suites by Hilton or The Standard (near the High Line).
And if you're after something no-frills, there's no shortage of choices there too.
Travel hack — NYC attractions passes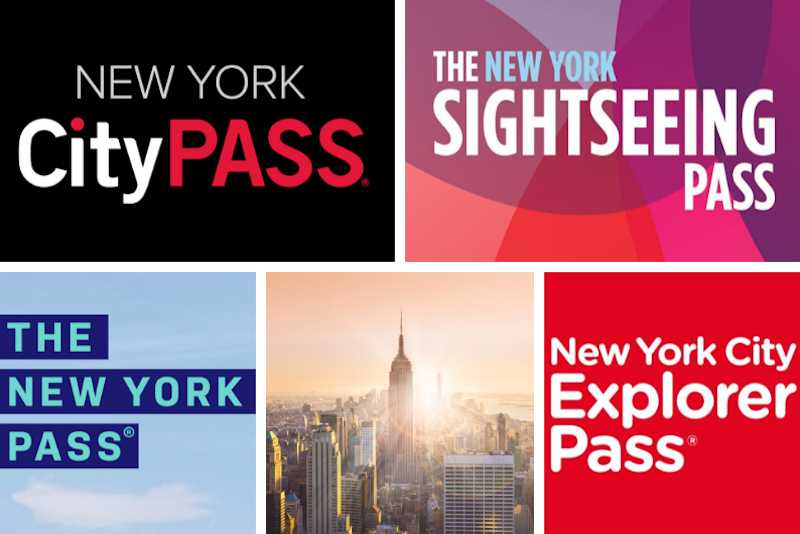 If you're planning on ticking off as many of the best places to visit in New York City as possible in a short period of time, the selection of made-for-tourists New York City attractions passes can be a lifesaver.
Whether you opt for the CityPass, New York Explorer Pass®, Sightseeing FLEX pass, Go City, or Freestyle Pass (they all have their advantages, it just depends on your budget and preferred landmarks), you'll be able to pocket up to 50% in savings compared to the usual prices.
Choose from dozens of iconic attractions like the Empire State Building observation deck, Top of the Rock, 9-11 Memorial, the MoMA, Metropolitan Museum of Art, river cruises, biking tours of Central Park, and plenty more.
Even better, travel around down is usually included (be that a hop-on-hop-off bus, boat cruise, or metro card), so it's one less thing to worry about!
Hot tip: make sure to check out our New York City Attractions Pass Price Comparison Guide.

Arriving by plane? Get an airport transfer!
If you're not up for lugging your luggage around on public transport or trying to navigate your way to your accommodation, a pre-booked airport transfer can take all the hassle out of getting from A to B. With a host of services available (some more affordable, others more focused on luxury), you can rest assured that you'll be starting your vacation on the right foot.
Why make your trip more stressful than it needs to be?
Final thoughts
Thanks for checking out our collection of the best places to visit in New York City! If you have anything you'd love to add to the list, go ahead and leave a comment below.
Enjoy the trip!