Bali is not a place for relaxation, culture and spirituality, it is also a top destinations for adventure sports and activities. With many water and land-based activities available, it can be difficult to choose just one.
With three rivers offering rafting tours in Bali of varying difficulty, and several exciting combo packages, you are bound to find a tour that offers just what you're looking for.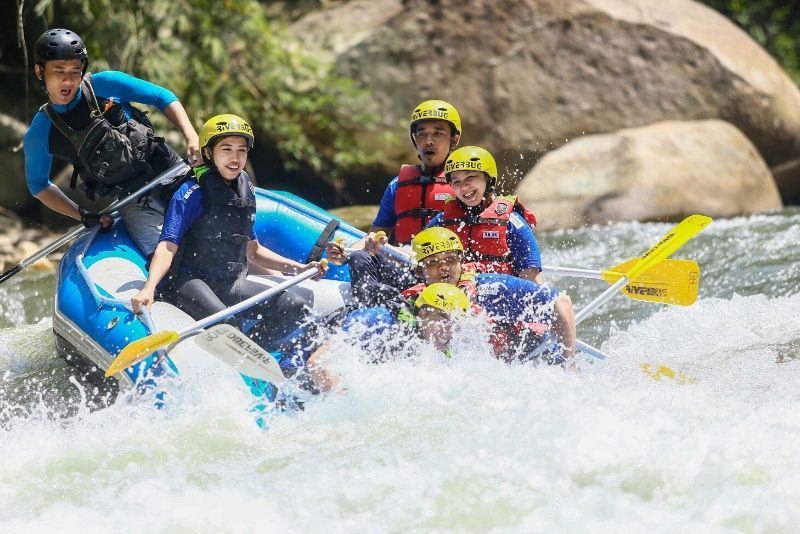 Here's all you need to know about rafting tours, one of the most fun outdoor activities in Bali.
What are the best rafting tours in Bali?
Rafting activities for tourists take place on three of Bali's rivers: the Ayung River, Telaga Waja River and the Melangit River. Each river has something different to offer and you can book your tour based on what suits your needs best.
Ayung River rafting in Bali
The Ayung River rafting launch site is located only 15-minutes from Ubud. This family friendly experience includes Class II and III (beginner level) rapids along the route.
During this water adventure, you are surrounded unspoiled rainforest, lush rice fields, a hidden waterfall and carvings on the steep river banks. The route is around 12 kilometers long and takes about 2 hours.
To access the Ayung River it is necessary to climb long stairways at the start and end-points of route. While the descent to the river is not too bad, climbing back up after rafting can be quite exhausting. A moderate fitness level is therefore recommended.
Telaga Waja River rafting in Bali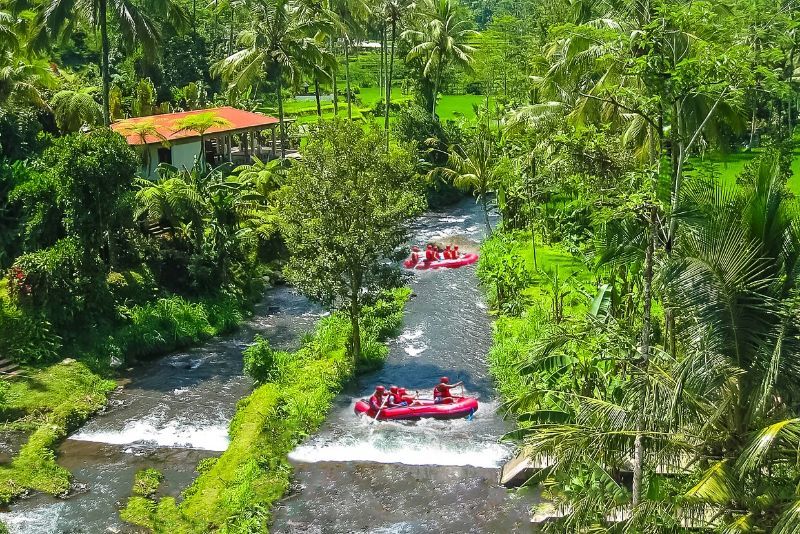 The Telaga Waja rafting route is 17 kilometers long with Class II-IV rapids (medium level). This 2.5 – 3 hour adventure includes an exhilarating 4 meter drop close to the finish point. Under the guidance of professional river guides, you will negotiate the river as it passes through spectacular scenery.
It is an easy 3—5 minute walk to reach the water access point and the exit point is also only a short walk from the river. If you are looking for a little bit more action and adventure, or want to avoid stairs, then this may be the tour for you.
Melangit River rafting in Bali
The Melangit River may offer the most exciting rafting experience. Although the Class III-IV rapids are considered suitable for beginner and intermediate participants, the many drop rapids add to the excitement.
These may be a deterrent if you are less confident in the water. As you progress down the route, you will be surrounded by tropical forests and may even see some of Bali's wildlife in the overhanging trees
How much does it cost?
Whether you choose the Aygung River, Telaga Waja River or Melangit River for your tour, rafting excursions start at around US$30 per person. There are several tour operators and prices remain competitive. Tours that include private transfers do cost slightly more.
Combo tours can cost up to US$200 per person, depending on what other activities are included.
What is included?
Rafting activities prioritise safety and enjoyment. Whether you choose a half-day or full-day excursion you can expect:
Return hotel transfer
Rafting equipment
Safety equipment including helmets and life vests
A professional rafting guide
Shower facilities and change rooms
Drinking water
A buffet style lunch
Insurance coverage
Where does it start?
Ayung River rafting starts in the village of Kedewatan, a 15-minute drive from Ubud. If you are staying at one of the other tourist centers, your transfer will take between 30 minutes and 2 hours.
Be aware that there is a long stairway that needs to be descended at the start point as well as a long stairway to ascend at the endpoint.
Telaga Waja River Rafting tours start close to the village of Muncan. Your transfer will take around 1,5-hours from Kuta and other areas in Southern Bali. You access the Telaga Waja River directly from the riverbank.
How long does it last?
Rafting on the Ayung River takes about 2 hours, but the entire activity from start to finish, including your lunch lasts around 5 hours. On the Telaga Waja River, you can expect the actual rafting to take 2.5-3 hours.
You will be helped to secure your helmet and life-jacket and participate in a comprehensive safety briefing and training session the rafting begins
When is the best time for a rafting tour in Bali?
Rafting activities can be booked throughout the year. In the drier months, the water may be calmer than during the rainy season, but you will still have an enjoyable rafting experience.
If you are going to raft on the Ayung River, you should consider the rainy season humidity and the long ascent and descent to the river. Morning and afternoon tours are good, but the river may be clearer in the mornings.
Are there any combo tours available?
Rafting plus Ubud Tour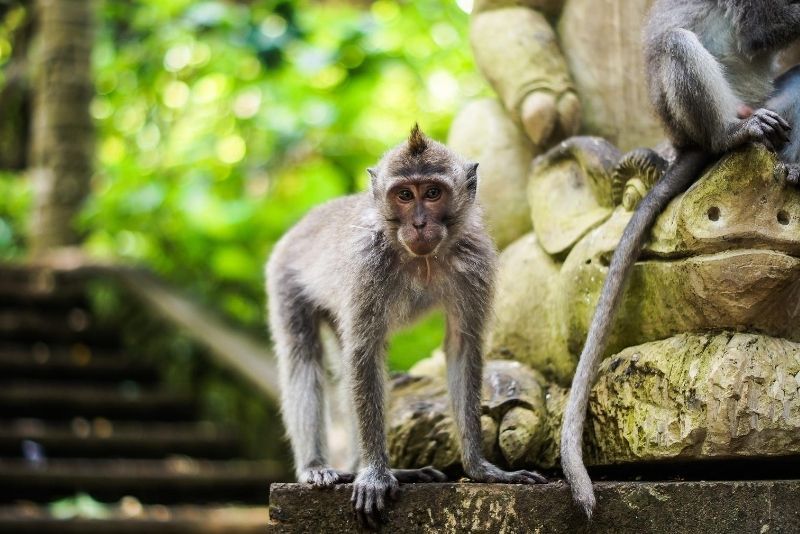 Spend a fun, family-friendly day rafting on the Ayung River, visiting the Ubud Monkey Forest and exploring the Ubud market and Ubud King Palace.
Rafting plus ATV tour
This is the ultimate adventure combo: a morning of white water rafting on the Ayung River and an afternoon exploring the countryside on an all-terrain vehicle (ATV) or quad bike.
Rafting plus e-bike tour
On this combo tour, your day begins with an e-bike ride past jungles and through traditional villages. After lunch you will enjoy the afternoon rafting on the Ayung River.
Rafting plus mountain bike tour
If you have the energy to burn, this combo bike tour takes you 25 kilometers by mountain bike through the lush valleys of Kintamani to the Taro bamboo forest. After lunch, your rafting adventure on the Ayung River begins.
Rafting plus Sunrise Trekking
This challenging tour starts with an early morning hike up Mount Batur to watch the sunrise and enjoy breakfast. After the descent, a bus will take you to the riverside to start your rafting activity. This tour ends with a visit to the Luwak Civet Coffee farm.
Rafting plus cycling and jungle buggies tour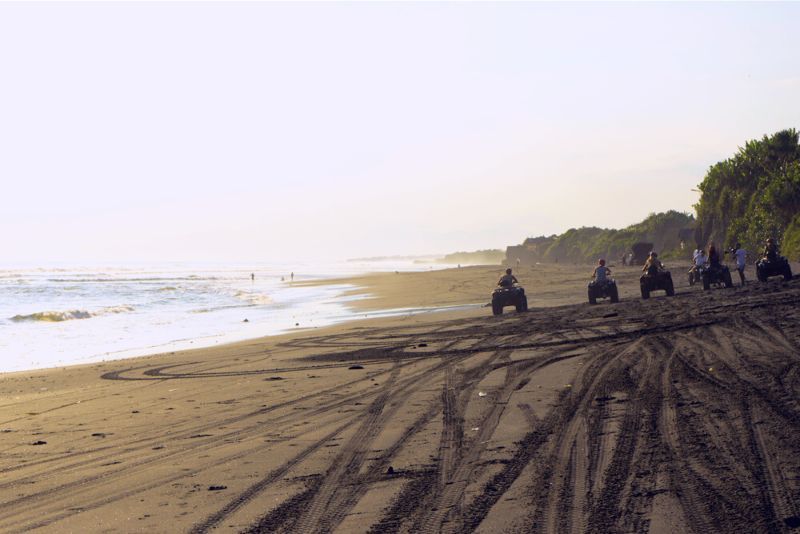 On this action-packed adventure combo your day starts with a cycle through 30 kilometers of forest trails passing ancient temples, rice fields and plantations. After lunch you will enjoy a ride on a purpose built ATV before heading to the Ayung River for your rafting activity.
Rafting plus Jungle trek
The ancient Hindu village of Taro is the starting point for this combo tour. You will see fruit groves, coffee plantations and coconut palms as you walk through the area. After an exotic lunch, spend the afternoon navigating the rapids of the Ayung River.
Rafting plus Bali scenery day tour
Your day starts with a rafting experience on the Melangit River before you choose between Kintamani, Uluwatu, Ubud or Tanah Lot for a half day sightseeing tour.
Is it safe?
Like with all water based activities, safety is a priority for rafting tour operators. If you are younger than 7 or older than 65, are pregnant or have an existing medical condition you may not be permitted to participate in the activity.
Rafting can be quite strenuous you should take this into account when deciding whether to join a rafting excursion.
Are children allowed?
Children over the age of 7 can join some rafting tours. This will depend on the difficulty of the rapids being traversed and the water conditions. Children will also need to fit into the safety equipment properly and be able to follow instructions given by the river guide.
What happens in case of bad weather?
If the weather is bad or there are unsafe river conditions, your tour operator will give you a full refund or give you the opportunity to reschedule your booking.
If this activity forms part of a combo tour you should check with your tour operator to see whether they offer an alternative activity or what cancellation terms apply.
Which other water activities can be done in Bali?
Travel tips
Bring a wet bag (waterproof bag) for your belongings.
A swimsuit and shorts are the ideal rafting-wear.
Remember a change of clothes and sunscreen.
Advise the tour operator if you have any food allergies.
Avoid Ayung River rafting if you have knee problems due to the long stairways.