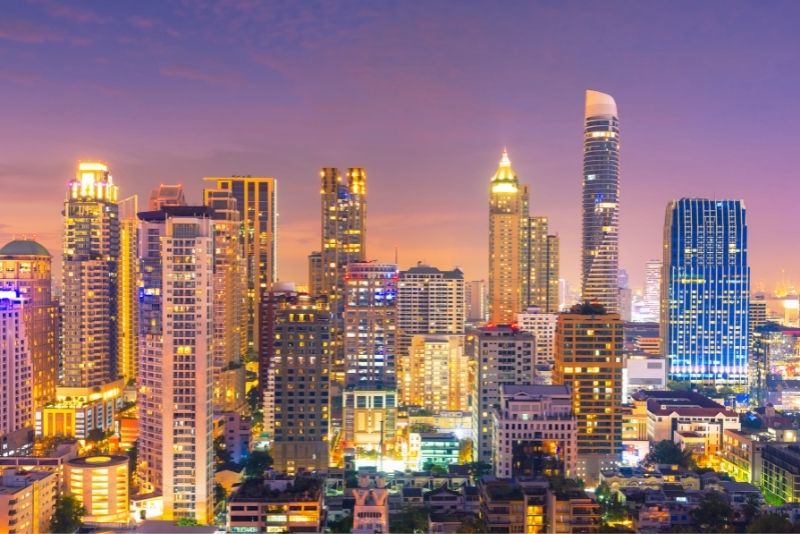 Adorned by luscious natural scapes, while simultaneously centered in a beautiful urban landscape, crisscrossed by large and small rivers and canals, Bangkok is a must-visit destination for everyone looking for something a little outside the box.
From its fabulous floating markets to its stunning architectural works of art intermixing modern design and traditional influence, Bangkok is a breath of fresh air and a destination to visit at least once in your lifetime.
Let's explore fun and unusual things to do in Bangkok to plan your next trip!
1 – Savor the flavors of Bangkok on a food tour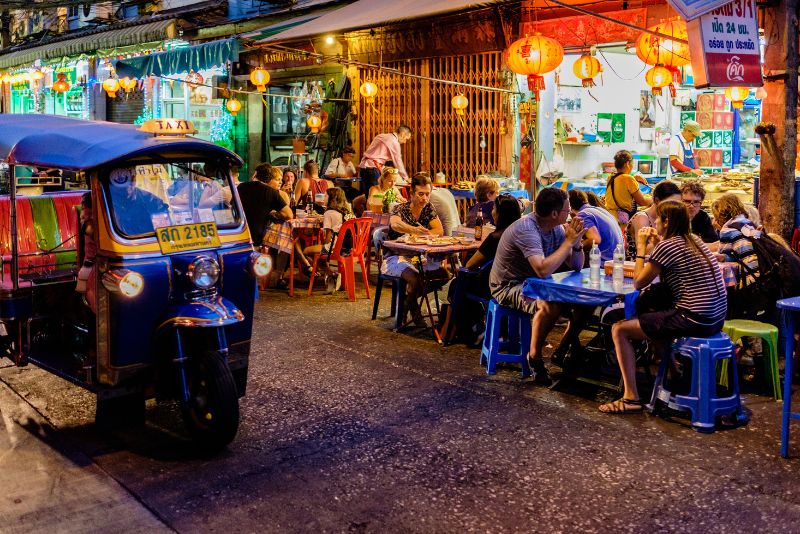 Known for its abundance of fresh vegetables, savory and sweet flavors in one bite, and joyful experience of communal eating, Thai cuisine is a foodie's paradise that must be explored while visiting Bangkok.
Explore the culinary world of Thai cuisine, and book a food tour with some local food experts who will take you through a flavorful journey of the best that Bangkok has to offer. From local favorites like Guay Tiew Kua Gai (Thai rice noodles with chicken), Tom Yum Soup with Coconut Milk, Thai Green Curry, and of course, Pad Thai.
Enjoy a wide variety of exotic fruits from rambutan, mangosteen, and Durian, popular amongst Thai people. Enjoy mangoes, papayas, dragonfruit, guava, and more tropical fruits that are so fresh it makes them taste exotic.
2 – Get a birds-eye view of Bangkok from Baiyoke Sky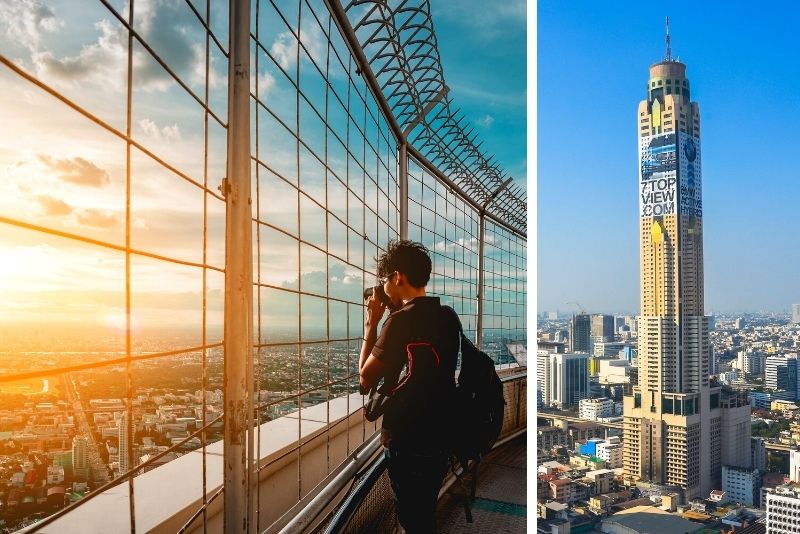 Baiyoke Sky is a hotel with an observation deck located in the heart of downtown Bangkok where glamour meets hospitality and stunning panoramic views of the city.
Built in 1990, Bangkok's Baiyoke Sky has risen into popularity due to its size (it's the tallest hotel in Thailand to date), incredible hospitality, delectable buffets and restaurants, and offering ultra-luxury to its guests.
Whether you're booking a room and staying for a while, or you're stepping in for dinner or happy hour, enjoy sweeping views of Bangkok's urban landscape by booking a visit to the observation deck.
Purchase your tickets ahead of time, and reserve your spot to view one of the best and most unique views of Bangkok.
3 – Buy and try local fruits at the Floating Markets of Damnoen Saduak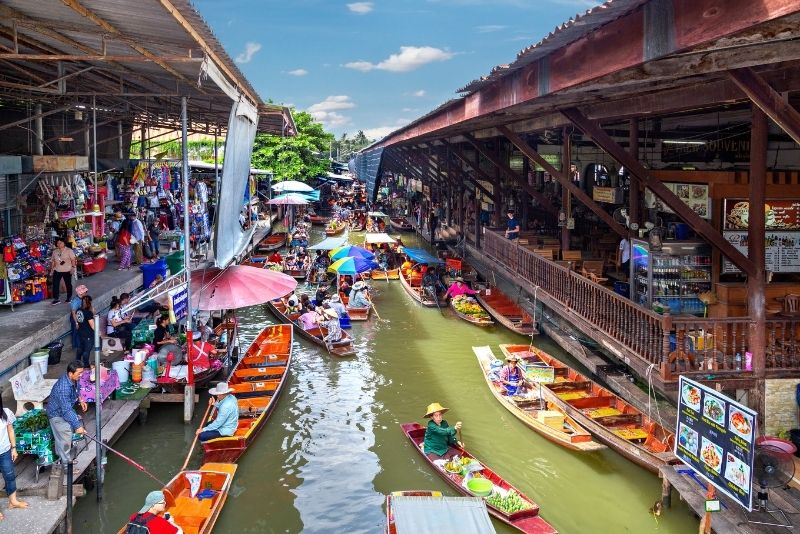 Feast your eyes on a unique floating market, where merchants row through canal waters on their fully stocked boats, to sell fruit to locals and visitors on their boats.
The floating market has been a favorite travel destination, growing increasingly in popularity since the 1970s.
People from all over the world flock to the floating market of Damnoen Saduak to catch a glimpse of the fun, chaotic scene of commerce, color, exotic fruits and foods, and more.
Located 100 kilometers southwest of Bangkok, book a canal boat tour through the floating market of Damnoen Saduak, with local experts, transportation, and an unforgettable and up-close look and one of the most unique and best things to do in Bangkok.
4 – Explore Chinatown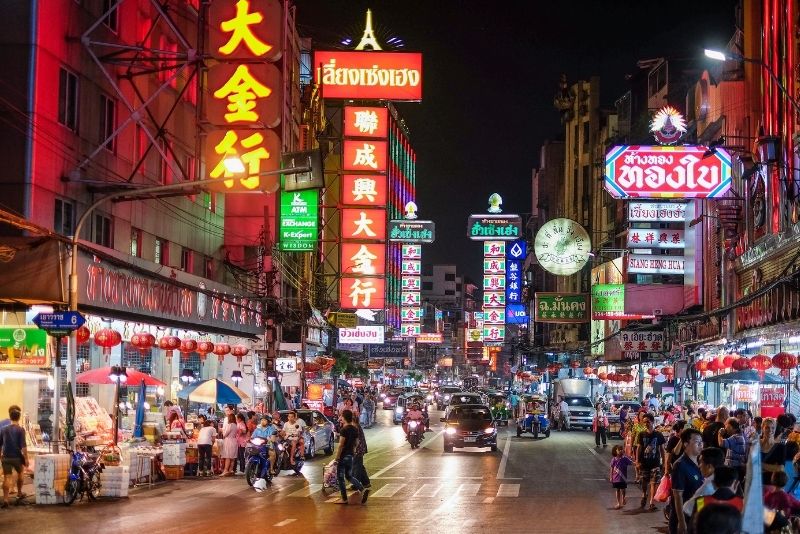 Located a short journey away from Bangkok city center, and considered to be the largest Chinatown in the world, Thailand's own Chinatown is a remarkable place to visit while visiting Bangkok.
Dating to the wave of immigration of Chinese into Southeast Asia back in the 1800s, settling and intermingling cultures with the Thai people, today visitors can get a piece of the fusion between cultures, food, and top experiences while walking the streets of China town.
Brimming with Chinese/Indian/Thai culture, visit Yaowarat Road where China town takes up a large area dedicated to the best Chinese food and seafood specialties like stir-fried crab and shrimp.
Discover specialty markets, and amazing bars like River Vibe Restaurant Bar, which offers patrons beautiful views of nearby rivers.
5 – Be amazed by the architecture of the Royal Grand Palace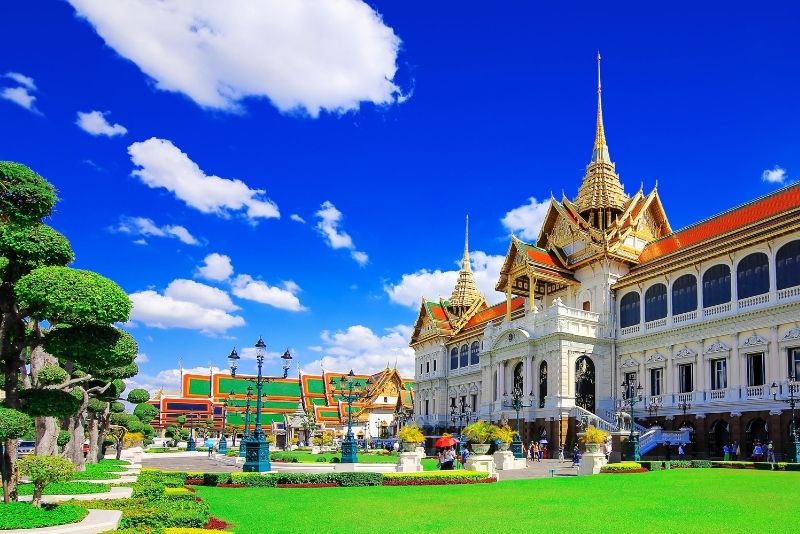 Considered to be the city's biggest attraction, a visit to the Royal Grand Palace is one of the best things to see in Bangkok while visiting.
A palace with heavy importance, from being the residence of Thai Royalty in 1782, to now being a holy space for Buddhism, the Royal Grand Palace's gold spire and ornate architecture calls out to more than one person, as an attraction to explore.
Book a tour to get the most immersive, knowledgeable experience, and learn about the rich history of the Grand Palace Hall called Chakri Mahaprasat, take in the sights of the architecture, and get an explanation for its Thai design.
Take your time to learn the purpose the temple has served in history, and what it symbolizes today.
6 – Enjoy views of Bangkok on a sightseeing boat tour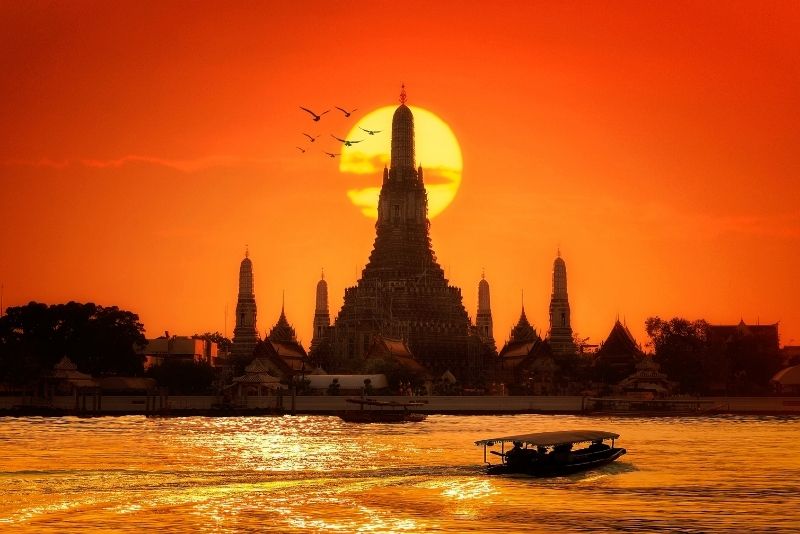 Adding a sightseeing boat tour to your list of best things to do in Bangkok is an absolute must!
Various rivers, which date back to the city's beginnings, and are used throughout history for trade and commerce, today, offer visitors a unique view of the city from its waterways.
With a variety of rivers, some stretching across the city like Chao Phraya and the Klong Saen Saeb, and a myriad of connecting canals on the Klongs of Thonburi connecting various provinces and neighborhoods together, a boat tour of the canals of Bangkok is an amazing way to experience and learn more about this important natural resource in the city.
Choose from water taxis to canal boats, and private cruises, each offering a unique experience.
See also: Bangkok Boat Tours – Which one is Best?
7 – Learn about the interesting Maeklong Railaway market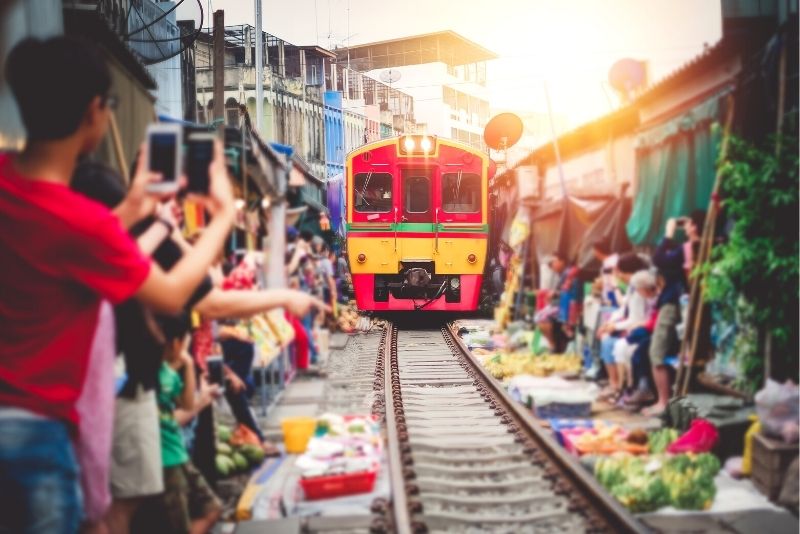 Possibly one of the most unique experiences to do in the world, and in Bangkok, is a visit to the Maeklong Railaway Market, located in the province of Samut Songkhram.
Dating back to 1905, there was a railroad that was constructed right in the middle of what used to be a normal market, where fishermen would sell their catch of the day (today this is still the case).  However after the railroads were constructed through the market, the people decided to keep the market going, but with a twist.
Today, visitors can get to this unique market by Skytrain or car, and they'll be able to walk the market, where they'll find stands and stalls selling food, goods, fruits, and a railroad running across.
8 – Check out Bangkok on a Bike tour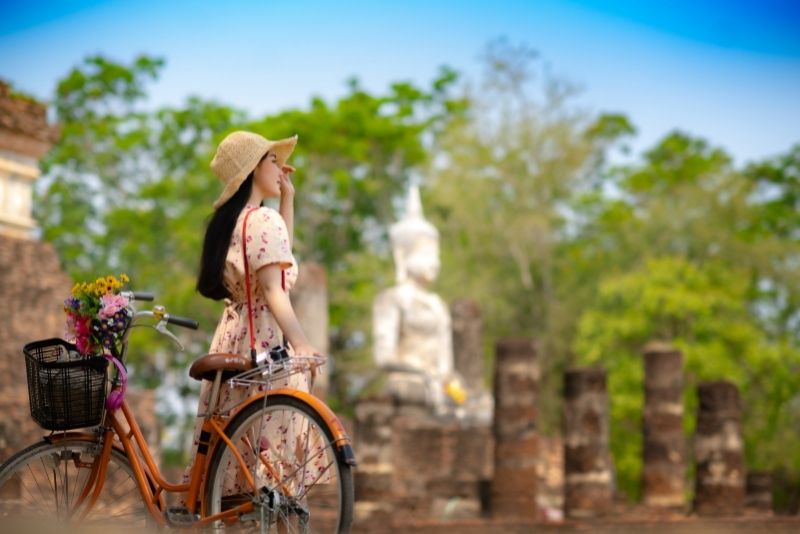 A bike tour is always a fun way to discover a new city and one of the best outdoor activity in Bangkok especially.
Hop on a bike tour, and explore the nooks and corners of the city, as you're being told more about the history of the districts, neighborhoods, streets, and buildings.
Get an idea of the different architectural styles, and ask your local guide to point out recommended places to eat along the way.
Explore the city and its narrow and winding streets on a bike tour, or explore its beautiful, green natural corners, that pass through local markets, food vendors, and different canals that one can only see on a bike. Be sure to book your tour ahead of time!
9 – Take a photo with your favorite *wax* celebrity at Madame Tussauds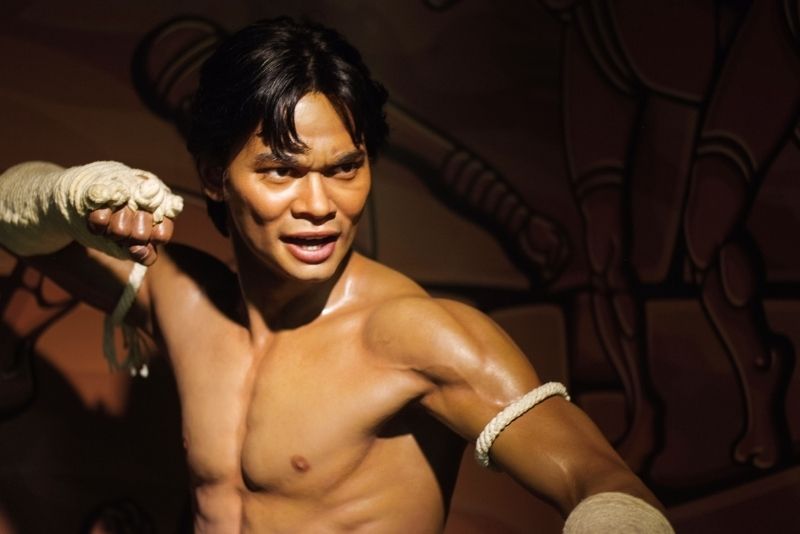 Looking to meet and take your picture with your favorite celebrity in Bangkok?
Consider a visit to Madame Tussauds – a museum that houses life-size replicas of famous world figures from American movie actors like Bruce Willis, to the Obamas and the English Royal Family.
Built in 2010, and with other museums located around the world, Madame Tussauds opened its doors in Bangkok and welcomed locals and visitors to experience a unique and fun experience from amazing man-made wax figurines of world figures.
Divided up into different sections: musicians, historical figures, actors, sports athletes, and movie characters,  Take your time to take a peek at the details in each wax figure, and of course, snap your picture next to your favorite celebrity.
10 – Visit Thailand's first Thai massage university at Reclining Buddha Wat Pho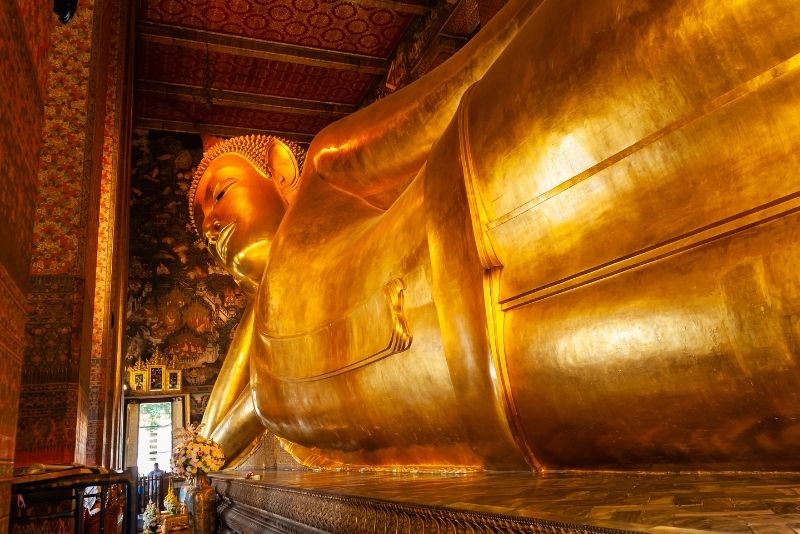 Commonly known as Bangkok's Temple of the Reclining Buddha, this site has become a hot spot for many travelers visiting Bangkok for many reasons, one of them being its sheer beauty.
Dating back to its construction in 1832, the Reclining Buddha Wat Pho is one of Bangkok's most beautiful and oldest temple complexes that house over 1,000 images of Buddha (more than any other temple in Thailand) including the biggest Buddha in Thailand.
This site is known to also be the place where the first public university in Thailand was formed, which was to teach Thai Massage. A practice that is still going on strong today.
Take a tour of the grounds, and learn about the meaning of the architecture, and the importance it has today.
11 – Take a peek at Thai Royal Life at Bang Pa-in Summer Palace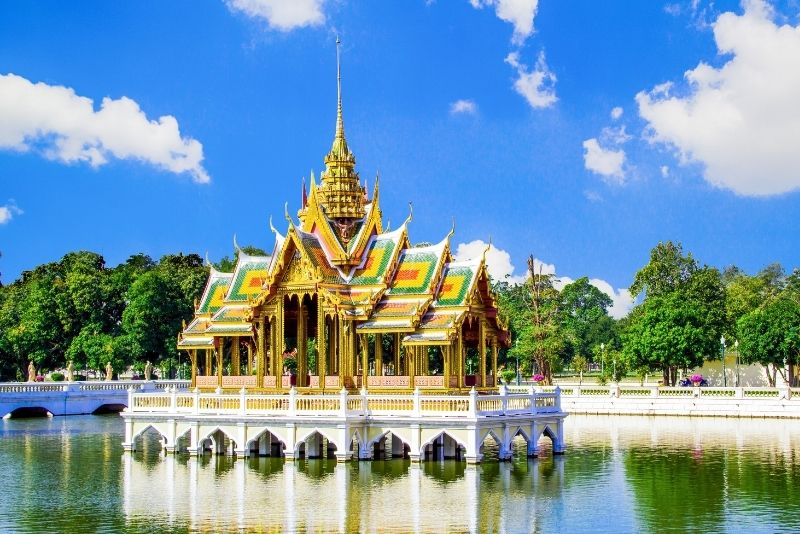 Dating to its original construction in 1632, the Bang Pa-in Summer Palace was the summer residence of the Thai Kings. Making up one of the 19 total Royal Palaces in Bangkok, visitors will get to experience for themselves the luxuries that the Thai Royalty lived with.
Sitting beside the Chao Phraya River, the Palace has a quiet, tranquil atmosphere, making it a perfect site to visit to have a moment to truly admire the beauty of the natural scene around. When visiting palaces like Ban Pa-in Summer Palace and religious sites, always take into consideration the dress code, as some rules must be followed when entering the palace.
Get an inclusive experience and learn about life in the Bang Pa-in Summer Palace, by booking a tour.
12 – Explore the fascinating site and culture of Ayutthaya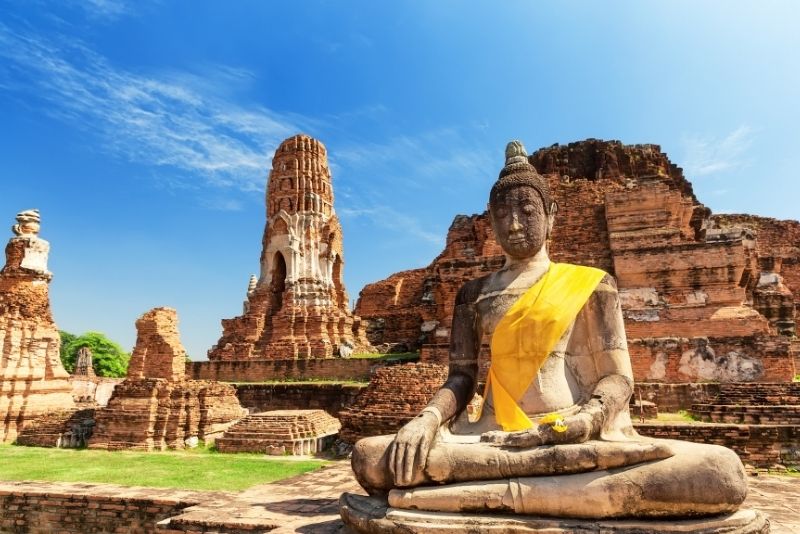 A current UNESCO World Heritage Site and a perfect example of an 18th-century urban city equipped with trade, commerce, and diplomacy, a day trip to Ayutthaya must be on your BKK bucket.
Dating back to its finding in 1350, this important Thai site located on an island showcases Ayutthayan culture through its ruins still visible today, Buddhist monasteries, and ornate architecture, which today according to many historians, is a prime example of the civilization's economic power and rank.
To visit this unmissable sight, there are many trains that visitors can take from Bangkok's Hualamphong train station. Book a tour ahead of time for the ultimate learning experience.
13 – Live out your Thai culinary dreams by taking a cooking class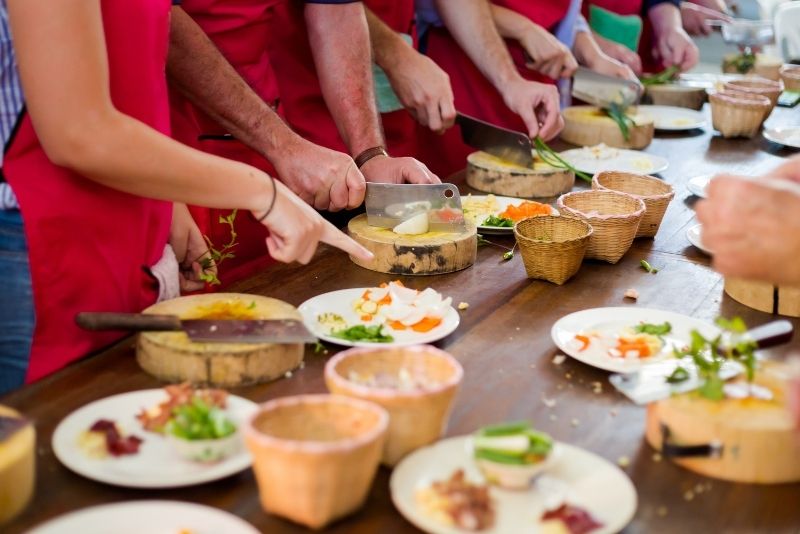 Thailand is one of the countries in the world with the freshest ingredients, from fruits to vegetables, fish, and more, a cooking class is definitely a must-do activity while in Bangkok.
Cook alongside cooking professionals and locals at cooking schools, and get your hands a little dirty as you prepare traditional Thai dishes like Massaman Curry, Yam Nua (Beef Salad), Kway Teow (noodle soup), and more.
Take a cooking class at Blue Elephant Cooking School and restaurant, and live out your Thai culinary dreams, as you cook with professional chefs in any language of your desire, in a group or privately, and in state-of-the-art professional kitchens.
14 – See the three-headed elephant at the Erawan Museum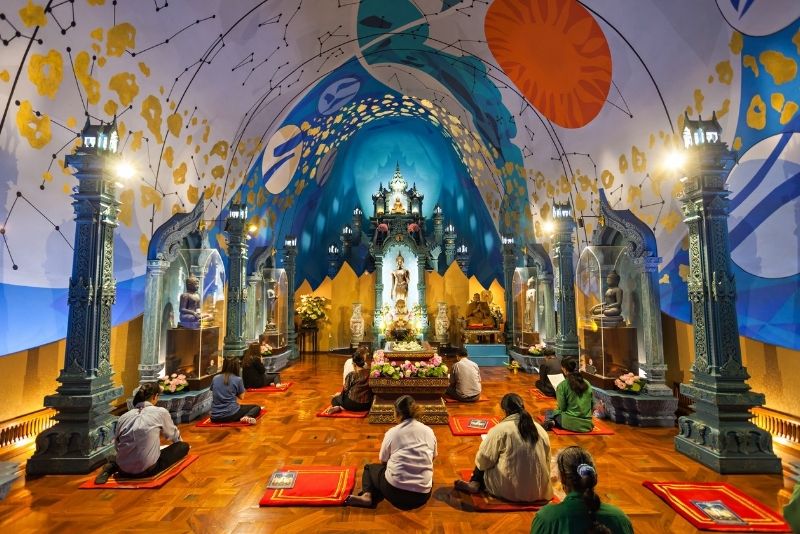 A 25-30 minute drive from the city center of Bangkok, Erawan Museum is a collection museum housing numerous pieces owned by Lek Viriyapant, a Thai businessman who reinvested some of his wealth to build cultural sites like the Erawan Museum.
His wish was to find a place to store all of his precious pieces and to gift them to his country for generations to come to learn.
Visit the three-headed elephant statue that was created based on the figure of Airavata, a creature in Hindu mythology. The symbolism behind the famous statue is of protection of the world, and the important things in it.
Make sure to book a tour to get a deep explanation of the multiple pieces inside, and about the collector himself.
15 – Learn about the important Thai silk industry at Jim Thompson's house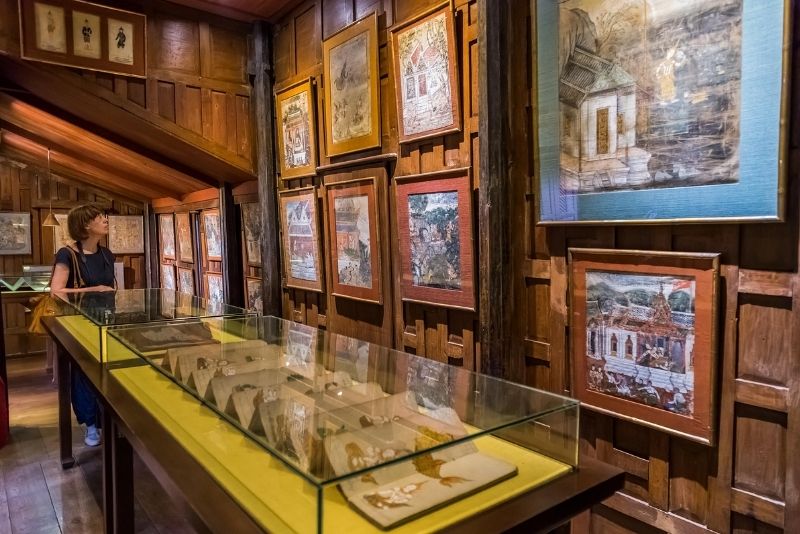 Cultural buffs will not want to miss the interesting fusion of American and Thai influences at Jim Thompson's House – a former residence turned museum of Jim Thompson, an American-born, Thai businessman, and architect.
Experience the elegance and tranquility that the property offers guests, as visitors take in the Thai-wooden style architecture, surrounded by lush greenery and canals. Once inside, visitors can find a collection of Asian-influenced art pieces and exhibits that belonged to Mr. Thompson himself. Jim Thompson is commonly known as the "Thai Silk King" for being the one who saved Thailand's important silk industry from extinction.
Located centrally in downtown Bangkok, this makes for a perfect afternoon activity and one not to miss while visiting Bangkok.
16 – Dive into Southeast Asia's largest aquarium at Sea Life Ocean World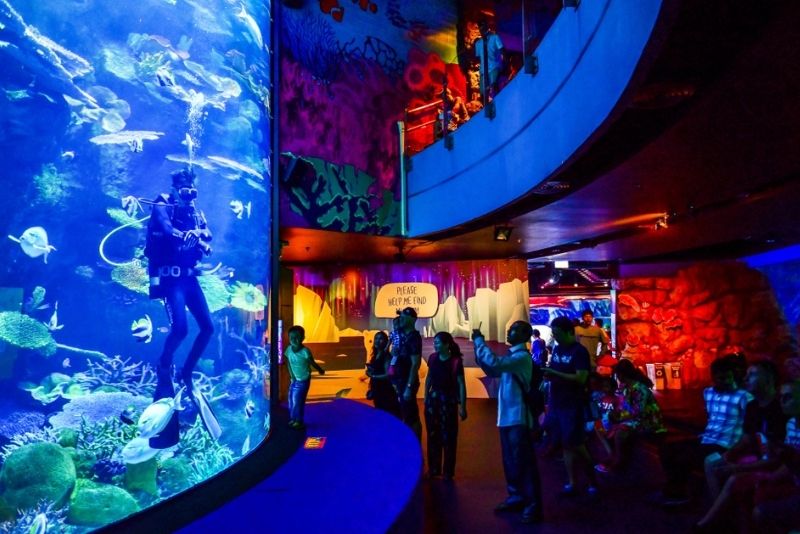 Unleash the inner child within, and get excited to explore the wonderful world of the sea at the biggest aquarium in all of Southeast Asia – Sea Life Ocean World in Bangkok.
This aquarium located in the city center of Bangkok, is a sea lover's dream, as visitors can check out a grand variety of sea life from Thailand and the world, as well take advantage of the different activities offered at Sea Life Ocean World to learn more about the different species of the sea.
Make sure to book your tickets in advance to avoid any issues at the door. If you're interested in special activities like the Shark Dive and Beyond the Surface, make sure to buy those entrances separately.
17 – Escape into the nature in Kanchanaburi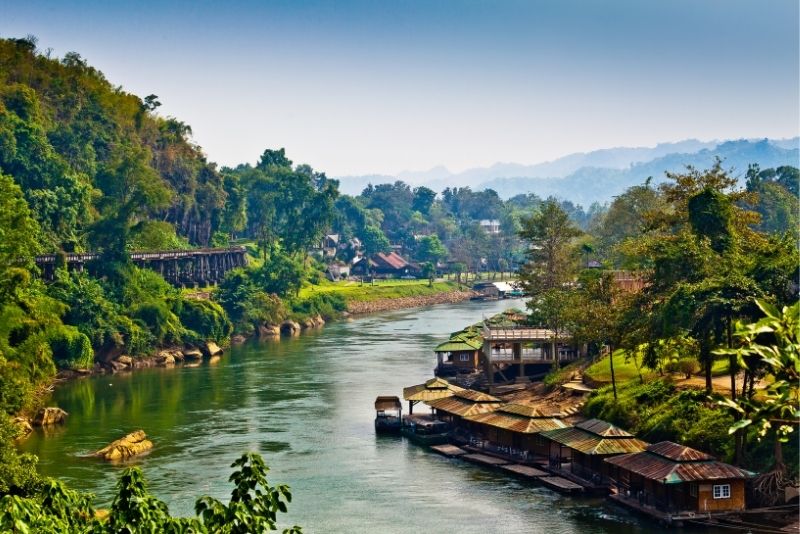 Tour pieces of Thai history, and move through natural beauty at Kanchanaburi – a province 130 kilometers west of Bangkok city center. Known famously for the Death Railway Bridge, a bridge constructed back in the times of WWII, visitors will gain a new view of Thai history.
Visit the Erawan National Park to relish in all the natural abundance from dramatic waterfalls, fish spas, hiking, and amazing bird watching, or visit Sai Yok Nai Waterfalls some of the most beautiful waterfalls in the area, that fall down a limestone rock.
Visit an elephant sanctuary, and offer your service to the care of elephants alongside workers and volunteers. Make sure to check out day-trip itineraries and tours, so you can make your way out to Kanchanaburi.
18 – Visit the site of war history at the Thai-Burma Death Railway Bridge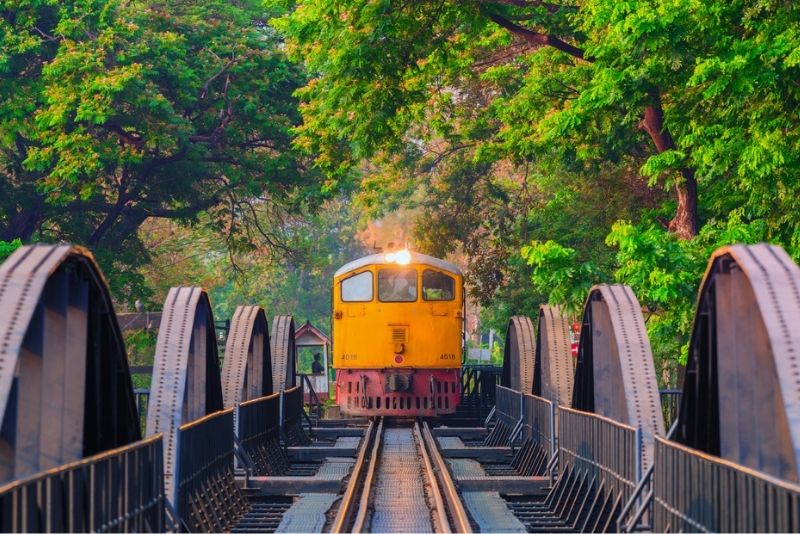 Possibly one of the most well-known sites to visit in Kanchanaburi has to go to the Thai-Burma Death Railway Bridge, which was originally constructed by the Japanese during WWll.
The Japanese invasion which prompted the construction of this bridge, unfortunately, costs the lives of soldiers, prisoners of war, and innocent people. Today, this landmark symbolizes a somber and very real event that happens in Thailand.
Make sure to check out the Death Railway Museum to get educated on the construction of the railway, and more historical artifacts.
Visit Hellfire Pass Museum to get a unique museum experience, where visitors walk through the rocky grounds where the prisoners of war would have worked for up to 18 hours a day.
19 – Zip through Bangkok on a Tuk-tuk tour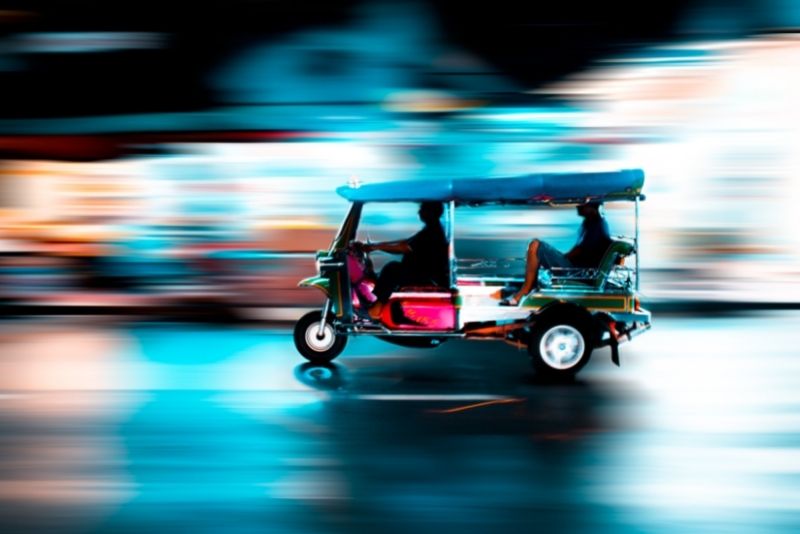 Truly a Tuk-tuk tour zipping by some of the most emblematic sites of the city is one of the best ways to see a lot in a short amount of time, as well as get a local experience of riding an actual Tuk-tuk.
Whether it's a night tuk-tuk tour, passing by all the amazing street food stands, or it's a day tour taking you through sites such as the Wat Pho, Wat Prayurawongsawat, or flower markets, a tuk-tuk tour will undoubtedly take you not only to these amazing sites but also take you in true Thai style.
Make sure to check out some of the best tuk-tuk tours here, and book ahead of time for easier planning.
20 – Catch sight of the radiant sun at Wat Arun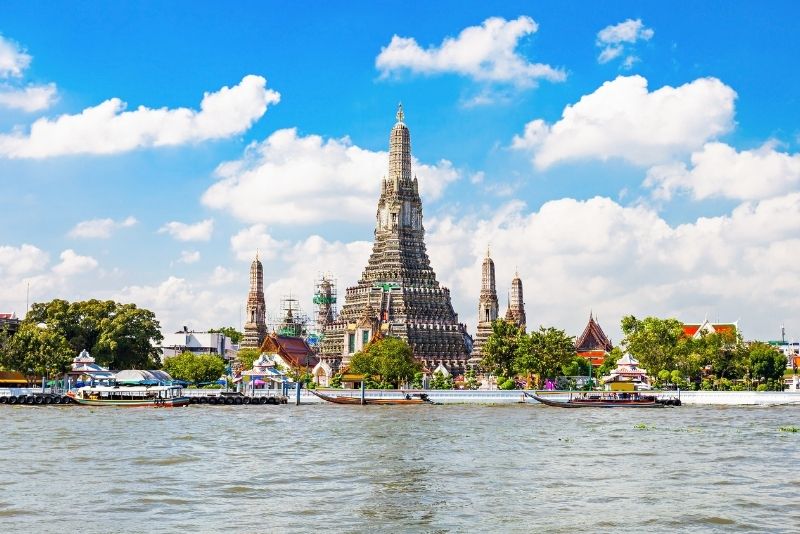 Unquestionably one of the best things to do in Bangkok is to visit the Temple of Dawn, also known locally as Wat Arun, which is located on the western edge of the Chao Phraya River in Bangkok.
The Buddhist temple is named after the Hindu God Aruna, which much like the other name it goes after (Temple of Dawn) means the beauty of the rising sun.
Famous for its stunning views of the temple complex, the river, and the city, make it worth the steep climb, so be sure to come prepared to climb a few steps.
Make sure to also check the dress code when planning a trip not only to this temple but to most temples in Bangkok. Conservative dress, covering arms and legs.
21 – Take a glimpse of the wild side of Bangkok at Safari World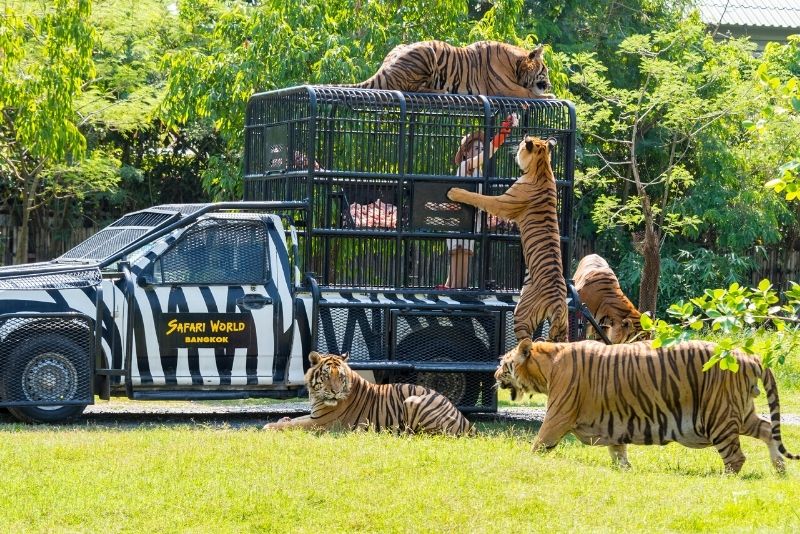 Opened in 1988, and stretching around 480 acres of land, Safari World takes visitors through a guided journey showcasing the best and diversity of animal wildlife in Thailand.
From sea life to land, explore the living wonders that Thailand has at Safari World.
Split into two parks, guests will have the opportunity to explore different wildlife called: Marine Park and Safari World.
While visiting, check out the amazing performances put on by the parks, from themed shows like the Wild West to animal performances, and more. There is something for everyone at Safari World.
22 – Take a dip in the water and swim with elephants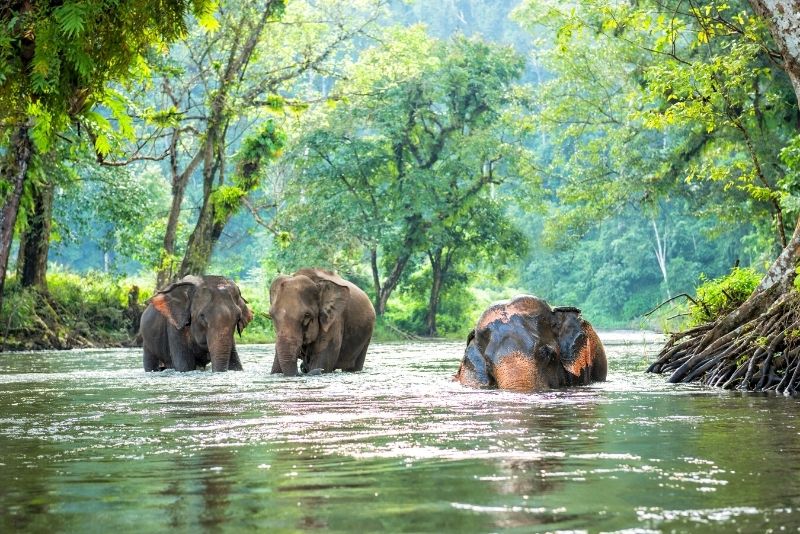 Experience the gentleness of one of the most peaceful animals on the planet while visiting an Elephant Sanctuary on a day trip.
Be of service and join the amazing work being performed by staff and volunteers in feeding, playing with, and caring for the elephants.
Learn more about the efforts created at the sanctuaries, their purpose, and their goals in helping preserve the elephant species as a whole.
23 – Discover your new favorite dish at Khlong Lat Mayom Floating Market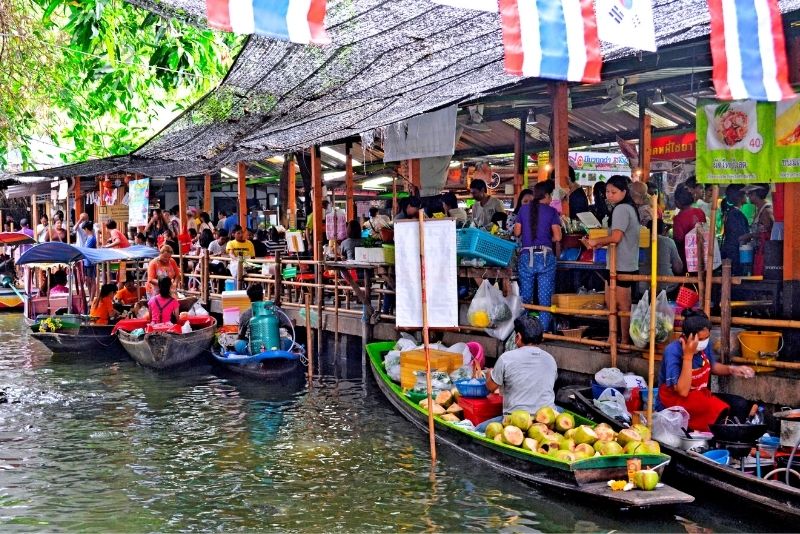 Known for its beautiful canals surrounded by lush gardens, and the abundance of food options, a visit to Khlong Lat Mayom floating market is a must for market and food lovers alike.
Walk around the market, scout for dishes you'd like to try, and then look for a seat as it tends to get pretty full. Amongst some of the best dishes to try at the market are Pla pao which is a salt-crusted fish, Goong ob woon sen which is flavorful mungbean noodles with shrimp, and way more amazing dishes.
Make sure to come with an empty stomach!
24 – Walk the glass walkway on the 78th floor of the Mahanakhon SkyWalk Observation Deck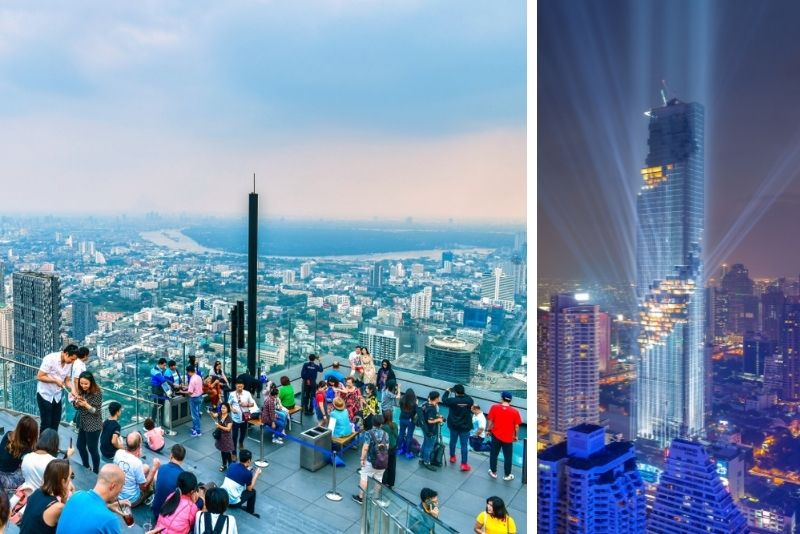 Coming in around 79 floors, the Mahanakhon SkyWalk Observation Deck is without a doubt, one of the best views of Bangkok.
Although there are many competitive places that could also offer incredible sky-high views of the city, and the rivers crossing nearby, the Mahanakhon SkyWalk Observation Deck is the place to be due to its thrilling glass floor on the 78th floor.
Adrenaline seekers will be able to see not only sweeping views around the building but underneath as visitors walk the glass floor.
Go during sunset time to catch the ultimate golden hour in the Thai skies, and afterward, catch dinner at one of its many eateries inside the observation deck.
25 – Take in history and peace at Golden Buddha Wat Traimit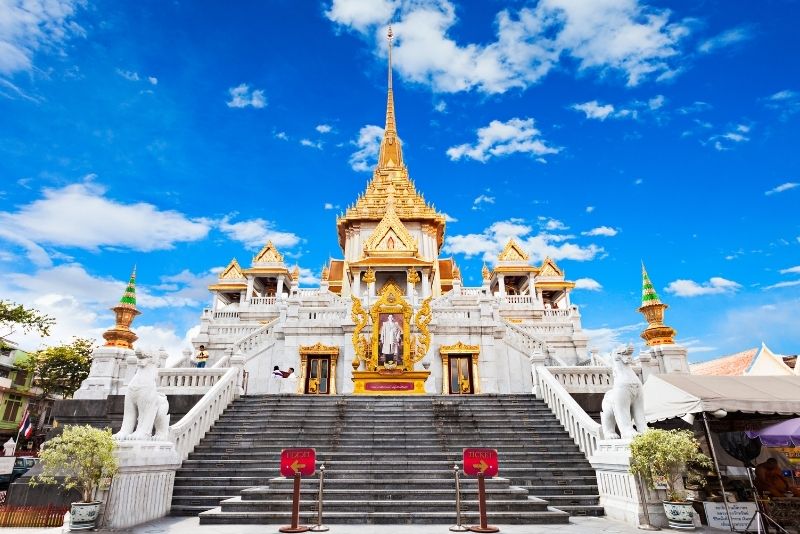 Well known to the Thai people as Phra Sukhothai Traimit, the Golden Buddha Wat Traimit is the visual of a statue representing a golden structure seated in a relaxed, meditative manner, located in the temple of Wat Traimit, and weighing 5.5 tonnes.
While visiting the Golden Buddha Wat Traimit, make sure to also learn about the fascinating history of the Golden Buddha inside the museum located on the 3rd floor, as well as the interesting story behind its creation.
Lastly, spend some time walking and admiring the architecture and powerful gold details.
26 – Walk your way into Thai and Bangkok history at the Bangkok National Museum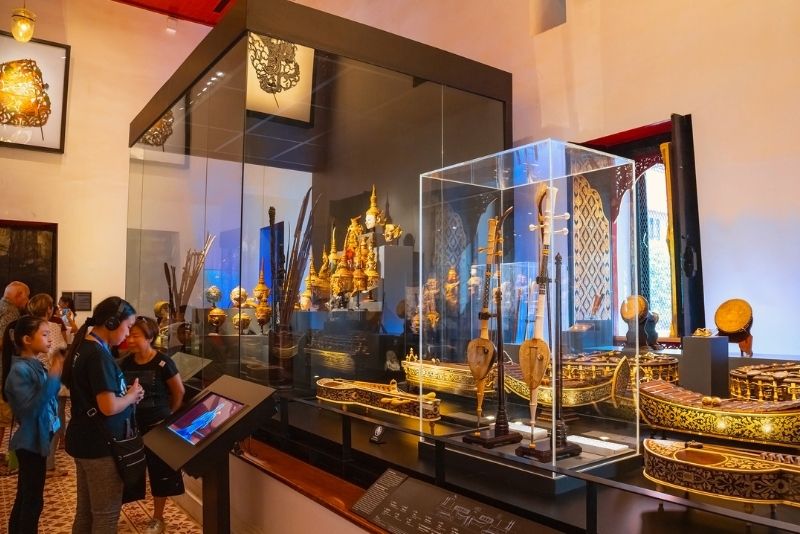 Once the home of the Vice King in 1887, and today rebirthed into the home of Thai art and history, the Bangkok National Museum is a historian and artist's dream come true, as it is considered to be the largest museum in Southeast Asia.
Known as the first museum in Thailand, with an evergrowing collection of various historical pieces and relics, visitors will be able to experience anthropological and archaeological exhibits showing from pre-historic life in Thailand, up to the day-to-day life during the reigns of different Kings.
Amazing in every way, a visit to the Bangkok National Museum is a great way to gain insight into Thailand's culture, and history, which is a great way to gain an appreciation of the city.
27 – Seek thrills and adrenaline at Dream World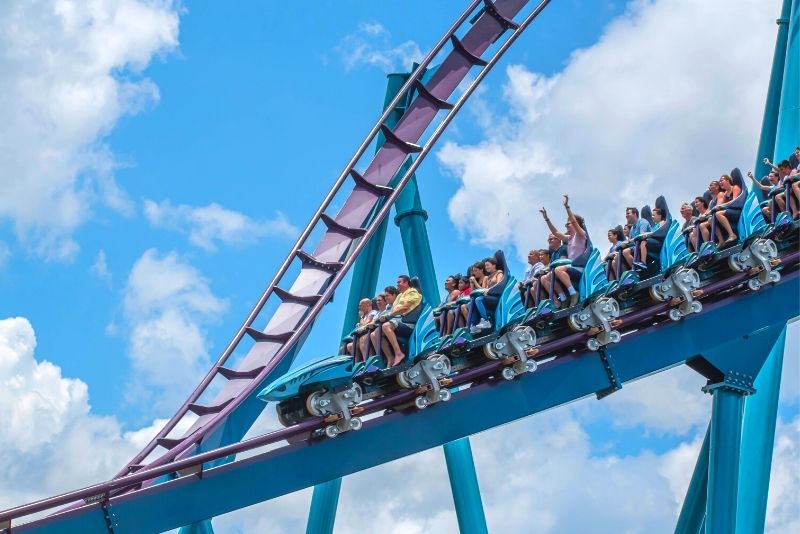 Prepare for the ride of your life as you venture onto Dream World – Bangkok's version of Disney World. Located just north of downtown Bangkok 40 minutes away, it is a thrilling amusement park that welcomes visitors of all ages.
Divided into 4 sections: Dream World Plaza, Dream Gardens, Fantasy Land, and Adventure Land, each section is sure to offer something for everyone.
If you're traveling with young children, the most ideal section to visit is Fantasy Land, whereas Adventure Land is the section that is calling out to all adrenaline junkies.
28 – Visit Thailand's biggest market at Chatuchak Weekend Market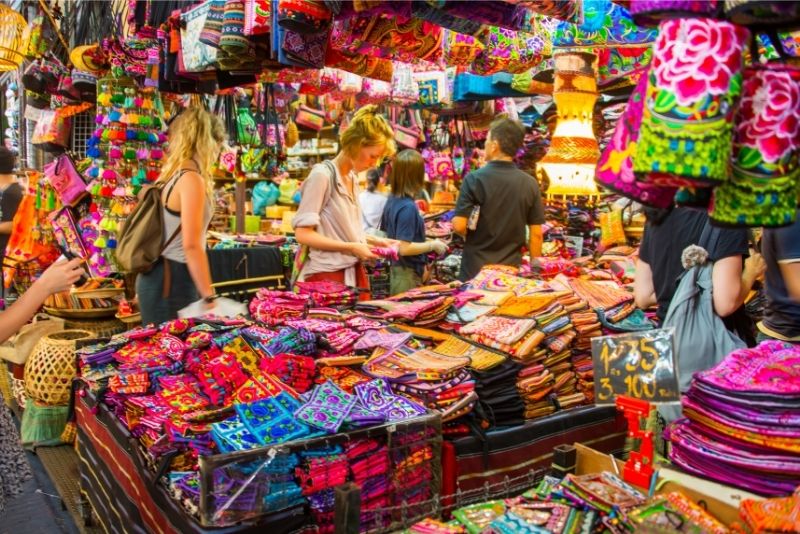 Thailand is undoubtedly known for many things, one of those being its wide choice of markets from flowers, to merchandise, to food, and more. Chatuchak Weekend Market is the place where you can get it all under one roof, and in one go.
Known as Thailand's largest market, with 15,000 booths, and 200,000 estimated visitors per weekend, it's surely a hot spot to check out at least once to experience the colorful chaos and magic that loom through its market stalls.
Everything from food and drinks, to home decor and art, soap, gifts for family and friends, and more can be found inside its walls.
29 – Discover Thailand's original capital city of Thonburi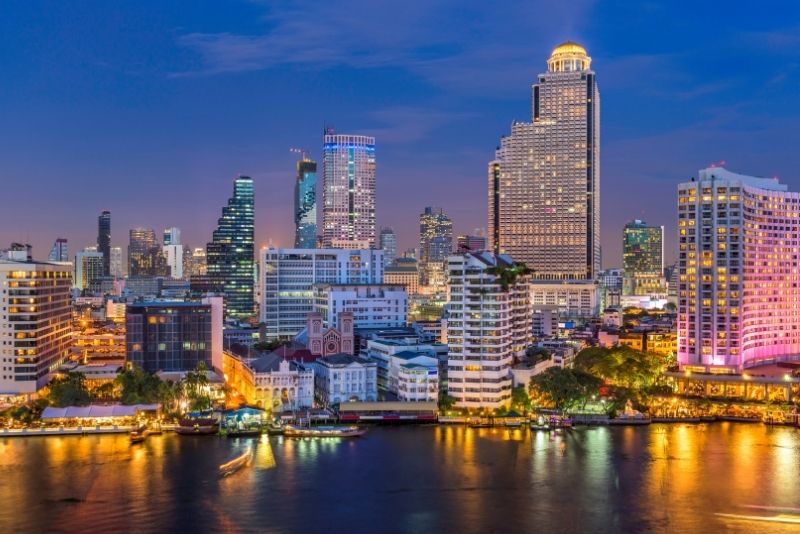 Originally the capital city of Thailand in 1768, today Thonburi is one of the districts that make up the modern capital of Bangkok.
A quieter setting than its other neighboring districts, Thonburi is a site to see for various reasons, such as to see some of the monuments and buildings constructed in the once capital city, for protection against attackers.
One of the most popular sites to visit has to be Wat Arun (Temple of the Dawn) for its beautiful architecture, as well as Wat Kalayanamit, which is a 200-year-old religious building open to the public that is less crowded than Wat Arun.
To experience more of the city, and explore hidden corners of Thonburi, definitely consider booking a tour with a local.
30 – Catch a city break at Lumphini Park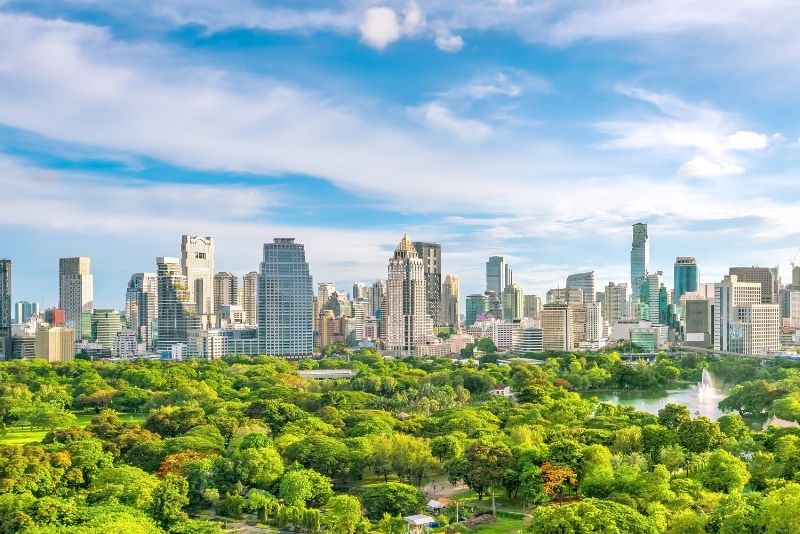 A haven for nature lovers located right in the middle of Bangkok lies Lumphini Park, in which the word Lumphini is Thai for the birthplace of Buddha in Nepal.
Many visitors like to take a break from the hectic city for a bit of a breather whether it's sitting on a bench taking in the luscious garden views or walking the tree-lined paths.
On many occasions, visitors can expect to find different events held at the park, from music festivals to food festivals.
While visiting Lumphini Park, make sure to also check out some of the monuments inside such as the King Rama Vl Monument, symbolizing his declaration of the opening of the first public park.
31 – Shop til you drop at Thailand's biggest shopping mall CentralwOrld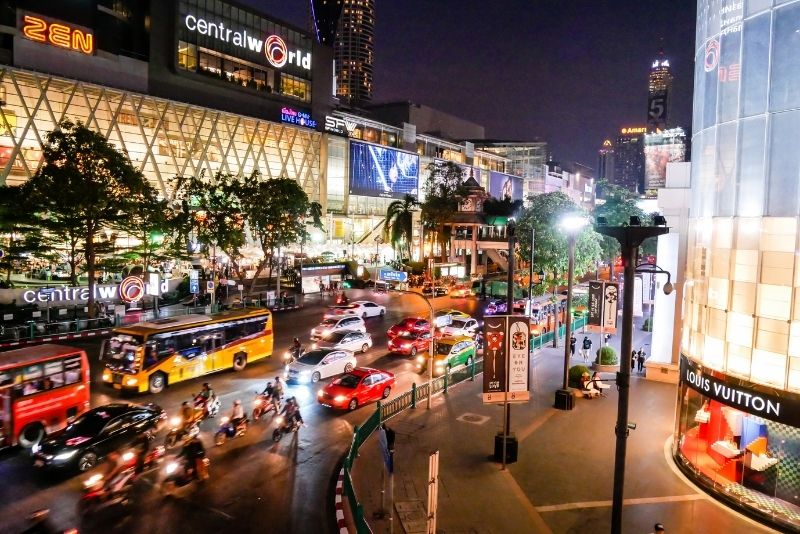 Looking to shop till you drop?
Check out CentralwOrld for world-class shopping, from some of the most globally known brands all over the world, including the 2nd biggest H&M in the world.
Known locally as a massive shopping center and complex, CentralwOrld was originally opened in 1990 and is the 11th largest shopping center in the world and the largest in Southeast Asia.
This famous shopping mall houses some of the best shopping, eateries, bakeries, 5-star hotels, cinemas, ice rinks, arcades, and generally, a great space to meet up with friends and family for an afternoon.
32 – Indulge in fun water activities at Nakhon Nayok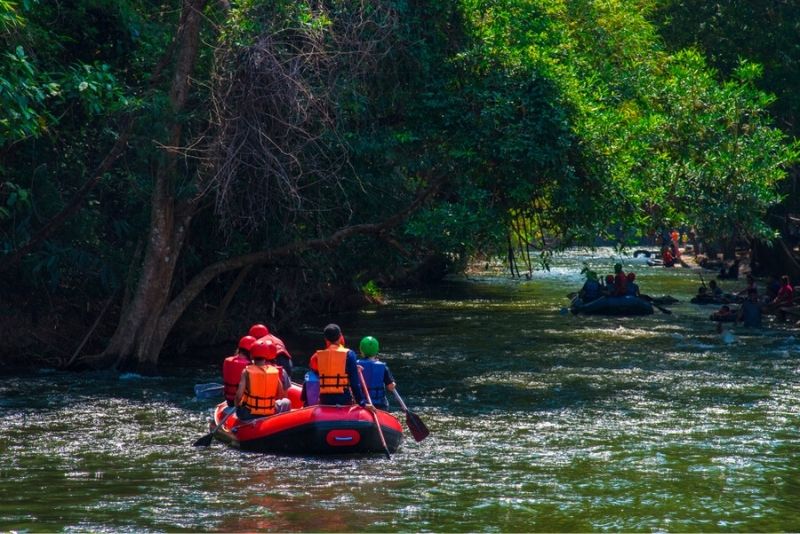 Located in central Bangkok, Nakhon Nayok is the ideal destination for nature lovers from many different activities to choose from, such as checking out the stellar waterfalls and indulging in the tropical abundance of fruits, as well as some of the best outdoor activities.
Check out the attractive Khao Yai National Park, a nature lover's wonderland, offering a close-up of Thailand's quaint nature and views of wild animals in their habitat.
Check out waterfalls like Nang Rong and Sarika, which gifts visitors with a refreshing site and splash after a hike around the park.
Speaking of a splash, while visiting Nakhon Nayok, if you're looking for some water fun, then definitely check out water activities like rafting, kayaking, and windsurfing at Khun Dan Prakan Chon Dam.
33 – Visit the Sirimahannop tall ship at Asiatique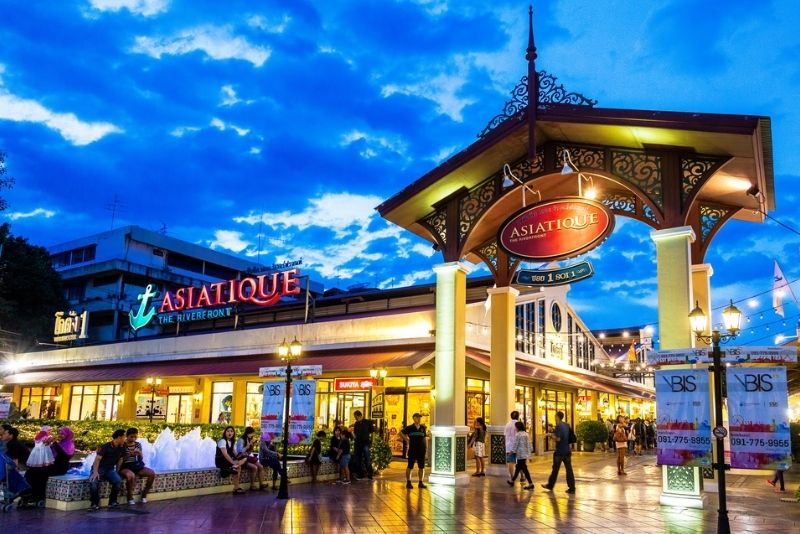 The Sirimahannop tall ship is a modern-day ship that was built to honor in part the Thoon Kramom – a ship that was responsible for trading from the west to the Kingdom of Siam.
Today, visitors are able to step back in time and enter the museum located inside Asiatique which houses art pieces and relics that showcase Asian and Thai history and culture throughout time, especially relating to Siam trading and civilization.
Stay for a while and have dinner at the lovely and elegant bar and restaurant that offers chef-inspired and prepared dishes and drinks to satisfy every visitor's craving.
34 – Get inspired at Bangkok Art & Culture Centre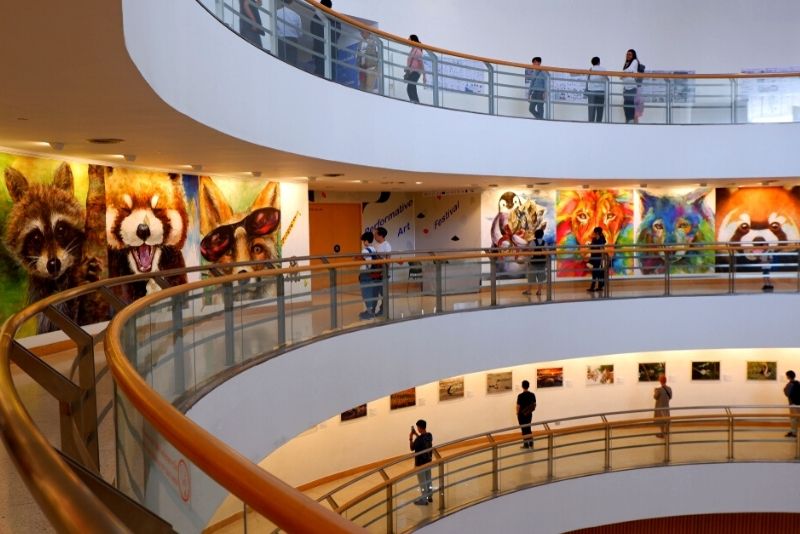 A center where music, art, and culture, all coincide for a wonderful experience for visitors and locals to enjoy.
The Bangkok Art & Culture Centre is a site where events are often held such as musical and cultural performances, literature readings, and other special projects that invite guests to witness and participate in.
Take an afternoon to step in, and enjoy the People's Gallery – a gallery where artists and intellectuals perform expose's on their art and latest works.
Check out the expansive library, and other education services while there.
The Bangkok Art & Culture Centre's mission, amongst many, is to provide, inspire, and promote the love of art, culture, and education, in order to nurture new ideas and inspiration.
35 – Contemplate the beauty of Bangkok at night on a dinner boat tour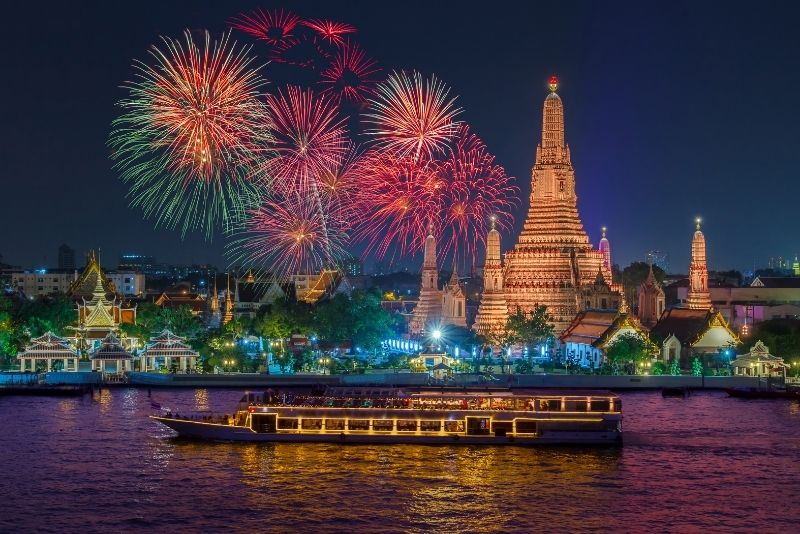 Looking for something a bit more on the romantic side? Discover the lovely sights of architecture, and take in the gorgeous sights of the city at night, from the Chaophraya River.
Check out a dinner boat tour that runs along the Chaophraya River, and indulge in Thai cuisine coupled with incredible attention and hospitality, and the moment.
It is an ideal and unique experience to see the city not only by night but also from one of the famous rivers crossing Bangkok.
Book your dinner boat experience ahead of time in order to avoid any issues, and enjoy the experience.
36 – Visit Thailand's biggest clothing market, Pratunam Market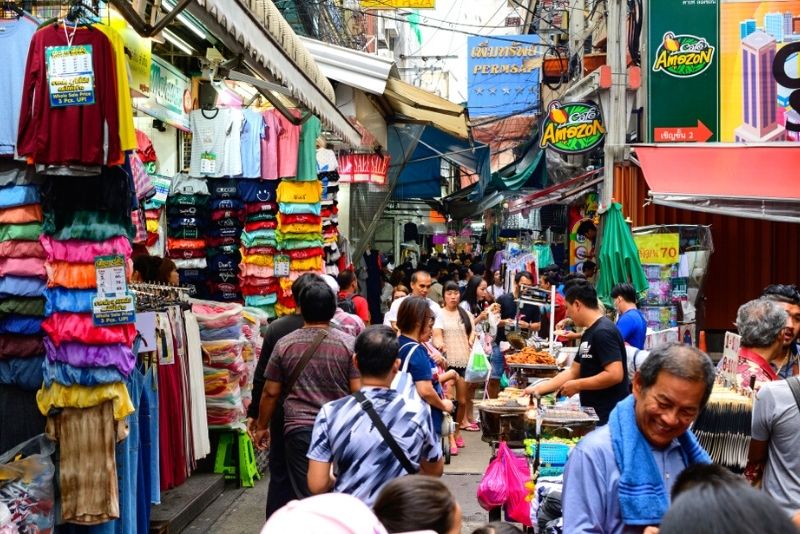 Running 24 hours a day, Pratunam Market is a chaotic and impressive clothing market known as the largest clothing market in Thailand, offering everything from traditional Thai dress, to tourist-type t-shirts, and everything in between.
Considering it is Thailand's biggest clothing market, make sure to brace for large swamps of people crowding the many clothing stalls.
Even though the market itself is open 24 hours, not every stall will be open the same way.
The best recommendation is that if you want to avoid crowds, go before 11 am. It's definitely one of the most interesting and best things to do in Bangkok and a place to visit at least once in your lifetime.
37 – Educate yourself on Thai culture at Museum Siam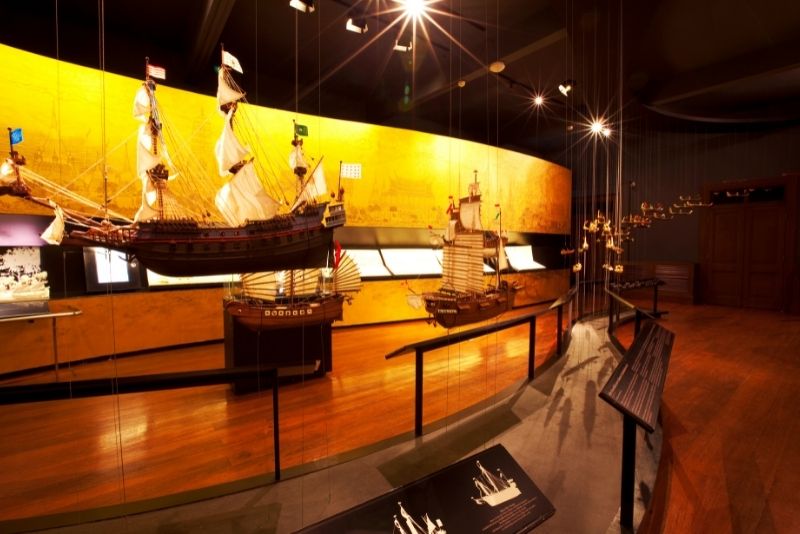 A beautiful neo-classical style building, the interior of the Museum Siam is home to various creative mediums – art, history, music, dress, and other tangible cultural pieces that are displayed to showcase and teach not only visitors but for locals about Thailand.
Created originally to be a space to teach Thai people about their own culture, today, Museum Siam welcomes people from all over the world, near and far, to take their sweet time educating themselves on Thai history and culture.
It has 14 rooms inside, and it is designed for visitors to explore on their own.
Prepare to spend 1-3 hours, depending on how deeply you want to go into Thai culture and history.
38 – Visit Wat Benchamabophit aka "The Marble Palace"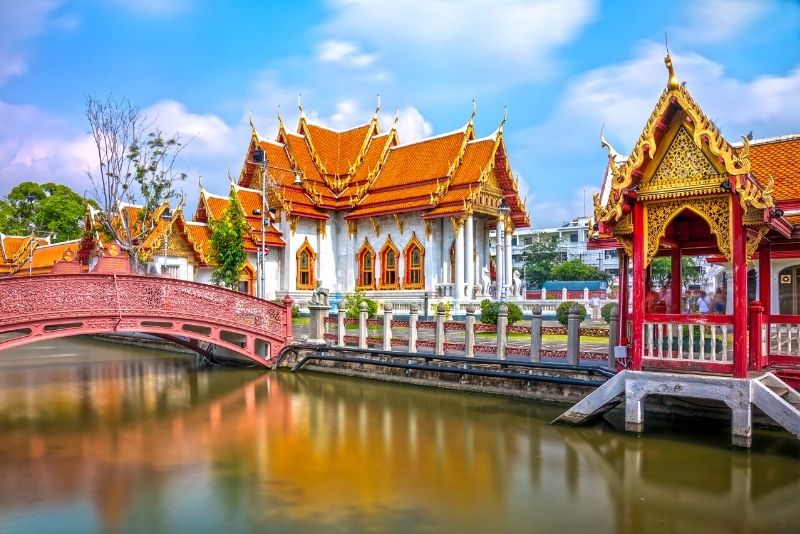 The Wat Benchamabophit is bound to enamor visiting architects and spike the attention of visitors, as one of the main temples, located in the Dusit district in Bangkok.
An interesting mix of European elements mixed with Thai design, the Wat Benchamabophit is an exquisite site to visit and spend some time to take in not only the architecture but its surroundings.
It is oftentimes referred to as "The Marble Palace" for the extensive amount of marble found in its facade.
Tickets can be purchased ahead of time, and it is recommended to do so in order to gain easier access to this monumental point of interest for many travelers.
39 – Frolic through the Pak Khlong Talat Flower Market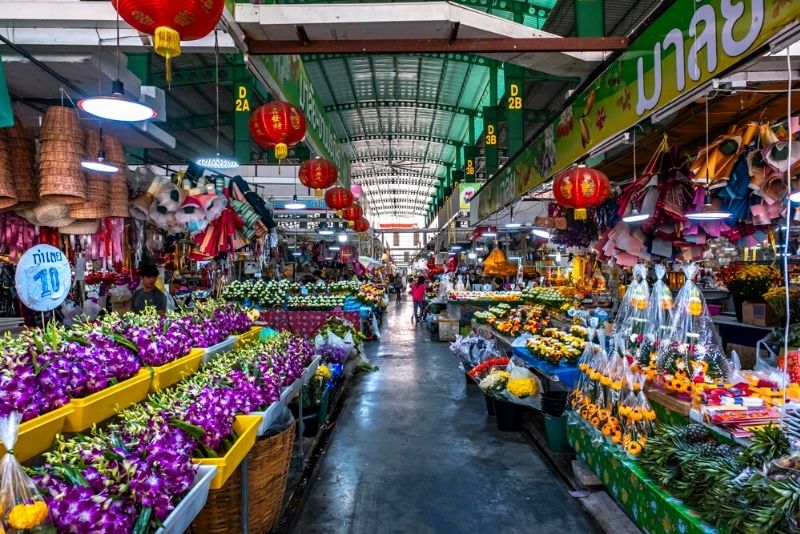 Check out the abundance of beautiful flowers, both known and exotic to the visitor, and local to the fertile lands of Thailand. Known by natives as a "place of symbolic value" and originally starting as a floating market.
Visitors will allow their sense of scent to take over, as they step into the market, and take a look at the flower-lined hallways of the market.
Aside from an innumerable amount of flowers, visitors can also expect heaps of fruit, herbal plants, and vegetables for sale as well.
While it's not exactly considered a tourist attraction, it is still visited by more than a few nature and flower lovers, and it is also a great place to observe locals in their element, and people watching.
40 – Learn about Victory Monument and its great significance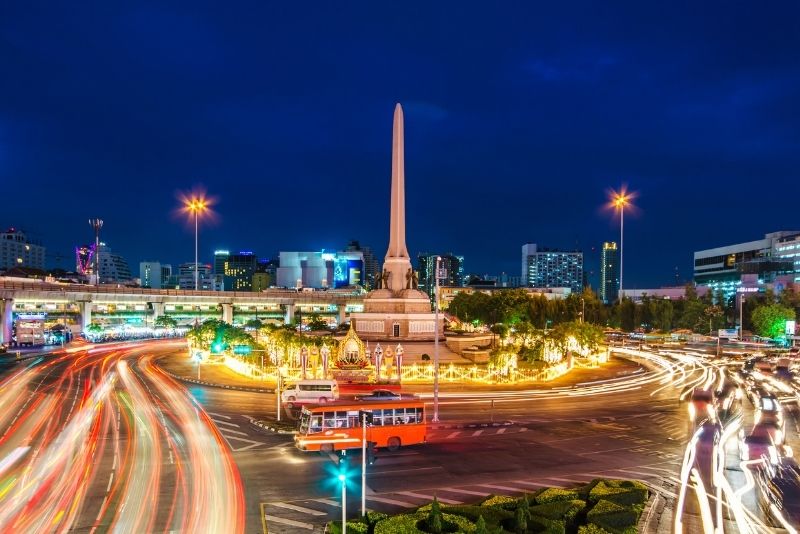 Serving as a symbol of triumph for the Thai people over the Franco-Thai war of 1940, this monument was constructed in the center of Bangkok to symbolize Thailand's win in this war.
Surrounding the monument are five statues, each representing the navy, air force, militia, and police. Nearby today, you will find many different buildings, from shopping malls and cinemas to parks and museums, and surrounded by busy streets.
While visiting it will be a little tricky, as it's not located on a quiet street, or a street easily walkable, it's still a sight that you can still visit as well as check out some of the other surrounding sites such as Bangkok's largest duty-free mall King Power.
41 – Venture into the world of military aircraft at the Royal Thai Air Force Museum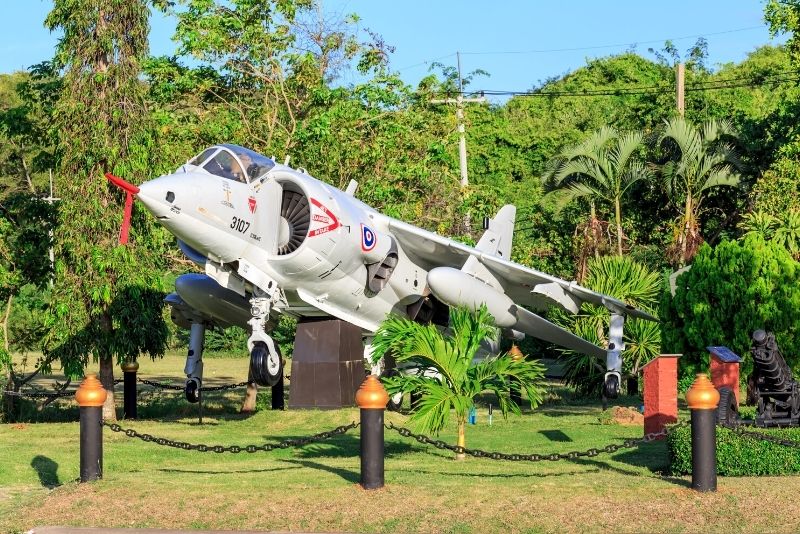 One of the interesting and best things to do in Bangkok, especially if you're an aviation fan, is to check out the Royal Thai Air Force Museum, which is a museum that stores some of the most notable and unique aircraft created and designed in Thailand for war purposes.
Many of the aircraft shown in the museum range from fighter jets, military transport, helicopters, and other military aircraft.
The museum is divided into 5 buildings, each showcasing a specific type grade of planes and helicopters used for military purposes.
Check out some of the buildings inside, some of which store unique aircraft that are the last of their kind, tools used in military aircraft, aircraft of high caliber used in war, and more.
42 – Browse through pieces of art that belonged to Thai Royalty at the Museum of Contemporary Art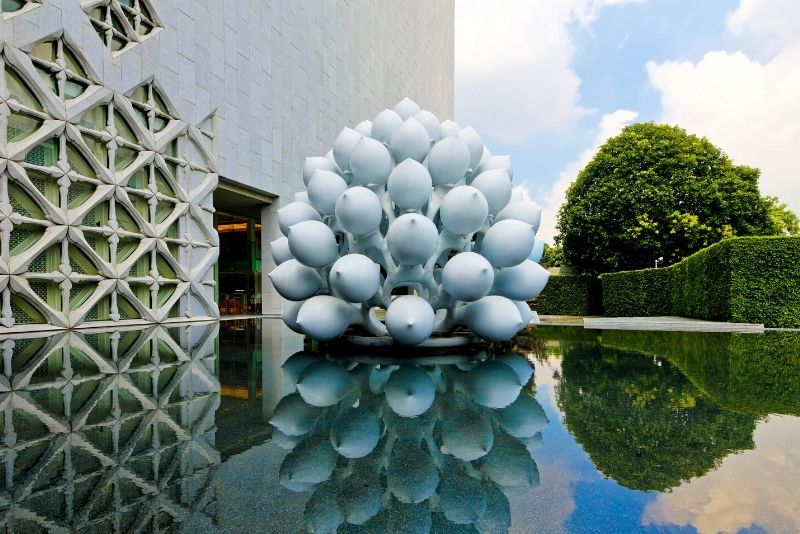 If art museums are more of your speed, definitely consider checking out MOCA Bangkok – Museum of Contemporary Arts, to browse through the collections of global pieces, as well as examples of Thai art.
Privately owned by Thai businessman Boonchai Bencharongkul, MOCA Bangkok came to be a physical museum of appreciation and honor for King Rama 9 as he was known to be the "Father of Thai Contemporary art".
The museum offers a unique collection of art previously owned by kings, and pieces originating from ancient temples and other holy spaces.
The museum building itself is a piece of art, as visitors will see when they set foot on the grounds. Detailed carvings, flower-like structures, and ornate features can be admired.
43 – Get a moment of peace inside the Wat Suthat Thepwararam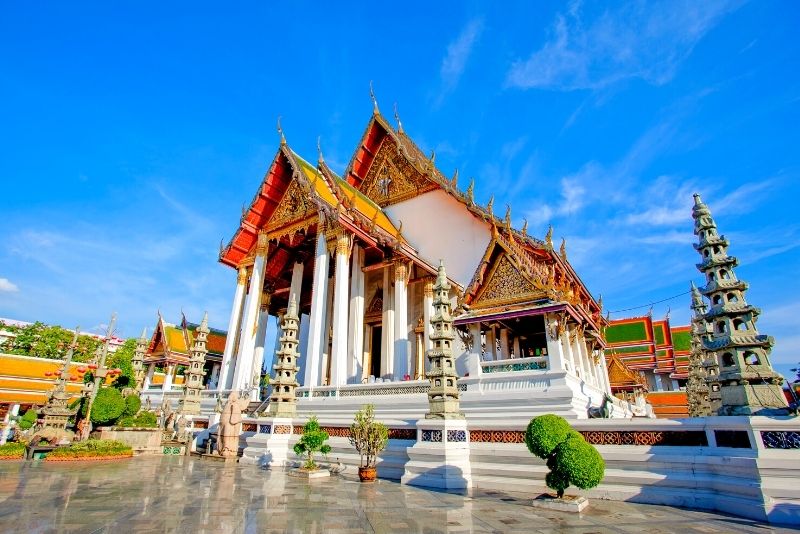 Making up one of the ten temples in Bangkok, Wat Suthat Thepwararam is a temple that was built by King Rama l in 1807.
A site of ultimate tranquility, respect, and honor, visitors can expect to visit to walk into a religious temple full of details from the beautiful murals on the walls of the hallways, to the high ceilings showing the shape of the roof's exterior, and more.
Step in and observe the 120+ images of Buddha adorning the prayer halls, and simply enjoy the space respectfully and its rich religious history that is very much part of Thailand's culture.
44 – Plan a day trip to the UNESCO World Heritage Site Khao Yai National Park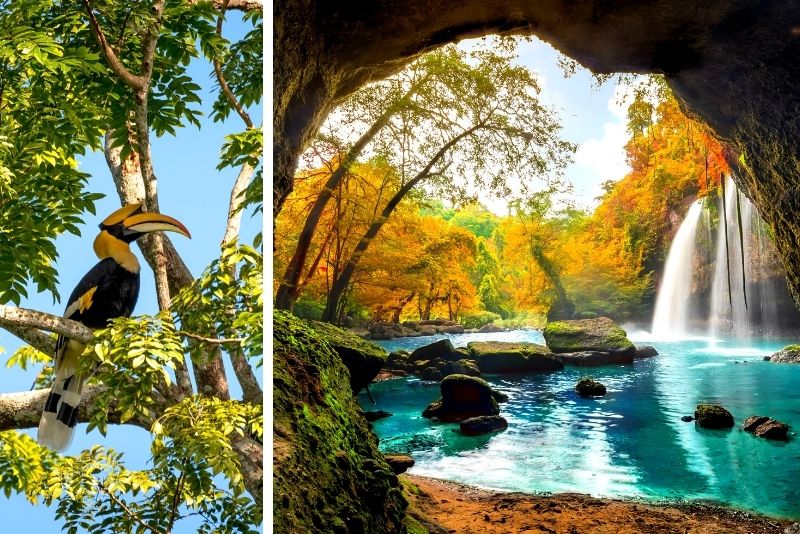 Named Thailand's first official National Park in 1962, Khao Yai National Park is a destination perfect for nature lovers and adventurers.
Brimming with botanical beauty, Khao Yai National Park is home to the largest intact monsoon forests in Asia, as well as other natural wonders.
Khao Yai National Park is a UNESCO World Heritage Site, and a destination to go on a hike and see everything from majestic waterfalls, stunning mountains, and some incredible wildlife.
Getting to Khao Yai National Park may be a little difficult with public transportation, however booking a tour with transportation is a really good alternative for those visitors who want to make a day trip to the national park, or rent a car and drive yourself.
45 – Discover pre-historical Thai artifacts at Vimanmek Mansion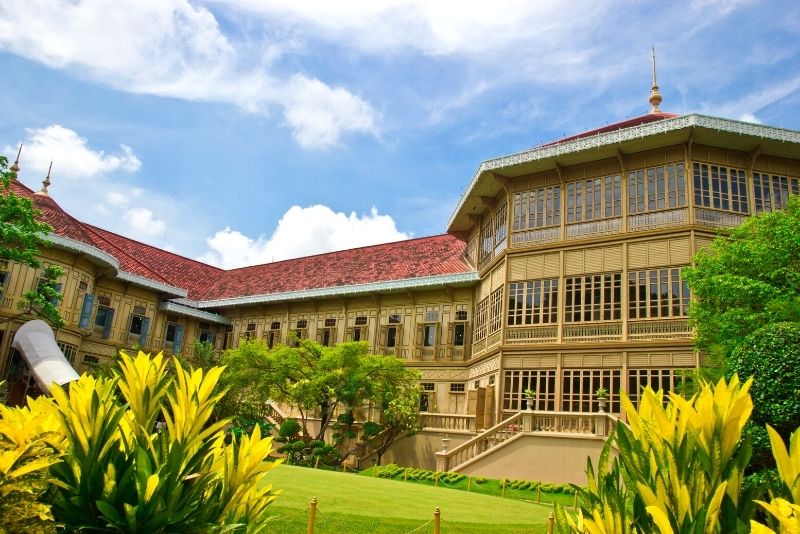 Located in the Dusit district of Bangkok is Vimanmek Mansion, a royal palace that dates back to 1897, and is designed in the style of Victorian architecture.
Originally used as a residence, it, later on, fell forgotten until the 80's when the Queen of England visited and decided to turn the palace into a museum.
Today, visitors can visit Vimanmek Mansion which stores pre-historical Thai artifacts, as well as art pieces and photography.
It is recommended to allow yourself at least half a day to see every piece inside if that is what you would like to do. Due to its growing size in popularity, tour groups may be present, so it is recommended to visit early in the day.
46 – Rent a bike and explore Chatuchak Park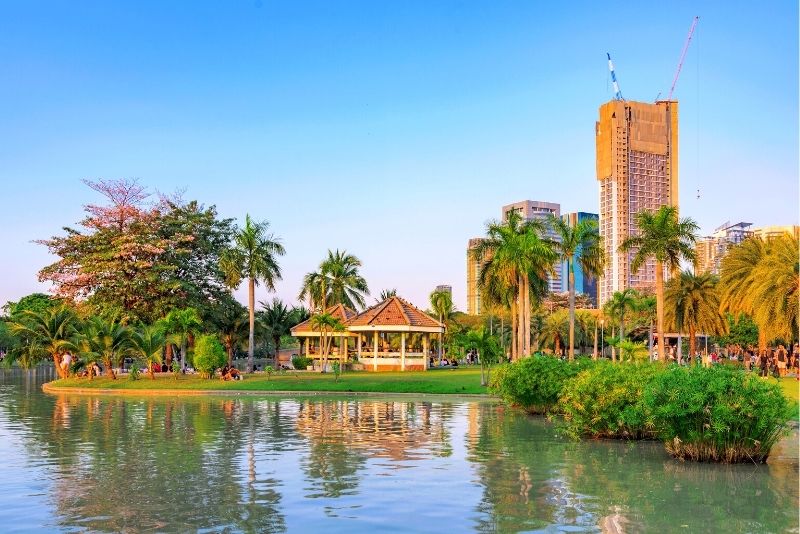 A perfect place to relax and unwind is Chatuchak Park, located at the intersection of Phahonyothin and Vibhavadi Rangsit roads, in the heart of downtown Bangkok.
Once inside, visitors can gaze at the nine pieces of ASEAN sculptures, which are beautiful, abstract structures, as well as a wonderful place to people watch, and experience what daily life is like for the locals.
It's an ideal breath of fresh air, especially after a day of sightseeing all over the city, or if you're up for some exercise, rent a bike and ride along its paths while you take in the beauty of the park and green space.
47 – Zip your way through Bangkok on an electric scooter tour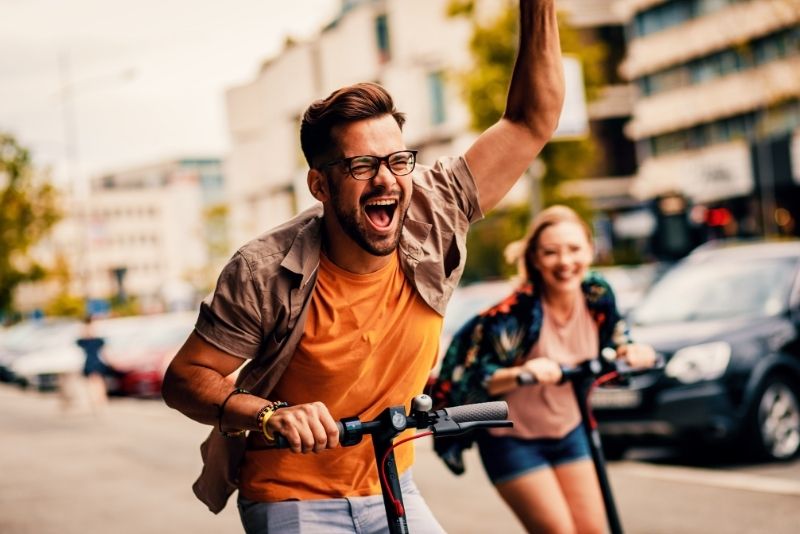 Maybe not fast and furious, but definitely the fast and fun – that is what renting an electric scooter in Bangkok is like.
See more while you have fun, as you speed through some of Bangkok's most famous sites as well as different corners of the city that other travelers may miss.
Choose from a variety of different scooter tours, from night tours to street art tours, to even jungle tours.
Feel the wind in your hair, and the excitement pump through your system, as you safely tour the city in a unique way with a local guide.
48 – Find some funky items at Srinagarindra Train Night Market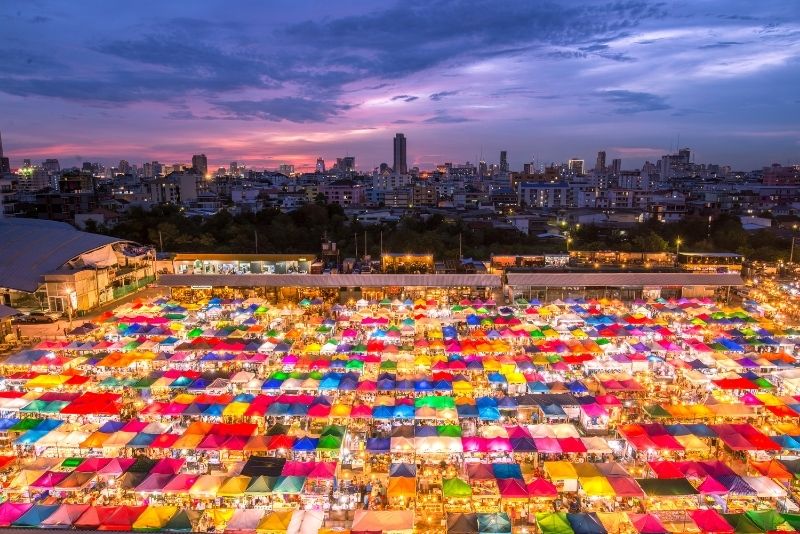 Another incredibly unique market is Srinagarindra Train Night Market, which is a famous market that sells a variety of items gently used items that are often seen as funky or retro like furniture, clothing, cameras, instruments, and more.
Tucked away behind Seacon square and Srinakarin Road, this market is said to be so big, that visitors may need more than one night to fully experience it all, and visit its entirety.
Unfortunately due to the pandemic, the Srinagarindra Train Night Market had to close its doors to the public indefinitely, however, the same people that brought Srinagarindra Train Night Market have created a new night market called Jodd Fairs, which essentially is meant to create the same ambiance and offer funky finds as the Srinagarindra Train Night Market.
49 – Seek a thrilling adventure at Siam Amazing Park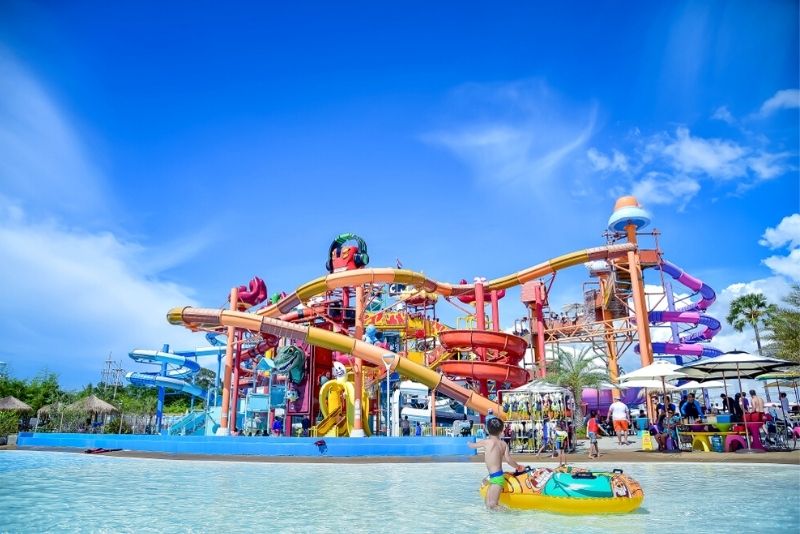 Seek your next thrilling adventure at Siam Amazing Park, an amusement park/ aquatic park that offers the best of both worlds to people of all ages.
Choose your adventure from one of the many attractions like the Vortex, Giant Drop, and Asia's first looping roller coaster. Check out the water park where you can hop on games like Speed Slide, the Super Spiral, and of course the Flowing Pool. Explore the 100 acres of amusement park and aquatic park including a 13,600-square-metre wave pool.
Just minutes from Suvarnabhumi International Airport, it's an easy taxi drive away from the airport, or the city center. It's definitely a bit of a different experience to have in Bangkok, but a fun one.
50 – Ask questions about the story behind The Giant Swing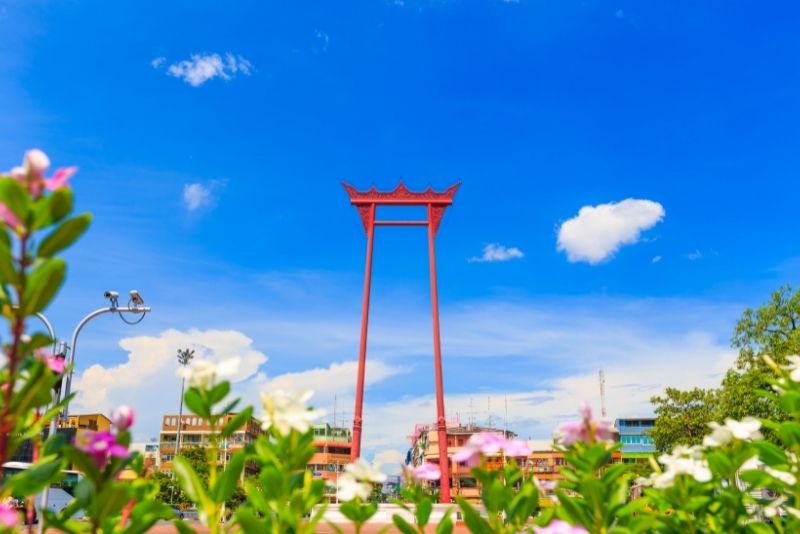 Standing tall beside the Wat Suthat is The Giant Swing. Locally known as the Sao Chingcha, this monument measures around 21 meters (69 ft.) and it is today a top tourist and religious site and attraction.
It was once used during the Brahman's Festival, which included men getting on the Giant Swing to sling themselves as high as they could in hopes of catching the bag of gold as a prize.
However this dangerous act cost the lives of a few men who attempted this act, and in 1935, the practice was terminated.
The Giant Swing has been refurbished over time, and lastly renovated in 2007, while the original one, if visitors would like, can be viewed at the Bangkok National Museum.
51 – Climb the steps up to Wat Saket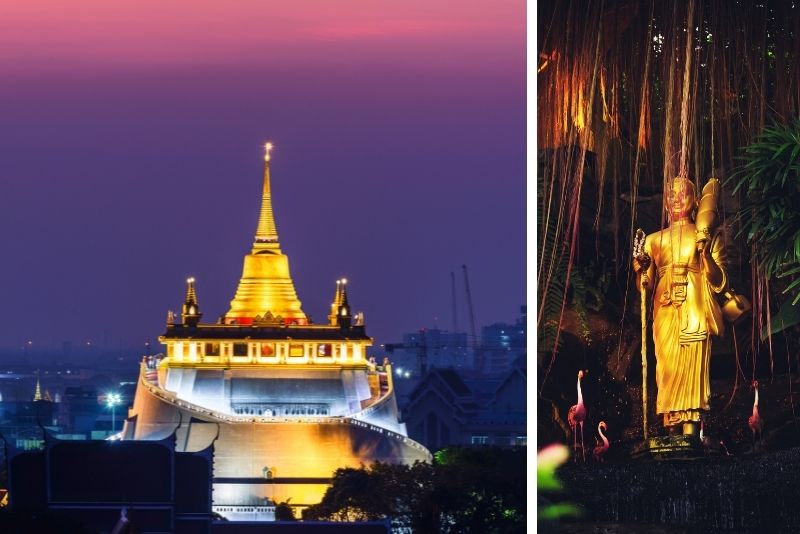 Also known as the Golden Mount, Way Saket is a Buddhist temple located in the district of Pom Prap Sattru Phai in Bangkok.
It is easily distinguishable due to its elaborate golden appearance and views from the top, gifting visitors with sweeping views of lush greenery, and the temple complex.
When visiting, guests are encouraged to bring adequate shoes to climb up the 318 steps, reaching the top. While visiting, take in the sight of beautiful gardens, wild plants, and Buddha statues, and pay close attention to the bells of Wat Saket, which are part of prayer.
Taking in the mystical and magical ambiance of Wat Saket, is without a doubt, one of the most beautiful things to see in Bangkok.
52 – Relax and unwind at a Thai Spa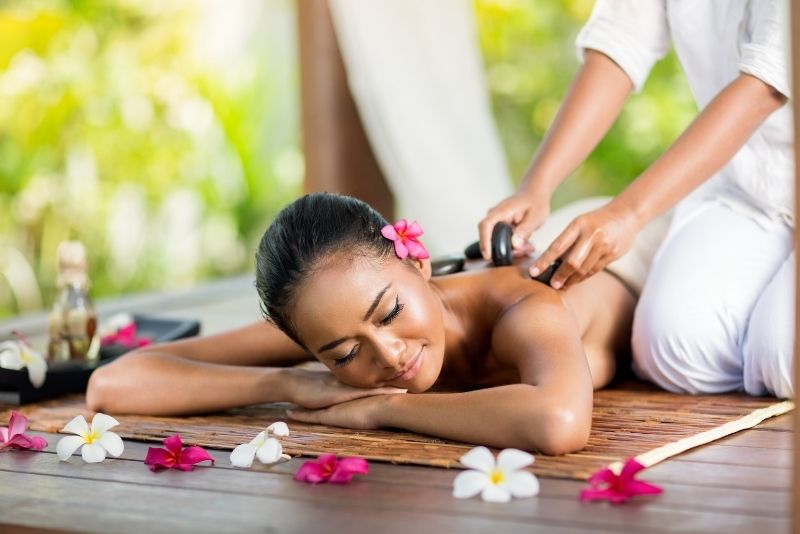 Although many people travel to Thailand for the floating markets and the Buddhist temples, many also travel to live a Thai spa experience.
With a wide array of Thai spas all over Bangkok, visitors are sure to find one adequate for their needs. From herbal compresses to reflexology treatments, aromatherapy, and relaxing massages.
Thai massages are believed to promote overall wellbeing and physical health, from lowering stress hormones, to helping increase athletic performance.
Combined with the extreme attention to detail and professionality of the therapists, a Thai massage should definitely be a treat to indulge in during a trip to Bangkok, especially after so much sightseeing.
53 – Check out the lush gardens and fountain show at Benchasiri Park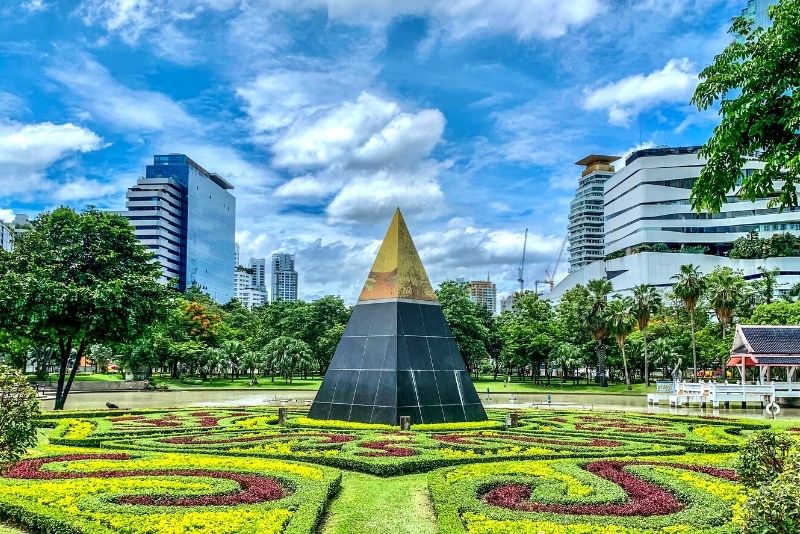 Located in the Khlong Toei District of Bangkok, Benchasiri Park is a lush piece of greenery, offering natural sights of different Thai flowers and botanicals, as well as a peaceful city break for locals and travelers in the city.
Take a walk, unwind a bit, and explore the lush tree-lined paths, while glancing at the golden structures that decorate the park. Stay for the fountain show that delights the park visitors 3 times per day, and check out the lake that is home to turtles and different types of fish.
Chockful of different activities to do, visitors can even access a pool inside the park, as well as use the skateboard ramps, and outdoor exercise equipment.
54 – Grab lunch at Or Tor Kor Market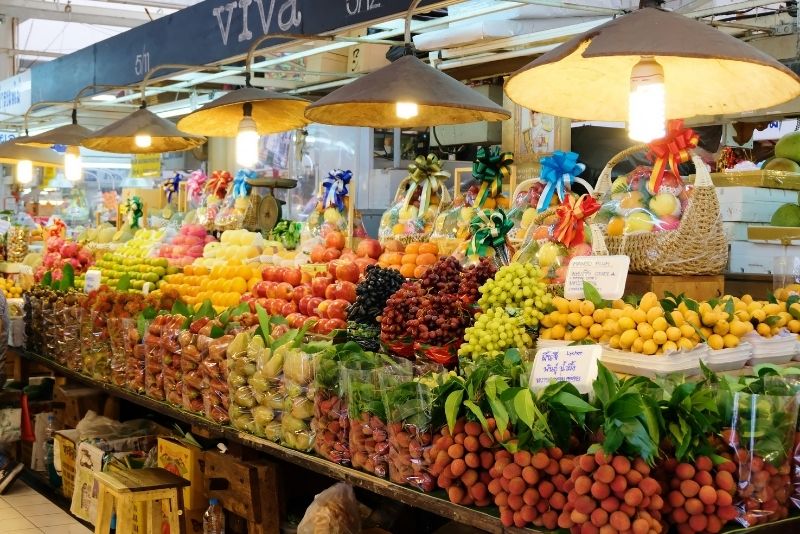 A giant indoor market sprawling over 6,500 square meters, with up to 600 food stalls the Or Tor Kor Market is an amazing place to get lunch, go inside an authentic Thai food market, and enjoy its facilities as far as customer service and cleanliness.
Walkthrough its many different sections, from organic products to vegetables, fruits, meats, and dairy.
Bringing in local products, but also imported fruits and vegetables from neighboring countries, follow your sense of smell, and come ready to enjoy different dishes and fresh produce.
55 – Check out a bird's eye view of Bangkok with a Helicopter tour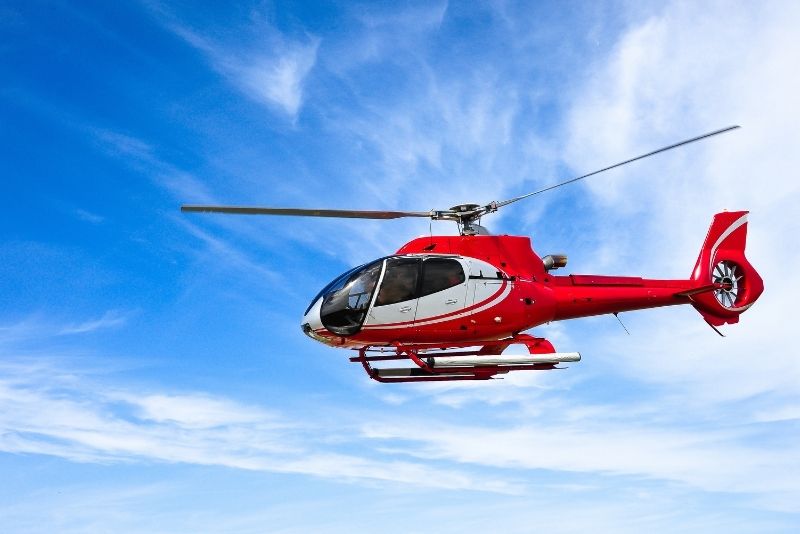 A journey through the skies is just what every thrill-seeker needs to add to their itinerary of the best things to do in Bangkok.
Book an amazing experience and glide through the Thai skies, as you overlook the city, the rivers, the markets, temples, and more from up above.
Additional to the amazing and unique views, gain knowledge and insight from a local guide as you pass through some of the most popular sites and monuments, and learn about the city's history and culture.
Make sure to book your tour ahead of time to ensure the best prices and easier planning. It is surely not something to be missed.
56 – Discover the untold story of Bangkok's red-light district at the Patpong Museum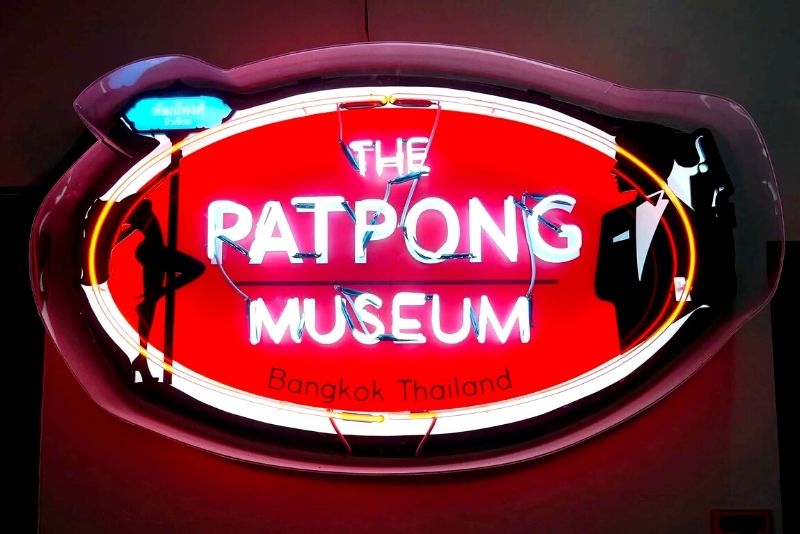 Patpong is a red-light district in Bangkok, and inside the Patpong Museum, visitors will get an inside look into life in the red-light district, work conditions, expectations of the workers, as well as learn about the interesting ties between this area of Bangkok and notable celebrities, US governing bodies, and American soldiers during the Vietnam War.
Recounting over 100 years of history, explore the different exhibits full of archives, findings, and collections that describe more in detail the otherwise vague story of Patpong.
Learn more about what Patpong is about, and its untold secrets that go beyond the country's borders with interactive games, re-enactment shows, and more.
57 – Enter a true shoppers world at MBK Center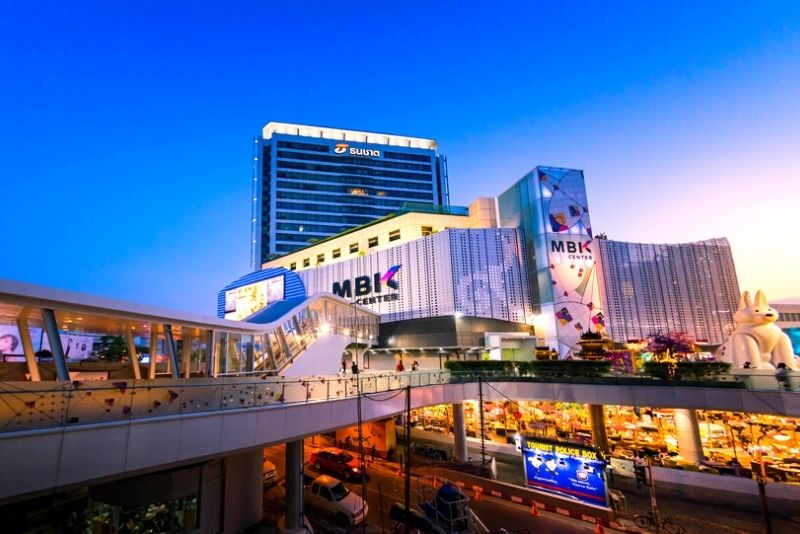 Seen as one of the biggest shopping malls in Bangkok, MBK Center, visiting this shopping mall that is equipped with 8 floors, 2,000+ stores, and brands including outlet stores, as well as a huge variety of dining options, is a true shopaholics dream.
Forgetting to pack a wardrobe piece, or luggage being delayed, isn't a big problem with malls such as MBK Center, as the mall offers world-known brands, as well as local Thai brands.
Everything from clothing, electronics, gifts, furniture, and a wide variety of activities like bowling, cinemas, video games, and more.
Located above the hotel is a 5-star hotel called Pathumwan Princess Hotel, where guests can experience a truly luxurious stay in Bangkok while living close to a world-class shopping mall.
58 – Check out Pattaya as a perfect getaway from Bangkok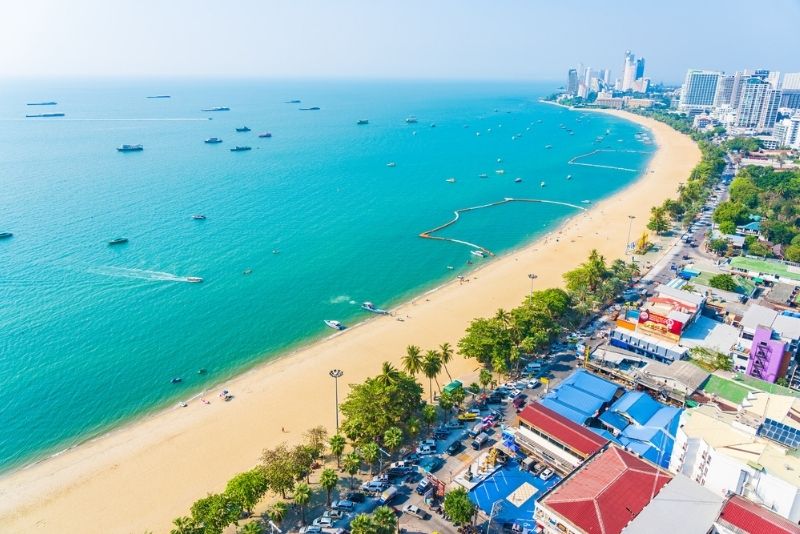 Considered to be Thailand's version of "Sin City" – Pattaya is a fun idea for a day trip from Bangkok, for those looking for a good time. Located on the east coast of Thailand, Pattaya welcomes visitors from party people to families, and nature lovers.
If the party is what you're looking for, stay the night, and take a walk down Pattaya Walking Street, which is a street that comes to life at night, and provides visitors with an endless mix of restaurant and bar options as well as nightlife from karaoke to dancing.
Lastly, check out the magnificent Coral Island, which welcomes guests with pristine clear blue waters, white sandy beaches, and an extensive seafood menu. A must-stop for beach lovers all around.
59 – Ask for a wish at the Erawan Shrine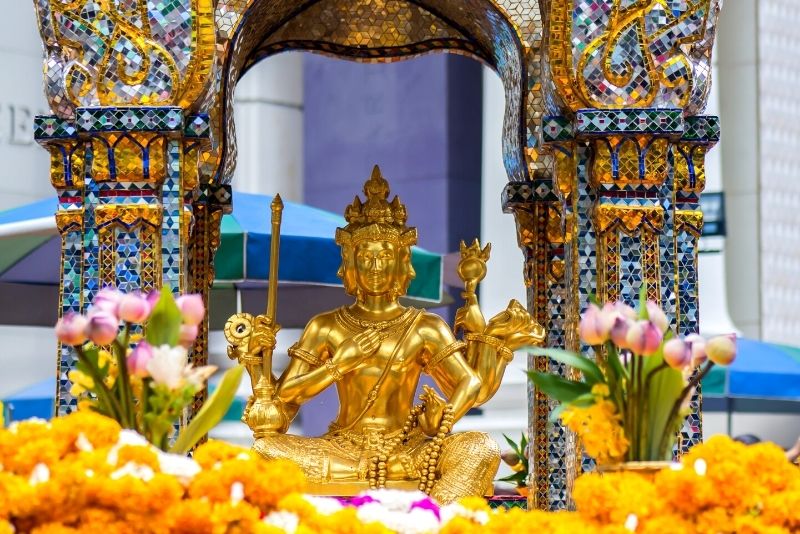 A shrine to honor and represent the Hindu God of Creation Brahma, Phra Phrom who is the Thai version of Brahma, is seen as a 4-faced golden statue that has the devotion of many locals.
Guests who visit the Erawan Shrine will be welcomed by throngs of people (local and tourists) awaiting their chance to get a moment with Phra Phrom.
It is believed that the statue of the deity holds power when it comes to granting people's wishes, and it has been this way since its construction in 1956, when it was built to protect the local area, including the construction of a new hotel that was to be built nearby.
60 – Walk into the most interesting art exhibitions at River City BANGKOK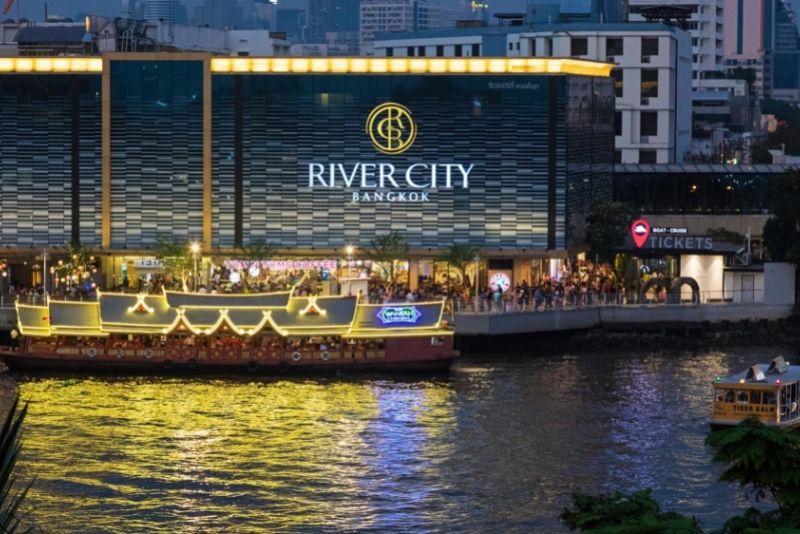 River City BANGKOK offers guests some of the most extensive galleries that showcase everything from antiques and art, to music and film.
Overflowing with culture, visitors will surely get a new experience each time they visit River City BANGKOK as they are constantly rotating and creating new exhibits of interest such as anthropological exposé of life for the indigenous of the Mongolian mountains, to artist's expression of mood through flower forms and botanicals.
As a result of its varied exhibitions, it surely makes River City BANGKOK a top site to see and one of the best things to do in Bangkok.
To get to the River City BANGKOK,  a taxi is recommended as it is the easiest and quickest form to get there.
61 – Stop and smell the flowers inside one of Suan Luang Rama IX's beautiful gardens
Located in the Prawet District in Bangkok, Suan Luang Rama lX is an ideal spot for an escape into nature that will keep visitors a bit longer as they discover the true green splendor of this park.
Originally built to celebrate and honor King Bhumibol Adulyadej's sixtieth birthday in 1987, today visitors can appreciate it through its many wonderful gardens, such as the Japanese Garden, Chinese Garden, Rockwall Garden, and more.
While visiting the Suan Luang Rama lX, make sure to check out the huge lilypads floating in the ponds of the gardens, as well as perfectly trimmed floral arrangements and stylings throughout the park.
62 – Take a funky journey into ChangChui Plane Night Market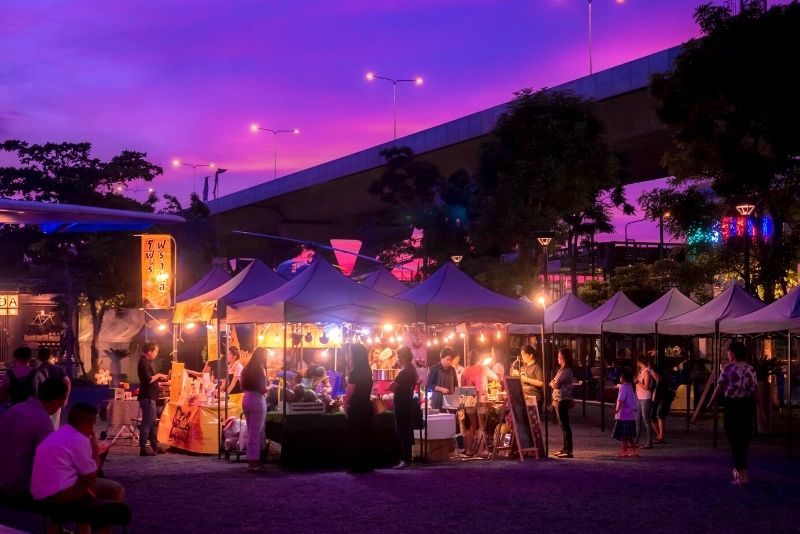 Located near the Chaophraya River, ChangChui Plane Night Market definitely knows what it's doing in terms of distinguishing itself apart from other night markets.
Mixing funky, trendy, and boutique, this market is not like you're typical Thai market, as it offers more than just clothing and gifts.
Situated inside an immobile plane, the Chang Chui Plane Night Market is divided into 2 sections: an alcohol-free zone (open during the day) and a night zone (open in the evenings offering fun late-night activities).
Grab a bite to eat at a trendy restaurant inside, or grab a craft drink as you look around and imagine the creativity to build a market inside a plane.
63 – Learn self-defense techniques at a Muay Thai Class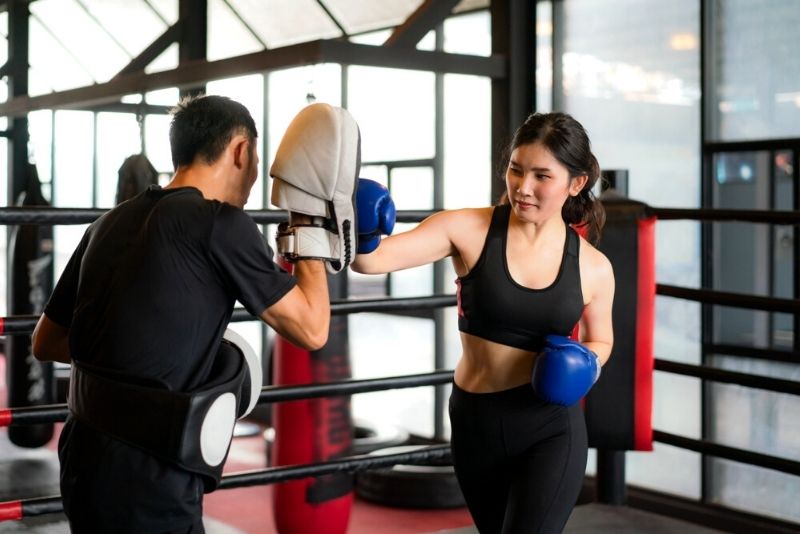 Muay Thai is described to be a fighting technique that centers on the 8 points of contact in the body, where participants hit directly the opponent's knees and elbows, and kicking is allowed.
Muay Thai is a fighting technique that originates back to the 13th century and has influence of military-styled defense techniques. Before becoming a sport, Muay Thai was a form of self-defense used by soldiers as well as locals who wanted to protect themselves from intruders, and even Kings were trained in this style as well.
Today, visitors can take a Muay Thai class in Bangkok, and get a first-hand look into what it takes to practice this interesting fighting technique.
64 – See a Muay Thai show to appreciate the technique in action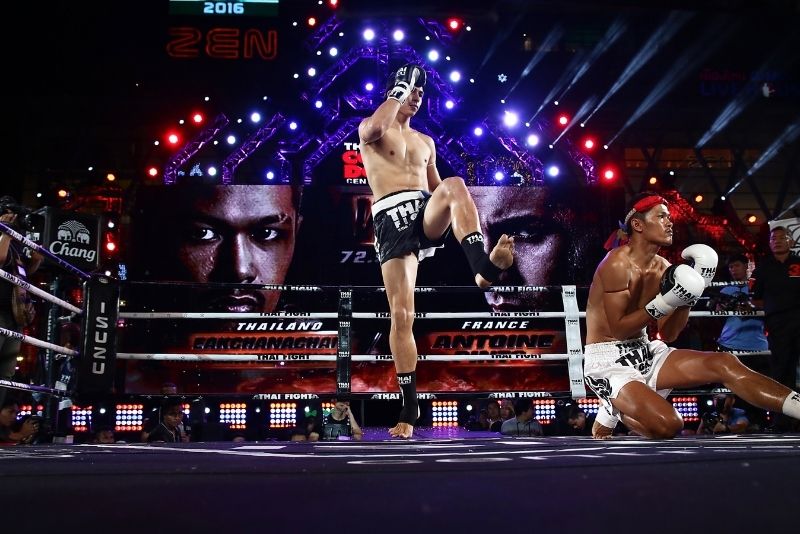 After taking a Muay Thai class, definitely consider checking out a Muay Thai show, which will demonstrate better just what it takes to perform such a fierce and ancient self-defense technique that soldiers, Kings, and everyday people practiced at one point.
Check out shows at New Lumpinee Boxing Stadium for some of the best Muay Thai Shows. Known as a popular sporting arena in Bangkok, New Lumpinee Boxing Stadium is a stadium that has held many other heritage events such as Muay Thai shows.
There are talks about the possibility of halting the Muay Thai shows at the Stadium, so if you're visiting soon, definitely check beforehand to see when the next show will take place inside the New Lumpinee Boxing Stadium.
65- Take in Thai and Chinese culture at LHONG 1919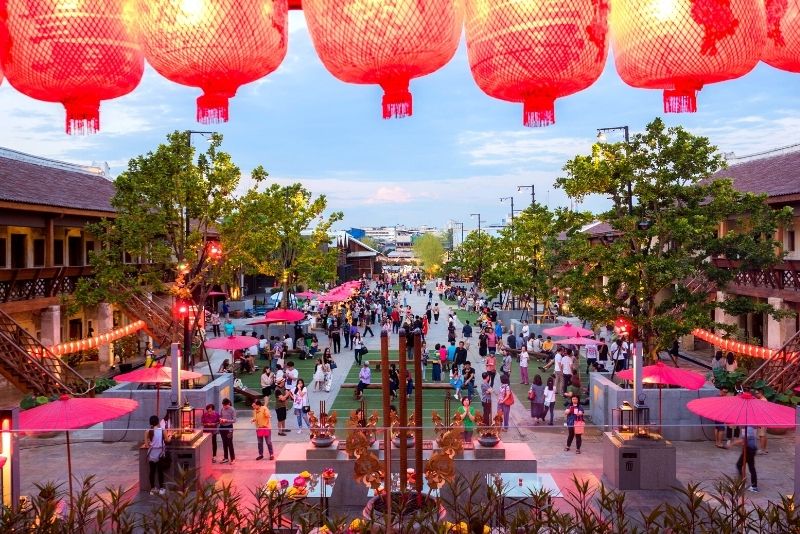 Serving once as a 19th-century Chinese mansion, and serving as a home to many Chinese immigrants on their journeys to start a new life in Thailand, exploring LHONG 1919 is a must-do for first-time visitors.
Located in an antique port that welcomed many Chinese immigrants, LHONG 1919 welcomes its visitors with a shrine dedicated to Mazu, a Chinese goddess of sailors.
Stepping inside this decorative mansion, guests can look around and admire the art and relics adorning the hallways of the palace that symbolize both Thai and Chinese culture.
Locals and visitors will also be greeted by sounds and scents of prayer and incense around the palace, making it a site of respect and honor.
66 – Visit the house of the stars of the Royal Barges Procession at the Royal Barges National Museum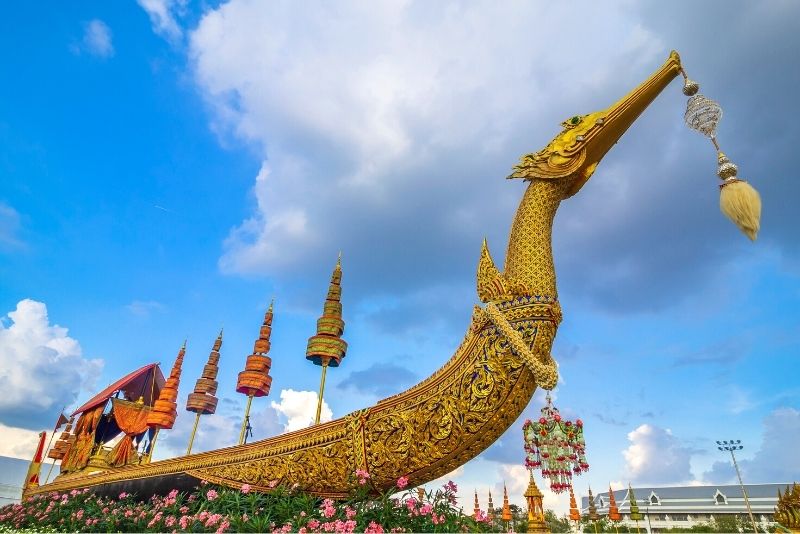 Acting as a house for the Royal Barges, which are ornately decorated boats that are the stars of the Royal Barge Procession, the Royal Barges National Museum has been given the highest Thai cultural and artistic title for housing these barges (boats) that have been recognized as national heritage pieces.
Visiting the Royal Barges National Museum means seeing in person these detailed boats, some of which belonged to the King, and of course, are the most detailed and decorated.
Additionally, alongside the King's ornate boats are other beautifully designed boats designed to carry up to 54 oarsmen.
Get educated on the idea behind this amazing event, as well as take in the carved and colorful boats that participate in the Royal Barge Procession.
67 – Explore some dark tourism at Khao San Road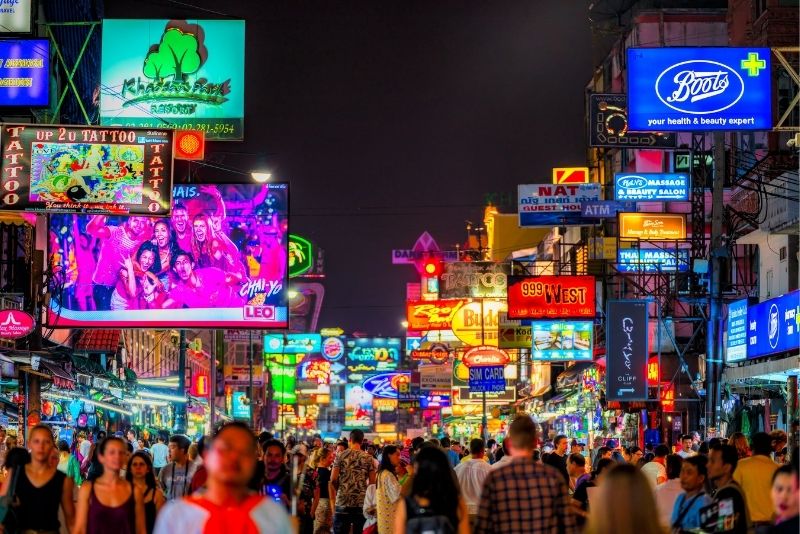 Famously known as the place to get pirated newly released movies to fake designer products, and books, Khao San Road is oftentimes referred by some as the black market for its activities.
Also famous for being a hot spot for backpackers and travelers all around, Khao San Road is a short road that has managed to pick up a few of these reputations, and more.
Today, other than those activities, visitors can also engage in some the nightlife activities, such as bar-hopping, clubbing, and eating. When visiting, make sure to be alert, and aware of your surroundings, as some may refer to this place as a bit sketchy.
Nonetheless, for some, it's one of the things to see while in Bangkok.
68 – Join in on Chinese festivities at Wat Mangkon Kamalawat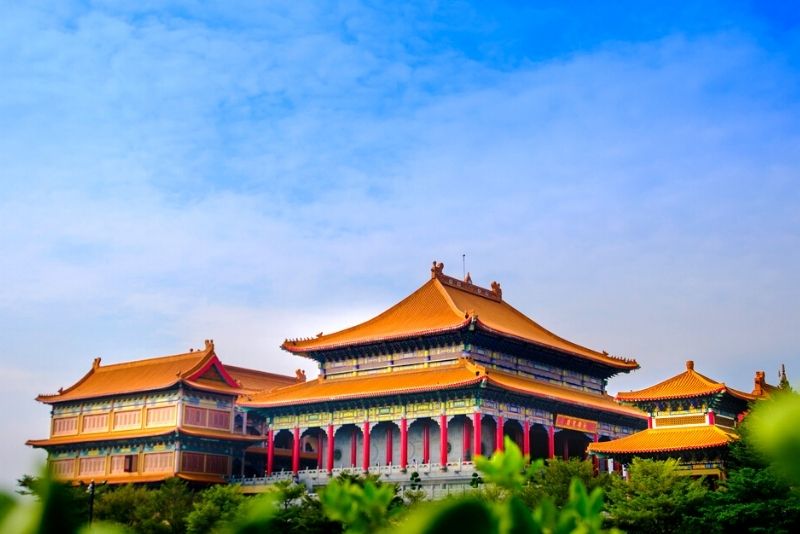 Steeped in Thai and Chinese culture, Wat Mangkon Kamalawat is one of the most important Buddhist temples which is known to host and celebrate a few notable events such as Chinese New Year and other Chinese food festivals.
Located inside Chinatown, Wat Mangkon Kamalawat is a temple that opened its doors in 1871 and is a space of Chinese Buddhism beliefs. Inside, visitors will be able to look at Buddhist artifacts such as the "laughing" Buddha, as well as many more Buddha statues along the hallways of the temple.
While inside, check out some of the three other shrines, each dedicated to saints, founders of the temple, and goddesses.
69 – Take your photo next to wreckages of airplanes at the Airplane Graveyard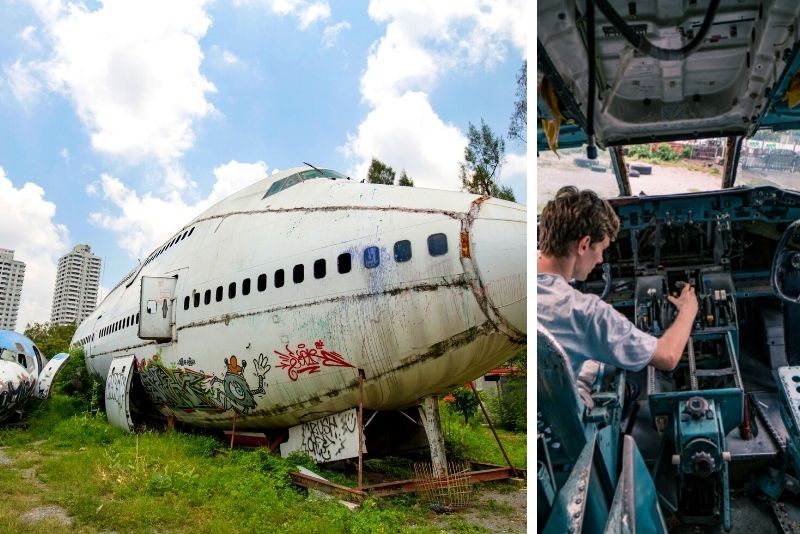 A unique point of interest for airplane admirers is the Airplane Graveyard.
The planes were under the ownership of a Thai businessman and were being sold as pieces of metal to build more airplanes. However, after 2010, the planes were left abandoned, missing more pieces than before, until a few families got together to refurbish the remnants of the planes into livable homes.
Today, the Airplane Graveyard is open for visitors to explore for a small ticket fee, as well as to get some unique photos. By far it's one of the most unique things to do in Bangkok if you're seeking something distinctive.
70 – Wander into the must-visit Don Wai Floating Market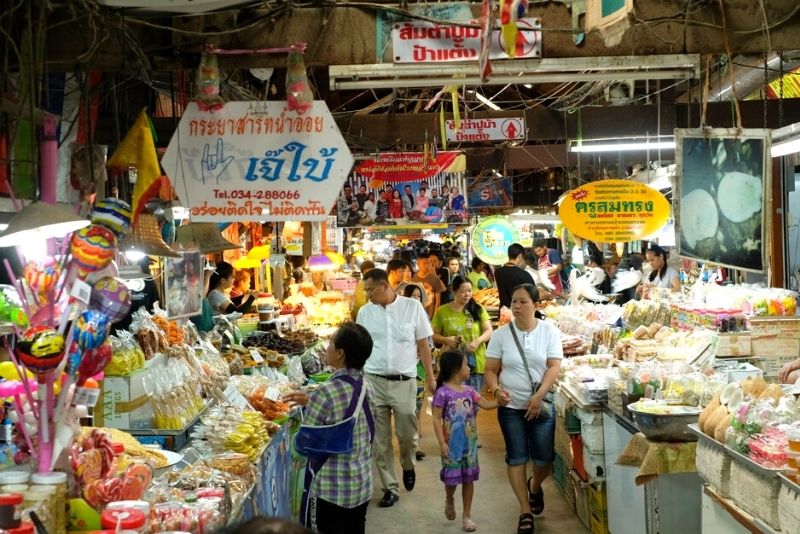 Adding to the list of floating markets to check out while in Bangkok, Don Wai Floating Market is one that should definitely be on your list if you're looking for a widespread of Thai food classics, from sweet to savory, while surrounded by charming Thai architecture.
What sets apart this floating market from others is undoubtedly the food scene. At the Don Wai Market, expect a variety of seafood, as well as drinks and desserts to top off your dining experience near the refreshing river of ThaJeen.
71 – Sneak into the world of poisonous snakes at the Snake Farm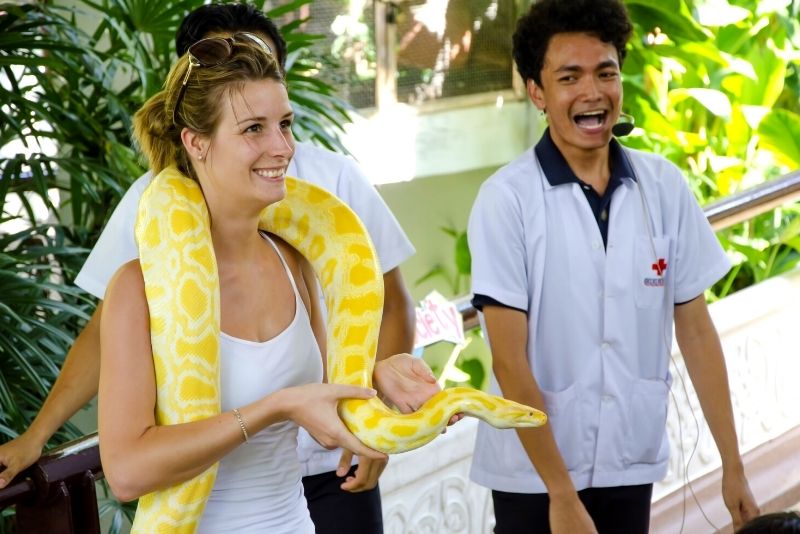 Quite a special and possibly distinctive attraction is the Snak Farm, known for some fascinating rituals done with snakes, such as snake handling presentations, and educative workshops on the different uses of snake venom.
Forming part of the Thai Red Cross Institute, visitors can expect a close (and safe) encounter with some of the most poisonous snakes in the world which is also done in an ethical way, according to the humane treatment of the snakes while performing such activities like "milking" the snakes from their venom to touching them.
72 – See in real life the Dragon Tower in Nakhon Pathom for the day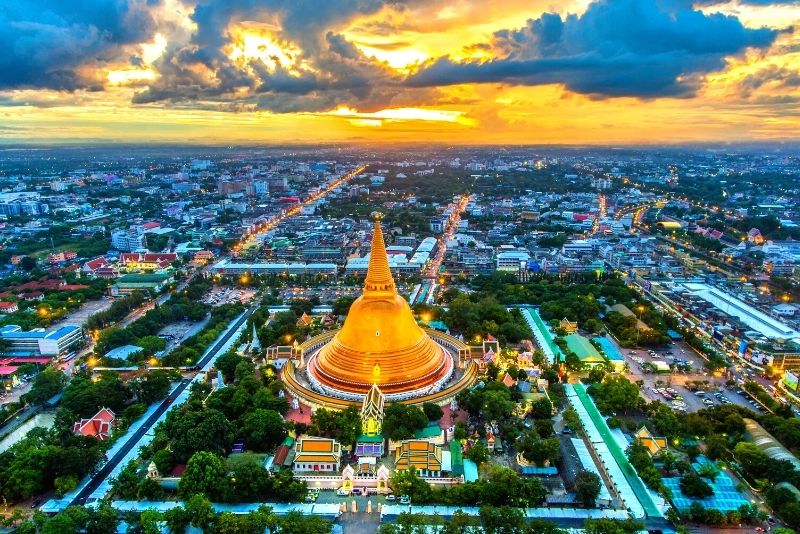 A previously bustling city and the city to receive Buddhist influence before any other Thai city, Nakhon Pathom is a destination perfect for a day trip.
Iconically a famous picture you'd probably see on Instagram is a photo of Wat Sam Phran temple, also known as Dragon Tower. It is a pink building that appears to be wrapped by the structure of a giant Dragon, and yes, it is as amazing looking at it sounds.
Film lovers will love the Thai Film Museum, a must-stop for those who want to dive deep into Thai cinema, as well as check out Jesada Technik Museum for a look at cars from all different generations.
73 – Check out the incredible life at Bangkok Butterfly Garden & Insectarium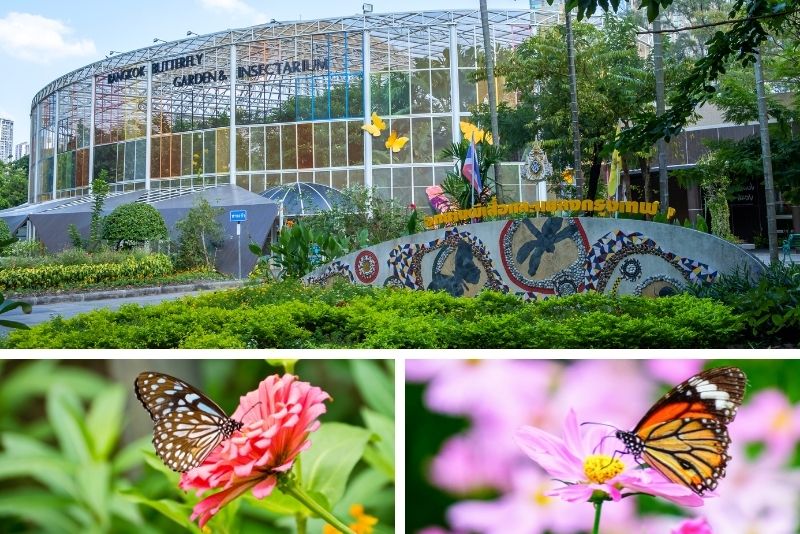 Interested in learning about the impact and life of butterflies in Thailand?
Check out Bangkok Butterfly Garden & Insectarium for a real-life experience of the life cycles of the insects and butterflies.
Guests walk into a biodome, where they walk through breeding rooms, scenic areas, exhibitions, and butterfly gardens, each step gaining more knowledge on the responsibilities and role that butterflies have in the Thai ecosystem, and more.
74 – Look at the graffiti art at The Abandoned The Sathorn Unique Tower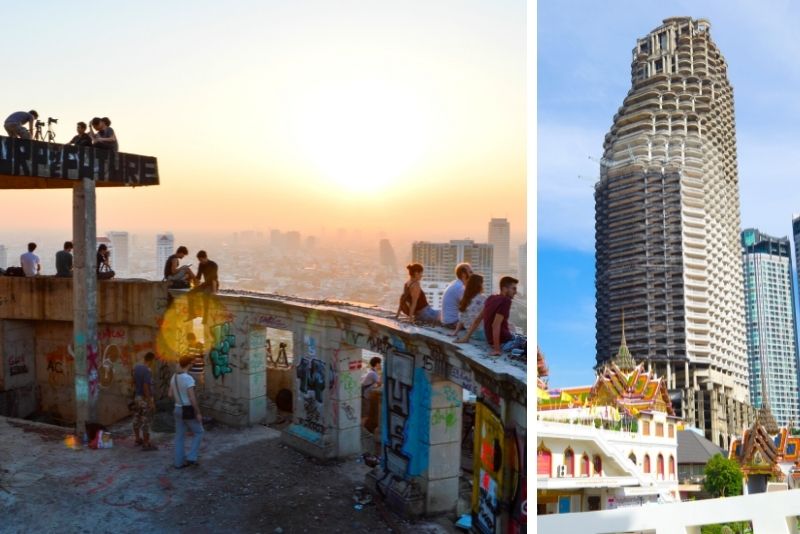 There's an interesting story about The Abandoned The Sathorn Unique Tower, which explains that it was originally built to be a luxury 49-story condo complex.
However, after the 1997 Asian Financial Crisis, construction came to a screeching halt.
Today, its abandoned aspect, along with stories circulating of urban legends originating on the floors of the building, have created an eerie, yet intriguing allure for travelers to at least circle around it and see the graffiti art around it.
75 – Seek spiritual protection with a Sak Yant Tattoo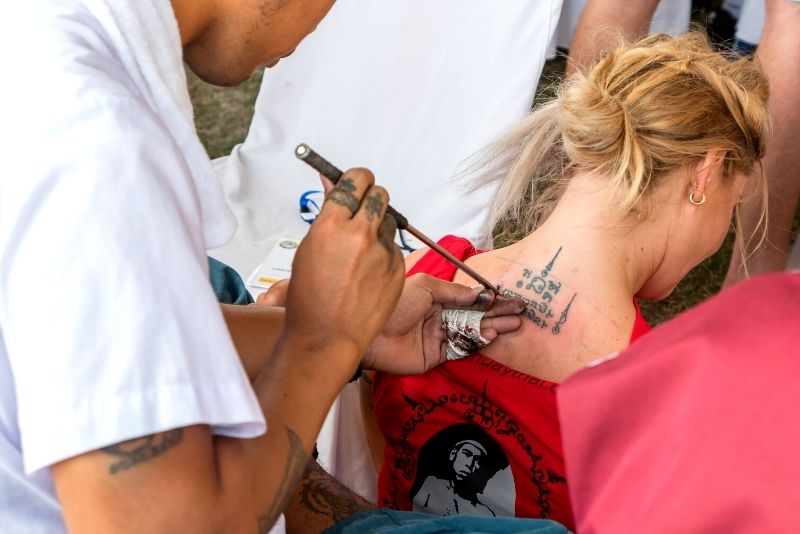 Considered to be one of the best, and most spiritual souvenirs any visitor can get while in Thailand, a Sak Yank Tattoo is a piece of ancient inkwork also known as a Bamboo Tattoo.
It is believed that these Sak Yant Tattoos offer spiritual protection, based on the animal that the individual chooses to get tattooed.
Usually handled by Monks and laymen (also known as Ajarn) who are trained to perform this time-honored traditional practice, it may be available to anyone looking for this type of experience.
76 – Meet new people at a pub crawl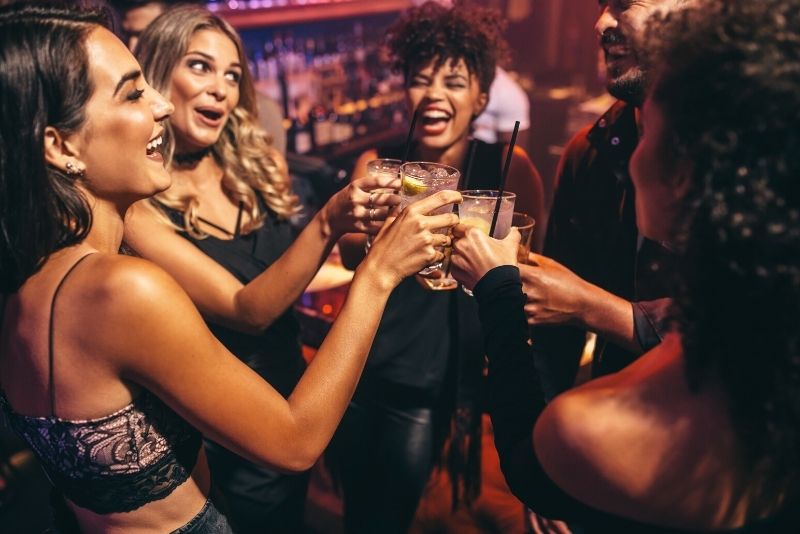 If trying new drinks, meeting new people, and getting to visit new parts of the city is your vibe, then definitely consider booking a pub crawl while visiting Bangkok.
By far for many travelers, hopping on a pub crawl is one of the best things to do in Bangkok, particularly for solo travelers.
Prepare for a night out full of fun, where you'll grab exclusive deals and march at each bar, gain fast entry into some of the most popular bars and clubs, and have a night to remember with new friends.
Make sure to book your tour tickets ahead of time, and prepare for one of the best nights in your life.
77 – Get tickets to the most popular show in town at Calypso Cabaret Show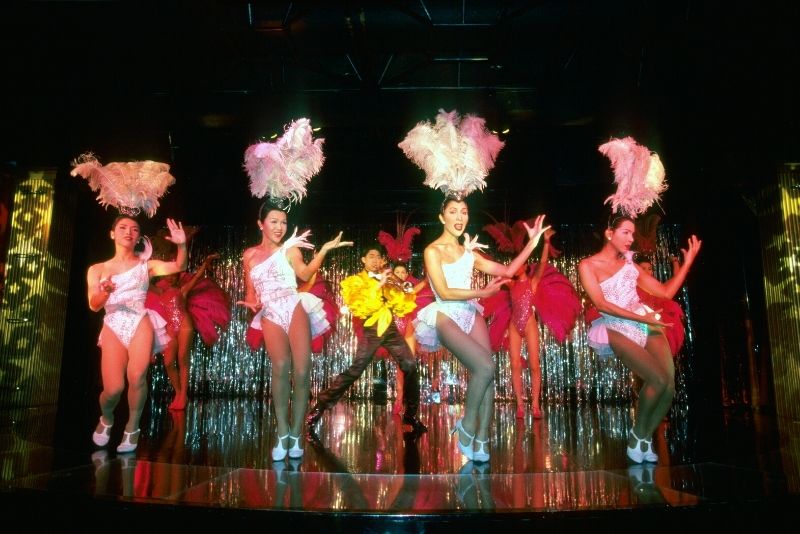 Get ready for one of the most incredible shows Thailand has to offer, the Calypso Cabaret Show.
Known as a show put on by individuals who are neither men nor women, but just individuals, it is a show that is sure to offer style, taste, and entertainment.
Witness performances from themed music and dress, to classical and well-known performances and songs.
Prepare to let loose, enjoy a night of zero labels, and all the fun that can fit inside Calypso Cabaret Show. Make sure to check performance dates, and book ahead if possible for easier planning.
78 – Indulge in some of the best fine dining in Bangkok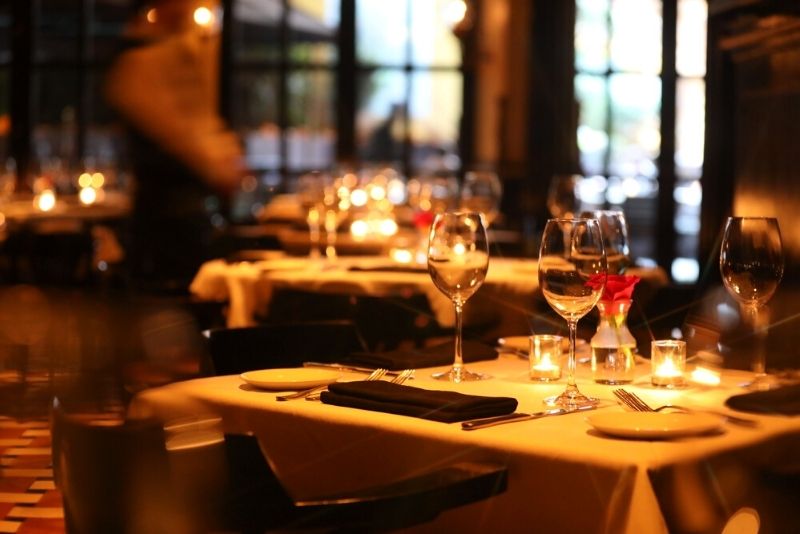 Bangkok is a foodie's dream, offering food options ranging from traditional street food, and market stalls, to Michelin-starred restaurants, and some of the best dining experiences in the world.
Choose your fine dining experience, and let yourself indulge in the most exclusive food experience of the Thai culinary scene.
Some of the most notable Michelin restaurants to experience are Mezzaluna offering seasonal chef creations mainly of French influence, and Sorn, which is a restaurant elegantly offering southern Thai food with a modern twist.
There are many amazing choices when it comes to fine dining restaurants, especially Michelin-starred restaurants in Thailand, so definitely check it out.
79 – Catch the best views of Bangkok in one of its many best rooftop bars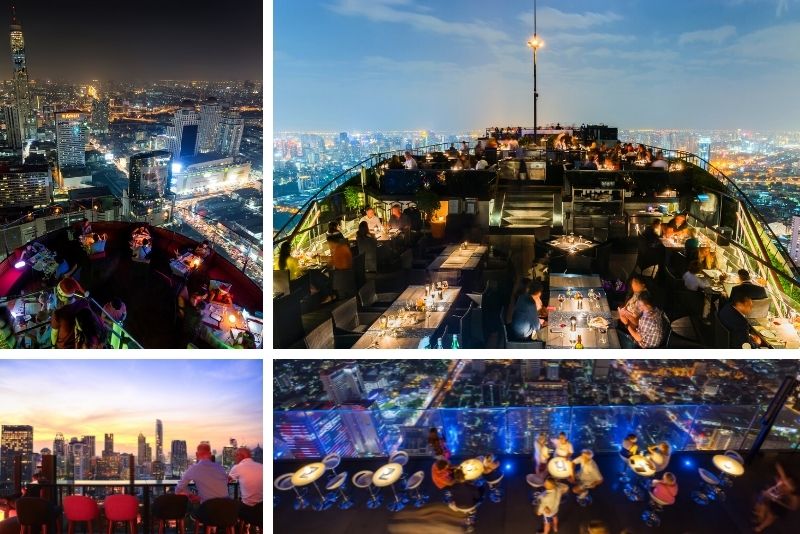 Surely one of the best things to do in Bangkok is to spoil yourself with incredible views and delicacies.
Stop by for one of the best views in the city, with a drink in hand by checking out one of Bangkok's best rooftop bars.
For some of the highest views of the city, check out Ojo Bangkok which offers a 360-degree view of the city, along with Mexican-inspired dishes and a wide variety of cocktails.
If you're looking for expensive and memorable bites coupled with champagne and craft cocktails, definitely check out Vertigo rooftop, and Moon Bar, offering this and an outstanding view of Bangkok from above.
Where to stay in Bangkok?
Check out hotels in the best areas to stay while visiting Bangkok, and make sure to check out a free walking tour to get a good lay of the land.
Where to go next?
Make your trip even more memorable with a few day trip ideas from visits to Chiang Mai, Phnom Penh and Siem Reap, which are surely unmissable destinations to see at least one time in your life.
If you are looking for a seaside destination, Pattaya and the Southern islands including Phuket, Krabi and Koh Samui are ideal for a relaxing vacation.
Final thoughts
There is so much to do and sometimes so little time, which is why we hope that you enjoyed this list of fun and unusual things to do in Bangkok.
From its historic and emblematic temples to its interesting markets, pristine beaches, and wide variety of food and fresh produce, there are countless ways to design your trip to Thailand's capital city.
Happy travels!