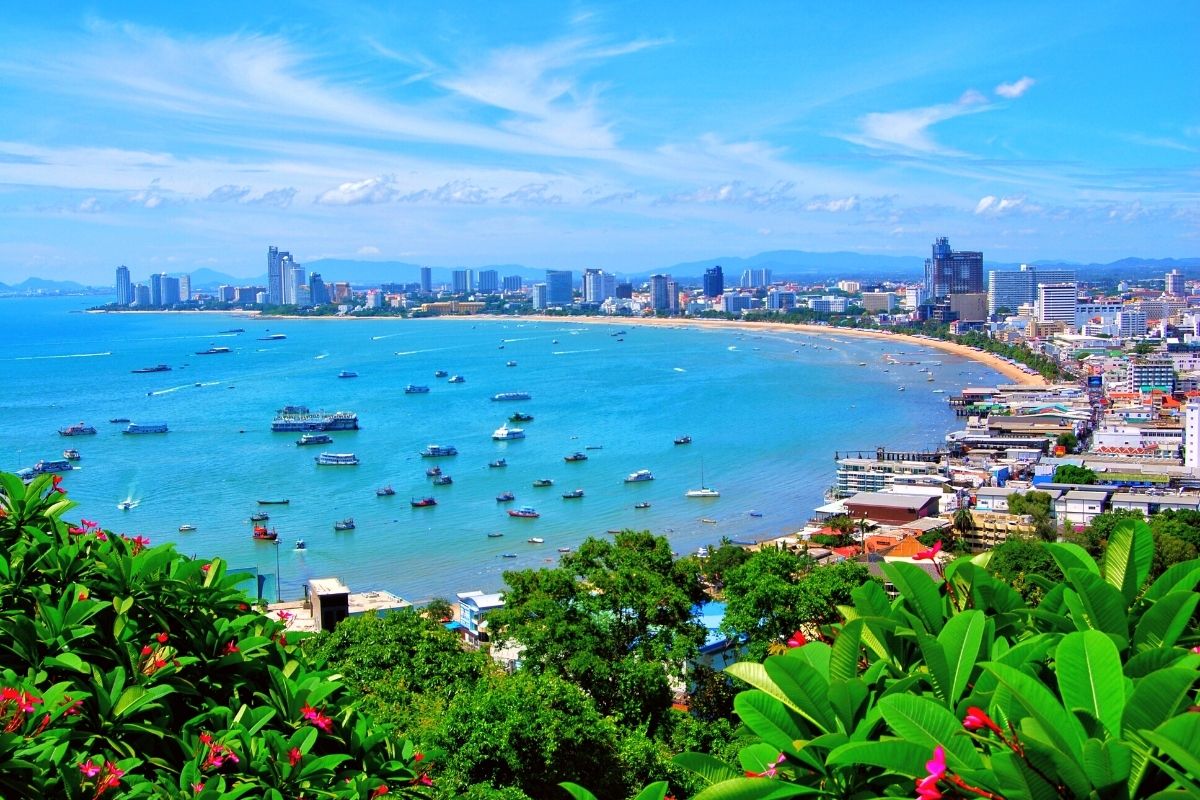 If you've based your travel itinerary around Central Thailand, Pattaya is a well-loved coastal destination that's not far from Bangkok, and provides an epic beachside holiday!
Travelers craving some TLSea in this part of the Land of Smiles can spend endless days working on their tan, building sandcastles, jet skiing and snorkeling around its beaches.
Plus, there are plenty of nearby islands to visit for a day trip or to spend the night in tropical island paradise.
Apart from salty days, there are loads more things to do in Pattaya for a culturally-enriching experience.
Explore Buddhist treasures, stop by interesting museums, have all the fun at one of the many theme parks, or try out adventurous outdoor activities, like skydiving… if you're brave enough.
Favored by locals craving a weekend away from the hustle and bustle, arrive to play, eat and shop til you drop, and Pattaya is just two hours from Bangkok.
1 – Built in 1981, visit the Sanctuary of Truth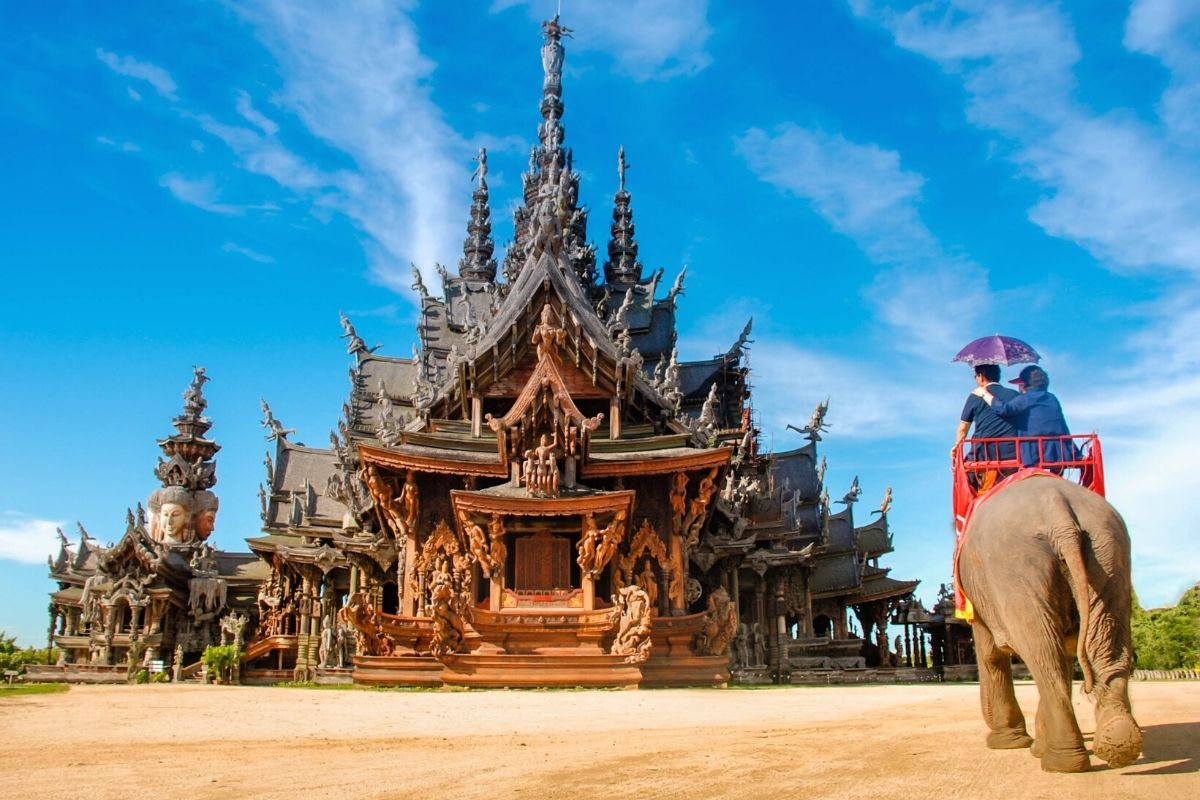 A true architectural masterpiece, you could easily spend a couple of hours getting lost inside the walls of the Sanctuary of Truth — the world's biggest wooden castle!
Around every turn, corner and rooftop point marvel at the most stunning design that speaks of the era of the Ayutthaya Kingdom, as well as both Buddhism and Hinduism.
The intricate features everywhere, from pillars to walls, are super intriguing and absolutely everything is carved out of wood… you can sense an air of greatness inside.
The museum space has seven different themes running throughout, known as the seven "truths." For example, the first truth is centered around "Who are we? Where are we from?" and pillar carvings depict the four natural elements: earth, wind, fire and water.
On the other hand, the fourth truth is about "Samples of Civilization" and illustrates different eastern civilizations that are no longer part of our world.
Apart from appreciating the unique architecture, there are a bunch of activities to do here. Watch the artists and sculptors in action doing wood carving, using a hammer and chisel to create works of art.
Enjoy a ride on the river on an ancient dredger (a wooden gondola boat), visit the museum park's viewpoints and take a stroll through Himmapan Forest Park (located before the castle's entry point).
Treat yourself to a relaxing foot massage at the Massage Place after all the walking around, and if you are here with the kids, stop for a pic at Sajja Vimana Studio to pretend like you're floating on clouds.
A fine representation of Thai craftsmanship, the castle museum should not be missed.
2 – Shop a different kind of way at the Pattaya Floating Market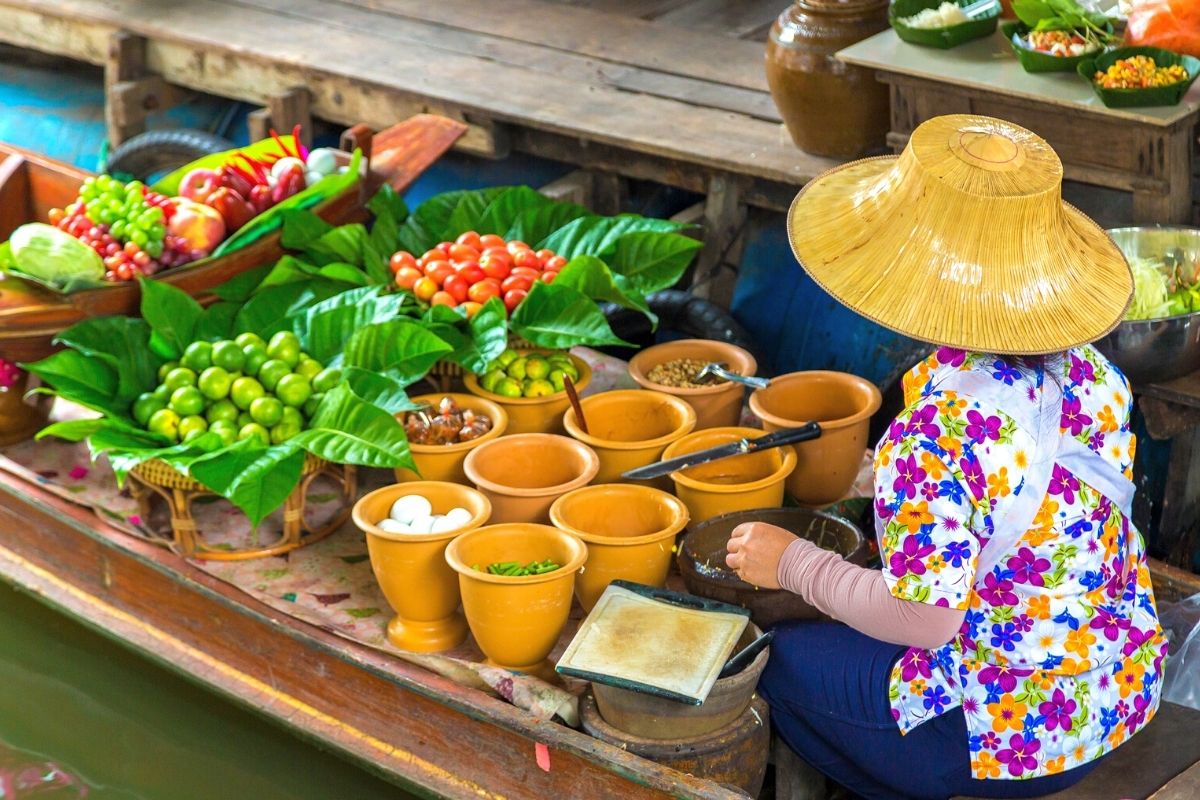 Among all of the floating markets in Southeast Asia, the Pattaya Floating Market is one of the most famous, and hundreds of tourists flock to this shopping event on the waters.
Open since 2008, oftentimes travelers come to Pattaya just for an excursion to the river market.
What makes it so special is the set up where you are able to get a real sense of daily life and see how the locals live on the waters, including how communities are set up and the types of activities that comprise their daily routines.
Arriving at Pattaya Floating Market you will see vendors lined up on the sides of the waterways selling a variety of different goods out of traditional wooden boats.
You can choose to walk on land and shop from the boat side, or one of the best ways to experience the market is to hire a boat yourself, or join a tour, and explore and shop on the river, joining the festivities the authentic way.
Purchase fresh produce, handicrafts, souvenirs and other items from four major Thai provinces and there are also some activities and shows to catch down here.
Watch a sea boxing show or a traditional Thai dance performance, or go ziplining.
3 – Explore more than 18,000 plant species at Nong Nooch Tropical Garden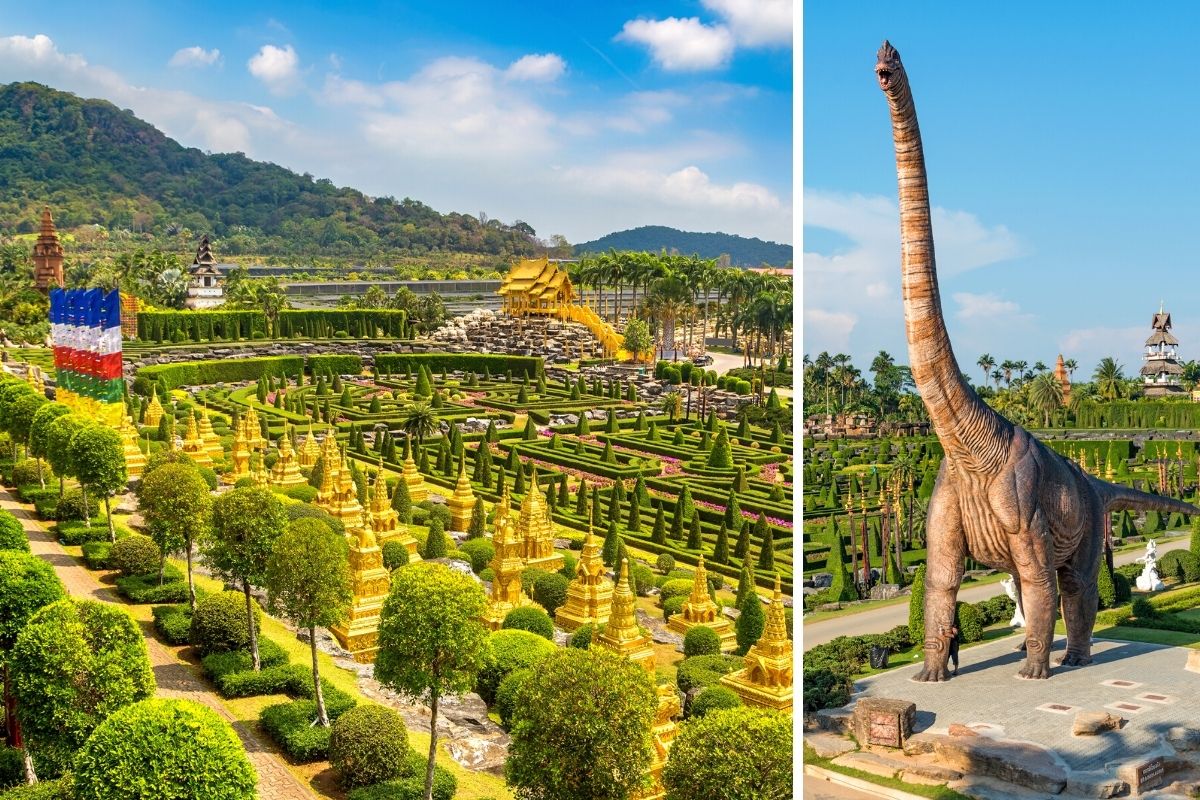 It's not just nature enthusiasts that will find themselves impressed by the grandeur of the Nong Nooch Tropical Garden and this large-scale park is filled with things to do other than just exploring the massive green grounds.
Celebrating Thai culture, it's one of the largest botanical gardens in Southeast Asia and is divided up into smaller zones that each has its own theme.
Enjoy the next few hours (you'll need a minimum of around three to four hours here) meandering through the orchid garden, bonsai garden or the garden filled with cacti of all sorts.
There's a hibiscus, ivy, cycad, lotus and palm garden too — and that doesn't even cover half of the 40 different types of gardens to explore.
Pretend like you're on a tropical island inside the Caribbean Forest Park or travel to Europe through mazes of perfectly manicured bushes and hedges at the French Garden zone.
The kids will love the Butterfly Garden littered with animated and colorful statues and sculptures. Speaking of… for something to really make the little one's eyes pop, head on over to Dinosaur Valley.
Feel as if you're in the prehistoric ages as you walk between over 400 life-size figures of carnivores and herbivores that once roamed the earth. It's deemed the world's largest "dinosaur learning center" and for good reason.
4 – Go wine tasting at Silverlake Vineyard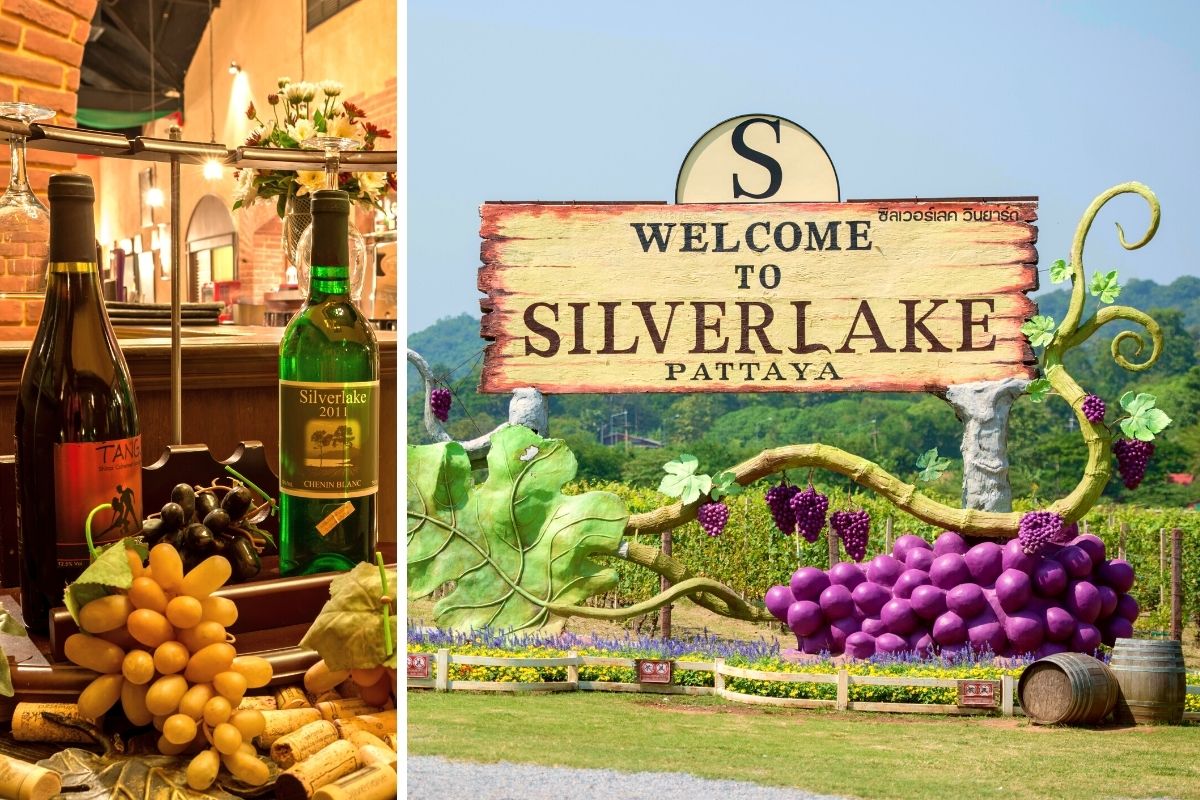 Couples, are you listening? At Silverlake Vineyard enjoy an afternoon of wine tasting, great food and perfect photo moments.
Arriving at the vineyard, take a tour of the wine farm, learning about the production process from growing the grapes to manufacturing the wine.
Silverlake produces its own wine label which they sell and supply many restaurants and shops with, specializing in 'New Latitude Wines.' This term is used to refer to wines that are successfully grown in nontraditional wine regions/landscapes.
Apart from the tour, enjoy a wine tasting at the vineyard where you can sample their Cabernet Sauvignon and Chenin Blanc. You have the option of just a tour or a tasting, or combining both into one afternoon.
Not just loved for its winery, the setting of the vineyard is as pretty as a postcard, designed to replicate famous wine countries.
Wander around the groomed gardens with its distinctive European flair, transporting guests to the hillside of Italy, for example. There's also an on-site restaurant with gorgeous views of the vineyard.
Opened by husband and wife duo, thanks to the picturesque setting it's often chosen as a film set location for local movies and drama series.
5 – Stop by the Big Buddha Temple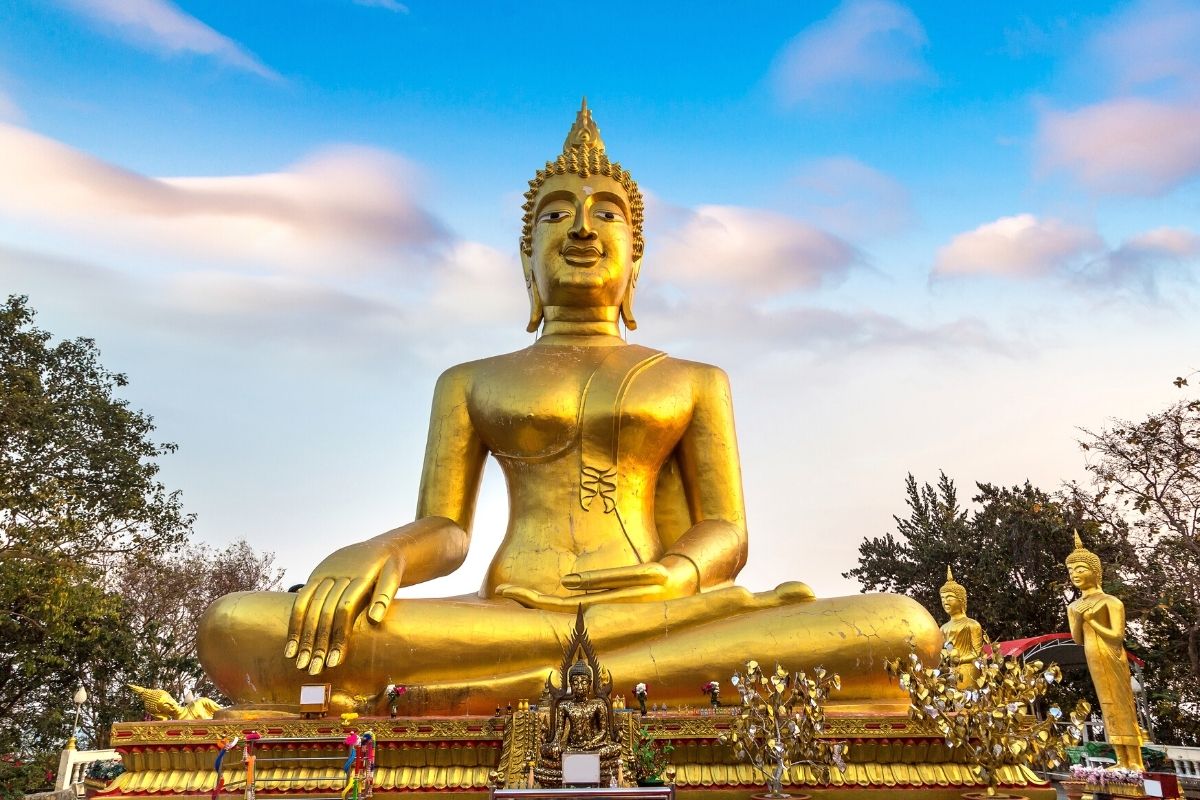 Get your cameras ready for the Big Buddha Temple and the 18-meter-high golden statue of sitting Buddha is pretty awe-inspiring.
Before you reach the Big Buddha, an ornate Naga staircase is there to greet visitors, ascending the way toward the statue.
A seven-faced naga dragon towers on either side at the start of the stairs, and its golden body slithers upward leading the way to the famed Buddha.
Similar to other temples in Thailand, there is also a bell that you can ring. It's rumored with these temple bells that the louder it clangs, the more luck you will have.
Once you've reached the top, pay your respects, or receive a blessing from one of the Buddhist monks. Apart from the main sitting Buddha statue, there are seven smaller Buddhas dotted around the main figure to see.
Officially known as Wat Phra Yai, it's located on Pratumnak Hill, and from way up here, enjoy sweeping views of Koh Lan Island, as well as nearby beaches.
6 – Explore Underwater World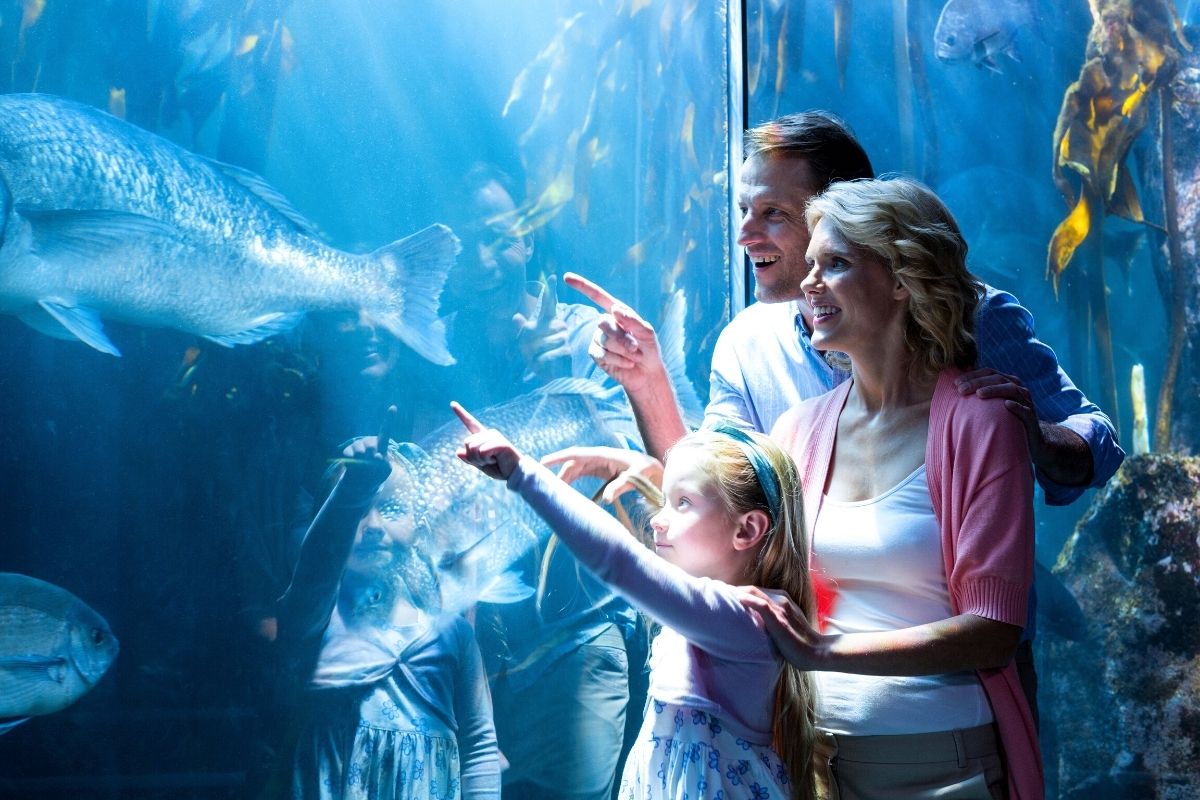 Experience what it must be like to be a mermaid in the ocean at Underwater World; an indoor aquarium with a 105-meter transparent tunnel to walk under as hundreds of fish swim above you.
This tunnel is divided into three different zones: the Coral Reef Zone, the Giants of Siam Zone with its shipwreck, and the Open Ocean Zone where you can see blacktip reef sharks, bigeye trevally and giant grouper.
Not just enthralling to see, but also learn about the marine creatures, as well as a bit about their history here on planet Earth at the displays.
One of the newest zones to be added to the aquarium is the Jellyfish Zone and the Reptiles Zone is also interesting.
For an interactive moment, visit the Touch Pool formed by many small tidal pools to recreate a coastal setting and you're able to put your hands into the water. Children love the feeding program show too, where you have the chance to feed the fishies yourself.
7 – Day trip to Coral Island (Koh Larn)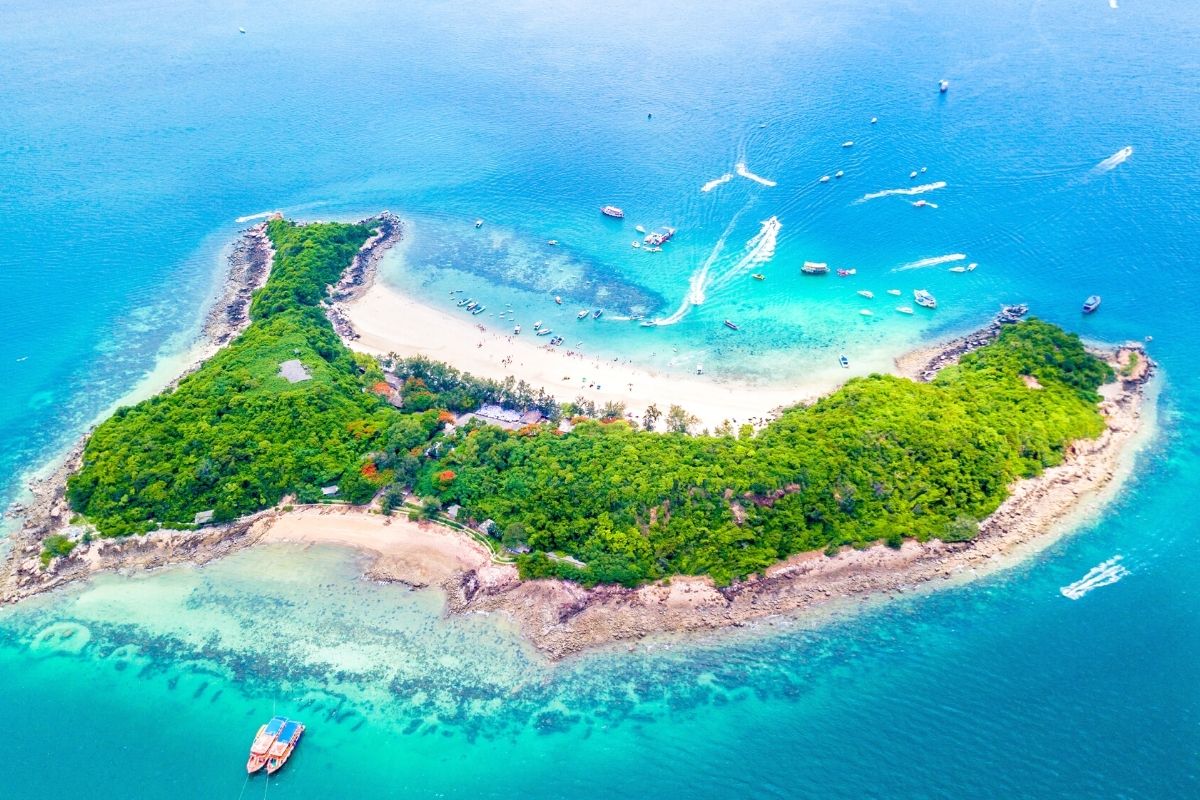 While there are plenty of beaches in Pattaya, nothing beats the island feels and Koh Larn (also spelled Koh Lan) is the perfect getaway to escape the crowds that arrive in Pattaya.
A short 30-minute speedboat ride from the mainland (or under one hour if traveling via public ferry), this tropical paradise is a haven for ocean lovers.
Jet boat tours are usually the preferred option as they provide convenient and fast travel to and from the island for day-trippers.
Spend the day hopping around beaches made of crystal clear waters and soft sands, with snorkeling opportunities at spots like Nual Beach and secluded Tong Lang. With a colorful underwater world to explore, Koh Lan is also nicknamed Coral Island.
The water activities don't end there… Make your way to Tien Beach for a jet ski adventure or try parasailing from Tawaen Beach (the main tourist beach on Koh Larn).
Home to some of the yummiest seafood restaurants around, feast on the freshest catch and there are also many accommodation options if you'd prefer to stay overnight.
8 – Take epic photos at Art in Paradise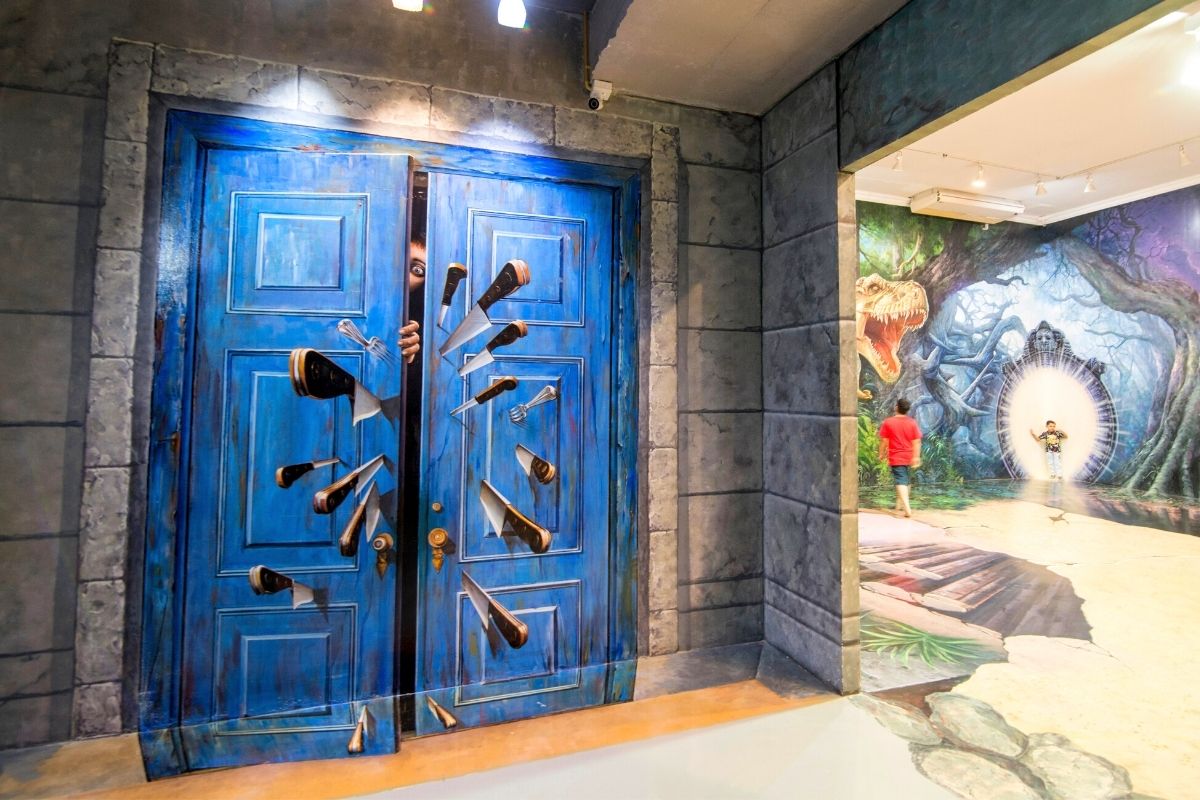 If you've ever visited an Art in Paradise museum before in countries like Malaysia or Vietnam, the one in Pattaya is not only the largest out of them all, but it was also the first one to open.
Fun for all ages, the concept is based on a 3D interactive experience where visitors become part of the museum thanks to the setup.
Designed and all hand-painted by a Korean artist, the artworks inside (which occupy entire rooms or walls) create an illusion on the naked eye and compel visitors to become a part of the artwork.
For example, pretend to walk over waterfalls, run away from dinosaurs or act like a royal mermaid sitting inside your pearl shell.
The museum does follow varying themes and is split into different zones that showcase over 100 artworks. Some of these include the Egyptian, Classic Art, Safari, the Ayutthaya Period and Dinosaur spaces.
Open since 2012, bring the kids, snap some selfies and if you're looking for an abnormal (and creative) gallery to visit, this one should be right up your alley.
9 – Splish and splash about at Ramayana Water Park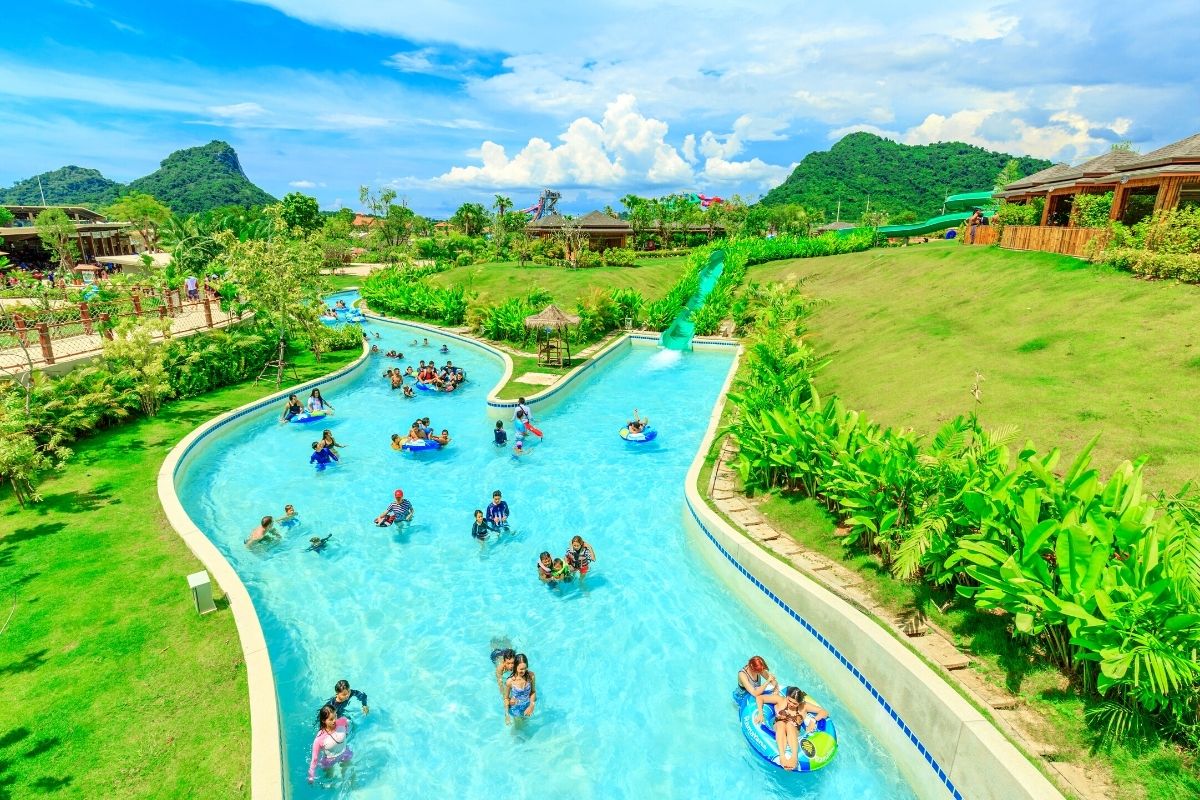 Escape the heat (and sea salt) for the day and hit the slides and rides down at Ramayana Water Park.
The massive outdoor park is based on ancient Thai myths and legends and there are attractions to suit not only all ages but also all sorts of thrill levels among its four themed zones.
To get your heart racing, take your pick from their extreme water rides, such as Free Fall where the ground drops from beneath you, the Aquaconda where you're swirled six meters high or the speedy AquaLoop.
Between the 20 different slides, there are ones dedicated to family fun, like the River Slide, Spiral, Aqua Play and Aqua Splash (a waterplay area especially for young kids).
Flit around in one of the three designated pools, or take a cruise on the lazy river.
You might want to consider booking out a private cabana if you're here for the entire day, adding a bit of comfort and privacy. They are available for bookings of two people to a cabana that can fit up to 12 guests.
Not only the biggest waterpark in Thailand, it's also one of the country's most well-loved by both locals and travelers.
10 – Watch a show at Sukhawadee House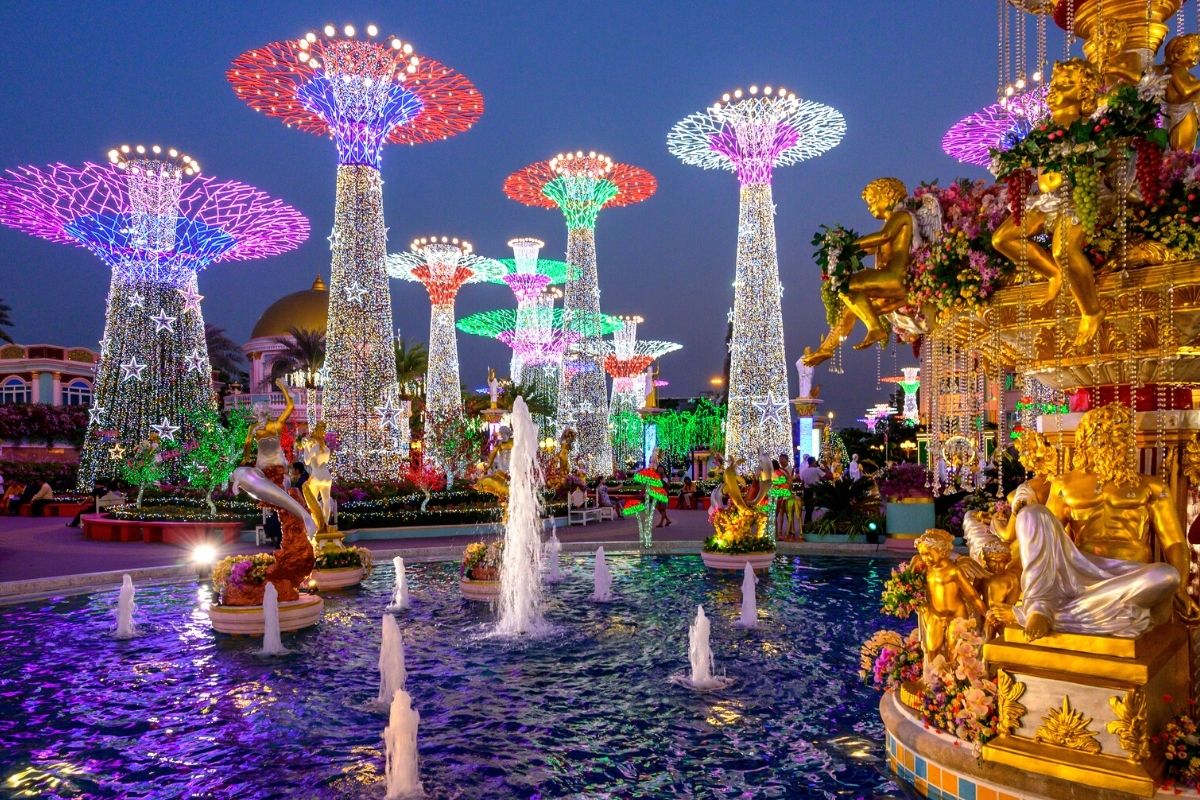 From dramatic lighting displays to art deco features, the Sukhawadee House is an interesting site to visit, and it stands out from the rest of the places and things to do in Pattaya because of its architecture, as well as the sheer size of the building.
A mansion-meets-museum, explore the massive 128,000 square meter grounds, which lie adjacent to a stretch of beach sands.
You cannot miss the building either, donned in pink and blue colored exteriors. If you're here around sunset hour, stay in time for nightfall when the garden, fountains, statues and trees are lit up in a splash of bright neons.
Within the complex grounds are a multitude of buildings and in the evenings you can enjoy a buffet dinner performance in the grand dining room. See Thai dancers put on a show and this is one of the highlights of a visit to the mansion.
Walk among Roman, Greek and Thai statues and hunt down the gemstone-encrusted illustration of Guanyin, the Bodhisattva of compassion and mercy.
11 – Hunt down Pattaya's viewpoints
For the best views of the eastern coastline of the Gulf of Thailand from Pattaya, head to some of the city's top viewpoints.
Start with Pattaya Hill — the viewpoint with the most name renditions, also known as Khao Phra Tamnak or Khao Phra Bat, as well as Phra Tamnak Mountain or Phrabat Mountain.
Located on a hillside that separates Pattaya and Jomtien beaches, from the top enjoy sweeping oceanic scenes and the unending blue in front of you. From up here your eyes will also drift over the town below you, and it's especially pretty from this vantage point at sunset.
En route, look out for the towering statue of Admiral Prince Abhakara Kiartiwongse, known  as the "father of the Royal Thai Navy."
Just like Hollywood has its own, next take photographs alongside the Pattaya City Sign that also acts as a view spot.
It's a great location for taking in the coastline vistas, particularly around sunrise, or on the flip side, snap a pic next to the sign in the evening when it's lit up.
Keen photography enthusiasts, take note, there are city tours that focus on showing the best views in the house, i.e. all around Pattaya. Be driven to viewpoints like Phra Tamnak Mountain, as well as other famed locations including Big Buddha Hill.
12 – Shower elephants in love at an elephant sanctuary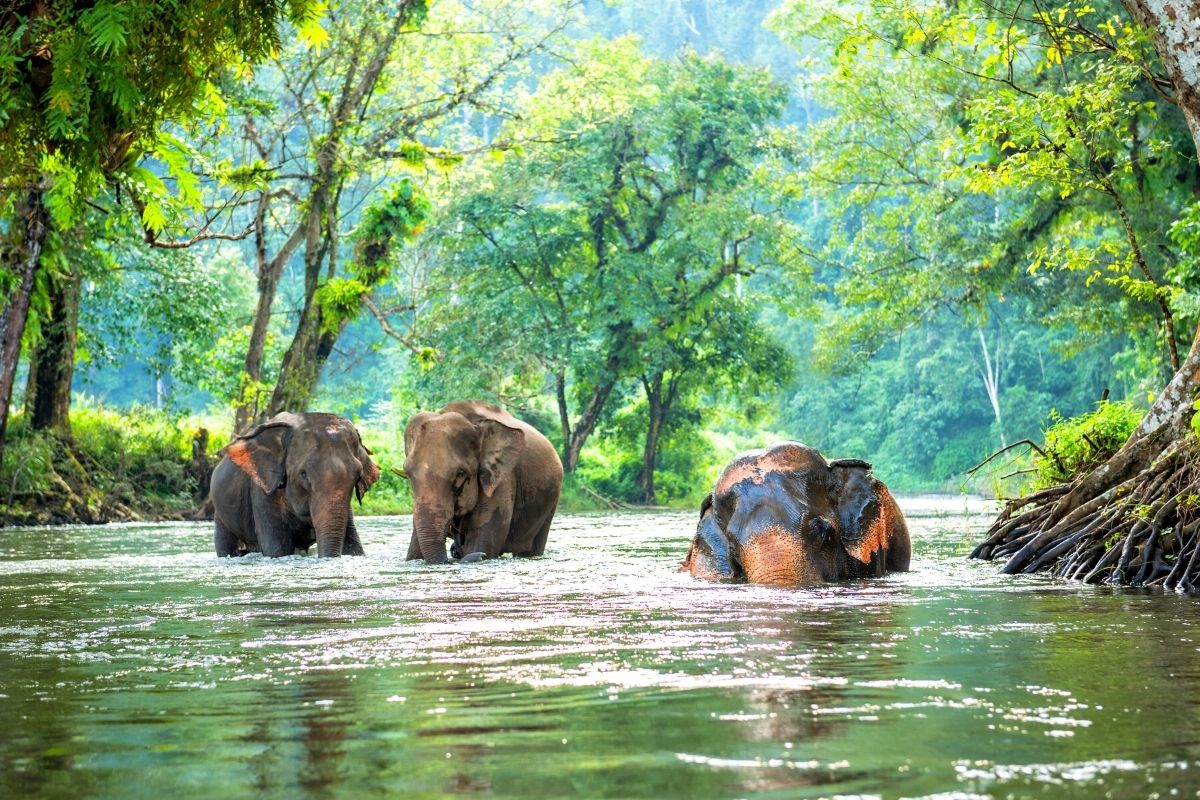 Oftentimes you hear of the many horror stories surrounding elephant sanctuaries in Southeast Asia… But not to start things off on a negative note, there are some incredible elephant sanctuaries in Pattaya where you can rest easy knowing you're contributing toward a good cause.
Visiting the Elephant Jungle Sanctuary, don't expect anything like elephant rides (which do more damage to the majestic creatures than good).
Instead, spend a couple of hours falling in love with the ellies, learning about the soft-natured mammals as well as giving them a mud bath and scrub down.
You will have the chance to feed them bananas or pineapple, for example, and after you're done playing in the mud, there are wash-down facilities for you to clean up afterward — so bring a change of clothes.
No elephant rides or performances are permitted here, and the elephants are not locked in chains.
The Pattaya Elephant Sanctuary is another safe haven doing good for rescued elephants and you can swim and feed the animals here too. Stroll through the jungle with three elephants walking alongside you, and you can pet them and show them some love in their natural environment.
Ticket prices also include lunch and transport transfers around Pattaya.
13 – Spend the day at the spa in Pattaya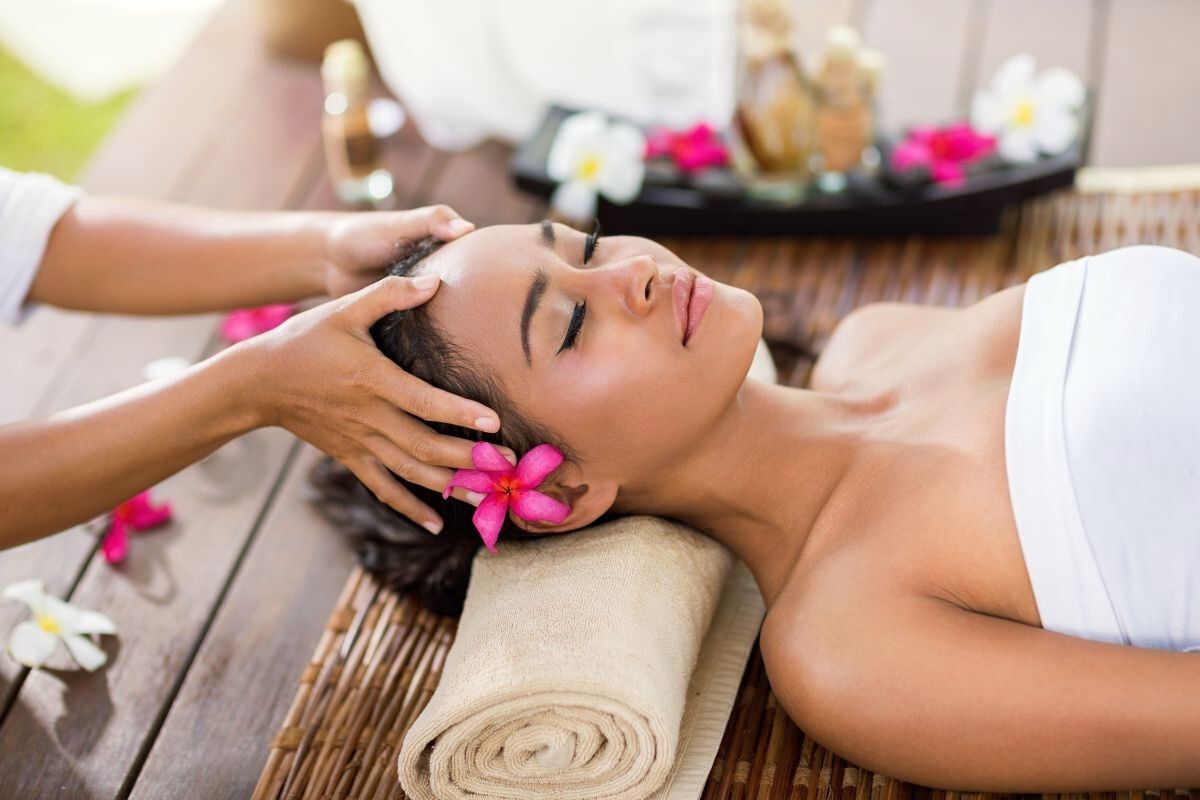 Nothing beats a day at the spa when you're on vacation… there's something about getting a massage that feels ten times better when you're in holiday mode. Plus, Thai massages are famous worldwide, so get the OG experience while you're in the Land of Smiles.
The Oasis Spa is just that and you'll slip into worlds away thanks to their luxurious setup and treatments. Set in a tropical garden, the whole experience is authentic. Try traditional Thai Lanna therapies or more modernized treatments.
Also sporting world-class facilities is the opulent Devarana Spa, and with branches around the world, this one reflects contemporary Thai aesthetics.
Book an 'Ayurvedic Head Massage' or 'Ginger Compress & Back Massage', and they offer facials, body scrubs (try the algae and green tea body scrub), as well as special water treatments like a 'Luxury Milk & Roses Bath.'
If you've never traveled to Japan, spend time rejuvenating at Yunomori Onsen & Spa. Here, they combine typical onsen practices, like hot spring baths, with traditional Thai techniques.
For a different type of relaxing experience, opt for a yoga class in Pattaya on the beach during sunset hour.
14 – Enjoy a day of adventure and views at Pattaya Park Tower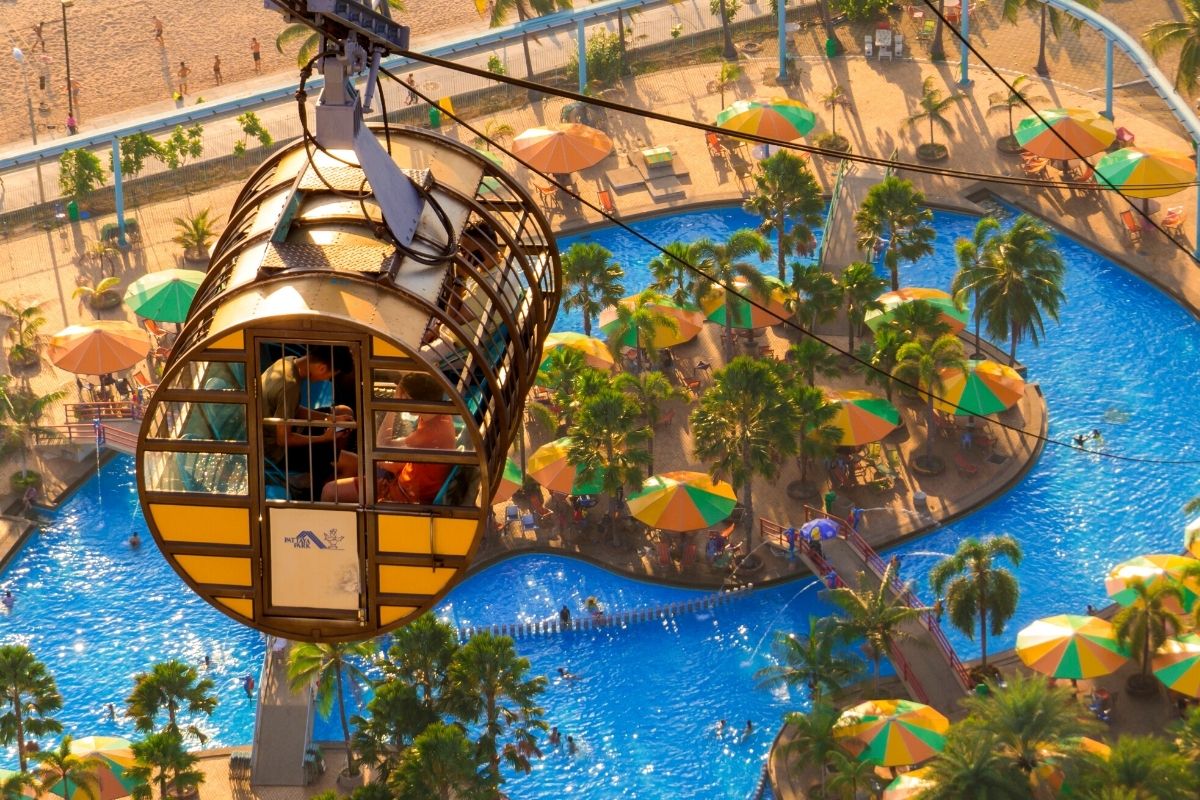 Imagine sitting on the 54th floor… overlooking the ocean… at a restaurant that's constantly moving around so that you're never short of a 360-degree view… This is the reality at the Pattaya Park Tower — located inside Pattaya Water Park.
Apart from the revolving restaurant that occupies three floors (levels 52, 53 and 54), the 55th floor is where the seaside tower's view deck is located, known as the Apex Observation.
From here (if you're gutsy enough) they offer a Tower Jump activity where you'll propel down the tower attached to a metal rope mechanism. Or try the thrilling Speed Shuttle instead.
The Sky Shuttle on the other hand doesn't transport guests down the structure, instead, enjoy a gondola ride up the tower.
But wait, there's more. The Pattaya Water Park is built right next to the ocean and there are a bunch of water rides to play on, as well as large swimming pools, including a whirlpool and private beach area.
If you're not keen on getting wet but are still amped on the fun times, visit the amusement park instead. Dare to try the Tower Shot or Slalom Roller Coaster and if you are here with the family, try out the Monorail, Demolition Derby, Family Swinger, Musical Carousel and Samba Tower ride.
15 – Dare to enter Ripley's Believe It or Not!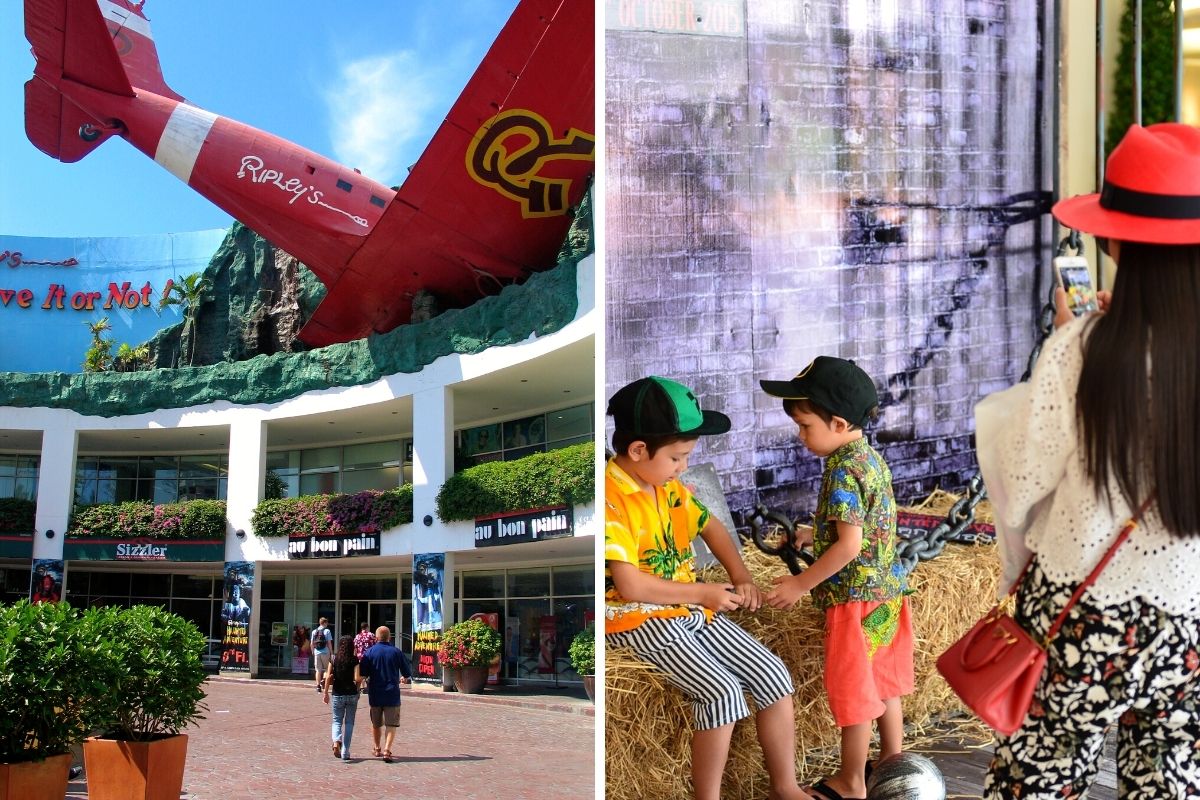 If you grew up watching the famous television show, feel all the nostalgia when visiting Ripley's Believe It or Not! museum.
Hailing all the way from the USA and then opening its doors in Thailand, the aim of this unusual institution is to create a "careful balance between the strange, the shocking, and the beautiful."
Separated into seven attractions, at least one will make the hairs on the back of your neck stand up, or send goosebumps down your spine…
Inside the Ripley's Believe It or Not! Odditoruim, uncover over 350 oddities — like a mask made from human skin — through 10 gallery spaces.
Ripley's Scream in the Dark! is mixed with all sorts of horror-inducing moments in the pitch black with only the sounds of screaming grave robbers or screeching hysterical clowns in the background. Ripley's Haunted Adventure! is not for the faint-hearted either.
Experience the "Wildest Simulator Ride in the World" filled with special effects at Ripley's Moving Theater 9DX, and meet the rich and famous at the Louis Tussaud's Waxworks museum.
Put your mind to the test when trying to complete the 20-minute-long real-life Ripley's Infinity Maze, or if you think you have what it takes, gear up for The Vault Laser Maze Challenge.
It's an eye-opener for sure and great fun for all ages!
16 – Spend the day at Legend Siam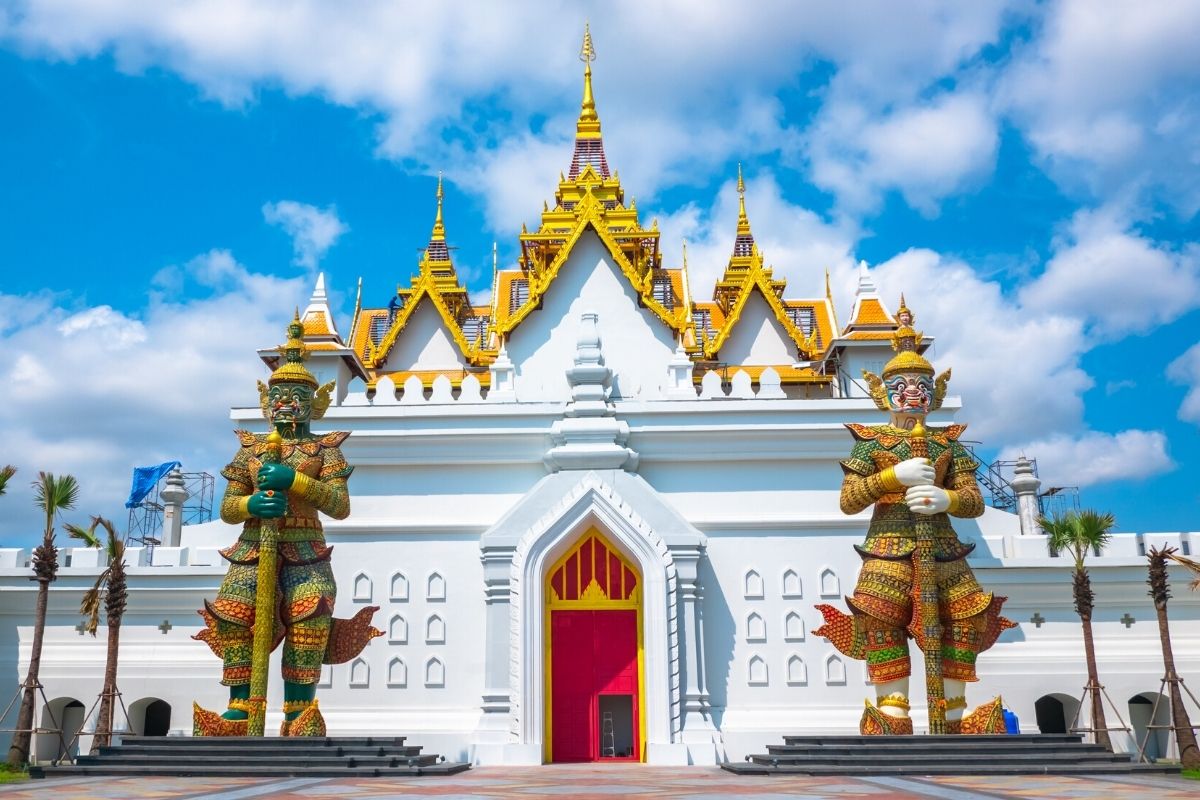 Far from your ordinary "theme park", Legend Siam is more like a cultural Thai-themed complex filled with endless things to do.
It highlights the 77 provinces in Thailand through a world of art, culture, architecture, folktales, food, shows and performances.
One of the standout features — literally towering above all the other attractions — are the two golden and ornately decorated statues of mythical Thai beings. The second is the haunted house, but this is not recommended for young children.
Arrive at Legend Siam hungry and from the food stalls, taste flavors from around Thailand at the varying vendors.
The shopping complex has a great number of boutiques to browse for a mixture of unique Thai products, souvenirs and handicrafts from different parts of the country.
There's a train to transport guests around the massive park grounds, adding to the overall experience, and don't miss out on the Bang Rachan live show.
17 – Take a day trip to Koh Samet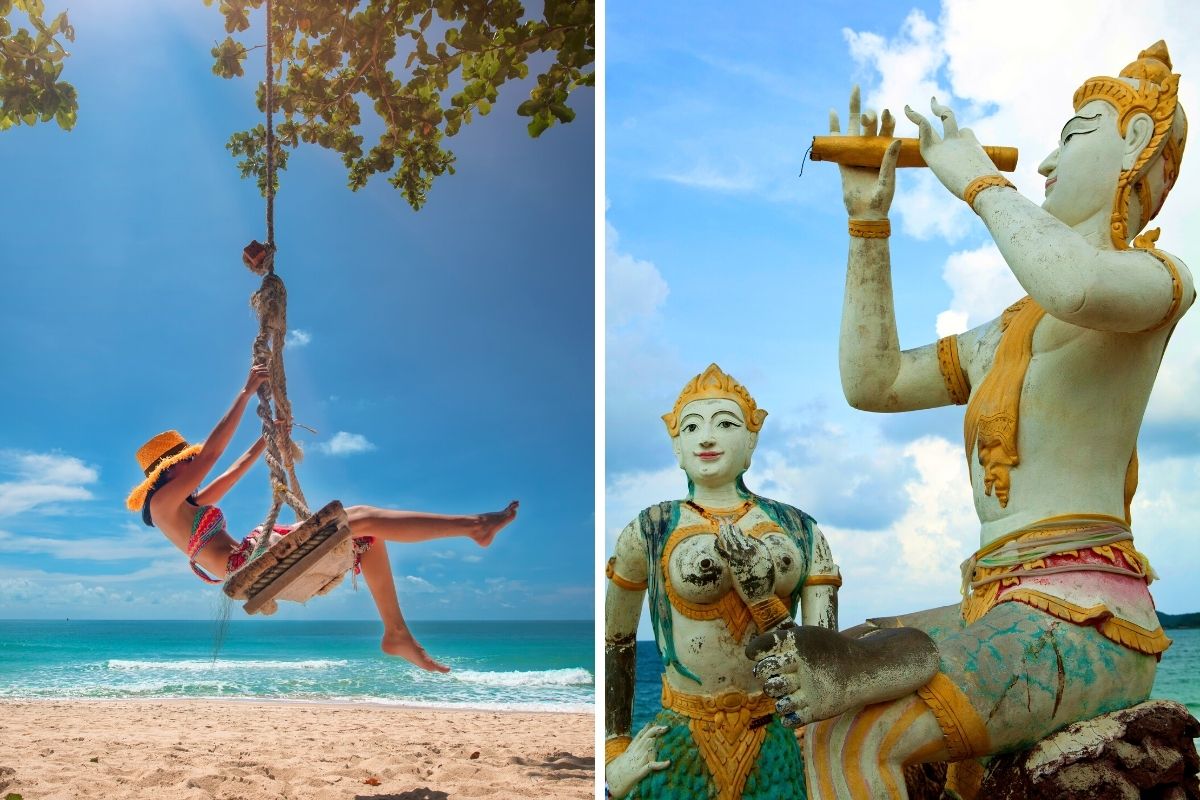 Hop onboard a speedboat and within 15 minutes you'll find yourself in a secluded paradise on the teeny tiny island of Koh Samet (also known as Koh Samed).
Not only an idyllic day trip for ocean lovers, but the little isle is also a great option for couples and feels extra romantic thanks to its quiet shores and more secluded feels.
With a scattering of beaches around, spend most of your time enjoying some TLSea, starting at the main beach, Sai Kaew Beach, or White Sand Beach as it's nicknamed because of its powder white sands.
Located right near the pier that most travelers arrive at, it's a mega-popular spot for water sporting activities too.
Here to escape the crowds, Ao Hin Kok Beach is way more chill and has your typical Thai hippy/backpacker vibes.
Rockier than the rest, yet more wild and rugged, add Ao Nuan for an interesting stop on the beach-hopping adventure and Ao Cho Beach feels extra private.
Forming part of the Khao Laem Ya National Park, there are ample snorkel and scuba diving experiences to try out around Koh Samet, including getting PADI-certified.
Next, get to explore the island itself, beginning at Samet Village. Visit Wat Koh Samet, locally called Wat Ko Kaeo Phetchabun, and see the giant Buddha statue, or try spotting the other dozens of statues on the island.
One of the most famous is the merman bronzed statue at the end of Na Dan Pier steeped in mythical fables.
There are fresh seafood restaurants, local eateries, as well as a few bars for sundowners to keep you satisfied.
If Koh Samed sounds more to your liking, you also have the option to spend the night with a mix of hotels, beach bungalows and private stays to choose from.
A 45-minute to one-hour public ferry from Pattaya, it's the perfect day trip.
18 – Feast on seafood at New Naklua Market
Got a craving for fresh, delicious and super affordable seafood? Savor all sorts from the likes of prawns to oysters, mussels to squid to scallops at New Naklua Market.
Loved by locals thanks to the market's extra cheap prices, this is where you're gonna wanna come to stock up on local produce, snacks, handicrafts and unique souvenirs.
Open daily from 3 PM until 9.30 PM, it's a great place to try a plethora of Thai street foods, but beware, it does get crowded here in the evenings.
If you walk past a vendor selling seafood that tickles your fancy, pick out your catch and they will cook it fresh for you on the spot.
The smells alone of fish or dozens of queen prawns being fired on the grill are enough to draw you into the market alone… Arrive hungry!
19 – Bring the kids to the Teddy Bear Museum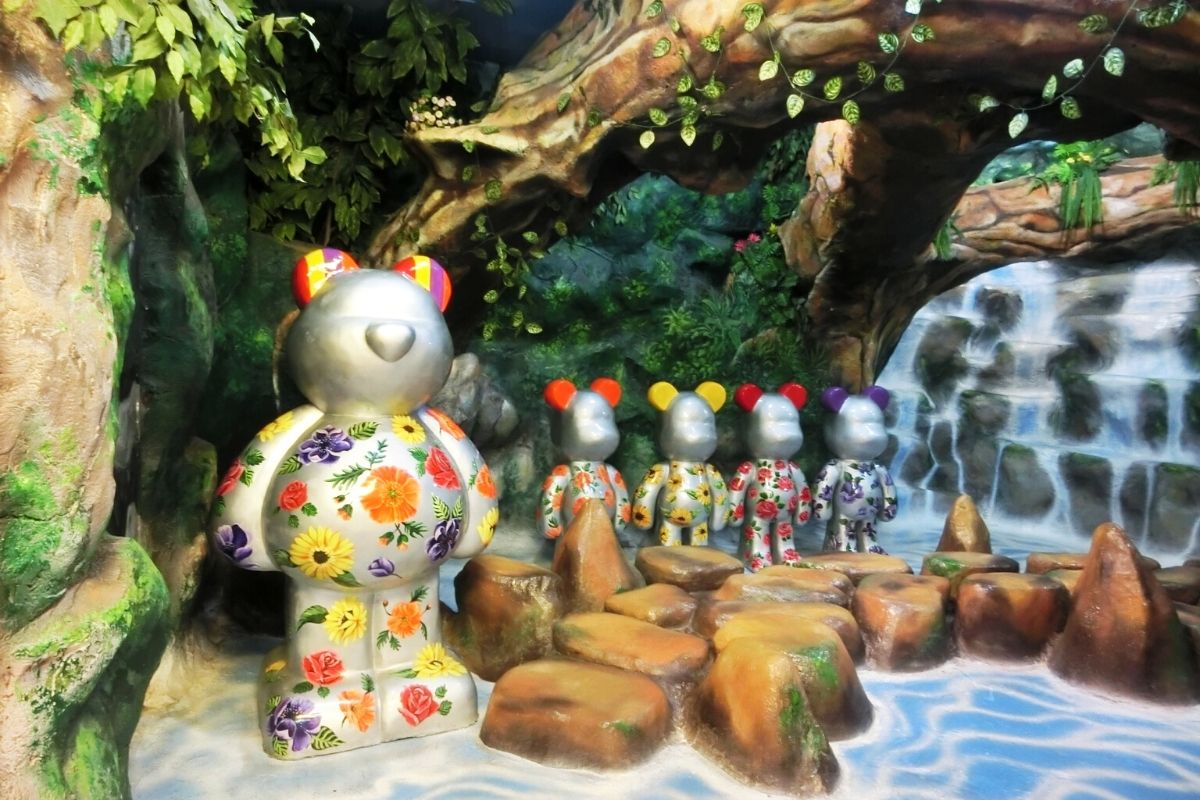 Are you traveling with the little ones? If you're looking for a great family activity, a trip to the Teddy Bear Museum is one of the best things to do in Pattaya. Even adults find themselves impressed by the vast collection of over 2,000 different types of teddies.
One of a kind and the first-ever teddy bear museum in Thailand, the museum was curated as an epic photo-opportunity space and has been categorized into 14 zones. Make sure your camera or phone is fully charged as you stop to pose with the different characters.
Learn about the culture of the Inca Empire inside the Inca Zone where golden bears greet you or find yourself in the primitive ages at the Dinosaur Zone where Triceratops or a T-Rex also make an appearance.
Check out Mr. Bear as a private eye inside the Fossil Zone or visit Africa at the Safari Zone. The Fairy Tale Zone is one of the most favored and characters from childhood tales are brought to life — but in teddy bear form, of course!
This section is also the largest and it has interactive features, for example, slides.
Under the sea, Christmas, Space, China, Europe, Fun and the Art Zone comprise the list of the rest, and this includes the souvenir shop zone. Purchase a cute and cuddly soft toy to remember your experience forever.
20 – "Travel" around the world in one day at Mini Siam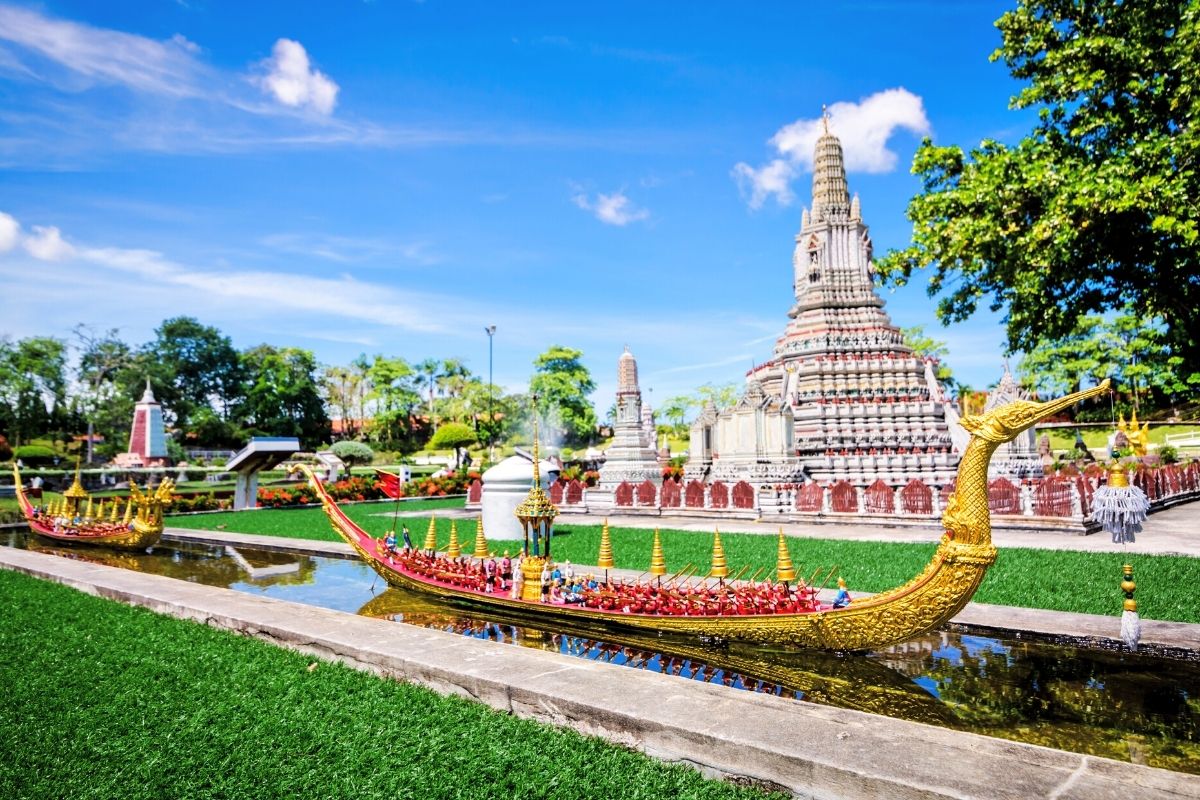 The Eiffel Tower, Angkor Wat and Egypt's Abu Simbel temples are just a touch of the world's most iconic monuments and attractions to see all in one place… just in miniature form!
Open since 1986, the mini world is set up outdoors and replicates buildings, historical sites, and important landmarks from around Thailand, Europe and other parts of the globe on a much teeny, tinier scale.
If you've visited a miniature world before, the displays seem ridiculously real, however, just not as big as they would in reality, and it's a fantastic way to brush up on your worldwide general knowledge with visual aids.
See the Leaning Tower of Pisa, explore the ancient Ayutthaya city (and other parts of the Siam Kingdom), or "travel" to the States and spot Lady Liberty standing proudly.
Officially, the park is divided into two sections: the Thai and international categories.
Its design is very orderly and all of the grounds are well-kept with not a hedge out of place. This helps add to the overall ambiance of Mini Siam, as you travel from one famous wonder to the next.
Perfect for a family outing or couples looking for something different to do, you will need at least two hours to take in the full spectacle.
21 – Adventure around Pattaya on a motorbike tour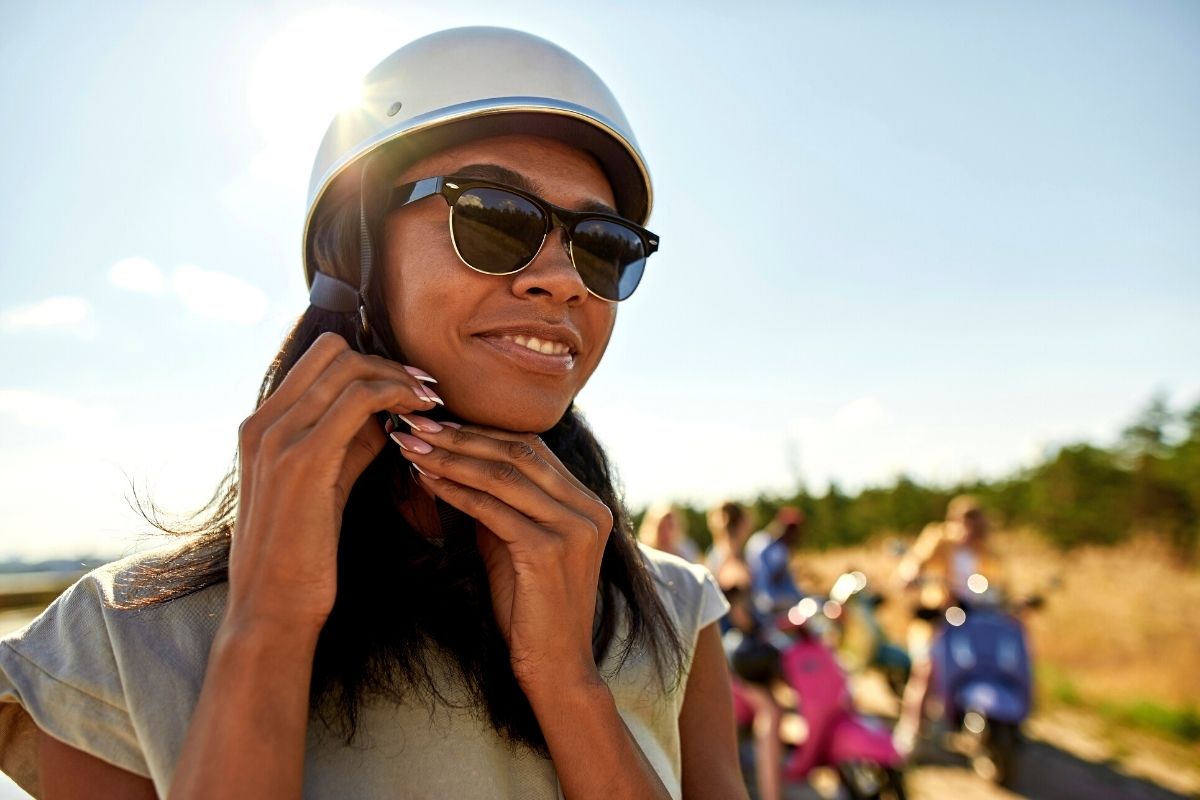 Calling all motorheads or anyone with a passion for adventure, there are insanely epic bike tours happening in Pattaya where you'll venture off the beaten track!
If you own a bike or live in a country like Vietnam or Thailand where the main mode of transport is motorcycles, you should feel excited by this one as you set off on an adventure on a dirt bike through Pattaya's countryside.
There are a few types of motorbiking excursions, varying slightly in details like tour duration — there are three-hour and six-hour half day slots to pick from — as well as the areas you'll cruise.
One thing is for certain, get ready to get down and dirty as you whizz through jungles, across streams, over plantations and past coastlines.
The entire experience is fully guided by professionals who are there to give you assistance wherever needed, and all riding equipment and safety gear are provided.
22 – Marvel at Khao Chi Chan ("Buddha Mountain")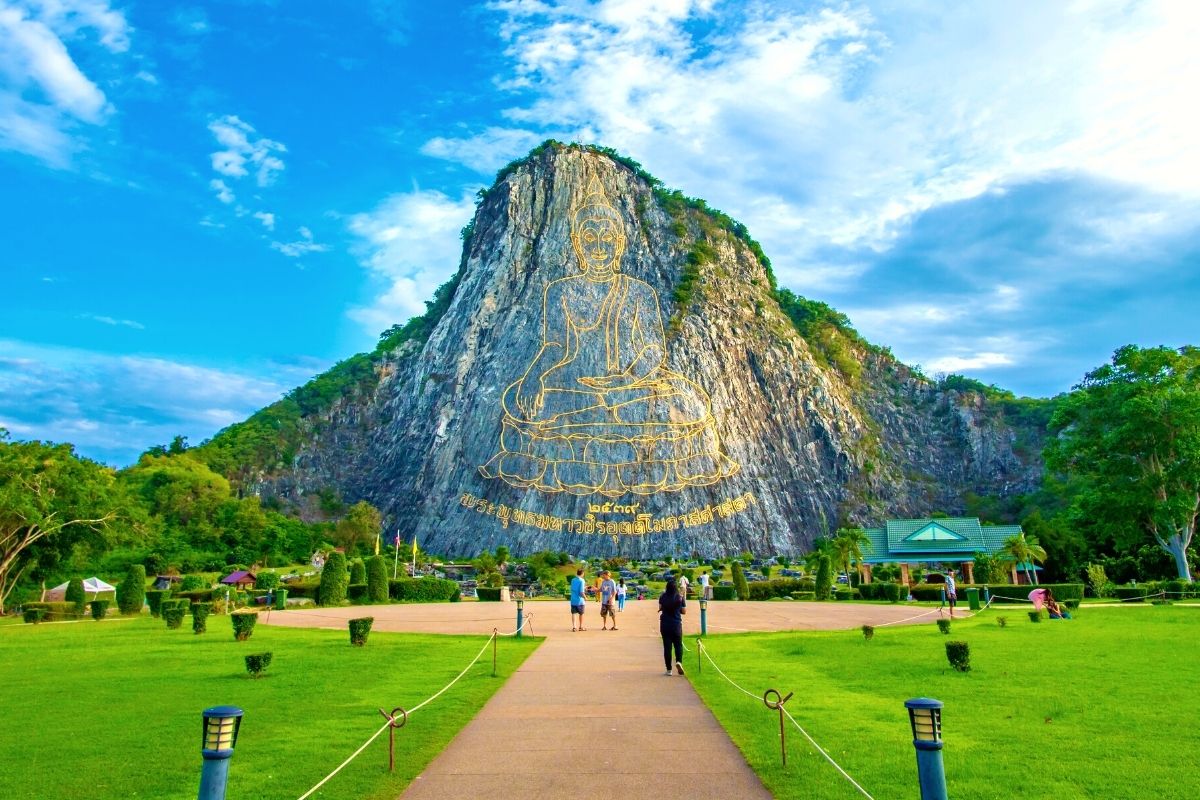 This is truly a sight to behold and thousands flock to Khao Chi Chan to witness the massive Buddha outline engraved into the side of a limestone mountain in shimmering gold.
Designed and imprinted on the cliffside in 1996, the 109-meter-high image of Buddha was laser printed onto the rockery using real gold. It's the biggest laser engraving of Buddha anywhere!
In fact, there are few places around the world to witness such a fascinating sight, and as such, a trip to Khao Chi Chan is always included during city tours — don't miss out on adding this one to your list of must-see attractions in Pattaya.
Quiet, peaceful and covered by unending greens, at the foot of the cliff is a lake, and some lotus ponds, and the park is very picturesque. It's an ideal location for meditation, yoga on the grass and sometimes, local performances.
There are a few food vendors nearby, and some other attractions are close such as Ramayana Water Park. Once you've visited the site, it's easy to understand why it has gained the nickname "Buddha Mountain."
23 – Get ready for the glitz and glam of Tiffany's Show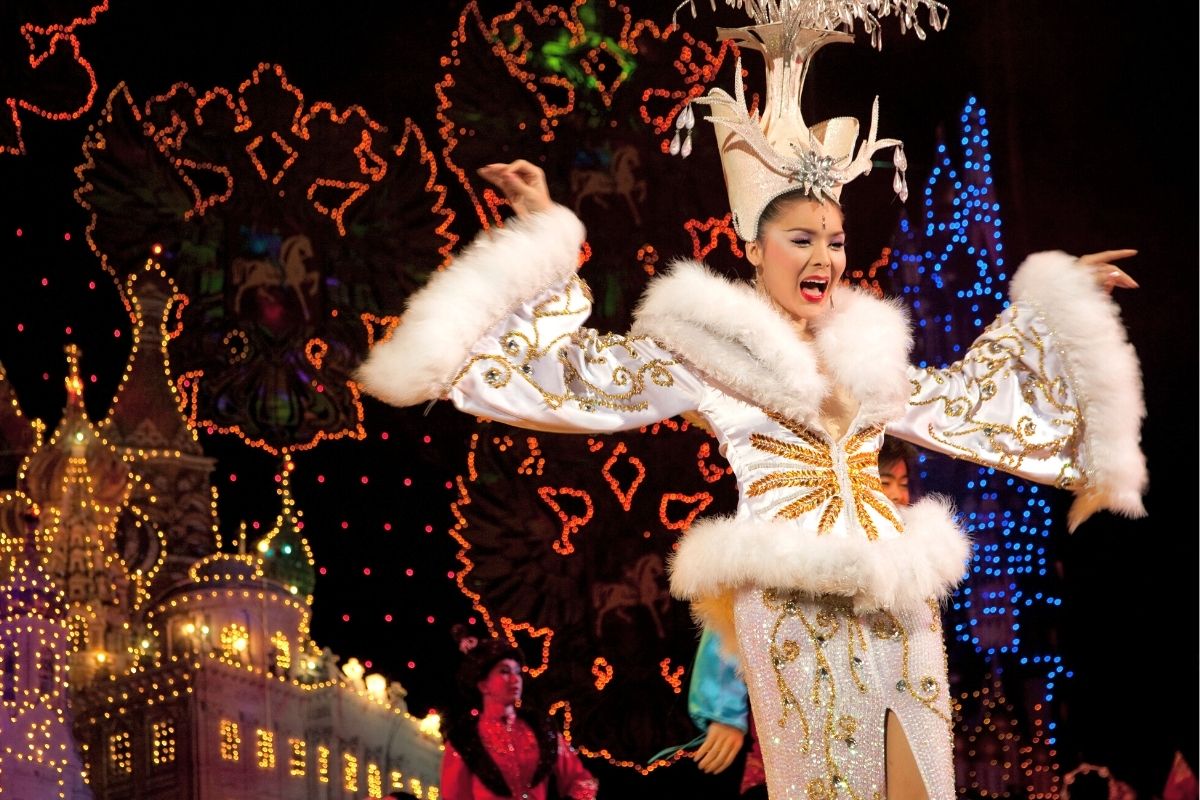 Putting on their first performance in 1974, Tiffany's Show has become a household name and is a fantastic way to spend an evening in Pattaya.
Get ready for a show filled with song, dance and acting in the form of cabaret, performed by members of the trans community.
Set in a modern 1,000-seater theater and equipped with fabulous sound and lighting, the performers take to the stage in elaborate traditional Thai costumes and are beautifully dolled up.
Not only cabaret shows to see, Tiffany's also hosts two incredibly important beauty pageant events in the transgender world, known as Miss Tiffany's Universe (running since 1998) and Miss International Queen (from 2004).
This draws in pageant queens from around the world to compete for the title of the crown. If you're here when either event is on, don't miss out on the extravaganza!
(As the world finally starts to become supportive of the LGBTQ+ communities, Thailand has always been a home for trans people, giving way to the term "ladyboys." It's important to remember to respect every person's individual views.)
24 – Make a splash at the Space Water Park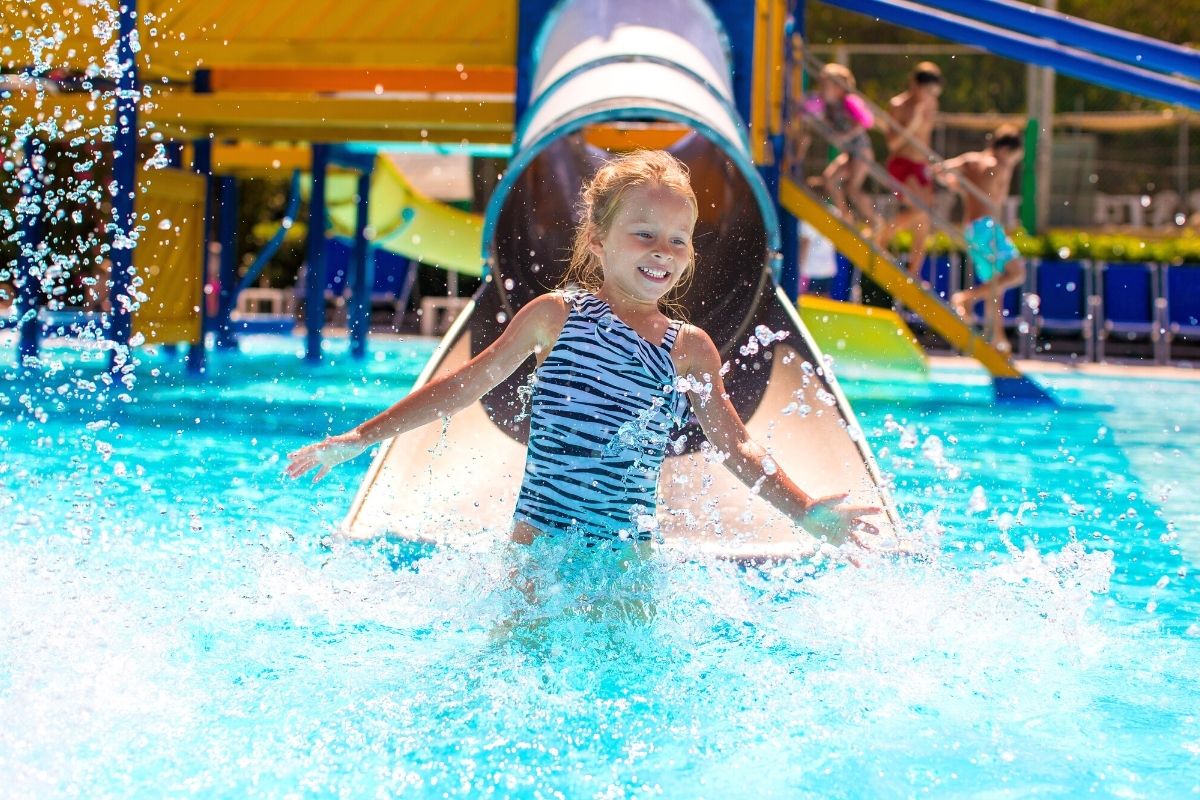 Feel as if you're stepping onto some strange planet at the Space Water Park — located at one of Pattaya's most unique stays, the Grande Centre Point Space. The first of its kind in Thailand, the hotel is entirely space themed from the interiors to the facilities.
Cool off from the heat at their aqua land, divided into four zones and all have novel features for you to enjoy.
Entering the Mountain Zone, discover the 330-meter-long lazy river, float into the cave pool and their jungle jacuzzi is part of this section.
The Flying Rock Zone is where the most fun happens and in between oblong shaped rocks jutting from the water, squeal and zoot down giant slides, hit the Fun Pool where the kid's splash tower is, or there is a dedicated playground with a sandpit and trampoline (not in water).
Discover the Space Ship at the Space Pirate Bar where the beach bar is too, and the Planet Zone holds the children's pool. At this zone is also a solar system-themed mini golf course, and the amphitheater is here.
When the stars come out the entire water park is lit up so you can play until late. The neon lighting in shades of purple, green, blue and pink also adds atmosphere… like you're traveling on Mars…
Note: The waterpark is for hotel guests only.
25 – Visit the other amazing Buddhist temples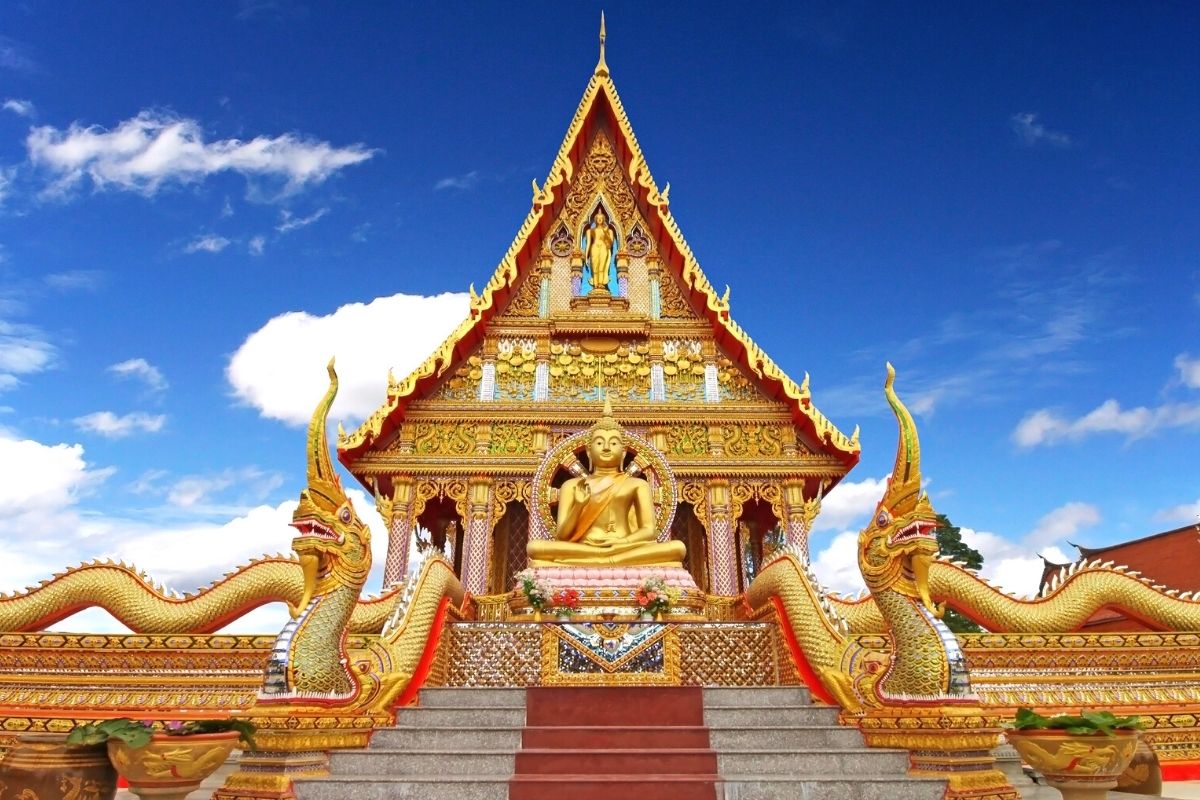 The great thing about Pattaya is its mixture of adventure, fun, oceanic and cultural endeavors to enjoy, and for tourists that love to do some temple hopping during their travels, there are plenty of Buddhist temples in Pattaya to discover.
Established in 1937, Wat Chai Mongkhon (also spelled as Wat Chaimongkol) is the oldest Buddhist temple in the heart of Pattaya. It's revered because of its significant elements from the Ayutthaya period and is considered a "royal temple."
Wat Yansangwararam Woramahawihan — also called Wat Yan for short — is 30 minutes outside of Pattaya in Huay Yai and is close to the Viharn Sien museum shrine. You will need a couple of hours to explore the entirety of this grand temple complex.
Also within the same district is Wat Huay Yai. Its pinpointed upright red rooftop standing in contrast to the golden ornately-designed underneath makes this temple a super eye-catching one.
Home to an active Buddhist monastery, Wat Nong Ket Yai is a 25-minute drive from the city center and a lovely temple to visit to appreciate Thai Buddhist architecture.
The naga symbol is extremely popular in temples around Thailand, however, the one at Wat Nong Chap Tao is truly special. Unlike the usual that warp around staircases, the serpent dragon's body is built to slither around the temple's exterior floor.
Heavily decorated and dripping in gold, check out the different golden statues of various Buddhas at Wat Nong Oo, with the largest of them the reclining Buddha.
Unlike the rest, Wat Phon Prapa Nimit is extremely striking thanks to its all-white exteriors. Even the interiors, from the main altar to the Buddha statues are brightening white.
You could spend at least one entire day roaming all of the Buddhist temples in Pattaya.
26 – Go zip lining at Tarzan Adventure Pattaya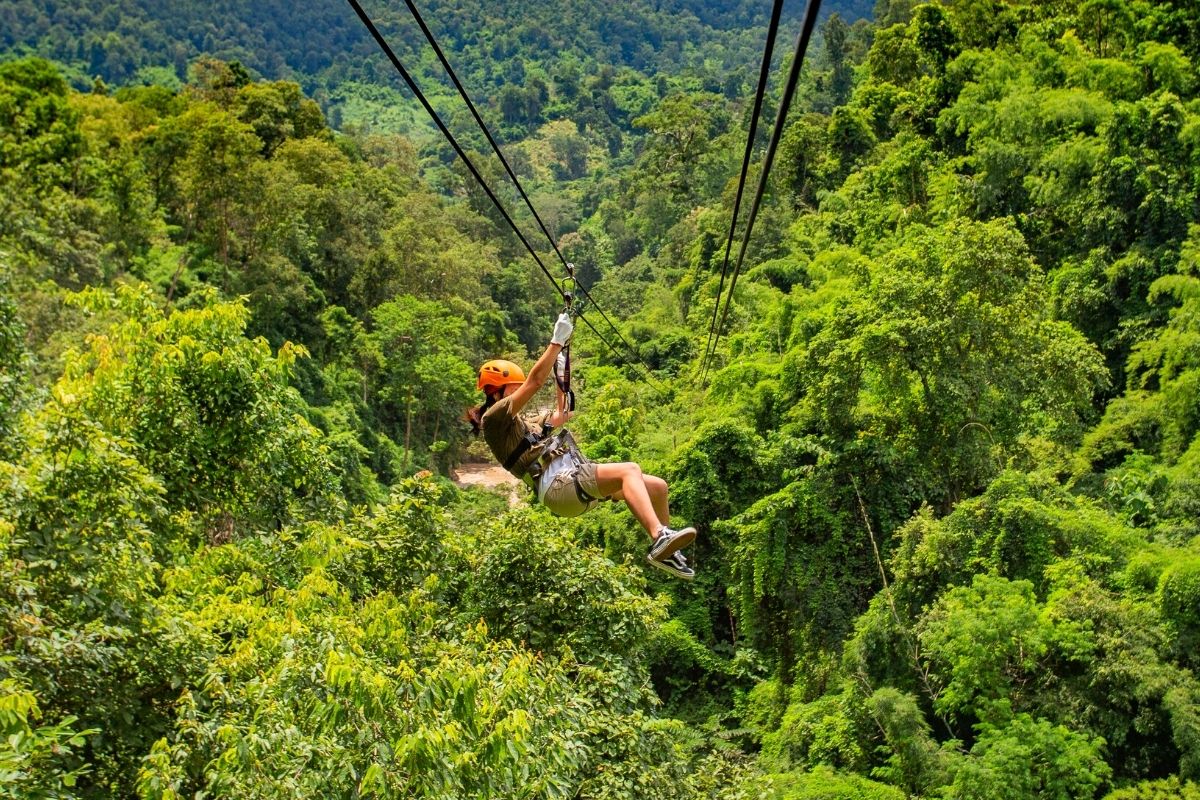 Feel like a bird in the sky during a zip lining experience at Tarzan Adventure Pattaya, and for most parts, tackle one zipline to the next in open surroundings.
Begin with a demonstration and a few practice lessons and then it's time to start the fun. There are three courses to choose from: the Full Course, the Half Course or the Kids Course.
Go the full nine yards and make your way through the 30 different zip lines when choosing the Full Course option. If this sounds like too much, the Half Course crosses 17 lines only.
You'll start off crossing short lines, but these gradually increase in length, as well as speed, as you move from one line to the next to complete the course. The Kids Course has a total of nine zip lines to try.
A completely different way to get your heart racing is at the on-site shooting range. Using a real gun, try your hand at target practice.
After all the action, grab a bite to eat at the Tarzan Korean Restaurant or Tarzan Coffee shop.
27 – Visit Rayong on a day trip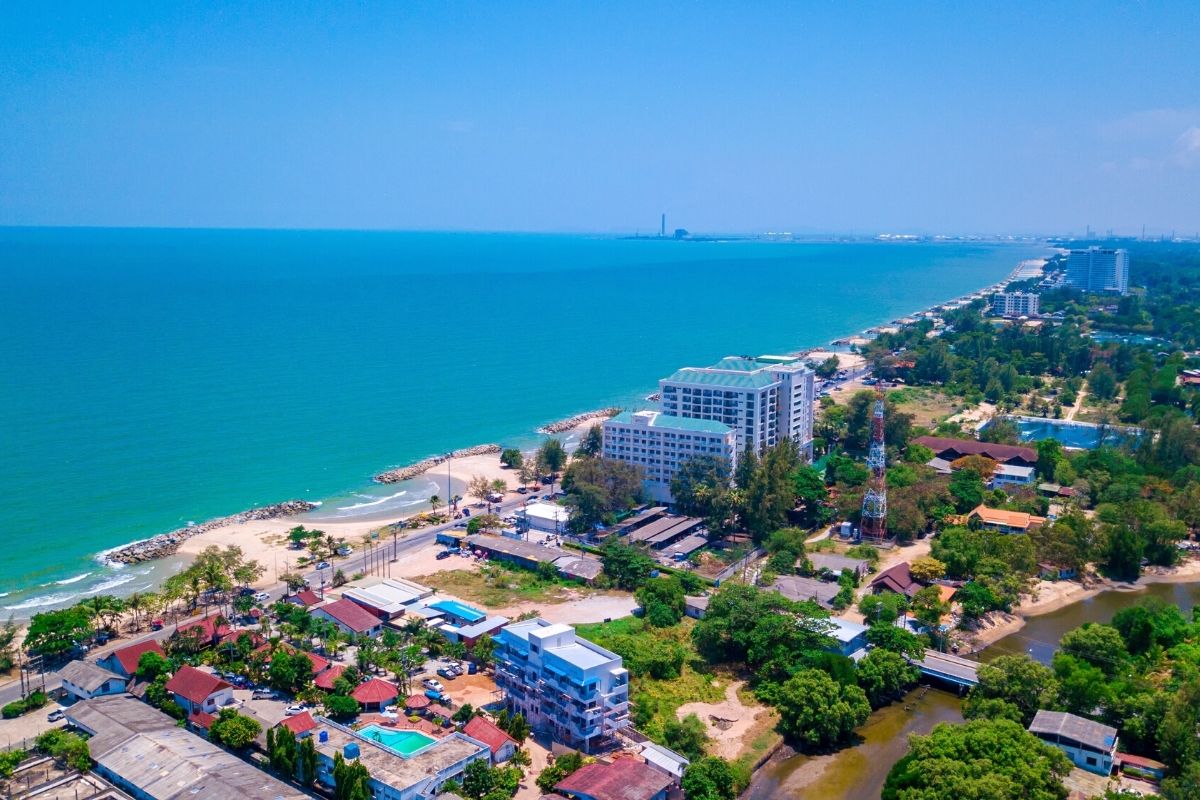 Located one hour away from Pattaya is Rayong, and while you're this close to the east coast city, consider a day trip here.
There are awesome natural sights to see, historic monuments to investigate and cultural endeavors to enjoy.
Walk through a mangrove at Golden Meadow along a one-kilometer boardwalk with glistening shrubbery on either side of the pathway. Alternatively, you can take a local boat ride along the river and through the mangroves.
Another fascinating attraction is the HTMS Prasae Thai warship that's permanently docked on Prasae Beach. You can step onto the ship and explore the different parts and levels, and spot wartime artillery such as boat canons.
If you've arrived in Rayong for a beach day, there are plenty of options as the city is on the coast. Some of the main beaches to check out include Haad Saeng Chan Beach, Mae Ram Phueng Beach and Laem Mae Phim Beach.
It's also a convenient location to do some island-hopping to isles close by like Koh Samet. Explore the old town, indulge in fresh seafood and there are plenty of accommodation options if you'd like to stay overnight.
28 – Refuel at Pattaya's coffee shops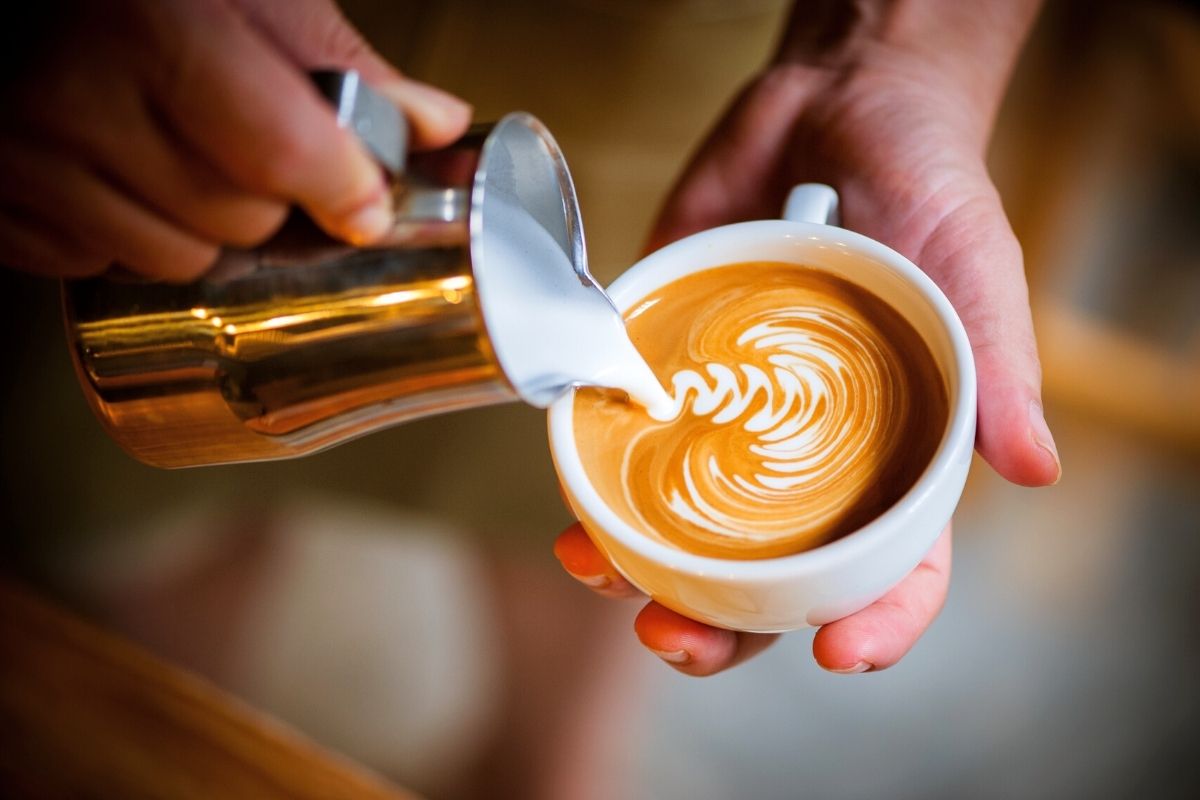 Need to refuel after a beach day in the sun or take a moment to chill out after all the exploring in Pattaya? There are some fab coffee shops around town that brew a mean cuppa.
Forever busy, Sunset Coffee Roasters sports a minimalist setup with a focus on the coffee. Using both local and international beans, their skilled baristas never fail to deliver a top specialty coffee.
Open daily, LouCafé is another fuss-free option interiors-wise with a simple menu, wooden shopfront window to order from and a very laid-back feel. Beans are brought in from all over, from Ethiopia to Columbia.
For when you need a real thirst-quencher, order one of Singto Cafe's signature cold brews.
Let the smells of Backstreet House Pattaya lead the way and nestled under the trees and with the cutest courtyard, they roast their beans in-house.
Ever had coffee in an abandoned airplane? 331 Station Coffee War sets itself apart from the rest thanks to its unusual setting. Grab a seat inside the plane, but there's no need to worry about checking in for seat numbers prior to this one!
29 – Stroll through Pattaya City Park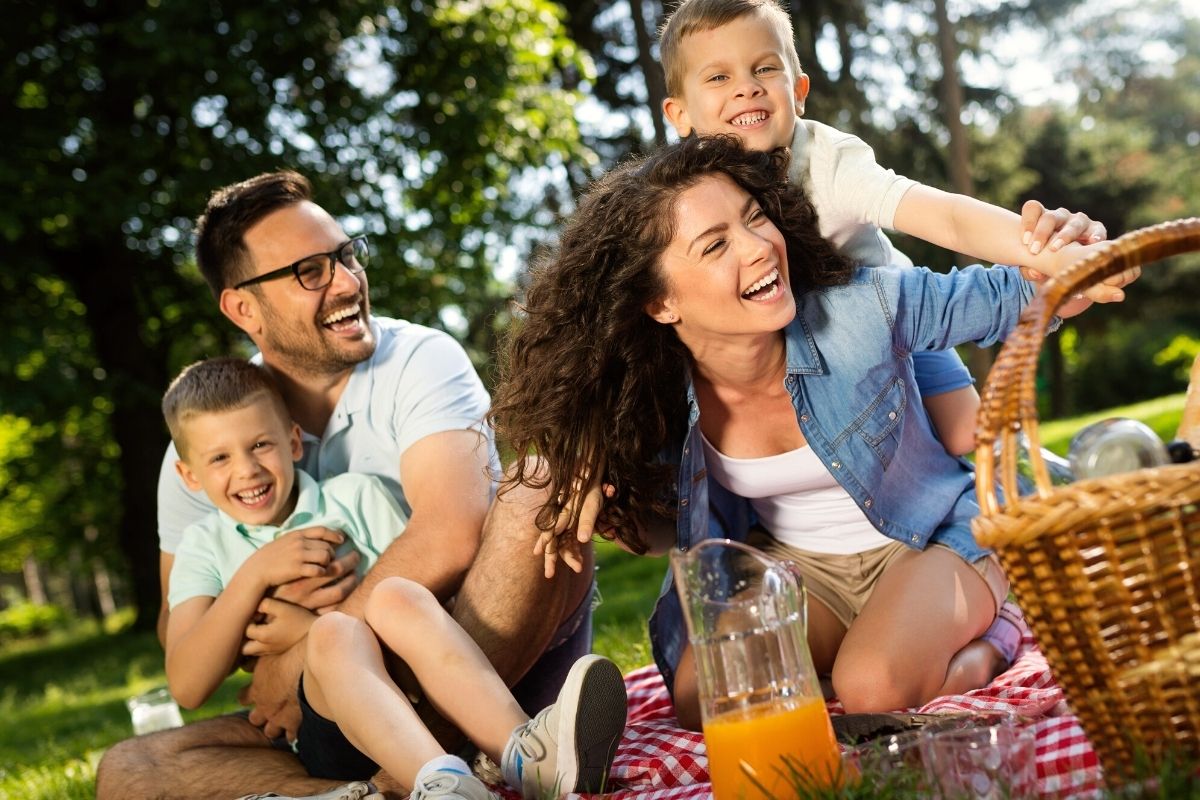 If you're looking for a reprieve from the beach, set aside an hour and spend some quiet time in nature at Pattaya City Park.
A largely outlined boardwalk runs through the green space and tall palms and well-kept shrubbery and hedges line the pathways.
It's an ideal spot for getting in some light exercise, like jogging, cycling or running, or for having a picnic on one of its grassy banks. The park is often not busy which means no crowds to dodge in between.
Sometimes public events or small flea markets are held in the outdoor space, and Pattaya City Park is dog friendly too.
30 – Pretend to be Lewis Hamilton at EasyKart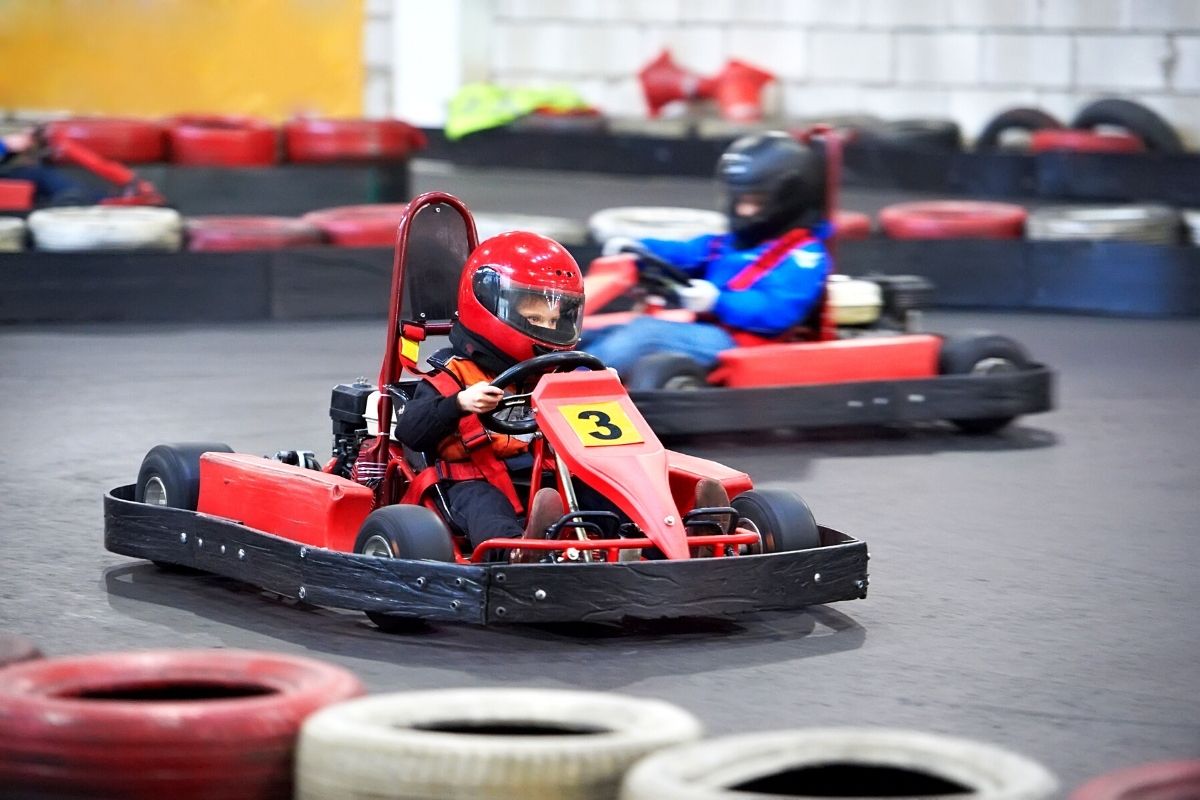 Three, two, one and race! Bring your kids, partner or gang of friends down to the tracks at EasyKart for some good old-fashioned go-karting fun!
Situated by the Bali Hai Pier, there are two designated race tracks to choose from. If this is your first time, consider the 350-meter-long beginner track, or jump behind the wheel and hit the 800-meter racing track instead.
Go-karting night sessions are available too — thanks to their special lighting systems — or put your skills to the test and drive the track under their hi-tech timing system.
There's a restaurant, bar and terrace at the tracks too where you can play a round of pool or foosball.
Another option for go-karting experiences in the city is at Pattaya Kart Speedway. This racing circuit was the very first in Pattaya and also offers two tracks. Beginners can tackle the 450-meter course, made for mini karts and double-seated karts.
The lengthier course is 750 meters. Apart from go-karting, there are more activities to try here like ATV rides and paintball.
31 – Explore The Million Years Stone Park & Pattaya Crocodile Farm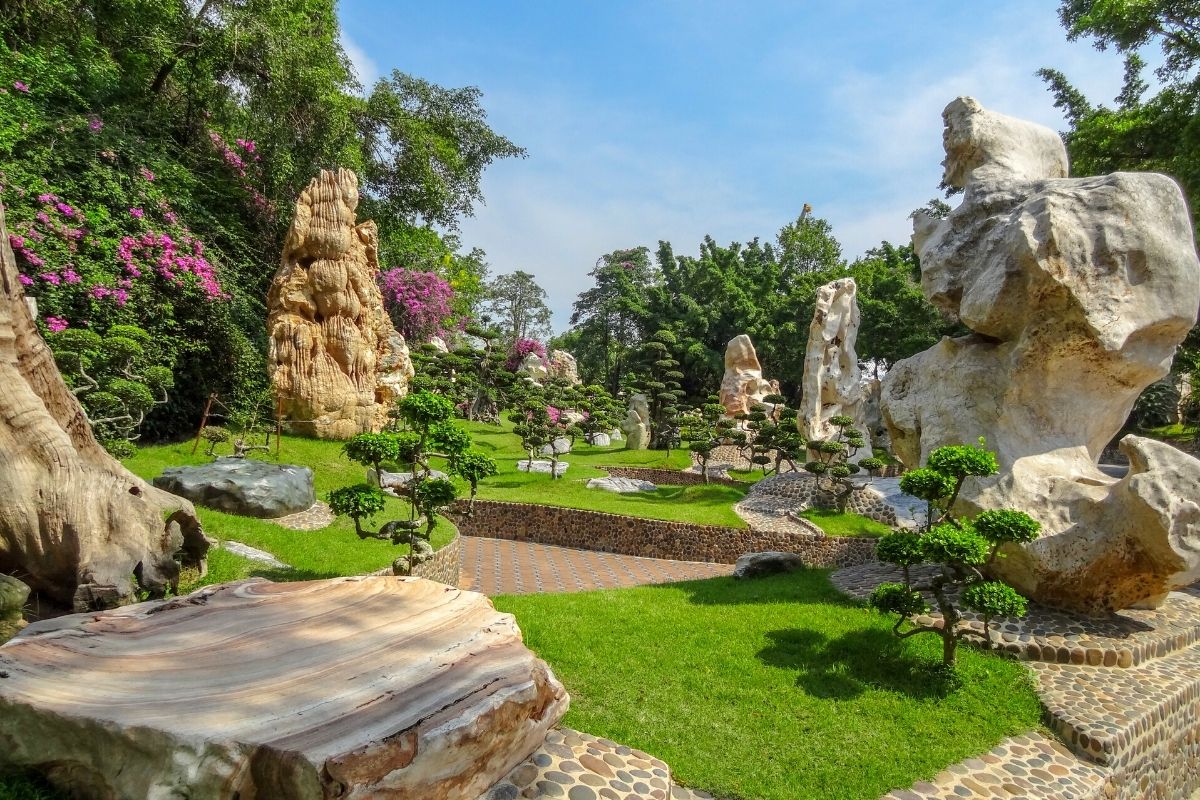 If you're on the hunt for an activity that doesn't fall under the mundane, the Million Years Stone Park & Pattaya Crocodile Farm might be what you're looking for!
Interesting for all ages, there are multiple features and facets that comprise the unique park to peak the interest of adults, parents, families and children.
The "living museum" is unlike any other around and focuses on highlighting the forces of nature that include animals, minerals, fresh produce and plants.
At the Garden & Stone Park, drift around the impressive rock gardens filled with towering rock sculptures in a motley of abstract shapes, sizes and animal characters. To paint a picture of their sheer weight, some of the stones weigh over 80,000 kilograms!
Within the garden, hug trees that are more than 100 million years old, or appreciate the exotic plants and flowers here. Visit the Chamao cycad garden or see the largest orchid in the world (there is a designated Orchid Corner).
Not only home to stones, this park also breeds its own crocodiles who roam around their Crocodile Farm. Living in huge bodies of water, their environment is built to replicate their natural habitat.
You can see both types of crocs here at the saltwater crocodile kingdom and the freshwater crocodile sections. The saltwater type is bigger than freshwater and the farm has the most amount of crocodiles in Thailand!
Learn about these prehistoric creatures, and get the opportunity to feed them during a show.
32 – Delve into local mythology at the KAAN Show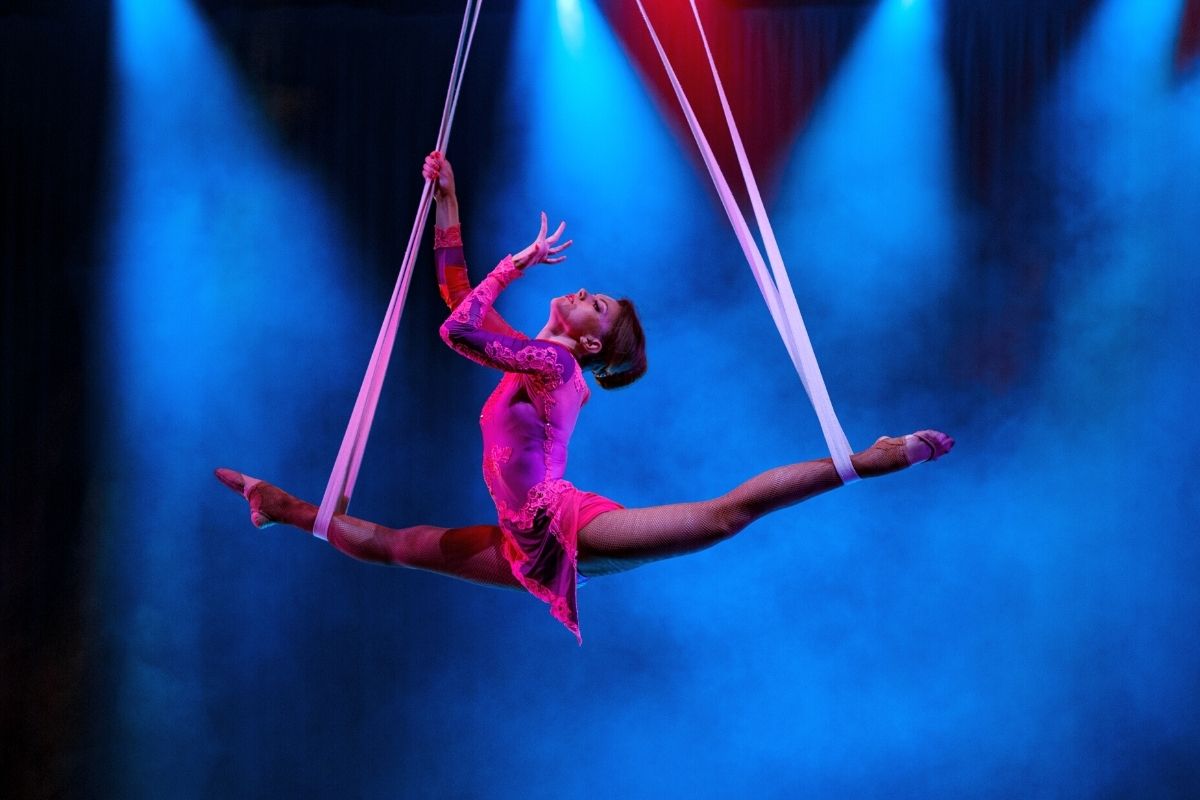 For another cultural crusade, book a seat at the KAAN show, held at the glamorous Singha D'Luck Cinematic Theater.
The stage here was specifically designed to suit this special production that tells the tales of Thai mythology and fables. Through the use of modern technologies, special effects and modernized props, the performance is brought to life.
Set on a grand stage and modeled using life-size, 3D elements, spectators feel as if they are living out each scene with the actors, forgetting the fact that they're inside a theater.
During the 90 minutes, you will learn of the story of a young man named Kaan as you follow him on his journey venturing through five mythical worlds — each one representing a different piece of Thai literature.
As he searches for various parts of a key to take him home, follow the protagonist as he fights off giant mermaids, witness royal princes battling a mystical beast and become enthralled by the dance of the Kinnari (a half-bird, half-human creature).
33 – Whizz around during quad and buggy tours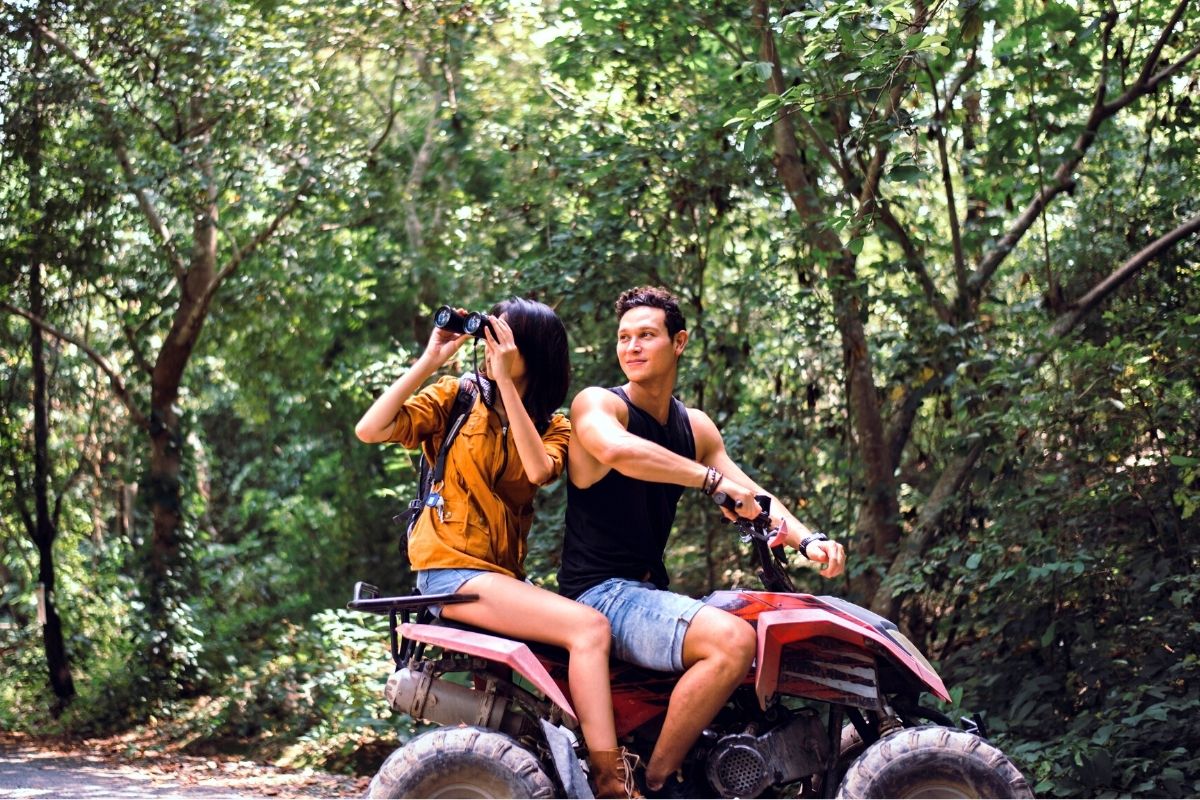 Forget about just chilling on the beach all day or shopping… For the adventurous souls there are totally epic quad and buggy tours in Pattaya. Not only tons of fun, it's also a fantastic way to sightsee the surrounding areas and natural scenes just outside the city.
After safety instructions and basic training on how to drive, maneuver and ride a quad bike, it's action time!
Get ready to slide and cruise through jungles, farmlands and tropical plantations over the next two to three hours. There are quad tours that offer a slightly more ambitious track with obstacles and ramps to tackle for more experienced riders.
Buggy tours are a great option for families, however, quad rides are also available for those traveling with young kids. The usual age requirement is for children five years and older, but of course, accompanied by an adult or one of the professional tour drivers.
(Buggies are considered safer than quad bikes as you are sitting inside the vehicle and enclosed by an open-air cage.)
34 – Have hours of fun at Columbia Pictures Aquaverse (Cartoon Network Amazone)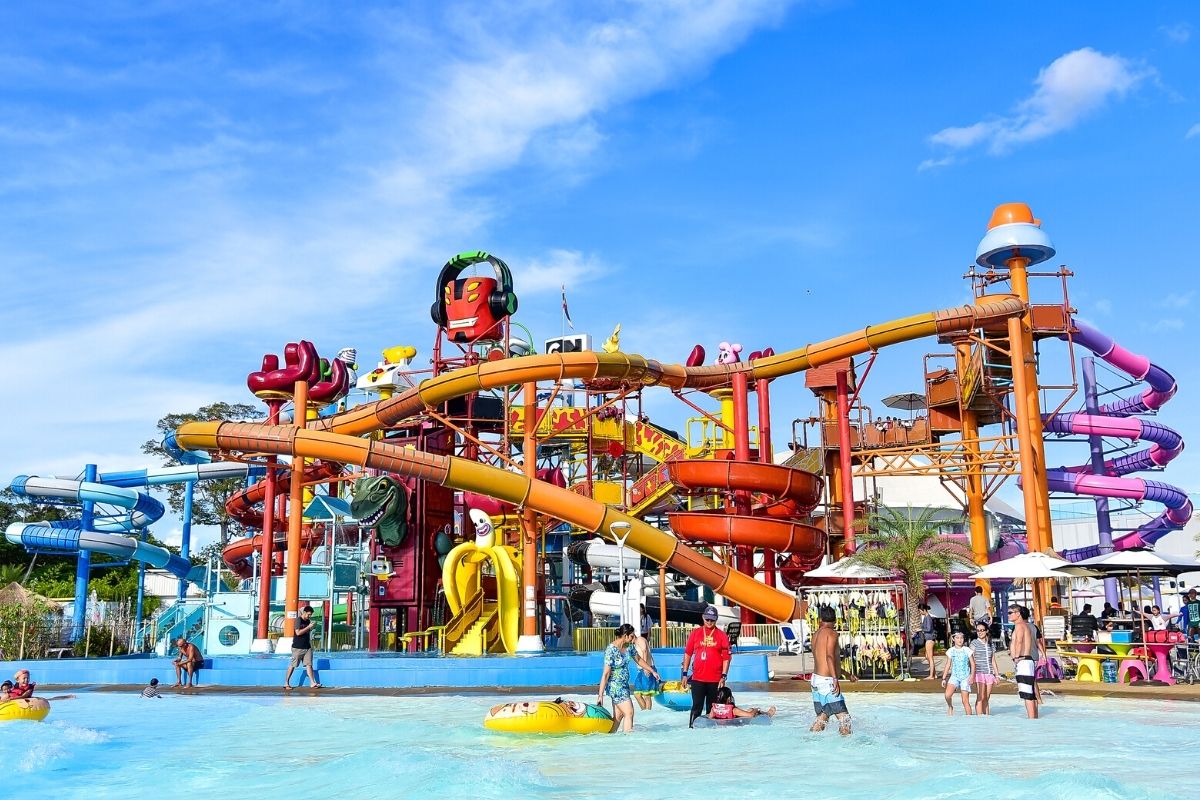 Relive your childhood dreams at Columbia Pictures Aquaverse and enjoy a day of fun in the sun with some of your favorite characters from iconic movies.
Opening as the first Columbia Pictures-themed park, there are rides and attractions both on land and water-based, and the cinematic playground is divided into different areas categorized by famous blockbusters.
The Ghostbusters zone comprises water rides like the Proton Stream (where you'll fly through a 23-meter-long ghost-trapping tunnel), the Ghost Trap Adventure and the Slimer Speed Racer.
There's more water-filled action at the Jumanji zone. Swish up Jaguar Mountain, get spat out of a hippo's mouth on the Jungle Stampede slide, or feel the thrills down the Viper.
Spot Dennis, Mavis and Johnny at the Hotel Transylvania zone, and the little ones will love meeting the animated characters in person.
Grab a board and pretend to be Cody Maverick down at the wave pool located at the Surf's Up zone. There's also a cute photo op here where you can pose for a selfie whilst catching barrels with the rest of the gang.
Playing in a world from the Emoji Movie, enjoy rounds of mini golf at the Emoji Movie zone. Other exciting areas to come include the Bad Boys, the Cloudy with a Chance of Meatballs and the Zombieland zones.
FYI: If you've visited Pattaya before, the theme park was formerly the Cartoon Network Amazone. It's undergone renovations and a total rebranding, including the park's theme.
35 – See aquatic wonders at the Monster Aquarium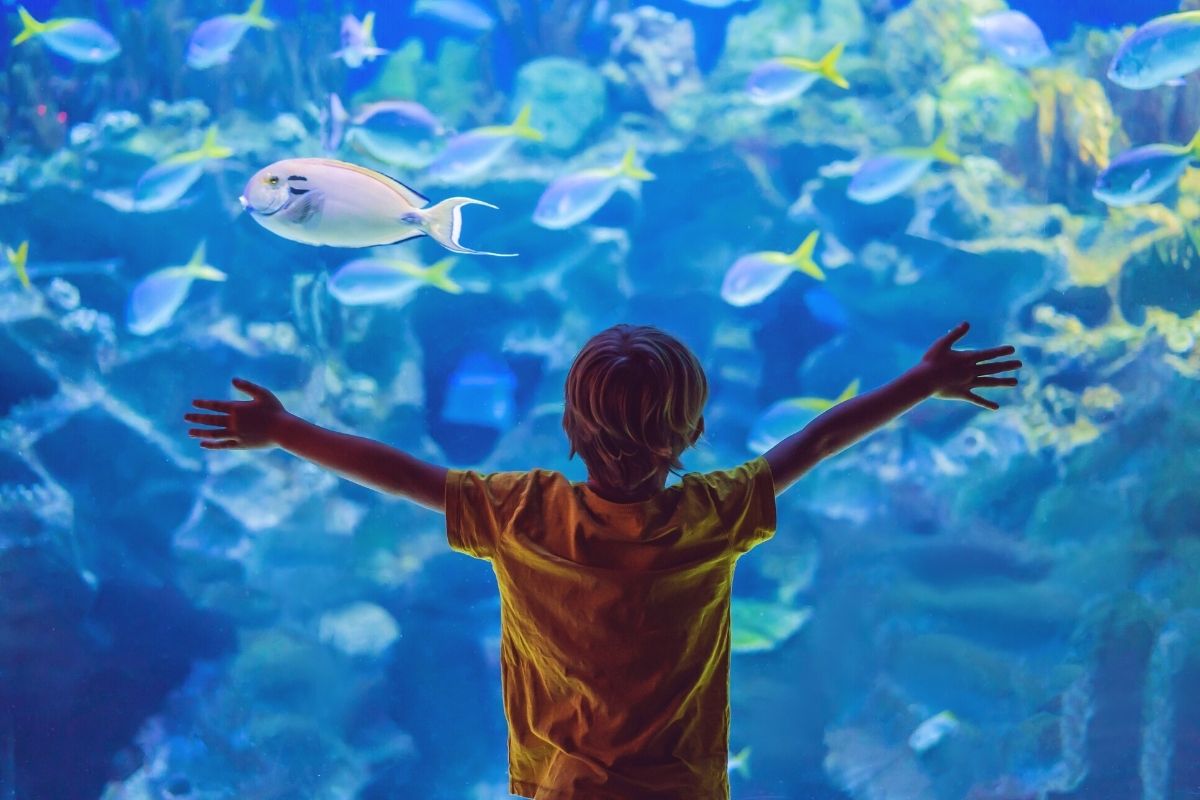 Have you ever seen a two-headed tortoise before? The small Monster Aquarium is home to some rare and exotic animals facing extinction, set up into 16 animal zones where you can see mammals, reptiles and fish.
Entering the 10-meter indoor tunnel, look above to see fascinating marine creatures swimming overhead.
Spot an albino snake or the gigantic arapaima (one of the largest freshwater fish in the world), or get to feed the sharks.
Not only limited to indoors, there is an outdoor area where the petting zoo is. If here with kids, they will especially love seeing the guinea pigs and rabbits — which you can feed as well. Walking around the garden see ostrich, horses, peacocks and buffalo.
Remember to be respectful and mindful of all the creatures at Monster Aquarium and do report anything if you feel that it goes against moral justice.
36 – Spoil yourself with a special something from the Gems Gallery Pattaya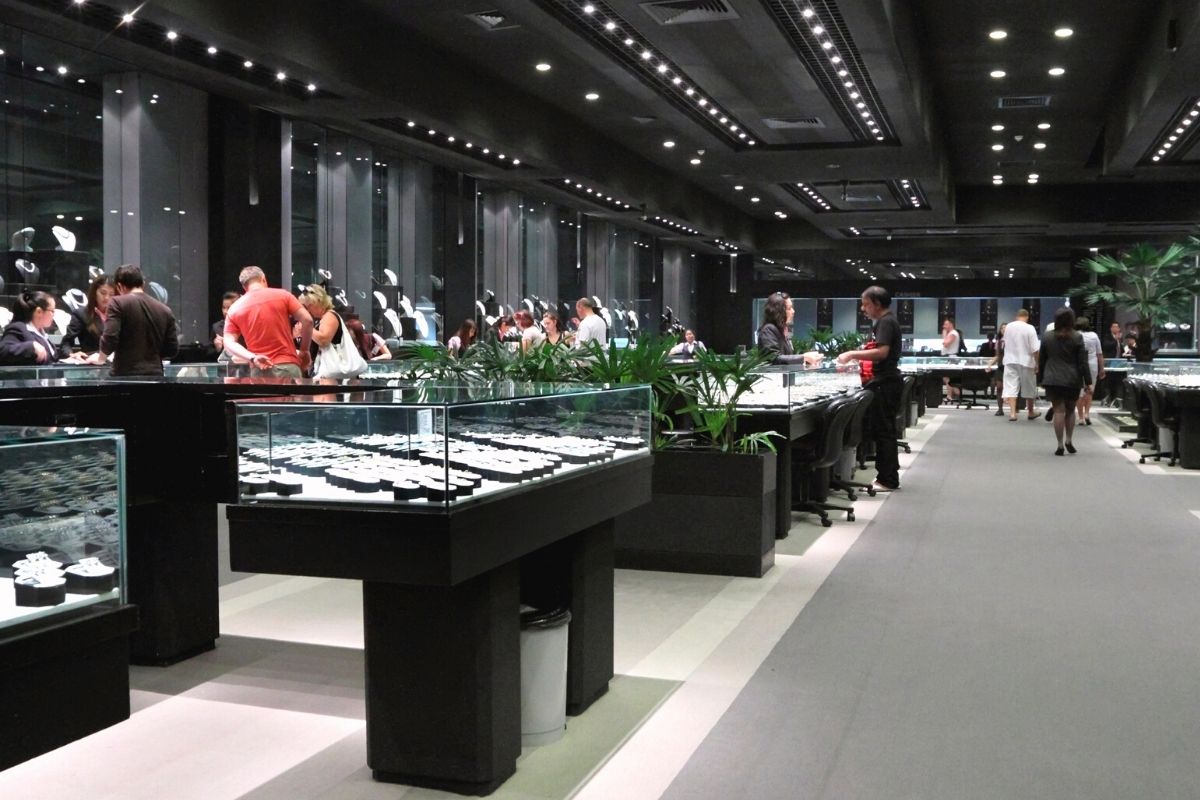 Precious stones, gems, diamonds and pearls are just a few of the treasured jewels you can find at the Gems Gallery.
At a time, this massive gallery was the world's biggest jewelry store. Today it acts as a gallery, exhibition and shopping experience.
Arriving at the gallery, start off with a ride in an open-air bus around the museum where you get to see how gems and precious stones are uncovered from the earth and mined. On display are some historic pieces of jewelry and ornaments encrusted in jewels.
After the tour, be taken to the massive showroom where the buying begins. It's here that you can shop for jewelry containing gems, or the stones in raw form such as ruby, emerald, sapphire, opal and peridot.
These are sold as rings, earrings, necklaces, pendants, bracelets, brooches and handicrafts for the home.
37 – Refuel (and take millions of photos) at insta-worthy cafes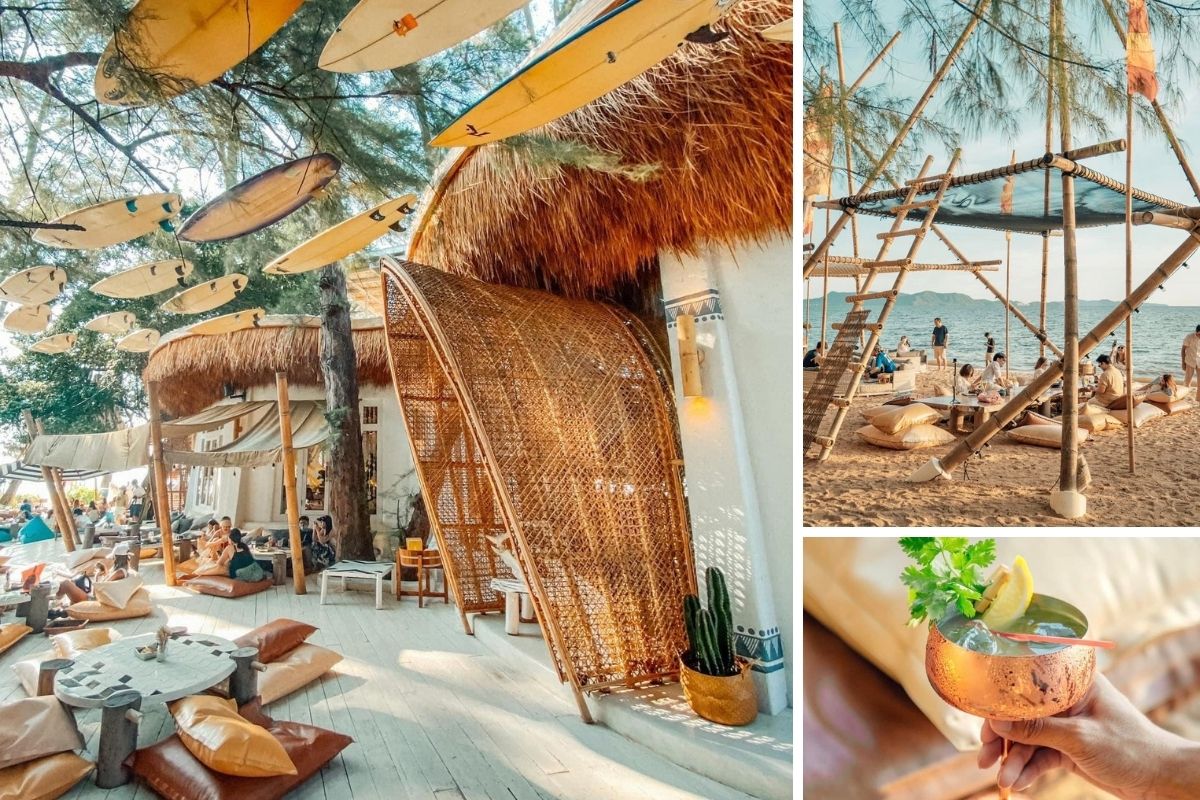 Close to foodie-paradise Bangkok, Pattaya has upped its game when it comes to its cafe scene and there are a bunch of places to pop into to fill up your social feeds.
Boho and naturalistic, Cave Beach Club Pattaya looks like it belongs on a Pinterest board and this is what Thai island beach club cafe dreams are made of.
Low tables, scattered cushions, hammocks and bamboo cabanas in the sand, grab drinks or something to eat at this whimsical setting surrounded by wispy trees and a touch of magic.
Literally everywhere you look at 3 Mermaids Café & Restaurant is a photo opportunity… Gigantic bird's nest seats on the edge of the cliff, mermaid sculptures made from moss, netted chairs hanging off the sides, and a strew of bean bags in a row all overlooking Koh Larn island in front of you.
Order oysters, charcuterie boards, burgers, seafood and more.
What could be cuter than snapping hundreds of pics among an apple orchard (which you can pick apples from and eat them)? Reminding one of a scene out of a children's fairytale, Papa Beach Pattaya has made a point of filling the space with tons of cutesy statues and structures.
For example, there's a solo horse from an old-school carousel, a bright pink oyster mermaid shell table, and tables and chairs set under lemon trees right on the beach! You can't help but feel like Snow White or some other Disney character at this weird and wonderful cafe.
Unlike any of the other cafes around, Tappia Floating Cafe Pattaya isn't built on land, and to reach this cafe, you will need to cross oceans — literally.
Built on a two-level boat, chill out on yellow beanbags, and if you're here in the evenings, they put on a fireworks display and fishing is available to do too.
38 – Cruise on a boat tour
Situated on the coastline, there are plentiful boat tours to embark on from Pattaya.
Visit nearby islands, go on a dedicated snorkeling boat tour, or for something extra special, book a full-day cruise around the east coast on a luxury catamaran.
Pick a time slot that suits you, for example, either the morning or afternoon, or if you're keen on spending the entire day out at sea, full-day expeditions last seven to eight hours.
The types of boats you board also vary depending on your chosen agenda. Some tours take off in smaller speedboats, others in stylish catamarans or cruise ships.
For something completely different, there are also local boat tours that cruise along the river, transporting you to the floating market and traditional villages.
39 – Bring the kids (or adults) to Fairy Sweet Village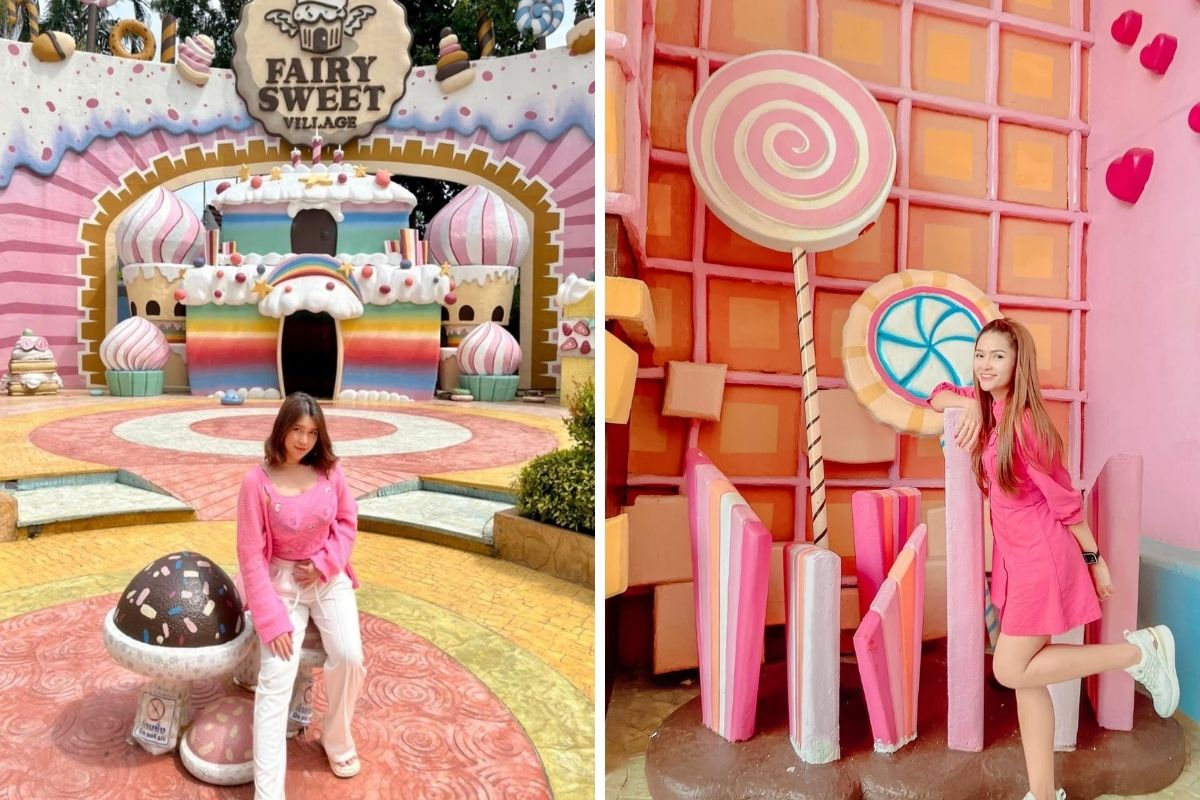 Come get lost in a world of pastels, candy pinks and delightful treats at Fairy Sweet Village — you're going to want to bring your A-game for the 'gram as everywhere you look, there's a photo moment!
Designed like a fantastical world made from sweets and all things yummy, there are super cute structures and animated spaces where you can stop to snap photos.
Strike a pose on the pink, red and white candy carousel, walk through doorways shaped like slices of cake, or take a "bite" out of oversized cake pops.
Not only is the playground themed like a fairytale candyland, but the dessert menu matches the vibes at the on-site cafe. Order the pancake stack presented in a garden, try an angel-winged cupcake, munch on rainbow cake or take home a box of animal-character macarons.
40 – Bond with monkeys at Koh Ling (Monkey Island)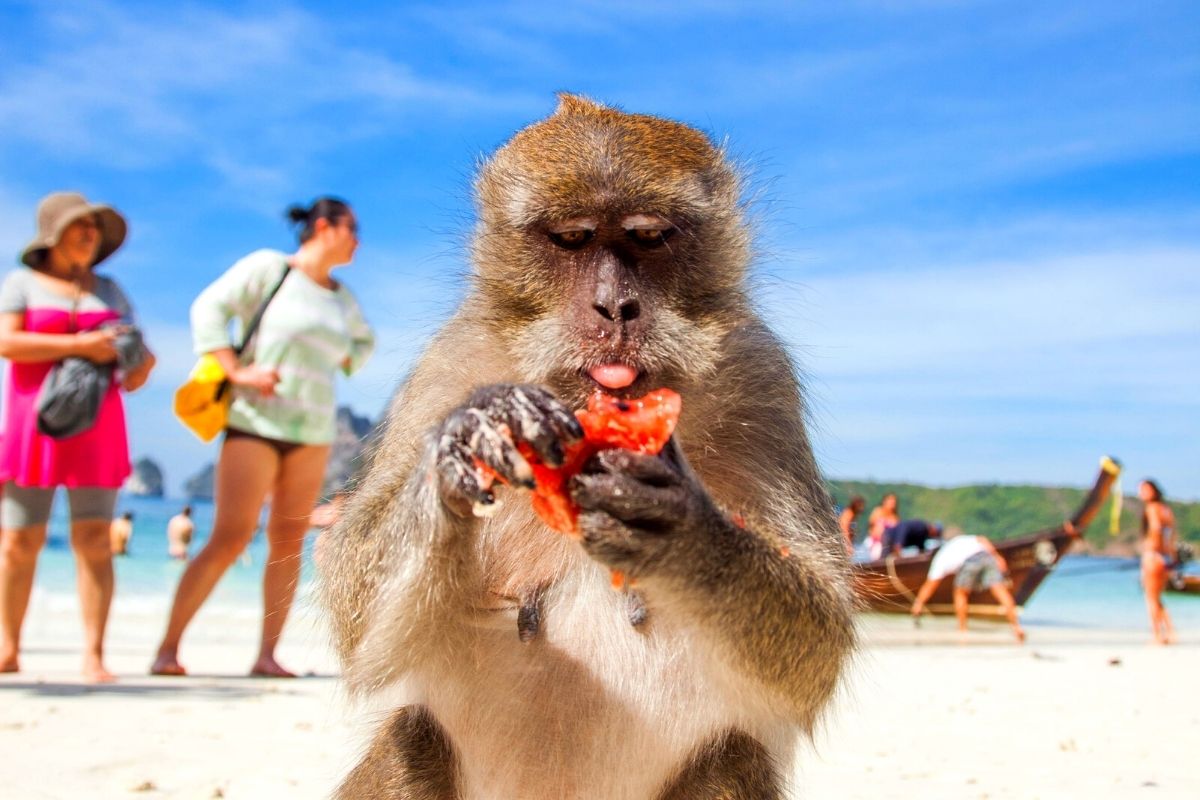 Can you take one guess as to why Koh Ling is nicknamed Monkey Island? You guessed it, the teeny isle off the coast of Pattaya is, indeed, home to hundreds of wild Thai macaques!
Also known as Koh Ped, the only way to reach the island is via boat, and speedboats and catamarans often stop off here during island-hopping tours.
Once you're on land, say hello to the crab-eating monkeys that call the miniature, jungle-laden island their home. You can also feed the intelligent mammals, however, there are a few things to note in this department.
Don't feed the monkeys anything strange. Bananas, pineapple, coconut, watermelon and apple are some of the fruits monkeys LOVE. After you start offering them food, the monkeys become super enthusiastic and interactive — you could say it's their way of showing their appreciation.
Lastly, if you've brought snacks for the macaques, make sure you take back on the boat with you all of your wrappers and plastics.
While it is usually not advised to feed monkeys if you visit a sanctuary, because of the island's positioning in the middle of the ocean, it's often hard for the animals to find food sources.
41 – Opt for unique a boating experience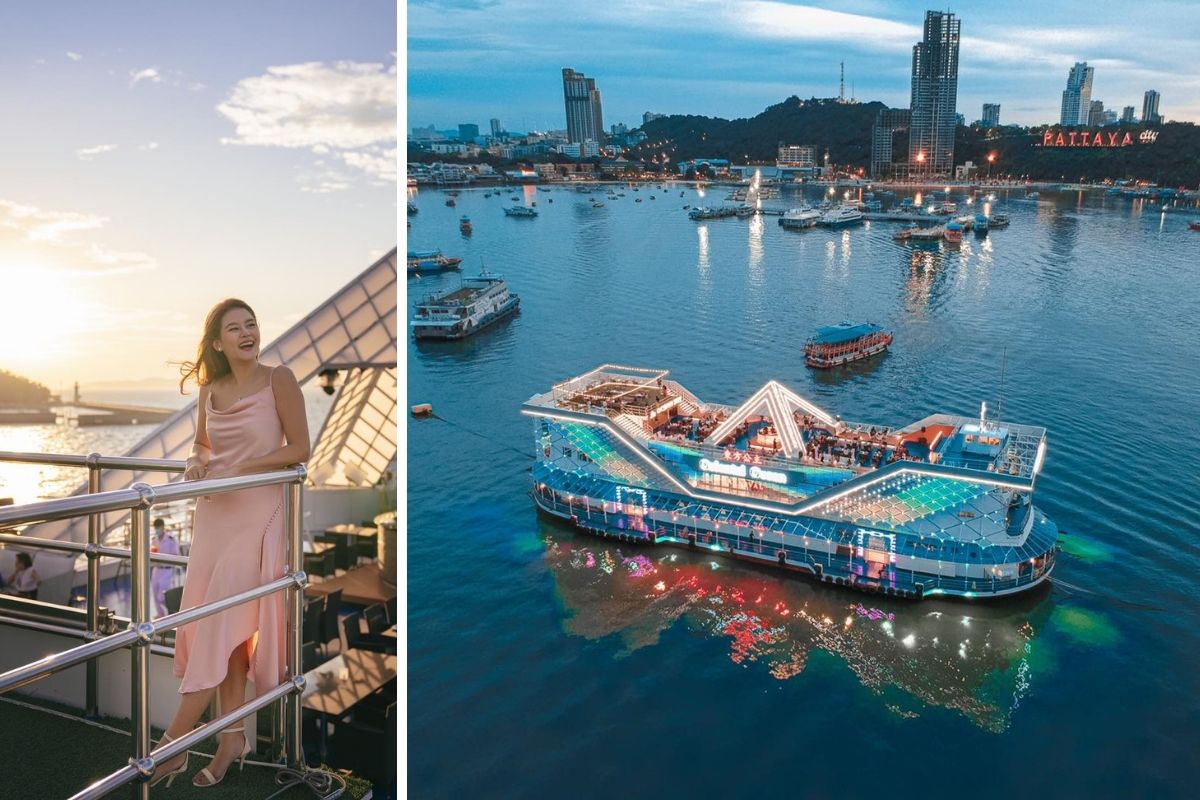 Instead of an ordinary boating excursion, there are also some truly unique boat experiences in Pattaya as well.
Ocean Sky Pattaya is a cruise ship rooftop bar and restaurant anchored in the ocean, and a speedboat picks up and drops off passengers from the Bali Hai Pier to the cruiseliner (departing every 15 minutes and included in the ticket price).
Once onboard, enjoy cocktails on the second level with views of Pattaya and the surrounding coastline. The menu offers a delicious mix of western and Thai dishes, and seafood is caught fresh daily right from the boat.
The evenings are followed by live musical performances under the stars.
Also boarding a boat at the Bali Hai Pier, be transported to the Tok Squid Cafe for a night of squid fishing, the freshest seafood and a lively setting.
Set up on a raft in the middle of the ocean, try your hand at squid fishing, and afterward, get to enjoy your fresh catch either as sashimi or done on the grill.
All the equipment is provided for, and the ticket price includes transfers to and from land. There are three departure times: 5 PM, 6 PM and 7 PM, but the raft only returns at midnight.
42 – Work on your tan at the best beaches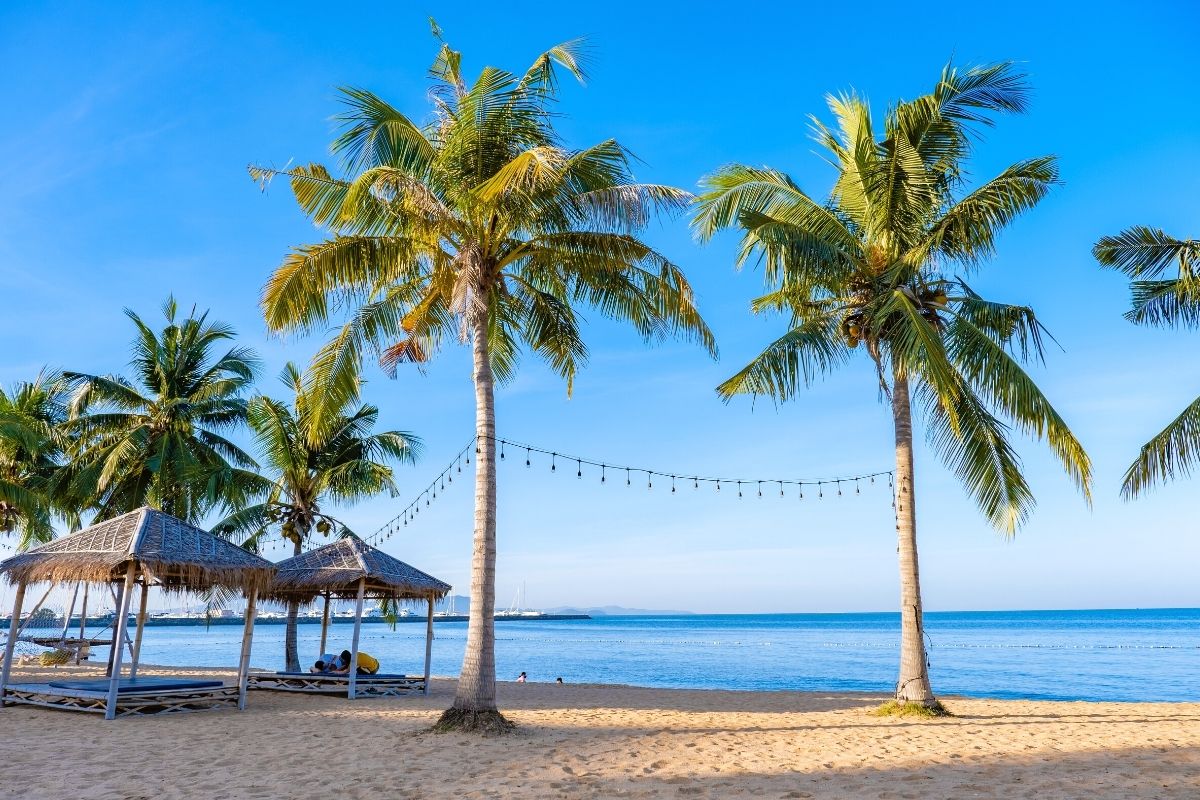 Just two hours from Bangkok, tourists and locals alike flock to Pattaya when they're craving some TLSea time and along the coastline, there are awesome beaches to spend the day, offering water sports and oceanic adventures.
The city's main beach is Pattaya Beach and behind the three-kilometer-long sandy strip are many seafood restaurants, accommodation options and shops. It's a popular spot for water activities like parasailing and jet skiing.
While the main section is filled with action and always busy, visit North Pattaya Beach (to the north side of the main beach) where it's quieter and is more suitable for swimming.
Jomtien Beach is most favored by tourists and has your typical Thailand beach setup. Not as busy as Pattaya Beach, the beach is clean and there are restaurants and bars to chill at on the shoreline. The outdoor Angry Birds Play Park is located down here too.
Forever sporting a flat ocean and with tall palm trees dotted along the sands, tranquil Dongtan Beach is right next door to Jomtien on the northern end.
43 – Spend the day with the kids at the animal farms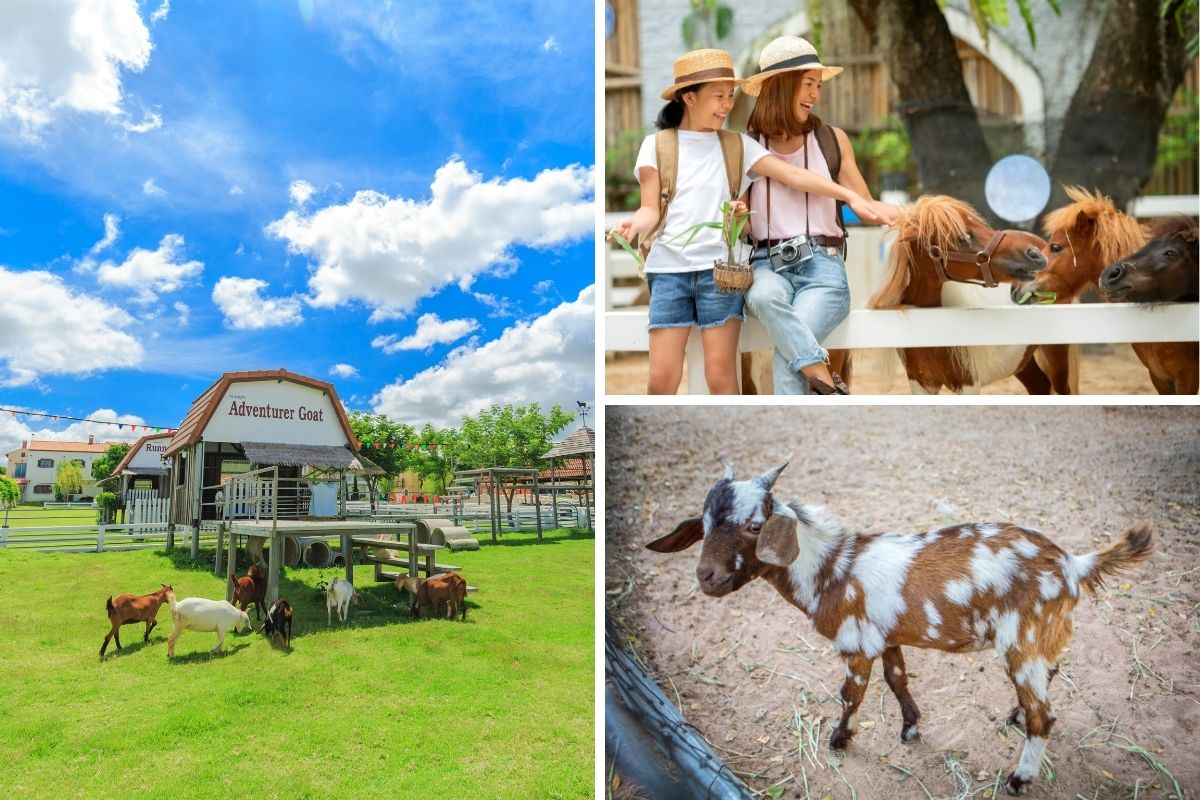 Didn't you just love visiting the animal farm when you were younger with the chance to pet the animals and even feed a few?
One of the great things about traveling to Thailand is its plethora of outdoor pursuits to suit all different types of travelers' needs. Animal farms, for example, are extremely popular and are well-loved by families and little children.
There are quite a few animal farms to stop by in Pattaya.
The Swiss Sheep Farm Pattaya is one of the most well-loved farms around, filled with cute photo opportunities around an animated European-style themed garden, a petting zoo and a cafe.
As you meander the paved walkways through its manicured laws, get to see cows, rabbits, deer, a pond with ducks and a barn where the sheep, horses and donkeys live.
Not only is a visit to the Big Bee Farm Pattaya interesting, but it's also an educational experience — plus, you can walk away with some delicious tasting Thai honey.
Take a tour around the farm and learn about the manufacturing processes (as well as the health and medical benefits of both the bees and their glorious honey), check out the museum room, watch the bee man show and stop by the cafe, or shop and stock up on your honey products.
Your little ones will love the Pipo Pony Club and if you've got a budding equestrian on your hands, even better so! The farm offers professional horse riding lessons where you will get to learn the basics whilst riding a shetland pony.
Grab a bunch of carrots and get involved in the 'dwarf horse feeding activity' and they offer recreational horse riding which is suitable for children.
Boasting a fairytale city, dedicated play zone with an active train, pet farm, Bird Land and a game zone, enjoy a couple of hours at the Pattaya Sheep Farm. See alpaca, sika deer, sheep, donkeys, miniature pigs, giant chickens and tortoises at their animal farm.
44 – Explore underwater during a snorkeling excursion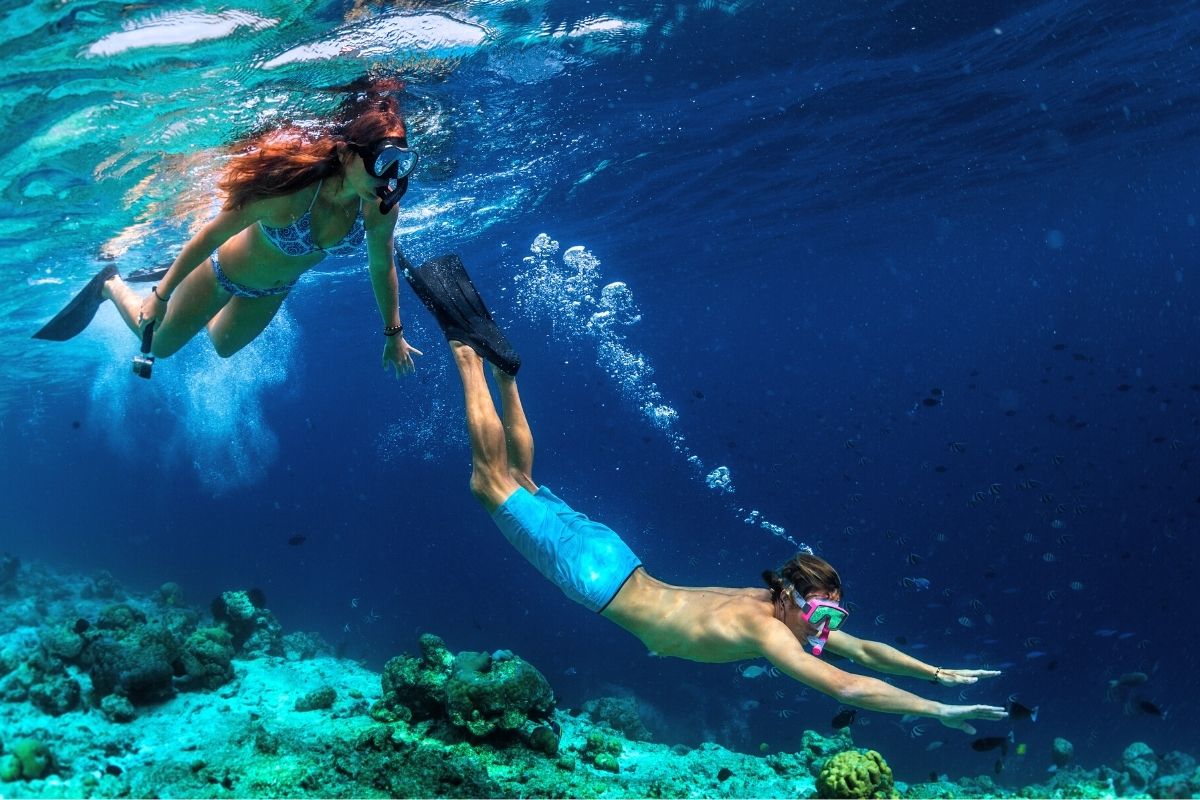 Pattaya is surrounded by a bunch of the most picturesque islands where the colors of the water are mesmerizing blue and the snorkeling opportunities are fabulous.
Coral Island (Koh Lan) is the most popular spot for snorkel tours (which usually are a full-day adventure), however, there are some other islands around that offer fantastic visibility and a glorious underwater world to swim.
Shaped like a horseshoe and not far from Koh Lan is Koh Sak. Lined with powder white sands and shallow waters, it's an ideal spot for beginners.
Uninhibited Ko Phai (known as Bamboo Island) is postcard-perfect and because it is so secluded, the marine life and oceanic ecosystems thrive around here. It's popular for snorkeling as well as diving.
Speaking of, there are a few great scuba diving locations around these islands, and scuba tours are available from Pattaya.
45 – Perfect your swing at the golf courses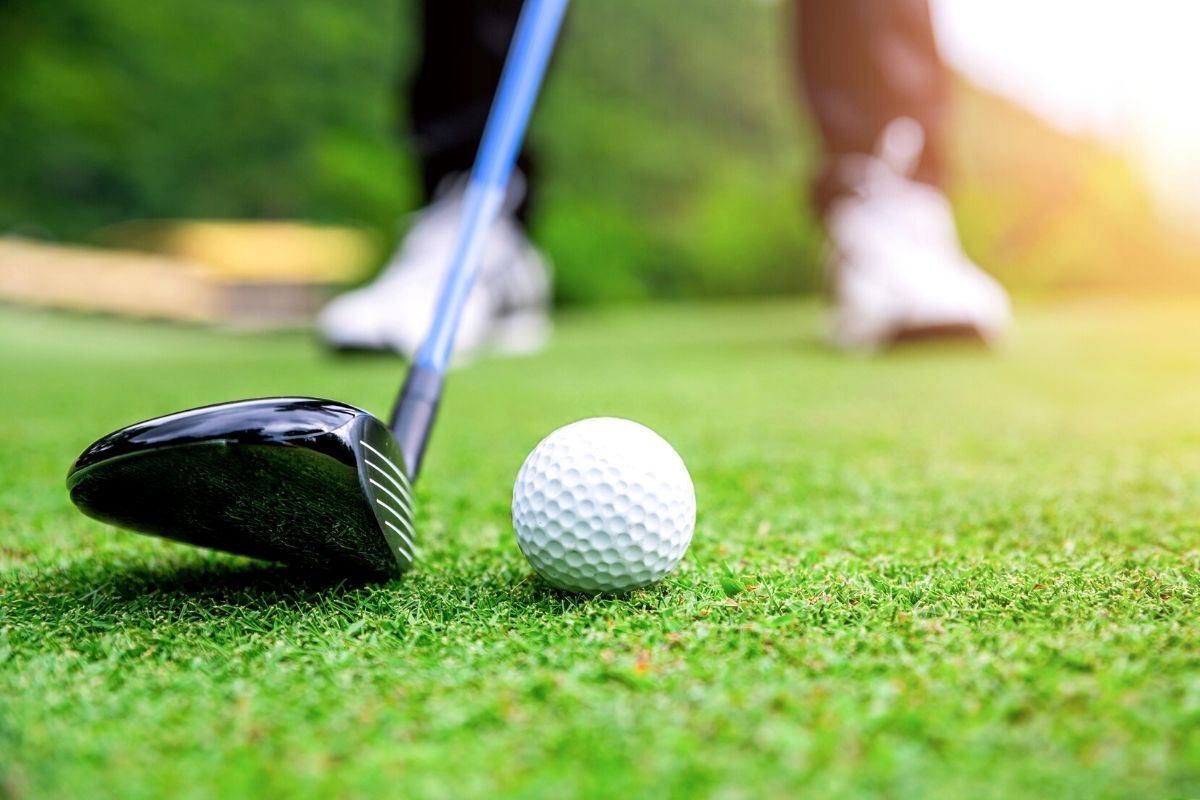 Golfing addicts, if you're sorely missing your playtime on the course (or if you're here on a business trip and looking for a range to visit with colleagues), there are some excellent golf courses in Pattaya for you to attempt.
In fact, this part of Thailand is renowned for its golfing courses and there are more than 20 to choose from in the area and surrounds.
Sporting a Jack Nicklaus design, the 27-hole Laem Chabang International Country Club is 30 minutes from the center of Pattaya. There is a golf lodge to stay at here too if you're keen on a total golfing vacay.
At the Siam Country Club, there are three famed courses to choose from: the Old Course, the Plantation Course and the Waterside Course. Renowned across Asia, between the courses, enjoy some of the best golfing in Pattaya.
The Old Course was evenly renovated and the 27-hole Plantation Course is one of the newer additions.
Another great option to spend the weekend teeing off, or just a round for the day, the Chee Chan Golf Resort has the most unique surroundings — located right in front of Buddha Mountain.
Boasting wide fairways, but with some tricky bunkers, the 18-hole course is suitable for all levels.
46 – Satisfy your bellies at the best restaurants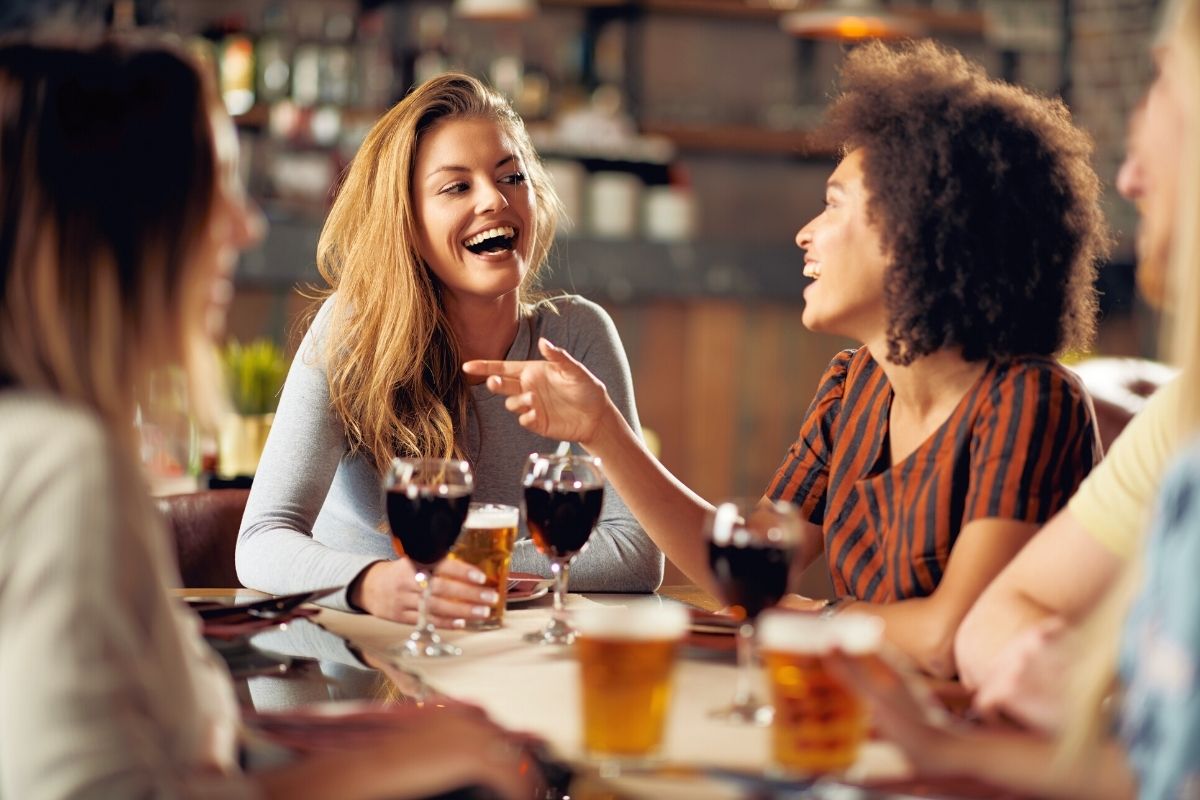 Whether you're looking for a romantic date night spot, an epic restaurant with views or a taste of excellent cuisine, here are some of Pattaya's best restaurants.
Overlooking the ocean and set on a wooden terrace, Rimpa Lapin is the ultimate spot for couples. Enjoy an evening of fresh seafood and fine wine under the stars.
Not only is the setting of Royal Grill Room & Wine Cellar unreal, it's a real foodie experience. Expect beautiful food presentation and you can sample their world-class wines inside the wine cellar.
For a night of fine dining, book a table at the French-inspired Cafe des Amis. The menu comprises all of the classics, and you can expect typical dishes from France like scallops and foie gras.
With two locations in Pattaya, you can't go wrong with a table at The Glass House and both branches offer guests a gorgeous beach setting where you can indulge in a meal with your feet in the sand.
Travelers looking for great vegetarian/vegan options, Five Star J Restaurant and Yes! Vegan Pattaya (slightly out of the center of town) keeps on bringing patrons back for more.
47 – Jump out of a plane during a skydiving venture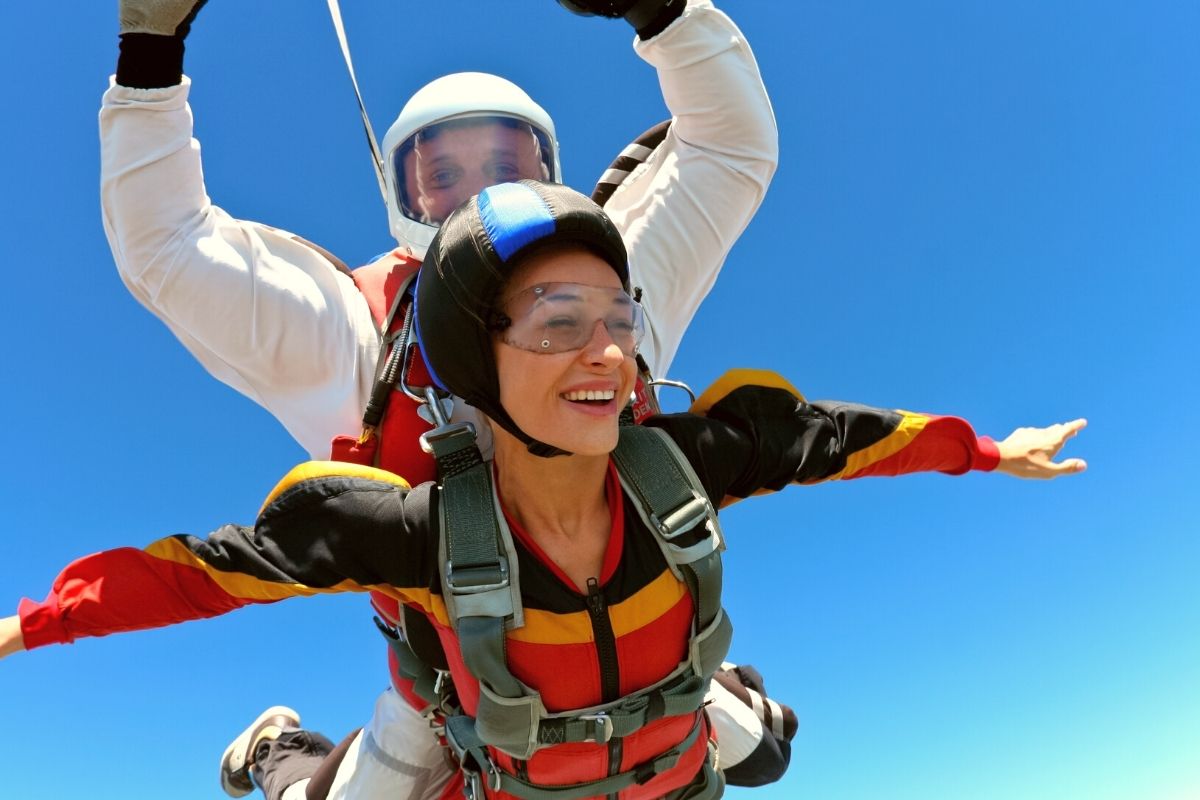 Conquer your fears, or tick this one off of your ultimate bucket list, with a skydiving adventure!
Get ready to freefall from 4,500 meters above the ground, and once you leave the plane, you'll travel up to speeds of 200 kilometers per hour, slowing down the closer to land you reach.
Before you even board the small plane which transports you up into the sky, you will undergo a safety lesson as well as a demonstration of what to expect.
If you've never tried the thrill-seeking activity before, there's no need to worry as all jumps are tandem dives and you'll be secured with one of the skydiving pros.
Documenting your once-in-a-lifetime moment, you can purchase a video of your skydiving jump afterward — all filmed on your instructor's GoPro.
48 – Feel like an Eskimo at Frost Magical Ice of Siam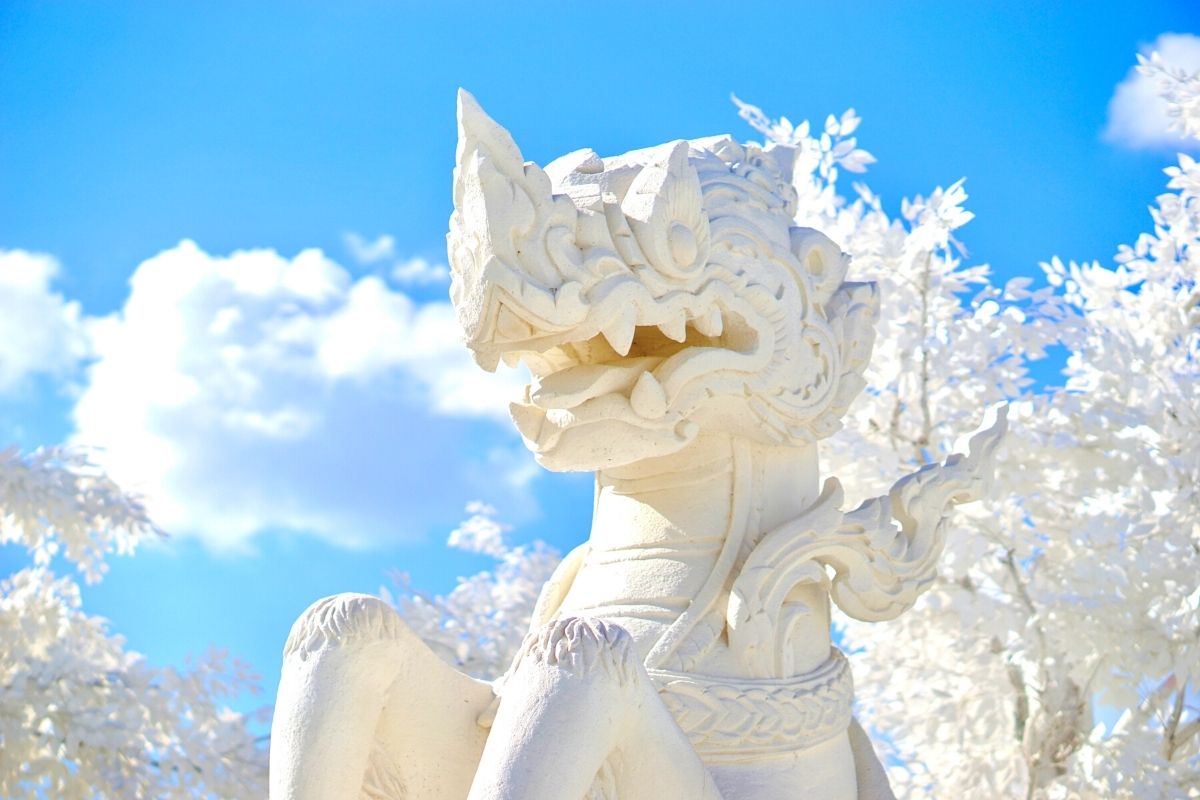 What better way to escape the blaring Thai heat than with a trip to Frost Magical Ice of Siam – a winter wonderland in the middle of Pattaya?
Leading up to the main attraction (an ice playground where the temperatures inside are a whopping -15 degrees Celsius), is a pathway laden with towering white sculptures depicting characters from Thai mythology, and the walkway is a captivating greeting to what awaits you.
(At night, this entire pathway is lit up in dazzling lights.)
Leaving behind the Pattaya sunshine, enter the building where everything inside is made out of ice!
Grab your complimentary drink from the ice bar, step inside the ice cave and explore the icy exhibition. There is also a small play area for the kids where they can slip and slide around.
Do take caution when walking around as the ground can get wet and slippery.
Tip: dress appropriately for the ice world as temperatures reach below freezing, or you can purchase protective clothing against the frost once you're here for an additional cost.
49 – Fill your suitcase at CentralFestival Pattaya Beach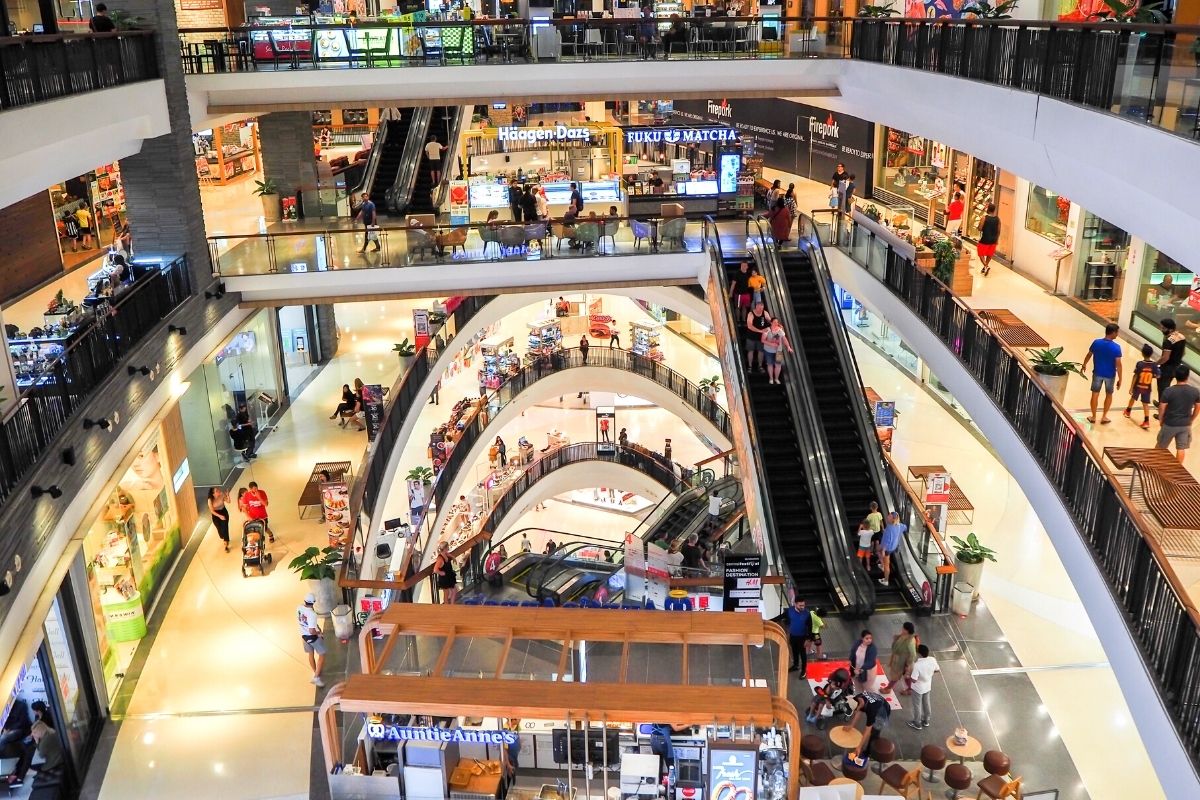 Get ready to shop until you drop at CentralFestival Pattaya Beach — the city's biggest shopping mall.
Located in the heart of Pattaya and right on the beachfront, find a dazzling mix of both local and international brands spread across six floors.
The complex has an upmarket feel and is designed with boutiques and restaurants both inside the building and outside.
With more than 350 outlets, shop for all things fashion, beauty, home, kids, sports and technology-related. Nike, Swarovski, Zara, Ripcurl and iCare are a few examples of the stores to locate here.
After hours of shopping, refuel at one of the 40 restaurant options, and there are both indoor and outdoor offerings to choose from. Thanks to the shopping complex's positioning, some of the dining spots have great views of Pattaya's bay.
Catch a film at the movie cinema, or if you want to stock up on snacks or groceries, there's a large supermarket at CentralFestival for you to grab everything you need in one go.
50 – Have hours of fun at HarborLand Pattaya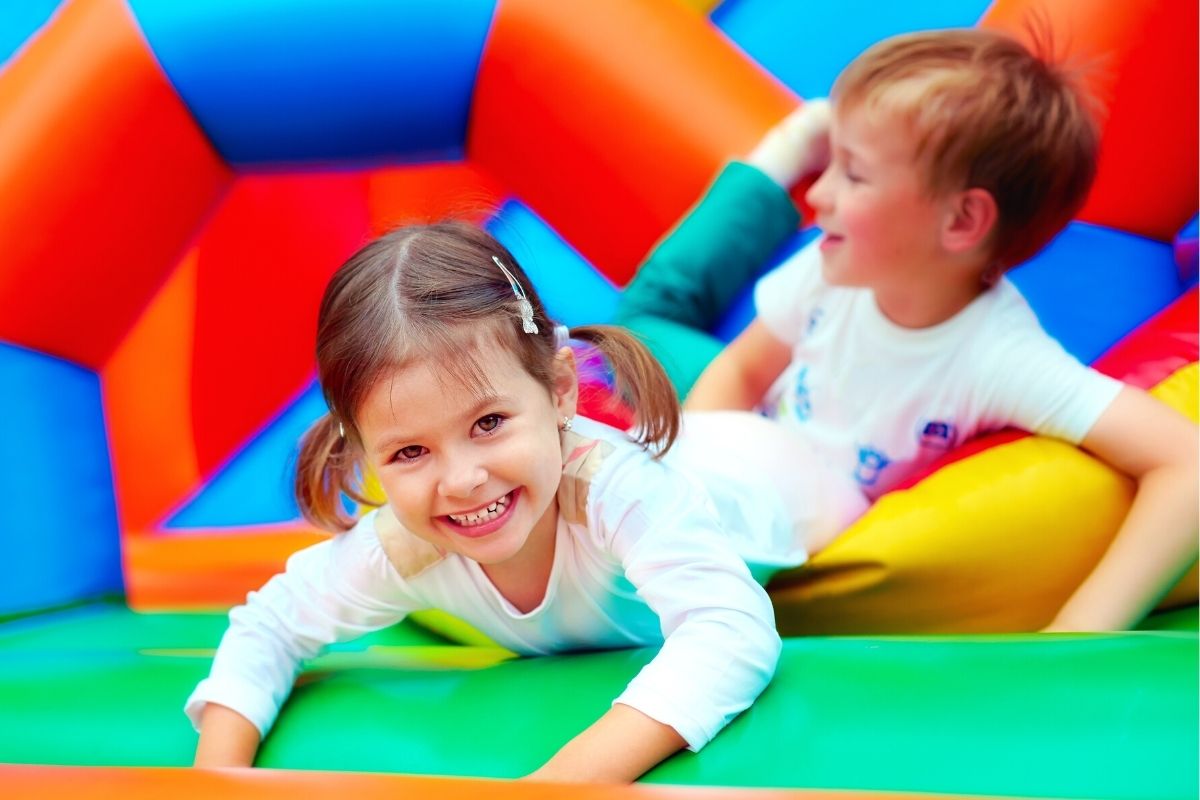 It's hard to imagine children not having an absolute blast at the 'largest family complex in Asia' and HarborLand Pattaya is designed to include all of the best-loved kid's playground features, rides and slides.
On the different levels of HarborLand are varying playgrounds and you can visit just one, or all of the 10 play zones.
Your kids will have bucket loads of fun climbing, jumping, sliding and using their fine motor skills around the various obstacles, jungle gyms and trampolines at MEGA HarborLand, and the space is designed to capture the attention of kids up to the ages of 13 years old.
On the sixth floor is JUMPZ trampoline park, or visit the indoor RollerLand on level three (a roller skating rink). Try rock climbing at the DEEP Climbing Gym (suitable for children five years old and up), or make your way across rope obstacle courses and ziplines at AdventureLand.
Great fun for kids and adults, laser tag games are available at Laser Battle on the seventh floor, or try out the more intense Laser Combat on floor eight.
Building blocks help form the foundations for the development of fine motor skills, and LittleLand is an entire space filled with colorful plastic building blocks.
Hear the little ones squeal and laugh on the six mini children's rides at Wonderland, and Motor City was designed for kids to experience the feels of driving for the first time. Here there is a children's mini Circuit, Driving School and Bumper Battle.
The F1 Drift Racing track is designed for children and adults.
51 – Get your heart racing whilst bungee jumping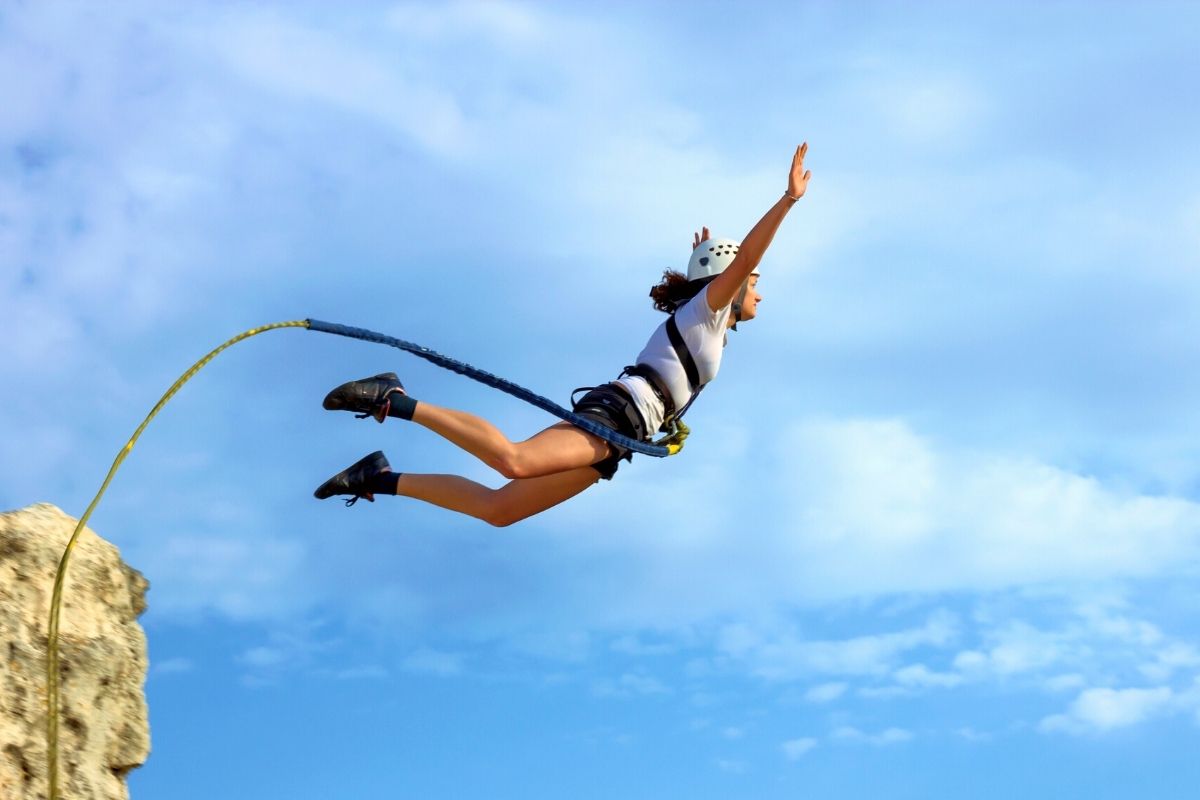 Among all the thrill-seeking adventures in Pattaya, another one for our adrenaline junkies is bungee jumping!
Operating since 1989, Xbungy @ Pattaya Bungy Jump is the city's oldest and highest jump point. Traveling 60 meters up (in a locked-in and secured cage) to the jump platform, spring into the air once at the top and feel what it's like to go against gravity.
All gear and equipment are provided, and this includes a mandatory lesson on safety measures and instructions to follow from the ground until the end of your jump.
The bungee experience is located down at Sanook Park — an adventure-inducing water park that is also home to more risk-taking activities for you to try, like the human slingshot or paintball arena.
52 – Go fishing in Pattaya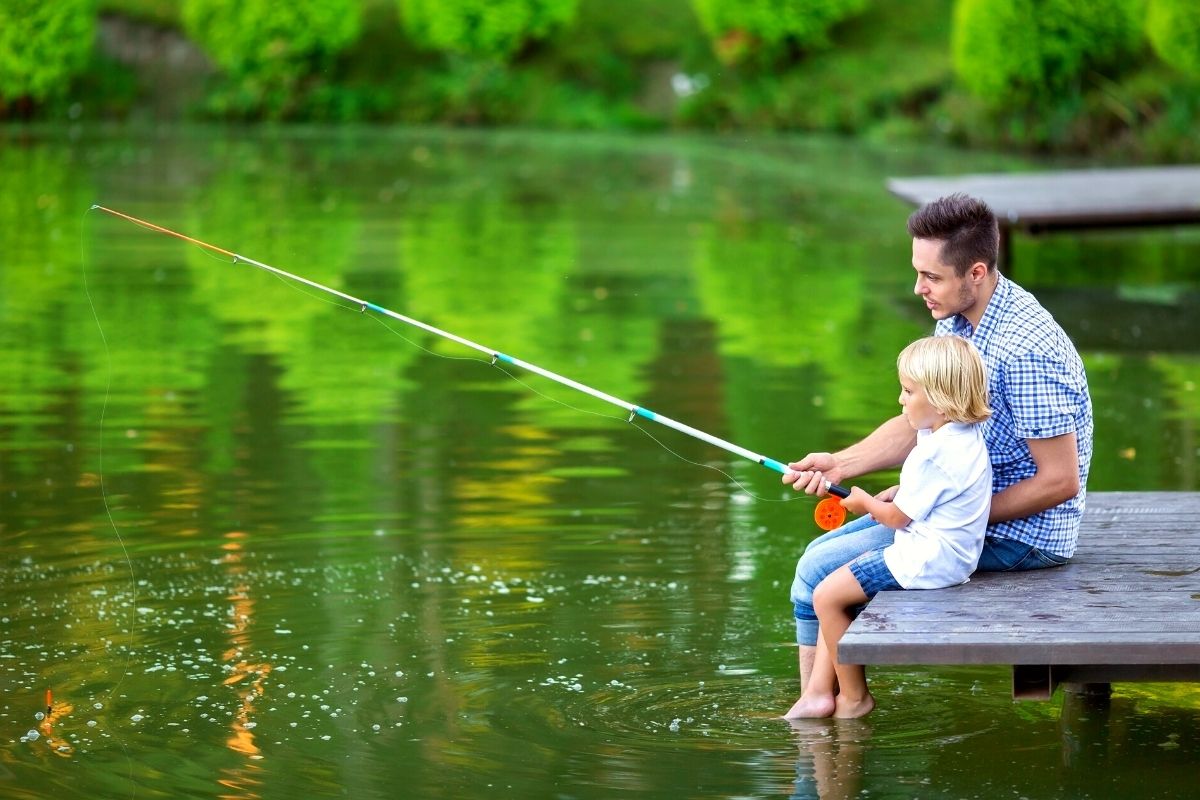 A great bonding experience for parents and their kids, or those that call the sport a pastime, there are ample fishing opportunities in Pattaya, and in fact, around the city are designated fishing parks.
Reel in a big guy at the Jomtien Fishing Park (near Jomtien Beach) where massive catfish predominantly swim the waters. The average fish weighs between seven and 10 kilograms, however, some fishermen have caught the species weighing a whopping 25 kilograms!
At Wasana Fishing Park they have a strict "catch a release" policy and the park is home to over 30 indigenous and native species.
Some of the fish you can expect to spot include arapaima, Siamese carp, redtail catfish, leopard catfish, black shark carp, Nile tilapia and silver barb.
Set in a super tranquil environment Castaway Fishing Park & Restaurant offers both daytime and nighttime fishing from their large lake. Categories include predatory fishing, carp fishing as well as competitive match fishing.
For serious enthusiasts, Freedies Fishing Park is great for fly fishing, float fishing and the usual type, and there are over 50 different varieties to try and catch. Some examples include alligator gar, giant snakehead, marble goby, giant gourami, bighead carp, walking catfish and barramundi.
53 – Fool your friends at the Upside Down House Pattaya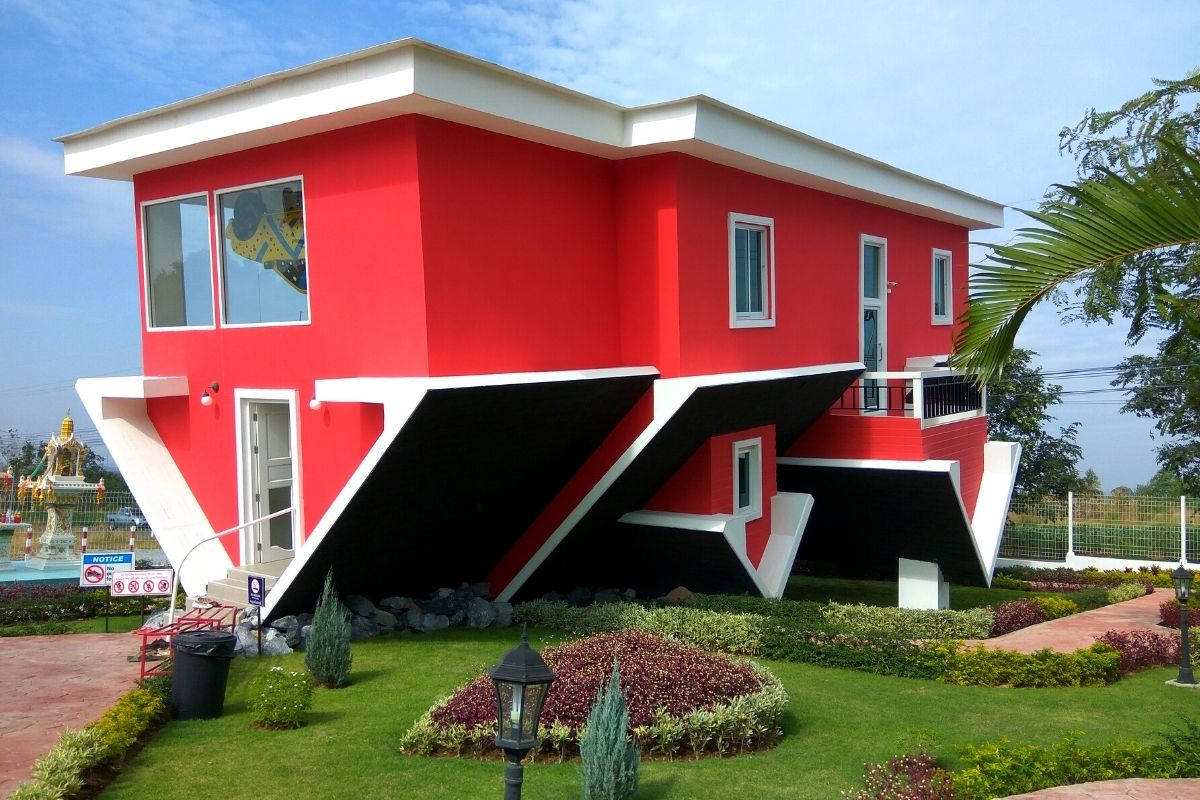 Feel as if you've stepped inside an alternate reality at the Upside Down House Pattaya.
Designed to create the craziest of illusions, it literally seems like you're living in an upside-down world as all the rooms and the items and objects inside them are designed and built facing the wrong way round.
This makes things appear not as they are supposed to, and when taking photographs, it's you who looks like you're upside down, or hanging from the ceiling.
Built to replicate an actual home, walk through the different rooms like the kitchen, living room and bedrooms and "defy the laws of gravity." Even the building from the outside is shaped like a house on its head, well, a roof in this case.
Snap some insanely cool photographs to bamboozle your friends and family, and if you're on a family holiday, this is a great pick to spend an hour or two.
54 – Eat and shop at the night markets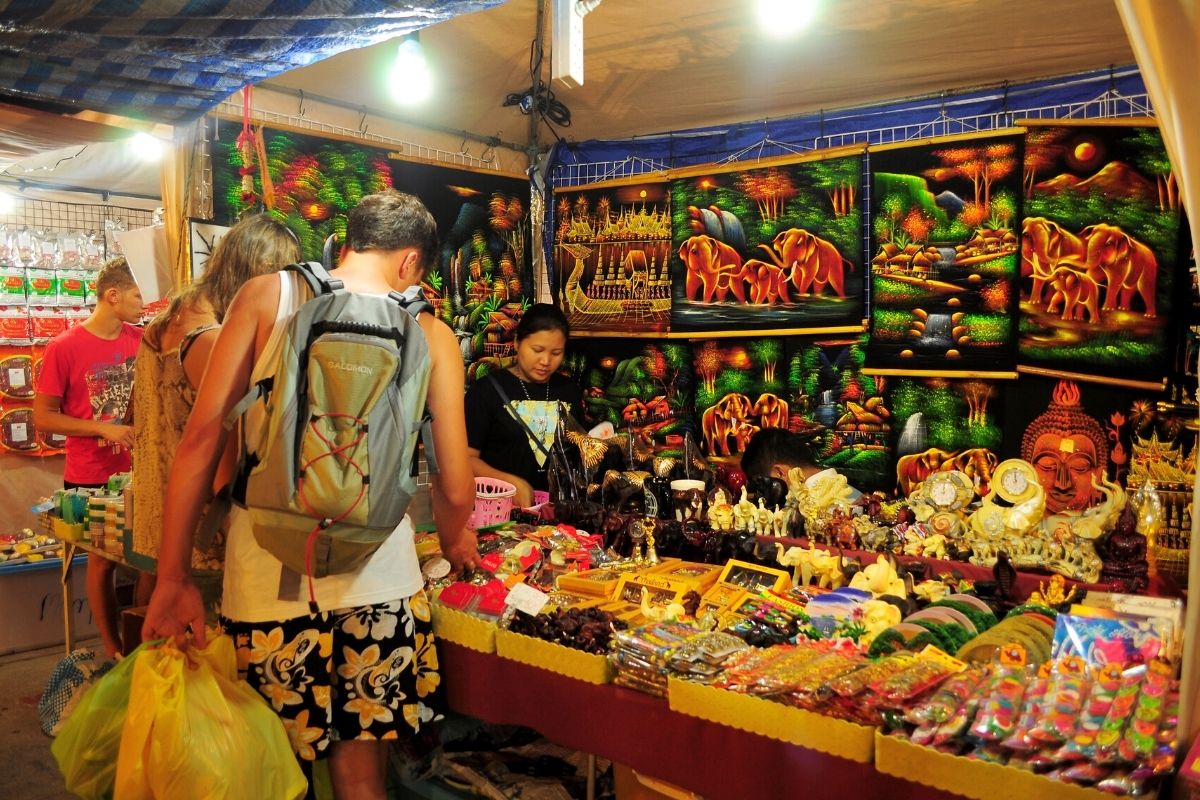 If you're the type of traveler that prefers hitting the markets to fancy malls, or perhaps you're just a shopaholic (no one here is judging you), there are awesome night markets in Pattaya that are a real vibe!
With more than 250 stalls and vendors selling handicrafts, unique souvenirs, clothing, produce and all sorts of Thai favorites like silk motifs or natural skincare products, Pattaya Night Bazaar is the most bustling night market in Pattaya.
If you're looking for a night market to visit more so for the ambiance than the shopping, Tree Town Night Market is really lively, and has a great strew of street food stalls, bars and restaurants to chill at.
Jomtien Night Market (also called the Jomtien Beach Night Market) is right near Jomtien Beach and is famous for its vendors selling some of the yummiest (and most affordable) seafood around.
Pattaya Park Night Market is a small-scale market that has a lovely selection of stalls selling handicrafts, clothing, aromatherapy goods, food as well as massage services.
Operating on weekends only, the Thepprasit Night Market is where the cool kids come to shop, but you can find almost anything and everything at this Friday, Saturday and Sunday night market.
55 – Enjoy live music at the Hard Rock Cafe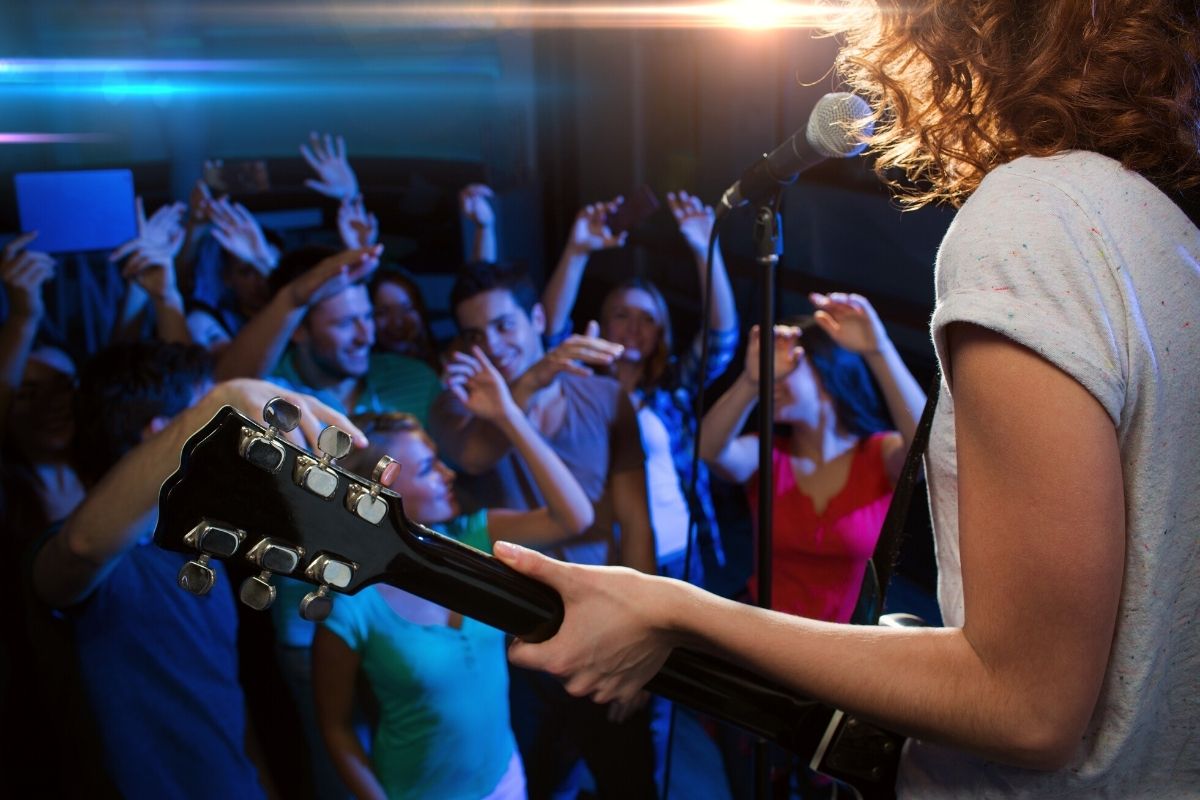 Famous around the globe and with locations in most places worldwide, the Hard Rock Cafe needs no introduction.
Sticking to what it does best, come to the iconic restaurant/bar/cafe for some live music and a good time.
Opened in Pattaya since 2001, the cafe is located on the beachfront with both indoor seating, as well as an outdoor terrace, The Moon Deck.
The menu follows the same as other branches around the world, but with the addition of some Thai-inspired bites. Try one of their legendary steak burgers, artisan fries or a full rack of baby back ribs.
Wash it down with one of their signature cocktails while live music plays in the background — the Hard Rock Cafe hosts live music every night and events as well as parties every now and then.
56 – Watch a live fight at a Muay Thai show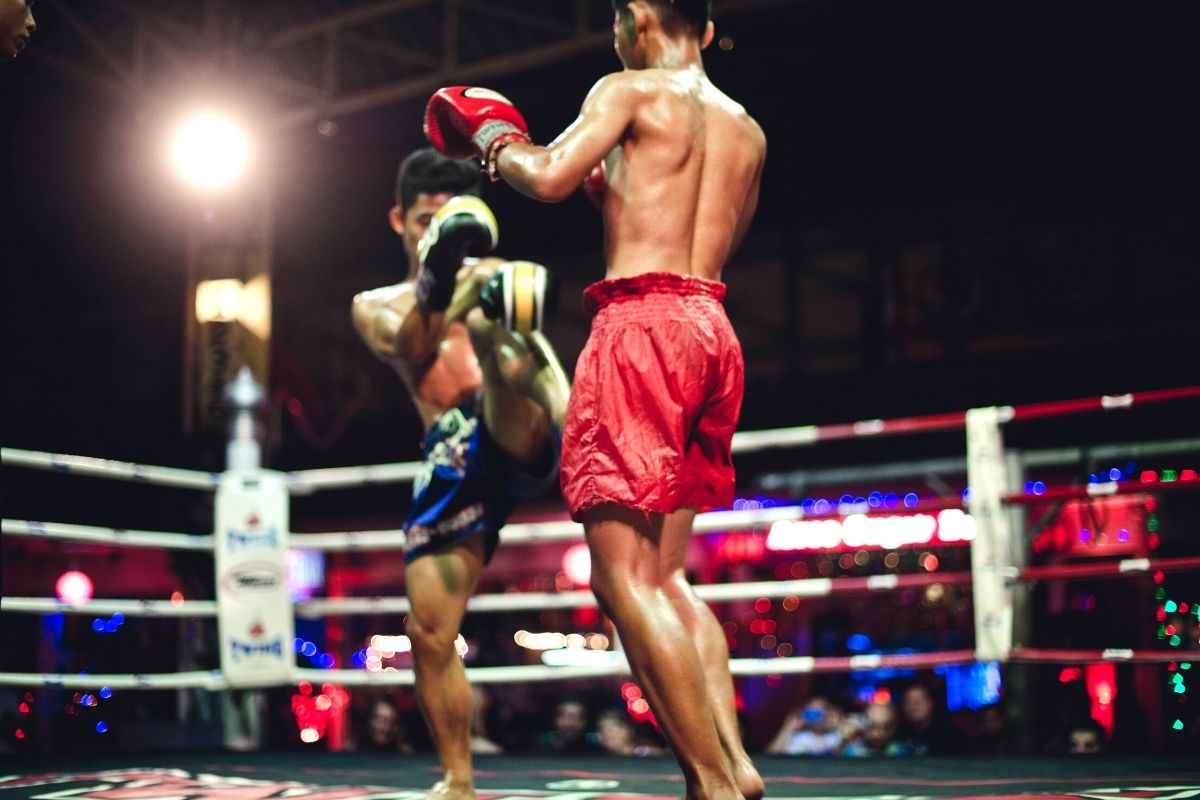 Gaining worldwide recognition and popularity in the last ten years, if you do kickboxing or are interested in the Thai martial arts form, get to witness the action in person during a Muay Thai show.
Originating in Thailand centuries ago, there are a few places around Pattaya where you can watch a live match happening.
With matches on every day (except Sundays and Buddhist holidays), MAX Muay Thai Stadium is home to both local and international fights, as well as championship events.
From all angles, the seating setup provides close-up views for all spectators and this stadium is one of the most well-loved for Muay Thai.
The intimate setting of the indoor Pattaya Boxing World draws in the tourist crowds, with a superb MC and commentators adding extra authenticity. Fights take place in the evenings and you can book a VIP seat and sit front row during a match.
Fuss-free and focused on the martial art, the Thepprasit Boxing Stadium is favored by locals for its match nights and hosts many local Muay Thai events, like a fight for the lightweight championship title.
If you practice kickboxing or Muay Thai back home and are missing your sessions at the gym, or you're keen to learn the sport, there are some gyms and schools that offer lessons in Pattaya too.
57 – Enjoy the Alcazar Cabaret extravaganza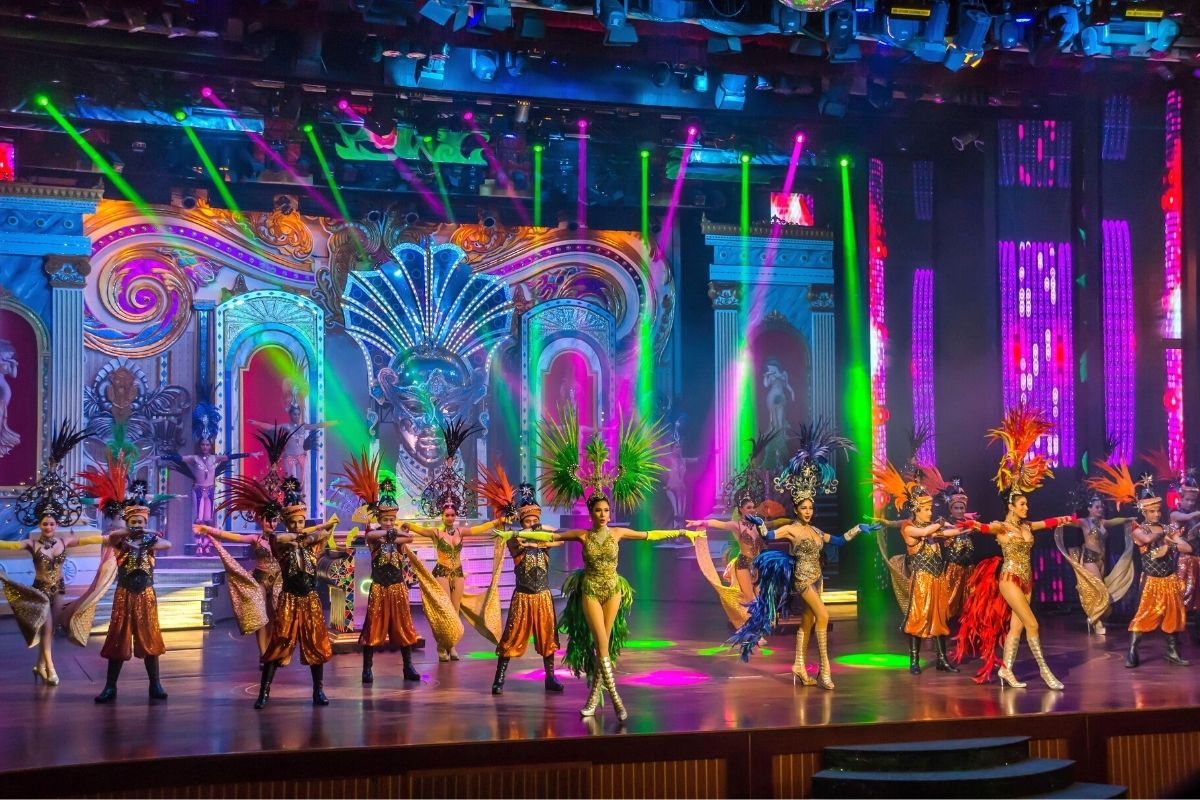 It's all glitz and glam at the Alcazar Cabaret and for those fond of the theater, you'll find yourself captivated by this fantastical show.
From the moment the performers enter the stage, you'll be blown away — if only from the sheer grandness of their costumes and makeup down to the last exquisitely sequin detail.
But it's not just the glittery and feathered outfits that steal the show, and this musical performance filled with song, dance and a bit of humor thrown in here and there, is an all-round winner.
Cabaret shows in Thailand are often performed by transgender artists, and the Alcazar Cabaret in Pattaya is no different.
58 – Explore Pattaya Walking Street's nightlife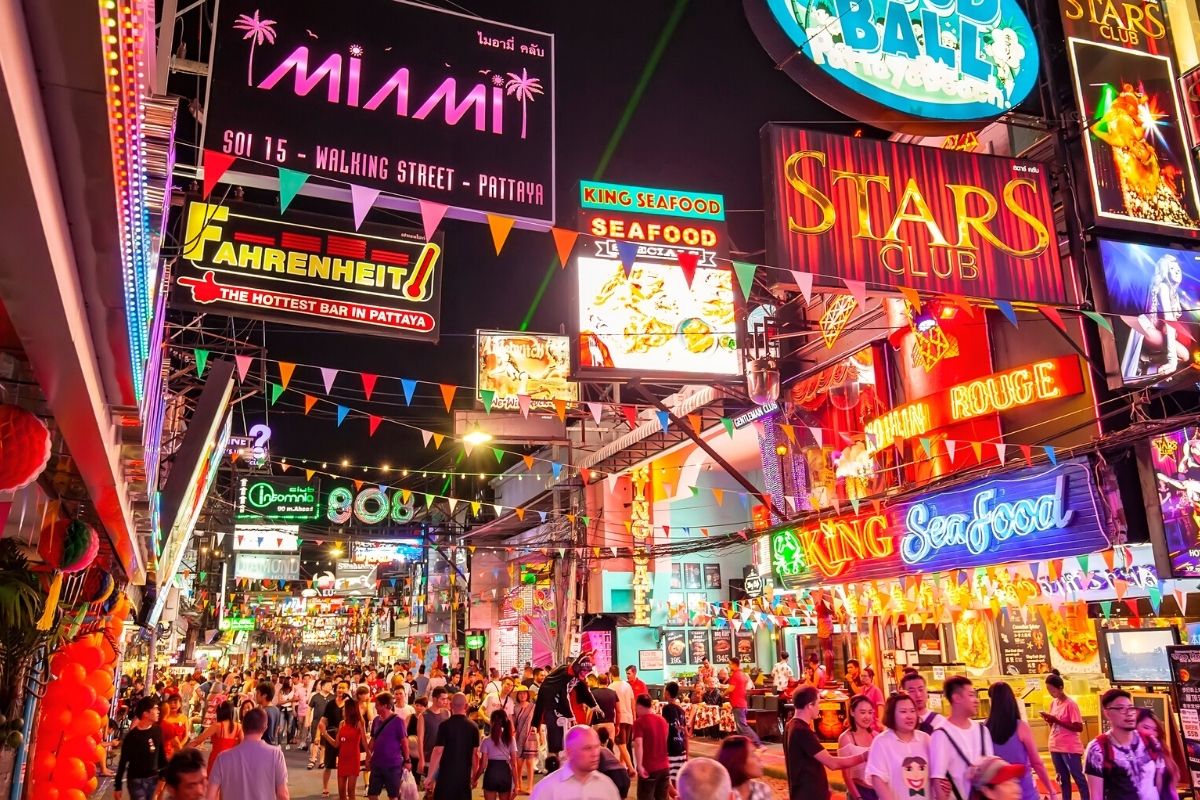 While many people head over to Pattaya for endless beach days and shopping, the nightlife scene is another deal-breaker for many travelers and there's always a party going on in this city.
Open during the day to bikes, but closed off from 6 PM until around 2 to 3 AM, Pattaya Beach Road transforms into Pattaya Walking Street come nightfall (and the hub of the city's buzzing nightlife).
Favored by tourists, the road is littered with small local restaurants, street food vendors, bars playing live music, low-key pubs, and some epic clubs.
The V Lounge Pattaya is one of the most unique bars on the street, home to The Ice Cube and The V2O Cocktail Bar where room temperatures are set to -11 degrees Celsius… that's below freezing!
If you're keen on a vibey night out, but partying isn't really your scene, Hot Tuna Bar has a chilled-out ambiance, multiple pool tables and live music. The beers are always cold and rock music fills the air.
Mixx Discotheque is kind of like two clubs in one and divided into two levels, each one is named differently with its own vibe.
CRYSTAL PALACE is for the house heads, where they also boom out techno and dance tunes. On the flip side, ROUGE CLUB is filled with nights of hip-hop beats.
Banging out the tunes from the moment doors open, Lucifer Disco is loved by the local and tourist crowds looking for a good time. It's a long-standing club in Pattaya and hosts local and international DJs.
P.s. Technically, Pattaya Walking Street is considered the city's "red light district", but it's not in your face, and you only see what you are looking for.
59 – Grab drinks at the best rooftop bars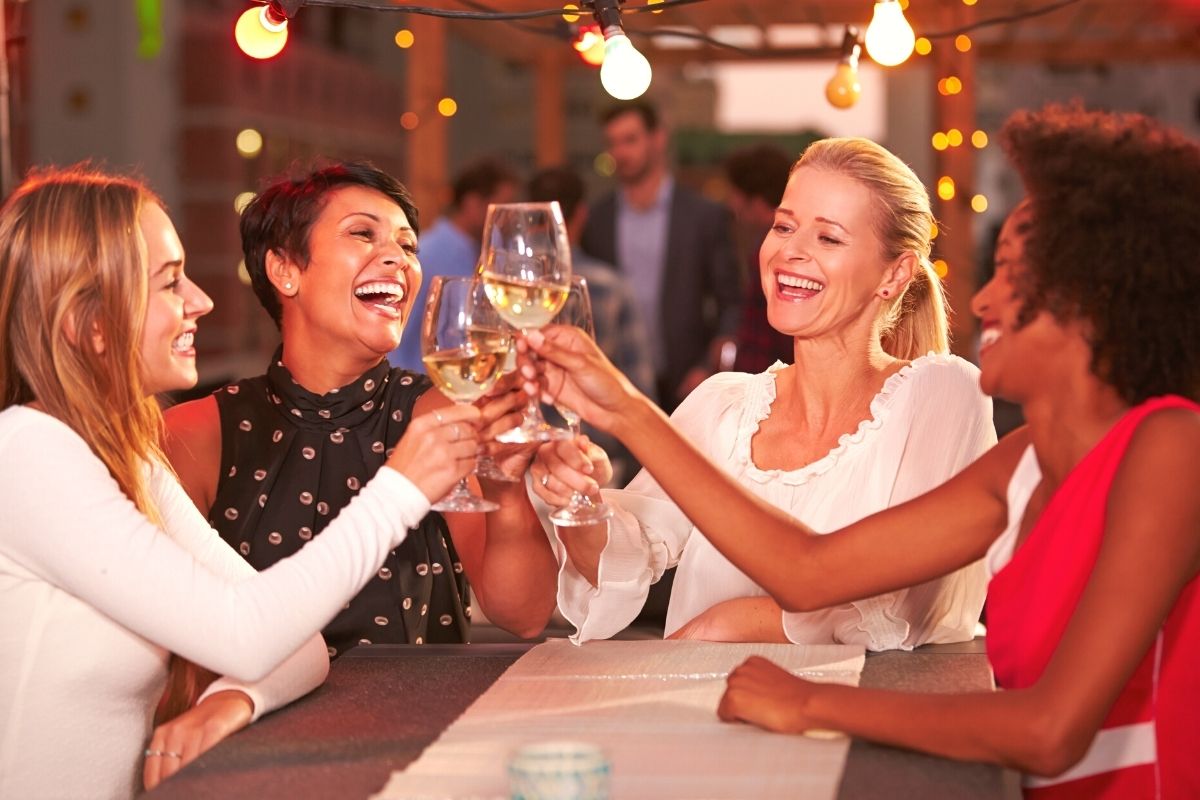 Wondering where the best place is for sunset hour? Take your pick from some of Pattaya's best rooftop bars — which aren't just limited to a golden hour visit.
With gorgeous views outstretching to the coastline, the classy Horizon Rooftop Restaurant & Bar is located on the 34th floor of the Hilton Hotel and an evening here never disappoints. Apart from its (romantic) setting, the drinks are spectacular and so is the food.
Situated on Jomtien Beach, D.I.B Sky Bar Pattaya also sports soaring sea views from way up on the 38th floor. The setting combines Mediterranean and Asian aesthetics from the design to the food to the drinks, with a menu featuring tapas and Japanese.
With not just one, but a epic rooftop to take advantage of, the [email protected] hotel's Sky Bar is great to spend the day. This bar is located on the 27th floor with its own outdoor infinity pool, movie nights and oceanic views.
A geometrically shaped dome greets guests at The Sky 32 (situated on level 32 of the Grande Centre Point Pattaya) and this stylish rooftop bar and restaurant is a great option for couples.
How to get to Pattaya?
There are a few ways to get to Pattaya. If you're already in Bangkok, you have the option to drive here via taxi or car (a 1 hour and 50 minutes ride), or you can catch the train from Bangkok to Pattaya.
However, one of the most convenient ways is to fly directly to U-Tapao International Airport. Located in the Ban Chang District in Rayong, once you land here you will need to catch a taxi to Pattaya (50 minutes).
Saving you time, money and effort, pre-book airport transfers for when arriving at the airport either in Bangkok or at U-Tapao International Airport. Once you've exited the airport, hop straight into your private, air-conditioned vehicle and be transferred directly to your accommodation in Pattaya.
Where to stay in Pattaya?
Home to luxury hotels, villas, beachfront stays and accommodation with awesome views, there are plenty of great places to stay in Pattaya.
Contemporary and luxurious are a few words that spring to mind when checking into The Gems Mining Pool Villas Pattaya. Their indoor private pool villas are next level!
Feel worlds away from any city vibes at The Monttra Pattaya — set up in the most gorgeous tropical jungle garden setting and built on the banks next to the ocean.
A real architectural delight, MASON sports impeccable design and is situated across the road from Ban Bpoop Beach. Offering villa options only, they all include a private swimming pool and are so beautiful, you will never want to leave.
Utilizing a mixture of natural elements, all of the rooms and villas at U Pattaya are modern, clean and ambient. Located right on the beach, enjoy a meal with your feet in the sand or chill out around the massive guest pool.
Living up to its name, a night at the InterContinental Pattaya Resort never disappoints. Boasting its own private beach, the massive property is surrounded by a jungle of palm trees and it feels extra secluded at this resort.
The Renaissance Pattaya Resort & Spa is great for families (equipped with a children's pool, playroom, kid's club and a family suite option) with an ideal setting overlooking the sea.
Feel right at home at Veranda Residence Pattaya. With hints of Balinese design here and there, pick between their one, two or three-bedroom apartments, or the three-bedroom private villa is incredible.
Another fabulous family option is the Royal Cliff Beach Terrace. With a private beach, multiple swimming pools and all the on-site facilities you could need, it's also perfect for a couple's getaway.
Favored for its convenient location in the city, but still a couple of hundred meters away from the beach, book a stay at the funky Mytt Hotel Pattaya.
Where to go next?
Pattaya is a great place to visit as it's easy to reach from Bangkok and close by to destinations in Central Thailand (plus, it's also convenient to catch a flight from the airport to the north or south of the country from here).
When your Pattaya weekend is up, there are many things to do in other cities in Thailand. Travel two hours to Thailand's capital city, Bangkok for days filled with endless (super affordable) shopping, eating and a taste of local city living.
If you're tired of the city vibes, Chiang Mai is highly recommended. The north of Thailand carries an air of magic, and from the artsy main town, head to Pai, Chiang Rai, Chiang Dao or Mae Hong Son from here.
Traveling to the bottom eastern coastline, Koh Samui is tropical island paradise and is one of the best isles to party on. From Pattaya, it's a 13-hour drive, or catch a one-hour flight.
Once you're done exploring the central and northern parts of Thailand, don't miss out on visiting Phuket in the south. It's a gateway to many of Thailand's most famous island destinations.
Fly into Krabi from Pattaya (or Phuket or Bangkok) for a taste of the south. There are some beautiful beaches around Krabi, as well as mangroves, but it's not as overcrowded as Phuket.
If your time in this part of Thailand is limited, or you're looking for an unusual way to explore Pattaya, consider multi-day trips around the coast. For example, take a two-day tour around the countryside of Pattaya.
Final thoughts
Pattaya is the perfect destination for families, couples and outdoor enthusiasts, and there are a plethora of things to do in Pattaya to keep all ages happy. Enjoy your time in the Thai sunshine, just around the corner from Bangkok.
What are your favorite things to do and see in Pattaya? Share with us your thoughts in the comments below.
As always, happy and safe travels!