Rising 270 feet above the busy Bangkok streets, the missile-shaped Wat Arun, also known as the Temple of Dawn, has long drawn culture-seeking visitors – for its beauty, its historical significance and the panoramic views of Bangkok's skyline and the river found its sky-high terrace.
Buying a Wat Arun ticket means you'll discover a Buddhist temple that dates back to the ancient city of Ayutthaya. And with four smaller satellite spires surrounding the main tower, it's no wonder that this postcard-perfect structure has become one of the most photographed temples in the city.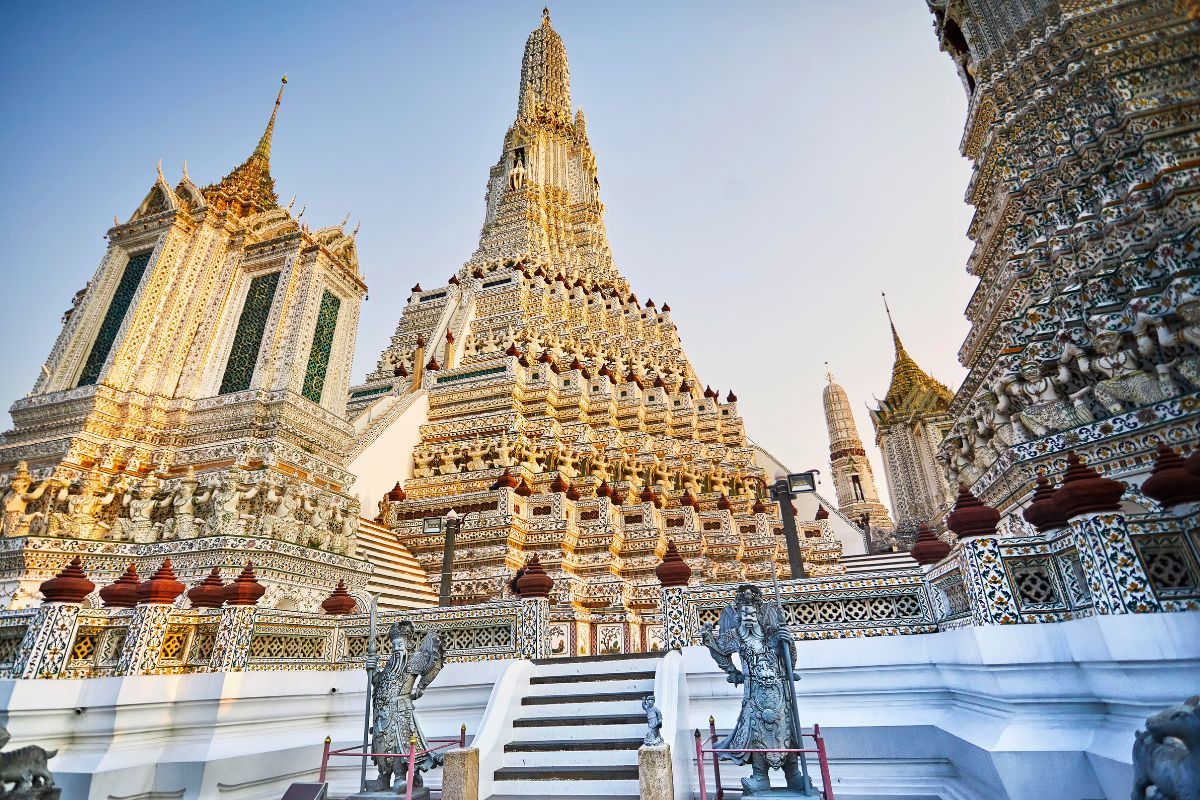 Here's all you need to know about Wat Arun, one of the most exciting attractions in Bangkok.
How much do Wat Arun tickets cost?
Wat Arun tickets THB100 for non-Thai visitors, which is the equivalent of less than US$3. Thai citizens can enter the Wat Arun for free.
Generally, small children can enter for free too. However, this is usually up to the discretion of the staff, so bring a few extra baht, just in case.
Who is eligible for discounts?
Thai citizens and residents, as well as kids generally are allowed to visit the Temple of Dawn free of charge. If you are a senior or a student, you may be eligible for a discount if you ask at the entrance gate — to be eligible for these possible discounts, bring ID with you.
Should you book in advance?
If you want to book a guided tour of the Wat Arun, it's best to book in advance to secure the best prices and lock in your preferred dates. This will also take the hassle out of waiting in line and arranging transport to the temple.
However, if you are visiting independently, you can just turn up on the day. It's usually not too busy during the week and only gets busier at the weekends.
What are the best Wat Arun tours?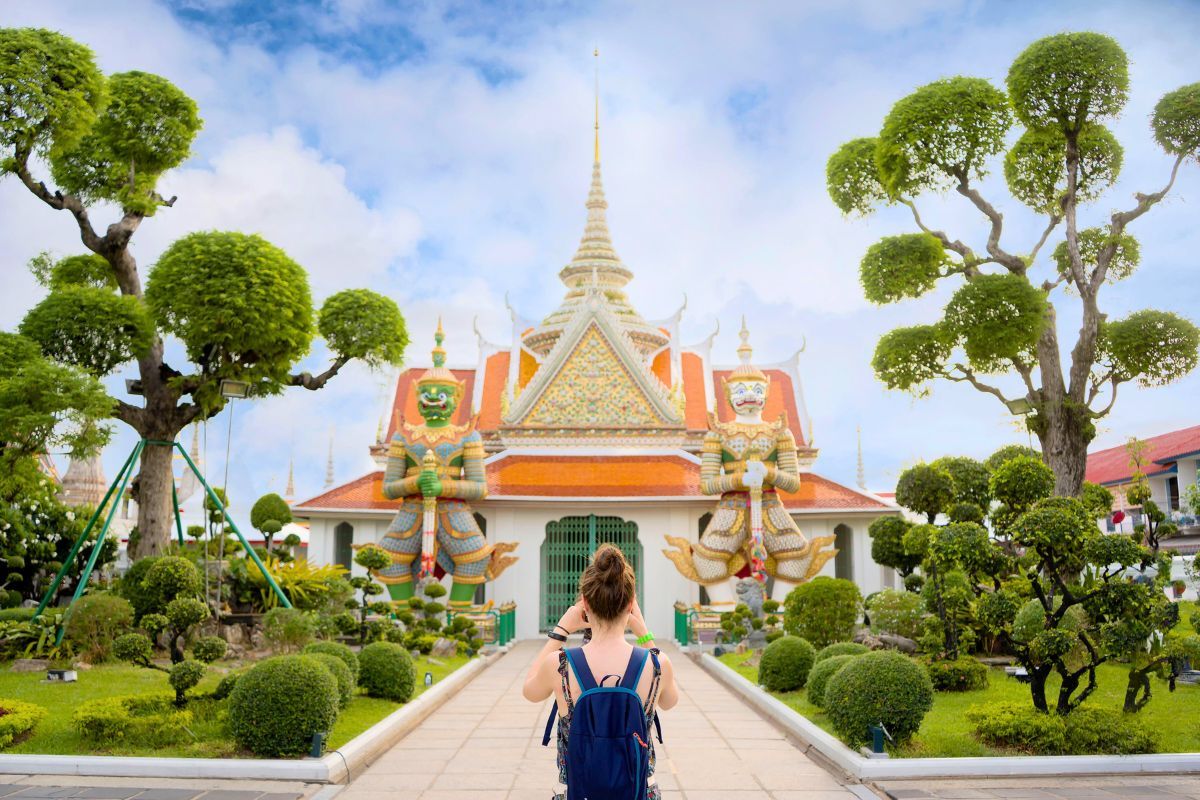 Wat Arun Self-Guided Walking Tour (US$10)
Suited to solo travellers or groups, this self-guided tour allows you to explore the historic grounds at your own pace. The mobile app-controlled tour, which lasts about an hour, offers audio guides in several languages, as well as detailed information about the significance of each structure and feature. This does not include admission to the actual temple.
Wat Phra (Pho) & Wat Arun: Guided Walking Tour (US$10-US$15)
Right across the river from Wat Arun, Wat Phra is another must-see temple, as it houses Bangkok's famous Reclining Buddha – an enormous 15-meter-tall, 46-meter-long statue.
Led by a history-savvy local, this guided tour allows you to explore both temples and learn about their cultural significance and unique architectural features. The tour usually lasts around three hours but often doesn't include admission fees to the temples (a few dollars extra).
Are there any combined tickets or tours including Wat Arun and other attractions?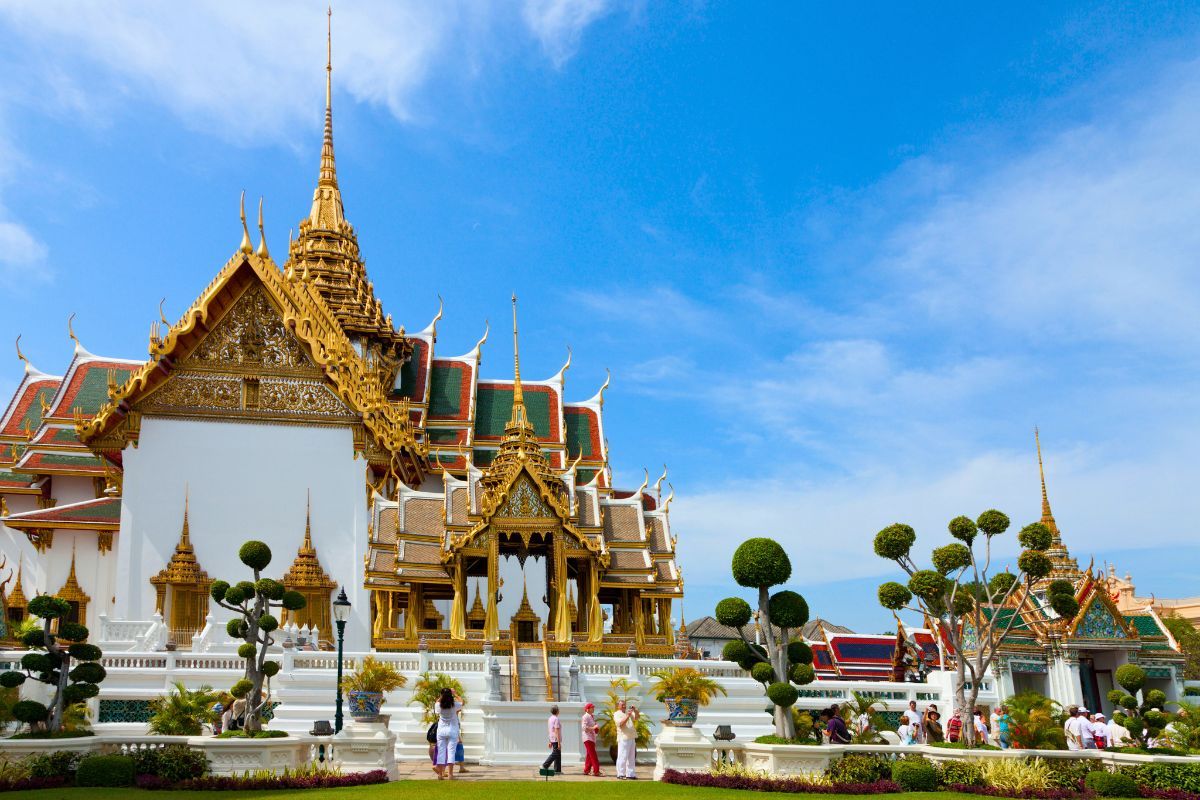 Yes, there are several variations of combined tickets and tours that include Wat Arun, including both small group tours and private excursions. Let's take a look at a few of them:
Small-Group Bangkok Temples Tour at Wat Arun, Wat Phra and Wat Saket (US$85)
Providing an in-depth look at Bangkok's three most iconic temples, this small group tour takes you to Wat Arun (Temple of Dawn), Wat Phra (the Temple of the Reclining Buddha) and Wat Saket (The Golden Mount). Touring with a knowledgeable guide, you'll learn about the history of each temple and its unique features. The tour also includes entrance fees and pickup and drop-off service from your hotel, so you don't have to worry about logistics.
Private Tour: Half-day Grand Palace and Wat Arun by Boat (US$130)
Suited to small couples, families and small groups of friends, this private tour is a more personalized experience compared to public tours — you have more flexibility in terms of destinations and duration. The half-day tour generally starts at the Grand Palace. Then, after wandering around Wat Phra, you'll take a long-tailed boat across the Bangkok Canal before finishing up at Wat Arun.
A private tour guide will be with you throughout the duration of the trip to provide commentary and insights about the city's history and culture.
What will you see inside?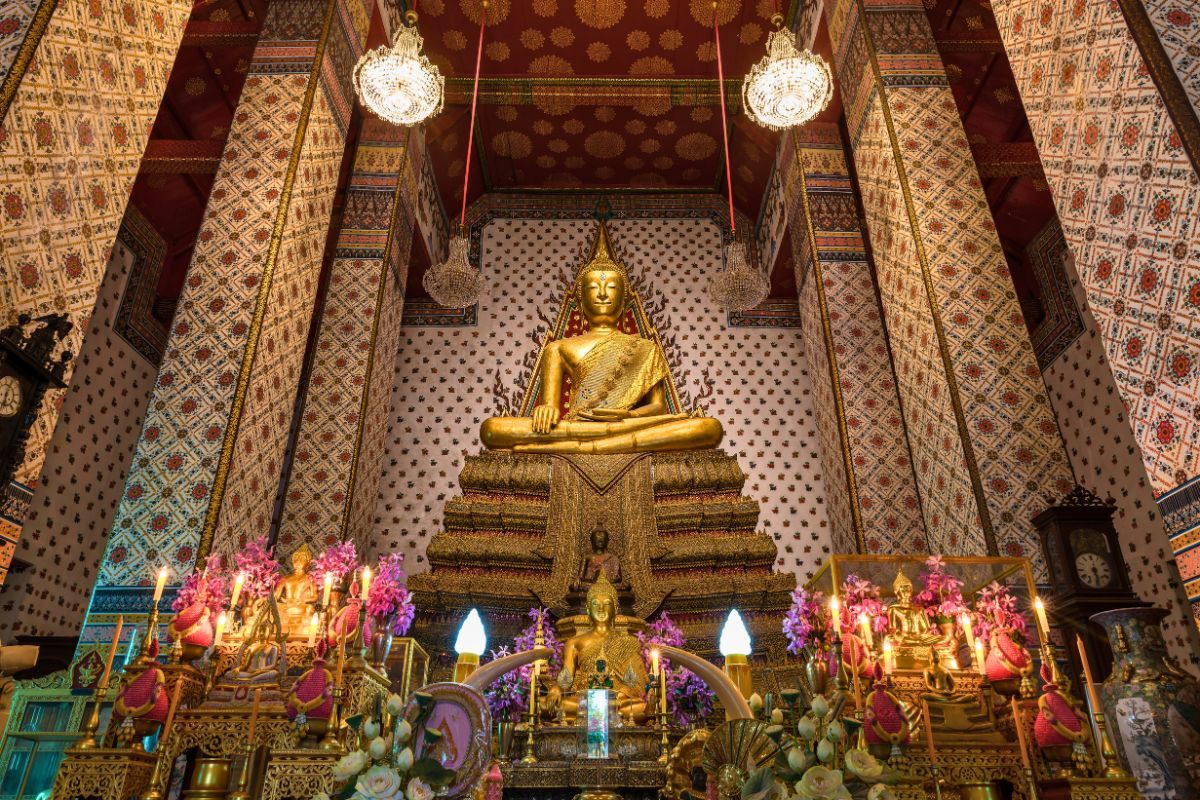 Wat Arun is most recognizable for its central prang (tower). The 82-metre tall structure (about 270 feet) is decorated with millions of small pieces of coloured glass and Chinese porcelain, creating a mesmerizing mosaic effect. Its four smaller towers are also impressive.
Inside the main tower, you can climb a steep stairway that leads up to a terrace where panoramic views of the river and surrounding area awaits.
Even though the spires get all the attention, there are several other notable structures on site too, including the ubosot (ordination hall), the cloister (which contains more than 100 Buddha iamges) and four distinct pavillions (also called mondops) that represent four important events throughout Buddha's life: birth, first sermon, enlightenment and passing into nirvana.
How to get to the Wat Arun?
Wat Arun is located on the western bank of the Chao Phraya River in Bangkok's eponymous Wat Arun district. The easiest way to get there is by taking a short taxi ride from any point in downtown Bangkok. Alternatively, you can take a boat along the river to the pier (Wat Arun Station on the City Line).
If you are travelling with a tour guide, they will usually arrange transportation.
What are the opening times?
Wat Arun is open from 8 AM to 6 PM every day, with last admission at around 5:30 PM. It is advisable to visit earlier in the day (before 10 AM) to avoid the crowds and make the most of your visit.
Which other attractions can be visited in Bangkok?
Travel tips
Wat Arun is less crowded in the early morning or later in the afternoon. For the best light for photos, consider visiting in the early morning or at sunset.
As with all temples in Thailand, it's essential to dress respectfully. This means covering your shoulders and legs (down to the knee).
There is a small entry fee to the Wat Arun. Make sure to have some cash on hand.