Navigating Bangkok's bustling streets and high-energy markets is a thrilling experience, but it's also what every other tourist will be doing. So, to truly capture the essence of this enchanting city, you need to get off the beaten path and take to its iconic waterways.
From leisurely journeys along the Chao Phraya River, to hidden-gem-hunting tours that venture through lesser-known khlongs, Bangkok offers a handful of voyages that reveal the Thai capital's authentic underbelly.
Plus, with a range of Bangkok boat tours that also include other activities like bike tours, foodie adventures and Skywalk tickets, you can embark on an adventure that's as dynamic as the city itself.
Here's all you need to know about boat tours, one of the most invigorating outdoor activities in Bangkok.
What are the most popular boat tours in Bangkok?
There are a number of popular boat tours in Bangkok. From short tours to longer cruises that include meals, there's a sightseeing tour suitable for every interest, at varying prices. Here's a quick look at the most popular boat tours in Bangkok.
Dinner cruise in Bangkok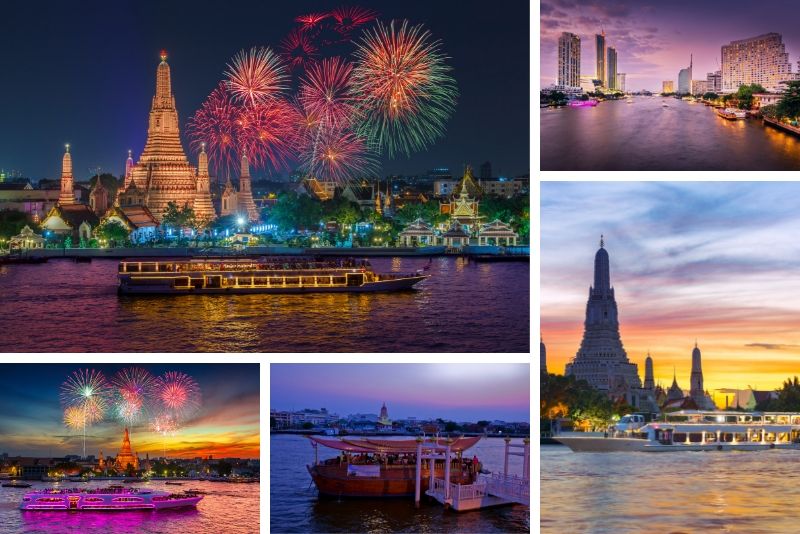 Step into a world of elegance on the 'Manohra' rice barge – or the 'Princess', or the 'White Orchid' – for a 2-hour dinner cruise along Bangkok's Chao Phraya River. After taking a seat on the open-air dining deck, you'll be treated to a set Thai menu, usually encompassing entree, main and dessert (and drinks).
As the boat glides its way along the river, you'll be able to marvel at the lit-up Wat Arun and the Grand Palace – two of the most famous riverside attractions in Bangkok.
You can either sign up for a private transfer from your downtown hotel or meet at the Anantara Bangkok Riverside Resort.
Canal tour by longtail boat
Having been around for centuries, longtail boats serve as the most traditional, authentic way to explore Bangkok's waterways.
With an English-speaking guide on board, you'll make your way around the Thonburi side of Bangkok, learning all about the city's rich past while taking in the riverside sights.
Expect to pass by a number of historical sites, century-old temples, and narrow klongs (canals).
Bike and canal boat tour in Bangkok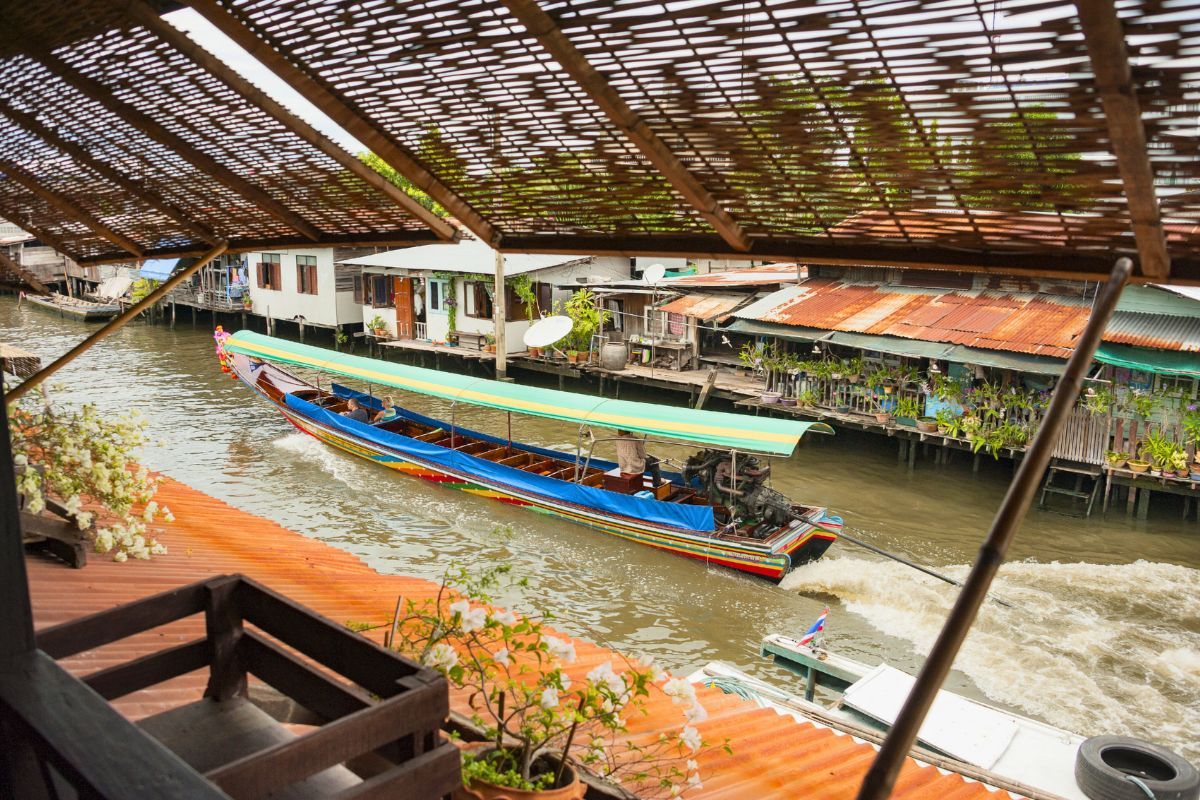 On a guided bike tour and canal boat combination activity, you'll be taken on a backstreets (and backrivers) journey to experience the authentic charm of Bangkok, away from the crowded tourist hotspots.
Starting on a bike, you'll follow a local guide as you pedal through narrow alleyways, discovering local markets and hidden temples along the way.
After some exploring you'll usually get to dine in an authentic canal-side Thai restaurant for lunch, absorbing captivating views.
From there, you'll head off on your canal boat ride, where you can witness the daily life of Bangkok locals living along the klongs (canals) and learn about the traditional palaces and temples that line the water.
Led by knowledgeable guides, this roughly 3.5-hour journey captures the essence of Bangkok's more local lifestyle, making it a great option for anyone wanting to explore the city's lesser-known gems.
Food tour with klong boat ride
Lasting close to 4 hours, this chef-designed tour kicks off with a scenic water taxi ride to a lesser-explored district, the Nang Loeng Market. Here, you'll get to sample at least 15 different dishes and drinks carefully selected by the chef, ranging from Hokkien noodles to banana fritters, spring rolls and more.
After all the tastings, you'll then cruise along Bangkok's canals, learning about the city's history and culture as you go from your local guide.
Hop-on hop-off boat Chao Phraya River
Ideal for independent travelers, the hop-on hop-off boat on Chao Phraya River provides a convenient way to explore Bangkok without dealing with the chaotic streetside traffic – plus, it's an excellent way to get your bearings if you're a first-time visitor.
This daily service runs and gives you unlimited access to 11 designated docks along the river, including the Grand Palace, Wat Pho, Wat Arun, and Tha Maharaj Pier, to name a few.
Combo tour: 2-hour Chao Phraya dinner cruise + Mahanakhon Skywalk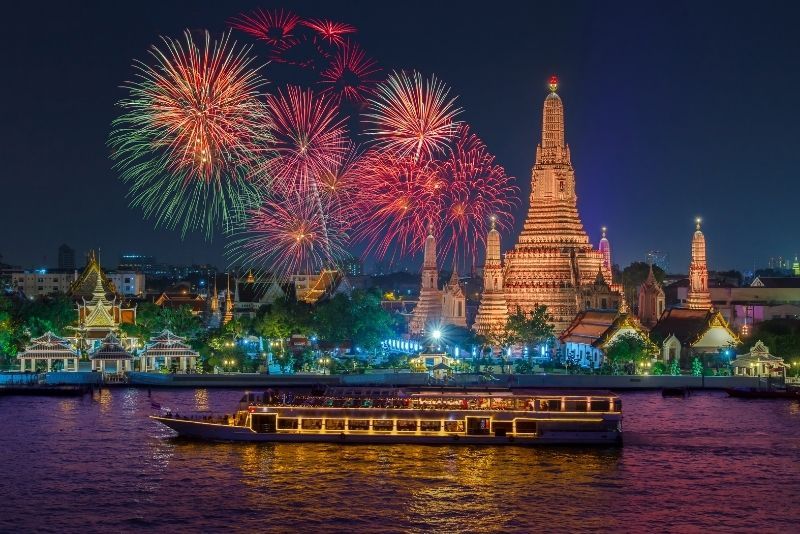 Providing excellent value for money — you'll save around 35% compared to buying individual tickets — this combo tour is a great way to see the city from two entirely different perspectives.
At 310 meters above ground, the Mahanakhon Skywalk dishes up uninterrupted views of Bangkok and beyond. The observation deck, which sits on the  74th floor of Mahanakhon, is also full of informative exhibits, so you can learn all about the sites in the distance.
Then, you'll get to take in the beauty of Bangkok by night as you cruise along the Chao Phraya River on a luxurious dinner cruise. Savor authentic Thai and international specialties while listening to live music from a 3-piece band
How much do boat tours in Bangkok cost?
The price of boat tours in Bangkok varies depending on the type of tour and length. The cheapest option is a hop-on hop-off boat service on the Chao Phraya River, which costs just $4 USD.
For a little more, around US$25, you can take a guided canal tour on a  longtail boat, which will take you around the city to explore its canals and backwaters.
A bike and canal boat tour will set you back around US$45 per person, while a 2-hour Chao Phraya Dinner Cruise + Mahanakhon Skywalk combo ticket costs around US$50.
If you're looking to experience the flavors of the city, a combo ticket that includes a food tour and khlong boat ride will cost you roughly US$65.
Finally, on the pricier end of the spectrum, a luxury dinner cruise in Bangkok can cost upwards of $100 USD per person.
Which places are seen?
The majority of the boat tours in Bangkok pass through the heart of the city, gliding past historical landmarks and cultural gems along the way.
While each tour might have its own list of notable sights, most of them will cruise along the Chao Phraya River and see the following attractions:
Grand Palace
Built in the late 1700s, the Grand Palace stands as a symbol of Thailand's rich history — and it's one of the city's most famous feats of architecture.
The palace complex, once the official residence of Siamese kings, is now most known for housing the Temple of the Emerald Buddha.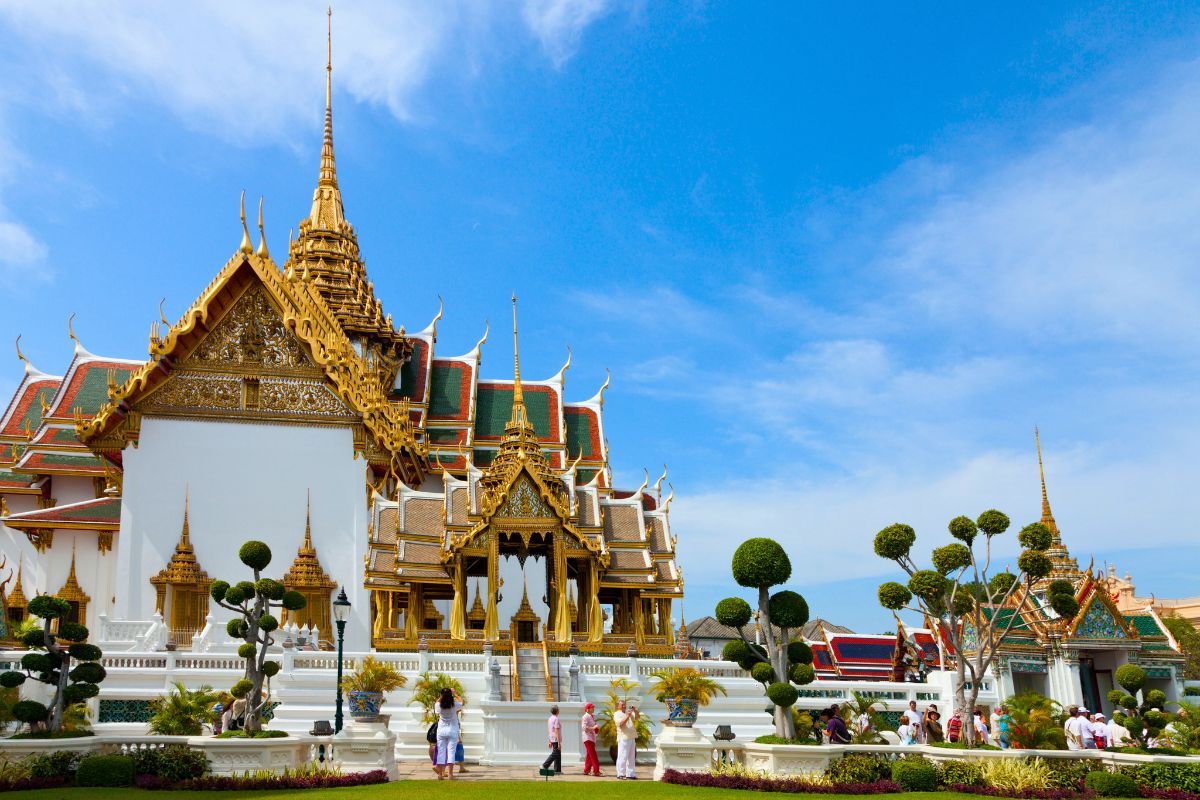 Temple of Dawn (Wat Arun)
As your boat drifts along the Chao Phraya, the mesmerizing Temple of Dawn (Wat Arun) comes into view on the west bank.
The 82-meter-tall riverside temple is one of Bangkok's most iconic and historic landmarks, dating back to the mid-1600s.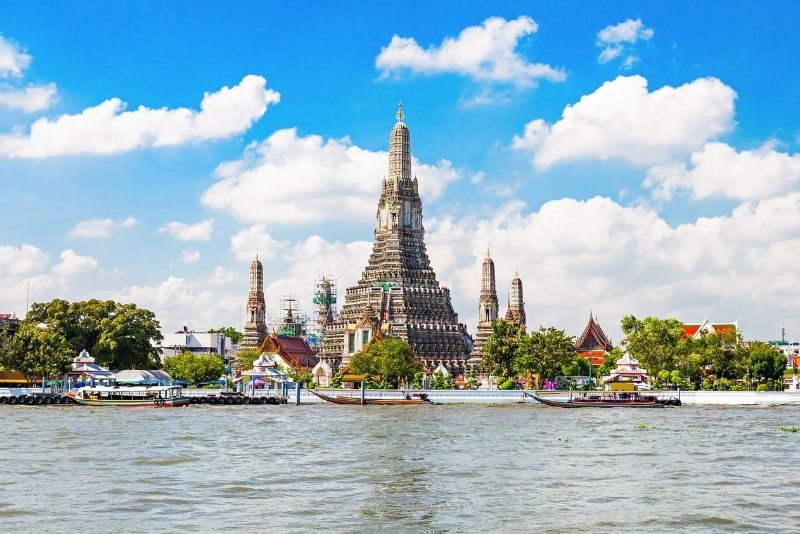 Wat Pho (Temple of the Reclining Buddha)
Another highlight along the Chao Phraya is Wat Pho — home to a giant reclining Buddha statue that measures 46 meters in length (although, since it's inside, you can't see the statue from the boat).
Local klongs
When you take a boat tour in Bangkok, you don't just get to explore the city's main river — you also get the chance to go down some of its hidden canals (klongs).
Traveling through these klongs lets you experience a different side of Bangkok — one that many visitors never get to see.  Here, instead of chaotic city streets, you'll find serene scenes of lush greenery and locals going about their daily activities. Depending on which ones you float down, you may get to see floating markets and small sub-villages.
How long does a boat tour last?
Boat trips in Bangkok come in varying durations — so whether you want a short, quick overview of the city or a full-day adventure, there's an option to suit.
Generally speaking, shorter boat tours, like river cruises and dinner cruises, last approximately two hours. Longer tours, that combine a river cruise with other activities like bike rides or food tours, can last up to eight hours.
Where do boat tours in Bangkok leave from?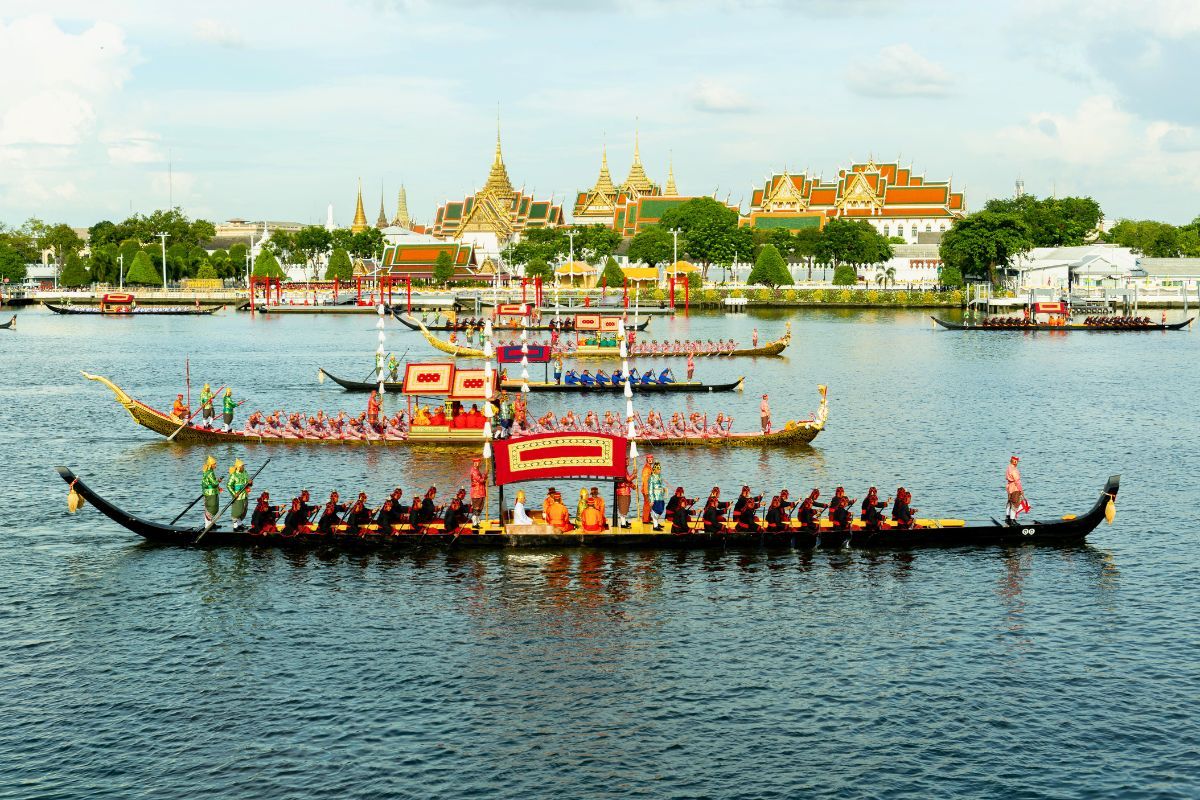 Boat tours in Bangkok typically depart from the central hub of the Chao Phraya River, which is easily accessible from major hotels along the riverside.
The primary departure point is usually the Sathorn Pier or the Central Pier, which you can get to by taxi, tuk-tuk, or the city's Skytrain system.
For tours that venture further into the khlongs or to nearby islands, departure points may vary, but most of them include convenient pickup and drop-off services from centrally located hotels.
Depending on your tour, you might be asked to meet at the Anantara Riverside Bangkok Resort, The Palladium World Shopping center or the Tha Maharaj pier.
It's recommended to double-check the exact location of the departure point before booking your tour, as not all companies operate from the main piers.
Is it wheelchair friendly?
Wheelchair accessibility can vary depending on the specific boat tour. While some operators may offer accommodations for travelers with mobility impairments, it's recommended to inquire in advance to make sure.
Larger boats, such as those used for dinner cruises, are usually wheelchair accessible. On the other hand, the boat tours that navigate through the narrower khlongs might pose challenges for wheelchair users, due to the boats – which are often longtail boats – themselves being small.
When is the best time for a boat trip in Bangkok?
The best time is from November to February, when temperatures are cooler, and the humidity is relatively low, making it the ideal time for outdoor activities like boat trips.
Choose the early morning or late afternoon to avoid the intense midday heat, regardless of the season.
Which other sightseeing activities can be done in Bangkok?
Travel tips
Like many popular tourist destinations, beware if someone offers you an extremely cheap boat ride. Make sure you understand prices, times and itineraries before boarding.
The canals (klongs) often pass through residential areas. Be respectful by not taking intrusive photos and keeping noise levels down.
Especially if you travel in the early morning or late afternoon, carry mosquito repellent.