Pattaya is a hidden gem close to Bangkok and a favorite among day trip tourists looking for an exciting jaunt. This city has something for everyone, from beaches to beautiful architecture and shopping opportunities. Make your journey from Bangkok to Pattaya as comfortable as possible by joining a day trip excursion or guided tour.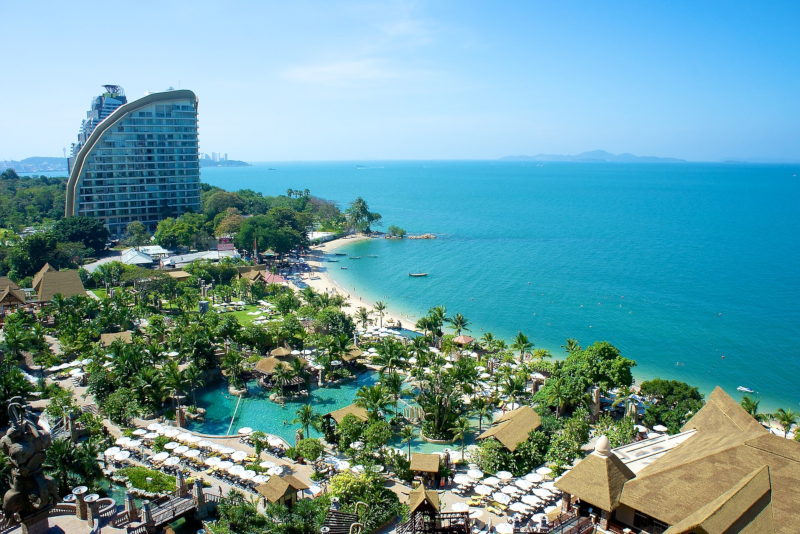 How to get to Pattaya from Bangkok?
Pattaya is located 150 kilometers southeast of the Thai capital Bangkok. It's a coastal town looking onto the islands Ko lan and Ko Phai. Pattaya is a smaller city than Bangkok, but it is still home to 120,000 inhabitants.
From Bangkok to Pattaya by car
The drive from Bangkok to Pattaya is approximately 150 kilometers long and takes an hour and 45 minutes when there is no traffic. This drive can easily take twice as long during rush hours.
The fastest route from Bangkok to Pattaya involves tolls. Luckily, the Thai road system is very affordable and you will most likely only spend a few dollars on this trip.
From Bangkok to Pattaya by bus/public transport
There are long-distance buses available that go directly from the city center of Bangkok to Pattaya. The majority departs from Mochit 2 Intercity Van Terminal, which can easily be reached by bus or taxi.
The ride takes three hours and tickets cost less than €10 depending on the departure time. Some bus tickets may be as affordable as €5 per person.
Guided tour to Pattaya from Bangkok
The majority of day trip tours from Bangkok to Pattaya include hotel pickup. Begin your day with a comfortable journey to Pattaya and spend the day doing water sports and enjoying the beach. In the early evening, you'll return to Bangkok with your driver.
What is the typical itinerary of a day tour to Pattaya from Bangkok?
Begin your day tour to Pattaya in Bangkok in the early morning. You'll be picked up at the hotel by your driver and the journey to Pattaya begins with a 2-hour journey by bus or car. You'll arrive in the city and your first stop of the day.
Most tours start at Khao Chi Chan or Buddha Mountain. This giant cliff is decorated with a 70-meter engraving of a Buddha etched into the stone in 1995. It honors King Bhumibol and is meant to make the mountain, from which large amounts of marble were extracted, to make the mountain more beautiful.
The next stop of the tour will take you to the popular Pattaya Viewpoint, which sits on Khao Phra Tam Nak, a local hill. In addition to a naval monument, there is also a beautiful buddha statue in front of a backdrop of mesmerizing views.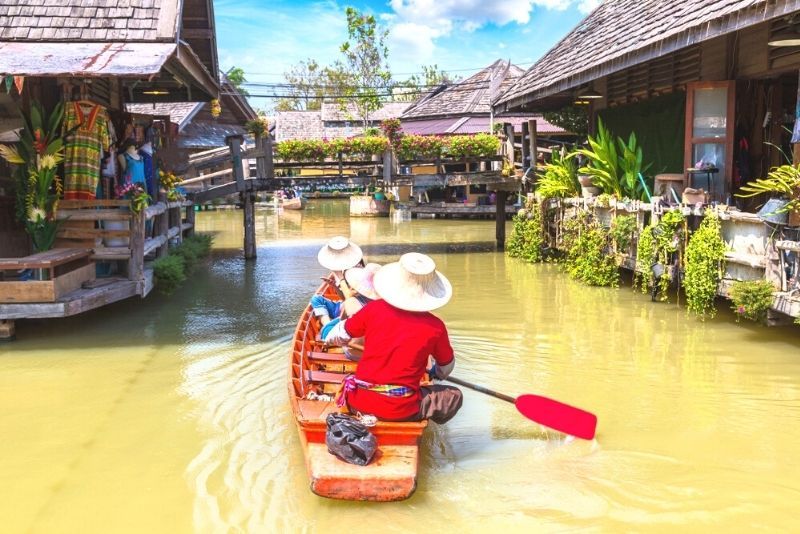 Depending on the type of tour you booked, you'll be taken to the island of Koh Larn, which you might know as Coral Island. Spend the afternoon by the beach, go snorkeling or try some water sports. Jet skiing, banana boat rides and parasailing are especially popular here.
This is where you'll spend the majority of your day trip to Pattaya, so enjoy a jaunt along the beach to secluded coves.
Lunch will be served at an authentic Thai restaurant. If you're feeling tired, you can even get a massage or a spa treatment on the beach afterward. You'll return to Pattaya in the early afternoon.
Some tours will let you enjoy some free time in Pattaya to do some shopping or stroll along the beach promenade. After a day packed full of activities, you'll be heading back to Bangkok, where you'll arrive somewhere between 6 PM and 8 PM.
What kinds of tours are available to go to Pattaya?
Most tourists visit Pattaya as part of a day trip and the journey is more than worth it. There is a wide variety of tours available, combining the journey to Pattaya with other nearby attractions. When choosing a tour, read carefully whether a guide is included or if you will only have a driver.
Guided tours to Pattaya from Bangkok
Enjoy hotel pick-up in Bangkok and join a group of other travelers on your excursion to Pattaya. You'll be taken to the most important sight, including a good mix of beaches and cultural attractions.
Shuttle transfer without guide to Pattaya from Bangkok
Many visitors use this type of tour to get to Pattaya from the airport in Bangkok before staying in town for a few nights. Choose between a shuttle transfer or a private driver who will take you directly from Bangkok to your accommodation in Pattaya.
Private tour to Pattaya from Bangkok
Private tours to Pattaya are very common and a fantastic investment for families or groups of friends. Enjoy an individually tailored itinerary and comfortable transport in an airconditioned car. You'll have the full attention of your driver and an unforgettable day in Pattaya.
2-Day tour to Pattaya from Bangkok
Maximize your time in Thailand and join a 2-day tour from Bangkok to Pattaya. Visit the famous floating markets, Coral Island and, of course, Pattaya itself. Note that accommodation is not included in this tour, although meals are.
Day trip to Pattaya plus Coral Island from Bangkok
Pattaya Beach is nice but cannot be compared to the pristine waters and white sand of the beaches on Coral Island. Hop on a speed boat and enjoy the afternoon on this beautiful island just a few kilometers off the coast.
Day trip to Pattaya plus Sanctuary of Truth from Bangkok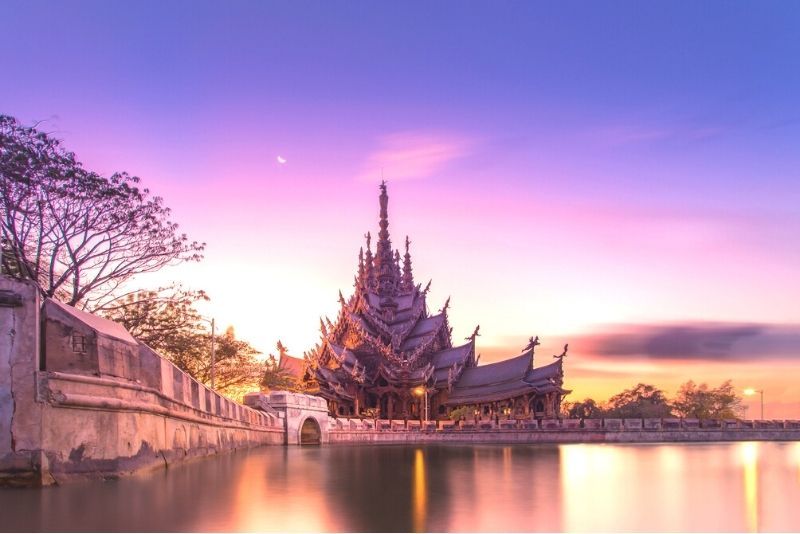 The Sanctuary of Truth is an impressive temple built entirely from hand-made wood carvings. It sits a short drive outside of Pattaya and should be high on your list of things to do. Choose a combined tour to see this impressive landmark.
Day trip to Pattaya plus Floating Markets from Bangkok
The floating markets of Bangkok are a world-famous tourist attraction. If you're short on time, you might enjoy a combined tour of Pattaya and the floating markets, saving you time and making your day even more exciting and filled with fun activities.

A boat ride at the floating markets can be pricey, but the fees are usually included in this type of guided tour.
Day tour to Pattaya plus Water Park and Teddy Bear Museum from Bangkok
This is the best tour to choose if you're traveling with children. Pattaya has a large waterpark called Cartoon Network Amazone, which is essentially a paradise for children. Afterward, there is a fun visit to the Teddy Bear Museum and, of course, some much-needed beach time.
How much does a tour to Pattaya from Bangkok cost?
Expect to pay approximately €50 to €60 per person for a full day trip to Pattaya from Bangkok. Some tours include lunch while others don't, so make sure to check with your provider before you go.
Private tours start at €60 and can cost as much as €200. Generally, tours involving a trip to Coral Island are more pricey than those that only go to Pattaya.
Combined tours that also go to the floating markets cost between €150 and €200 per person. If you're only looking for a shuttle transfer between Bangkok and Pattaya, you'll spend between €30 and €70.
Finally, a 2-day excursion from Bangkok to Pattaya and the surrounding area will cost approximately €300 per person without accommodation.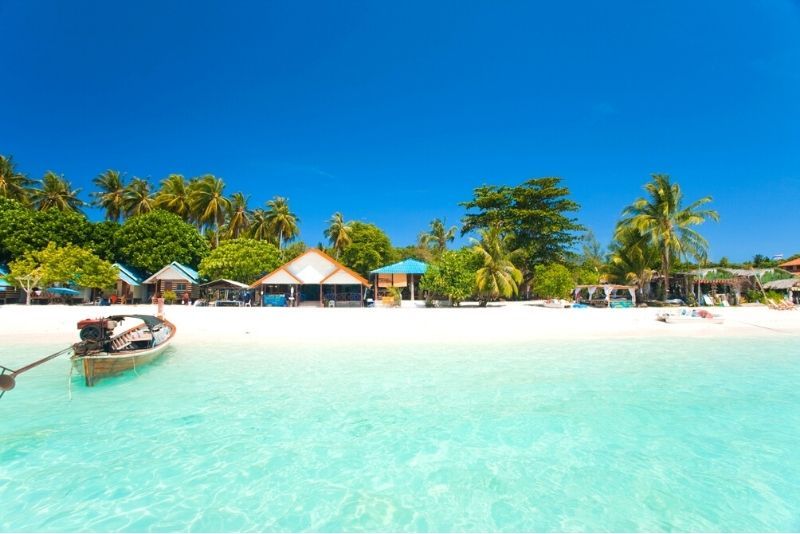 What will you see and do in Pattaya?
Pattaya is known for its beaches and beautiful little islands in the surrounding bays. You'll most likely spend some time at either Pattaya Beach or the stunning Coral Island, which can be reached in around 40 minutes by speed boat. Snorkeling and water sports are popular activities here and you can relax by the beach or get a massage.
Pattaya itself has a wide selection of bars, restaurants and souvenir shops. You can walk along the beach promenade and enjoy the views of the beach and city.
Outside of Pattaya, the viewpoint is a must-see on any tour. Take in the beautiful vistas and admire the impressive Buddha statue.
Landmarks like Buddha Mountain or the Sanctuary of Truth are also located close to Pattaya, making for a great stop on any jaunt to Thailand. Enjoy a more culturally-rich side of the area and be fascinated by these stunning examples of local architecture.
When is the best time to visit Pattaya?
The best time to visit Pattaya and most parts of Thailand will be during the winter months. November to February is the most popular time for a day trip excursion from Bangkok to Pattaya with clear skies and warm temperatures. While rain is always possible in tropical areas, you'll most likely be able to enjoy sunny days.
However, keep in mind that this is the peak travel time for tourists visiting Thailand. Prices may be elevated and visiting during the off-season will be far more affordable. While you might experience some rain during this time, Pattaya will still be a great day trip destination.
Travel tips
Additional fees for water sports in Pattaya are generally not included in tour prices. Remember to bring enough cash to pay for these activities. Things to do like jet skiing, parasailing, or banana boats cost between $20 and $30.
Remember that the more affordable day tours from Bangkok to Pattaya usually do not include a tour guide. Your driver will be able to provide helpful information or answer any questions but will most likely not narrate the journey to Pattaya for you. Adjust your expectations and keep in mind that this day trip is a fun beach excursion rather than a cultural or educational experience.
Bring enough sunscreen with you. The sun in Thailand is relentless and purchasing sunscreen in Pattaya on arrival will be expensive.
If you have enough time, consider staying in Pattaya for a few nights. This city has a lot to offer and you might feel like one day here is not enough.