Receiving over 2 million foreign visitors per year, and coming in after Bangkok as the second-largest city in Thailand, is the magnificent city of Chiang Mai.
Incredible temples with 700 years worth of historical and societal influence, accessible wildlife, unique natural landscapes not found anywhere else, and indulgent northern Thai food are just a few of the incredible sights and experiences waiting for you in the "Northern Thai Capital".
Take a journey through its outstanding park Doi Inthanon National Park, learn the tea-making process at Araksa Tea Garden, and indulge in Lanna-inspired architecture and influence.
Let's explore some of the best things to do in Chiang Mai so you can grab inspiration and a few ideas to add to your Thai itinerary.
1 – Examine amazing artisan work at Tha Phae Gate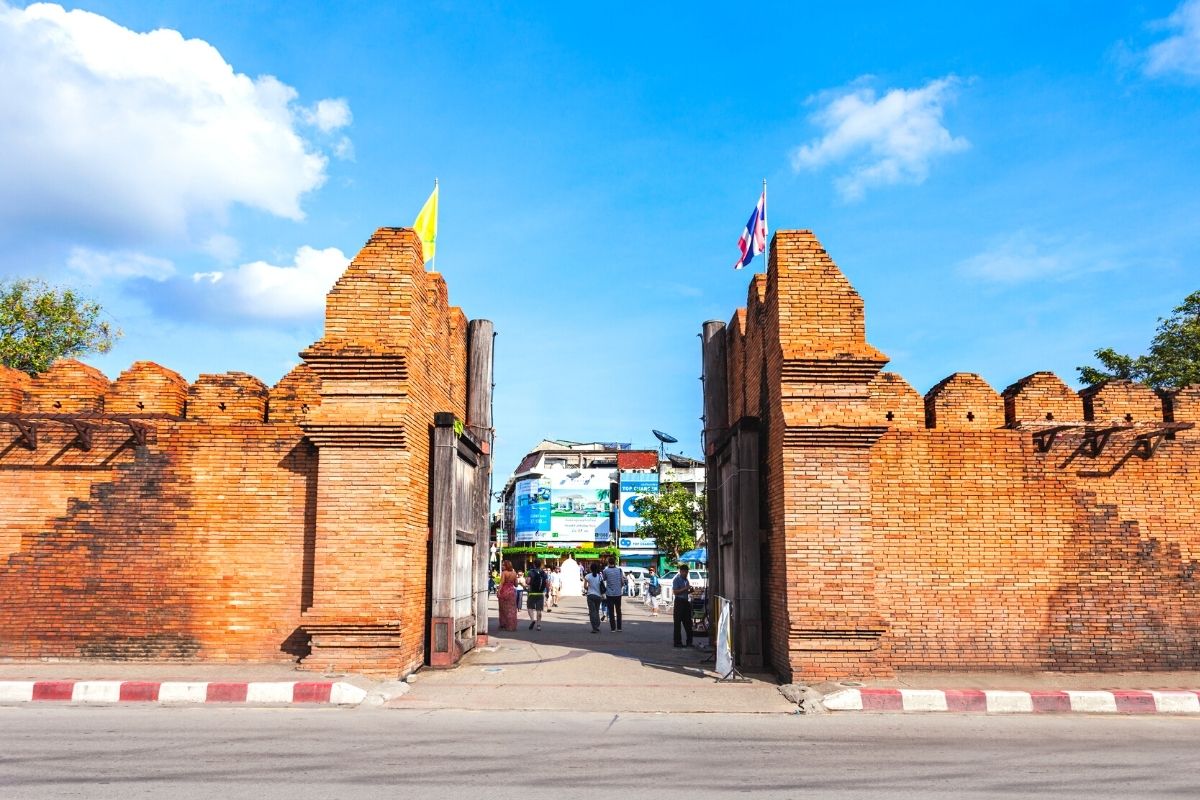 Dating back to 1297 when Chiang Mai was established, the Tha Phae Gate was constructed as a fortification gate to protect the city from invaders who wanted to take over the city.
Still standing today, visitors can take a peek into the remaining portions of the original wall, as well as some of the renovations done over time, and check out the permanent artisan market.
At the market, visitors will find craftwork from weavers, potters, metalworkers, and more, offering their unique talents for purchase.  Step by the food stalls and get a whiff of some of Chiang Mai's authentic dishes, and stay a while listening to the live music.
2 – Enter the most beautiful temple at Wat Phra Singh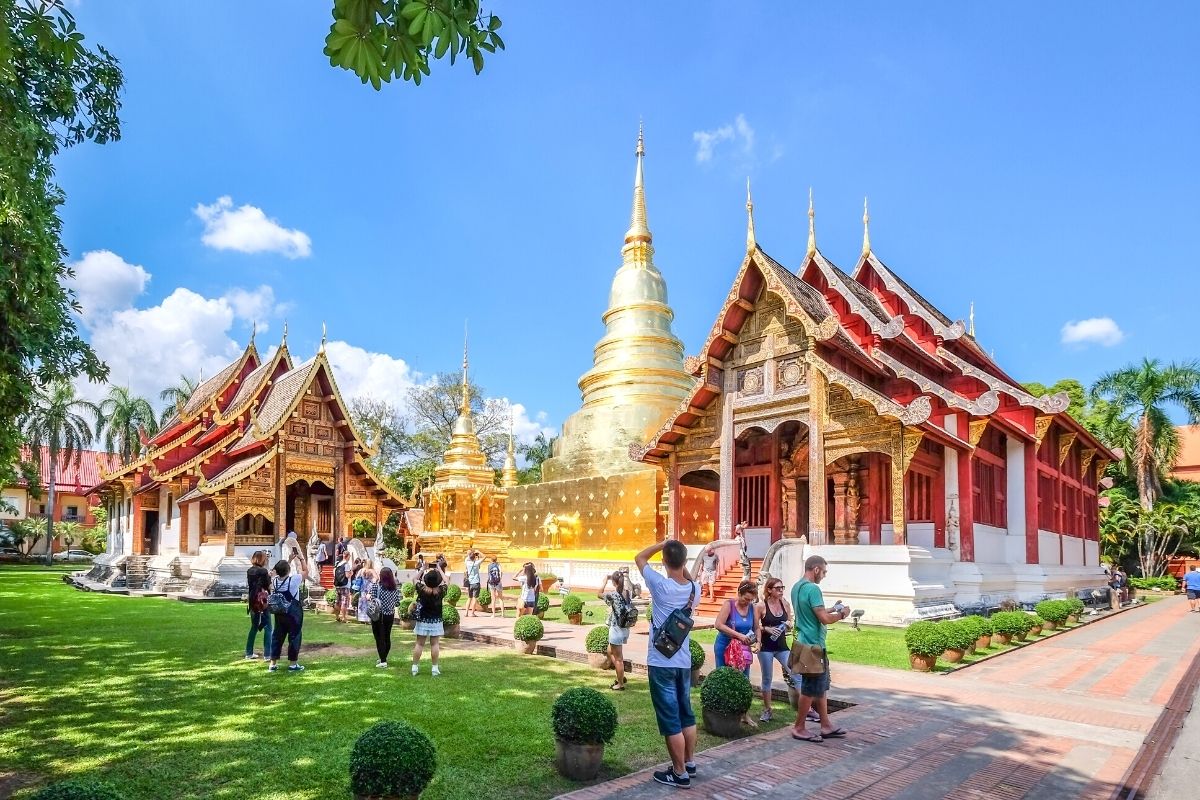 Appearing in golden, earthy tones, and leading off with multiple-tiered roofs topped with golden leaves, is the magnificent Wat Phra Singh, known to many as the most beautiful temple in Chiang Mai.
The Wat Phra Singh is a temple that dates back to the times when Chiang Mai was the capital of the Lanna Kingdom and is named after Phra Singh Buddha, whose origin is debated between belonging to Sri Lanka or a cast in the Chiang Mai area.
Inside, visitors can expect a myriad of murals from the 19th century, and statues of golden Buddhas, and if you visit early, you can even catch the sound of drowsy monks chanting their early morning prayer, as this is an active temple.
Located within the walls of the Chiang Mai old city, the temple is very accessible and is also a walking distance of other temples such as Wat Chedi Luang and Wat Chiang Man.
3 – Volunteer your time at an elephant sanctuary in Chiang Mai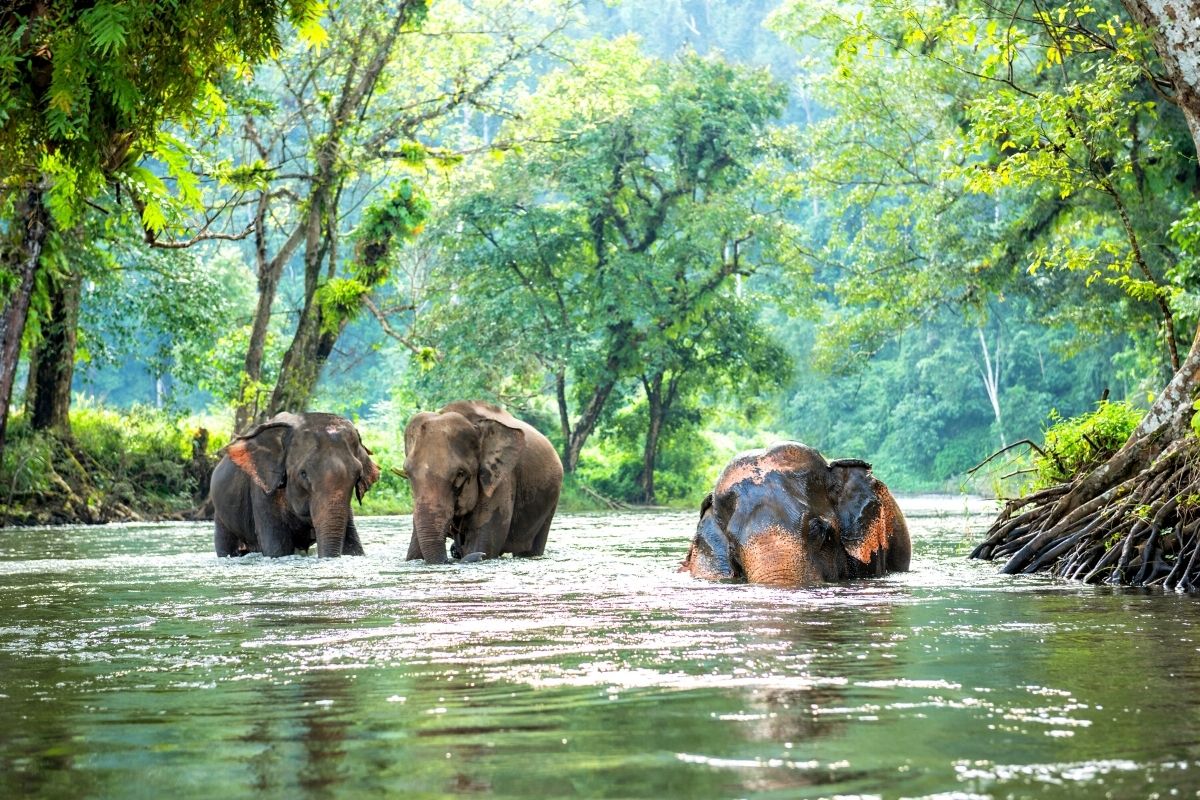 Explore the world of elephants, one of Thailand's most precious animals, by volunteering at an elephant sanctuary – one of the best things to do in Chiang Mai for animal lovers.
Spend some time caring for, feeding, bathing, and interacting with elephants in a safe and secure environment, and learn about the efforts being done daily by the sanctuary to help protect and conserve elephants in Chiang Mai.
Check out sanctuaries like The Surin Project which focuses on one of the main issues with poor elephant treatment and underpaid trainers with the help of volunteers, or Friends of the Asian Elephant Hospital, which focuses on healing sick elephants back to recovery.
Another incredible sanctuary is Elephant Haven, which offers volunteers the option to stay overnight, or for a week. Visitors are able to spend more time, offer more assistance, and feel a stronger connection with the elephants.
Make sure to go to the sanctuary's website to successfully book your volunteer slot time, and learn about what you should bring with you.
4 – Discover the ancient site of Wiang Kum Kam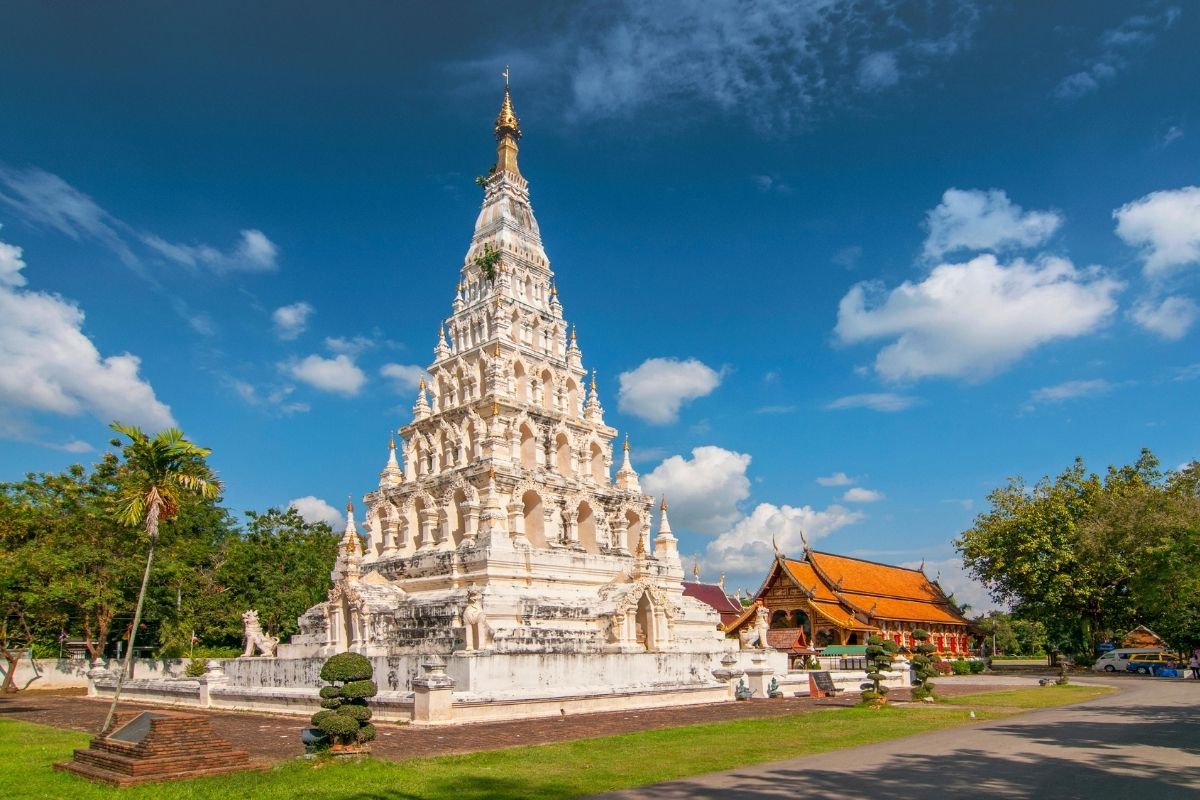 The ancient capital of the Lanna Kingdom, Wiang Kum Kam was an important site when it comes to the beginnings of Chiang Mai. "Wiang" means "fortified town" and in this case, Wiang Kum Kam was the capital city for 10 years until the regular flooding that occurred there led to the abandonment of the city.
Most recently, this site was found during an excavation in the 80s with the intention of digging up Buddhist hymn tablets, when the excavators found the ruins of what would have been the ancient fortified capital city.
Visitors can expect to see displays and exhibits showcasing the history of the Lanna Kingdom and walk around the ruins.
The best way to visit this site is via a 15-minute Tuk Tuk or taxi ride south of Chiang Mai's downtown area. Admission is free, and though you can explore on foot, there is a horse and carriage that will take people exploring other parts of the ruins.
5 – Visit the best waterfalls at Doi Inthanon National Park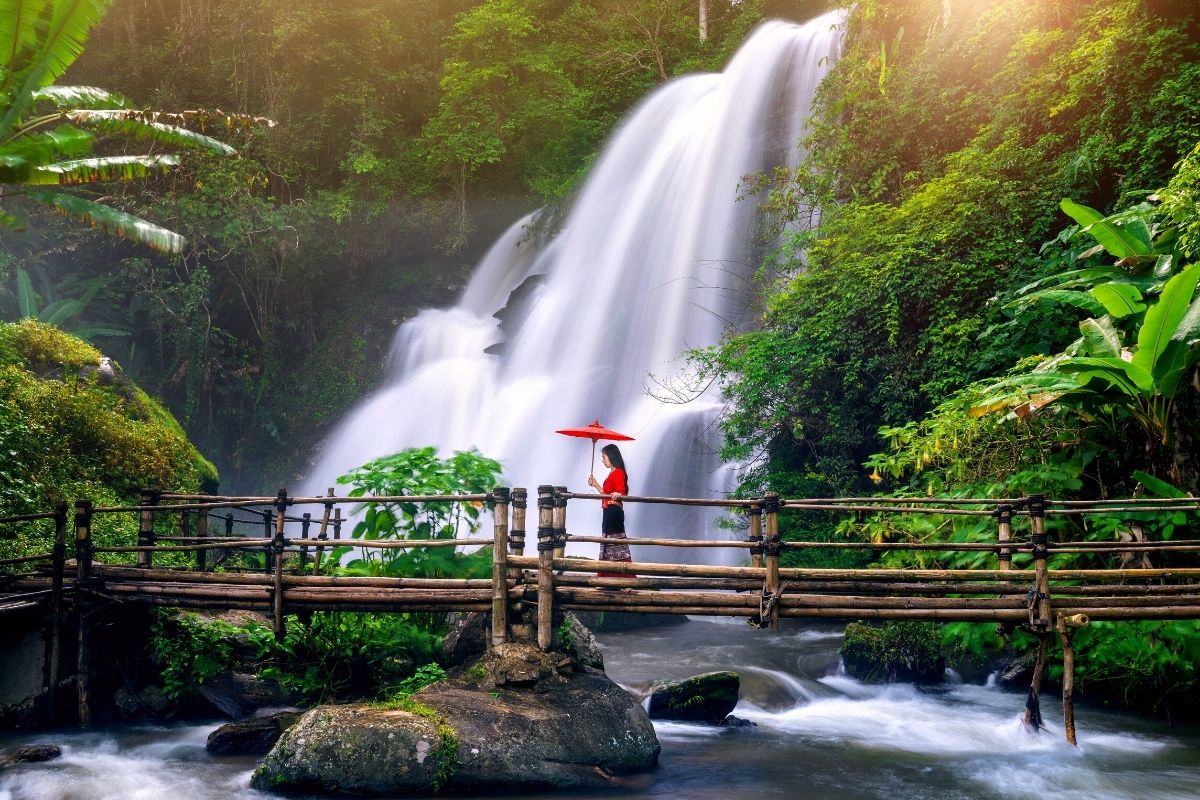 Spanning 482 square kilometers, Doi Inthanon National Park is a nature lover's wonderland, boasting incredible viewpoints, beautiful trails, dense rainforests, and amazing wildlife like reptiles, birds, and mammals.
Doi Inthanon National Park is known also specifically for being the home of Thailand's highest mountain, which is oftentimes referred to as the "Roof of Thailand" for its whopping 2,565 meters in height.
If you want to see nature and waterfalls on your hike, check out Pha Dok Siew Waterfall Trail, for incredible wildlife sightings and viewpoints, and also check out Kew Mae Pan Nature Trail.
Don't forget to stop by and see the 2 beautiful and peaceful royal pagodas and gardens, which are incredibly pleasing to the eye, and also observe the local culture of the Hill Tribe, located in the national park.
Visit their village, observe their daily activity, check out their incredible coffee bean trees and buy some as a gift.
6 – Step into the religious center of Wat Chedi Luang
Comprised originally of 3 temples, Wat Chedi Luang is a holy Buddhist site that is both active and readily open for visitors to enter.
Check out the impressive design of the temple, once again in the style of Lanna architecture, and marvel at the 282 feet high and 144 feet wide chedi, which is what draws in many people to see in person. This temple dates back to the 14th century, and due to earthquakes in the area, it has been renovated throughout time.
Walk inside, and feel the ambiance of ritual, as visitors are greeted with three Buddhist statues, adorned with a variety of flowers, and many other religious relics.
The Wat Chedi Luang is a popular temple that can easily be accessed on a city tour, which provides ground transportation in an air-conditioned car, a local guide to share interesting information, as well as other services specific to each tour company.
7 – Eat to your heart's content at Siri-Wattana Market (Tha-nin Market)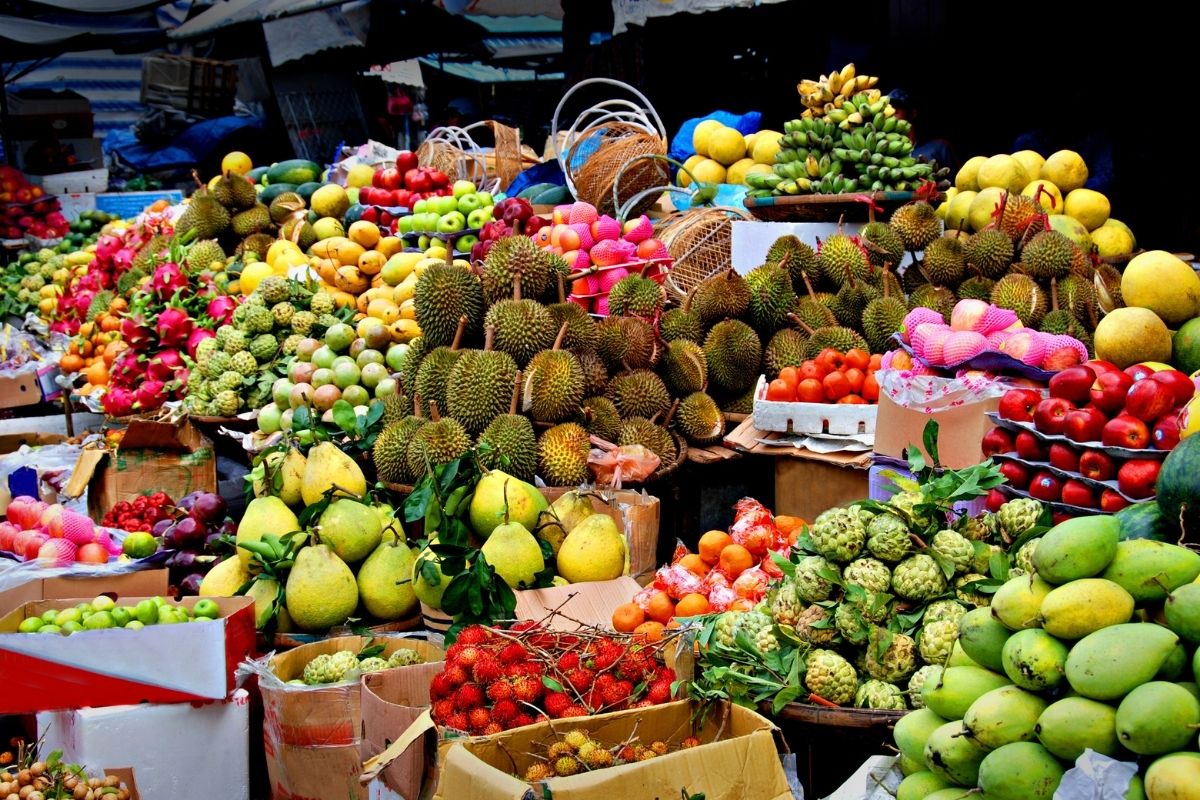 Food markets are one of the best things to do in Chiang Mai – or in this case, explore, and so is the case with Siri-Wattana Market found in the northern part of Chiang Mai.
A market known by locals where they buy and sell foods and ingredients, it makes for a perfect place to visit as a visitor and check out the local market scene, and even buy lunch or dinner.
The market is divided into different food sections, from fruits, vegetables, seafood, meats, spices and herbs, and even clothes. Walk a little further, and you'll discover vendors selling prepared food, and many other Chiang Mai classics like pad thai, curry rice, Nam Prik Noom, and curry puffs.
Don't forget to check out the snack stands, and get a look at what the local snacks and flavors are. Check out popular snacks like chips, nuts, and wafers, many of which have fishy and lime flavors.
8 – Experience tranquility and history at Ang Kaew Reservoir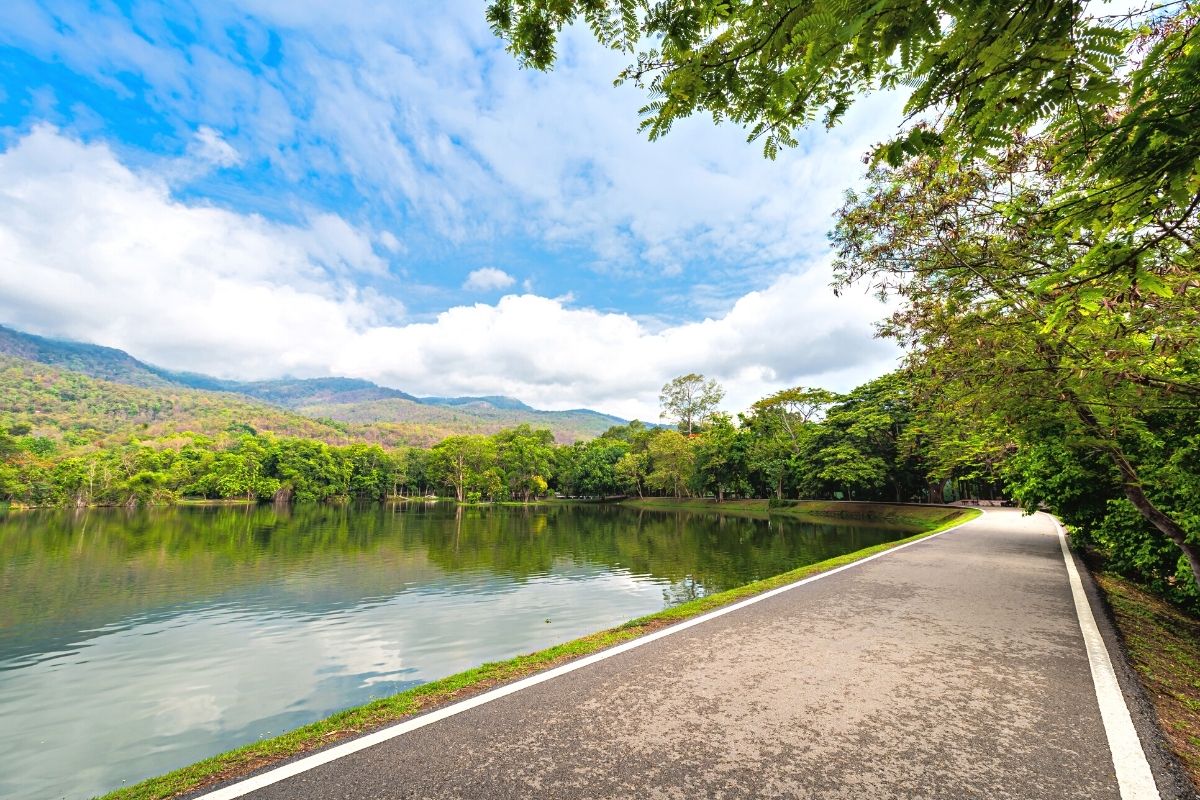 Another incredibly luscious park to relax in or do some light exercise is Ang Kaew Reservoir.
Although it is an artificial lake, the park is known for the beautiful tranquility that it offers visitors, the stunning views of the Suthep Mountain, and the ideal flat and well-maintained running track for some light jogging.
Also notably close and popular to visit in Chiang Mai University, which is considered to be one of the most beautiful universities in all of Thailand, due to its incredible nature nearby.
Visitors may want to consider stepping onto campus and checking out what a Thai university looks like, as well as learning about its interesting history on an electric bus tour.
The tour takes visitors throughout campus, and shares details on what kind of classes are offered, and the history of the surrounding area. Tickets are 20 baht for kids and 50 baht per adult.
9 – Immerse yourself in nature and culture at Doi Suthep
Doi Suthep is an incredible mountain located 15 minutes away from Chiang Mai's old town and is regarded as a must-visit place to check out while in Chiang Mai for its incredible views of the city, waterfalls, jungles, views of coffee plantations, a royal palace, and more.
It's the place to hike on a perfect day, and make it to the top of the mountain, called Doi Pui, the 8th highest in Thailand.
Take a walking tour to Wat Phra That Doi Suthep, the most important temple in Chiang Mai, where visitors are welcomed by outstanding views of the city below, and the seven-headed serpent statues lining the temple. Hike the Monks Trail to Wat Pha Lat, found along the mountain and not as often visited by many with so many other temples to visit, but worth the visit for the incredible peace felt underneath the towering Thai trees and temple grounds.
Doi Suthep-Pui National Park may be the top attraction for many visitors, covering around 265 km² and named after 2 famous mountains – Doi Suthep and Doi Pui. Explore beautiful forests, enjoy the cooler weather, and see exotic wildlife local to Thailand such as varieties of mammals, reptiles, and birds.
Don't forget to stop by the Bhubing Palace (Bhubing Rajanives Palace) – the royal palace built by the order of King Rama V in 1961 and located on Buak Ha Mountain. And visit Dui Pui Village, respectfully observe the daily life of the tribe people, and purchase beautiful crafts.
Check out city tours to ease your roundtrip experience to this incredible part of Chiang Mai.
10 – Visit the underground tunnels of Wat Umong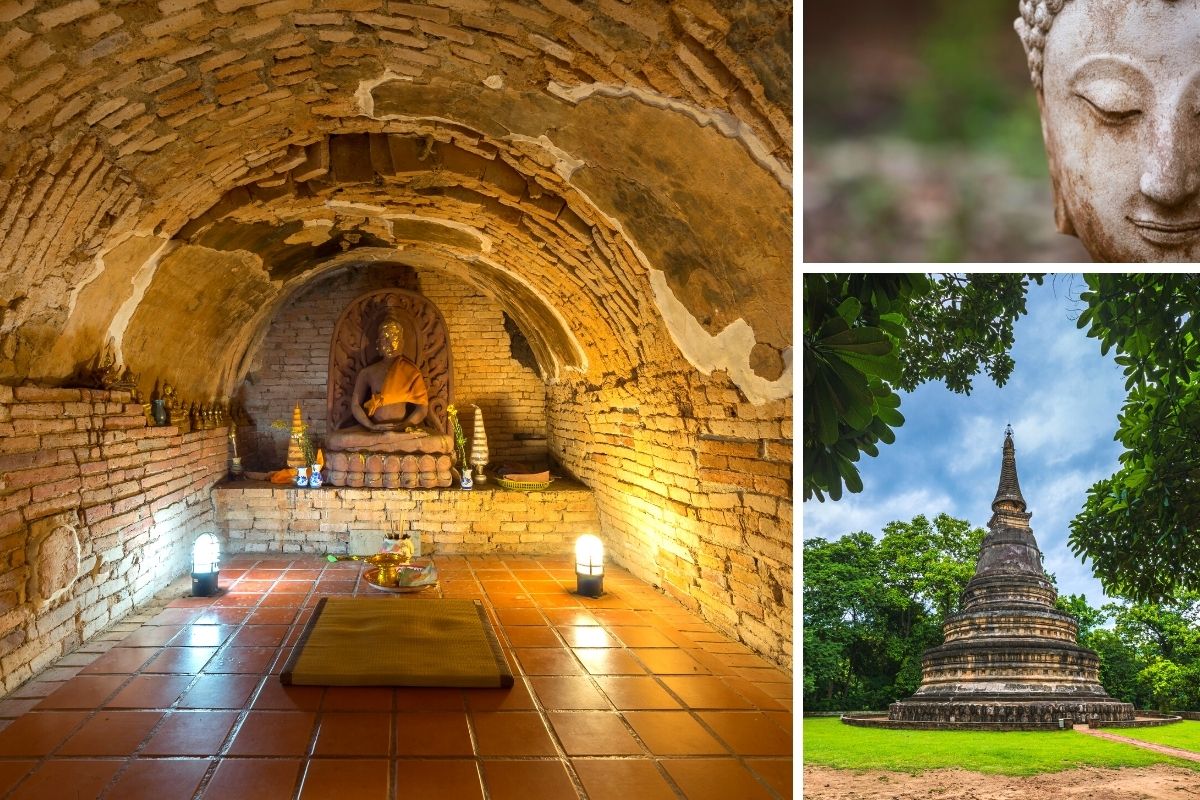 A network of underground tunnels used for meditation inside the oldest temple in Chiang Mai – that is Wat Umong, located a few miles outside of Chiang Mai's old town.
Though artifacts and records may not support it, there are a few interesting legends that surround this little-known temple.
The story is that that temple with the underground tunnels began to expand the more the city above ground started to grow and expand.
The reason for the tunnels was so that the monk that King Mangrai was speaking with, could have a quieter space to meditate in the forest.
With a history spanning 700 years, today the temple is active, and visitors will encounter a few Buddha temples, a peaceful lake, a spiritual center, and a museum.
Because it is an active temple, make sure to dress conservatively and respectfully. The best way to visit the temple is by taxi, private driver, or tour.
11 – Visit Thailand's first botanical garden at Queen Sirikit Botanic Garden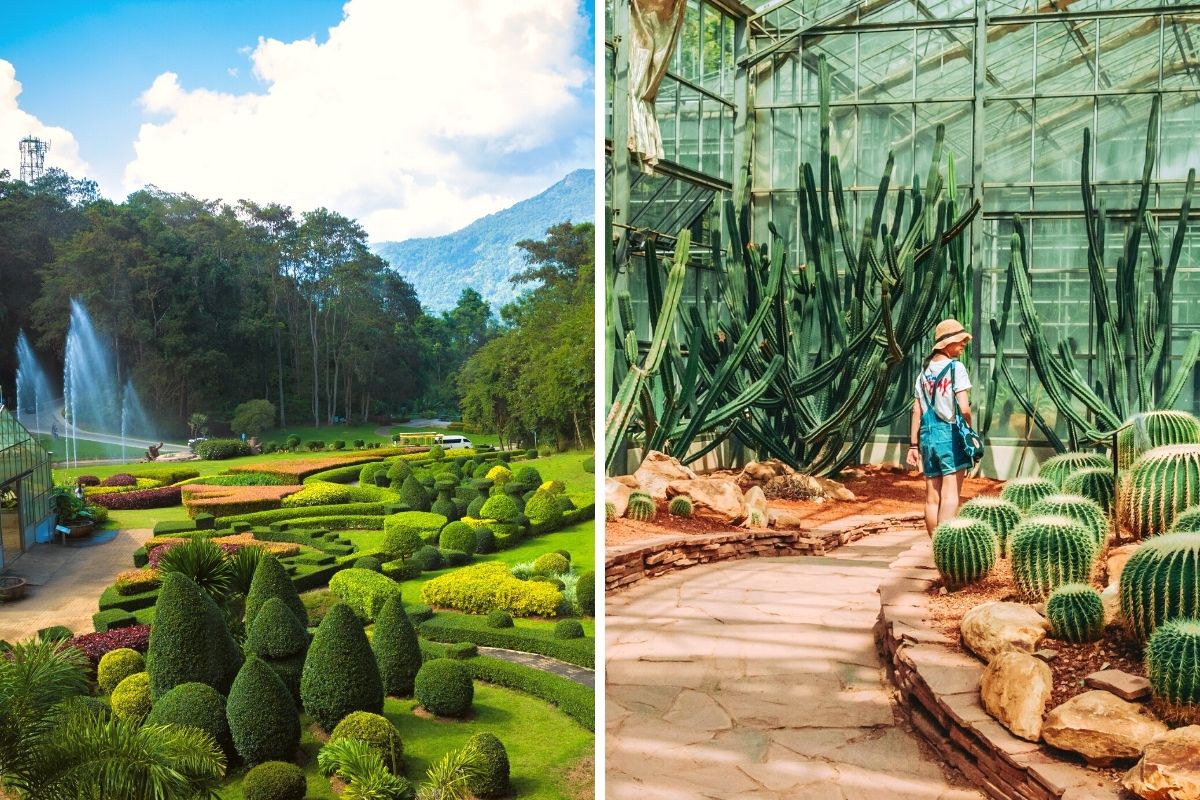 Opening in 1992, the Queen Sirkit Botanic Garden has been dazzling its visitors with impressive views of Thailand and Asian botanical beauties from flowers, trees, and more.
Rolling patches of grass that look like a soft carpet, adorned and trimmed by colorful flowers and other plants are just a bit of the scenery that you'll find inside the garden.
With its many trails available, and amazing exhibits, make sure to stop by the famed Rainforest Glasshouse. Here, visitors are able to walk through a variety of trees native to Thailand and Asian rainforests, of varying climates and terrains.
Check out the organic farm, the museum, as well as an incredible canopy walkway (the biggest in Thailand), called the Flying Draco Trail, named after a flying lizard local to the area.
Admission into Thailand's first botanic garden is 40 baht for adults, and children 12 and under are free.
12 – Ask for blessings at the Kruba Srivichai Monument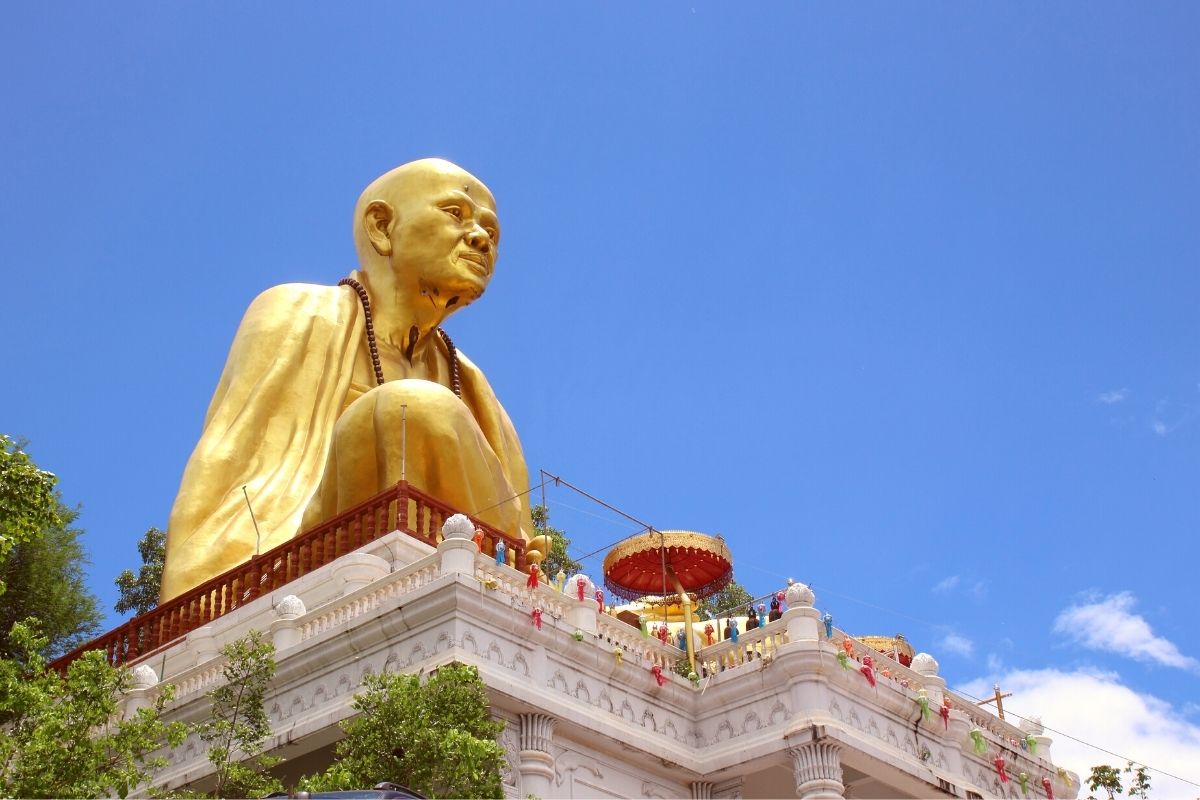 Towering over its visitors, the Kruba Srivachi Monument extends 21 meters and has a width of 18 meters and was originally created to honor the "Saint of Lanna" named Kruba Srivichai, who was recognized for his peaceful, tranquil and devotion.
Kruba Srivichai was also known for his dedication and work for the Lanna people, and the construction of the road that transports people through Doi Suthep mountain.
Kruba Srivichai is a monument that many locals when passing through, ask for blessings on their journey wherever they are headed.
Walk upstairs and be greeted by two long serpent statues, lining the rail of the steps to climb up to the monastery. Explore the monastery, the pagodas and Buddhist images throughout, and then look up to see the Kruba Srivichai monument.
Located in the neighboring province of Lamphun, the best way to reach this remarkable monument is via a private car, taxi, or a tour.
13 – Ring the sacred bells at Wat Phra That Doi Kham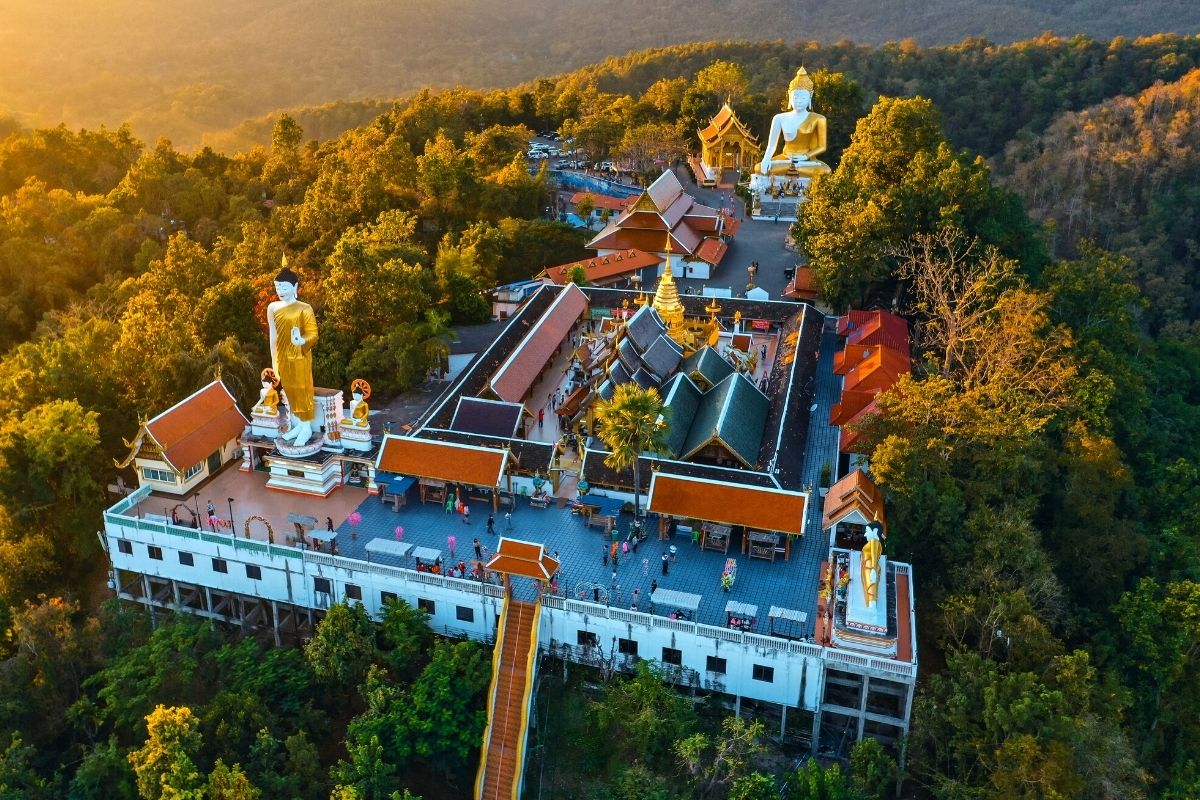 Sitting on the famed Doi Kham hill, the golden Wat Phra That Doi Kham is a religious space that holds together more than a few Buddhist and other religious relics.
At first glance, visitors are taken aback by its stunning shiny, golden appearance, its ornate serpent statues, and impressive multi-tiered roof. The historic temple is said to go back some 1,300 years. Not to mention, the most notable figure of it all is the tall Buddha statue, sitting tall at 17 meters high in the sky.
Translated into "Golden Mountain Temple" in Thai, the monument has a beautiful courtyard with more Buddhist imagery and galleries, spaces for prayer, bells and gongs that visitors can use, and lion statues.
Due to its slightly remote location in the mountains southwest of Chiang Mai, the best way to get there is by taxi, private driver, or a tour. Admission is free.
14 – Visit the site where 3 countries meet at Golden Triangle Park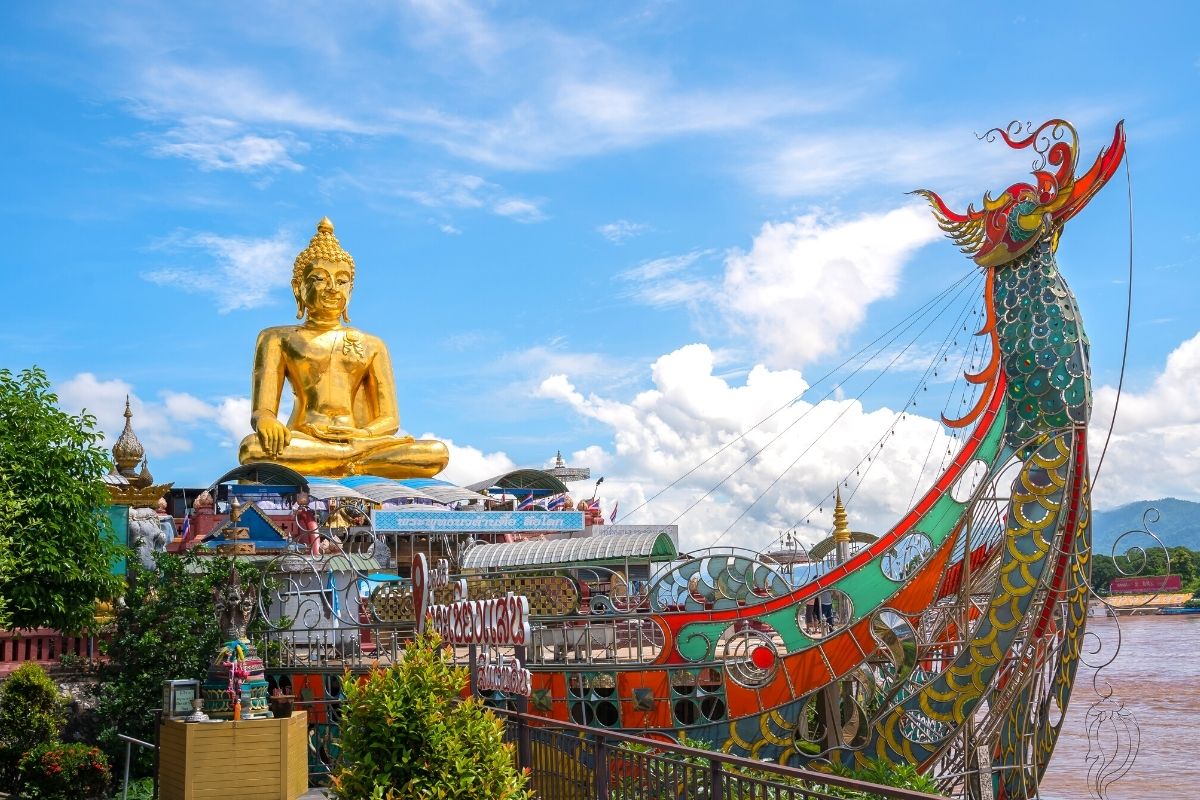 Perhaps at first glance, visitors may be attracted by the statues of Phra Chiang Saen Si Phaendin who appear sitting on a large boat called Rua Kaew Kusoltham, or possibly the closer they arrive, they may start to see the incredible natural phenomena of the touching rivers that happen to separate 3 countries at once: Thailand, Laos, and Myanmar.
Known as the Golden Triangle Park, because it connects 3 countries at once, this park used to be the scene of drug trafficking a while back, however today, it is a network of peaceful waterways that make beautiful backdrops for travelers to get their picture.
Aside from the crossing of 3 counties, and the incredible Phra Chiang Saen Si Phaendin statue, visitors can expect souvenir shops and other local markets.
To get to this site, make sure to either book a taxi, private driver, a tour, or take the Chiang Rai- Chiang Saen green bus from Chiang Mai transport station.
15 – Eat your heart out on a food tour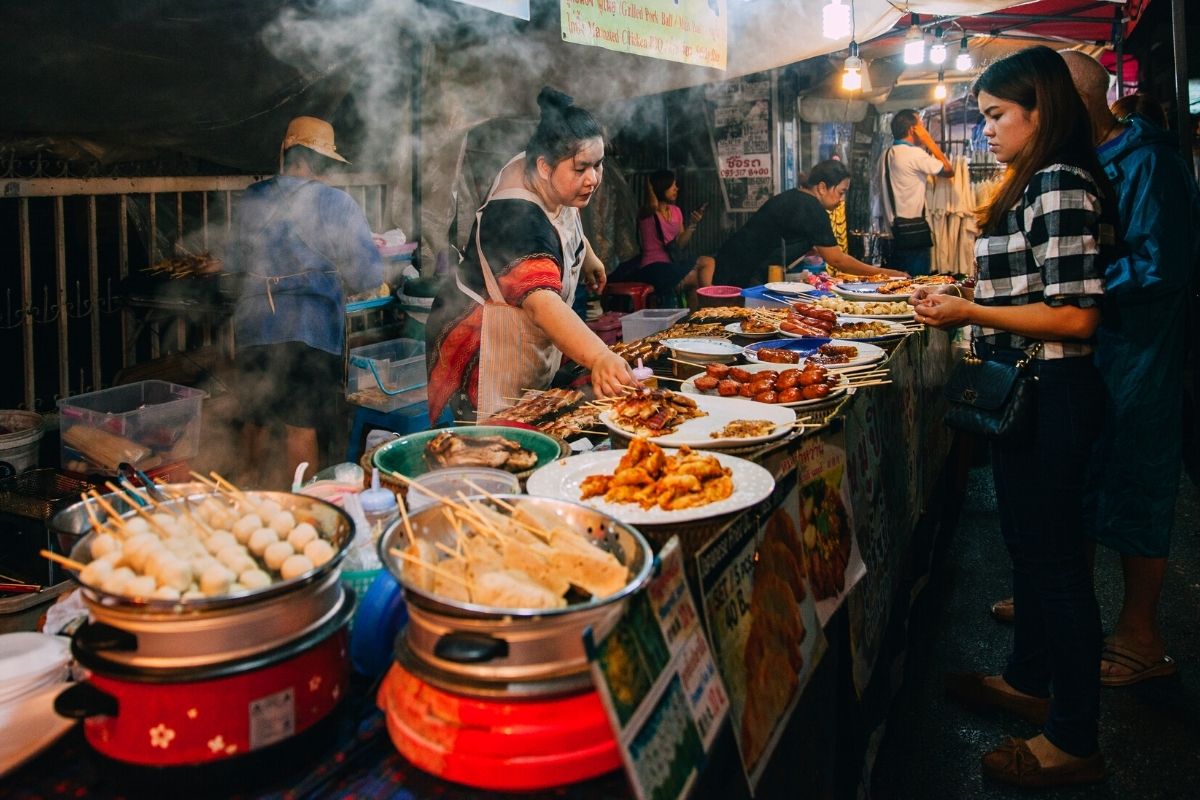 Sign up for a delicious food tour, where you'll be guided throughout Chiang Mai, to discover incredible dishes typical of northern Thailand, as well as the interesting history of food influences, ingredients, dishes, and more.
Try the best local restaurants serving the must-try dishes of the area, such as Khao Soi (egg noodle curry), Sai Oua (grilled, savory Thai sausage), and Kaeb Moo (crispy pork rinds), and more.
Check out Chiang Mai Gate Night Market, iconically known for its incredibly busy and lively scenes selling accessories, items, and souvenirs, as well as food. Check out the different restaurants nearby, many offering seafood specialties, curry, samosas, smoothies, coconut ice cream, coconut pancakes, and so much more.
Tap into the knowledge and food wisdom of a local passionate foodie and pro, ready to take you to the restaurants and best hole-in-the-wall places that alone, visitors wouldn't be able to find. Tour prices start at $30 for a half-day tour.
16 – Explore Chiang Mai's best-kept secret at Mon Jam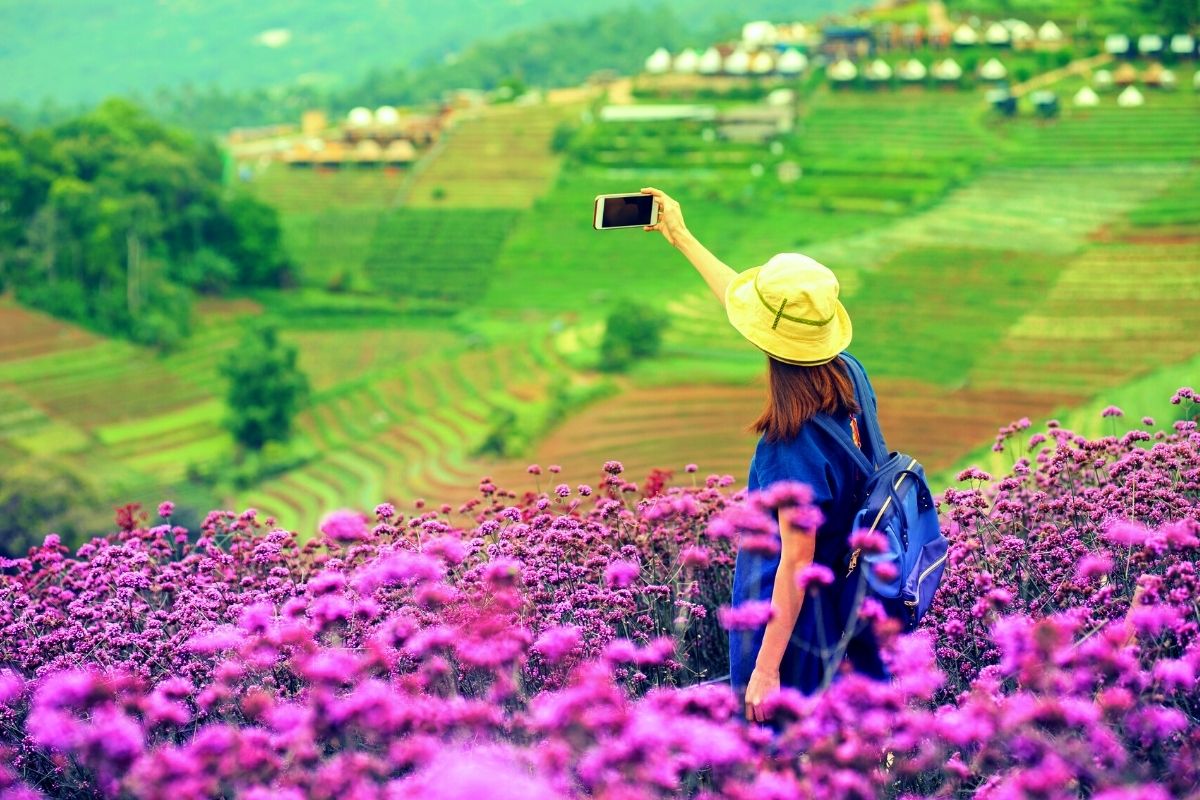 A 45-minute drive from Chiang Mai, a sprawling sight of valleys, green carpets of verdant grass, and home to the incredibly diverse local Hmong tribe, Mon Jam is the definition of a best-kept secret, as it's a sight that not many visitors know about, but is known widely amongst Thai people.
Individuals may notice a few pods/huts lined up around the mountain, and that is because camping is the main activity at Mon Jam. Other activities at Mon Jam include zipping through the mountain sights via the Pongyang Jungle Coaster Zipline, and of course, the incredible Mae Sa waterfall, and so much more.
Located just 1 hour from the city, many people prefer to hire a driver, take a taxi, or drive a scooter for those more acquainted with this place. It's also not far from Queen Sirikit Botanical Garden, so make sure to stop by and make a day trip out of it.
17 – Visit Chiang Mai's first temple at Wat Chiang Man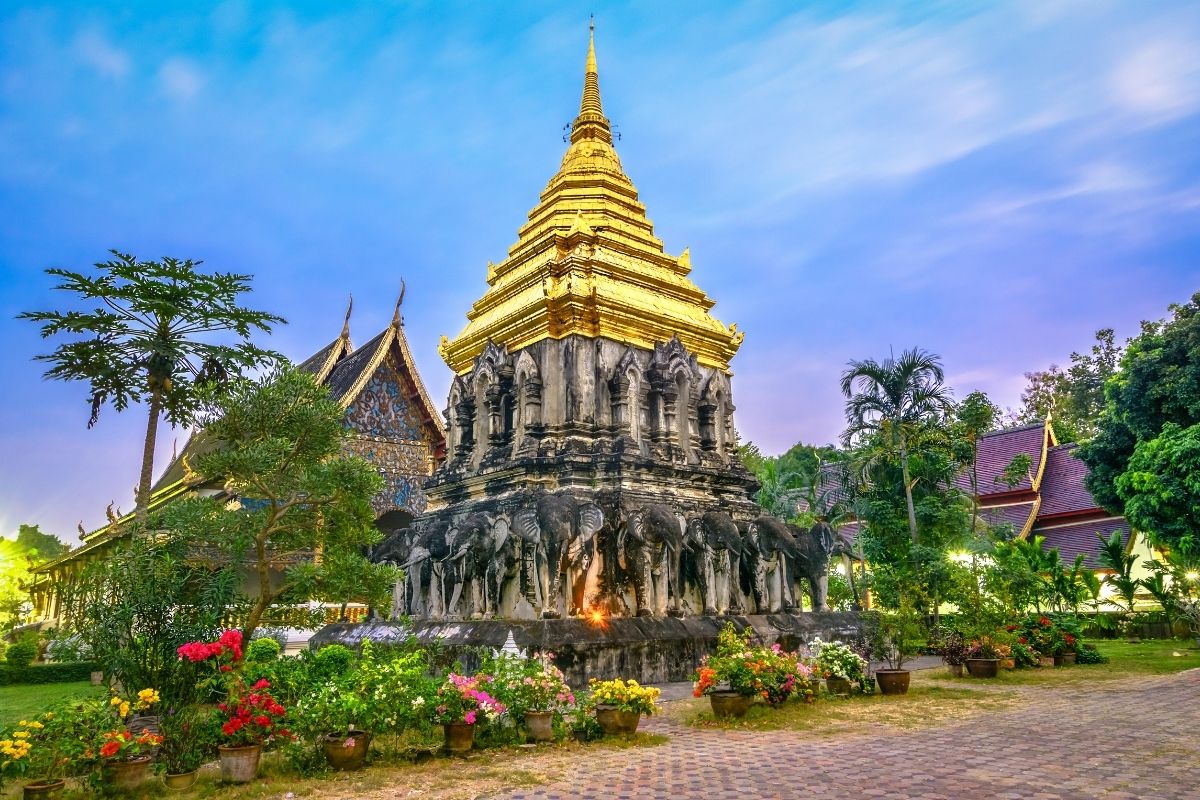 Wat Chiang Man is the oldest temple in Chiang Mai, dating back to the city's origination in 1296. It is a multi-tiered temple built in the Lanna and Singhalese styles.
Walking into the temple, visitors will stroll through an ornate hall, admiring the curved wooden ceiling, until reaching the Buddha statue and all the flowers and religious items sitting near it.  Visitors will also be able to take a glimpse of the Ho Trai (scripture library).
Originally the set of Chiang Mai, it is said that King Mengrai ordered the first temple – Wat Chiang Man – to be built where it was, in order to supervise the building of the city.
A visit to the temple is a must, and easy to do as the temple is located within the walled city, in the old town. Admission is free, and conservative dress is requested out of respect for the temple and others.
18 – Discover the caves at Chiang Dao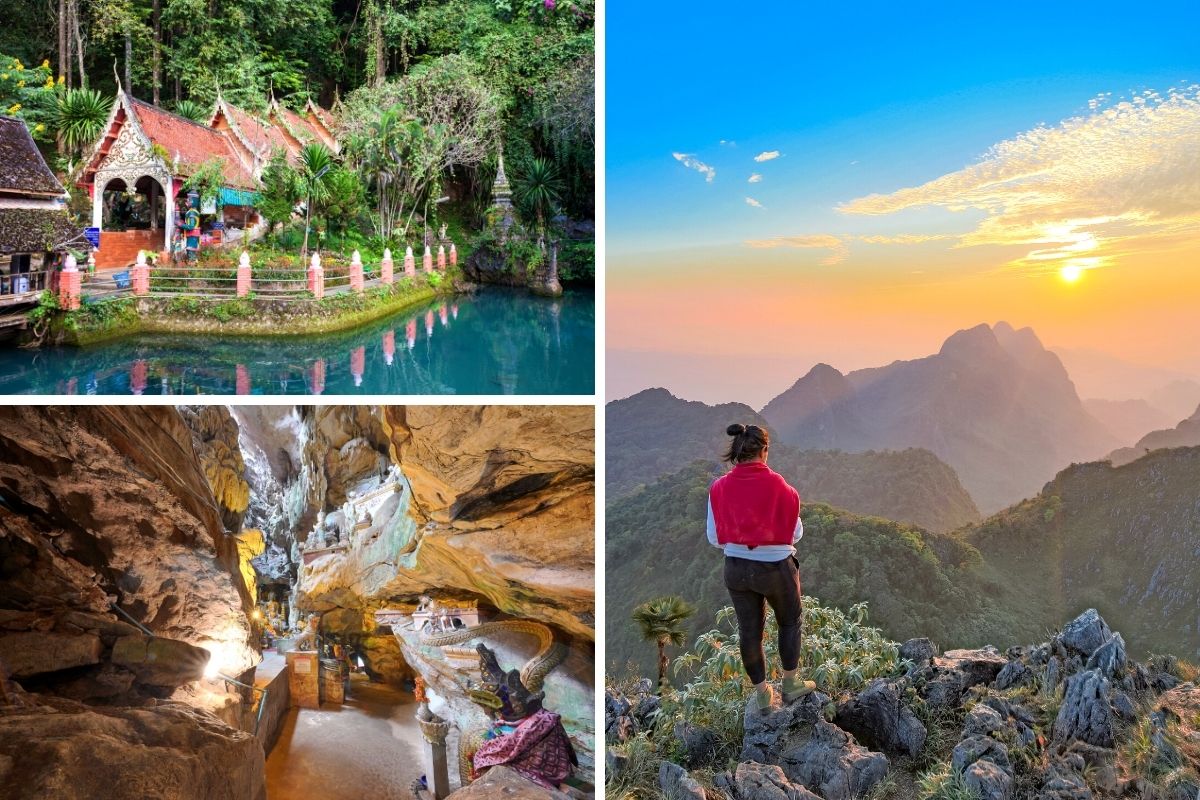 The magic of the town of Chiang Dao lies in its location, surrounded by incredible forest mountains, making it seem like the town is further away from the city buzz of Chiang Mai (1.5 hours away).
Enjoy everything from volunteering your time in local elephant sanctuaries, appreciating the mountainous views from one of the many coffee shops, or interacting with the locals at the lively markets.
Take a hike within the nature trails of Pha Daeng National Park where you can expect to find the jungle temple Wat Tham Pha tucked into the landscape and stumble into a few hill tribe villages.
The Chiang Dao Caves is a network of 100 caves that are carved into the mountain itself. Although only 5 caves out of the 100 are open, visitors are allowed to explore freely but are highly encouraged to go with a tour guide to avoid injuries or getting too deep into the caves.
19 – Indulge in the best lattes at the best cafes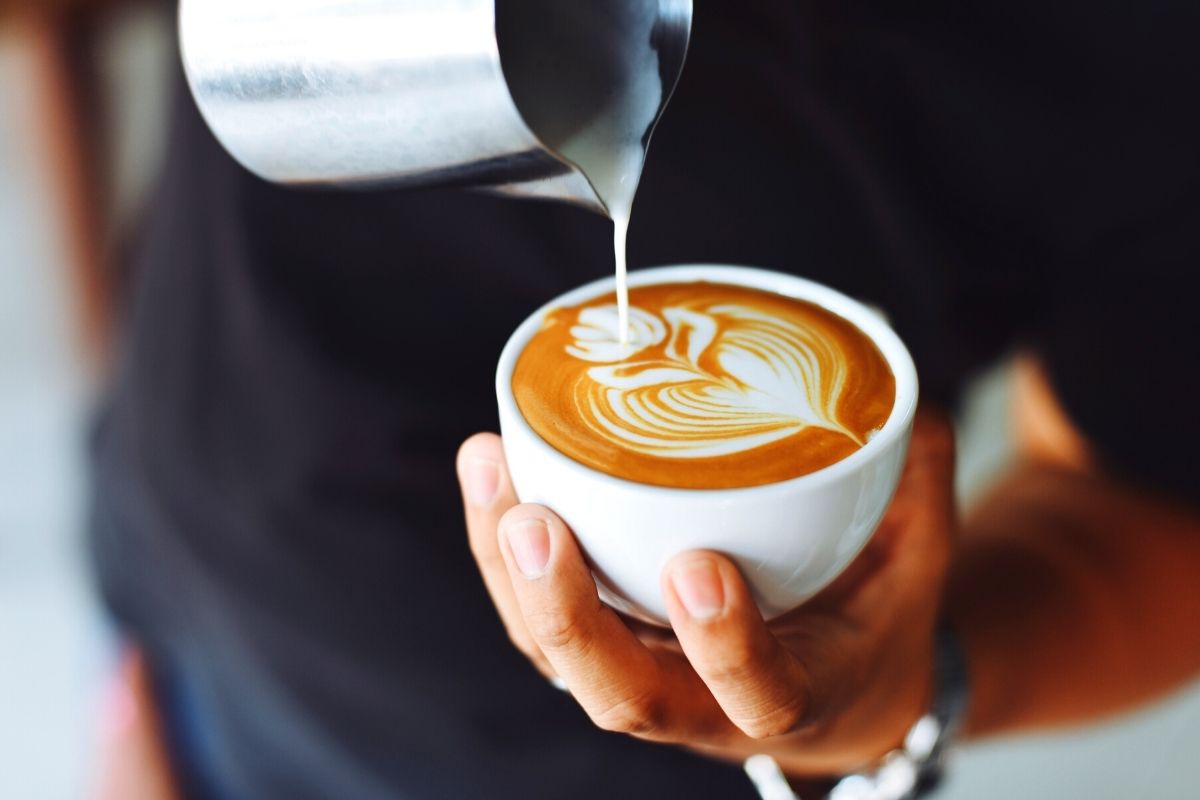 Coffee and cafe culture has been a growing concept in Chiang Mai in the last few years, with the cultivation of delectable local coffee beans. Coffee roasters in Chiang Mai have been working their magic to create some of the best cafes to enjoy your next cup of coffee.
The cafe aesthetics are inviting, but the coffee and latte art draw the people in at Roast8ry Lab, whose roasters have won several world championship awards for the best coffee. Speaking of looks, try a beautifully delicious cup at Graph, which is serving their famous "Monochrome" latte with vanilla milk, espresso, and activated charcoal.
Offering a coffee bar lounge feel, check out Looper Co. which serves both a great latte as well as craft cocktails.
There are plenty more cafes to explore in Chiang Mai, adding even more reasons for any digital nomad, expat, and coffee lover to visit or move to this lush and aromatic wonderland.
20 – Explore Old Town Chiang Mai on a bike tour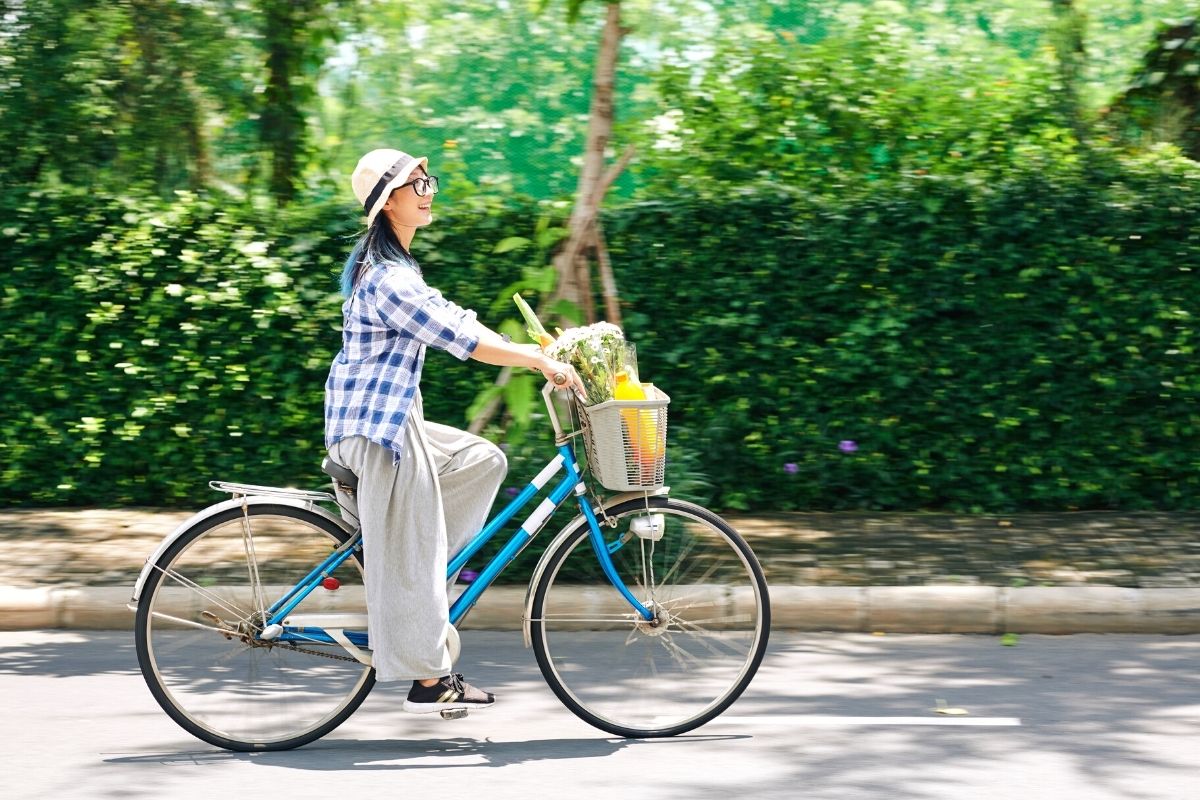 Whether you're looking for a day bike tour or an evening bike tour, seeing a city like Chiang Mai on 2 wheels is nothing but exciting, fun, and extremely fascinating.
Follow the lead of a local guide, zig-zag through back lanes and alleyways, and even explore the bountiful countryside with a small group of cyclists.
There's a variety of bike tours to choose from like cycling to various food stops on a food tour, biking through adventurous terrain on a mountain bike tour, calmly cycling through Chiang Mai's historic center, and even a full 8-hour bike tour exploring everything from small local communities to the city lanes.
Bike tour prices start at $30, and many include hotel pick up/drop off, the local guide, equipment, and more depending on the chosen experience.
See more in less time and join a half-day tour that will take you to the main attractions, and will also point out the must-visit restaurants and cafes.
21 – Take a rejuvenating walk through the Royal Park Rajapruek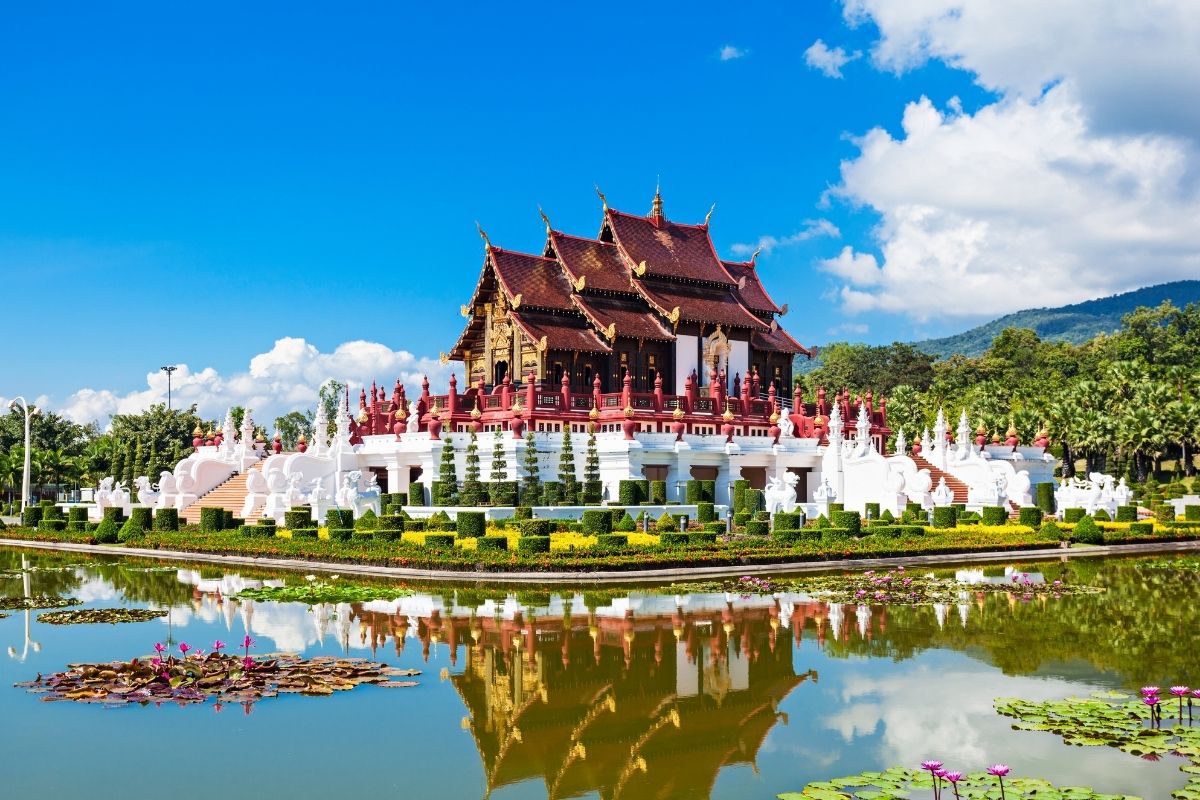 Inspiring landscapes of manicured gardens, temples, Buddhist statues, and symbols are just a few of the sights awaiting you at the Royal Park Rajapruek.
Located 20 minutes southwest of downtown Chiang Mai, a visit to the Royal Park Rajapruek should be on everyone's list of things to do in Chiang Mai.
History shares that the gardens were created to honor the 60th anniversary of His Majesty the King Bhumibol Adulyadej's Accession to the throne as well as His Majesty's 80th birthday.
Today, the immaculate gardens are open for visitors to explore and indulge in a little nature therapy, with a variety of local flowers like orchids and incredible bird watching.
Tickets to enter are 20 baht per adult, and 150 baht per child. The best time to visit is December to February due to slightly milder weather, and the amazing celebrations that take place such as the Floral Festival and the New Year's Eve celebration.
22 – Learn Chiang Mai's history at the Three Kings Monument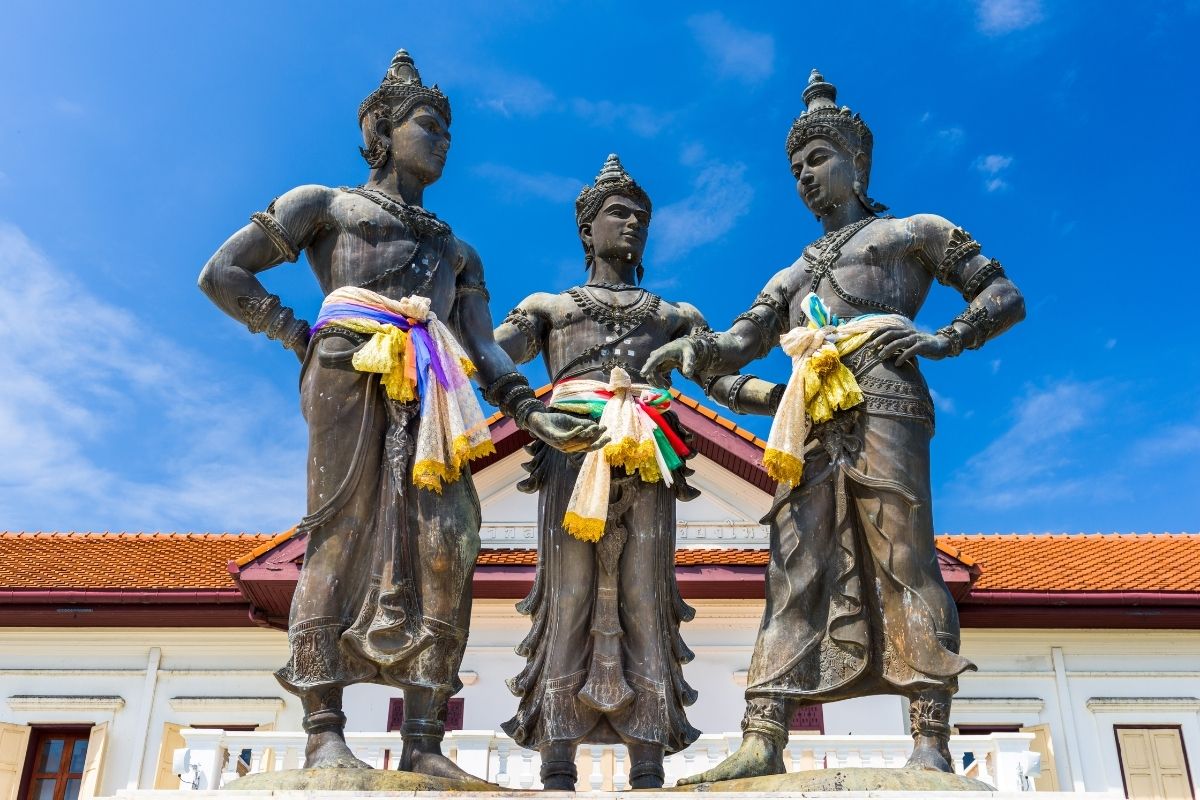 Easily found in the heart of old town Chiang Mai, the Three Kings Monument is a symbol and honorable representation of the original 3 Kings that found Chiang May.
The 3 Kings: King Mengrai, King Ramkhamhaeng, and King Ngam Muang were all known to take a special role throughout the foundation of Chiang Mai in different eras of its formation.
Each responsible and influential in the building of modern-day Chiang Mai, today, locals can be seen kneeling or sitting by the statue in silence, as a way to honor and respect their efforts and meaningful actions for Chiang Mai.
Right behind the Three Kings Monument is the Chiang Mai City Arts & Cultural Center – a space that used to be the Old Provincial Hall and is now a cultural space that houses a grand collection of history and artifacts depicting Chiang Mai's documented and cultural symbolism and importance.
23 – Reach the sky at the Floating Pagodas in Lampang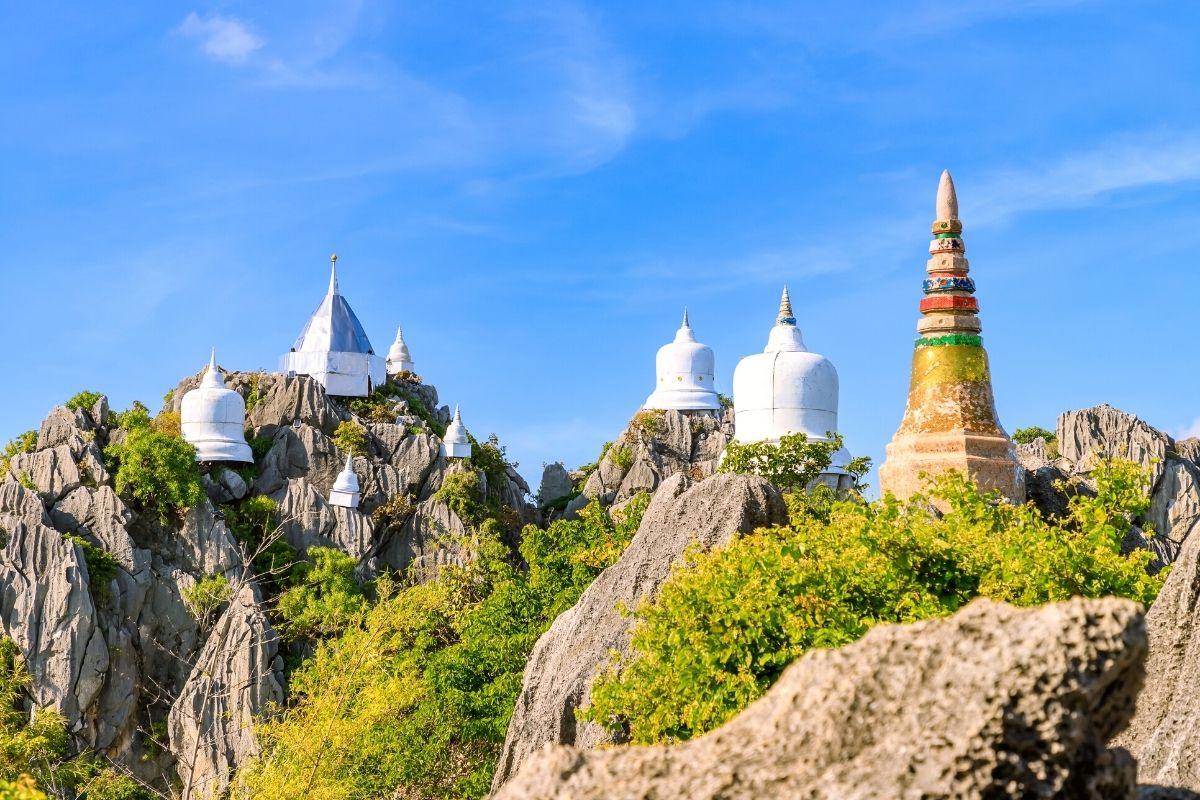 Recognized as the 3rd largest city in northern Thailand, a visit to Lampang guarantees sights of exceptional temples, Lanna architecture, and even transportation via carriage.
Situated just 1.5 hours southeast of Chiang Mai, Lampang is the perfect idea for a quick day trip back in time, in a land seemingly far away.
Quaint with quietness from the stunning nature around – forested mountains, temples tucked into the mountainous terrain, and vibrant city center, Lampang is mostly visited for the Chae Son National Park and the Floating Pagodas.
The attention-grabbing 7 white floating pagodas are situated on top of the dramatic mountain terrain and part of the Wat Chaloem Phra Kiat.
To get there, visitors may hire a private driver, and then to go up the mountain, a car of sorts takes people up, and then the last 800 meters require people to go up a few steep steps.
24 – Visit the largest Chedi in Chiang Mai at Wat Lok Moli
The Wat Lok Moli takes up a spot in the group of oldest Buddhist temples in Chiang Mai and has quite a history to share about its beginnings and its use. Located a little outside the city's walls, Wat Lok Moli is a temple that should be visited to see the biggest Chedi in all of Chiang Mai.
The temple housed and supported Buddhist monks, Kings, and served as a space for not only meditation but also a place to teach Buddhist education to monks visiting from other neighboring countries.
Currently, entrance is free to the temple and the visiting hours are from 6 am-5 pm. Tours often take groups of people to this and other temples nearby, so if you're looking for an experience that takes you to the most important temples in Chiang Mai, consider booking a tour.
25 – Escape reality at the Art in Paradise Illusion Museum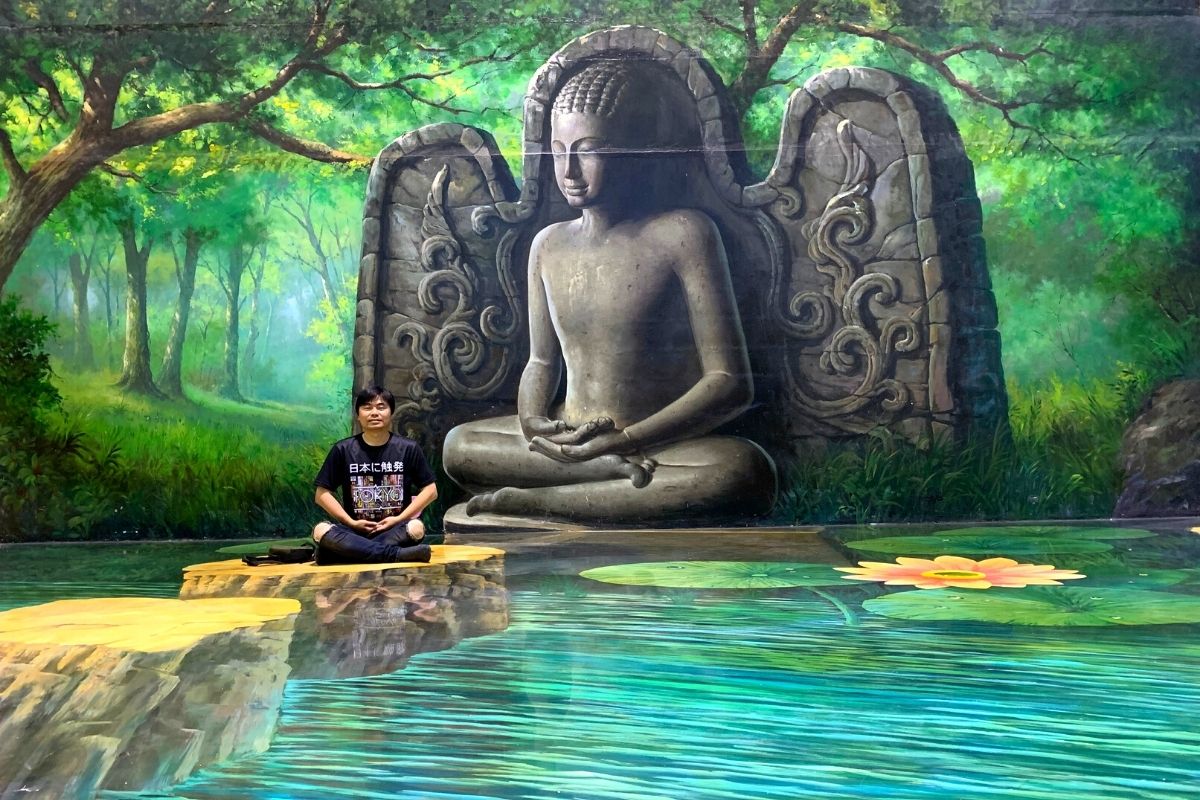 Step into the ultimate 3D world of illusions in Chiang Mai, and all of Thailand, at the Art in Paradise Illusion Museum. Located conveniently 11 minutes away from downtown Chiang Mai, this museum will prove to its visitors that not everything is what it may seem.
Perfect for a rainy day activity, visitors are invited to explore 10 exhibitions showcasing different themed illusions such as wildlife, dinosaurs, natural landscapes, and the underwater world.
The museum tests people's perceptions and allows them to reach out and touch different pieces of art and paintings to prove for themselves what is tangible and what their eyes are playing tricks on them with.
It's an ideal activity for families or adults who want to explore something a bit different while visiting Chiang Mai.
Admission is 400 baht for adults and 200 baht for children, and opening hours are from 9 am-10:30 pm.
26 – Feel refreshed at the Huay Kaew Waterfall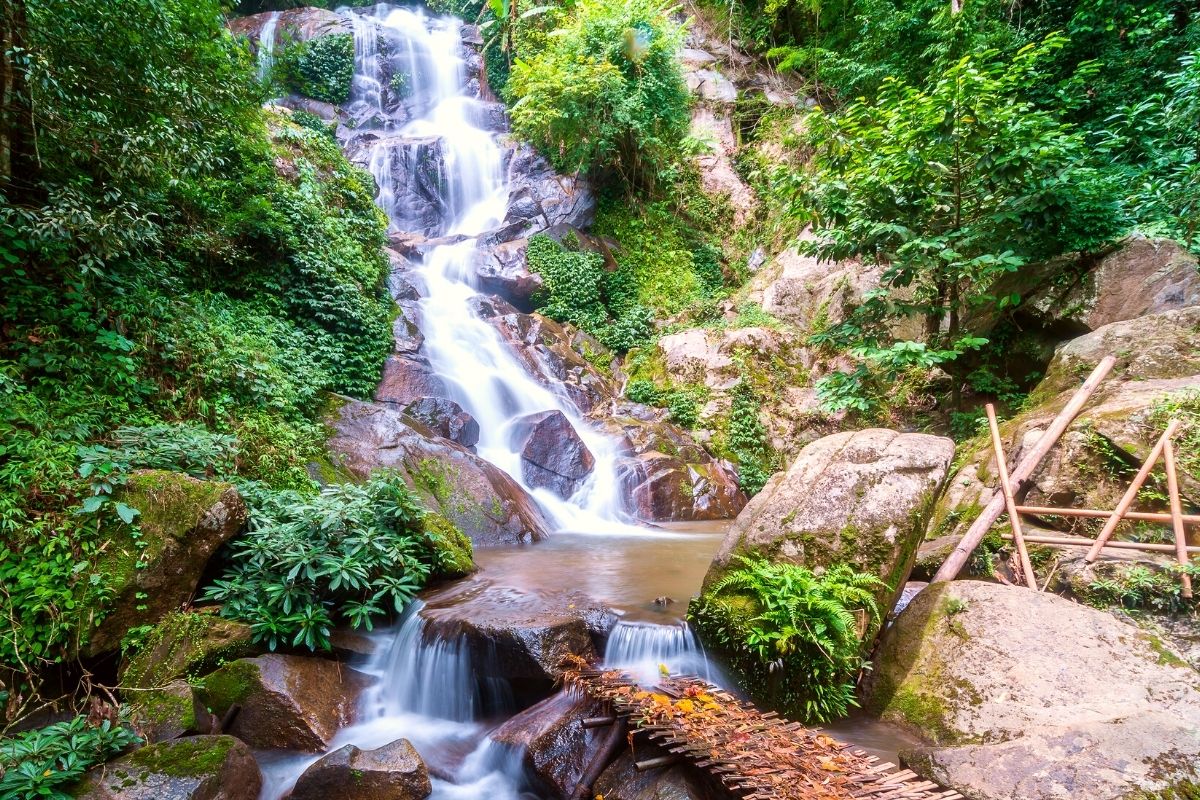 After a day of sightseeing temples in Chiang Mai, check out the incredible Huay Kaew Waterfall, which is the most accessible waterfall close to Chiang Mai.
If you're visiting Wat Kruba Sivichai, walk a little behind the temple and the parking lot, to reach the beginning of this magical waterfall.
Excellent for a hot day, with family or solo, when you start walking towards the waterfall, you will see natural pools created nearby, where it is safe and suggested to go in and enjoy. From the natural pools, it is around a 5-10 minute walk to the actual waterfall.
Visitors may go up the path to get to the top of the waterfall and enjoy the views from there. It is also recommended to pay attention to the season in which you'd like to visit because the rainy season is from July-November and that is the best time to see the raging waters cascade abundantly.
27 – Forest bathe at Sri Lanna National Park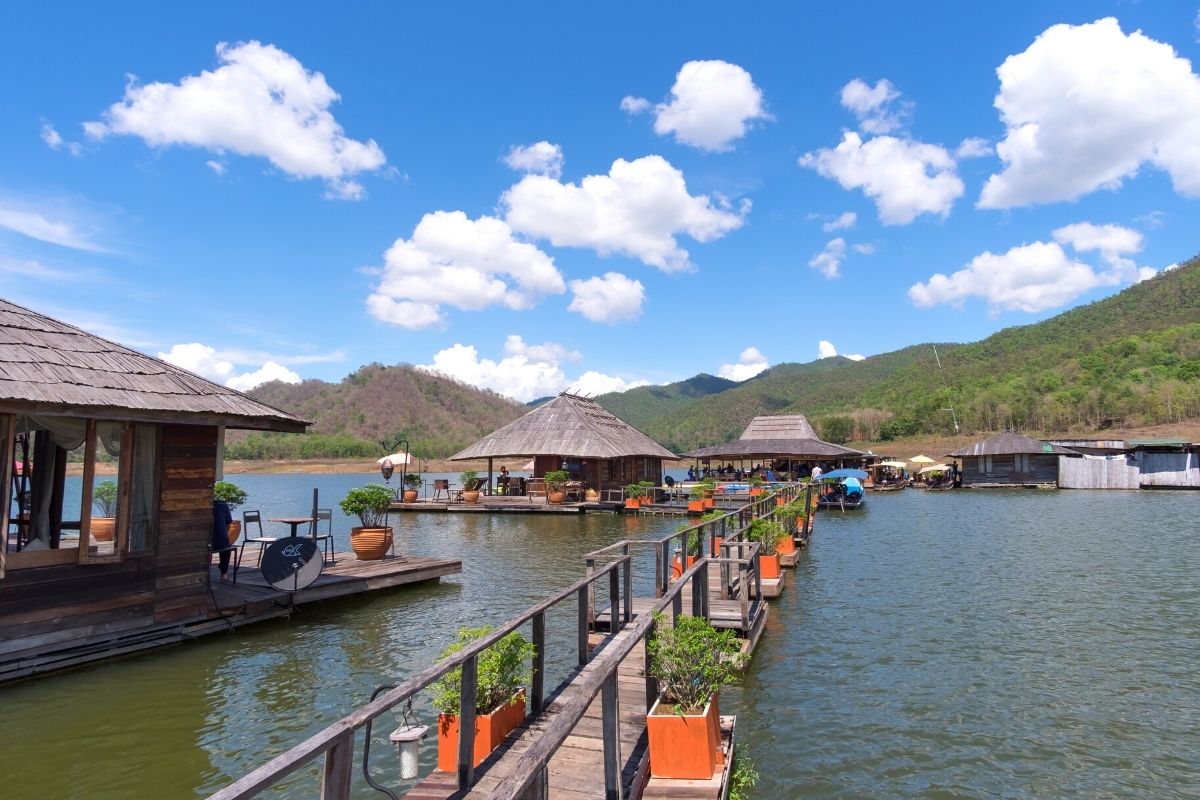 The Sri Lanna National Park is the perfect idea for a day trip or a complete weekend getaway depending on your schedule be it for its gorgeous natural terrain, views, refreshing waterfalls, mysterious caves, and optimal camping opportunities.
Covering an estimated 260,800 acres, you will undoubtedly have an amazing time exploring it.
If you visit for the day, take advantage of the amazing hiking opportunities at the park, where visitors are able to come into contact with incredible wildlife, the Mae Ping River, and other breathtaking natural views.
Make the most of your trip, and partake in some phenomenal water activities such as stand up paddleboarding, kayaking, and rafting in the Mae Ngat Sombun Chon.
Admission into the park is 100 baht for adults and 50 baht for children, and it is located a little over 1 hour away north of downtown Chiang Mai. The best way to get there is via a private driver or taxi.
28 – Visit 400 different animals species at Chiang Mai Zoo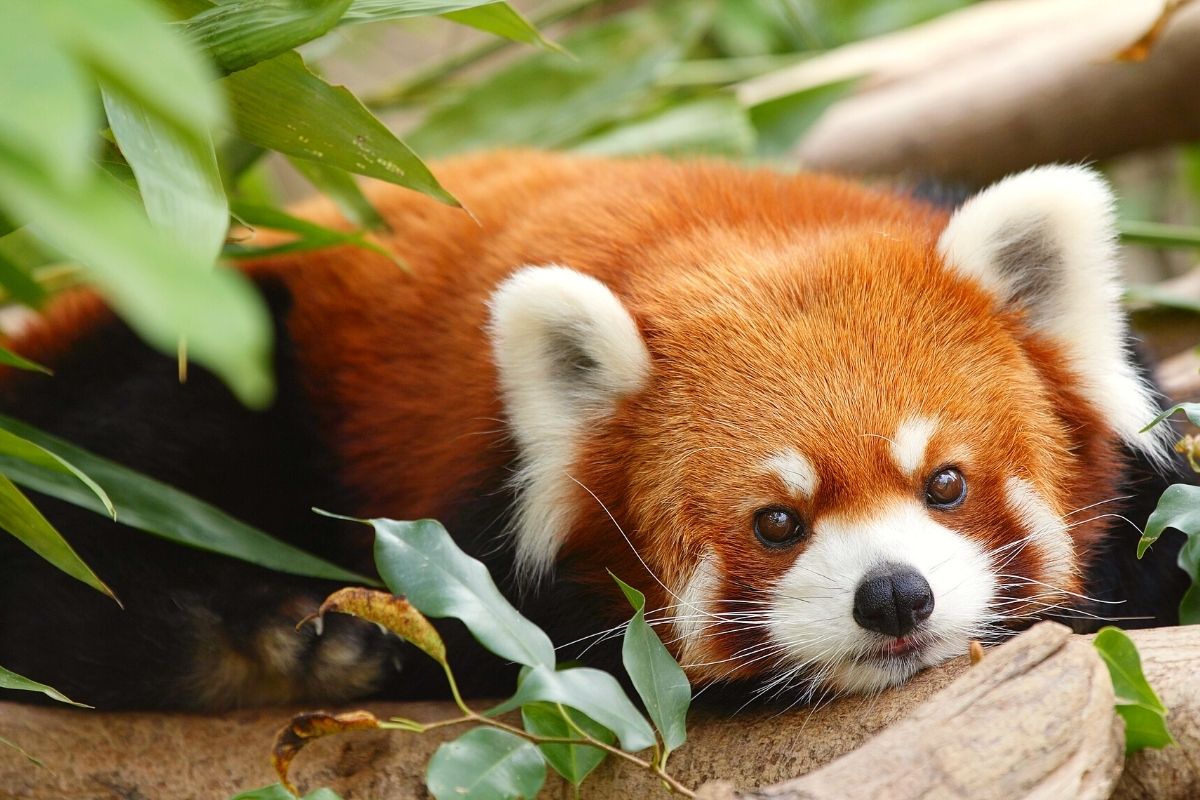 Prepare for a day of incredible fun at the Chiang Mai Zoo, whether you're traveling with kids or yourself and your friends. Visitors can expect a zoo spanning 200 acres and a tremendous 400 different animal species from all over the world, as well as local to northern Thailand.
Expect to see exotic animals such as the Malayan Tapir, Barbary sheep, and one of the last rhinos in Thailand.
Located near the Doi Suthep mountain, the zoo was interestingly started by a son of American missionaries in the 70s, who began collecting animals that were injured and he wanted to rehabilitate them.
Prices for the zoo vary depending on the experience you're looking for. Tickets for adults are 150 baht and children's tickets are 70 baht. For an extra 30 baht, you can get driven around the zoo grounds if you prefer that.
Make sure to visit the aquarium inside, as well as the snow dome and the aviary.
29 – Sharpen your cooking skills inside a Thai cooking class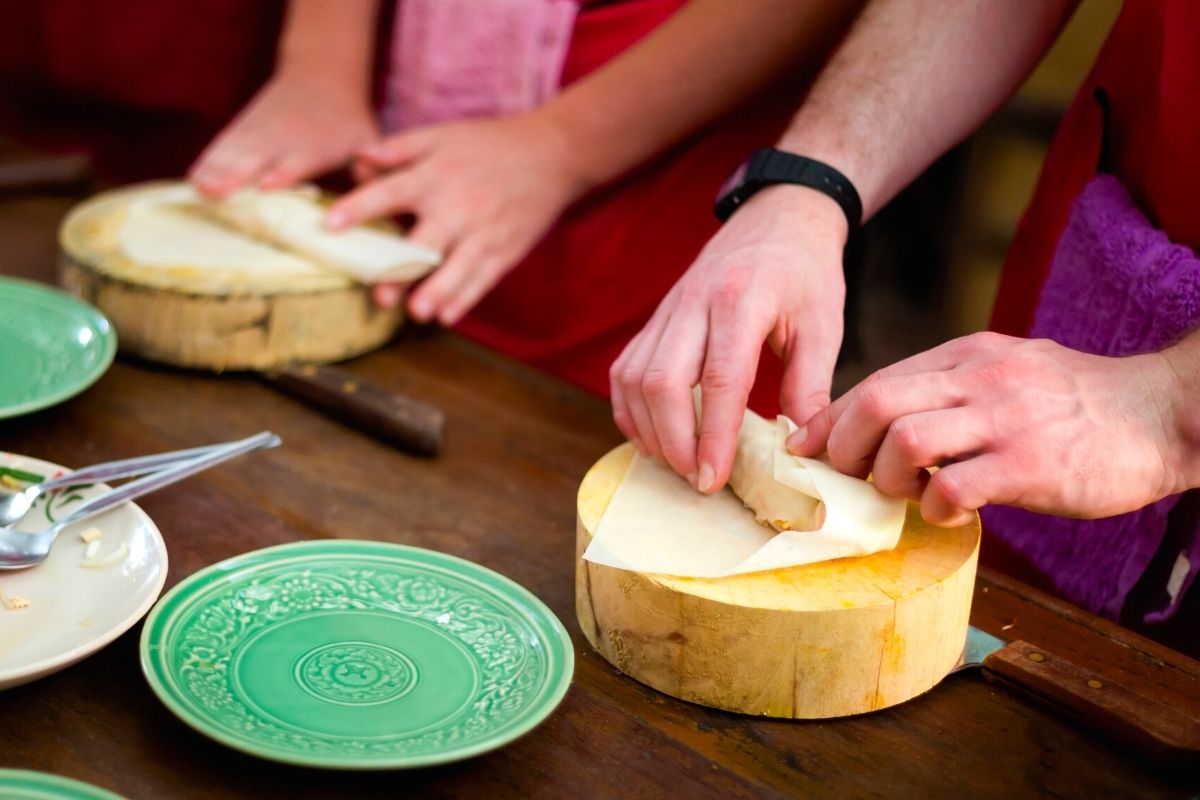 Bursting with an incredible street food scene and markets brimming with stalls of incredibly smelling traditional dishes, Chiang Mai has an astonishing list of traditional cuisine that makes its mark nationally, and globally.
A cooking class is one of the best ways to discover not only the food scene and learn about local ingredients and cooking methods, but it's also a communal activity that allows visitors to step into Thai cuisine and culture.
Guided by local cooking professionals, visitors are able to make popular dishes such as Nam Prik Ong, Khanom Bua Loi, and perhaps the most famous Khao Soi.
Check out cooking classes at Thai Farm Cooking School, Secret Thai Cooking School, and Sammy's Organic Thai Cooking School, which all have years of excellence and welcome people into their kitchens daily.
Whether you're vegetarian or vegan, there are classes that cater to almost every diet, and all are beginner-friendly, so come hungry and leave inspired.
30 – Find a meditative space at Wat Suan Dok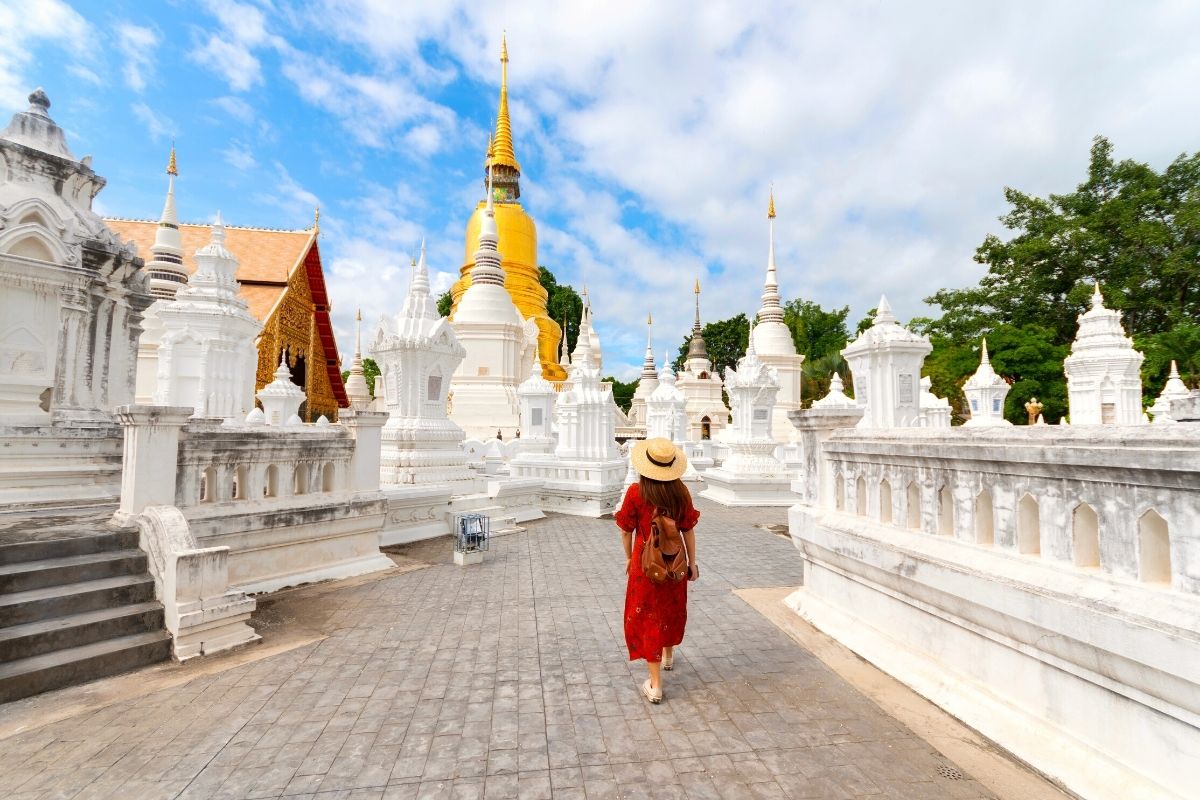 Wat Suan Dok translated from Thai, literally means "flower temple garden" and it is another temple worth visiting in Chiang Mai.
A 48-meter tall chedi surrounded by a few smaller white chedis encapsulates different generations of rulers of Chiang Mai, and in the temple's interiors, visitors can look up and gaze at the main figure of Buddha, as well as look around at the incredible murals depicting Buddha's life.
Offering an amazing experience to visitors, monks hold chants and prayers inside the temple, and visitors may partake in the chants. Available in English, there are meditation and monk chat programs and retreats that allow visitors to learn proper meditation practices, and ask monks questions about anything.
To visit the temple, admission is free, and to inquire about the meditation retreats, information is available at the temple. People get to the temple via taxi, private driver, or on a city tour stop.
31 – Escape the heat at Chiang Mai Grand Canyon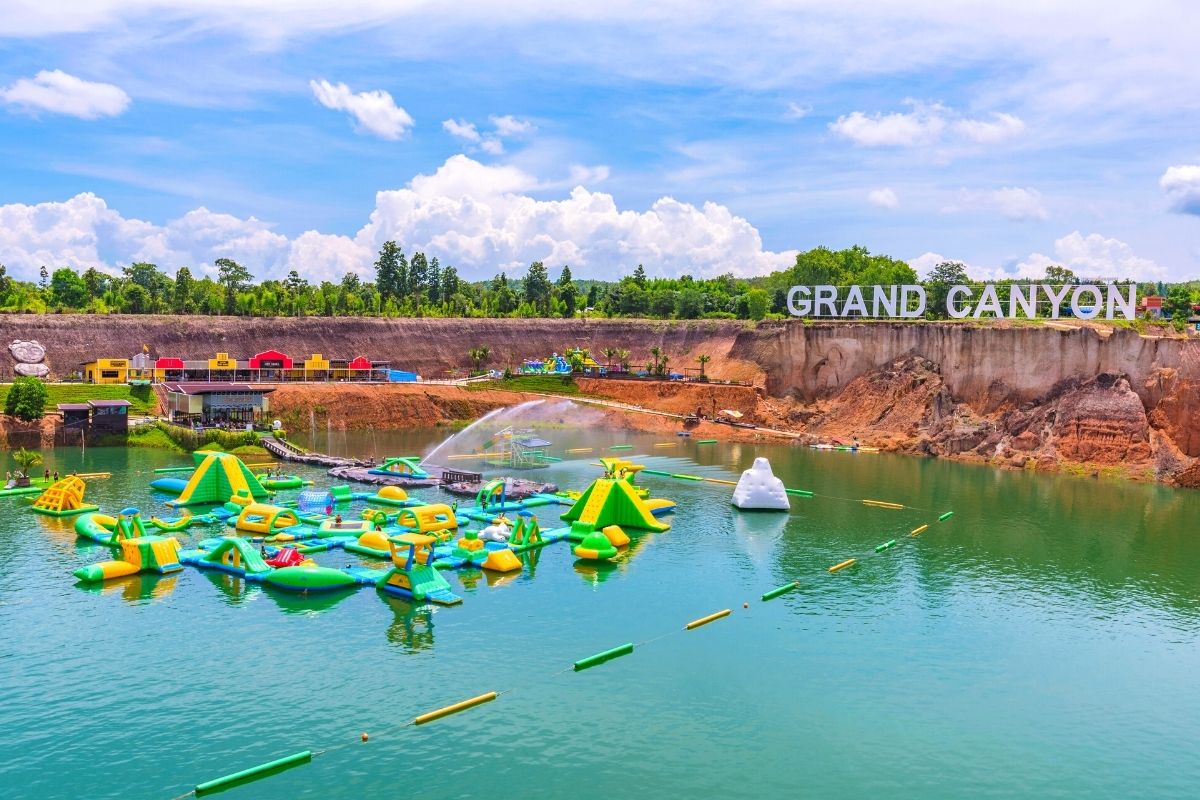 Something slightly different to add to your itinerary of things to do in Chiang Mai is the Chiang Mai Grand Canyon, located around 45 minutes from downtown Chiang Mai.
It is called Grand Canyon because its red-colored limestone rock aspect resembles the Grand Canyon in the U.S. Some of the fun and unique activities to do while visiting this site are cliff diving off the rocks into the rivers below, wakeboarding, zip-lining, or lazily floating through the river on a bamboo raft. Eat at the restaurants, and enjoy traditional Thai foods while visiting, too.
The whole place has been converted into a water park, with an abundance of things to do, which make it worth a full-day trip from Chiang Mai.
The best way to get to the Grand Canyon is via a songthaew, which is a traditional "bus" used commonly in Thailand and other neighboring countries, or a private driver.
Admission is 650 baht for adults.
32 – Appreciate the art of tea-making at Araksa Tea Garden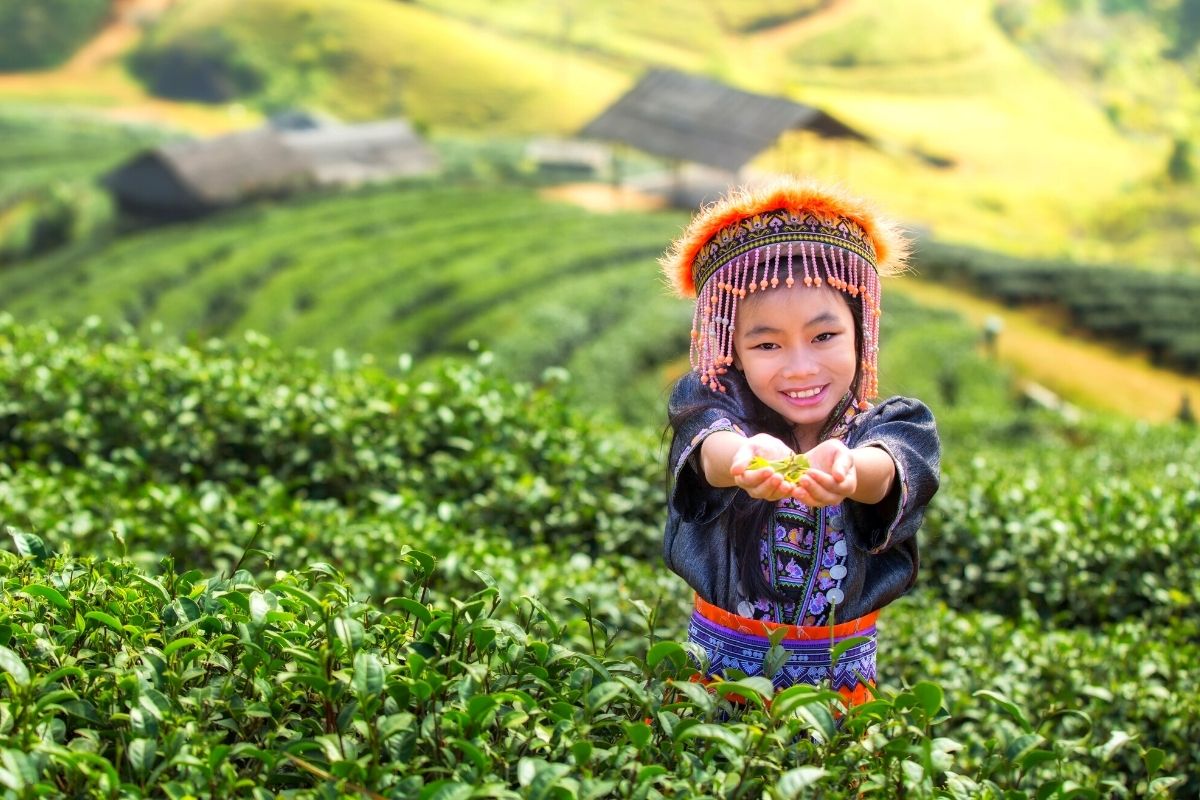 Undoubtedly a place for all tea lovers to explore and enjoy is the award-winning Araksa Tea Garden, located on the pristine rolling green hills of the Mae Tang District.
Visitors get the ultimate treat of learning the tea cultivation process, and the work that involves producing outstanding tea quality. Pluck the leaves yourself, process the leaves, and make and enjoy the best cup of tea alongside a variety of traditional snacks.
Sustainability and experience go hand in hand at the tea garden, and visitors will see and practice firsthand the efforts done to preserve the fertile lands and the proper cultivation that supports and sustains the natural ecosystem.
Learn the practice of making tea, and get involved in other immersive activities relating to tea. Experience the local natural beauty as well.
Located about 1 hour and 20 minutes away from downtown Chiang Mai, it is recommended that people hire a private driver or take a taxi.
33 – Relax at Nong Buak Haad Public Park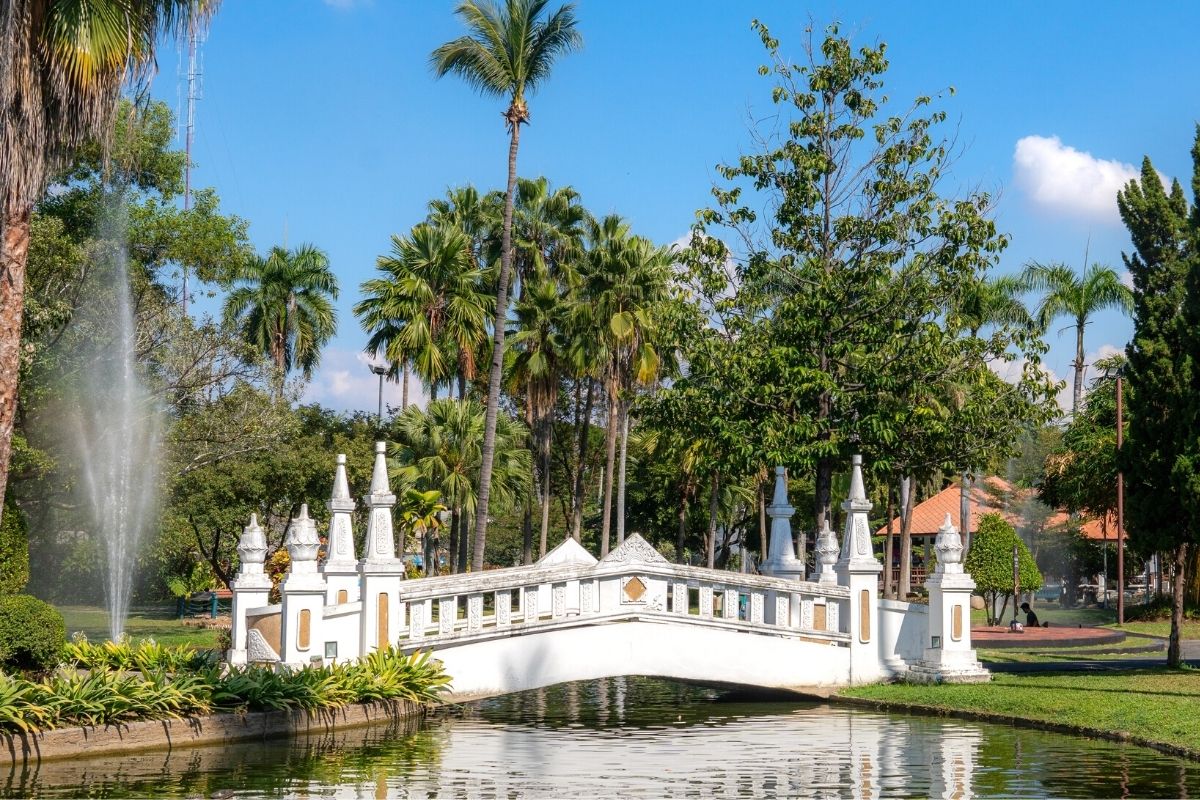 Visit the picturesque and perfect place to escape the heat at Nong Buak Haad Public Park. The park is located in the southwest area of Chiang Mai, with a great variety of things to do such as snacking on local treats sold at the park, having a quiet moment at the coffee shop located inside the park, and taking in the lush greenery.
See local trees such as yang na trees, and if you're visiting in February, stop by for the famous Chiang Mai Flower Festival held at the park.
Perfect for kids and adults, visitors can join a local basketball game at the park, take a light jog on the track, purchase fish pellets to feed the local fish in the ponds, and purchase a bamboo mat to sit on the grass and relax a bit.
The park is free to enter and enjoy, making it the perfect stop in the middle of sightseeing.
34 – Admire the interiors of the Indian-influenced Wat Jed Yot, Phra Aram Luang
Known famously as the "temple of seven spires" but often overlooked by visitors, is the temple of Wat Jed Yot. Inspired architecturally by the Mahabodhi Temple located in northern India, it is the place said to be where Buddha gained enlightenment.
The temple has a lot of Indian influence, which in and of itself is enough reason to visit the site and see in person the adornment of divine deity statues, as well as the leafy tree scenery that will also inspire visitors as they come.
Located about 3 hours outside of downtown Chiang Mai, a visit to Wat Jed Yot can be combined with a visit to a few more temples nearby, such as Wat Prathat Doi Suthep.
Spend time at the temple, admire the beauty of the bronzed and white porcelain Buddha and take a look at the main hallways, and esteem the interior relics and murals.
Entrance is free, however, donations of any sort are always welcomed.
35 – Experience a unique natural phenomenon at Namtok Bua Tong (Sticky Waterfalls)
With an attention-grabbing name for a natural site, Sticky Waterfalls is named as such due to its interesting mineral found in the waterfall that changes the texture of the rock to form a grip, and no algae or moss to grow on them.
Therefore, it is a rather common sight to see people climb up the waterfall and its cascade with ease.
Adorned with a canopy of dense trees and beautiful wildlife, people like to visit this site for the amusement of climbing up the waterfall, as well as to refresh themselves from the intense heat. Take a picnic, bring your bathing suit, and prepare for a unique waterfall experience.
Located about 1.5 hours away from old town Chiang Mai, the Sticky Waterfalls are not so commonly known amongst tourists, therefore you may only see Thai locals hanging around this true hidden gem.
To get here, book a private driver or take a taxi.
36 – Spend the day on one of the Floating Houses of Mae Ngat Dam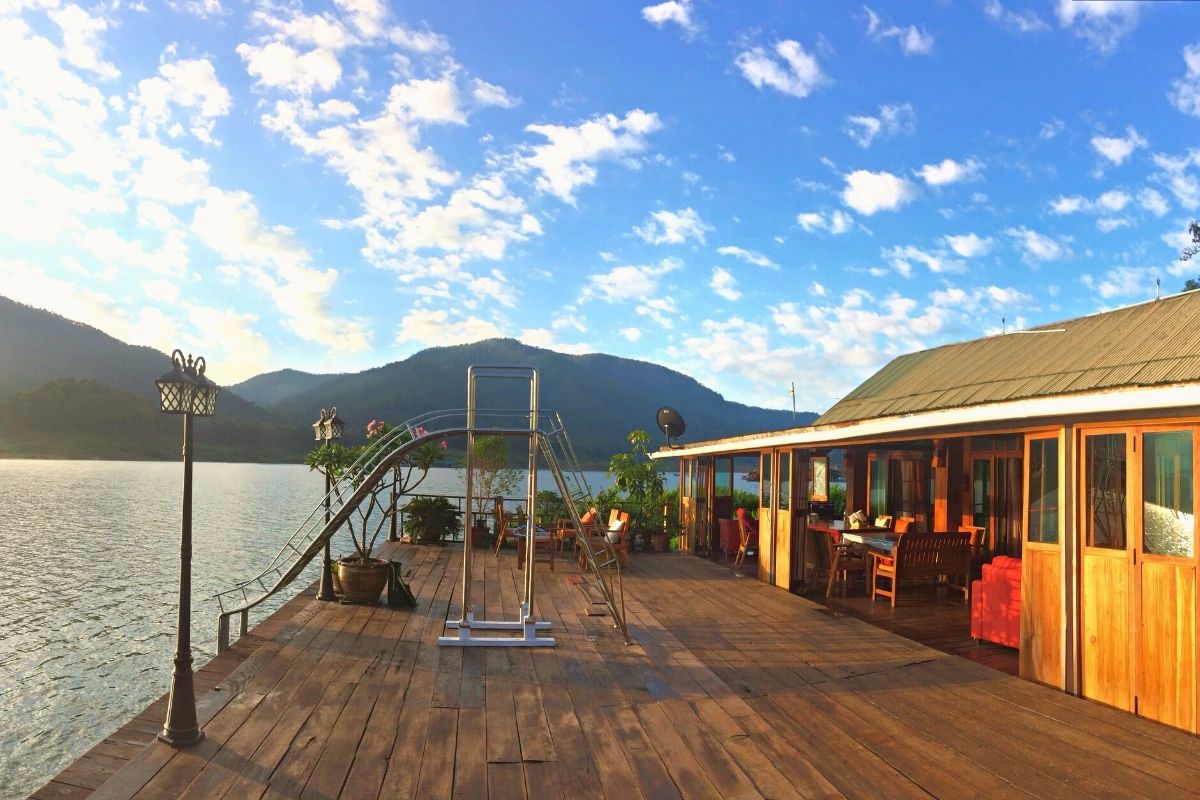 Spend the day or plan a weekend getaway to the incredibly fun floating houses of Mae Ngat Dam. Located about 1 hour north of downtown Chiang Mai, the floating houses are a series of cabin-style houses that float over a lake.
Each cabin has a deck, where guests can tan, play games, and even jump off the edge and onto the refreshing lake.
Electricity is limited, which is a great excuse to truly disconnect and live differently from the usual day-to-day. The price per night at these cabin-style floating houses is around 400 baht, with amenities, services, and tools like coolers, glassware, and grills supplied.
Enjoy some of the rustic and traditional cooking at the local restaurants which are also inside floating houses, and enjoy a nice meal with a tranquil view.
Bring your swimsuit, and your sense of adventure, prepare to swim and have fun with other water activities.
37 – Break a sweat at the best Muay Thai gym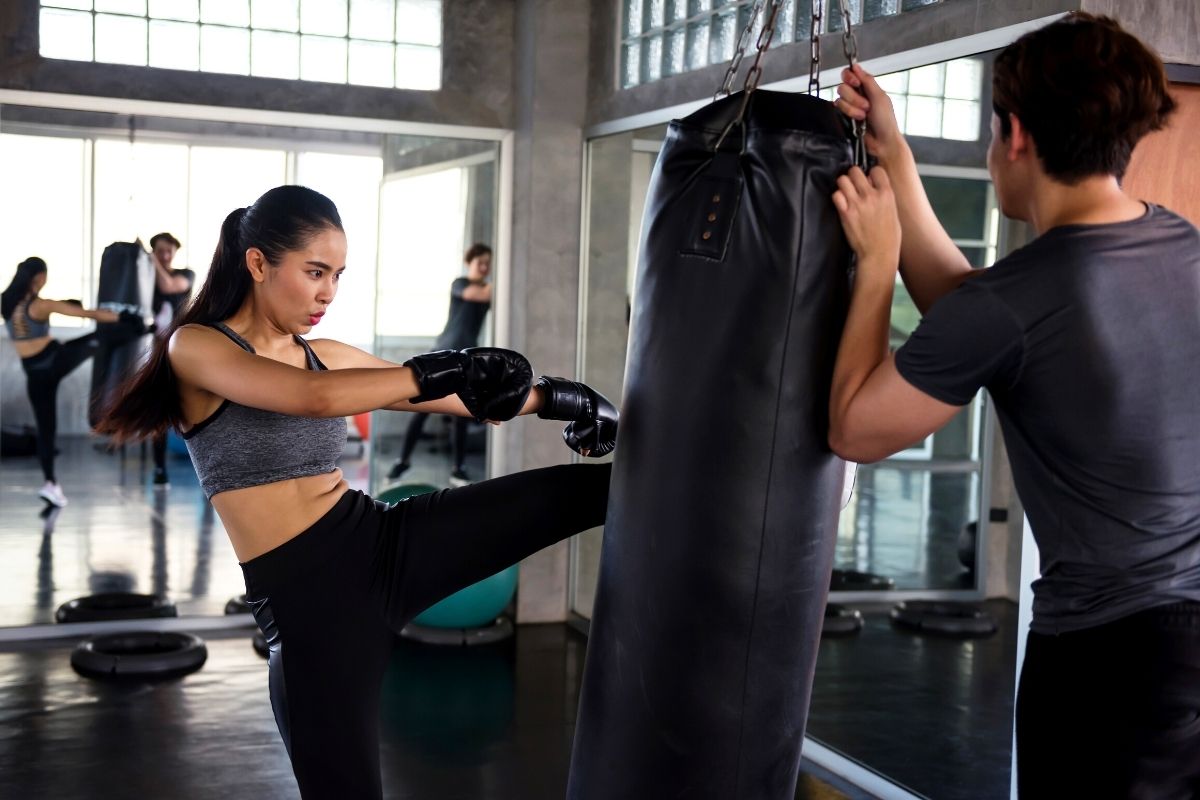 One of the most popular sports in Thailand is Muay Thai, which is an ancient sport/fighting technique that has military influence and focuses on the use of hands and knees to attack certain points of the opponent's body.
Whether you're looking for a gym to work out at during your stay in Chiang Mai, or you're looking into a good self-defense class, check out the many Muay Thai gyms available throughout Chiang Mai.
Santai Muay Thai is known to be Chiang Mai's best Muay Thai gym, offering a list of impressive professional trainers who have practiced their Muay Thai skills inside this gym and offering a great selection of classes for every budget.
Lanna Muay Thai Gym is another great option for women who want to practice this sport surrounded by other women, as well as offering quite the impressive reputation of training champions and world-renowned Muay Thai athletes.
Lastly, Chiangmai Muay Thai Gym is a great option for beginners.
38 – Visit the best golf courses in Chiang Mai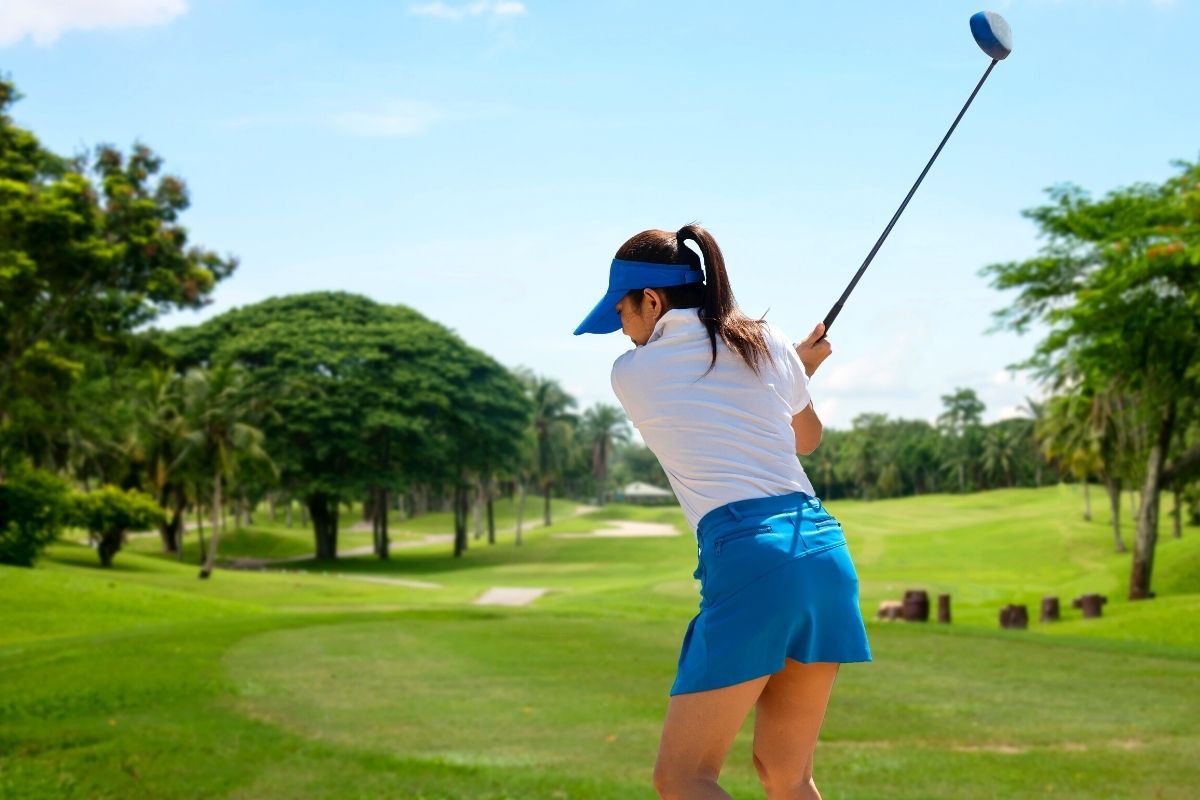 Chiang Mai is known for its stunning countryside aspect, with rolling green hills, and a slightly less intense heat compared with the southern region of the country, making it a more than ideal place to seek out golf courses for a day of fun.
With over 10 outstanding golf courses scattered throughout Chiang Mai, one of the best places to visit is the Alpine Golf Course, known for its outstanding mountainous scenery, its range of beginner-friendly to challenging courses, and accessibility of just 30 minutes away.
Gassan Panorama Golf Club is considered Thailand's longest golf course. This golf course was built around a lake and is dotted with beautiful palm trees throughout, making this golf course live up to its name. North Hill Golf Course is also a great course that offers beginner and challenging options with stunning views.
The most ideal time to play golf in Chiang Mai is November to February due to fewer rainy days and slightly cooler days.
39 – Glide along the Mae Ping River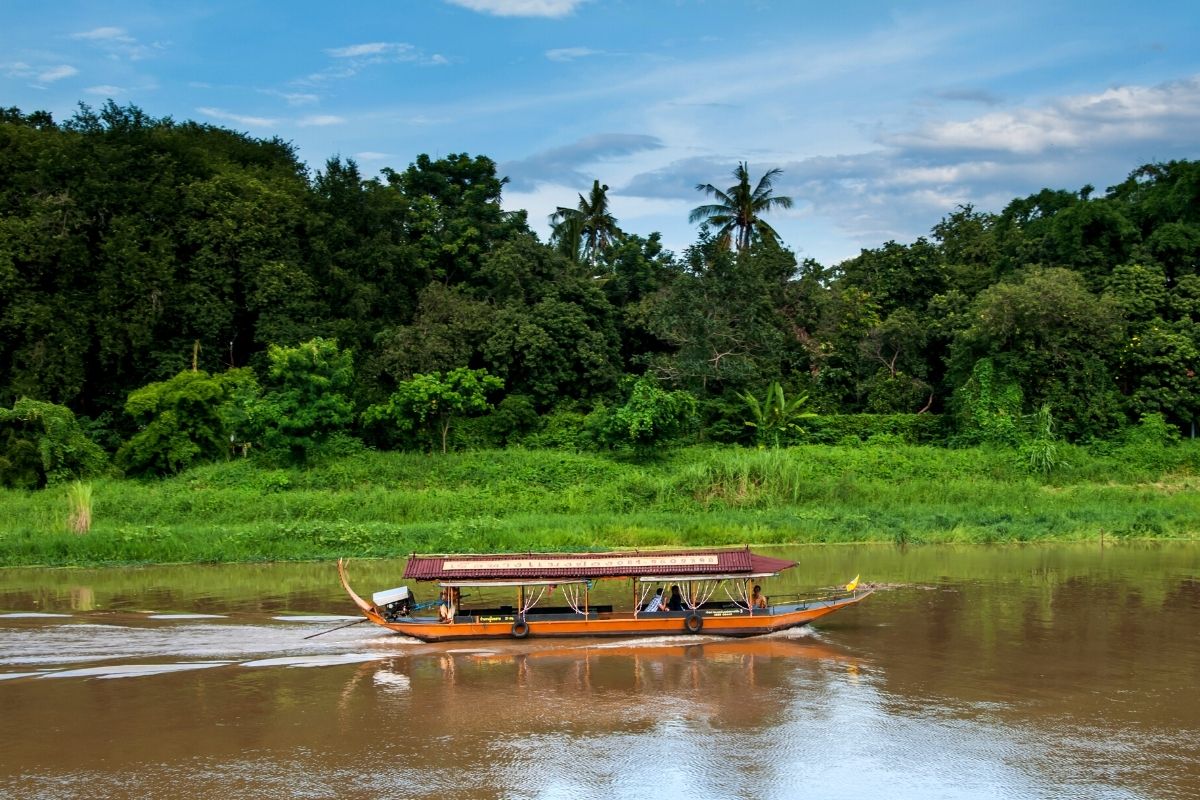 Situated close to the stunning Sri Lanna National Park, the Mae Ping River offers more than just a beautiful river view, but also fun water activities for kids and adults.
Add the Mae Ping River to your itinerary on a hot day or night, whether it's daytime water activities or a fun evening cruise.
Rent a kayak and stroll through the river, taking in the scene of beautiful teakwood houses, children playing from the edge of the river, and other kayakers. Take any of the fun cruises that offer everything from cooking class (on the cruise) to an evening dinner and sights of the bridges.
View the countryside, browse at people's riverside homes, and enjoy a few stops along the river to some interesting places such as cafes, restaurants, and an open-air museum that allows visitors to learn about Thai ingredients, like fruits and herbs, and how they are used in homeopathic medicine.
40 – Catch a bird's eye view of Chiang Mai on a Hot Air Balloon ride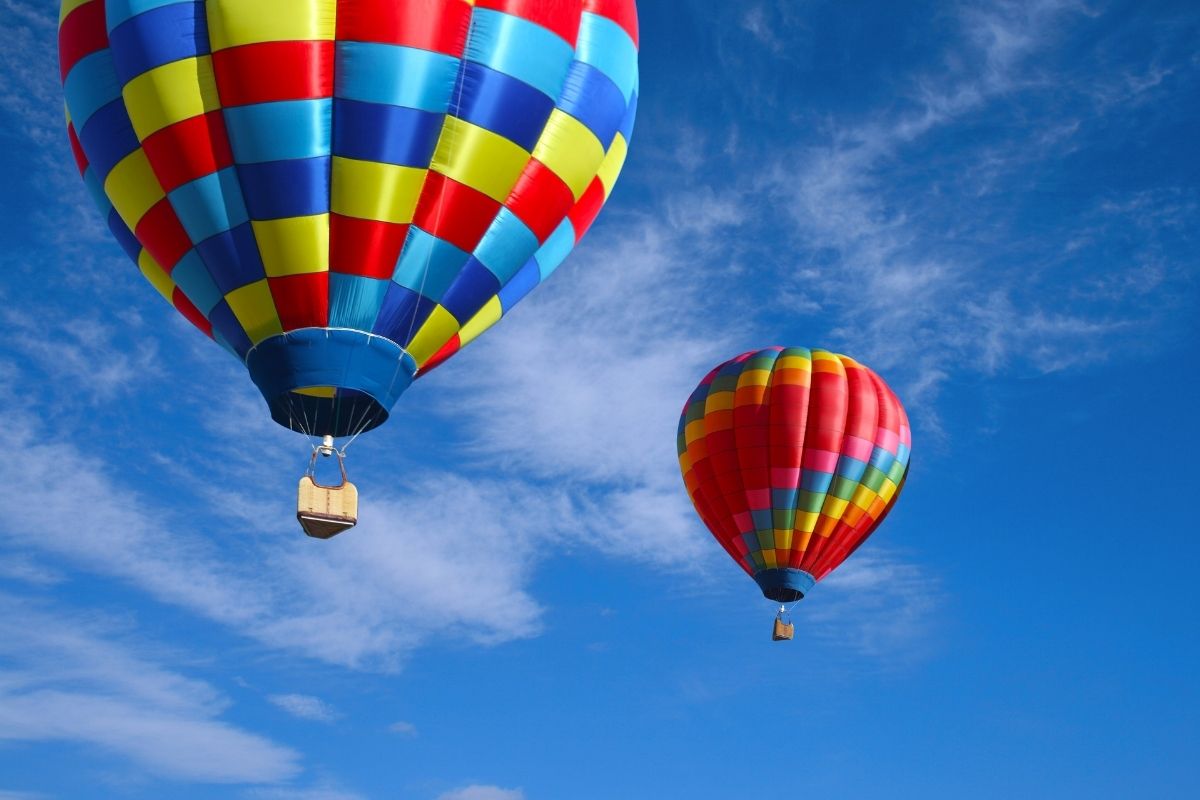 View and admire one of the best sunrises of your life on a hot air balloon that will take you and your guests across the fresh morning skies of Chiang Mai.
Bring your camera, and your sense of wonder, and prepare for some truly unique panoramic views of Chiang Mai city and countryside, and other incredible views unique to a hot air balloon ride.
Prices for a hot air balloon ride start around $300 USD for 1-3 hours, plus snacks and drinks before or afterward, and an English-speaking guide to help you along the journey.
Many experiences also include ground transportation to and from your hotel and proper training and instructions for safety and peace of mind.
Experience this once-in-a-lifetime chance to rise high to about 100 to 2,000 meters into the sky, and enjoy a sense of peace unlike anywhere else.
41 – Enjoy the immense floral beauty at Bai Orchid And Butterfly Farm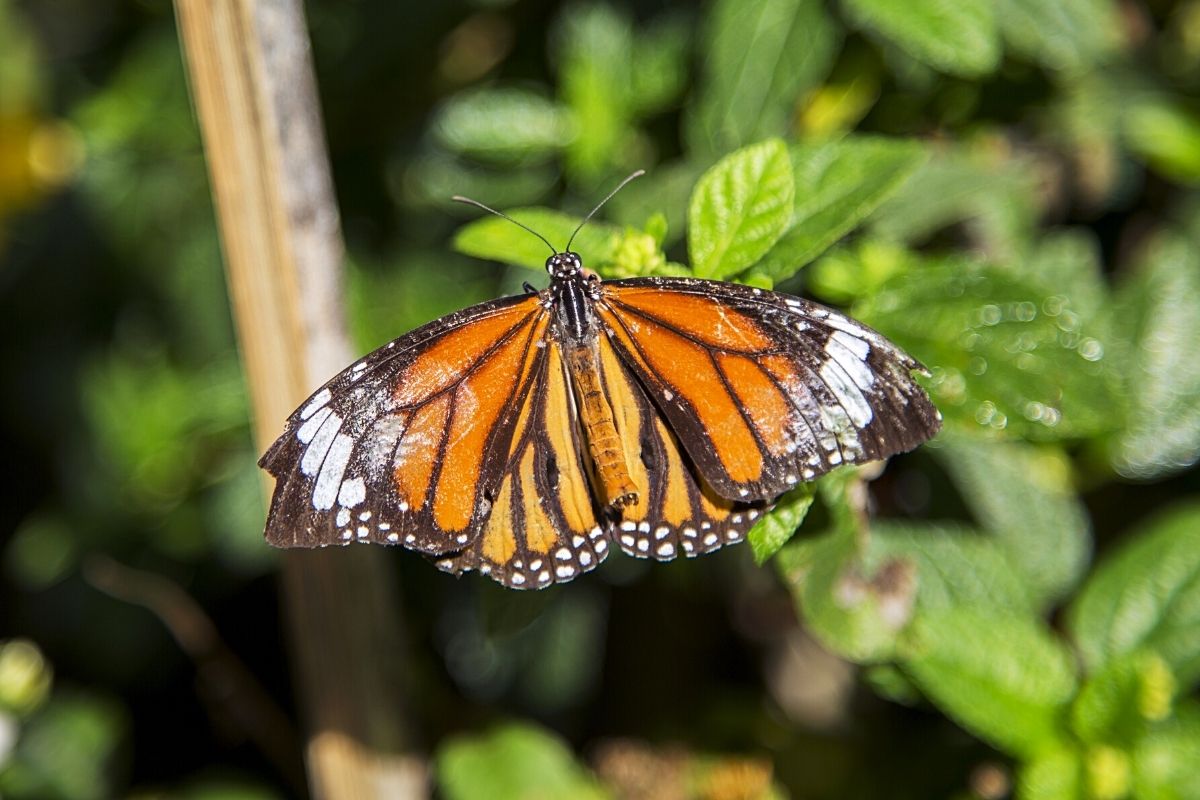 The Bai Orchid and Butterfly Farm is the perfect day trip idea for those who love to admire gardens, especially orchids, and a scene of beautiful butterflies fluttering by.
Centered 22 minutes north of downtown Chiang Mai, this site is oftentimes offered as a stop in a variety of tours, although visitors may take a private car as well.
Bai Orchid and Butterfly Farm is a place where visitors can expect a variety of beautiful flowers of all sorts, especially local to Asia, like orchids as well as cascading waterfalls. Along with the impressive sight of flora, check out stunning butterflies gliding in the space openly.
Stay for a meal at the garden's fabulous buffet, offering fresh food throughout the day, and purchase an orchid at the end of the trip if you desire.
Take a stroll through the picturesque paths and trails afterward, and soak up the surrounding tropical garden views.
42 – Zip through Chiang Mai via a tuk-tuk tour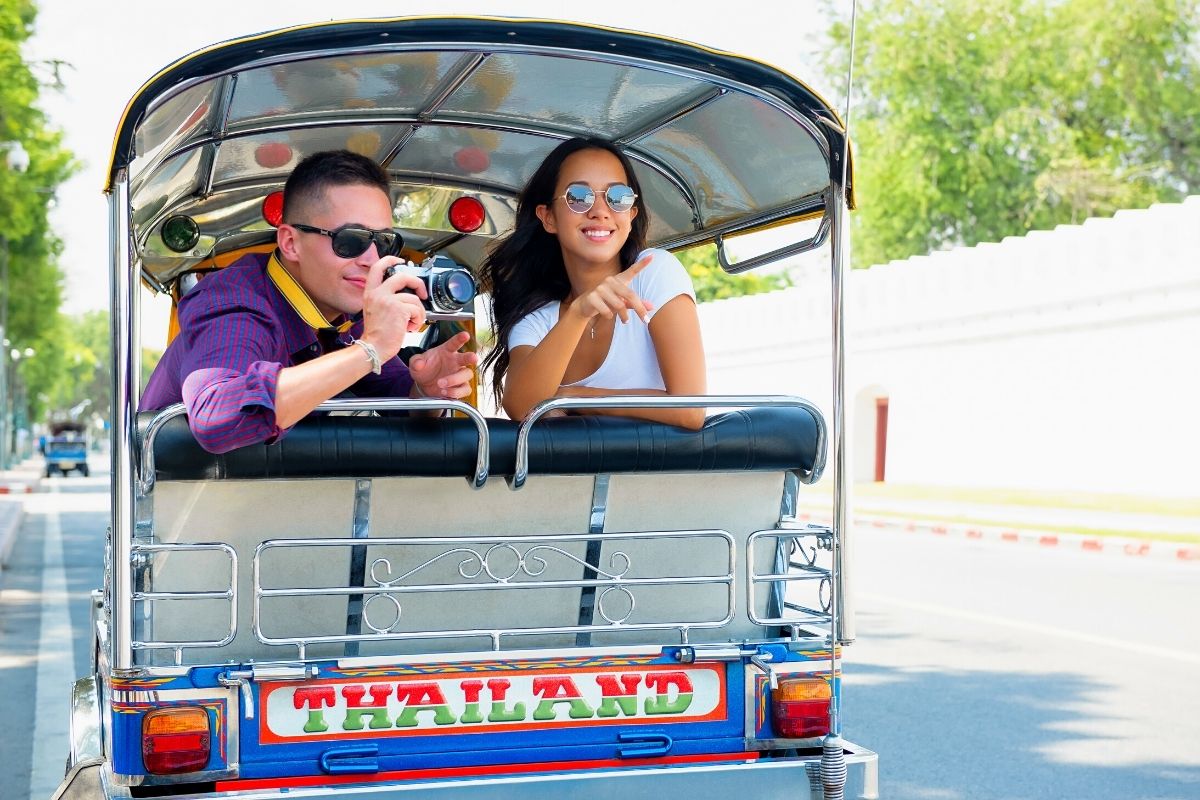 Although mostly seen as a form of everyday transport amongst Thai people, tuk-tuk tours are offered expansively as well for visitors to experience a bit of Thai culture.
Take a unique tour of the countryside of Chiang Mai or the city's unique corners via a fun tuk-tuk tour. Whether you're looking for an all-day or half-day excursion, there are a variety of tuk-tuk tours that will allow you to be the driver of your own tuk-tuk, while following a steady guide that will safely take you throughout the path.
Prices for a tuk-tuk tour start at $35 USD per person and vary from experience to experience. Interested in getting around to the best nightlife spots via tuk-tuk? What about a full day of tuk-tuk-ing around Chiang Mai's countryside, and rafting afterward?
There is even an experience that will take visitors on an 11-day tuk-tuk adventure discovering the open roads and sights unlike anything else.
43 – Visit the animal kingdom under one roof at Chiang Mai Zoo Aquarium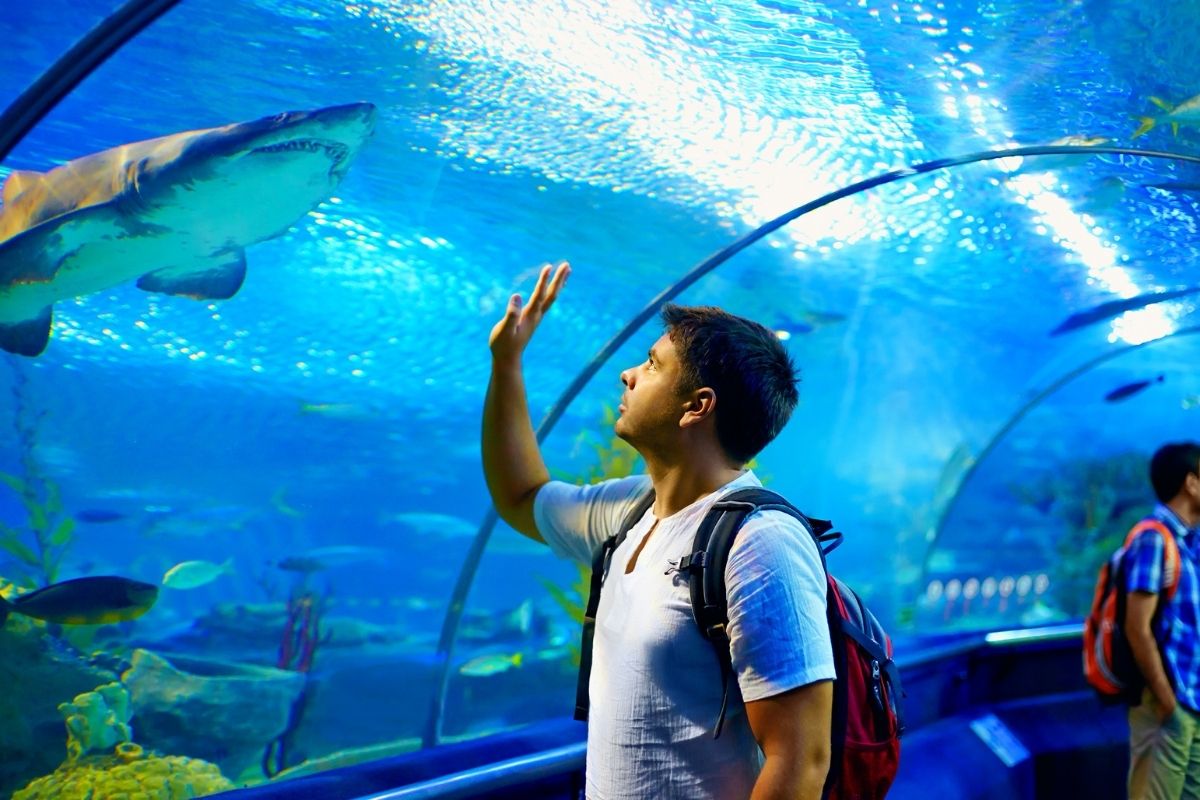 Looking for things to do in Chiang Mai with kids?
Take the opportunity to step inside Chiang Mai Zoo Aquarium for an up-close and personal encounter with some of the wildlife known to live in Chiang Mai and Thailand, as well as the world.
If you're traveling with kids, or just yourself and a few friends, a visit to the zoo aquarium is a perfect day activity, especially on a rainy day, to learn about the native wildlife of Chiang Mai, learn about their habitat, diet, and other interesting facts.
Divided into 6 zones, visitors are able to explore ocean wildlife, jungle animals, river animals, and a few other exhibits showcasing some of the more "interesting and peculiar" animals perhaps not common to the rest of the world.
Explore the zoo, visit some exciting exhibits such as the Panda House, and rent a golf cart for extra convenience to see more in less time.
Tickets are 375 baht for adults and 275 baht for children.
44 – Catch some speed zip-lining in Chiang Mai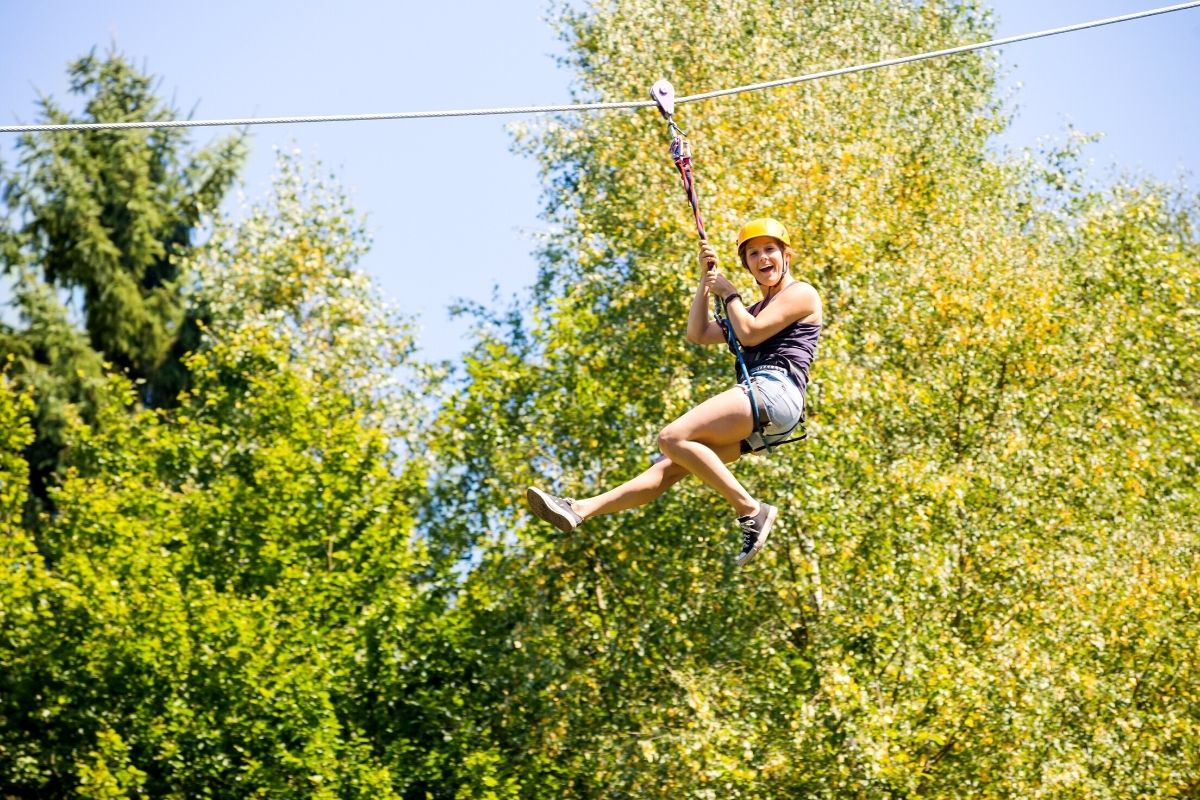 Zip through the incredible skies and sights of Chiang Mai from the heights of a zip line, Get your adrenaline pumping and choose from a variety of natural scenery and sights to zip line through.
From lush green forests to incredible valleys and beautiful mountains, rushing waters, and rolling hills dotted with beautiful gardens.
Prices for zip lines depend on the company and other services added on top of the zip lining experiences, but some of them start around $50 USD for lunch, ground transportation, and the zip lining experience.
If you're visiting other sights such as Bai Orchid And Butterfly Farm, Doi Inthanon National Park, or Araksa Tea Garden, these sites offer incredible zip lining opportunities, which are often considered some of the best experiences in Chiang Mai.
Check for any zip-lining activities at the sites on your Chiang Mai itinerary, and definitely consider taking in breathtaking sights from zip-lining.
45 – Plan a getaway to Lamphun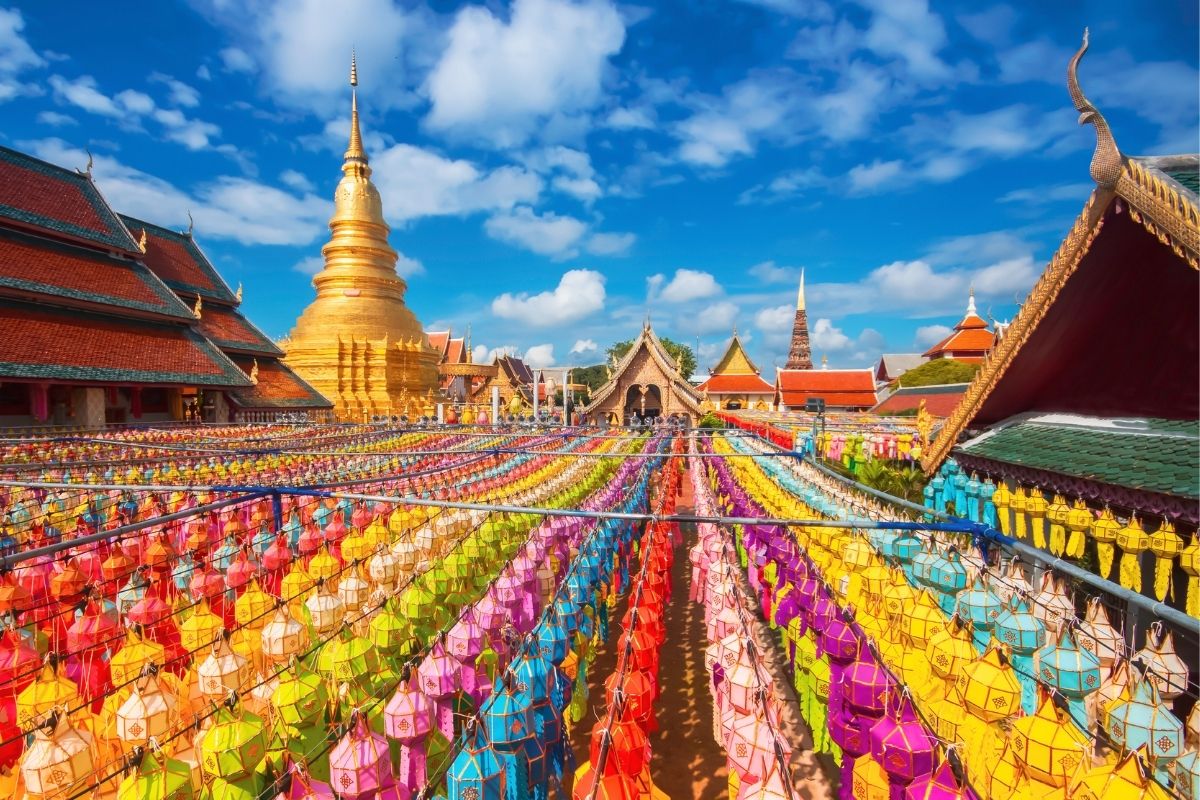 Known to be one of the oldest cities in northern Thailand, Lamphun offers years of rich history, culture, and tradition, through its amazing ruins, hundreds of years old temples, and one of its characteristic crafts -woven fabrics.
Centered around 36 minutes from downtown Chiang Mai, Lamphun is a city worth visiting to see religious sites such as Ku Kut Temple which is said to be an important place for Buddhist blessings, and Wat Phra That Hariphunchai Woramahawihan.
Historical sites to visit include Wat San Pa Luang, and Lamphun Community museum which showcases local historical findings, artifacts, and culture. While visiting, locals suggest stopping and tasting longan – a sweet tropical fruit local to the area, as well as browsing and purchasing a beautifully crafted silk flower for a personal gift or a gift for someone.
Take a private tour to get the most out of your experience traveling through Lamphun, and hear all about the city's interesting origins.
46 – Explore the world of dinosaurs at Hidden Village Chiang Mai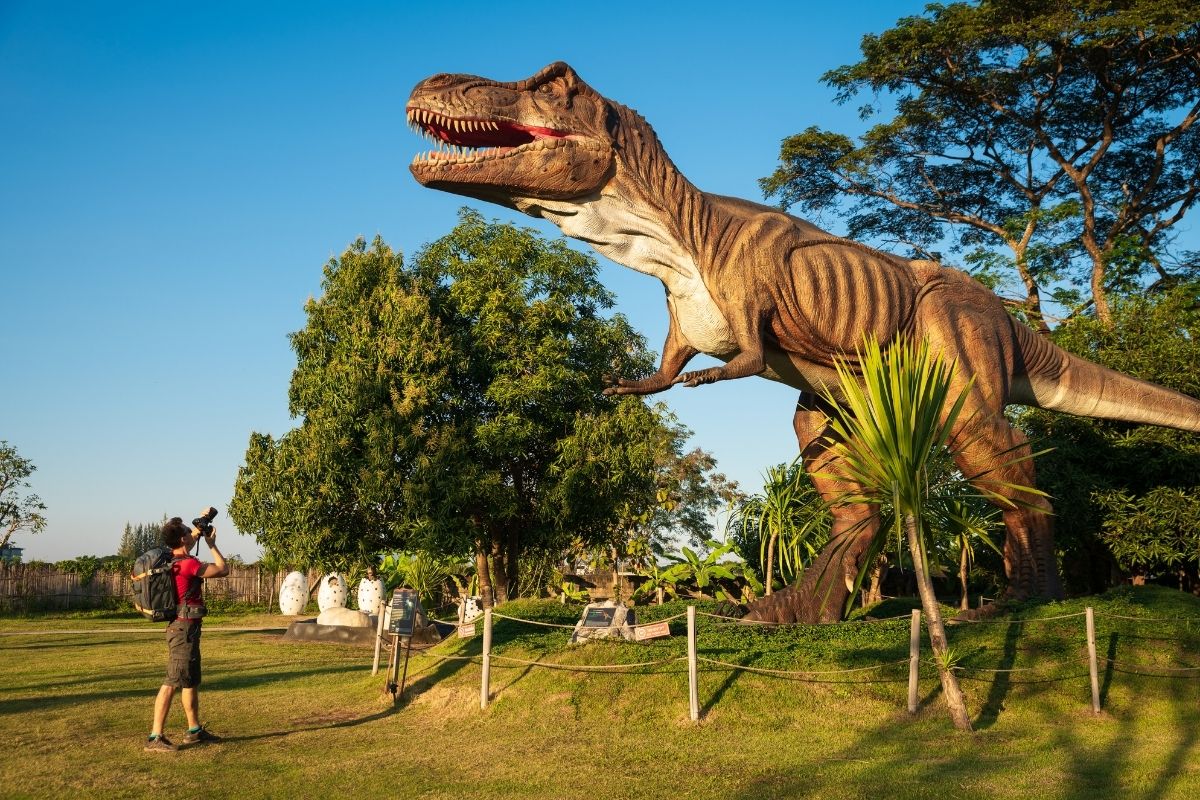 A swift 15 minutes away from old town Chiang Mai, the incredible sight of the Hidden Village is the perfect place to take your kids while visiting Chiang Mai.
It is a dinosaur park where children and dinosaur enthusiasts will get an amazing opportunity to come as close as possible to life-size replicas of dinosaurs, while learning about their habitats, eating habits, and a bit more about their life when they inhabited the earth.
Dinosaurs varying from t-rex, triceratops, and raptors, all gather at Hidden Village, for children to have the most amazing experience. Inside this place are a few other animal exhibits such as crocodiles and monkeys, and the petting zoo where they will encounter beautiful animals like horses, ponies, and donkeys.
Prices for this site start at 100 baht for everyone, and children under 130 meters are free to enter.
47 – Catch a magnificent sunrise at Huay Tung Tao Reservoir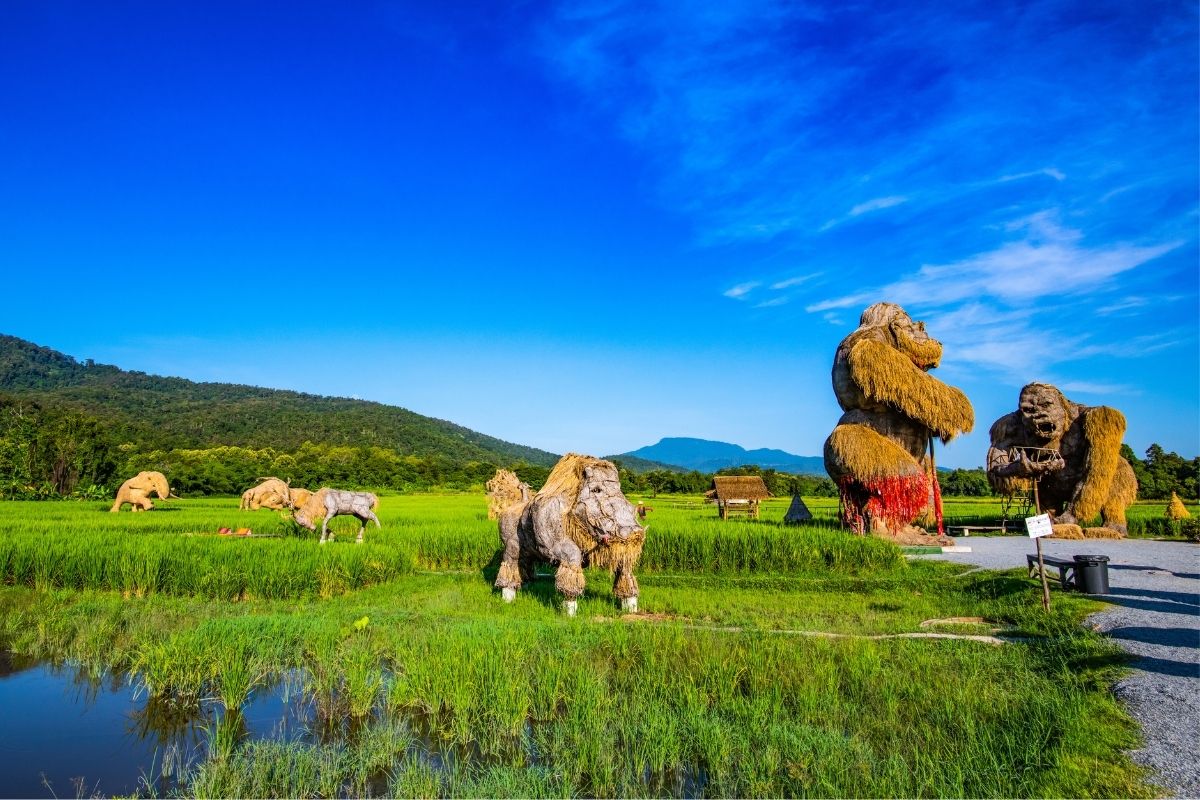 An exquisite landscape is the Huay Tung Tao Reservoir, which is a large body of water, that has a strip of sand, and is surrounded by incredibly beautiful and peaceful nature.
Thai locals love to come to relax and let children play in the sand a bit, while visitors are also welcome to stop by and enjoy some of the fun activities to do.
From swimming to renting a pedal boat with your friends, or hopping on a paddle boat on your own, there is something for everyone at this magnificent natural wonderland.
Nearby, visitors may rent ATVs, play paintball, and even enjoy some of the arcade games. Hungry? Enjoy one of the few restaurants available nearby, offering some traditional and authentic Thai cooking and dish specials.
For the early risers, and lovers of sunrises, an exceptional plan includes visiting the reservoir to catch a sunrise, known to be one of the most spectacular and special activities not to miss.
48 – Visit the Thai-Chinese market called Warorot Market (Kad Luang)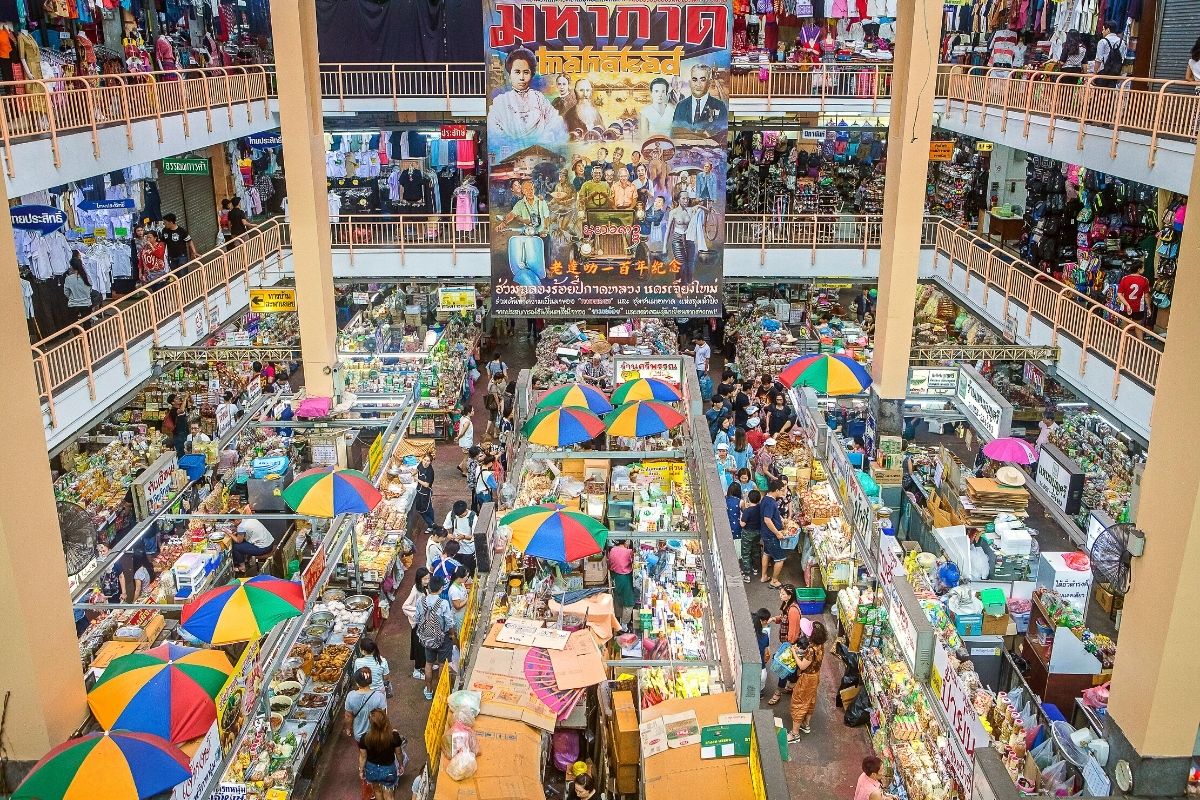 Centered in Chiang Mai's little Chinatown, is the historic and emblematic Warorot Market, housing busy aisles of stalls selling food, accessories, flowers, clothes, and specialty items only sold in Chiang Mai.
Interestingly enough, the market is divided into two, even though both are similar in terms of what they each sell. One side is called Warorot Market and the other is Ton Lamyai Market. The food portion of the market is especially interesting, especially for visitors who will encounter herbs, vegetables, fruits, and snacks that may not be common where they are from.
Presentation, scents, and action is the main scene when observing the different stalls, and if you're looking to purchase something, make sure to bring cash with you.
Many visitors that have been to the market, express the interesting mix of Thai and Chinese culture, from the items sold, to the food sold.
49 – Experience Thai New Year at Songkran Festival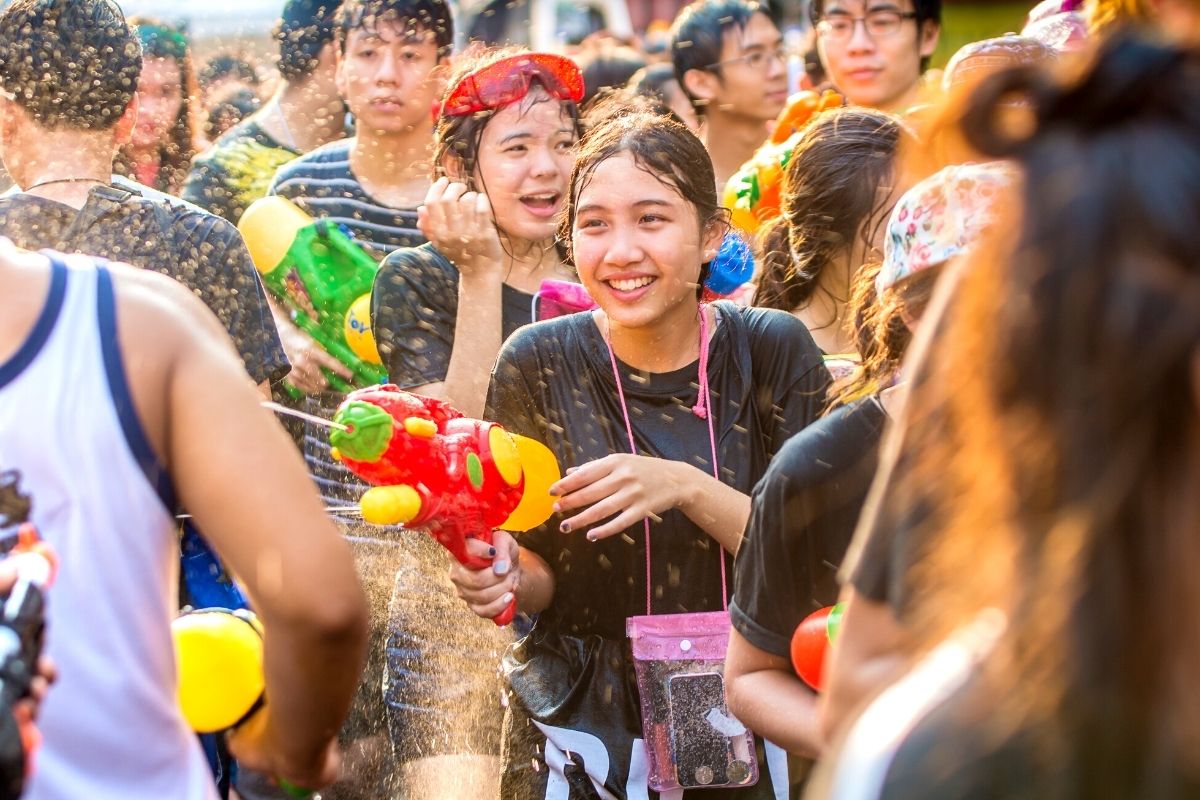 Taking place on the second week of April is the famous Songrak Festival – a festival that celebrates Thai New Year and goes on for almost a week.
If you happen to visit during this important celebration, you can expect to experience a deeply rich tradition, full of culture and symbolism, as well as incredible food typical of this celebration.
On this day, families gather and typically visit a temple. One of the most popular ways to ring in the new year, Thai style, is with their famous water battles taking place in every street in Thailand. The reason for the water battles is for the cleansing of the soul as Thai people enter the new year, and to get rid of bad luck.
Make sure to pack good shoes, and clothes you don't mind getting wet, and as always, be respectful of the traditions and follow directions as told by the locals.
50 – Step into Chiang Mai's upscale shopping at Maya Mall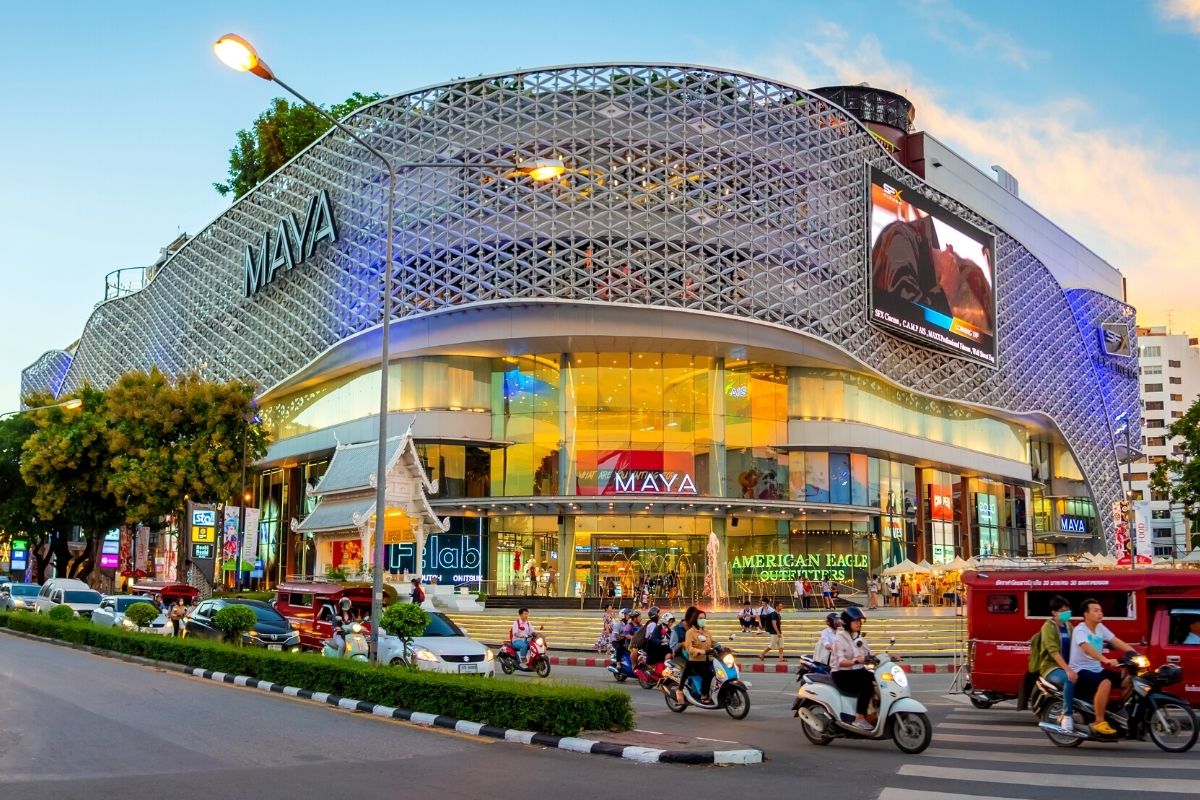 In need of a few new pieces of clothing? Check out the amazing and modern Maya Mall, located just a short 10 minutes away from downtown Chiang Mai.
Opened in 2014, Maya Mall is considered one of Chiang Mai's most exclusive and upscale shopping malls, offering visitors and locals a selection of brands and clothing styles, as well as a cinema, arcade, and a variety of food options inside the unique and modern food court.
Stop by the mall at night, as the main attraction seems to be waving to people from the outside with an incredible LED light show display.
Back inside the mall, many people like to step inside to take a look at the unique interiors of the mall, to see what else has opened up inside, as well as to cool off from the intense heat.
Nevertheless, it's a great spot to check out a piece of modern Thai architecture in Chiang Mai.
51 – Immerse yourself in the local history of Chiang Rai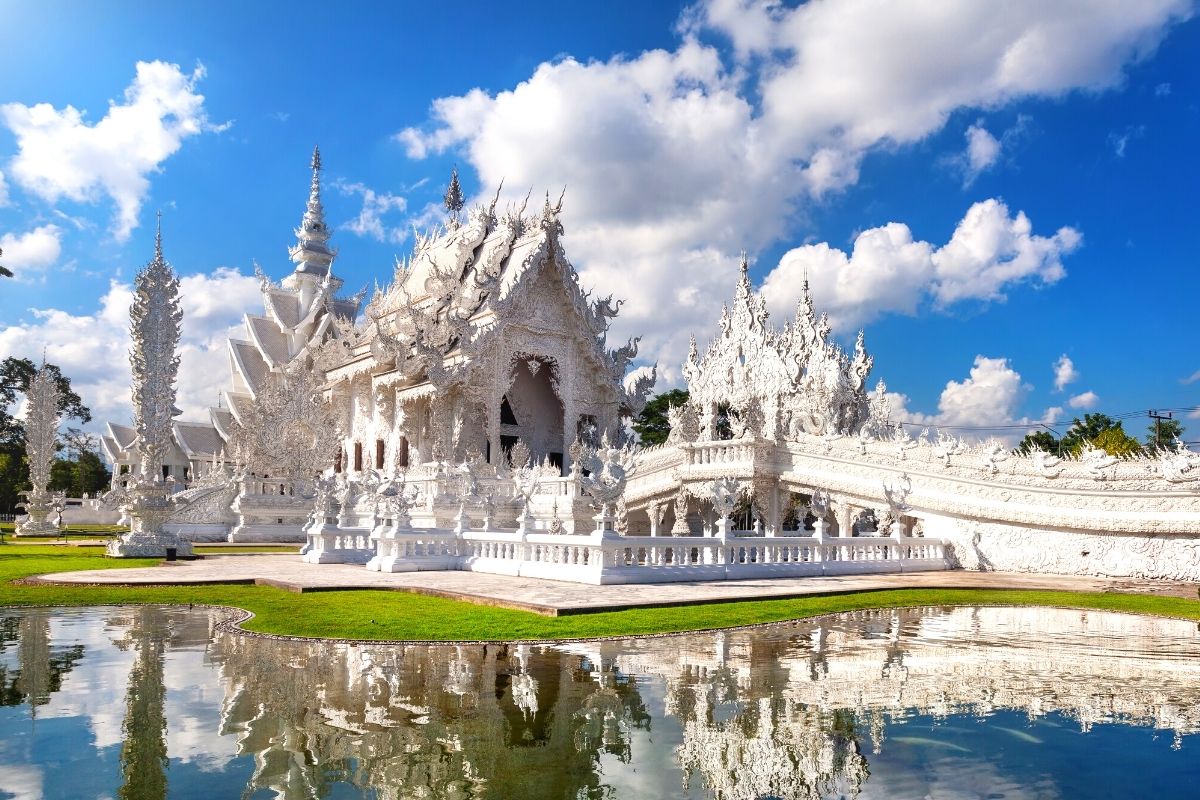 Located in the province of Chiang Mai is the mountainous city of Chiang Rai. Recognized for the Royal Temple of Wat Phra Kaew and Wat Rong Khun, which is known as the White Temple for its beautiful, white architecture and appearance.
Chiang Rai is a city that is oftentimes underrated and not known by many visitors seeing the province of Chiang Mai.  However, due to its stunning architecture, temples, traditional northern cuisine, interesting history museums, and Lanna heritage, Chiang Rai has a lot to show its visitors.
Visit the Choui Fong Tea Plantation and witness the tea-making process and step into the Monkey Temple, and experience local monkeys not seen anywhere else making their home in the Buddhist shrines.
While you're visiting the White Temple, explore The Baan Dam or the Black House, which is a house drenched in local history and heritage, and The Blue Temple, also beautiful in its unique way.
52 – Practice mind, body, and soul wellness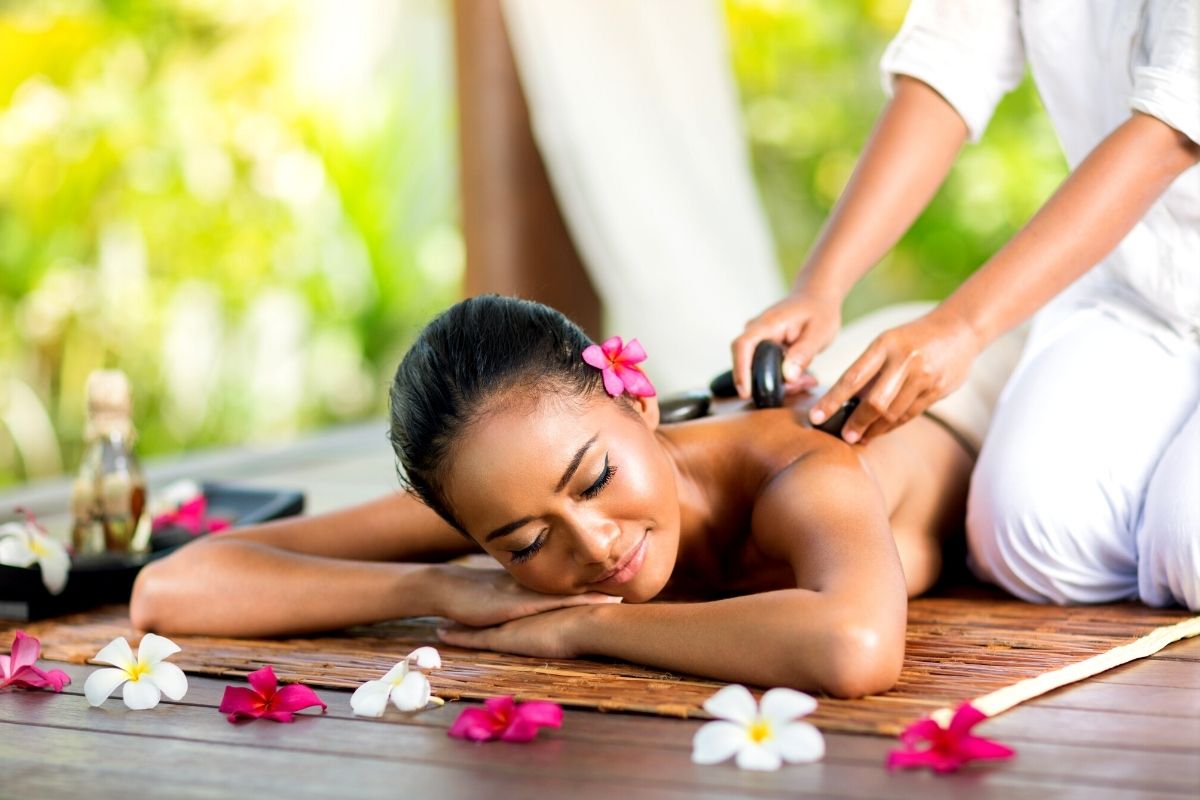 Thailand as a whole is a country known for many things, and one of them is wellness and institutions for wholeness specifically.
From meditation and monk chat to world-class massages and authentic yoga practices, find the perfect wellness activity to indulge, rejuvenate, and refresh yourself with. Check out Welladee Wellness for outstanding massages and spa experiences that infuse western and oriental treatment styles such as tsubo stimulation.
Elevate your spiritual growth in the perfect setting for meditation, inside retreats by Mahasiddha Meditation & Yoga Center that focus on creating a conscious life via meditation. Move your body with the guidance of yoga professionals in peaceful settings like the countryside along the Mae Takhrai mountains.
Visit temples such as Wat Chedi Luang, the International Buddhism Center, or MCU Buddhist University at Chiang Mai University for the opportunity to converse and chant with Buddhist monks for a transformative experience.
53 – Visit the rest of the great Buddhist temples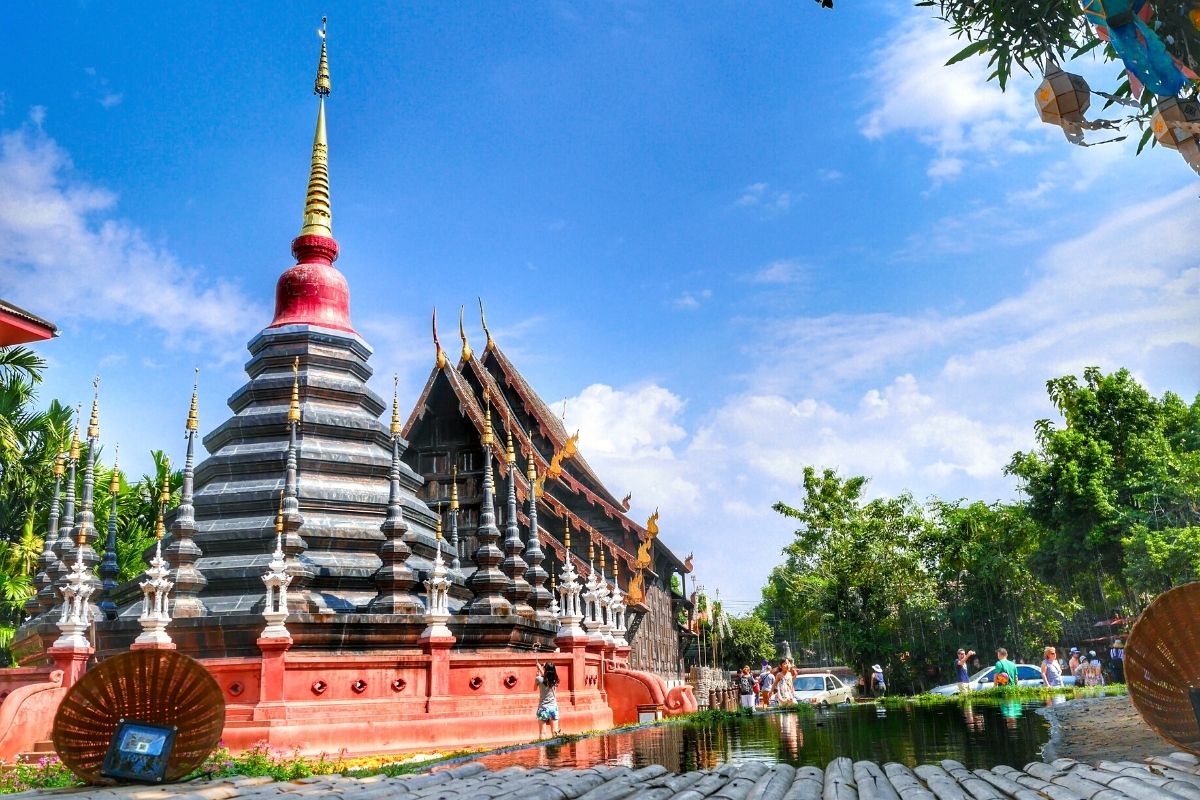 Chiang Mai is chock full of extremely beautiful, ornate, and religiously historic holy centers that welcome visitors from all over the world and visiting more than a few will further enrich your experience of the country's culture.
Other than providing spaces for prayer and reflection, the Buddhist temples of Chiang Mai are physical symbols and historical buildings that tell the story of the city. With over 300 Buddhist temples in the city, each with varying degrees of looks, there are a few that stand out.
Visit Wat Phan Tao for the extremely beautiful teakwood temple decorated with gold accents. Wat Pa Dara Phirom is a 100-year-old royal temple and one of the most significant temples in Chiang Mai. And Wat Sri Suphan, which dates back to 1500, is most known for its incredible silver facade, and intricate architectural details.
Check out also Wat Intharawat (Wat Ton Kwen) to take a look at one of the few temples left with its original wood and decorated with ornate and colorful mosaics. Don't miss Wat Jet Lin that receives relatively few visitors in comparison to more famous temples. And don't forget to stop by Wat Chai Mongkhon and watch the life on the Ping River pass by.
54 – Learn Chiang Mai's history under one roof at Chiang Mai National Museum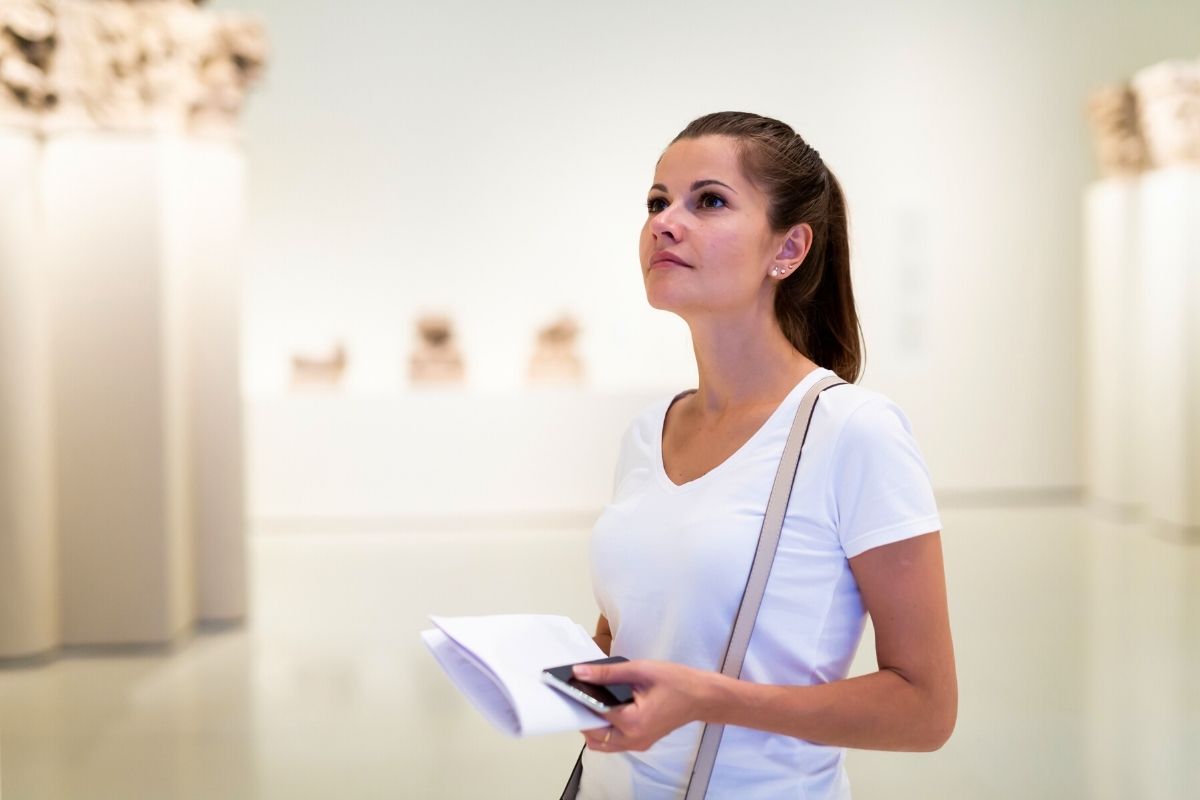 Exhibiting Chiang Mai's culture and history is the Chiang Mai National Museum, located in the heart of the old town, Chiang Mai. A center that houses northern Thai culture, and history, and showcases the influence of the Lanna Kingdom – the influence of the temple designs around this area.
Divided into several sections, each discussing and showcasing different eras of Chiang Mai's culture and the northern region, step inside and browse through the relics, and stories, and learn the impressive historical facts that influenced the Chiang Mai of today. Learn about the social developments, and the different industries that have flourished in Chiang Mai, and influence current culture.
Exhitibts equipped with English translations and recent renovations, it is recommended to allocate a little over the hour to explore the exhibits and the history they contain.
Tickets to enter the museum start at 30 baht per adult.
55 – Check out Chiang Mai's jungle and countryside on a quad tour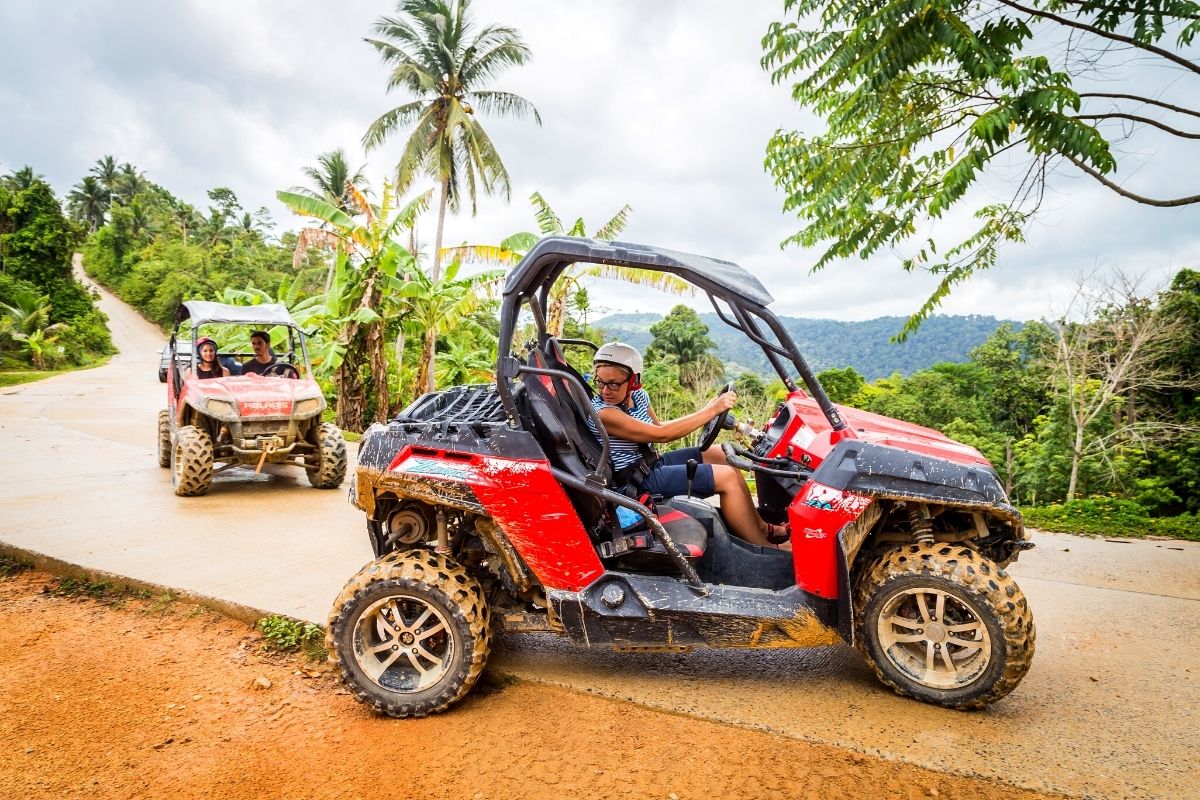 Trail through Chiang Mai's rough terrain on a unique and adrenaline-inducing quad tour, as you view impressive jungle sites, countryside sights, and the incredible wildlife surrounding the areas.
Along the way, discover small towns and villages, and admire the way of life, and local culture. Check out a great variety of tours that offer quad tours as a package with other activities for an all-day excursion, and include other activities like rafting, zip-lining, and even stopping by an elephant sanctuary, or check out quad-only tours.
Different tours offer a variety of other activities, and many of them offer professional and experienced bilingual guides, first aid, insurance, lunch, and in some cases even an extra stop for coffee or tea – all included in the price. Make sure to double-check the experience you want, and what each experience includes.
Prices for the quad tours begin at $35 USD.
56 – Have a unique safari experience at the Night Safari Park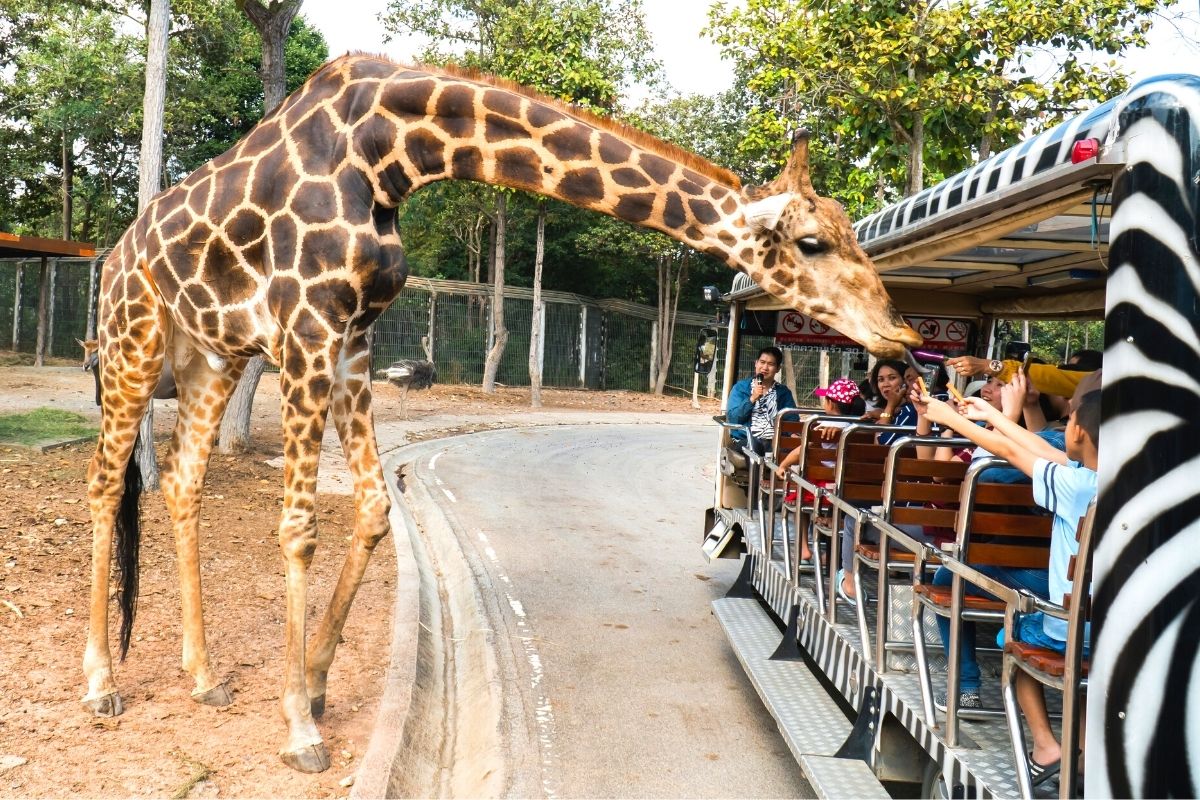 Get a safari experience unlike anywhere else on this unique tour through a safari after dark. The Night Safari Park is a park that is governed by the Zoological Park Organization, which offers visitors a close and rare encounter with around 1,400 animals belonging to 134 different species.
Hop on the 40-minute Safari Tram or the Jaguar Tram that takes you through the different habitats of the animals as the sun starts to set, and the animals begin to move around their homes.
Enjoy music, beautiful fountains, and different lights animating the evening and adding excitement to the experience. The best time to visit this attraction is after 7 pm when the first slot opens and the sun begins to set.
Book your tickets online ahead of time to ensure an easy entry. Tickets begin at 800 baht for adults and 400 baht for children.
57 – Watch a rousing Muay Thai match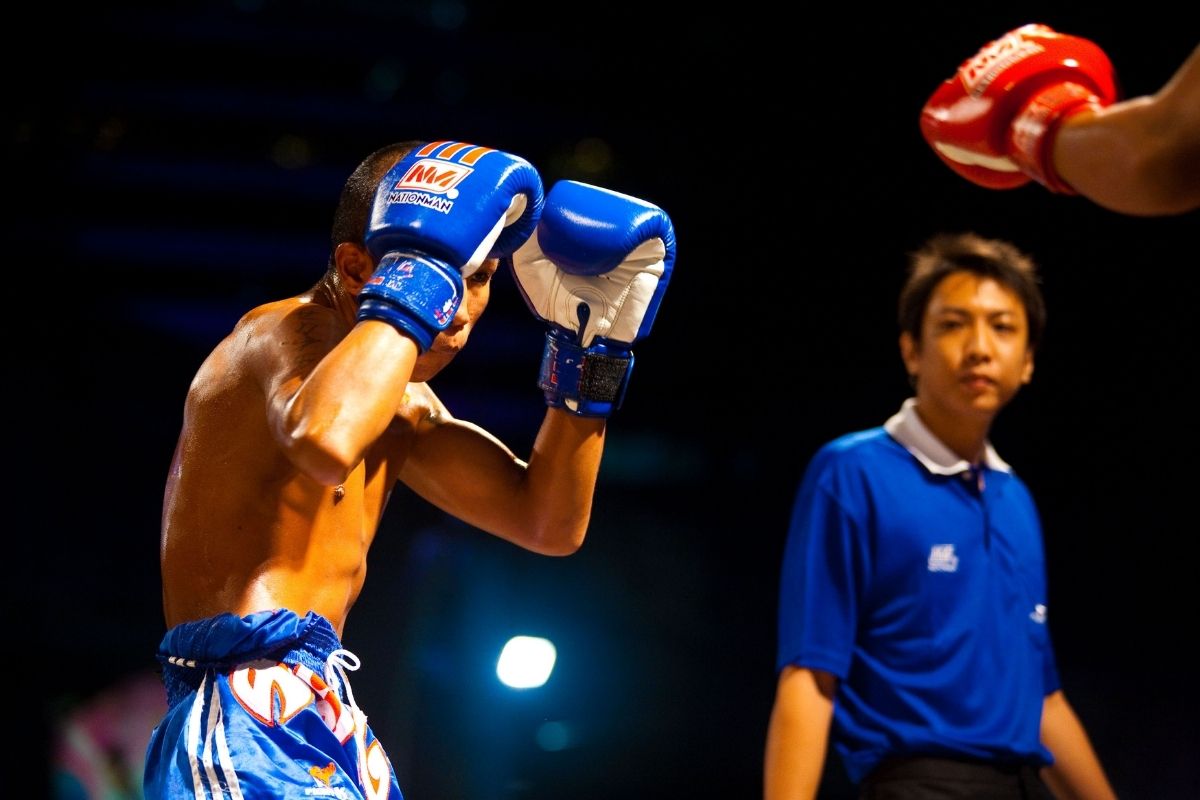 Interested in viewing the art of Muay Thai firsthand? This ancient fighting sport is performed in front of hundreds of watchers throughout the different stadiums in Chiang Mai.
Watch professionals put in their all in an exciting tournament against other professionals, and experience the adrenaline rush lived by the audience.
Thapae Boxing Stadium is not only a place that hosts thrilling Muay Thai spectacles but is also recognized as a national landmark in Chiang Mai and one of the busiest stadiums, too. Muay Thai fights happen here every day except for Sundays, and begin from 9 pm to midnight.
If you're visiting the Anusarn Night Market, stop by the Anusarn Boxing Stadium on any Monday, Tuesday, or Wednesday from 9 pm until midnight and indulge in the full local culture from market go-er to Muay Thai watcher.
Check out tickets for Muay Thai tournaments ahead of time to book and access the event easier.
58 – Light your own lantern at the Loi Krathong Festival
Loi Krathong Festival is also known as the famed Festival of Lights that is held every 12th full moon of the Thai lunar calendar or around November. Said to be a festival that commemorates the Goddess of Water and the Buddha after the end of the rainy season.
Though celebrated nationwide in Thailand, some of the best places to observe this celebration are Chiang Mai, Sukhothai, Bangkok, and Phuket. One of the most recognizable acts done during this event is the release of hundreds of Krathong onto bodies of water like lakes and rivers.
These are small floating boats made of banana leaves, that carry incense, a candle, and personal objects, and are released as a form of gratitude to the Goddess of Water.
An event not to miss is the Lantern Festival, in which hundreds of lanterns are released into the night sky, each holding a candle, symbolizing the end of the rainy season, and a petition for good luck in the incoming new year.
59 – Plan to visit the best night markets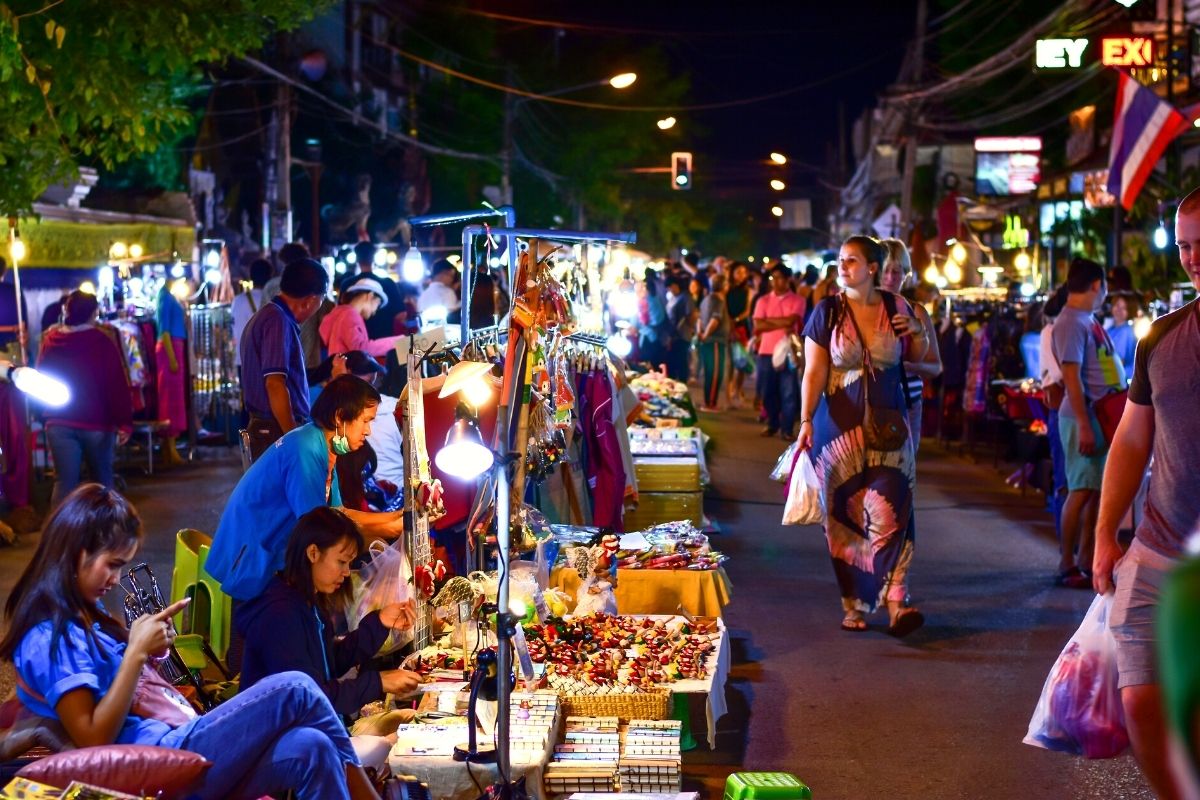 It's no doubt that Chiang Mai has a lot to offer visitors, and one of those emblematic and quintessential things to experience in Chiang Mai is a night market.
Stroll the lively aisles and watch the different stalls overflowing with food, scents, clothing, accessories, and a variety of produce that you've most likely never seen or tasted.
Ploen Ruedee Night Market is the perfect market to visit where you get a wide range of food options, as well as entertainment for children if you happen to be traveling with them.
Both the Saturday and Sunday Walking Markets are some of the better-known markets to visit, where you can browse hundreds of art pieces, accessories, electronics, delicious Thai food, and northern Thai classics.
If you're interested in an even wider selection of foods, check out Anusarn Night Market where they serve international dishes aside from Thai classics, and check out vegan and vegetarian options at Kalare Night Market.
60 – Top the best night at the best rooftop bars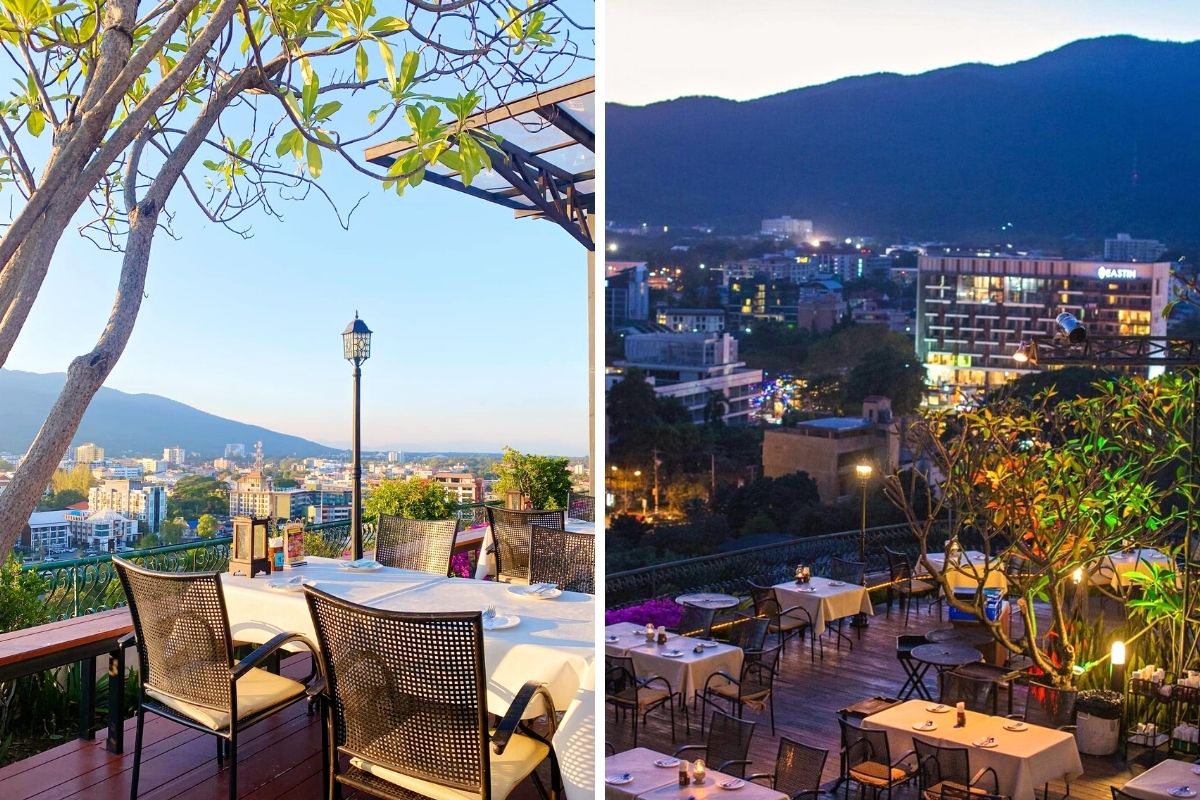 End the night at one of the best rooftop bars in Chiang Mai while enjoying a refreshing craft cocktail in hand. No matter where you may find yourself in Chiang Mai, you will be near not just any rooftop bar, but one that serves incredible views of its part of the city, and panoramas unique to any other rooftop. Don't miss out on some of the best ones to check out.
Xanadu Pub and Restaurant is an ideal spot to check out for a round of drinks amongst locals, as it is a popular watering hole for many neighboring Thai people. Sitting on the 17th floor, indulge in a peaceful evening with great new friends and drinks.
Step into a lively rooftop bar at Woods Bar, located near local universities, and offer a joyful and vibrant atmosphere of music, dance, and drinks.
Looking for romantic things to do in Chiang Mai? The Roof at Sala Lana Hotel is perfect to bring a date or your partner, as the nearby river creates the perfect breeze, and the lanterns on the tables begin to add an ambiance of romance.
Where to stay in Chiang Mai?
With so many options to choose from in terms of lodging in Chiang Mai, your choices depend on the experience you'd like to have, or the convenience of being local or close to the main attractions.
Forte is located in the heart of Chiang Mai, at a 10-minute walk from Chang Puak Gate and the famous Three King Monument, perfect for those wanting to stay close to the sights.
Less than a mile away from the center of Chiang Mai is POR Thapae Gate, offering modern accommodations, decor, and Thai hospitality.
Choose between a city view or a romantic courtyard view at Nanta Glam CM Hotel & Residences, which is nearby attractions like the Grand Canyon, and Lanna-style temples like Wat Sri Suphan and Wat Muen San.
Stay at the eco-friendly Baan Boo Loo Village, which offers individually styled rooms equipped with traditional Thai decor, and offers Thai cooking classes in the hotel's common kitchen.
Relax in luxury at the Chandra Residence, a 5-minute walk from the famous Night Safari, and offers guests the opportunity to stay in a villa or suite.
Rent a whole house at 8th House and feel the freedom of staying in a house with Thai hospitality, and services at your fingertips.
Many of these hotels offer airport transfers as part of the listing price, so make sure to double-check the services included. If it is not included, many hotels may offer the service separately.
Final thoughts
Chiang Mai offers the best of northern Thailand from its traditional food, exquisite landscapes of rolling green hills, weaving jungles, and cascading waterfalls, to the religious and fascinating temples of all different looks and colors.
Take advantage of your time in Chiang Mai, and book a multi-day tour that will guide you through the temples of Chiang Mai, the thrilling natural adventures in the national parks, or the delicious process of tea making and other indulgent Thai treats.
We hope you enjoyed this list of incredible things to do in Chiang Mai. Where go next? Take a few days to visit Thailand's capital and experience the fun and unusual things to do in Bangkok.
Happy travels!