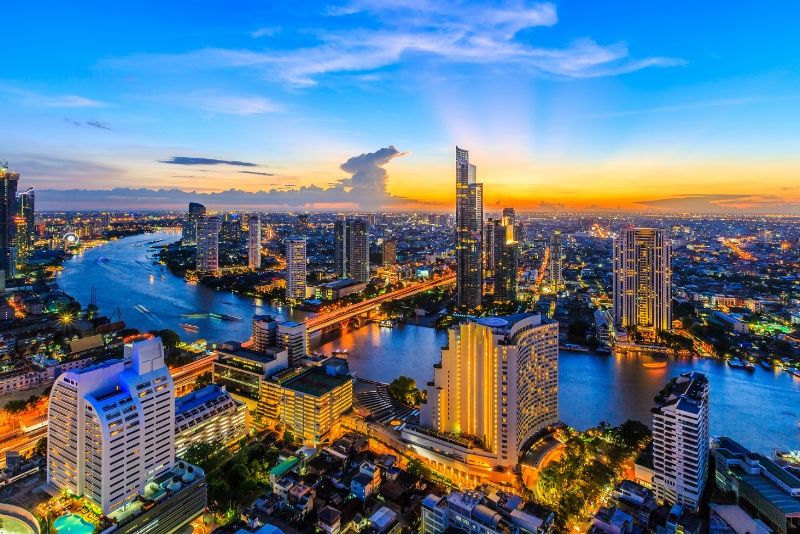 No stay in the 'Venice of the East' is complete without a boat tour. There are many Bangkok boat tours on offer and you may be wondering where to start. Well, you're in the right place.
Here is a comprehensive guide to the best boat tours in Bangkok.
What kind of boat tours can I find in Bangkok? What can I expect? 
The Chao Phraya river and its khlongs (canals) used to be the roads of Bangkok. These intricate networks were mostly used for transportation and floating markets. A boat ride on the Chao Praya river, the central river and historic heart of Bangkok, is undoubtedly a must-do. Many khlongs also remain around Bangkok, mostly in Thonburi, and still play an important role in the daily lives of locals and make for a pleasant escape.
There are countless Bangkok boat tours to chose from, but there is a straightforward way to narrow down your search. Most Bangkok boat tours can be divided into five categories:
1 – Ayutthaya boat tours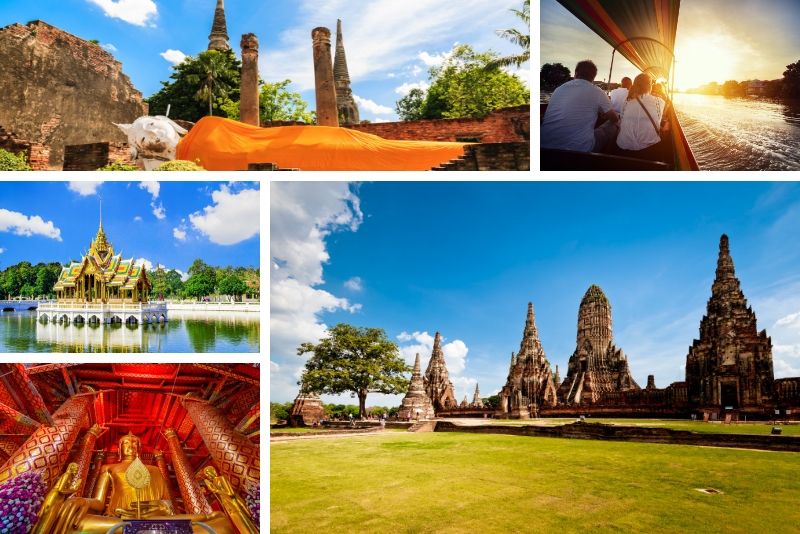 Leave Bangkok for a day to visit Ayutthaya before sailing back down the Chao Phraya River. Enjoy views of famous Thai attractions such as Wat Arun, the Royal Palace, and Rama VIII Bridge from the waters. Ayutthaya cruises often include an onboard meal on your way back to Bangkok.
Ayutthaya cruises cost from $50 to $606  and last from 9 hours to 3 days depending on what you wish to include.
2 – Bangkok dinner boat tours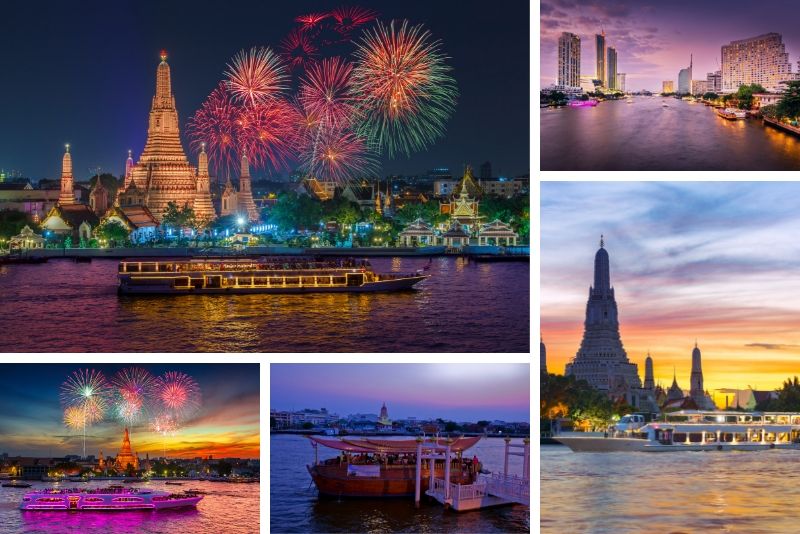 Experience the River of Kings on a 2-hour dinner cruise through the heart of Bangkok. Enjoy a myriad of Thai dishes while soaking up the atmosphere as you pass by illuminated landmarks and monuments. Whether you want to dine on a state-of-the-art cruise boat or a repurposed teakwood rice barge (a.k.a. manhoras), there's a dinner cruise for you.
Dinner cruises cost about $60 on average –usually ranging from $50 to $120– and may include onboard shows. Hotel transfer is often included.
3 – Long-tailed boat & khlong tours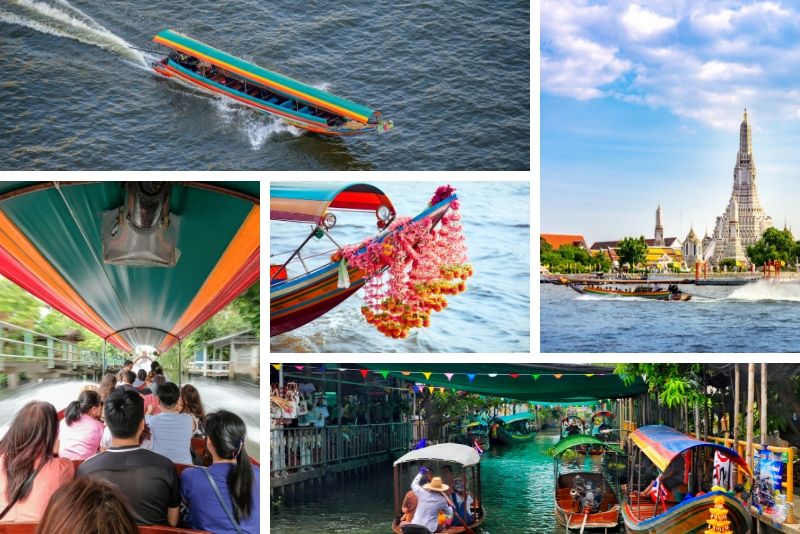 Much like gondola tours in Venice, long-tailed boat tours in Bangkok are a classic.
And for good reason: these tours give you access to otherwise hard-to-reach sites such as the Artist's House. You will get a glimpse of Thai life on the khlongs and explore the landmarks and hidden gems of Bangkok.
This type of tours cost from $35 to $120 and can last from 4 to 7 hours depending on inclusions.
4 – Floating market boat tours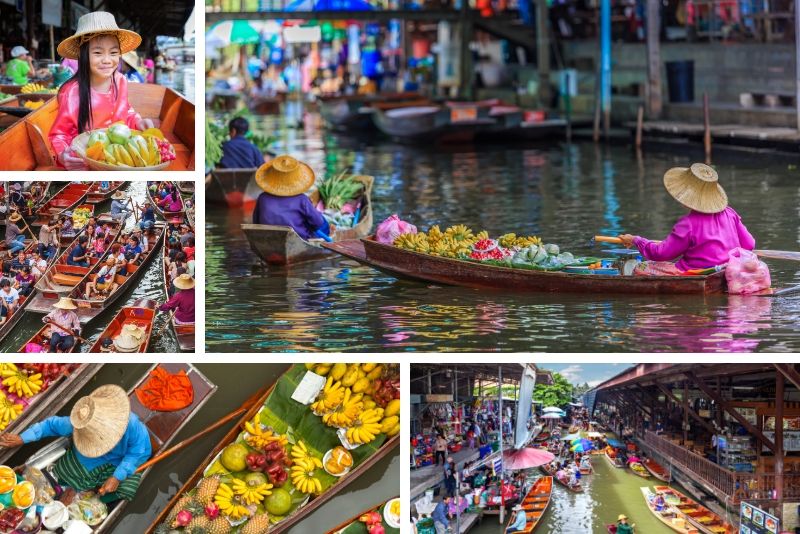 Floating markets are an experience you cannot miss when in Thailand, especially if it is your first time in the country. Boat tours allow you to enjoy the less accessible, authentic floating markets of Bangkok.
You can also opt for a boat tour to the more famous markets such as Damnoen Saduak or take a short night cruise beyond the Amphawa floating market to get a glimpse of fireflies dancing in the night sky.
Floating market tours cost $25 to $225 lasting from 4 hours to a whole day depending on inclusions.
5 – Bangkok river highlights boat tours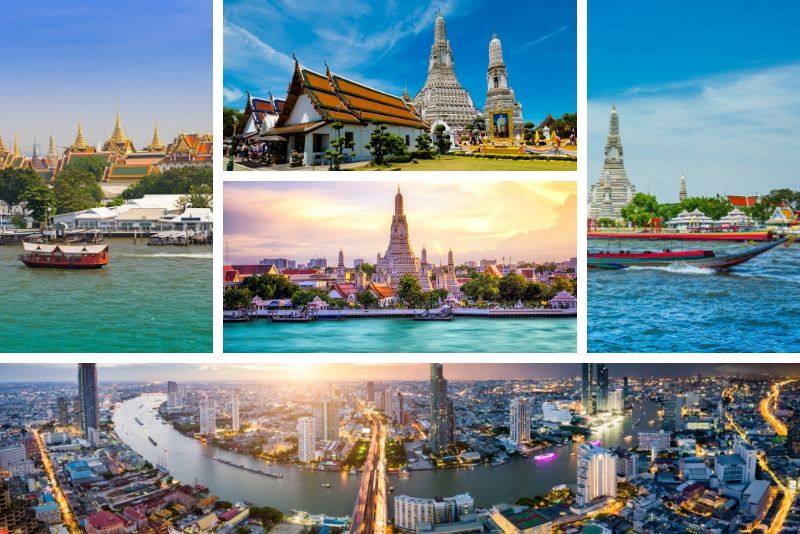 Enjoy an unobstructed view of Bangkok's river-bound highlights. You will find numerous landmarks of the capital along the Chao Phraya river, and a boat tour is the best way to visit them all in one go. These tours are perfect to complement your classical city tour or as a more scenic alternative.
One of the most famous views along the Chao Phraya river is the Temple of Dawn, also known as Wat Arun. It can only be reached by boat, and a guided tour of Wat Arun can be part of your city boat tour including other landmarks such as Wat Pho and the Royal Palace.
Bangkok river highlights tours last from 2 to 8 hours and cost $40 to $160 depending on the program.
How to book Bangkok boat tours? 
A number of tour operators offer boat tours in Bangkok; there are plenty for you to choose from and research can be a hassle. Use TourScanner's search engine to compare all offers in one place and find the best fit.
What is the best time to go on a boat tour? 
As you may know, Thailand has a rainy season lasting from late-May to October. During this period, Thai cities like Bangkok are subject to floods, heavy rains, and storms. Booking a tour boat during this period can be risky with the changeable weather typical of the season. Thus, it is always best to plan your boat tour in Bangkok from November to April.
What happens in case of bad weather? 
You may have noticed that many boats in Bangkok have a roof. Many tours will still operate if it rains and you may want to bring an umbrella or raincoat just in case.
Keeping an eye on the weather forecast and booking your boat tour during the cooler months can help your chances of getting a sunny day. Some experiences do require good weather; if your agency cancels, you will be offered a different date or a full refund.
Travel tips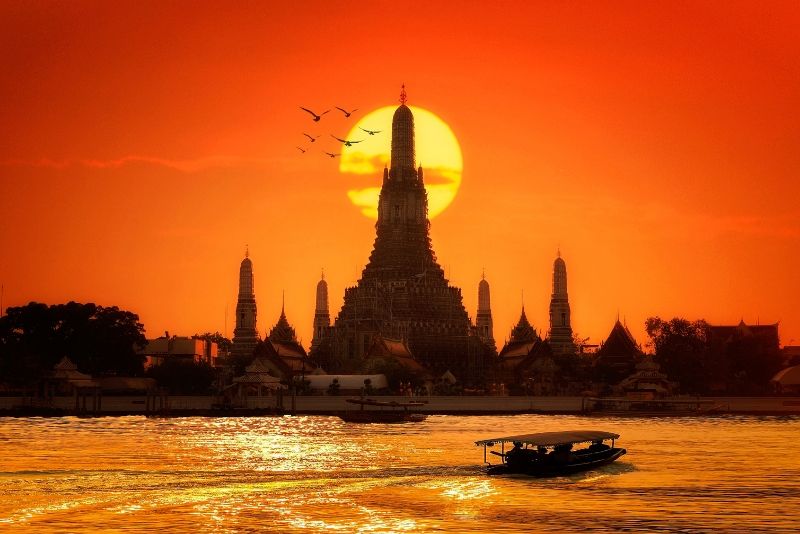 Tipping is not customary but often appreciated. You can tip your guide between ฿300 ($9) and ฿600 ($19) per day.
In general, December through February are the coldest months with lower humidity levels. It is the best time to book your boat tour in Bangkok.
You can still see a lot during the rainy season, but your boat tour may be compromised.
If your tour includes temples, you will need to wear appropriate clothing: cover your shoulders and knees and do not wear tight pants or strapless-heel shoes.
Bring sun protection and a raincoat, always.
We hope that this article helped you learn more about boat tours in Bangkok. Don't hesitate to leave your questions in the comments!
Looking for other fun activities in BKK? Make sure to check our our full list of fun and unusual things to do in Bangkok.
As always, happy travels!