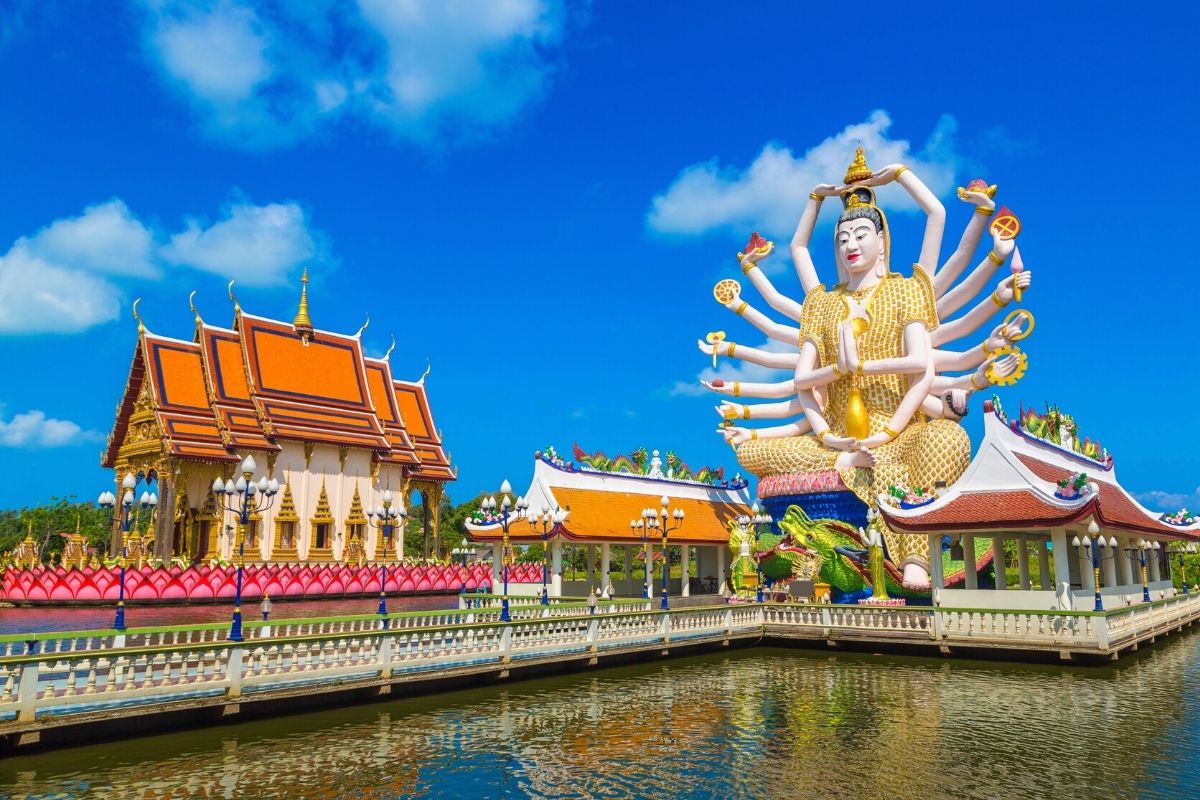 Koh Samui is Thailand's second-largest resort island, bringing in millions of visitors per year.
Offering sand, sea, and complete relaxed island life, Koh Samui provides incredible hiking opportunities, distinct and unique sites only seen on the island, as well as an abundance of rich and cultural temples sprinkled throughout.
With awesome water sports, fantastic national parks, impressive culture, incredible dining options, and a nightlife scene worth celebrating, let's explore the 45 fun & unusual things to do in Koh Samui.
1 – Visit the smiling Big Buddha at Wat Plai Laem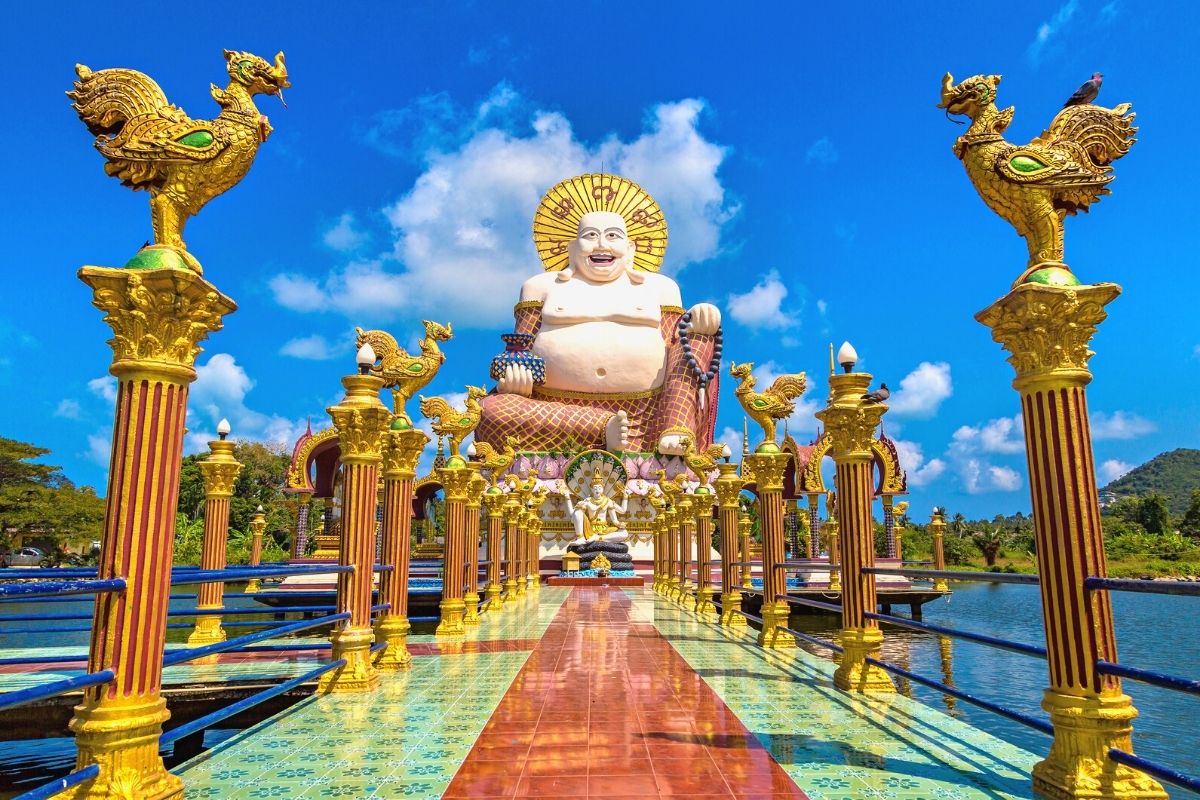 Otherwise known as Wat Nuan Naram or The Big Buddha Temple, Wat Plai Laem is an extraordinary temple situated on a lake and is adorned with incredibly detailed figures of Buddha, golden spires, and red, green, and yellow roofs.
A towering image of Buddha welcomes all of its visitors, as they walk the footbridges towards the temple and walk through the bright and airy interiors that showcase Buddha's life. Dating back to 2004, and exhibiting the influence of Chinese and Thai culture.
Due to its religious customs, please cover your shoulders and knees as you walk into the temple, and be prepared to take your shoes off at the door to walk inside barefoot to pay your respects.
2 – Find the most unique and humorous shaped rocks at Hin Ta Hin Yai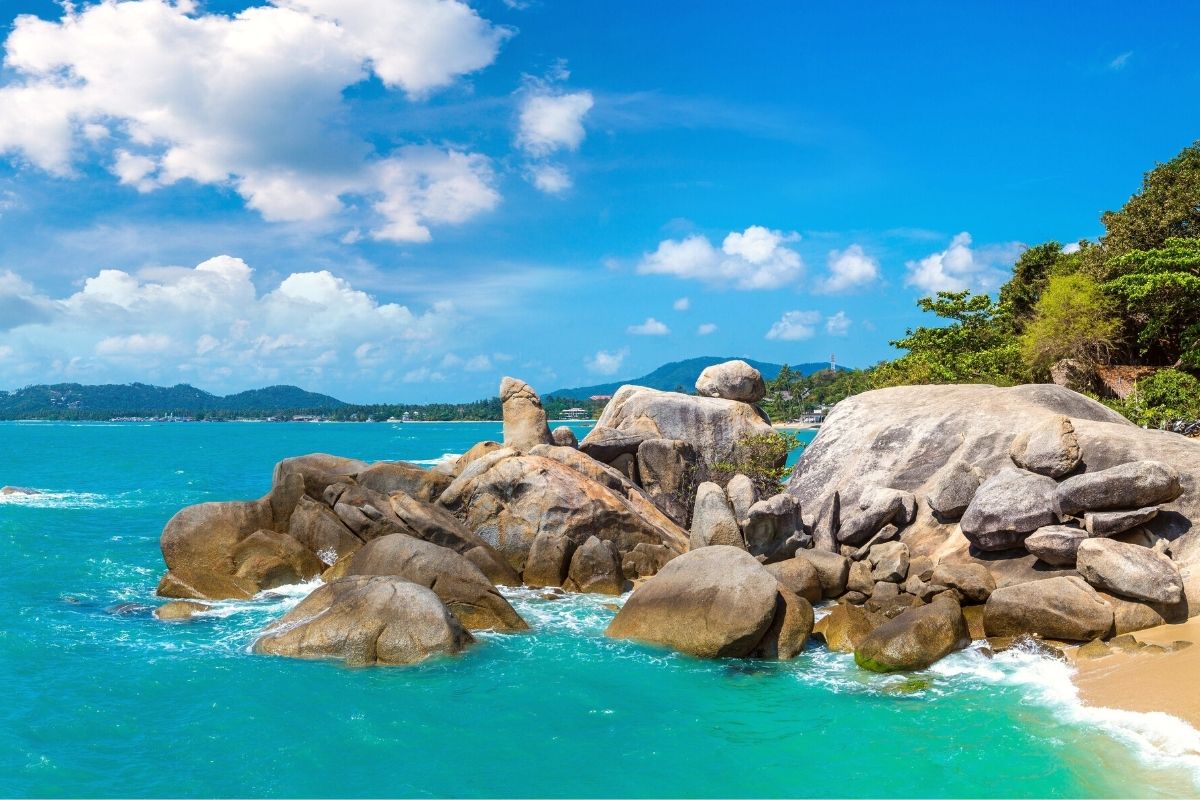 Located on Lamai Beach, on the island's southeast corner, are Hin Ta Hin Yai, otherwise known as the Grandfather and Grandmother Rocks.
You will know when you see the large crowds and lines of people waiting to get a picture of the natural rock formations on this beach that resemble male and female genitalia. With "Ta" meaning grandpa and "Yai" meaning grandma in Thai, this site is one not to be missed for a laugh or two.
Also found within the area is the stunningly blue watered beach of Lamai, where you can catch a bit of a swim while you wait for the lines to die down and finally get close to these noticeable rocks.
3 – Explore the peaceful islands of Ang Thong Marine Park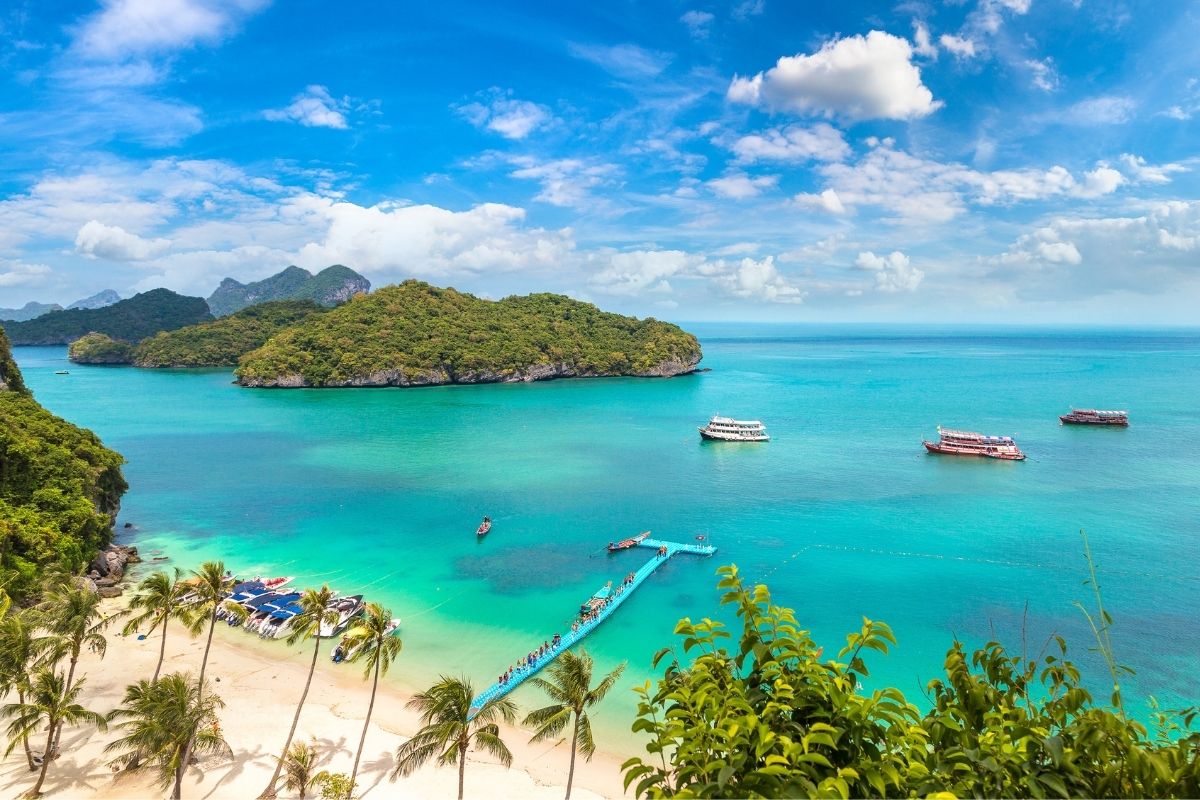 The 42 islands that make up the archipelago islands of Ang Thong Marin Park are considered protected wetlands that are brimming with incredible wildlife spanning 50 different bird varieties, 14 reptiles, 5 amphibians, and 16 mammals.
Visitors to the island will relish the variety of activities to be done in the marine park, from island hopping on boat tours, canoeing, and kayaking which according to the park, must be organized through an official boat tour as there are none provided by the island.
Enjoy the dramatic backdrop of turquoise blue and forest green as you sit on the beach, taking in the sights and sounds of the magical Ang Thong Marine Park.
The entrance fee for travelers is 200 Baht.
4 – Visit the incredible and refreshing Na Mueang Waterfalls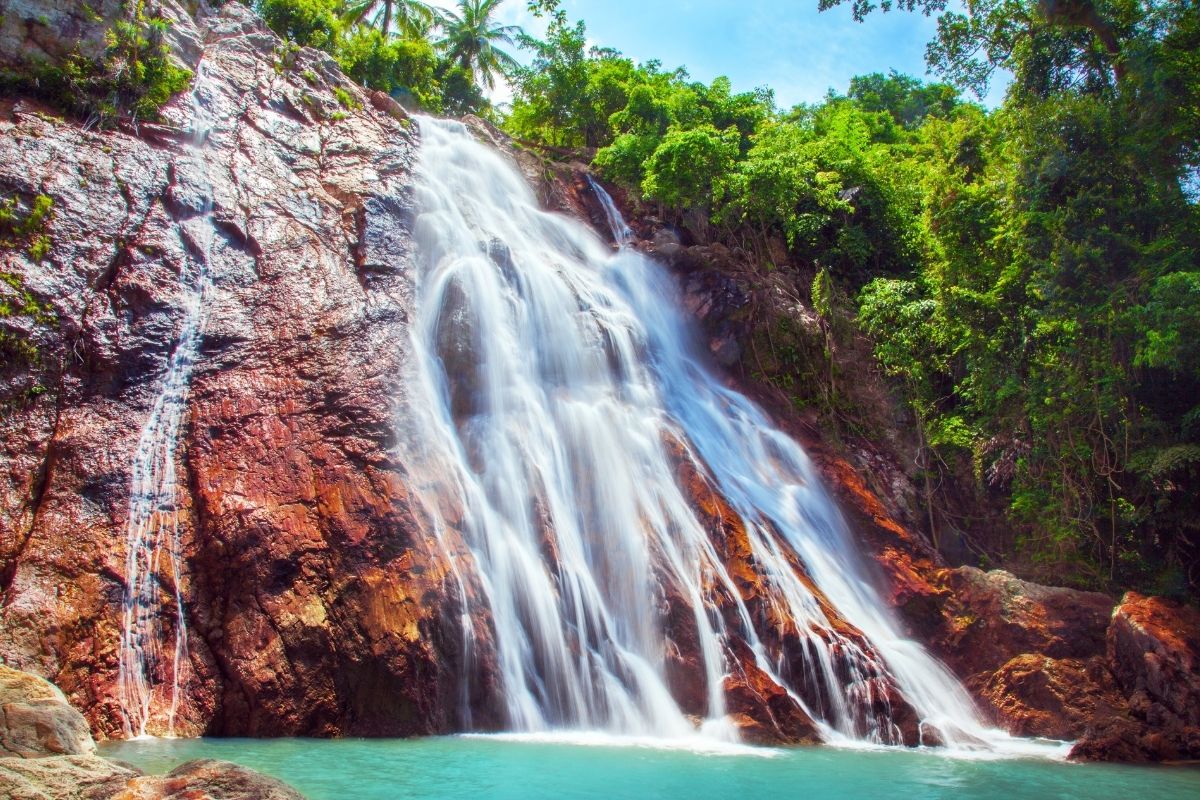 Considered one of the best natural sights in Koh Samui, Na Mueang Waterfalls are made up of two major waterfalls identified as waterfall 1 and waterfall 2. While waterfall 1 is known to be the easier of the two to hike up, waterfall 2 is perhaps the one with one of the most stunning sights.
Due to the rather challenging hike up to waterfall 2, waterfall 1 is constantly being visited by people. Waterfall 2 however has incredible views of lush rainforest that can be observed while bathing in the natural pools which sit at the top of the waterfall.
Other waterfalls not to miss that are surrounded by stunning nature are Tan Rua Waterfall, Hin Lad Waterfalls, and Khao Yai Waterfall.
5 – Do some snorkeling while island hopping to Koh Taen and Koh Rap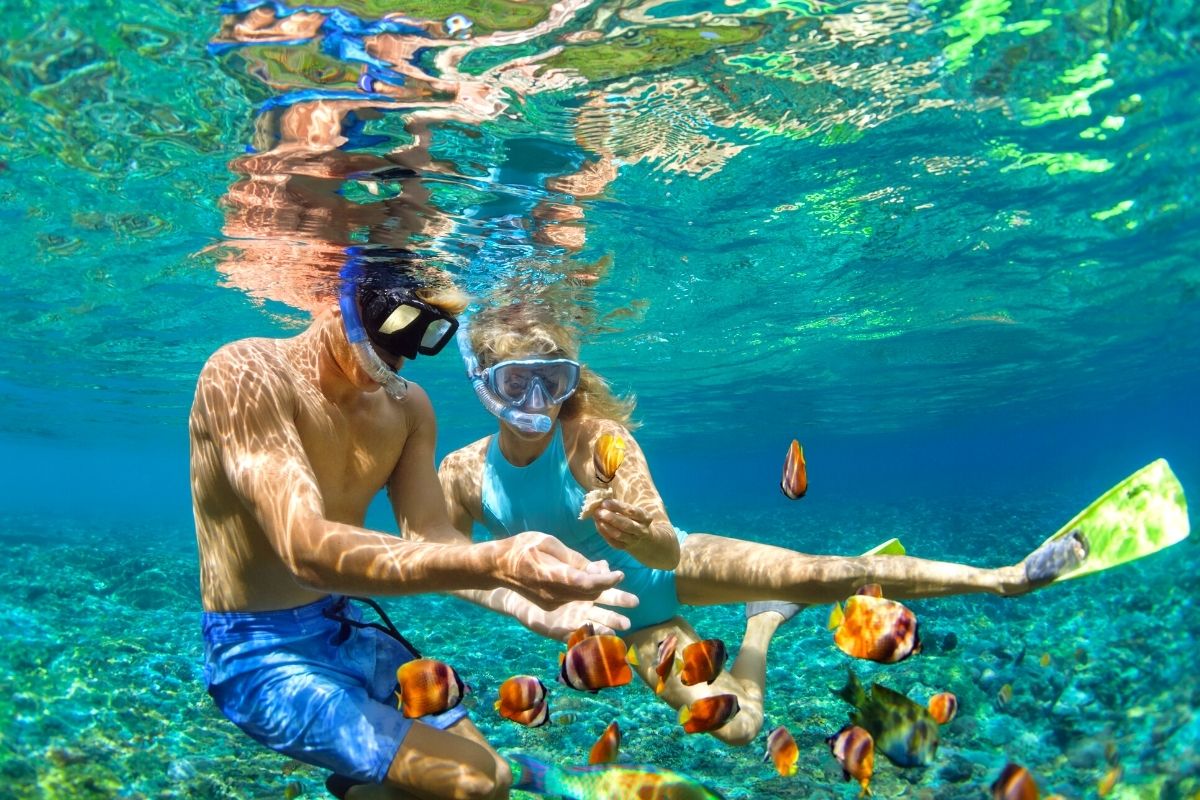 Only accessible via boat tours are the islands of Koh Taen and Koh Rap, sailing through the temperate waters of the Thai Gulf, and viewing extraordinary sights of islands of greenery and limestone.
While on the boat, hopping from one island to the next, indulge in a little snorkeling fun, and get an in-depth view of the clear waters and some of the wildlife as you swim close to the coral reefs where dozens of little sea creatures live.
Stop by islands such as Koh Rap island, the recently opened island known for the deer that live there and its less crowded ambiance, and Koh Taen island known for its quaint fishing town, and outstanding white-sand beaches.
6 – Visit Big Buddha at Wat Phra Yai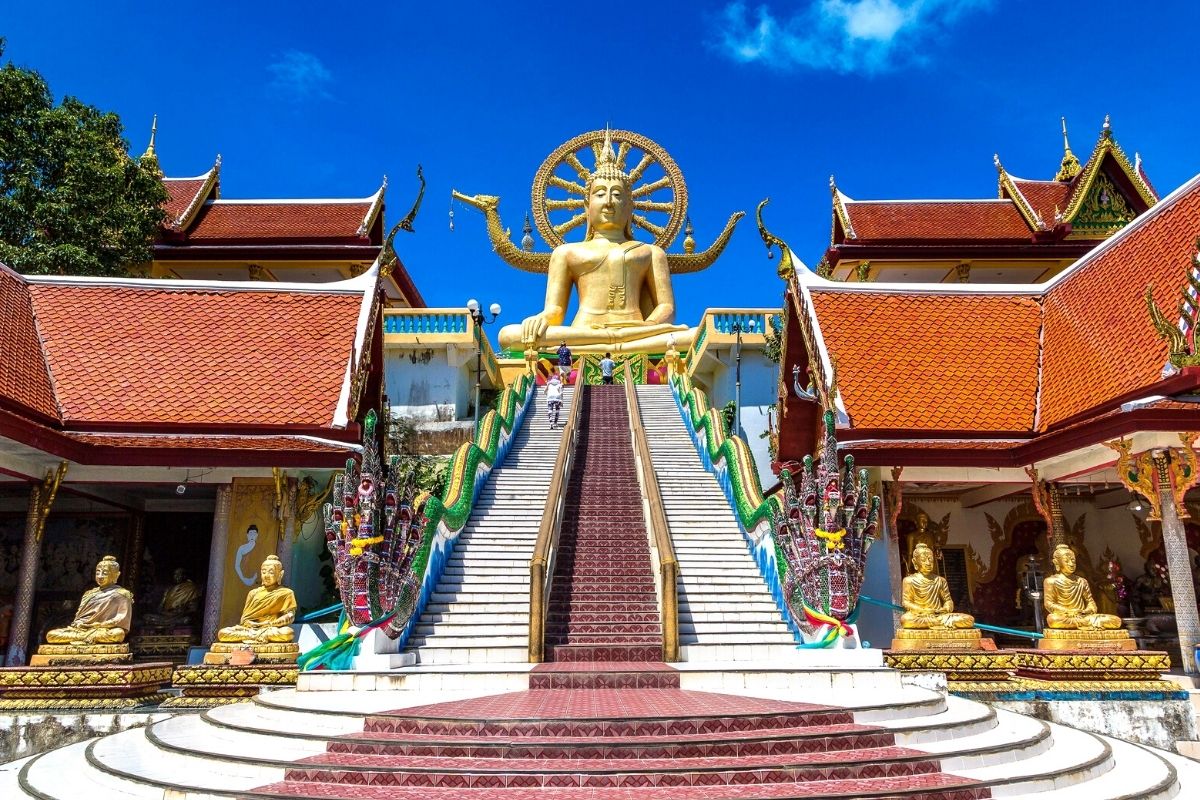 Towering over 12 meters in the air is the iconic Big Buddha at Wat Phra Yai, an impressive and relatively new temple that sits on the small island of Koh Faan.
Your eyes will be darting all over the temple grounds, in this colorful temple from the Big Buddha to the circle of bells, monks praying, and the steps to climb.
Visit early in the morning, follow the monk chants all the way inside the temple, and respectfully tune into the spiritual vibrations. You can also ring one of the bells surrounding the grounds, which are said to bring those who ring the bells good luck.
Often a popular sight to visit, a city tour of Koh Samui will bring you to Wat Phra Yai.
7 – Have one on one interaction with an elephant at an elephant sanctuary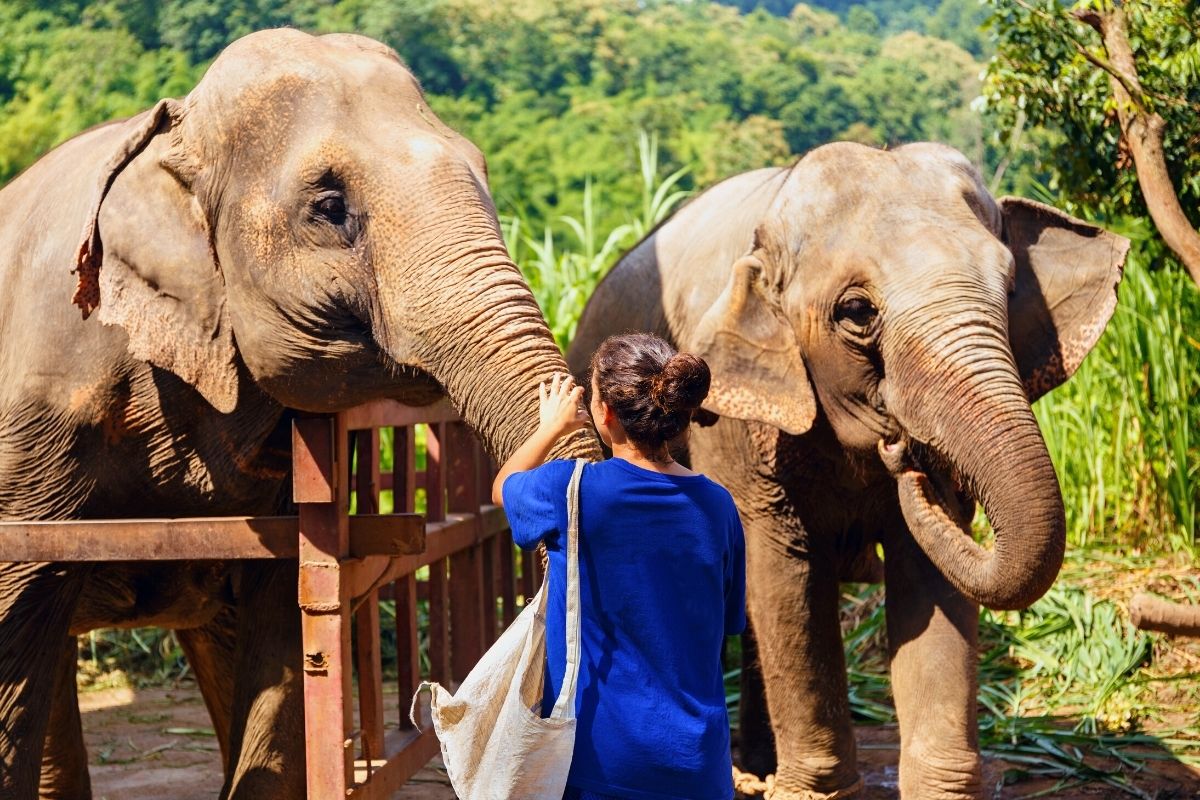 Connect with the impressive and gentle elephants at an elephant sanctuary. With an abundant amount of elephant sanctuaries available on Koh Samui island, it's important to visit one that ethically treats elephants well, truly cares about them, and is not for profit only.
Check out Samui Elephant Home, a center dedicated to caring for, and healing elephants in order to return them back to their natural habitats.
As a sanctuary that is building the first animal hospital in Koh Samui, its goal is to focus on the human and elephant connection, and how to use that in order to care for elephants better.
Consider volunteering with them either in the mornings or afternoons to help make snacks and bathe the elephants.
8 – Visit Phra Wihan Luang Por Daeng – the mummified monk at Wat Khunaram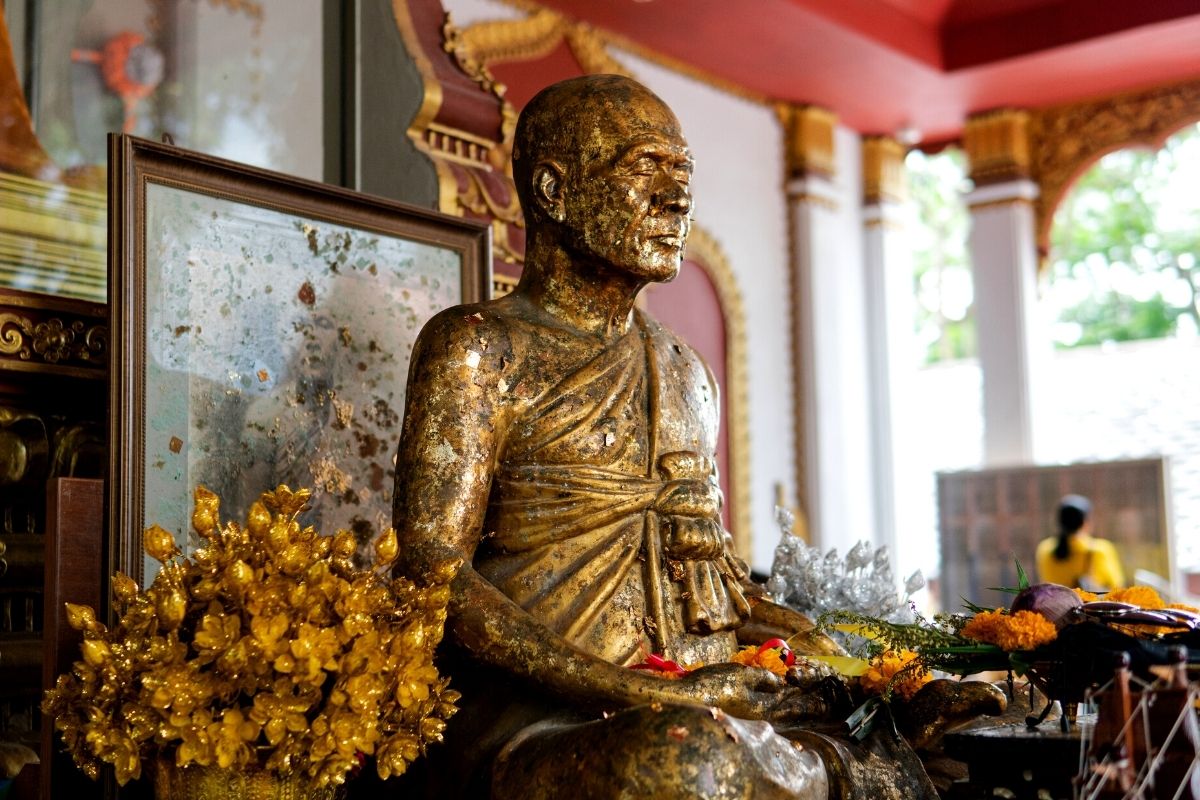 Quit unusual yet very unique and intriguing is Phra Wihan Luang Por Daeng, also known as the mummified monk who passed in 1973, and today is visited by curious travelers at Wat Khunaram.
Reserved inside a glass casket for all to see, the Thai often view death as a rebirth in another life, therefore viewing death in this format is not out of the norm in Thailand.
In life, the monk had many followers, known for his teaching and meditation. For this reason, you will see flowers, incense, and other adorations decorating the monk's casket.
Wat Khunaram, the temple in which you will find the monk, is a small, yet strikingly beautiful temple with a white exterior and golden spired- roof.
9 – Feed the pigs at Pig Island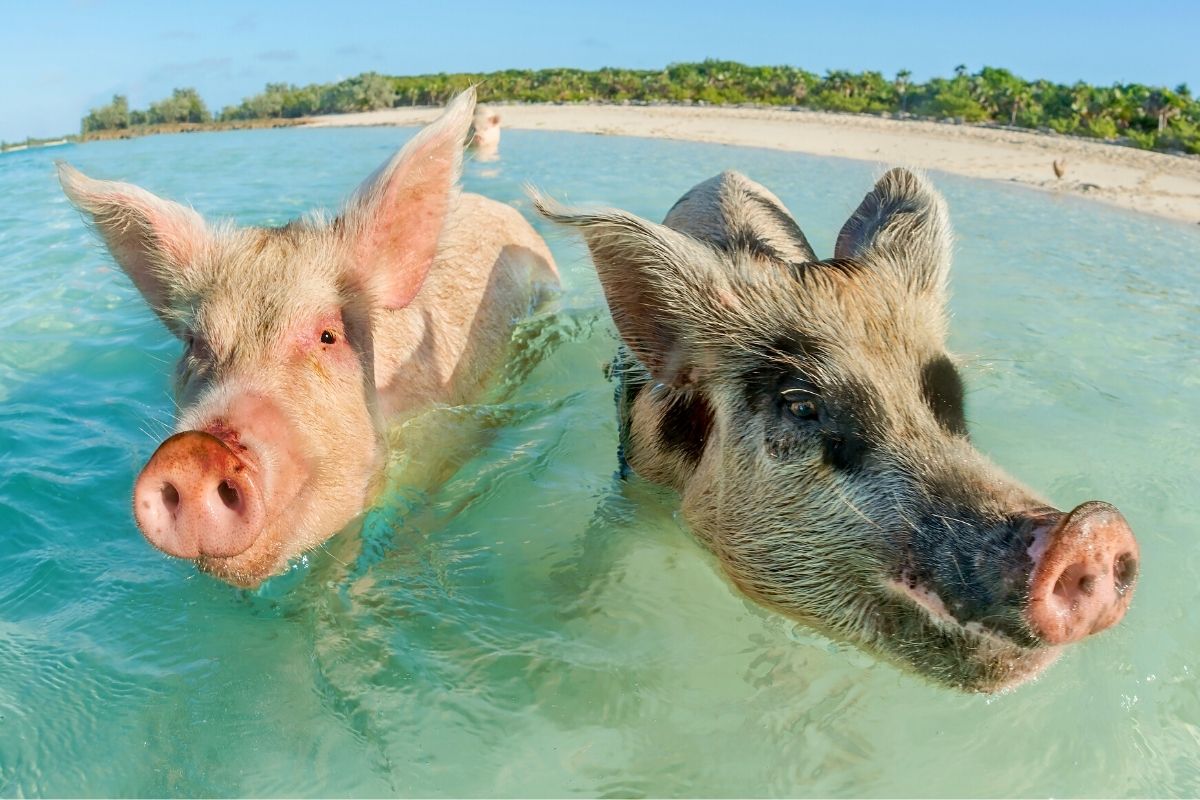 Take an exciting jet boat tour to the famous Pig Island, located just 20 minutes from Koh Samui.
An island inhabited by more than a few pigs, they were transported there by the Sumai people and began to gain popularity as soon as visitors started to visit the island, and caught a glimpse of the little hogs.
Animal lovers will love the opportunity to see pigs roam free on the sandy beaches, and be given the chance to feed them and interact with them.
Organized tours are usually the best way to get to this island, and be provided interesting facts, as well as other activities to do on the island.
Other activities to do are Snorkeling, sunbathing, and kayaking.
10 – Visit Koh Samui's Secret Buddha Garden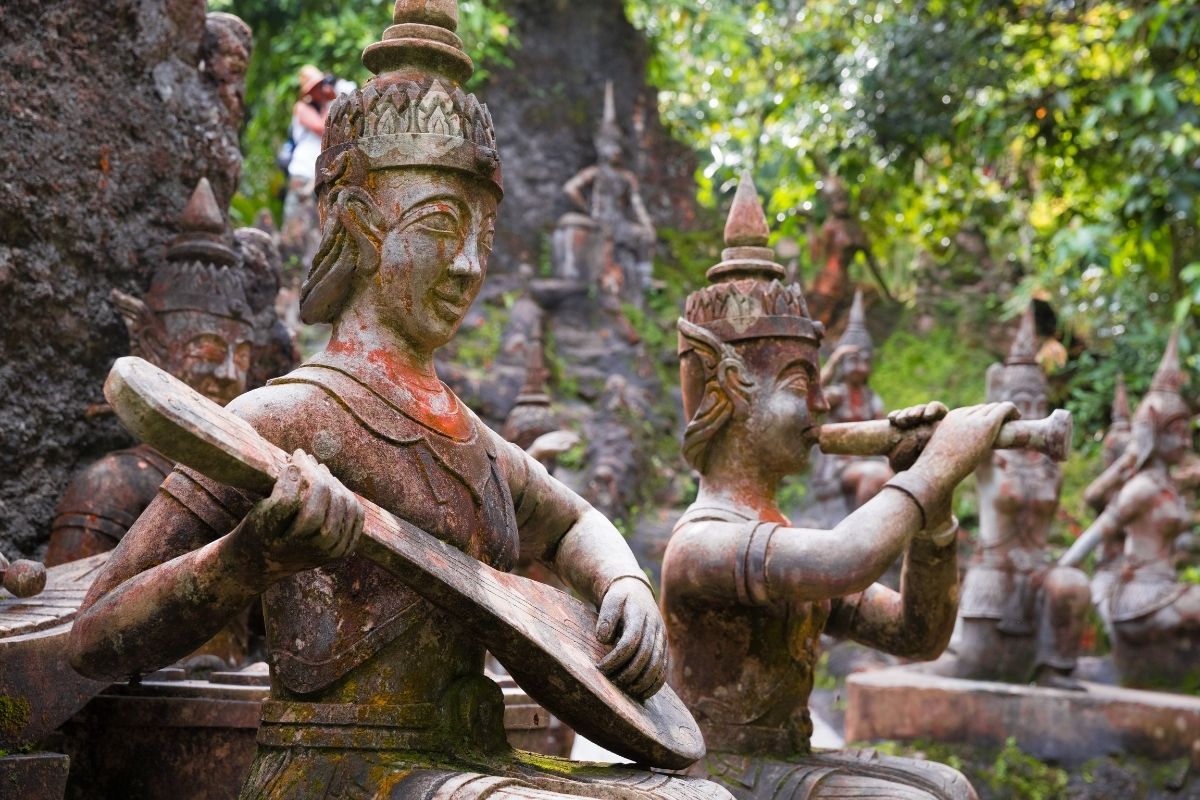 Known interchangeably as the Secret Buddha Garden or the Magic Garden, this horticulture wonderland overflows with magnificent local flora, coupled with the relaxing sight and sounds of miniature waterfalls throughout the garden.
The best way to go through the gardens is with a 4×4 either driven by you or by joining a tour which will include a guide to share all the interesting facts on this heavenly piece of nature.
Originally built by a 77-year-old Sumai fruit farmer in 1976, this garden is a coveted site built on the hills of the island, showcasing lush forest trees, significant Buddha statues that tell a story, and exceptional birdwatching.
The secret garden sits on the top of the hills, which means incredible views await.
11 – Explore the best beaches of Koh Samui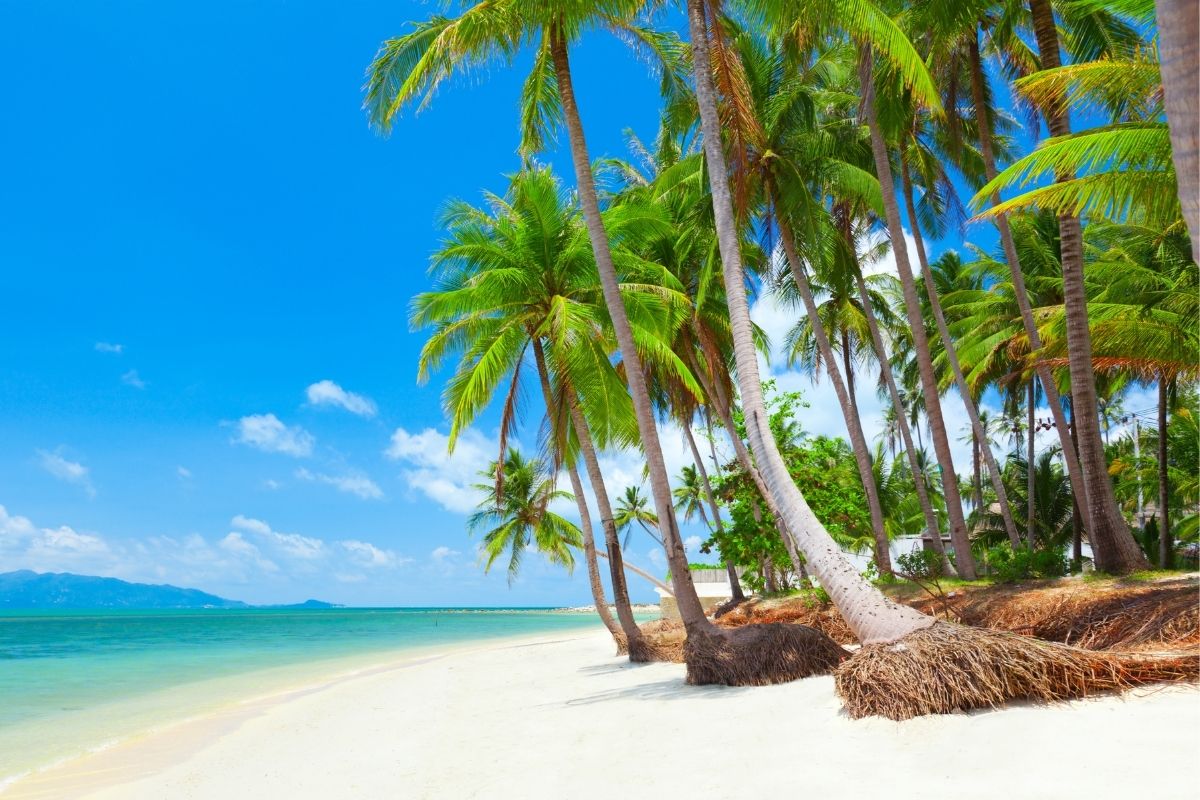 A small, yet beautiful island like Koh Samui offers some of the most idyllic and beautiful beaches in all of Thailand, offering less crowded options than on the mainland.
Bophut is known for its fisherman culture, incredible dining options made up of local foods, and seaside resort options. With pristine sand and beautiful turquoise water, that will make you never want to leave it, Silver Beach ranks among the best ones.
Due to its secluded location, Lipa Noi Beach is the perfect beach to soak up incredible sun rays, and also to catch jaw-dropping sunset views that paint the evening sky purple and red. Another lovely sunset spot is Chaweng Beach is one of the most popular beaches.
Choeng Mon offers the perfect family getaway beach, for its privacy, and accessibility despite being one of the farthest beaches. Depending on the tide, you may even be able to walk to the island, but if not, kayaking is possible.
12 – Visit Koh Tao, one of the most popular islands in the Thai Gulf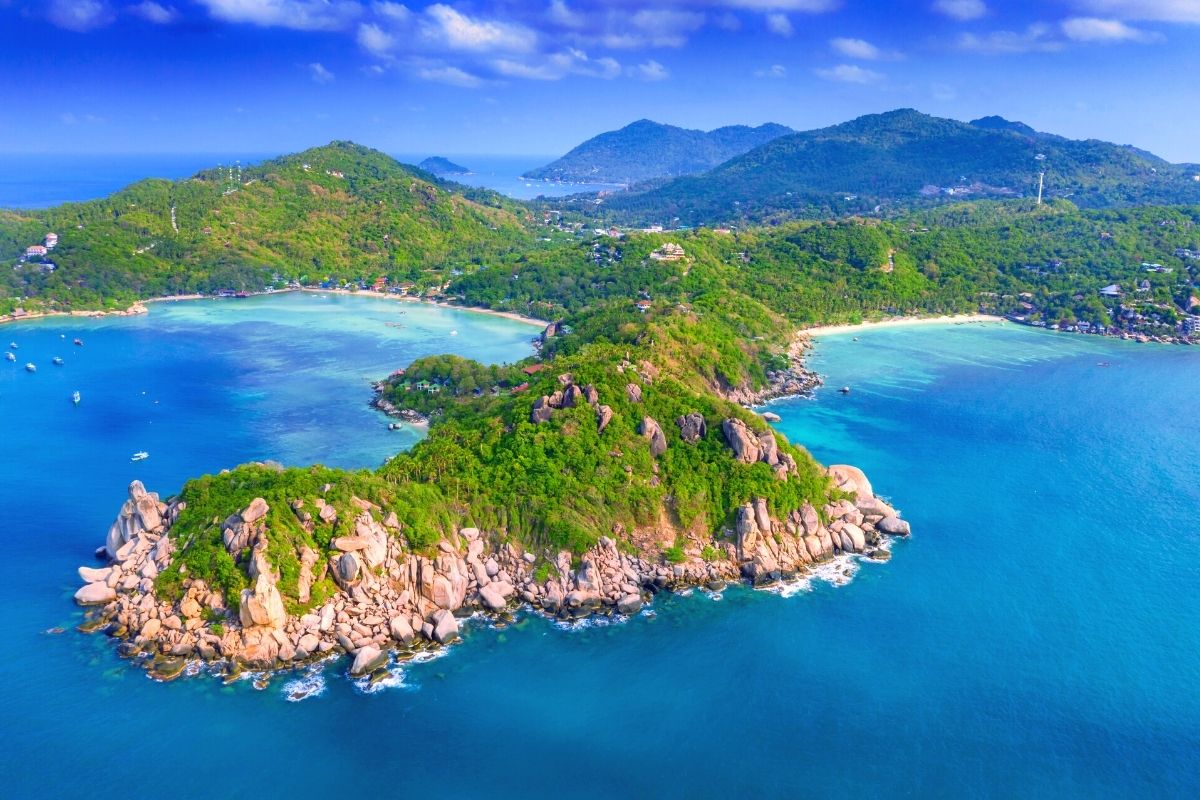 Known for its pristine beaches, and for being one of the most popular islands in the Gulf of Thailand, Koh Tao attracts an estimated 132,000 visitors per year.
With a myriad of fun water activities to do like snorkeling, scuba diving, and kayaking, there are a few land activities like hiking, rock climbing, and even bouldering.
Despite a few tragedies happening on the island since 2015, involving the deaths and disappearances of travelers, recent travelers have not reported feeling unsafe or uneasy.
Recent travelers recommend traveling and staying, as well as paying attention to their surroundings, like with any other destination.
Arguably one of the best things to do in Koh Samui, a boat tour will drop you off at Koh Tao if you're interested in a day trip experience.
13 – Admire the views from Lad Koh View Point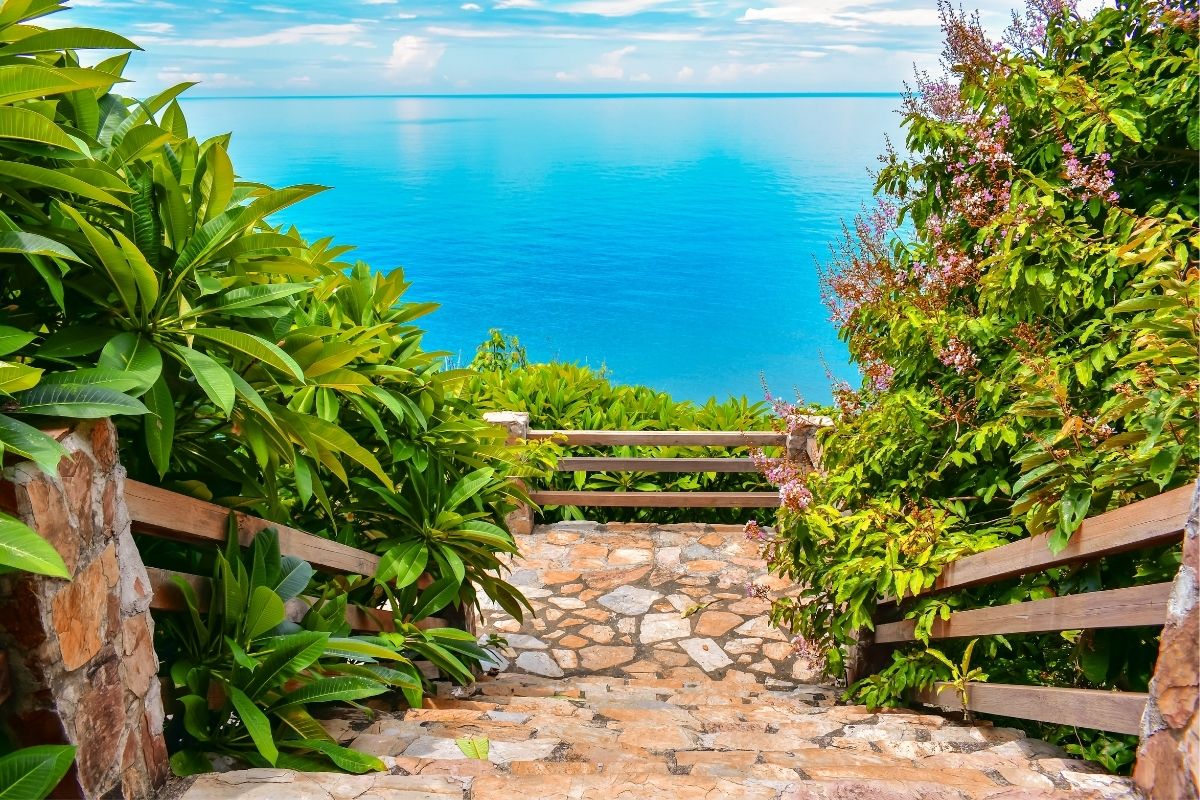 Found on Koh Samui's eastern coast is one of the most sweeping views of land and sea.
Lad Koh View Point is almost always on everyone's list of experiences to have in Koh Samui because while there is more than one stunning viewpoint, this one in specific has a built pavilion and a few seats available.
Stop by to watch the incredible sunrise, with friends, or just yourself, and bask in the beautiful glow that turns night to day.
Take the stairwell that takes you down to the small paved walkway to get even more expanded views of the Simsky Gulf and islands in the distance, and take notice of a few lush gardens and fountains.
14 – Experience a Jungle Safari via a Jeep tour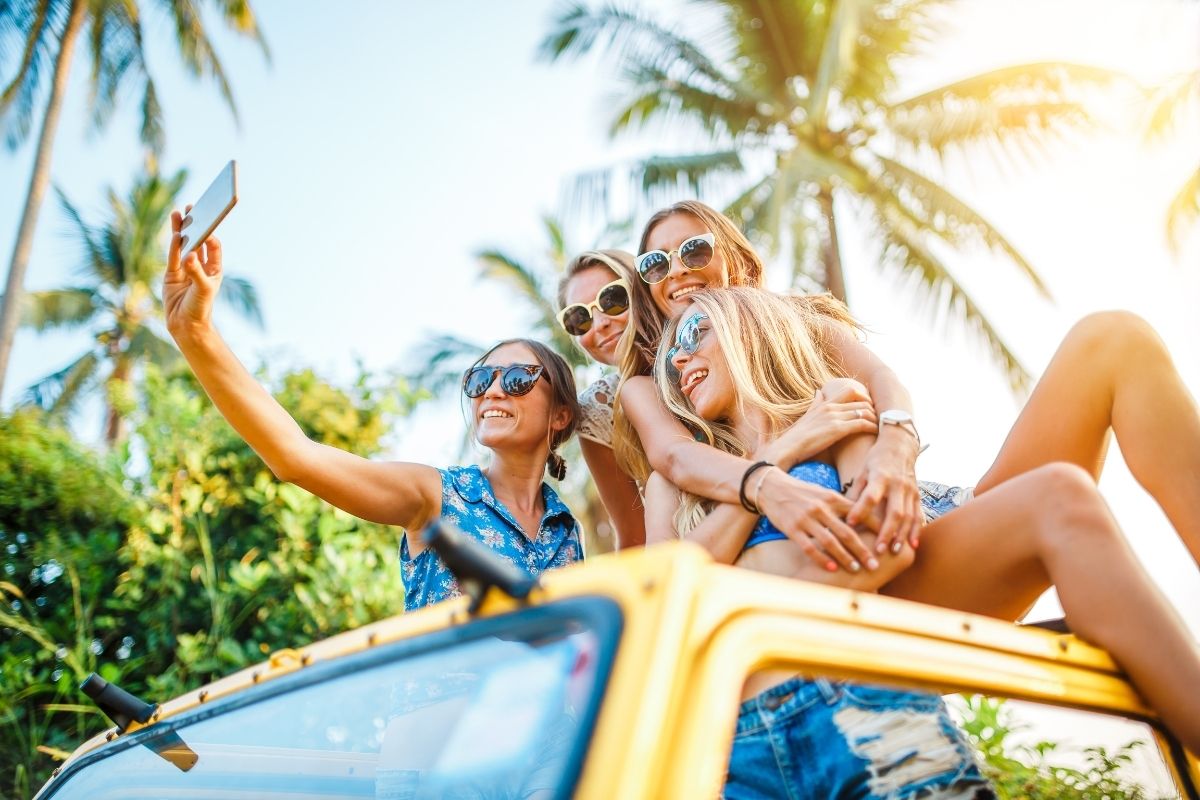 Take your exploration levels to the next level on a jeep tour where you'll gain traction and adventure through an exciting jungle safari experience.
Travel through the exotic jungle terrains, where you'll get a first encounter with incredible wildlife while passing refreshing waterfalls, abundant coconut groves, rivers, and more.
A jungle safari tour offers guests the ride of their life and includes a guide, the jeep ride, equipment like helmets, in small groups, and sessions for up to 2 hours.
Other tours also include stops at famous sites nearby like the Grandfathers/Grandmother rocks and the mummified monk, so if these are on your itinerary, make sure to book a tour to see it all, while gearing up for major adrenaline.
15 – Visit the Wat Ratchathammaram known as the "terracotta" temple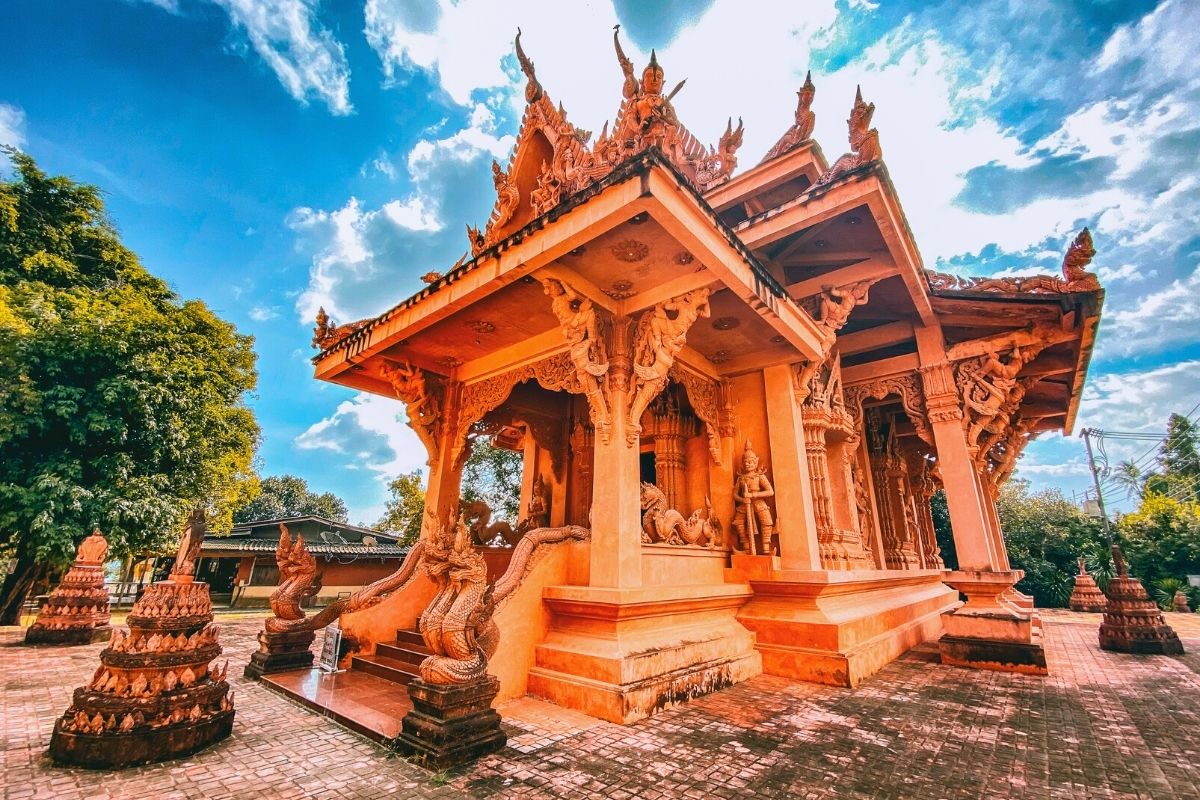 Noticeable from a distance due to its particular color, often referred to as terracotta red, is the emblematic Wat Ratchathammaram.
A temple that upon closer inspection is overflowing with extreme detail inscribed into its walls. Sculptures carved out from the walls, depicting the story of Buddha, as well as other interesting Buddhist stories involving serpents and sea demons.
Walk in deeper, and you'll be met with a golden statue of Buddha, saluting all who enter. The temple grounds offer a beautiful viewpoint not to miss, as you take the Stupa steps down, and notice the serpent handrail on the way down.
You'll pass a few pagodas and beautiful statues and mosaics until you're met with the breezy sea views.
16 – Visit Nathon Town – the local and capital town of Koh Samui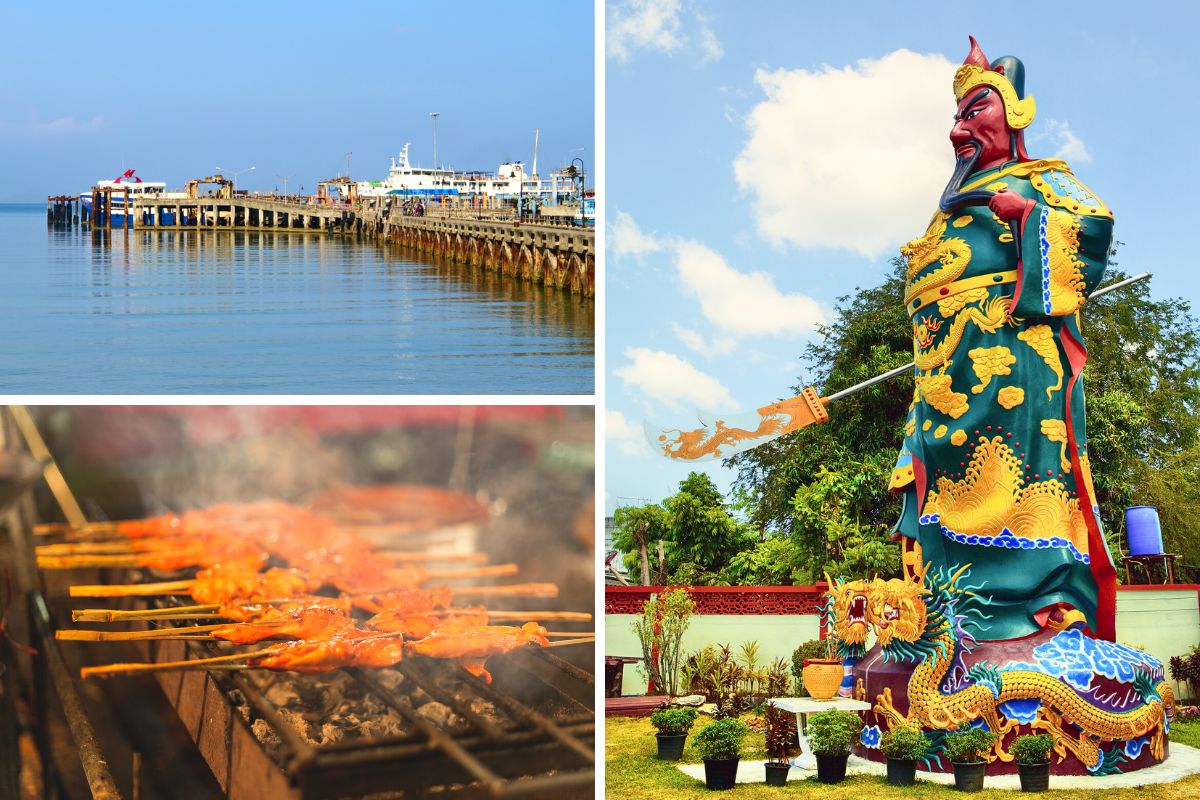 Located seemingly on the opposite end of the island, Nathon Town is the capital of Koh Samui island, and a place to visit to catch a glimpse of everyday Thai life.
Saturday evenings are some of the best times to visit, as that is when the streets come alive and become flooded with locals at the Nathon Walking Street, where you can purchase everything from dinner to souvenirs and accessories.
Visit Nathon Hainan Shrine, a beautiful and colorful temple dating back to 1862, that shows a mix of cultures between Chinese and Thai influences.
The pier and beach are hot spots to have dinner in the beachfront restaurants and watch the ferries undock avid travelers and locals.
17 – Spend the day relaxing at Koh Nang Yuan
Visit the heavenly Koh Nang Yuan, a series of small islands surrounded by pristine, blue water, abundant wildlife, marine life, and dense forests.
A quick 15-minute boat ride from Koh Tao, a boat is the best way to get to the island and spend a day exploring its amazing list of things to do.
Want to go hiking? Walk through the sand strips that connect the islands, and hike up to a famous viewpoint situated on top of the small island to get incredible views of all three islands and the sea.
Swim, sunbathe and catch that incredible bronzed tan, or do some exciting snorkeling and diving to view the blue depths of the clear waters and coral reefs.
18 – Plan a fun water day at Samui Water Park: Pink Elephant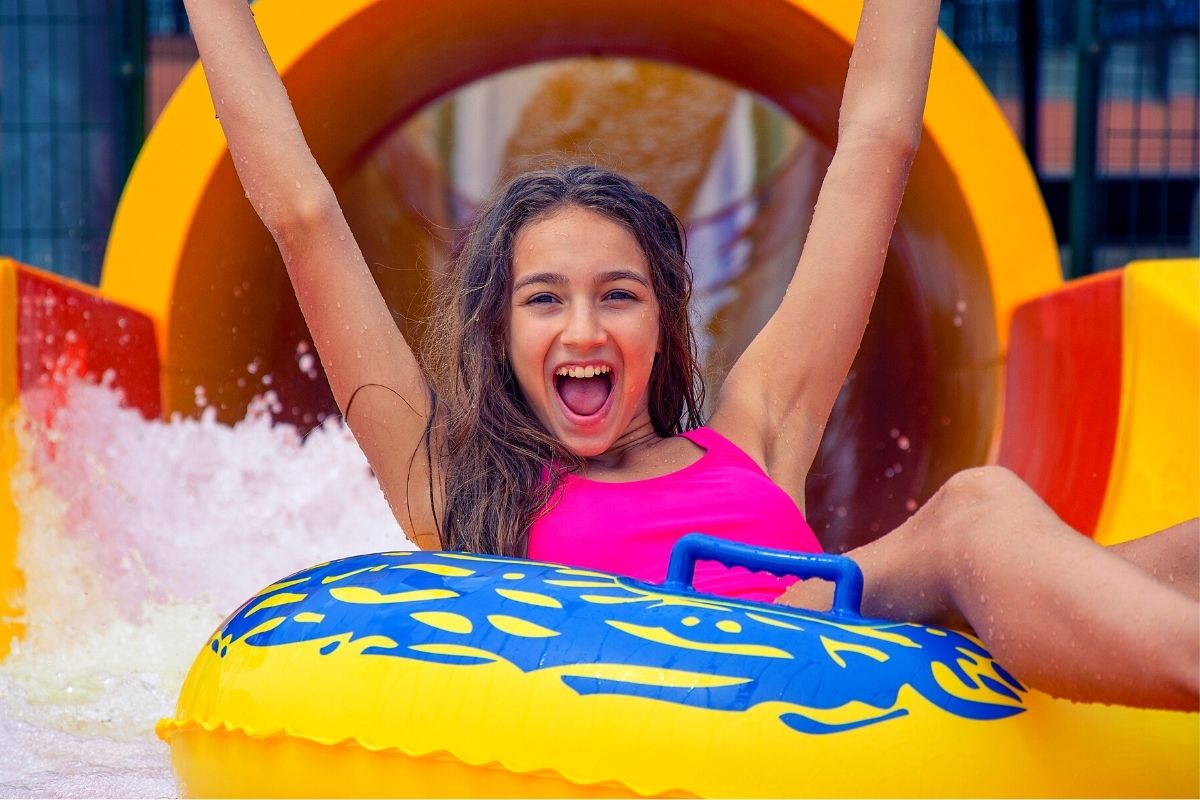 Check out the magnificent Samui Water Park: Pink Elephant, located on the northern side of the island, and near the famed Maenam Beach.
If you're traveling with children, or you enjoy water parks and refreshing yourself, check out the fun water activities such as the Twister, Super Bowl, and Summer Paradise attractions.
Water slides, cabanas, lazy rivers, two chef-inspired restaurants, and a cafe, are a few of the services available, making the experience memorable for children, and relaxing for parents.
One of the most fun things to do in Koh Samui for both children and parents, a visit to the park is a wonderful day activity.
Due to COVID, they have remained closed, however, check back when you're planning a trip in the near future, as they may share new opening dates and hours.
19 – Learn about Southeast Asian art at Dusit Dhewa Cultural Center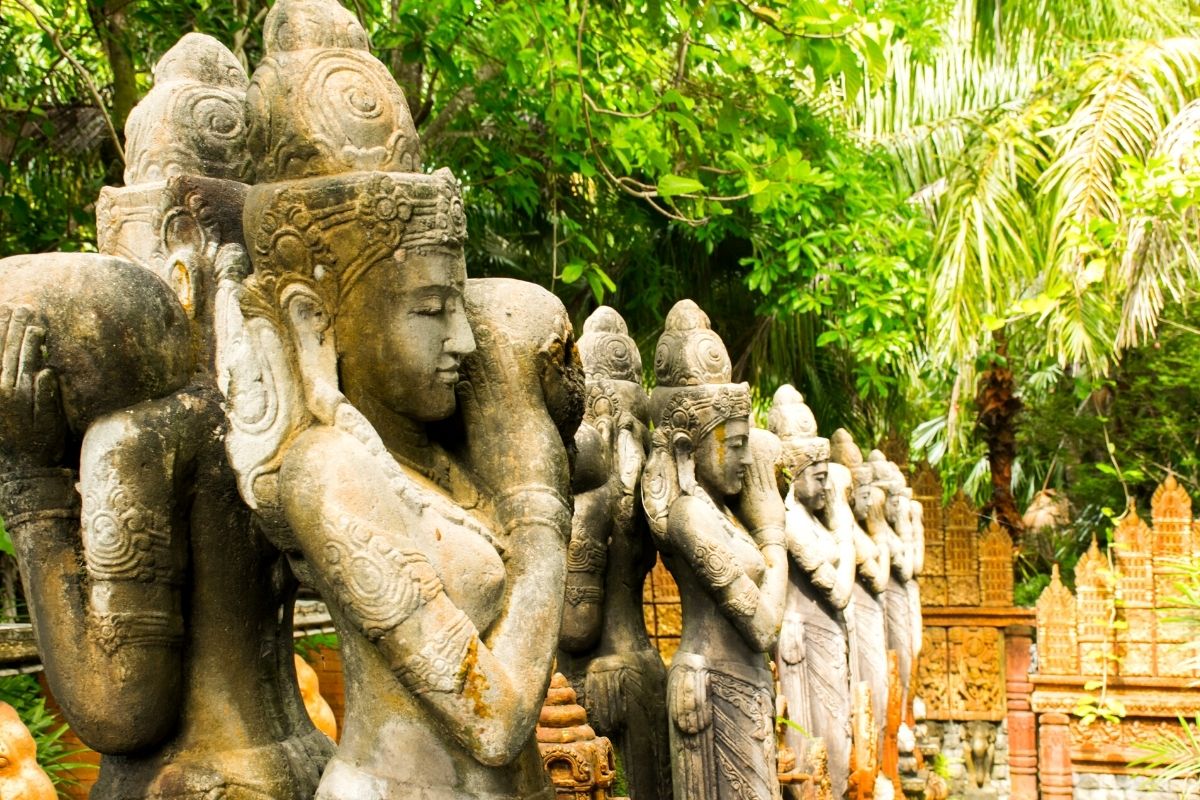 A museum experience that eliminates the city and outside world distraction, while browsing art pieces and structures of Southeast Asian influence – is what you'll find inside Dusit Dhewa Cultural Center.
Housed inside an ornate and temple-style building, this cultural center offers visitors a quiet opportunity to truly explore and contemplate southeastern art pieces, cultures, and traditions that weave throughout the pieces housed inside.
Due to its residential purpose, be careful when walking through, treating the facilities with care and respect. Upon walking the grounds, visitors will become fixated on the statues of deities, serpents, and more.
On the museum property, there is a stunning little lake that visitors can take a walk around and admire its beauty. Ticket prices are 120 Baht.
20 – Explore Koh Samui's seas via paddleboarding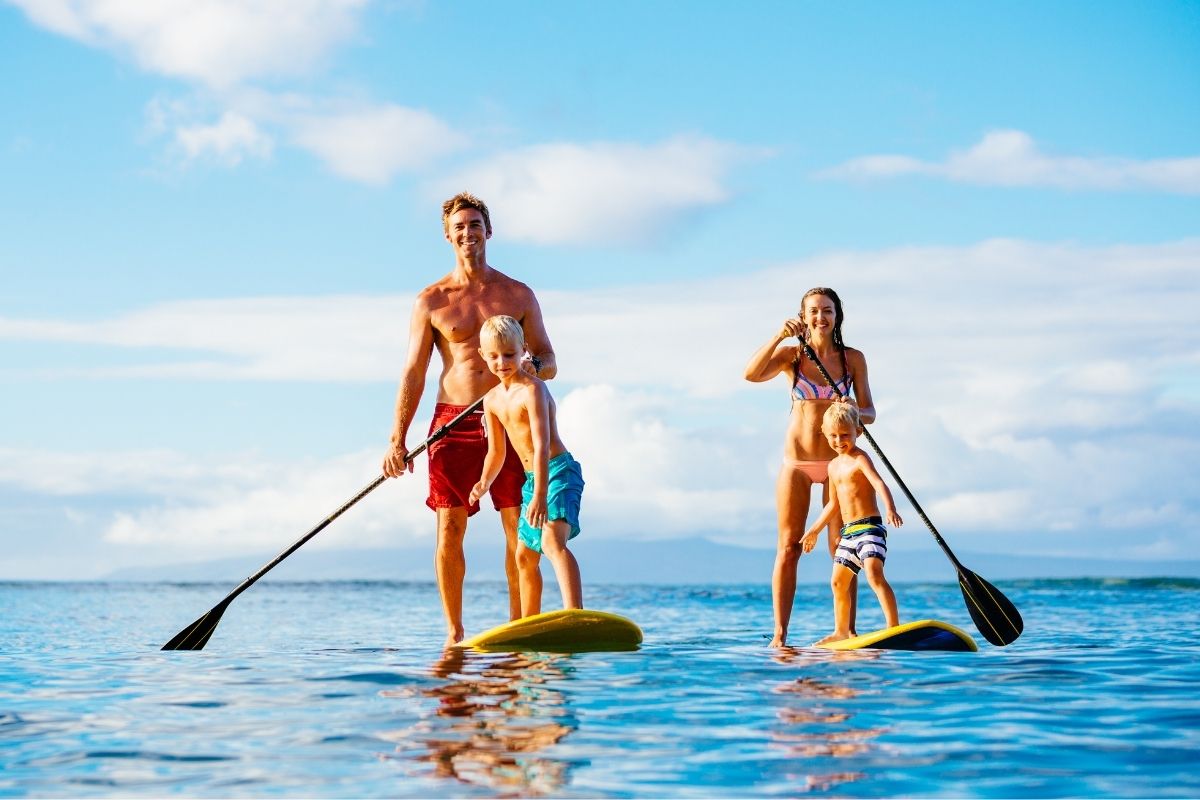 Absorb the sand, beach, and sun while paddleboarding out to the sea, whether you're total beginner, or you're bruising up on your skills.
There's quite a great amount of different paddleboard experiences available, from traditional paddleboarding, yoga on a paddleboard, sunrise and sunset paddleboard tours, and more.
If paddleboarding is a water activity you wish to learn, make sure to take a lesson with a professional where everything from the guide, paddleboard, and other equipment is included in the same price.
Additionally, ground transportation may be included if you book a tour as most takes place in the northeast region of the island.
Tours start at $38 per person.
21 – Get competitive on the tracks at Easykart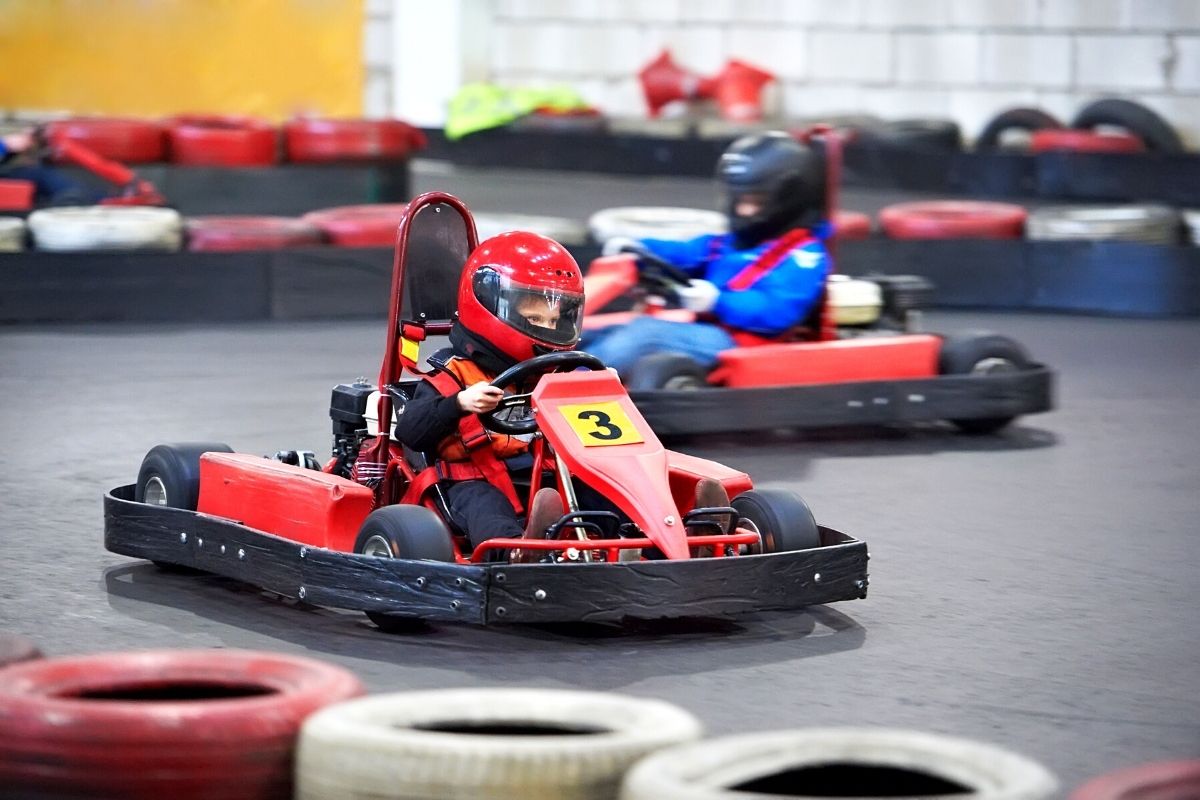 Worried you can't do much on a rainy day in Koh Samui? Think again, and check out Easykart – a complete indoor adventure experience, topping off with experiences like exciting go-karting, indoor skydiving, and indoor surf.
Perhaps most well known for its go-kart track, Easykart provides 2 outdoor tracks for different levels: beginner and advanced, so no matter where your go-kart skills may be, there is a track waiting for you as your family and friendly strangers cheer you on from the second level balcony.
With access to indoor restaurants and other arcade-style games inside Easykart, it will easily entertain its guests for hours.
Make sure to book your experience via their website ahead of time to avoid any issues at the door.
22 – Get meditative inside the Wat Phra Chedi Laem So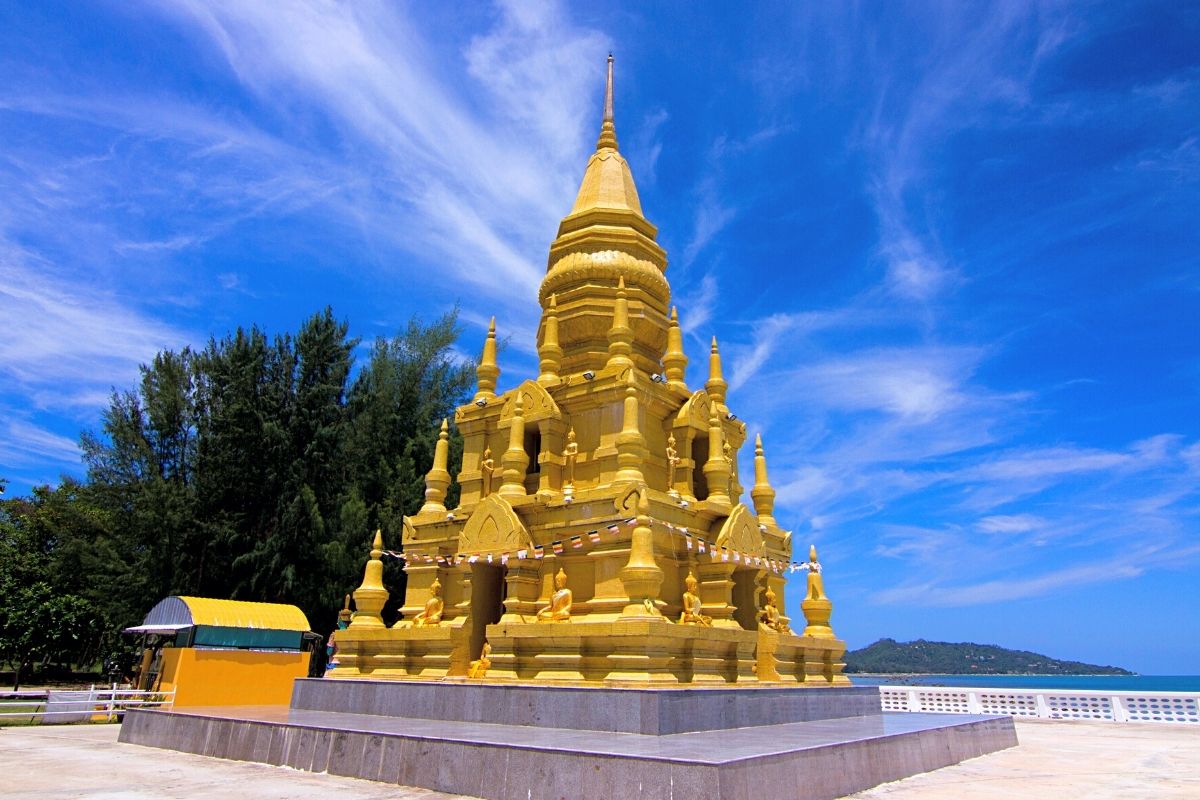 An open space for the public is the Wat Phra Chedi Laem So, where people gather for picnics, relax, meditate, and even join celebrations.
Perhaps from a distance, it may appear that the temple is sparking as it bounces light from its gold exterior. However, upon closer inspection, travelers will see that the exterior of the temple is made out of tiny yellow mosaics, which is a bit different from other temples.
Next to the temple is the Laem Sor Pagoda, which dates back to 1968, and showcases imagery, statutes, and relics of Buddhism, and Buddha as well as an abundance of flowers.
Located next to the water, the shady and breeze temple is free to enter.
23 – Experience the tropical beauty of Koh Phangan for the day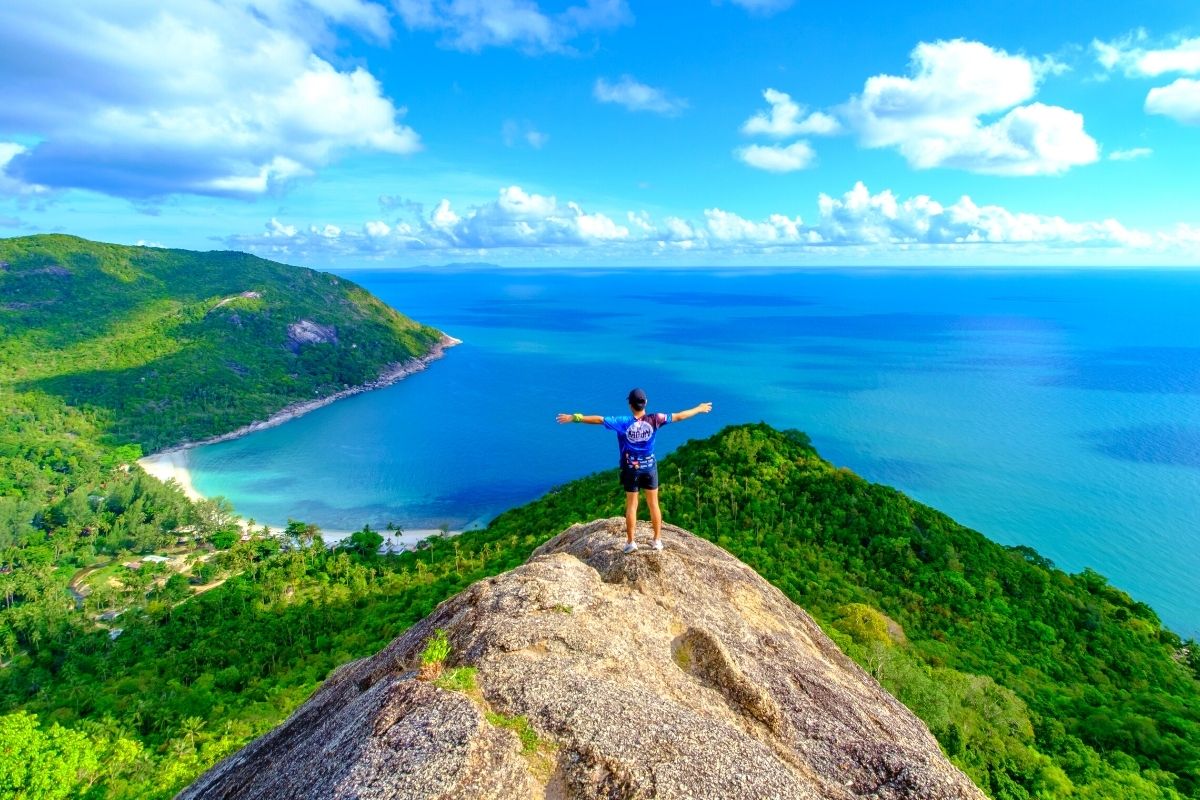 Showcasing natural beauty – turquoise waters, powder white sands, fruitful coconut trees, dense and tropical climate, and vegetation, it's no wonder why so many people visit the Koh Phangan for its sheer beauty.
The Full Moon Parties are some of the most famous activities that have brought in thousands of visitors to each full moon celebration on the island. It's an outdoor party that takes place each month during the full moon (especially in the southern region).
The Challenge Phangan is an incredibly fun and challenging obstacle course that includes testing your stability with rolling barrels, trying not to bounce off of big red bouncy balls, and more. An afternoon activity that is guaranteed to bring out a few laughs.
24 – Descend into Koh Samui's marine life via scuba diving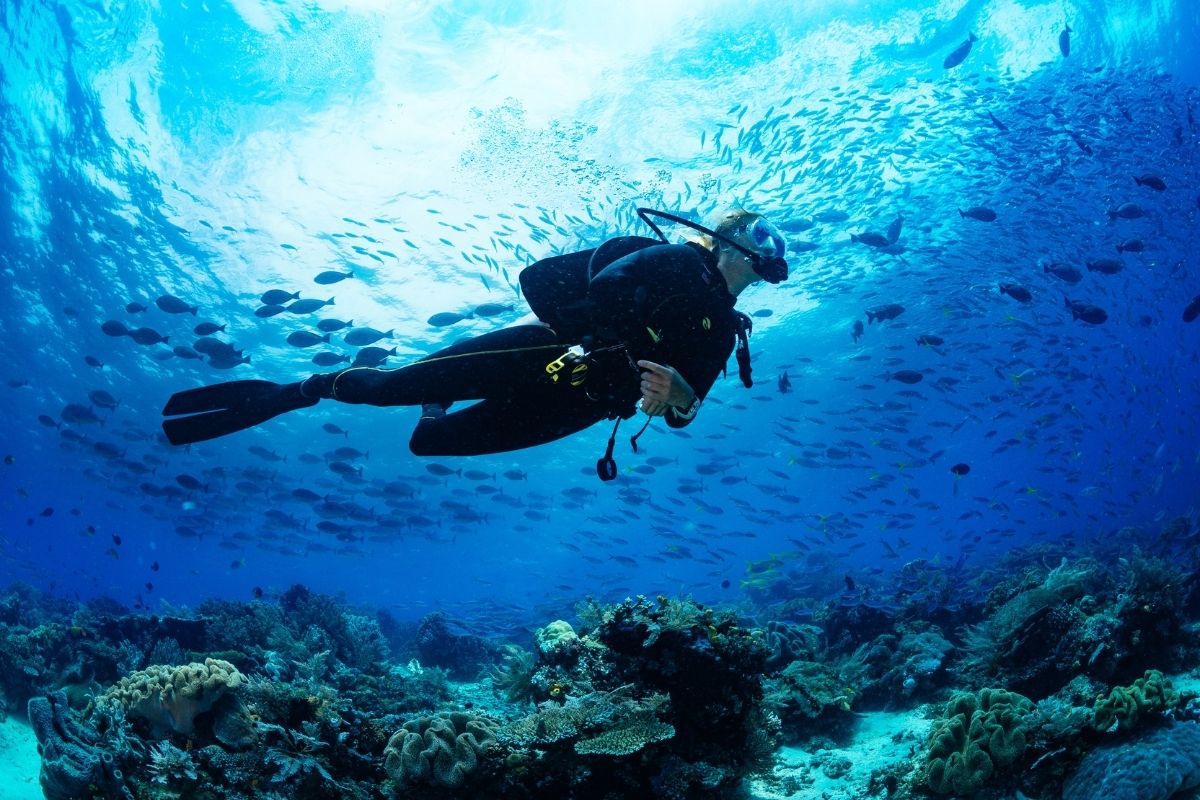 Dive into the transparent blue waters of the Gulf of Thailand, as you descend into the authentic marine world, where divers get a chance to come in close contact with coral reefs, the rocky seamounts, and the granite pinnacles, and incredible sea life.
An often popular place to dive in Thailand by many professional scuba divers, mainly for its transparency and temperate water temperature, professionals and locals recommend planning for scuba diving anytime between July-September due to better underwater clarity.
A scuba diving experience will enrich your experience to greater lengths, as well as literally open a new view of nature. A scuba diving experience includes ground transportation, lunch, equipment, and tours are available for any budget, starting at $70 USD.
25 – Do some birdwatching at Paradise Park Farm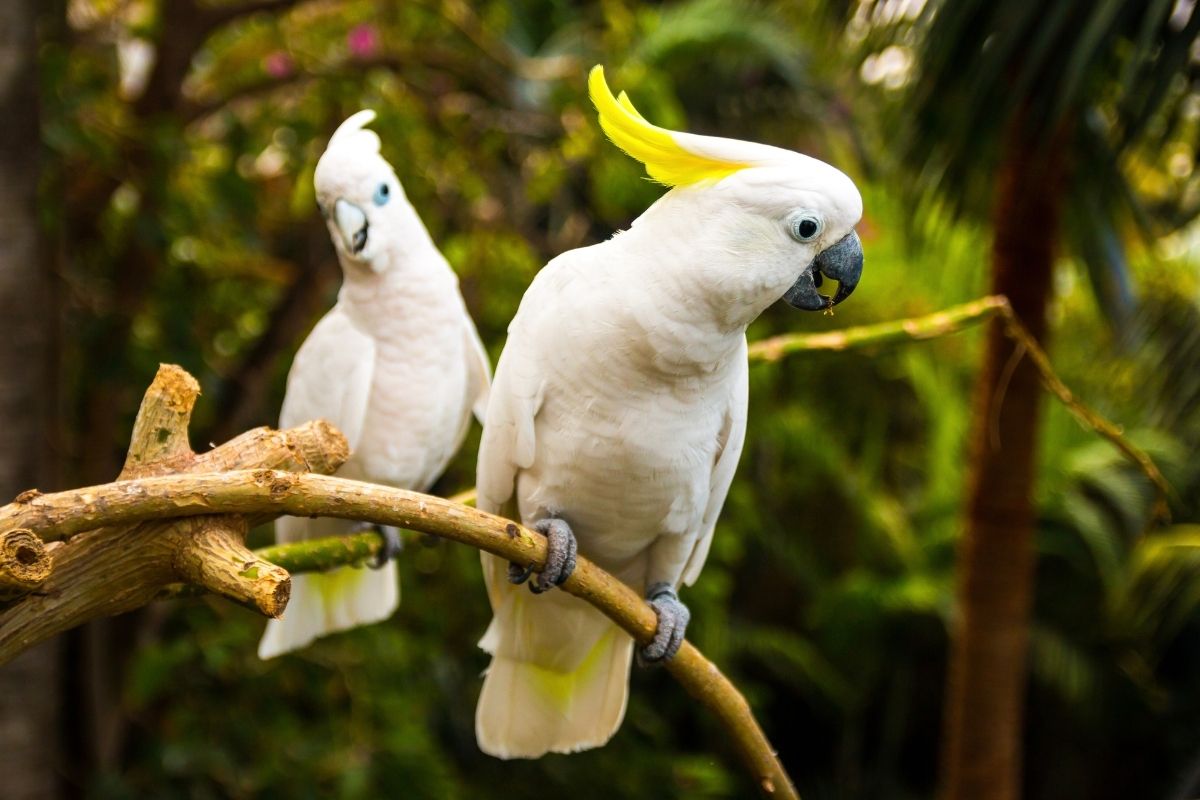 Enter the world of birds at the Paradise Park Farm, where you'll be able to not only catch some of Thailand's native birds in one place, but you'll be able to observe other birds from other regions of the world.
Emphasizing the fact that they are a "farm" and not a zoo by definition, the goal of this park farm is to create a healthy space for birds to be, and to be seen by bird enthusiasts to learn in harmony.
View birds such as canaries, pigeons, parrots, and cockatoos. Step to the next area, and you'll enter a space where you'll get to see other animals such as deer, goats, and ponies.
Stay for lunch, and enjoy the wildlife in its habitat.
26 – Spend an afternoon at one of the best beach clubs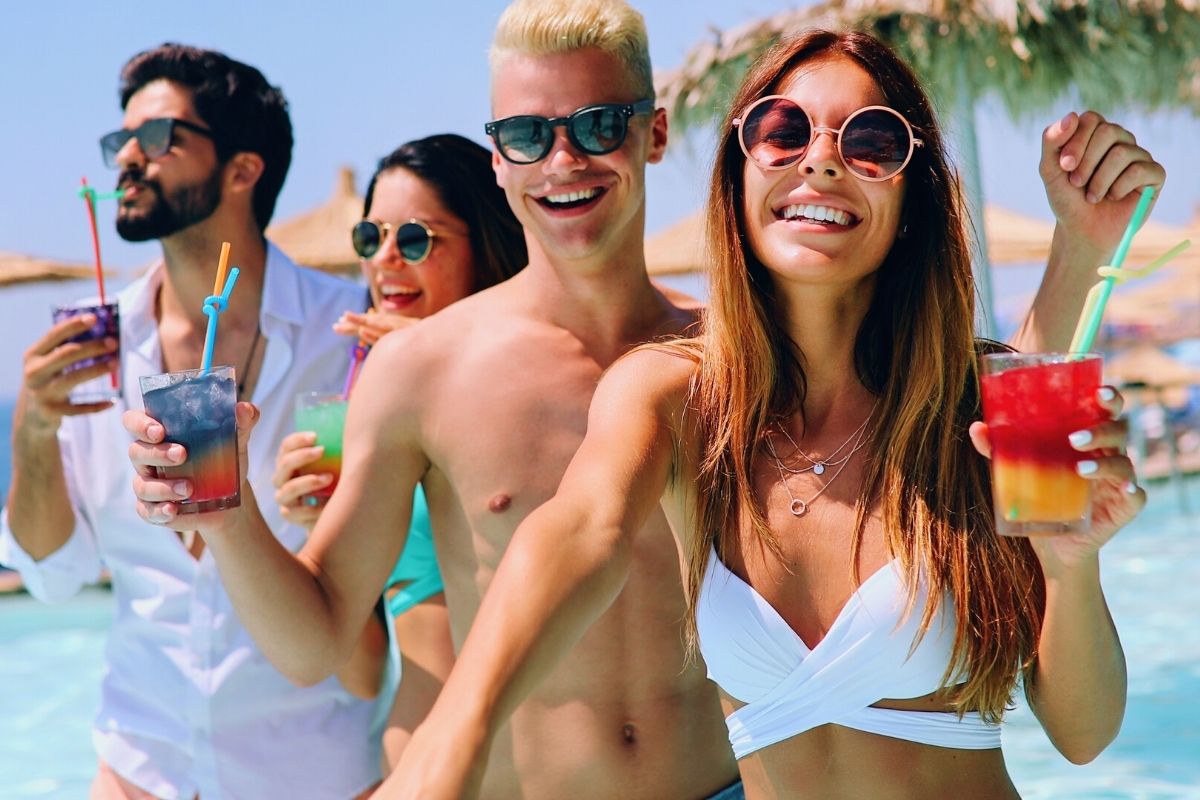 Island life inside Koh Samui also includes enjoying a lovely afternoon at a beach club.
Nikki Beach offers an afternoon lounging beside the pool while sipping on chilled craft cocktails, and enjoying poolside snacks throughout the day. To spice things up, check out their themed evenings where the music, food, and ambiance changes from chill house to Latin soundtracks, and more.
Visit Elephant Beach Club for a relaxed vibe, full meals, exquisite drinks, music provided by talented DJs, and even a live show.
Ark Bar is ideal for those wanting a nice ambiance to experience the sunset while mingling with others with a drink in hand. Opened from 2 pm-2 am, Ark Bar knows how to throw a soiree, and how to create a relaxed ambiance.
27 – Experience the best golf courses on the island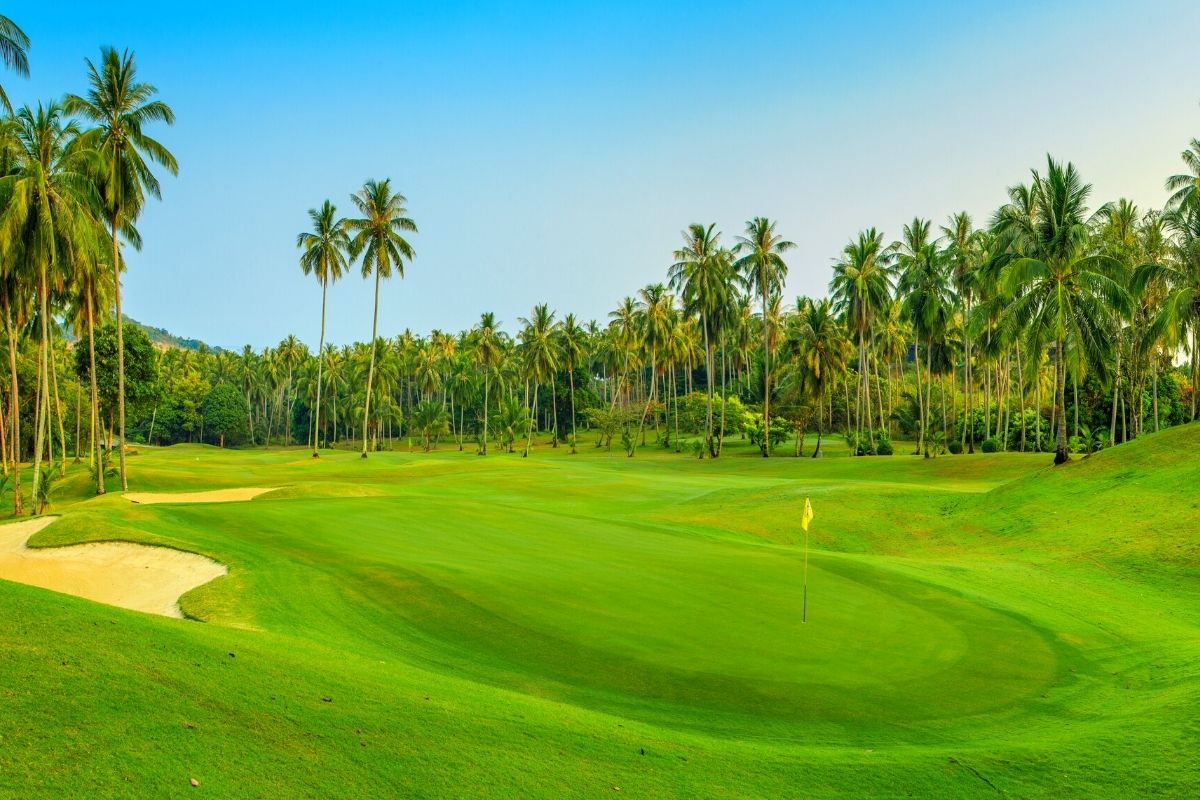 While Koh Samui is known for its incredible beaches, and a relaxed island lifestyle, it also offers amazing golf opportunities, with varied clubs to choose from.
Santiburi Country Club is one of the most famous golf courses on the island, providing 18 holes, various levels of challenge, and leisure, all within the incredible scenery of palm trees and sea views.
Considered one of the island's most scenic golf courses is Rajjaprabha Dam Golf Course, boasting views of Khao Sok National Park, limestone cliffs, and varying degrees of challenging courses.
Royal Samui Golf and Country Club is geared towards those with a bit more golfing expertise, with a 9-hole course (and counting) amongst the beautiful backdrop of lush tropical trees and flora.
28 – Try your hand at making Thai food in a cooking class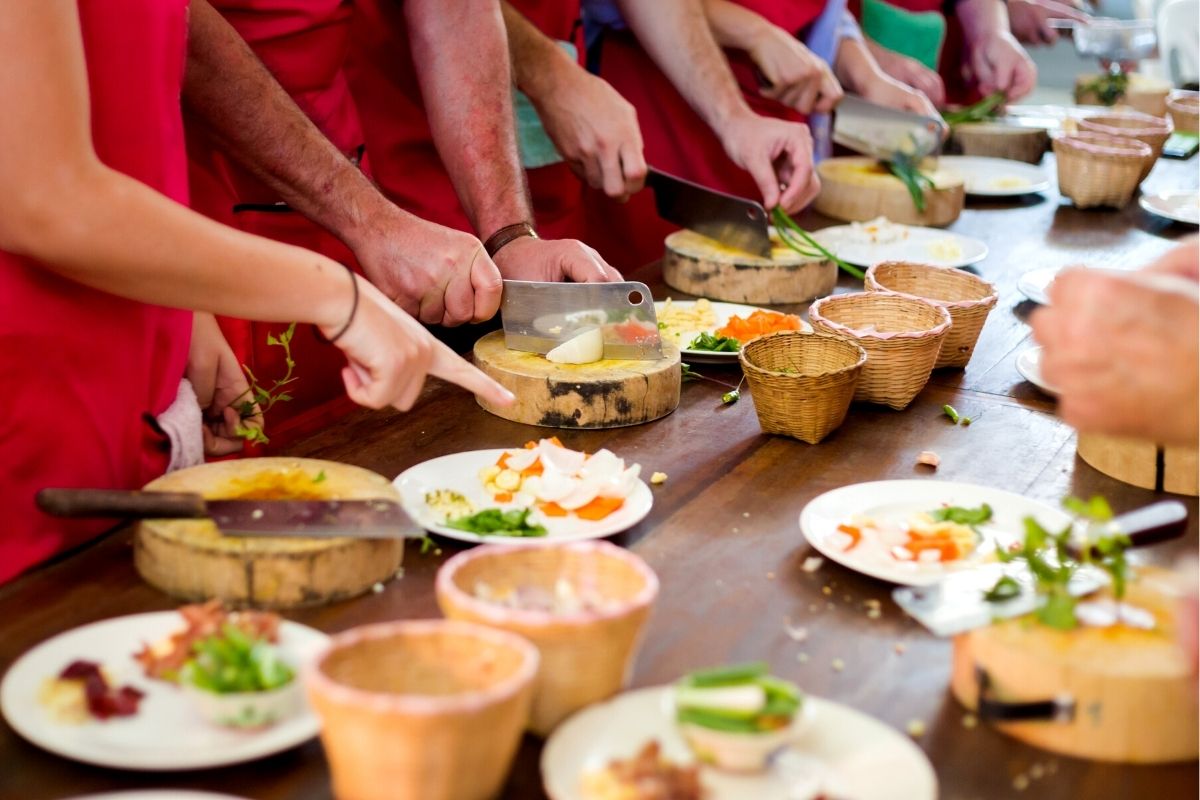 Perhaps one of the best souvenirs that keeps on giving is taking a cooking class, and learning from professional cooks about cultural techniques, ingredient use, and flavors to prepare later at home.
Taking a Thai cooking class offers not only a new cooking skill but also incredible insight into the local food culture, allowing a deeper understanding of one of the most beloved cuisines of the world.
Prepare dishes like the globally famous pad thai, as well as a few local dishes such as Som tam a fresh green papaya salad, Tom yum a shrimp hot and sour soup, and Kalamae a popular coconut desert.
Cooking classes are offered in various places such as Jungle Kitchen, and prices begin at $74 USD.
29 – Admire the views from the Elephant Rock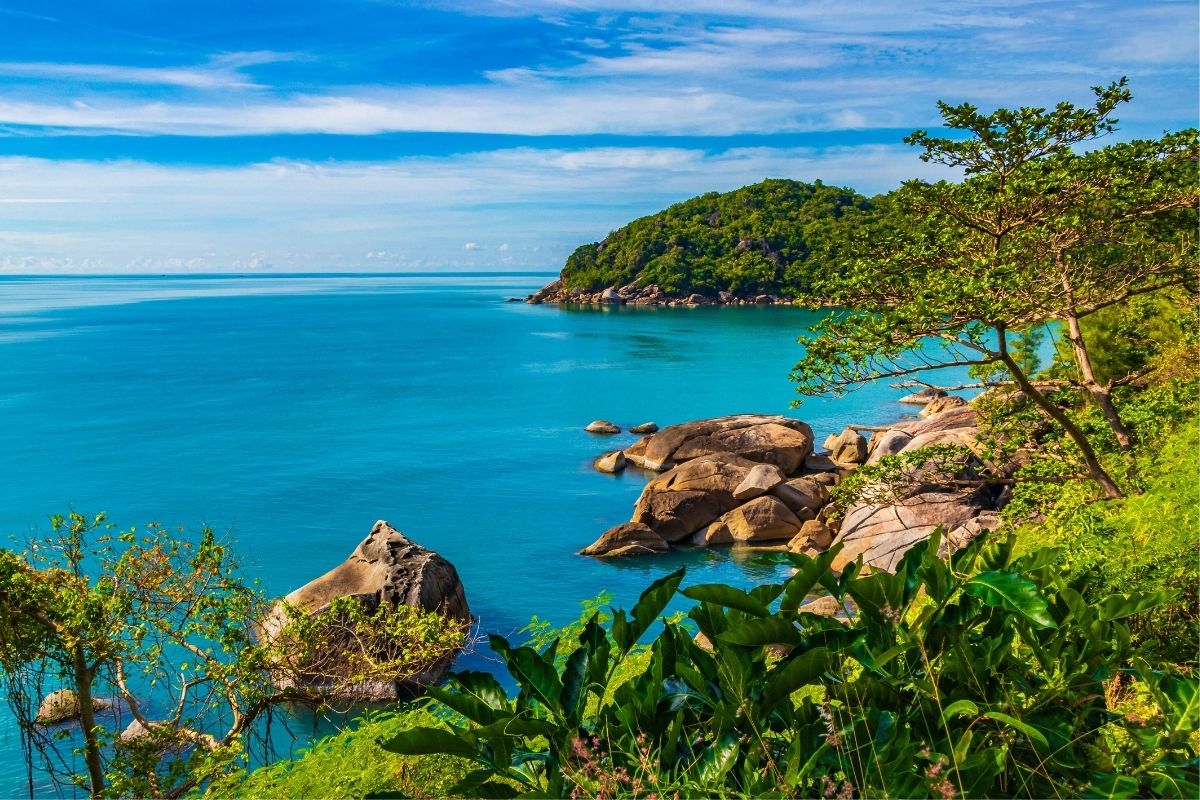 Visually one of the most beautiful natural rock formations to see with your own eye, the famed Elephant Rock is named after its staggering resemblance to an elephant with trees and plants growing on the top of the "elephant's back".
One of the popular activities to do at Elephant Rock is hiking, which if you're up for the challenge, allows incredible views from the summit of the Gulf of Thailand, and nearby islands.
Located between Chaweng and Lamai Beach, two beautiful but busy beaches, the Elephant Rock may not be completely visible, so to see it clearly, you need to walk away from the beach, and in the direction of this fascinating rock.
Pack proper shoes, as the hike may be somewhat challenging.
30 – Watch a Muay Thai fight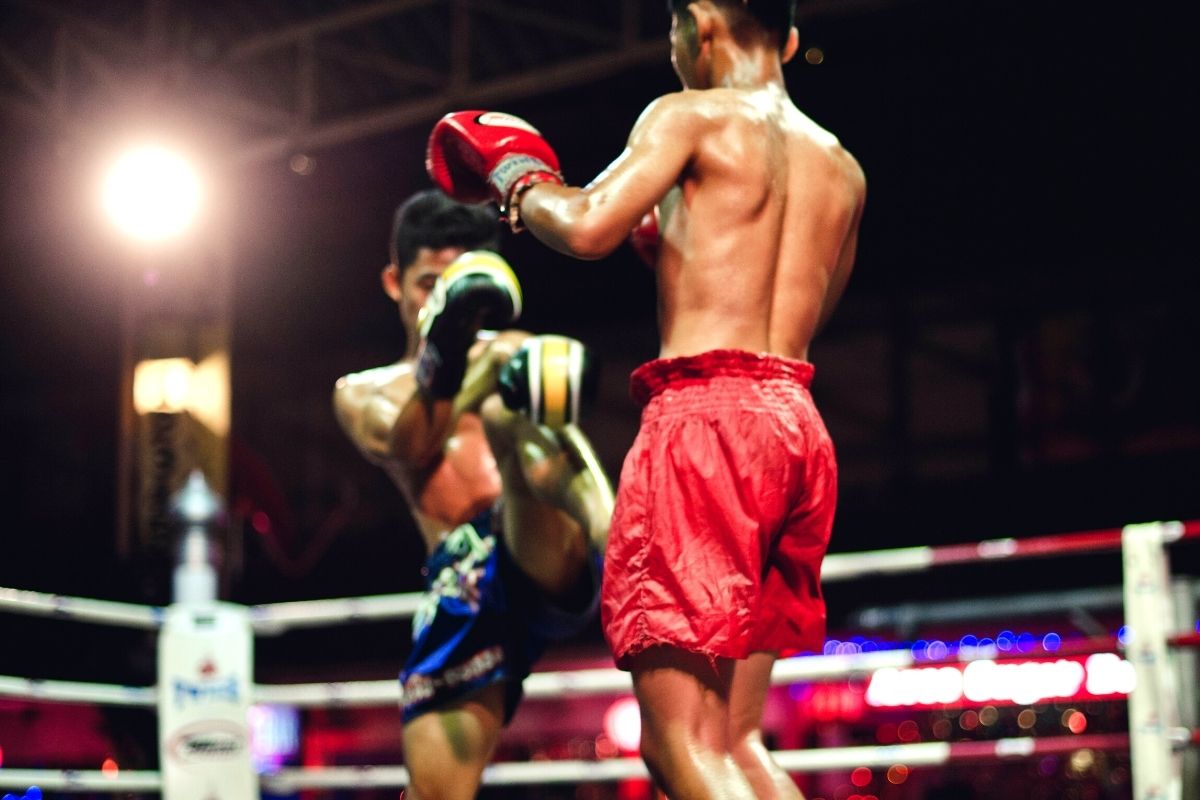 Feast your eyes on one of the oldest forms of Thai defensive sport called Muay Thai in Koh Samui.
Muay Thai is a popular sport that originated in Thailand and combines a mix of using the hands and knees to attack certain weak spots of the body of the opponent. If you enjoy watching wrestling matches, or any form of contact sport, chances are you will really find a Muay Thai fight intriguing.
Utilizing old military techniques, Muay Thai has become somewhat of a national sport, and there are plenty of gyms that will teach those interested in the sport a few moves, as well as the chance to book your seat at the next live match between championship winners.
If watching a Muay Thai fight is on your bucket list, check the schedules on Chaweng Stadium, the first boxing stadium in Koh Samui, or Phetch Bancha Samui Boxing Stadium, hosting a diverse range of fights, from amateurs to professionals.
31 – Shop till you drop at Central Festival Samui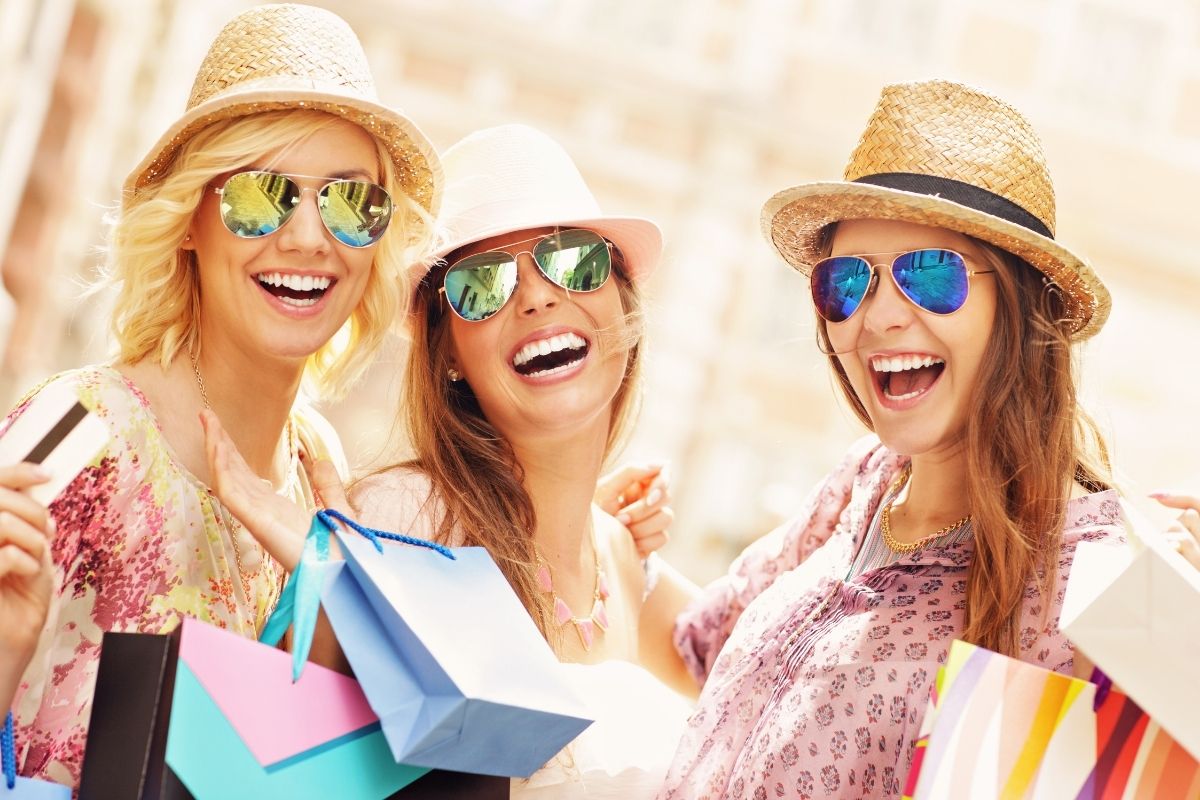 The Central Festival Samui is described as a new shopping experience that has a "Reminiscence of Southern Lifestyle".
Essentially a two-floor outdoor mall, showcasing Thailand and a few international brands that appeal to true shopping lovers.
Inside the mall, you can also find a grand variety of eateries, each from different world cuisines, as well as coffee shops and bars. Children will not get bored with the new playground installations, which offer a variety of fun and activities to entertain them for a while.
After some shopping and dining, stay a while and check for a live concert at the mall's central stage.
Located on the northeast point of the island, the mall is only 10 minutes away from the airport.
32 – Explore the hidden gems of Koh Samui on an ATV and Buggy tours
Join an exciting ATV tour that will take you through Koh Samui's wild and tropical side, as you're guided by a local and pass through stunning sights like dense forests, beautiful beaches, waterfalls, and mountains. Most tours are offered for 2 hours and offer either a morning or afternoon session.
A buggy tour is another exciting and exhilarating experience to get in touch with nature, in a thrilling way. Join a group of 4-5 people and hop on a buggy – an all-terrain vehicle that will go through land and water, so be prepared for that.
Explore hidden corners of the island that you wouldn't otherwise explore, and enjoy lunch depending on the tour experience that you purchase.
33 – Experience the Lamai Markets – Koh Samui's famous markets food destination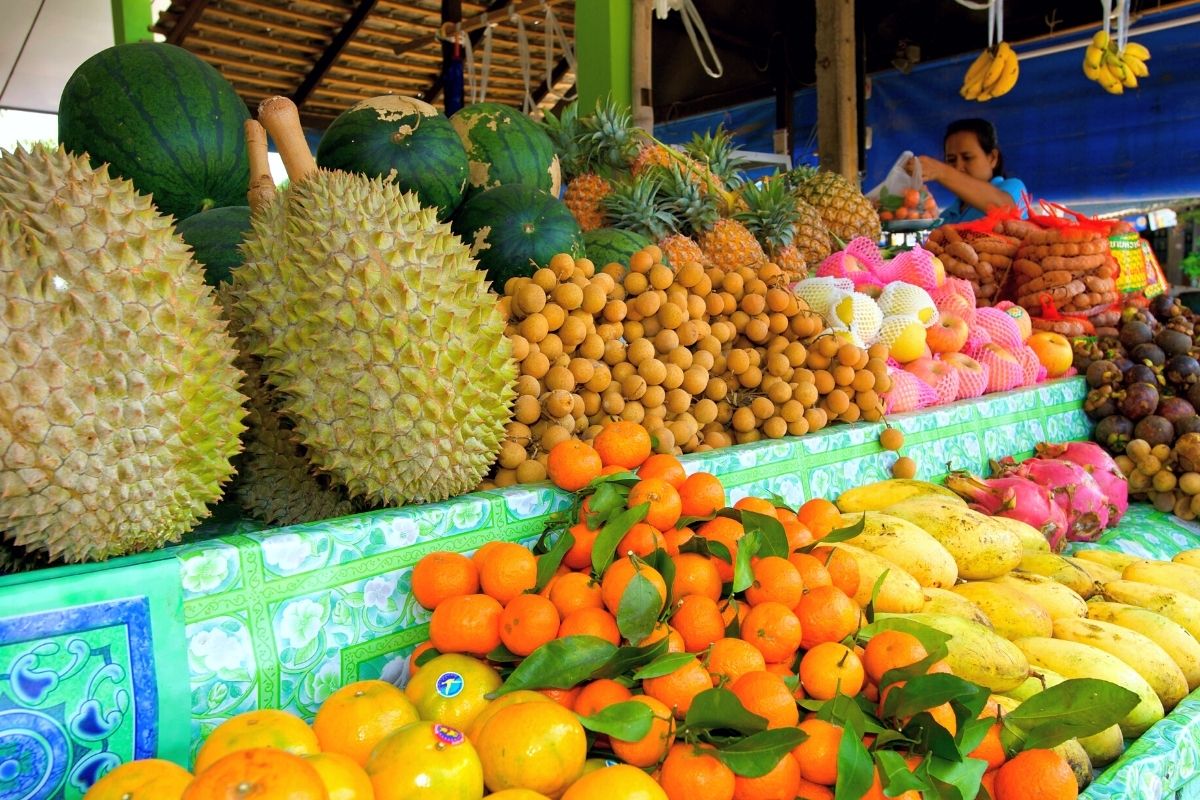 The Lamai Fresh Food Market is a daily market that offers every foodie a flavorful opportunity to explore Thai gastronomy in the best way possible.
Offering traditional Koh Samui delicacies to go, the market is the place where locals buy their fresh produce, protein, and spices. Incredible scents linger around the market, from prepared foods to fragrant fresh ingredients, so be sure to come on an empty stomach.
If you find yourself near the Lamai Markets on Sunday evenings, make sure to check out the Sunday Lamai Street Market, which offers live music, a bustling market life, and even more street food options to choose from.
Try the sweet and delectable Samui pancakes, embellished with Nutella, bananas, and other fresh fruit.
34 – See a piece of Chinese tradition inside the Guan Yu Shrine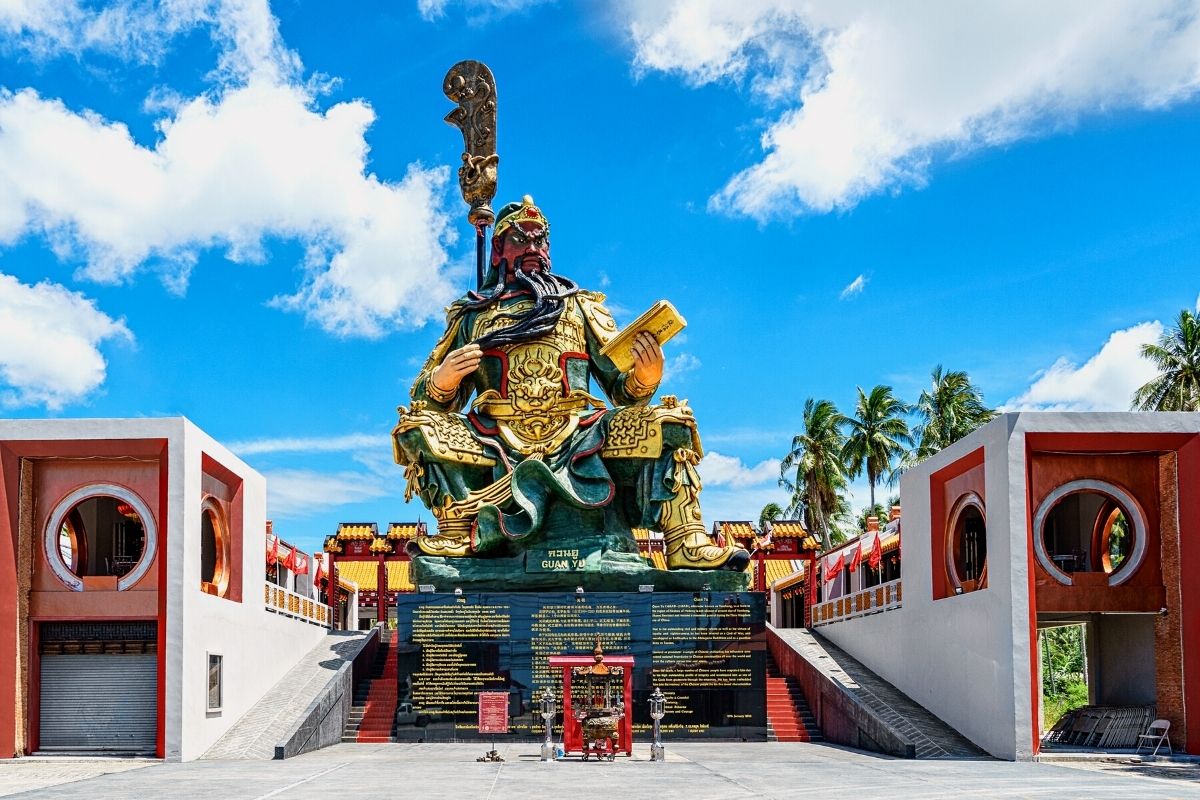 See a piece of Chinese influence on the island, at the Guan Yu Shrine, said to be a statue of a Chinese general known as Yu Chang and founder of the Shu Han Kingdom.
Located within the Chinese community, this shrine is a popular place for weddings, which symbolizes loyalty and honesty.
As you enter the temple, you will be amazed at the murals inside depicting true Chinese culture, as well as the instruments and banners hanging from the ceiling. Without a doubt one of the most noticeable items inside is the astounding Guan Yu Statue, welcoming all who enter.
Throughout time, the shrine has gained popularity and intrigue from visitors, so a visit to see the Chinese tradition in Thailand is one of the most unique things to do in Koh Samui.
35 – Learn about the exciting sport of football golf at Samui Football Golf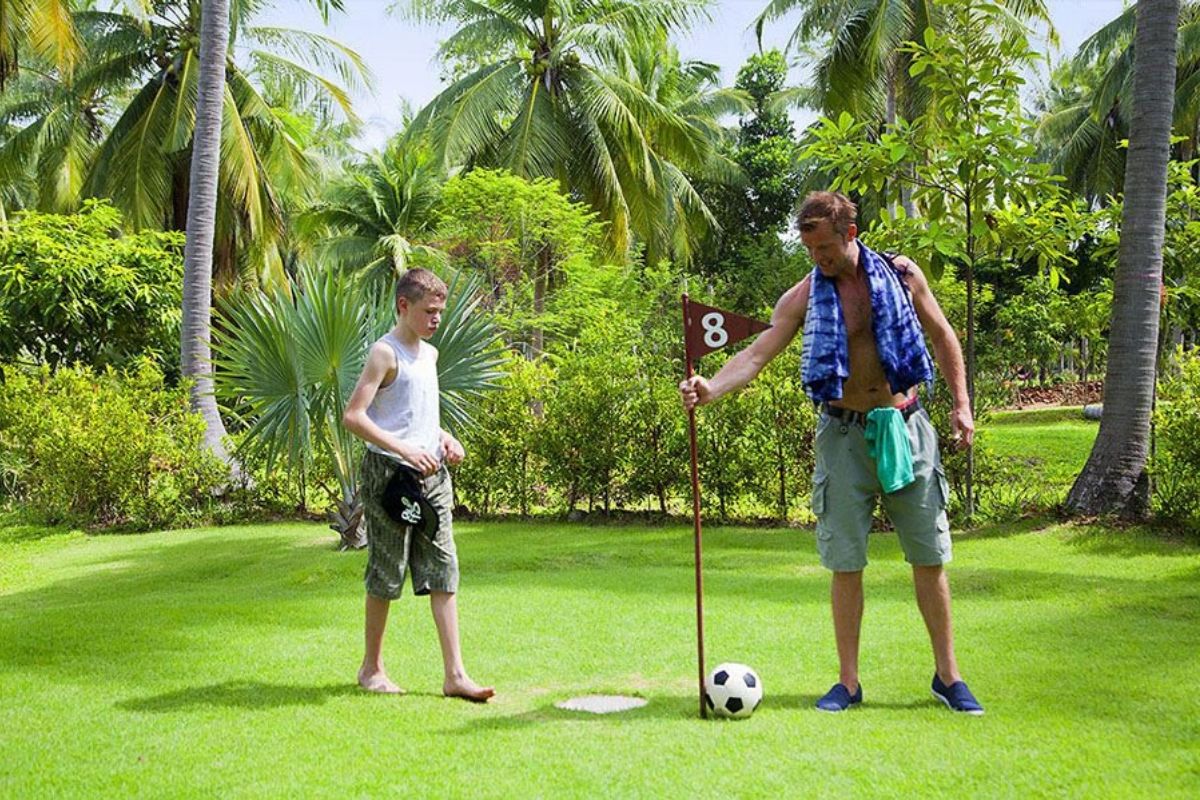 Football golf is a combination of two sports: football (soccer) and golf in which the objective is to kick the ball into the cup/hole of the opposing team in order to score points for your team.
Also known as "Golf Footy" this exciting game originated back in 2005 by children on the island, and today, places such as the Samui Football Golf course. Visit the course, and play in the beautiful botanic gardens of this local game.
Settings of tropical jungle, a perfectly manicured lawn, and trails to walk and explore the grounds are all reasons to visit this unique site and play this local sport with friends.
Entrance prices start at 550 Baht for adults and 275 Baht for children.
36 – Visit the incredible viewpoint at Overlap Stone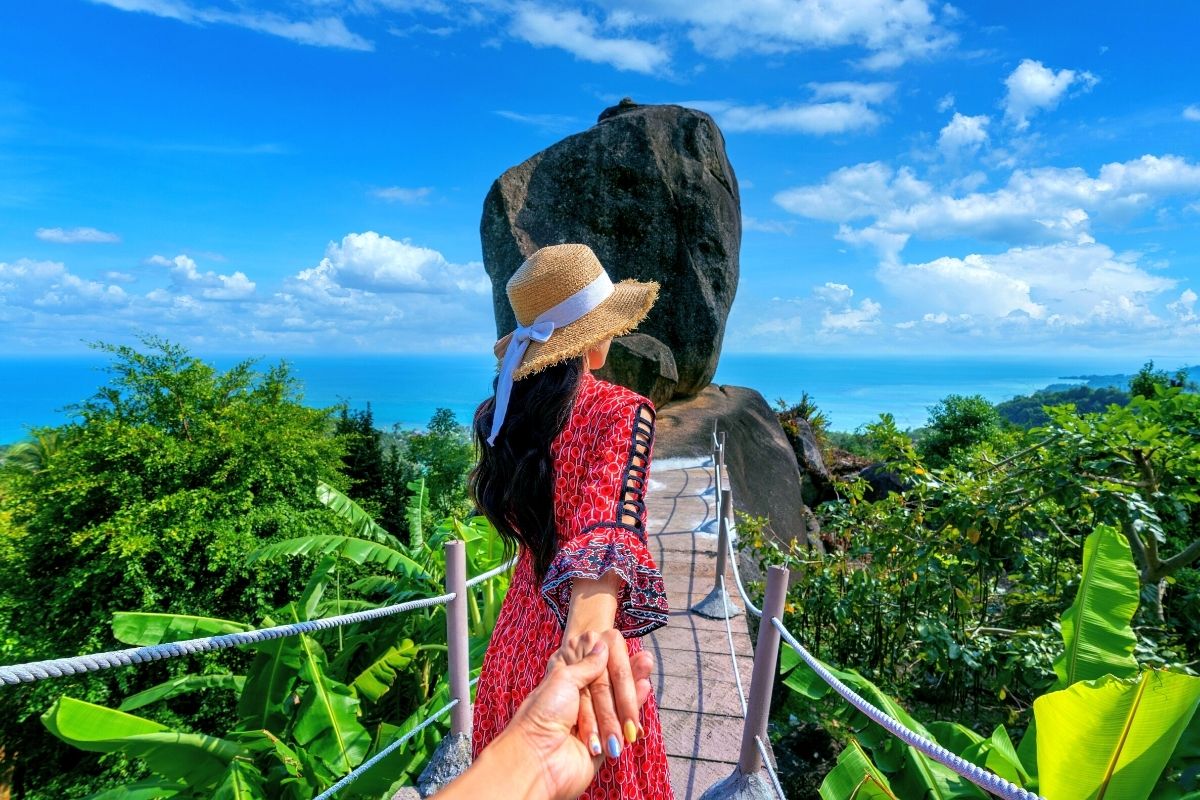 Overlap Stone is a rock that is balanced on another rock, offering incredible views off the east coast of the island, and onto the sea and the coast.
Many people often take cars or taxis to this site and even scooters. If you get to the stone via your own transportation, there is a space to park it near the stone.
After parking your vehicle, there is a quick hike to take that crosses incredible natural sights on a decent trek to the stone.
The stone becomes apparent after a few moments, and the incredible sights make themselves visible. It is recommended that you visit either during sunrise or sunset for an even better view.
There is no entrance fee, but tips are suggested.
37 – Have a rum tasting at Magic Alambic Rum Distillery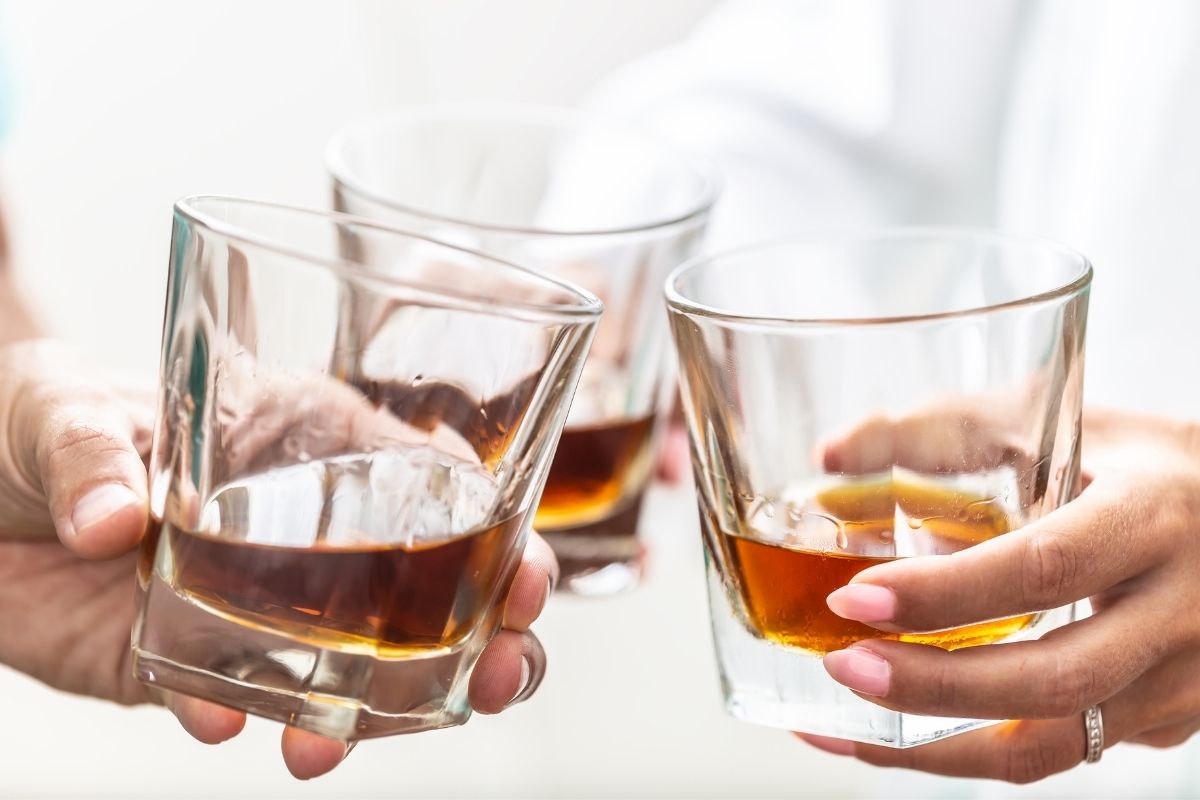 Magic Alambic Rum Distillery is the only site on Koh Samui that grows and makes its own rum and offers visitors a taste of that liquid island flair on their beautiful, natural farm.
Located on the southern end of the island, near the Samui Aquarium and Tiger Zoo, this distillery was created by two French spirit enthusiasts, who created a rum using the Agricole–style distillation process, which creates a fresh and delightful rum.
Participate in a rum tasting at the distillery to see the process, learn about the history of one of Thailand's few distilleries, and the story of the people behind the distillery, and dine inside the Thai-French-inspired restaurant La Route de Rum.
Reservations are recommended, but not required for this experience.
38 – Enjoy the impressive views from Lamai Viewpoint via zip lining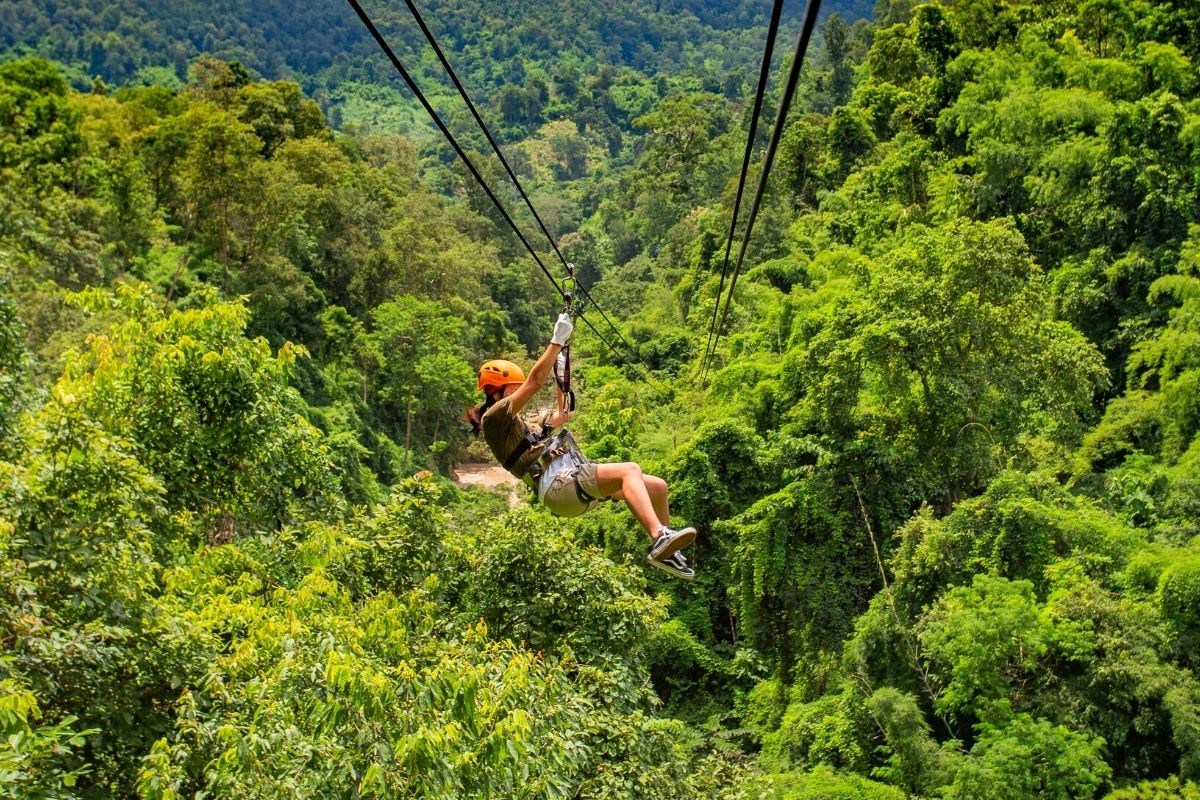 Zip through Lamai mountain's inspiring views by hopping on a zip line to take it all in, unlike anything else.
Perched on top of Lamai mountain is Lamai Viewpoint – a terrace and zip line launching pad, that offers incredible jungle views as well as views of the brave travelers who zip through the tropical forest and valley below.
The distance of the zip line is approximately 450 meters long, and the height of the zip line is 80 meters.
You can purchase tickets at the site, and you can choose from 3 packages which include various other activities along with the zip line. The price for the zip line plus the cable car is 1,000 Baht.
39 – Hike up to Khao Hua Jook Chedi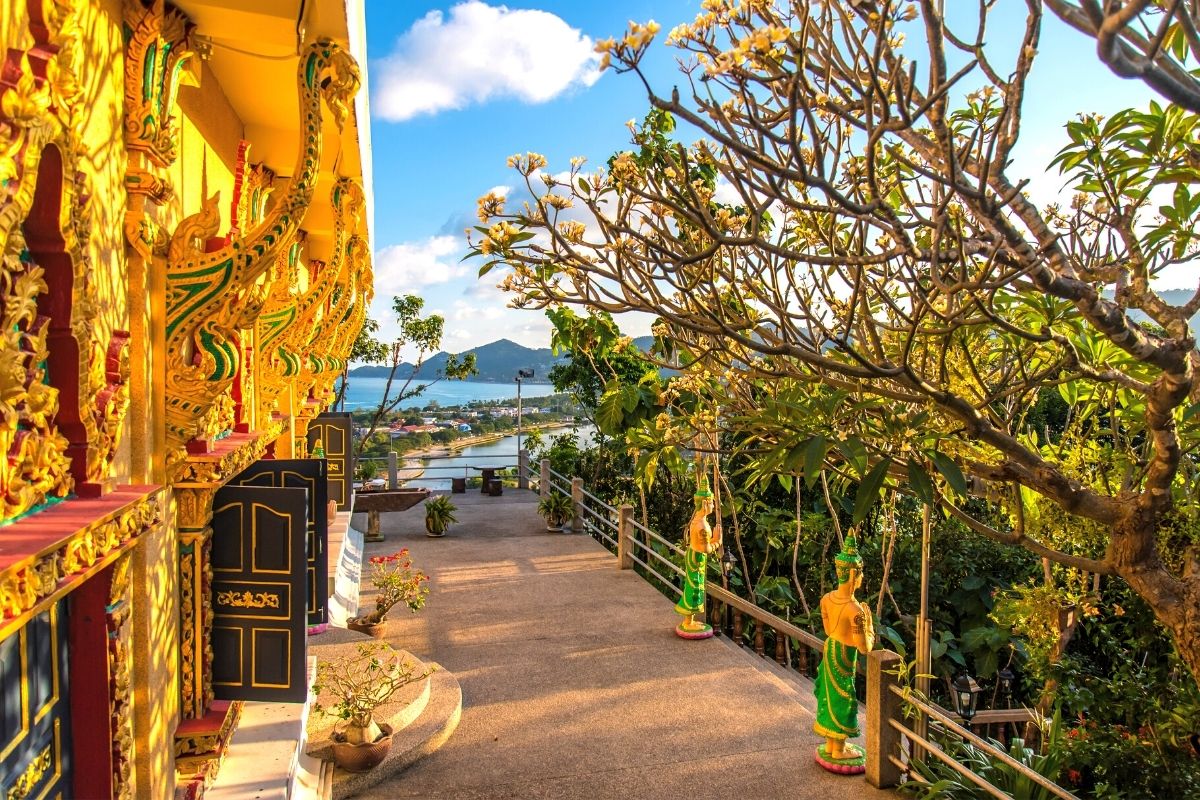 Providing visitors gorgeous views of the sea, the valley, and tropical nature, Khao Hua Jook Chedi is a temple that sits on a tall hill and overlooks one of the best 360-degree views of Koh Samui.
Visitors are welcomed by the ornate temple, dragon statues, and sculptures of Buddha after walking up the curvy journey, but are made up for it by the beautiful views and spiritual ambiance that awaits them at the summit.
Bring your camera, contemplate the view for a little while, and step into the temple as well. Enjoy the interior architecture, altar, and artwork.
The best way to arrive here is driving yourself, or arranging private transportation or a taxi, as it's pretty secluded.
40 – Buy dinner at Nathon Night Food Market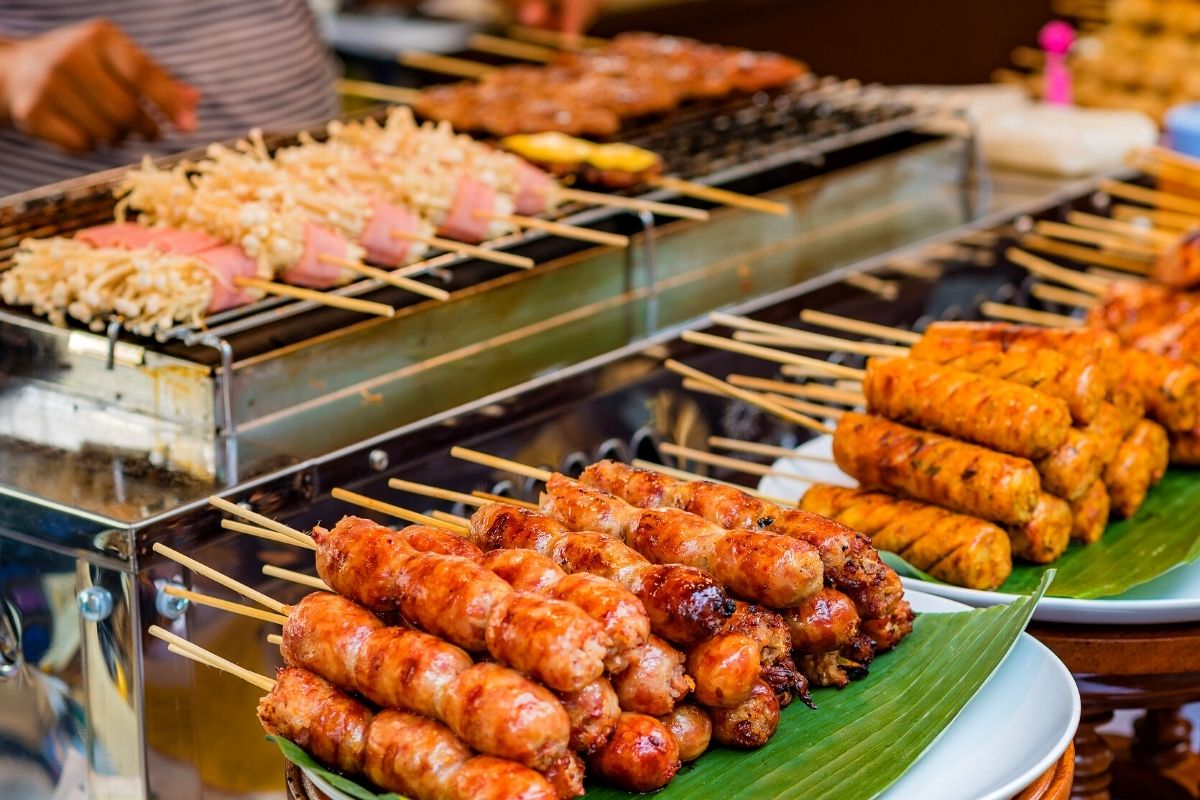 Enjoy the buzzing atmosphere of the Nathon Night Food Markets, offering an amazing array of produce, seafood, meats, and spices.
If you're looking for some takeout options, check out this market for a variety of stalls selling different foods and dishes to quickly buy and eat at home.
Located on the island's west side, Nathon Night Food Market is ready to receive you, and help you if you are in search of specific ingredients, whether you're looking for your dinner, or you're looking for local ingredients to use to cook dinner. One of the market's specialty ingredients to purchase is the Thai curry paste.
The market doesn't have any public transportation nearby, so the best way to get there is via scooter rental, taxi, or driving yourself.
41 – Enjoy Koh Samui Nightlife at the best bars and clubs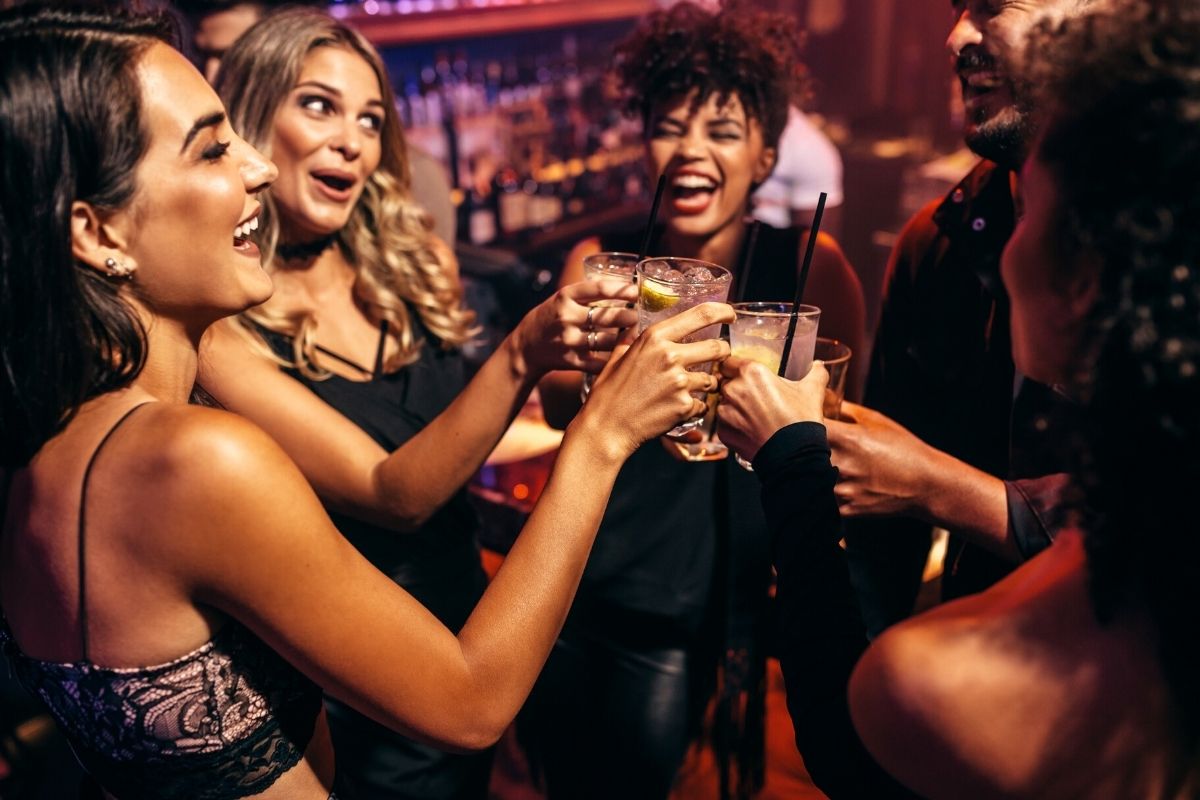 Koh Samui knows how to keep the party going into the night, with some of the best clubs and bars not to miss out on for an unforgettable island night out.
Looking for an entertaining and cultural evening event, check out Paris Follies: Performance By Ladyboys, offering an evening of dance production, lights, singing, and amazing costumes.
Check out Swing Bar, an amazing evening of dance, music, and fire dancers performing amazing dances and entertainment. If you're looking for a "traditional" clubbing experience, then look no further than Fusion Club on Lamai Beach offering a variety of different music throughout the night.
Lastly, The Green Mango Club offers 3 different nightlife experiences – The Green Mango Club, Mambo Restaurant Club, and Sweet Soul Nightclub. Each offering something slightly different, you'll surely find your perfect mood and rhythm to enjoy the evening.
42 – Wave the day away on a sunset cruise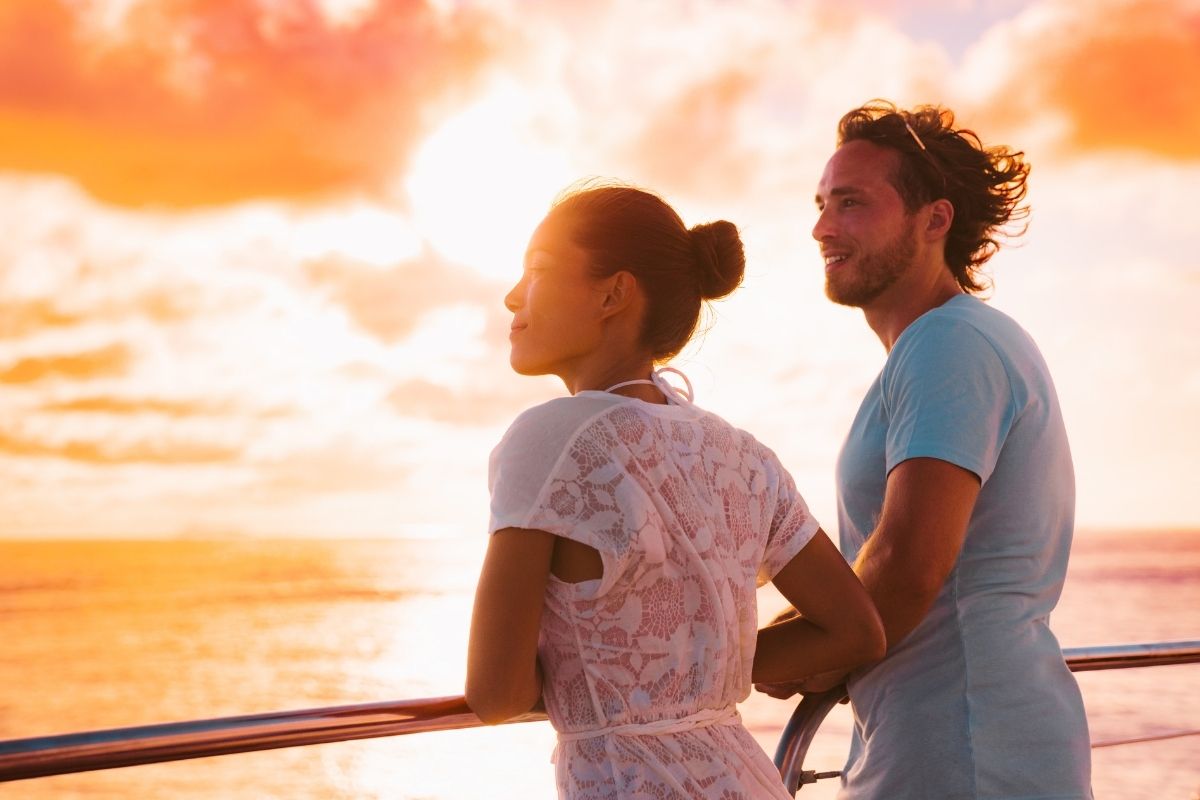 Enjoy the beautiful sky turn dark on a sunset cruise, as you enjoy a refreshing drink and a candlelit dinner as you set sail towards the most epic sunset viewing experience.
Indulge in local Thai cuisine, mingle with other travelers on the boat, and catch a good seat when the sun begins to set upon the sparkling sea.
Many sunset cruises include the meal, drink, boat tour, and hotel pick-up/drop-off, which is a great evening plan that is sure to create wonderful memories.
As you are dining and taking in the sunset, your guide will be sharing from time to time interesting facts about the islands you're passing by, and interesting facts about the island and Thailand.
43 – End your evening at a cabaret show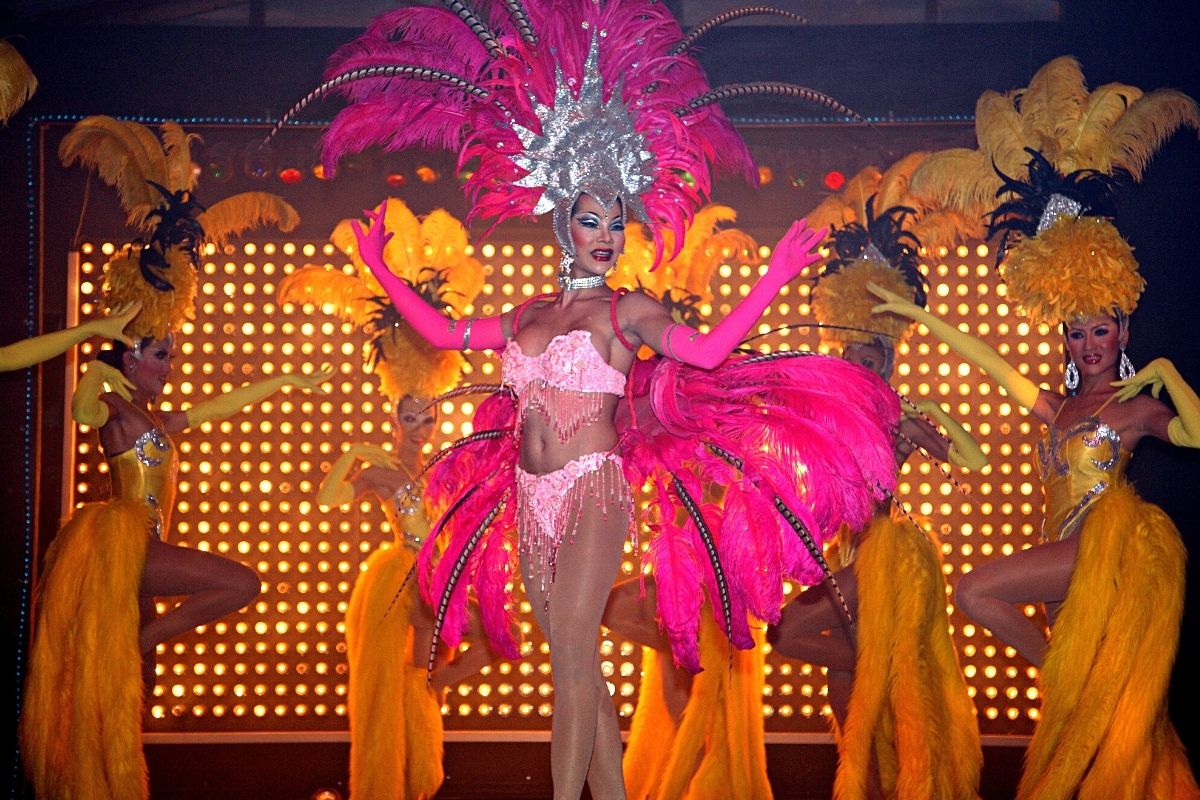 Just as there are clubs and pubs to include in your nightlife plans, there is an incredible list of cabaret shows to consider and make your evenings fun and memorable.
Check out a Ladyboy show at the Paris Follies, a performance by Thai men dressed in woman's clothing, singing famous songs, and dancing the night away while inviting the audience to participate.
Look into Starz Cabaret, which is known for its lively and fun performances and dance productions, put on by "divas" who know how to light up the audience, and sing and dance together to popular songs.
Entrance to a few of these cabaret shows varies, and most often than not includes only the entrance fee and one drink, but not more than that.
44 – Spend a lovely day at Fisherman's Village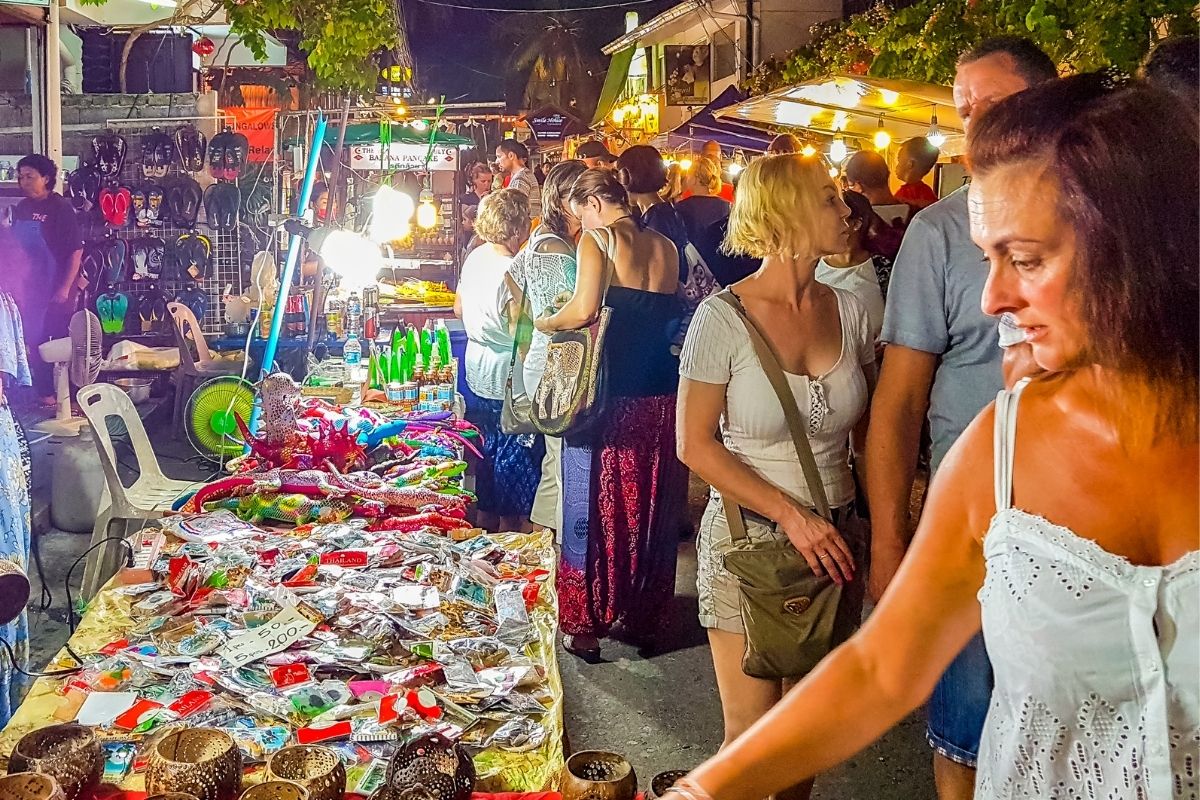 Once occupied by a successful fishing village, Fisherman's Village is a town that has been renovated to attract visitors into its streets. The charming streets of the Fisherman's Village are the epitome of picturesque.
Small, narrow roads, are dotted with cafes, restaurants serving an assortment of Thai cuisine with international dishes, and shops selling clothing and accessories.
Fisherman's Village is ideally very close to Bophut Beach, one of the island's most popular beaches, so you can take advantage of the beach and the town in one go.
If you stay for the evening, make sure to step into the Night Market. Busting stalls serving exquisite Thai food, and desserts flood the streets, and perfume the air of deliciousness.
45 – Rejuvenate with a Thai massage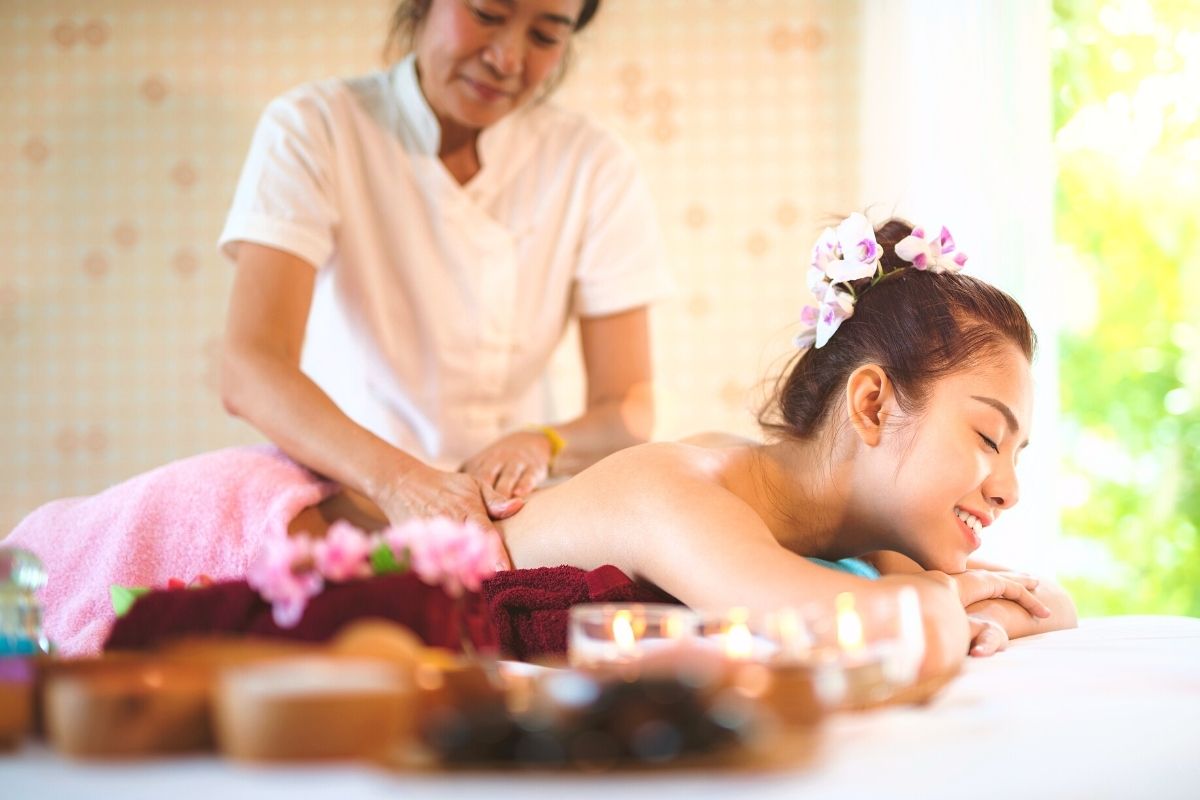 All the sightseeing, ATV adventures, and hiking though can be fun and can wear out your body and energy levels. The best way to combat and rejuvenate is by getting an authentic Thai massage.
Known for their ancient practices and techniques, Thai massages are designed to target tense points in the body to release knots and nerves, to fully relax, and rest your body.
Check out Anodas Spa, offering deep tissue massages and acupressure massage techniques to truly refresh your body. Rejuvenate your body, mind, and soul with the wellness practices at Spa Cenvaree offering aromatherapy sessions coupled with Salt Pot Muscle Melter therapies.
For those on a tighter budget, check out Sakura Spa, offering budget-friendly treatments.
How to get to Koh Samui?
The most common way to get to Koh Samui is via a flight from Bangkok, with frequent airplanes traveling between destinations per day.
Another common way of transport is through a train and ferry from Bangkok's Hua Lamphong Train Station to Bangrak Seatran Pier and where the ferry departs.
Make sure to plan your airport transfer ahead of time, so you don't run into any issues at the time of arrival in Koh Samui.
Where to stay in Koh Samui?
Coco Sunset Beach offers a private 600 feet private beach, with a beachfront restaurant and bar, and is the perfect option if you're looking for a secluded hotel stay.
Stay at Pupha Mansion where Coral Cove Beach is just a few steps away, as well as the infamous Grandmother and Grandfather rocks. Enjoy top Thai hospitality and incredible dining options inside the mansion.
Check out Baan Chillout where Mae Nam Beach is less than 2 miles away, as well as Pink Elephant Samui Water Park. Enjoy air-conditioned rooms with in-suite entertainment.
Consider Rattana House Homestay and enjoy a balcony view of the town or the lush green natural scapes around the homestay. Do work or catch up with friends using the hotel's wifi.
Look into staying at the V.O.P Suite if you're interested in checking out a Muay Thai show, as this lodging option is close to the Petbuncha Thai Boxing Stadium.
Spend an evening or two at the Wazzahresort and take advantage of its proximity to Mae Nam Beach, and stay in a room with beautiful natural garden sights. Enjoy the in-house restaurant, bar, and pool.
Where to go next?
Continue your journey through Thailand's incredible destinations, and explore more of what this abundant country has to offer. Visit other must-see destinations such as Krabi, Phuket, Chiang Mai and Bangkok, and start creating your perfect Thailand itinerary today.
Final thoughts
Koh Samui is an island that for its size, offers more than beautiful, crystal blue beaches. From incredible hiking opportunities, stunning viewpoints that stop you in your tracks, and incredibly fresh island cuisine.
A popular destination, with quiet corners that make you feel like you've taken the road less traveled, are just a few of the sensations that you will feel in Koh Samui.
We hope you enjoyed this list of things to do in Koh Samui, and that we've helped craft your list of activities not to miss.
Happy Travels!