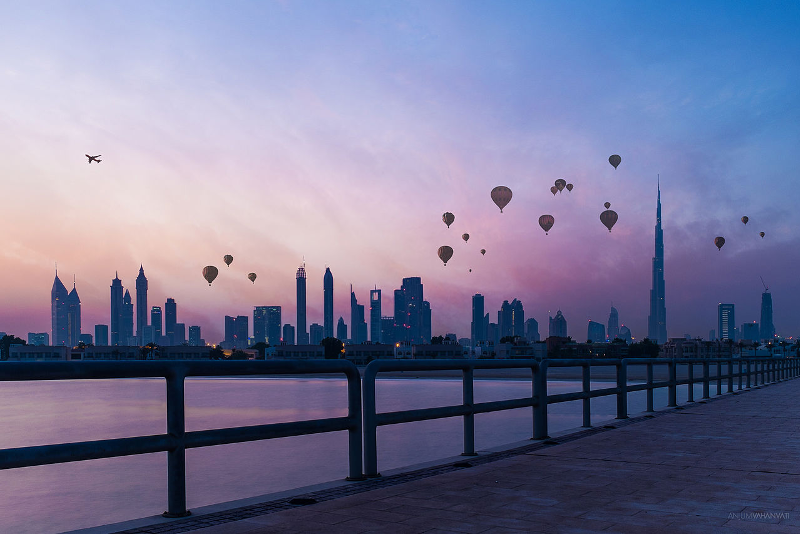 Do you have time to get out of the airport during your stopover in Dubai? See if you like what the city has to offer before you're on your way to your next destination with this list of 18 things to do during your Dubai stopover.
On the Go: up to 24-hours long Dubai layovers
1 – Feel on top of the world in Burj Khalifa
At over 828 meters (2,716.5 feet) and more than 160 stories, Burj Khalifa is by far the tallest building in the world and one of the must-visit attractions in Dubai.
You can go on speeding elevators and enjoy the view from its observation decks on the 124th, 125th and 148th floor.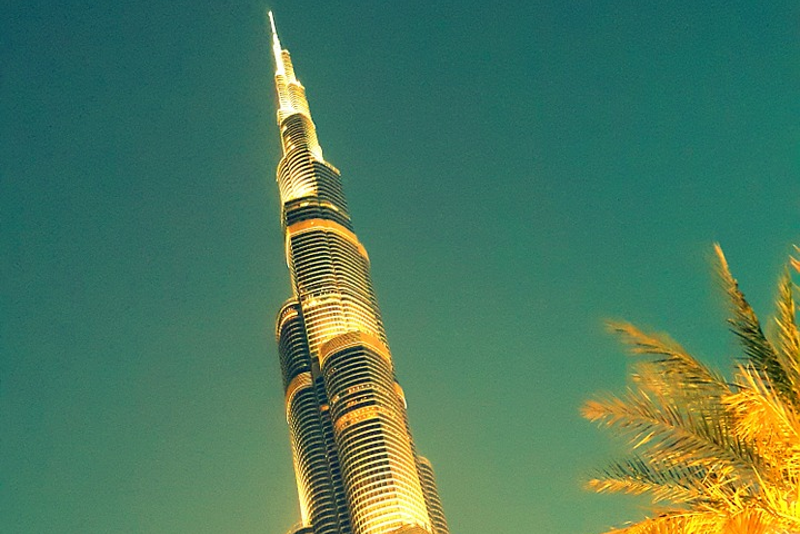 We know that every minute counts when you are between flights, so we recommend that you book skip-the-line tickets.
Audio guides are available at the entrance counter for 25 AED (7 USD | 6 EUR). Guided tours are also available if you want to beat the crowds and learn more about the city and this stupefying feat of architecture.
14 – 35 minutes by car | 33 minutes by public transport from the airport
Duration: 1–2 hours
2 – Get the best shopping experience in Dubai Mall
Don't miss the Dubai Mall on your way back from Burj Khalifa! The world's largest shopping mall features over 1,200 retail stores and hundreds of food and beverage outlets. Dubai mall offers a unique shopping experience.
Grab a bite at Aubaine, pilot a virtual Emirates A380 at the ultra-modern flight simulator on the ground floor before heading to Fashion Avenue to see the latest collections from the finest designers at attractive prices.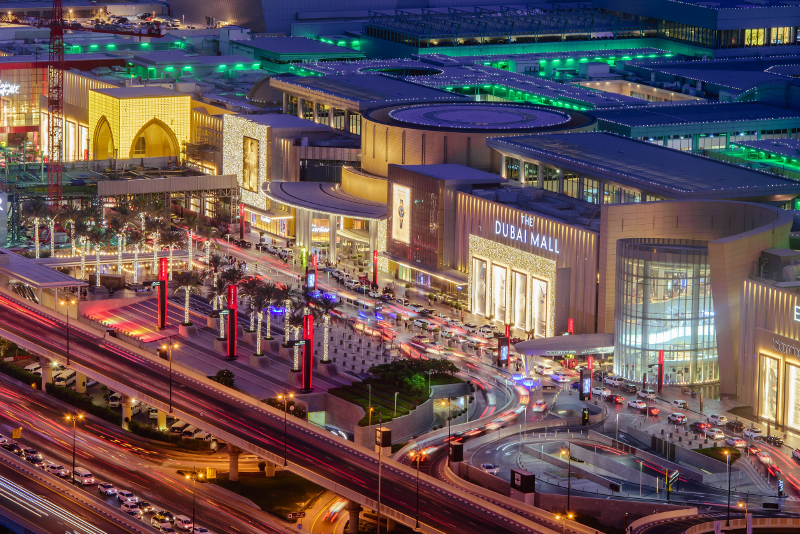 But that's not all; the Dubai Mall has something for everyone including the Dubai Aquarium and Underwater Zoo (5th on this list), the Olympic-sized Dubai Ice Rink, children's entertainment center Kidzania and a massive cinema complex.
Having so much choice can be a little overwhelming. Shopping tours with a fashion expert are available and can be as short as 3 hours, and as long as you want. You can compare shopping tour offers on Tourscanner to find the best fit!
14 – 28 minutes by car | 34 minutes by public transport
3 – Strike gold at the Gold and Spice Souks
The Gold Souk is among the oldest traditional markets in the Emirate.  It is famous for its bona fide gold jewelry shops so a stroll through a market could hardly be easier on the eyes.
The market contains a myriad of authentic products, so it's the perfect place to buy souvenirs, whether they shine or not.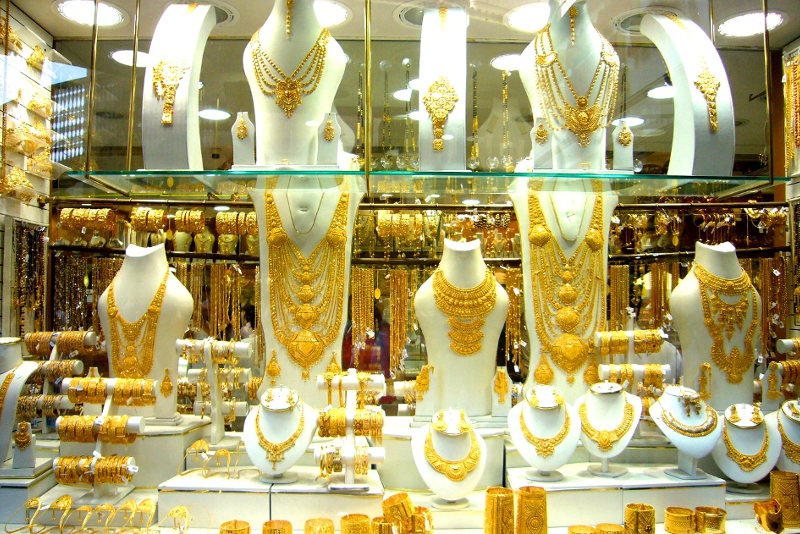 Less than a 5-minute walk away from the Gold Souk. The traditional Spice Souk in the heart of the old town is over 50 years old. Thanks to the centuries-old trading past of the Emirates, which made Dubai a hub on the prized spice route, almost every kind of spice and herb imaginable is available in this atmospheric souk. Make sure you don't miss it!
14- 35 minutes by car | 24- 38 minutes by public transport
 4 – Get the best shots at Dubai Frame
This unusual structure designed by Mexican architect Fernando Doris stands at 150 meters (about 490 ft) over the ground in Zabeel Park. The intelligently placed landmark captures the city's grandiose skyline. Its top side serves as an observation deck where you can get one of Dubai's best views on the old and new town.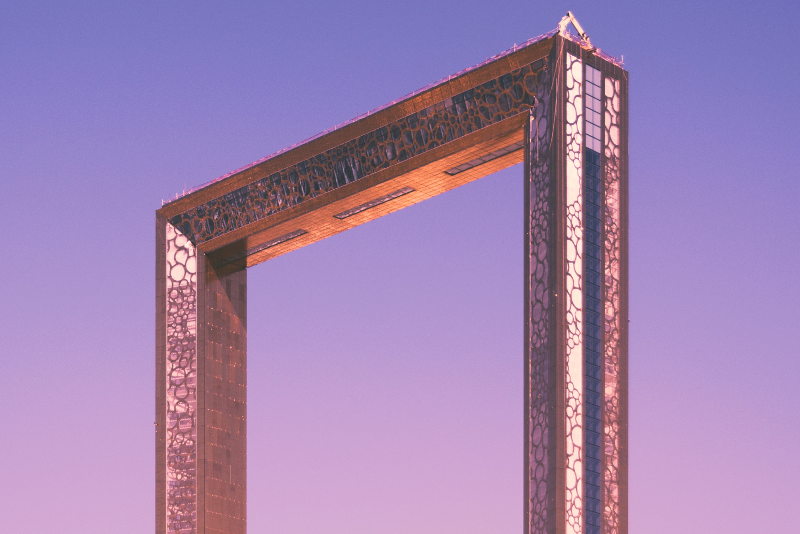 The museum at the bottom of the Frame will tell you all about Dubai's fascinating history and vision for the future. Buy tickets here to skip the line and enjoy the view during your layover in Dubai!
10 – 20 minutes by car ­| 33 minutes by public transport
Duration: 30 minutes – 2 hours
5 – Be amazed by the Dubai Aquarium & Underwater Zoo
Right inside of the Dubai Mall, you will be able to see over 140 species including 300 sharks and rays. The 48-meters long tunnel makes for an awe-inspiring view of the species inhabiting the aquarium.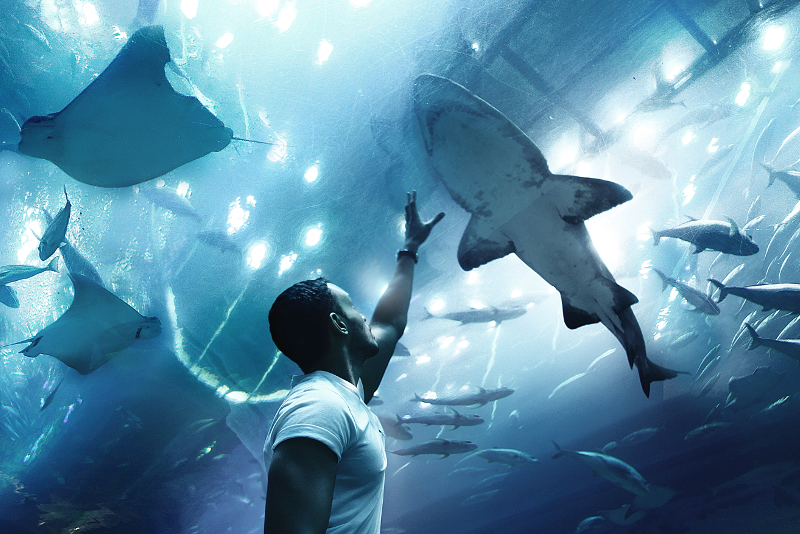 Walk along the Rainforest, Rocky Shore and Living Ocean environments at the Underwater Zoo, and you'll find yourself face to face with dangerous Piranhas, playful Otters, a Humbolt Penguin colony and more.
Click below to compare tickets and find the best one for you on Tourscanner.
16- 28 min by car
Duration: 3 hours – 1 day
Dubai Aquarium and Underwater Zoo tickets
6 – The Museum of Illusions will blow your mind
Unwind from your previous flight and have fun at the Museum of Illusion while you interact with the many installations tricking your senses in unexpected ways.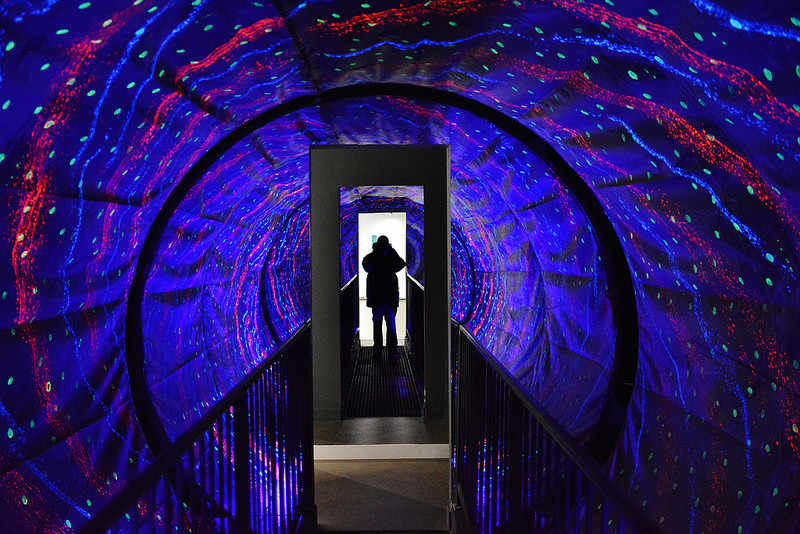 The waiting lines for this popular attraction are usually pretty long, so we recommend that you book your tickets in advance on Tourscanner.
12– 30 minutes by car | 30 –38 minutes by public transport
Duration: 1–2 hours
7 – Helicopter flights will take your breath away
Dubai is a city you want to see from above. Fly over its impressive landmarks and the famous Palm Jumeira and take it all in in one go. If you are short on time and still want to see everything this is the one for you!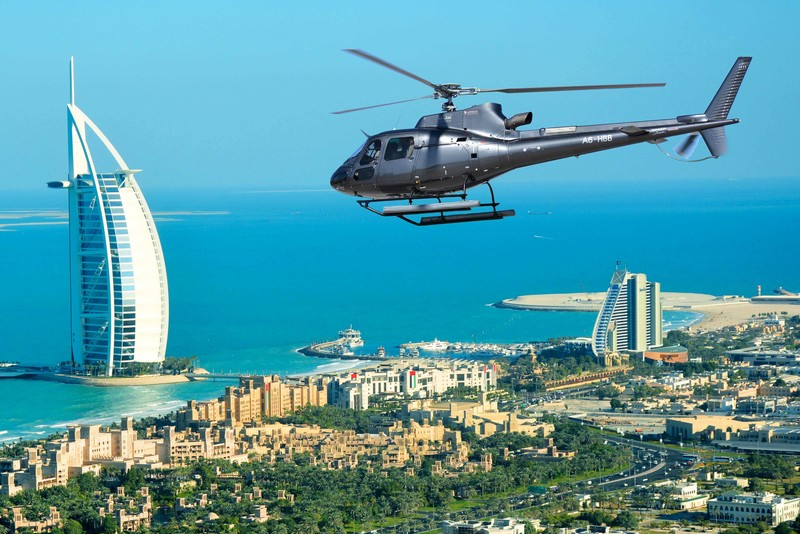 Dubai offers a variety of helicopter tours so go on Tourscanner now to find the best fit!
20-38 minutes by car (to the Dubai Police Academy)
Duration: 12 – 40 minutes
8 – Boat tours: a must do
Boat tours are a must-do in Dubai, and there is a lot for you to chose from. Get on a traditional "Abra" water taxi, a Dhow or a speedboat. At night you can enjoy a dinner cruise,  the stunning Fountain show near the Burj Khalifa, or get live entertainment right next to your table at a very attractive price.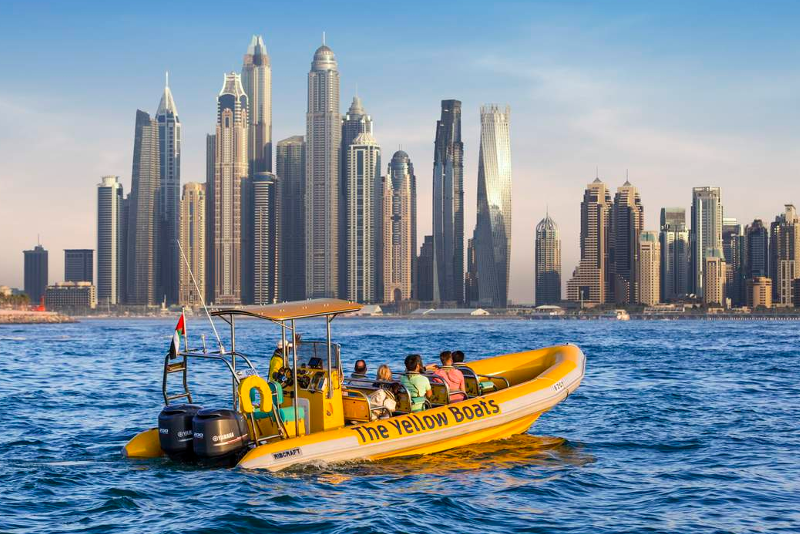 No matter how long you are staying in Dubai during your layover, the time of the day or your budget there is a boat tour you won't want to miss!
Duration: 30 minutes – 4 hours
9 – Take it all in on a city tour
Want to see as much as you can during your layover in Dubai?  See the main landmarks, atmospheric souks and more. You can book an hop-on-hop-off bus tour or the unusual Wonderbus which moves between land and water. You could also choose a more private car tour or a walking tour and let yourself be guided around the wonderful city.
Marvel at the wonders of Old Dubai during a guided walking tour, get to know the local cuisine or enjoy the modern side and its impressive architecture. Compare Dubai tours on Tourscanner and take your pick!
Duration: 1.5 – 10 hours
10 – Get a taste of paradise on JBR beach
You can enjoy water sports and camel rides along the beach, or simply lie down and unwind on the golden sand of JBR beach before your next flight.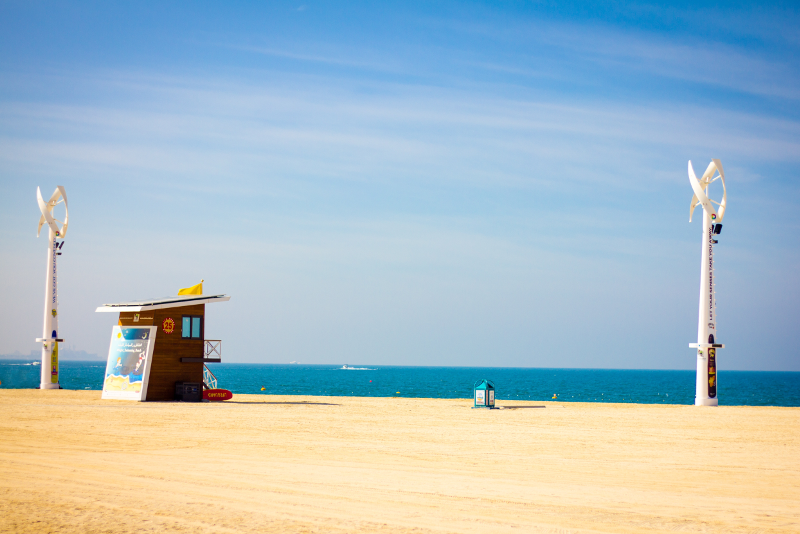 If you are visiting in the evening, there's a good chance that you will encounter some live entertainment on your way to a seaside dinner in one of the many restaurants on JBR beach.
28- 45 min by car / 1h by public transport
11 – Eat some finger-licking food at the Burj al Arab
Besides being a must-see landmark of the city, the Burj al Arab hosts some of the finest culinary destinations in Dubai.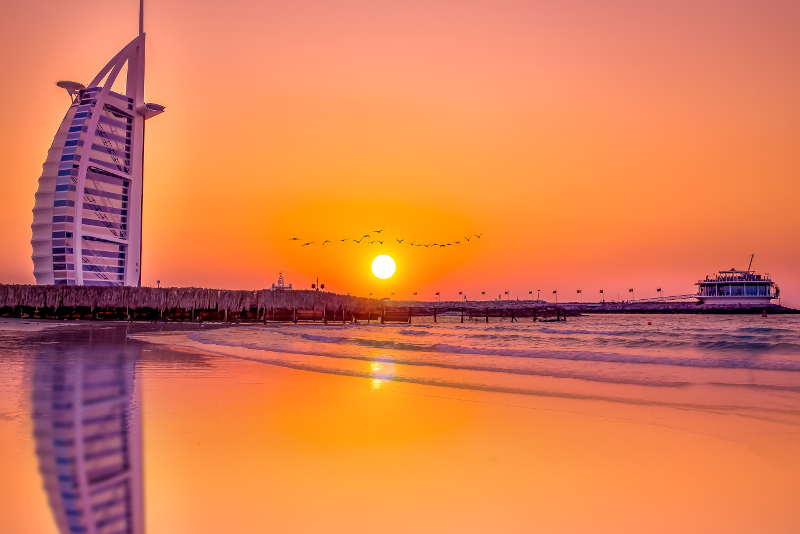 Depending on the time of the day, you can enjoy tea-time at Jumeirah, get cocktails at the aptly named Skyview Bar and try Dubai's best seafood in Nathan Outlaw's aquarium restaurant.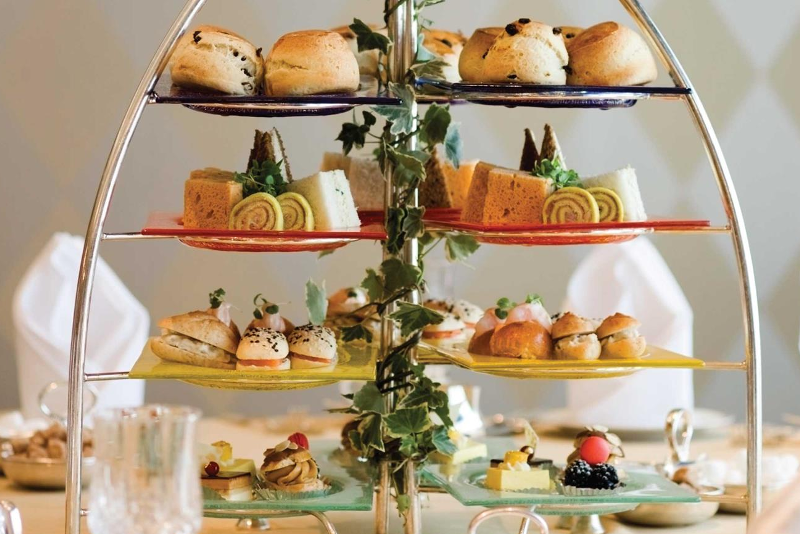 Book your Dubai layover meal on Tourscanner now!
21 – 25 minutes by car
12 – Unwind before your flight at Burj Khalifa's Burj Club Spa 
The Burj Club, a five-story luxury self-care retreat features a state-of-the-art spa, rooftop pool, fitness center, and lounge. The Burj Club Spa is open to the public, you can enjoy a rejuvenating experience with breathtaking views of Downtown Dubai.
Treatments include both holistic and result-driven facials. Spa guests enjoy use of the sauna, steam room, and thermal experience showers.
Keep calm and explore: Dubai layovers of a day or more 
12 – Add a Safari on your Dubai layover bucket list
Desert safaris are one of the most popular things to do in Dubai, and for good reason. Enjoy a thrilling drive in the desert in a jeep or quad bike and cross sandboarding off your bucket list during your layover in Dubai and discover why this is an unmissable part of your trip.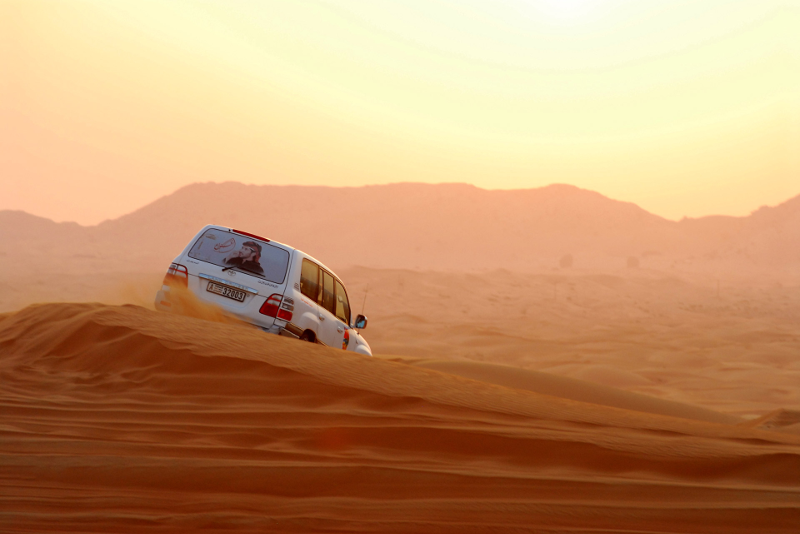 You can compare the many combinations of fun desert activities and unforgettable dinners on our website, and it's cheaper than you think!
13 – Spend a day out of time on a camel safari
A camel ride could be part of your adrenaline-fueled desert safari. However, if you just want to spend a day out of time on the back of these impressive creatures, there are quite a few camel treks to choose from.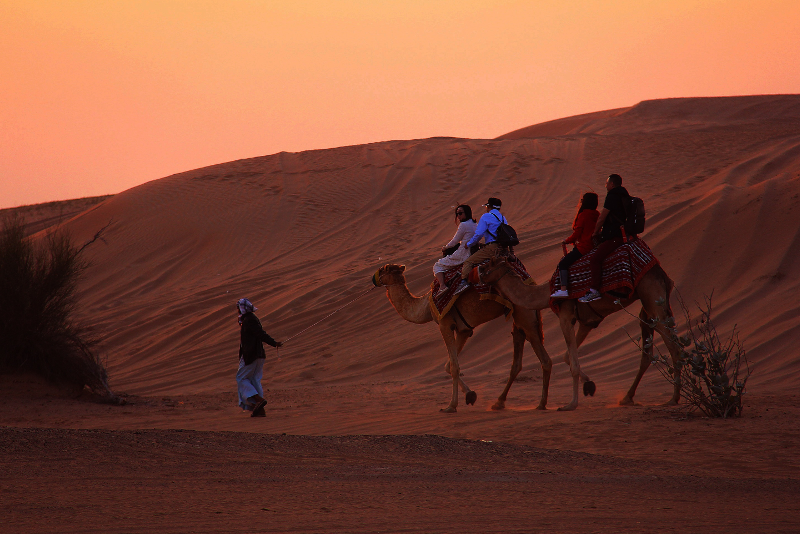 Start your day with a sunrise camel trek after a lovely breakfast, or witness the jaw-dropping sunset amid the dunes before heading to dinner and possibly some live entertainment.
You can select your magical experience now on Tourscanner, enjoy the ride!
14 – Go on a day trip to Abu Dhabi from Dubai
If you want to get to know the United Arab Emirates a little bit more during your layover, leave Dubai for a day trip to Abu Dhabi, the modern and cosmopolitan capital of the Emirates.
Find out more about Abu Dhabi's religion and traditions with a visit to one of the world's most impressive landmarks, the stunning Sheikh Zayed Grand Mosque.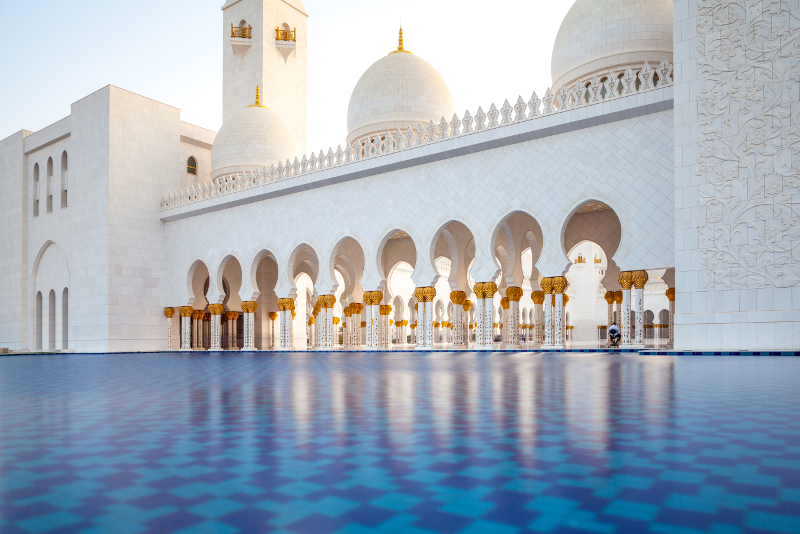 After that, you can head to the spectacular Louvre Abu Dhabi, make sure that you get skip-the-line tickets and maybe a guided tour!
Head to the Corniche and enjoy a stunning eight kilometers of waterfront that includes children's play areas, cafés and restaurants, and the Corniche Beach.
Ride the world's fastest roller coaster at Ferrari World Abu Dhabi, have a giant splash at Yas Waterworld and relax on a white sandy beach. The capital is also a paradise for golf lovers!
Click below to plan your day trip to Abu Dhabi on Tourscanner
15 – Discover Hatta on a day trip from Dubai
Escape the bustling city for a day and head to Hatta, a 90-minute ride from Dubai in the rocky mountains.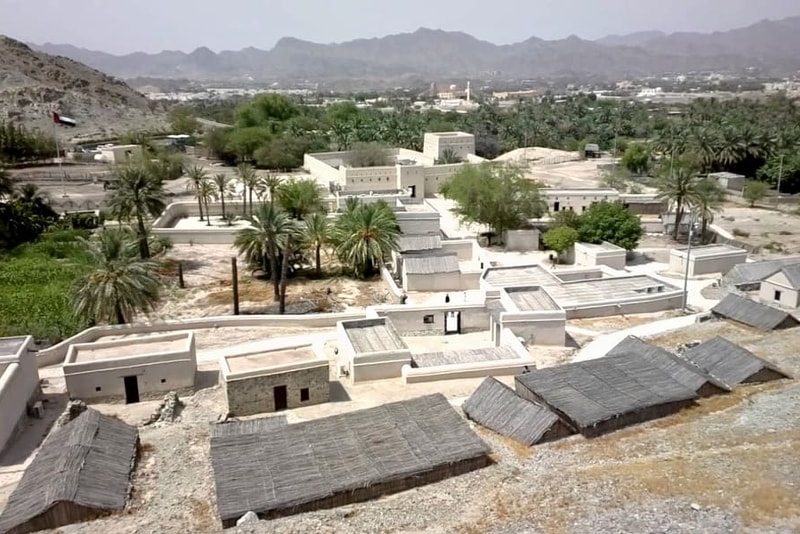 Get lost in the mesmerizing landscape and snap a picture of the dream-like Hatta Green Lake on a mountain safari before heading to the Hatta Heritage Village showcasing life in ancient times. On your way to the Hatta Fort, you will see restored huts and learn about the history of its inhabitants.
Compare awesome day trips to Hatta here.
16 – Spend a fun-filled day in a theme park
The city offers a plethora of theme parks to go to for families or friends looking for a thrill. Motiongate Dubai hosts 27 themed rides from Lionsgate, Sony Pictures, and Dreamworks.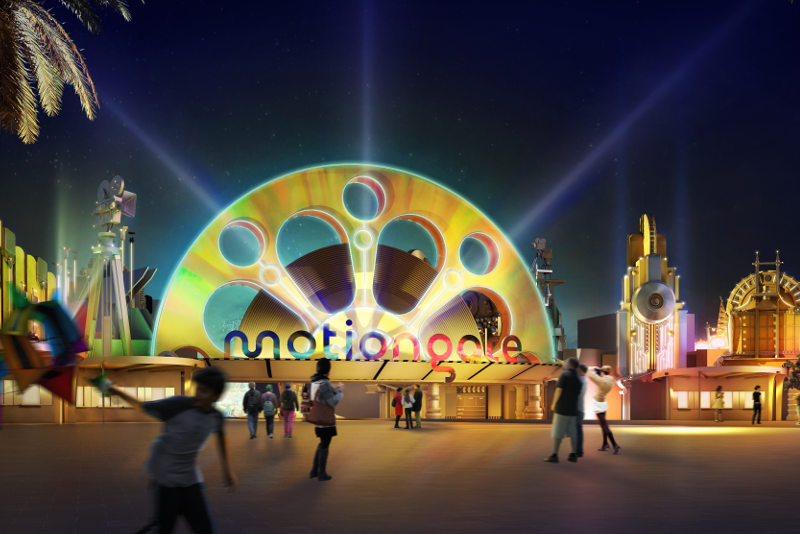 Put on your swimsuits and head to one of Dubai's huge waterparks, which include the LEGOLAND Waterpark. You can also spend an awesome day in the first Bollywood-themed park, Bollywood Parks.
Learn more and get tickets to these theme parks and many more on Tourscanner.
17 – Get your adrenaline pumping 
Dubai is a hotspot for daredevils. Start with the Jebel Jais zip line, the longest of its kind at a whopping 2832-meters (9291 ft) glide. It will take you from the top of Jabel Jais mountain, the highest point in the UAE, to the ground at speeds which can go up to 150 kilometers per hour ( 93 mph).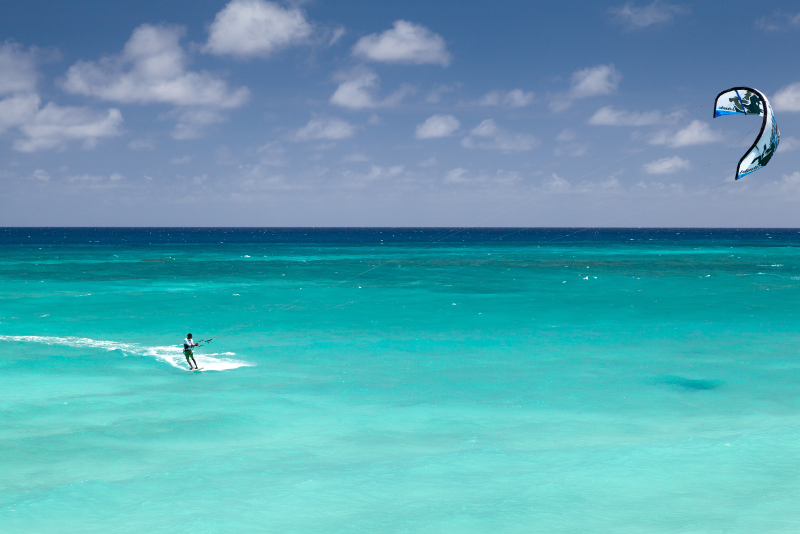 Feel the adrenaline while on a tandem skydiving experience, an indoor skydiving experience is also available for a fairly cheap price.
Dubai is a paradise for watersports lovers and amateurs: from jet ski to flyboarding, wakeboarding, kitesurfing, windsurfing, surf lessons and stands up paddle, there are plenty of tantalizing activities for you to enjoy during your layover in Dubai.
18 – Sit back and enjoy the La Perle by Dragone show
Dubai's first permanent show could be the last stop of your layover in Dubai before your late-night or morning flight.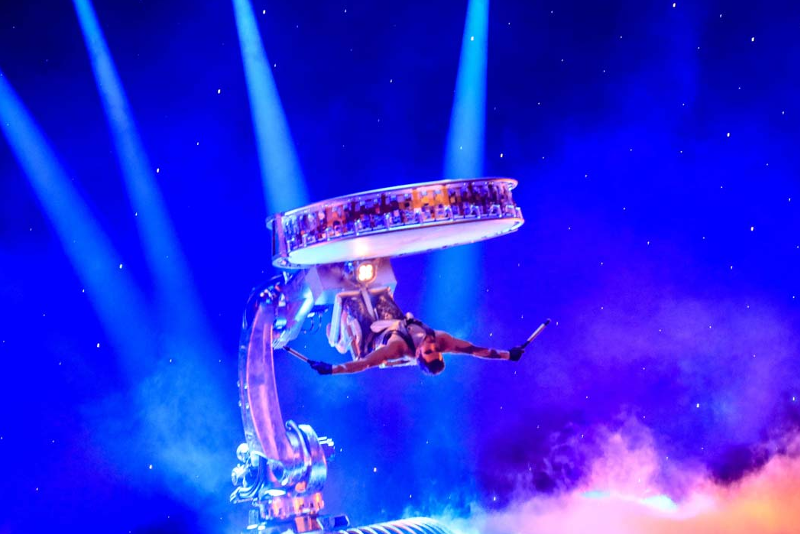 By director Franco Dragone who previously worked with Cirque du Soleil, the show features a cast of 65 artists from 23 countries. Sit back and be amazed by the light art, acrobatics, acting, aerial stunts, underwater performances and much more!
14 – 18 minutes by car
Duration: 90 minutes
If you have more time to discover Dubai, take a look at our guide of the top 100 things to do in Dubai!