Discover a wealth of amazing sights and experience desert traditions and culture when you embark on a day trip to Hatta from Dubai. During your adventure between the largest and most populous city in the United Arab Emirates and the mountainous inland enclave, you will pass through and by awesome, rugged scenery, gleaming bodies of water, intriguing wildlife and ancient structures.
If you're lucky enough to be in Dubai on a business or leisure trip, carve some time out in your itinerary to wander a little farther afield.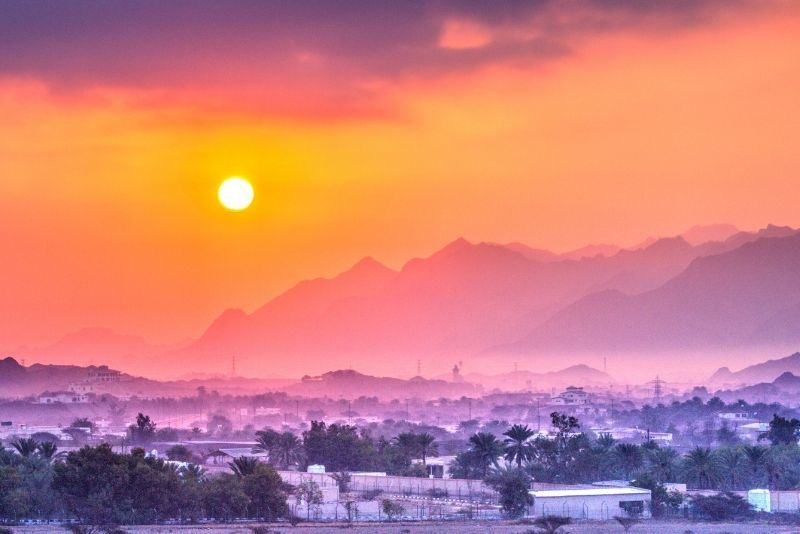 Here's all you need to know on Hatta, one of the most interesting daily trips from Dubai.
What will you see during your Dubai to Hatta day trip?
Jebel Maleihah
Also known as Fossil Rock, this nature preserve in the desert is so-called because of the marine fossils and shells that you can still find in the soft red and orange-tinged sands. Millions of years ago, small sea creatures lived on the seafloor when water covered much of Arabia.
Camel Rock
One of the most intriguing sights on an excursion from Dubai to Hatta is Camel Rock, an extraordinary looking monolith that is shaped like a camel. It stands tall over a desert area that is dotted with fossils that date back more than 80 million years.
Hatta Dam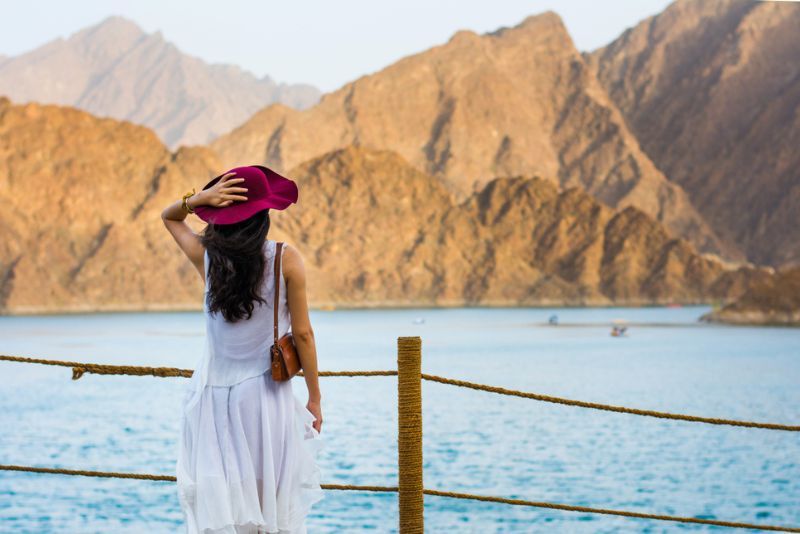 During a day trip from Dubai to Hatta, you may also be taken to Hatta Dam. The vast lake formed by the barrier is a beautiful sight with clear blue waters reflecting the surrounding mountains.
Khor Kalba
A nature reserve of mangroves and wetlands is a paradise for bird watchers. This green oasis amid the rugged Hajar Mountains is home to many species unique to the area, such as the Arabian-Collard Kingfisher. Stroll among tidal creeks, sandy beaches and mangroves to revel in the area's natural beauty. On your way to Kalba, you'll drive through the Kalba Mountain Tunnel, which is the UAE's longest tunnel.
Fujairah Fort
Tour a striking looking stronghold that is thought to date back to the 16th century, making it one of the country's oldest castles. It is also one of the largest. The sand-colored fort sits on top of a promontory and features circular watchtowers, halls and a courtyard. This fascinating structure overlooks the remains of approximately 40 mudbrick houses.
Hatta Heritage Village
Discover what Dubai's original villages were like with this sprawling recreation of a historic settlement. Visit traditional houses displaying ancient artifacts, watch cultural events and browse shops selling locally made handicrafts.
What can you do on a day trip from Dubai to Hatta?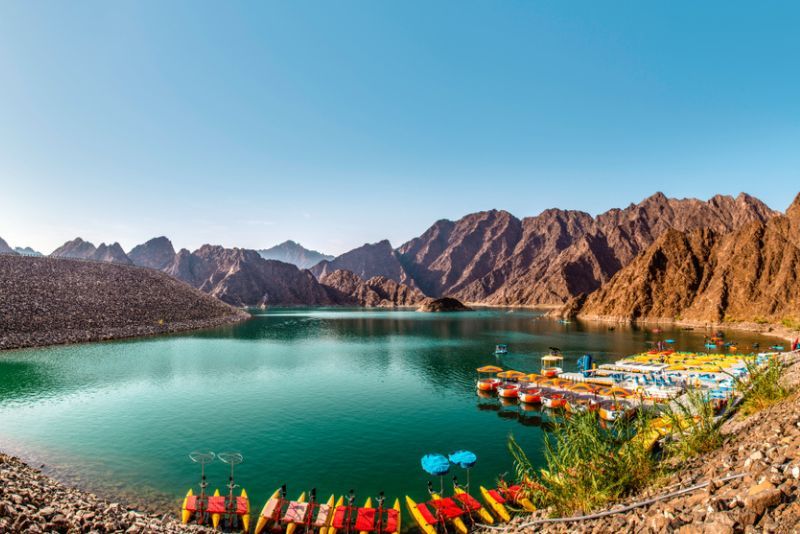 During your day trip from Dubai to Hatta, you can be as active or as relaxed as you want.
If outdoor adventures are your thing, buckle up your seatbelt as your expert driver takes you on a thrilling dune bashing ride. This basically involves bobbing up and down in the seat of a big 4 x 4 vehicle as you're driven at varying speeds over the desert's sand dunes.
Get active under your own steam with a day trip that takes you hiking and mountain biking amid the undulating peaks of the Hajar Mountains.
There are also opportunities to kayak across Hatta Lake, a beautiful spot surrounded by mountains.
One of the most refreshing outdoor experiences is to bathe and swim in the Hatta Pools. These are pools of natural freshwater that form within the crevices of rocks.
If your half-day or full-day out from Dubai takes you to Jebel Maleihah, you may even come across marine fossils buried in the sand. This area is still turning up relics of its ancient past when it was sitting at the bottom of the sea.
Many fun-filled excursions to Hatta from Dubai also include lunch and/or dinner in the desert, where you'll dine on local specialties and delicious barbecued meats.
No matter the trip from Dubai or Hatta, you decide to take, you'll witness some of the country's most beautiful natural scenery, from jagged mountain forms and dry valleys to lush green foliage and a vast lake of the bluest water.
How much does a tour to Hatta Valley from Dubai cost?
Many of the half-day trips to Hatta from Dubai come in at less than US$100 per person. The cheapest excursion costs US$426 and is for a 5-hour Hatta mountain tour that takes in the rocky landscapes and valleys of the Hatta area.
For full-day trips, you should expect to pay between US$100 and US$150 on average. Private tours are the most expensive, with prices that can average around US$600 per group of up to six people. These include off-road mountain tours with BBQ dinners.
How long are the day trips from Dubai to Hatta?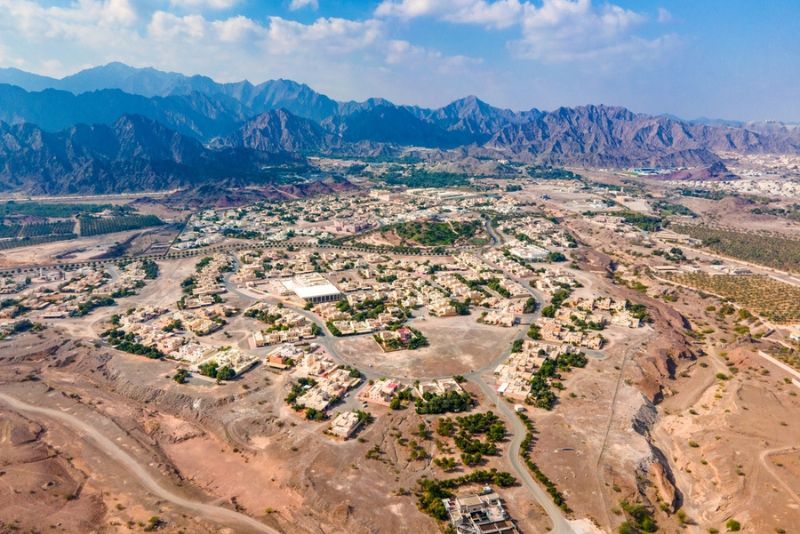 Take your pick of a variety of tour durations. These fascinating and memorable excursions from Dubai are either half-day or full-day journeys. A half-day safari tends to be five or six hours long, while the day tours are of several durations. For example, you can embark on an 8-hour, 9-hour, 12-hour, or 13-hour trip.
When is the best time to visit Hatta?
Hatta experiences a desert climate with year-round sunshine and is either hot or even hotter. There is very little rain. Therefore, if you are not accustomed to excessive temperatures, the best time to join an excursion from Dubai is from November through to March, when the heat is not as fierce as the summer months.
Travel Tips
The weather is notoriously hot for most of the year, so wear lightweight summer clothing. During the winter evenings, it can be a little on the cool side, so bring sweaters and jackets as well.
The United Arab Emirates is a conservative country, so you will need to dress accordingly. Men and women should ensure that their knees and shoulders are covered when out in public places.
Bring a good quality pair of sunglasses, sunscreen, and a hat for protection from the sun.
For some tours from Dubai, you will need to bring your passport with you.